Moab MTB Guide Shares Riding Etiquette for the Utah High Desert
Before you embark on rides through the scenic trail systems of Moab, make sure you're aware of these desert riding tips to keep the local landscape pristine.
The familiar subtropical forests I knew by heart were replaced by towering orange mesas, sprawling sagebrush lowlands, and ancient sandstone arches.
When I moved to Moab in 2017, everything I knew from the forested trails near my hometown of Tampa had to be updated—the mountain biking was so totally different. Gone were the lush glades of the Gulf Coast and in were slick rock trails that turn to peanut butter in rain and delicate cryptobiotic crust susceptible to trampling.
In order to recreate responsibly here, I needed a whole new set of guidelines. That's what I'm sharing today.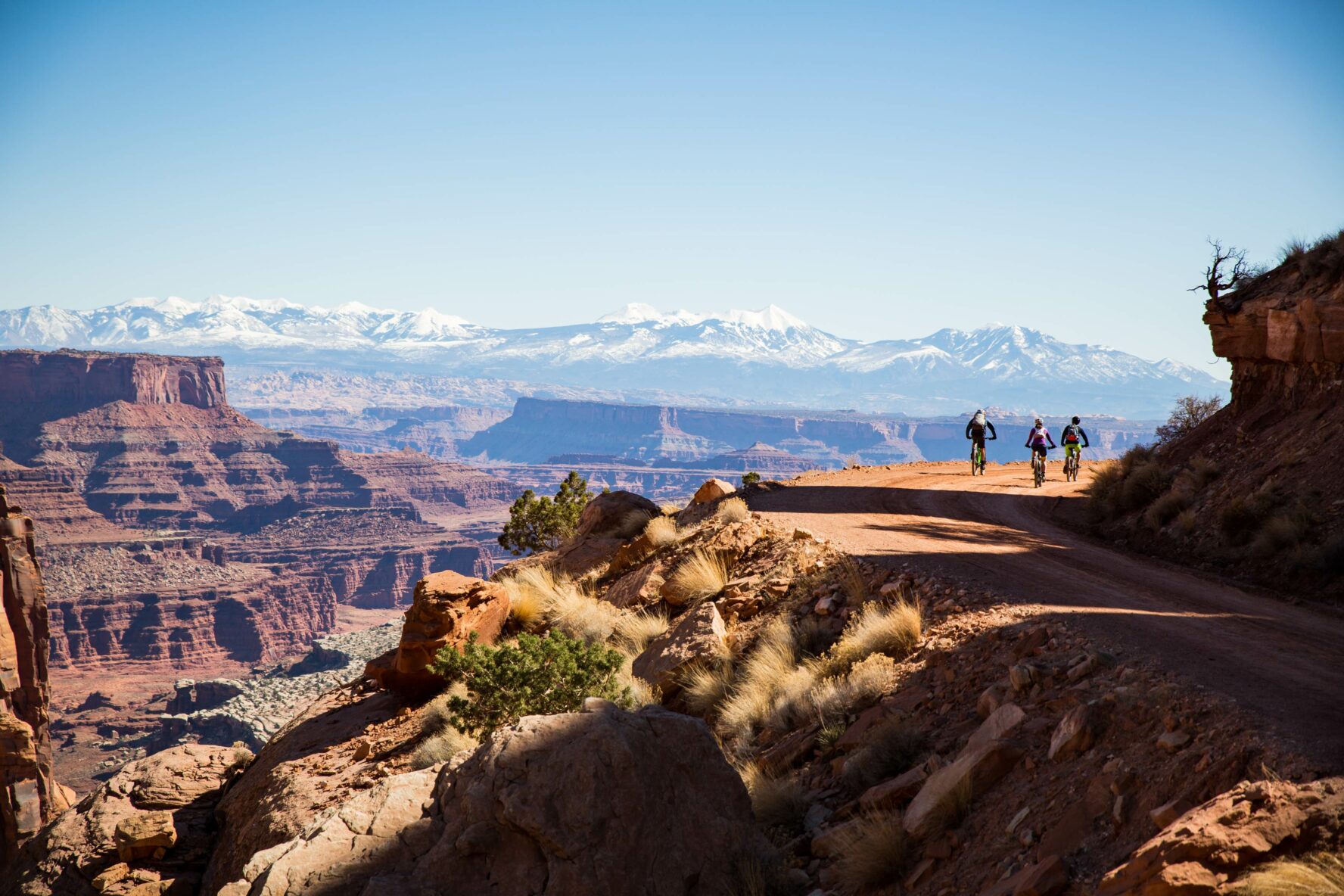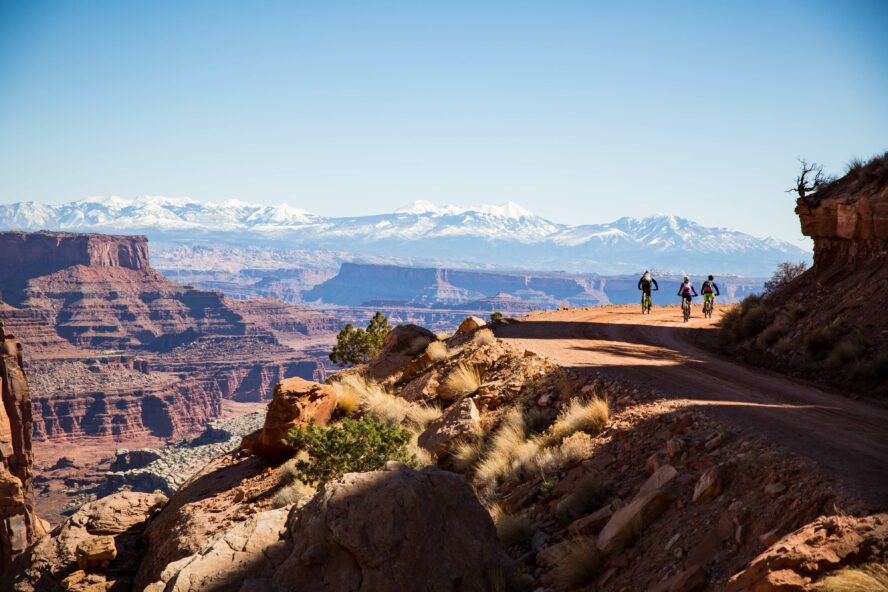 A Long History of Mountain Biking in Moab
The history of mountain biking can be traced to California in the 1970s. Soon after, high-level riders were trekking to the Colorado Plateau in search of difficult terrain to sate their appetite for the new sport. As a result of those early explorations, some of the best mtb spots from Colorado to Utah were "discovered" and Moab has been a premiere destination ever since.
Starting in 1983, a father-sons trio opened Rim Cyclery, Moab's first bike shop. Once a uranium boom-turned-bust town, the area has transformed from a focus on mining to mountain biking. Things "exploded" in 1985 when the first issue of "Mountain Bike Magazine" launched showcasing the landscape, and today, it sports over 900 rideable miles and a half dozen bike shops, earning Moab the moniker "Adventure Capital of the West".
After a few Moab rides, it was evident I'd hit the mountain biking jackpot
The panoramic views, close-knit scene, and never-ending trails beckoned me until I eventually opened my own bike shop and tour service in 2020, Bighorn Mountain Biking. Nowadays, I love getting out on guided group tours with riders of all levels to showcase Moab's impressive offerings.
I was once just a visitor, but thanks to the welcoming community I quickly learned how to acclimate to the terrain. If you're thinking about making your own pilgrimage out to the desert, the following tips will ensure you navigate the terrain safely, respectfully, and have a fun time in the process.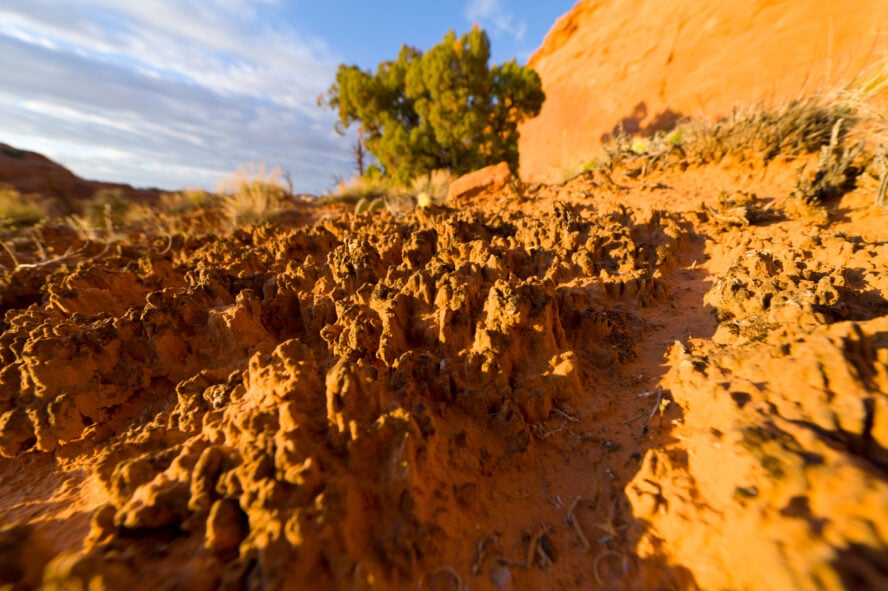 Etiquette Tip #1: Stay on the Trail and Don't Bust the Crust
The desert ecosystem is extremely delicate, which means staying on the trail is vital to protect it. Unlike the dense forests of the Southeast, Pacific Northwest, or New England, the desert is way more susceptible to erosion and soil damage (although you should stay on the path no matter where you ride!).
In particular, Moab has a cryptobiotic soil crust which allows nutrients in the earth to stay close to plant root systems. The crust is composed of living organisms such as lichens, fungi, and cyanobacteria which promote carbon fixation and soil stabilization.
Without this essential layer, the desert landscape would turn into sand dunes without any beautiful plants such as cacti, sagebrush, yuccas, and wildflowers. Once the crust layer is broken by recreational disturbances, it can take a very long time for the biological layer to recover and function properly again.
What you should do:
In Moab, we try to prevent erosion of the cryptobiotic crust by "bordering" rocks on the side of trails to indicate where to ride. Sadly, some riders go off route regardless and create "social trails" because they wanted to take a shortcut or see an overlook. All these social trails create a web of paths that damage the soil and plant life. Due to higher visitation, they have become more evident, which means reading trail signs and learning about the ecosystem is more important than ever.
"As locals, we love our cryptobiotic soil. It plays a foundational role to how the desert operates." – Kenny Gorham
Oftentimes, bikers get tired after a long day and want to beeline to the parking lot once they see their car. While this might seem convenient, it can actually take a longer time. You might land in a mud puddle, get a flat tire from a cactus, or spin out in sand.
It's important to always follow trail markers, and if by chance you do go off route, stop immediately, identify signs or cairns, then retrace your steps rather than causing continuous damage with more tread marks. Mother Nature will thank you!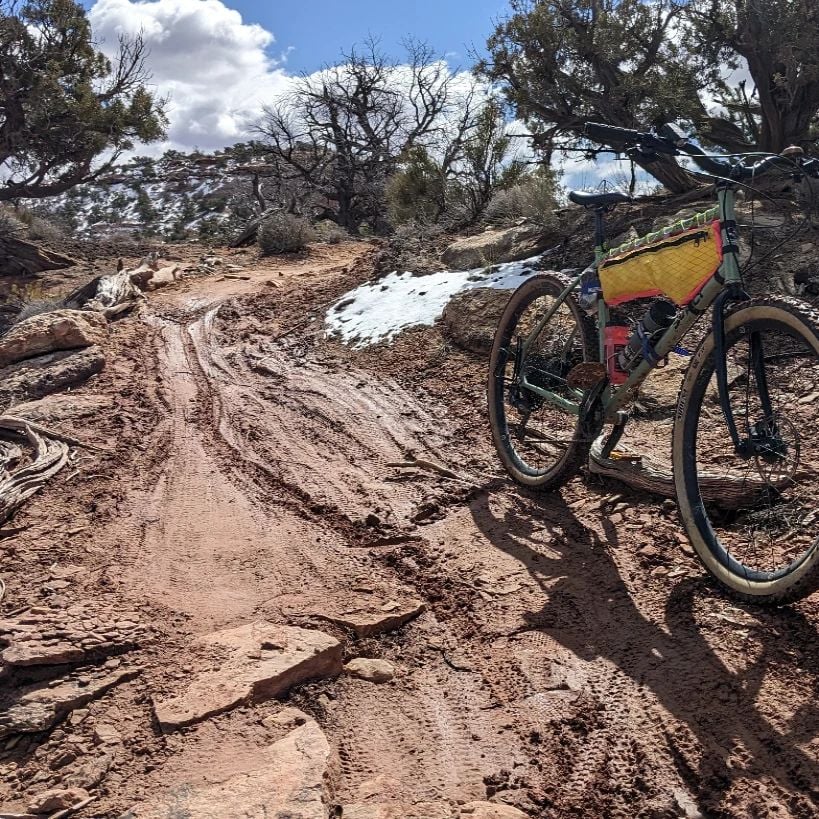 Etiquette Tip #2: Avoid Riding Wet Trails
Seeing a glittering layer of white snow cover the orange sandstone mesas of Dead Horse Point State Park, or watching a thunderstorm loom over the La Sal Mountains, are some of the prettiest scenes I've witnessed in Moab. Although these weather wonders are quite alluring in the desert, it doesn't mean you should ride in these conditions.
During the winter season, there's a 60% chance (based on personal experience) you won't be able to ride in Moab because of the snowy terrain and muddy trails. There's a good chance a bike shop won't even rent you a bike if it's recently snowed.
In the spring, trails at higher elevation points still might be off-limits because of slush and water runoff. You can likely ride the bottom segments of the trail, but "summiting the trail" might be prohibited until the dryer months of summer and autumn.
Since Moab trails are made of clay, they get very saturated even after a few inches of snow or rain. This remaining wetness makes trails muddy and can escalate erosion and damage if ridden on. Luckily, the desert dries quickly, but you should always call a local bike shop for a weather report because a lot of trail conditions are case-by-case depending on the amount of precipitation, wind, and sun exposure.
What you should do:
One thing I really want to emphasize is how much bike shops love getting calls from riders asking about weather conditions. It shows you care about the desert ecosystem. If you're ever hesitant about a specific trail summit, or trail status from a recent storm, don't hesitate and ask local experts for their input!
"Once clay trails get saturated, it's like riding through peanut butter. You end up creating bigger tracks and divots, and it won't be a fun experience." – Kenny Gorham
If you're a high-elevation enthusiast, the best time to visit is late September to early November. This guarantees any previous winter snow or spring rain is gone—meaning you can relish in La Sal's dry trailheads as high up as 10,000 feet. At lower elevations where there is less snow, spring and fall are both great seasons for getting out.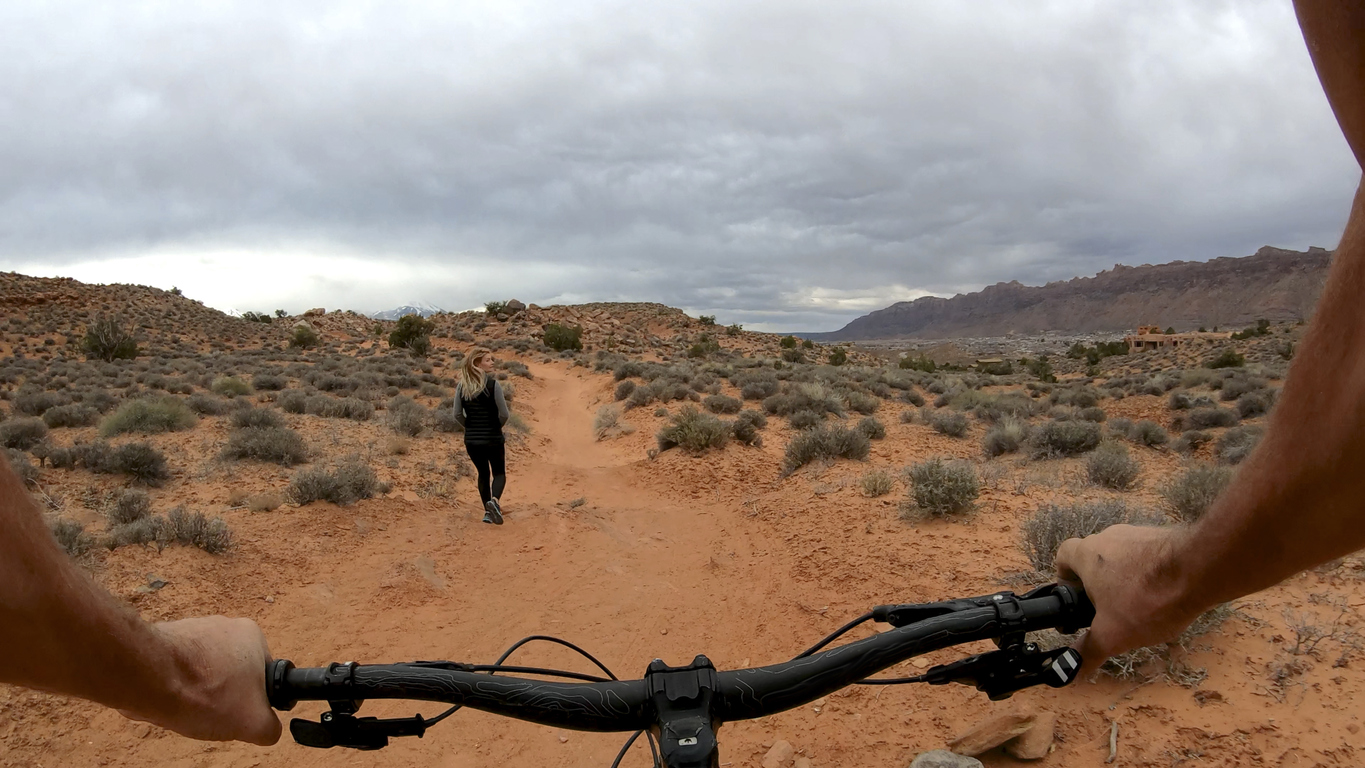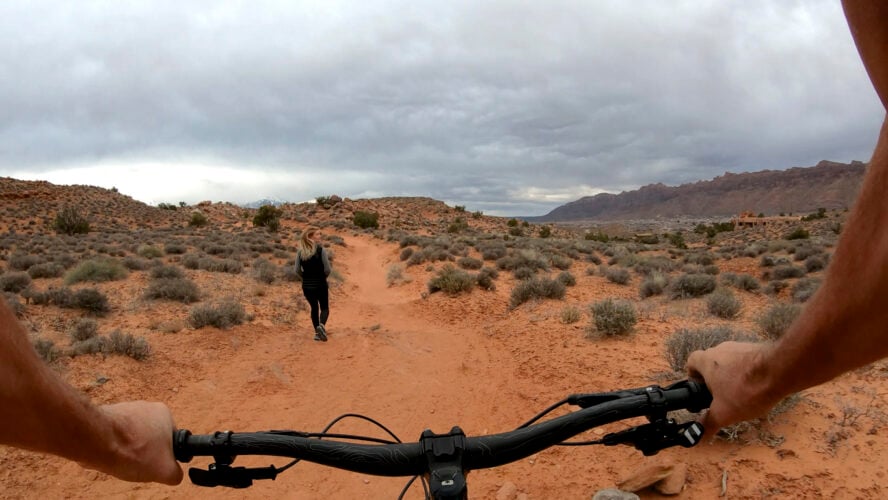 Etiquette Tip #3: Respect Other User Groups and Pass with Care
Moab is an outdoor paradise for many enthusiasts including hikers, horseback riders, and rock climbers. This means you need to be mindful of sharing the trails with others. Most BLM (Bureau of Land Management) land trails are mixed-use for any non-motorized users.
Fortunately for riders, most Moab hikers focus their time on hiker-only trails in Arches or Canyonlands National Park. If you are looking for MTB-only trails, Dead Horse Point State Park has designated single track for bikers.
What you should do:
Mountain bikes are relatively quiet on a trail, so it's good to use a soft but loud voice to give other users a warning when you pass. I typically like to tell them what side I'm passing on too.
One of the main passing rules is yielding to uphill riders and hikers. Another rule of thumb is always yield to a horseback rider. They'll communicate what they want you to do based on the horse's demeanor.
"It's easy to scare people when passing, and it leads to other trail users not liking mountain bikers. That causes trail advocacy groups and organizations to be less prone to support mountain bikers in Moab." – Kenny Gorham
Common courtesy and politeness can go a long way in a public outdoor space. It might be tempting to whoop and holler at the summit, or blast tunes on the descent, but if you're on a shared trail consider how these actions might affect others who are enjoying the quietness of nature.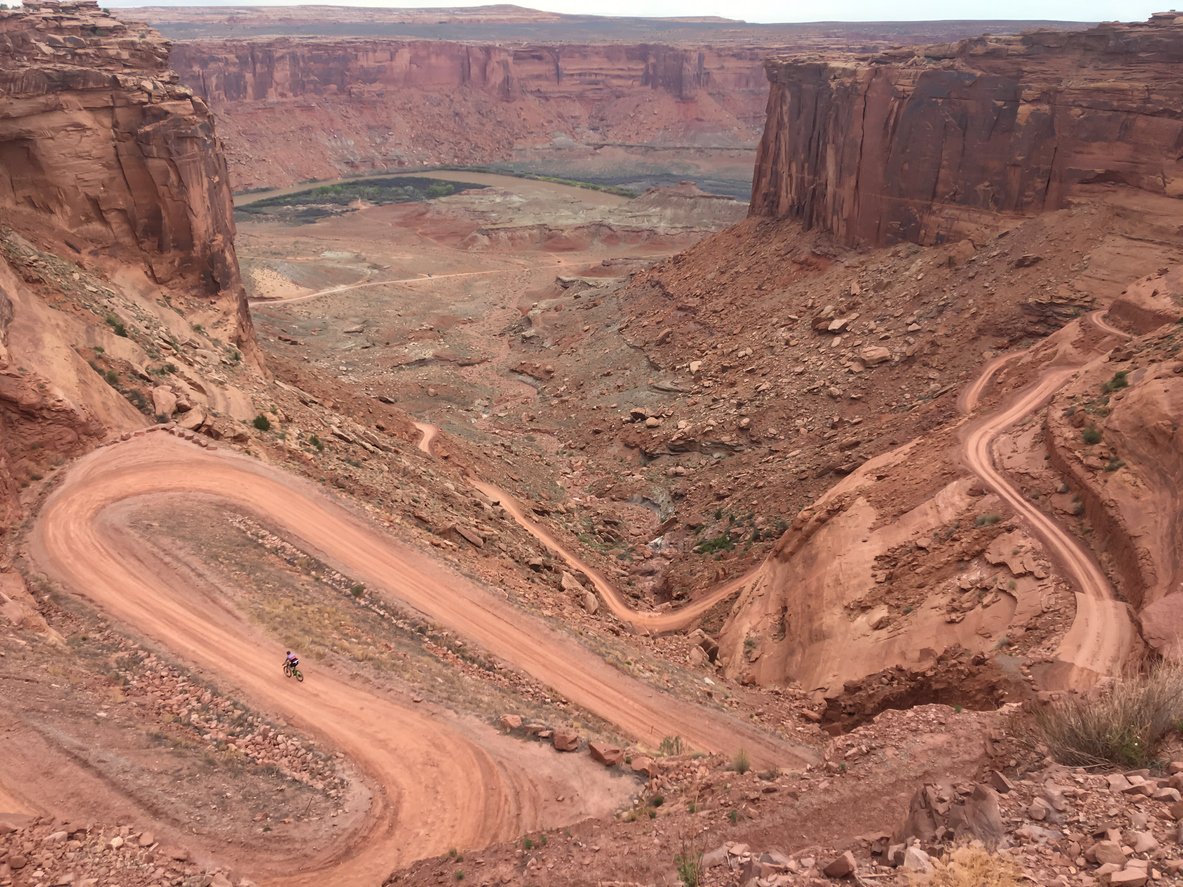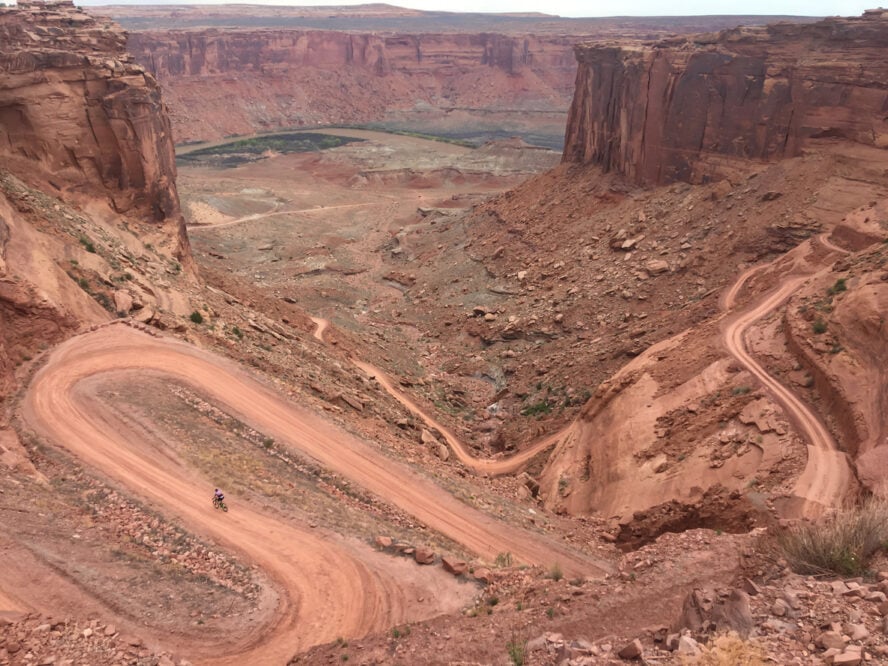 Etiquette Tip #4: Get Involved in a Trail Organization
As I mentioned in Tip #3, Moab trails are used by a lot of different locals, visitors, and outdoor enthusiasts. In order to keep up with the booming demands of each user group and sport, Moab trails need consistent management.
What you should do:
Getting involved in trail days, stewardship projects, and events shows you care for the mountain biking community and the outdoor community at-large. All these events are announced on the social pages of local organizations.
"Our mission, to care for over 200 miles of non-motorized trails, relies on support from people like you – people who love to ride, hike, climb, and run!" – Moab Trail Mix Mission Statement
In Moab, one of the best organizations to volunteer for is Moab Trail Mix. This committee enhances trail opportunities for non-motorized recreation in Moab. Check out MTM's social media pages to participate in a trail day, go to one of their events, learn about trail ethics, and get updates on weather reports. If you don't have time to attend a trail day, MTM also accepts donations which are greatly appreciated.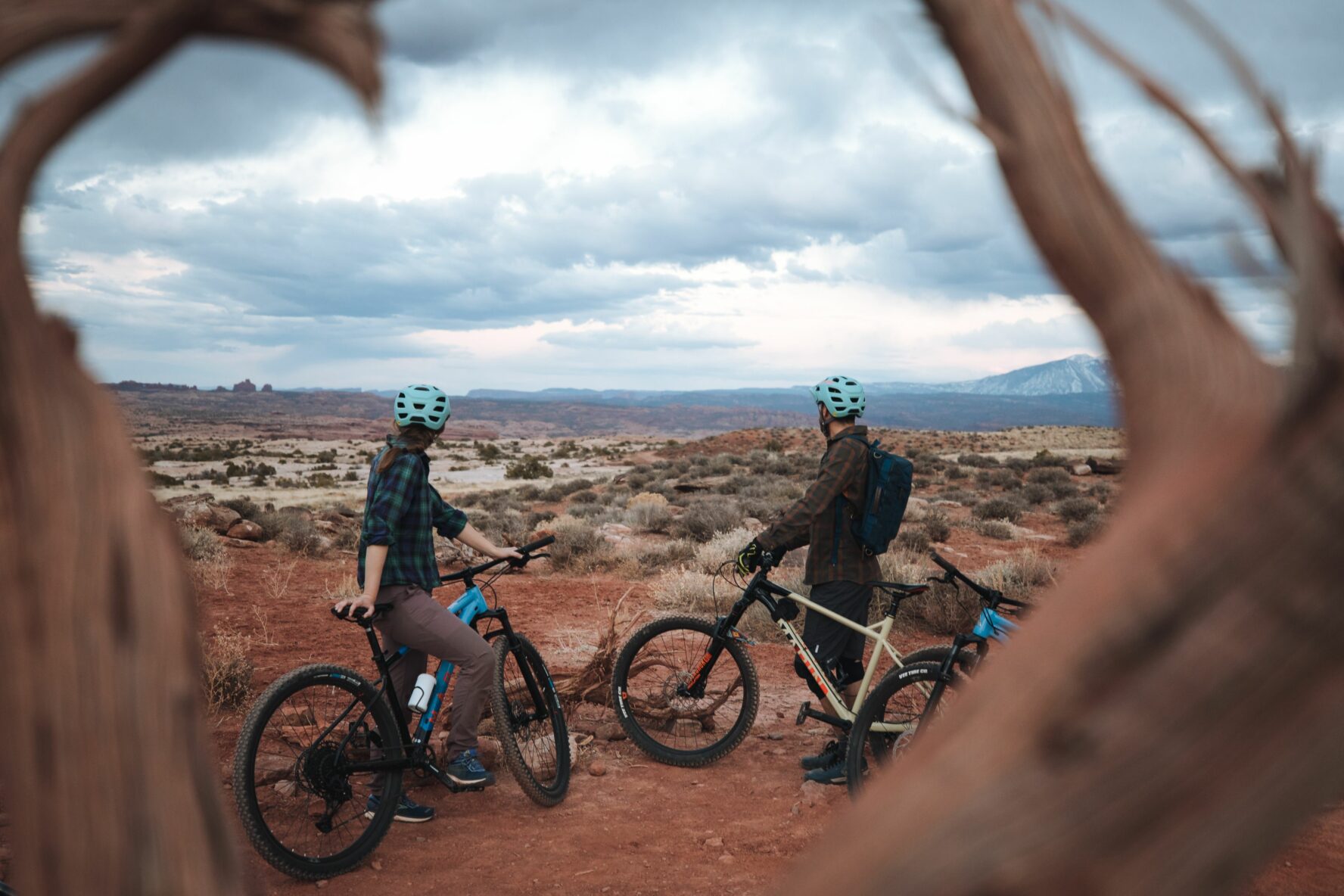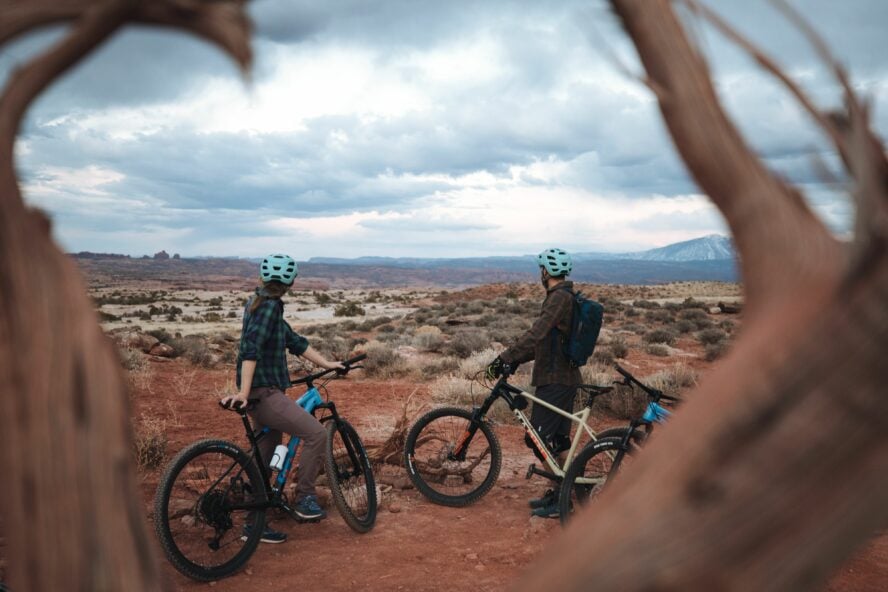 Etiquette Tip #5: Bring the Right Gear and Supplies
Enjoying the panoramic views of the snow-capped La Sal Mountains, exploring the endless ridges of layered russet buttes, and riding atop of the enticing slickrock characteristic of the Entrada Sandstone layer come at a cost. These breathtaking scenes are completely exposed without any shade or protection from the beaming sun and dry climate.
Within 15 minutes, you can go from having a great ride to getting a flat tire and having to hike back without adequate water. That's why I always tell people to over prepare with plenty of water, sun protection, food, and supplies for your bike. A lot of BLM areas, national parks, and canyons lack cell service, so bring a riding partner, map, and make sure someone knows where you're going.
Many riders visiting Moab for the first time underestimate the harsh elements of the desert. On average, you'll be drinking way more water than you would on a wooded trail or region with more humidity. Having a liter per hour (plus a little extra just in case) is my general rule of thumb. Make sure to bring extra electrolyte tablets too.
What you should do:
If you're on a longer trail, unfamiliar trail, or area without cell service, it's crucial to know how to fix your bike if you get a flat. I always carry a standard tool kit with a chain breaker, torx, proper hex suite and tire lever, mini pump, spare tube, chain link, C02 canisters, inflator, and multitool.
"There's nothing worse than seeing someone dehydrated or experiencing signs of exhaustion. This can be very dangerous in the desert." – Kenny Gorham
If you're unsure how to service your bike, I recommend hiring a guide for any longer or more technical trails.
Etiquette Tip #6: Follow Leave No Trace Principles
This one is pretty straight forward: the sensitive desert ecosystem requires extra attention regarding Leave No Trace principles.
What you should do:
The trail should be left the same way as you found it, which means packing out everything.
Don't leave banana peels, orange peels, snack wrappers, toilet paper, or human waste in the desert. Make sure to bring a small trash bag or Ziploc bag with you to dispose of trash and dog poop. If you're on a longer trail and need to use the facilities, get a WAG Bag from one of the local shops.
"What happens if we leave our toilet paper? It takes longer for things to decompose. It has our waste on it, so it's tempting for animals. And it visually impairs the hiking experience for others." – Moab Trail Mix Instagram Page
I tell my mountain biking clients that I don't even want them to leave footprints in the desert. This might seem silly, but even something as simple as a footprint off an unmarked trail can harm the cryptobiotic soil.
Once you acclimate to the desert conditions and protocol, I guarantee Moab mountain bike trails will help you become a better rider. You'll be more in-tune with supplies management, sandy and rocky terrain, long rides with sun exposure, and trail navigation. Afterward, forested tracks will seem like a piece of cake!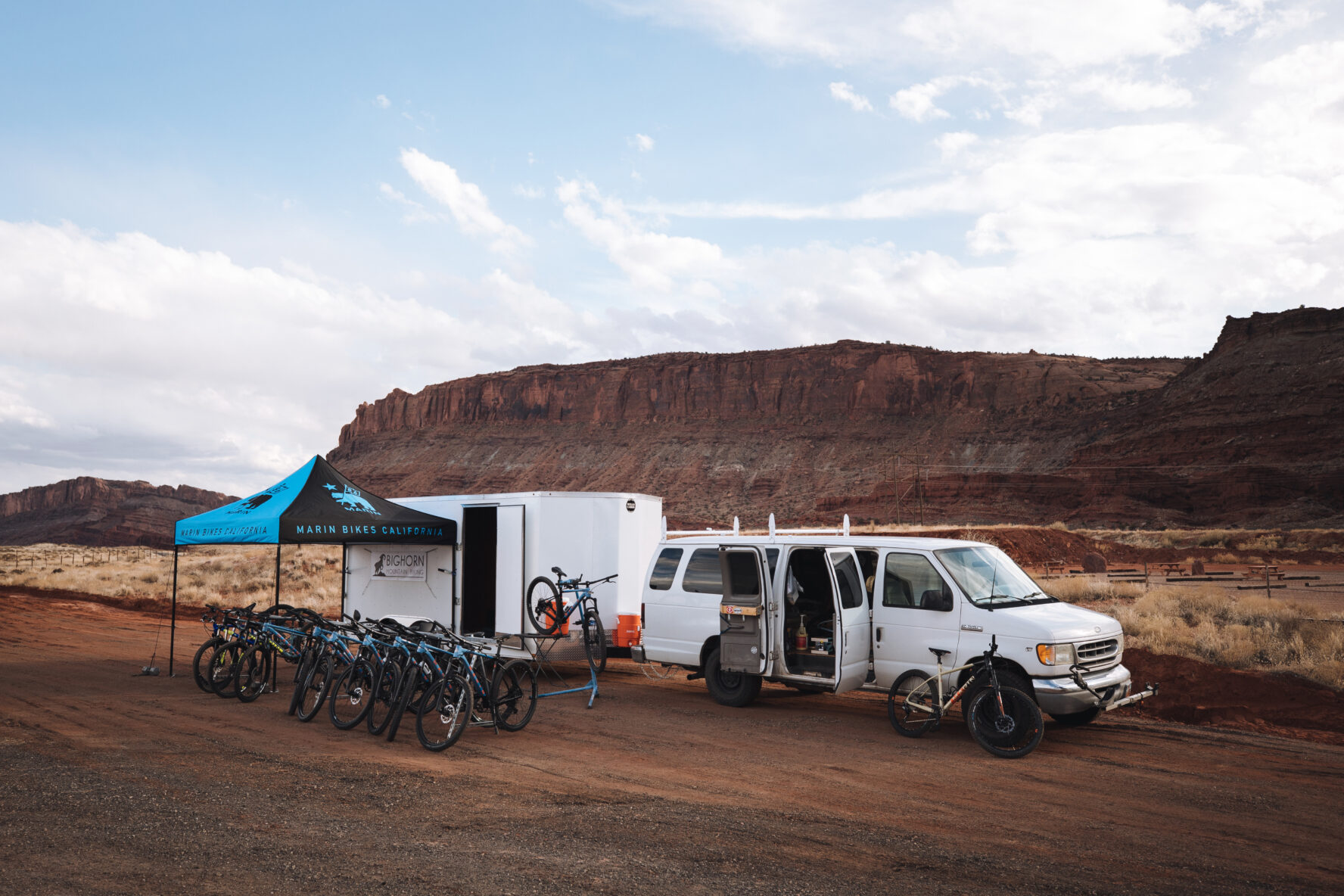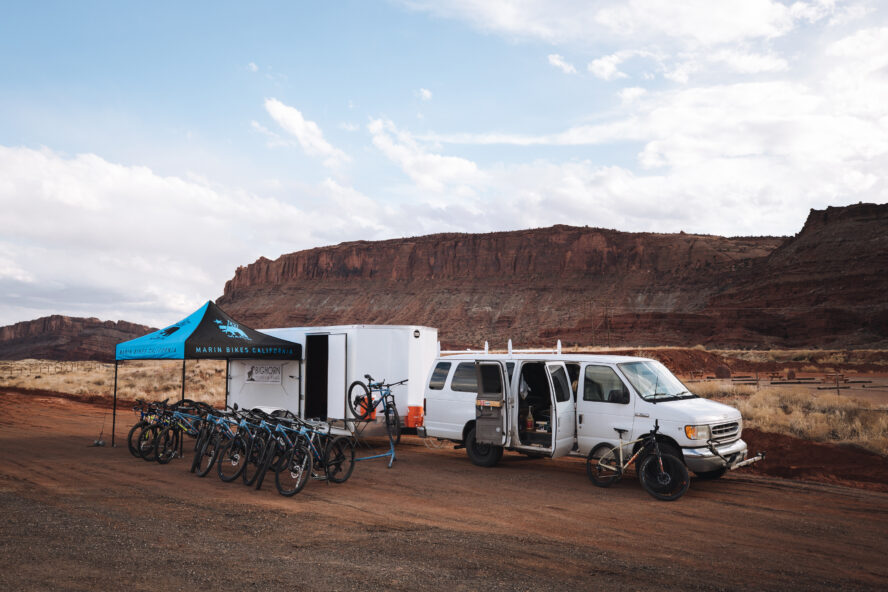 Etiquette Tip #7: Hire a Guide
This might not seem like an etiquette tip per se, but it can lead to successfully following all the other tips mentioned above.
What you should do:
You'll always receive huge benefits and gains when hiring a mountain biking guide in a new area—especially places like the high desert. Private mountain biking tours in Moab can teach you about the desert ecosystem, ecological facts, and tips for slickrock riding.
"It's nice to not have to worry about where you're going, Moab has well marked trails, but people still get nervous about getting lost and spend a lot of time navigating." – Kenny Gorham
Plus, you won't have to waste time reviewing maps and learning the trail, meaning you get to spend more time enjoying the ride! The extra cost of a medically-trained guide also ensures you're safe in the harsh desert elements, this is especially crucial if you have a family or young ones riding with you.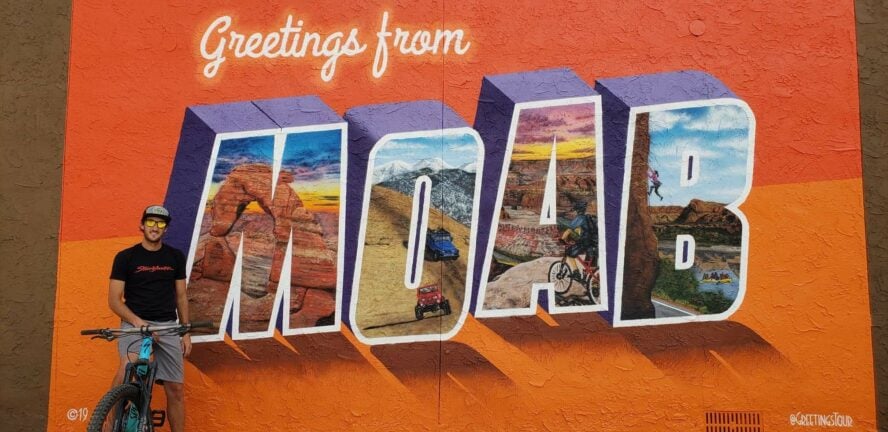 Come Enjoy the Mountain Biking at Moab, Safely and Responsibly!
While this article might not cover "the whole enchilada" in terms of detailing the high desert trails (you can check out this article about the best Moab mountain bike trails for that), it covers the basics for safety management and navigation. For more information on specific trails, weather conditions, desert biomes, and Leave No Trace principles, I suggest talking to or hiring a guide for your first outing.
I hope to see you out there when the season kicks back into gear this March!
From the classic desert riding of Slickrock to the monstrous and world famous Whole Enchilada, make the most of your trip with a guided mountain biking tour of Moab with Kenny and crew. For more information on what makes Moab one of the best places for mountain biking in the USA, watch Kenny's webinar, The Local's Guide to Mountain Biking in Moab, Utah