Erik will cover:
Why you should bike the Tour du Mont Blanc
Choosing the right season and itinerary
The highlights of the Tour and how not to miss anything
Choosing your bike and why packing light is the way to go
Getting there and how to transport your gear
Some bonus tips and spicy anecdotes
Many people have completed the Tour du Mont Blanc hike, but when it comes to biking it—that's a whole new ball game.
Mountain biking the Tour du Mont Blanc means riding 100 miles of spectacular alpine trails along traditional villages, timeless glaciers, high-mountain passes, and the most impressive summits in Switzerland, France, and Italy. It's an intoxicating interchange of steep, technical uphills and fast, flowy descents, as well as an opportunity to sample three of Europe's most celebrated cultures and cuisines.
However, tackling the Tour's logistics is far from a joyride. From selecting the right season, starting point, bike, and gear to finding food and accommodations along one of the most popular trails in the world, it's enough to make one fly off the handlebars.
This is why you should tune in to our FREE WEBINAR. Learn how to plan your thru-ride of the Tour and pick up some much-needed pro tips from a guide who's completed it numerous times.

Live Q&A sesssion
Erik will follow up with a live Q&A session, where you can ask them anything you want to know about biking the Tour du Mont Blanc.
Webinar host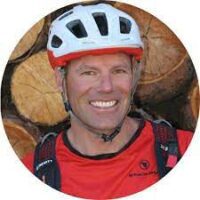 Erik Den Oudendammer
MTB Guide and co-founder of MTB Verbier
Like many, Erik was first attracted by Verbier's reputation for stellar skiing, but when the snow melted, he discovered a world-class MTB venue underneath. He's been living in the area since 2003. As the heart and motor of MTB Verbier, Erik relishes every moment he gets to spend on big mountain adventures and introducing his guests to local nature and culture. His favorite trail is Colle de Mille, which runs under the north face of Mont Rogneux.