Why Whistler B.C. Is The Best Place On Earth To Be A Mountain Biker
If bike parks were candy shops, Whistler would be Willy Wonka's Chocolate Factory.
To travel to Whistler as an adult is to become a kid again. As a mountain biker, I can't think of a single location where you can have more fun on two wheels.
For downhill riders, Whistler is the mecca. But it's more than just a place for freeriders to throw down. The Whistler Mountain bike trails have something for everyone, with smooth beginner-friendly trails for first timers and little ones, challenging cross-country trails for those looking to test their endurance, and rocky, rooty tech trails to get your brain working.
After riding all over the Rockies and the Northwest, what I love about riding in Whistler is that no matter where you are in your progression, there's always something new to challenge you and always a new set of trails to discover. My usual week-long trip is never enough.
However, I will warn you: the Whistler bike trails will spoil you rotten. Perfectly manicured XC trails, tacky rock rolls, machine-built table top jumps that make you feel like superman, and the smoothest berms I've ever laid eyes on will leave you seriously disappointed when you return to your home trails. The Post-Whistler Blues are a real thing.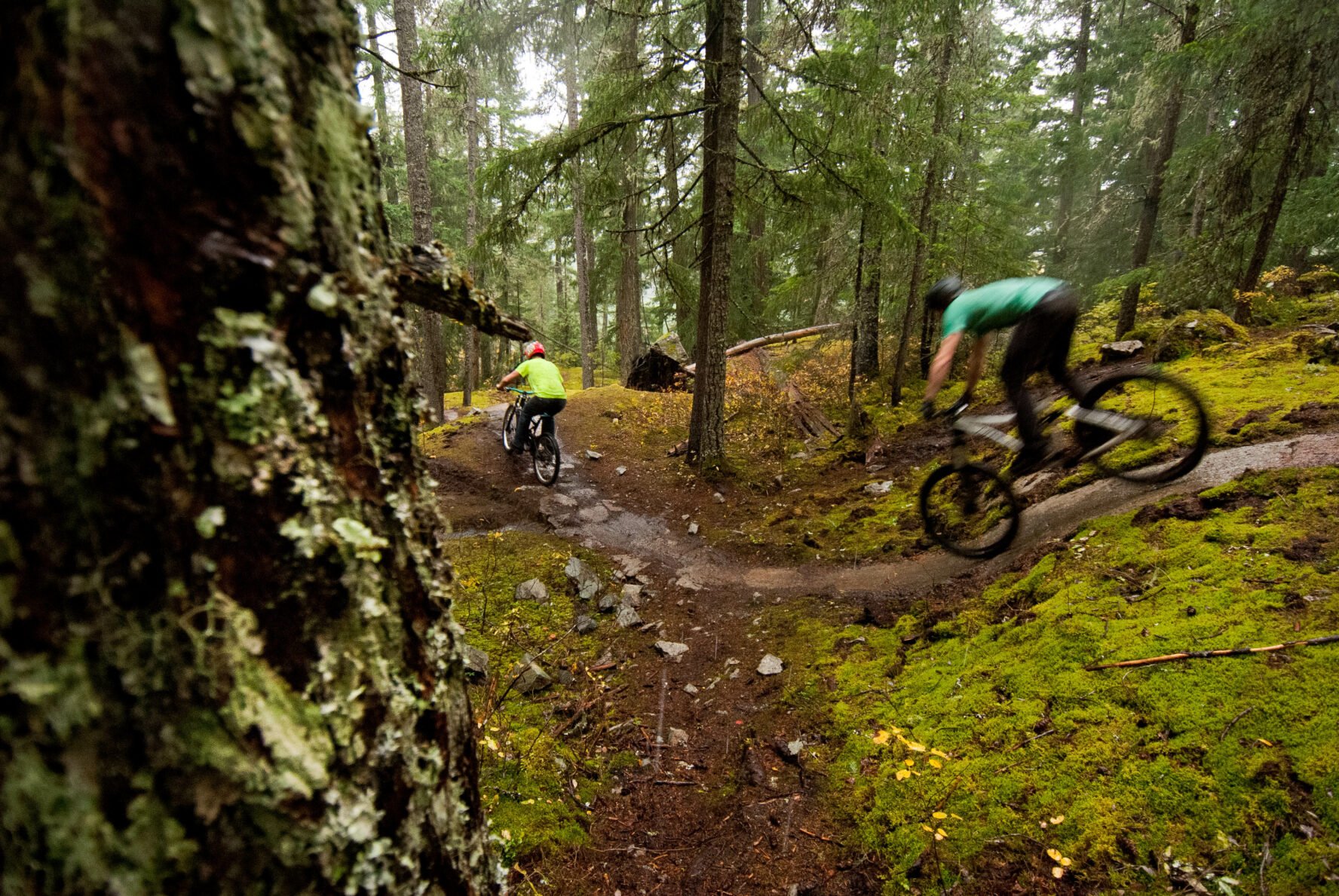 Pros and Cons of Mountain Biking in Whistler B.C.
The huge variety of trails has something for all levels
Long riding season from May to October
Easy to navigate without a car
Plenty of activities and restaurants around town
The bike park can get crowded on weekends and holidays
Downhill bike rentals can get expensive if you visit for a full week
Why the Whistler Bike Park is world-renowned
The prowess of the Whistler Bike Park (and why you feel like you're all the sudden the best rider on the planet) is thanks to the founders of Gravity Logic, dedicated trail builders and hardcore riders who first started to dig on Whistler Mountain in 1995. Using Whistler as their proof of concept, the bike park design company has gone on to build bike parks around the world, modeled after their initial success in B.C. Their commitment to unique, well-crafted trails shines through each berm, root garden, jump line, and drop zone, with an astounding attention to detail. The craftsmanship is incredible.
What I love about the Whistler Bike Park
As an avid mountain biker, I credit most of my progression to the Whistler Bike Park. With 4,946 feet of lift-accessed downhill mountain biking, it would be easy to spend a whole week in Whistler without leaving the resort boundaries. Not only are the trails impeccably maintained, the progression scale, signage, and variety of riding blows any other bike park completely out of the water. Not to mention, the sustained descents are the longest you'll find on the continent. The challenging (and in many cases, extreme) riding in Whistler is humbling, yet at the same time surprisingly confidence-inspiring. Like mountain biking in Moab, the US' riding mecca, each trail nudges you further along, getting you out of your comfort zone just enough to keep you coming back for more. Plus, with four different lifts and gondolas, the volume of riding that can be done in a single day is almost unfathomable. It feels like cheating, but it's not.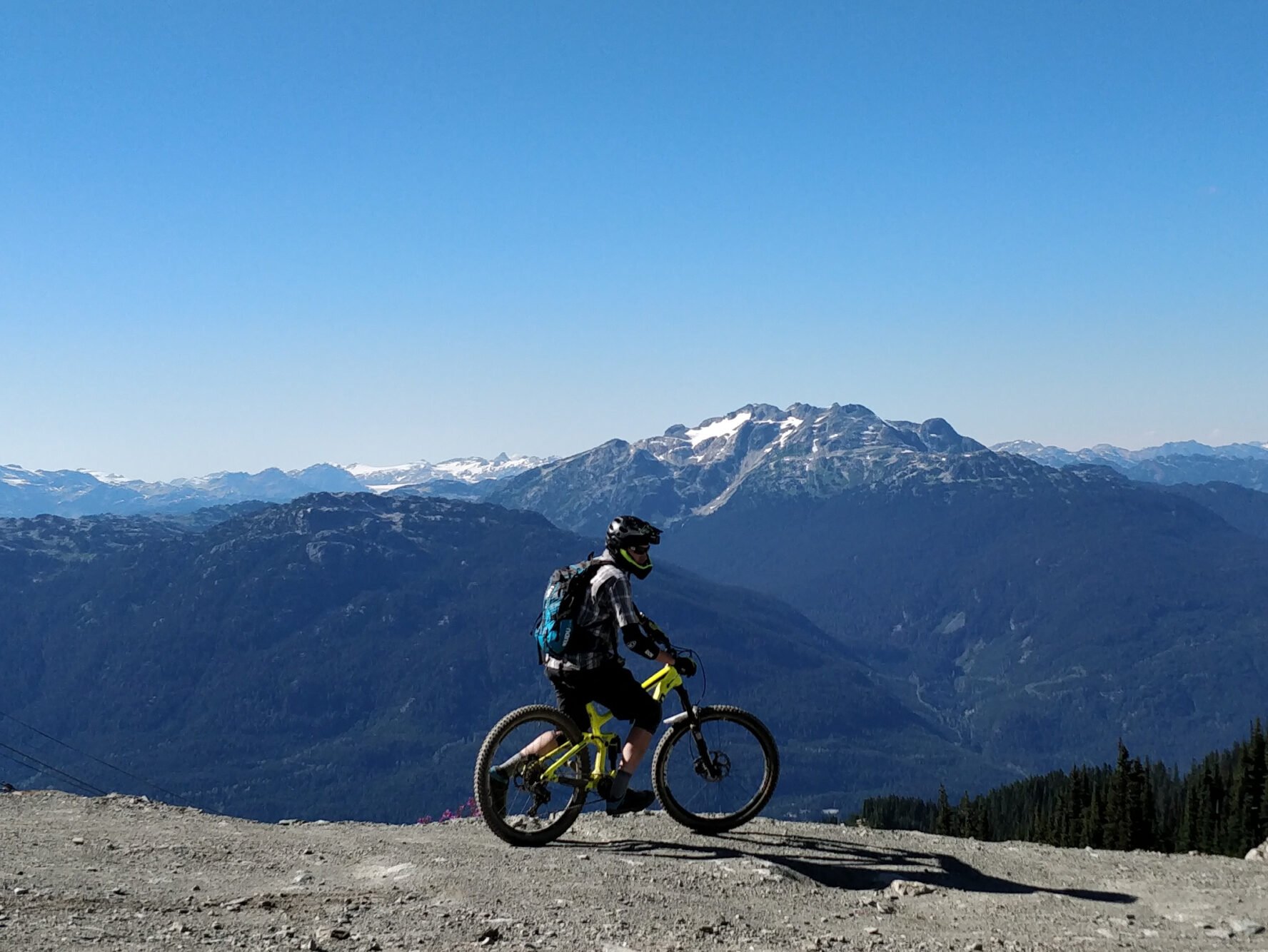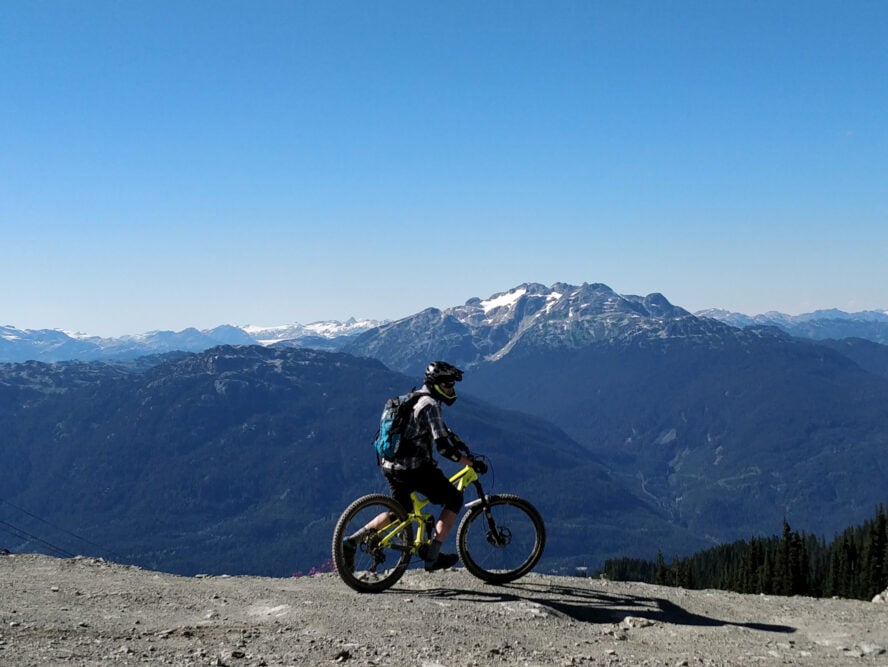 Fitzsimmons Chair: basecamp for the bike park
Right at Whistler Village base, Fitzsimmons is the hub of the Whistler Bike Park. You'll find everything under the sun, with beginner trails like EZ Does It, wide open machine-built flow trails like Crank It Up, classic jump trails like A-Line with major opportunities for airtime, and monstrous pro lines like Crabapple Hits and Dwayne Johnson. The GMC Pump Track and Skills Center are at the top of the Fitzsimmons chair, a great place to brush up on some skills before diving into a long descent back to the base. I like to start out on Crank It Up to build confidence in the air and then get my brain working on some moderate tech down Karate Monkey and Samurai Pizza Cat.
From the base, you can also take the Whistler Gondola (although if lines are long it can be tough to get on with a bike, since they load cyclists less frequently) up to the Roundhouse Lodge, where you can link up with the Garbanzo trails or ride over to the Peak Chair.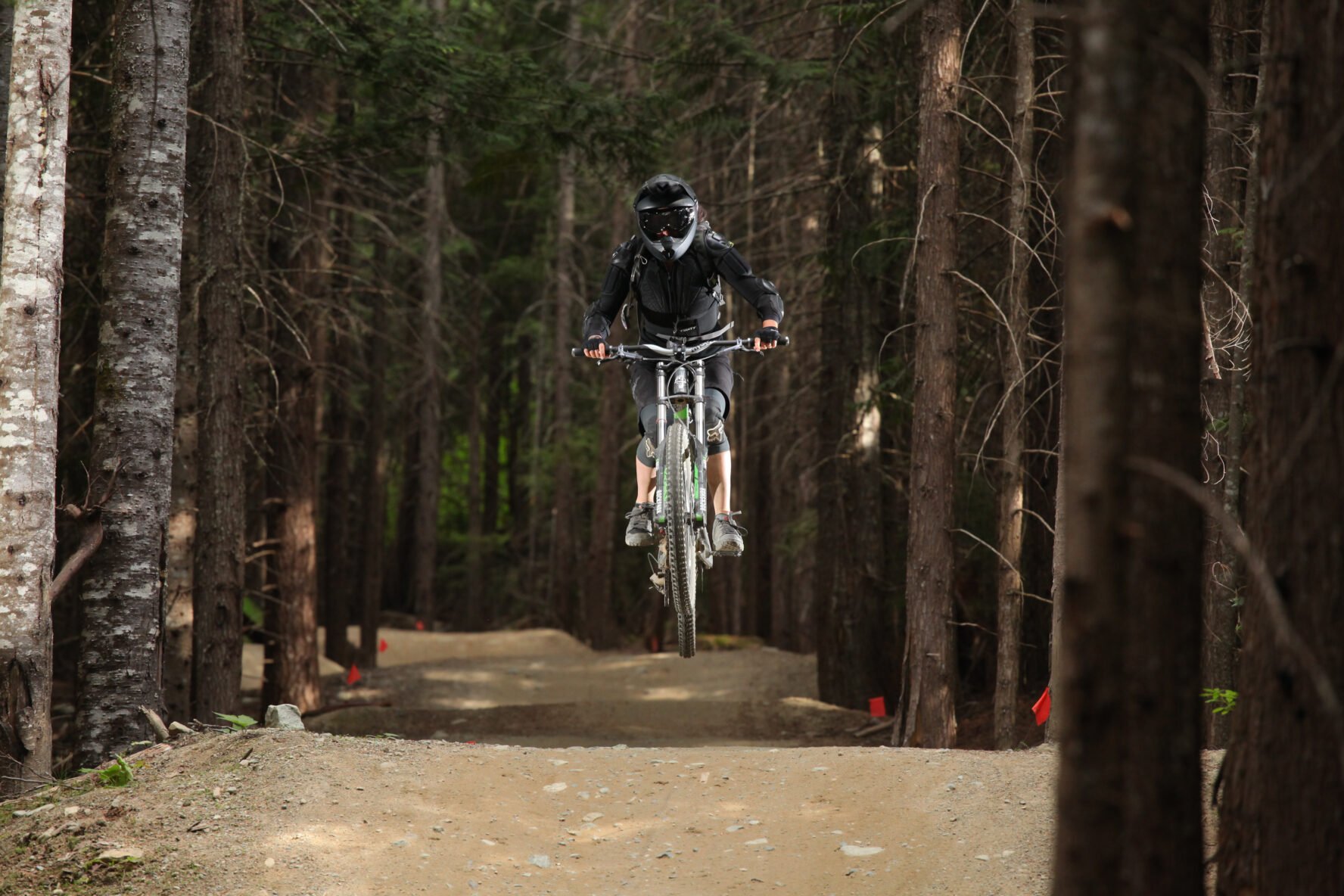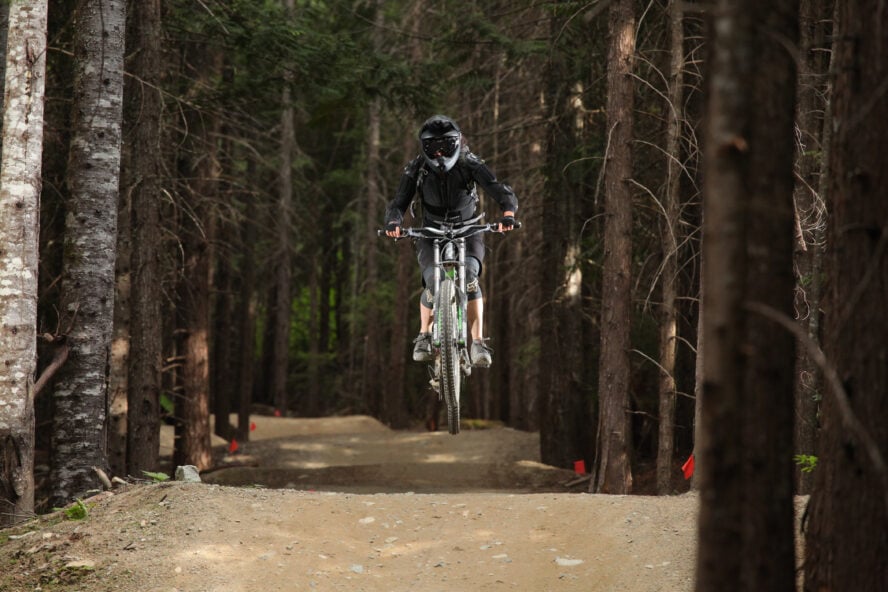 Garbanzo Chair: where I go to test my limits
The Garbanzo Chair is for strong intermediate and advanced riders, with steeper, more technical, and longer descents than Fitszimmons. It's also a great place to spot black bears from the chairlift.
Here you'll find the classic rock faces and root-tangled lines that the Coast Range is known for, with table top jumps, bridges, and smooth berms galore. Blue Velvet is one of the fastest, flowiest trails in the whole park, a great trail for intermediate riders to push their limits on, while Upper and Lower Freight Train are fast and less forgiving, with gaps, step downs, and wall rides.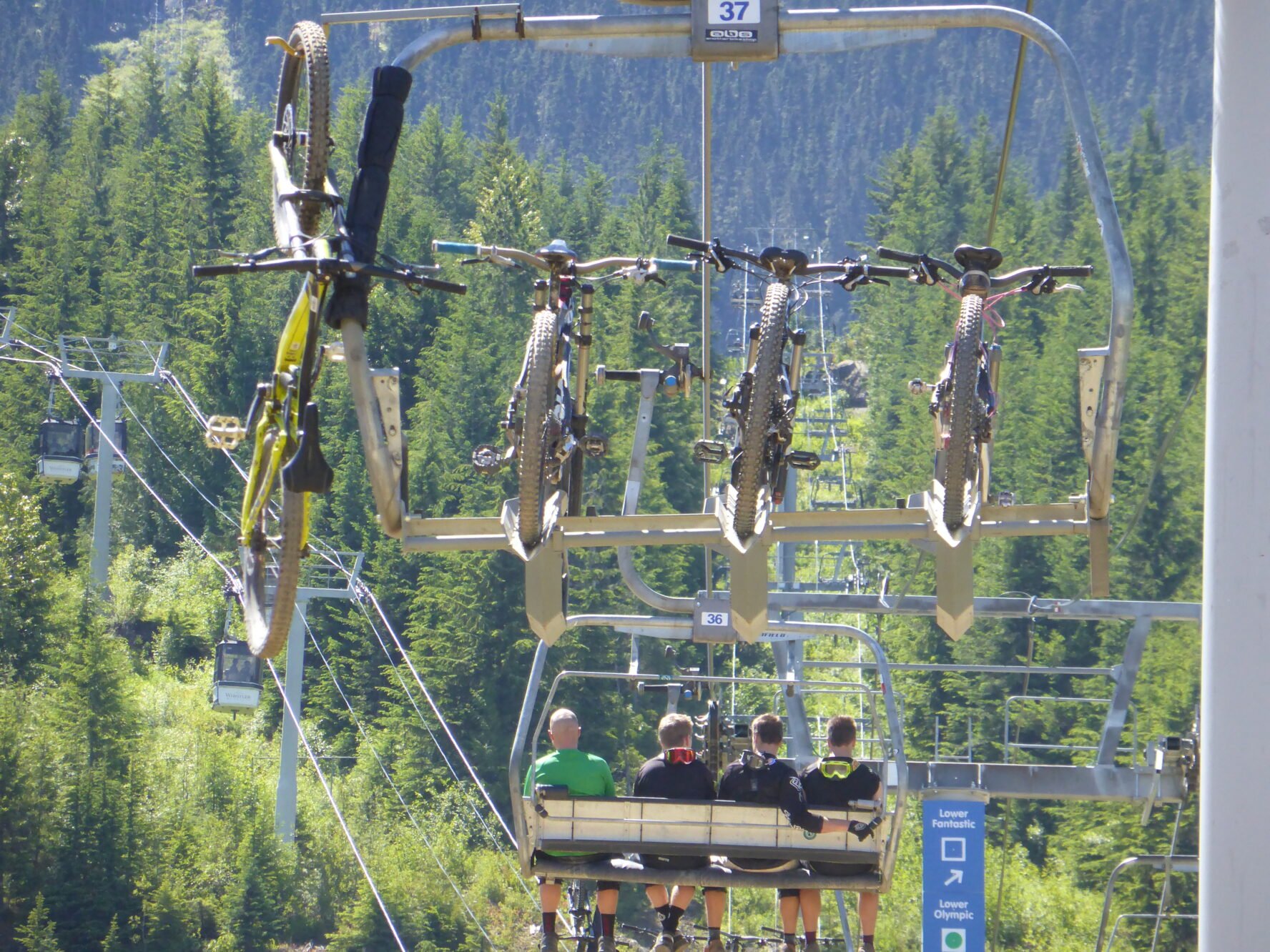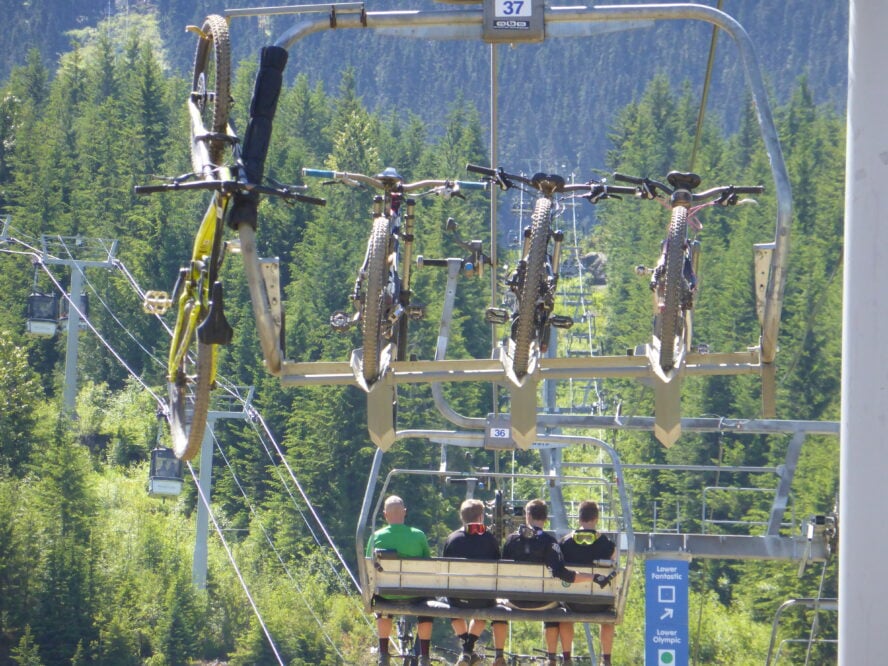 Peak Chair: alpine riding with a little help
The Peak Chair is the high point for all mountain bike trips in the Whistler Bike Park, topping out at 7,160 feet at the start of the famous Top of the World trail. This scenic, alpine descent reminiscent of the mountain biking in Aspen is for advanced riders only, with sweeping views of the Coast Range as you wind your way down the rugged trail packed with berms, ridges, and rock features to reconnect with the Garbanzo trails. I've ridden this trail midsummer and was amazed at how striking the transition from alpine to dense forest was. It's also really cold up there even in the summer — something I didn't plan for — so definitely stash an extra layer in your bag even if you're boiling down in the bike park.
From the top of the Peak Chair, you've got 5,000 feet of descending before you hit the valley floor. It's a long way to go, and my recommendation is to take it slow. Stop and take pictures. Enjoy the view. It's a unique experience to get to do that style of alpine riding with the help of a high-speed chairlift, so make it count.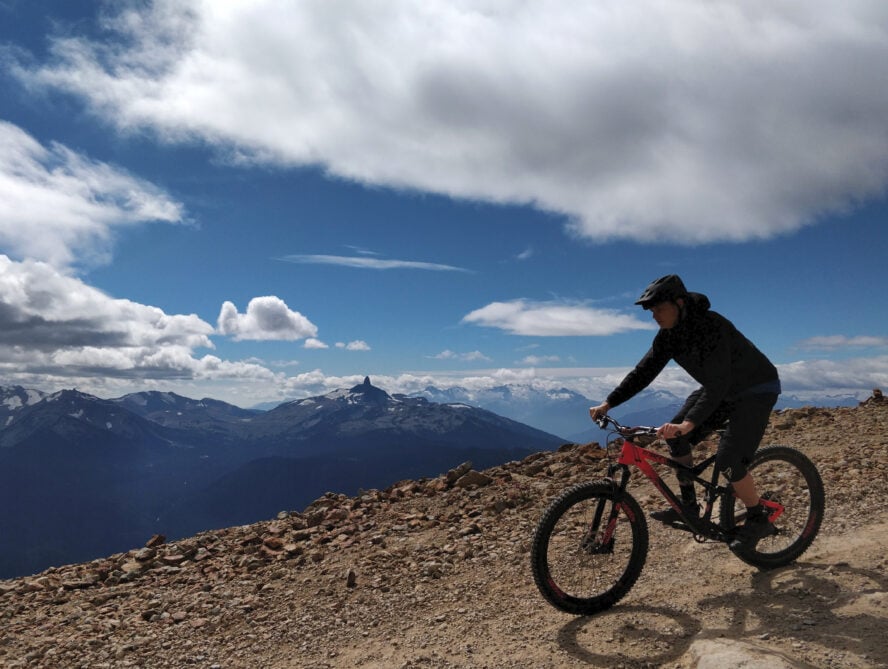 Creekside Gondola: my personal favorite
The newest addition to the Whistler Bike Park (and my personal favorite zone on the mountain), Creekside area opened in the summer of 2018 with three intermediate flow trails, one intermediate tech trail, and one advanced tech trail. The descents are long and filled with tight berms, and the Creekside base has far less crowds than the Whistler side, a welcome refuge from the ocean of brake bumps you'll find yourself bracing yourself for at the bottom of Fitzsimmons. I love to challenge myself by riding from the top of Garbanzo all the way down to Creekside and trying to go for as long as I can without stopping. It's rare to get to ride consistently for that long and it's helped my downhill confidence immensely.
If you want to improve your cornering, a few laps down Earth Circus will have you zooming through berms like a maniac.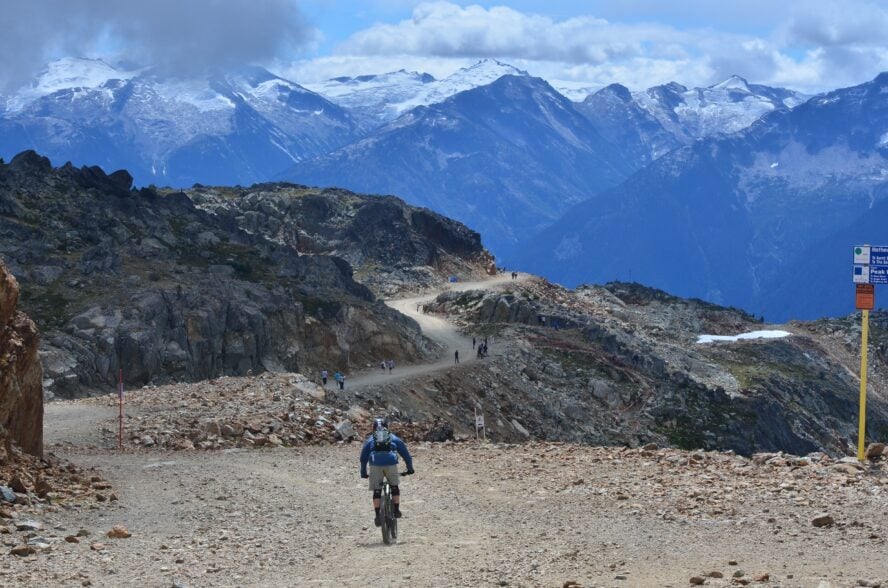 My tips for making the most out of the bike park
I've learned a thing or two riding Whistler's bike park. Here are a few pieces of advice to help maximize your time:
Bike camps will fast-track your progression
A multi-day bike camp is an amazing way to jumpstart your progression, and in a place like Whistler, the sky's the limit. Whistler's Summer Gravity Camps are a full week long, with daily coaching from local professionals, designed for riders of all levels. The Kids DFX Camp is a 5-day camp with a mix of XC and downhill riding with groups for kids from 5 – 14 years old, and the GT Women's Camp is a 2-day skill development course with Whistler's extensive team of female coaches.
GT Women's Nights are every Monday and Wednesday from 5:30 – 7:30 p.m., and are a fun, social way to get some instruction with a short drop-in lesson.
When is the Whistler Bike Park open?
The Whistler Bike Park is open from May 15th through October 12th. During peak season (May through August) the park is open until the sun goes down, from 10 a.m. to 8 p.m. daily. Kudos to you if you can actually ride all day. Evenings are one of my favorite times to be in the park, especially after the crowds start to thin around 5 p.m.
How much does it cost to ride at the Whistler Bike Park?
A single day ticket is $64 CAD, and a 5-day adult pass is $315. If you just want a little taste of what the bike park is like, you can purchase a 3-lap ticket for $40. To ride the Peak Chair up to the Top of the World trail is an extra $23 on top of your ticket (a little pricey, but well worth it, in my opinion).
Where to rent a mountain bike in Whistler?
Rentals are available through the mountain and at most shops around the village. Fanatyk Co Ski & Cycle is a great shop to rent downhill bikes, but get there early — by 10 a.m. during a busy weekend they're often all rented out.
Can you ride your trail bike at the Whistler Bike Park?
While a downhill bike isn't required for the bike park, it can make a huge difference in your confidence and capabilities in the park. If you have a trail bike already, there's nothing wrong with riding that in the park, although know that your bike will definitely take a beating and require some serious love when your trip is over. I often bring my trail bike and rent a downhill bike for at least a few days to give my own bike a break, plus it's nice to have a bike you can pedal for riding the trails outside the park.
View the Trail Map to get your familiar with Whistler's downhill mountain biking trails before your first day out.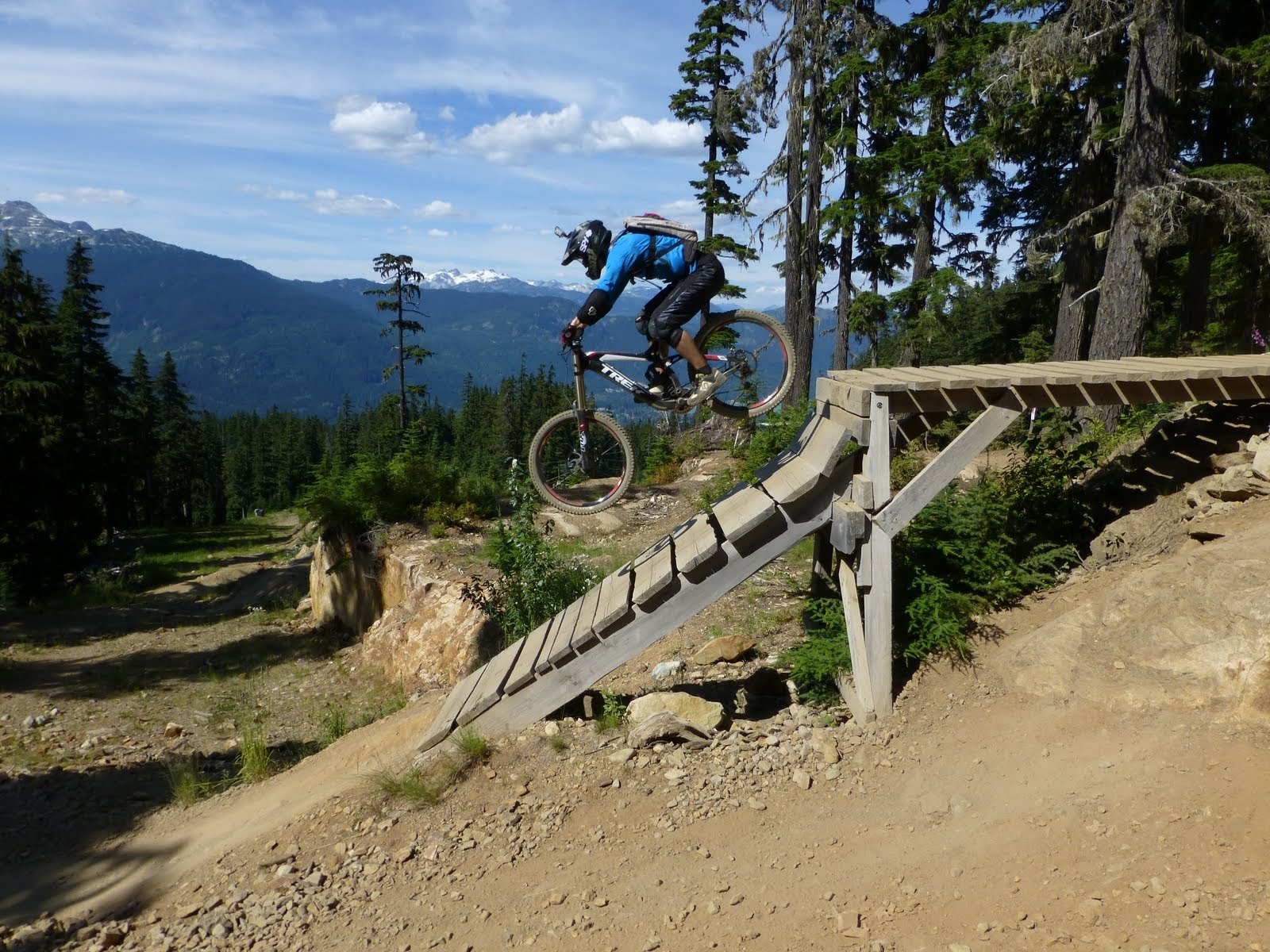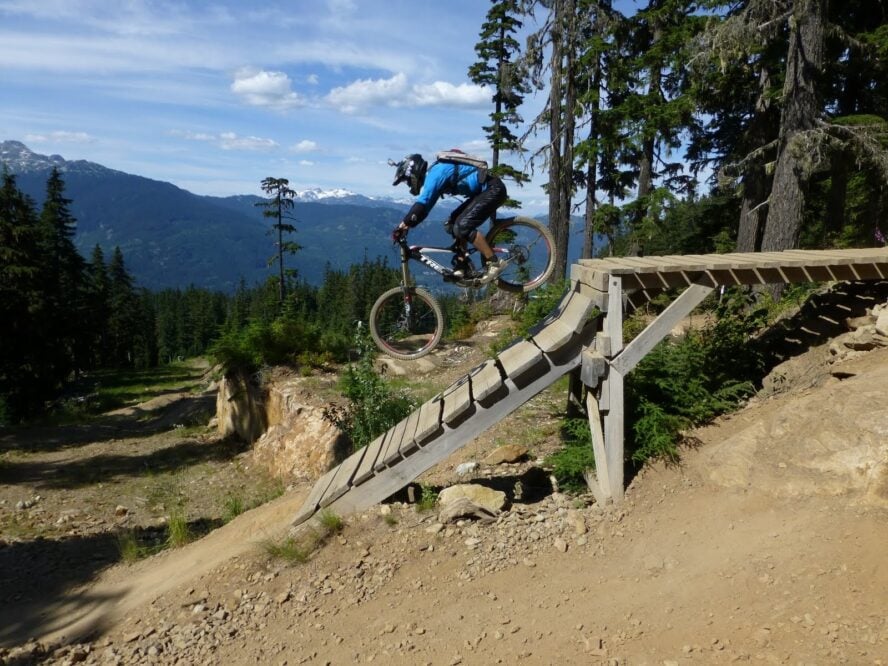 Blackcomb Mountain: rugged riding with half the crowds
While the Whistler side offers non-stop lift-served adrenaline, Blackcomb is much quieter, with opportunities for rugged, feature-packed descents — if you're willing to pedal for it. Magic Chair and Instant Gratification are two short, beginner and intermediate trails that I like to warm up on, with smooth, flowy berms and small wooden features that can all be rolled.
Micro Climate is a Whistler classic, with cascading root gardens, rock rolls, chutes, and slabs, suitable for advanced riders. Crazy Train is a great example of the technical old-school riding that B.C. is known for, an expert trail with raw, tangled root sections and committing rock rolls.
Lost Lake Trails: my choice for rest days
After a few days hammering at the bike park, the cross-country trails at Lost Lake provide some civilized relief, and make a great family outing. Just a short pedal north from the Upper Village, it's easy to link up a longer loop or go out for a half hour pedal, depending on what you're after. The trails are incredibly well maintained, smooth, purpose-built, with many beginner-friendly options. The rolling nature of the network lends itself to a constant up and down, never a long, sustained climb, like some of the enduro-style trails on the North or Westside.
There are still opportunities to challenge yourself if you're looking to work on your tech skills, with root problems and man-made features peppered throughout. Pinnocchio's Furniture is packed with ladder bridges, a great trail to get comfortable on large wooden features, and Toads of the Short Forest is a quick, fun trail with rolling slickrock-esque features.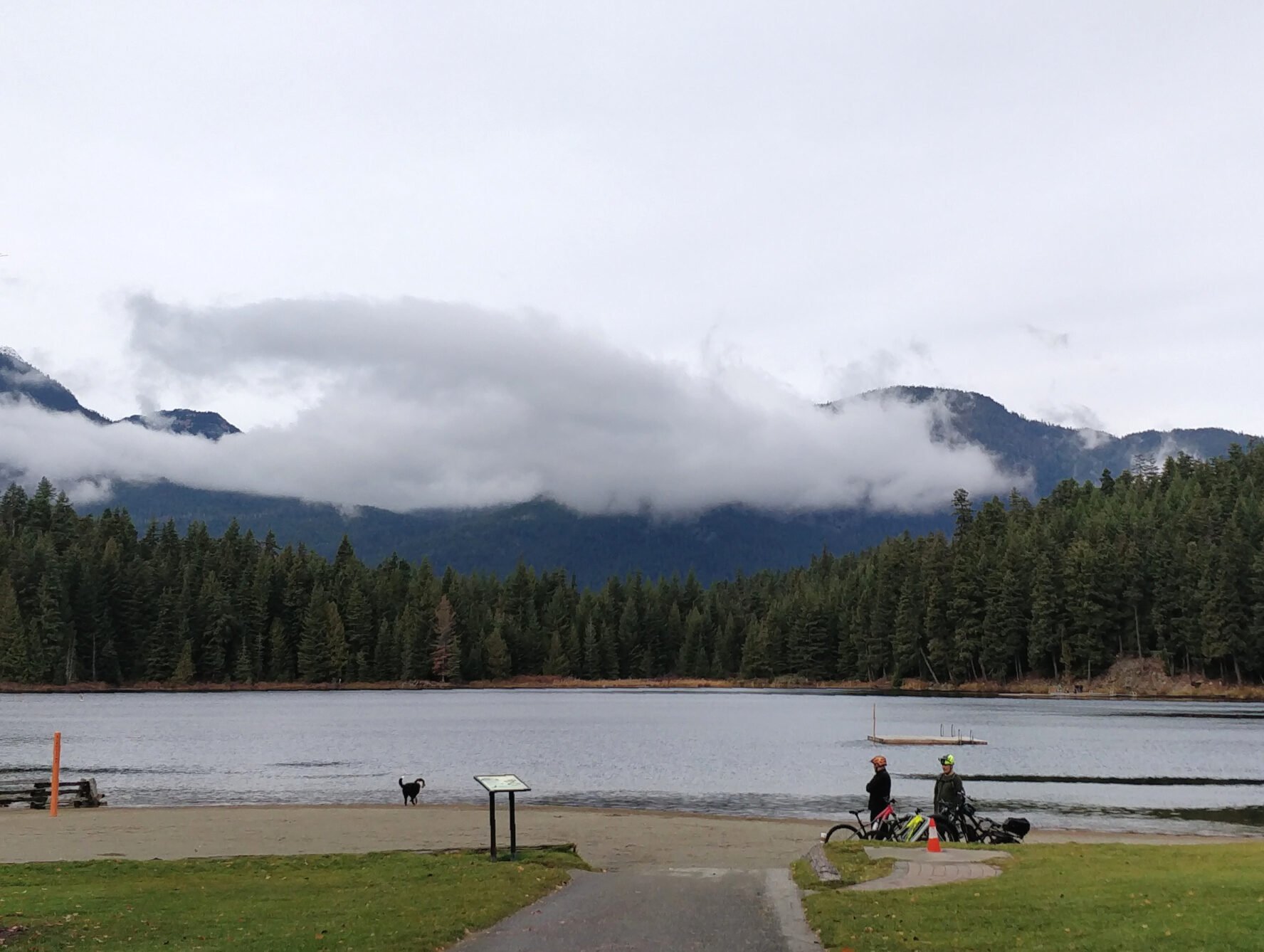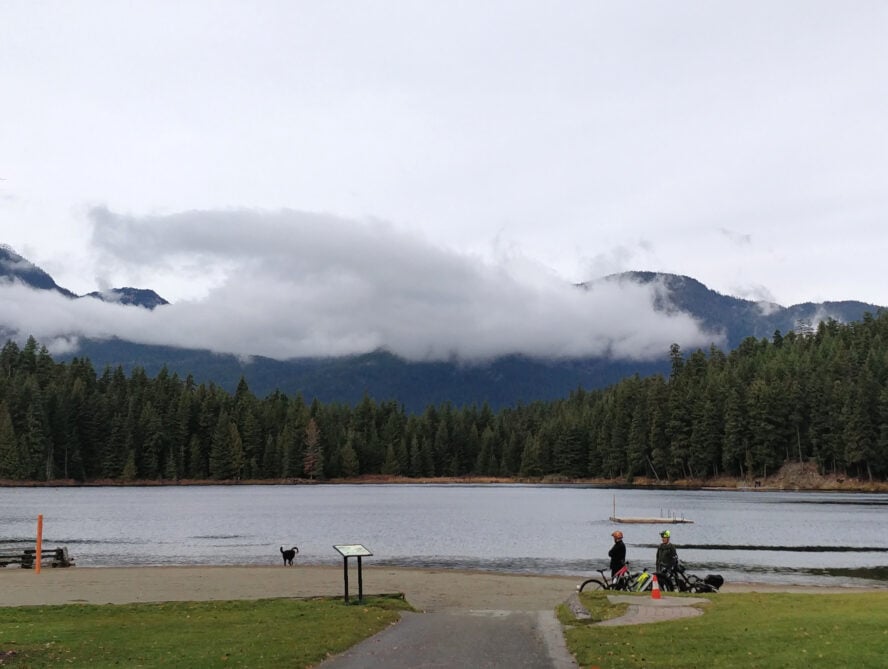 North Whistler: a true test of fitness and skill
Although Whistler is known mostly for it's downhill trails, there's tons of world-class adventure riding if you steer yourself away from the addictive nature of riding lifts. Whistler North is known for techy singletrack and challenging, punchy climbs, ascents that will seriously bust your lungs. It's a great place for intermediates to test their abilities, while providing endless fun for expert and advanced riders.
Comfortably Numb is the crown jewel of the Whistler North area, an International Mountain Bike Association Epic Ride and a true test of fitness. The 14-mile trail is typically ridden north to south, with waterfalls, bridges, and humbling rock tech to keep the adventure going. It's the kind of trail that makes me appreciate post-ride poutine more than I ever thought I could.
Westside: fast descents to keep you on your toes
Across the highway from Whistler Blackcomb, Sproatt Mountain (also known as the Westside) has some fast and adventurous tech trails, with fantastic views of Whistler Blackcomb across the valley floor. Rainbow-Sproatt Flank is an intermediate cross-country style trail, and where I head to get a solid workout in and to access some of the shorter, steep enduro-style trails on the Westside. Lord of the Squirrels is a true epic, accessed via a long challenging 3,000-foot ascent up Into the Mystic. Dropping in, you'll be rewarded with a fast descent with classic B.C. features. Rock rolls, tight switchbacks and root sections will keep you on your toes for the full four miles as you fly down the mountain, transitioning from alpine meadows to lush, mossy forests.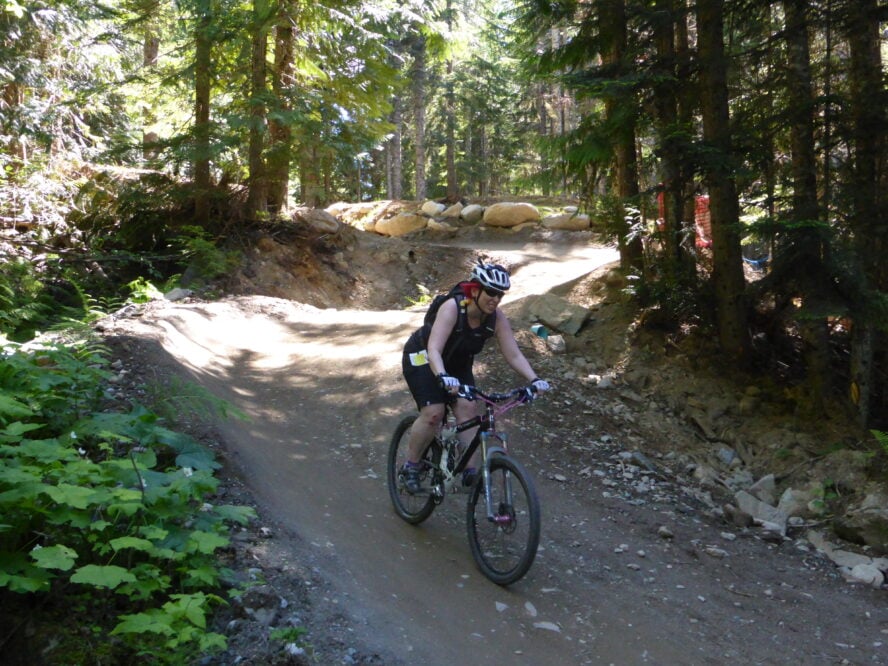 Aprés the Whistler Way
The promise of poutine and Caesars (a superior Canadian version of an American Bloody Mary) is usually where I draw my motivation to keep riding when exhaustion hits in. Garibaldi Lift Company (GLC) sits right above the Whistler Gondola station, and has an extraordinary selection of well-adorned Caesars piled high with bacon, pickled vegetables, and hot sauce. The patio is the perfect front row seat to the GLC Drops at the bottom of the bike park, where air-savvy riders send it big to show off for their friends at the bar.
You can't mention Whistler aprés without a nod to the Longhorn Saloon, a lively bar at the center of all the action, with loud music that somehow seems to start earlier and earlier each day. Get the nachos. You won't regret it.
El Furniture Warehouse, just down the Village Stroll, is a popular hangout for the younger crowd, with a lively atmosphere and budget-friendly menu. All food is $5.95, but be warned that drinks can rack up a tab real quick.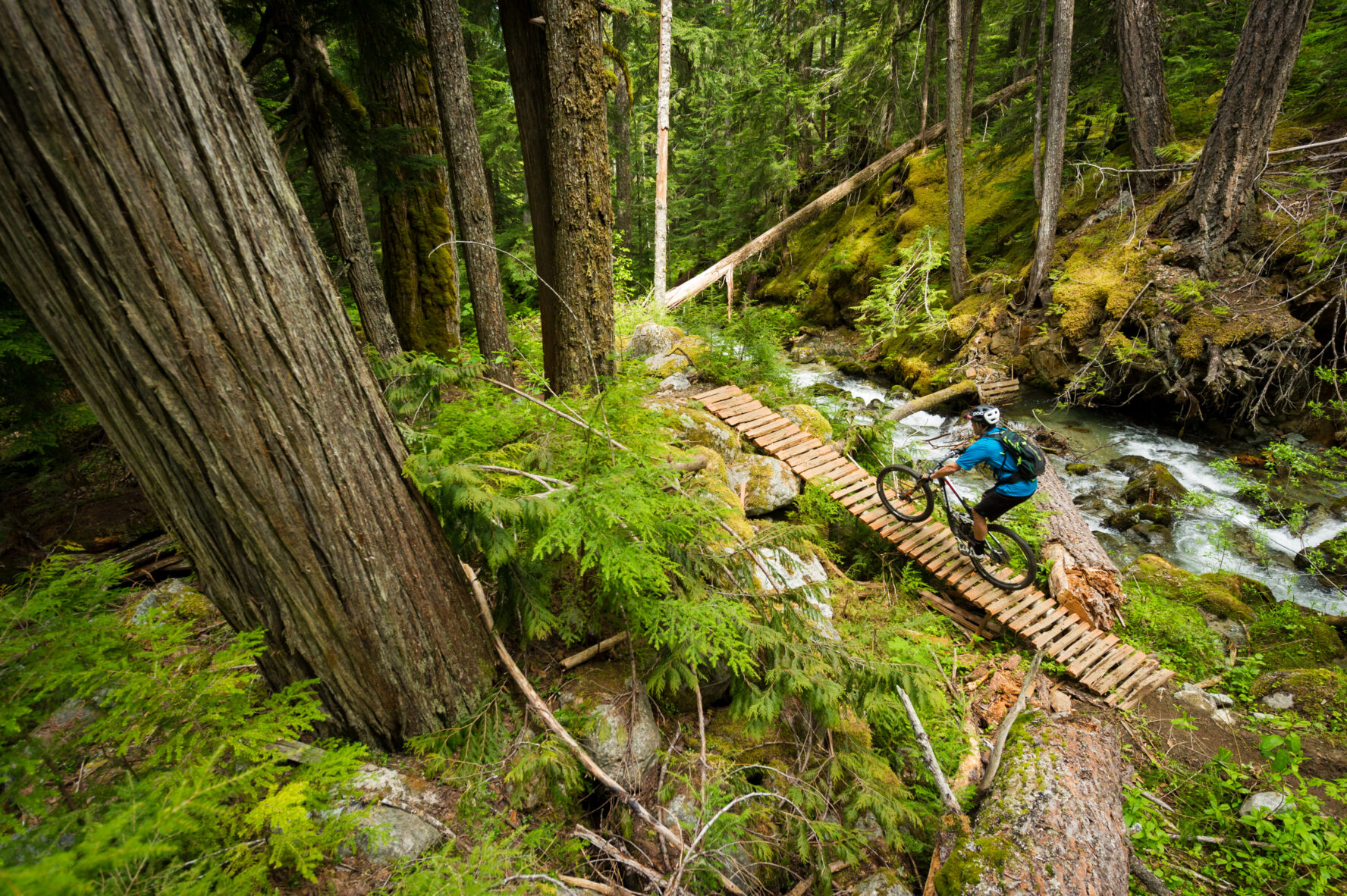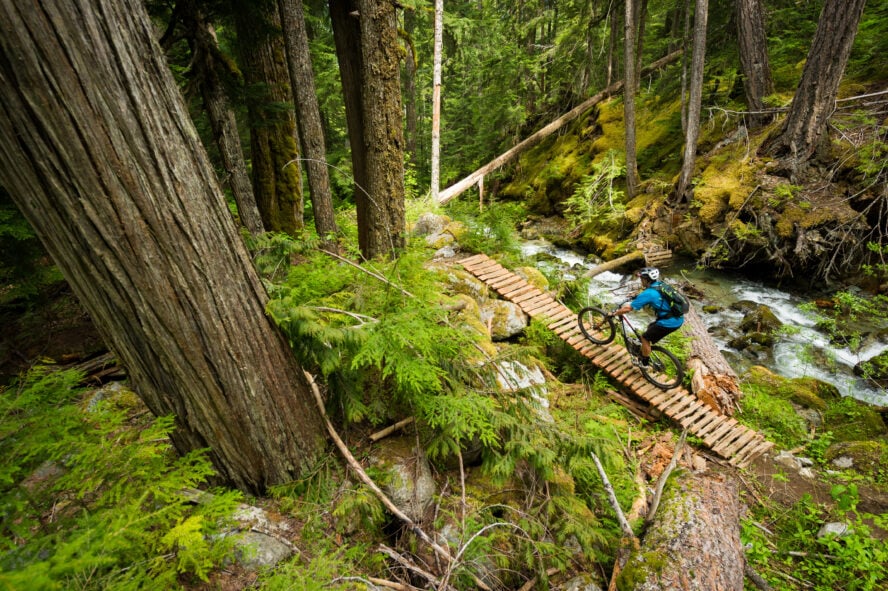 My Advice for Planning Your Whistler Trip
When to visit
While the bike park opens in May, the season doesn't really get going until June. I've found September can provide some of the best riding in Whistler, as the hot and dry trails can get pretty beat up in late July and August.
Trail beta
For detailed trailhead info, MTB Project and Trailforks are both great apps to have downloaded on your phone for planning rides and navigating while you're out there. Be sure to download the map of the area before you end up on the trial, otherwise it won't load information without service.
Lodging and camping
Unlike many upscale mountain villages, Whistler's variety of lodging can accommodate visitors of all price ranges. Luxury hotels like the Four Seasons are available for those who want it, and privately owned condos are scattered throughout the village above most of the retail shops.
The new Pangea Pod Hotel is a unique and affordable option, right in the village center with small, trendy sleeping pods, a rooftop deck, and a cafe and bar for visitors to mingle. If you're looking to escape the noise at night, hotels and condos in the Upper Village on the Blackcomb side are just as nice and safe from the Longhorn's late night speakers.
If you have a van, trailer, or are looking to pitch a tent, the Riverside Resort is a few minutes outside the village and has walk-up tent sites and RV spots with full hookups.
Other bucket-list biking spots in North America
For more lift-assisted action with a great infrastructure, check out the mountain biking in Park City, Utah. The mountain biking in Vermont's Northeast Kingdom offers varied and technically intricate trails for all creeds of riders.
The mountain biking in Bellingham offers fantastically flowy rides just 30 minutes from the Canadian border, while the mountain biking in Fruita offers a carefully curated trail system and soaring views of the Colorado river.
Everywhere you look in Whistler, you'll find the perfect trail, so start looking! Go on a guided full-day or half-day Whistler MTB trip and discover this epic high country.