Why Mountain Biking is the Best Thing About Aspen in Summer
If you love Aspen's champagne snow, try not to fall too hard when you experience its biking trails popping off in summer.
I've heard an old saying from many decades-long transplants about Aspen, "come for the winter, stay for the summer." It's truly the spoils of summer that's kept me in the Rocky Mountains for over five years, thanks to a temperate climate, bluebird skies, festivals and nightlife, surrounded by more than 300 miles of exhilarating singletrack to explore. Aspen Snowmass is a four-mountain system with its two standouts being the iconic Aspen Mountain and 14,000-foot Snowmass Mountain. The sister resorts have long been known for elite ski and snowboard runs, but are now also embraced as world-class mountain biking destinations thanks to the valley's network of gravity-fed trails.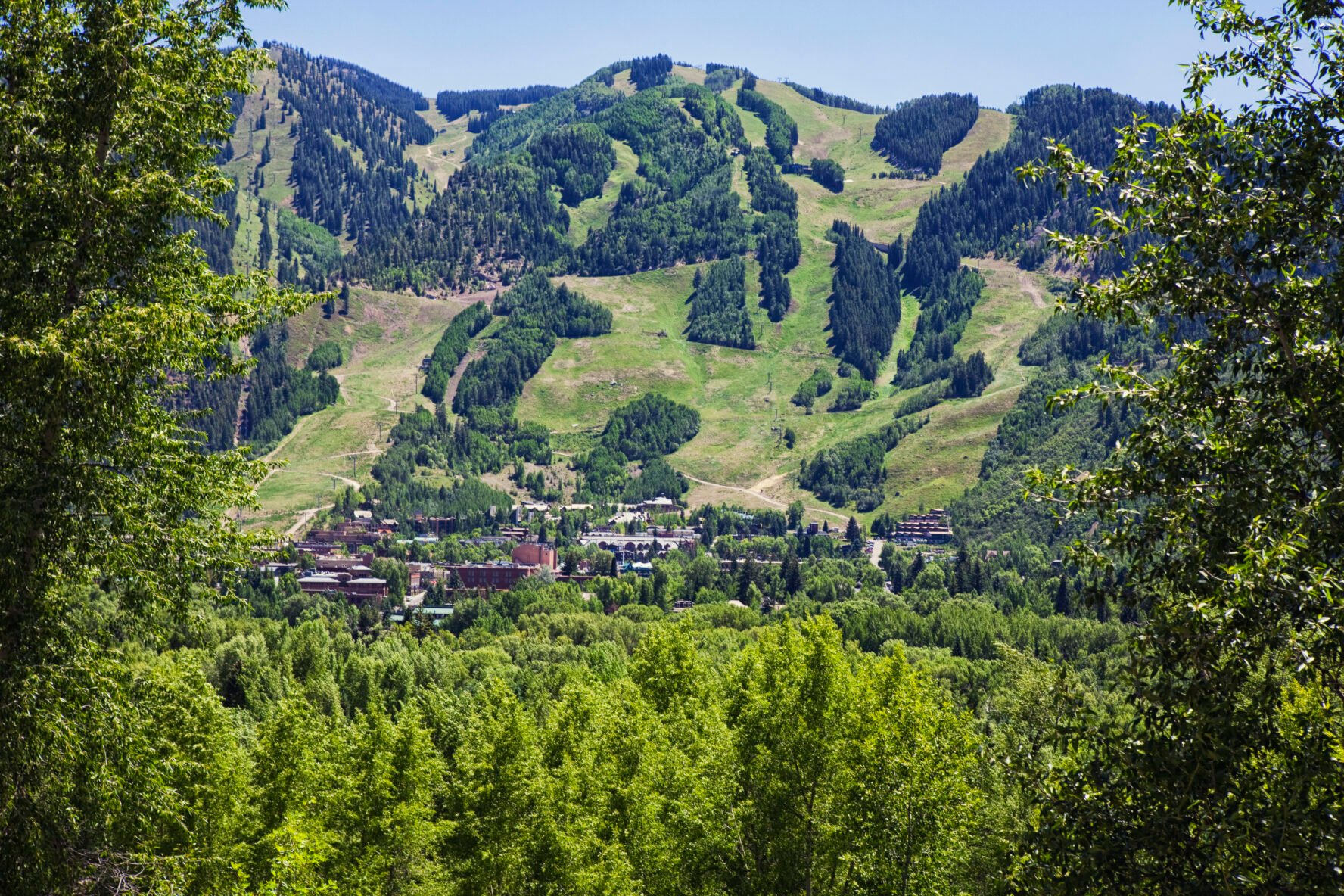 Pros and Cons of Mountain Biking in Aspen
Packed with accommodations, dining, apres and family-friendly options
Large variety of trails for beginners up to white-knuckling descents
Free shuttles allow for access between the four-mountain system
Plan well ahead for weekends, holidays and the many festivals throughout summer
Aspen tends to be high-end requiring budget-conscious travelers to be strategic
My partner and I wait each year for the final snowmelt to tackle adrenaline-pumping freerides and sweat-filled, cross-country (XC) trails. Aspen's Roaring Fork Valley provides an incredible breadth of experiences for mountain bikers. Snowmass Village is just 12 miles from Aspen, connected by an extensive network of thrilling, picturesque and high-alpine trails between the luxury outdoor destinations. It's also super easy to access some of the best bike trails in Aspen and Snowmass during even short trips. I've rounded up some of my favorites ranging from beginner grades to technical grinders.
Aspen mountain biking is steps above the rest
Aspen Snowmass might have been slower to get in the game of mountain biking compared to other resorts — I'm looking at you Whistler — but in recent years, the options have become endless. Aspen bike trails even received status as a "Gold-Level Ride Center" by the International Mountain Bike Association, an organization that honors the world's best destinations for mountain bikers of skill levels.
My partner and I love riding in Aspen thanks to its variety, from smooth tracks at Sky Mountain Park, worthwhile climbs at Rim Trail Loop and technical black diamonds such as Valhalla in the Snowmass Bike Park. I started mountain biking not only to see more of the backcountry in summer but because the local premier ski pass allows locals unlimited days on the slopes in winter and downhill lift access for bikers in the summer. I'd call that a win-win.
Aspen bike trails are worth returning to year after year
My favorite part of biking in Aspen is the variety, which is why it landed on my list as one of the best places for mountain biking in Colorado. Each year I'll discover a new trail to get my blood pumping, whether it's a table or flowy berms. You also don't have to yearn for monster drops to experience the best of what the area has to offer. The Roaring Fork Mountain Bike Association (RFMBA) is one local group dedicated to building beginner singletracks. We all have to start somewhere. MTB in Aspen gives new riders the perfect opportunity to build the foundation needed to move up to intermediate and advanced trails already in the system. Of course, I have to mention my favorites including Valhalla at Snowmass Bike Park, the new-ish loop at Aspen Sky Mountain Park and the Rim Trail cross-country bike trail. It's a literal playground — and no member of your crew will be left out of the fun.
Trailforks.com has a great, comprehensive mountain bike trail map of the Aspen area you can check out here.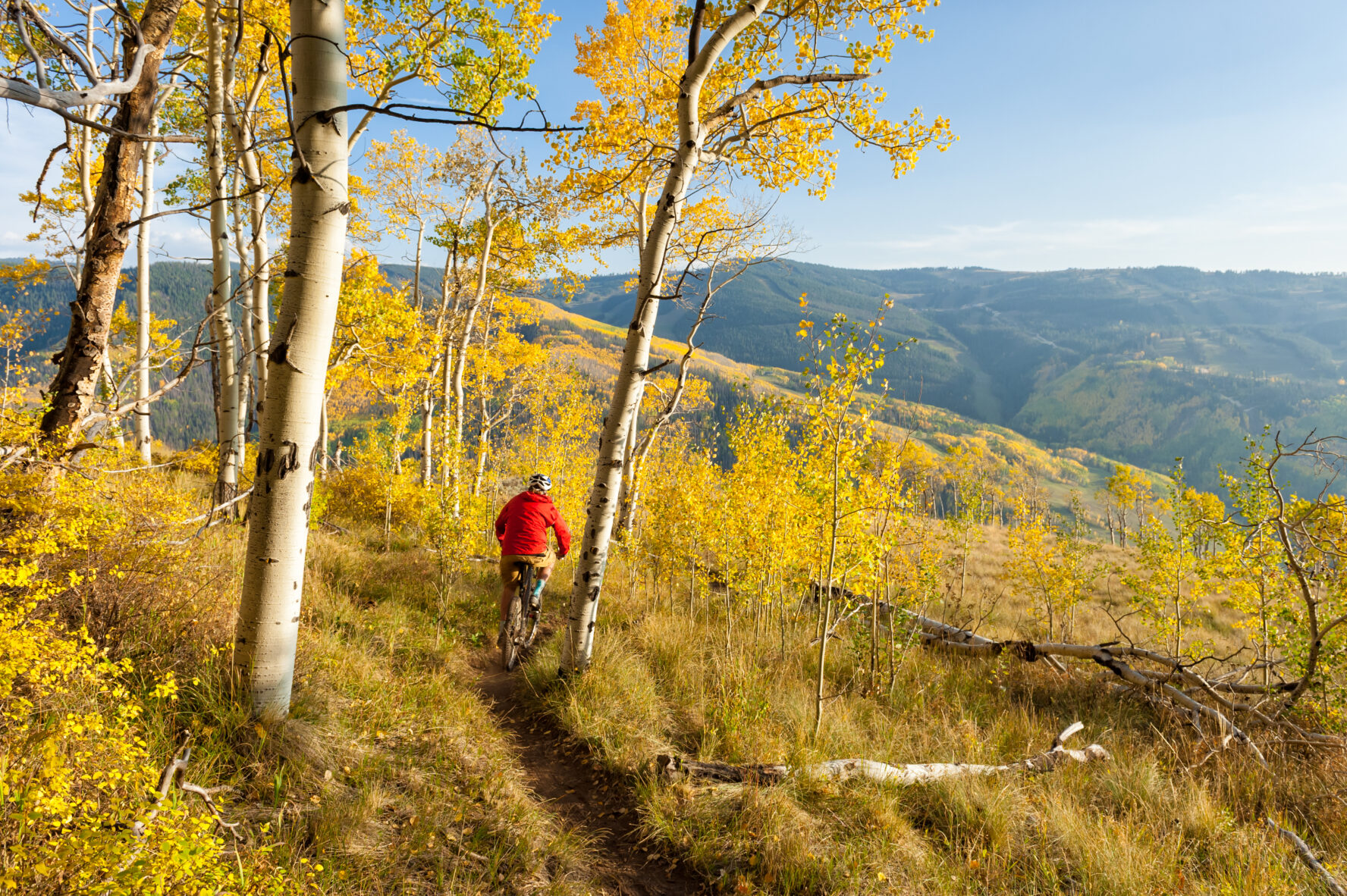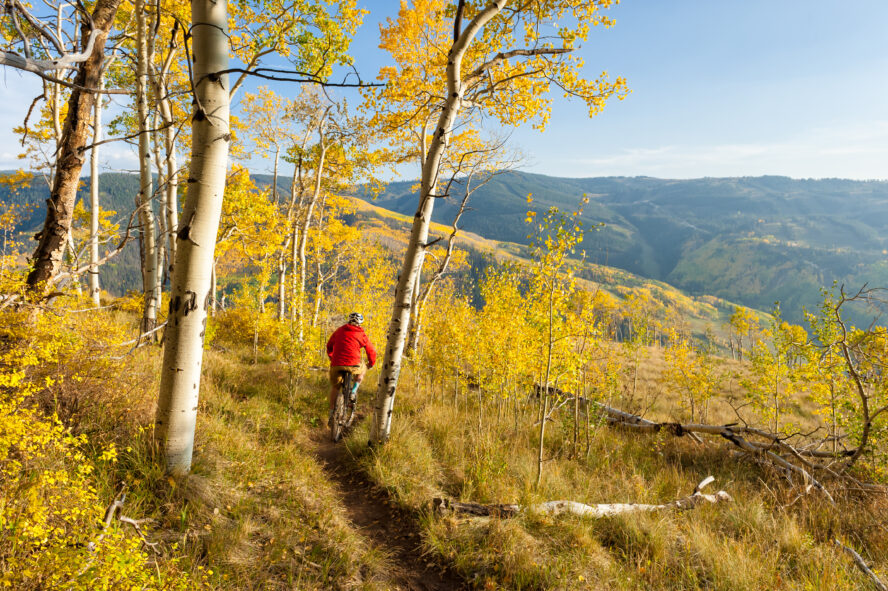 Snowmass Bike Park: Welcome to Downhill Heaven
I'm a huge fan of Snowmass and head to Elk Camp for freeride trails ranging form solid blue intermediates to challenging black diamond technical features. Snowmass Bike Park offers lift-service downhill biking trails winding 2,893 feet from the top of the Elk Camp Chairlift down an awe-inspiring range of descents. Snowmass started lift-access mountain biking back in the late '90s, but it wasn't until the resort moved to a more dynamic multi-year plan and partnered with Gravity Logic that it built build its first freeride trail, Valhalla, named after a hall for heroes from Norse Mythology. Gravity Logic builds trails and infrastructure at resorts including Whistler, Copper Mountain, and Telluride. Although Valhalla is a favorite, there's certainly plenty of other trails on which to get your fix. The Snowmass area offers over 50 miles of mountain biking trails, all ranging from easy to difficult.
1. Elk Camp — your first stop from Snowmass Base Village
Snowmass Base Village is where you'll find lift tickets, bike rentals and access to the Elk Camp Gondola, which takes you and your ride up to Snowmass Bike Park. The gondola takes riders to the bike park, and then the Elk Camp Chairlift will get you all the way to the top. You could spend the whole day in the park before heading back down to Base Village through evergreen forests, aspen trees and wide-open meadows for a scenic send-off. It does feel like a descent from the heavens to bag your first downhill at Elk Camp. The following are a few downhill trails tailored for a range of riders.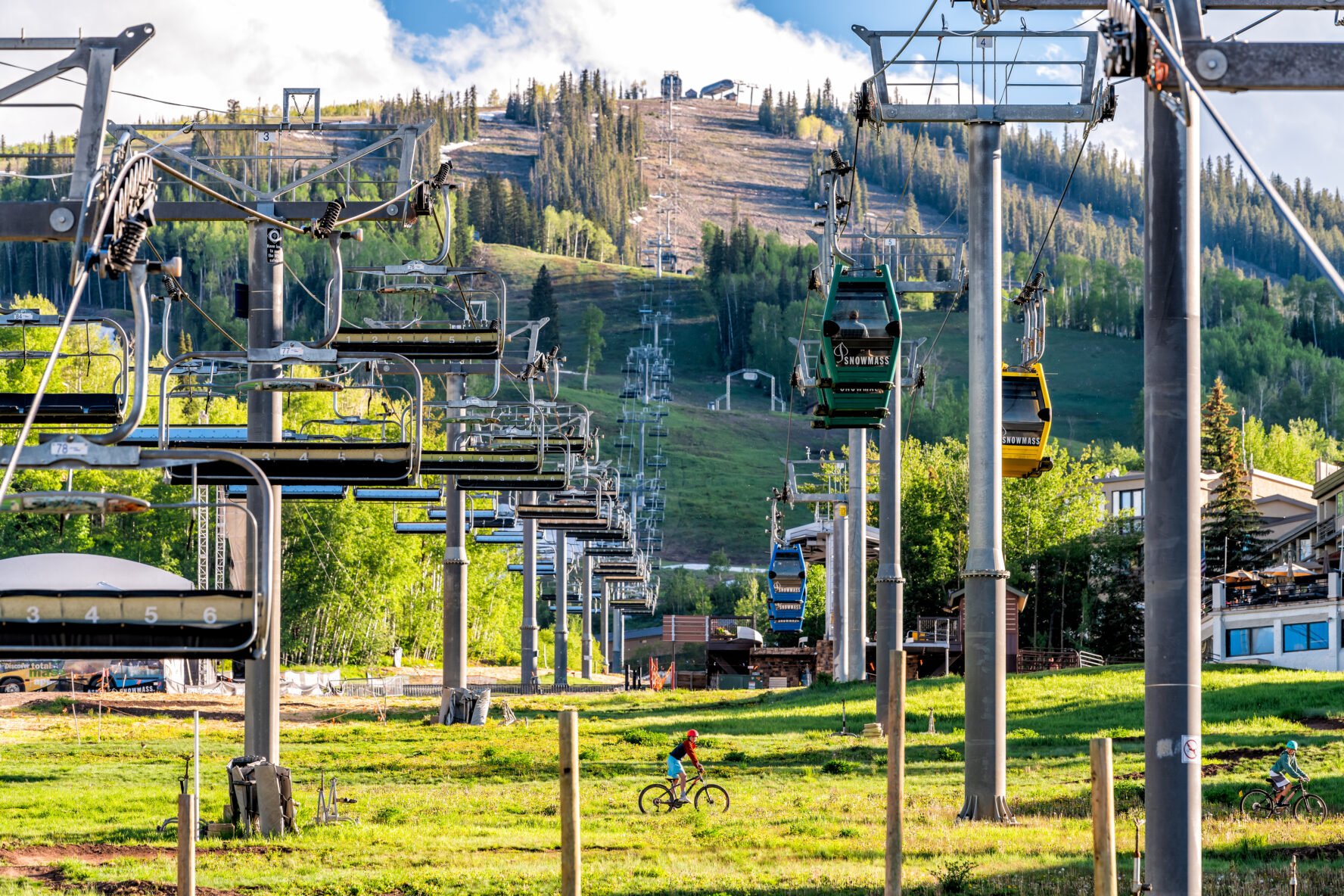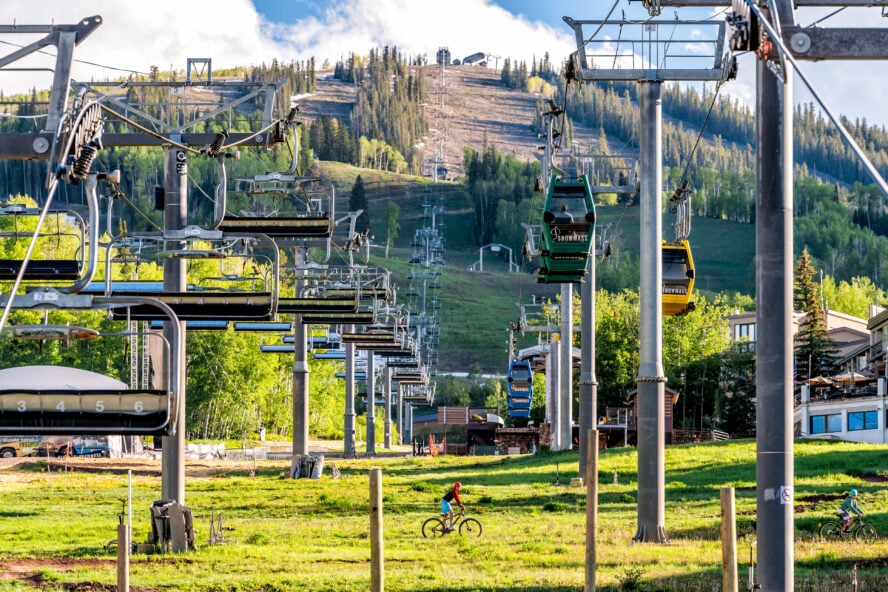 2. Valhalla: multi-level riding at Snowmass Bike Park
Valhalla is the original freeride trail at Snowmass Bike Park. Aimed at intermediate to advanced riders, the path winds through aspen forests over a thrilling 2.8 mile course. You'll also drop 1,400 vertical feet back to the base over jumps, set ups and wooden features. The payoff is the ability to go bigger with each run. I appreciate the big bank turns, noncommittal jumps and fast flow, while my partner goes all in. You can really ride this trail all day and never get bored. We've certainly tried.
3. Get started on Verde, a great beginner freeride trail
Enjoy a cruisy trail for riders of all ages, especially kids and anyone who is looking to improve basic skills such as cornering. For true beginners, I recommend the skills park to adjust to the feel of your rental bike and practice the skills needed on the downhill trails. You'll start on the gateway to jumps, including berms, bridges and rollers built with beginners in mind. Once you're ready to embark on your first descent, I recommend Verde Mountain Bike Trail as a beginner freeride trail from Snowmass Bike Park. It's smooth riding all the way for the 4.2 miles.
4. Take it to the next level on Viking Trail
Viking is an intermediate freeride trail with features for riders who are comfortable with technical descents. I find this trail to be a great confidence booster for riders looking to work on their skill set, and that's exactly what Gravity Logic intended when the group updated the trail formerly known as "Easy Rider." At 2.7 miles, the trail features medium-sized jumps and bridges leading riders from the top of Elk Camp Gondola down to Snowmass Base Village through towering evergreen trees, aspen groves and sweeping meadows.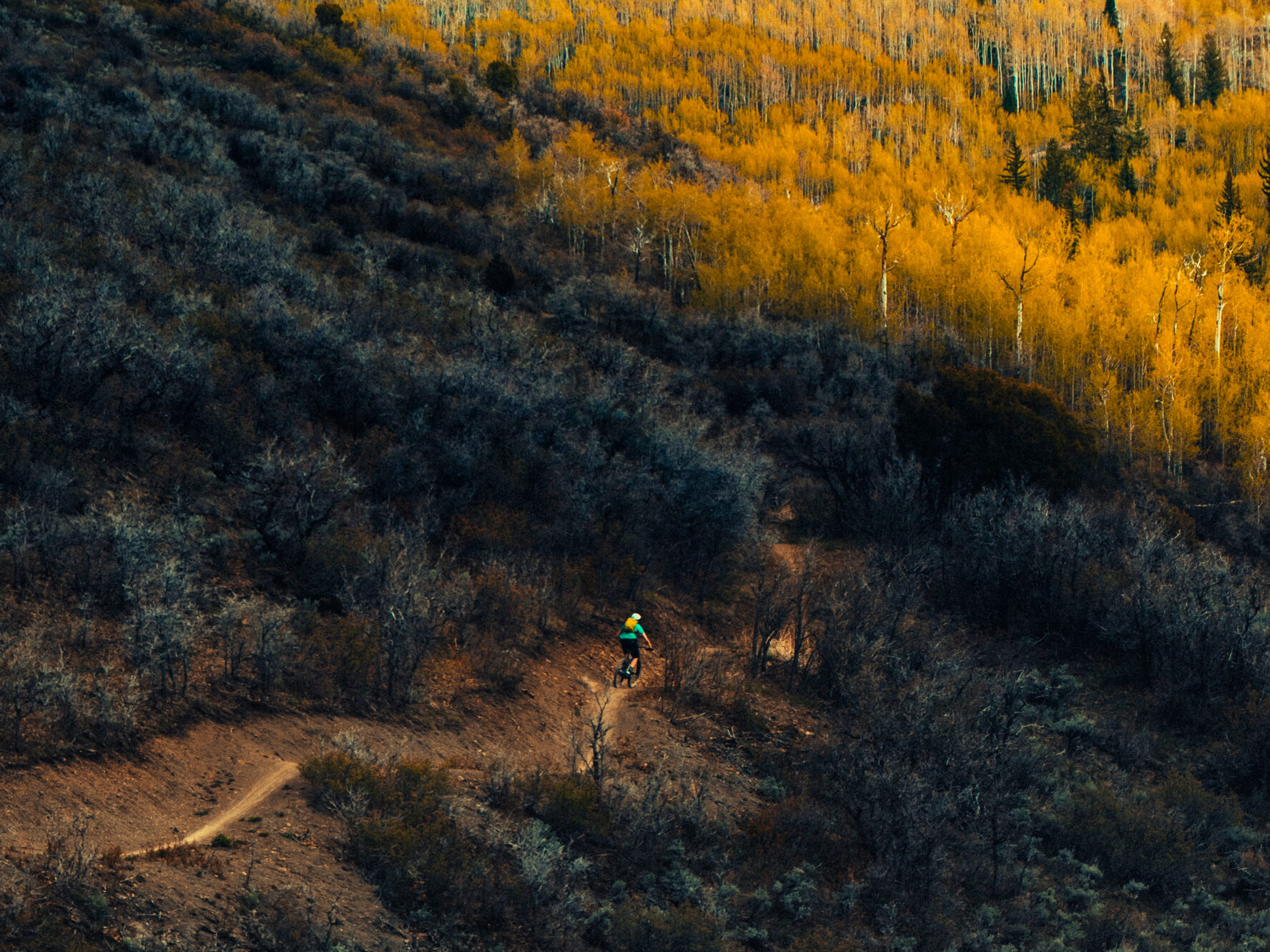 Aspen Sky Mountain Park: New Freeride Options
Not many destinations offer such easy access straight from the airport to exquisite trails. Behind the airport, Aspen Sky Mountain contains 15 miles of a single-track network creating loops to cater to all skill levels. Plus, it's super fun. You won't find any rocks here thanks to smooth, flowy and fast trails. Skyline Trail is made out of primarily shale, perfect for a non-technical playground. Airline, Cozyline and Viewline trails bring you near the summit with spectacular views of the Elk Mountain Range and sweeping views all the way from Buttermilk to Snowmass.
Sky Mountain trails are clearly marked, so beginner and intermediate riders interested in a cruisy ride or looking to improve their skills can find multiple options. One of my favorite loops, and arguably one of the best Aspen bike trails, is a 12-mile traverse from the 2.8-mile Cozyline to Skyline Ridge, which then creates a loop back to Brush Creek. You'll want to take time to soak in the views from Skyline, which acts as a connector to Viewline and Ditchline before dropping you off on a paved bike trail. You can head back up via Cozyline to Buttermilk, or jump on the free shuttles to take you back to Aspen or Snowmass. Taking it up a notch, you can also connect to Deadline from Skyline Ridge to a thoughtfully crafted downhill trail with approachable but tight turns, berms and table tops. Just make sure your brakes work well.
Singletrack Aspen Bike Trails
If your thighs aren't burning, you aren't doing it right. I learned to love the countless pitches because the views are really worth the sweat. A classic XC ride in the Rockies is riding the Government Trail from Snowmass into Aspen. More about that next.
1. XC Aspen biking trails: Government Trail
Government Trail is a fabulous 19-mile trail worth the ride. It's considered one of the definitive Aspen mountain biking trails, and I have to agree. Traversing Snowmass Mountain and descending into the Maroon Creek Valley, Government offers several stretches of stunning vistas after you navigate a technical rock garden. It's followed by more challenging pitches than is wise to count. My partner makes a point to ride this trail every fall to take in the changing leaves, starting in Snowmass and ending at Tiehack Road where there's usually plenty of parking. You can also continue on other trails or head back to Aspen on the bike path.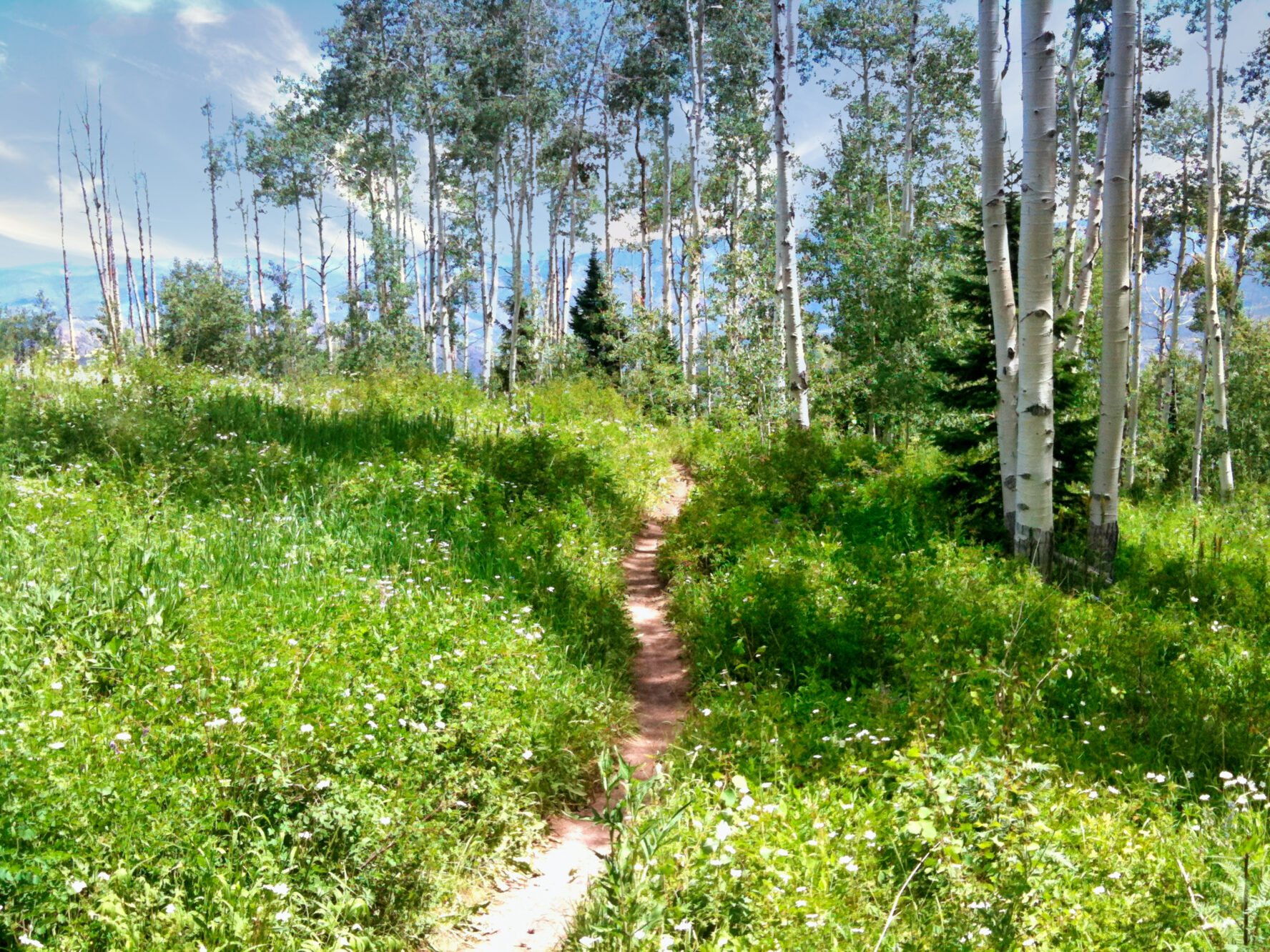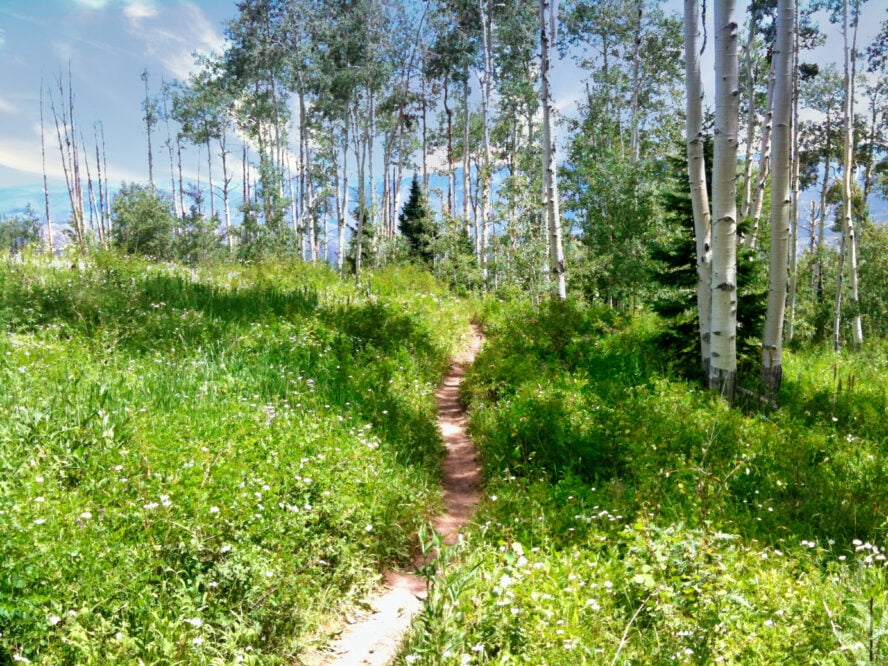 2. Rim Trail Loop: a classic not to be missed
I might call the 11-mile Rim Trail Loop in Snowmass the best singletrack ride in the valley, but it's for sure one of the most popular. It's a classic that's been around for decades that has been adopted by riders because it offers incredible views of Snowmass ski area and contoured tracks. You'll also get about seven miles of singletrack winding through iconic aspen groves, but the majority of the trail is bordered by sage buses. To cap it off, you'll get a decent climb at 1,729 feet leading to a fast, fun descent right to your vehicle. Parking at the Rodeo lot is free and a major stop on the free Aspen to Snowmass shuttle system.
3. Hunter Creek trail system — a local favorite
Hunter Creek is a stunning valley featuring a trickling river and lots of options to choose your own adventure. You can also easily turn back when trail hopping starts to wear thin. You'll start at Smuggler Mountain, on a jeep road on the edge of town that also happens to be one of the most popular hiking trails for locals and travelers alike. It's common to also encounter dogs off-leash and the nearby parking can be full on busy days. It's only 1.5 miles with an 800-vertical foot gain to a hotspot overlooking to where the city of Aspen stretches to meet its namesake mountain.
Keep in mind, despite the Instagram-worthy view, you'll also encounter roots, rocks and technical features moving forward. I wouldn't recommend Hunter Creek for less-confident mountain biking beginners. A satisfying 9.6-mile loop takes riders on a series of interconnected singletracks before following an old mining route. Connecting back with Hunter Creek Trail leads you to Red Mt. Rd. and a descent through scenic forest back into Aspen. Although the series of trails might sound complicated, such as taking BTS to Tootsie Roll to Lollipop to Iowa Shaft, information kiosks with legible trail maps are located at both the base of Smuggler and near the Observation Deck.
4. Earn your turns on Buttermilk Mountain Trail
Buttermilk is ideal for anyone searching for a clear workout but with the rewarding ride down. I would say this isn't too technical but you will go over roots, enjoyable bumps, and other features to keep you on your game. I will warn you, heading up is best described as a slog. But isn't it the challenges in life that keep things interesting? Once you're on the fire road that takes riders, hikers and vehicles alike, you might be like me and second guess your judgment about the 1,984 feet elevation gain. Trust me, the challenge of a climb to 9,700 feet is worth all the effort.
It's nice to bring a sack lunch for a rest on Buttermilk Ridge offering an overlook to the iconic Maroon Bells mountain range. Also, bring plenty of water since you'll potentially experience a good deal of sun exposure. You'll forget about all about the climb once you experience the descent through quaking aspen groves traversing West Buttermilk ski runs until it merges with the lower section of Government Trail.
Aspen Mountain bike rental: get the right gear
Just between us, I started out with a rental when I first landed in Aspen. Quality bikes can easily cost a couple thousand dollars, so getting to know different styles is a must. Mountain bikes with dual suspension work best for the riding around Aspen trails. This is especially true for trail riding and cross-country trips. You can then lock out the suspension for more support and efficiency when riding uphill then unlock for a soft suspension that acts like a cushion when heading down. Bike rentals are available through Four Mountain Sports, Ute City, and Aspen Sports Bike Rentals.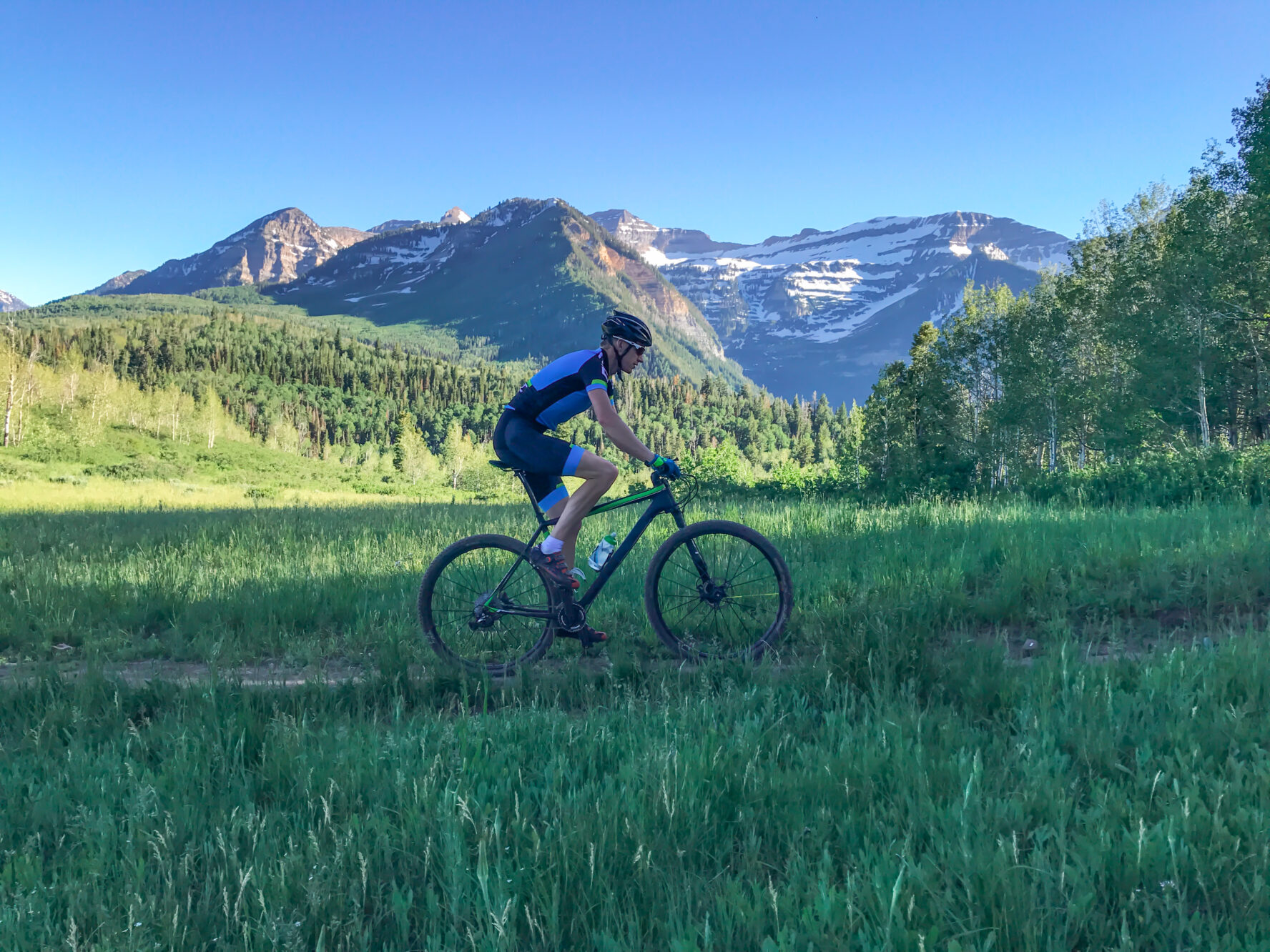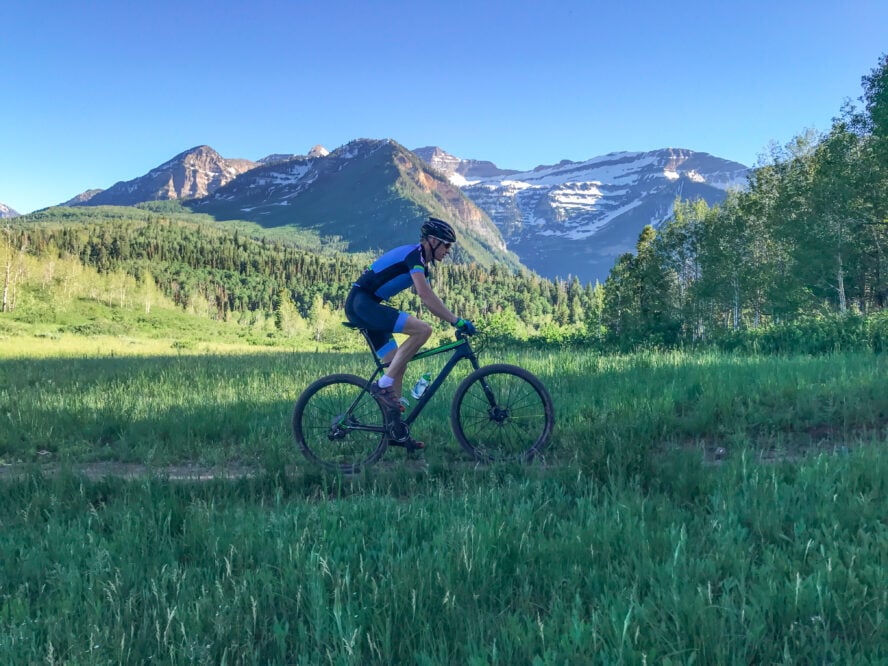 My Advice for Planning Your Aspen Trip
There are so many things to do in Colorado in the summer (such as hiking) – especially in Aspen Snowmass: music festivals, open-air concerts, racing competitions, you name it! Big name musical acts regularly offer free concerts from June through September. Snowmass also hosts the Jazz Aspen Snowmass Labor Day Festival drawing 10,000 people per day. Not bad for a town with a year-round population of less than 3,000 people. It's worth checking the city's calendar to see whether your visit can coincide with a worthwhile show at the venue Belly Up, or if you can avoid the spike in lodging prices during decadent annual events such as Food & Wine.
Remember to acclimate to the elevation
Depending on how long you're planning to stay on your Aspen MTB trip, it's helpful to add at least a day to acclimate to the elevation. Being a cheap date is also not a myth when it comes to drinking at elevation. I've had visitors lose their hat, so to speak, more than once. An added day can also be helpful for getting used to a rental bike and determining your comfort level before climbing 2,000 feet of vertical.
Where to stay and eat in Aspen?
Aspen is packed with lodging and dining options. Aspen's Limelight Hotel (make sure to visit the elaborate breakfast bar!) and Mountain Chalet are more accessible options. I like to head to a locally owned spot first when in a new town, so here are some of my favorites. Local Coffee House is a hip spot for espresso, fresh juice and avocado toast. Aspen Meat and Cheese offers daily special tacos that can be called in and ordered to go, but almost always run out for lunch. 5280 Grill is a low-key lunch spot that serves Aspen Brewing Company beer on tap. Aspen Brewing Company also has a full bar and excellent dining options. I love sitting on the patio overlooking Ajax on a sunny day.
Where to stay and eat in Snowmass?
Snowmass opened a Limelight Hotel, both are owned by Aspen Skiing Company, resulting in a much more happening scene in the quieter of the two resorts. The town also has many short-term rental options if you're coming in a larger group or just want the space to cook on your own. I also recommend to finish off your day by enjoying a beer at the sun deck at Base Camp Bar& Grill after a hard day of work. It can really be a scene, DJs tend to put on music in the square, and the prices are decent. You'll also find pizza upstairs. The Snowmass Mall also has New Belgium Brewing and Venga Venga just uphill from Base Village. It's reachable by the Skittles Gondola, but sometimes walking is faster in the summer.
Don't miss après in Aspen
Aspen stays true to its reputation as a nightlife capital. I like to head to Silver City Aspen, especially with larger groups for an extensive bar, late-night dancing and occasional game nights. The W Aspen is the newest hotel in town and only a short walk from Aspen Mountain. If you want to see historic Aspen, I recommend heading to Hotel Jerome to grab a seat at J-Bar or neighboring The Living Room to serve up craft cocktails in a kitsch, luxe setting. Hotel Jerome is also believed to be haunted, so that might liven up the night.
When to visit Aspen?
We call early spring "off season" or "mud season" for a reason. A good rule of thumb is that trails dry out by late May to June. Thankfully, we're able to enjoy trails well through fall moving down valley as winter approaches. Crisp, clear days in October have been some of my favorites in the lower Roaring Fork Valley. It's also not uncommon for snowfall to hit in June, so for the integrity of the trail system, riders are encouraged to wait until the ground dries. The same goes for trails being tacky after a big rainfall. Another thing to keep in mind, some trails are only open seasonally to protect wildlife migrations. A section of Government Trail east of Elk Camp Gondola is closed from May 15–June 20 for elk calving season.
Snowmass Bike Park is open for downhill lifts from June to September. Dates change each year, so make sure you check the hours of operation before you gear up. The Roaring Fork Mountain Bike Association is an excellent resource for trail updates, or a guide can take you to the best tours for the time of year. For example, we've been patiently waiting but trails are now dry in early May due to low rain and high temps.
Let a local expert guide customize a full day or half-day Aspen MTB adventure completely to your taste. Aspen will take your breath away in more ways than one!