Why Vermont's Best Mountain Biking is in Northeast Kingdom
I love Kingdom Trails' flowy singletracks, bermed downhills, and insane technicals. Combine that with Burke Mountain's bike park, and you'll see why I packed up, started guiding, and made Northeast Kingdom my home.
I'm a New Yorker who fell in love with Vermont, and I've been mountain biking for seven years. One of my first MTB-related jobs was working in a popular bike shop in Central Vermont; I helped out with coaching, too, and it felt so natural. I knew helping people face and overcome their fears was what I wanted to do. It just blossomed from there. With that in mind, I opened my own mountain biking guiding company just last year, Blue Sky MTB, operating in Vermont's Northeast Kingdom. Showing off where I live and the trails we get to ride here is a close second. Most of my guiding is centered around the Kingdom Trails and Burke Mountain. The community here is unlike anything I've ever encountered. Everybody seems to have mountain biking on their mind. The trails are just the right amount of technical and incredibly diverse. This place is so good, that sometimes it feels like it just can't be real!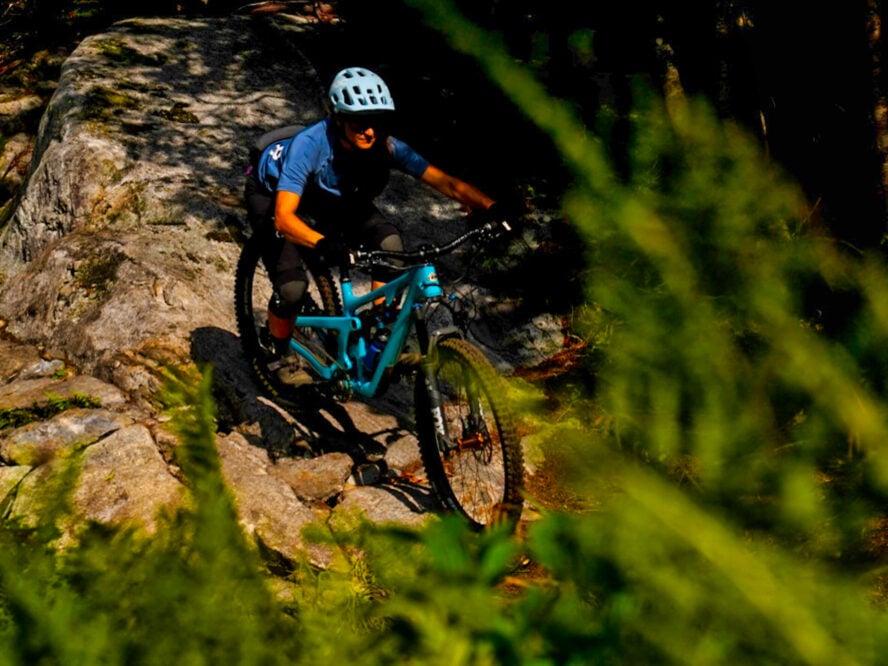 Pros and Cons of Mountain Biking in the Northeast Kingdom
Year-round riding on the East Coast's best singletrack
Every trails promises great fun and picturesque scenery
Trails start practically at my doorstep in East Burke
Black fly season starts in May so bring your repellent
Muddy track can lead to trail closures
MTB in Kingdom Trails is like a fairytale
Northeast Kingdom, Vermont is home to the crown jewel of East Coast mountain biking. What Moab's iconic mtb trails offer in the west, the Kingdom Trails network easily meets in the east. Spread over 100 miles of diverse terrain, Kingdom Trails feature some of the best singletrack in the US. This network boasts everything from mellow, flowy trails that slice through scenic meadows to fun moderate rides over wooded tracks to crazy technicals that will get your blood pumping. Pair that with a renowned lift-accessed bike park at Burke Mountain and an incredible biking community, and you've got the recipe for a perfect mountain biking destination. Be sure, if you can ride a bike, Northeast Kingdom has a trail with your name on it.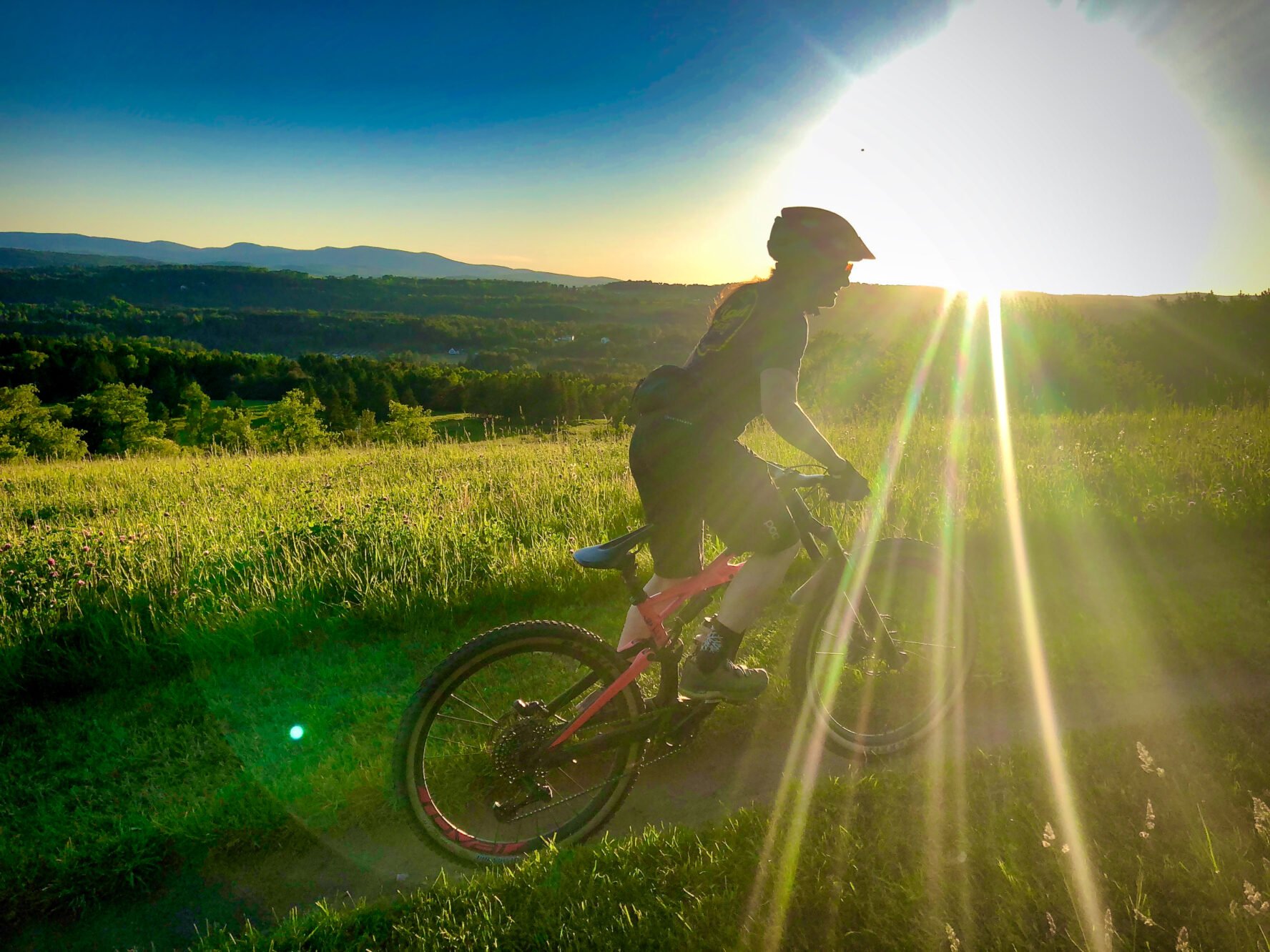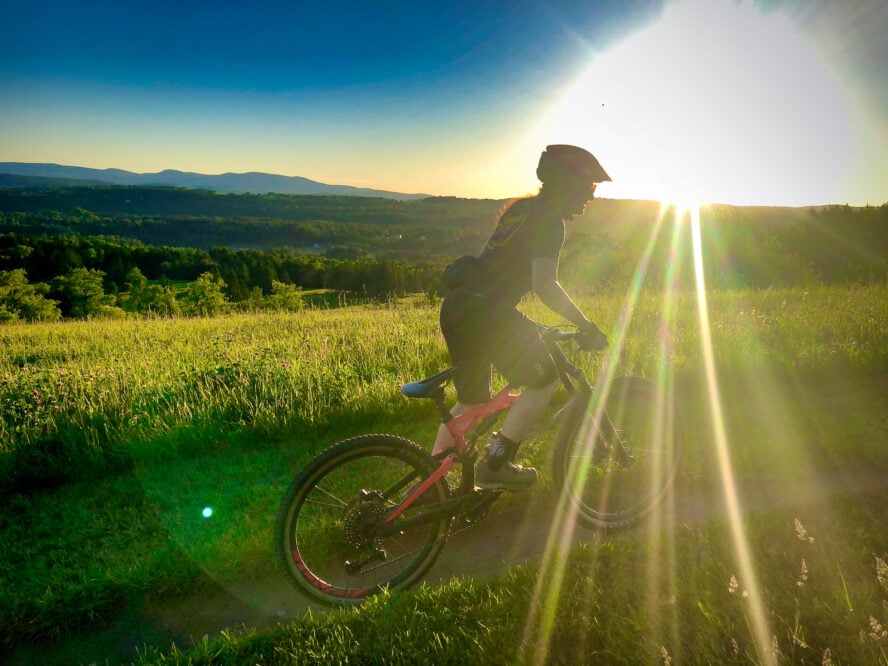 A brief bit of history about the Kingdom Trails Network
The Kingdom Trails network, like the name suggests, is located in Vermont's Northeast Kingdom. The closest town and basecamp for most MTB adventures in the area is East Burke. The majority of the over 100 miles of trails — of which I've ridden almost all of them — dive across and down the Darling Hill and Burke Mountain, part of the Green Mountains Range. What's really unique about the Kingdom Trails network is that it's primarily made up of land owners that donate their land to the system. Around 100 landowners granted use of their private property to make up over 240 acres of land.
The system is constantly maintained by the Kingdom Trails Association and can be ridden year-round. The KTA team is a non-profit organization made up of local volunteers and avid mountain bikers. Their number one mission is to keep the cogs of Kingdom Trails running — from coordinating the landowners' wishes to ensuring the trails continue offering great MTB. Kingdom Trails network's official site has a detailed mountain bike trail map for both summer and winter trails.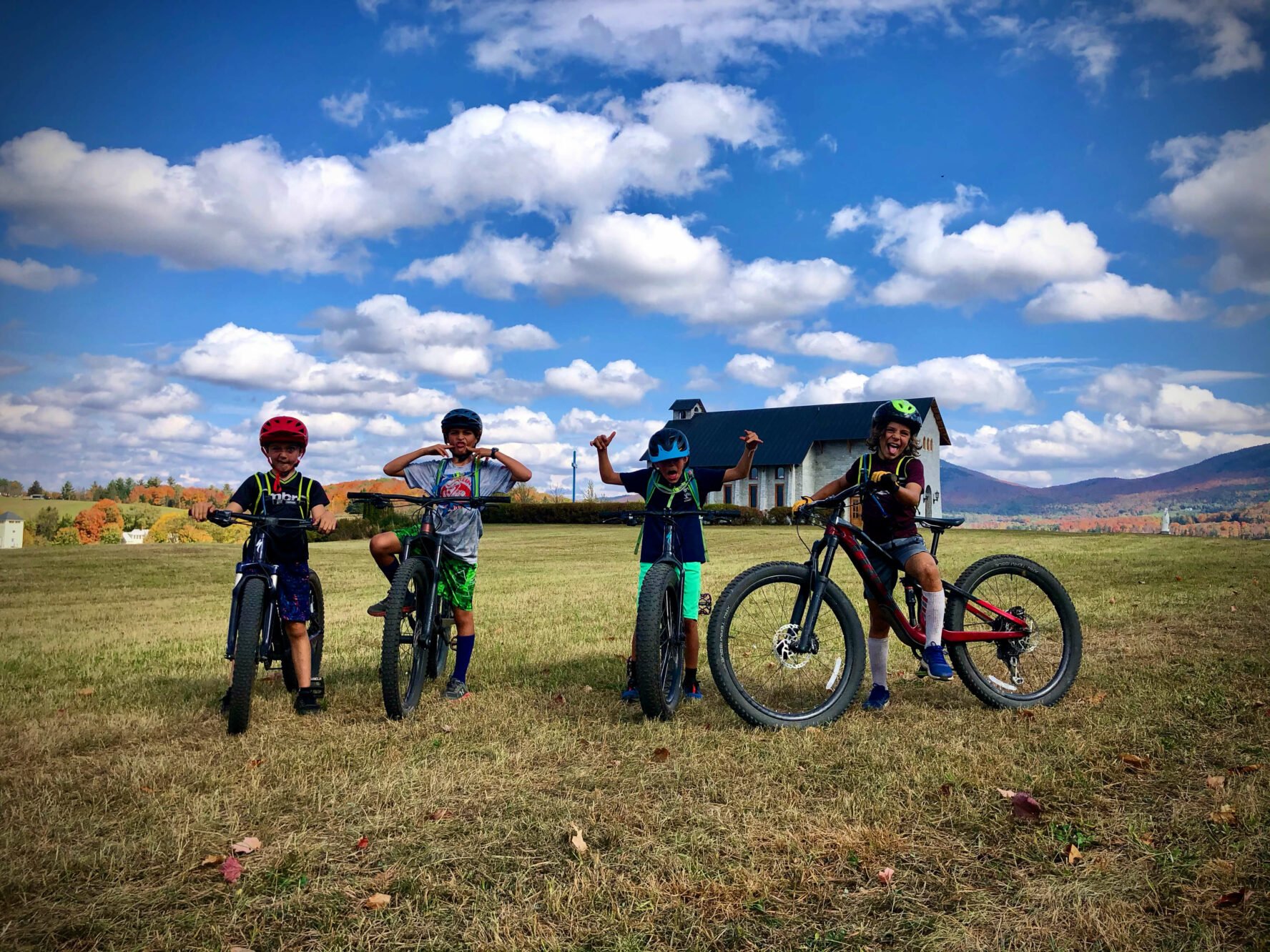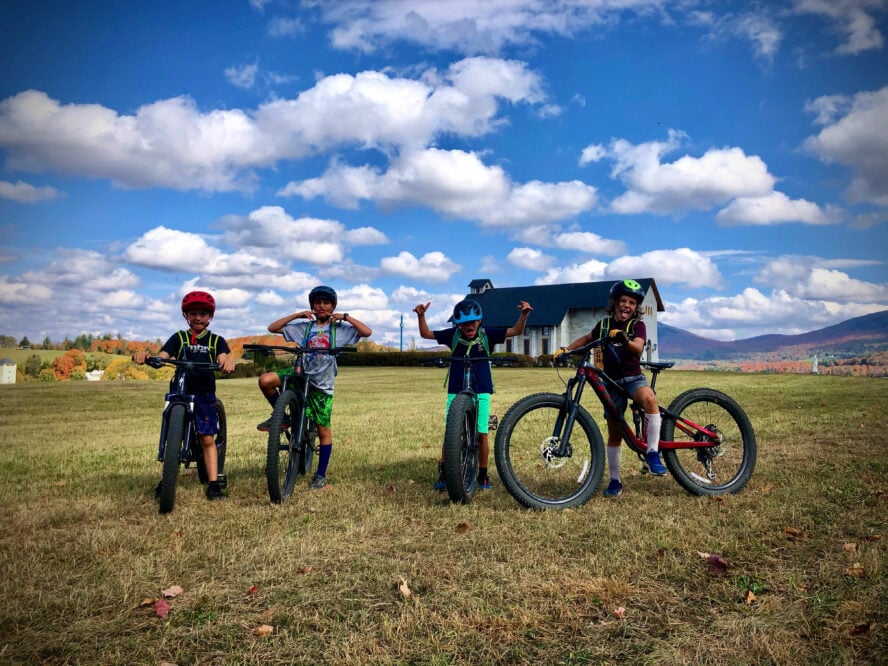 What I love about the Kingdom Trails Network is its diversity
What sets the Kingdom Trails apart from the other trails I've ridden is their diversity. I can do a 20-mile ride one day and hit a super technical trail that will put my skills to the test the next day. I can also string together a couple of scenic rides where there's a river in between and stop for ice cream when my party gets tired. The Kingdom Trails really treat you like royalty.
In true Northeast Kingdom nature, we don't get spring for a little while longer than other parts of the country. The cold tends to linger here. If we're lucky, we start riding in spring, but the season goes well into autumn. You can even ride your fat bike in the winter. Our area gets its fair share of rain, but I find the trails pretty fun to ride after a little shower. The area does struggle with erosion though so you have to be careful, and this network of trails does close for mud season. Fortunately, the tight-packed loamy tracks do drain well on their own, though.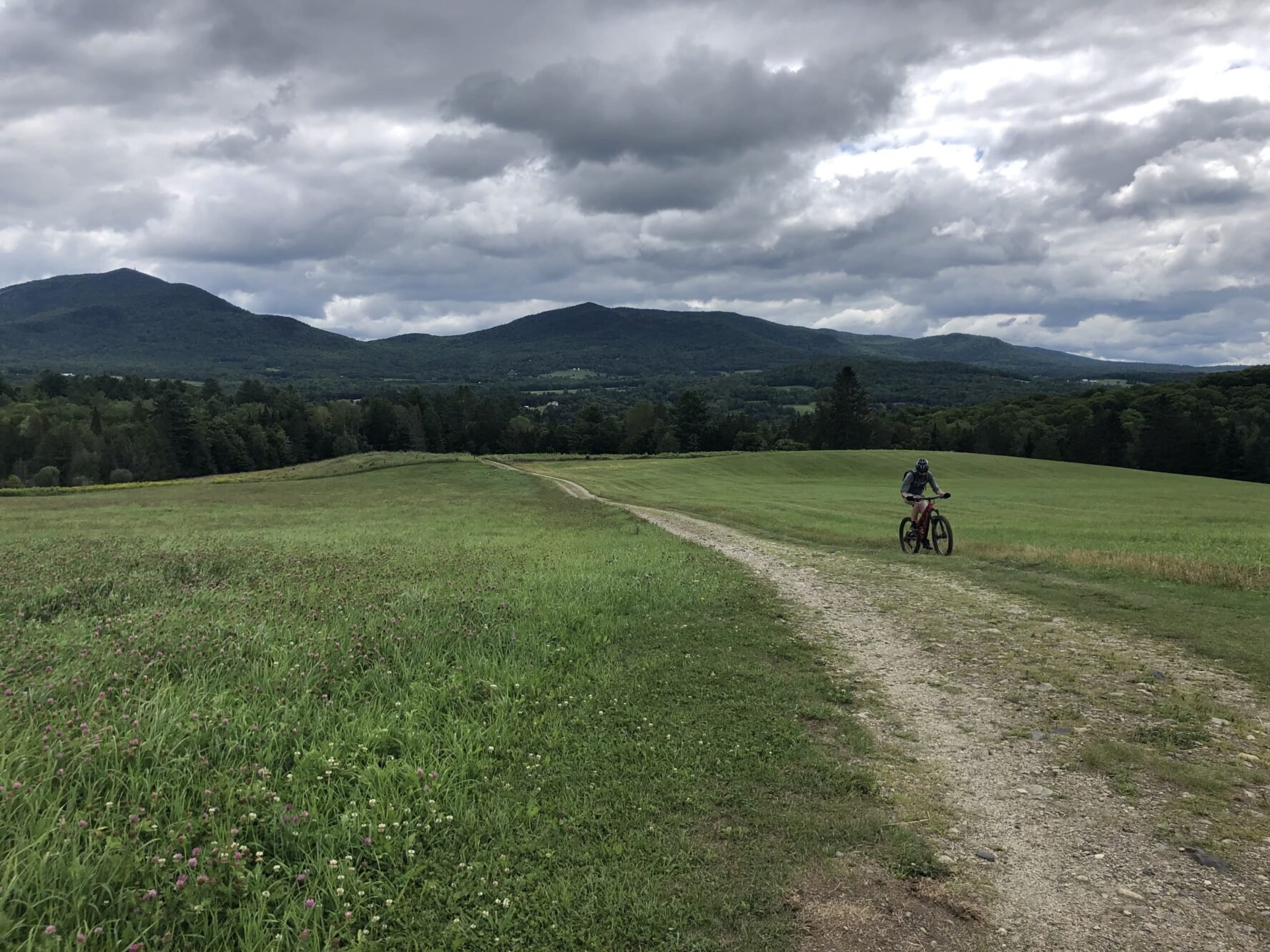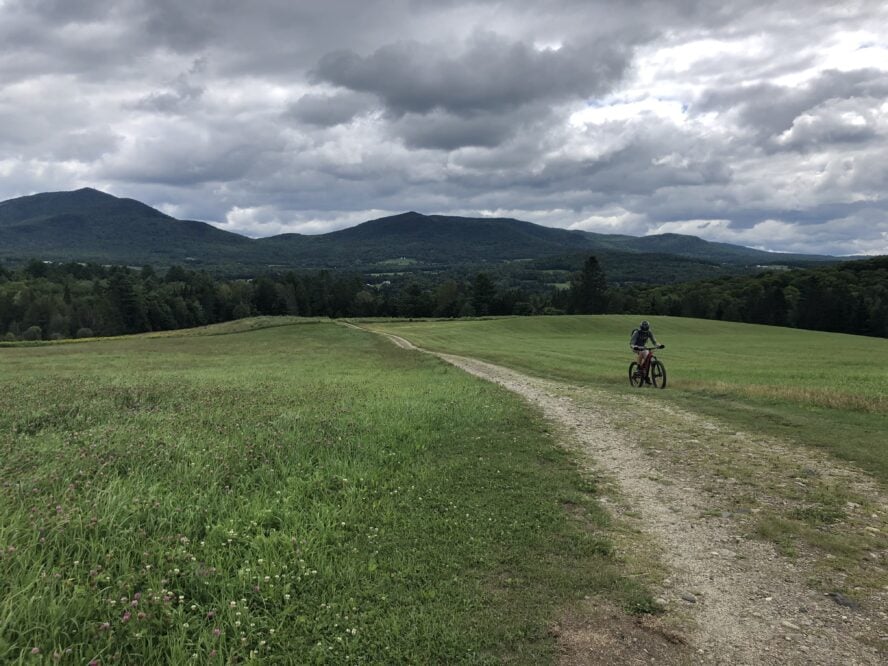 Mountain biking at Burke Mountain Resort is a thrilling downhill adventure
During winter, Burke Mountain Resort is a world-class ski destination. Come summer, the area becomes known for the Burke Mountain Bike Park. Burke Mountain trails are partly intertwined with the Kingdom Trails network, but it's its own separate area, and if you're looking for lift access this is where you'll find it. Lifts will drop you part way up the trail and from there you can ride down a number of trails, or use your leg power and get yourself up to some harder black diamond runs from the summit. Much like the neighboring Kingdom Trails, it offers awesome singletrack, both downhill and cross-country trails. The rides are suited to all skill levels, but Burke Mountain is famous for its black diamond technicals. You can find the map of the Burke Mountain trails here.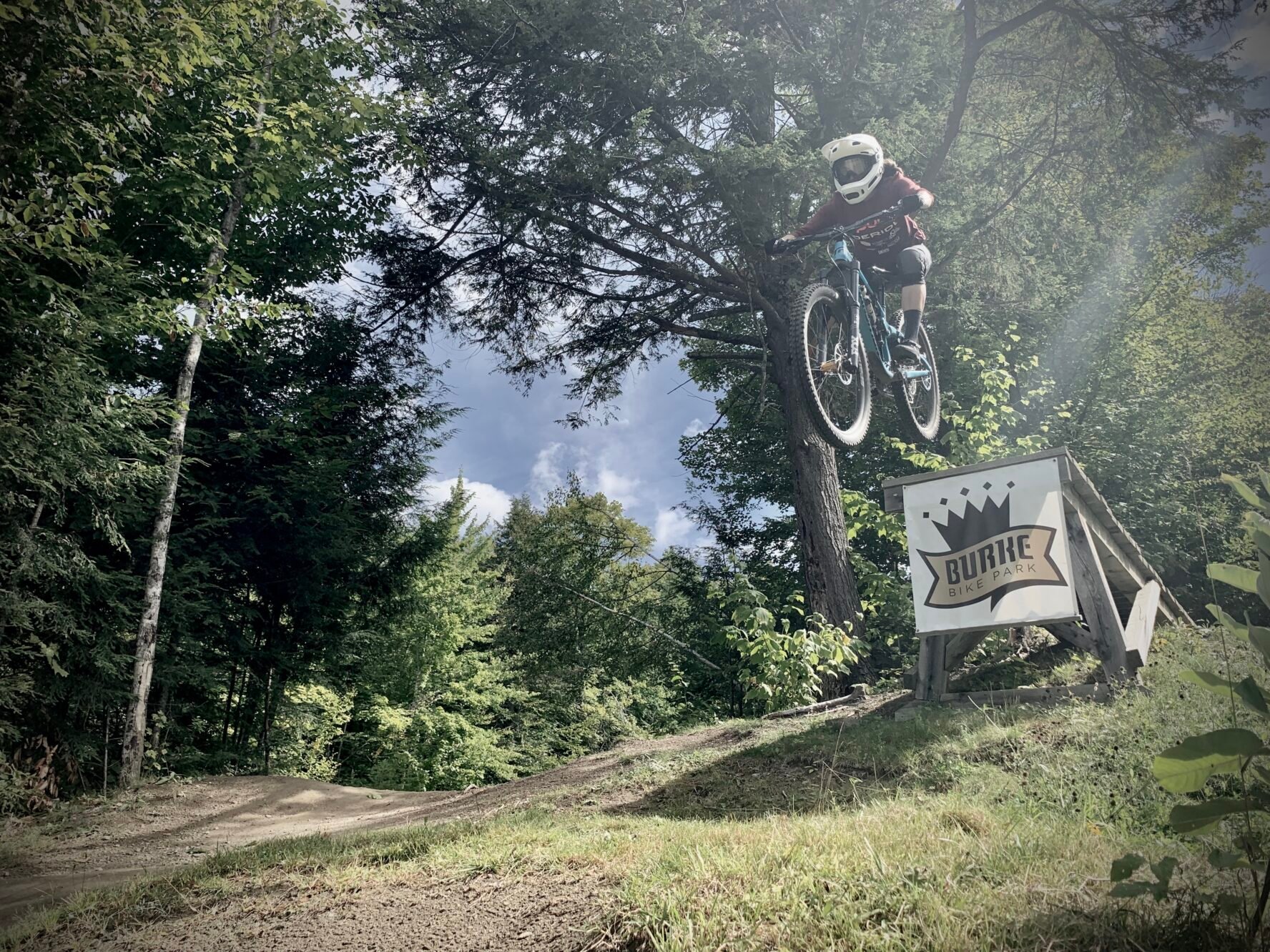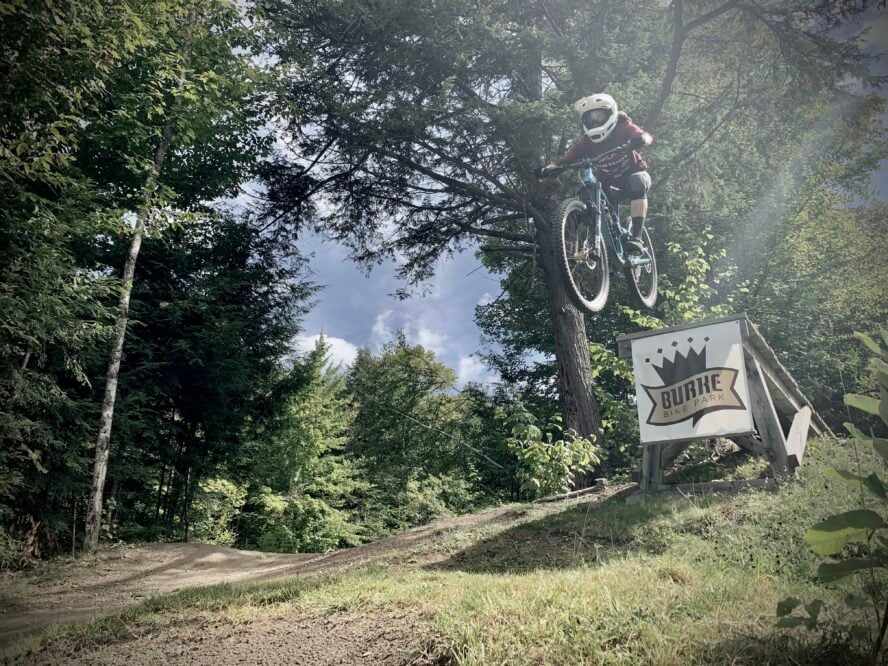 3 of the Best Rides in the Kingdom Trails Network
With such a huge selection of amazing singletracks, it's hard to play favorites. Mountain biking in the area is so diverse, there are options by the bucket. Kingdom Trails has really rare, reliable trails that are actually meant for true beginners. Even on the gentlest of trails here, you get to have fun. In stark contrast, the system also boasts humbling natural cross country trails. No matter the difficulty, every trail in the Kingdom system comes with a serving of beautiful views. There really is something for everyone here, and here are a few of my favorite trails in the area.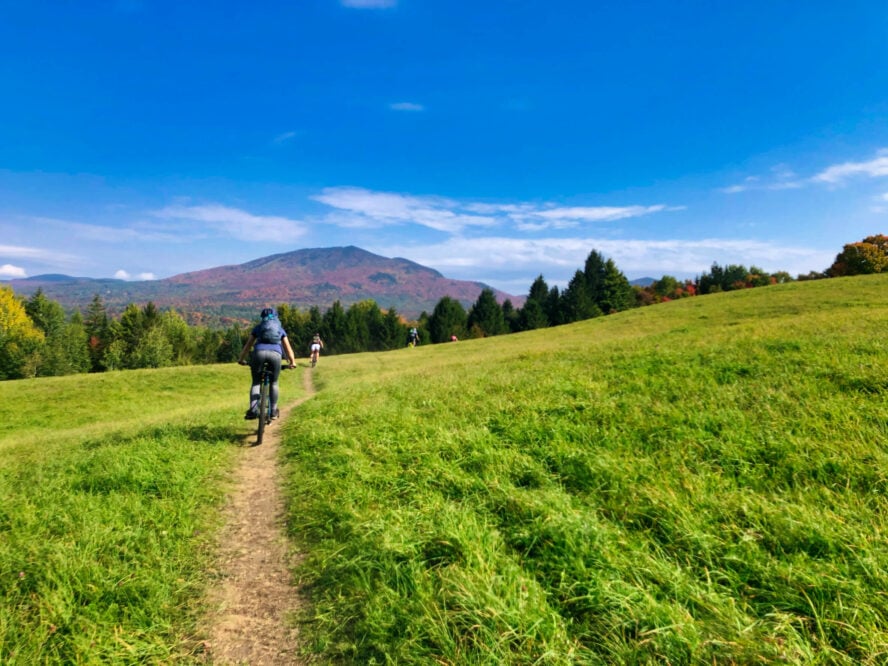 1. Burklyn Loop: A true beginner mountain bike trail
A very beginner-friendly ride would be the Burklyn Loop, to a trail called Wood'n'you. It's about two miles long. This is a really comfortable ride to do as a beginner or to do with kids. You're looking at a mild climb that flows through clover fields and dirt roads. The terrain is really tight-packed and perfect for gaining confidence. One of the things I love about it is its very gradual elevation gain and loss. For a true beginner rider, this trail doesn't have any surprises set in store for you, save for some swooping berms. Since there are no bumps on the road, literally, you get to take your eyes off the trail and lay them on the beautiful views surrounding you. When you reach the top, you'll see amazing views of our iconic small town and Burke Mountain in the background. It's particularly scenic in late spring when the wildflowers bloom.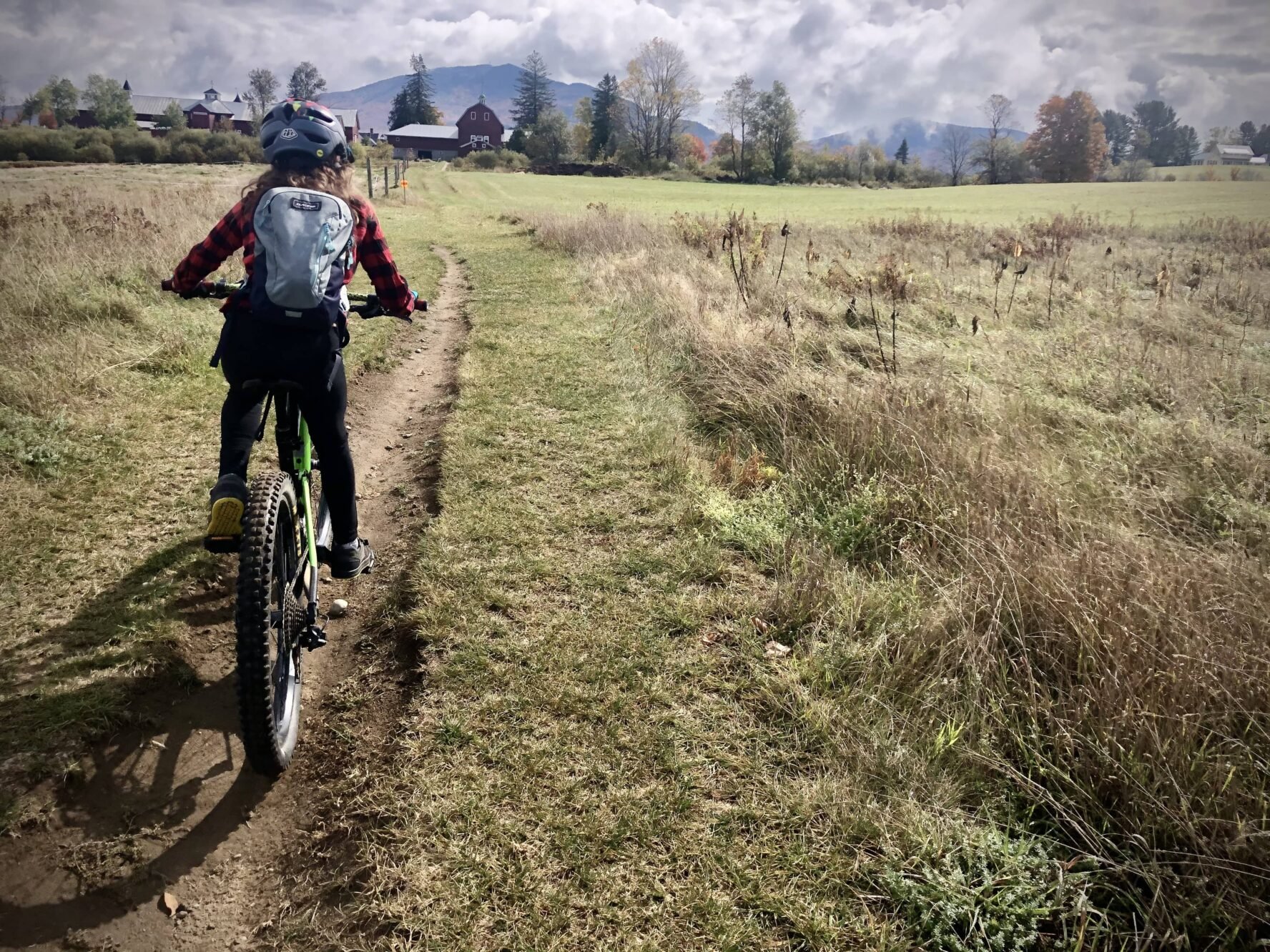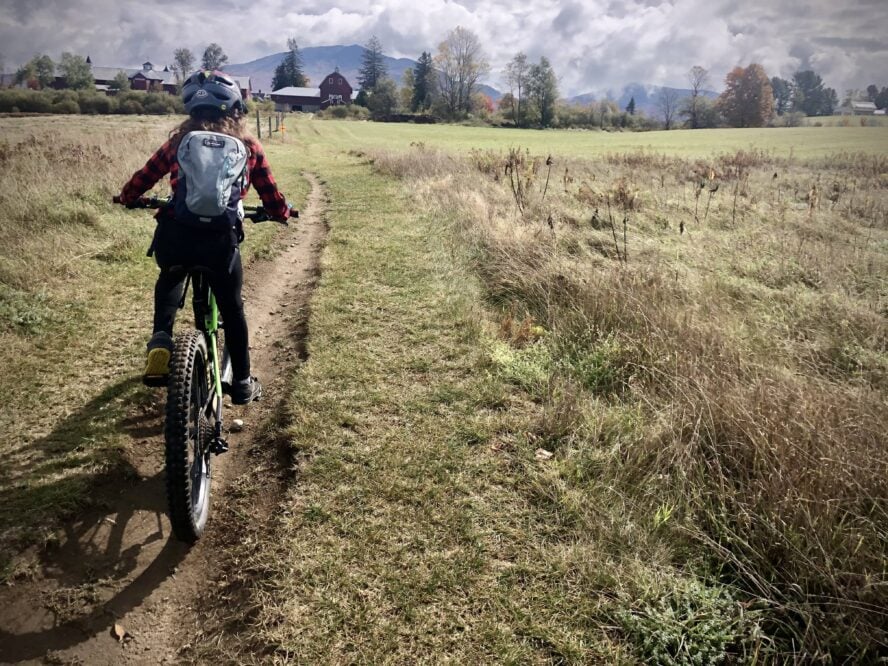 2. Heaven's Bench: A flowy and fun moderate trail
A really good intermediate trail I love is Heaven's Bench. Easily one of the most scenic rides in the whole system, it starts off of Darling Ridge and links to a different trail. This area features a solid surface with no significant obstacles to think of. If you have any MTB experience at all, you'll have fun on Heaven's Bench. You'll only have to pedal up a small, grassy hill, and from there, the trail follows a mild descent into fun, fast, flowy terrain. It's got awesome burms and corners that allow high speed. The Heaven's Bench lookout is actually one of the most photographed locations, with 360-degree-views of the mountains and surrounding farmlands. When you see it, the word 'idyllic' comes to mind.
I usually ride it straight down to the trail called Rim. Rim is a fast-flowing trail full of exciting features to jump off and flat corners to test your skills on. Berms, turns and fun lunges, you name it, Rim has it. Nature made sure there were some jump lines, too. This trail does have pretty tight turns and steep sections along the rim that may surprise you. When it's done with you, it drops you to the other side of the river.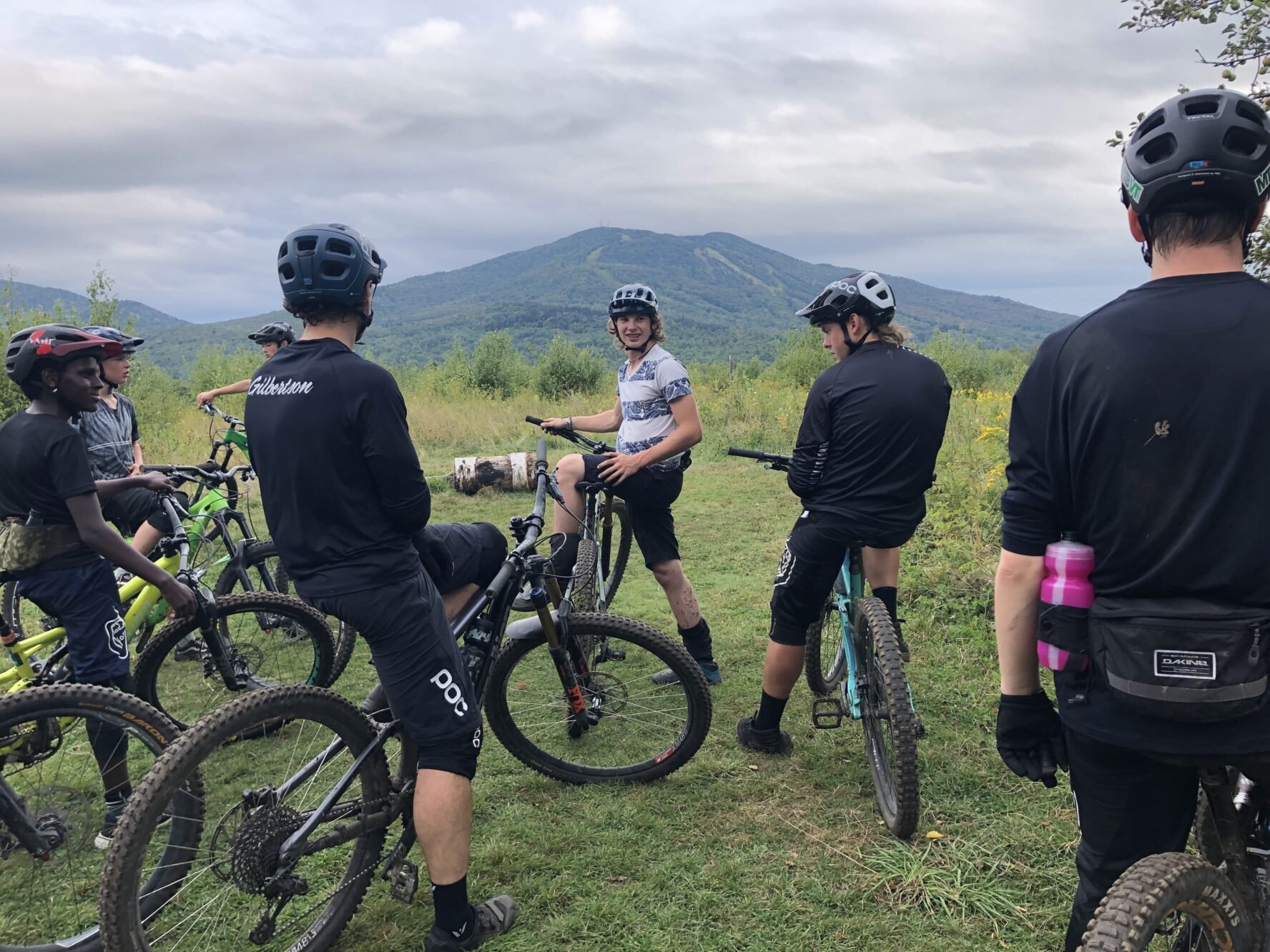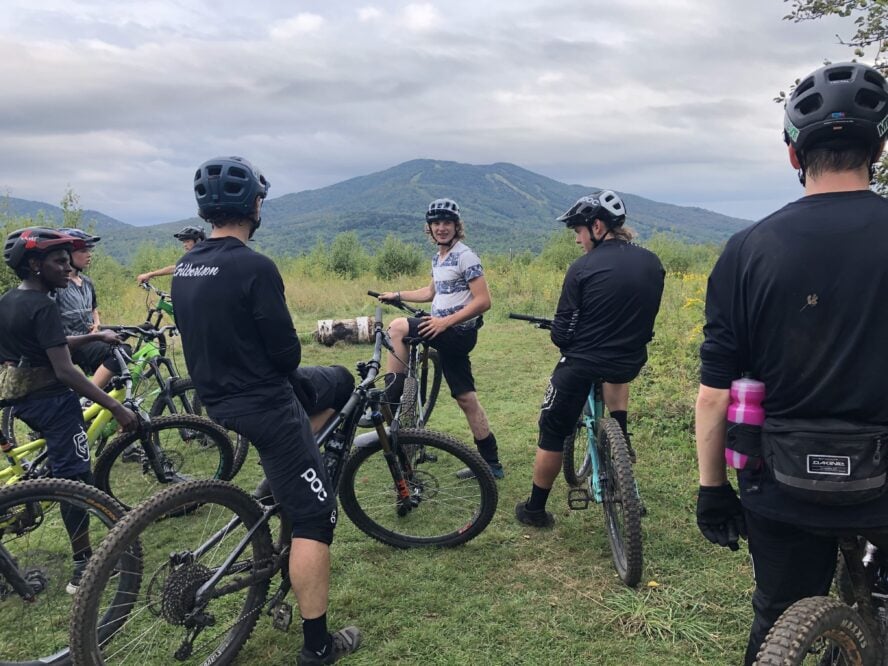 3. The Dead Moose Trails: Black Diamonds at Burke Mountain
The Dead Moose trails — Moose Alley, Dead Moose Alley and Moose Deuce — are located at Burke Mountain. They are all super fun, and while other trails on the resort side require a Burke Bike Park ticket, these trails are part of the Kingdom trails network, so the regular day pass prices apply. I believe the name comes from when the trail was first being built and people found a moose carcass there, and this set of trails are some of the most challenging out of the entire trail system. If you're using the bike park's lift system, you can get yourself part way up, but you'll have to pedal to get access to these true black diamond trails.
Very fitting to the name, the area is always dark and eerie. The Dead Moose trails are full of roots, rocks and are as raw as it gets. Like in the rest of the system, the terrain is solid and tight-packed, but some sections tend to get loose and wet. The downhills still manage to have tons of flow, though, and you'll often feel like you're mountain biking in Colorado.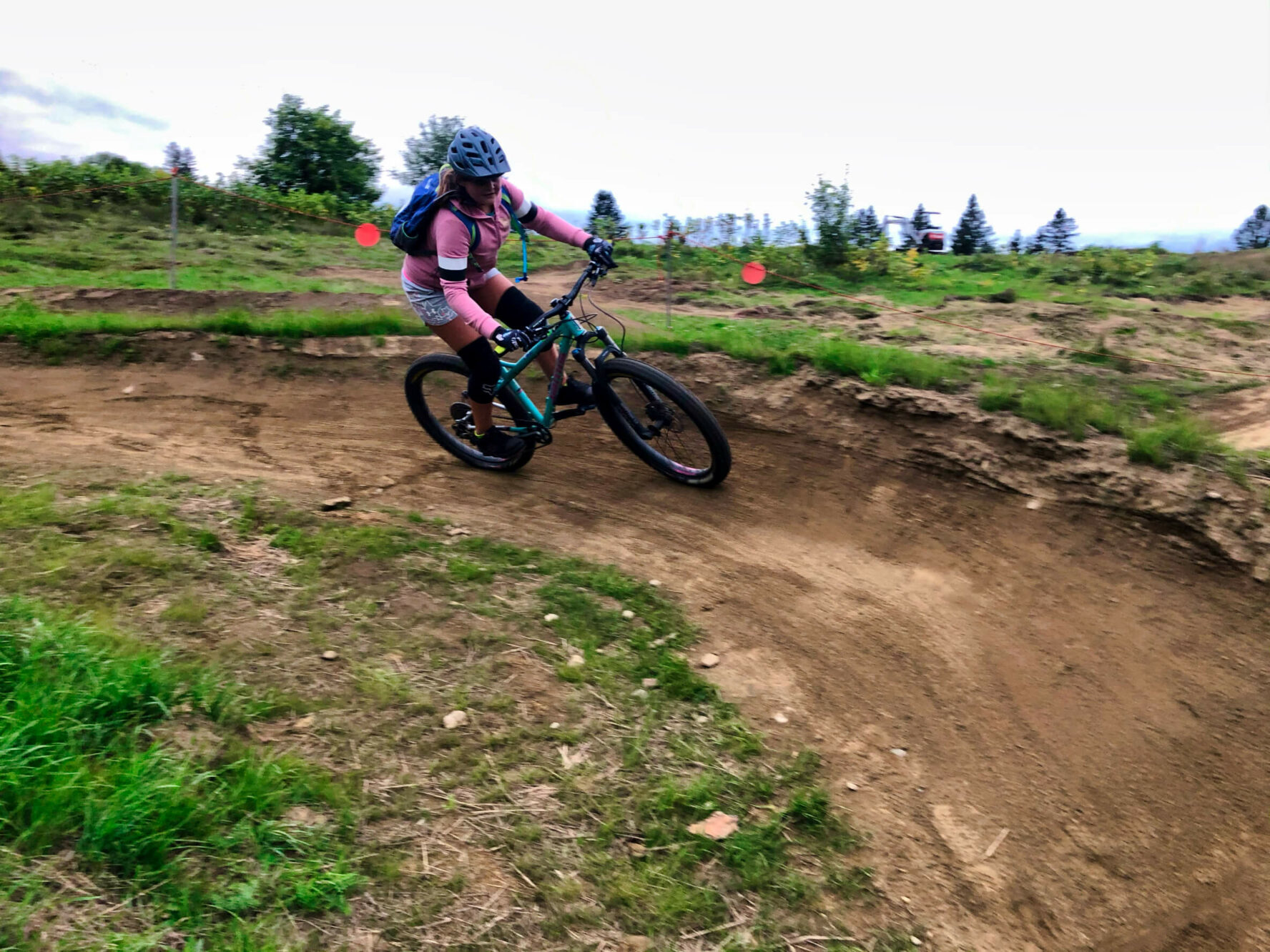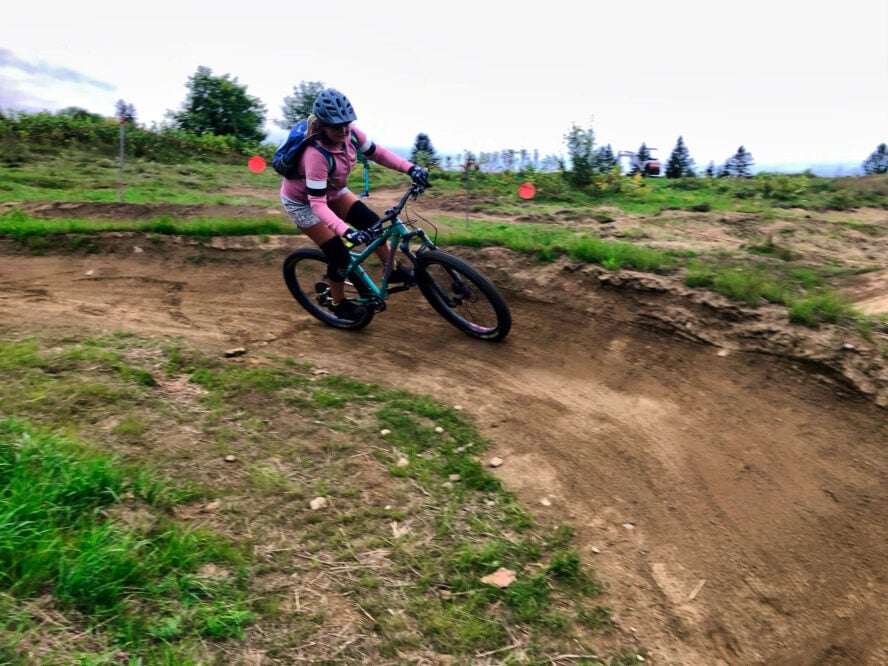 If you only have time for one of these technical wonders, do Moose Alley. It will have you both silent in concentration and hollering at the top of your lungs. Its tight turns and tricky obstacles take you to dizzyingly steep downhills. The trail is only 1.6 miles long, but it uses any opportunity it gets to be merciless. The drops are rugged and switchbacks don't let you build speed no matter how hard you pedal. It will try, but don't let the trail capture your full attention. The views from this side of Burke Mountain are your reward.
Tips For Your Northeast Kingdom Mountain Biking Trip
Almost everyone in East Burke and the surrounding area lives and breathes mountain biking. This is one of those tight-knit communities that still welcome newcomers with open arms, provided you're up to date on local etiquette. Here is some heads-up info to ensure the logistics of your Kingdom Trails trip will be a breeze.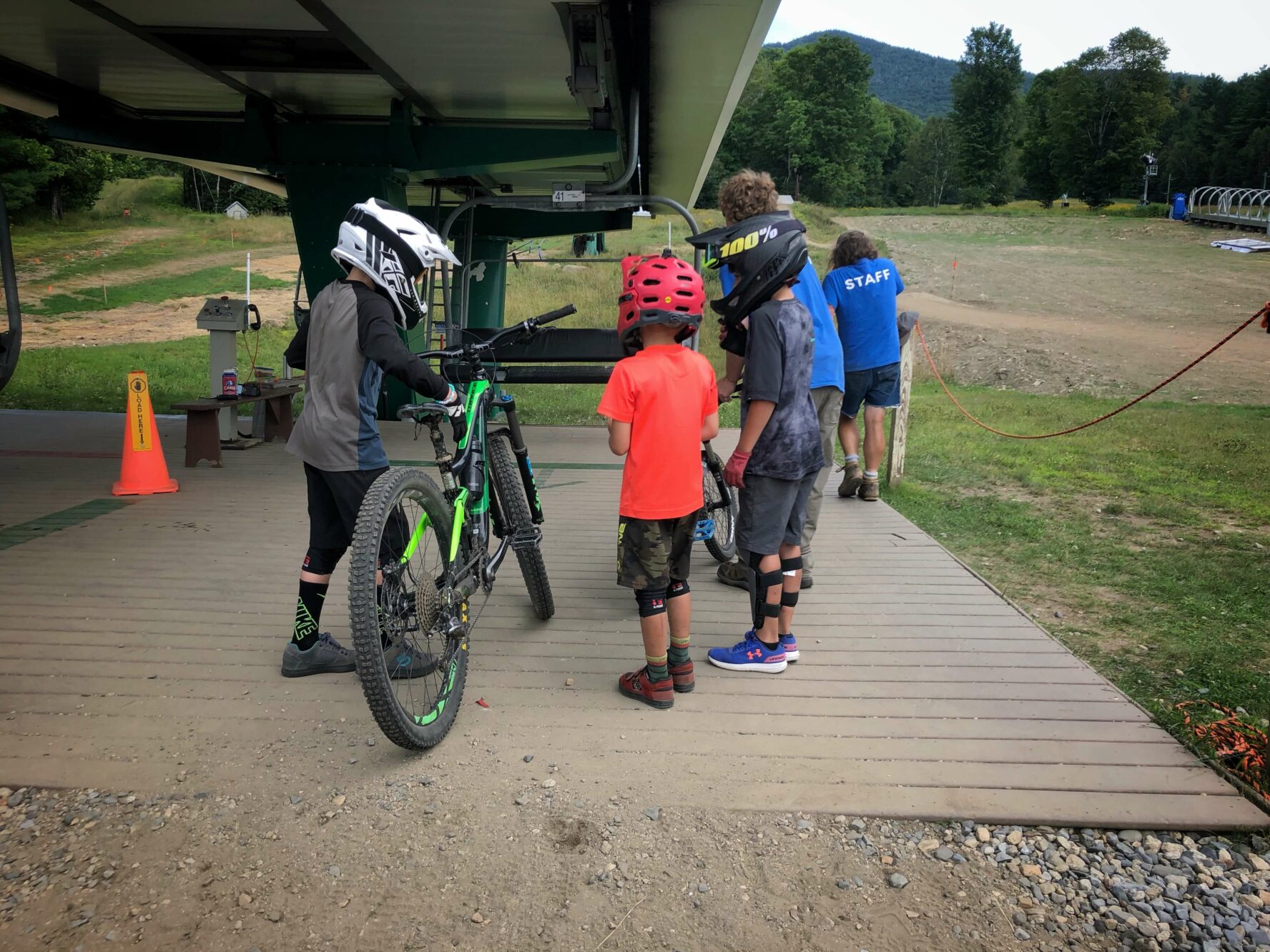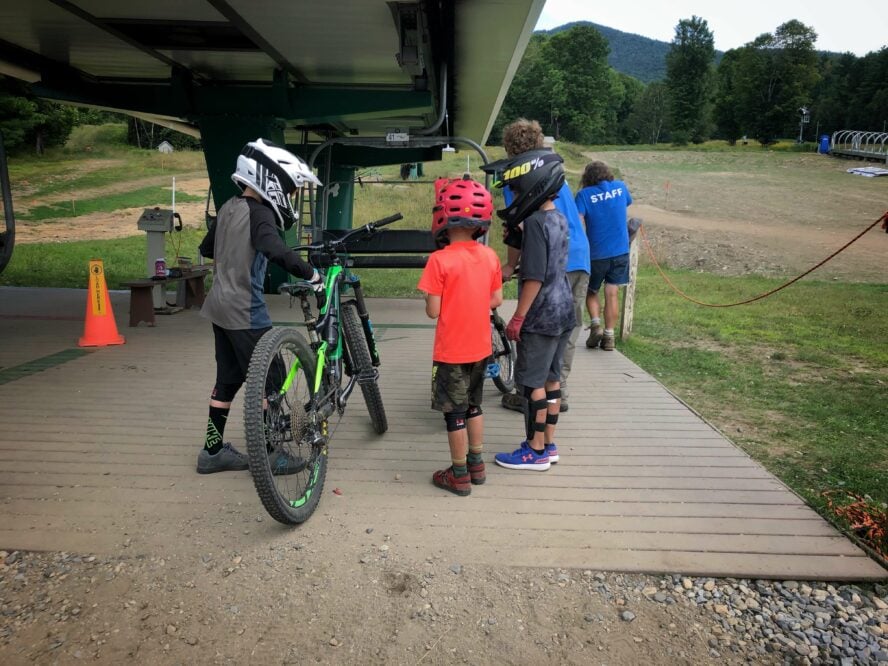 Ride with Gratitude
Kingdom Trails follow a simple code of conduct called Ride with Gratitude. It calls on riders to respect the gift of mountain biking, care for others, protect nature, and hold each other accountable. How can you abide by this? Don't cut corners, be mindful of skidding and stay off of muddy trails. The system closes due to mud season, but erosion is a year-round problem.
With the area gaining popularity, there are more riders than ever, which brings a significant toll on the terrain. As a result, some landowners chose to revoke bike access. These rules exist to ensure that both nature and the property gifted by the landowners stays as intact as possible. Ride with Gratitude principles are there to remind the community that riding these trails isn't a right, but a privilege that shouldn't be taken for granted. Whenever you're out and about in the outdoors, you should always follow the Leave No Trace principles, too. As for technicalities, you share the trails with horses and people, but no dirt bikes or e-bikes are allowed.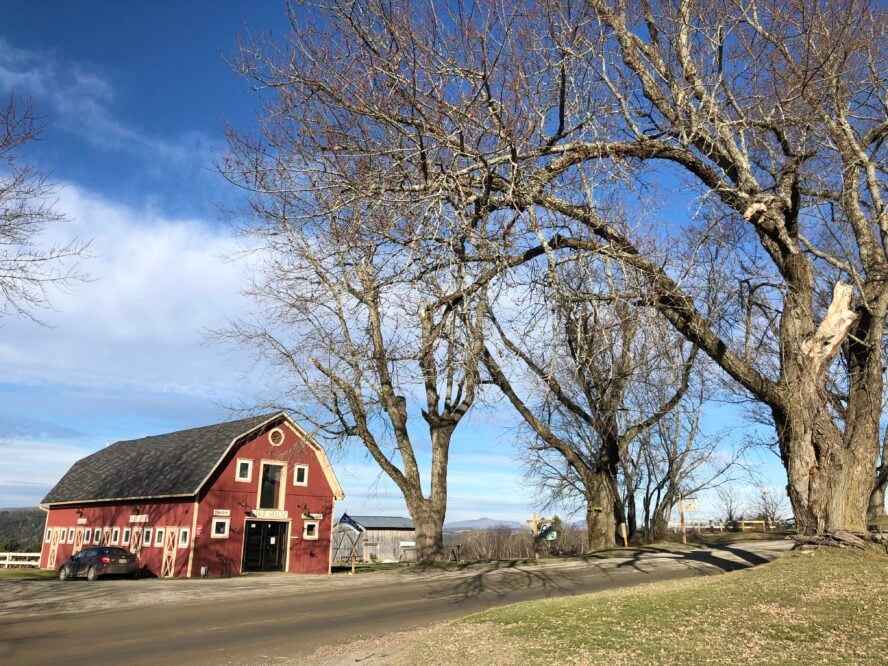 When should you visit the Kingdom Trails?
You can ride the Kingdom Trails network year-round. The high season for mountain biking kicks off in May and lasts until late October. Summers here are gorgeous, when everything is blooming. Most people have the same idea, so this is when the area sees the most crowds. On the bright side, the trails are so spread out that you can see three full parking lots and not encounter anyone. Autumns deserve a shoutout, too. By then, the crowds thin out on weekdays (but weekends are very busy!) and Mother Nature puts on her fall foliage attire. One downfall of the place is that it becomes black fly central in May. There is no way to escape it, but you can consider it an added challenge and pedal away from them really fast.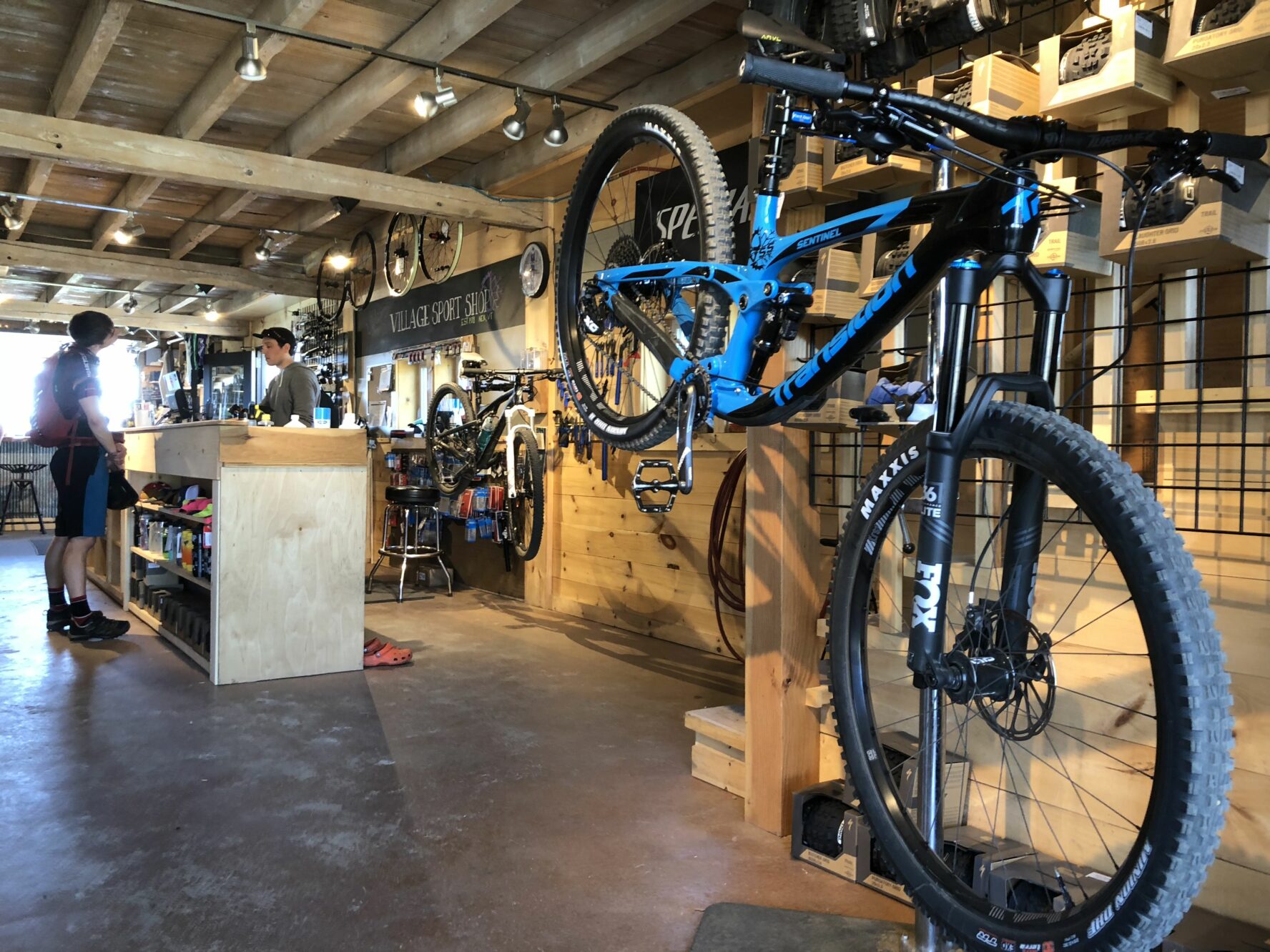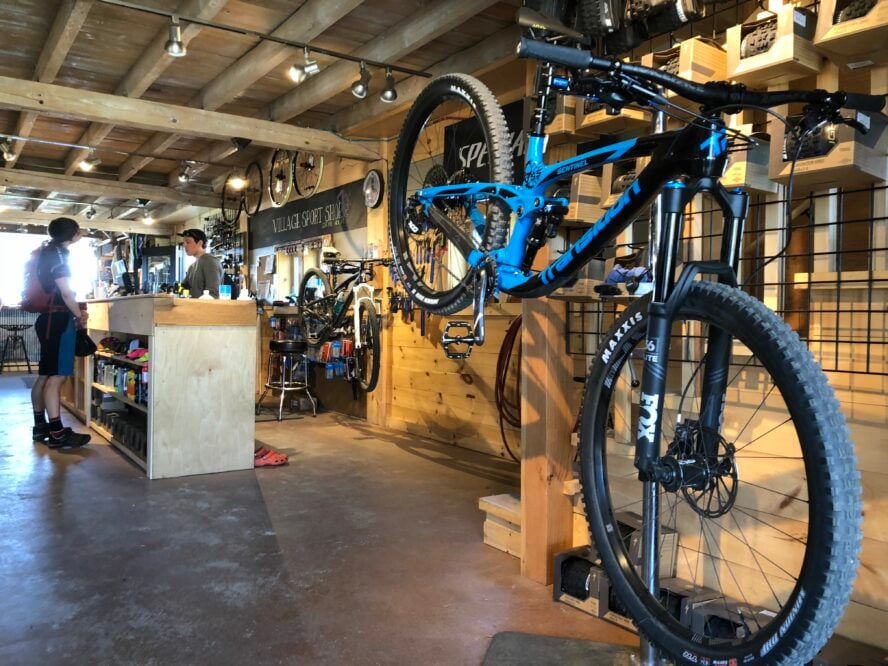 Do you need a permit for mountain biking in Northeast Kingdom?
You'll need a pass for biking in the area. First thing to note, Burke Mountain and Kingdom Trails are two separate areas. To get access to Kingdom Trails you have to pay a $20 daily fee or you can get yearly access for $75. There are monthly memberships available, too. A lift ticket at Burke Mountain will set you back $50. You can opt for a season pass or day pass and for that you'll get access to a bike park, machine-built flowy trails and black diamond level technicals.
Where to refuel?
Located on Darling Hill is a bike shop, Village Sport Shop, that has a great bar. It overlooks the mountains and has a really serene feel to it. You can have a beer and a nice serving of peace and quiet up there. There is a pump track with jumps and stuff, which is perfect for your kids.
If you're up for more entertainment, you can go down to Mike's Tiki Bar. You'll find it in the main parking lot of the Kingdom Trails network. It is a sight to be seen. It looks like a tiki bar but they have a crazy amount of taps, too. There's always something going on there. You'll see two food trucks in the same parking lot as well. One serves tamales and the other makes the best woodfire pizza.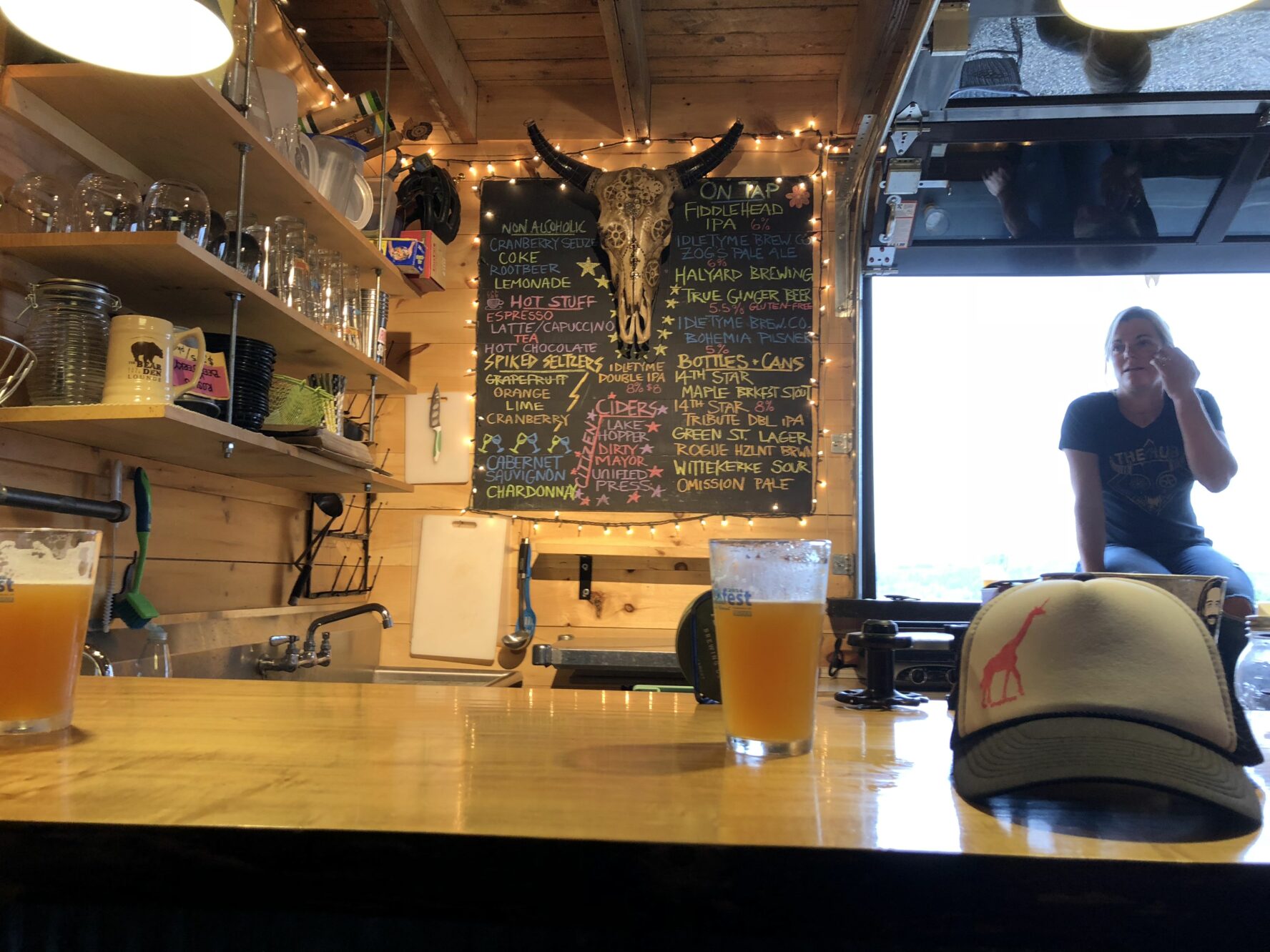 Where to stay for Northeast Kingdom mountain biking?
There are a bunch of lodging options with trails starting practically at the doorstep. The Wildflower Inn and Rabbit Hill Inn are great examples of that. Burke Mountain Hotel is a crowd favorite. If you prefer camping, head to Burke Mountain Campground. It is just outside of the bike park and has hot tubs and a swimming pool. You'll have to make a reservation for these amenities, though.