Croatia Bike Tours: A Local Guide's Top Picks
When it comes to Croatia's coast, you likely think of sailing. But what if I tell you that the best use of a sailboat is actually for mountain biking?
Table of Contents
Sometimes an unlucky break becomes a lucky one. For me, that happened in Dalmatia.
Off the coast of Croatia, a narrow belt of islands and islets bundle together to make up the Dalmatian shoreline. The scenery has drawn sailors from the ancient Greeks to Venetians, and you could say it buoyed my own sense of adventure as a child. Especially coming from Zagreb.
Maybe it was the salty seascapes which were so different from urban life: ancient macadam roads and old shepherd paths crossing through centuries-old vineyards, seaside fortresses constructed from local limestone, and mountain air laden with wild lavender, sage, and thyme.
I dreamed about it for years and when I was finally able to move there after college… I promptly broke my collarbone.
In a roundabout way, that was the catalyst for my career guiding bike tours in Croatia. Even if it took me a few months of recuperation before I could start exploring, I've been riding the hundreds of miles of dreamy coastline year round ever since.
The best part is that whenever you want to set off for new lands (and trails and terrain), it's never more than a short sailboat trip away. Ready for a ride of a lifetime? There is nothing like mountain biking on the coast of Croatia!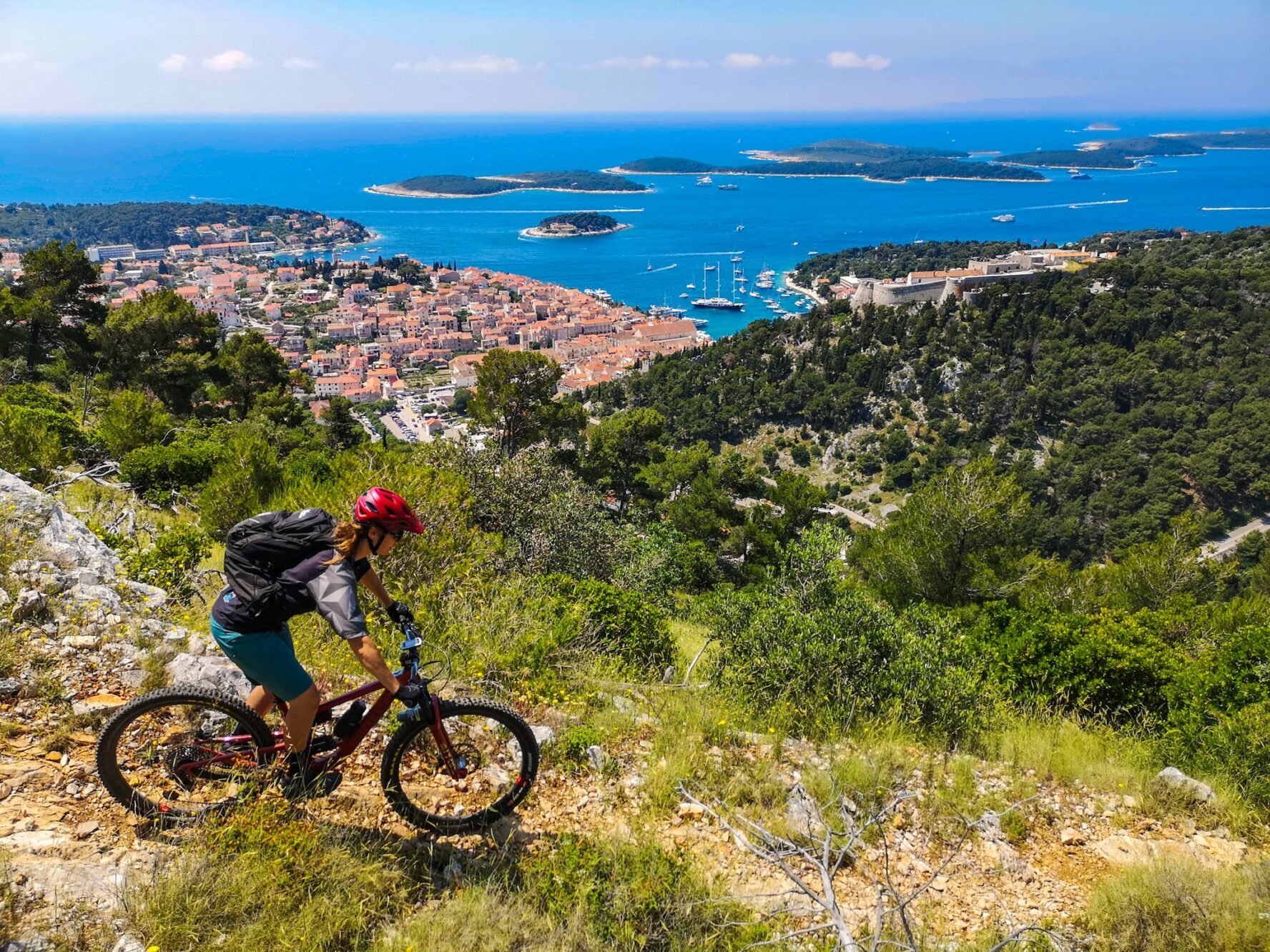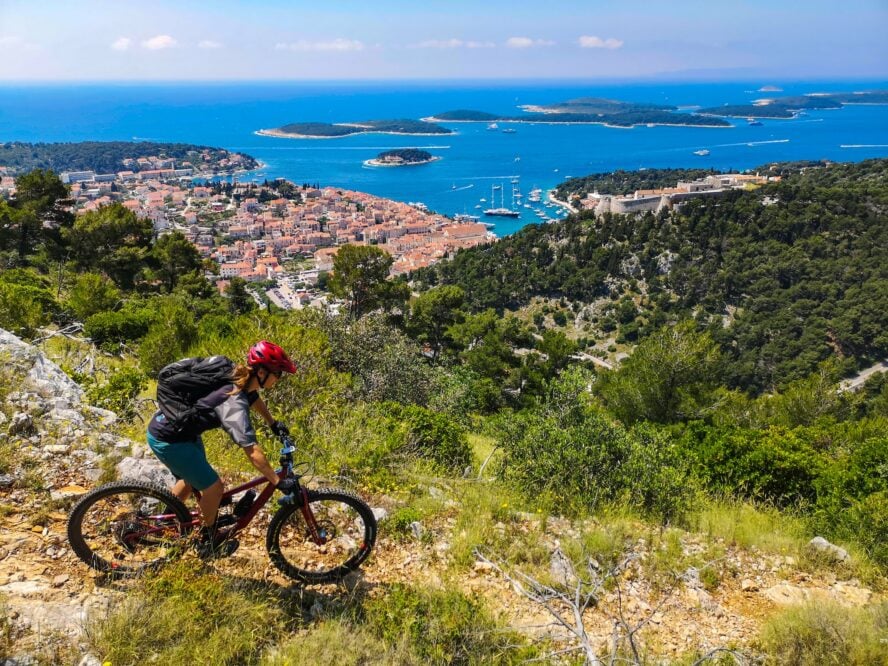 Why You Should Bike Dalmatia… By Sailboat
There are over 500 islet slivers, island slips, and seaside monoliths that make up the Dalmatian coast. And in total, they serve up over 1,800 miles of MTB trails, with everything from fast and flowy downhills to wheel-wrecking technicals. While there's plenty of great riding to be done ashore, the islands are where the elevation, scenery, and terrain variety truly hit home for me.
For example, on the island of Brač, a speedy singletrack passes an abandoned monastery and opens into a pristine sandy beach, with turquoise waters as far as the eye can see. On the island of Hvar, a switchback trail dating to ancient Greece is engulfed by a striking combination of thyme, salt, and the soft song of crickets. From leg burners between post-WWII bunkers to loops around Roman bath houses, there's more to these small islands than first meets the eye.
I won't lie though, the bike tours on Croatia's islands can be tough. The trails get rocky, tight, and surprisingly steep. On the rougher tracks, keeping your bike in one piece is a challenge in itself. But, with adversity comes some of the most rewarding rides in the region and backdrops straight out of a Monet.
But the best part of it all? Each island is accessible by sailboat, which allows you to curate your own sail-to-bike vacation.
Riders be warned: you may never want to leave. At least, that's been the case for me.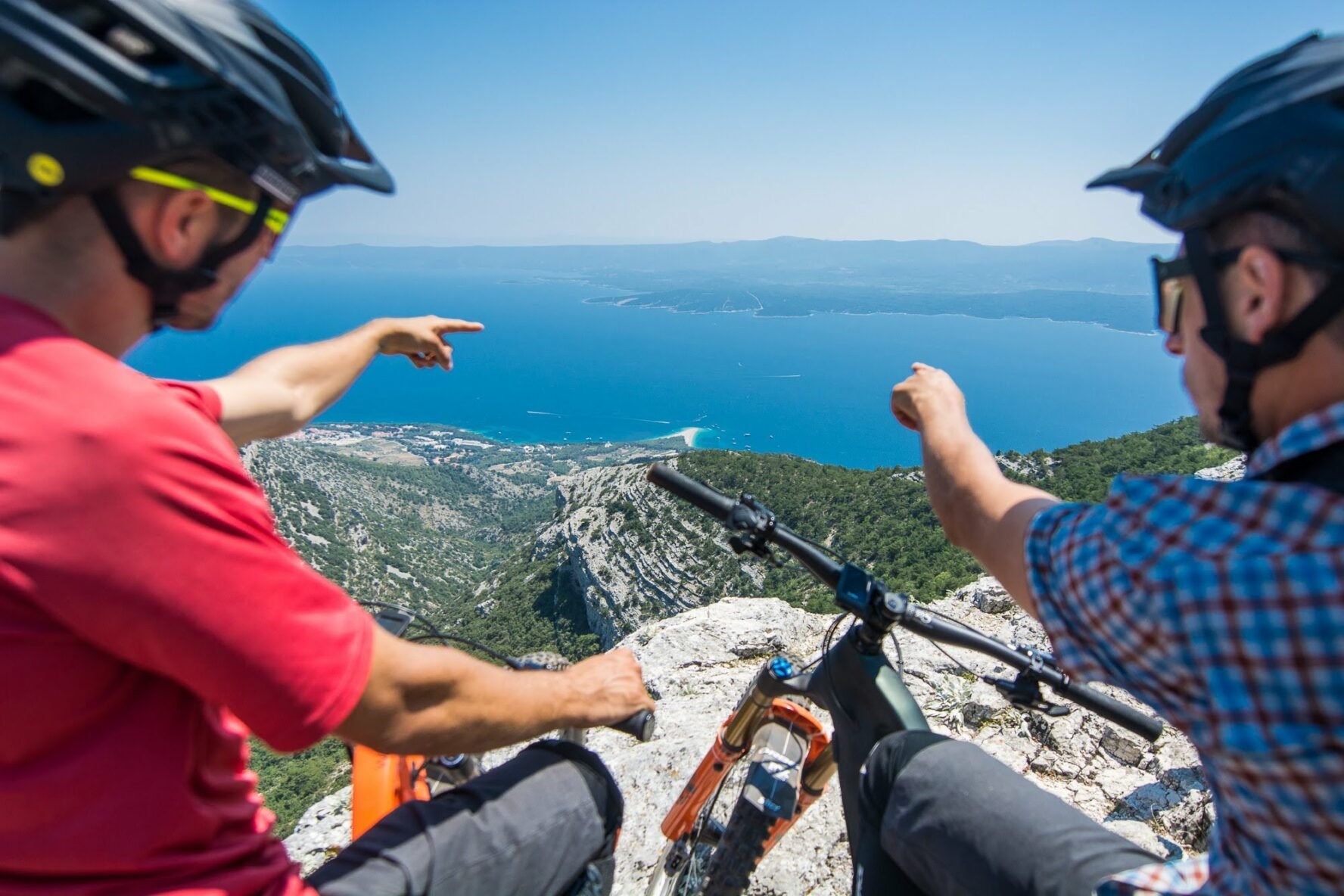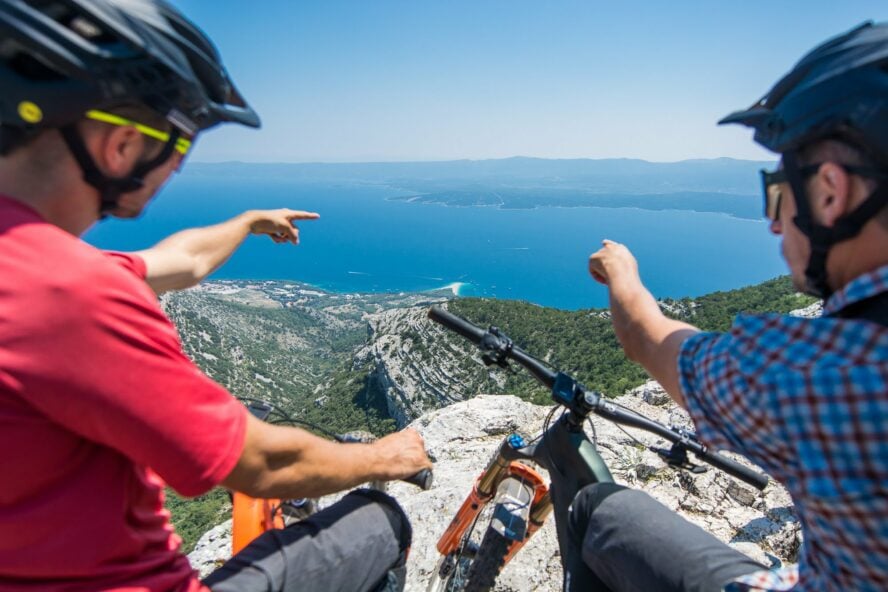 How I Became an MTB Guide
Ever since I saw my neighbor ride past my childhood home popped up on the back wheel of his bike—like a stallion rearing for battle—I've been hooked on two-wheel exploration. Once I could afford my own mountain bike, there was no looking back.
Croatia's crowded capital was no place for my 29-inch wheels. To my father's dismay, I declined a job offer after graduating from uni and moved to Dalmatia with a friend to help build a house. I would have done anything if it meant I could live in mountain bike paradise.
Soon after, I crashed and broke my collarbone. Go figure.
I could no longer help build but my friend was generous enough to let me stay while I healed. When I did get back on the trails, I was introduced to the director of a bike tour company, who just so happened to be looking for mountain bike guides. Call it fate if you'd like.
Since 2016, I've been guiding sailing and bike tours on the coast of Croatia, and while I've ridden all over the world, I can honestly say nothing compares to Dalmatia.
Map of Croatia's Dalmatian coast, which runs from the island of Rab in the north to the Bay of Kotor in the south.
The Best Bike Tours in Croatia Can be Found on the Coast
Dalmatia is a curious concoction: old-timey Venetian towns are laced with Roman monuments while Italian-named restaurants serve Turkish delights and Austrian desserts. Among the islands and villages, each will have its own mix of language and culture, food, and flora.
I've spent the last six years exploring the region by bike. Throughout my wanderings, I've picked out the four coastal locations that are absolute must-visits for mountain bikers.
A quick note: the advantage of using a catamaran versus a larger monohull is access. Many of the islands' ports are narrow and shallow so only modestly-sized vessels can approach the shore.
Croatia Bike Tours: My Favorite Spots: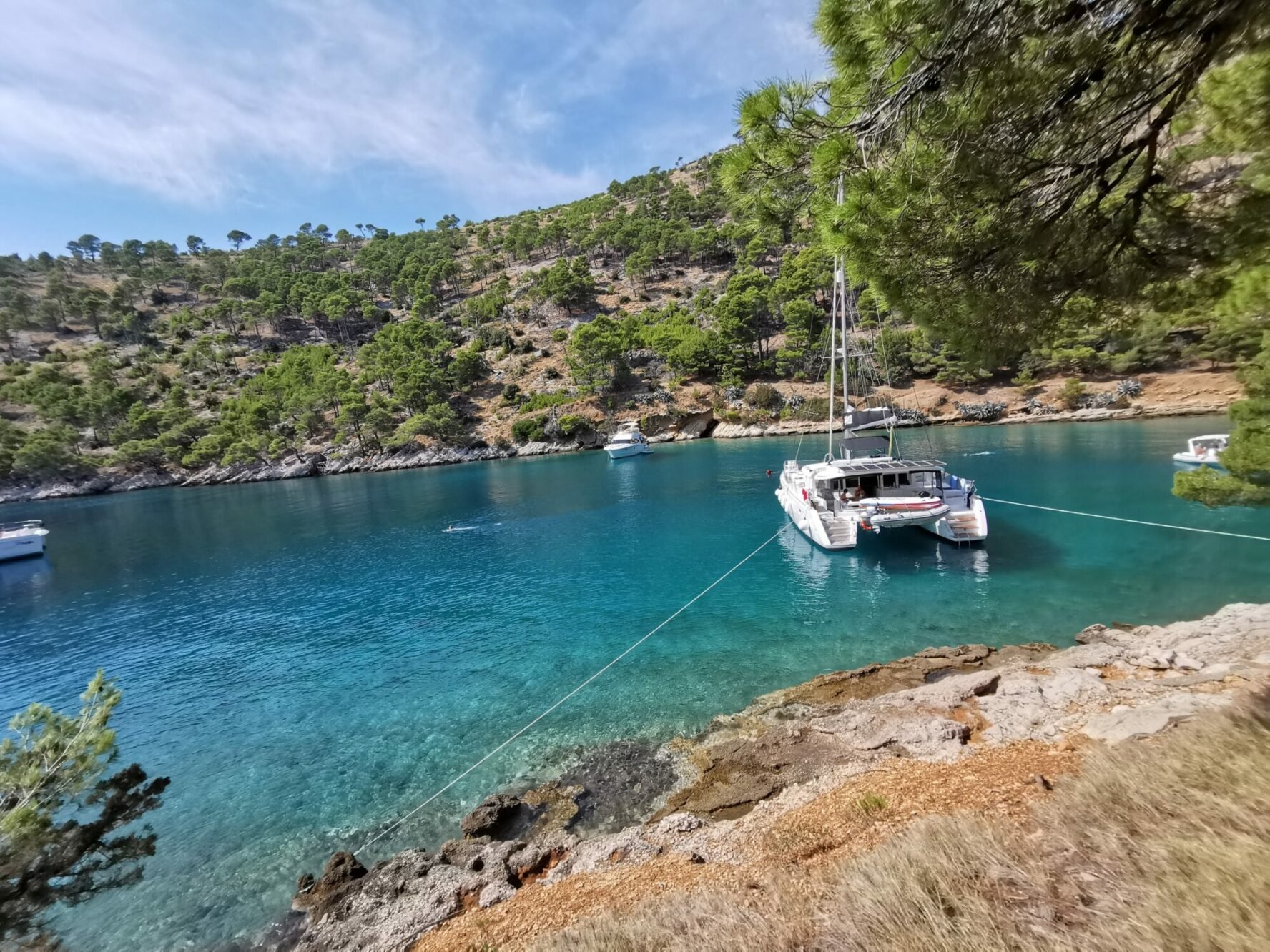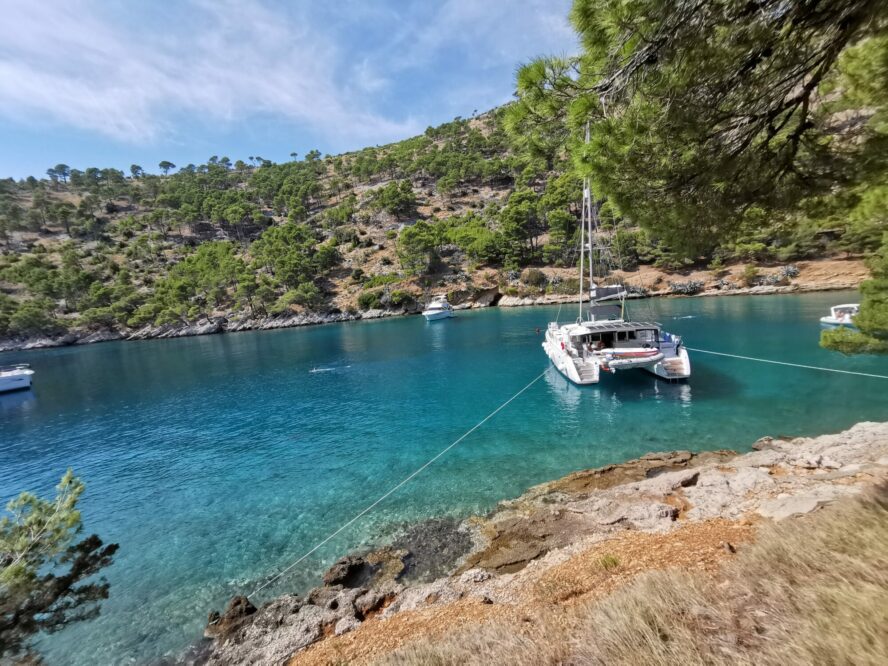 My Recommended Destinations for Bike Tours in Croatia