The Red Rock-Solid Mountain Bike Trails of Sedona
Thanks to the efforts of passionate locals and forest officials, Sedona has gone from an obscure tangle of illegal singletrack to one of the top MTB destinations in the country.
I remember hearing whispers wherever I went.
Not the crazy tinfoil hat-wearing kind, but a consistent buzz of stories and rumors found on niche message boards, in bike shops, and on the trails.
At the time, there was a growing legend of an amazing mountain bike trail system hidden somewhere outside the small town of Sedona. Everybody had a friend of a friend who'd totally seen it—even ridden it. The only hitch: there was no map to lead you there. It was all built illegally.
Just where were these saddles and switchbacks people were raving about? There was only one way to find out.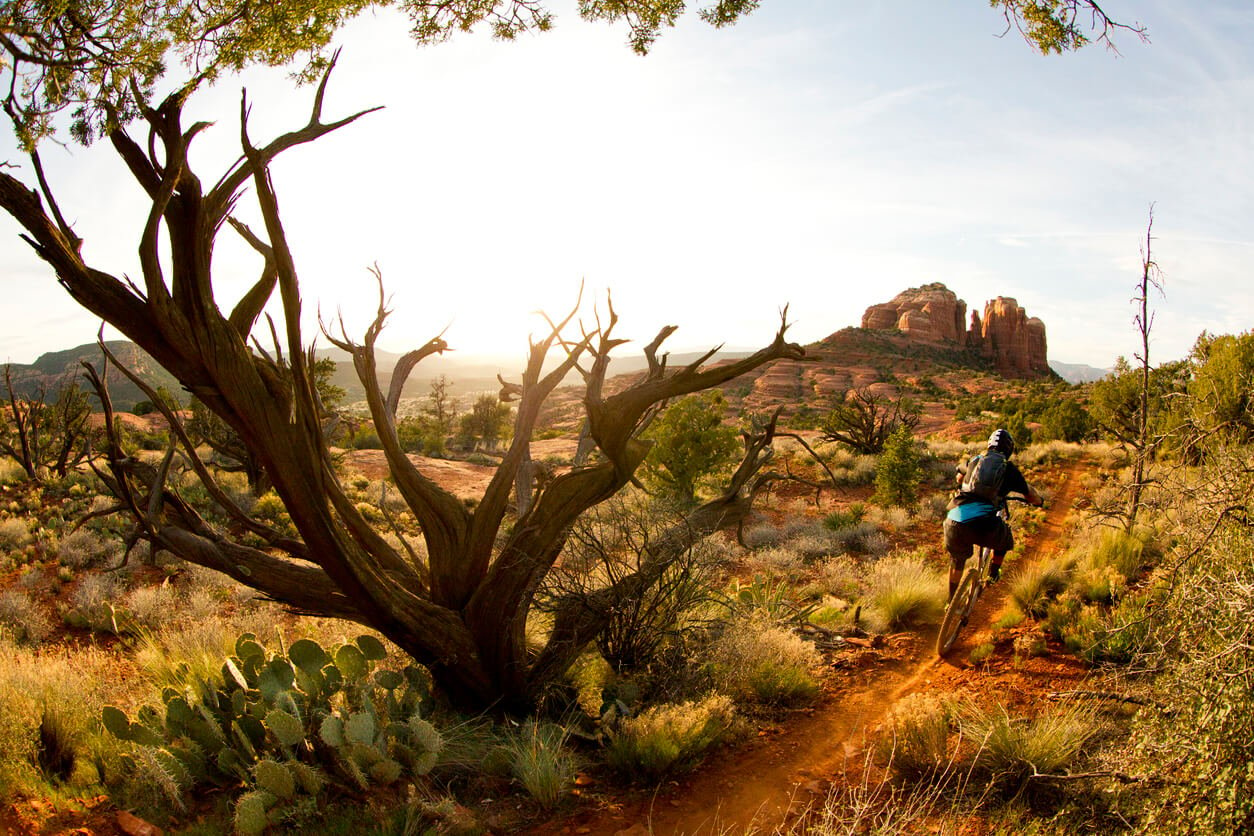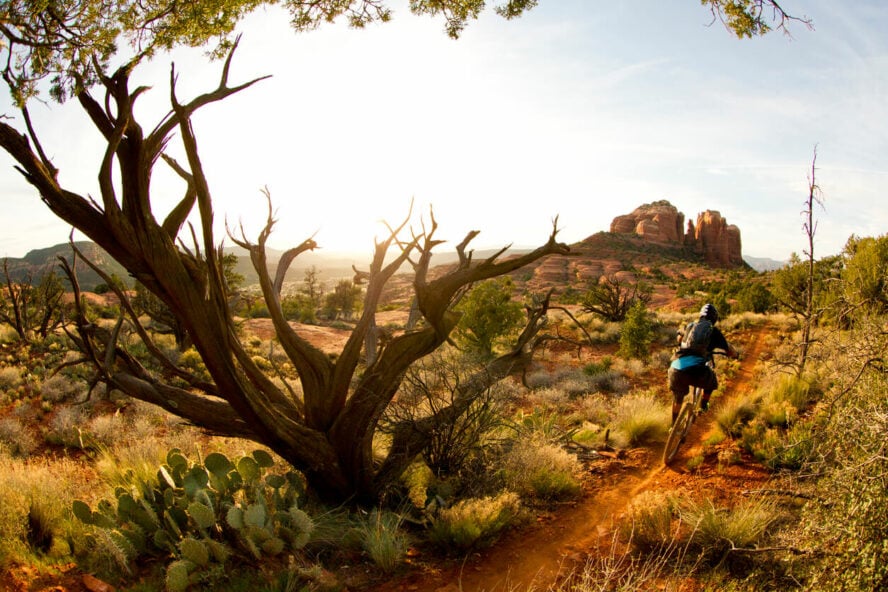 I went down and started snooping around like a dime store detective piecing together clues. From bits and bobs gathered from the locals I assembled my own map of the New World. Take a left at this rock, tramp up through those bushes, go past a cairn, then up this winding path…
And there it was—through the back of a red rock wardrobe—my desert Narnia! Only, instead of fantastical creatures, this strange land held miles and miles of singletrack unknown to the world.
Pros and Cons of Mountain Biking in Sedona
Top-of-the-line trails for every kind of rider
Ridiculously well-connected trail system
More staggering sights than you can point a camera at
The Arizona heat can never be underestimated
I hope you like rock and dirt, because that's the only thing on the menu
Mountain Biking in Sedona: From Top Secret to Top Tier
Ever since I started Hermosa Tours in 2007, I've been on the lookout for great mountain biking locations. Back then, Sedona was known for its excellent hiking, New Age shops and art galleries, while its MTB trail system was underground. But little did I know, local trailblazers were already in the process of making history by carving out new tracks in the heart of Red Rock Country.
The growing pains of Sedona (and its trails)
Sedona is like an island, surrounded by 1.8 million acres of national forest land. And no room for expansion. For a town that sees 4 million visitors per year, this fairytale setting is both a blessing and a curse. Its grand red rock vistas are offset by growing traffic congestion and workforce housing issues.
Expanding Sedona's mountain bike trails
Just like Sedona itself, the developing mountain biking scene has had its fair share of challenges. The Forest Service was well aware that the town's existing system wasn't big enough to accommodate the influx of tourists, but it lacked the manpower to build it. At the same time, a couple of notable cowboy trail builders from Moab and St. George relocated here and started working in secrecy.
At first there was friction between the two sides, fortunately there were people in the Forest Service eager to bring this illegal network online. With their vision, the builders' expertise, and the hard work of many volunteers, the trails were expanded, legalized and today they're maintained through the Red Rock Trail Fund.
Suddenly, as a newcomer to the scene with well over 200 miles of modern, purpose-built trail, Sedona became one of the hottest destinations to mountain bike in the Lower 48. And the process is still going—we just opened Western Gateway a couple of years ago, which added another 30 miles of mostly intermediate and advanced trails.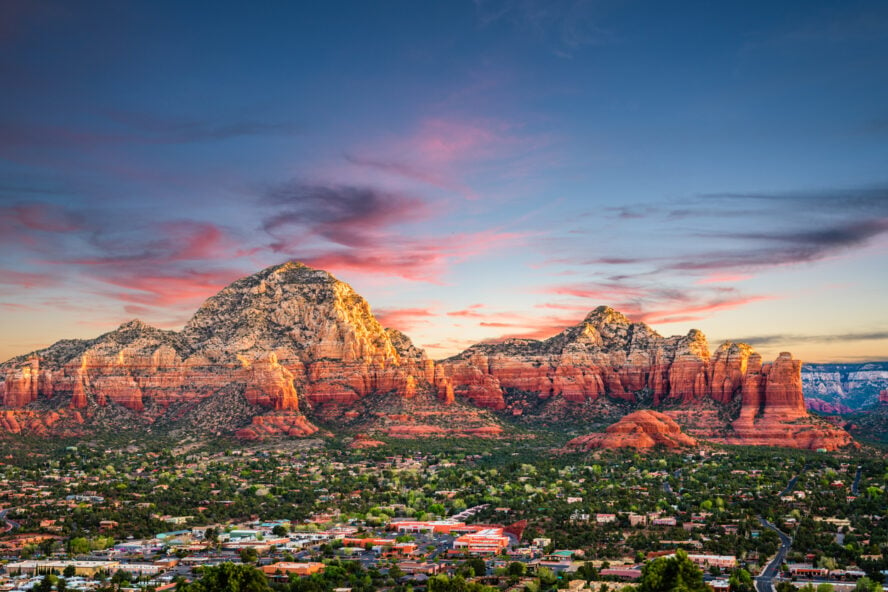 OK, there's a lot of riding—but what's it like?
One of Sedona's key features is its interconnectivity; I could draw you a map showing how to go out for an 8-hour ride on nothing but trail.
Most of it consists of singletrack, with some slickrock thrown into the mix—and unlike the iconic rocky rides of Moab, these are sprinkled with copious amounts of dirt. I've sung my praises of Fruita's stellar singletrack too, but again it pales in comparison to Sedona's flowy red ribbons. For one, the riding season here is longer and the number of top-tier trails noticeably higher.
In other areas, rain can spell disaster; Grand Junction or Fruita turns to peanut butter and all riding is off. Down here, rain is something to look forward to. We've coined the term velcro rojo—a local spin on hero dirt—to describe Sedona's marvelously grippy soil. It feels like you're riding at warp speed, but never at risk of washing out.
Who is mountain biking in Sedona for?
Sedona's trail system can accommodate everyone, from a family that's never biked before to pro-level riders. Intermediate trails make up the fat section of the bell curve, which is really what you want in a first-class MTB area. Advanced riders get their fill when mountain biking in Sedona as well. Double black diamonds like Hiline or the legendary Hangover Trail are the town's calling cards.
The high-intermediate trails are its true bread and butter though—you can ride them as they are or easily make them advanced just by going faster. And believe it or not, there's more coming down the pipeline!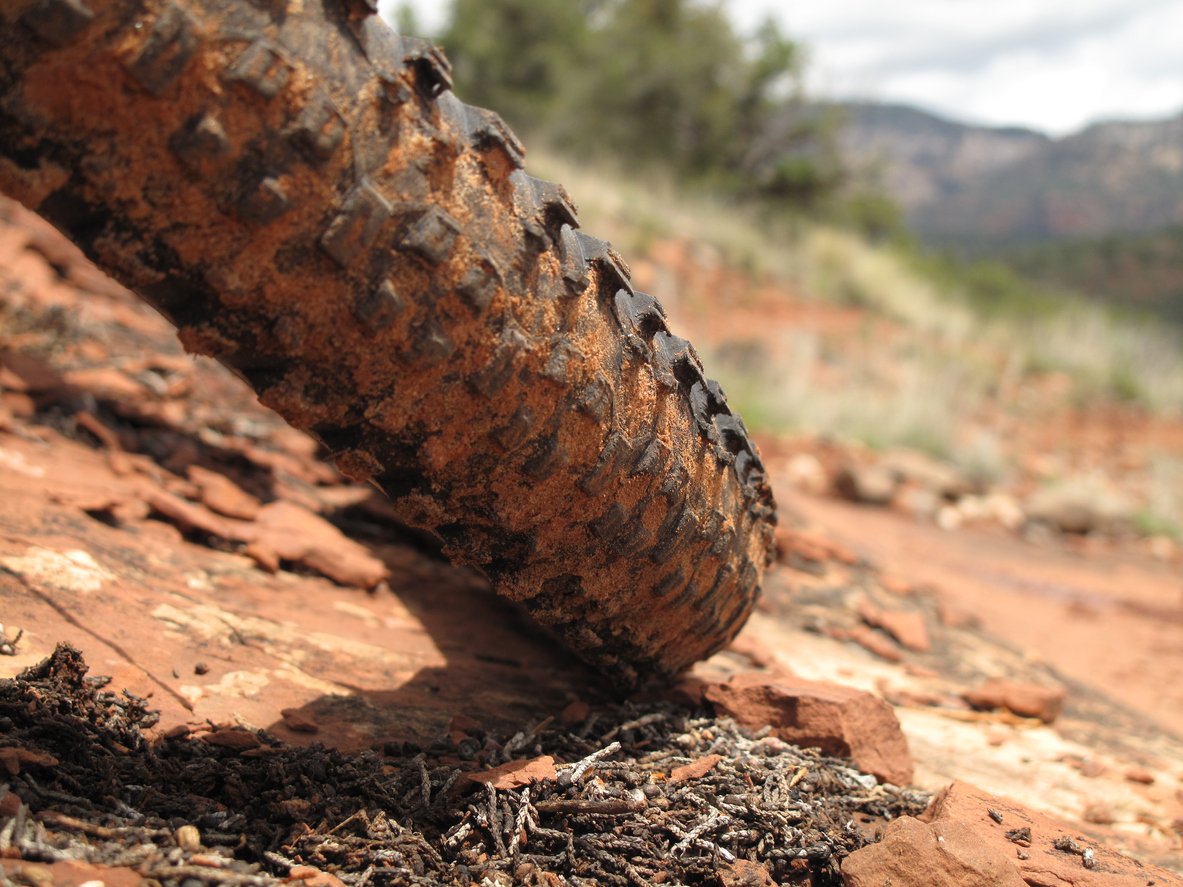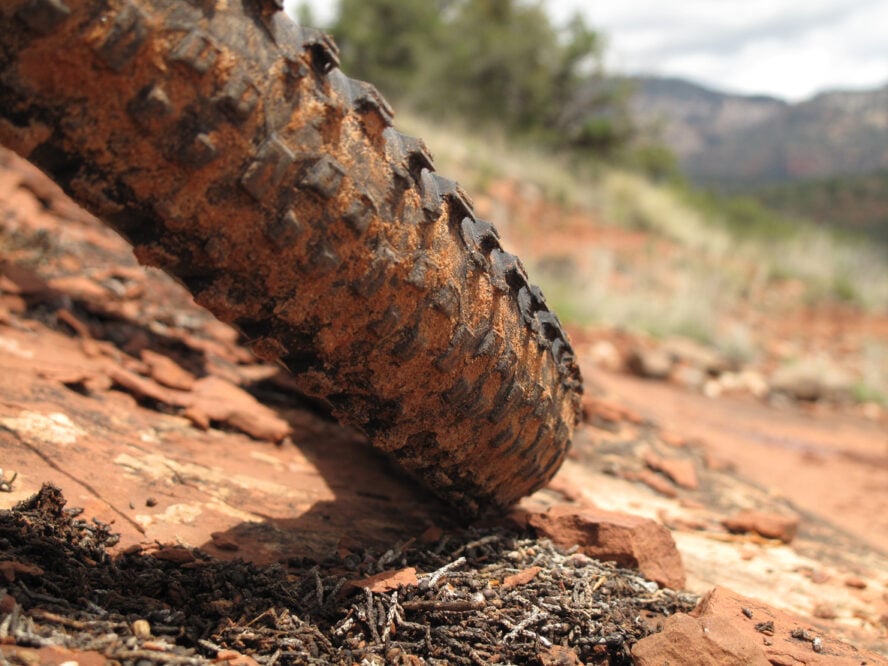 Your Guide to the Best Mountain Bike Trails in Sedona
Now that you've heard about Arizona's mountain biking mecca, I'm sure you want to see what all the fuss is about. Below I've compiled a list of the best MTB areas and bike trails in Sedona, along with my favorite trails and loops in each one. I made sure to include options for all skill levels, so you'll be sure to find something perfect for you and your group.
Map of Sedona's mountain bike trails
Below, each marker indicates the mountain biking area I'll be chatting about.
The Enduring Mystique of Oak Creek
Near the southern tip of Sedona lies the Village of Oak Creek, the area's historical hub of mountain biking, where everything was posted up 15 years ago. Famous for its steep red walls and eponymous spring-fed stream, it's got everything from mellow, family-friendly rides to highly exposed double black diamonds—all of them undeniably beautiful in their own way.
Bell Rock Trail is the main artery running through the system. Although a simple dirt road, smooth and wide for the most part, it keeps folks coming back just for views, which to many rival the best mountain biking in Europe. This is one of the best mountain bike trails for beginners in Sedona because it's so close to town and doesn't require any difficult moves. If you're not keen on exploring the many side paths, I recommend riding it out and back for seven miles of great sightseeing on wheels.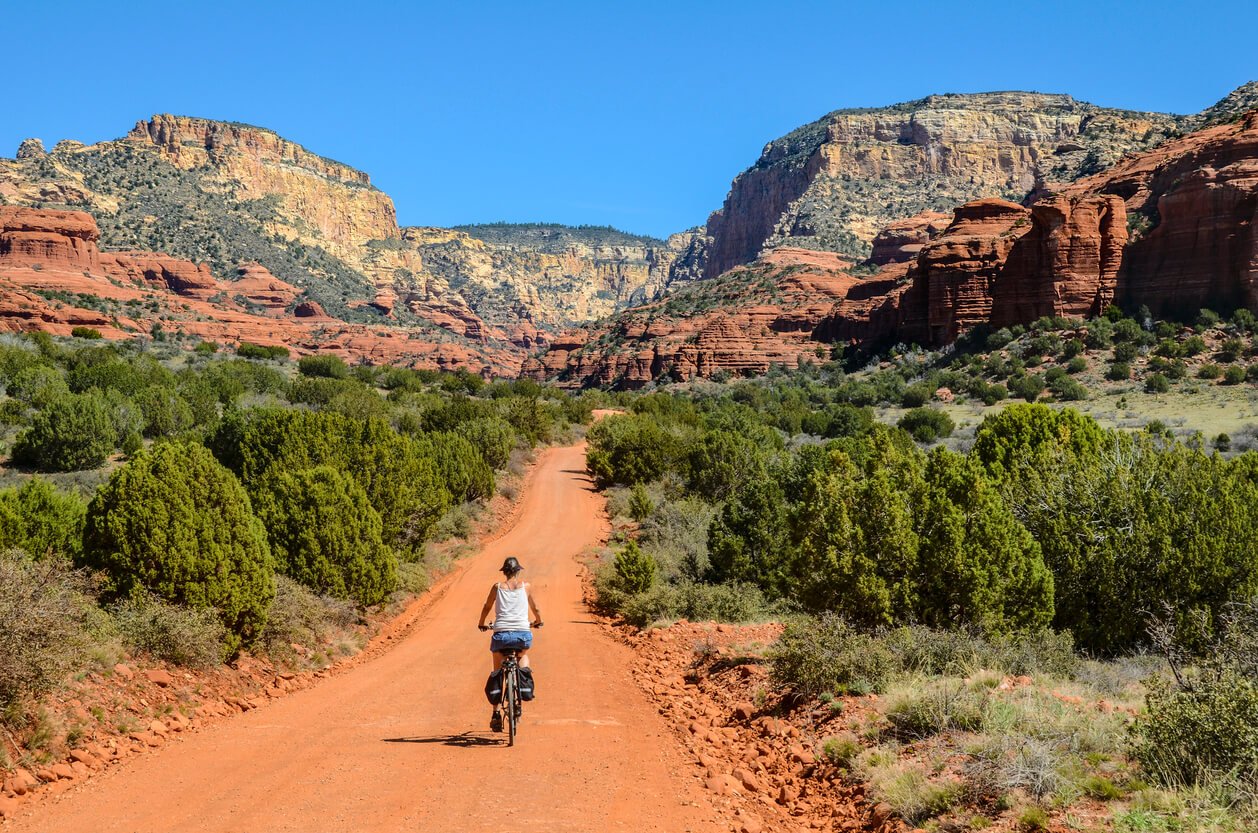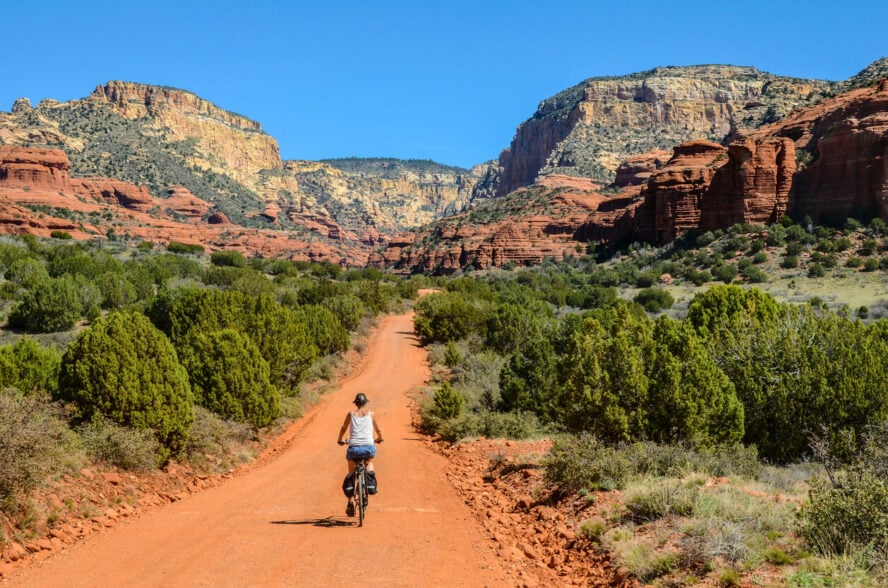 Another fan favorite in the area is Slim Shady, a fast and flowy trail whose cult status dates back to the illegal era. You can ride it alone or as part of a longer Oak Creek Loop. Low-intermediate riders might find some spots too challenging, so don't be surprised if you have to hike-a-bike.
If you proceed to take the HT Trail (I like to think it stands for Hermosa Tours, he-he), you'll cross under Highway 179 and connect to Little Horse Trail, one of the finest downhills in Sedona. The loop then takes you to Llama Trail, another famous legacy trail that's been revamped for modern standards. At the very end, you can connect back to Bell Rock Trail, completing an excellent intermediate-level loop.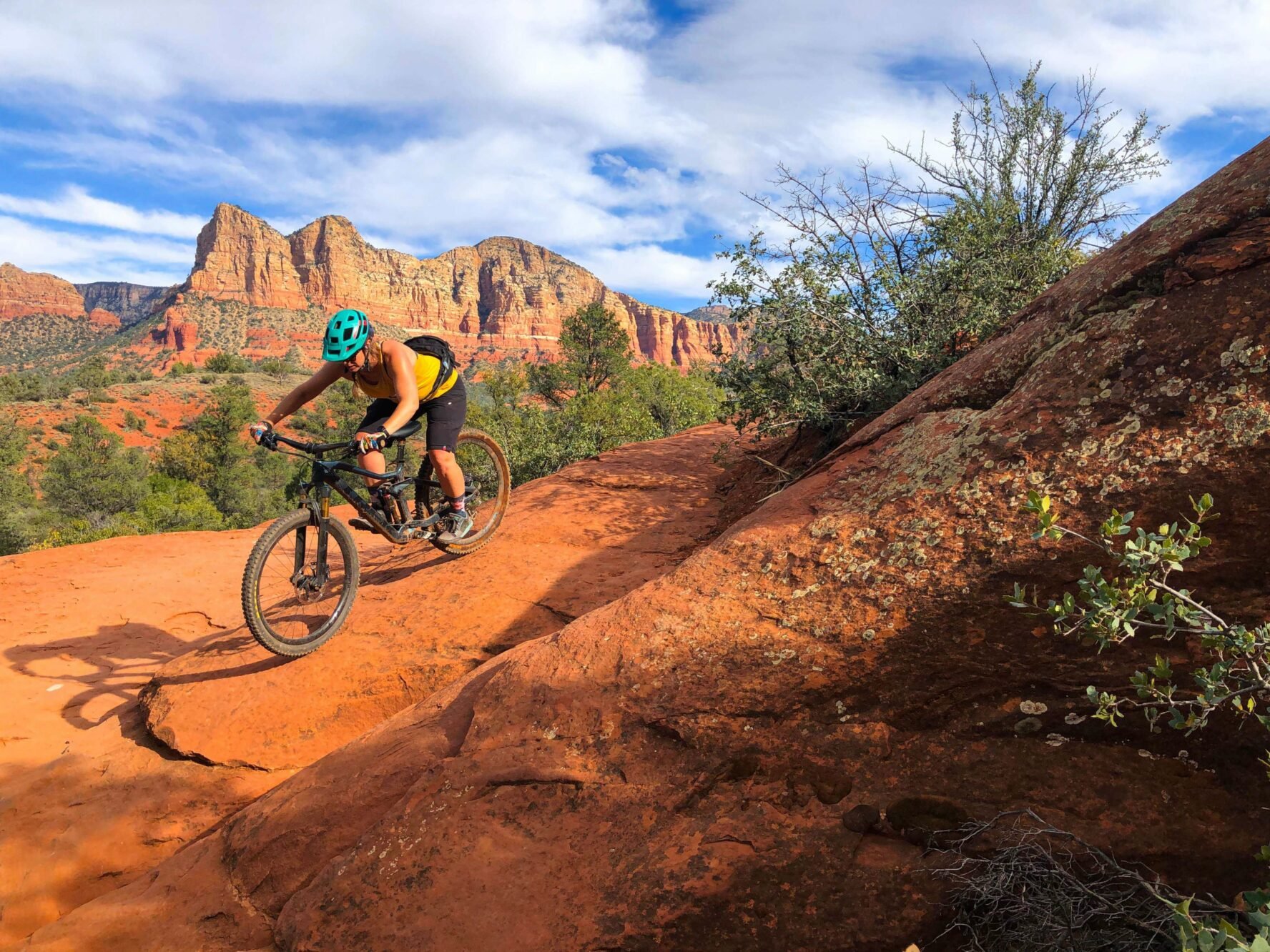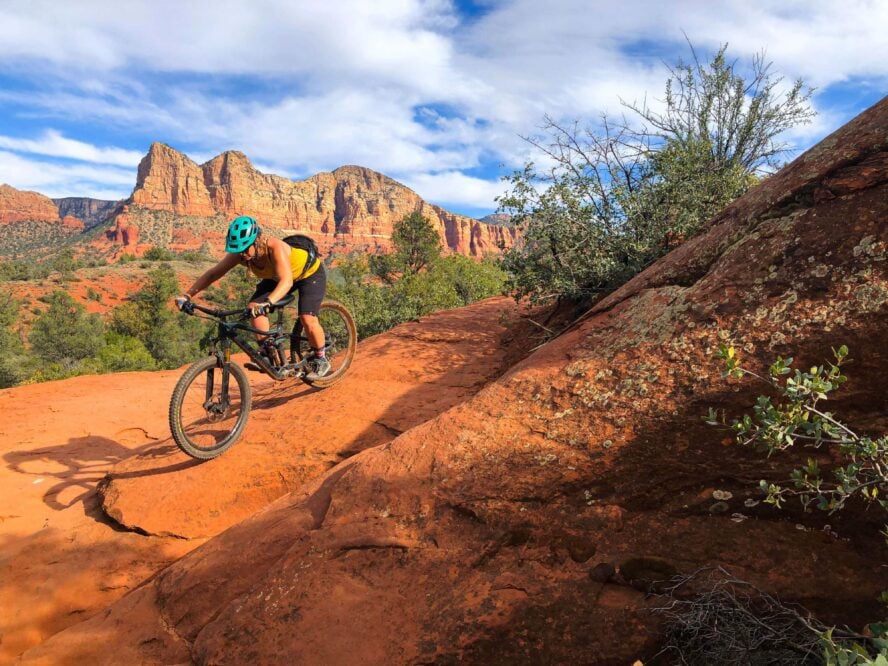 On the advanced side, the Hiline Trail is a must-ride. This highly exposed singletrack cuts across a large ridge before dropping into a drainage on the other side, leaving you without an exit until the very end. Another highly technical loop I'd recommend contains a trio of trails called Hog Wash, Hog Heaven and High on the Hog. You won't gain much speed on them, but be ready for a decent amount of exposure.
Shred the Red in West Sedona's Dry Creek
Unless I'm taking complete newbies out to get a feel for the area, my favorite starting point is the deliciously dense Dry Creek system in West Sedona. Situated in a giant flat basin, it houses some of the best high-beginner and low-intermediate mountain bike trails in Sedona.
From the Arizona Cypress Trailhead you ride a short stretch of pavement to Long Canyon Trail and go up to reach Deadman's Pass Trail. The name might sound scary, but it's actually a simple sandy route with no surprises. This will bring you to Aerie, the very first of the illegal trails that was brought into the system. Follow its bermed turns to reach Cockscomb Trail.
As you're making a semi-circle around Doe Mountain, you can proceed in different ways. I like to take the Dawa Trail to connect back to the Arizona Cypress Trail and return to the car. This is known as Dry Creek Loop—a perfect showcase of what the mountain biking in Sedona has to offer: flowy rides, diverse terrain and a gorgeous desert landscape shrouded in pinyon-green and dirt-red.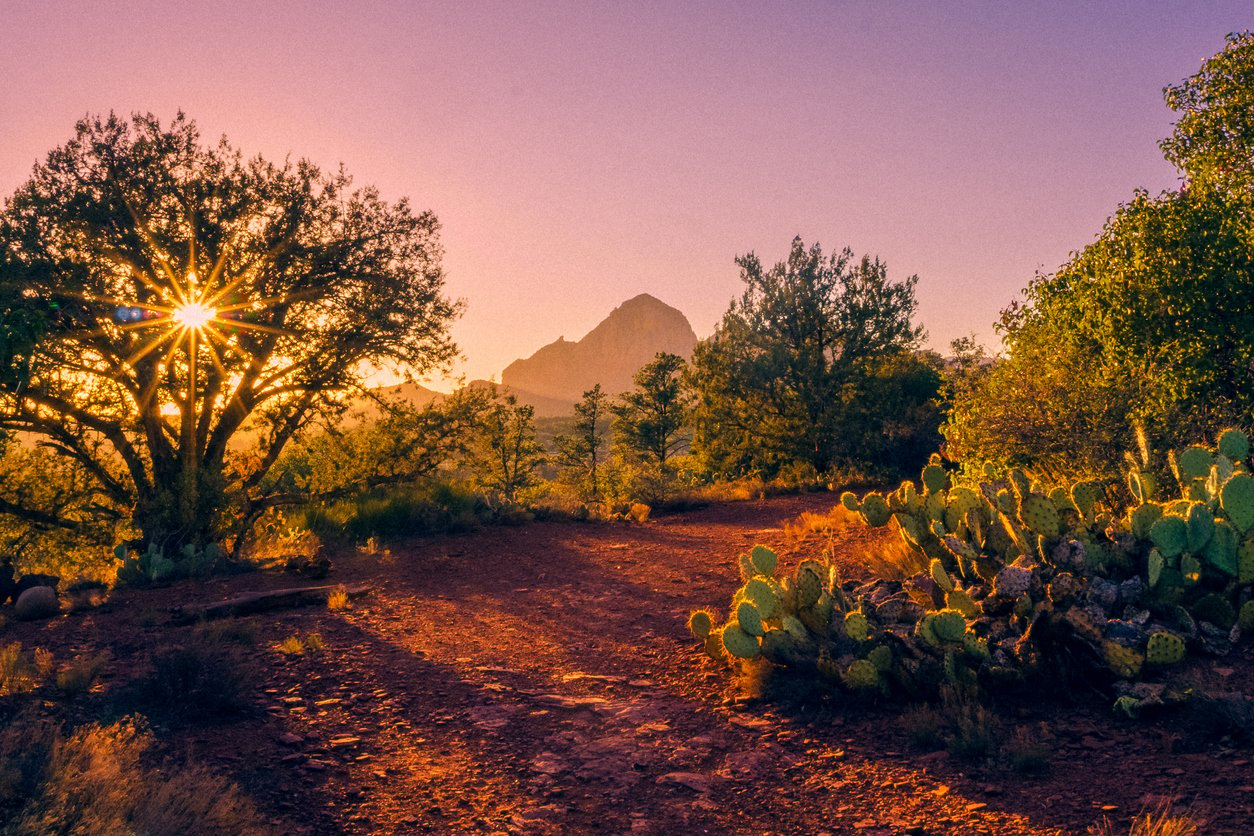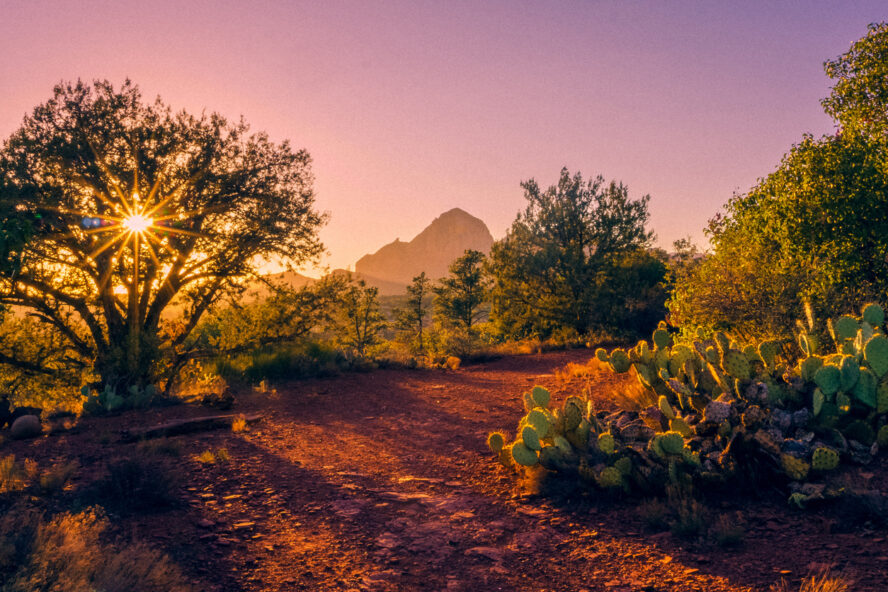 As you might have realized by now, a lack of available space in Sedona has resulted in a lot of short, interconnected mountain bike trails that can be sequenced any way you want. Some of those combinations yield phenomenal results. My favorite loop in the Dry Creek area consists of Chuckwagon, Mescal, and Canyon of Fools—which you'd be a fool to miss.
Chuckwagon stands out because it's one of the few longer trails in Sedona. It playfully winds through slickrock washes and pinyon forests for 5.5 miles before reaching a glorious amphitheater where the Mescal Trail starts. You ride along the base of Mescal Mountain—a massive sandstone butte—largely on slickrock. As the trail rounds the butte, the view of Boynton Canyon will make you stop dead in your tracks.
Finally, connect to Canyon of Fools to reach a narrow and extremely deep wash banked with 15-feet walls. It's not a long section of trail, but you can ride up and down the walls like a madman. Just thinking about it makes me giddy. All in all, this is a classic loop packed with diverse terrain, incredible views and just enough tricky spots to make an intermediate rider break a good sweat.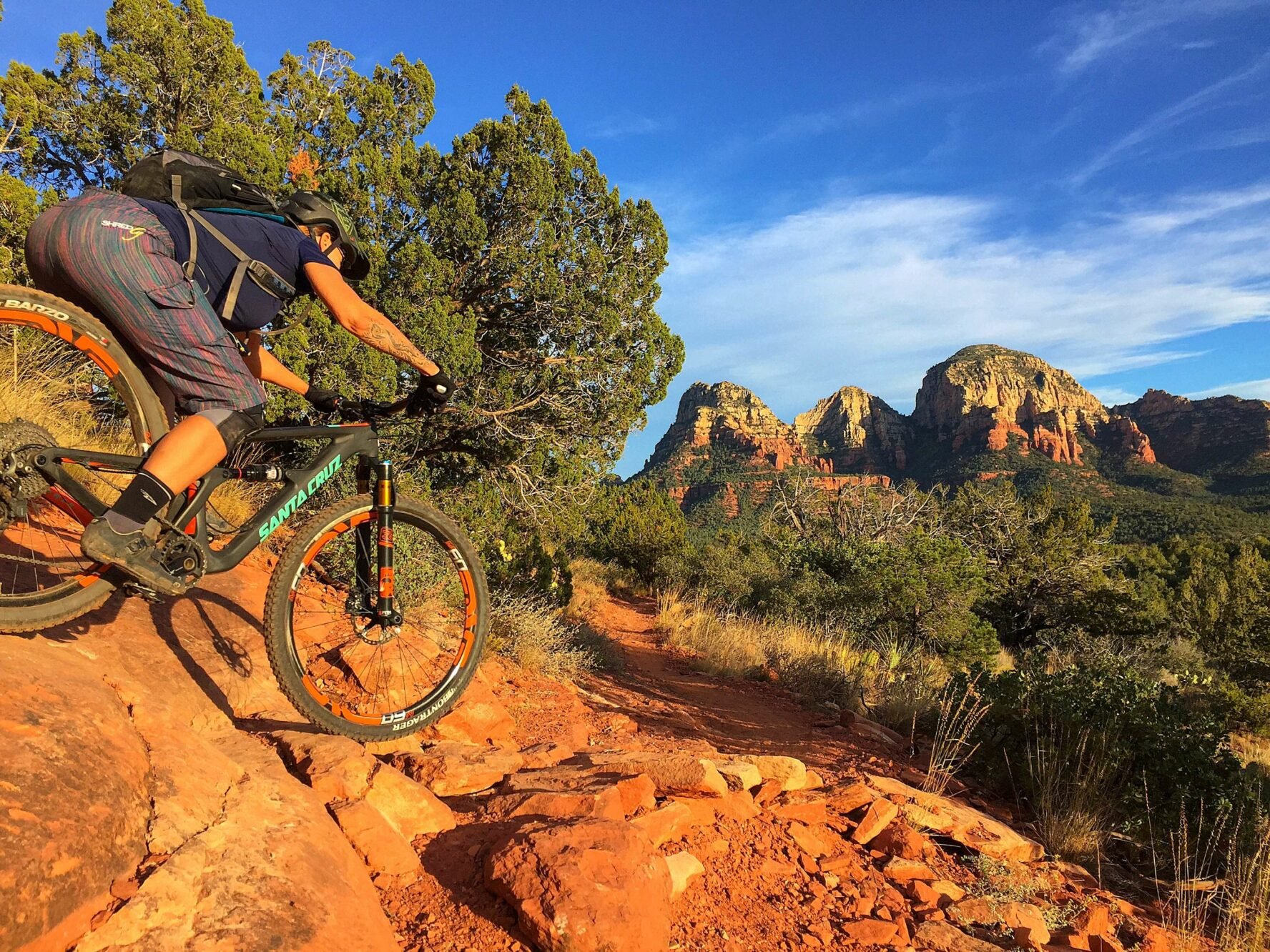 Dive Into the Flowy Trails of Soldier Wash
The high desert scenery of Soldier Wash in Northwest Sedona hides a true intermediate's playground. There are very few easy routes around here and it would take a skilled rider to reach them. Likewise, the area's handful of advanced trails is firmly hemmed in by blue squares. No wonder mountain bikers love it so much.
The upper section of the system starts at the base of Soldier Pass and Coffee Pot Rock, then washes down towards Oak Creek and 89A. I like to park at the Adobe Jack trailhead on 89A and climb up Adobe Jack to reach Jordan Trail. As you work across the system shadowed by a large rock formation to your left, all sorts of trails fall off to the side, giving you plenty of options. For example, you can go all the way out to Javelina for some fast drops and twisty turns or take the most popular choice—Grand Central.
Before we move on, a small digression. For all of Sedona's carefully curated mountain biking trails and terrific terrain, there is one thing this place lacks—sustained downhill. I can show you lots of up-and-down action with trail profiles that look like an EKG, but if you ask me for flowy downhill trails, all I can say is: "Cool, Flagstaff is over there."
The only exception to that rule is Grand Central. While it may not be entirely downhill, it has a sustained enough gradient for the kind of fast and fun high-intermediate riding that mountain bikers crave. And afterwards, you can just hop on to Crusty Trail to get back to Adobe Jack and your car.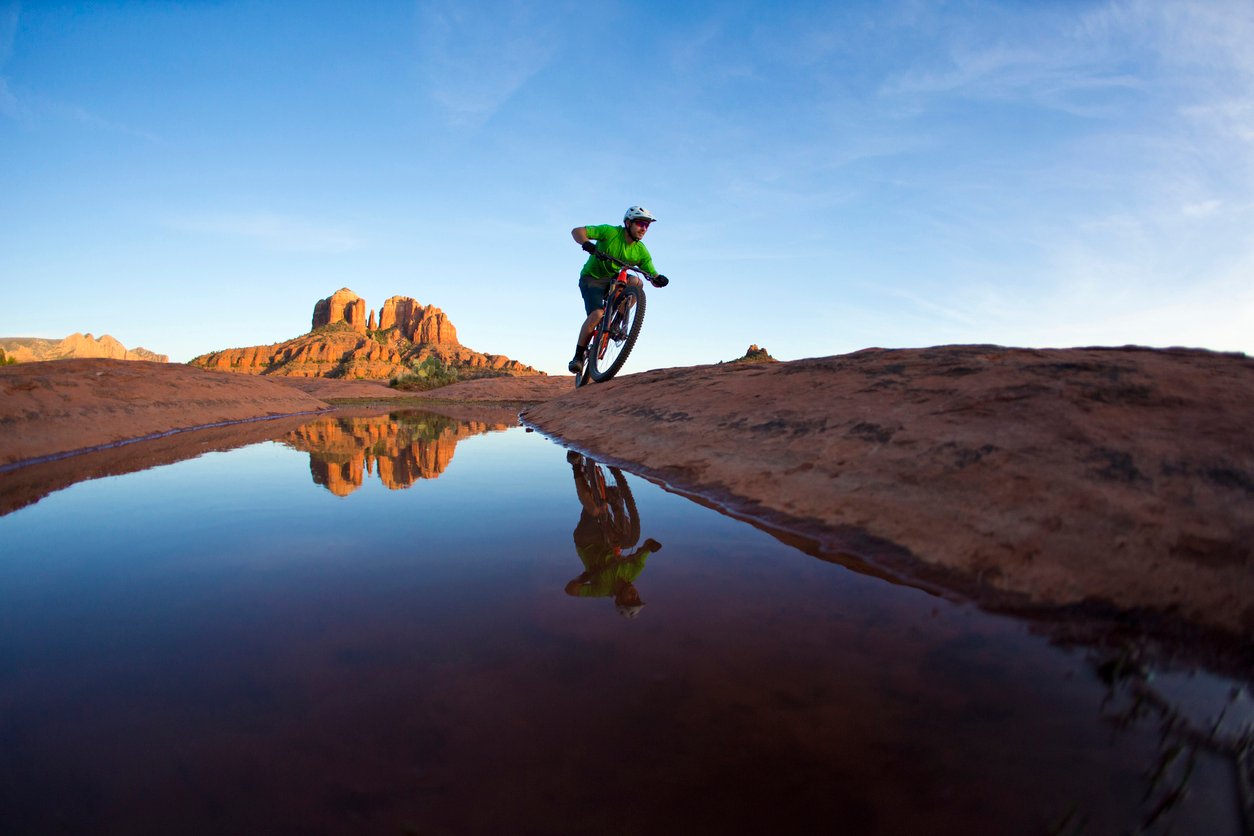 Find the Freshest Tracks in Carroll Canyon
Carroll Canyon is a trail system located out by the high school near the southern part of Dry Creek. It's a bit off the beaten path, so you'll probably encounter more locals than outsiders. I had the pleasure of participating in the recent trail-building efforts here, which resulted in a handful of exciting new additions to the system.
I usually park at the bottom of Old Post Trail off Red Rock Loop Road. From there you take Chavez Ranch Road to reach Ridge Trail and connect to Sketch—a very solid intermediate trail, nothing too sketch. There's a popular spot here called Lookout Rock which lets you peer down into the very heart of the canyon and see the colorful rock layers of Thunder Mountain glowing in the distance.
Leaving the lookout behind, a thrilling downhill will take you back to Ridge and a legacy trail called Old Post. You can follow its diverse bends, climbs and drops to the low-intermediate Skywalker Trail (someone in the forest service is a big Star Wars fan).
For one of the more challenging mountain bike trails in Sedona, you can go behind the high school and hop onto Scorpion Trail towards Pyramid Mountain. If you take the right split onto Pyramid Trail, you've got yourself a fairly advanced route. If you're not in the mood for anything gnarly, stay on the mellower Scorpion. Ultimately, both options will have you rounding the mountain to their shared trailhead. After that, all that's left is completing the loop by returning to Old Post.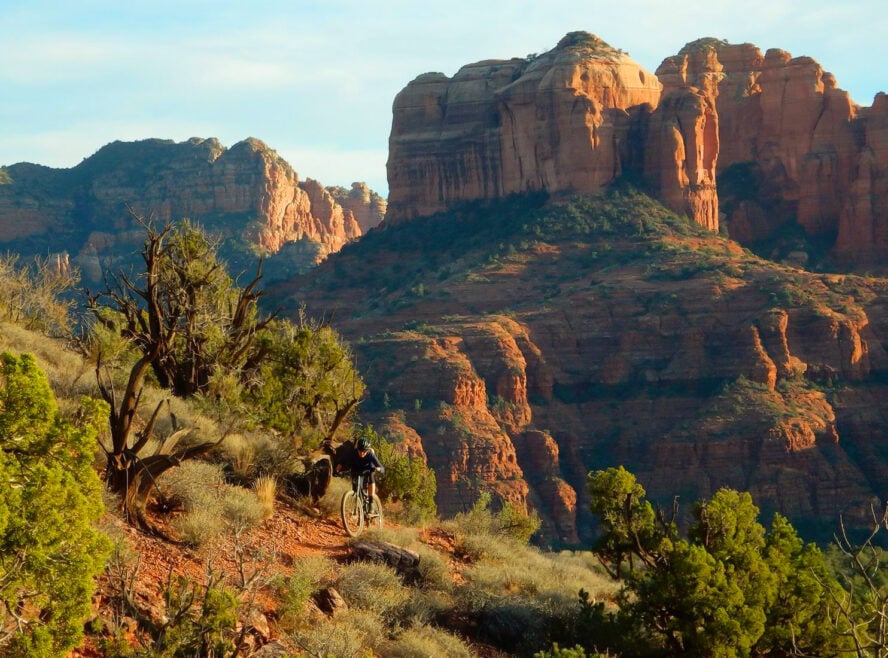 Good-To-Know Info About Hitting Sedona's Mountain Bike Trails
I still get a lot of raised eyebrows when I explain to folks just how much this place lives and breathes mountain biking. Before you head down to Arizona in search of mountain bike greatness, here are some things you might want to know about Sedona's trails.
Off the trails, you need to check out the Sedona Mountain Bike Festival
Every March, the Sedona MTB Festival, a three-day mountain bike celebration is held in the spectacular red rock setting of Sedona. There's a main expo along with bike demos, gear vendors, shuttled rides, live music, a beer garden, food trucks, skill clinics and—most importantly—an endless supply of sweet, sweet singletrack. There's no better place to shred and hang out.
What's so special about Hangover Trail in Sedona?
One of the unique experiences you can have on a mountain bike is riding Sedona's Hangover Trail. Extremely exposed, steep, and technical, this is a wild ride that climbs up to a large saddle between two rock formations, then swerves along a knife edge on the side of the rock. Mind you, all of this is done 650 feet above the canyon floor. If there's one place where you don't want to put a wheel wrong, it's Hangover.
Sedona mountain bike rentals
Even though this is a small town, the local MTB community is huge. You'll find plenty of well-equipped shops in the Village of Oak Creek, like Thunder Mountain Bikes (formerly Over the Edge Sports), Absolute Bikes (which operates in Flagstaff as well), or Bike & Bean, located near Slim Shady Trail and Bell Rock Pathway.
When's the best time to mountain bike in Sedona
Although you can technically ride the mountain bike trails in Sedona year round, the shoulder seasons—from March to May and September to November—have the best riding conditions. Most other places stay unrideable during those periods, but here average temperatures range from the mid-60s to low 80s.
Why go on a guided mountain biking tour in Sedona
With such an expansive trail network, Sedona might seem daunting to some mountain bikers, especially newcomers to the area. That's why it's always a good idea to go with a guide who can show you around and tailor the rides to your skill and fitness level. Also, guides can help you with bike rentals and provide you with extra gear like sealant for tubeless tires.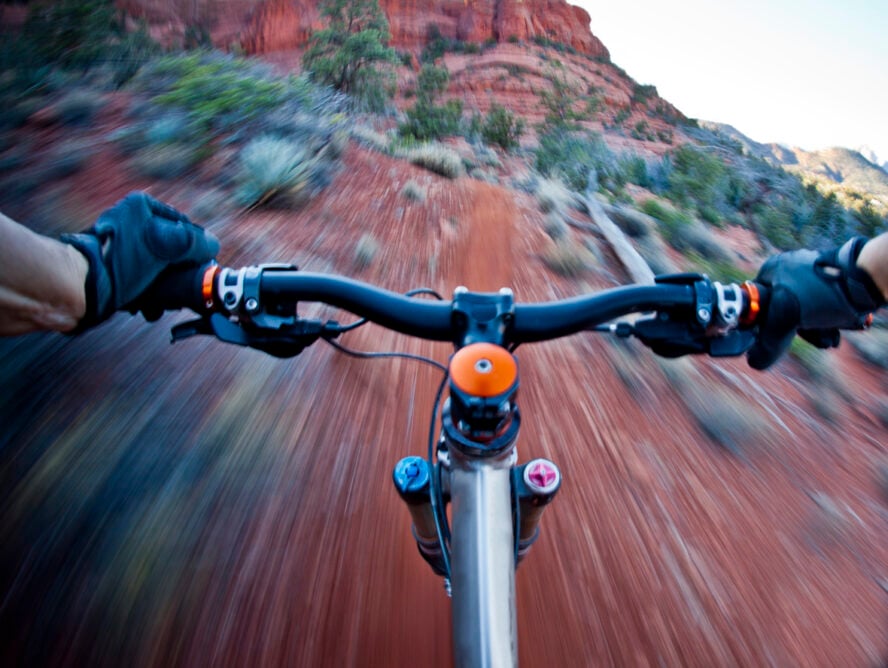 There's Nothing Quite Like the Mountain Bike Trails of Sedona
My recipe for happiness is simple: take one desert landscape filled with extraordinary sights, add 200+ miles of painstakingly crafted singletrack, mix them all together—and you've got yourself a world-class mountain biking destination.
I'll never forget that day I set out into the blazing Arizona wilderness and discovered Sedona's trails hidden among the canyons and buttes of Coconino National Forest. Fifteen years later, that feeling of pure wonder hasn't waned one bit.
To all you desert shredders, singletrack-seekers and hero dirt lovers out there, I've only one thing to say: MTB there or be square!
Ready to discover the hottest trail system in the Lower 48? Join Matt on a mountain bike tour of spectacular Red Rock Country and shred the finest velcro rojo in Sedona!