Kenny shared:
His photos and videos of Moab that will get you hyped up
The sporting history and culture that makes bikers swarm to Moab
His top picks of Moab's world-renowned mountain biking trails
The intricacies of the area's diverse and challenging terrain
How to choose the right trail systems for every level of rider
What the logistics are like on Moab trips
The benefits of opting for a guide on your Moab adventure
Equipment outfitting for bikepacking routes
A mountain biking trip to Moab, Utah sits at the top of every bikers bucket list. Diverse slickrock terrain, stunning desert scenery and nearly a dozen local trail systems spanning over 900 miles are what lure adventurers from all over the world. Chances are, fellow MTB enthusiasts in your area have shared photos and videos of their Moab experience — now it's time to plan yours! Local MTB guide Kenny Gorham is here to tell you everything you need to know.
Gain confidence on its many beginner-friendly trails and have the time of your life on the flowy descents. The area's red sandstone lends itself to tapping into your wild side, too — cling to practically vertical walls, if you dare. Kenny covered how the area earned its rep, his favorite iconic trails in Moab and advice for choosing your own, as well as any and all logistic tips that will help your Moab adventure go without a hitch.
If you've ever wanted to experience the incomparable symbiosis between Moab's iconic redstone and your bike tires, this is your chance to get all the info you need.
Webinar host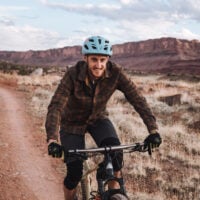 Kenny Gorham
MTB Guide and Owner of Bighorn Mountain Biking
Kenny Gorham is a MTB enthusiast and the face behind Bighorn Mountain Biking. He started riding bikes in his mid 20s and realized he would trade his office job for MTB trails any day. Opening a bike shop in one of USA's best MTB locations, Moab, seemed like a no-brainer. When he isn't advising his clients on the best gear for their MTB adventure, he's raising dust in Moab's desert.