Lake Baikal | Russia
Polar Expedition on Frozen Lake Baikal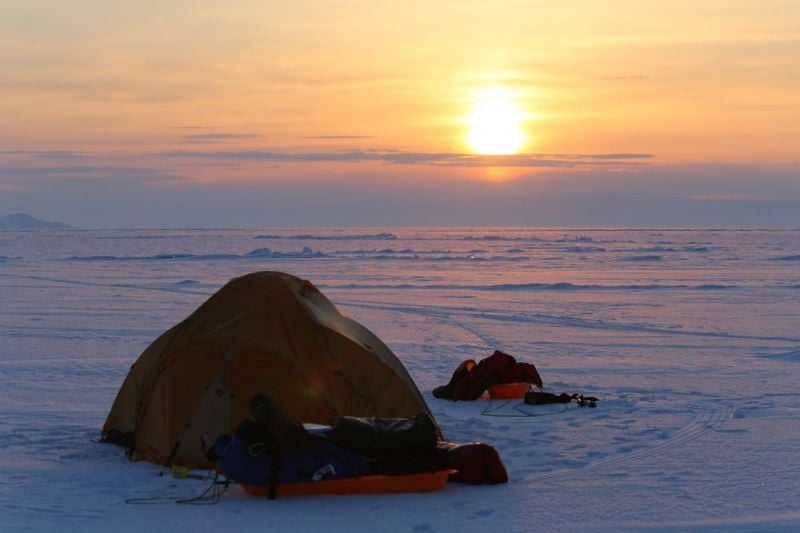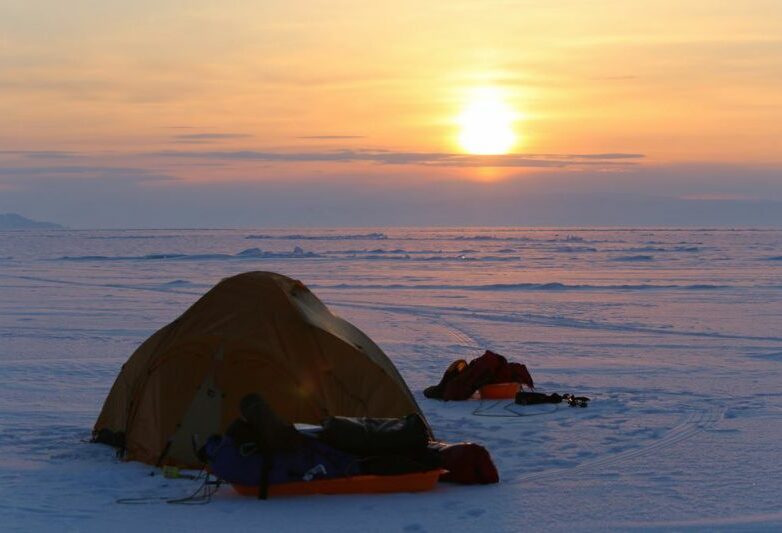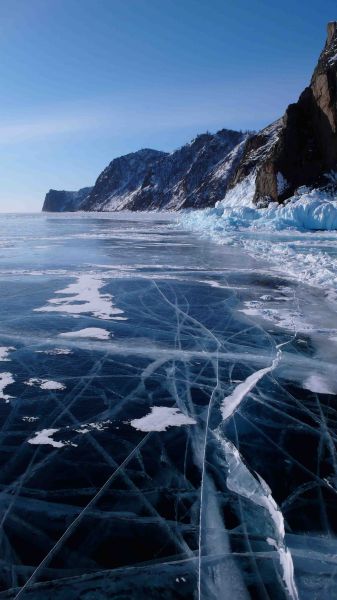 Season

February is the peak season
Experience the polar wonderland of Earth's oldest lake
In the heart of frosty Siberia lies Lake Baikal, the deepest and oldest lake in the world. This geographical wonder freezes over in the winter and becomes one of the most unique treks imaginable. 200 km of icy vastness, daredevilish traversing on frozen water, and engulfing silence. Join Dixie Dansercoer, accredited IPGA Master Polar Guide, as he takes you on a 12-day polar expedition unlike any other.
Book This Adventure
Traversing Frozen Lake Baikal
$5660 per person
·
12 days
For the first few days, you'll take care of everything needed for your polar expedition, get acclimated with the polar climate, and take your first steps on the frozen surface of Lake Baikal. Once you set on your adventure, expect to crunch the fresh snow for six hours a day —  be it by sledging or trekking. Your expedition comes to an end at Olkhon, an island famous for its traditional culture and friendly locals.
Tour Highlights
Every polar traveller worth their salt has their eyes set on Lake Baikal. The ice will crack and seem alive under your snowboots, the terrain will change as you traverse it, and freshwater seals will emerge for air. Dixie's expert instructions will be the only sound accompanying you for 10 days! You'll spend the days trekking and sledging, free to enjoy the vast wintry landscapes surrounding you and take advantage of many unreal photo ops. At night, in your tent, you'll hear the bustling water life, with only a thick layer of ice between you.
Guides we recommend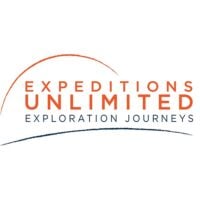 Expeditions Unlimited
Expeditions Unlimited
If you're looking to discover parts of the world untouched by mankind, these expert...
View details
Things you need to know
Why should I book with 57hours?
With us, it's all play and no work for you! 57hours is an open platform that connects you with trained and certified outdoor adventure professionals all over the world. Using our tech-savvy, we make it super easy to find and book adventures worth tackling, with guides worth booking, all gathered from the first-hand experiences of the locals who adventure in these amazing locations.
What's included?
What you get in this adventure:
AA certified IPGA Polar Guide with extensive knowledge of the area

12 day adventure with 8 full days of guided polar expeditioning

All the technical gear you need
What equipment is provided?
All of the logistical equipment and some of the personal technical equipment will be provided by your guiding service, including:  
GPS & location beacon

Pulkas with a large storage bag

Draw harness 

Ski poles 

Tents 

Tent brush 

Snow pegs 

Insulating mattress 

Self-inflating mattress 

Pool sleeping bag 

Snow shovels 

Rope 

Carabiners 

Ice axe

General parts and repair kit 

Ski mask 

Fur collar

Cooking fire & fuel

Eating utensils

1.5L Isothermal water bottle
If you have your own equipment, feel free to bring it. 
What do I need to bring?
Here's a list of the equipment you need you bring:
Personal equipment:
Day pack large enough to carry all the items listed (around a 35L bag)

Solid waterproof bag or backpack (60-70 L)

Polarized sunglasses or goggles for the glacier

High index sunscreen and lip balm

Water bottle

Toiletries and pee bottle

Food you can eat on-the-go

Pocket knife

Three lighters

Headlamp like Petzl® + spare batteries 

Four to five waterproof bags of different sizes to compartmentalize your belongings in your bag, which is handy 

Small quick-drying bath towel 

Two toilet paper rolls 

Biodegradable wipes and paper handkerchiefs like Kleenex® 

A sewing kit with needles, son, buttons, safety pins, etc. 

Camera — optional
Clothing and gear list:
Waterproof jacket like Gore-Tex® 

Face mask (neoprene works best)

Waterproof over-trousers like Gore-Tex®

Thick fleece jacket

Sweatshirt or thinner micro-fleece jacket

2 pairs of fleece pants

4 long sleeve thermal t-shirts

2 pairs of thermal tights

2 pairs of thin thermal socks

3 pairs of warm socks

Thermal balaclava

Fleece balaclava

Fleece neck scarf

3 pairs of thermal gloves

3 pairs of fleece gloves

Thick wool mittens

Fur-lined mittens

Over-gloves

Snow boots + Madhus skis + climbing skins (possible to rent for 250 euros)

Waterproof tent booties for inside the tent

Regular walking shoes for prior and after the expedition
Medical supplies:
Any prescription you might have

Pain, fever: Ibuprofen

Antibiotics: Pristinamycin (2 boxes per 1 treatment 8d), Amoxicillin + clavulanic acid

Analgesics: Paracetamol 500mg

Corticosteroids: Solupred 20mg

Antidiarrheals: Smecta (prepare a dozen bags), Intetrix (treatment of amoebiasis), Imodium

Antiemetic, gastric dressings

Antihistamines (for bites, skin rashes…)

Antiseptics: Betadine, Biseptine

Ointments: Anti-inflammatory

Biafine

Powder Antimycotics (feet): Econazole, powder and ointment

Eye Drops: Antibiotics, Anti-Irritation

Set of adhesive bandages and some sterile gauze pads
This list will be finalized and clarified while preparing it finely with Dixie Dansercoer. 
What's the itinerary?
Day 1:
Arrival at Irkutsk and transfer to Bol'shoye Goloustnoye

You'll spend the day in preparation for your expedition

Spend the night in hotel accommodations
Day 2: 
Final gear and equipment check

You'll take your first steps on Lake Baikal

Last night at the hotel before your 10-day adventure!
Days 3 to 10: 
You'll set out to do the 200 km long trek

6-hours a day of trekking/sledging per day

At night, you'll sleep in tents under the starry skies
Day 11: 
After your 10-day long expedition, you'll arrive at Olkhon

You'll get the chance to meet the locals and experience the culture

Your last night will be spent in hotel accommodations
Day 12: 
On your last day, you'll leave for Irkutsk

In the afternoon, you'll catch a flight for Moscow
What is the level of difficulty?
Due to distances covered, the isolation, the fact that you'll be transporting your own baggage in the sleds and the overall climatic and environmental conditions, this expedition is rated as challenging. Good technique pulling the sleds is essential, and experience of the far North and of alpine hiking and winter camping is also highly recommended. Each participant is responsible for applying safety rules, for his/her equipment and its upkeep, for setting up camp and preparing meals. As such, participation in the pre-preparation course with Dixie (date to be confirmed) is essential.
How fit do I need to be?
The Lake Baikal expedition will challenge you both physically and mentally, thus you need to have an excellent fitness level. Participants carry their baggage in sleds weighing initially around 35 kg and will spend about six hours a day traversing on terrain that requires full attention, for a total of 200km of trekking over the course of this 12-day adventure.  
What is the minimum age requirement?
The minimum age requirement for this expedition is 16 years old. If your party has teens younger than 16, contact us prior to booking.
What about group sizes and pricing?
Rates for Polar Expeditions on Lake Baikal are $5660 per person (€4950)

Group sizes are usually 6-12 people per guide
What about bad weather?
An important skill needed for enjoying polar regions is flexibility, especially when dealing with weather and ice conditions. Preparation is key and your guide will make sure you're properly equipped prior to the expedition. Rest assured you're in good hands. Your guide has extensive knowledge of the area and climate, they'll know just what to do if the weather takes a turn for the worse.
Do I need an insurance policy?
It's highly recommended that you cover all your bases with travel and medical insurance. Serious accidents can happen in alpine terrain and we recommend insurance to avoid paying out of pocket for costly medical expenses. And as we've recently seen, travel plans can be abruptly halted, so it's a good idea to have cancellation insurance that also covers lost baggage. It's tried and tested and it works. 
If you have not taken out insurance with Expeditions Unlimited, specify your registration, the name of your insurance company, policy number and the telephone number. Expeditions Unlimited offers insurance with the European Insurance Contract n°304243. Details are available upon request or downloadable from www.tamera.fr.
The percentages include the full cost of travel, including airline taxes. In summary, Expeditions Unlimited offer three additional insurance formulas: 
▪ Sherpa Insurance (1.7% of the cost of the journey): for medical expenses, research, repatriation and trip interruption; 
▪ Zen Insurance (4.0% of the cost of the journey): insurance in case of theft and loss of luggage; 
▪ Zen CB Insurance (2.8% of the cost of the journey): for clients paying for their trip with a credit card and already offering insurance coverage even restricted.
Cancellation policy
All policies regarding cancellation, rescheduling and trip insurance will be clearly laid out by your guide prior to booking your adventure. Contact us if you'd like more information on a specific adventure.
Getting there and meeting location
Most people board a plane from Moscow and make their way to Irkutsk, Siberia. From there, you'll meet your guide and they'll take care of transportation to and from your adventure on Lake Baikal.