Backpacking Big Sur: 4 of the Best Trails Along California's Coastline
Liz Thomas guides backpacking and yoga retreats in Big Sur. Here are her favorite spots for backpacking along the coastline that feature some of the most scenic and diverse landscapes in the U.S (along with some helpful information you need to know before you go).
Big Sur is one of California's natural treasures: a dramatic coastline where redwood groves sprout within sight of ocean coves. The Santa Lucia mountains rise seemingly right from the Pacific Ocean with an abruptness that rivals Mt. Whitney. On sunny hillsides, you'll find yucca and semi-arid wildflowers flourishing along the trail, evoking the best Joshua Tree hikes. Waterfalls and hot springs and beaches and swimming holes are there to satisfy water lovers, too. Backpacking in Big Sur has something for everyone.
A Brief Overview of Big Sur
Between the hiking trails of San Diego and Redwood sits Big Sur, one of the longest and most beautiful coastlines in the U.S.—and rightfully some of the best hiking in the country. Although there's no set definition for Big Sur, most people consider Monterey to the north and San Simeon to the south to be its boundaries.
California has gone to great measures to protect the area from development, a move that also produced the best Joshua Tree hikes. It's sparsely populated, mostly uninhabited, and the majority of land is public land. Big Sur is home to seven state parks and two state preserves. The area's mountainous part includes the Ventana Wilderness and Silver Peak Wilderness of Los Padres National Forest, as well as non-wilderness sections of the Forest.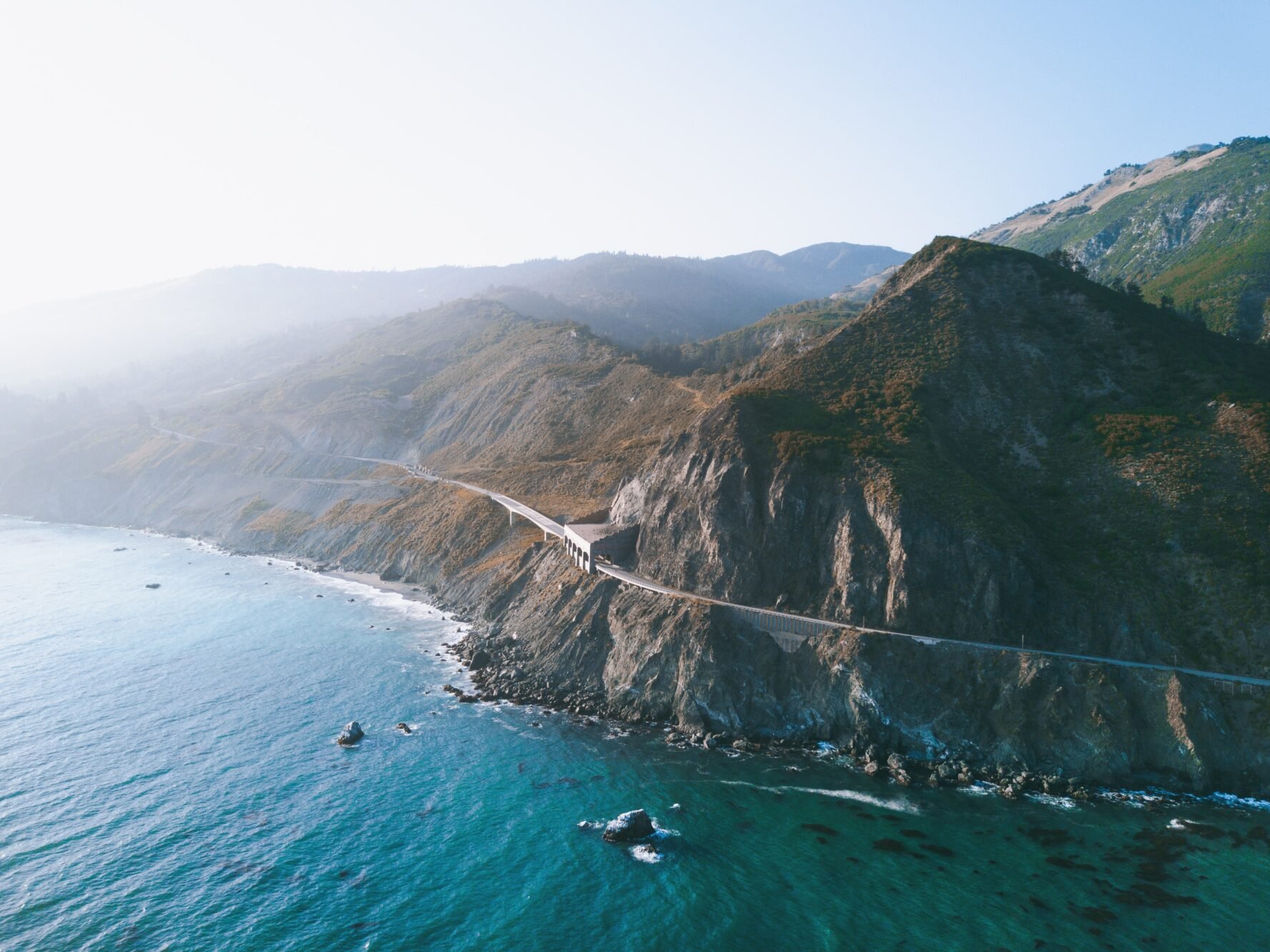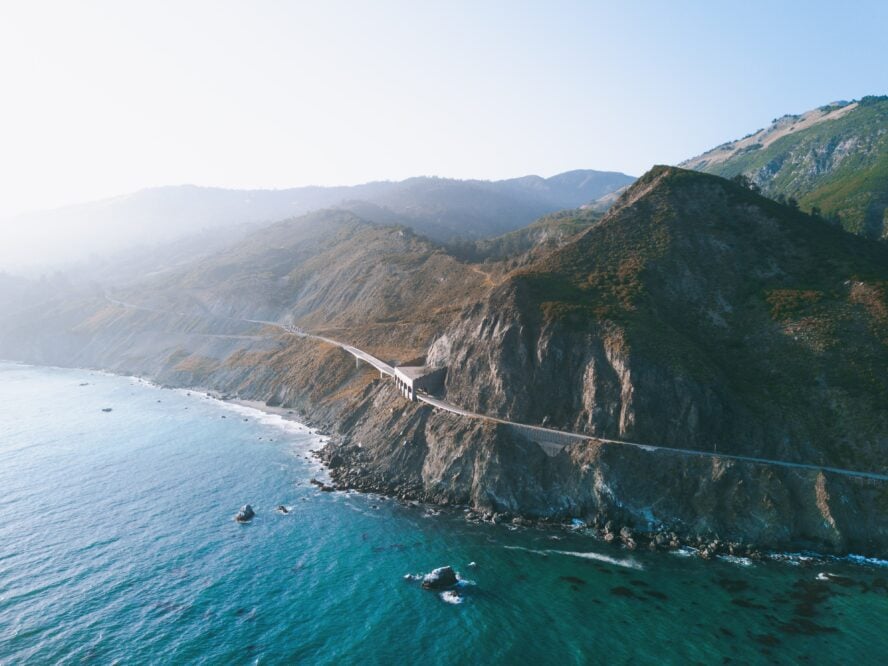 Pros and Cons of Backpacking Big Sur
The longest, undeveloped stretch of coastline in the lower 48, with seaside cliffs, beaches, and coastal mountain views
Diversity of flora and fauna
No permits or reservations are needed for the backpacking trips described here
Although accessible from northern or southern California, Big Sur is remote with limited cell service
Limited town amenities for before and after your backpacking trip
Big Sur is reached by California Highway 1, a narrow and winding seaside road cut into towering cliffs. It's popular with cyclists and has become a classic backdrop for movies. It's also a favorite scenic drive destination. But, similarly to the best Grand Canyon hikes, traffic can move slowly because everyone's taking in the view. Summer weekends are the most crowded, but unlike what you'll find on, for example, Red Rock Sedona hiking trips, there are plenty of off-trail activities to keep you busy.
Because Big Sur is located on California's Central Coast, it attracts Bay Area and Southern California residents alike. It's popular with tourists and foreign visitors as well, attracting 7 million people per year and beating the level of crowding that the best hikes in Colorado get. This is one reason why I recommend making campground reservations online as early as possible — even if you're visiting in winter, and another reason you may want to consider hiring a Big Sur hiking guide to escape the crowds.
Why is Big Sur called "Big Sur"?
The name Big Sur comes from the Spanish "El Sud," referring to the land grant that ranchers used in the area south of Monterey. It was Anglicized to "Big Sur" when later English-speaking settlers needed to name their new post office.
Good-to-Know Info For Backpacking and Camping in Big Sur
Download our hiking checklist free of charge
Check your inbox
When is the best time to backpack in Big Sur?
Like the rock climbing in California, peak backpacking season in Big Sur is during autumn, winter, and spring, when higher mountain ranges are too cold and snowy for hiking. However, the Santa Lucia Coastal Range can be dangerously hot during the summer, almost as hot as the hikes in Southern Utah. Water sources like springs and creeks can dry up or become unreliable. As is the case with Paria Canyon backpacking, I'd suggest planning backpacking trips here for the cooler months. If you're visiting during the summer, stick to day hikes in wet redwood groves or head to the beach.
Do you need a permit to backpack in Big Sur?
The two main backpacking areas in Big Sur, the Ventana Wilderness and Silver Peak Wilderness, do not require permits to visit. However, you will need a California Fire Permit to operate any kind of stove, including Jetboils and other backpacking stoves that use pressurized fuel. You can obtain a free permit online by watching a video and answering a short, multiple choice quiz. Print your permit and take it with you before leaving home.
Should you hire a guide to hike in Big Sur?
It all depends on your level of hiking experience, how well you know the area and how good your wilderness skills are, but hiking with a guide definitely has its advantages. Hiking with a guide in Big Sur will maximize your time along this stretch of California coastline. Your guide will show you the best trails, help you escape the crowds, and provide you with valuable information you wouldn't otherwise get. It takes out all of the guesswork and also means that you'll get the best trails to suit the skill levels of your group.
In short, choosing hiking tours with a guide guarantee you get the most out of your Big Sur adventure! Whether you're going with a guide or not, it's always a good idea to check out some hiking tips for beginners before heading out.
Can you have a campfire in Big Sur?
As is the case for many hikes in Arizona, campfires are almost never allowed in Big Sur due to the area's dry climate, vegetation, and history of devastating wildfires. If you want a campfire while visiting, use one of the many Car Campgrounds throughout the region.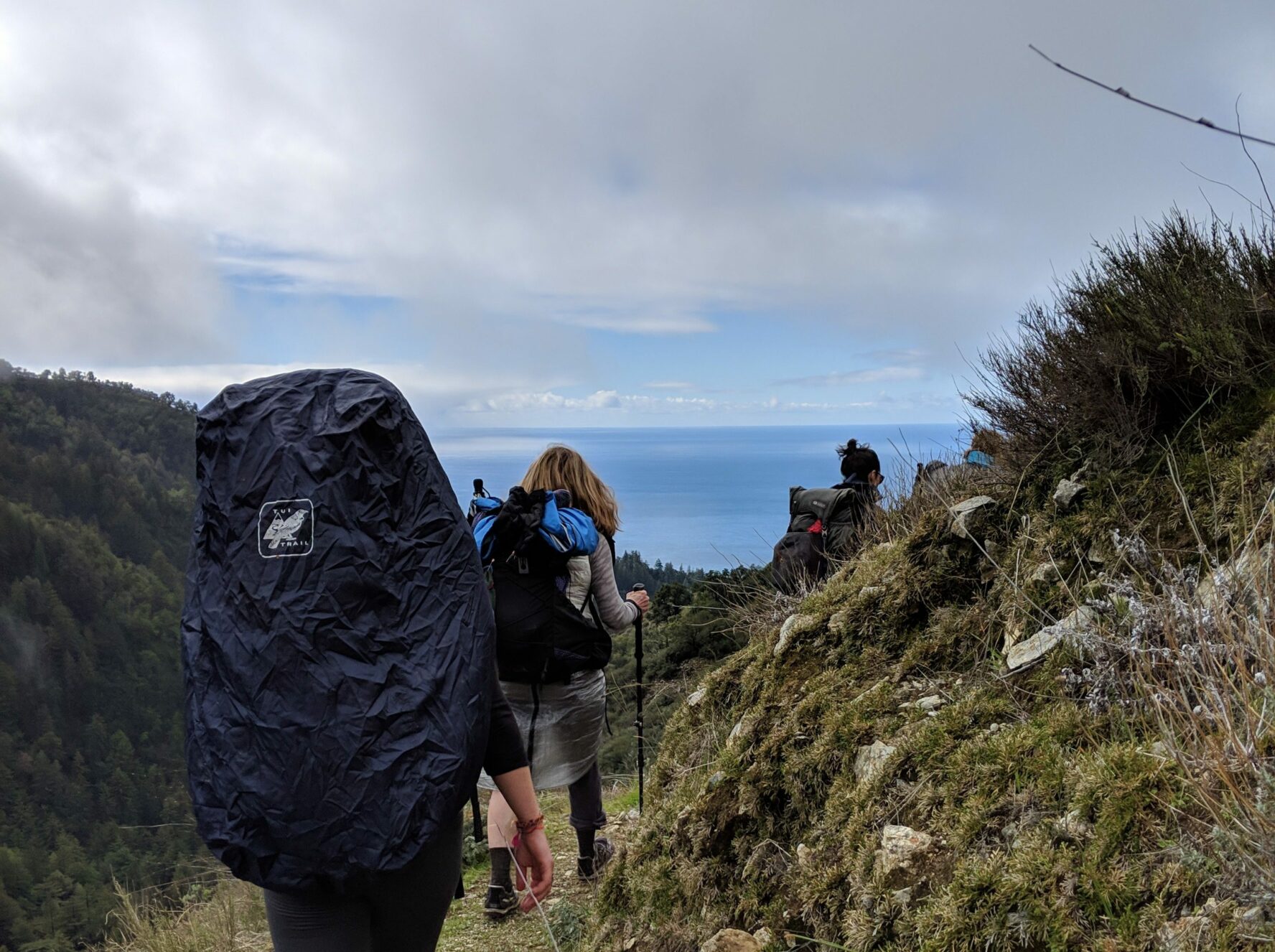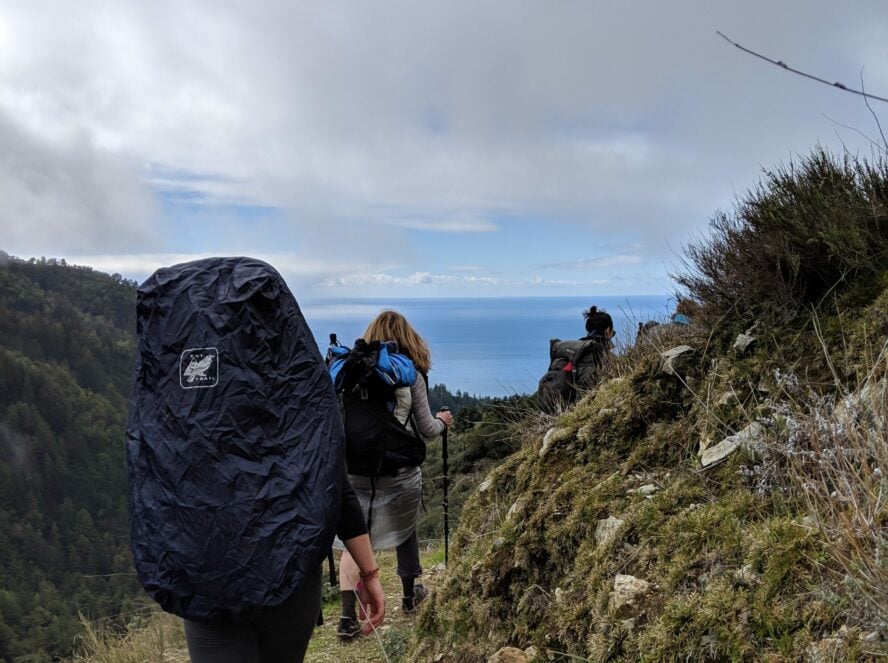 Where to camp in Big Sur
Remember that you're not doing Bryce Canyon hikes — It'll take some travel time to get there. because Big Sur is so remote, it's likely that you'll spend half a day or a full day driving there from a major city. It's not exactly the Tahoe Rim Trail thru-hike, but it's a long journey nonetheless.
I prefer to camp at a car campground before starting my backpacking journey the next morning. Also, after a long day of backpacking, I like to spend the night in a car campground before starting the long drive home. This way I won't fall asleep behind the wheel, especially on that narrow road. Camping in your car or van or setting up a tent alongside Highway 1 is prohibited, so I always make campground reservations as soon as I know my trip dates. If campgrounds on Forest Service land fill up, there are plenty of campgrounds in the numerous state parks in Big Sur, too.
Break-ins do happen at Big Sur trailheads (luckily, not to me). Don't leave anything valuable in your car, like laptops or jewelry. I also advise keeping other items out of sight in your car's trunk. Luckily, unlike what you'll find when doing the best hikes in Yellowstone, wildlife break-ins aren't an issue. I usually leave some celebratory car snacks and beverages (including plenty of water) to enjoy after my backpacking trip.
Check conditions before you backpack
Conditions change often in Big Sur. I always check the Ventana Wilderness Alliance forums for the most recent trail conditions. As anyone who's been mountain biking in California can tell you, the more remote trails here can get overgrown, but the forums always let you know when trail crews have been through to take out downed trees and keep paths open.
My favorite trails in Big Sur
Backpackers congregate in two main areas: the Ventana Wilderness towards the central area of the region and Silver Peak to the south. The third backpacking area, the Pine Ridge Trail from Big Sur Station to Sykes Hot Springs, used to be the most popular. Unfortunately, a wildfire in 2016, followed by subsequent landslides, caused enough damage that the Forest Service closed it.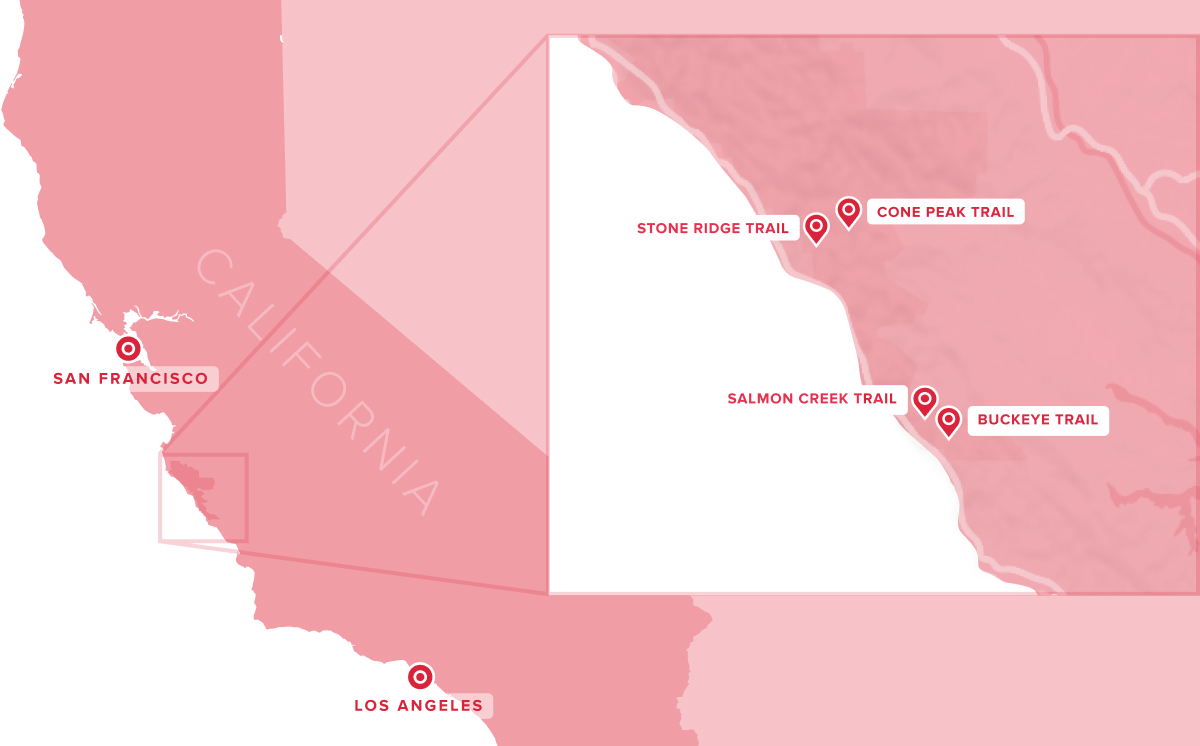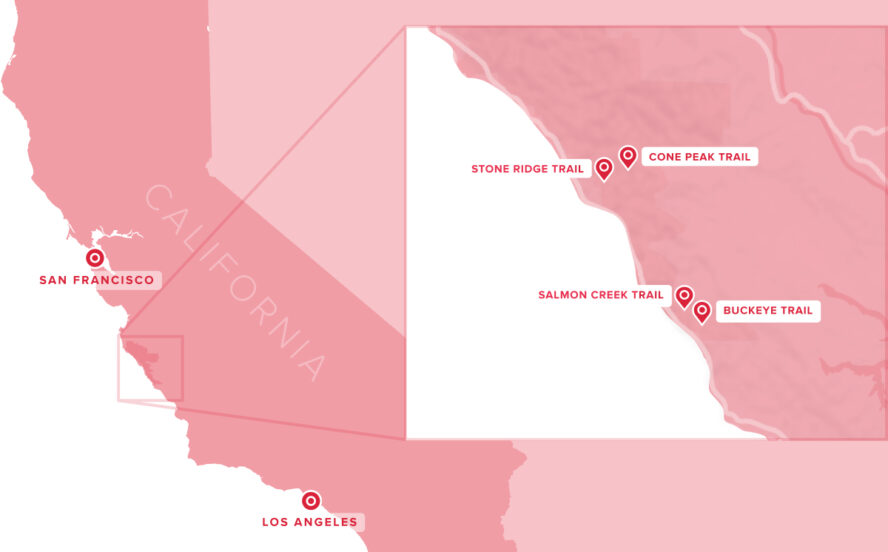 #1. Ventana Wilderness: Stone Ridge Trail
A loop trail that gives you a taste of Big Sur's many ecosystems with several campsite options.
If you want a little taste of everything Big Sur has to offer, the Stone Ridge Trail is a moderate-to-strenuous backpacking trip you won't want to miss. The Stone Ridge Trail offers wild coastal views to rival the best hikes in Olympic National Park, old growth redwoods characteristic for hiking in Northern California, moss-covered oak forests, meadows, and crystal clear streams. Set up a short car shuttle to do it as a 13.2-mile one-way hike or make it an out-and-back trip.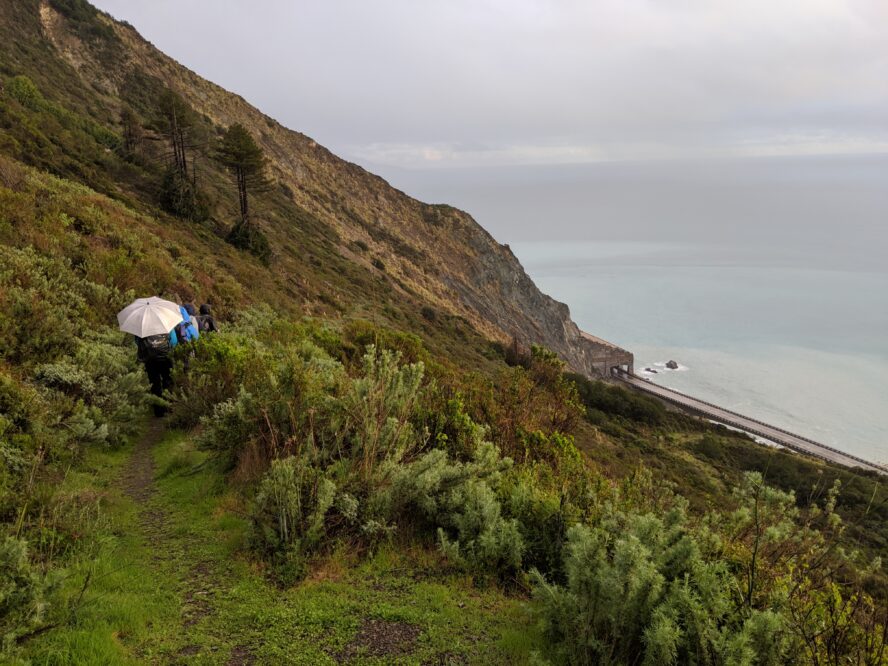 How to backpack the Stone Ridge Trail
Start at Highway 1 near the stunning Kirk Creek Car Campground. Take the Kirk Creek Trail (often called the Vicente Flat Trail) up above the ocean for an unobscured view of the Pacific (unless it's foggy). You have the option of camping at Espinoza Camp or Vicente Flat Camp. I prefer the latter, as it has more reliable water and flat spots among old growth redwoods. Cross the stream and climb from spooky moss-covered oaks to open high meadows. Descend on the steep and sometimes slippery Twitcher Elevator Use Trail back to Highway 1 for views of grassy hillsides, with Cone Peak above, and the Pacific Ocean below. To avoid the knee-busting descent, turn the trip into an out-and-back after reaching the grassy meadow.
#2. Ventana Wilderness: Cone Peak Trail
Climb the highest peak in Big Sur — in fact, the tallest coastal mountain in the contiguous U.S.
With an elevation of 5,155 feet, Cone Peak is the tallest coastal mountain in the U.S. mainland, and is as impressive as the mountains you encounter on the best hikes in Washington. It's just three miles from the ocean, which gives you an idea of how steep of a climb it is. I once backpacked this as a New Year's trip and was surprised at how warm the summit was, even in winter. But when I visited again most recently this past February, there was snow on top, and the mix of hot and cold almost made it feel like the Mt. Rainier hikes. In fact, summit photos on a snowy Cone Peak are considered a feather in the cap for many California hikers.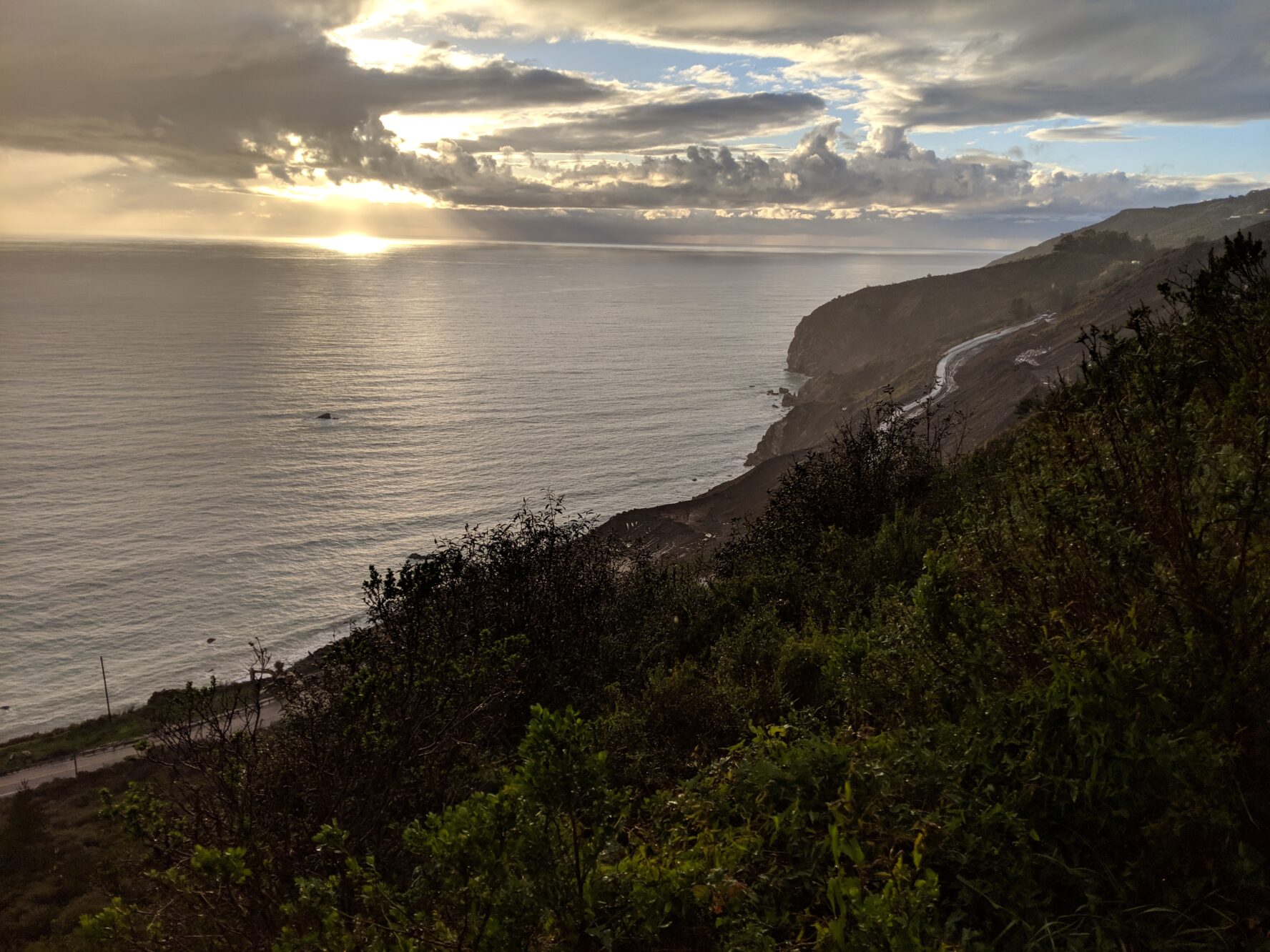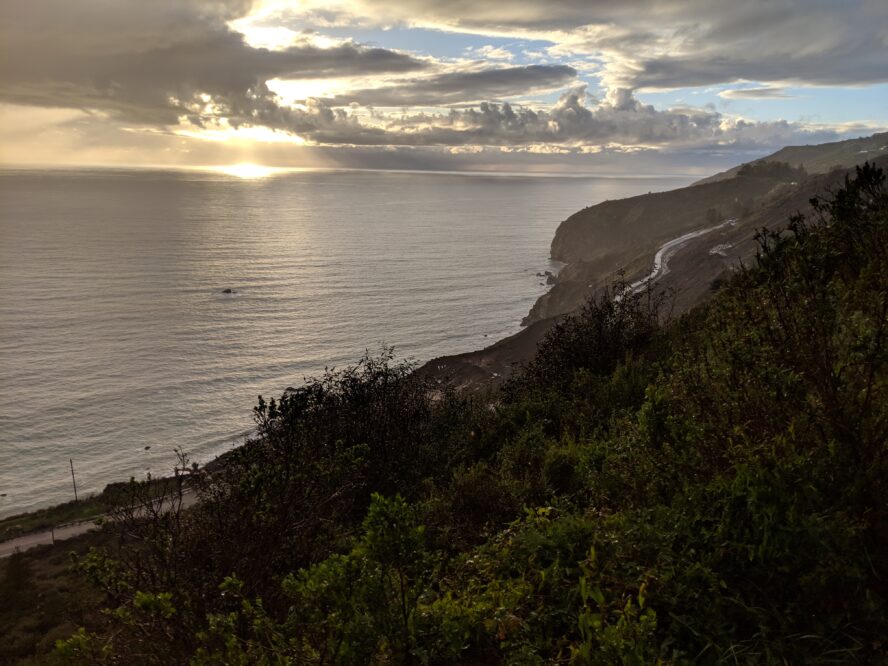 How to backpack the Cone Peak Trail
As with the Stone Ridge Trail, start at the Kirk Creek Trail (aka Vicente Flat Trail, aka Vincente Flat Trail; signs may indicate either spelling). After a night at Vicente Flat Camp, take the Vicente Flat Trail north towards Cone Peak Road. Here, you'll head west on a closed, wide dirt road along the ridgeline, with views to the hidden interior of the Big Sur mountains. Turn left onto the narrow and sometimes brushy Cone Peak Trail to the Summit Trail. There's a fire lookout at the top. From the peak, there are one-of-a-kind 360° views of the Pacific Ocean and the ridges and peaks of the Santa Lucia Range. The trip is 21.3 miles roundtrip with a whopping 6,200 feet of elevation gain to Cone Peak.
#3. Silver Peak Wilderness: Buckeye Trail to Alder Creek Camp
Create a loop with two of the most popular and scenic trails in Big Sur. Climb from the southernmost grove of redwoods to one of the better backcountry campsites at Buckeye Flats.
Since I live in Southern California, I like backpacking trips out of the Silver Peak Wilderness because they don't require visitors coming from the south to drive as much of Highway 1 to reach the Ventana Wilderness. Start at the historic Salmon Creek Ranger Station (now closed). Like hiking in the Southern California mountains, you'll have sweeping views of the Pacific Ocean and coastline below you. After that, look forward to views of the Southern Redwood Botanical Area, the southernmost area where coastal redwoods grow.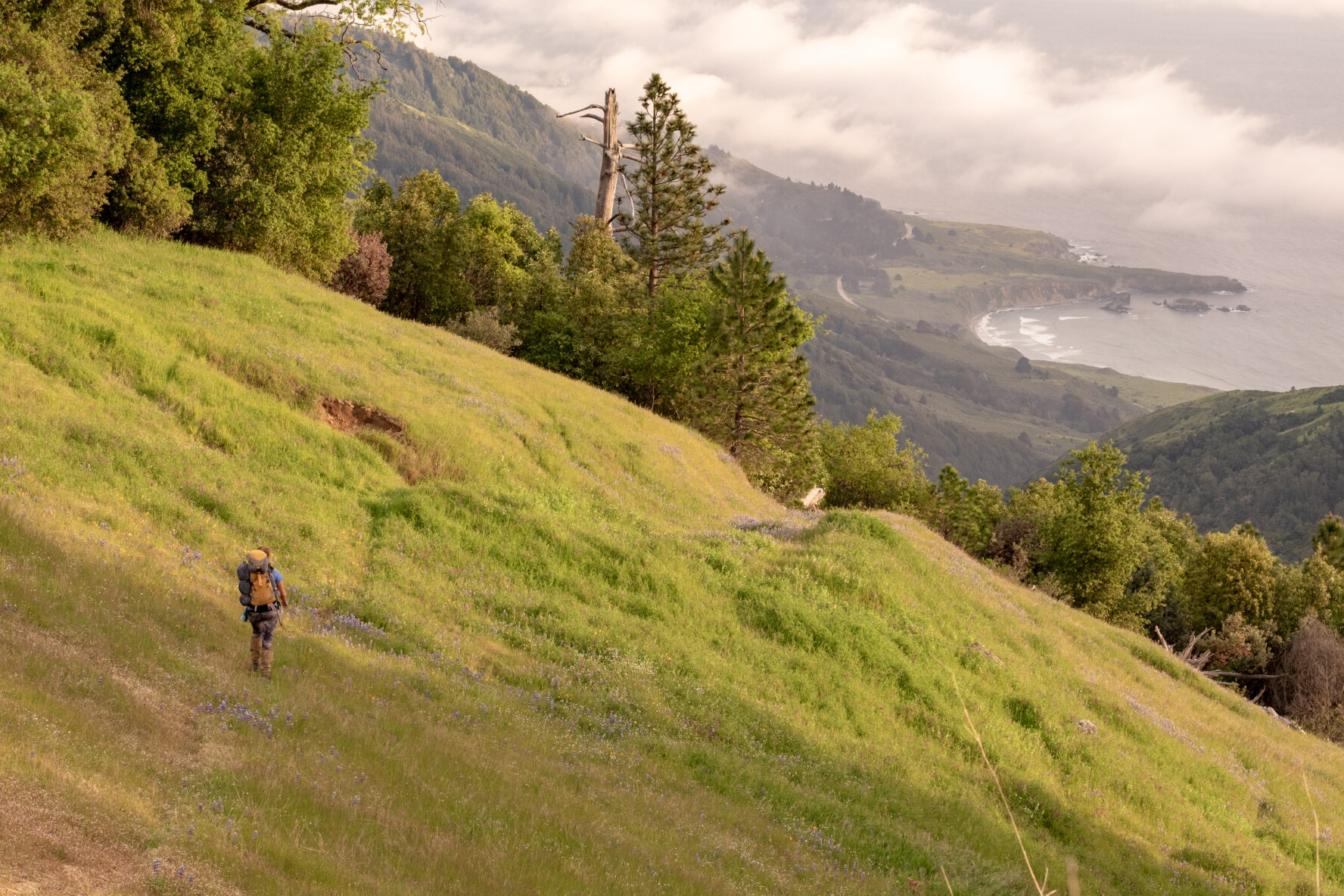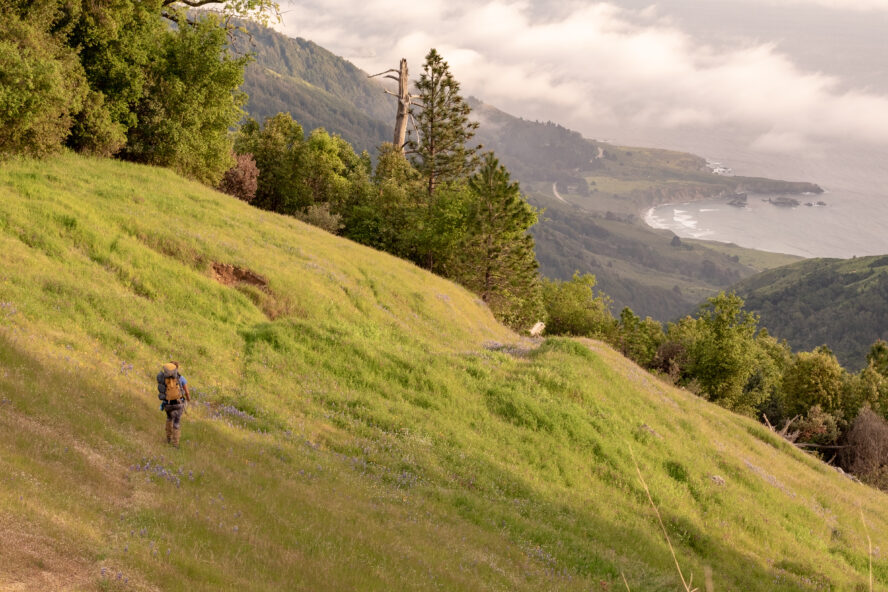 Where to camp in the Silver Peak Wilderness
There are lots of camping options on this backpacking trip, too. Buckeye Flat is the first campsite on the trail. It has a perennial spring and is considered one of the better backcountry campsites in the area. Otherwise, continue onto the Upper Cruikshank Camp, accessed via a short side trail. If your legs still have some energy, descend to the redwood-lined Villa Camp — it's one of the more scenic campsites and there's a spring to refill water. If visiting just after rain (or if it's raining during your hike), take care around the Villa Creek crossing. Some backpackers have found themselves trapped on the far side of the creek and had to call in rescuers to get back to their cars.
The next day, push onto Alder Camp through the Alder Creek Botanic Area. This section of trail can be rougher and more overgrown. Watch out for poison oak and ticks on this here, especially in the grassy area. The views along the way are incredible and Alder Camp itself is home to Ponderosas, Laurels, Sycamores, and of course Alders. The hike is 15.2 miles roundtrip with 2000 feet in elevation gain to Alder Creek Camp.
#4. Silver Peak Wilderness: Salmon Creek Trail to Three Peaks Camp
Climb past one of Big Sur's most beautiful double waterfalls to a campground high in the Santa Lucia mountains.
This Big Sur backpacking trip has one of the best beginnings of any trip: a double waterfall. Most hikers you'll see will be going only as far as Salmon Creek Falls. With an especially impressive flow after a rainstorm, it'll remind you of waterfalls on the western slope of the Sierra, like you see on the hikes in Yosemite.
Getting to Three Peaks Camp
From a signed intersection, climb switchbacks far into the interior of the Santa Lucia Mountains. At Spruce Creek Camp, you'll reach a confluence of perennial springs and a place to overnight with reliable water. If you're visiting after rain, know that Spruce Creek can rise 4 feet after an inch of rain. Backpackers have been trapped on the wrong side of the creek, so plan accordingly and always check the weather before you go.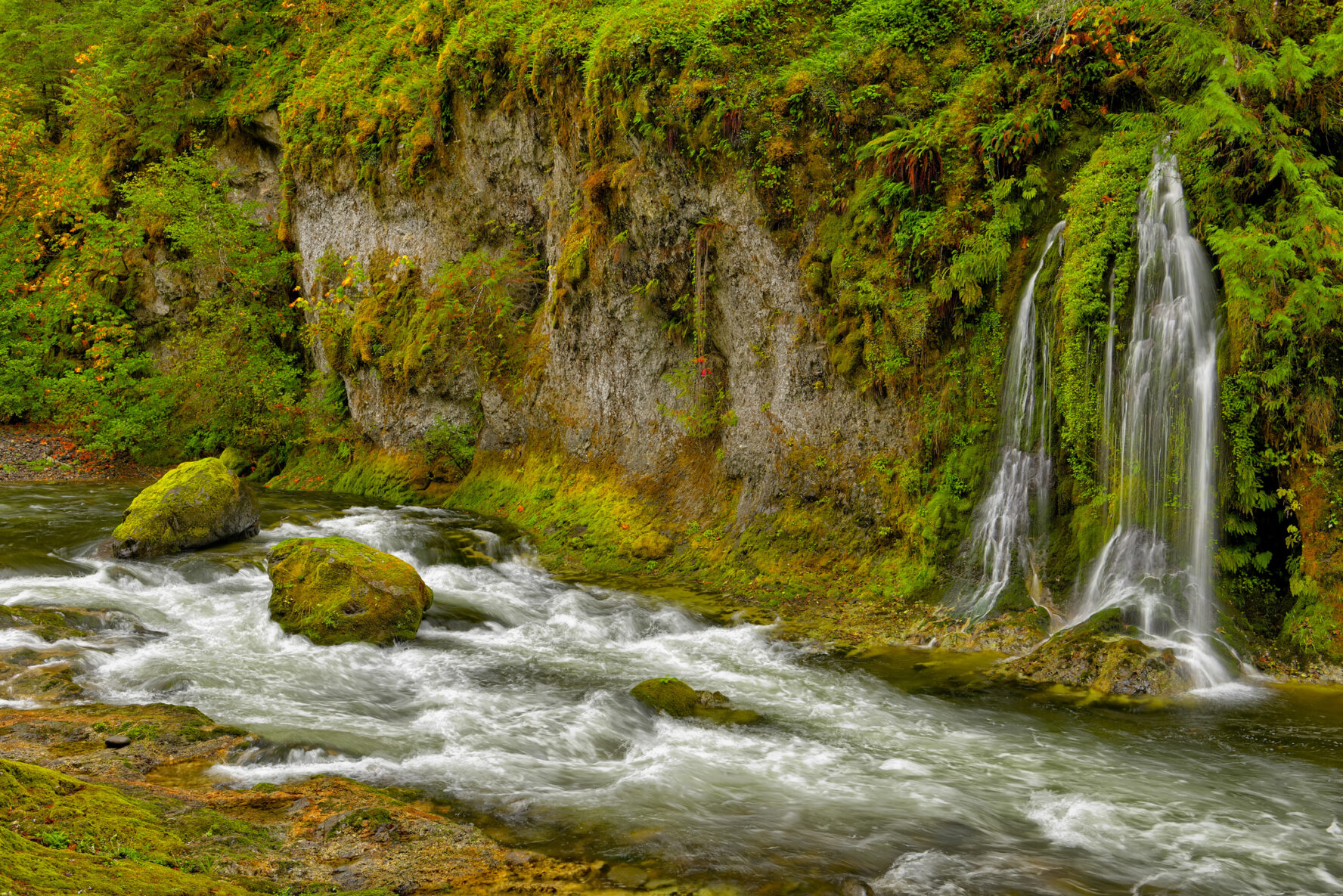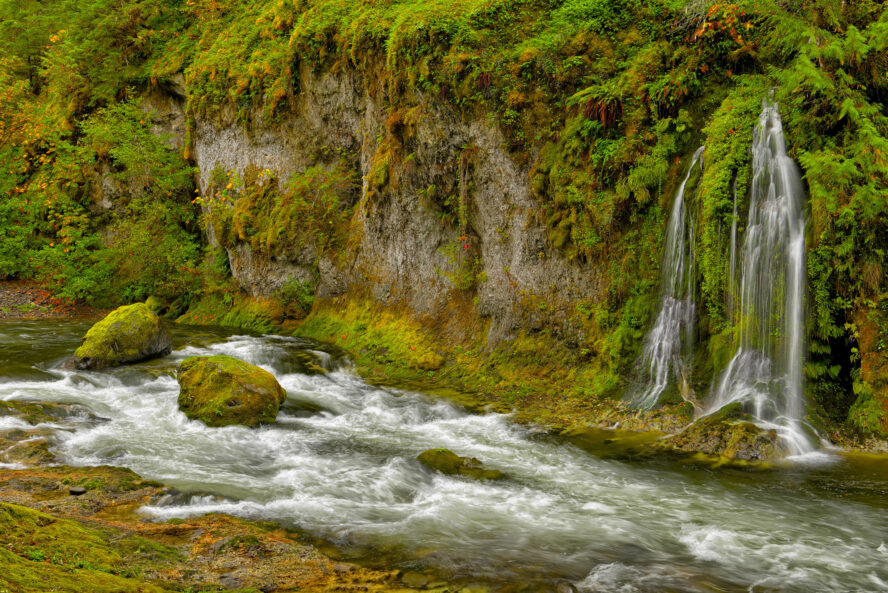 Further up the trail is Estrella Camp, which has numerous spots to sprawl out. For those of you headed to the peaks, this will likely be your last water source. Camp here and fill up. Once you reach the dirt South Coast Ridge Road, the walking gets easier with great views as you bop along the ridge towards Three Peaks Camp. It's open to cars during certain months of the year, but you're unlikely to see traffic as it barely looks passable to any kind of motorized vehicle. Take the gated (but not signed) Three Peaks Campground Road to a primitive campground below Three Peaks that has a perennial spring.
You can also access Three Peaks Camp by taking Spruce Creek Trail via Dutra Flat, though I think the camps and trail condition along the route as described are nicer and in better condition. It's 16 miles roundtrip with 4,700 feet of elevation gain to Three Peaks Camp as described.
Are you ready to hit the hiking trails in Big Sur? Let a Big Sur hiking guide take you on a guided tour and maximize your time outdoors. Whether it's hiking majestic trails before a gourmet picnic surrounded by ancient redwoods or a customized tour to suit your group, we've got you covered!