Gift a Winter Adventure: The Best Trips This Holiday Season
Whether you're a snowbird or a snowy owl, there are plenty of ways to enjoy the outdoors this season. We've rounded up a few of our favorite winter trips to inspire you to get outside.
Table of Contents
For many folks, winter is an indoor season. For others, it's best spent braving the elements—chasing snow in the backcountry, scaling 100-foot frozen waterfalls, or sending splitter cracks in the desert, in t-shirts. (You know, proper winter adventures).
Since you're reading this, I'll assume you're in camp #2.
Here at 57hours, we believe winter is best spent out-of-doors, shared with family and friends, and a cup of hot cocoa too (of course). Whichever way you like to enjoy the short wintertime days, we're sure you'll find something to your taste in our round up below.
1) Sail and Ski in Scandinavia: There's No(R)Way You Won't Love It
They say fortune favors the bold, especially if you can brave the cold…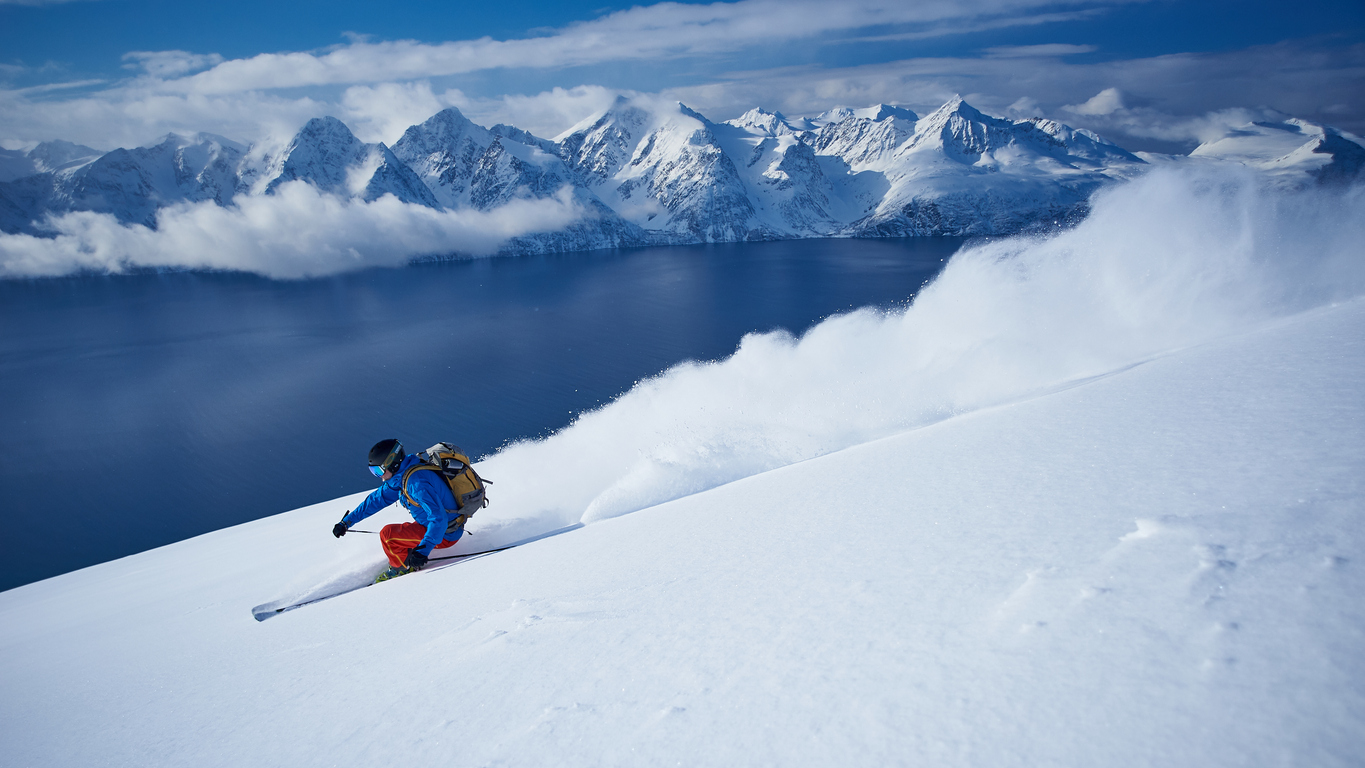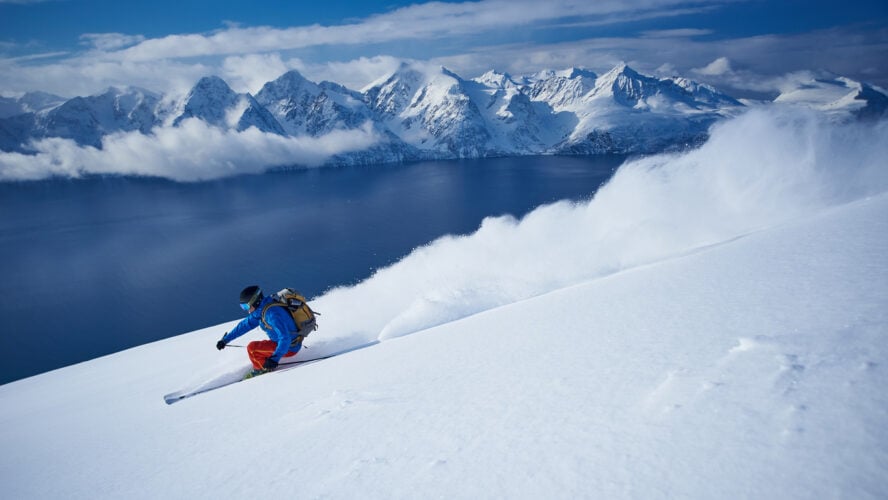 Top reasons to go skiing in Scandinavia:
Carve pristine slopes at the ends of the Earth

A sailboat means zero downtime and easy access to the finest runs

You might even spend a week without seeing another skier
Not many things awaken the Amundsen-esque spirit of exploration like sailing above the Arctic circle, skis in hand, with untracked pow as far as the eye can see. Enjoy endless runs under the midnight sun while skiing in Norway's Lyngen alps or skiing and sailing in Svalbard.
"There are once-in-a-lifetime adventures. Then, there's an arctic skiing and sailing expedition that lets you call a yacht home."
2) Get Hut and Unbothered in British Columbia
BC's crowd-free slopes are matched only by the quality of its hut system.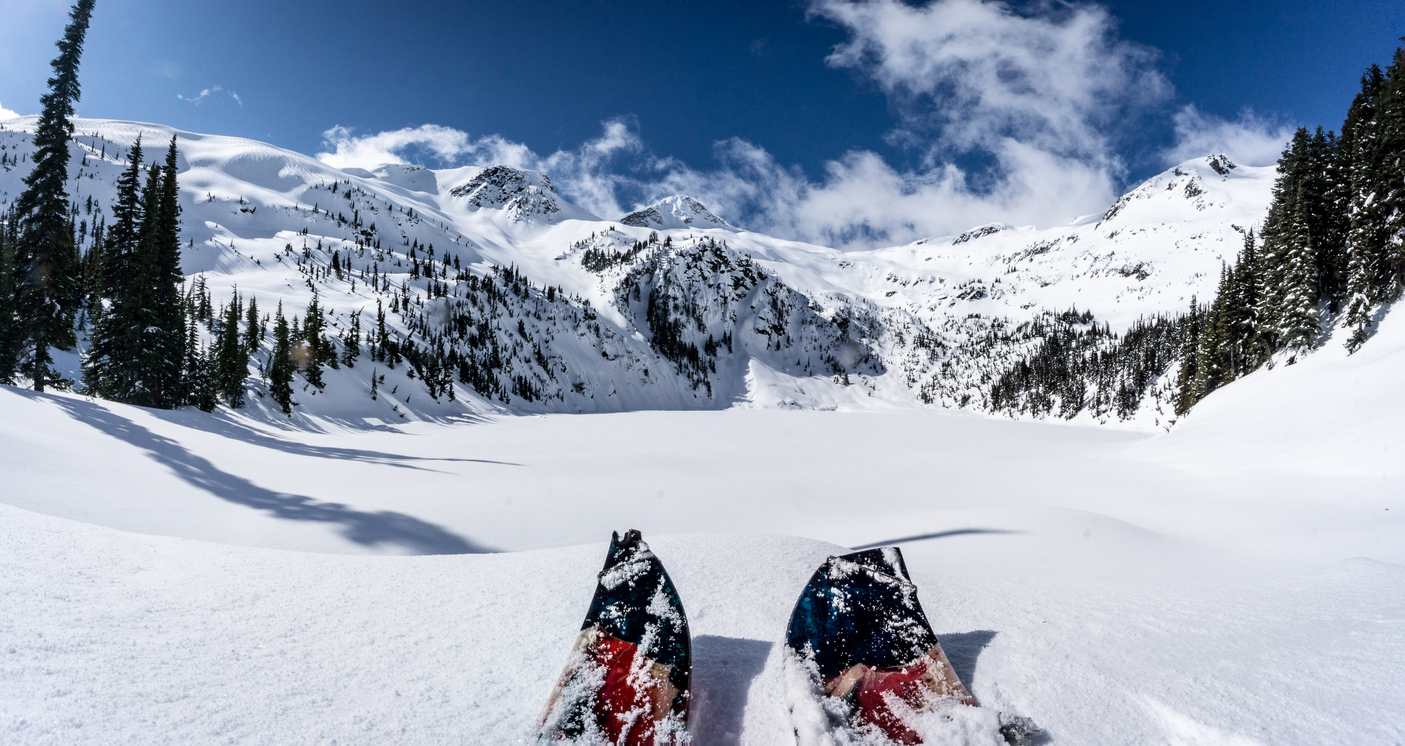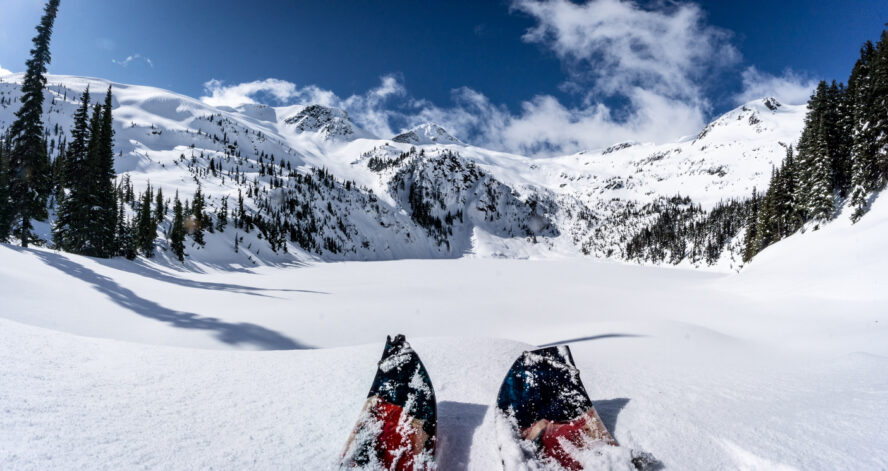 Top reasons to ski from the backcountry huts of British Columbia:
Sample some of the greatest lines on the planet

Fantastic runs right out the front door

Refuel with home-cooked meals and recoup in cozy saunas
Whether you enjoy a gentle glacier line, a steep slope, or treeline terrain in a snowstorm, you'll find it all skiing from British Columbia's backcountry huts. Thanks to an unmatched collection of huts and lodges, you can make full use of the 150 million acres just beyond your doorstep.
"With the best skiing B.C. has to offer, backcountry lodges are your perfect unplugged getaways hidden deep in Western Canada's jaw-dropping alpine paradise."
3) Ski Abroad: Go Beyond Your Borders
Maybe all the talk of your friend's far-flung adventure pistes you off. Take your own turns this winter with an overseas ski tour.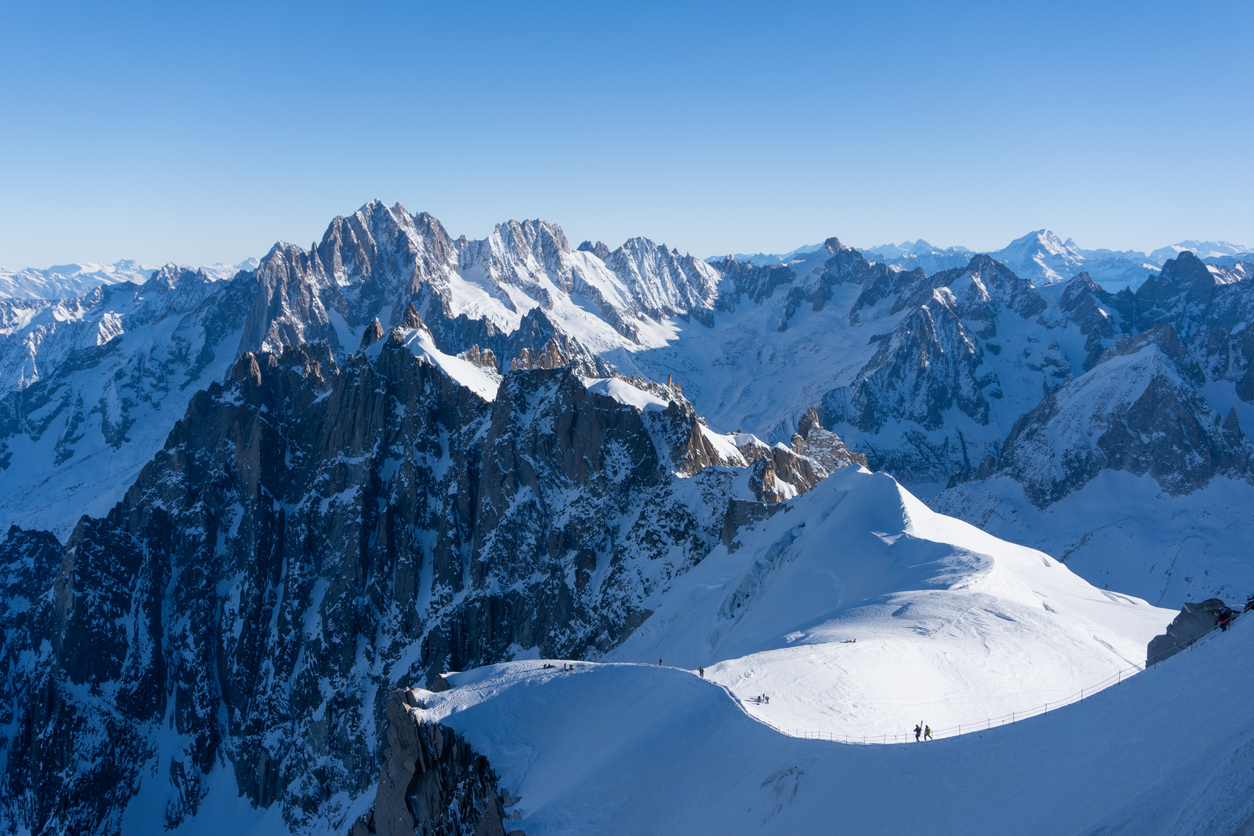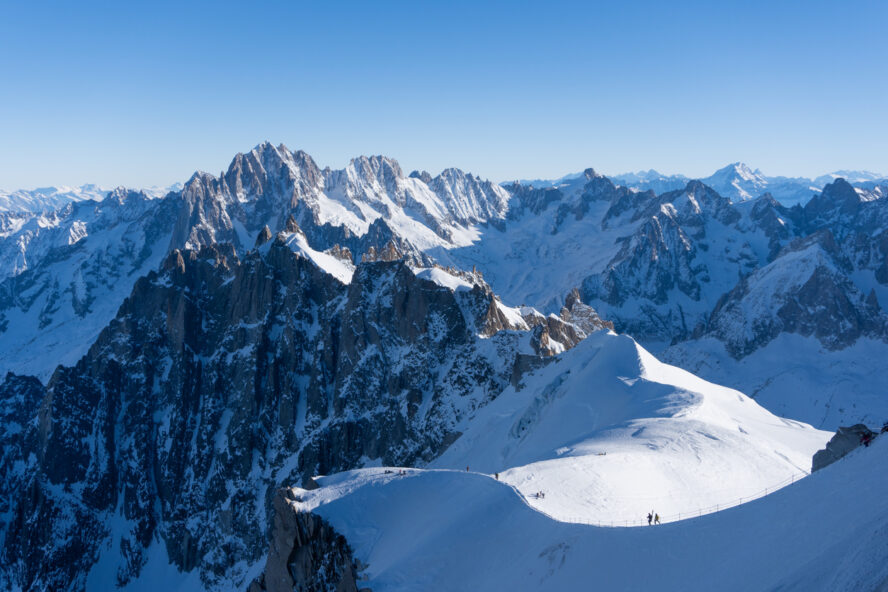 Top reasons to ski from iconic backcountry destinations:
Sample Cham's iconic steep lines, fantastic lift system, and legendary nightlife

Dive into the culture, cuisine, and crowd-free slopes of Georgia

Get hooked on "JaPow", the deepest and lightest champagne powder out there
You can't go wrong with the classics: try off-piste skiing in Chamonix for the classic lines and legendary après-ski scene, or a backcountry ski tour of Hokkaido, Japan for the deepest, softest pow in the world. If you're hunting for hidden gems, try backcountry skiing in Georgia before other powder hounds catch scent of the trail.
"Come for the best powder on the planet—where you can ski in the crater of a volcano—and stay for the incredible food, culture, and the aprés-ski soak in a Japanese onsen."
4) Carpe Skiem: Make the Most of Your Weekend
Boss won't give you a full week off work? These spots will help you fill your yearly bowl, glade, and couloir quota in a single weekend.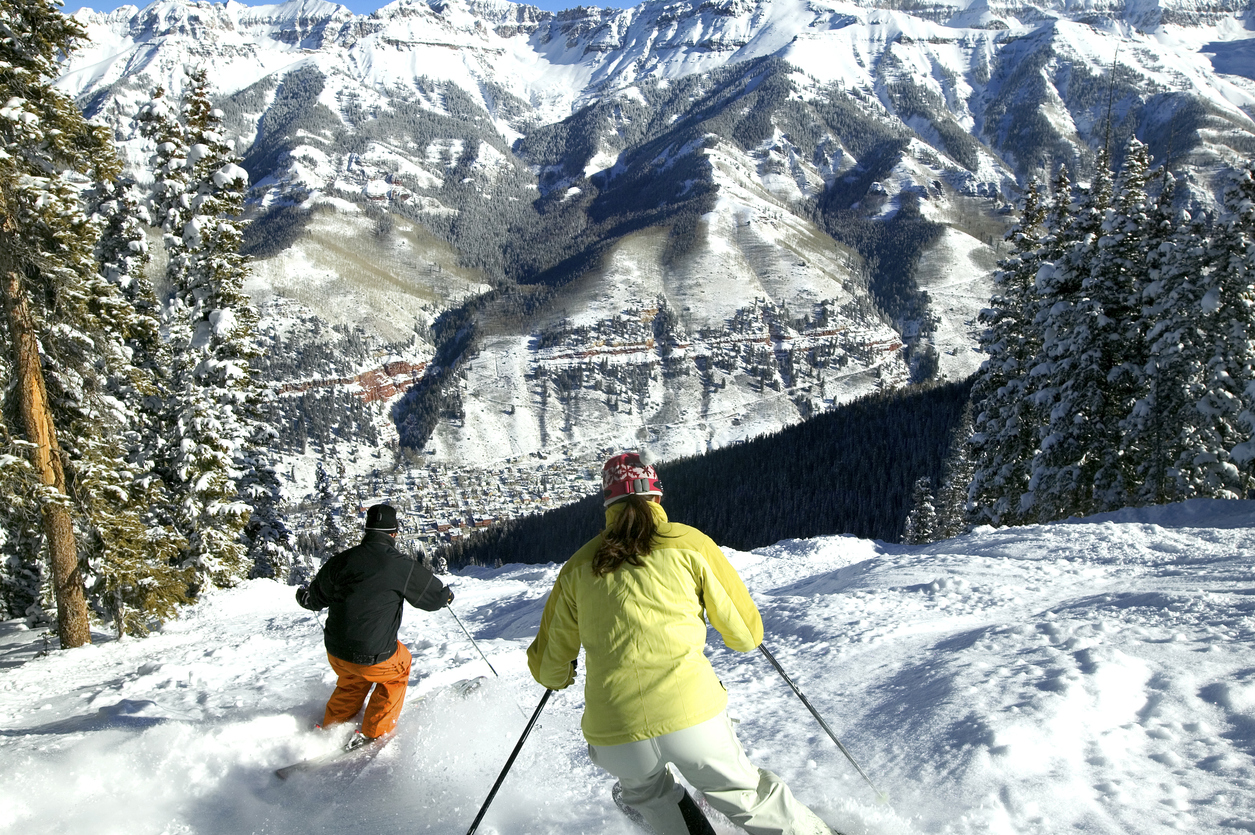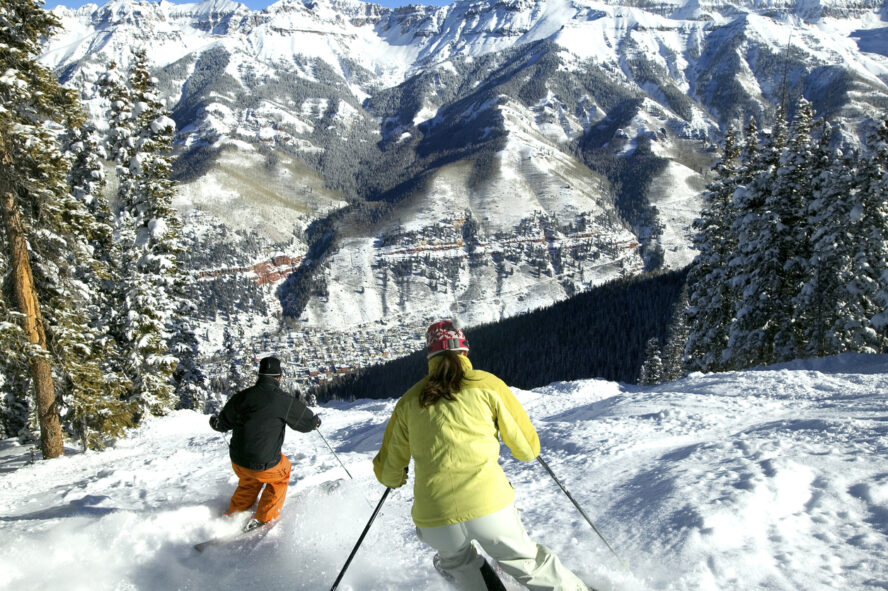 Top reasons to try these one-day backcountry ski trips:
Spend a bluebird ski-kend in Telluride, CO

Ride mild meadows and big bumps in New Mexico

Venture where few others do (for now) in New Hampshire
For high-altitude rides on gold-standard pow, try backcountry skiing in Telluride, CO. Head a few states over to chase bone-dry stashes and mellow turns on a backcountry ski trip in New Mexico. Want to flee the crowds? Seek out elusive eastern powder stashes backcountry skiing in the White Mountains.
"Colorado is the uncrowned king of the backcountry. The powder is deep and dry, the terrain is rich and varied, and the scenery is breathtaking, bar none."
– 57hours
5) Try Something New: Take a Swing at Ice Climbing in Ouray
Now let's move from the slopes to frozen slides, chutes and waterfalls.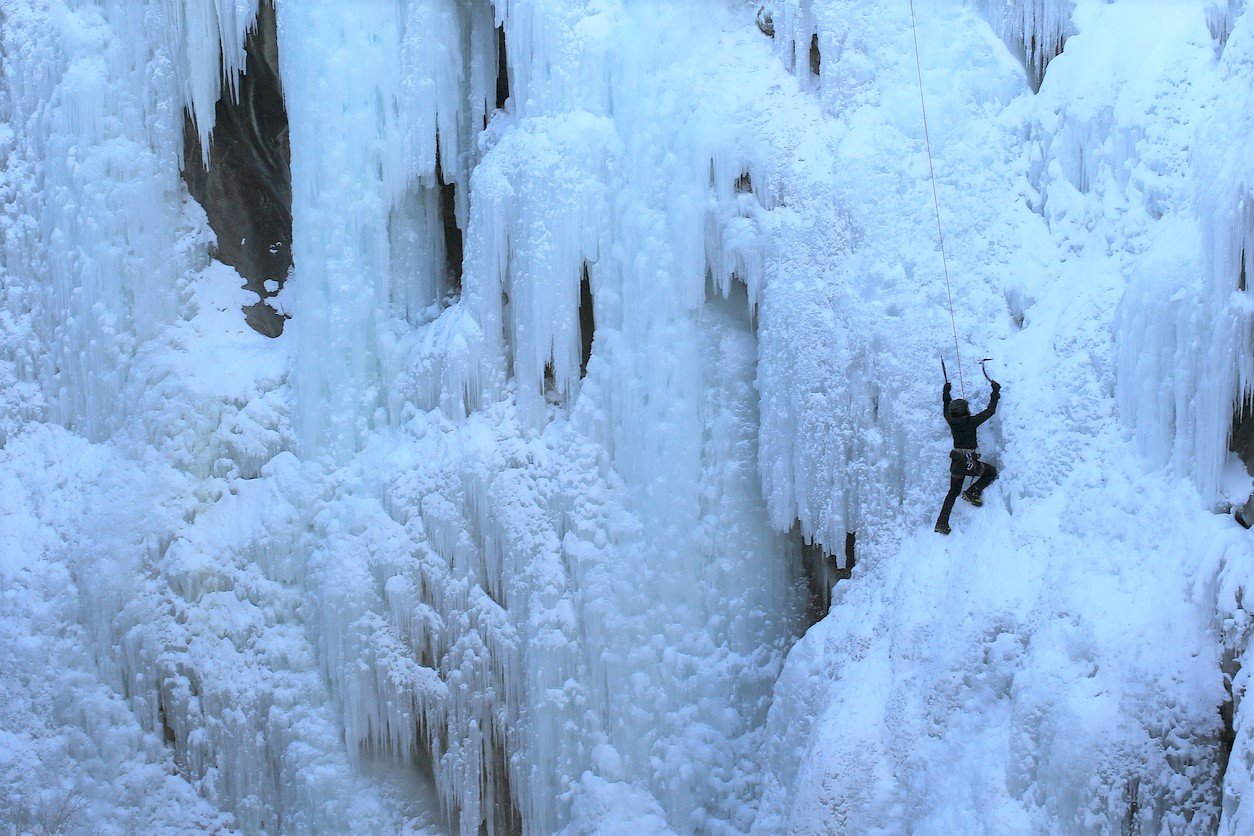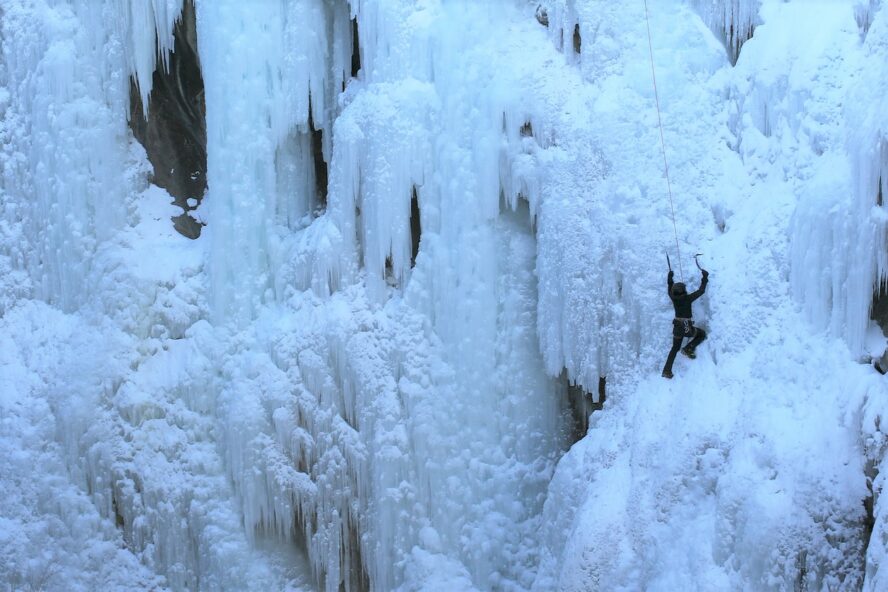 Top reasons to go ice climbing in Ouray:
Soak in the "Switzerland of America" (with hot springs to boot)

Around 140 well-maintained ice and mixed routes for all skill levels

Opens up new terrain and opportunities when you head into the backcountry
Before you cowboy up on the steep winding canyons of Cody, WY or make like an icicle in the cold chambers of New Hampshire, we suggest building your base ice climbing on the uber-accessible routes of Ouray first.
The Ouray Ice Park is the best place in the world to accelerate your introduction to ice climbing. With perhaps the tightest grouping of climbable waterfall ice in the lower 48, and only a few minutes from downtown
Get Me Out of Here! (Escape the Cold):
6) Take an unexpected journey to New Zealand
The hiking world can't stop Tolkien about New Zealand—come and see why.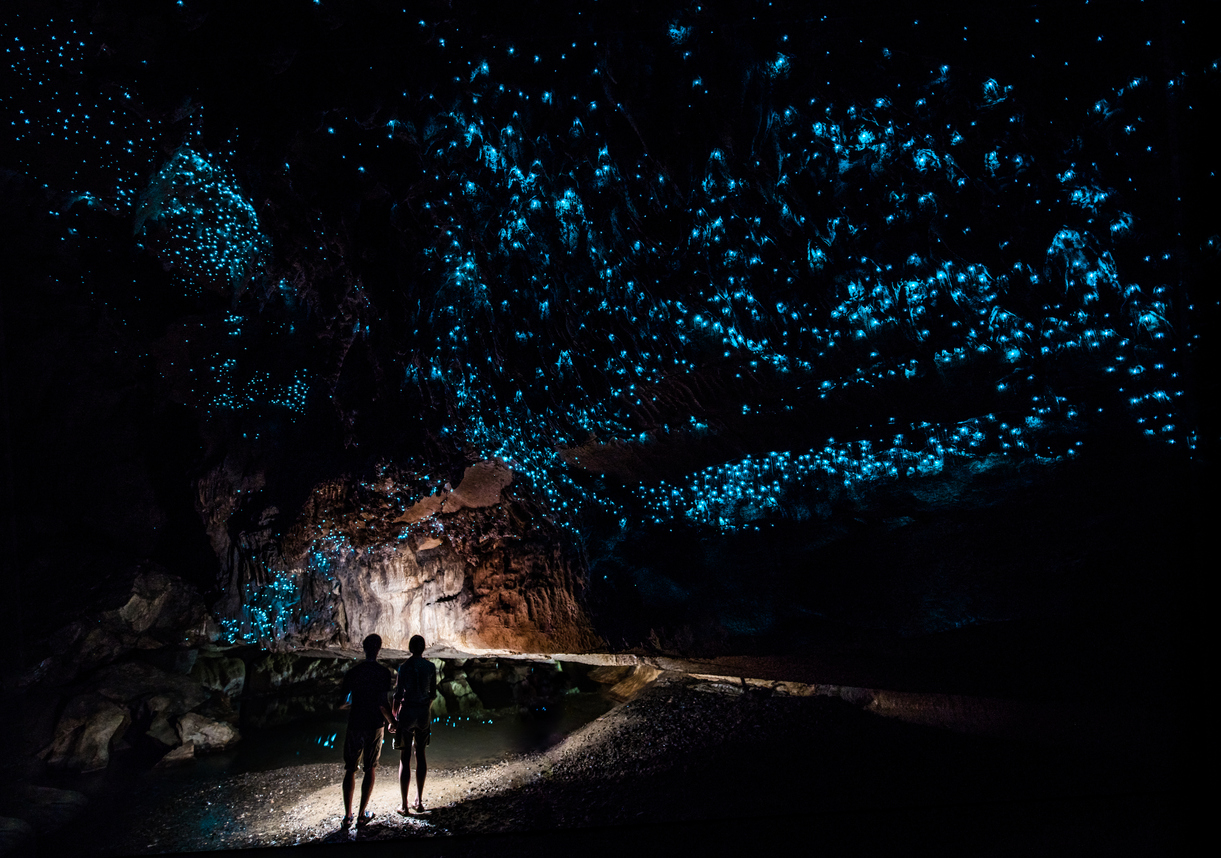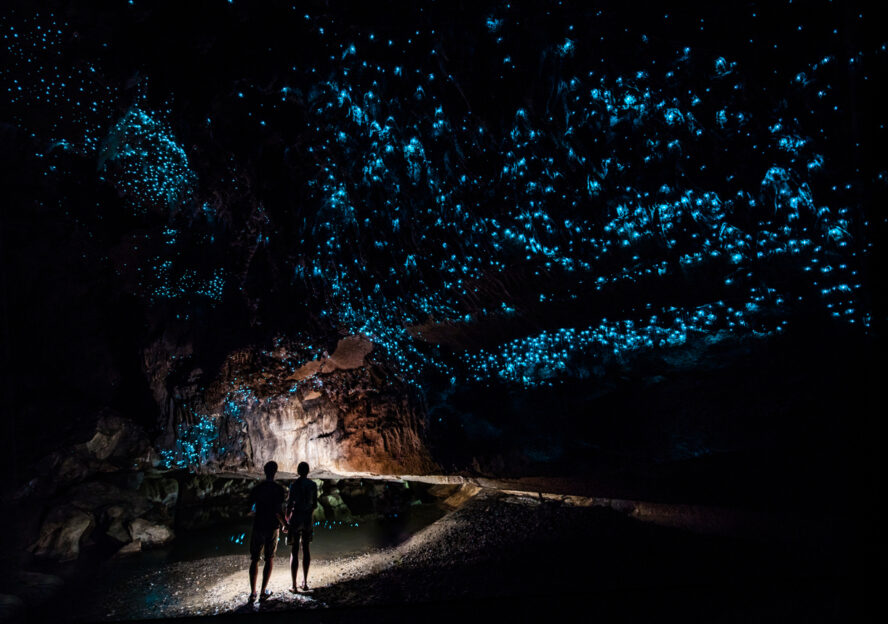 Top reasons to go to New Zealand:
Hike, bike, and paddle through dozens of different biospheres

Experience the legendary locations from the Lord of the Rings films

Connect with Māori, learn about their culture, and sample local cuisine
Gather your fellowship and prepare for a journey of a lifetime—this is the stuff epics are made of! Try a hiking tour of the North Island to explore its lakes and volcanoes, find your range from tropical to glacial while hiking the South Island, or do it all on a New Zealand ultimate hiking adventure!
"Wherever you go hiking in New Zealand you will find folklore deep-rooted in tribal culture coupled with the unspoiled and unpopulated landscapes. It is a world where existential stories are for the heart and wilderness for the soul."
7) Hike in Patagonia: The Southern Hemisphere's capital of the outdoors
What do you get when you cross the Argentinian Andes with the biggest glaciers in the Southern Hemisphere? You get awe-struck, that's what.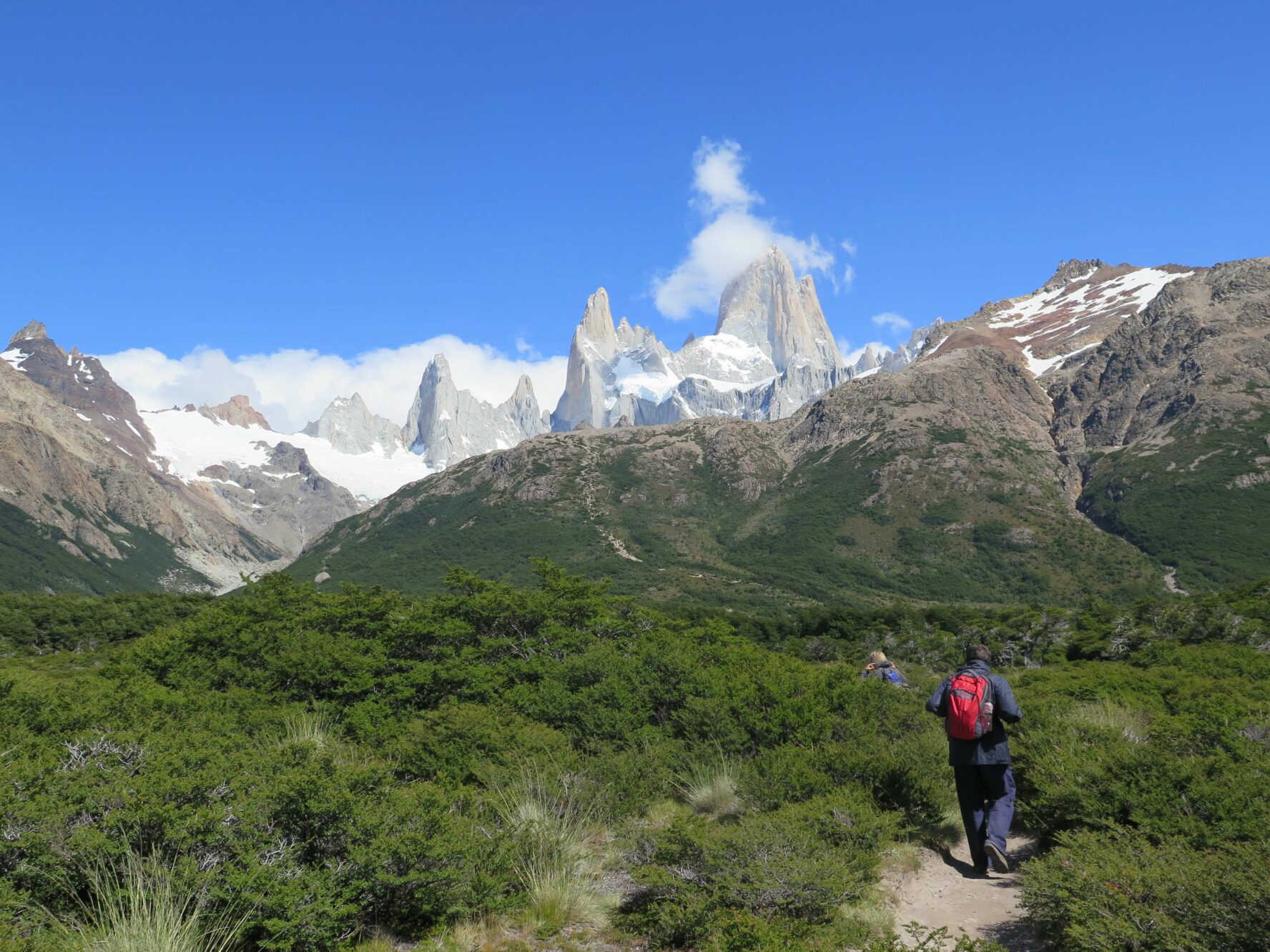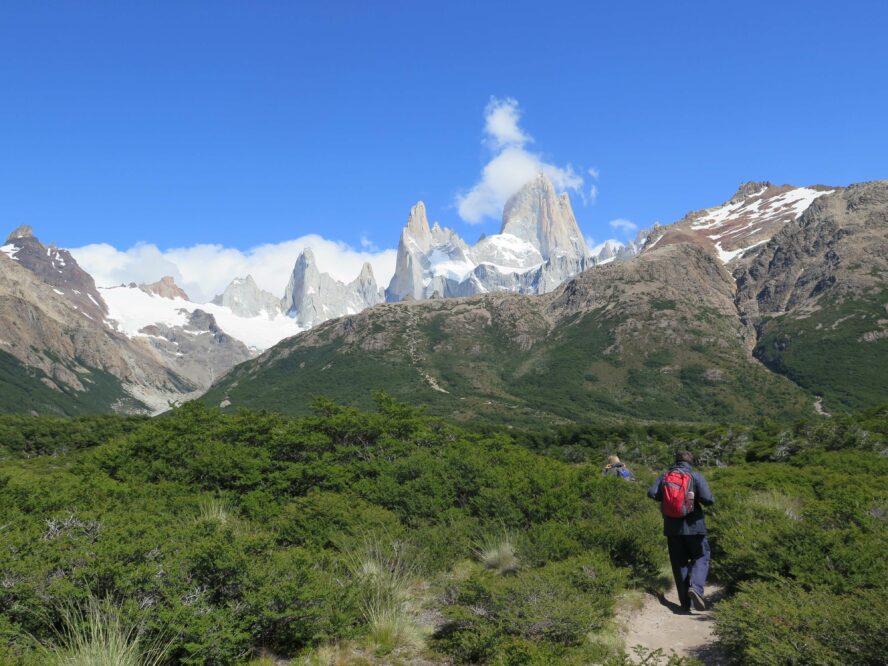 Top reasons to go hiking in Patagonia:
Pay a visit to El Chaltén, the hiking capital of Argentina

Experience an unmatched variety of geography, flora, and wildlife

Visit the biggest glaciers in the entire Southern Hemisphere
See the best of the Andes while hiking the classic trails of Patagonia, follow glacier-carved pathways on the famed Torres del Paine W trek, or explore the granite summits of the Cordillera on the Torres del Paine O Trek.
"I consider Patagonia to be paradise on Earth."
8) Kayak in one of the world's great natural aquariums
Baja's Sea of Cortez, it's all about the interplay between azure waters, arid deserts and isolated islands. Add kayaking to the mix and you've got a recipe for a perfect holiday!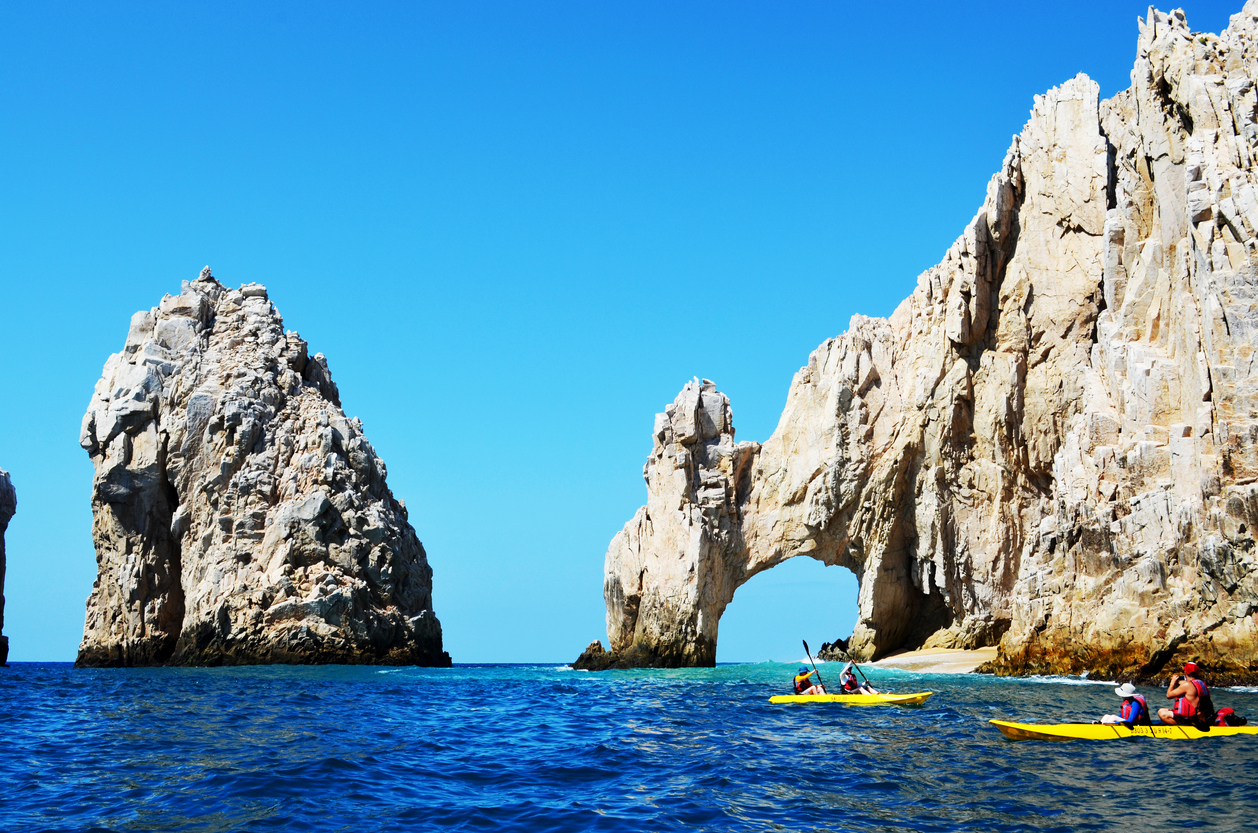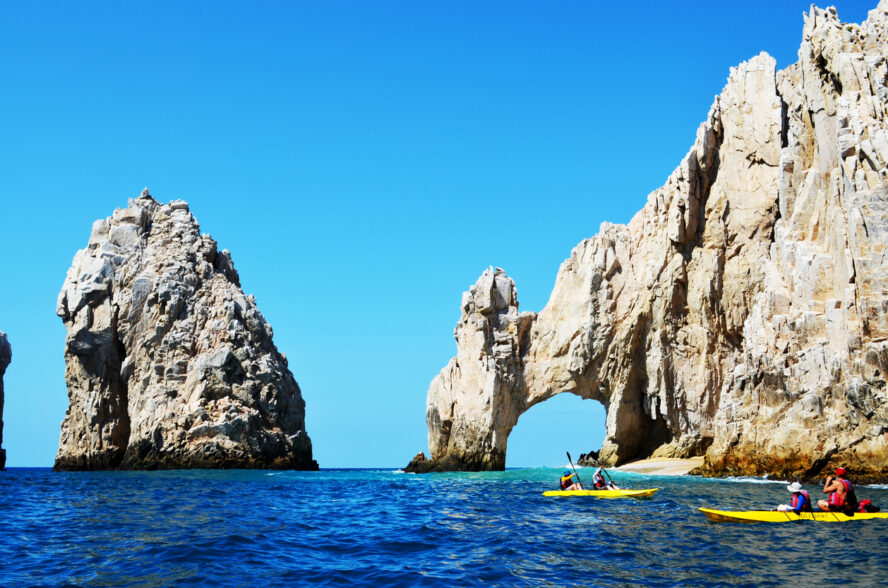 Top reasons to go kayaking in the Sea of Cortez:
Explore the shrouded coves and secluded bays of Baja

Holla an "hola" to the marine life hiding beneath the seas

Uncover the unexpected wealth of flora in the surrounding Sonoran desert
Whale-watch, trek along sun-bathed beaches, and fall asleep to the lull of the waves—this Baja kayaking adventure in the Sea of Cortez is as far from a traditional winter vacation as it gets.
9) Explore the volcanoes, waterfalls, and wildlife of Costa Rica
28 national parks, 50 wildlife sanctuaries, and 5% of the world's biodiversity—there's a wealth of wilderness in the Rich Coast.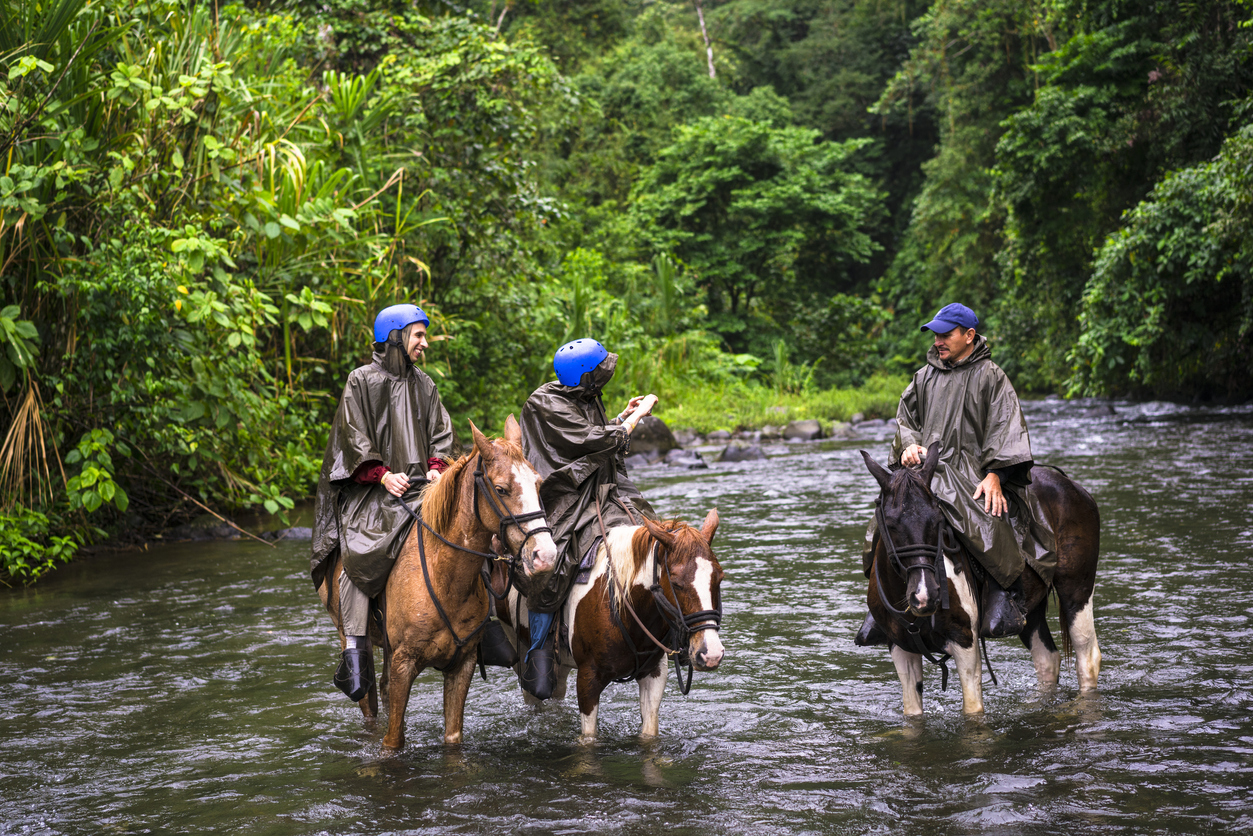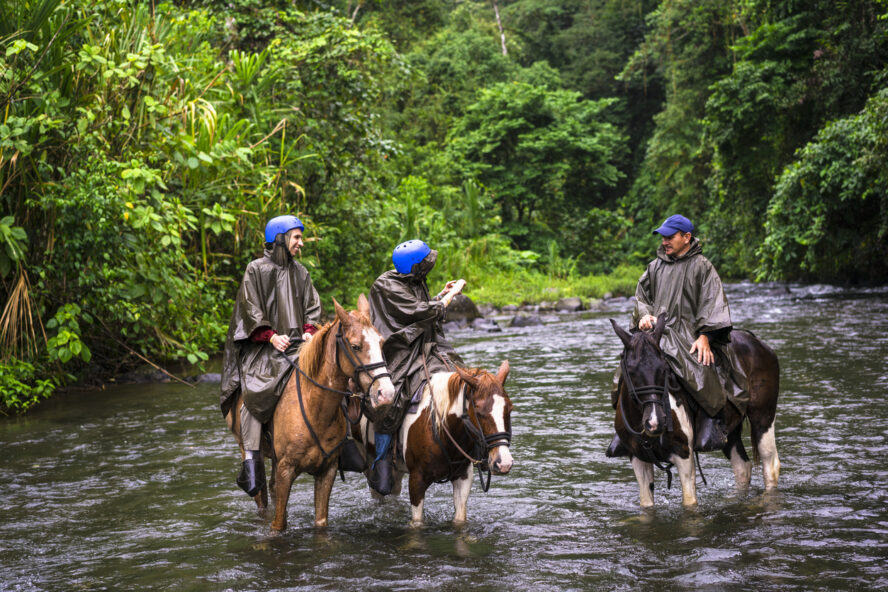 Top reasons to explore the nature of Costa Rica:
Walk, ride, raft, and rappel through a true tropical paradise

A wide range of itineraries for explorers of all age groups and fitness levels

A quarter of the country is dedicated to national parks and wildlife refuges
A tropical treasure trove of volcanoes, waterfalls, and wildlife awaits on a hiking and multisport tour of Costa Rica. Find your Caribbean cloud nine on foot, bike, raft, and even horseback.
"Heaven is a place on Earth and its name is Costa Rica. As mossy rolling hills rise to volcanic peaks and balmy rainforests, this land of riches prides itself on its enviable biodiversity."
10) Hike the undiscovered Colombian wilderness of Sierra Nevada
Generally speaking, there are two types of people in the world: beach people and mountain people. Colombians are both.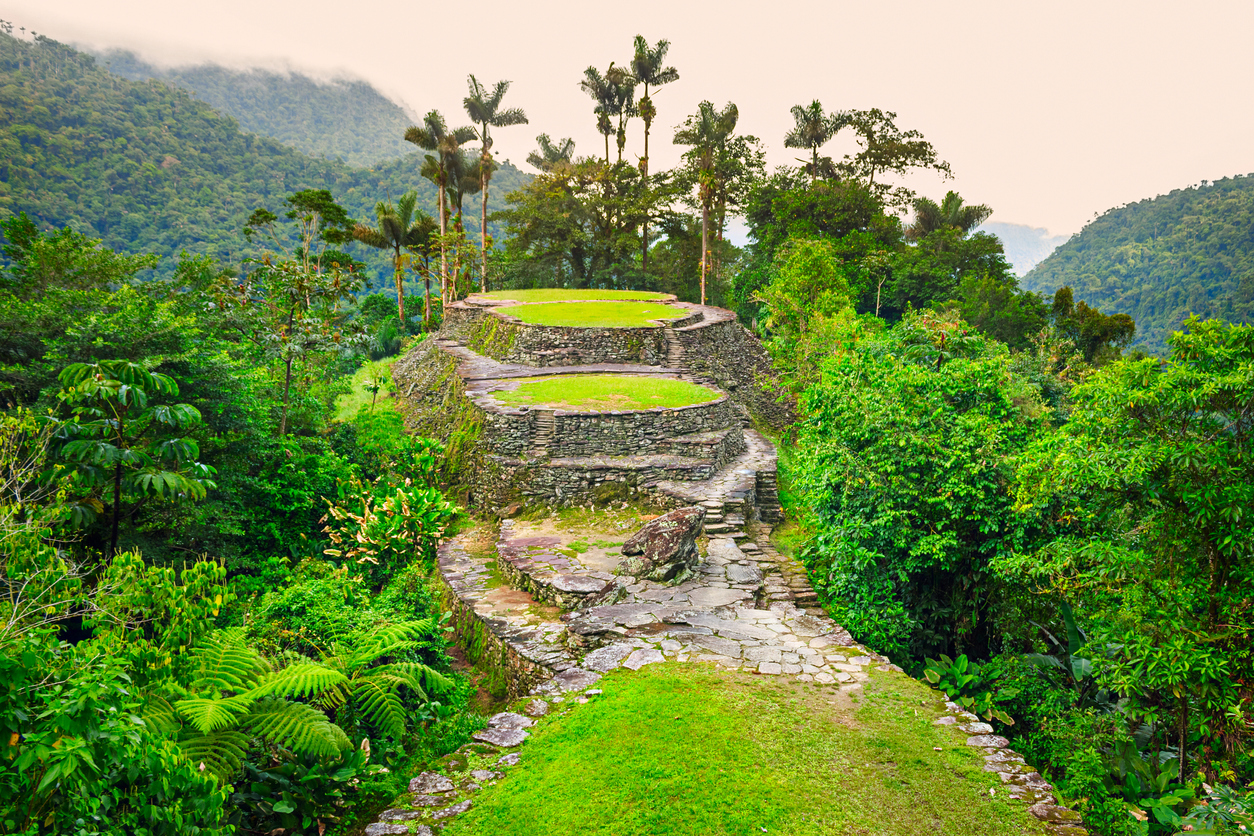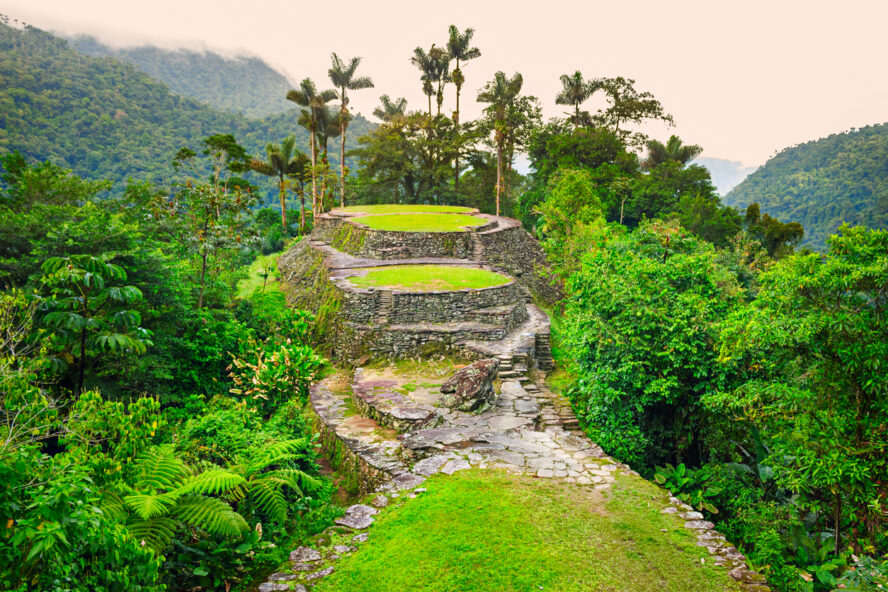 Top reasons to hike in the Sierra Nevada:
Trek the highest coastal mountain in the world

Visit the ancient stone city of Ciudad Antigua, constructed over 400 years ago

Meet the Wiva people and learn about their beekeeping, coffee, and sugar traditions
Winter is prime time for a hiking tour in Colombia's Sierra Nevada. Roam the rainforests, promenade in the páramos, and summit 16,000+ foot (5,000+ m) peaks—all in perfect summer-like weather.
"Imagine savoring an authentic Colombian brew in a lush rainforest, summiting a 5,000m peak, and sipping on a Piña Colada on a sandy beach—all before lunchtime. That's what hiking in the Sierra Nevada is all about."
– 57hours
11) Get sendy just south of the border
The limestone walls of El Potrero Chico get most of the limelight, but there's mucho más roca in los estados centrales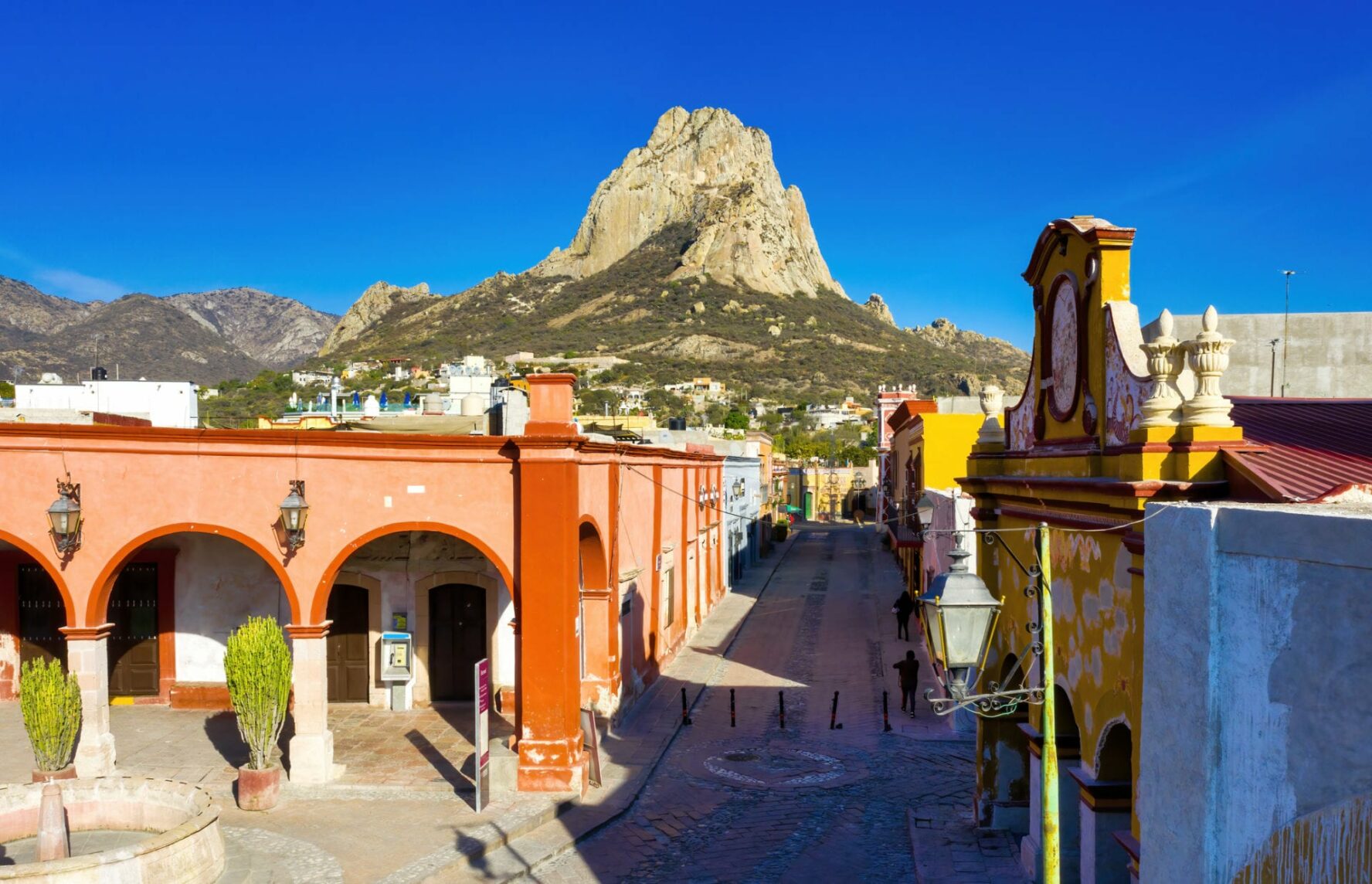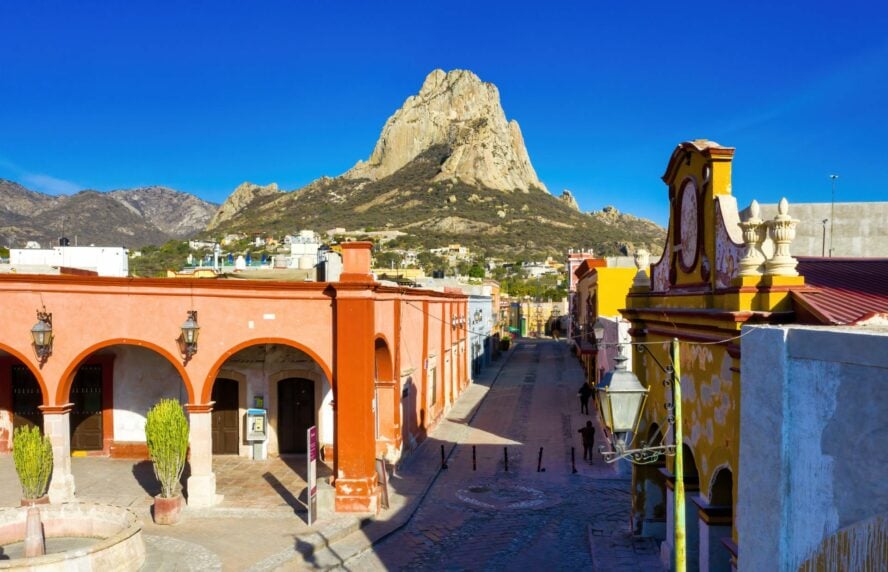 Why you need to climbing in Central Mexico:
Try crack climbing at its finest in La Cascada de La Concepción

Conquer the ash and cobble overhangs of Las Peñas de Dexcani

Choose between 100+ trad and sport multi-pitches at La Peña De Bernal
Want to send slabby multi-pitches up one of the world's tallest monoliths? Try rock climbing at La Peña de Bernal. For classic cracks for all skill levels, go rock climbing at Cascada de La Concepción. And if you want to try some of the most spectacular overhangs in the world, try climbing in Las Peñas de Dexcani.
"Central Mexico is not exactly a hotspot on the world's rock climbing map, but it has all the ingredients to be North America's next great winter climbing destination."
12) Hike the best of the American Southwest
Winter in the southwest means fewer crowds, pleasant temps, and a light snow cover. Plus, we Croats are partial to the red-and-white combo.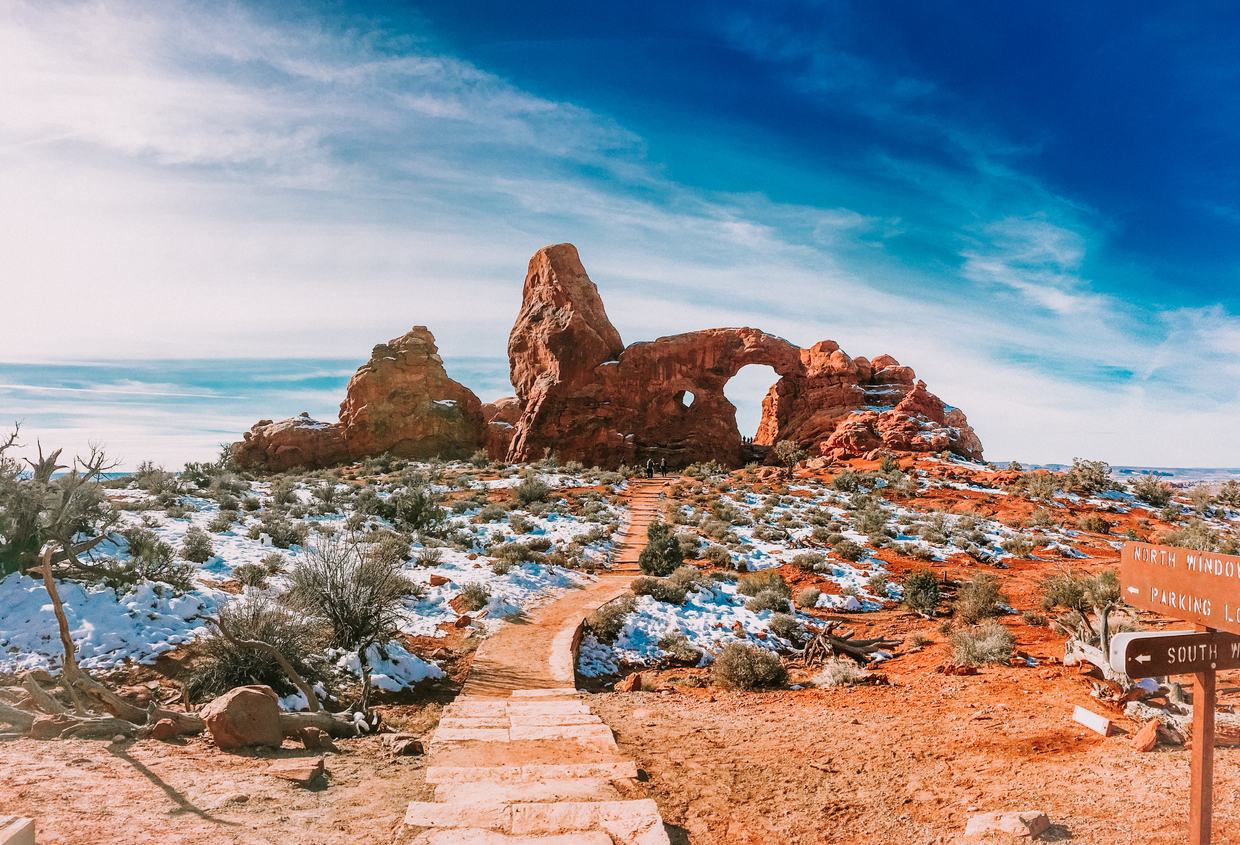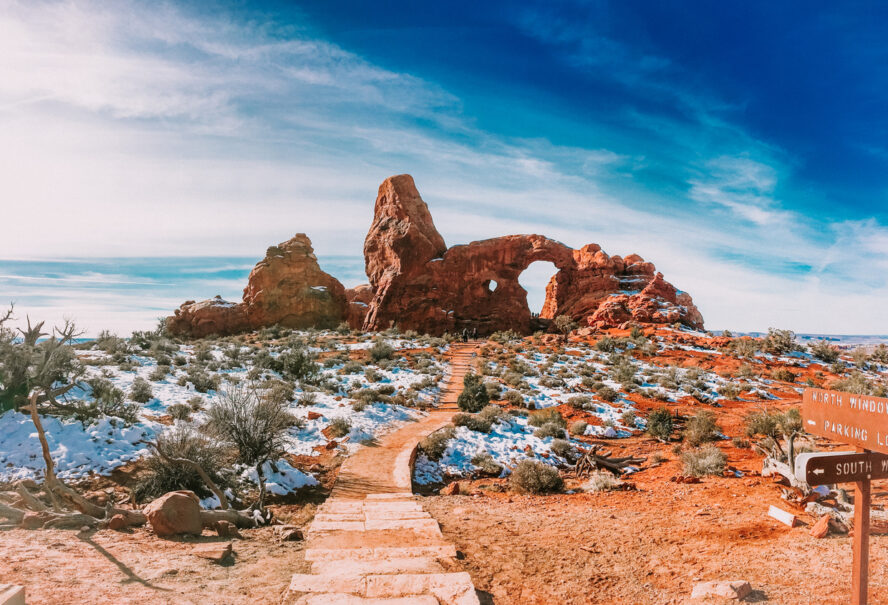 Why you need to go hiking in Utah:
Explore five of Utah's finest National Parks in a single tour

Combine geology with a side of glamor in Arches and Canyonlands

Avoid the heat and the tourists of the summer months
Spend your time in the southwest economically and see the most sandstone landmarks in the least amount of time on a hiking tour of Utah's Mighty Hive. Alternatively, if exploring wild rock formations and stargazing from lavish yurts sounds like your thing, try a hiking and glamping tour of the Arches and Canyonlands National Parks.
"The Beehive State is home to three national parks, eight national monuments, over 40 state parks, and recreation areas, and each is buzzing with hiking trails for all abilities. Honestly, you could trek about for months and hardly see all it has to offer."
Give the Gift of Learning!:
13) Chase the Northern Lights on a photography tour in Iceland
If a picture is worth a thousand words, a good photo of Iceland is an easy million.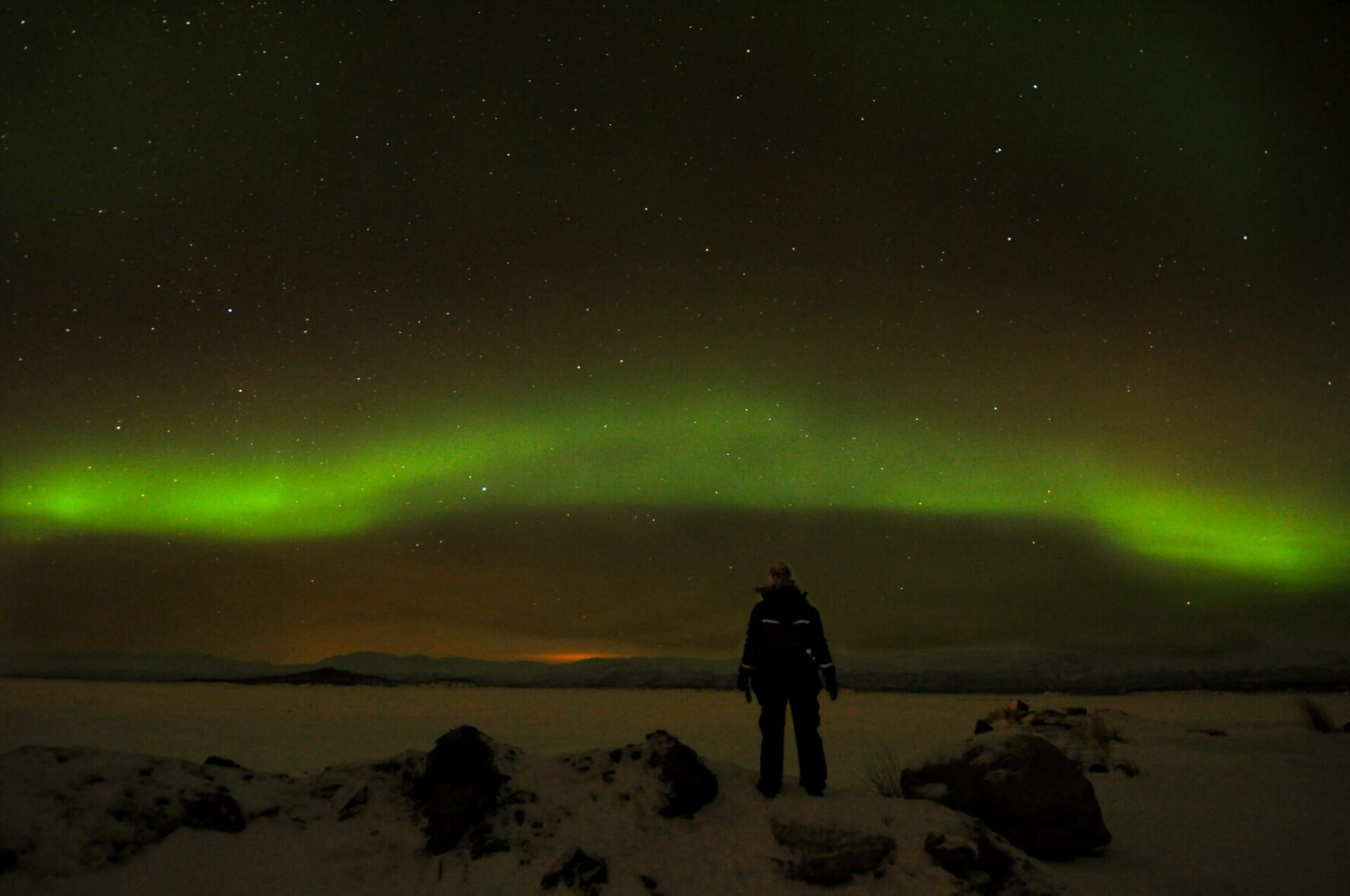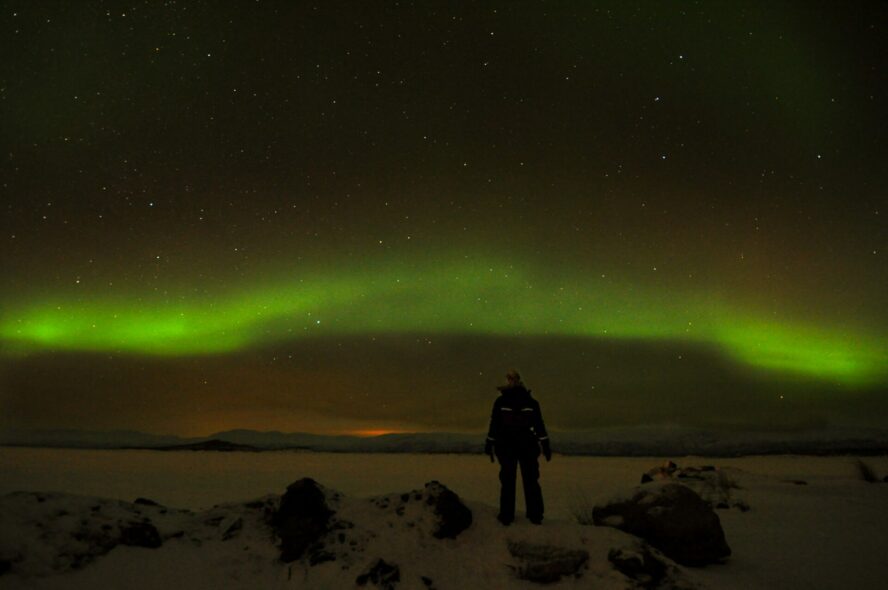 Why you need to go on a guided photography tour in Iceland:
Explore Iceland's most photo-worthy landscapes

Up your camera game through workshops, portfolio reviews, and individual mentoring

Spend your nights chasing the Northern Lights
Hone your photo skills and hunt the elusive aurora borealis on a week-long photography tour of Iceland with seasoned wildlife photographer, Tate Drucker. I'm not promising you your Instagram will pop, but I won't deny it either.
"I think the otherworldly auroras are best seen from otherworldly landscapes—and you only get that in Iceland."
14) Advance your avalanche safety in BC—With a Ski Legend
Use the winter wisely—become a safer shredder.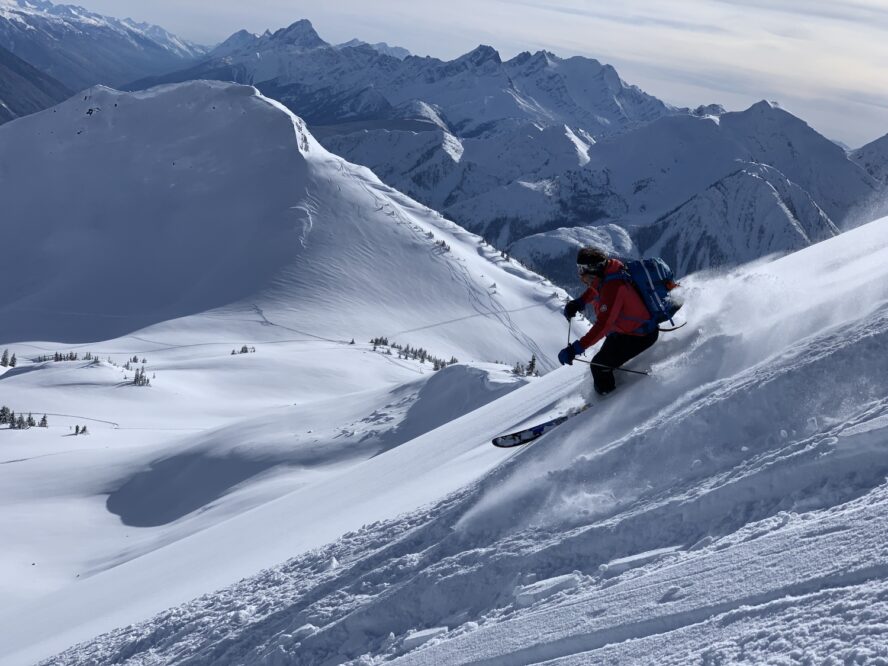 Why you need to take an AIARE course this winter:
Master avy safety techniques on some of the best slopes in the world

Test your new-found knowledge on a perfect blend of Rockies pow and coastal snow

Spend your time off the slopes in your cozy backcountry lodge's sauna
Master the fundamentals with a mix of theoretical knowledge and practical field work on an AST Level 1 Avalanche Course in Whistler. Ready to take it up a notch? Join local ski legend, Brent Piers, on an AIARE Level 2 Avalanche Course at BC's Ymir Lodge to learn how to lead a small travel group and develop a travel plan.
"Mastering the skills of avalanche safety requires a commitment to years of skiing and training."
15) Level up and lead in Joshua Tree
Find out why learning to lead climb in this desert classroom will prepare you for climbing anywhere.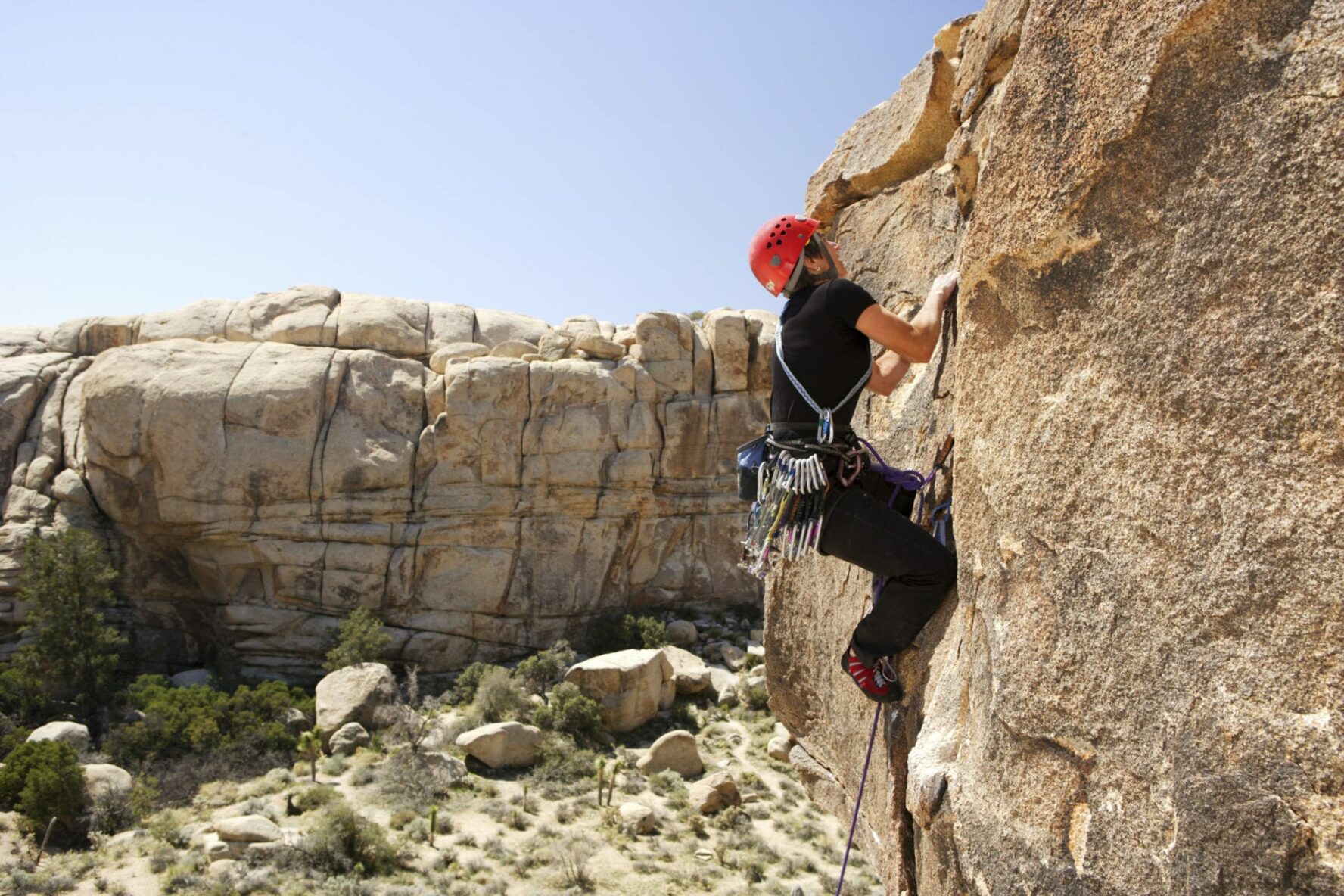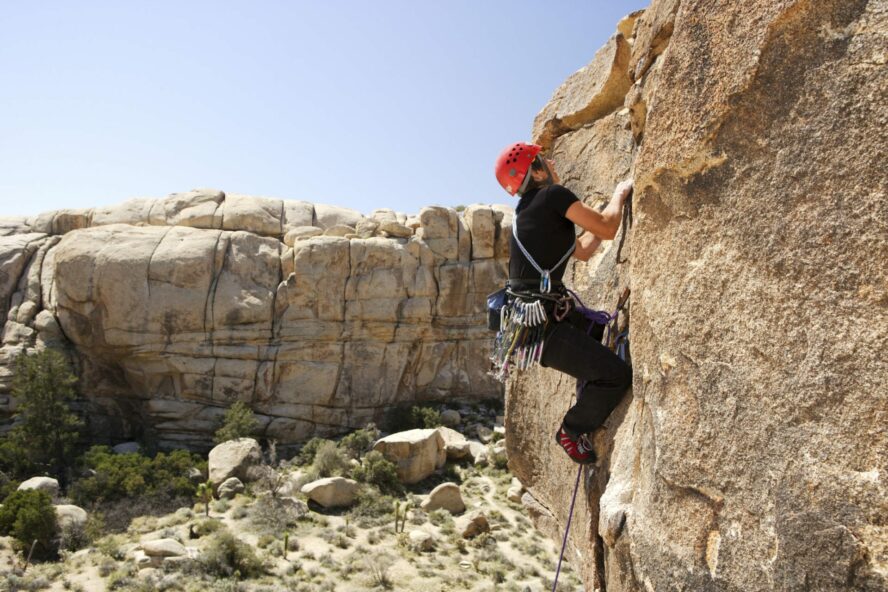 Why you need to go climbing at Joshua Tree:
One of the largest climbing venues in the U.S.

The approaches are easy, and the mix of slab and friction is fantastic for practicing your footwork

Send exposed classics that are impossible to climb in the summertime
Considered one of one of the best climbing areas in the country, learning to lead in Joshua Tree will arm you with a range of skills necessary to become a competent climber thanks to its varied styles, tricky gear placements, and complex descents.
"If I've picked up anything: Joshua Tree always has a lesson to teach climbers willing to learn."
One-Day Trips to Get Out With Your Family:
Sometimes the best trips can be found close to home, with close ones.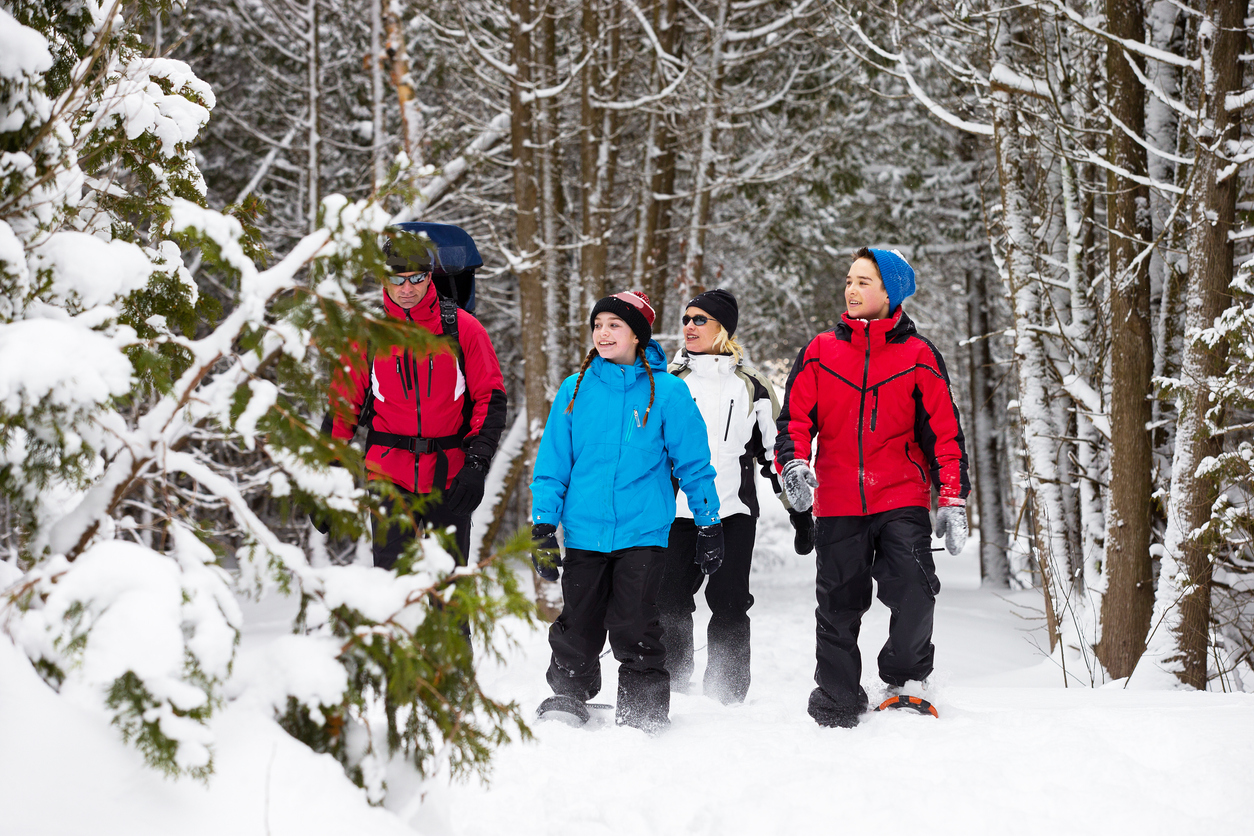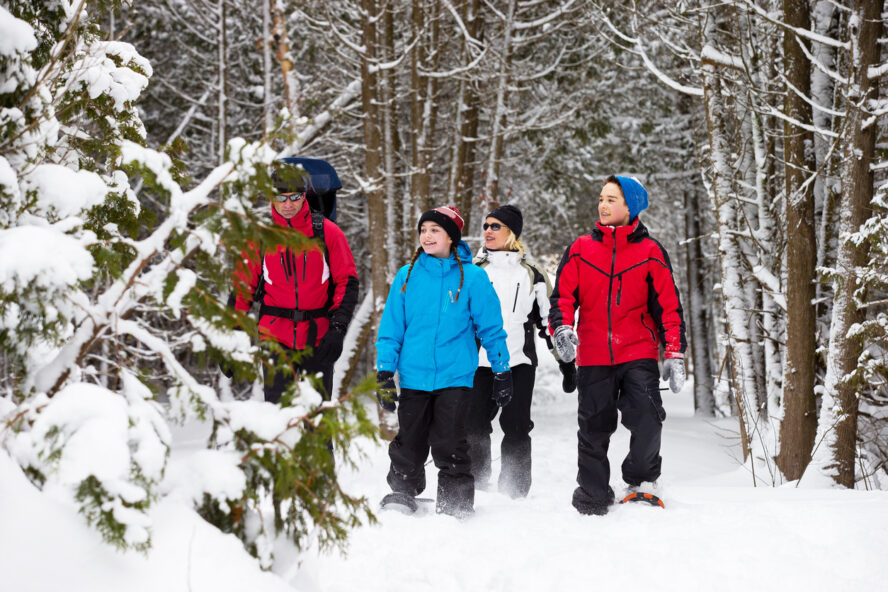 Why you need to head outdoors with your family:
Forge memories of a lifetime

Spend quality time doing an activity all can enjoy

Work off some of the holiday 15
Whether you want to stay close to home or are looking for an outdoors experience while visiting relatives these holidays, there are plenty of day trips to enjoy with your family. Mountain biking in Sedona will let your kids build up their biking confidence on easy and flowy singletrack. If you're from the Big Apple, escape the city for some snowshoeing in the Gunks. Want a bit more activity than lounging on the beach? Try rock climbing in Mission Trails half an hour away from San Diego. Wherever you are, find an adventure near you.
"We're a connected, happy, healthy family of four really good skiers, climbers and sailors—due to the investment we've made in time spent together, one weekend at a time."
– Viktor, Co-Founder of 57hours
'Tis the Season for Winter Adventures
The holidays are best when shared with friends and family—and nothing brings people together quite like a good trip. So strap on your crampons, shoulder your skis, and share the gift of adventure with the ones that mean the most.