Trek the Classic El Chalten Trails
Set off to El Chalten—the heart and soul of outdoor adventure in Argentina—and experience pure solitude and true adventure on terrain that evolves from wading icy rivers and vast forests to glaciers and desolate jagged spires.
The quaint mountain village nestled in the eastern part of the UNESCO-protected Los Glaciares National Park is known for its unique wildlife and jaw-dropping nature that attracts thousands of visitors each year. The combination of impressive mountains, unbelievable glaciers, and crimson forests makes it a unique experience worthy of every traveler's bucket list.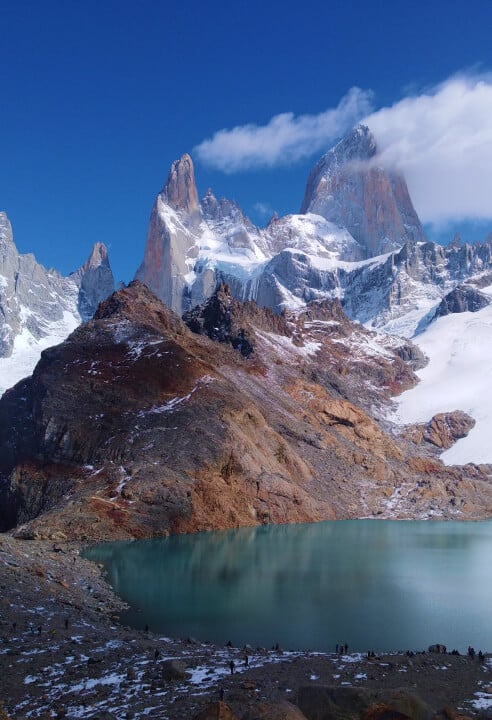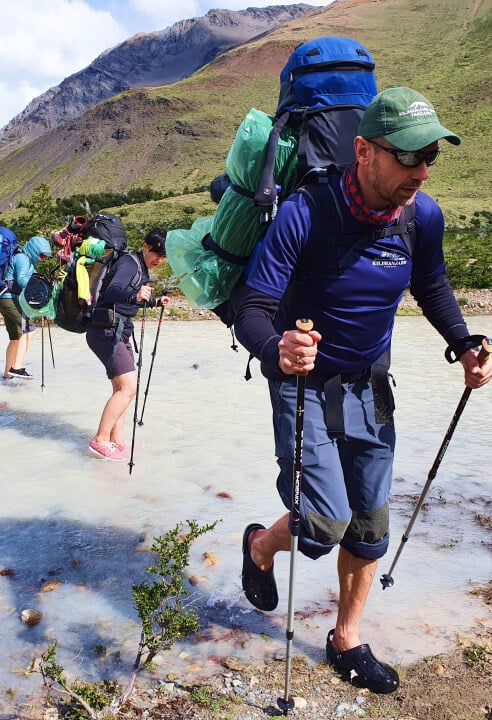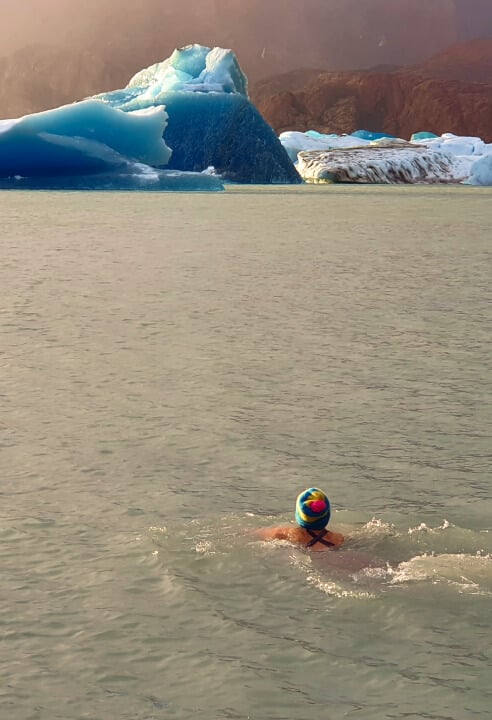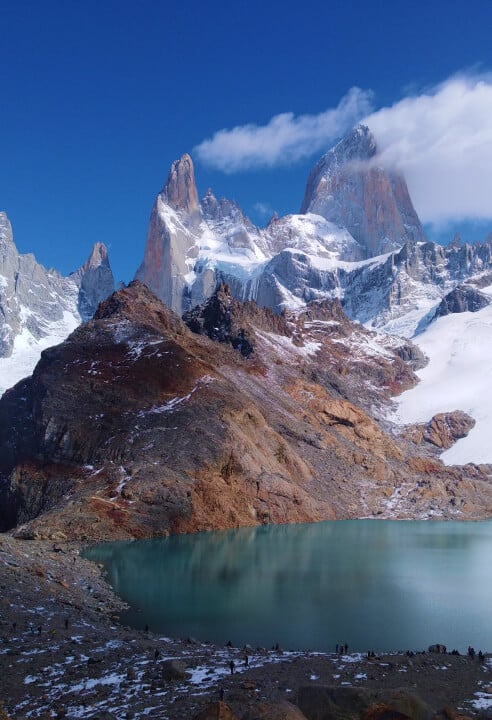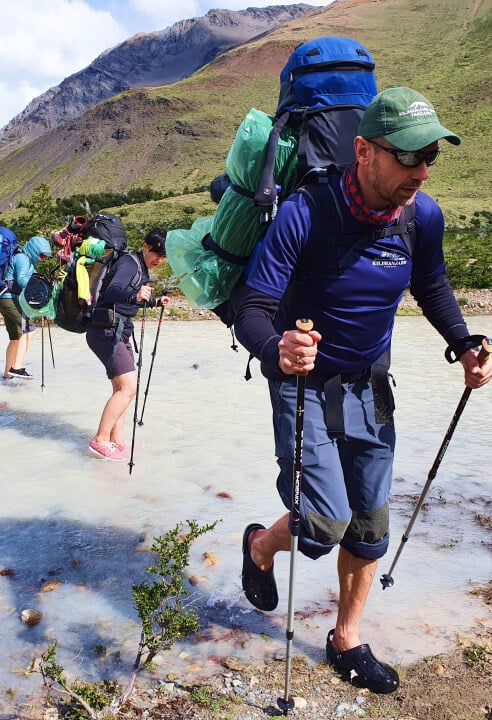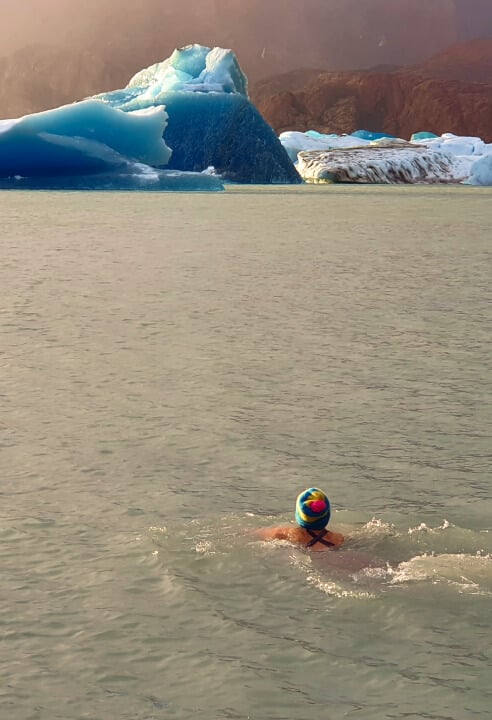 In the heart of the Patagonian wilderness
Located on the border of Argentina and Chile, El Chalten is part of the Patagonia region.This jaw-droppingly beautiful region is located in the southernmost part of South America, occupying 260,000 square miles spanning Argentina and Chile.
The dramatic and colorful panoramas formed by millennia of glaciers will make you feel like you've stepped into a completely different world. Patagonian vast desert lands cover thousands of kilometers and spread over 15 continental and 2 marine zones, as well as the Antarctic region, making it notorious for its challenging weather. Except for Antarctica, there isn't any place further south in the world!
UNESCO WORLD HERITAGE
ANCIENT GLACIERS
260,000 SQUARE MILES
WILD LANDSCAPES
-49°19′ S and -72°55′ W
Discover the trekking capital of Argentina
PATAGONIA'S ICONIC LANDSCAPES UNVEILED
Far from the cosmopolitan atmosphere of Buenos Aires, the Southern part of Argentina is an area of exceptional natural beauty. The classic trails around El Chalten (the Smoking Mountain) take you on a unique multi-day backpacking journey through Cerro Torre, Southern Patagonian Icefield and Los Glaciares National Park.
The majestic Fitz Roy Massif, colossal igloo icebergs that fall into the lake with thunderous splashes, and towering mountain peaks hidden by the clouds make the area around this trekking mecca something that must be seen at least once in a lifetime.
As you pass through diverse topography and ecosystems you'll encounter dozens of animals unique to this part of the world. The trails that link the Patagonian peaks are home to thousands of species, including flamingos, guanacos, huemul (endangered Andean deer), pumas, viscacha and fox.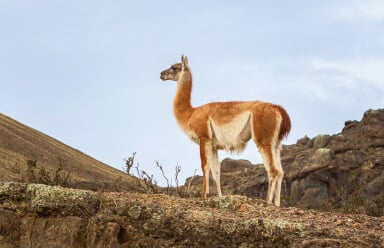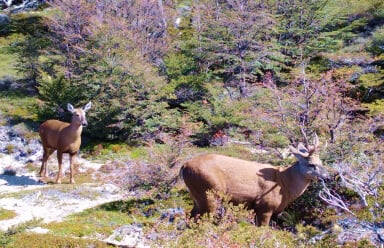 Landscapes for every taste
Following the pathway across mountains, valleys, and forests, you'll explore all the hidden gems of the area, like the Mirador del Maestri viewpoint and Laguna Torre.
These classic trails take you on a colorful journey as you encounter red, blue, and green hues dappled with glaciers streaked with whites and greys, dark granite, sparkly streams, and turquoise lakes.
LAGUNA DE LOS TRES
This natural viewpoint is the closest site to the steep walls of the famous Mount Fitz Roy and its surrounding granite peaks. Enjoy the views of the mountains and De los Tres glacier.
SOUTHERN PATAGONIAN ICEFIELD
Even in person, it's hard to appreciate the scale of the Southern Patagonian Icefield! It is the largest of the South American icefields, stretching over 350 km/217 miles, and one of the largest non-polar glaciers on Earth.
LENGA FOREST
Lenga forest provides a habitat for many animals—you might spot Magellanic woodpeckers, parakeets, and even pumas that are known for roaming this area. As you cross little streams, you'll arrive at a gorgeous valley filled with daisies during spring.
LAGUNA TORRE
Another great classic you can not miss—a site of majestic mountains and glaciers. The near-by Cerro Torre might be one of the most difficult and extraordinary climbs in the world!
MIRADOR DEL MAESTRI VIEWPOINT
Get a closer look at the glaciers and Torre massif from the Maestri's viewpoint at the far end of Laguna Torre. You'll feel like you're stepping into the cover of a National Geographic magazine!
BAHIA TUNEL
Found at the North West corner of Lago Viedma in Los Glaciares National Park, this is one of the last areas you will reach when trekking the Huemul Circuit.
FITZ ROY MASSIF
The Fitz Roy Massif is the crowning jewel of the spectacular Los Glaciares National Park with its fantastic jagged granite towers piercing the skies!
LOMA DEL PLIEGUE TUMBADO
This optional trek leads you up a trail from where you can appreciate the vastness of Fitz Roy and Cerro Torre, the Patagonian steppe, and the beautiful Lake Viedma.
A spectacular adventure awaits
Uncover the beauty of Patagonia with a guide
Explore the rugged wilderness together
Prepare your mind and body for this challenge and set out with a group of like-minded trekking enthusiasts. Your fellow hikers might be one of the best aspects of the adventure—.from the moment you set foot on the trail, you'll share a once-in-a-lifetime experience and numerous memories.
These treks host up to 10 people ready to cross glaciers, climb mountains, wade through streams, and navigate the steppe in a remote, yet incredible part of the world!
ANCIENT GLACIERS
AMAZING WILDLIFE
EPIC FOOTPATHS
ENDLESS HIKING
NATIONAL PARKS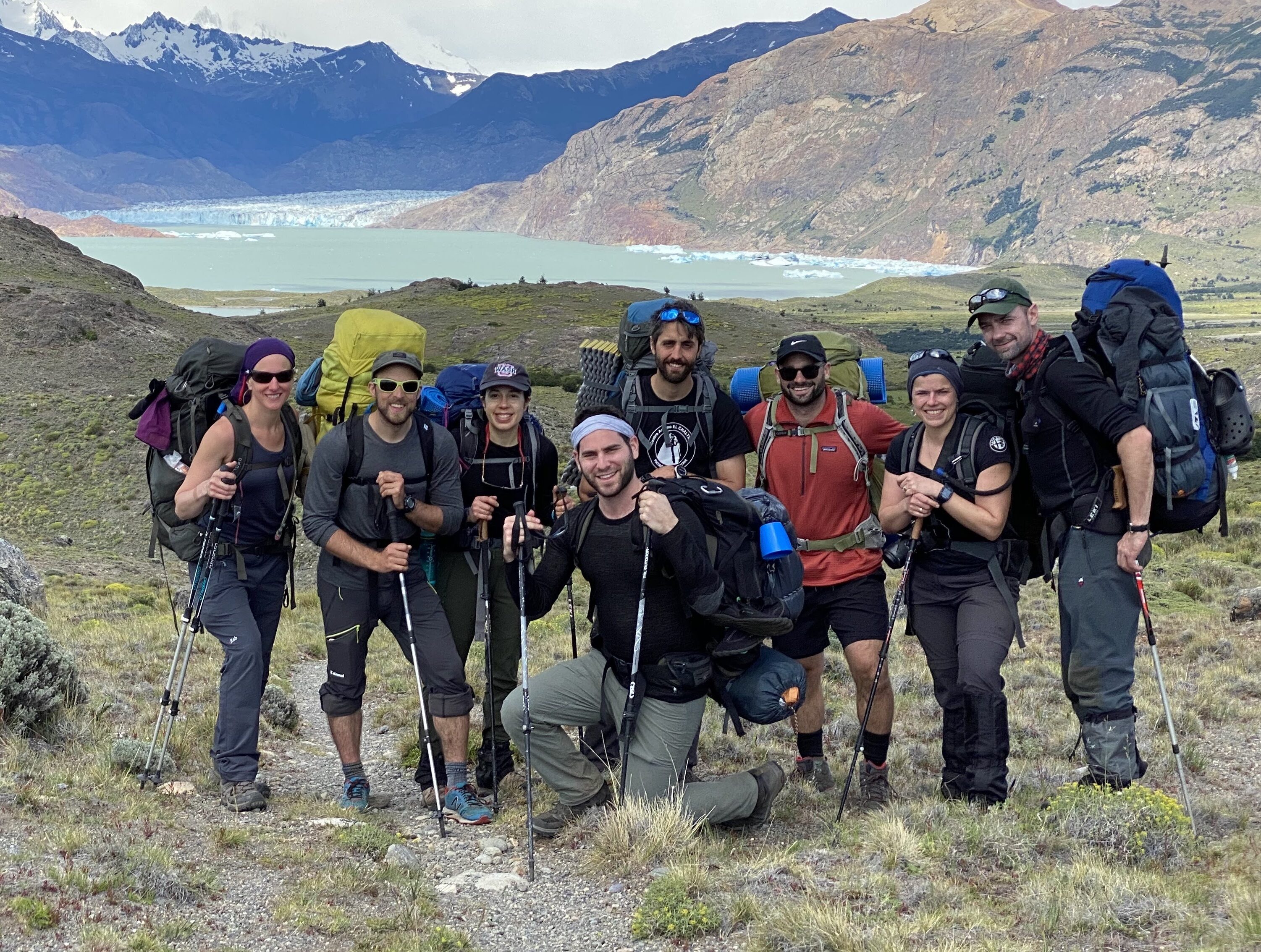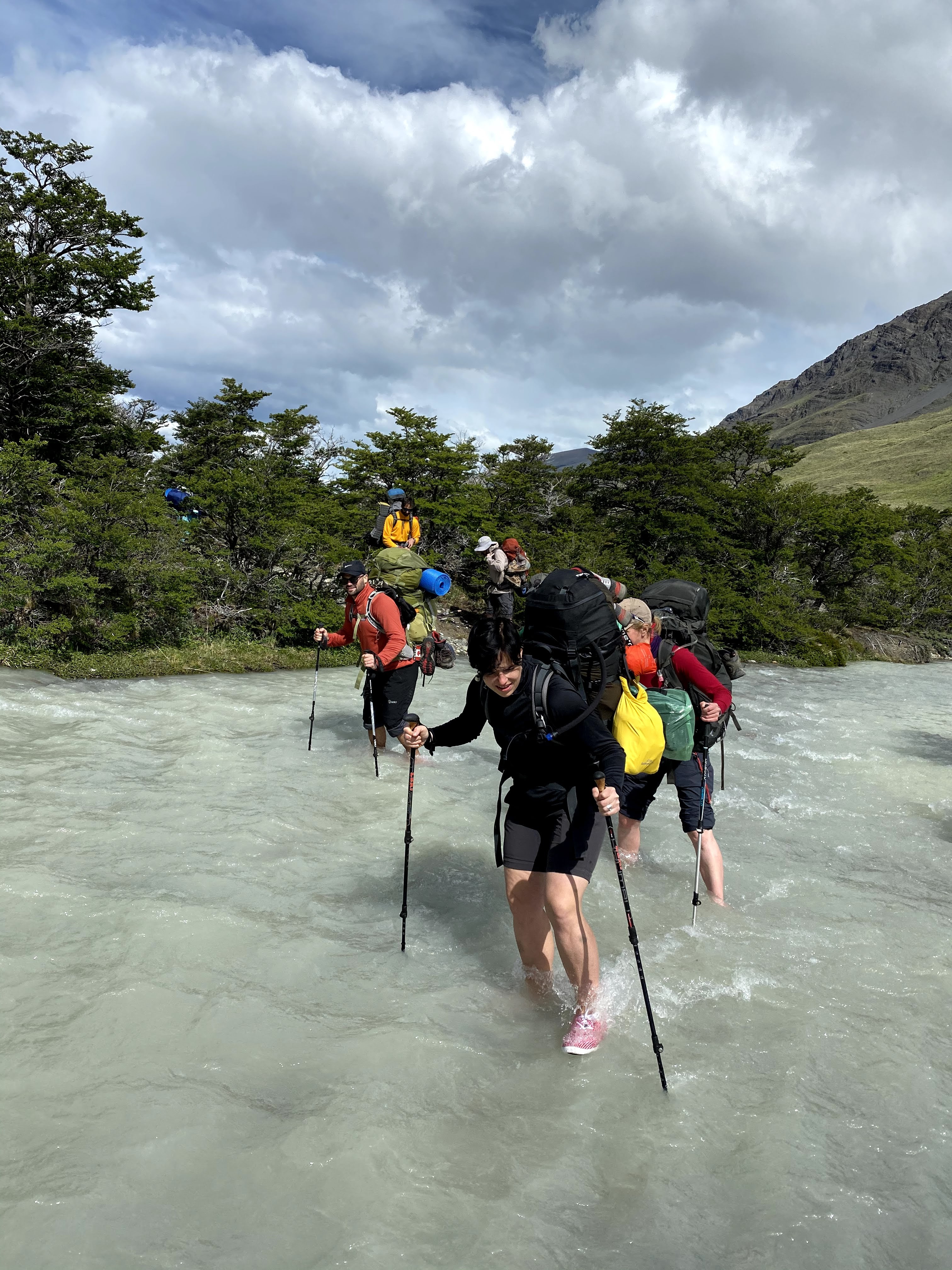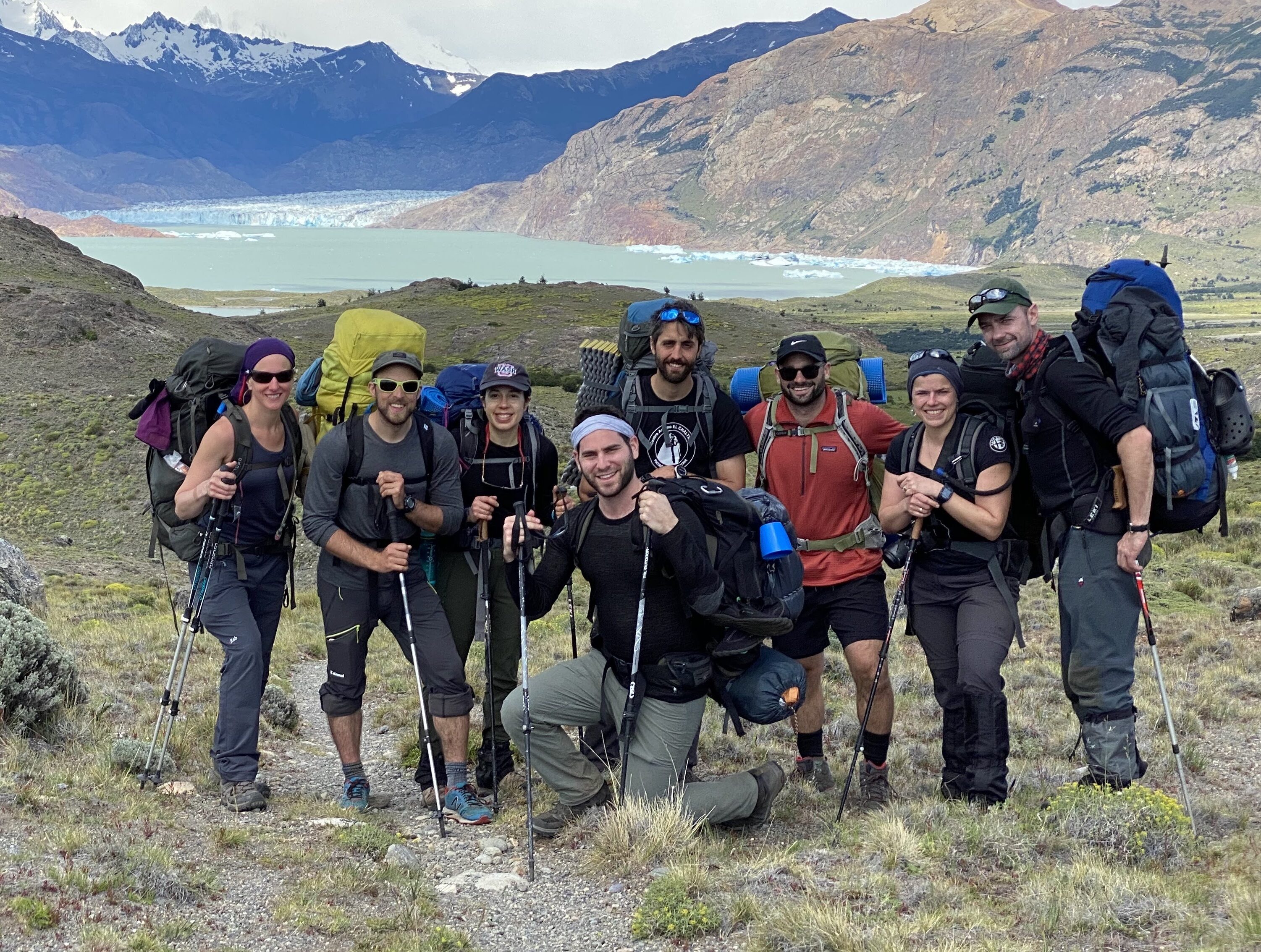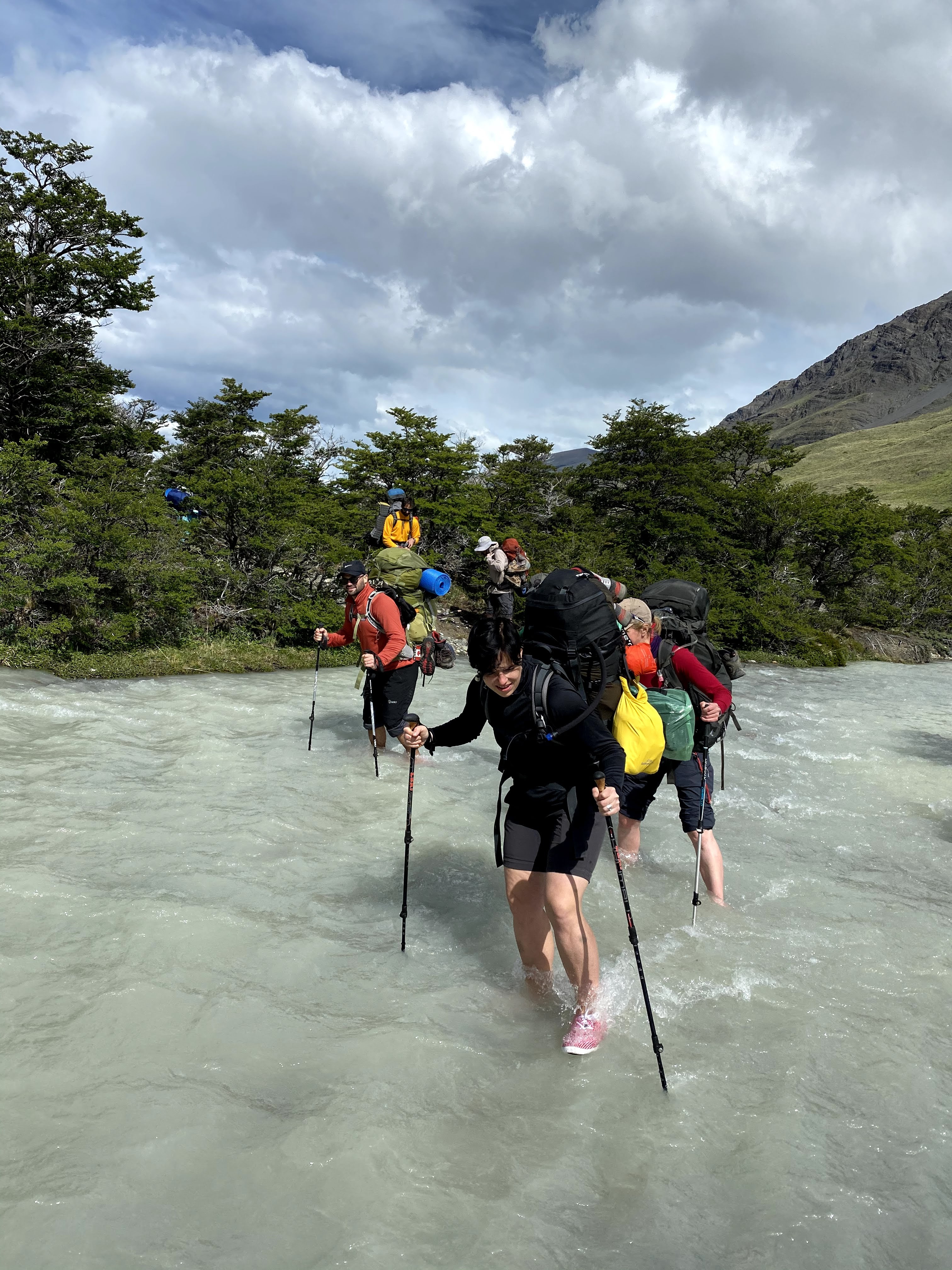 Your guide
Julián is a Patagonia local who has been hiking, climbing up and skiing down its mountains his whole life. He's one of the expert guides operating in Patagonia, Peru and Bolivia.
Not only does he take his clients on adventures of a lifetime, he makes sure to pass on invaluable experience which can only be gained from years spent in the great outdoors.