Your Local Guide to 57 Hours in Squamish, B.C.
It's Friday and work just ended. How much outdoor adventuring can you pack into the next 57 hours? In Squamish, BC, the sky's the limit — literally.
Squamish is a town built around outdoor adventure. It's the kind of place where I can start my morning off with a sunrise hike, climb in the afternoon, stand up paddle in the evening, get up the next day, rinse and repeat. The other day while I was driving on Hwy 99, a paraglider landed next to my car and traffic didn't even slow down. Visit Nexen Beach in the summer and you're almost guaranteed to see dozens of kiteboarders out on the water. There's probably as many mountain bikes as people and it's no surprise to see a little three-year-old shredder rip past you at the bike park.
Squamish is also incredibly gorgeous, where the Coast Mountains meet the Pacific Ocean and dense jungle rainforest butts up against large bodies of granite rock. It's the kind of place where you want to ditch work early on a Friday and have fun until the sun goes down on Sunday, which is exactly the right approach. If you're looking for outdoor adventure things to do in Squamish, here's everything you can pack into a full weekend from 3pm on Friday to midnight on Sunday — or as we refer to it around here, 57 hours.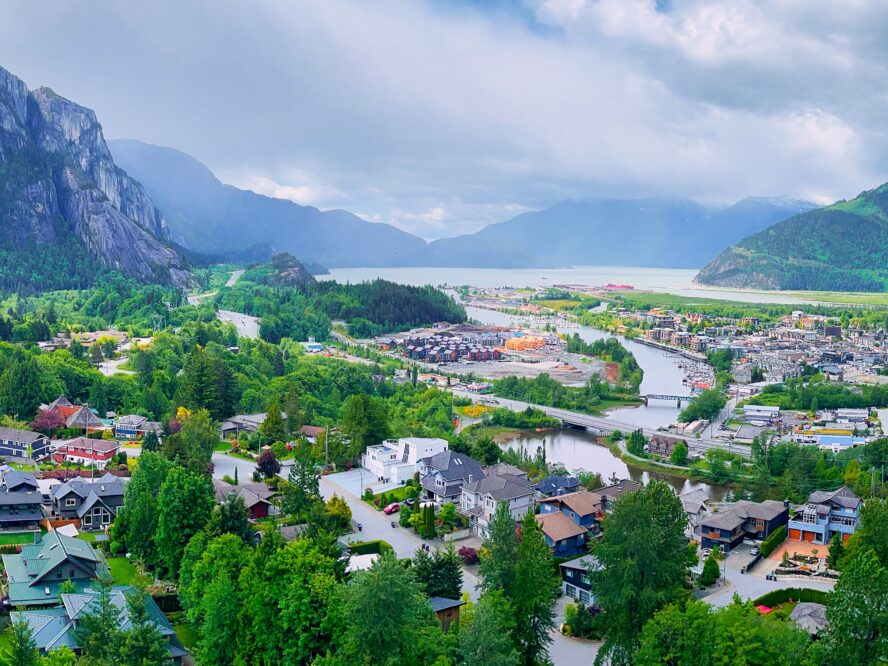 A little bit about Squamish
Squamish is located on the unceded territory of the Sḵwx̱wú7mesh (Squamish) Nation. Here are a couple of resources to learn about the culture, history and landmarks of the area, and before you climb or hike the Chief (the Squamish language name for the mountain is Siyám Smánit), read up on some of the Indigenous stories associated with it. If you head to Whistler, I recommend visiting the Squamish Lil'wat Cultural Centre. To give back, consider making a donation to Indigenous Women Outdoors, a local organization that helps gender expansive community members living on these unceded territories connect with the land and each other.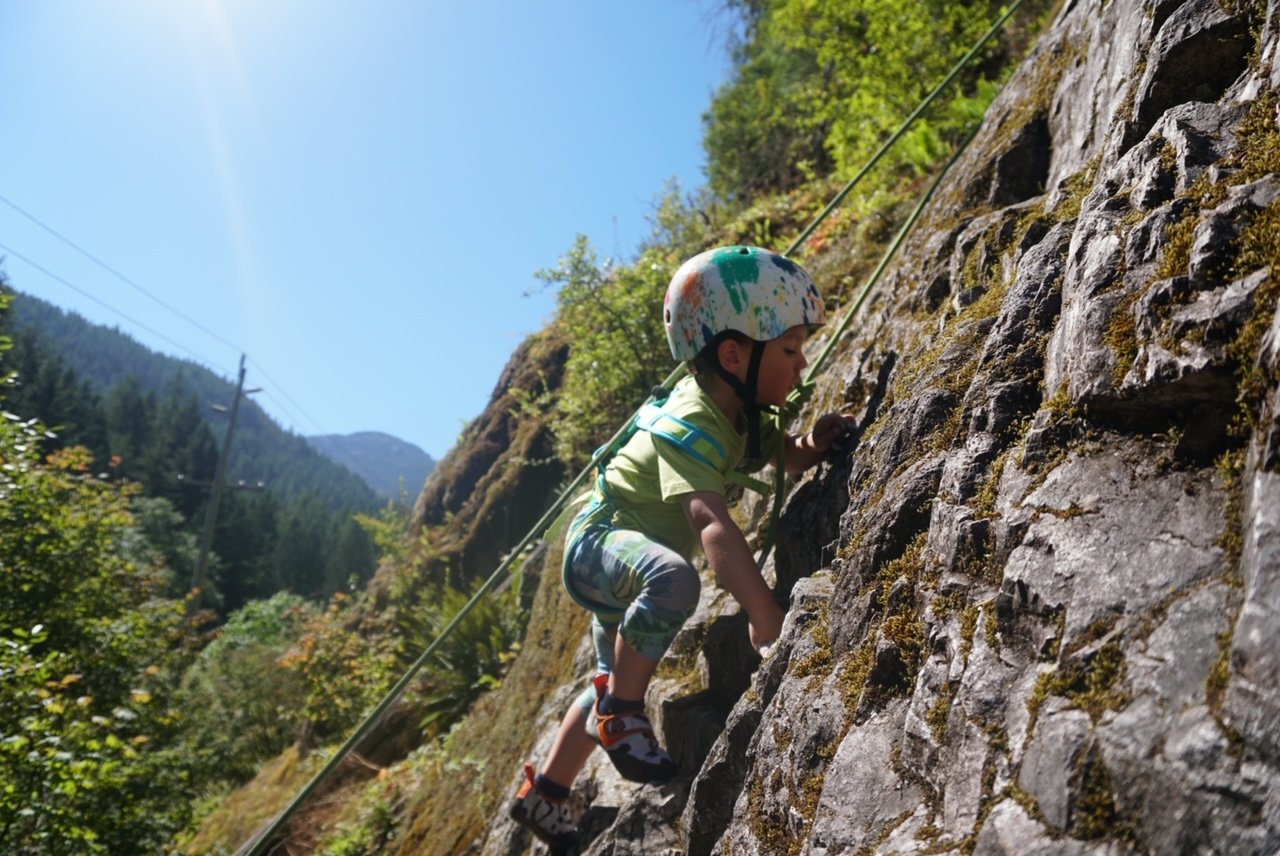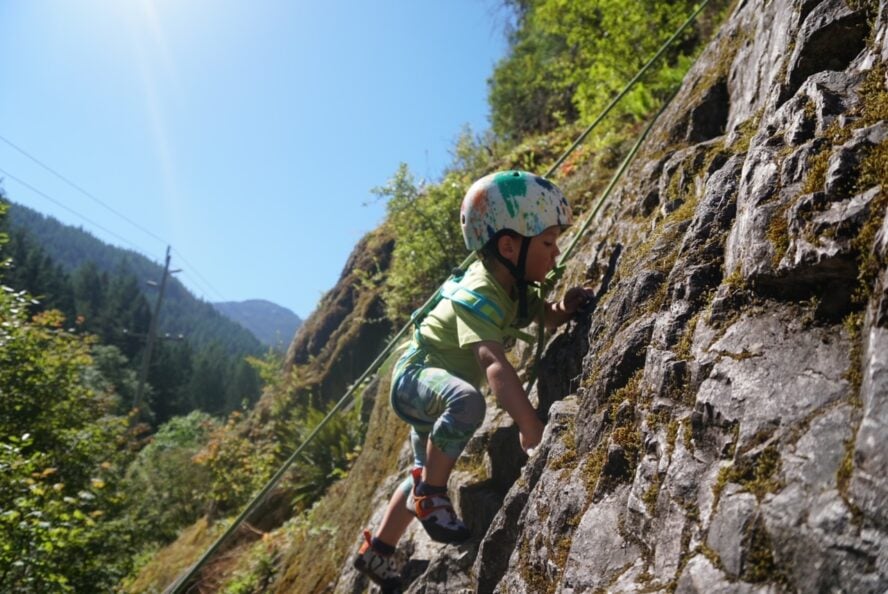 Why I love Squamish
I've been living in Squamish for four years now and love it for the same reasons most recent transplants do: the proximity to a major city center combined with the outdoor lifestyle makes it the perfect place to raise a family. The small town feeling is still here (although it's growing rapidly) and there's an importance placed on nature and the outdoors that gels well with me. The local businesses really bring this town to life and the community vibe is strong. Squamish embodies the "work hard, play harder" mentality and with the variety of shops and restaurants, there's really everything we need here to live well. There's also no bad time to come. I think summer is the best season since it's a consistent dose of nice weather, but there's things to do in Squamish year-round and each season has its perks. But in general, you can't go wrong from May to September.
Getting to Squamish
If you're coming from Vancouver, Squamish is a one-hour drive up the Sea to Sky Highway (AKA Hwy 99). From Whistler, it's 45 minutes south on 99. If you don't have a car, there are shuttles that run from the Vancouver (YVR) Airport, a bus you can catch in downtown Vancouver and busses that run between Whistler and Squamish. You've hit the edge of town when you see Shannon Falls, a 300+-meter waterfall you can't miss. Right next to Shannon is the Stawanus Chief — the massive granite monolith that towers above town. It's the focal point of the place, and the landing spot for many climbers, hikers and outdoor enthusiasts. Once in Squamish, everything you need is centrally located, but the rest of town and all the outdoor spots spread out into a few different areas. Stop in at the Squamish Adventure Center and get situated. You'll find maps and all the local info you need.
If you're planning your own weekend trip to Squamish and want to make the most of it, here's my guide to a full weekend spent here — from Friday after work to Sunday night, all 57 hours packed in.
Friday Evening: Hike the Smoke Bluffs Loop Trail
To get to Squamish, you're going to want to blow off whatever work commitments you can and hit the highway as early as possible. Not only because the Sea to Sky Highway gets packed with commuters coming home from Vancouver on a Friday afternoon, but mostly because you're going to want to make sure you get at least one outdoor activity in before bed.
The Smoke Bluffs Loop Trail, which is actually more of a lollipop, is a 2.7-kilometer well-maintained and fairly well-marked trail in Smoke Bluffs Park. This hike is a good start to a full weekend because it's one of the more easy Squamish hiking trails and it gives you three nice lookouts with views towards Howe Sound, the Chief and the Sea to Sky Highway. The sunset casts a nice glow over Squamish below and you can take in the sights from pretty high up (about 200 meters) and get a sense of the area. Park in the Smoke Bluffs parking lot, just down from the Adventure Center, and begin hiking at the big wooden sign.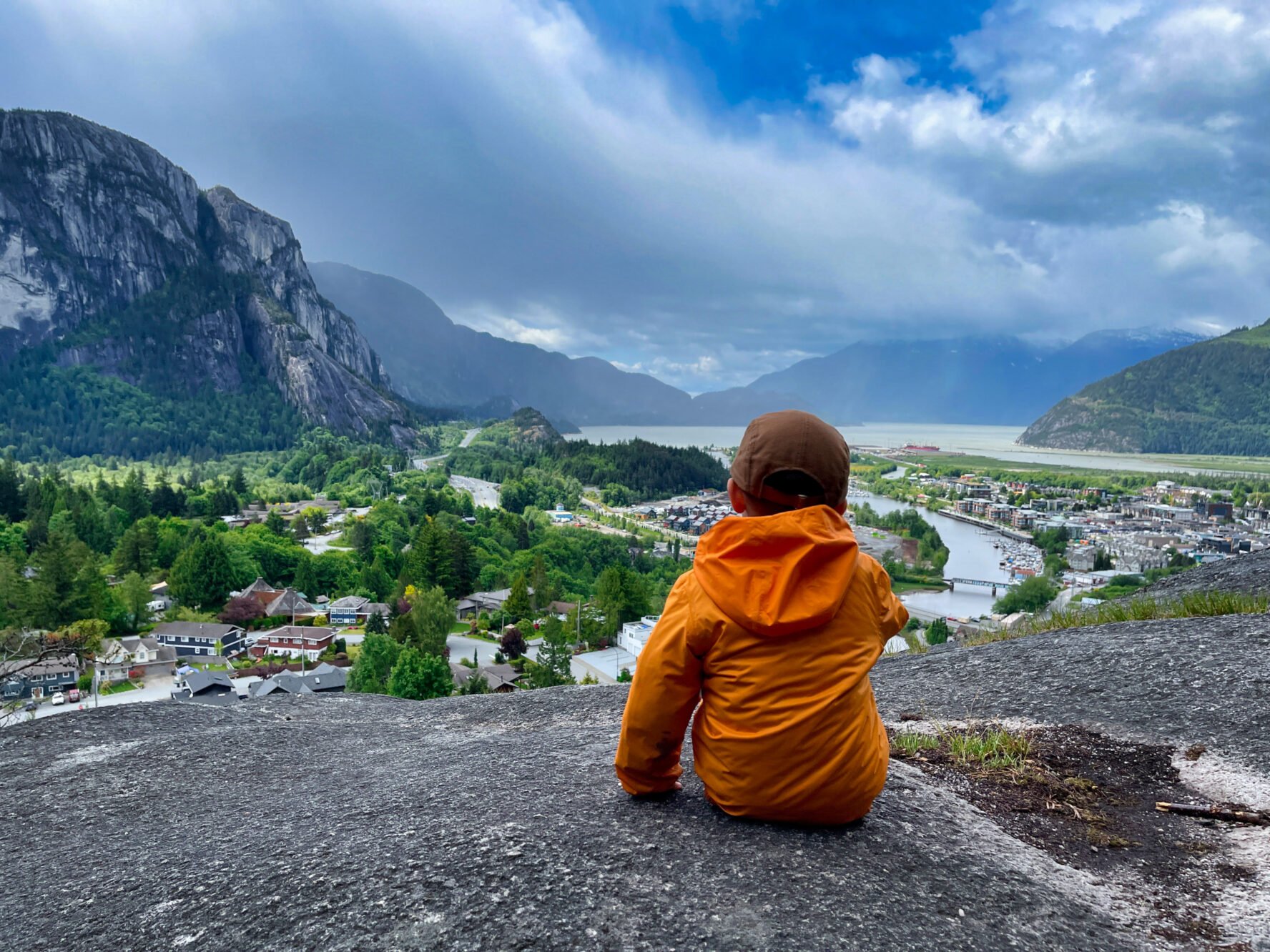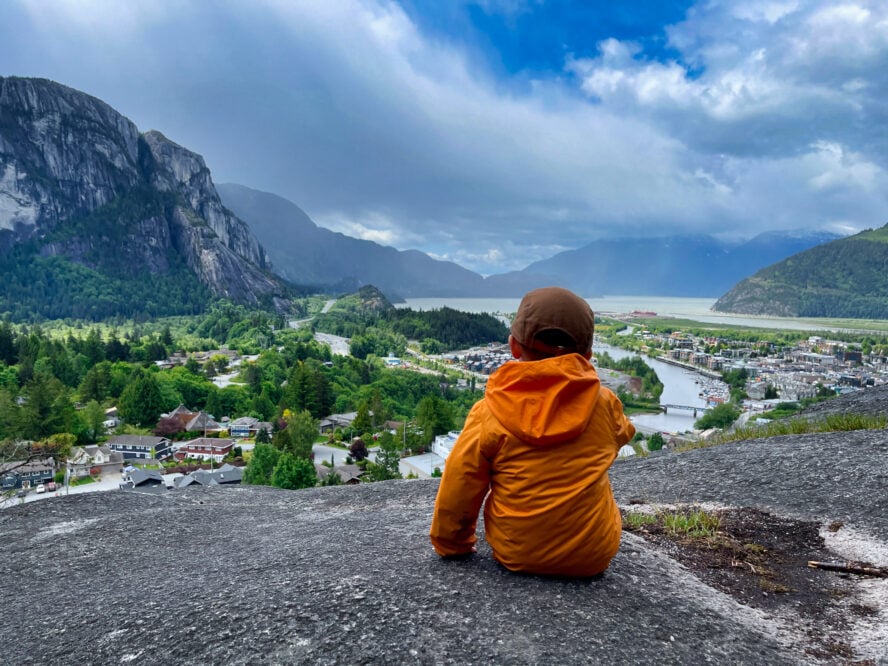 Maps can be found at the Adventure Center, but you can also view Explore Squamish's hiking trail info or take a look at the trail map for the Smoke Bluffs Loop Trail on All Trails. This easy to moderate trail takes about one to two hours and will have you walking through a popular climbing area that has hundreds of routes, so this might be a good time to scope out some spots if you plan to get some climbing in. I like this kid-friendly and on-leash dog-friendly) trail because you get great views for a small amount of work and you can watch the climbers as you hike. There's also a little playground at the top so there's a little added motivation to keep my son on track.
This goes for all of Squamish and not just the Bluffs, but make sure you've got bear spray and you know what to do if you encounter a bear because this is as good a place as any to have a run in. I'd also recommend familiarizing yourself with the trail map beforehand as the signage on this trail can sometimes be confusing.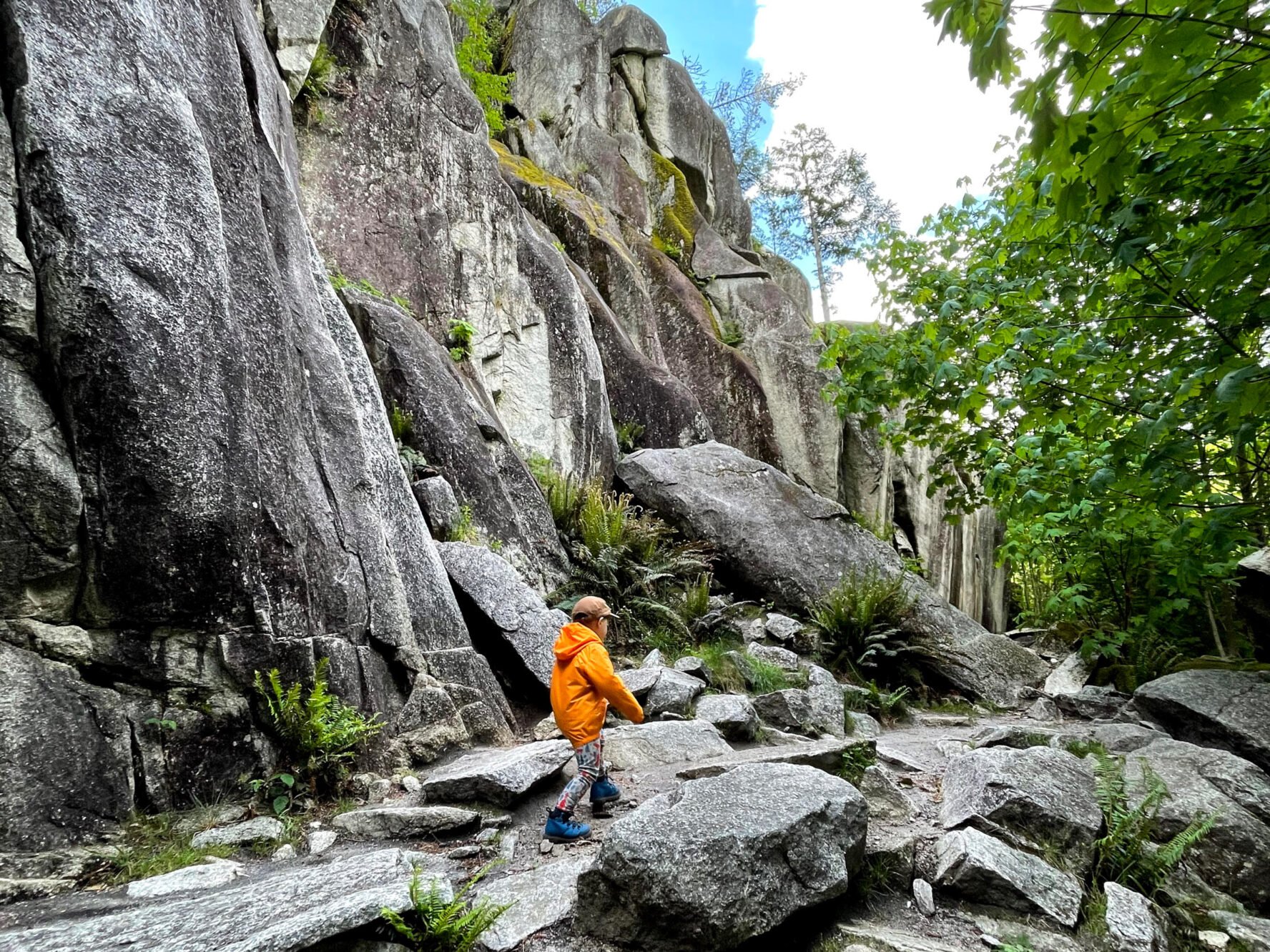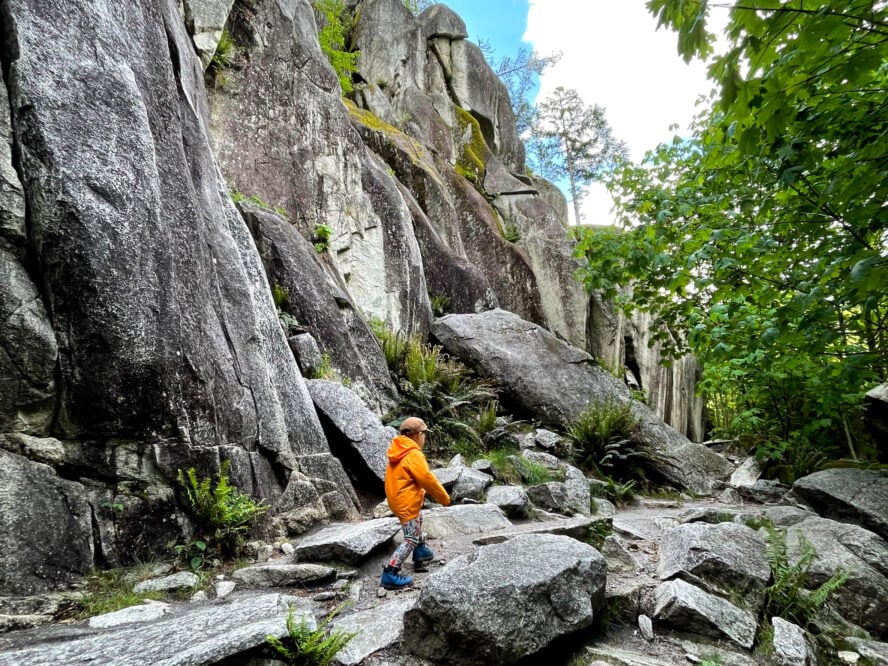 Skip the hike for Smoke Bluffs climbing if that's more your speed
If you're like just about everyone else that visits and you come for the climbing in Squamish, you can get a nice Friday evening in at the Smoke Bluffs before the sun goes down. Park or walk to the same Smoke Bluffs parking lot that you would for the hike. Right in the parking lot is the aptly named Smoke Bluffs Parking Lot Wall — a south facing crag that's great for beginners learning trad climbing. My son has really taken to climbing, and he's starting to learn on one of the easiest routes here called Jiminy Cricket (5.4). Venturing more into Smoke Bluffs Park, there's more than 500 routes; some of the best spots include Penny Lane and Burger and Fries, but wherever you end up here, the climbing is good all over and certainly a good warm-up to a big weekend.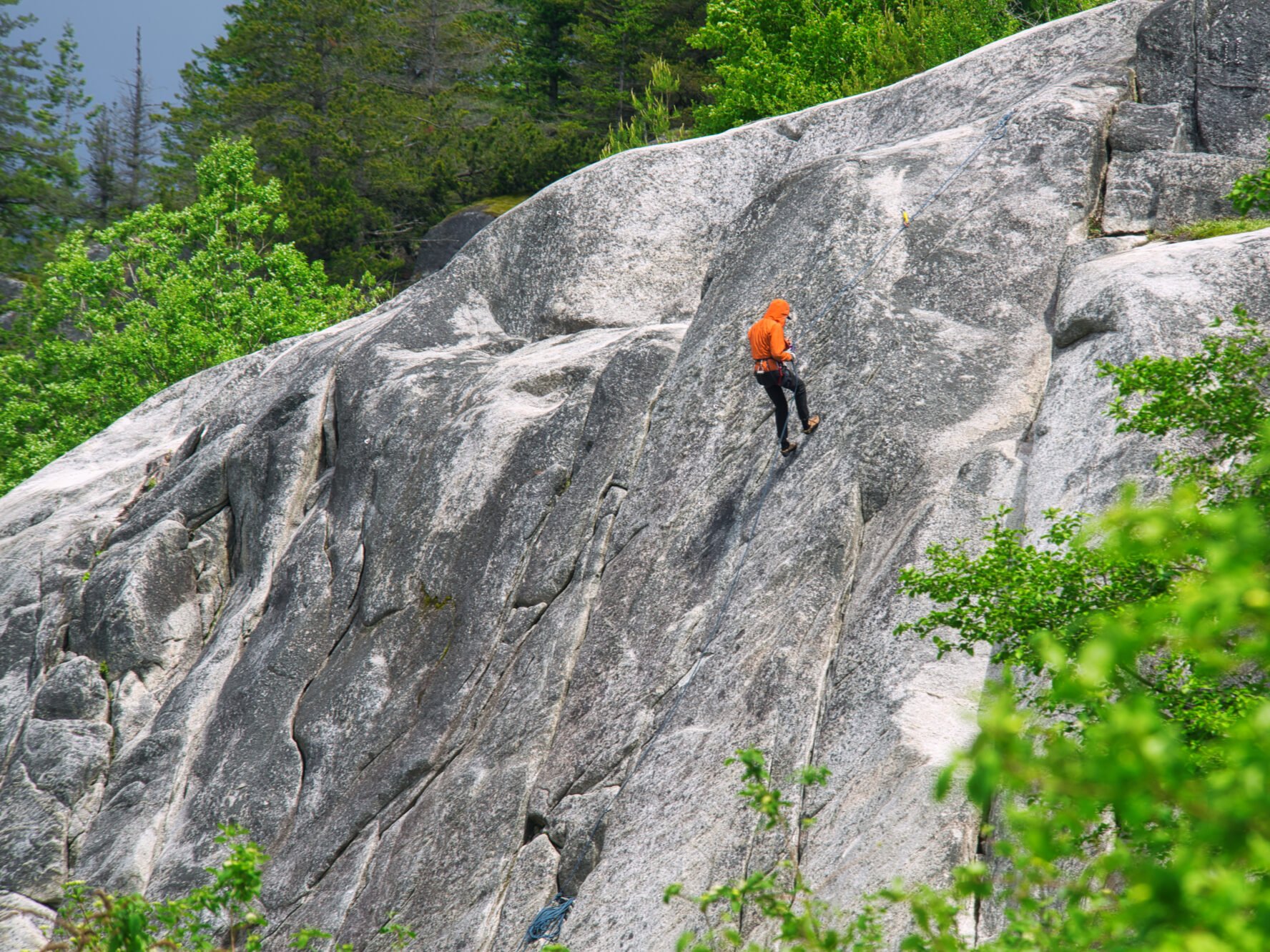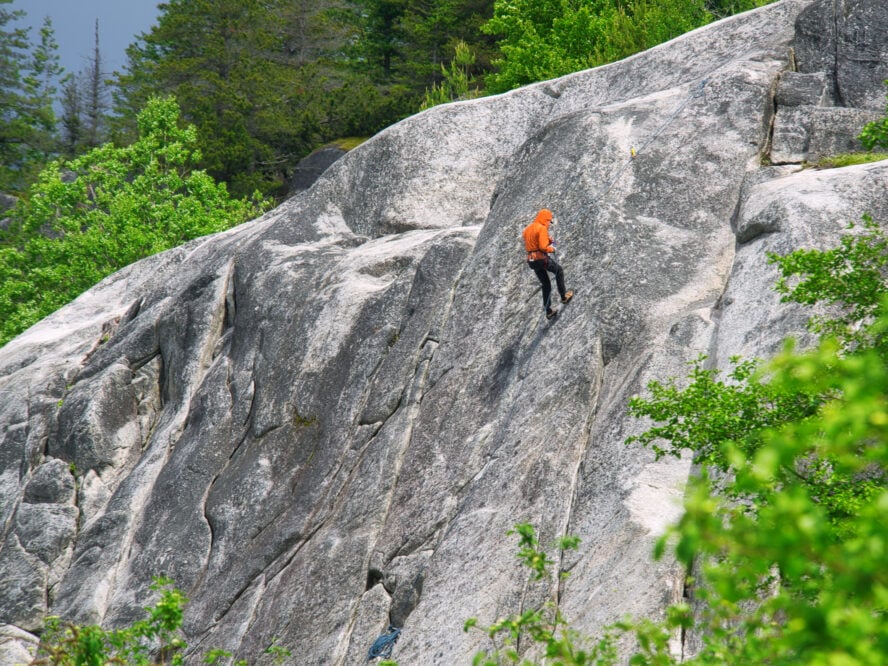 Saturday Morning: Climb the Chief
If you're like most visitors to Squamish, you're here for the climbing, and you've likely got your sights set on the Chief. With everything from sport, trad, bouldering, crack climbing, big wall, and multi-pitch, it's some of the best you'll find anywhere in the world. I'm still a very new climber, so climbing the Chief is totally intimidating and nowhere near my skill set yet, but I know the Grand Wall Route (5.11a) in the namesake area is "the" spot to head. Squamish Butt Face (5.9) is a six-pitch moderate route that gets a lot of local love.
I'd set aside a half to full day here, depending on your skill level, which route you pick, and how many other activities you plan to tackle. I'd also be on the rocks as early as possible as some of these routes get a lineup of people waiting to have their crack at them. If you have your heart set on the Chief, but feel your skills might not be enough, consider heading out with a Squamish climbing guide.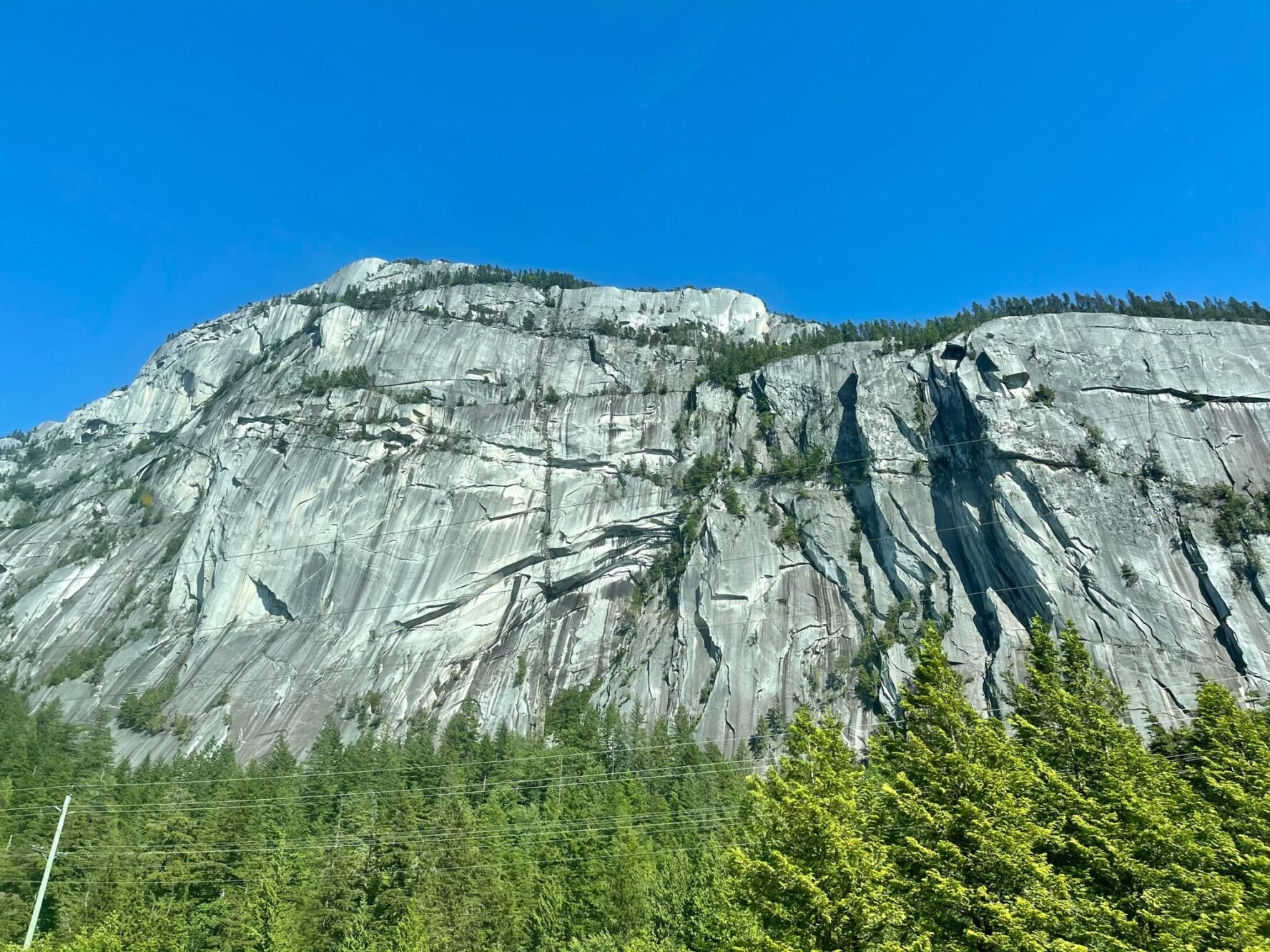 Hike the Chief for an alternate Saturday morning
Hiking the Stawamus Chief Trail is almost a rite of passage in this area. The views from the top are the best you'll get of Howe Sound, Stawamus Chief Provincial Park and the surrounding area. The Stawamus Chief has three summits — Peak One, Peak Two, and Peak Three— all accessible from the main hiking trail. This trail is 6-7 kilometers of hiking and is an intermediate to difficult trail given the 600-700 meters of elevation gain, the stairs (you'll be stair climbing almost the entire time), the ladders and chains that you'll need to make use of, and the bit of scrambling you'll have to do. If you have a fear of heights, you may want to skip this one! There are also some steep drop-offs to be aware of on this trail. I'd say most people do the One, Two combo, but the Third Peak is the least busy if you want to do just that one. You can do them all, or just one, or pair a couple peaks, depending on how much time you've got.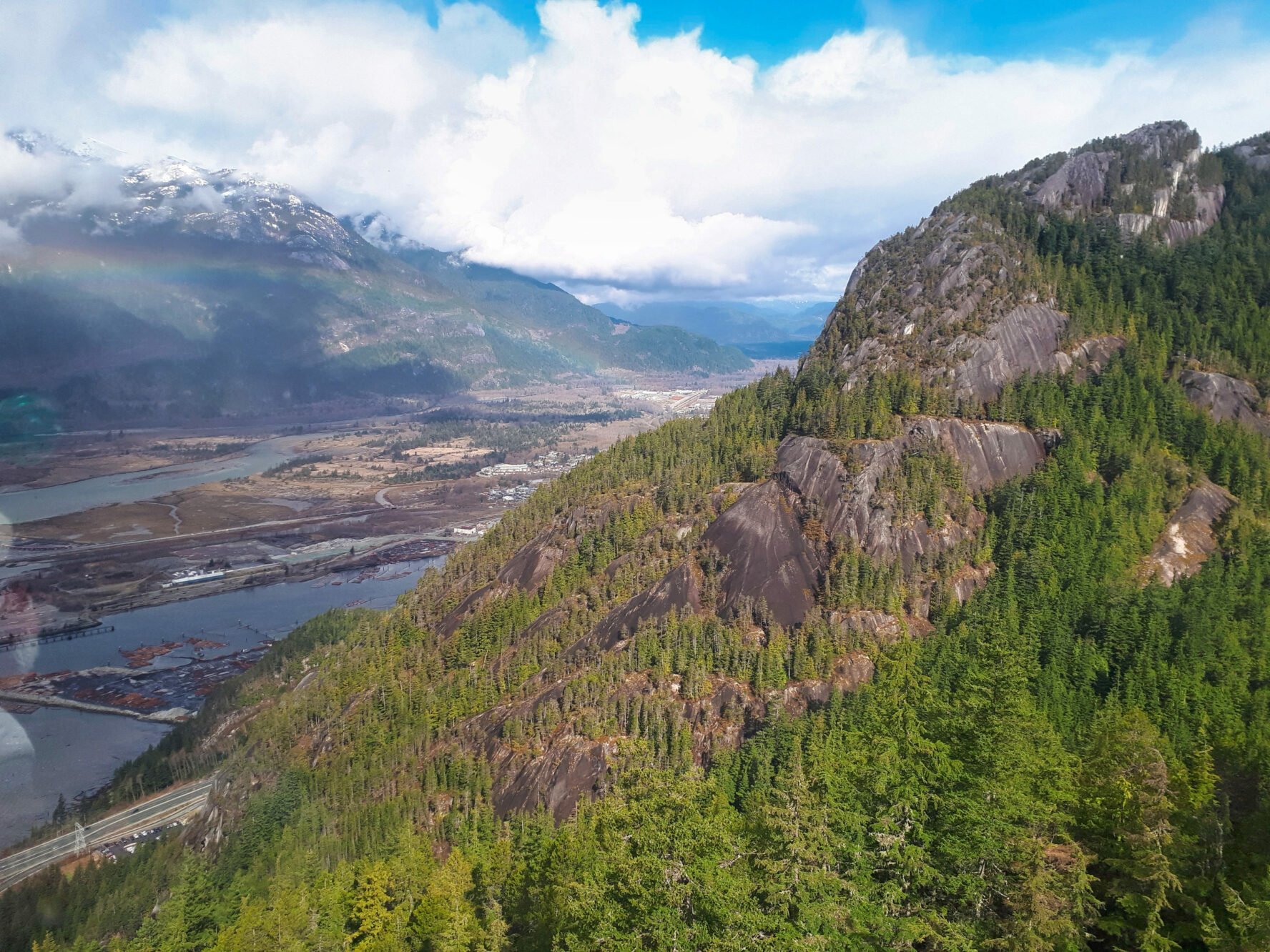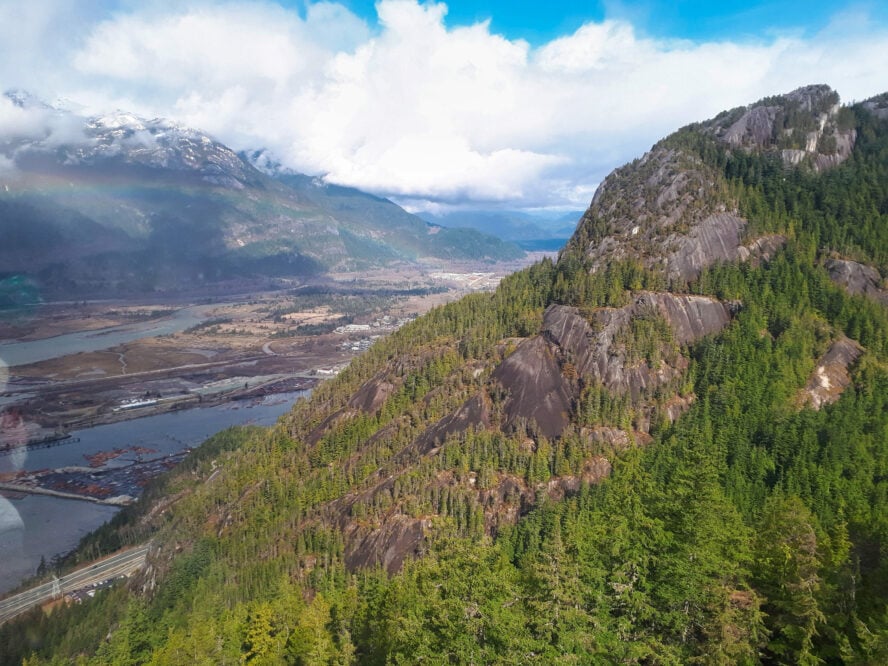 The average hiking group can hike the first two peaks in about 4-5 hours (super fast hikers can do it in under two hours). If you do this hike — especially on a Saturday morning — you'll want to get there as early as you can, like at the crack of dawn. It's incredibly popular and there can be traffic jams at the chains and ladder sections as people wait their turn to make it up. There's also not a lot of parking, so if you're driving, you'll need to get there early to snag a spot. Also, note, dogs are permitted on leash, but given the nature of some of the scrambling and use of ladders, it may be best to leave your buddy behind on this one. Also make sure you've got appropriate footwear on and if you're taking kids, you'll need to make sure they have the stamina and hiking skills.
Free day pass needed for Stawamus Provincial Park
I recommend checking BC Parks website before heading out. As of June 23, 2021, free day-use passes will be required to visit five of B.C.'s busiest parks, which includes the Chief Peaks Trail (also called the Backside Trail) in Stawamus Provincial Park. Passes are available to reserve online through Discover Squamish starting at 7am, one day in advance of your planned visit and can be obtained for either AM or PM hiking. This is a pilot project and is subject to change, but at the time of this writing, these are the current regulations. Checking the park website is a good call regardless as sometimes there's nesting falcon closures and other things you may need to be aware of before undertaking this trail.
Saturday Afternoon: Hit the Water in Squamish
Since the wind tends to turn on around late morning and can last until sunset, I'd recommend some kiteboarding in Squamish on Saturday afternoon. Home to Canada's biggest kite competition, Kite Clash, Squamish is renowned for being a great place for freestyle riders. In the summer, any trip to the Spit or Nexen Beach will have you watching dozens of people doing their thing on the water. If you don't have your own gear, you can rent from the Aerial Gear Store at Squamish Watersports.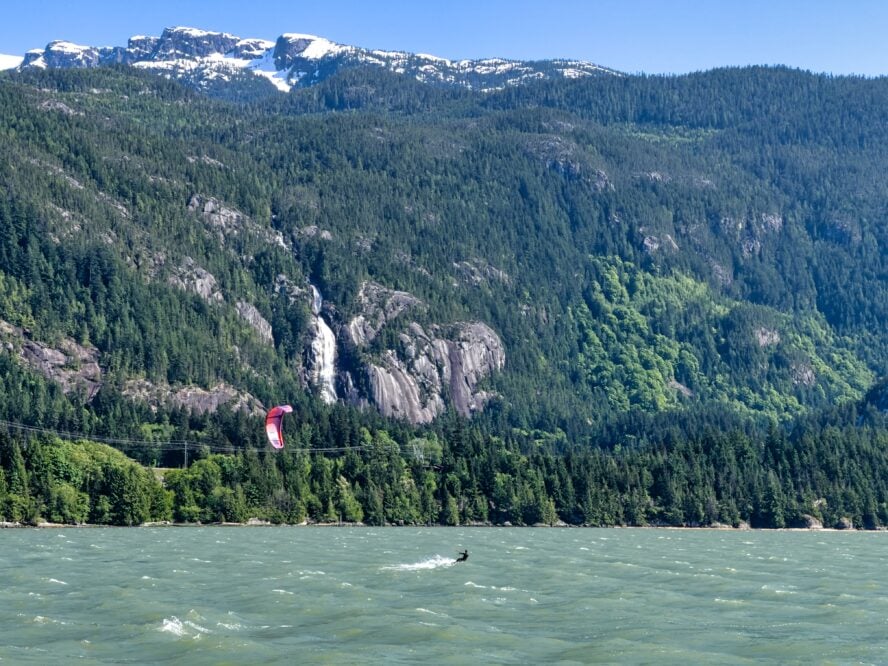 If you've never kiteboarded before, I recommend a lesson. It's quite technical, requires proper instruction and the combo of Squamish's wind and water can be unforgiving to new riders. Take a private lesson with an instructor if you're new to the sport! Check out the Squamish Windsports Society for everything you need to know about current conditions, news, and local regulations. Squamish Watersports also has the rules for the Spit posted on their website. The Squamish Estuary, right at the Spit, is an awesome spot to SUP, but afternoon winds can make the water choppy and it's definitely a more relaxing paddle in the morning. Please be aware that the Estuary and the Spit are highly sensitive ecological areas. Follow all the rules and minimize your impact wherever you go. That means no off-leash dogs, no damaging wildlife habitats and leave no trace.
Places to SUP if kiteboarding is too extreme
Stand up paddling is much more my thing, and a couple of my favorite spots to go are Alice Lake and Brohm Lake (the two lakes that the Alice + Brohm Ice Cream Company are named after). The tricky thing with this is that you really have to luck out to get a parking spot at Brohm in the afternoon and the same goes for Alice. People flock to these two places on the weekend, and for good reason: paddling is really fun at both these spots. Alice Lake Provincial Park is full of places to hike and mountain bike and the lake itself is great for swimming and relaxing at. You can also rent SUPs right there.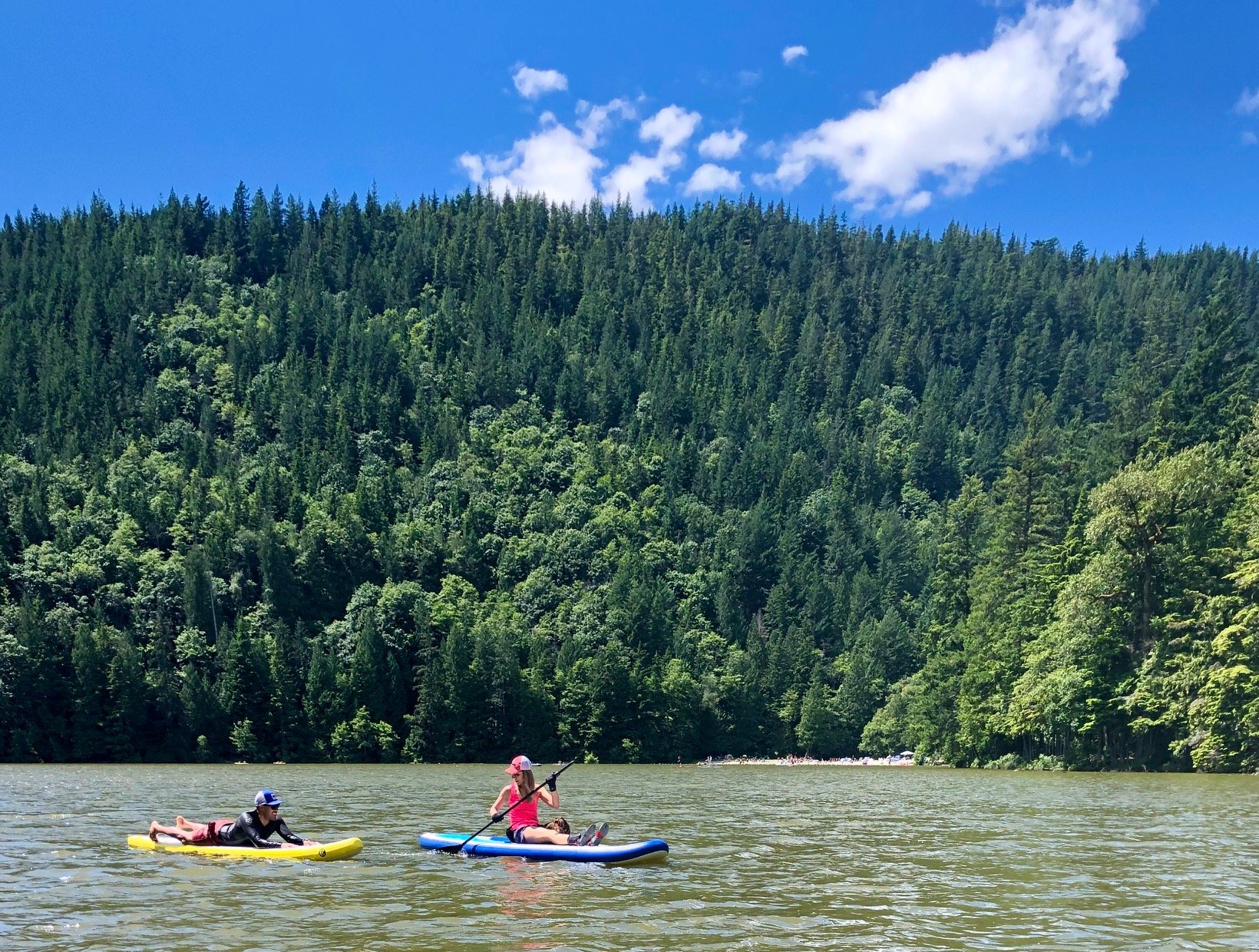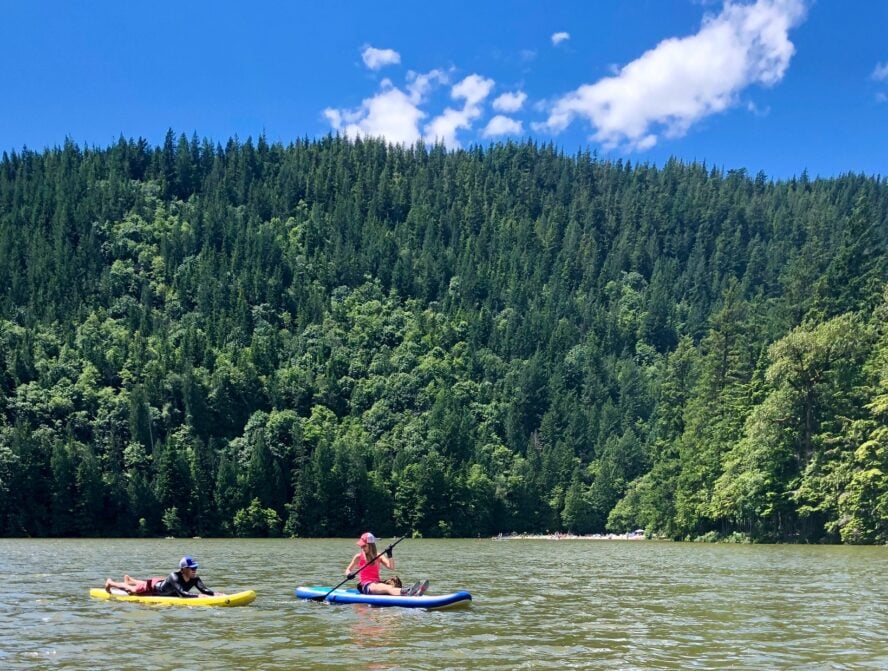 For Brohm Lake, you'll need to bring everything you need with you, and although the parking lot is small, the lake itself is quite big. The loop trail around Brohm Lake is another spot I love to go. My family usually does the 3.5-km BrohmLake Trail loop; it has lots of ups and downs through the forest with views out over the lake. It's a nice moderate workout before we hit the paddleboards and lazily cruise around. I'd recommend taking a look at the map you encounter at the trailhead first as a couple of the signs along the way are a little worse for wear. There are one or two spots where you might accidentally lead yourself onto one of the many other trails around there.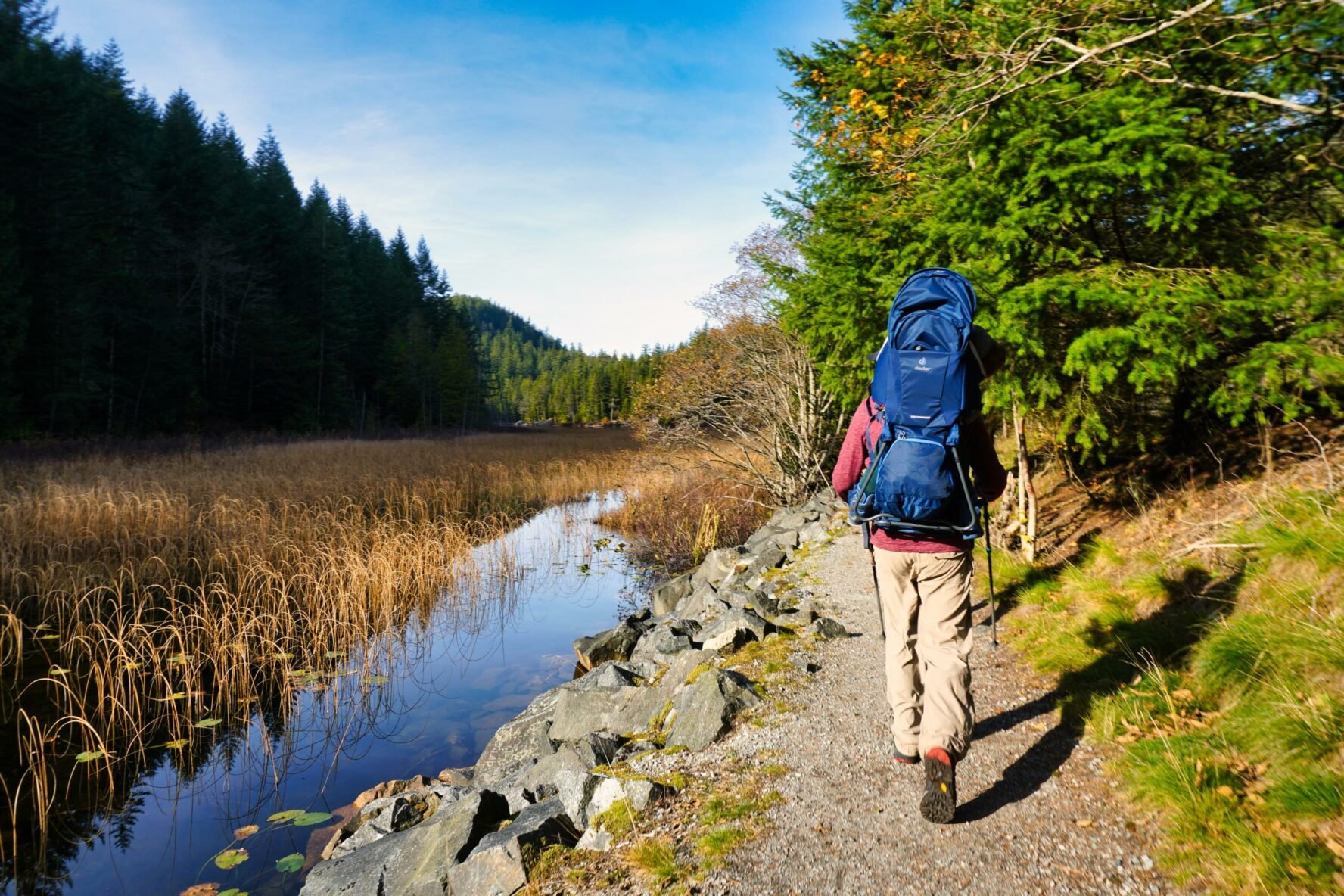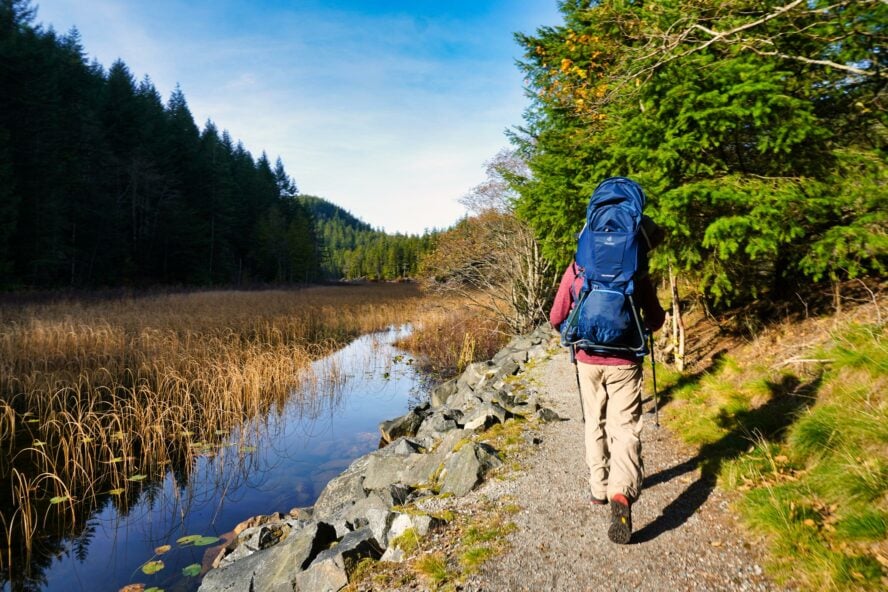 If you're an experienced paddler, you can paddle down the Squamish River, but be warned the water is choppy, cold and moves fast. This isn't something I'd recommend to beginners and definitely wear a wetsuit and a lifejacket.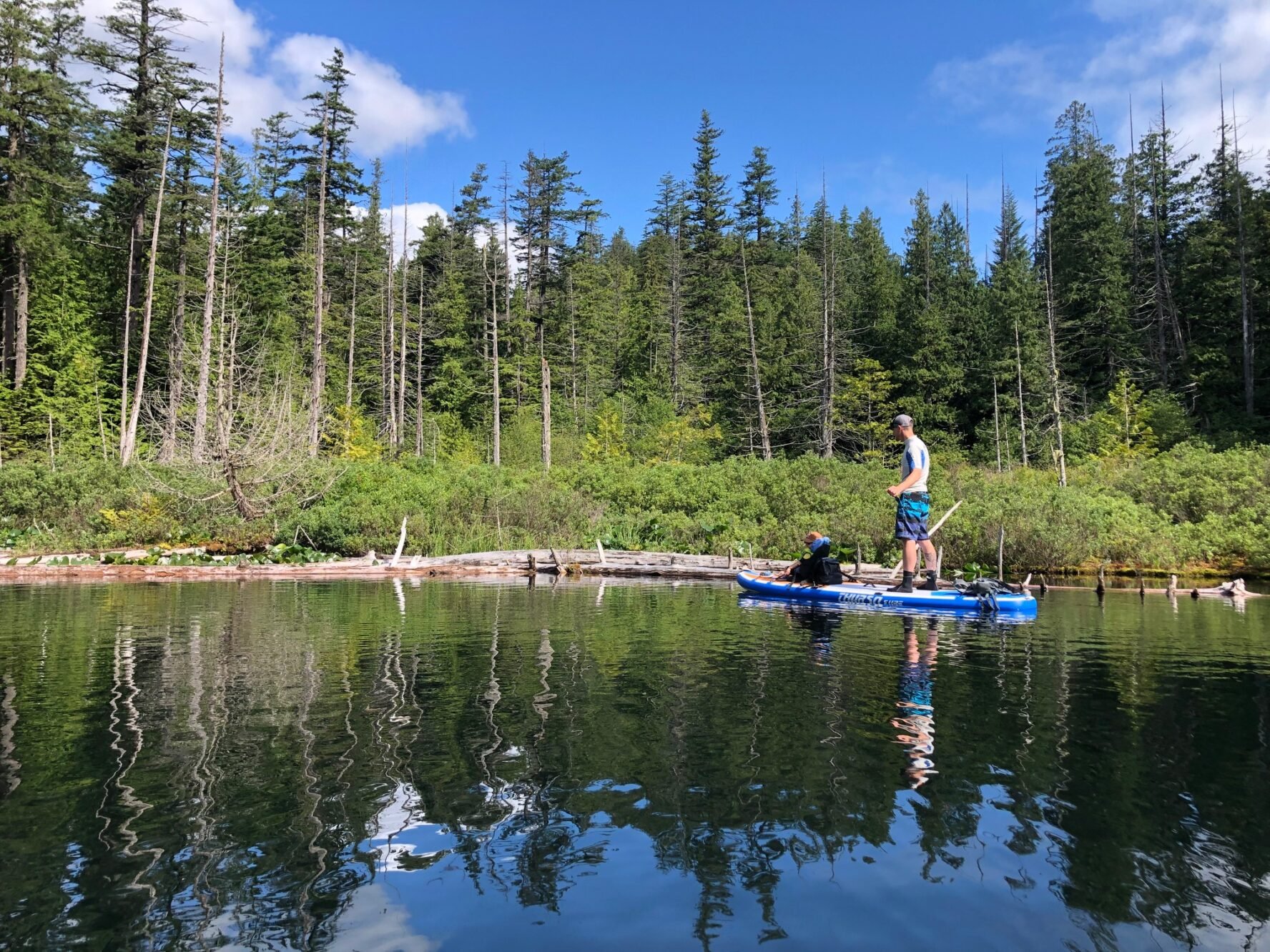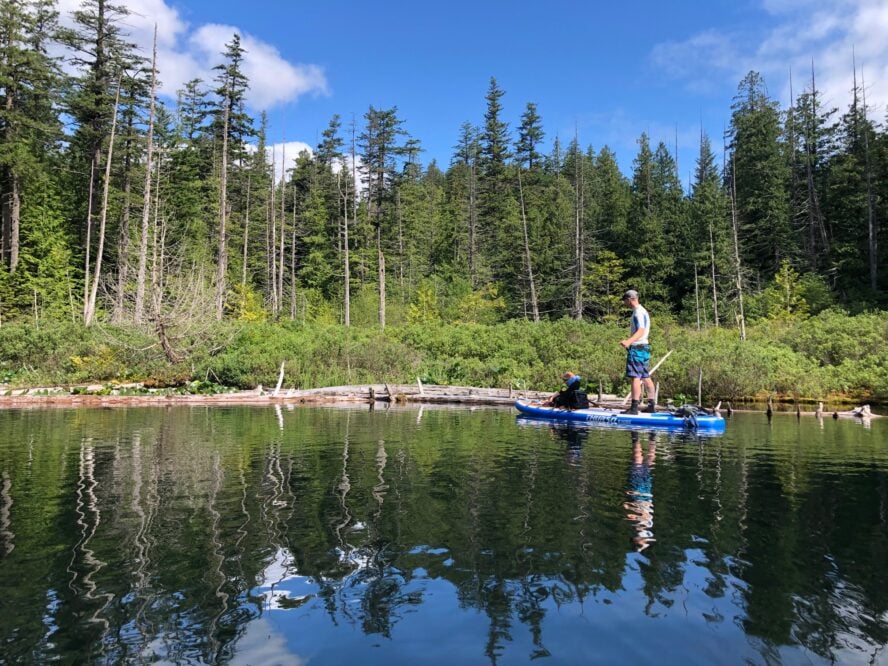 Sunday Morning: Mountain Biking in Squamish
For those looking for human-powered action on two wheels, it doesn't get any better than Squamish mountain biking. Hundred of kilometers of trails, with every kind of riding under the sun. I'm biking with a toddler, so our go-to spots are the pump track and Ray Peters Trail, which is super beginner friendly. It's a wide path with a few roots and rocks but generally it's smooth, flat riding. This trail is tucked behind Brackendale and is shared by mountain bikers, horseback riders, hikers and dog-walkers, so keep your head up and respect other trail users.
Right across the highway from Ray Peters is a huge network of trails between Alice Lake and the Highlands. My friends that mountain bike at a more heart-pumping pace are always raving about Pamplemousse. It's only a few years old, but it's an instant classic. Located on Squamish Nation land and maintained by Ride BC, it's got some steep technical corners and requires some jumping skills, and I'd consider this to be a strong intermediate to advanced trail from what I've heard. Crouching Squirrel Hidden Dragon is a really popular technical single black trail in the same area with rock slabs, roots, rocks, bridges, ladders — you know, all the fun stuff.
I've listed a couple trails in the same general area, but there are so many areas and hundreds more trails to pick from. If you're looking for more trails and route descriptions, Explore Squamish has a nice round-up. SORCA is Squamish's volunteer non-profit trail association that manages the expansion and maintenance of our local trails. If you ride in Squamish, consider donating to this organization that makes it all possible.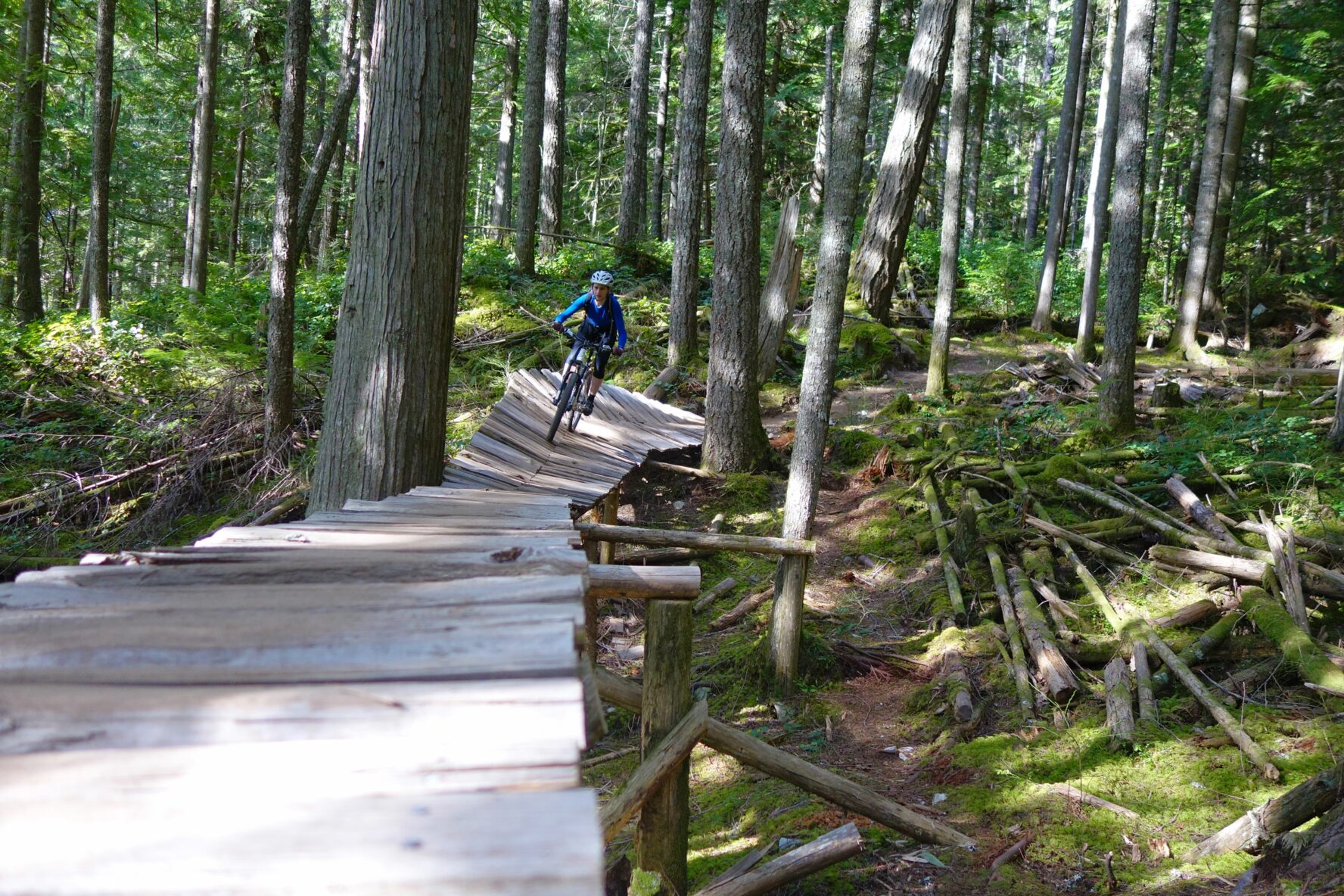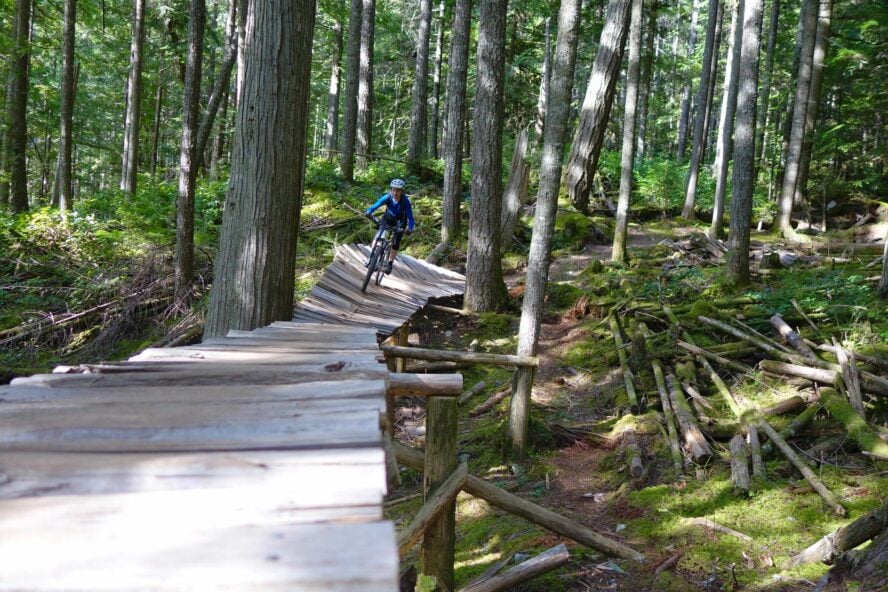 Sunday Afternoon: The Choice is Yours
If you've still got enough energy left to take on another activity, what haven't you had a chance to do yet? Personally, I reserve Sunday afternoons for relaxation. This time is usually spent on a gentle paddle, cruising one of Squamish's easy hiking trails, or climbing a toddler-friendly route with my son. If you want to mix a little bit of sightseeing and outdoor adventure, take a ride up the Sea to Sky Gondola (re-opening June 11, 2021) and check out the suspension bridge and trail network up at the top. If you have any legs left after this weekend, the Sea to Summit Trail is a really popular 6.5-kilometer hike from the bottom to the top that takes about 4-5 hours. It's a difficult straight shot up, but you can have a drink at the restaurant at the stop and then take the gondola back down.
And that's it! A full 57 hours, coming to a close. All that's left now is to finish off your Sunday with some takeout from a local restaurant and get ready for the week ahead. This is just one way to piece your 57 hours together. There are so many outdoor things to do in Squamish that no matter the weather, the crowds, or whatever else might get in the way of your best laid plans, your days are full of options. Bring a raincoat, have a Plan B, and make the most of that time you spend between punching out and punching in by enjoying a bit of nature.
My Recommendations for Visiting Squamish
If you need a bit of a break from the adventuring, there is no shortage of things to do in Squamish. At the time of writing, there are still some travel restrictions in place, but things seem to be easing up. Just make sure to check the latest COVID-19 measures in B.C. before travelling. Whether you're looking for a place to crash or a local spot to grab a post-hike beer, here are some of my recommendations:
Where to stay in Squamish?
There's no shortage of places to stay in Squamish, no matter what kind of budget you're working with. There's hostels, hotels, campgrounds, Airbnbs, and then there's some "wild" camping, but that's become a bit of a contentious issue.
For hostels, there's Squamish Adventure Inn, which is a great location because it's walking distance to downtown and also just a couple minutes' walk to the Smoke Bluffs. It also has Narwhal Ice Cream right out front. Downtown, Crash Hotel (formerly The Chieftain Hotel & Pub) is a recently renovated boutique hotel with a cool vibe and an adjoining bar called The Goat, which has arcade games, an old gondola for a DJ booth and a camper-turned- food-truck inside the bar. There's also the Sea to Sky Hotel, which isn't downtown but located in a plaza just off the highway a little further up the road, and close to that is Executive Suites, where you can mountain bike and hike right from the hotel's doorstep. There's also the Sandman, which has its own waterslide, so if you're travelling with kids, you might want to consider that.
Where to camp in Squamish?
There's all types of camping in Squamish. Camp at the foot of the Chief at the Stawamus Chief Provincial Park Campground. Across from Shannon Falls and just a short walk to the Chief is Klahanie Campground. If you want to camp near the Mamquam River, the Mamquam River Campground is run by the non-profit organization, the Mamquam River Access Society (MRAS.)
Paradise Valley Campground is about 15 minutes out of town and next to the Cheakamus River. It has its own little ice cream shop and general store, and it's also next to the Tenderfoot Fish Hatchery and there's lots of hiking trails and some bouldering spots within walking distance.
The campground at Alice Lake Provincial Park is just north of Squamish off Hwy 99. This is a great family spot to set up if you can snag a spot. There's the lake that's great for swimming and paddling and it has a sandy beach and hiking and mountain biking trails all over the area. You can also rent watersport equipment here and there's a little snack stand. Up the Squamish Valley, is the Squamish Valley Campground, where you can tent next to the Squamish River.
A little piece of advice: make your reservations early as these campgrounds fill up quick and please read the BC Parks Visitor's Guide to Camping During COVID-19.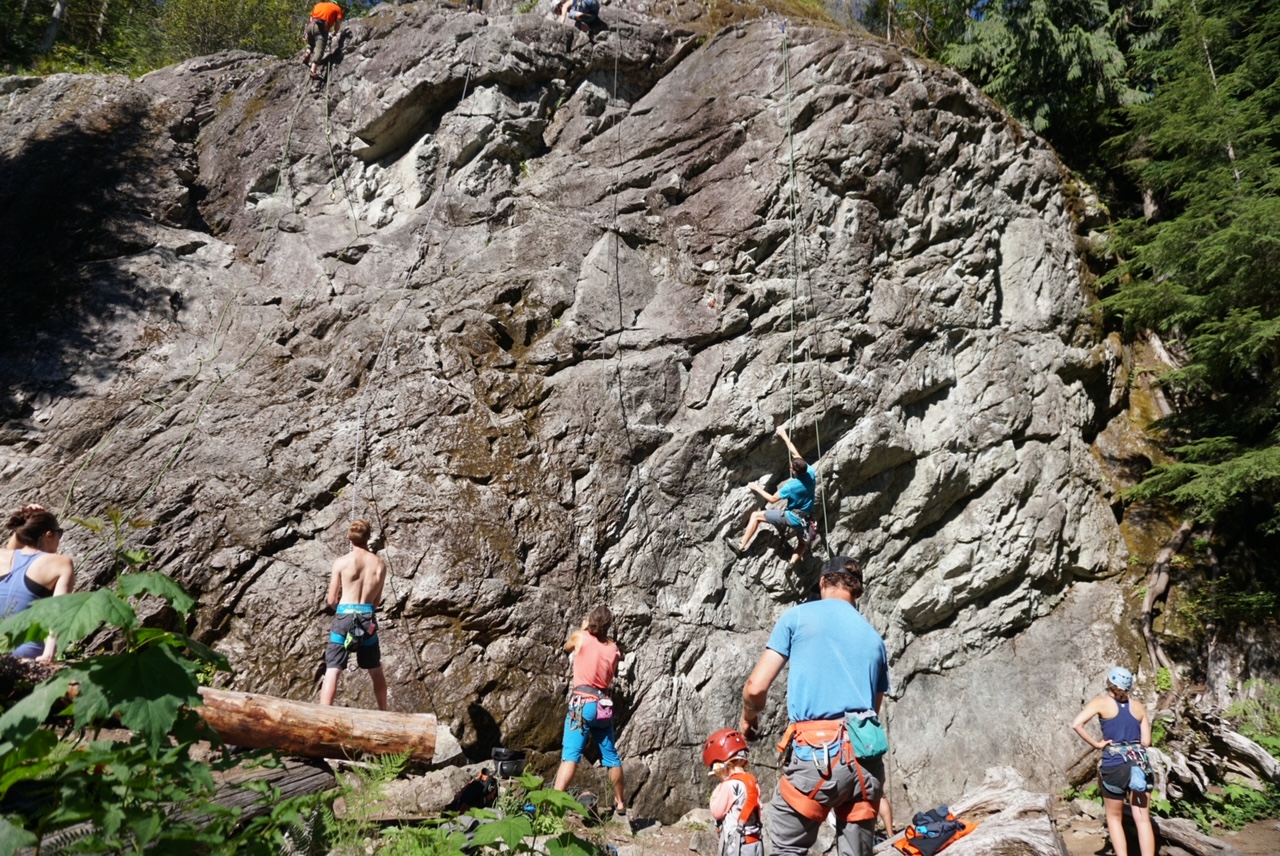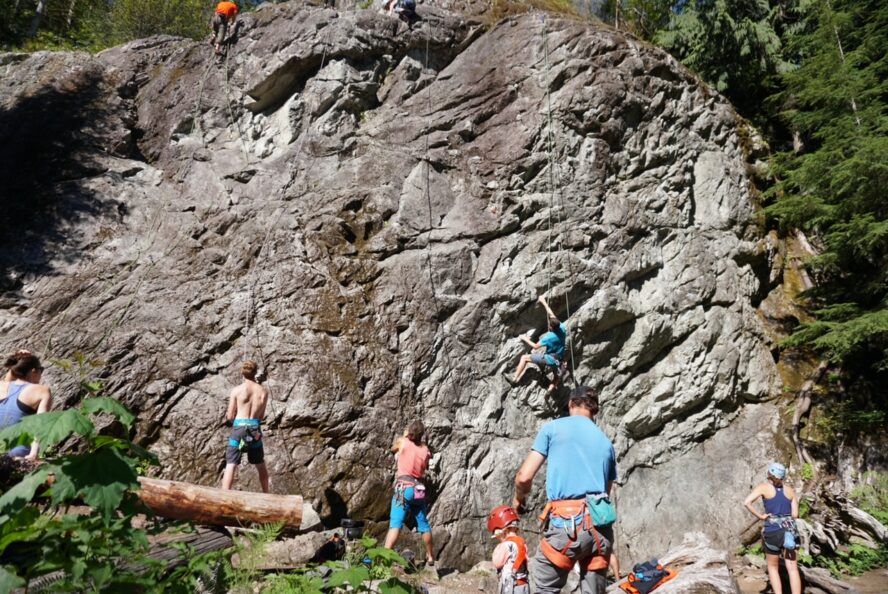 Where to get gear in Squamish?
If you're heading out with an outdoor guide in Squamish, they'll have all the technical gear you need, but if you're looking to pick up something new or used, there are a few places around town to get gear. Mountain bikers should head to Tantalus Bike Shop in Garibaldi Highlands, which is where another gear shop called Escape Route is also found. Valhalla Pure Outfitters is right when you turn into town off the highway, and has new outdoor gear and apparel for most outdoor sports. Climb On Equipment has everything climbers need and they also have a consignment shop so you can grab some great used gear there as well.
Those looking to rent a mountain bike can get one from Corsa Cycles or Flying Spirit Rentals. The Sea to Sky Adventure Company and the Squamish Adventure Inn have bikes and paddleboards, canoes and other water sport toys. You can also check Valhalla for paddleboards, too. Squamish Watersports has gear for all water-related activities, like SUP and kiteboarding.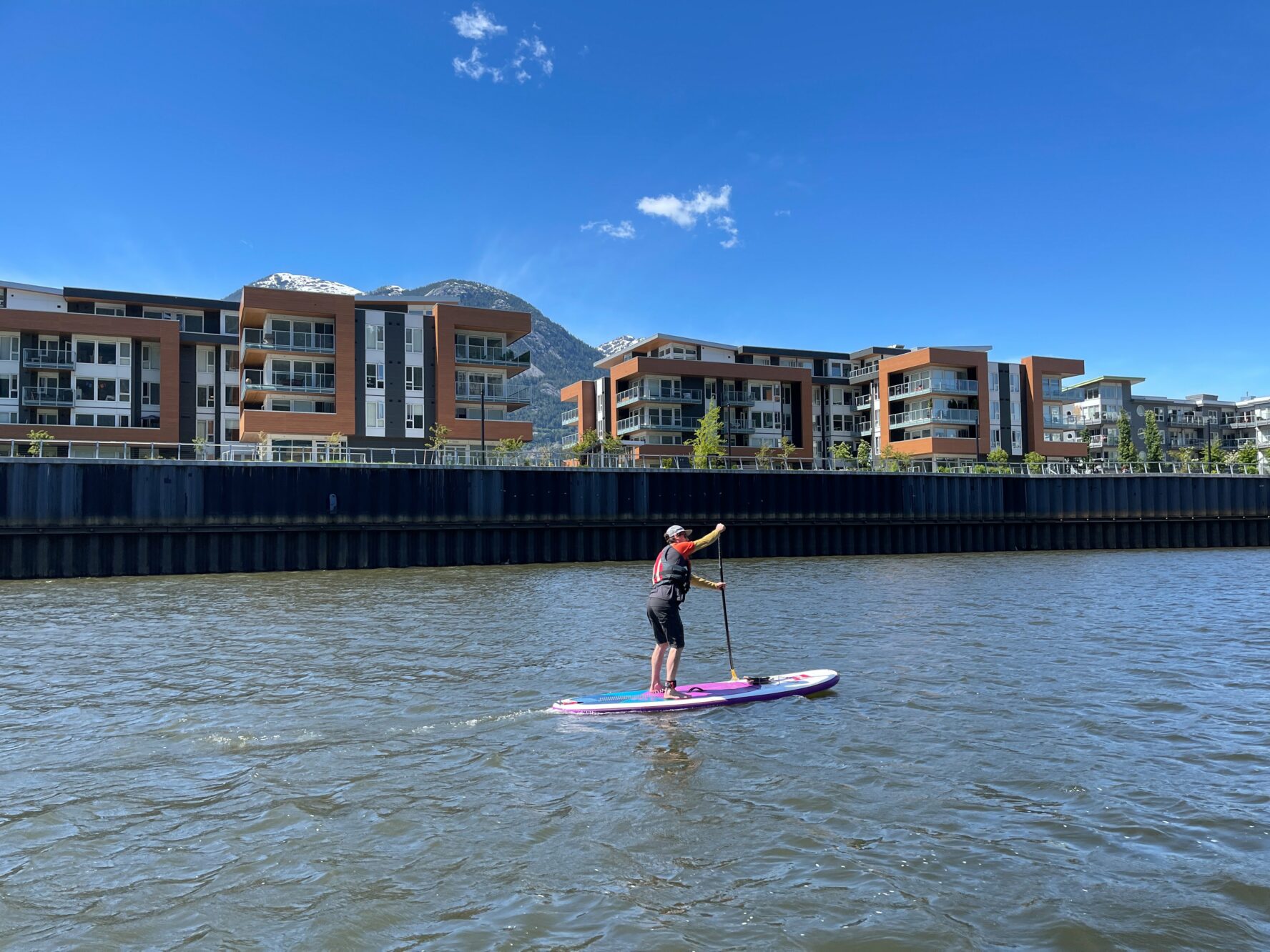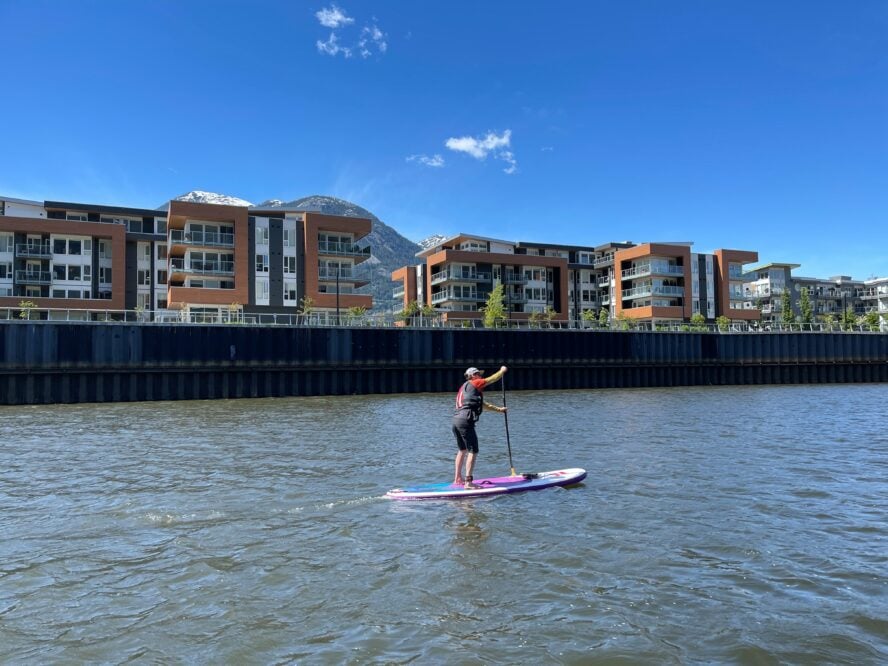 Where to eat and drink in Squamish?
Backcountry Brewing is my go-to for good beer, good pizza and a good patio. Everything at Backcountry is good, but if you like sours you're in major luck. If cider is more your thing, Geo Cider is in the same parking lot. Just a couple blocks from there, you can grab a quick bite from Mags 99 Fried Chicken and Mexican Cantina. Another great spot for a pint is A-Frame Brewing, which also has Luz Tacos airstream parked right out front (the fish and cauliflower baja tacos are my favorite). Right on the main strip downtown (which is just a few blocks long), there's Copper Coil for cajun-inspired food and Howe Sound Brewing, a long standing local hangout. No trip to Squamish is complete without some brunch at Fergie's Cafe (trust me, get the Dubliner and a chai latte).
Do you feel ready to pack up and hit the road to Squamish? Looking to try something here but need a little extra guidance? We've got you covered! Check out our guided adventures in Squamish or drop us a line if you need a little help curating your weekend!