A Local's Guide: What Is the Best Time to Visit Iceland?
People often ask me what the best months to visit Iceland are, and my mind immediately goes into overdrive. So much splendor to see, so many factors to consider… so let me break it down for you!
Table of Contents
I've said it countless times and I'll repeat it until I'm blue in the face: Iceland is a magical place. No matter where you're from or how well-traveled you are, its wild landscapes will take hold of your senses and fill you with wide-eyed awe.
Over a million tourists flock to this remote island every year—three times the entire native population! But what is it that brings them here?
Volcanic mountains, black sand beaches, lava flows and moss fields, glaciers, fjords, waterfalls, geysers—and don't get me started on the northern lights—all of these dramatic delights are what bucket lists were made for.
So, you might be planning your very own Nordic adventure soon. With so many sights to see, the first question on your mind is: "What is the best time to visit Iceland?"
As with most of life's mysteries, the answer is not that straightforward, but stick with me to the end and you'll learn everything you need to book your flight to Reykjavík without a second thought. Without further ado, let's break the ice!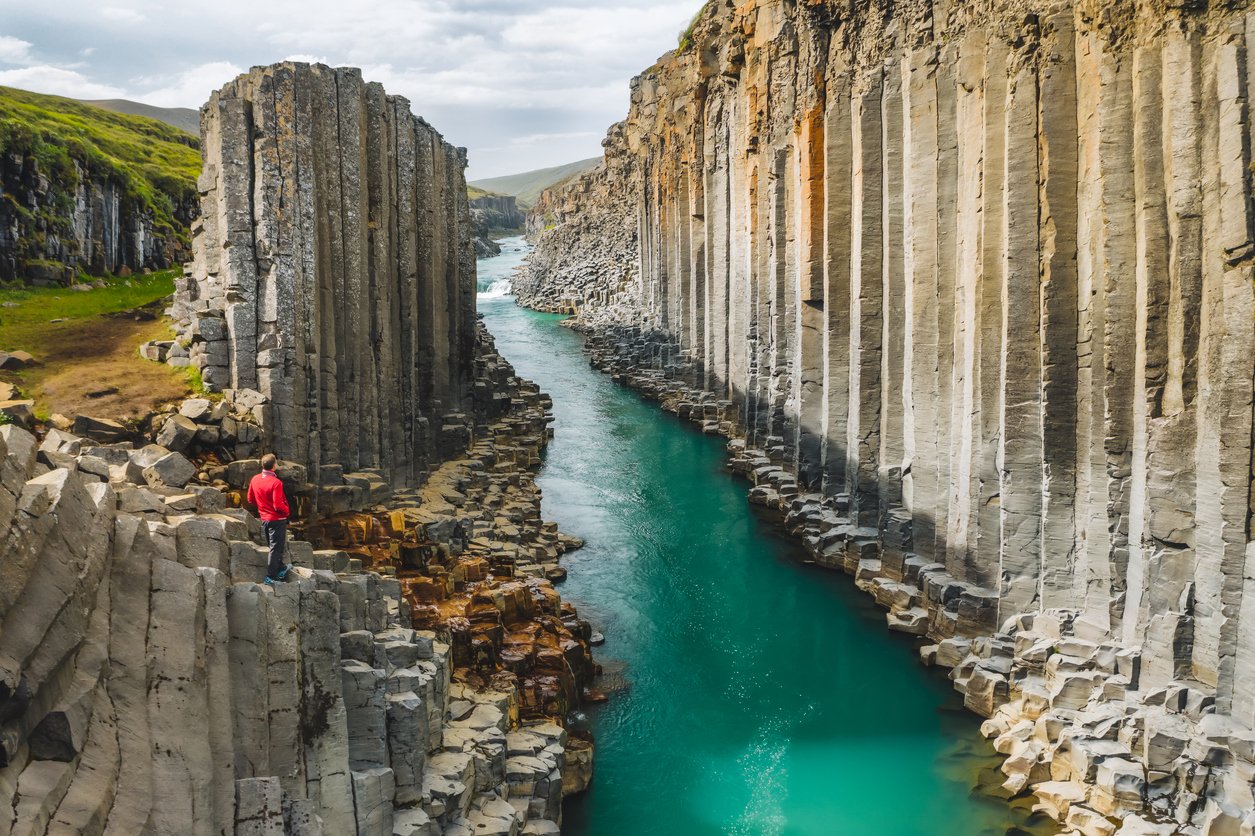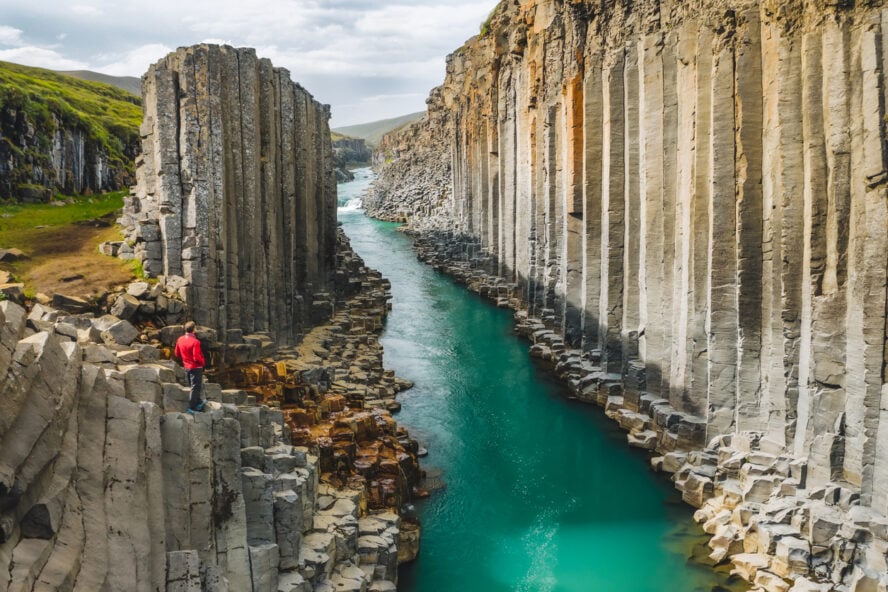 So, What Is the Best Time to Visit Iceland?
The short answer would be: there is no best month or season.
You see, Iceland can fill an entire calendar year with adventure to suit your taste and budget, but not all locations or activities are available year round. Choosing when to come depends entirely on what you're hoping to find: Are you more of a hiker or a skier? Do you want to see the Highlands or tour the ice caves? Does your idea of a perfect holiday include whale watching or chasing the aurora borealis?
To help you choose your personal best time to visit Iceland, I've put together a rundown of what each season has to offer. Knowing the pros and cons, you'll be able to plan your next trip around the activities you want to do, and the weather too.
Your Guide to the Seasons in the Land of Ice and Fire
The seasons are as varied as the topography, and each offers a distinct way to enjoy the landscape. Read on to learn more about what to expect throughout the year, from the weather to hours of daylight to the activities you can do.
Visiting Iceland in Winter
Gorgeous snow-covered landscapes
It's really not as cold as you think
Cheaper flights and smaller crowds
Christmas is a wonderful time in Reykjavík
Many roads are completely closed to traffic, limiting access to natural areas
Only 4-5 hours of daylight in December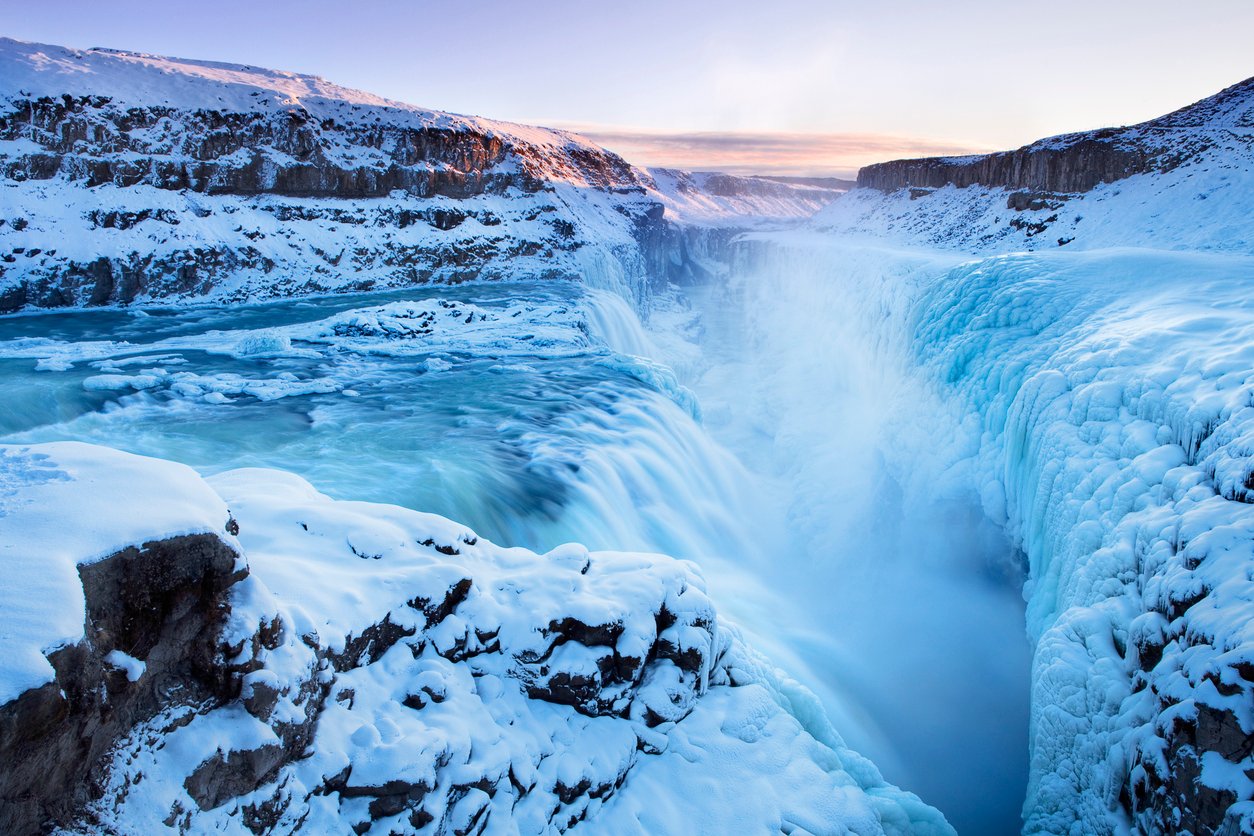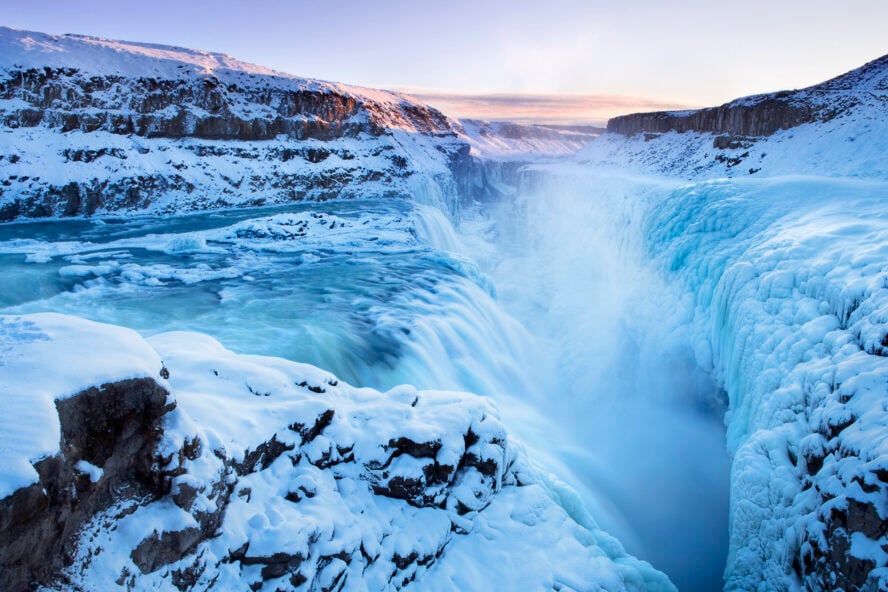 As the Earth slings along its orbit, Iceland gains one beautiful coat of paint after another. This transformation is most evident from November through March, when the island lives up to its chilly name. In the pale wintry light, the mountains and valleys are covered with deep blankets of snow, while the glaciers and ice caves emit an enchanting glow.
Temperature, weather, and daylight
Fast facts:
Average temperatures run around -15ºC in the north and −5 °C in the south (5 and 23 °F)

January and February are the coldest months

Winters are twice as windy as summers, with speeds averaging around 6.4 m/s (14.2 mph

)
People often imagine Iceland as perpetually frozen, but that's far from the case. In the south, for example, temperatures are known to be remarkably mild, which makes winter hiking in Iceland not only doable, but enjoyable. Thanks to the moderating effects of the Gulf Stream, which flows along the southern and western coasts, the temperatures there average around -5 to 0 °C (23 to 32 °F).
The northern part of the country, however, lies just below the Arctic Circle and sees colder winters with average temperatures around −15 °C (5 °F). Out in the open wilderness, what really makes the difference are the winds; being greeted by an icy gale will instantly bring you to shivers. That's why you need to know the golden rule: "Layers, layers, layers!" As any Nordic will tell you, there is no bad weather—only bad clothing.
So what are some activities you can look forward to in winter?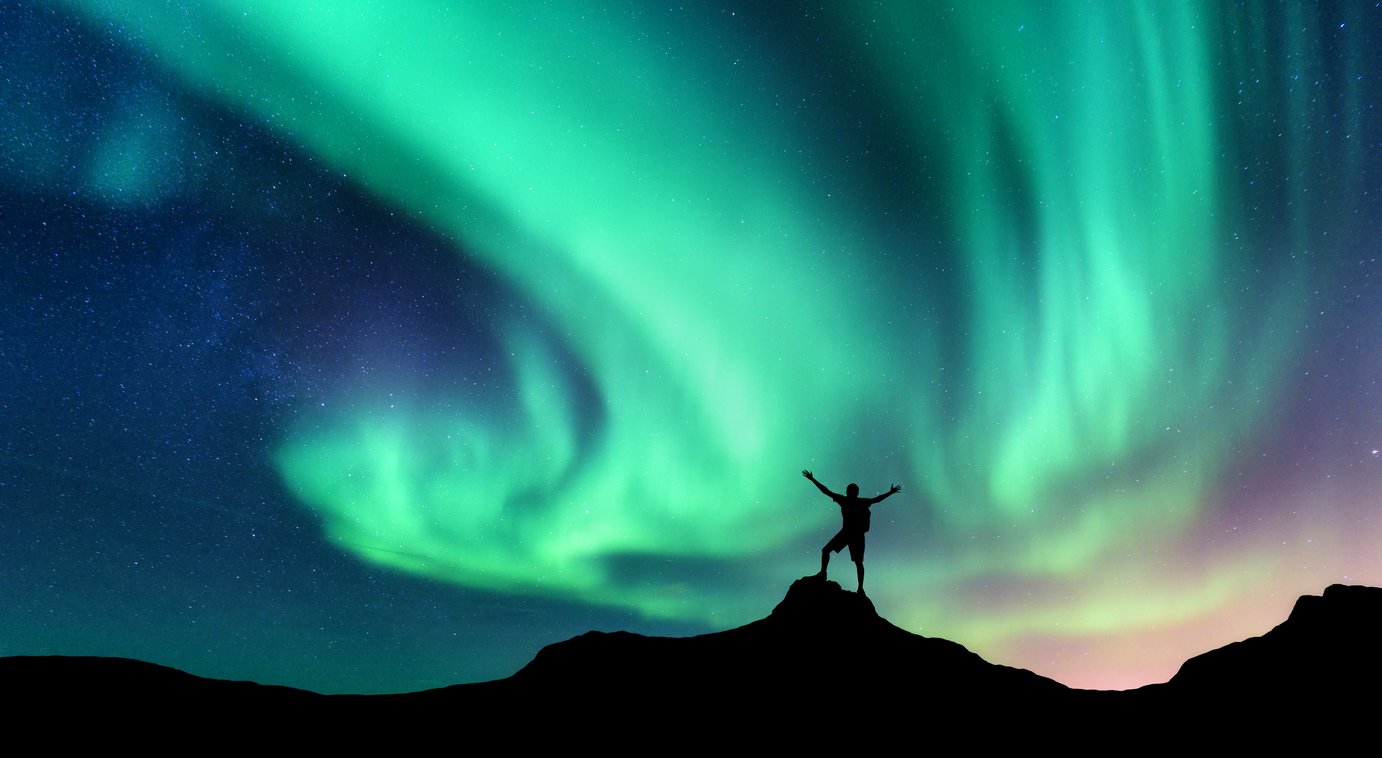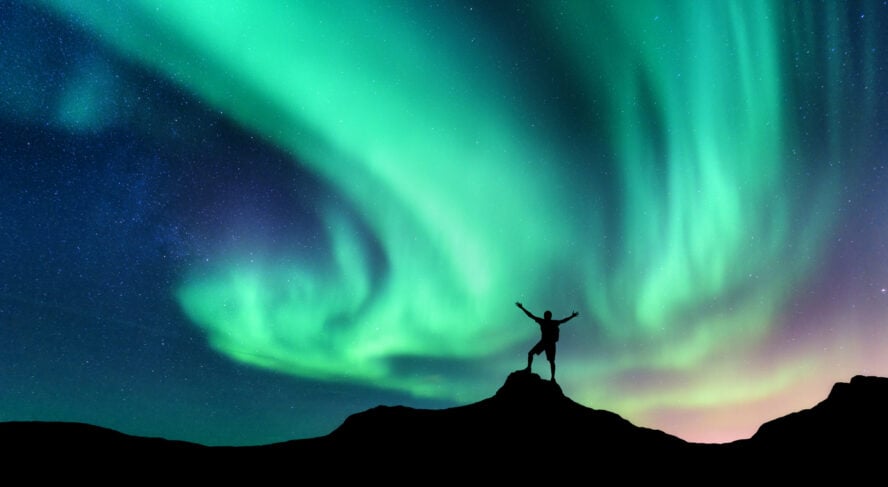 Ride into the icy wilderness
Powered by 4×4 drive, you can enter otherwise inaccessible regions and let your inspiration lead the way. Snowshoe to the peaks of dormant volcanoes, scale frozen waterfalls, hike across lava fields, and revel in the ever-changing landscapes on a winter hiking adventure in Iceland. As soon as the sky darkens, keep an eye out for the Northern Lights above.
Hike your way across giant glaciers
When we're talking about the best time to visit Iceland for hiking, winter is a strong candidate for two reasons. The first is the ethereal beauty of the frozen landscapes, whose vivid colors and bewitching glimmer cannot be reproduced in summer, when the snowmelt reveals an unpleasant layer of volcanic ash. The second is the added challenge of facing the harsh winter conditions, which makes the objective all the more exciting (for some).
Bask in the radiant glow of crystal caves
Iceland's caves are among my favorite sights in winter. There are two types to distinguish here: regular caves covered in sheets of perennial ice, and glacier caves, which are created when running water or geothermal heat carves a tunnel to the heart of a glacier. Their mesmerizing deep blue walls make for the perfect photo backdrop.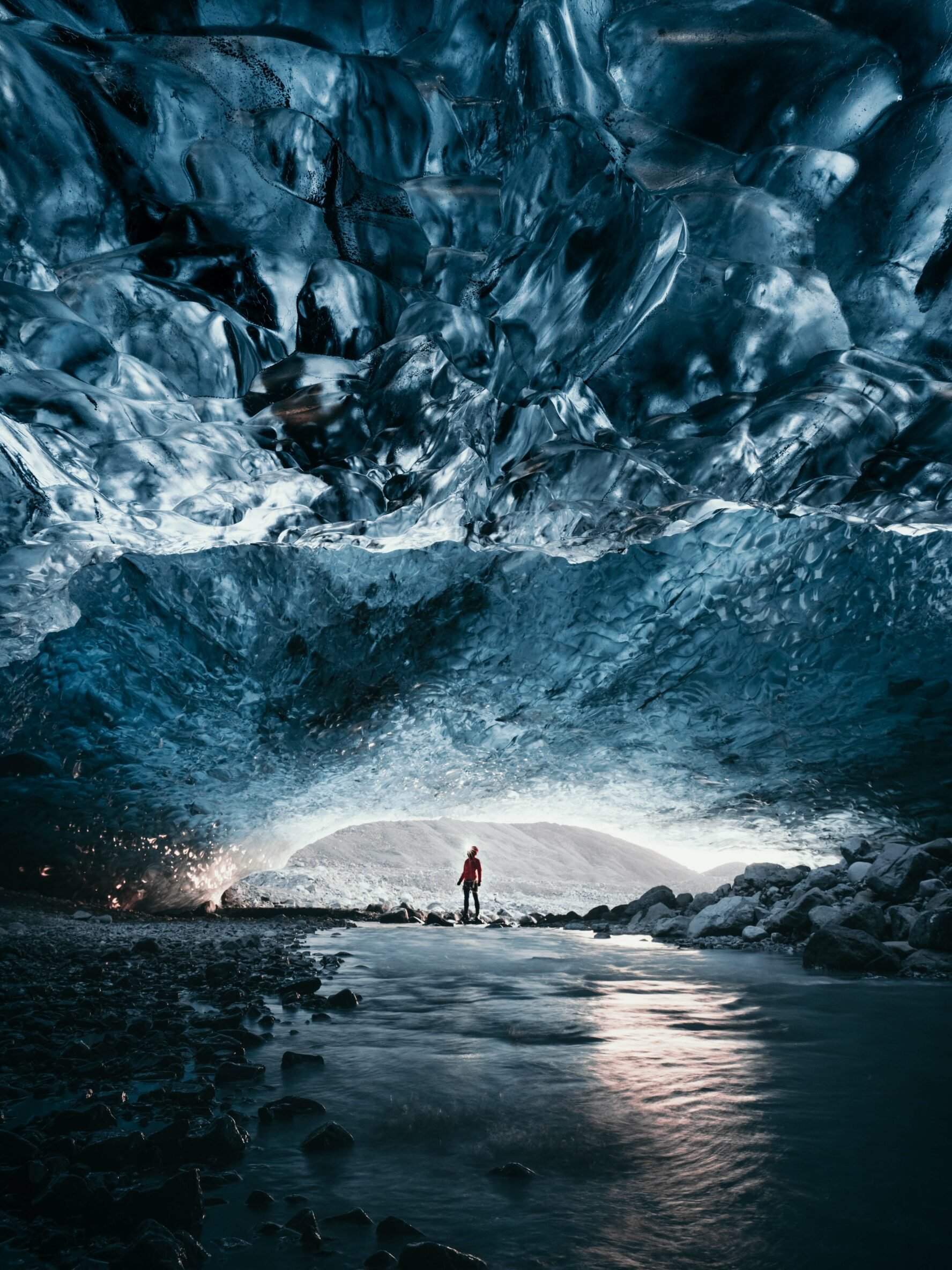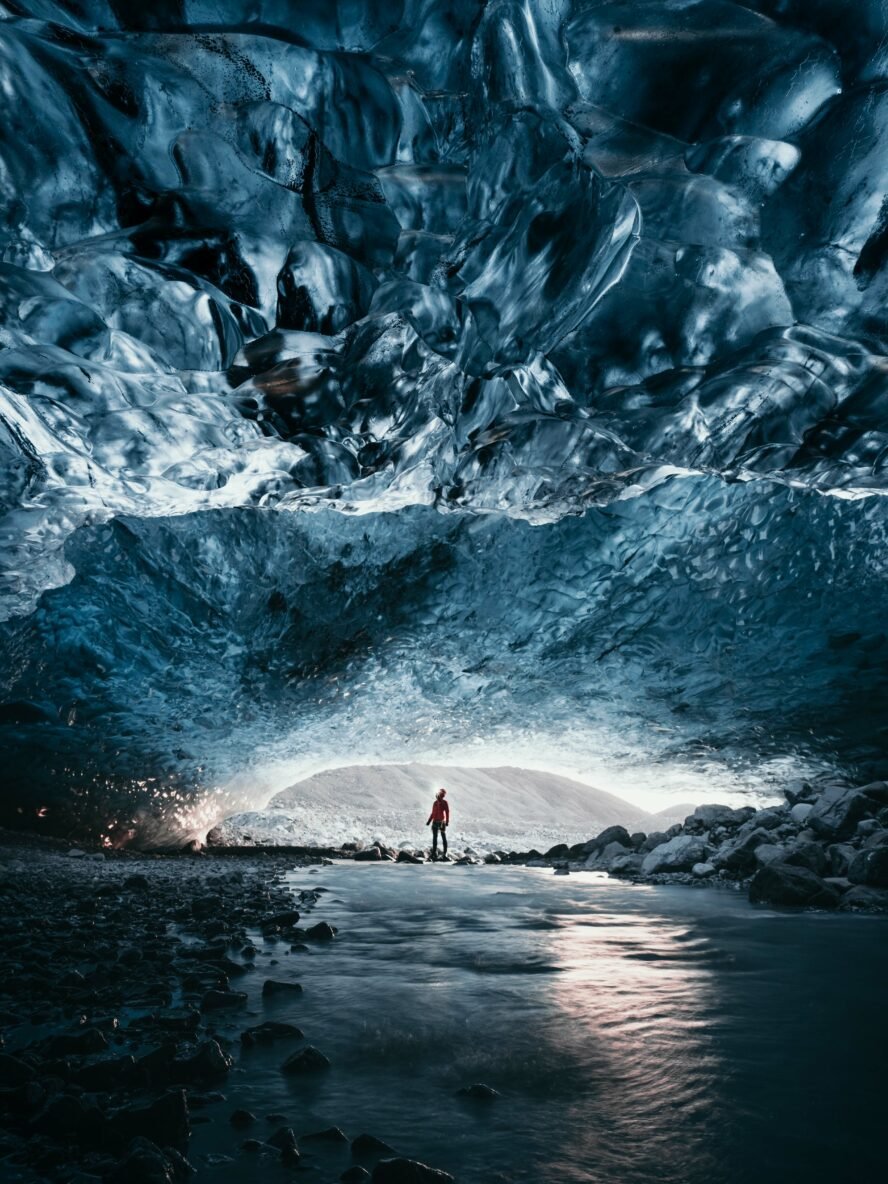 Visiting Iceland in Spring
The waterfalls are in full force
Perfect season for wildlife watching
Golden sunsets and blooming fields
Cheapest time to travel to Iceland
Very unpredictable weather
Not as epic as winter or summer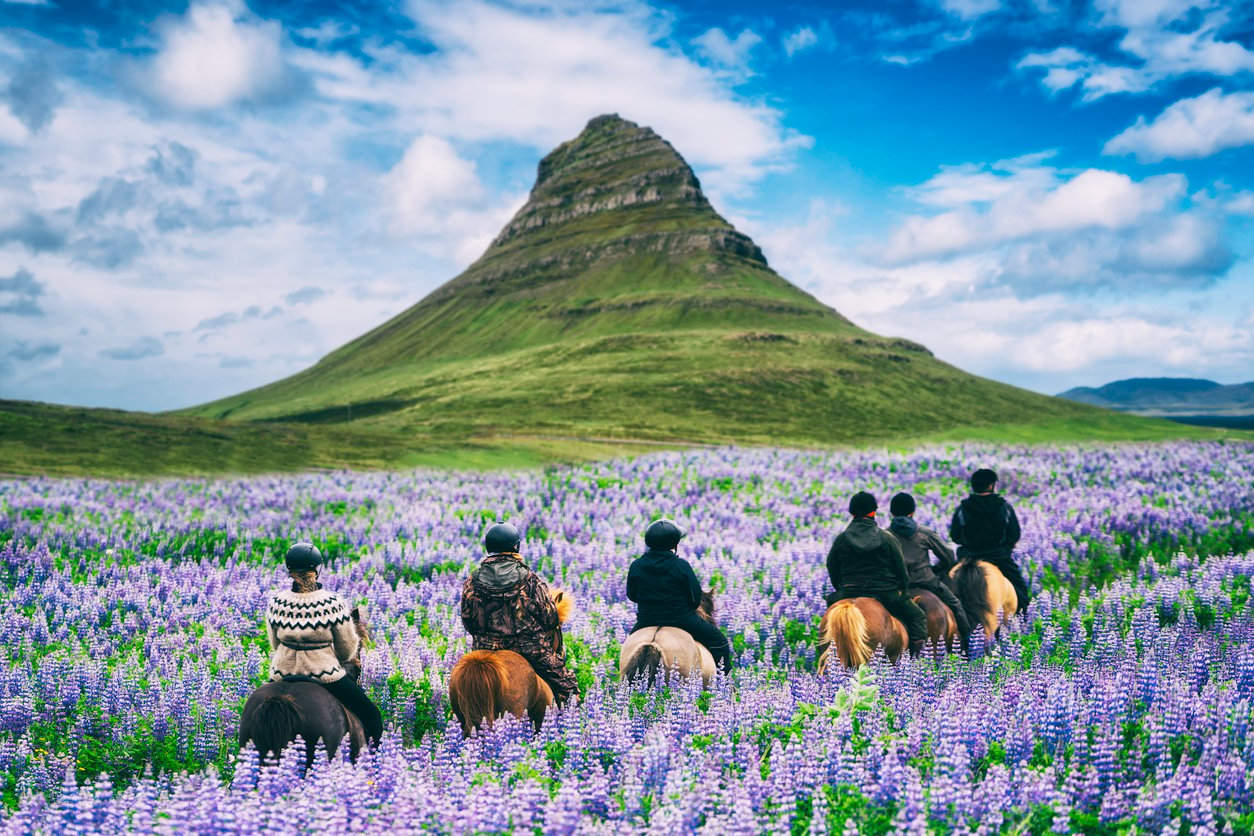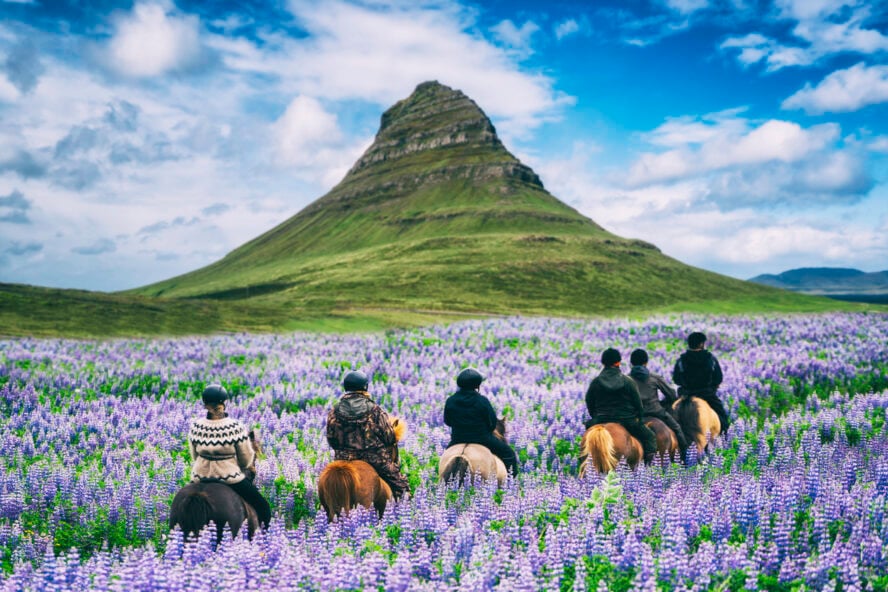 Spring is Iceland's off-season and the lull before the onrush of summer tourists. This means that, from late March to late June, you'll be able see the highlights of your checklist, but without the crowds—or heavy expenses.
Iceland is a pricey destination, and visiting off-season is a good way to get your dream vacation without necessarily breaking the bank. Flight tickets, car rentals, entrance fees and other expenses will set you back significantly less while still delivering an experience to remember.
Temperature, weather, and daylight
In these milder months, temperatures range from 0 to 10 °C (32 to 50 °F) and you can expect to have 10-13 hours of daylight. That should be more than enough to fill your daily itinerary to the brim.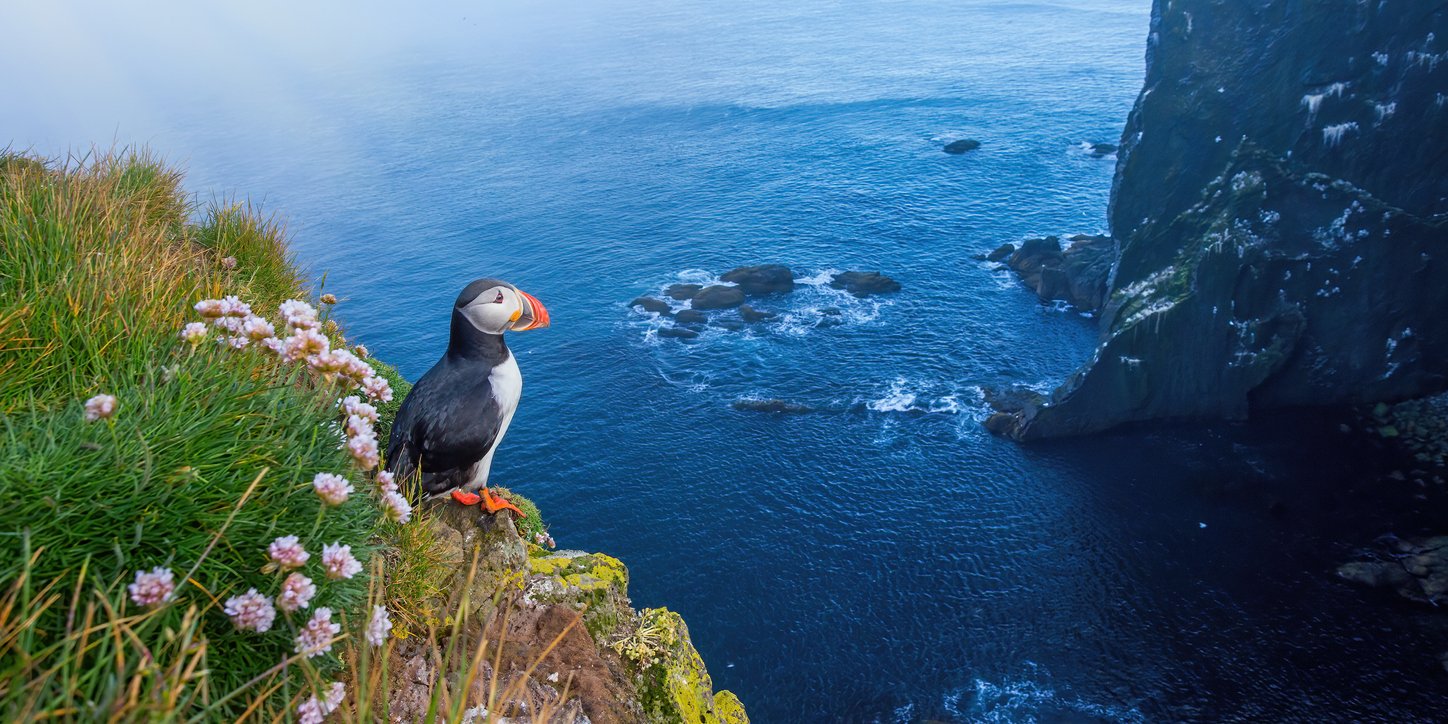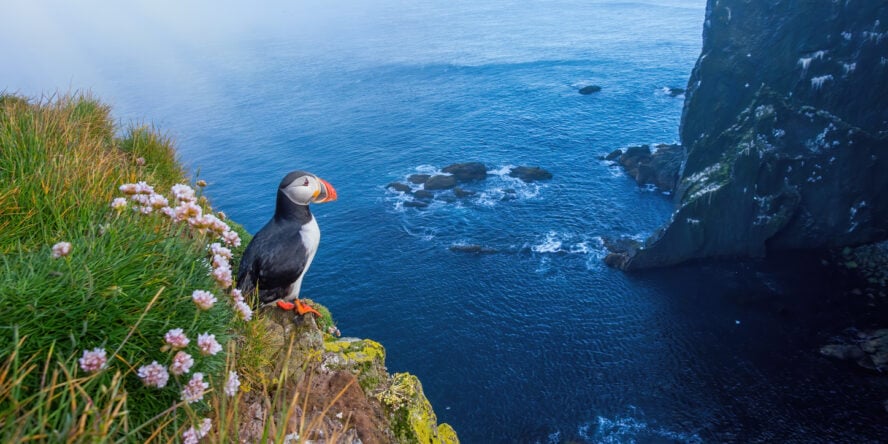 Go huffin' for puffins in early April
With its colorful beak and tuxedo attire, the Atlantic puffin is one of the most recognizable symbols of Iceland. These cute birds tend to nest along the island's rocky coastline in early April, giving curious hikers a chance to snap memorable photos. You can find plenty of puffins on the South Coast or deep in the northwestern region of Westfjords.
Catch a glimpse of the largest mammals on Earth
Another favorite springtime activity in Iceland is whale watching. You can spot many different species circling the island, including minke, humpback, sperm whales and orcas. The two easiest ways of doing so are either driving to the coast of the North Iceland region (the towns of Húsavík and Akureyri are a safe bet) or simply going on a whale watching boat tour in Reykjavík.
Witness some of the country's 10,000 waterfalls
Come springtime, Iceland's waterfalls are fed by abundant meltwater—these misty curtains rush and roar through glacial valleys and fjords with the beat of a thousand drums. Some of my favorites are the famous Gulfoss, which sits on the Golden Circle sightseeing route, the 200-meter Glymur located outside the capital, or the towering cascade of Seljalandsfoss, which can be admired from a nearby footpath that leads to a cave behind it.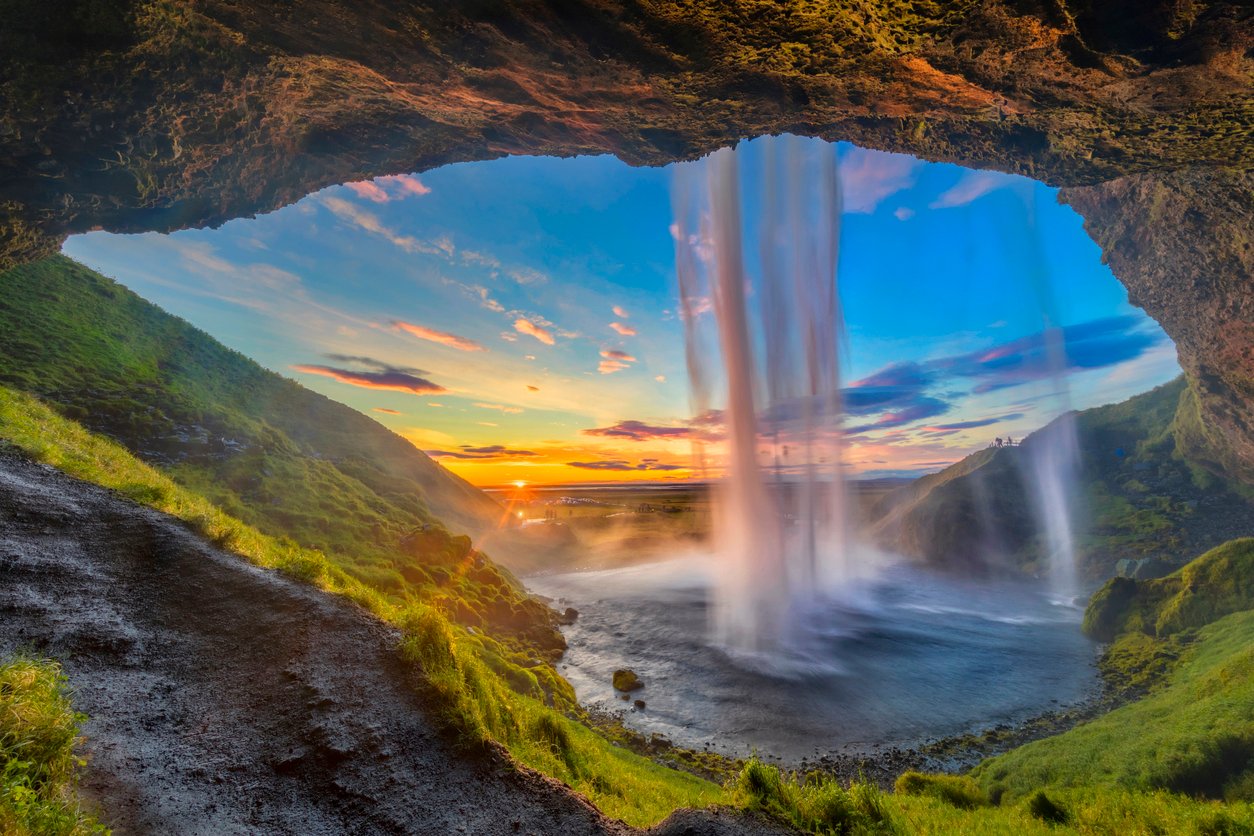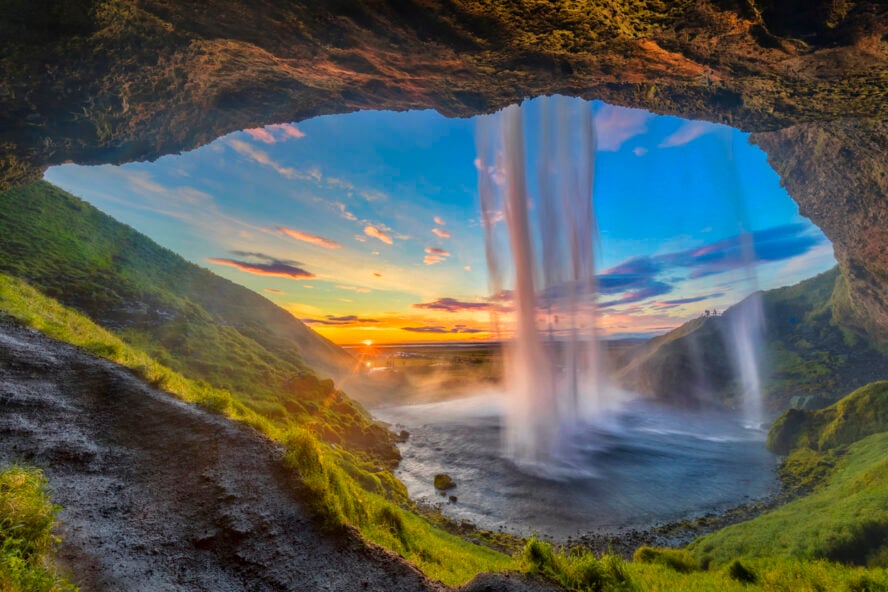 Visiting Iceland in Summer
Best time to hike in Iceland
Over 20 hours of daylight
The Highlands are open to regular traffic
Rubbing elbows with the crowds
No northern lights for you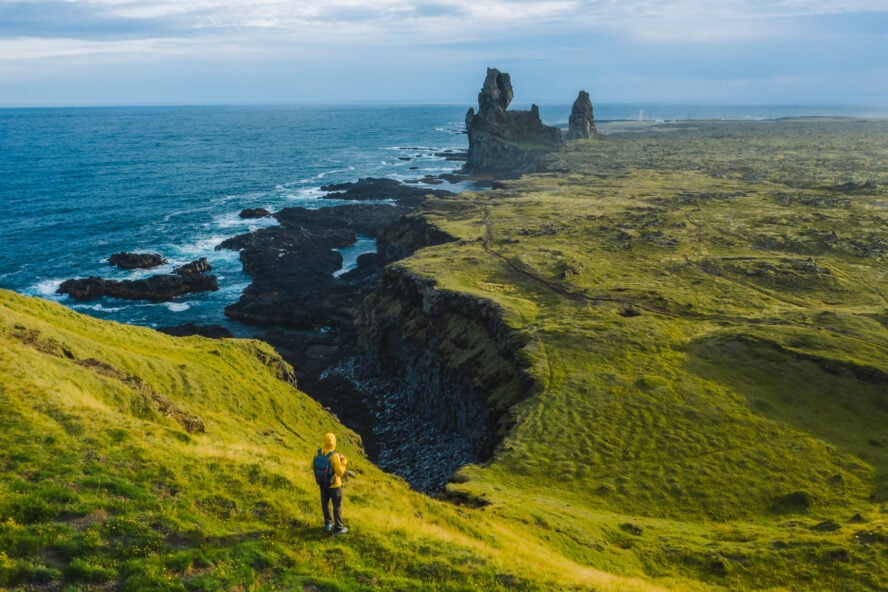 Summer is without a doubt Iceland's peak season, when this frozen giant fully wakes from its slumber. With every corner of the island at your disposal, the opportunities are endless. Between June and August—Iceland's warmest months—you're free to go hiking the Laugavegur Trail or, surprisingly, ski touring in Iceland.
Temperature, weather, and daylight
Temperatures in the summer range anywhere from 5 to 18 °C (41 to 64 °F) with 20-22 hours of daylight. The season is dry by Iceland's standards, while the frequent winds make the days and nights pleasantly cool. Nevertheless, sudden changes in weather can happen at any time, so try to keep an eye on the forecast.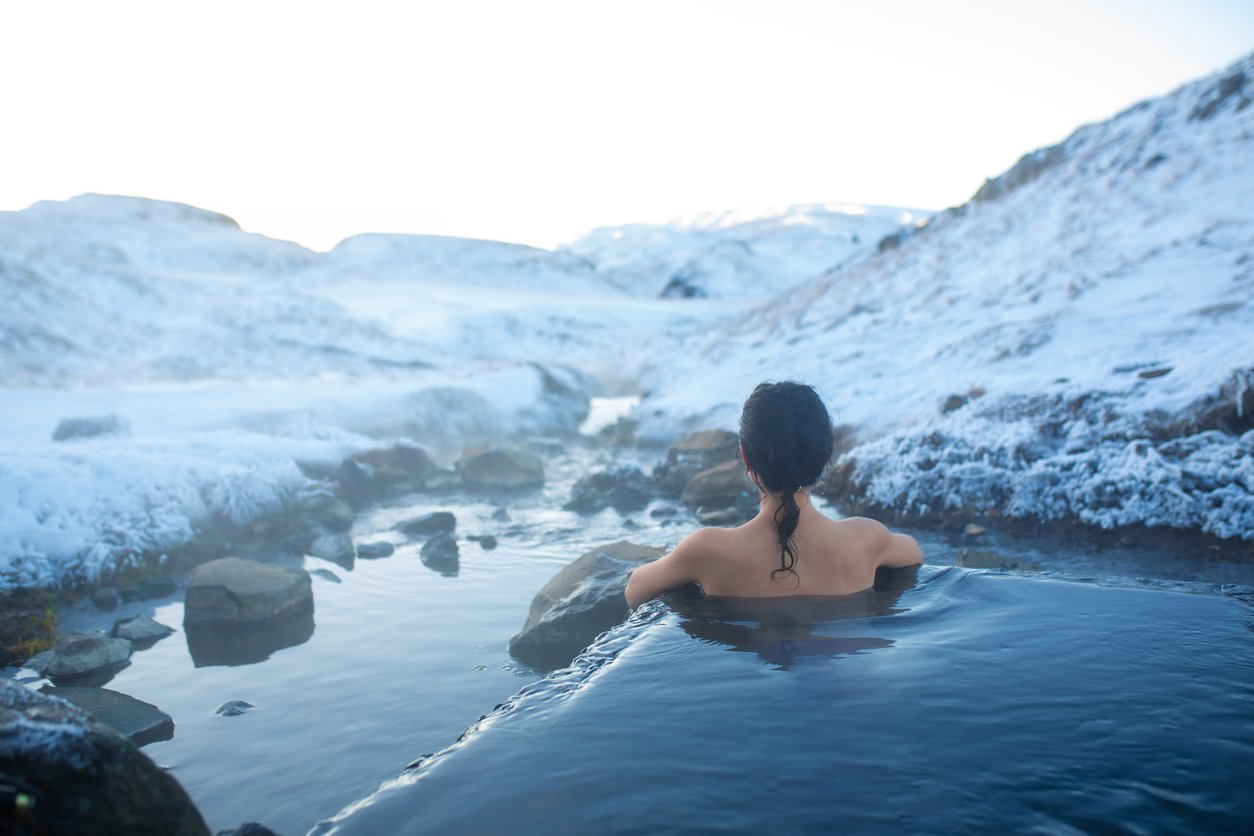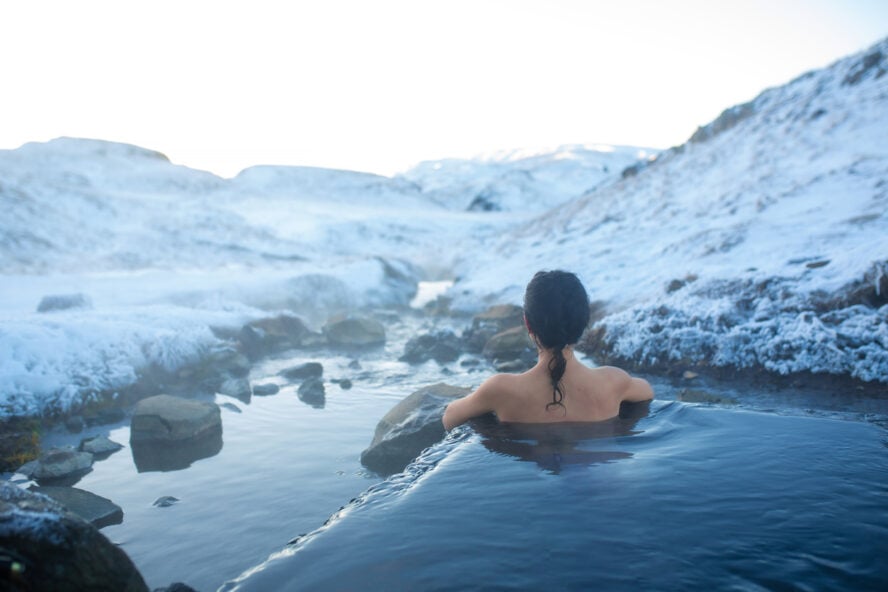 High season for hiking
While most people hike the Laugavegur Trail at this time, some prefer getting away from the crowds. Way, way away. If you belong to the latter group, hiking the Hidden Trails in Iceland is an immersive tour of the Icelandic wilderness that will scratch the itch of seclusion. Just note that a tour like this requires you have a professional guide by your side.
If you've ever wondered what an Iceland volcano hike actually looks like, this is the best time and place to find out. But if you'd like to explore away from the more popular Highlands, you can always head to the North in search of the finest volcano ski touring in Iceland. No wonder they call it the Land of Ice and Fire!
Heal your body and soul in natural hot springs
As one of the most volcanically active places in the world, Iceland is home to hundreds of natural hot springs, which are created when groundwater heated by the Earth's crust emerges onto the surface. You can find these springs scattered all over the island (especially if you hike the hidden trails of Iceland), along with man-made geothermal pools like the Blue Lagoon, which is a great summer spot for basking in the midnight sun.
Ski the slopes from summit to sea
Despite joining the backcountry fray later than most major destinations you know, this rugged snowland comfortably shreds with the best of them. The excellent backcountry ski touring on the Troll Peninsula is proof of that. For starters, there's no tree skiing because, well, there are hardly any trees to speak of. Secondly, due to the island's unique geography, you're on perfect corn all the way to the mountain-kissing sea.
Trek through the surreal Icelandic wilderness
Many hikers consider summer to be the best time to travel to Iceland. Whether you're going for a classic Laugavegur Trail guided hike or you're on a mission to hike and climb the Three Peaks of Iceland, the colorful rhyolite mountains, jet-black sand beaches, and ancient fields of radiant moss will have you buzzing with vibrant hues and shapes.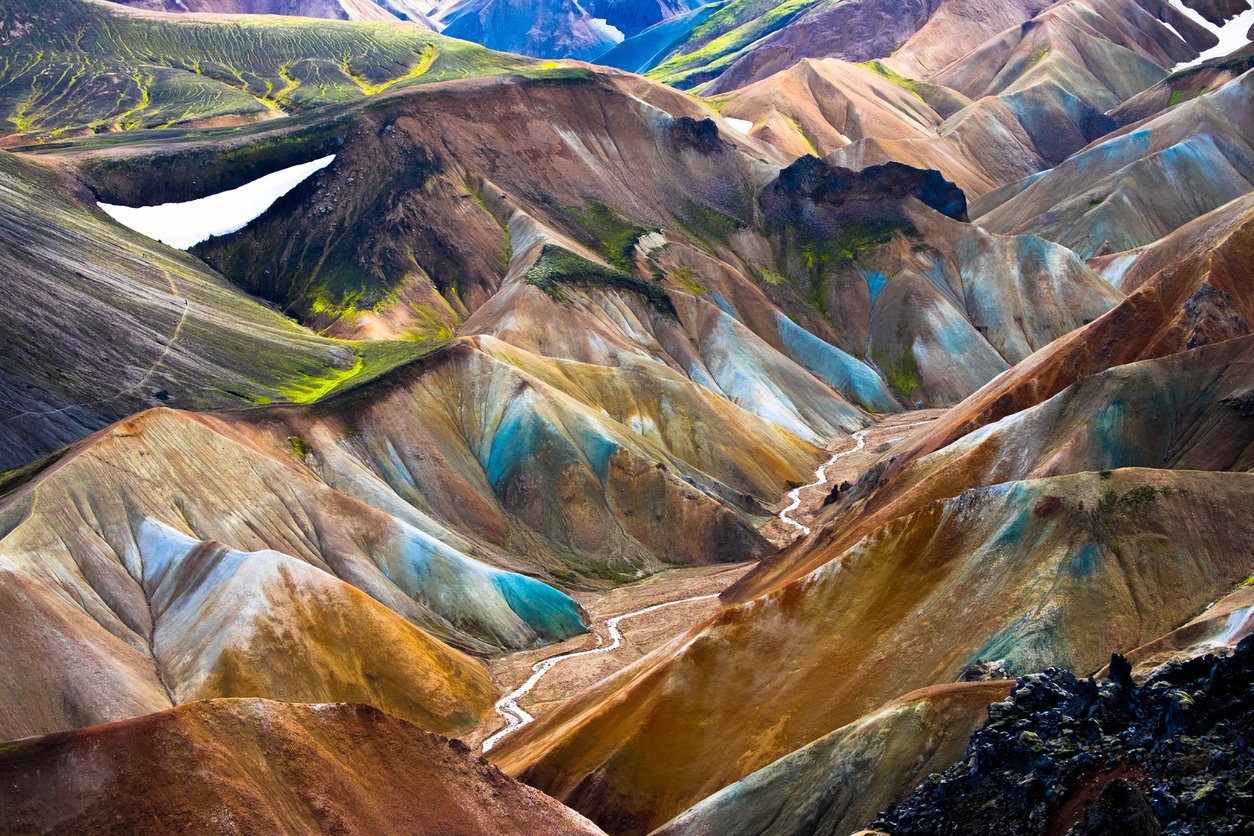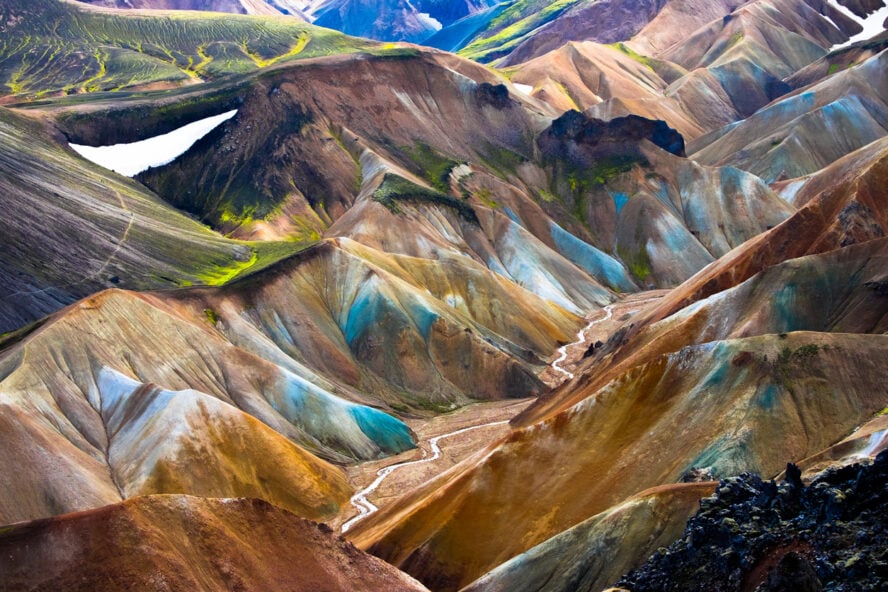 Fields and valleys draped in beautiful colors
Arguably the best time to see the Northern Lights
Least crowded time of the year
Not as exciting as peak seasons
You miss out on Iceland's famous green valley vistas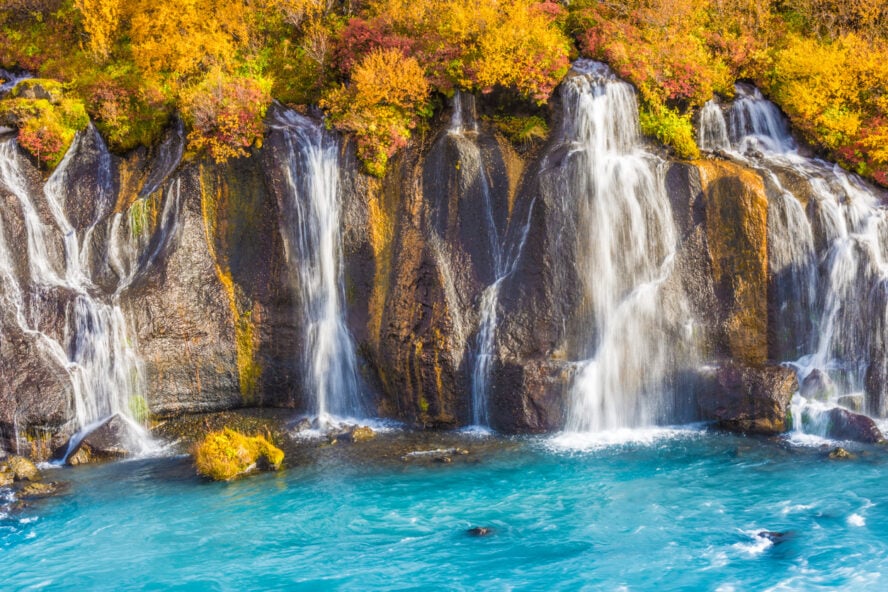 And finally we have fall, our off-peak, when the foliage casts away its green pigment and dons a bright autumnal coat. If you're looking for the best season to visit Iceland for some peace and quiet in gorgeous scenery, September and October is the time to do it.
Temperature, weather, and daylight
Throughout this short season, the temperature fluctuates between 2 and 6 °C (36 to 43 °F), which is still pleasant enough for multi-day trips in the wilderness. Even though the nights are not as long as in winter, more stable weather conditions significantly increase your chances of catching the northern lights when you hike and drive through isolated Iceland.
With no crowds to mess up your plans, you can map out whatever itinerary you'd like. In particular, if you're looking for off-piste adventures, a backcountry skiing and van trip in Iceland will let you hit the open road to discover out-of-bound gems that may otherwise be busy or inaccessible.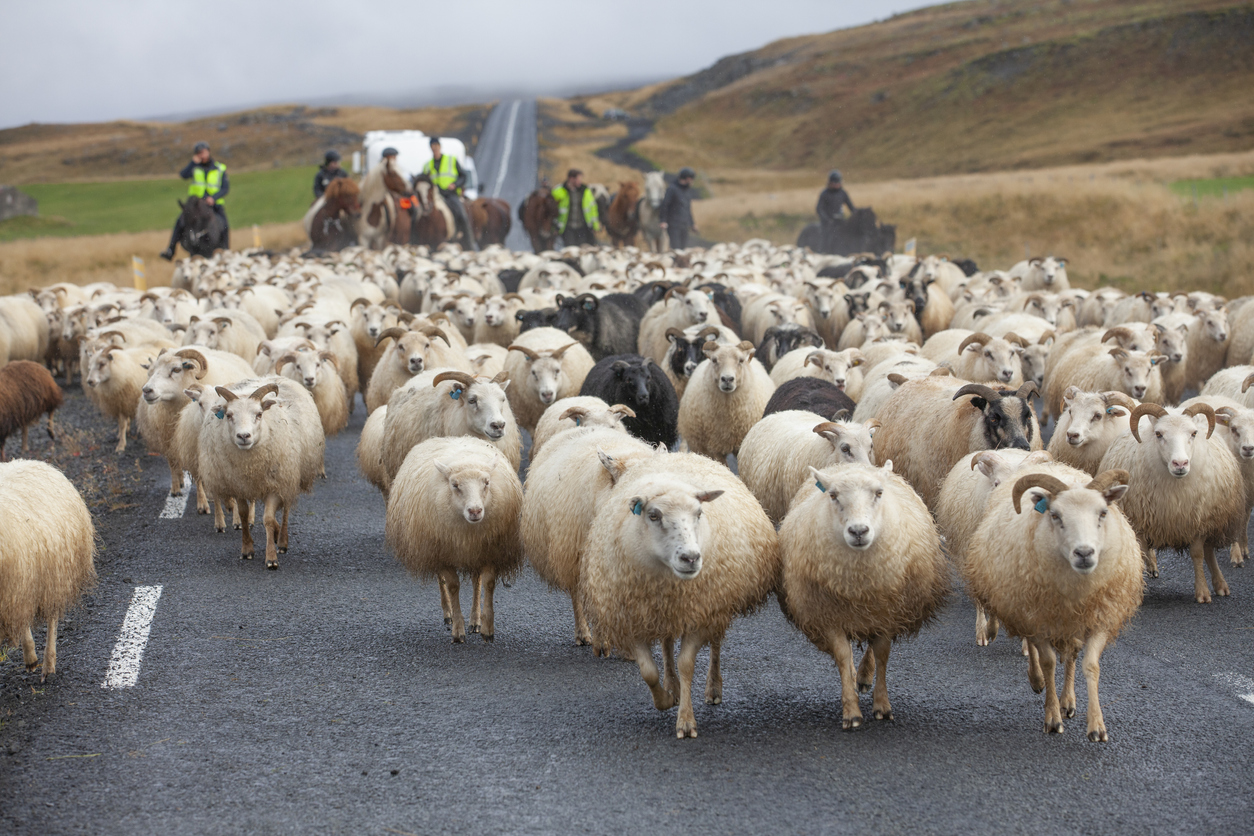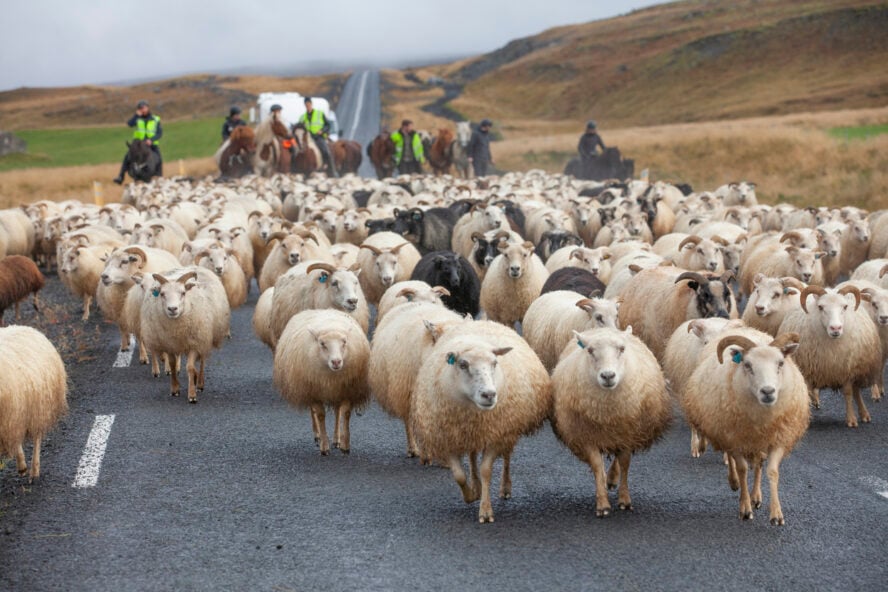 Participate in "réttir"—Iceland's annual animal roundup
Sheep are an integral part of Iceland's culture, economy, and identity. Nowhere is this more evident than in rettir, one of Iceland's longest traditions. Every fall, local sheep and horse farmers band together to gather their animals, which had been left to roam the mountains all summer. After the wrangling is done, a huge celebration ensues, complete with picnics, live music, dancing and drinking long into the night.
Hunt for wild mushrooms and berries
Fall is a wonderful time to go out looking for tasty treats to sweeten your day. In late August and September, a favorite local pastime is making jams and juices from hand-picked blueberries, crowberries, strawberries, and redcurrants. Also, after a productive day in the field, a hearty mushroom stew is just what the doctor prescribed. And the best part is—you can do all of this within the capital area.
Chase the northern lights
First of all, you should know that there's no guarantee you will see the aurora borealis on your trip to Iceland. There's always an element of luck to this pursuit. That being said, you can maximize your chances by knowing when to visit Iceland.
Winter has more night hours on average, but fall profits from much stable weather. Generally, the period between September and December is the sweet spot, while February and March are strong contenders as well. For more info, you can check out professional photographer Tate Drucker's tips on how to see the northern lights in Iceland.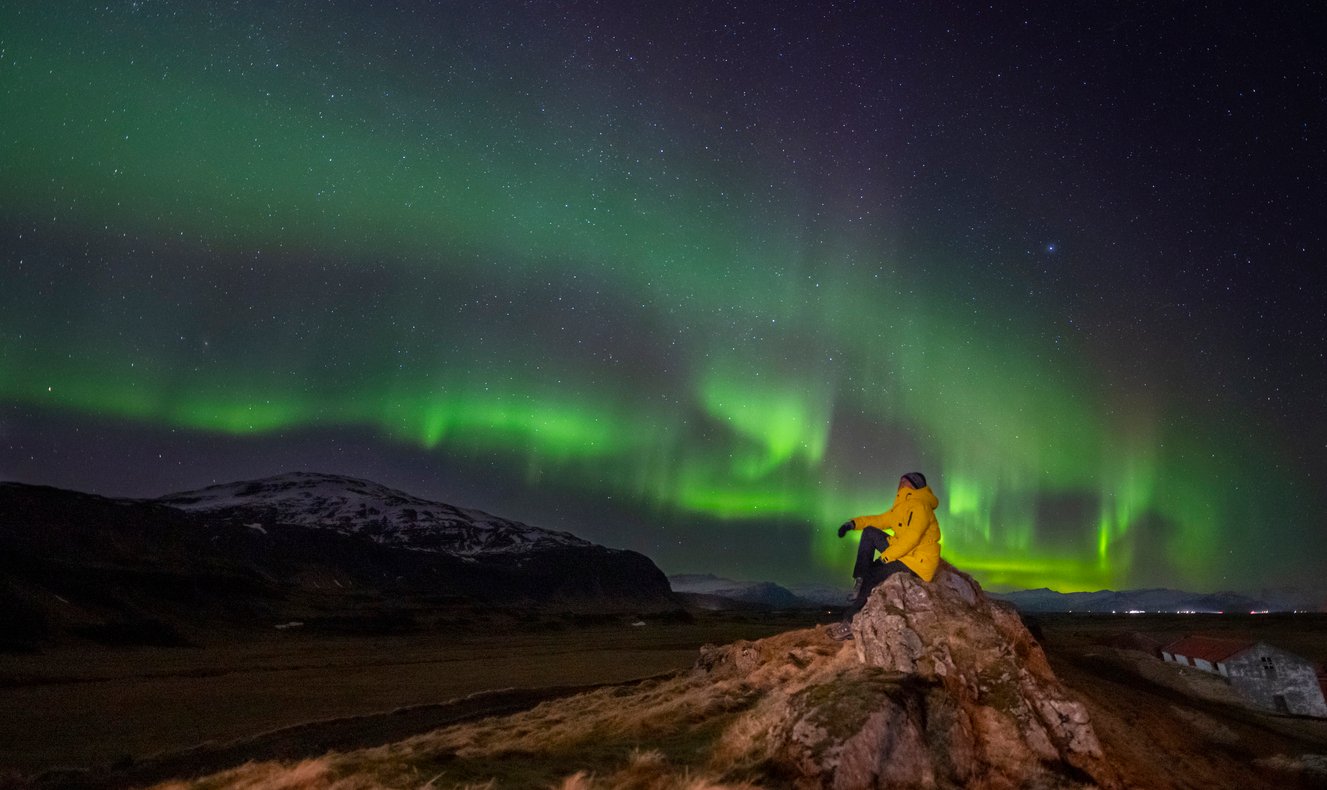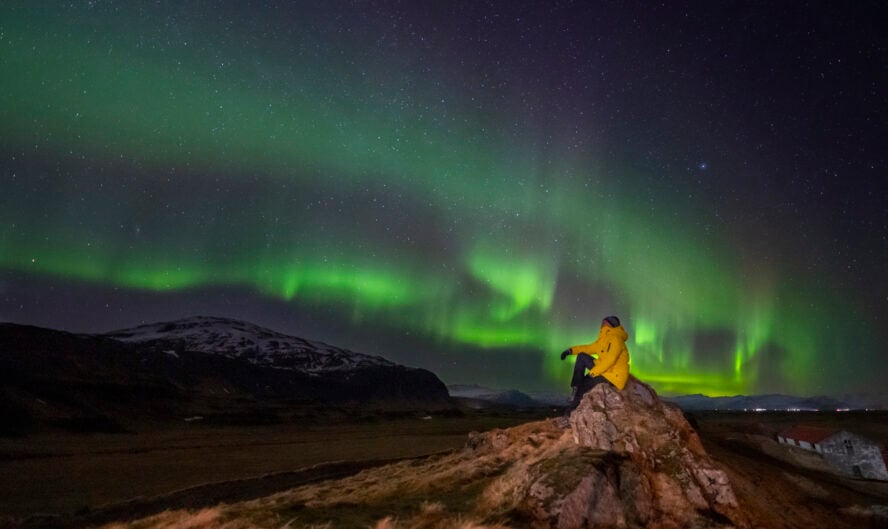 Good-to-know Info For Visiting Iceland
Getting to and From Iceland
There are two ways of reaching Iceland: by airplane or by ferry. Around 20 airlines offer regular flights to Keflavík, the country's main international airport. Located about 50km (31 mi) southwest of Reykjavík, this is where the majority of tourists arrive. To reach Iceland by ferry, you'll need to board the Smyril Line from Denmark. This method is used by people who prefer to bring their own car.
Accommodation in Iceland
Like any tourist destination worth its salt, Iceland has a wide selection of accommodation options for international travelers, from high-class to no-budget. On the cheaper side, there are plenty of Airbnbs, hostels, and camping grounds available at all times. For a more luxurious experience, you can find dazzling downtown apartments, 5-star hotels, and cozy glass igloos for watching the northern lights.
Getting around Iceland
Iceland's road system is extensive and fairly simple to navigate. The easiest way to get around is to follow the Ring Road, which circles the entire island connecting the most densely populated areas of the country. It's open year round, except in case of extreme blizzards. To enter the Highlands, you need to take the F-roads, unpaved tracks that require 4×4 Jeeps. You can usually use them between June and August.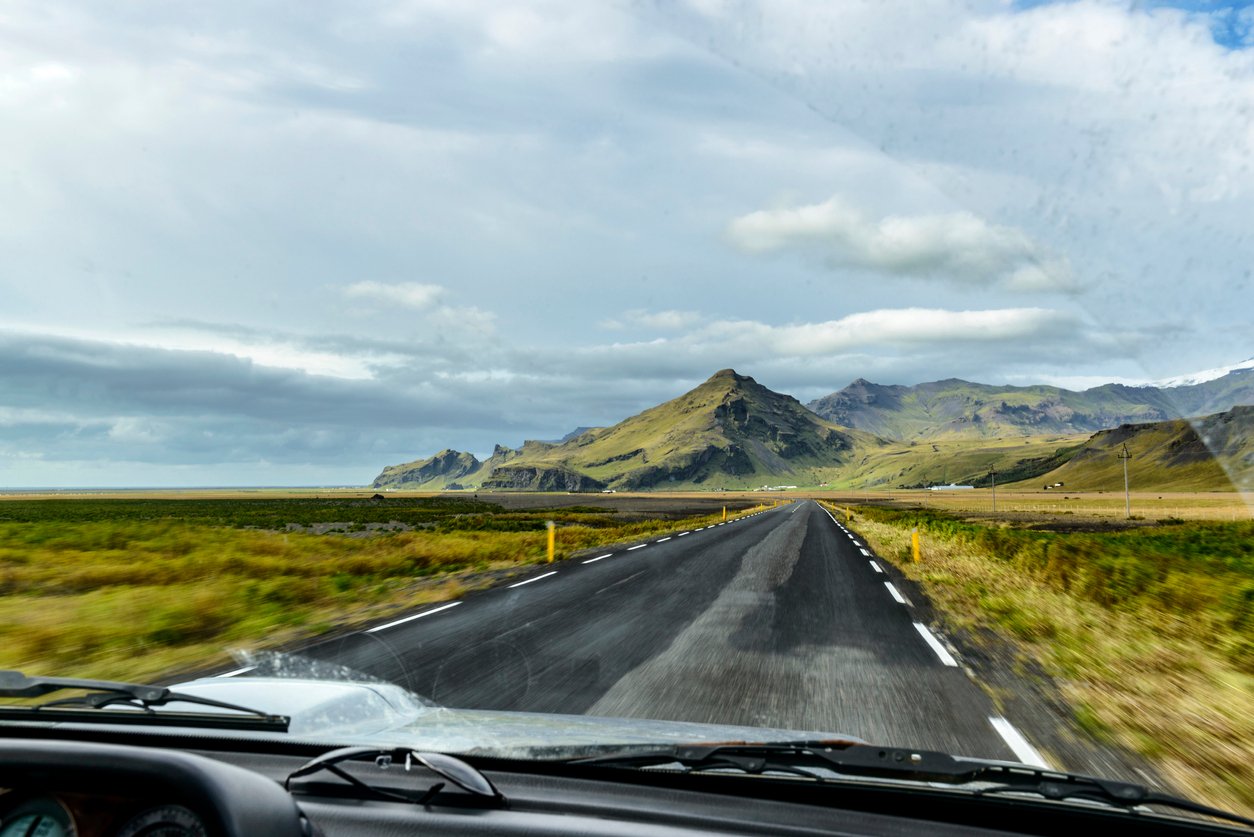 Travel costs in Iceland
Iceland is not the most affordable tourist destination, but there's always a way to manage your budget even in the remotest spots. Your expenses will depend on what kind of experience you're looking for. If you're open to using local transportation, sleeping in hostels or camping, you could make do with around $80 a day. If you plan on renting a car, dining in restaurants, paying for museum fees and activities like whale watching, you're looking at $250 or more a day.
Safety tips for Iceland
You'd be hard pressed to find a safer country anywhere. With one of the lowest crime rates in the world and no dangerous predators to speak of, Iceland is as good as it gets. The only real danger lies in the whims of Mother Nature. You should always be prepared for sudden changes in weather. In case of snowstorms and blizzards, don't go into the wilderness without a guide and proper equipment, and make sure to check the forecast and road conditions regularly.
Why go on a guided trip in Iceland
If you're just planning on sticking to the Ring Road and visiting the odd museum or marketplace in town, you'll be just fine on your own. But for anything bigger, like exploring the ice caves, hiking on glaciers, or going on a day hiking tour in Landmannalaugar Valley, you'll need a guide by your side. Their knowledge of the terrain, weather, history, and—most importantly—proper safety procedures are indispensable for any outing in the Icelandic wilderness.
In recent years, specialized trips for all-women and 50+ groups have become popular as well. These would be difficult to coordinate on your own, but organized trips, such as the co-ed hiking tour of Thorsmork for over 50s or the women's great hiking voyage in Iceland, are a great choice if you're traveling solo or interested in joining others of a similar age or gender.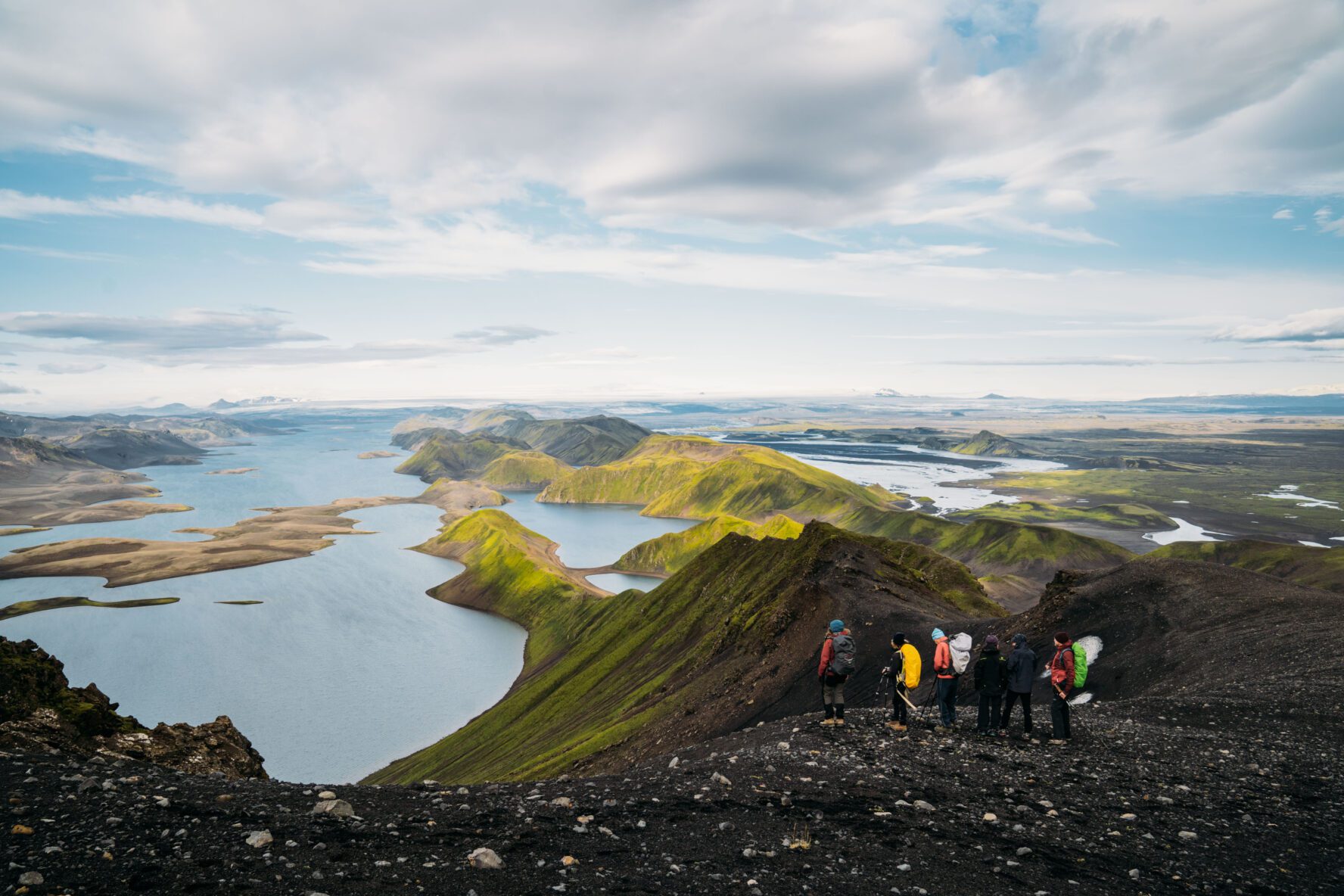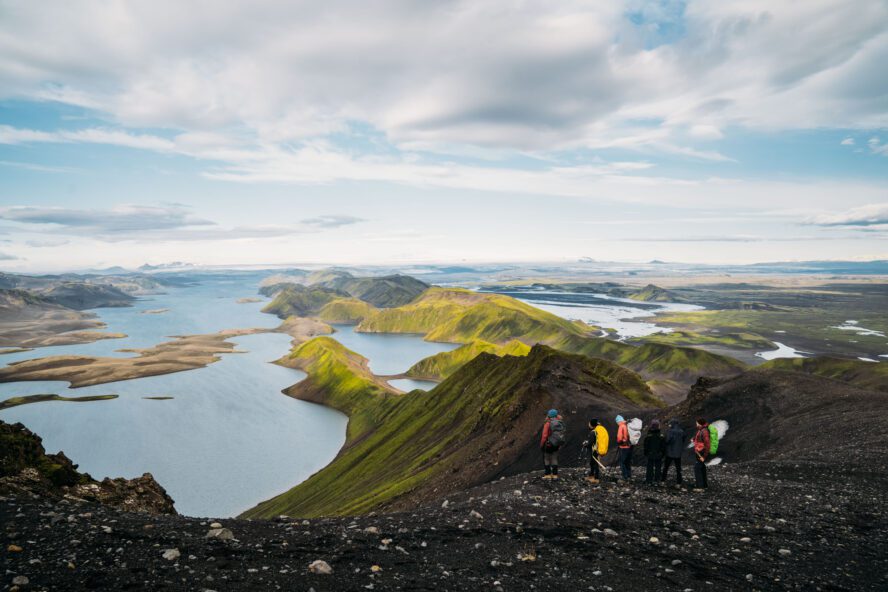 Oh, the Bittersweet Temptation of Choices!
I hope I've managed to make your decision process at least a little bit easier. Planning a big trip like this is not an easy task, especially with so much conflicting information floating around the internet.
When choosing the best time to visit Iceland, it's important to consider your budget, timeframe, and which activities you'd like to try. No matter your age, experience, or fitness level, there's enough wonders in this tiny corner of the world to keep you busy year round.
That would be all from me. Thanks for reading and safe travels!
Are you ready to enter the Land of Ice and Fire? Choose your best time for an adventure in Iceland and revel in its wild charms!