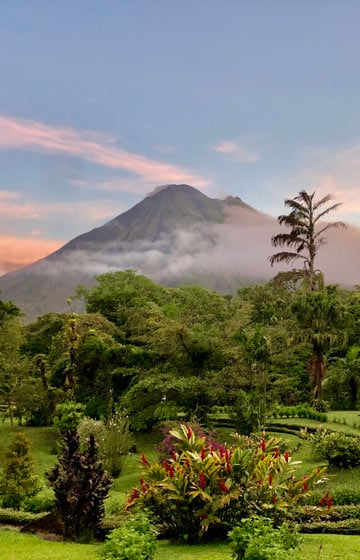 Explore the Volcanoes, Waterfalls and Wildlife of Costa Rica
Heaven is a place on Earth and its name is Costa Rica. As mossy rolling hills rise to volcanic peaks and balmy rainforests, this land of riches prides itself on its enviable biodiversity.
Over 8 days, you'll navigate the unspoiled nature of Central America via rafts, bikes, on foot and on horseback—or even rappelling down waterfalls and zipping through stretches of primordial forests. With no designated routes to limit your freedom you'll discover a lifetime of adventure and experience the true meaning of la pura vida.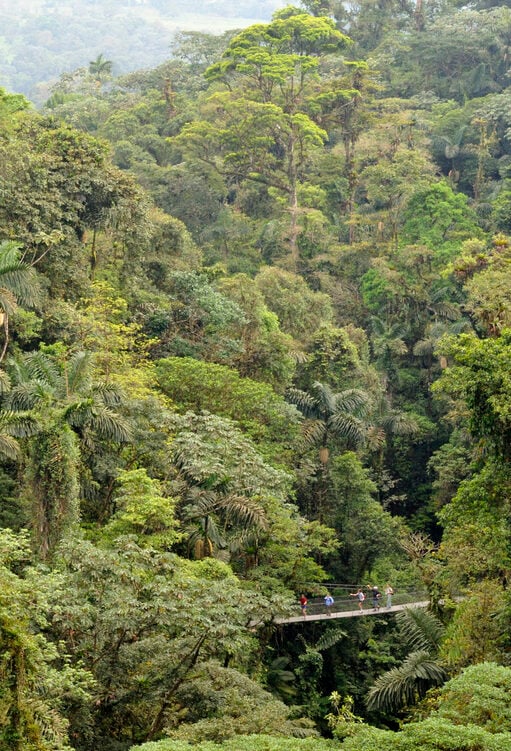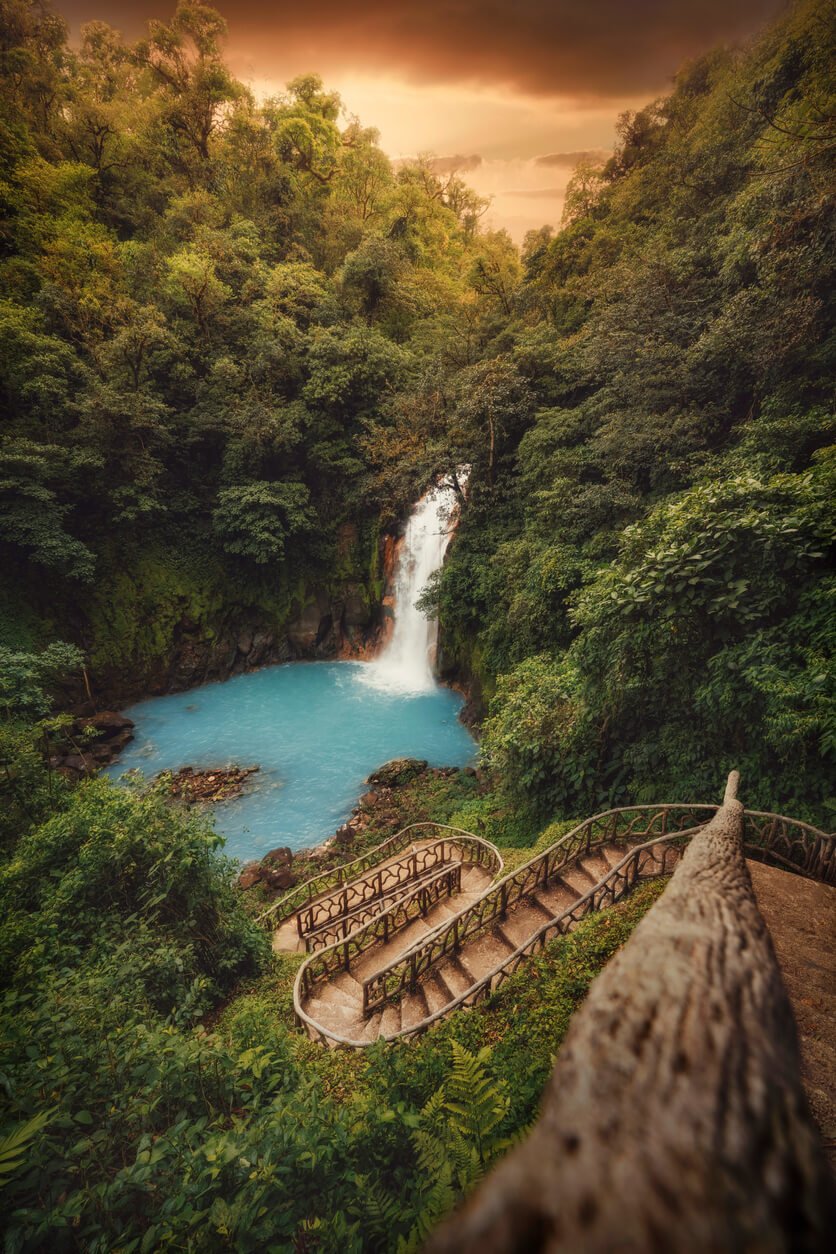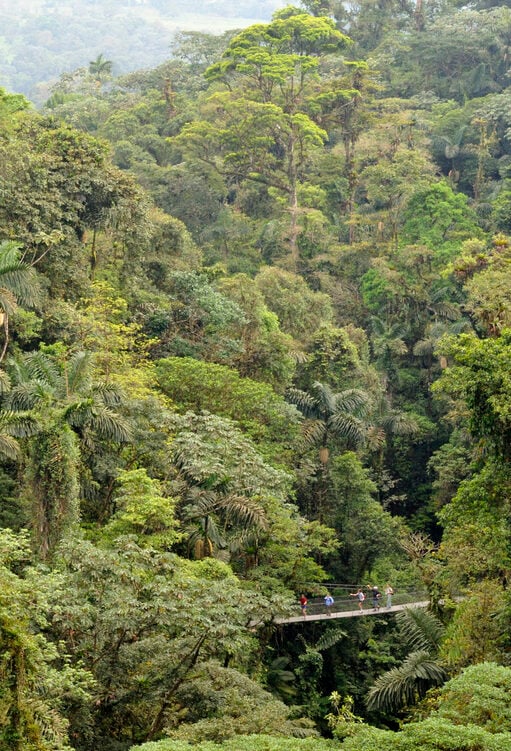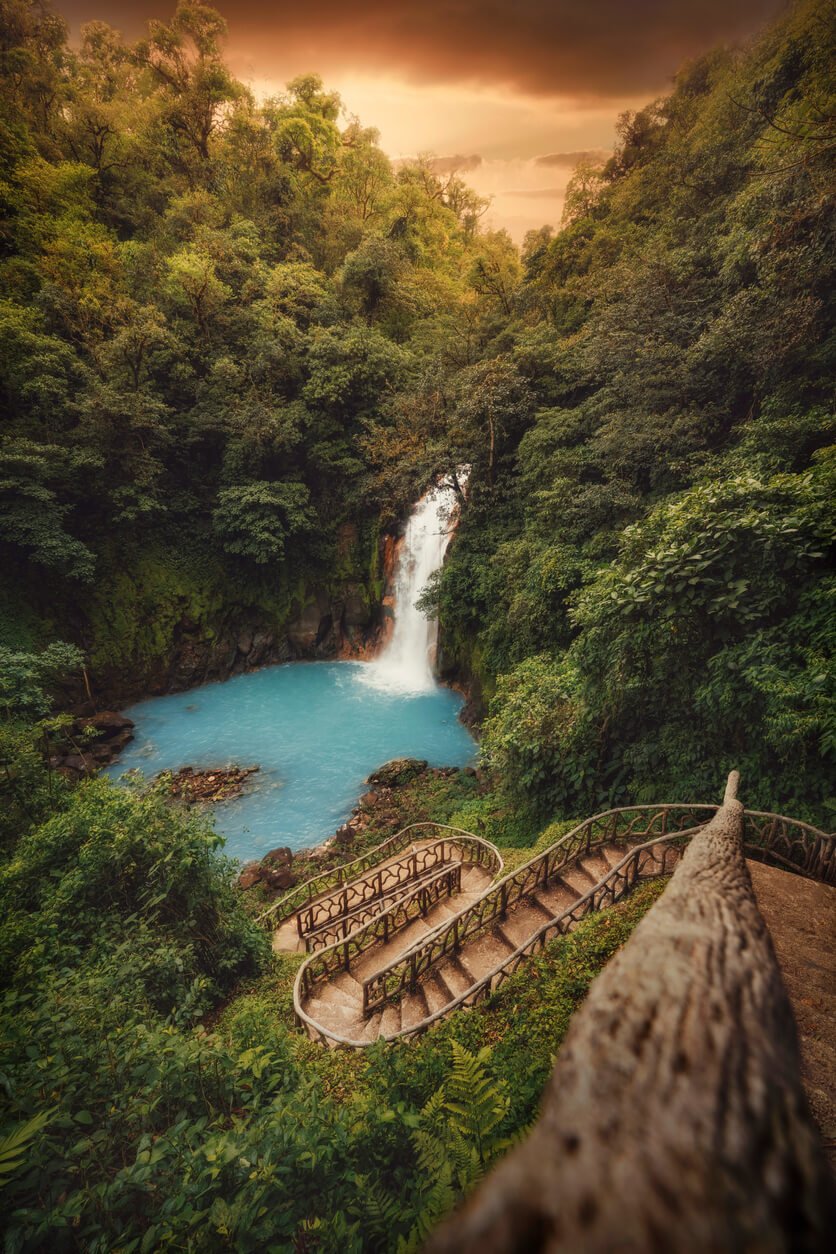 Where the jungle meets the ocean
Set between the Pacific and Caribbean coast, Costa Rica's jungled interior melts into fertile valleys, golden beaches and turquoise waters, all of it connected by a sprawling network of hiking and biking trails.
With a quarter of its land dedicated to national parks and wildlife refuges, this luxuriant coastal country is brimming with tropical life. The vigorous vegetation is home to a riot of curious-looking creatures whose vibrant shapes and colors sing of endless summer.
HIKE, KAYAK & BIKE
SWIM, PADDLE & RAPPEL
CLOUD FORESTS
67 VOLCANOES
EXOTIC WILDLIFE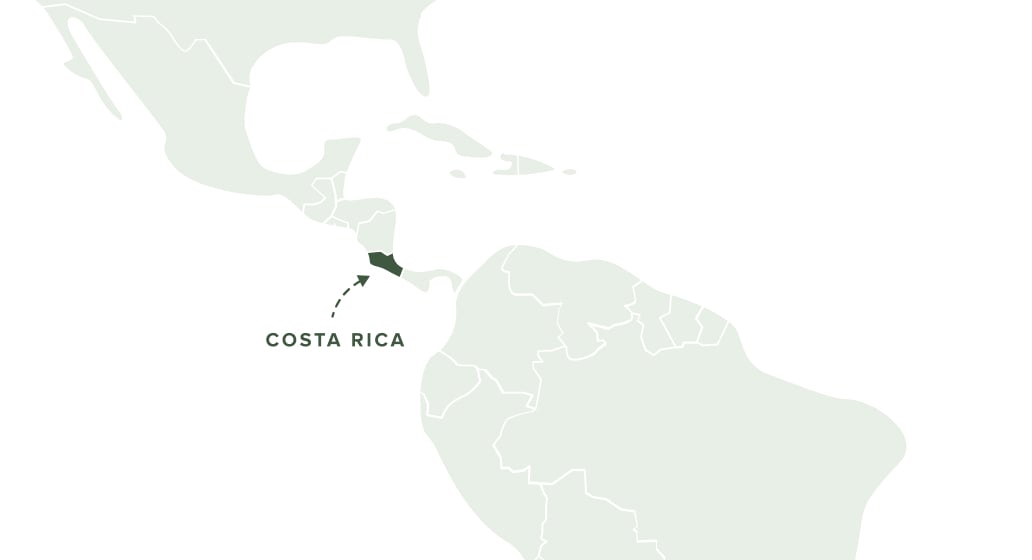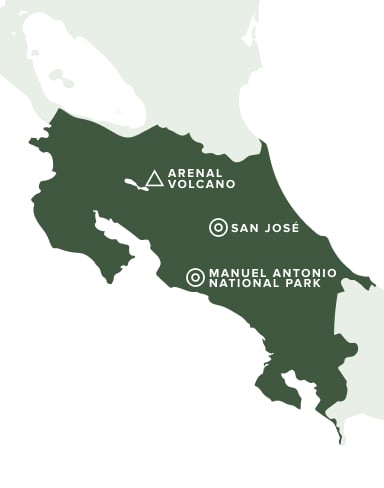 Explore the countless wonders of Costa Rica
Trace the tropical treasures
Smoke on the water, fire in the sky
As part of the Pacific Ring of Fire, Costa Rica was born of fire and shaped by seismic forces that shook it to the ground. You can still see this dynamism at play among its 6 active and 61 dormant or extinct volcanoes. Until 2010, the smoldering Arenal stratovolcano was the country's most active, with an average of 41 eruptions per day!
Climb between the hidden summits of volcanoes in the Central Highlands. Irazú has several active craters, but the most recognizable one is Diego de la Haya—a mineral-rich lake whose color often changes from emerald green to crimson red.
Shadowed by the solemn presence of volcanic mountains, Costa Rica's hot springs invite you to linger and unwind. Soak your muscles in mineral-laden waters and feel your fatigue disappear into a cloud of steam.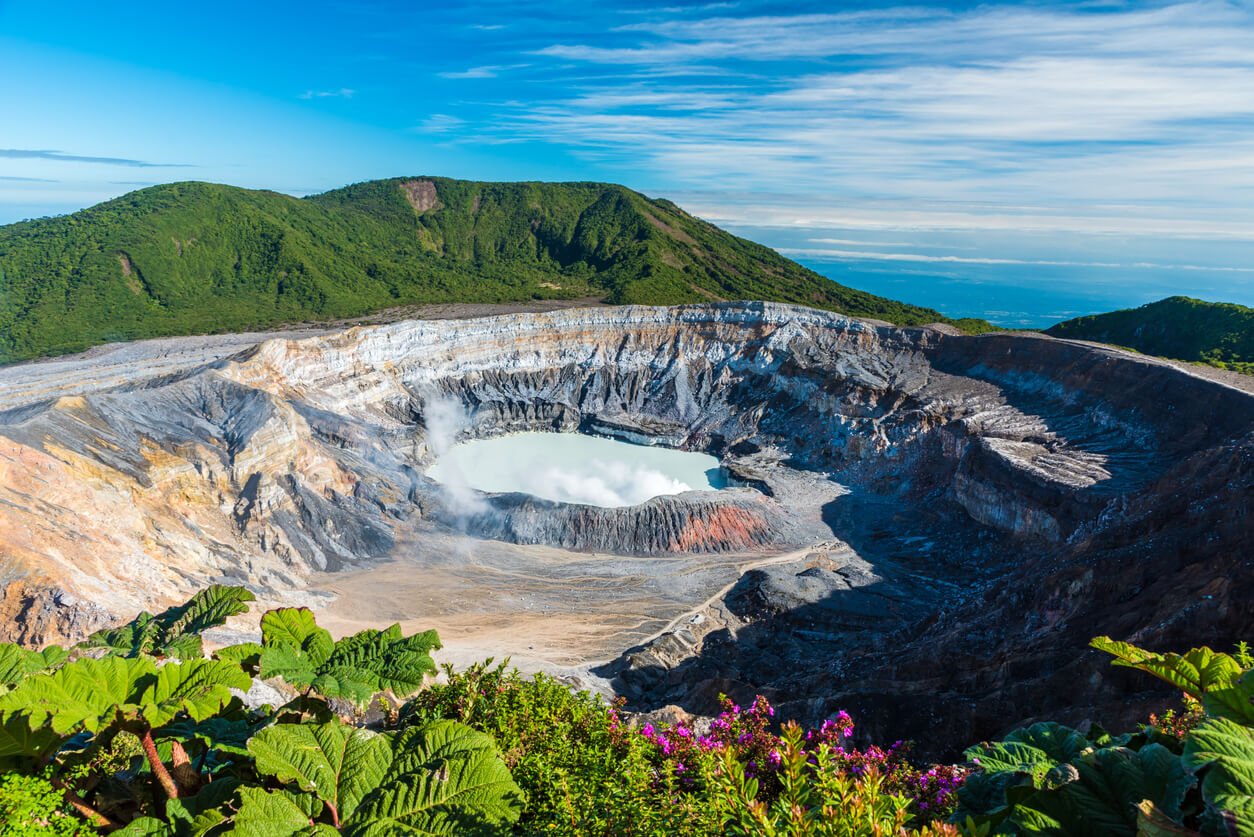 Cool off under the rushing torrents of waterfalls
Plummeting waterfalls punctuate this craggy landscape. With a climate marked by torrential rains, the 14 major river systems give life to countless falls gushing out from the rainforest canopy and into refreshing pools just waiting to be jumped in.
Situated at the base of the Chato volcano, the 230-foot (70m) cascade of La Fortuna is a great place to cool off after a tiring walk in the tropical heat. If you're the daring type, chase an adrenaline rush with a canyoning adventure and appreciate the untameable forces of nature from another angle.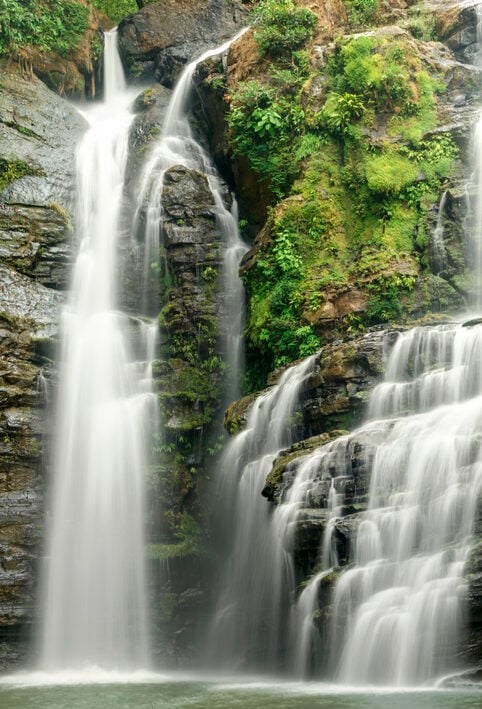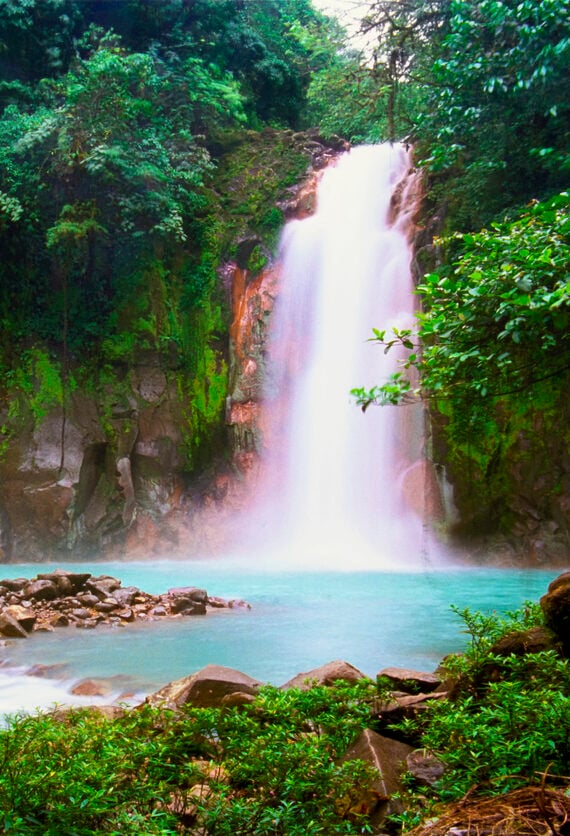 Paddle through coastal riches
Criss-cross into a remarkable labyrinth of whitewaterways full of misty mangroves, secluded lagoons and riverside falls, all home to dozens of exotic animal species.
Watch ecosystems change by the kilometre as you venture towards the Caribbean coast—the deep, dense jungles and windswept gorges only grow in scale and spectacle. Tackle the 80-mile (129 km) Pacuare River, whose many routes range from relaxing floats to rumbling rapids and roller-coaster drops.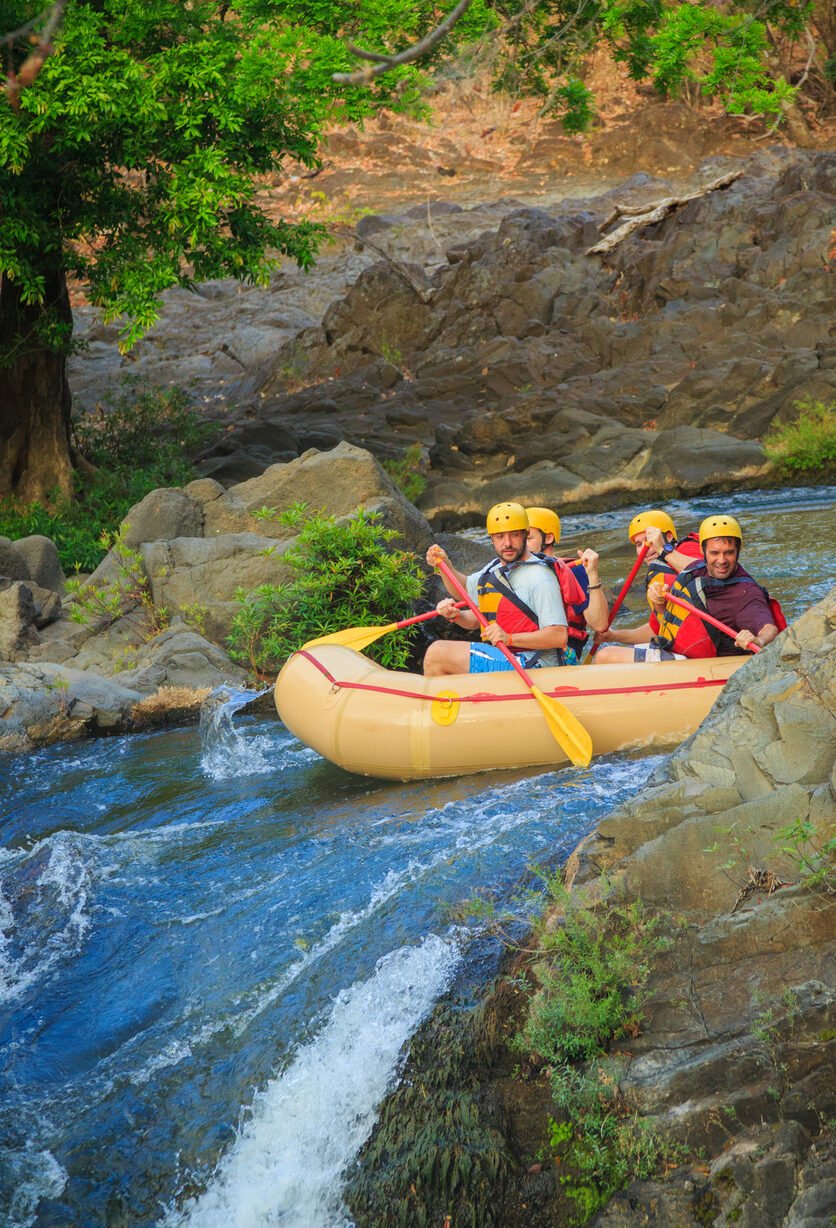 Take your hiking tour to new heights
To get the best look at Costa Rica's astonishing mix of plant and animal life, walk along treetop walkways and hanging bridges of the misty Monteverde Cloud Forest—nature's terrarium locked in by perpetual fog and clouds.
Due to its high altitude and unique climate, this rainforest hosts a large number of endemic species in habitats unlike anywhere else on Earth.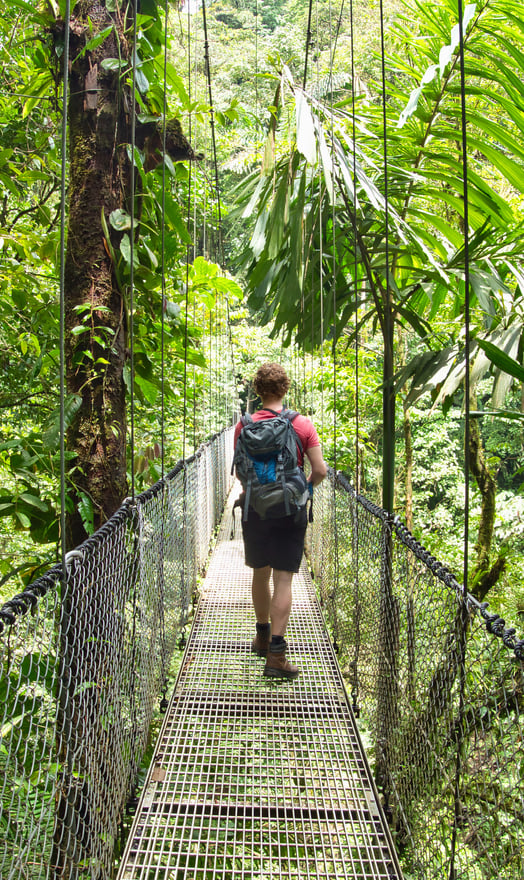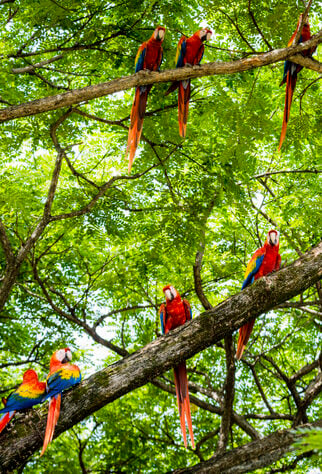 Costa Rica: home to 5% of the world's flora and fauna
Observe nature from a close range and see and hear some of the country's most colorful wildlife hidden beneath the canopies of Manuel Antonio National Park.
From lowland coastal groves to balmy cloud forests, Costa Rica comprises 12 distinct life zones brimming with bright-winged birds, playful monkeys, and psychedelic tree frogs. Here are some of the critters populating the country's reserves, forests, and national parks.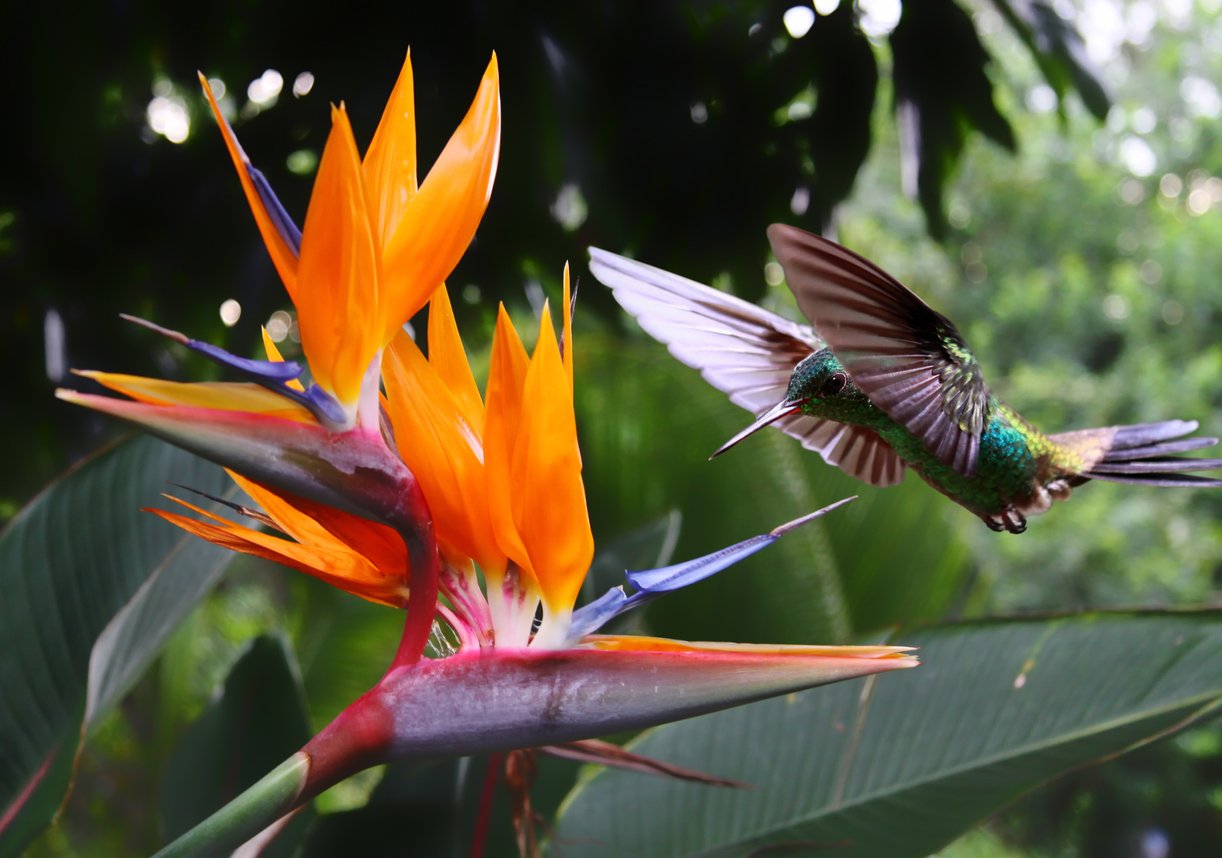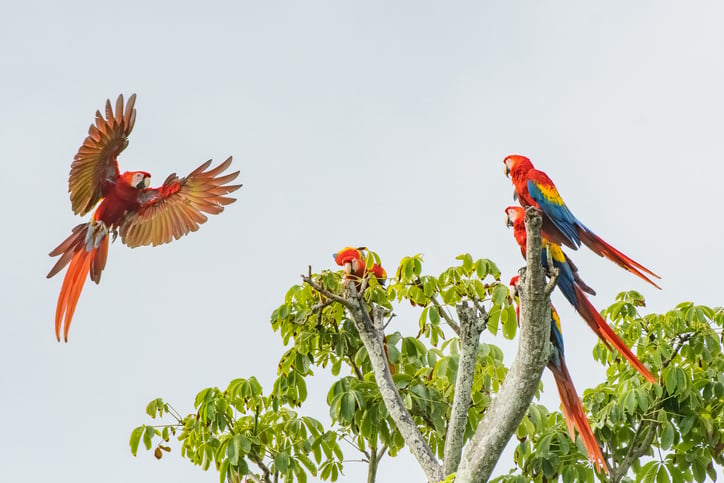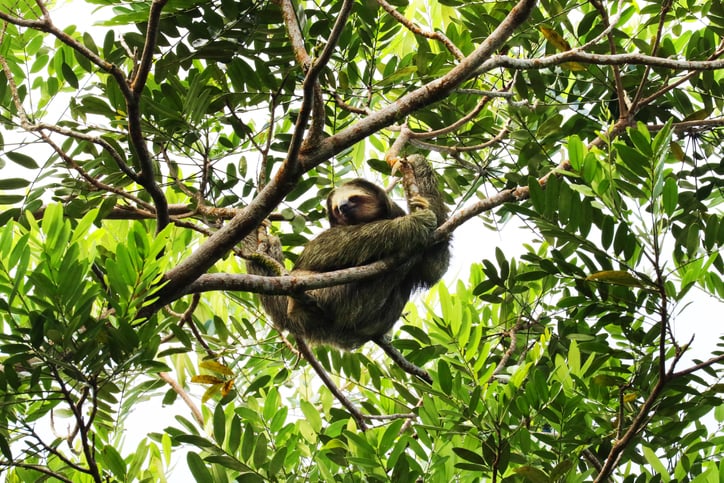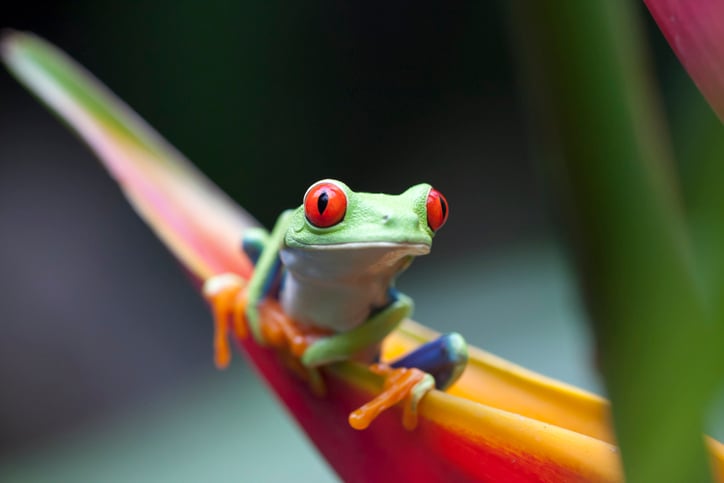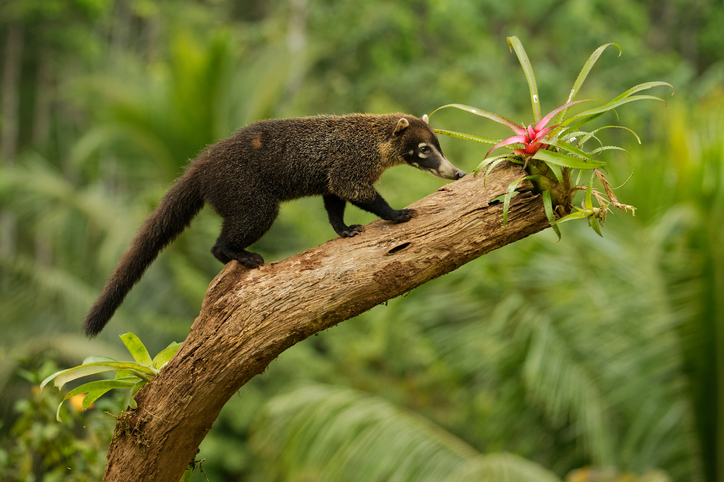 Nectar-feeding hummingbirds
Hummingbirds are generally very hard to notice because they rarely exceed 15 centimeters in length and flap their wings at incredible speeds. This is where their signature humming sound comes from.
Presently there's around 50 different species of these bullet-birds whizzing through Costa Rican airspace.
Colorful toucans and macaws
Costa Rica holds over 918 species of birds, six of which are endemic to the region.
Toucans are recognisable by their large, flashy beaks, while macaws—the most intelligent bird species on the planet—stand out with their rainbow-colored wings.
Tree-dwelling sloths
Pay attention to rustling sounds in the canopy—chances are it's the work of three-toed sloths. These are rare moments when the funny-looking mammal isn't lazing around in the shade.
Fun fact—the fur of a sloth is actually an entire ecosystem unto itself! Colonies of algae and fungi give them a greenish hue which makes them unappetizing to predators.
Howler monkeys
There are four species of monkeys native to Costa Rica: the white-faced capuchin, spider monkey, the squirrel monkey, and the howler monkey.
Howlers are among the largest of Central America's monkeys and, as their name suggests, they like to call out in raucous, booming calls that echo and fill the forest.
Red-eyed tree frogs
The teacup-sized Agalychnis callidryas are native to the rainforests of Costa Rica. Despite their conspicuous coloration, they are not venomous. The red-eyed tree frog's startling neon-green bodies are just a way to create confusion and avoid predators.
White-nosed coatis
Native to Central America, these lemur-like creatures are officially part of the raccoon family. They are proficient tree climbers and swimmers whose long tails serve as balancing poles.
You'll recognise them by their chirping sounds and long snout, which helps them forage for insects and fruit.
Embrace the wilderness
HEAR THE JUNGLE FROM YOUR CAMP
Stay at spacious camps nestled in the rainforest, and set out to discover intriguing flora and fauna.
In the verdant embrace of the forest, El Nido del Tigre campsite provides spacious tents on fixed platforms that border the Pacuare river. The second camp, Finca Pacuarito, sits on the side of the river nestled amongst banana plantations. Relax on its terrace as the wind caresses the trees and sounds of wildlife echo in the distance.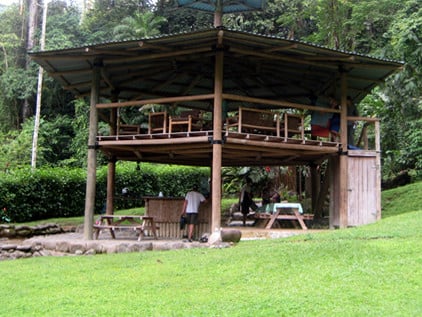 OPTIONAL SIDE-QUESTS
During your free time, why not check out some of Costa Rica's other outdoor offerings?. Channel your inner Tarzan on a zipline, ride on horseback, go snorkeling in Manuel Antonio National Park or rappel down cascading waterfalls.
Pay a visit to the 320-acre Sloth Sanctuary or, if you're a java junkie, see how coffee goes from seed, to bean, to cup! As one of the world's top exporters of this bitter nectar, Costa Rica's always good for a cup or three.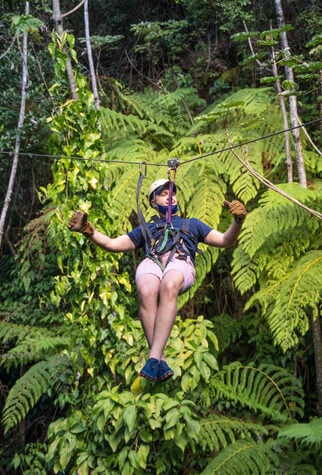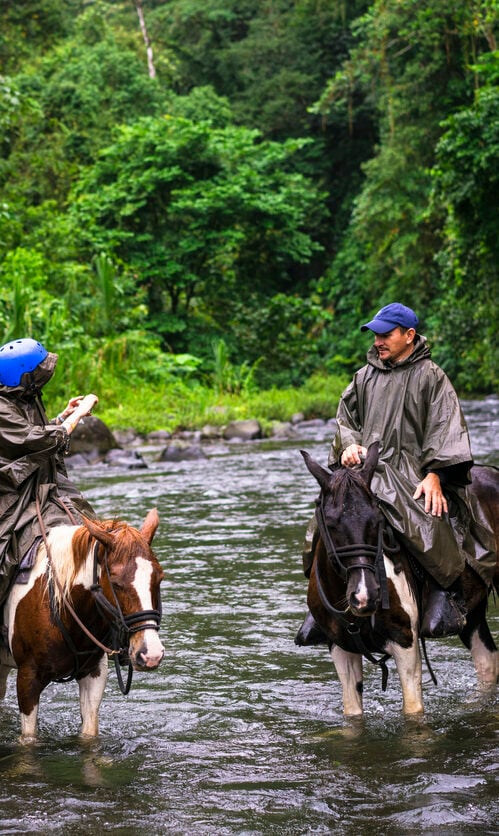 Livin' la Pura Vida
Once you visit Costa Rica, you'll understand that the true meaning of "pura vida" is much more than a simple "take it easy" attitude. It's an expression of eternal optimism, a mantra, a way of living life to the fullest—and probably why the country is known as one of the happiest in the world.
Sustainability is the key to achieving perfect harmony between rainforest and tourism. Costa Rica produces almost 100% of its electrical energy from renewable sources and boasts one of the most successful reforestation programs in the world!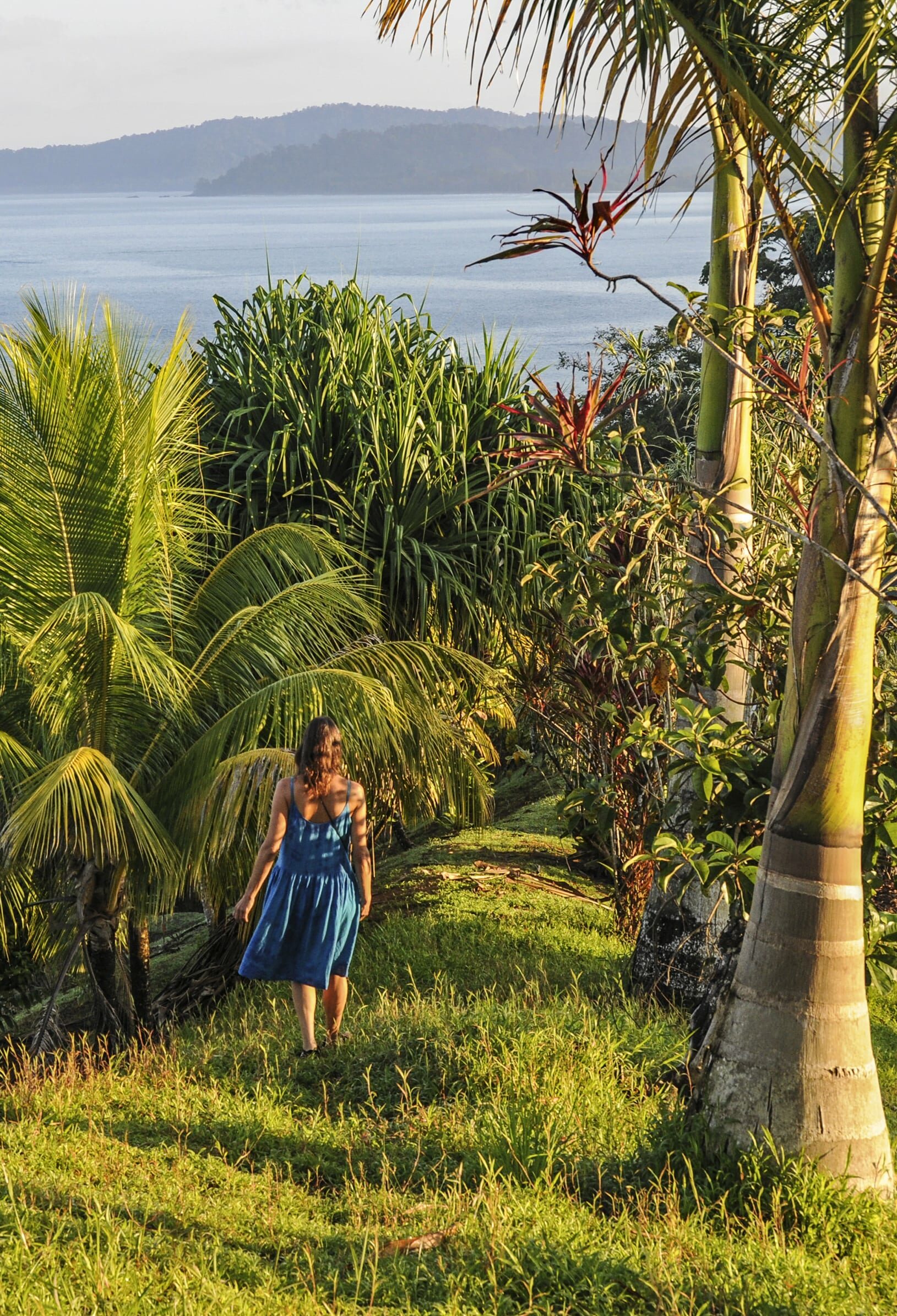 Your guides
With 25 years of experience, Coast to Coast Adventures designs and leads multi-activity vacations for free spirits looking to experience the natural beauty of Costa Rica.
They take great pride in their attention to detail as well as the quality and safety of their adventures. For life-changing, inspirational journeys, the combination of the countless wonders of Costa Rica and the professionalism of Coast to Coast Adventures is the ultimate winning combination.
Awesome experience in CR thanks to Coast to Coast! Randall helped us plan an amazing trip with a ton of fun, engaging activities. Carlos made sure we made it from one destination to the next, always sharing great insights and helping us to learn more about his country. We can't say enough about how great Coast to Coast was, I'd recommend them to anyone looking for a fun, active trip to CR!
We had such an amazing time in Costa Rica! I hadn't been abroad in decades and had so many questions and really no idea how to plan a trip. Randall at Coast to Coast was phenomenal! He set up a wonderful trip for us that was a perfect mix of adventure and relaxation. He responded to my millions of questions quickly, reminded us of things we had to do before travel, and helped us every step of the way. Definitely will be using Coast to Coast again!!
Jaun Carlos was exceptional! His personality overflowed with enthusiasm. His details for our care and safety were exceptional. I loved that we never felt rushed and how much he enjoyed being with us. When it was time for him to depart, I cried, feeling I was saying goodbye to a friend. The Costa Rica adventure was spectacular! It was so well organized. There was so many surprises during the adventure that was not excepted which just added so much more excitement. All our guides were exceptional. It was a perfect trip. The adventure and the Tico's had impacted me so much I got a Pura Vida tatto!!