Hiking and Exploring New Zealand's South Island
South Island | New Zealand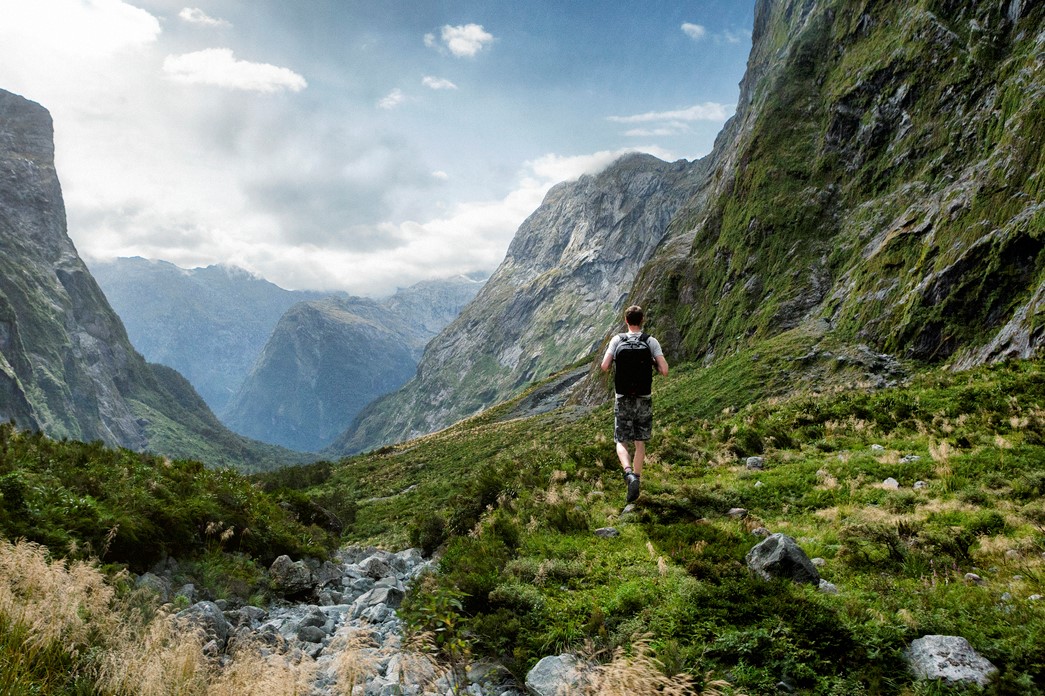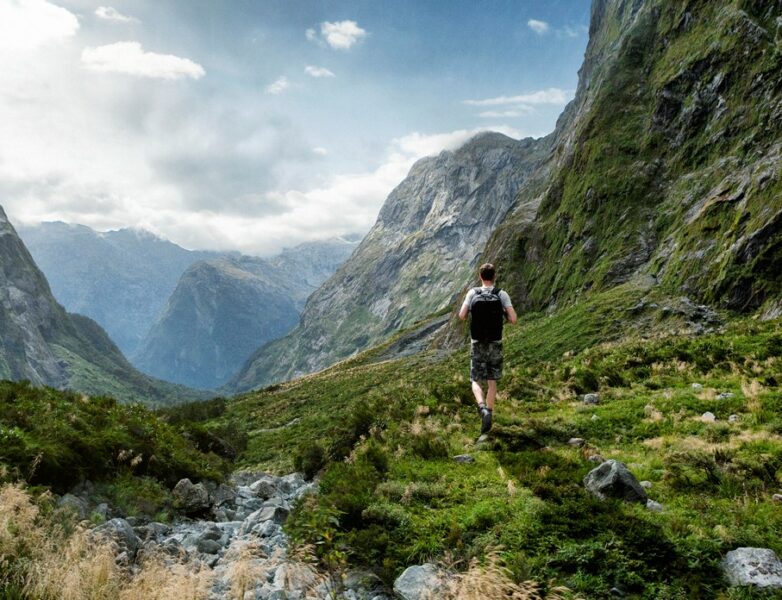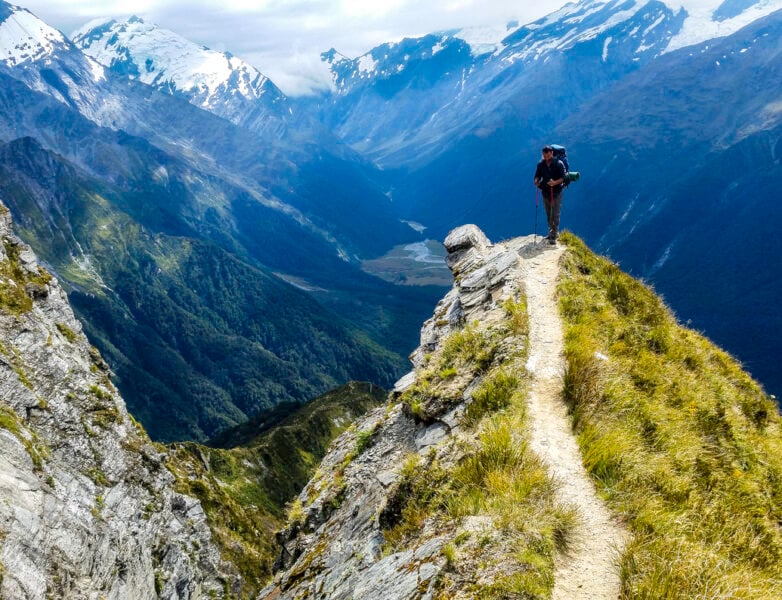 Top three reasons to hike New Zealand's South Island
Hike a unique blend of Great Walks and hidden gems

Watch the terrain switch from tropical to glacial in a heartbeat

Paddle and meet the dolphins in the world-renowned Milford Sound
New Zealand's South Island is a paradise for outdoor lovers. Boasting hundreds, if not thousands of pristine hiking trails, the island earns its reputation as a bona fide hiking mecca. It's got something for everyone— high-altitude panoramic hikes, stunning lakeside walks, and even snowy alpine expeditions. The magic doesn't stop off the trails, though. Exploring Abel Tasman or Milford Sound by canoe or Waka (traditional Maori rowboat) is a great way to rest your legs and see the lavish landscapes from a new perspective. One trip to the South Island is enough to learn why the Kiwis love the outdoors so much.
Nearest city

The tour starts in Nelson, New Zealand
Book this adventure
Ultimate Tour of New Zealand's South Island
Explore a colorful blend of New Zealand's iconic Great Hikes and lesser-known gems on a 15-day hiking and multisport adventure. Ride, walk, and paddle along the South Island's greatest natural landmarks, learning about the native Maori culture. Off the trails, unwind with fellow adventure-lovers in cozy campsites, lodges, and panoramic mountain huts.
Itinerary
Day 1: Nelson to Bark Bay
Meet your guides and fellow hikers in Newlson and head out of town to Kaiteriteri, the gateway to the Abel Tasman National Park. Take a boat cruise to Awaroa Bay, where you'll enjoy a picnic on the idyllic beach before starting your hike. Follow the Abel Tasman Coast Track south to Bark Bay, where your tents and gear will be waiting for you. Pitch your tent, enjoy a delicious meal, and fall asleep to the sound of waves lapping the shore.
Distance covered: 9 km
Hiking time: 3 hours
Day 2: Bark Bay to Anchorage
Depart from Bark bay through contrasting stands of manuka and luxuriant mixed forest, over a low saddle, and across a high and airy suspension bridge above the Falls River. You can take a side trip to the Falls River Cascades or Cleopatra's Pool, both awesome swim spots. If you're in the mood, you can also join your guide for a boulder hop among the idyllic pools and waterfalls, before settling at the bright blue inlet of Anchorage.
Distance covered: 8.5-12 km
Hiking time: 3-5 hours
Day 3: Anchorage to Murchison
Explore Abel Tasman's coastline by Waka (Maori canoe). Learn about local waka teams and their customs before exploring the coves of the mainland and the wildlife refuge of Adele
Island, where you can observe a breeding colony of New Zealand fur seals. Paddle into the beautiful Kaiteriteri beach, have a picnic lunch, and restock on supplies before driving to a private campsite near Murchison, overlooking the Buller and Maruia rivers.
Distance covered: 15 km
Paddling time: 3 hours
Day 4: Murchison to the Ballroom Overhang
Your first stop on the wild West Coast is Charleston. Take a short hike through lush West Coast bush checking out the dramatic headlands, wild waves, and secluded bays. After a picnic lunch, hike to the spectacular limestone river canyon in Paparoa National Park. Cross a few rivers, collect some firewood, and set up camp under the massive Ballroom Overhang fluviatile cave.
Distance covered: 8 km
Hiking time: 4 hours
Day 5: Ballroom Overhang to Hokitika
After breakfast, head to the West Coast town of Punakaiki to check out the famous Pancake Rocks and seawater blowholes, before retreating down to tonight's accommodation in Hokitika, a gold-rush town full of cool local jewelry. Enjoy lodge accommodations a short walk from the beach, where you can enjoy some beautiful seaside views.
Distance covered: 6 km
Hiking time: 3 hours
Day 6: Hokitika to Arthur's Pass
Enjoy group breakfast at one of the great cafés in town before leaving for a cycling tour of the awesome West Coast Wilderness Trail between the Arahura River bridge and the historic township of Kumara. After the ride, sit back and take in the landscapes as you drive into the Southern Alps and the quaint mountain village of Arthur's Pass. Eat and spend the night in a private hut, preparing for tomorrow's hiking trip into Edwards Valley.
Distance covered: 39 km
Biking time: 4-5 hours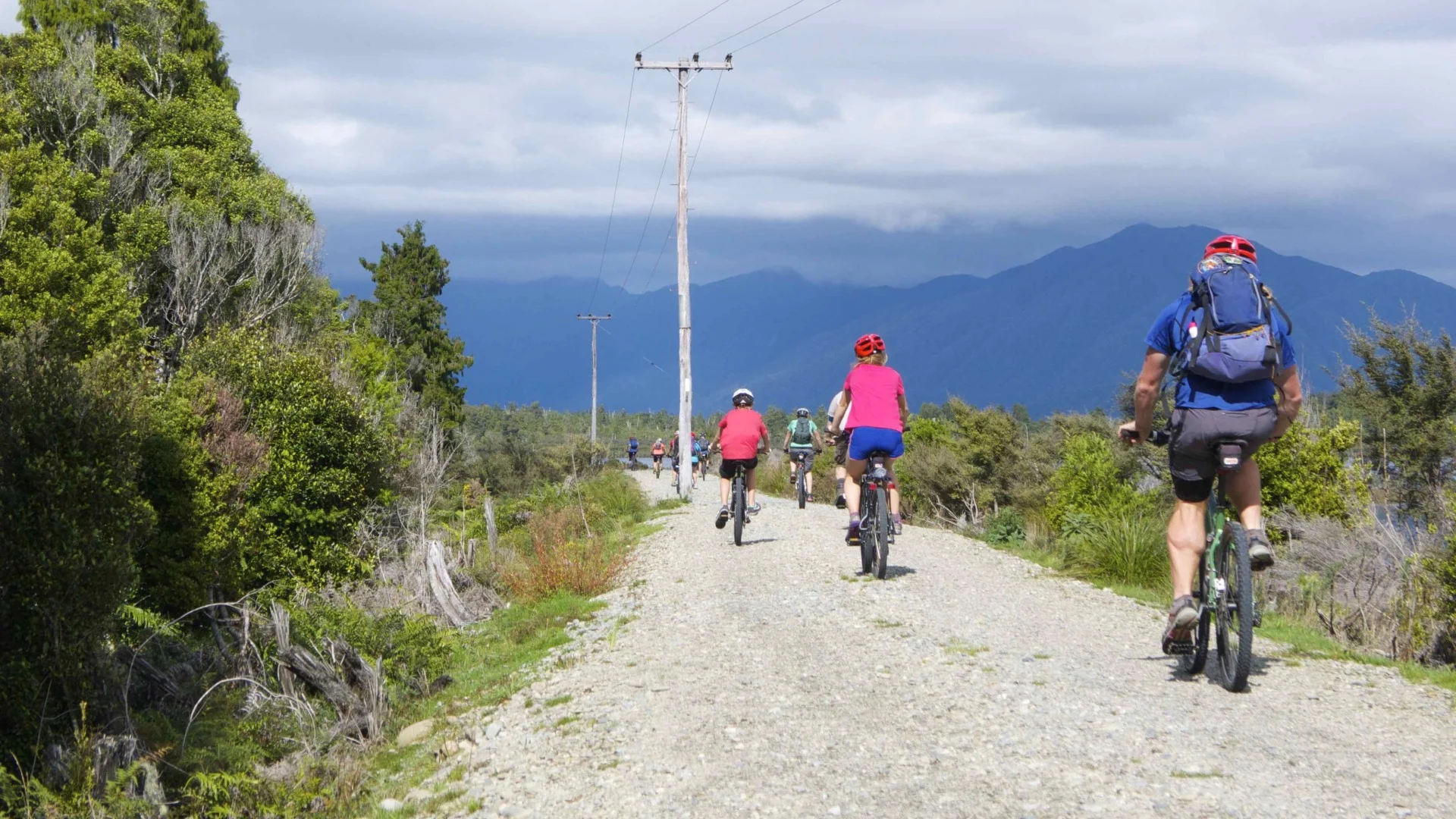 Day 7: Arthur's Pass to Edwards Hut
While not as famous as some of the other National Parks visited on the tour, Arthur's Pass will amaze you with rugged peaks, wild rivers, and adventurous trails. Follow Edwards River to the Edwards Hut right above the bush line with a great view of the valley. Camp outside or stay in the hut, depending on how many hikers are out there. Fall asleep listening out for the call of the Kiwi, New Zealand's national bird that is known to inhabit this valley.
Distance covered: 9 km
Hiking time: 5-6 hours
Day 8: Edwards Hut to Mt. Somers
Make the most of this alpine valley with an optional hike before packing up and hiking back out to the road. Have lunch along the way. Watch the scenery change dramatically, with the steep forested slopes of the west replaced with wide braided rivers, tussock grassland, mountains flanked with scree, and the surreal limestone formations of Castle Hill. Leave the main highway and follow an inland route to the tiny village of Mt. Somers, where you'll spend the night.
Distance covered: 9 km
Hiking time: 5-6 hours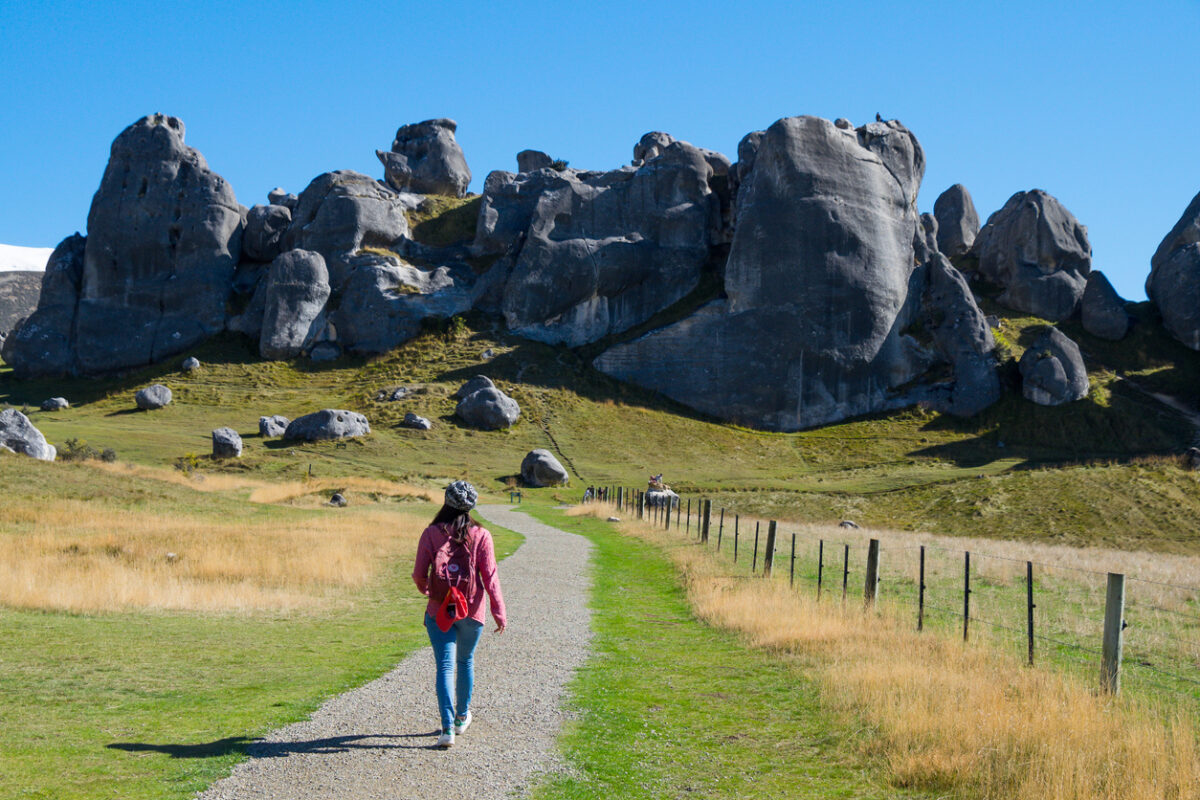 Day 9: Mt. Somers to Aoraki/Mt. Cook
Spend the morning driving along the western margin of the Canterbury Plains and into
the Mackenzie Country, an intermontane basin of huge glacial lakes and snow-capped mountains. Arrive at Aoraki/Mt. Cook village and get ready for a hike to Sealy Tarns, and maybe even Mueller hut. Experience the towering moraine walls, glacial lakes, and the frequent rumbling of distant avalanches, before returning to your accommodation in a private hut.
Distance covered: 10 km
Hiking time: 6 hours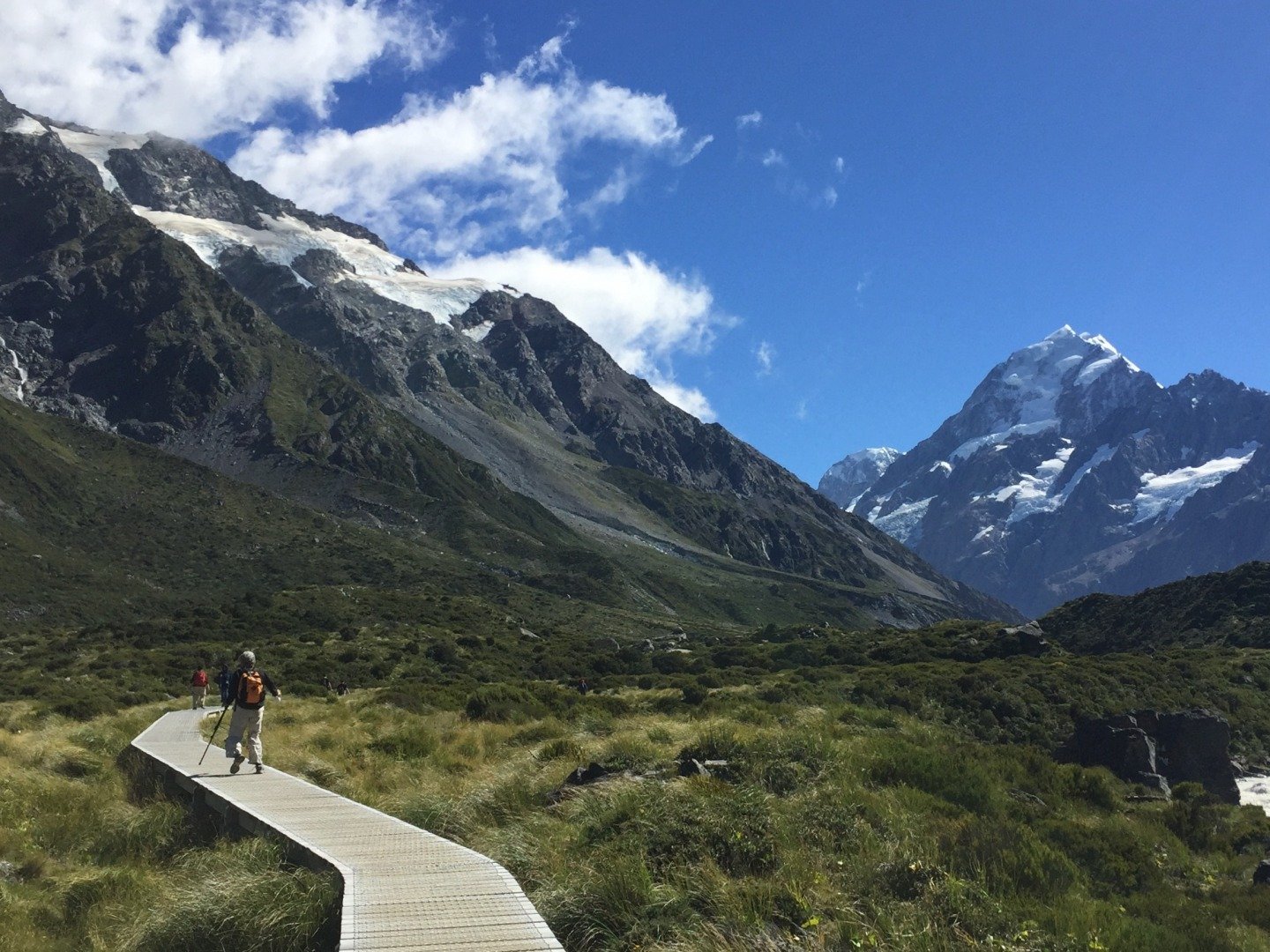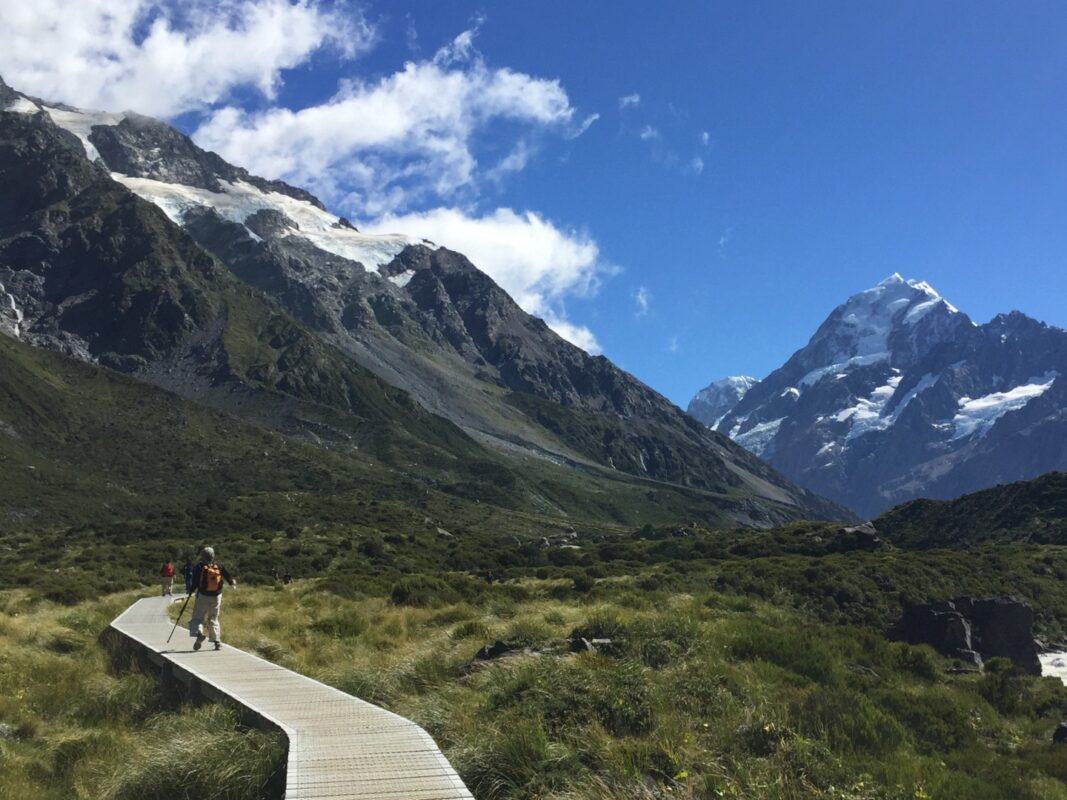 Day 10: Aoraki/Mt. Cook to Lake Hawea
After a relaxed breakfast, you get the option to join a local operator for a guided heli-hike on the
Tasman Glacier. Alternatively, join the guide for a hike up the steep slopes of Sebastopol to
the Red Tarns for more stunning views. By mid-afternoon, reunite with the group and continue south through the Mackenzie Country and over Lindis Pass into the Central Otago region. Spend the night near the shores of the glacial Lake Hawea, ringed by the mountains, and enjoy a meal in a local restaurant.
Distance covered: 4 km
Hiking time: 2 hours
Day 11: Lake Hawea to the Aspiring Hut
Drive to the Wanaka township where you'll grab a coffee and wander around. Then, head on up the Matukituki Valley to the road end. Shoulder your pack and enjoy stunning Matterhorn-esque views as you hike across grassed flats to Aspiring Hut. There's another optional steep, yet rewarding climb here. Alternatively, stay and chill at the hut.
Distance covered: 14 km
Hiking time: 6 hours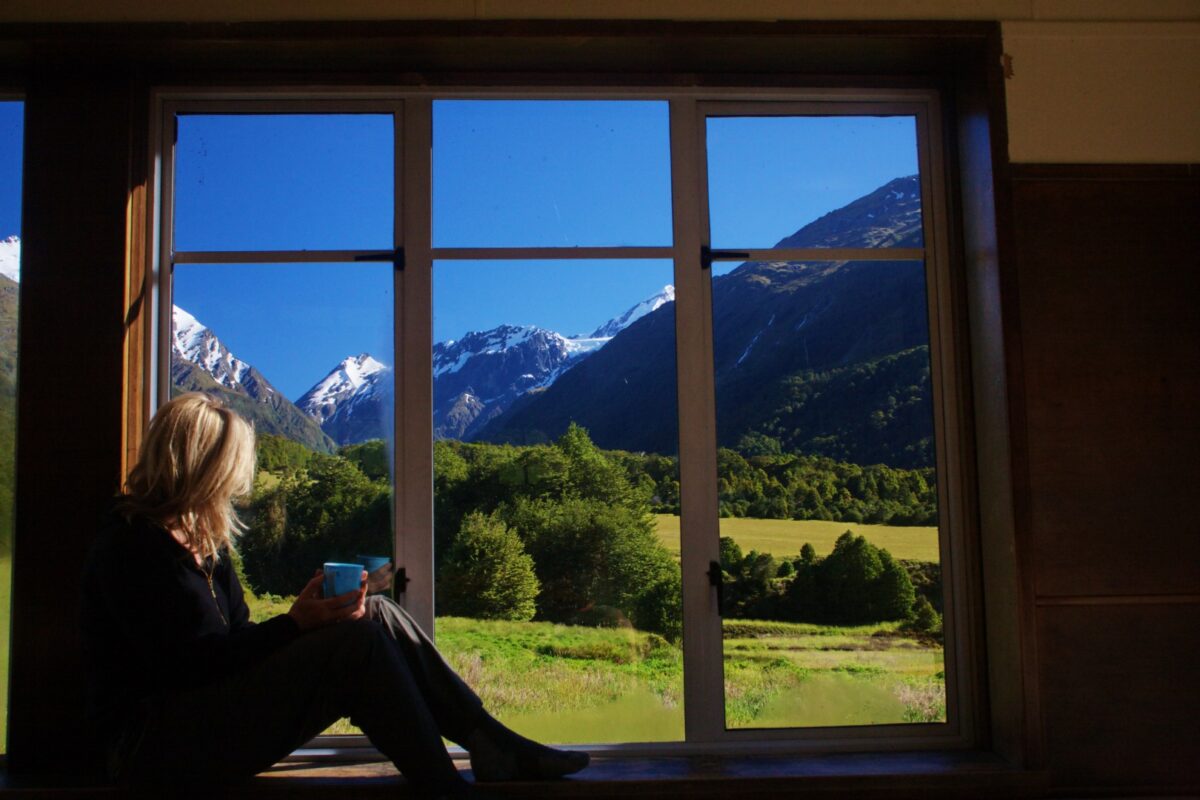 Day 12: Aspiring Hut to Knobs Flat
Start your return hike early, enjoying pretty views and easy walking along the floor of this wide glacially formed valley. Back in Wanaka, recharge with a lakeside picnic and a dive into the lake. Drive over the remarkable Crown Range and take in the views, before arriving at the Knobs Flat campsite. Relax and make the most of the available hot showers.
Distance covered: 9 km
Hiking time: 3 hours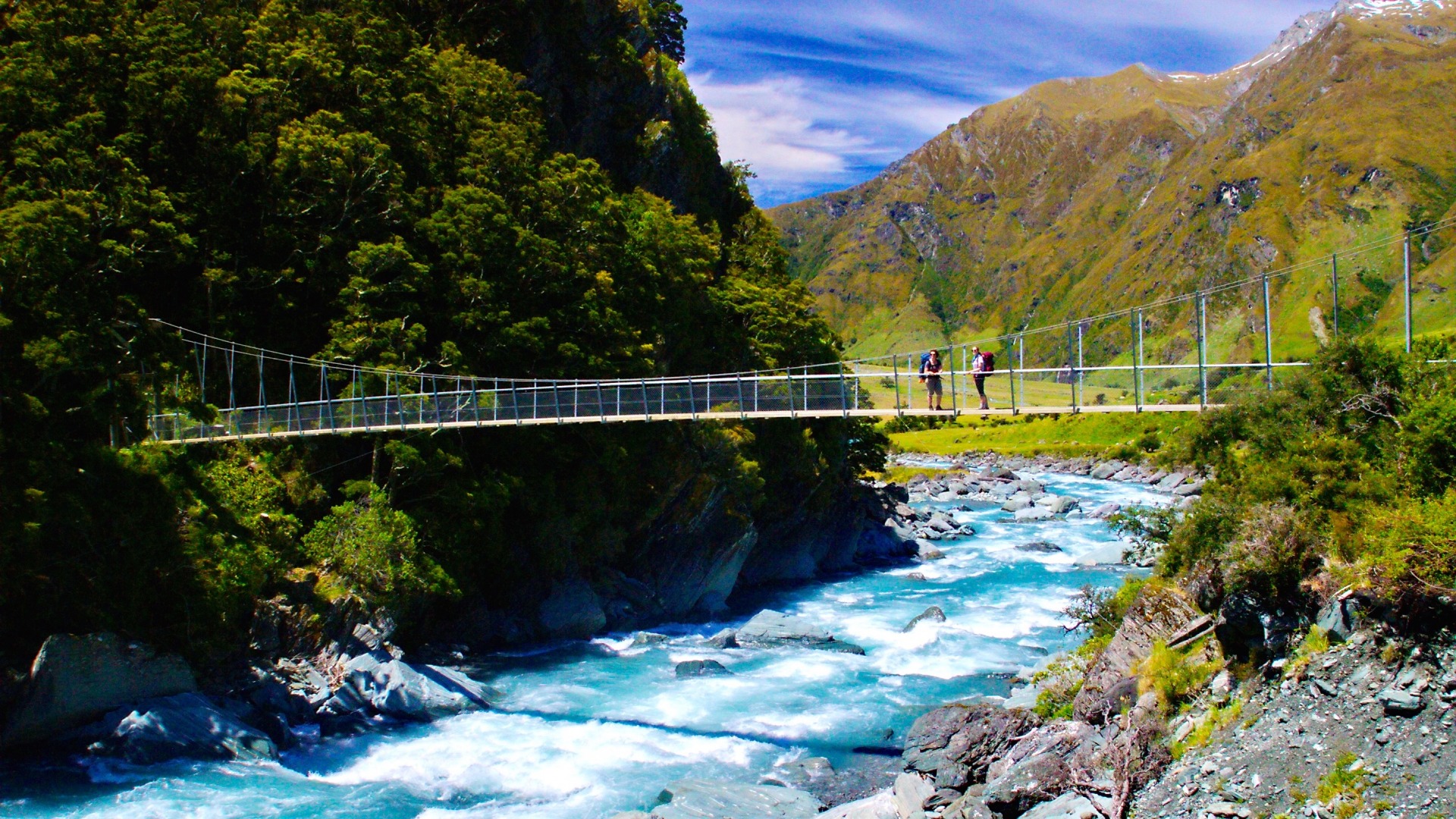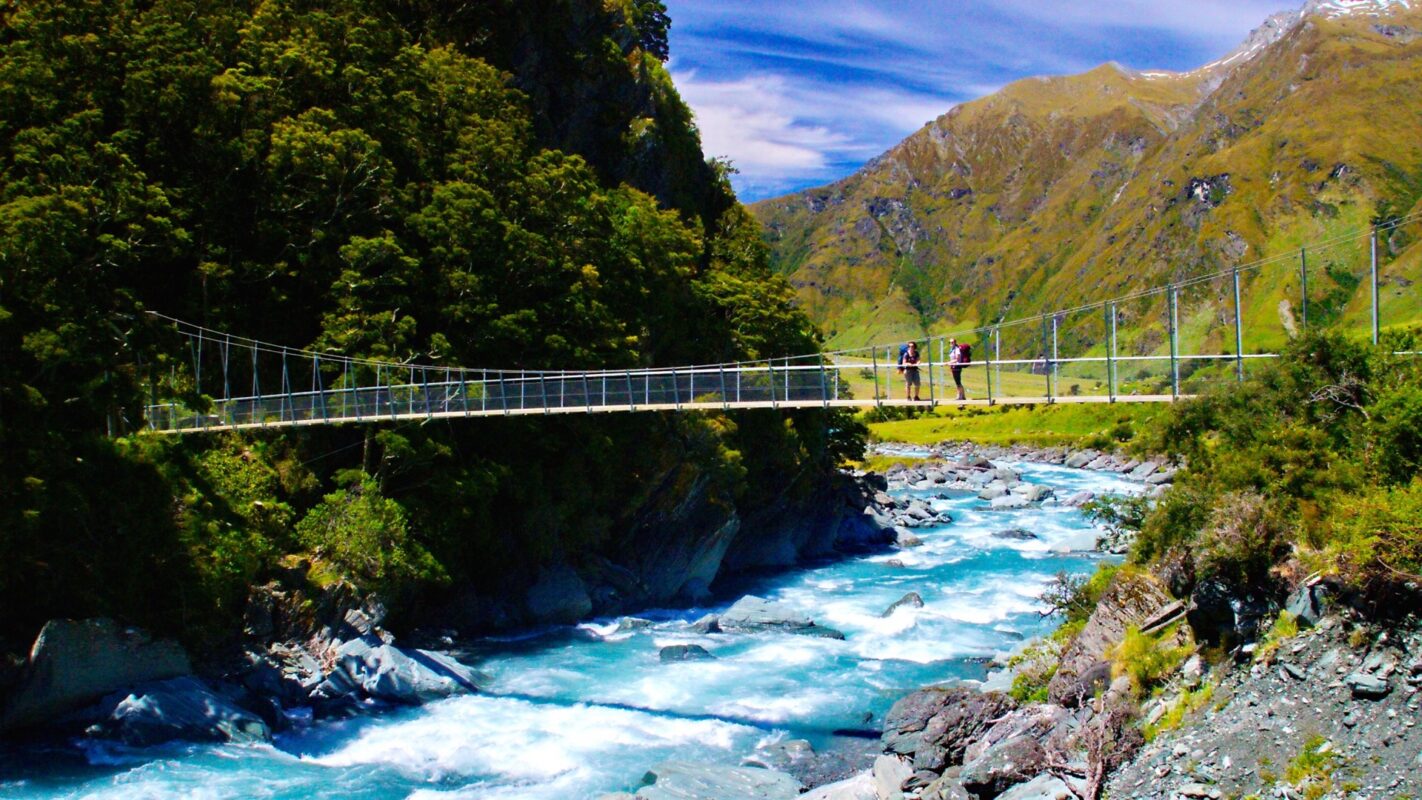 Day 13: Knobs Flat to Milford
Drive to the heart of Fiordland National Park and enjoy Milford, one of the world's great day cruises. Enter Milford Sound and enjoy stunning views of cascading waterfalls and the iconic Mitre Peak. You could even spot a dolphin. A kayaking option is also available. Before returning to Knobs Flat take a hike up to Key Summit, the final section of the famous Routeburn Track. This informative nature walk transitions from forest to alpine vegetation and prolific birdlife, with spectacular views of the Hollyford Valley and the Darran Mountains.
Distance covered: 7 km
Hiking time: 3 hours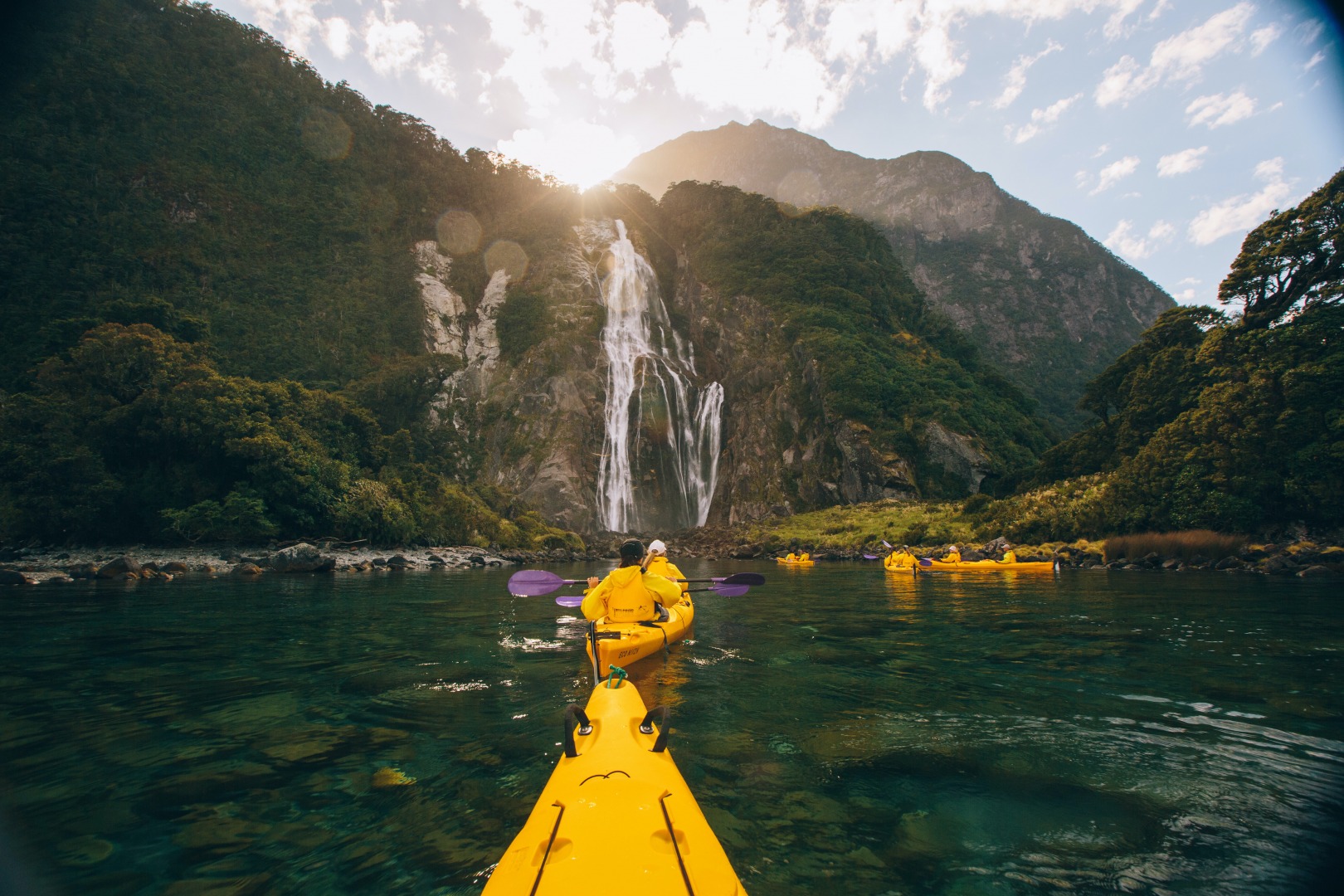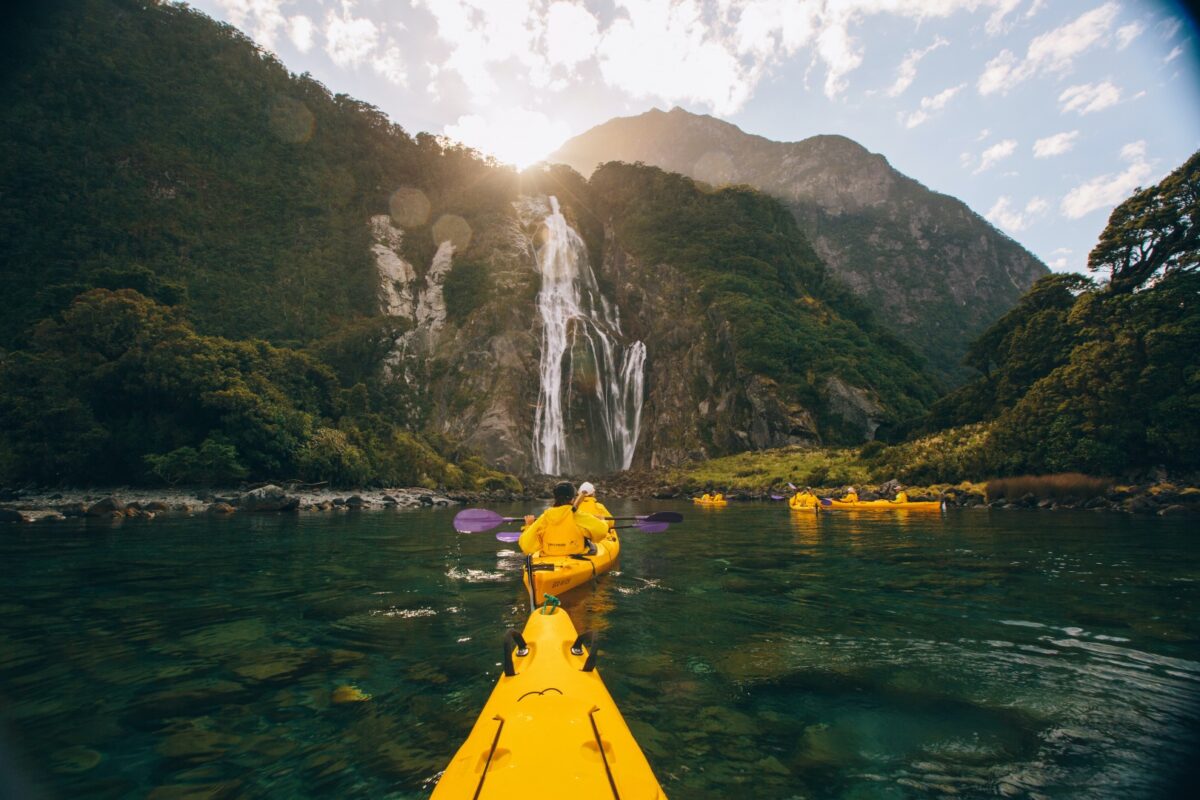 Day 14: Knobs Flat to Queenstown
After breakfast, take a short hike to check out a beautiful waterfall near our campsite, where you may want to soak up one last little bit of Fiordland by jumping under a bracing shower. Make your final drive to Queenstown in the early afternoon. Afterward, celebrate the great adventures you've had for the past two weeks with your new friends.
Distance covered: 2 km
Hiking time: 45 minutes
Day 15: Queenstown and departure
Your guide departs early for Christchurch, marking the end of the tour. If you're staying in Queenstown, keep in mind that it's known as the adventure capital of New Zealand, so there are a ton of superb hiking and cycling tracks in the area!
Meet your guide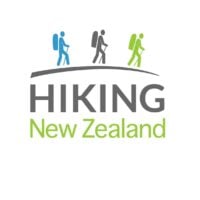 Hiking New Zealand
Hiking New Zealand is a small, but very dedicated team specializing in matching adventurous travelers with their dream holidays, both in New Zealand and beyond. They are passionate about active travel, wild places, and their conservation, and extremely enthusiastic about sharing their wilderness discoveries with their guests.
Sandra F.
about
Hiking New Zealand
on Tripadvisor
Our group of eight friends was looking for an itinerary that combined the best sightseeing and some basic hiking opportunities on the South Island. We worked with Hiking New Zealand, who delivered a custom itinerary that was perfect. All of us had input into what we wanted to see and do, and Hiking New Zealand was able to work it all into a brilliant tour made just for us. Our guide, Martin shared a wealth of knowledge about the areas we visited. It was virtually impossible to "stump the guide" and we peppered him with questions throughout the trip. He handled all of the logistics smoothly and was able to keep us on our timetable. We had a perfect blend of easy hikes that took us to/through amazing scenery, and experiences such as whale watching, jet boating up a remote river (without all the crowds that you see at Shotover River), wine tasting (many excellent vineyards in NZ), visiting the glow worm caves, bird sanctuary, and some fun stops in small towns. If you haven't visited New Zealand, GO! Hiking New Zealand shows great resourcefulness in combining experiences, lodging, and meals to meet your needs.
Daniel B.
about
Hiking New Zealand
on Tripadvisor
We had a fabulous trip with guides, Andre and Katie. So many great hikes and activities covering so many iconic spots throughout the South Island. Small friendly group, well-paced for a range of fitness levels, and comfy accommodations. Can't say enough great things about this trip. Far exceeded our expectations.
smnovia
about
Hiking New Zealand
on Tripadvisor
The best trip I did in three months in New Zealand! Hiking New Zealand offers this amazing early season trip, with highlights of some of their summer south island treks. Camping on the beach in Able Tasman, a New Zealand falcon soaring above us at Sealy Tarns (with views of Mt Cook/Aoraki), a challenging but do-able overnight trek to a DOC hut near Arthur's Pass. These are just some of the experiences I'll always remember. Chai took very good care of us, adjusting the schedule as the spring weather demanded, and taught us a lot, about the history, wildlife, and culture of New Zealand. I strongly recommend including a trip with this outfitter to enrich your experience of New Zealand.
Celia B.
about
Hiking New Zealand
on Tripadvisor
Recently back from the Southern Slice trip – it really WAS a Wonderful Trip! The walks which had been chosen really were iconic walks showcasing what the South Island has to offer. John was a great guide and driver, the distances we traveled each day were relaxing, safe, and enjoyable. Eva looked after us non-stop, I don't know how she did it! She not only guided us in a very professional way but shopped for us, prepared our lunch, and provided us with a constant supply of snacks! The whole trip was really well organized and well thought out, many thanks to Eva, John, and Hiking New Zealand for a FAB experience, would recommend it to anybody!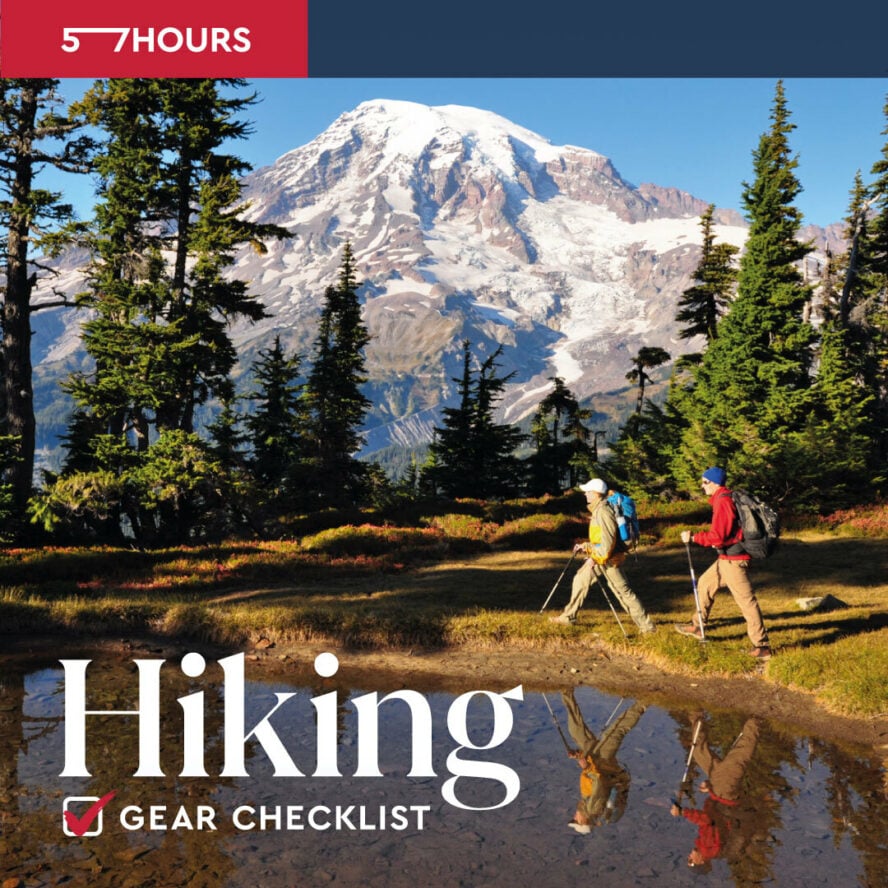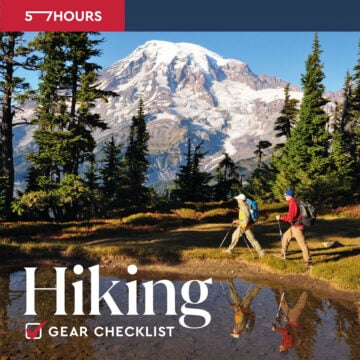 Download hiking gear checklist
Prepare for the trip.
Get complete checklist for hiking and camping equipment.
Check your inbox
Things to know
Covid measures in New Zealand's South Island
57hours is committed to providing safe outdoor adventure experiences. We require all guides using our platform to have a COVID-19 safety plan and to make the details of that plan accessible to travelers. In most cases, group sizes will be reduced, guides will avoid overcrowded locations, and other safety measures will be met depending on the location and activity.
We also expect clients to respect local regulations and take measures to protect themselves, their guides, and the communities they're traveling to. For more information on COVID-19 measures in the South Island, New Zealand, please refer to the official New Zealand immigration and travel website.
Please contact us if you have any questions or require further information. We are happy to provide you with the most up-to-date information!
What's included?
What you get on this adventure:
An experienced, local guide with extensive knowledge of the area
Fourteen days of hiking and exploration
A free final day in Queenstown
Lodge, cabin, camping, and backcountry hut accommodations for the duration of the tour
Abel Tasman Waka (Maori canoe) experience
Cycling tour of the West Coast
Wilderness trail
Cruise in the Milford Sound
Minibus transportation for the duration of the tour
Most meals for the duration of the tour (prepared as a group)
What's not included:
Transportation to Nelson, New Zealand
Accommodations in New Zealand before and after the tour
Breakfast on days 1 and 6, dinner on days 5, 10, and 14, all meals on day 15
Optional Milford Sound kayaking tour ($110 USD per person)
Optional Mt. Cook heli-hiking tour ($400 USD pp)
Bus or train transportation from the endpoint of the tour to Auckland
How fit do I need to be?
Although this trip requires no multi-day hiking experience, you still need to be reasonably fit, agile, and enthusiastic. You'll be walking for an average of 4-5 hours a day, up to 8-9 hours on longer days, while carrying packs weighing up to 10-12 kgs (22-26 lbs). You'll also overcome altitude gains of up to 800 m (2,620 ft), covering some uneven terrain and river crossings. Finally, some tracks can be slippery or rough and there will be some off-track hiking and river crossings.
What do I need to bring?
Here's a list of the equipment you need to bring:
Backpack with a minimum 60L capacity
Small day pack
Walking pole — optional
Gaiters — optional
Water bottle or camel pack (1L capacity)
Hiking boots or good hiking shoes
Spare lightweight shoes or sandals
Spare clothes for layering
Thermal underwear (top and bottom)
Shorts or lightweight hiking trousers (preferably quick-dry)
Short-sleeved shirts (quick-dry, polypropylene, or wool)
Warm fleece or wool jersey
At least 3 pairs of socks
Raincoat (Goretex or similar)
Sunhat
Warm hat or balaclava
Gloves or mittens (wool or fleece)
Swimming costume
Toiletries (sunscreen, hand sanitizer, bug spray, toilet paper, etc.)
Lightweight travel towel
Personal medication and first aid
Headlamp or flashlight
Sunglasses
Sleeping bag (minimum 3-season, preferably down, lightweight)
Camera — optional (but recommended)
Your guide offers hiking gear rentals. If you need a hiking backpack, sleeping bag or liner, fleece, thermal clothes, raincoats, or a walking pole, contact us and we'll help set you up.
Dress comfortably and for the weather in clothes you can move in. We suggest bringing clothing appropriate for the season. Layers are best and don't wear jeans.
Group sizes and age requirements
Group sizes and prices:
For this adventure, the usual client-to-guide ratio is 11:1.
The cost does not decrease as the group grows.
Hiking in New Zealand's North Island can be arranged for larger groups. Contact us to make arrangements.
Min. age requirements:
If you are older than 18, you're good to go.
Minors younger than 18 may be permitted to join the hike on a case-by-case basis, but must be in the presence of a parent or legal guardian.
If your group has hikers under the age of 18, contact us prior to booking to make arrangements.
Deposits and cancellation policy
A 25% deposit to secure your place is due upon booking. The remaining amount is paid 95 days prior to departure. For bookings within four (4) months of the departure, full payment is required.
Once the trip is confirmed by the guide, the cancellation policy stated below applies.
If Client cancels the Booking anytime prior to twenty-one (21) calendar days in advance of the trip contemplated by the booking, Client is entitled to a refund in the amount of eighty percent (80%) of the total amount paid when Booking.
For cancellations twenty (20) to eleven (11) calendar days in advance, Client is entitled to a refund in the amount of fifty percent (50%) of the total amount paid when Booking.
After that deadline, Client is not entitled to any refund. Any reimbursable expenses arising out of the Booking incurred by Guide prior to the date of cancellation (including but not limited to plane tickets, car rental payments, and lodging or transportation fees) are non-refundable as soon as they are incurred by the Guide.
Getting there and meeting location
To start this tour, most people fly into Auckland International Airport in Auckland, New Zealand. From there, you can take a local flight to Nelson, where you'll be meeting your guide.
You will meet your guide at a pre-determined location in Nelson, which will usually be at the airport or the i-Site Visitor Information Centre. The guide will choose the appropriate terrain depending on the conditions and the ability of the group.