Backcountry Skiing From the Best Lodges in British Columbia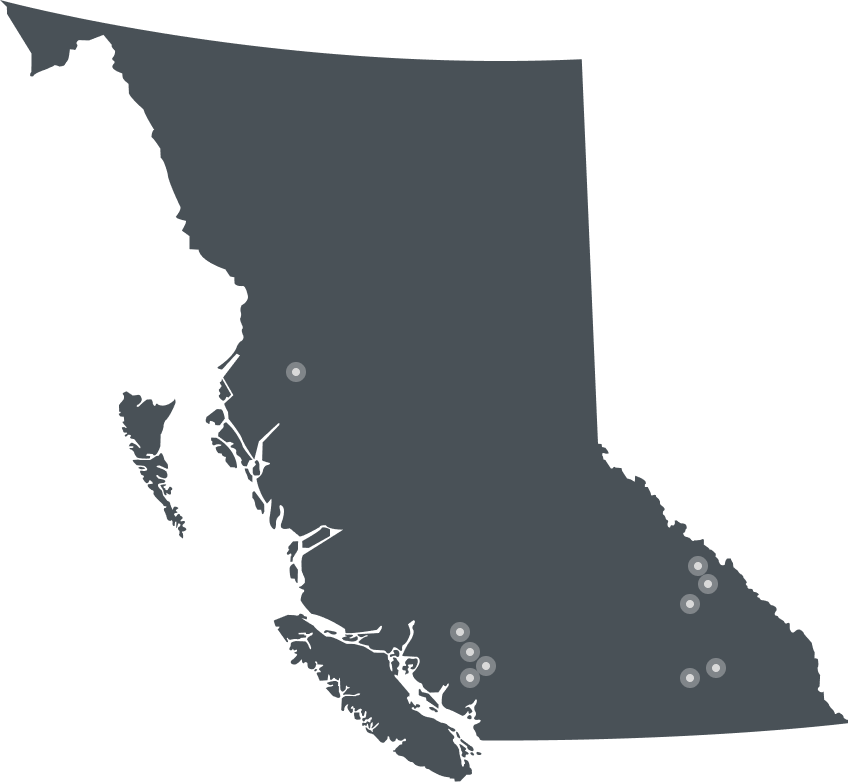 Famed for its perfect balance of legendary snowfall, bluebird weather, and dry pow that stays fresh for weeks, British Columbia assures an uncompromised ski trip.
Preserved deep within National and provincial parks, the best slopes in BC are found far from the resorts, and only accessible through alpine huts. Once you make the long journey there, you'll be rewarded with some of the best skiing in Canada — if not the world.
From gentle glacier runs in the Tantalus Range to thrillingly steep lines in the Kootenays and fantastic tree skiing in the Coast Mountains, BC has something for all breeds of powder hounds. And once the stoke winds down, retreat to your warm, rustic lodge for a homemade meal, some sauna time, board games, and a toast to Canada's slopes and skies.
Ready to sample some of the best skiing on the globe? Discover epic hut-based ski trips in British Columbia and book your hut today!
Best Backcountry Ski Huts in British Columbia
Get to know the Huts
Journeyman Lodge
Vista Lodge
Sunrise Lodge
Selkirk Lodge
Valhalla Mountain Lodge
Burnie Glacier Chalet
Carlyle Lodge
Haberl Hut
Kees and Claire Hut
Purcell Mountain Lodge
British Columbia Backcountry Skiing Stories
From the secluded Selkirks to the best traverses across the Wapta Icefield, check out our epic adventure articles on backcountry skiing in BC! Get stoked for the slopes through inspiring ski stories and awesome anecdotes told by legit powder-hounding legends.
Why Book a BC Backcountry Skiing Trip Through 57hours?
We'll help you plan your trip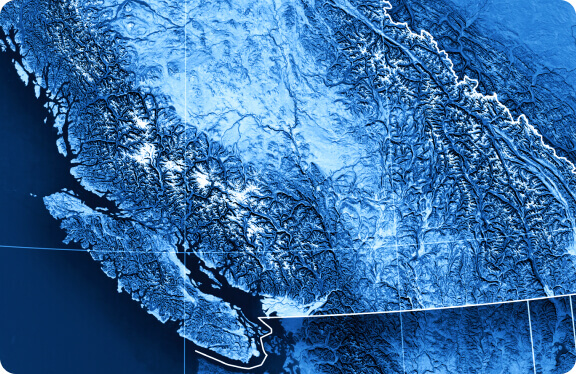 With us, planning and executing your adventure is as easy as shredding nursery slopes in Whistler. We'll be with you every step of the way from booking, flights, accommodations, gear rentals—you name it, we'll take care of it.
If something goes wrong, our flexible deposit and cancellation policies will make postponing and rescheduling your trip simple and stress free . And if you have any questions about your tour, just contact us and one of our adventure experts will get back to you within 24 hours!
We'll connect you with the best ski guides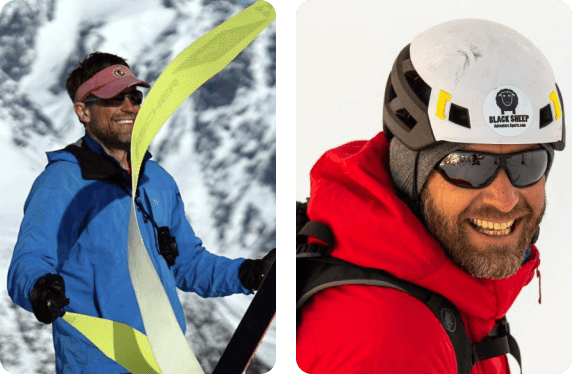 When it comes to backcountry skiing, safety is our number one priority. This is why we're very selective about the guides we choose to collaborate with.
The men and women guiding these tours are experts in their field, with the certifications and know-how to keep you safe on the slopes. They're also all well-acquainted with the area and stoked to show you all the hidden-gem runs and secret pow stashes in BC!
We are a community
Book a trip with us, and you become part of our crew? We'll share news from the adventure world, keep you updated on your guides' latest trips, and connect you with like-minded ski enthusiasts around the world through our various social media groups.
Things to know about hut-based ski trips in BC
How do I get to the lodges in British Columbia?

If your lodge is accessed from Whistler or Squamish, aim to fly into Vancouver International Airport. Then, rent a car or take a shuttle for the 1-2 hour drive there.

If you're meeting your guide in Golden or Revelstoke, fly into Calgary International Airport 3-5 hours away. Then, take a car or shuttle.

In case you need to make a local flight, Air Canada and Central Mountain Air service most regional airports, such as Northwest or Smithers. If you're looking for bus transportation, Rider Express offers shuttle services all over Canada.

What's the best month for skiing in British Columbia?

The best season for backcountry skiing in British Columbia is between January and April.

January: January is the coldest month in Canada, especially in BC's interior. The snowfall in ski spots like Whistler and Revelstoke often surpasses 100 cm. However, the weather is stormy, the temperatures often fall below -15°C and the days are only 8 hours long, meaning less time on the slopes. We recommend sticking to the treeline, and leaving the high altitude areas for warmer seasons. 

February-March: While you'll still get tons of fresh snow, the period between February and mid-March sees the days getting 10+ hours of sunlight and the temperatures stay between 5-10°C. This means more skiing and easier accessibility to alpine terrain!

March-April: Ideal for alpine touring. The skies are clear, there's practically no precipitation, and the powder on glaciated terrain stays excellent well into the month of May. And with 13+ hours of daily sunlight, t's not uncommon to have ski days go on into the late PMs!

Is British Columbia's backcountry safe?

Winters in Canada can get really harsh. When you're skiing out of British Columbia's backcountry lodges, heavy snowfall, icy rain, high wind, and extremely low temperatures are very common. However, if you plan right, pack well, and you check the weather report as often as possible, you'll have a great time on the slopes!

To deal with the temperatures, make sure to bring quality outerwear, plenty of clothes for layering (preferably woolen), and thermal underwear. Always choose wool over cotton. Also, durable waterproof shoes with thick soles are a good idea, since the soil gets colder than the air.

Wind chill is a huge danger in British Columbia, as even a strong breeze can cut right through your clothing and cause frostbite. Bring wind-resistant outerwear and make sure to check the weather report for wind chill warnings. 

Wet clothing, wind chill, and long exposure to extremely low temperatures are all precursors to hypothermia. If you feel that your skin or tissue starts freezing, warm up immediately and tell your medically-trained guide.

How fit do I need to be for a hut-based ski tour in British Columbia?

A strong level of physical fitness is required for these adventures. If you want to embark on a backcountry ski tour in British Columbia's lodges, you should be able to manage controlled descents in challenging conditions, tour for multiple days in a row, and be fit enough to skin in variable terrain for hours on end. If you can do all of this while carrying a loaded daypack, you should be good to go.

Can I ski in BC's lodges if I've never backcountry skied before?

Apart from the beginner-friendly ski tour at Kees & Claire Hut, ski trips based out of BC's backcountry huts are meant for solid intermediate to advanced skiers with prior backcountry skiing experience. The majority of the runs will be of intermediate difficulty with some advanced pitches, steeper tree runs, and rugged alpine snow conditions involving hard and sastrugi surfaces.

If you're an intermediate backcountry skier looking to improve your skills, your guide will oversee your runs, help you polish your technique, and teach you how to manage the terrain. And if you're completely new to backcountry skiing, a more forgiving slackcountry ski tour in Whistler or a similarly accessible location with a private guide is the way to go.

What do I need to bring to my hut-based ski trip in BC?

When it comes to backcountry ski touring gear, we recommend you bring:

Touring skis or splitboard with skins and strap

Touring boots and poles

Helmet

Ski and boot crampons

Skin wax (or a candle)

Binding repair items for your specific setup

Avalanche safety equipment (can be rented):

Digital, 3-antenna avalanche transceiver or beacon

Lightweight snow shovel

Avalanche probe

Ice ax (optional, depending on the terrain)

For glacier traversal gear, we recommend bringing:

Harness – fitted for over your ski clothing (Cilao, BD, Petzl and Camp make some good lightweight ski touring harnesses)

Locking carabiners (x2)

Non locking carabiners (x2)

6mm by 5m prusik cord (optional)

120cm sewn climbing sling (optional)

For your off-time in the hut, plan to bring:

Comfortable clothing for lounging around the lodge

Slippers

Alcoholic beverages (optional)

A bathing suit

Headlamp

Toiletries

For personal items, we recommend bringing:

20-30L ski pack

50L duffel

Sunglasses and ski goggles

Sun and lip cream

Face mask

Wind and waterproof shell jacket with hood (Gore-Tex recommended)

Ski pants (Gore-Tex recommended)

Multipurpose stretch nylon or 'Schoeller' type pants

Waterproof breathable pants (i.e. Gore-Tex)

Down jacket or vest

Synthetic or wool base layers

Long underwear

Mid-insulation fleece of puffy jacket

Warm outer puffy jacket

Toque (wool or synthetic)

Brimmed cap for sun protection

Face warmer (scarf, neck tube, face mask, buff, etc.)

Light gloves and insulated gloves or mitts

One triple-action locking carabiner or two conventional locking carabiners

Repair kit and Leatherman for your equipment (can be shared between several people)

Water bottle and 1L of water

Thermos with a warm beverage — optional

Lunch for day one

First aid kit

Camera — optional
Contact us
Schedule a call with a guide, or send us an inquiry. Feel free to ask us anything about backcountry skiing in British Columbia or anywhere else in the world. We always aim to reply within 24 hours.
Subscribe and find out more about British Columbia!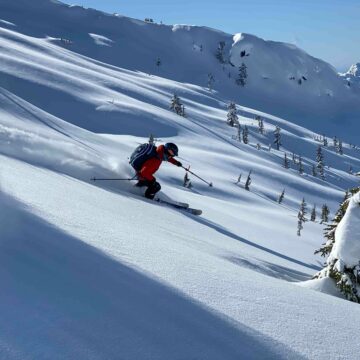 Get all trip updates, newsletters, special offers, and more about BC skiing right in your inbox!
Talk with us
and let one of our adventure experts help you plan your perfect adventure.