Accelerate Your Ice Climbing at Ouray (Like Nowhere Else)
Learning to ice climb requires suffering through a tough and costly apprenticeship: long travel to questionable ice, finding willing mentors, and enduring cold unforgiving environments. Unless you go to Ouray, that is.
Ice climbing. Words that strike fear into the hearts of gym and rock climbers.
It's a sport for those people—the grizzled alpinists, Himalayan hardmen, and old-timers telling stories at the bar about how they did it back in the day. Interesting folk, if a bit intimidating. But without being best friends with one of these creatures, how does one join the group?
You don't jump in headfirst, that's for sure. Leading ice is incredibly dangerous, with a high potential for injury in a fall. Yet, while climbing gyms have sprung up to provide an approachable introduction to rope climbing and bouldering, ice climbing doesn't have that entry point—unless you travel to Ouray.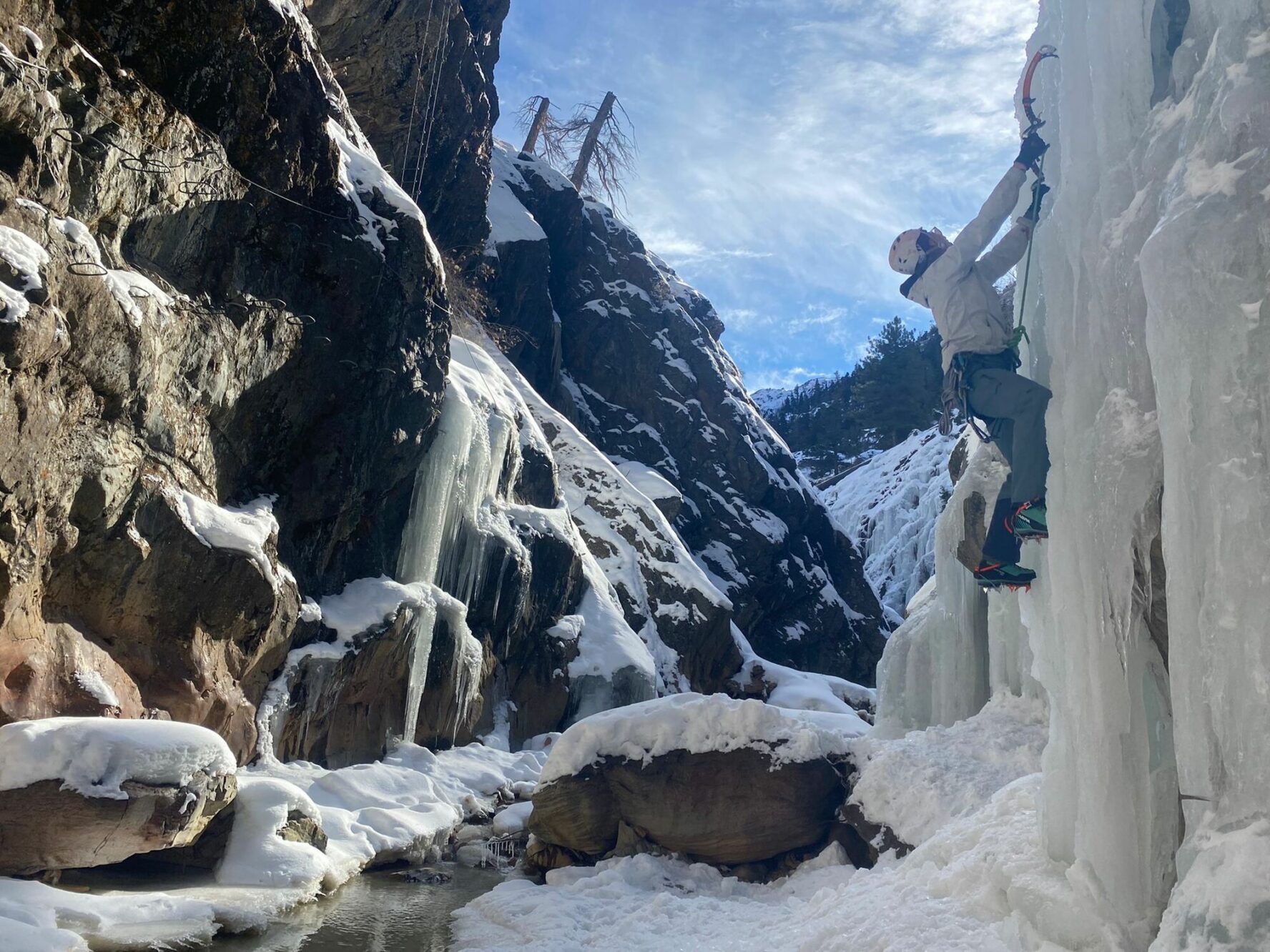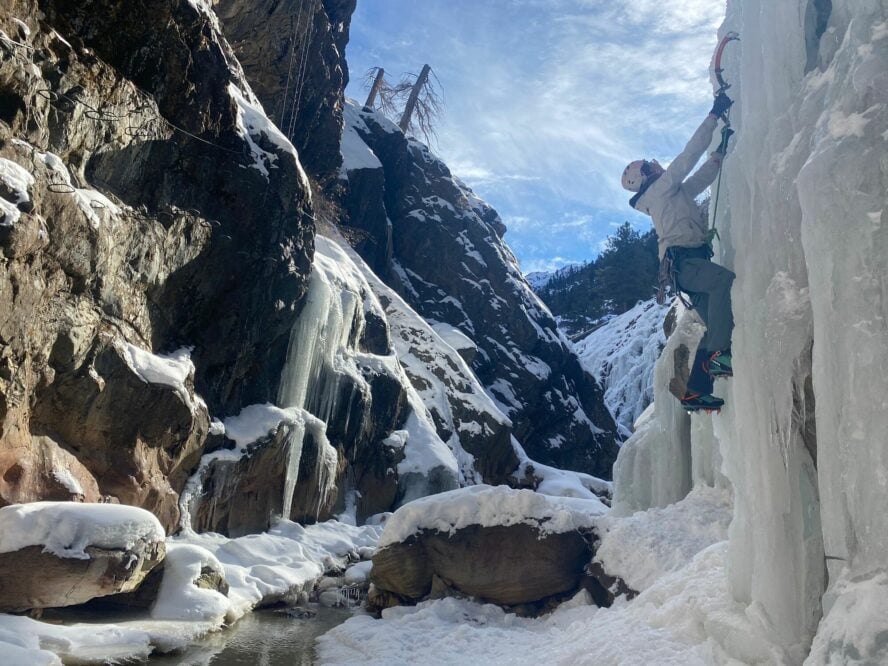 Pros and Cons of climbing at Ouray
Ouray Ice Park is free and easy to get to from town
Plentiful and accessible top roping
Easy to get lots of mileage, quickly
Backcountry ice is available for the more adventurous
More ice climbers per capita than anywhere this side of Chamonix
Can be crowded, especially during the Ice Fest and on weekends
Many novices means increased likelihood of falling ice. Stay back from the wall
Season can be a bit unreliable
Shorten the Learning Curve at Ouray Ice Park
The Ouray Ice Park is the best place in the world to accelerate your introduction to ice climbing. With perhaps the tightest grouping of climbable waterfall ice in the lower 48, and only a few minutes from downtown, Ouray is the outdoor ice climbing equivalent of, well, climbing gyms.
On a good day cragging on natural ice, it's not uncommon for each participant to get only two or three pitches of climbing. Much of the time is consumed by driving to some out of the way place, the typical logistics of leading and setting up top rope anchors, and then there's the short winter days.
Consider that Will Gadd, perhaps the best ice climber alive today, suggests beginners top rope a minimum of 100-150 pitches before even considering leading, and you realize this could take many, many seasons.
In contrast, a motivated person in the ice park can put up 5-10 laps in a day. Climbing here will teach you to climb safely and efficiently in a reasonable amount of time, with a reasonable amount of suffering.
When my beginner friends and I went for a weekend trip to the park last year, they were hooked. But this year, I wanted them to grasp what the sport is all about. So this time, we came for a week—and they progressed exponentially in their understanding. You will too.
OK, it's amazing. But what IS the Ouray Ice Park?!
The Ouray Ice Park is an outdoor, man-made ice climbing gym. It offers hundreds of climbs, the vast majority of which can be top-roped from bolted, top-access anchors. The ice park is almost two miles long, free to use, and offers climbs of all difficulties. If you get cold, there is a warming hut, hot-chocolate at the entrance, and it's just a short walk down to the restaurants and bars in town.
As far as ice climbing goes, that's plush.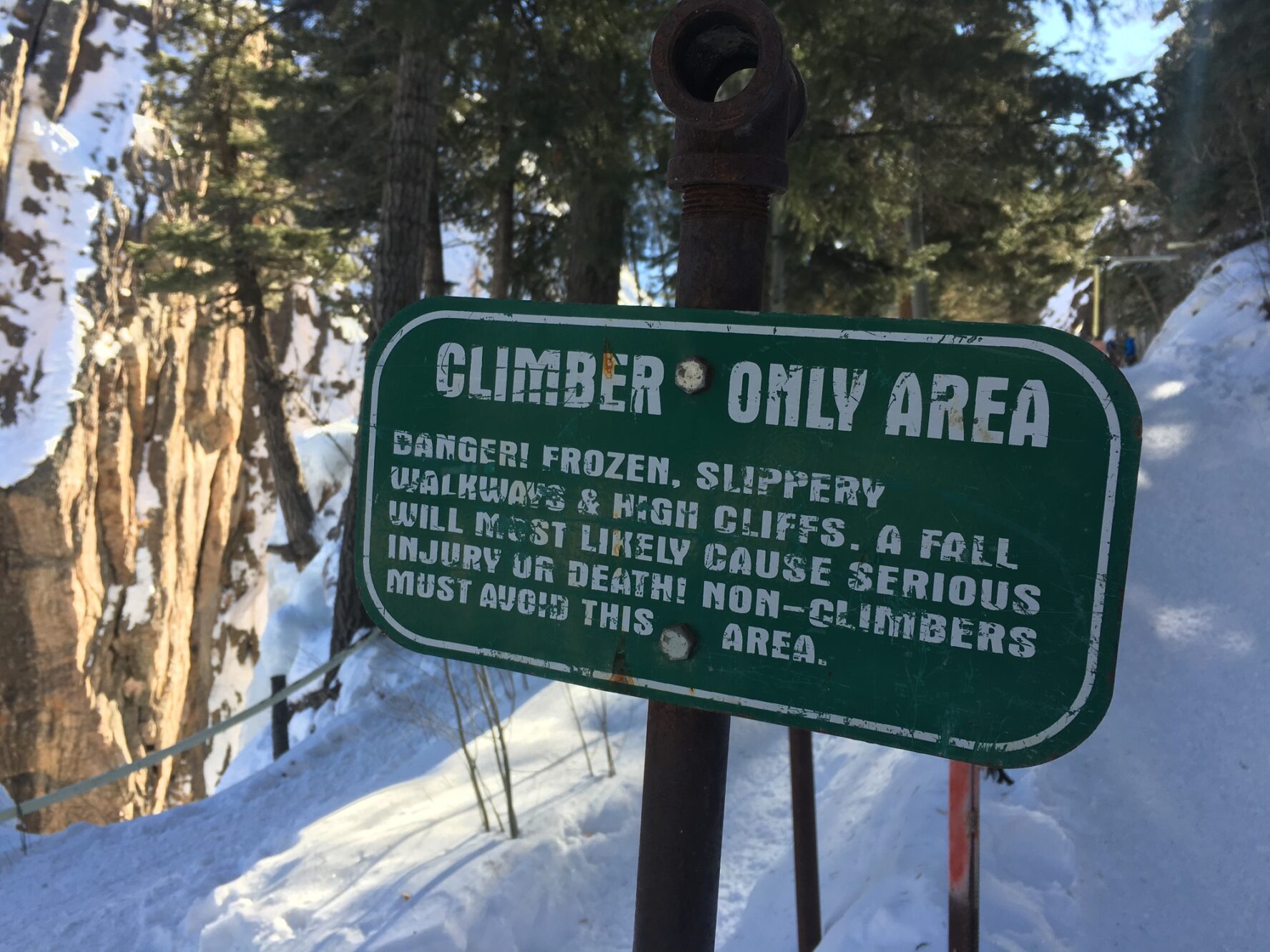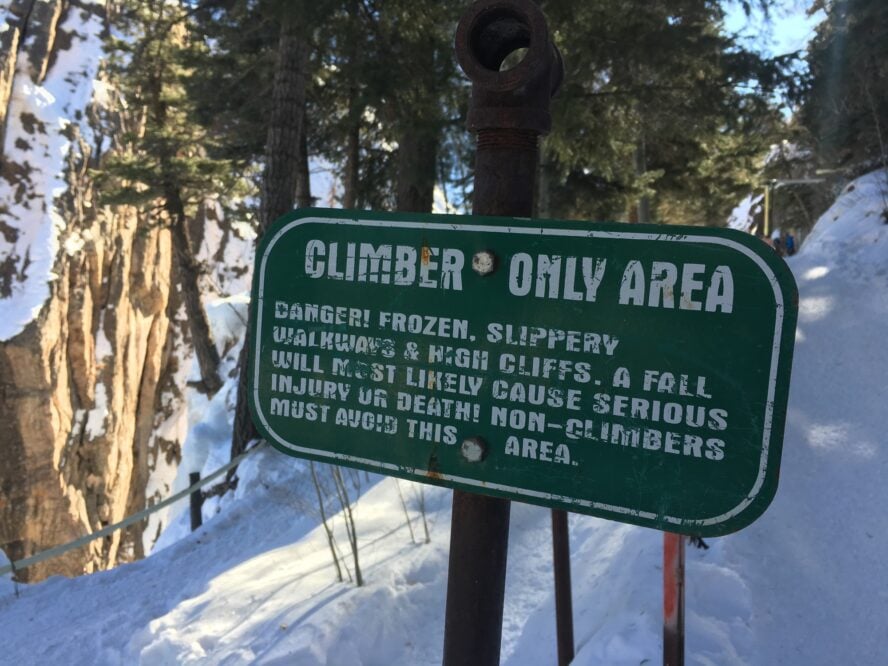 A quick history of the Ouray Ice Park
Ice climbers have been visiting the mountains of Southwestern Colorado for more than sixty years. In 1974 the area gained real notoriety when Jeff Lowe first climbed Bridalveil Falls in nearby Telluride. In 1978, Lowe earned even more recognition (and the cover of Sports Illustrated) with a cutting-edge free-solo ascent of Bridalveil.
So ice climbing wasn't a totally foreign concept to the residents of Ouray when one winter in the early 1980s, a local climber spotted a leak in the town's large municipal water pipe. The pipe ran along the top of a steep gorge, and the leak, combined with the town's frigid winter climate, had formed a huge dagger of hanging ice.
Bing! Lightbulb goes on.
Somehow, a few more holes started appearing in that pipe. Et voilà: more ice!
How is the modern Ouray Ice Park made?
Obviously, stealing from the municipal water supply didn't last forever. An agreement over water usage and mechanics was eventually hammered out, and by 1997, the Ouray Ice Park was officially incorporated. (A more detailed history can be found on the Park's website).
Nowadays, the park uses its own dedicated plumbing, with more than one hundred sprinklers located on top of the climbs, and a dedicated staff of "ice farmers" who help run them. Take a look at these taps when you're building your anchors—and be sure to get out of the park by the stated closing time, lest you find yourself climbing under an artificial downpour.
See how the ice is made thanks to the elaborate watering systems and ice farmers.
An Ever-Changing Medium: The Best Time to Ice Climb at Ouray
Local guide Micah Lewkowitz, of Splitter Alpine Adventures, first visited Ouray in 2008 and says the ice season in Ouray has gotten much shorter. He used to reliably start climbing local ice in mid-November, and invited his first clients out for Thanksgiving weekend. Now, he says he won't book ice trips until mid-December at the earliest, lest he risk disappointing guests. After all, if there's no ice, you can't go ice climbing.
Thankfully, Ouray is a pretty outdoors-friendly city, so when there is no ice – you can always go hit Ouray Perimeter Trail – one of the best hikes in Colorado.
The ice park opens and closes based on on-the-ground conditions. Typically the season runs from mid-December to mid-March, although, as noted, climate change is having an impact here, and the Colorado ice season as a whole.
This year, the park opened on Christmas Day, and in lean conditions. We visited from January 6-12th, and found things were still filling in.
A Season in a Week
My winters follow a predictable trajectory. I ease into the season on moderate climbs or top rope, then I up the adventure with a few ambitious climbs, and finally, after a good number of days out, I feel like I hit the groove and ice climbing feels easy and understandable. Finally, after so much ice climbing, I'll burn out, and start seeking out the desert rock climbing in Moab, for spring.
Here's a look at how my novice ice climbing friends experienced the same trajectory, but in the course of one week in Ouray.
Step 1: Break the ice
It always takes a day or two to get your groove back at the start of winter. We climbed two days in the ice park, top roping loads of different routes. That was enough time for two of my friends to start feeling more comfortable. Our fourth friend, Anna, had climbed plenty of ice as a youngster in Sweden, but had not swung an ice tool in several years. She shook off the rust, too.
"I remember reading an article about this 'artificial ice park' in Rock and Ice as a teen, and just being so amazed," she says. "All the ice climbing in Sweden is cold, far away and hard to access. We had never heard of 'ice farming', it seemed so bizarre… And it is!"
Everyone laughs. We look up at the huge ice walls, the crowds of people, the dozens of top ropes. An ice-farm-cum–ice-climbing-gym.
Step 2: Hit the backcountry
After two days getting our frontpoints under us, we head to Camp Bird Road, a good sector for single-pitch cragging on natural ice. It usually has a few less people than the ice park. I say "few" because at 8 a.m. on a Sunday, the only ice unoccupied was a thin, brittle and rotten slab right off the road.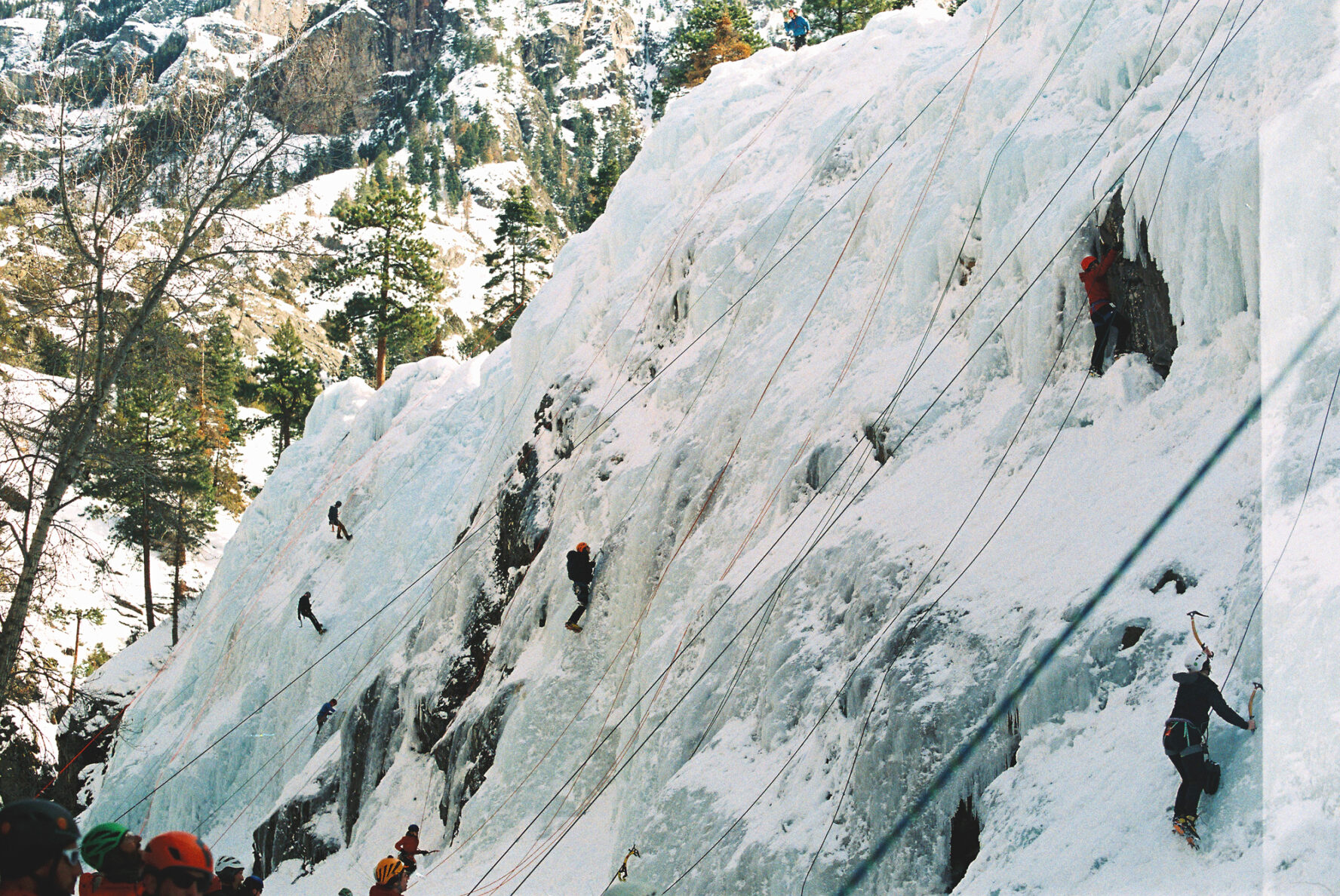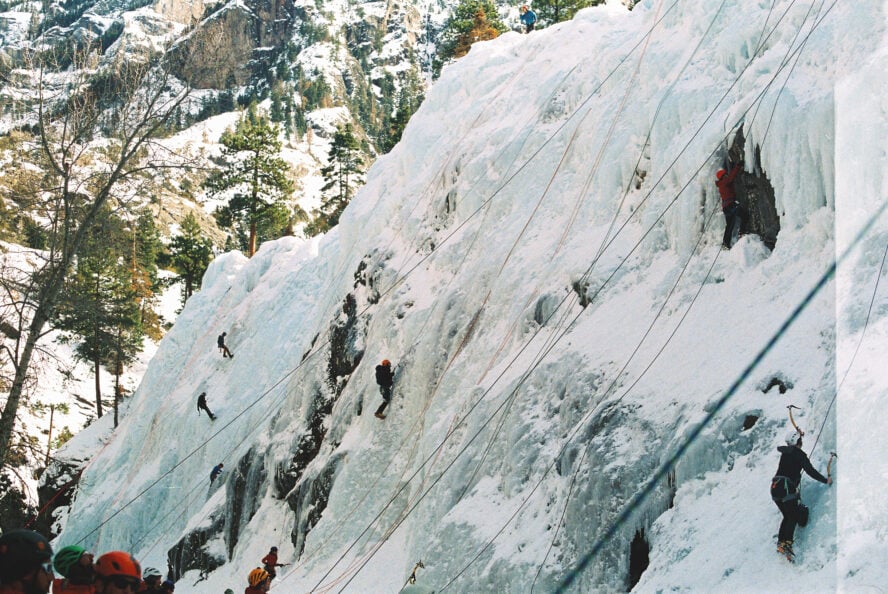 It wasn't too inspiring, but I put it up since the group had to climb something. It took stubby 10 and 13cm ice screws only (several cm short of ideal), and I kicked straight through the ice to the rock a couple of times.
This sport can be pretty stupid, I think as the blood rushes back to my numb hands—an extremely painful phenomenon ice climbers affectionately call the "screaming barfies."
The group runs laps on the short slab all morning, and we get to watch one of the magical things about ice: the character of the climb changes right before our eyes.
In the cold, shady morning, the ice had been bulletproof, brittle and tough, without an obvious line of ascent. As our climbing session continues, repeated climbs create pick holes, reducing the need to swing and easing the exertion required for each ascent. The temperature warms, and eventually, the sun touches our climb, making it wet, drippy and "plastic"—a state where it takes swings easily, and does not shatter. In the morning, my friend Will was about to quit life while he climbed the brittle slab with cold hands, but by mid-day he's happily taking extra laps on the "hero" ice.
Step 3: Go to the next level with multi-pitches
Ice climbing is a skill set needed to tackle big mountains. And of course, big mountains don't have ice farming or lowering chains. So, learning to climb successive pitches of ice is a requirement for any aspiring alpinist. Ouray offers plenty of opportunity for this, too. You can also do a day of guided ice climbing if you don't yet feel comfortable leading yourself.
Since we had people who knew how to lead, Our group decided to hit up the Dexter Slab, a 2-3 pitch backcountry ice climb just a bit north of town. This was the only beginner multi-pitch in good shape (at the time of our visit), and so the selection was easy. Unfortunately, that meant crowds were concentrated on this particular piece.
We left around 8:15, and by the time we arrived at the base of the climb, we found three guided parties in front of us. We were a group of four, planning to climb in two parties of two. This small climb had five parties on it, on a Monday. Use that information how you will.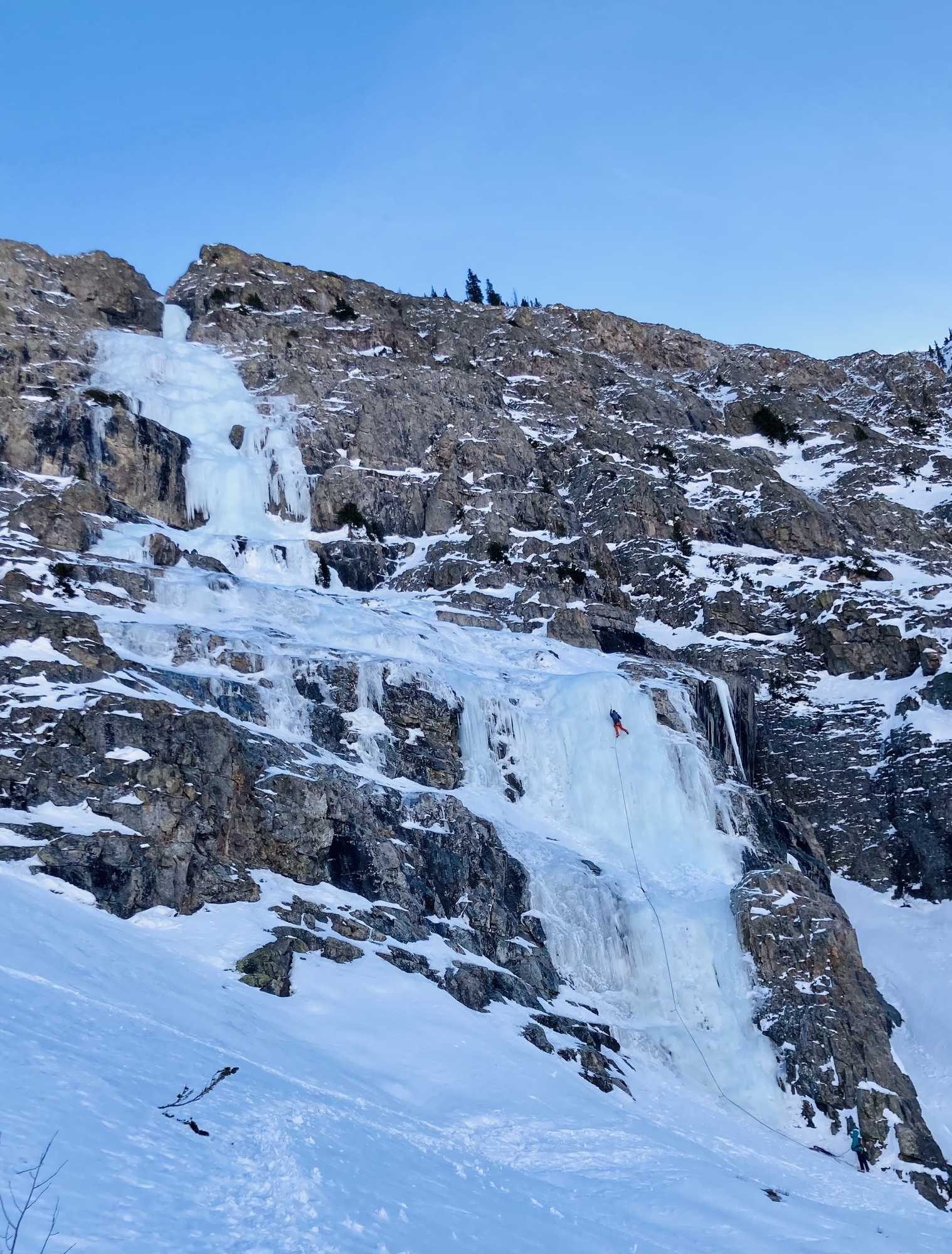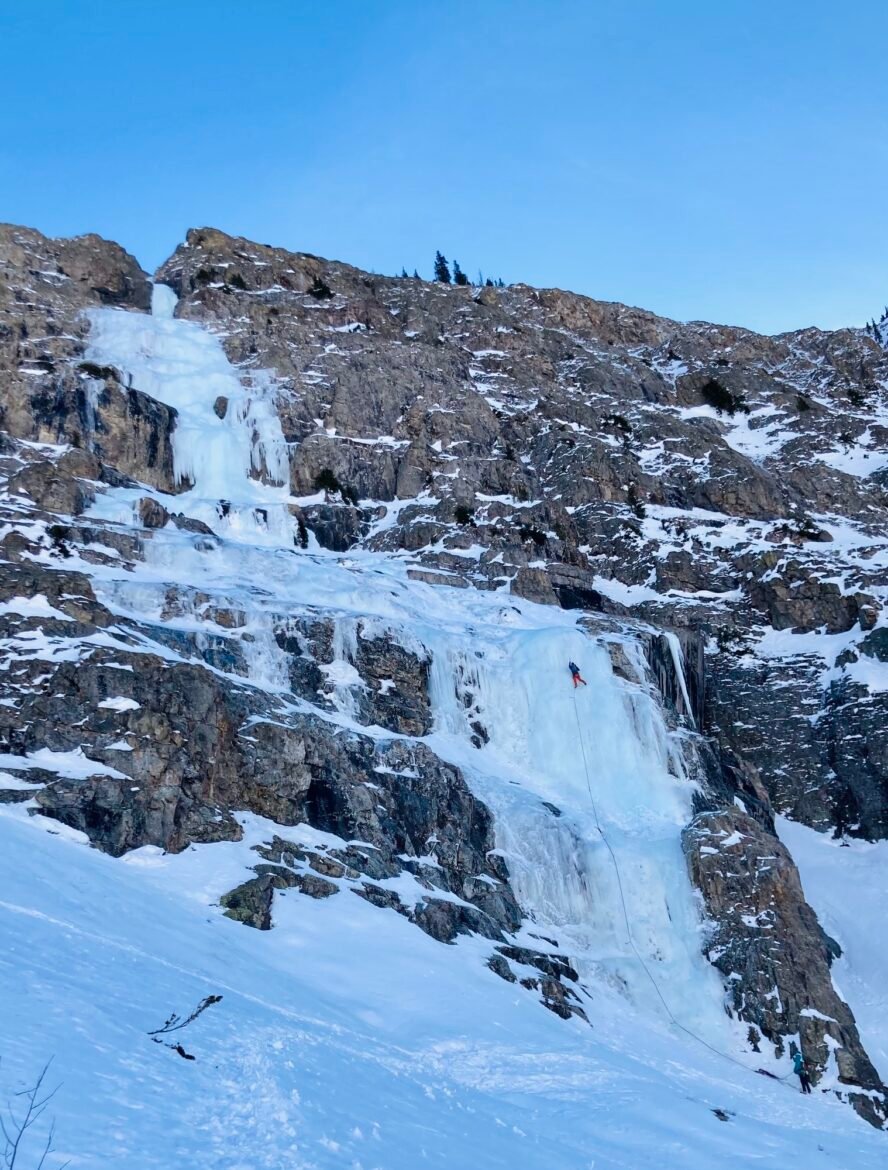 Eventually, it was our time to get on the ice. Anna led first, climbing strongly and sewing it up with tight ice screw placements. As she neared the top of the climb, she could be heard saying: "Oh, it's a little drippy up here." When I led that section, I discovered that it was a little more than "drippy"—an earlier party had placed an ice screw all the way through the ice, and running water was spouting out of the climb at a high rate. It was a narrow choke, and with no way to climb around, I placed an ice screw and kept climbing, even as my glasses rapidly fogged and reduced my vision.
Luckily, the section was short, and I soon topped out to find Anna and Will at an ice screw belay. Will was wet, shivering, and obviously highly unhappy. I said nothing, and set about building my own ice screw anchor, a few meters left of them. Still, I couldn't help overhearing.
"Are you good to go on?"
"I'll go on if you wanna go on."
"But do you want to keep going?"
"I would be perfectly ok if you wanted to go down right now."
"Well I don't want to go down. Would you be capable of going up?"
"Yeah, I think I'd be capable of going up. I just am really wet and wasn't expecting that."
I stifle my laughter and keep my mouth shut. Will was getting his first taste of the misery sometimes involved in ice climbing. This sort of suffering is exactly what the ice park can help you avoid. I'm wet too, but I know that by donning my belay puffy I can soon overcome the cold.
Anna eventually wins the argument, and they continue up. I belay my partner up and chase after using a slightly different line of attack, in order to stay out of her icefall. It's a fun, full 70-meter lead. Anna and I belay our followers up simultaneously. The lower ice climb is in the sun now and we are racing against time as conditions deteriorate. By the time we rappel, it's clear the sun-baked ice would not take ice screws.
Step 4: Hit the groove
We return to the ice park to put what we had learned in the backcountry to use. We practice our footwork, place ice screws in a safe and controlled setting, do some mock-leads, and put in lots more top-rope laps.
When we finally departe, it had been six days of no-rest ice climbing. "I feel like I've really got a handle on it after this week," Sara said as we departed. "I'm ready for more! Once my body recovers, of course." Her technique was looking as good or better than some friends I have who have been climbing ice for multiple seasons.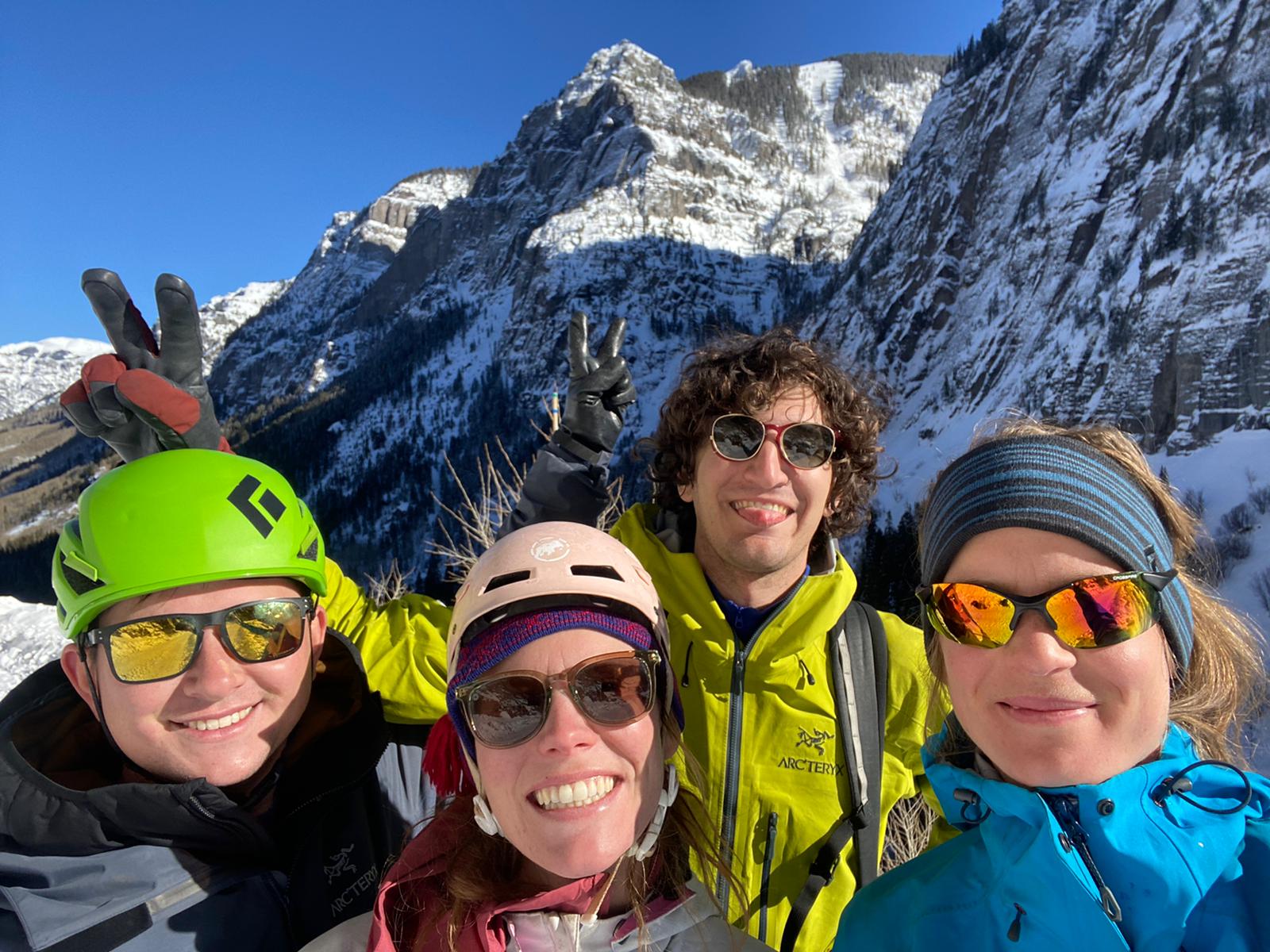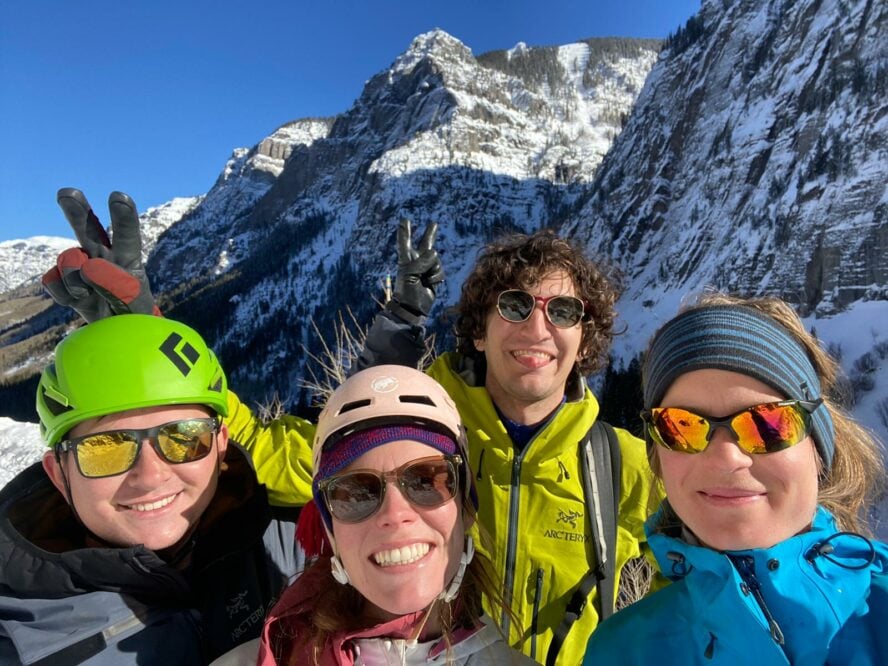 And that's really the magic of Ouray: in one week we accomplished as much as a moderately motivated climber could do in a whole season on the Front Range. If you want to accelerate your learning on ice, I can't recommend a week in Ouray highly enough.
Ouray Is Worthwhile For All Skill Levels
Best spot for beginners
Nowhere else will you be able to get as much mileage, as quickly, as in the Ouray Ice Park. For beginners, I recommend the following:
Want a steep climb? Try to lower into one of the 40-meter Bridge Routes, like the famous Pic O' The Vic. Feeling like mellow, low-angle rollers are more your speed? Hike out to South Park, where WI2-WI3 climbs are the name of the game. Or heck if you're nervous, hit the short Kids Wall, right at the entrance to the park. (It's usually full of adults, although I suppose if a child wants your spot, it would be good etiquette to yield).
Crowds are the downside to the ice park, but people are generally friendly, if you are.
Best spots for intermediates
As useful as it is, the ice park may get a bit boring after a few days.
For ice-cragging close to Ouray, it is difficult to beat Camp Bird Road. There are a number of climbing sectors, but the most popular is probably the sector known as Skylight.
The Skylight area offers probably a dozen pure ice climbs (depending on conditions), as well as many more drytooling and mixed lines. There are two important things to know here: all climbs must be led (they cannot be top roped) and the area is subject to avalanche danger, so be sure to check the CAIC avalanche forecast and/or ask local guides for beta before heading into this zone.
If you can't lead ice but want to check out the backcountry, consider hiring a local guide in Ouray.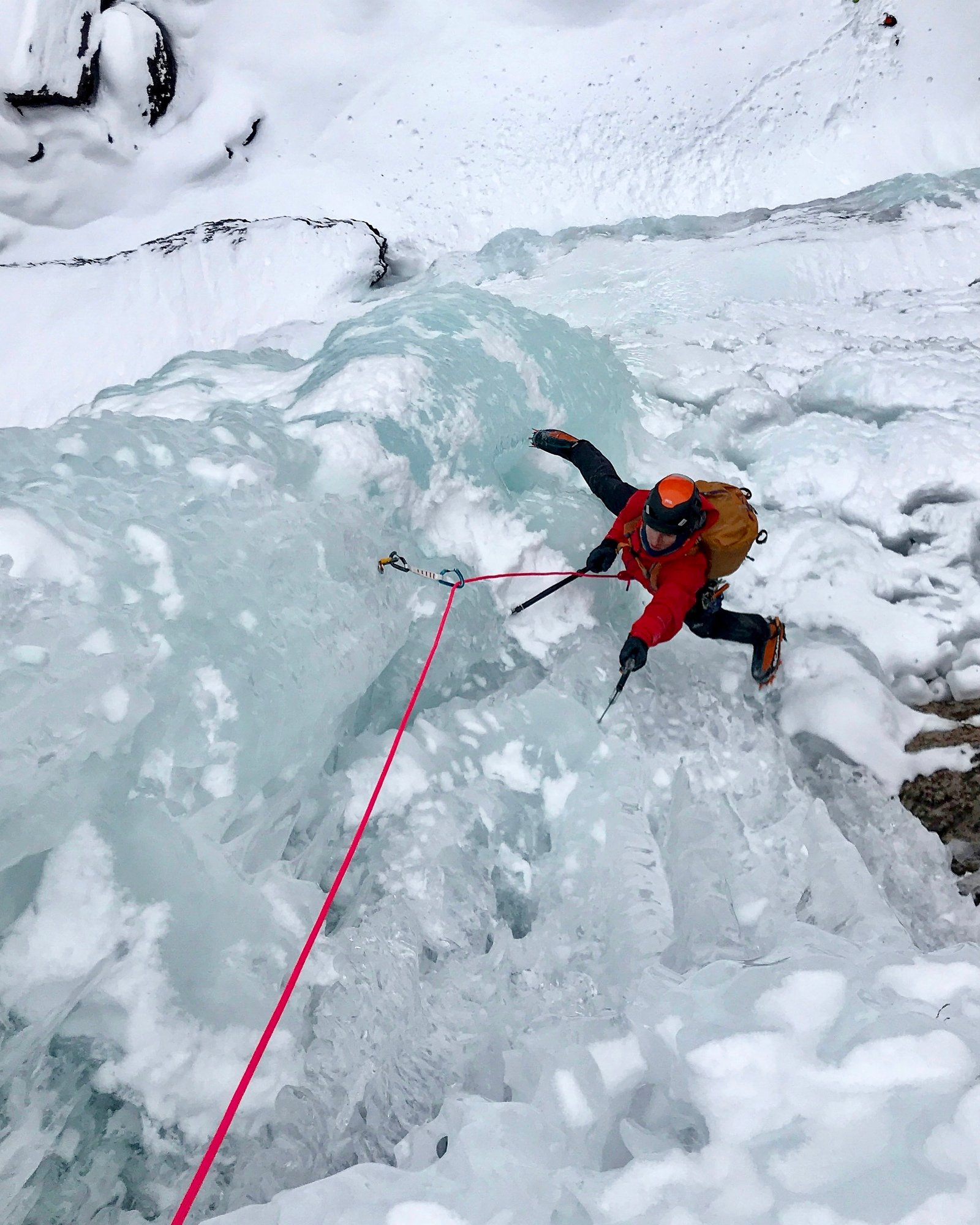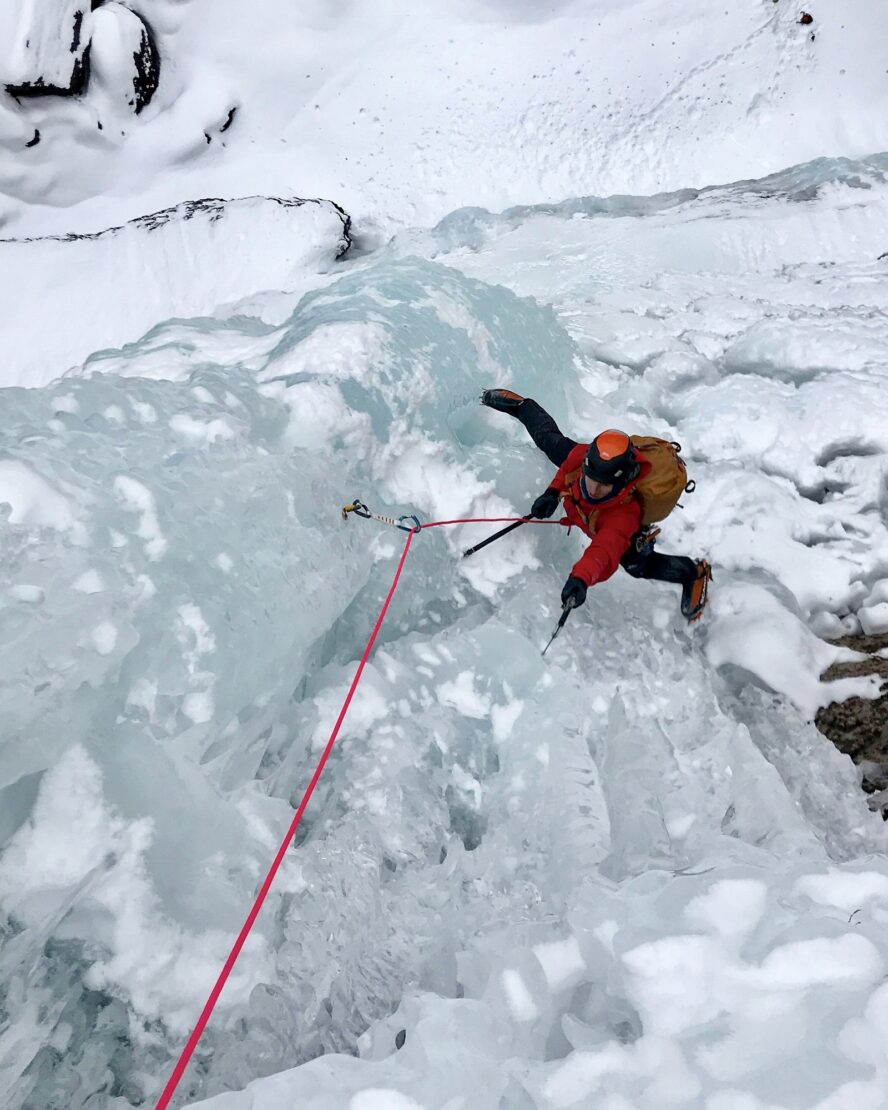 Best spots for advanced ice climbers (you grizzled son of a gun, you)
Expert ice climbers will still find much to do in Ouray—there is a reason that world-class alpinists like Steve House and Renan Ozturk call this area home.
There are classic multi-pitch routes like The Ribbon (WI4) and Bird Brain Boulevard (WI5, M5) on The Dark Side of Camp Bird Road, as well as many long and steep ice climbs in the Silverton/Eureka area, just over Red Mountain Pass. Colorado's best-known ice climb, Bridalveil Falls (WI6), is also nearby, in the town of Telluride.
Know Where to Go: The Ouray Ice Park Sectors
1. South Park & Deep South
This area offers the most consistent, low-angle climbing in the ice park, making it a great choice for beginner groups. Unfortunately, it is also the furthest from the entrance (10-20 minute walk).
2. The Cliffs
A new lead-only zone for the 2021-2022 season, located between South Park and New Funtier.
3. New Funtier
This area offers a good mix of vertical and off-vertical climbing, making it a good choice for groups of mixed skill. The climbs here are also a little shorter than in other areas of the ice park, generally.
4. School Room
A tall, steep area located near the entrance to the ice park. One of the easiest sectors to access and anchor, although construction on the water pipe atop the gorge has altered the access situation this year (2021-2022), by the 2022-2023 season, this should once again be one of the easiest and quickest areas to access.
5. Pic O' The Vic/Trestle Area
The most famous sector in the ice park, offering the longest climbs. These are the huge falls visible from the upper bridge. If climbing here, expect to be the star of a few tourist photos! Since these climbs generally exceed 35 meters in length, climbers must be lowered-down and top-belayed. An intimidating experience, but one not to be missed!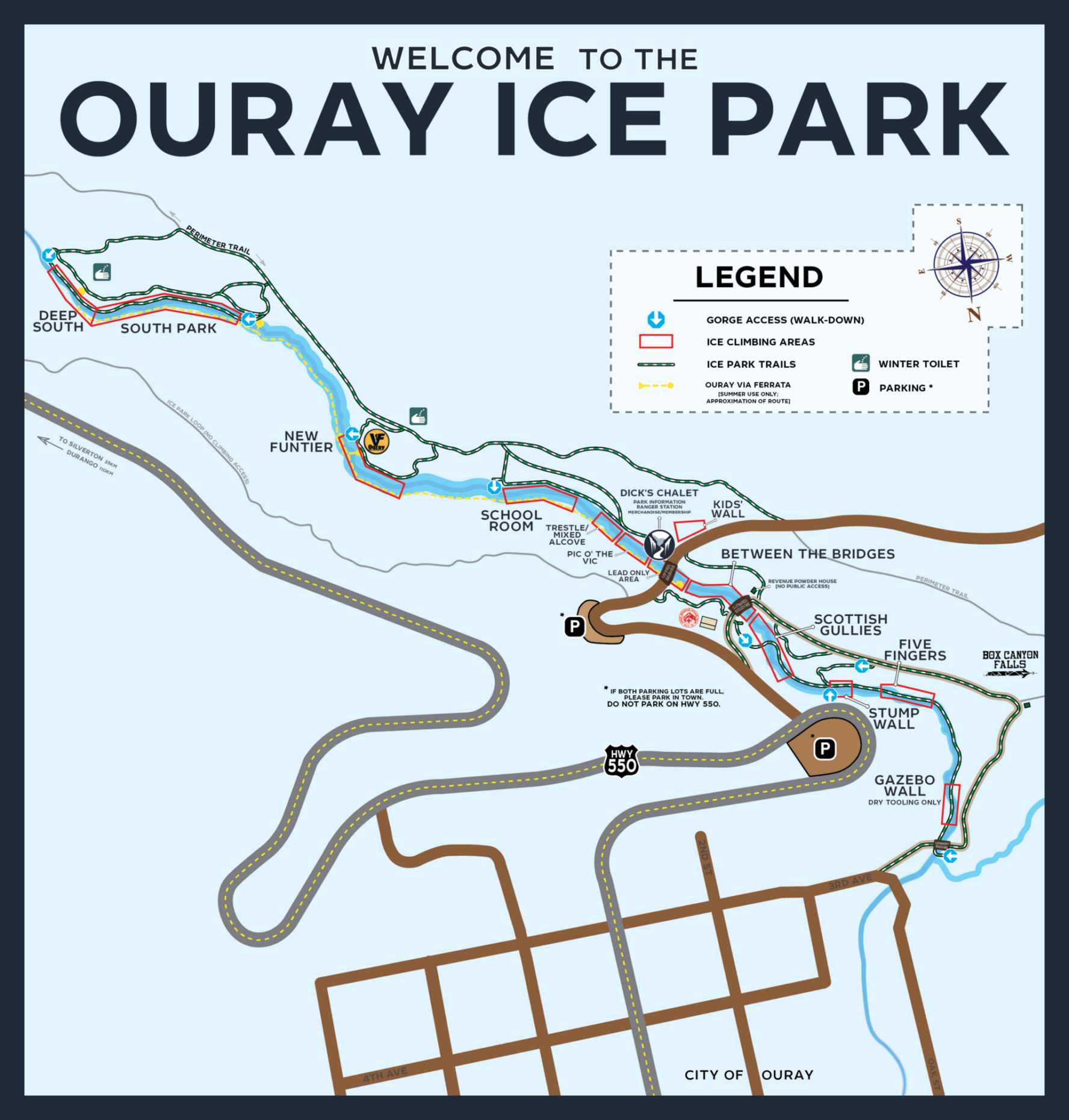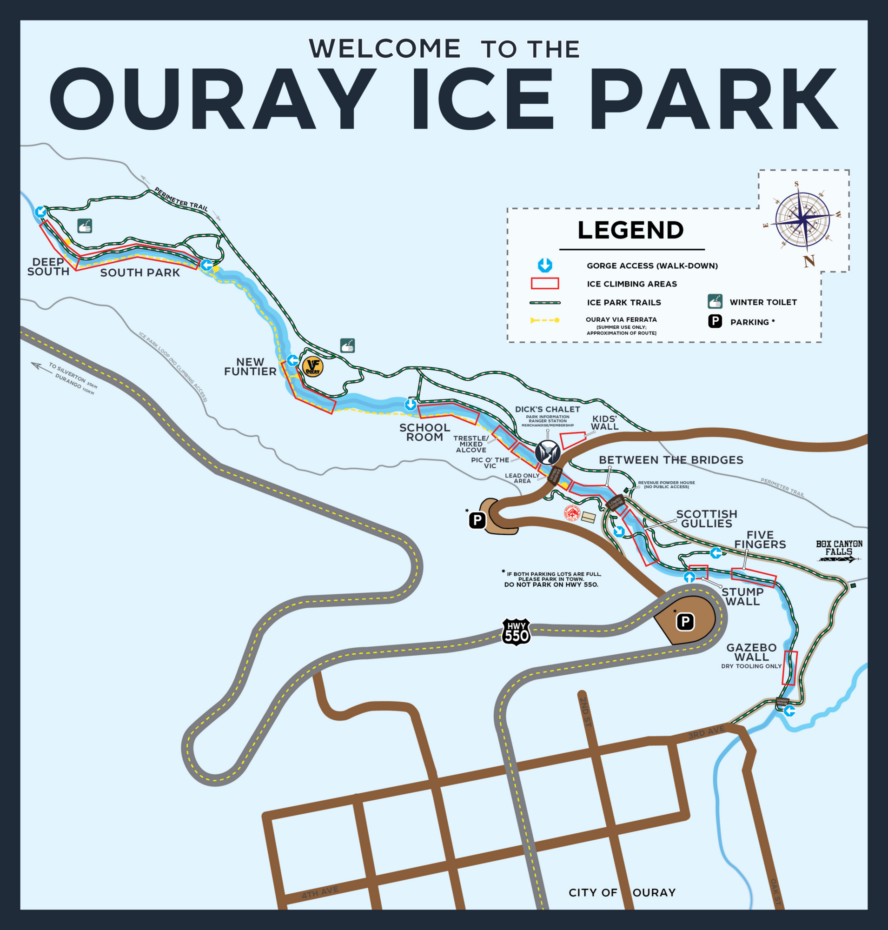 6. Lead Only Area
As implied in the name, this area of the park is reserved for lead climbers. As such, it is probably the least-used area of the Ouray Ice Park. Climbs here tend to be in the WI4-WI5 range, and see little traffic. A great place to practice if you are confident leading steep ice.
7. Between The Bridges
The area between the upper and lower bridges offers some fantastic steep climbs, both pure-ice and mixed, and see less traffic than other sectors. Most if not all of these climbs should be top-belayed.
8. Lower Bridge & Scottish Gullies
These sectors offer fantastic mixed climbing & drytooling, as well as some good steep ice. A 70-meter rope is required if you wish to slingshot belay in Scottish Gullies. This area is also host to the Comp Wall, an overhung artificial tower used for the Ouray Ice Fest and other competition events.
9. Stump Wall & Five Fingers
Another one of the park's less-visited areas, visitors to Stump Wall and Five Fingers can expect quality dry-tooling alongside pillar-style ice climbs (the eponymous 'fingers'). These climbs are visible from the horseshoe turn on HWY 550, right across from the main parking lot.
10. Gazebo Wall
A little-visited dry-tooling sector at the bottom of the park. Many climbs here must be led first, although they can be top-roped once the rope is up.
11. Kids Wall
The small wall right at the entrance to the park. Open to both children and adults.
Additional Good to Know Details:
Getting there
By air: The nearest airport is in Montrose, Colorado, although this is quite small and flights to this location may be expensive. From Montrose, Ouray is still a 50-minute drive away, and there is no reliable public transportation (shuttle services are available). It may be more convenient to fly to a major international airport such as Denver or Salt Lake City, rent a car and drive from there.
By car: Most people will opt to drive to Ouray. From Denver, it's about 6-7 hours, although snow on the passess can add considerable slowdown. Having a car is not strictly necessary if you want to climb only in the ice park (and you are staying in Ouray proper), but if you have any desire to climb outside of the ice park you will need a vehicle. You can enter Ouray from the north by driving Interstate 70 to Grand Junction, and then taking HWY 50 south to HWY 550. Alternatively, you can enter Ouray from the south by driving over Red Mountain Pass, a more scenic but considerably more dangerous route in poor weather.
Guidebook
The most recent guidebook for Ouray ice climbing is Jason Nelson's Suffer Candy, Volume 1, which includes a full guide to the Ouray Ice Park, as well as the Ouray backcountry and the popular Eureka zone near Silverton. It is widely available online and at stores in the area, such as Ouray Mountain Sports. Heck, I've even seen copies at Duckett's grocery store, although my guess is those come and go.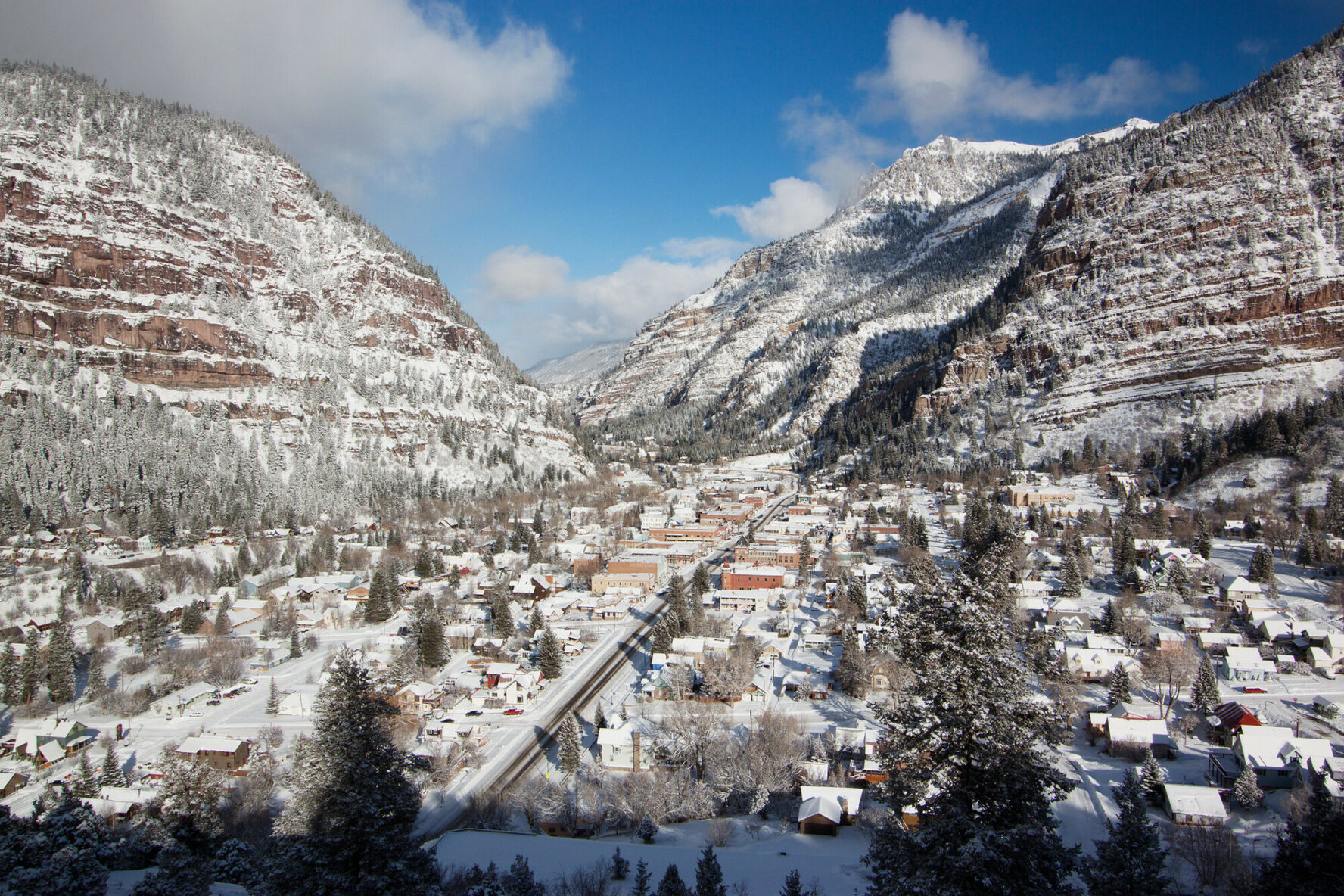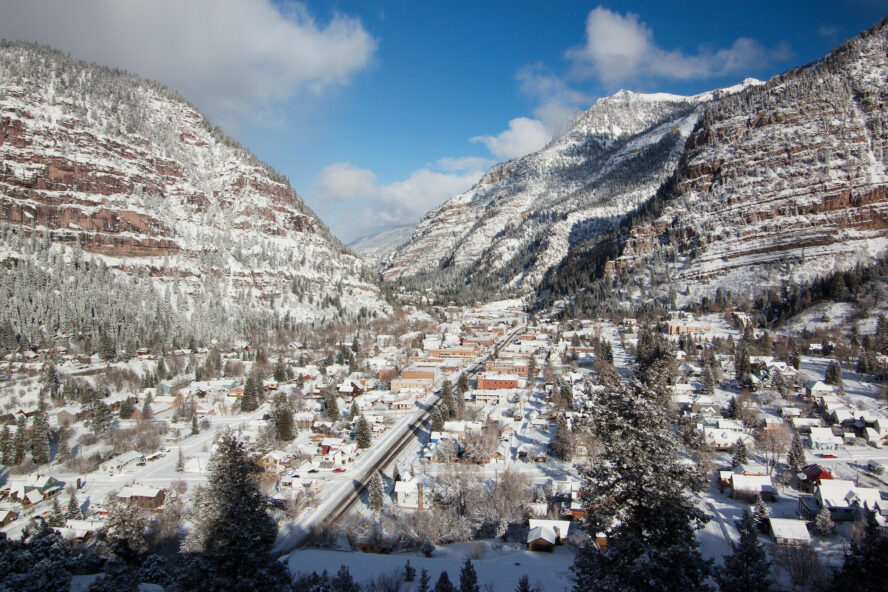 Shopping
Ouray has one grocery/general store: Duckett's Market, on main street. Selection is a bit limited, and most locals do their shopping in Montrose. Still, if you forgot something critical, there's a good chance Ducketts has what you need. There is a liquor store just a few doors down.
Ouray Mountain Sports sells most types of gear, including small necessities like ice clippers and stickers for your water bottle, to the big stuff like ropes or ice tools, in case you happened to show up REALLY unprepared.
Where to eat
There are a number of bars and restaurants in town. A few recommendations from locals:
Mi Mexico is new to Ouray, bringing authentic Mexican food at a pretty good value
Thai Chili offers tasty Thai food, and is a good choice if someone in your party has dietary restrictions like gluten sensitivities
The Ouray Brewery (a.k.a. Mr. Grumpypants Brewery) offers standard pub fare alongside local brews, including unfiltered ales, and usually has a lively atmosphere
Maggie's Diner (next to Grumpypants Brewery), offers a good greasy burger
The town is small, so it doesn't take too much time to walk the strip and examine your options.
Nightlife
There is none. Most businesses in Ouray close up shop by 9pm or sooner. You're here to ice climb anyways, right?? I like Grumpypants for a post-climb beer, although he may not be to everyone's taste.
Hot Springs
Ouray is home to a number of natural hot springs, and it's hard to overstate how nice it is to soak sore muscles and cold bones in natural thermal baths after a day out ice climbing. I highly encourage you to take advantage of these local treasures. My favorite is Orvis Hot Springs, a few miles outside of town. Clothing optional. Other options include:
Lodging
Airbnb or any number of small local hotels and motels. There is more lodging available in the nearby towns of Ridgway and Montrose, but be aware that staying in these places will add significant driving time to your days. If staying in downtown Ouray, you can walk to and from the ice park each day.
Vanlifers should be aware that there is no parking allowed overnight in downtown Ouray, or in the ice park lots. This rule *is* enforced, and rest assured, local law enforcement knows you are sleeping in that van. There is also some winter camping available on the way to Camp Bird Road.
Ouray Ice Festival
The Ouray Ice Fest is an annual weekend celebration and fundraiser for the ice park. The ice park raises more than half its annual operating revenue during this weekend.
Although the weekend is the most crowded the park will ever be, it's probably the best time to come visit. The atmosphere is festive, naturally, and for just $20 you can demo all the gear you'd like, including expensive jackets, ice tools, crampons, and mountaineering boots.
It also offers a few chances to interact with professional ice climbers. Many clinics are on offer too, ranging from intro to ice to leading steep ice or avalanche assessment in the mountains.
Nothing Else Like It
If you want to get a feel for what ice climbing is all about, there is no better place in the USA than Ouray, Colorado. Whether self-directed or with the help of a certified local guide, there is plenty of opportunity to learn about ice climbing or take your skills to the next level. I will return to this place myself for many years to come—and I hope to see you there alongside me!
Ready to take your winter climbing to the next level? Book a day of guided ice climbing in Ouray and enjoy over 140 world-class routes.