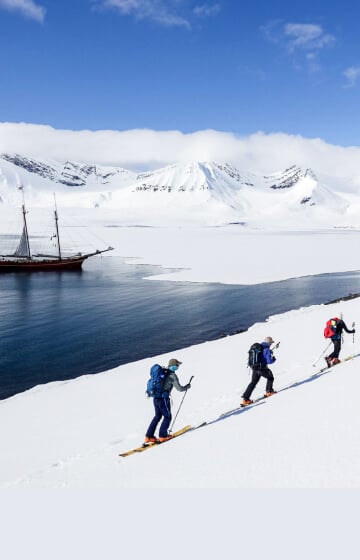 Skiing at the
Edge of the World
Experience ski touring like never before. Skiing on pristine arctic peaks and voyaging on an expedition boat are just the beginning of this once-in-a-lifetime adventure.
Ski at the edge of the world, far away from the crowded routes, about midway between the northern coast of Norway and the North Pole. As you embark on this journey along remote, untouched, snowy paths under the midnight sun, your understanding of vastness will change with each passing day.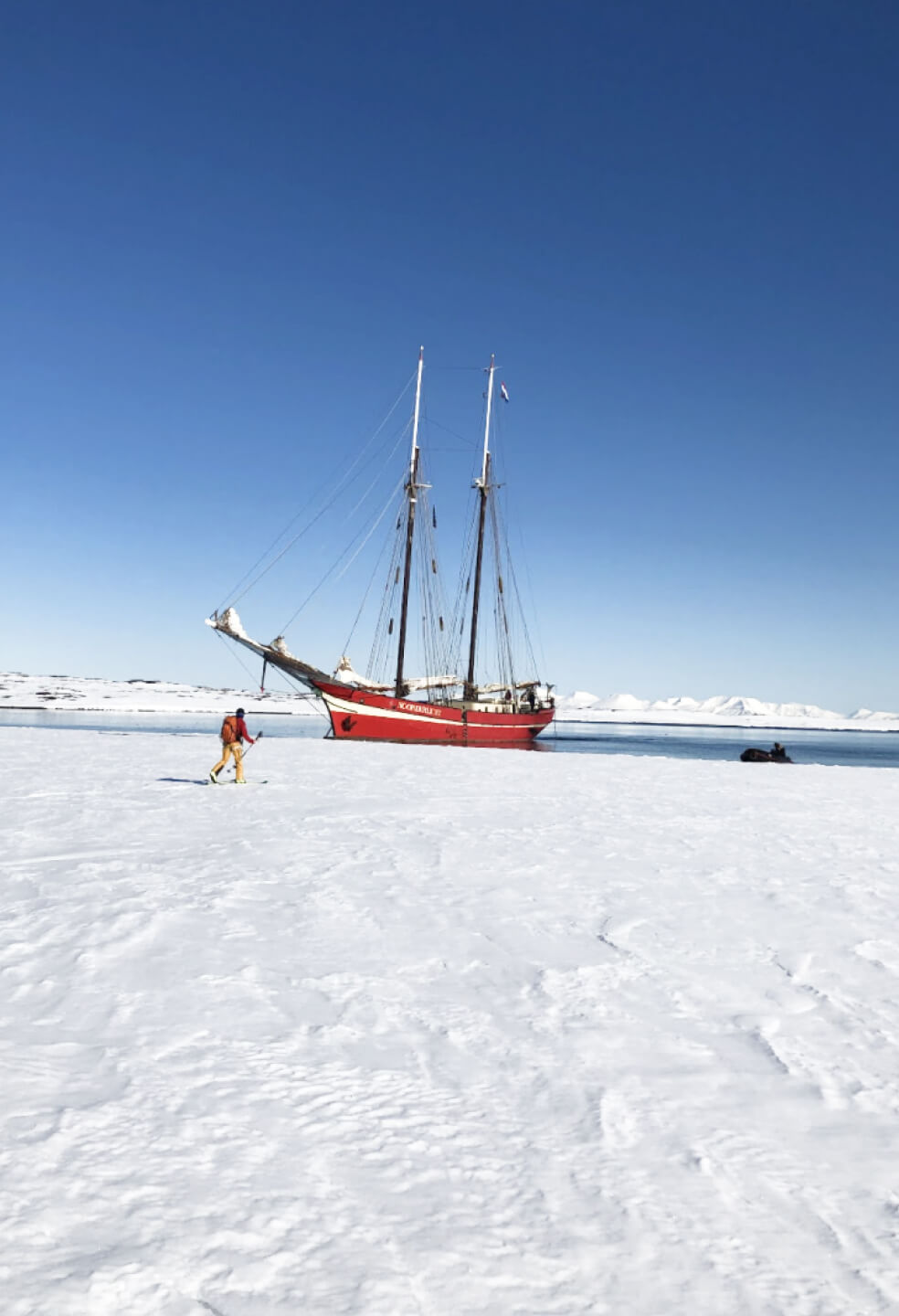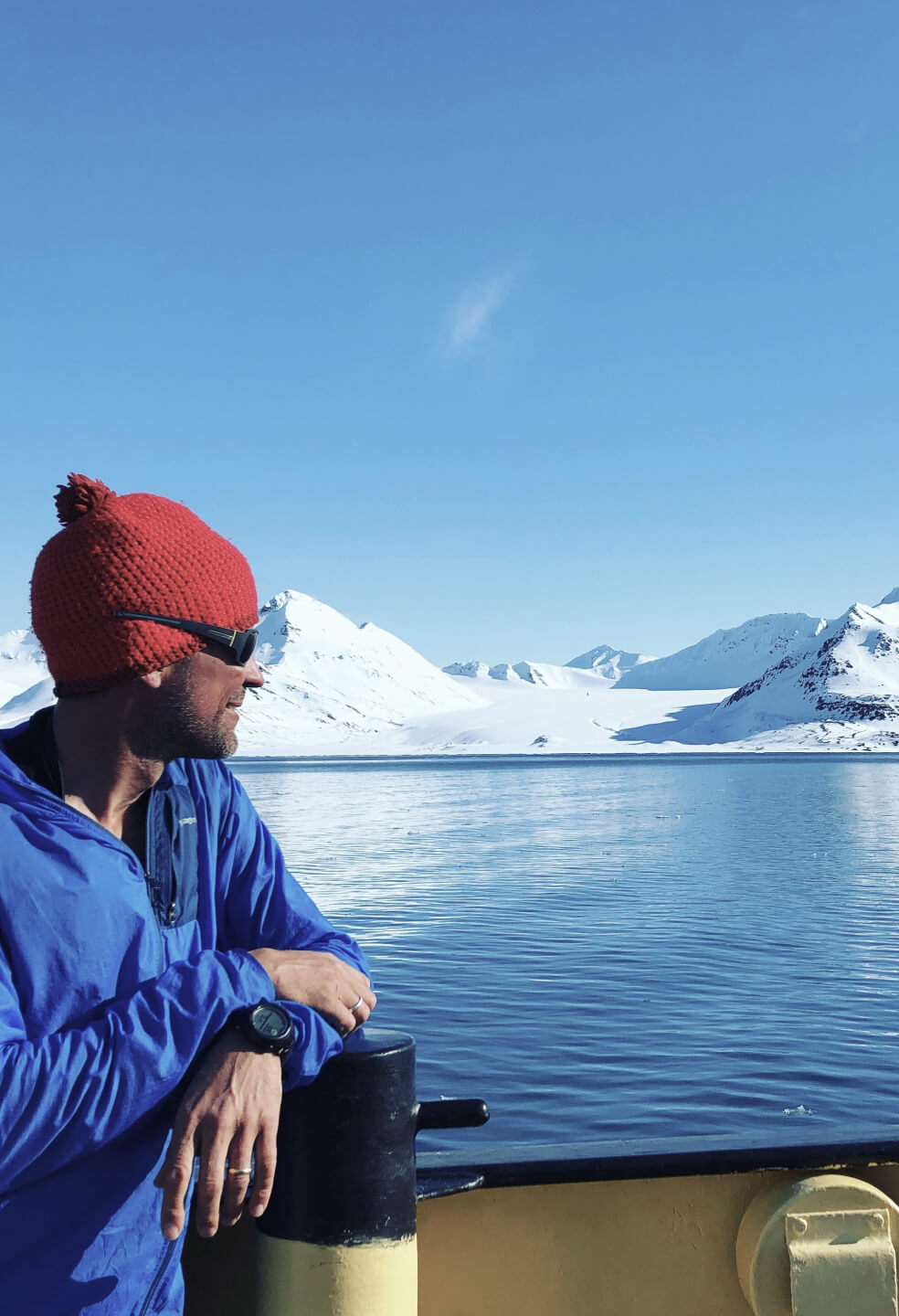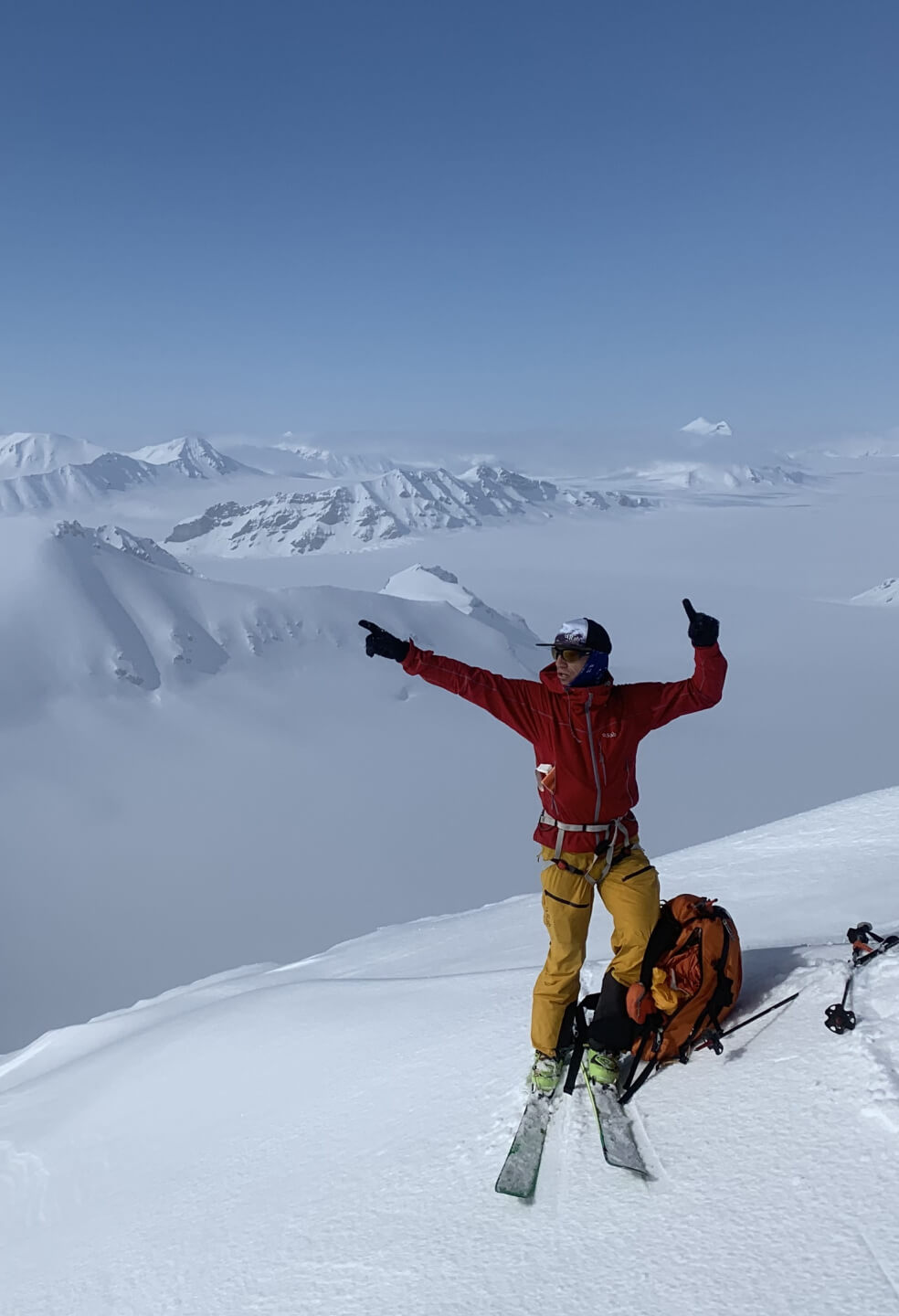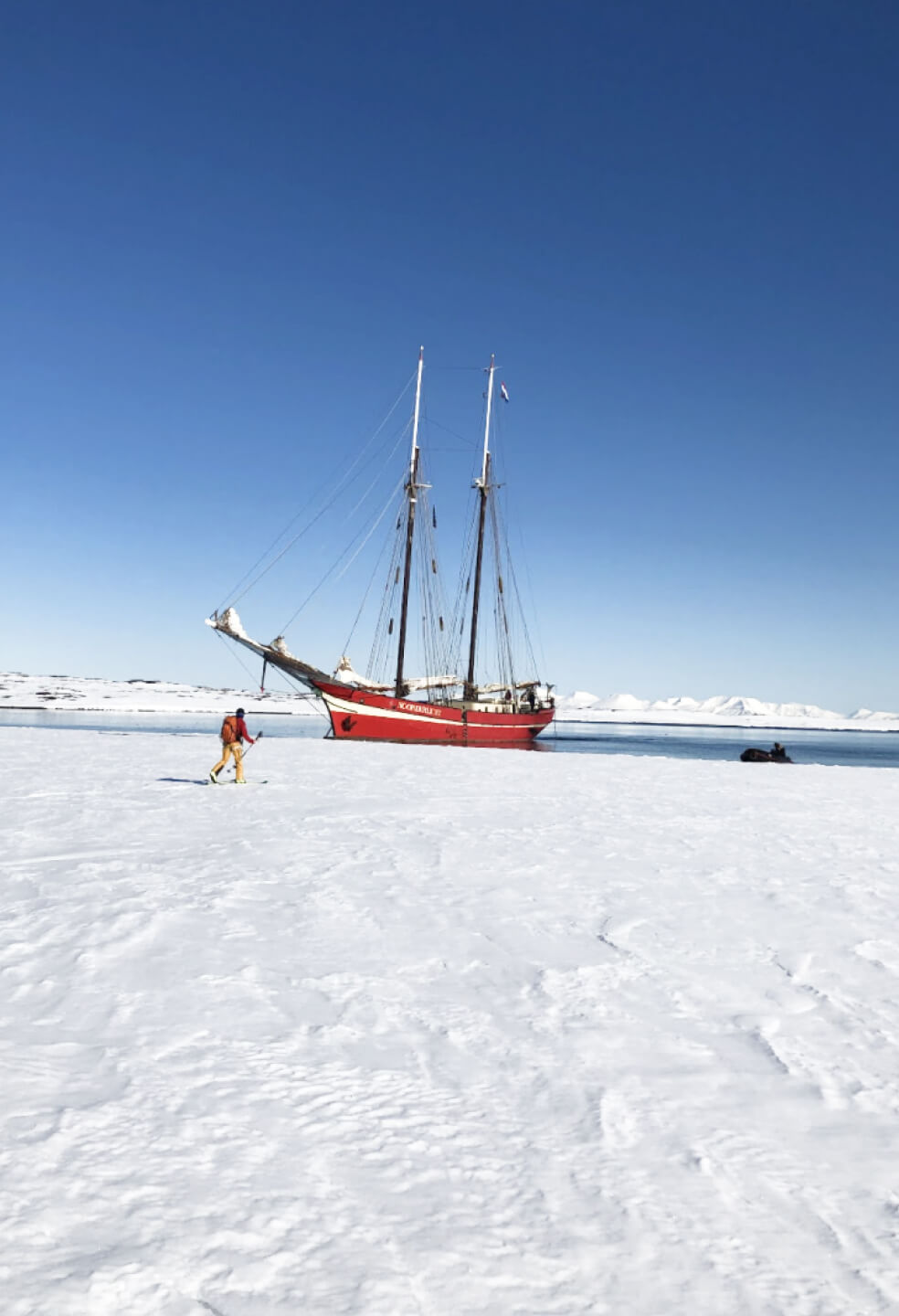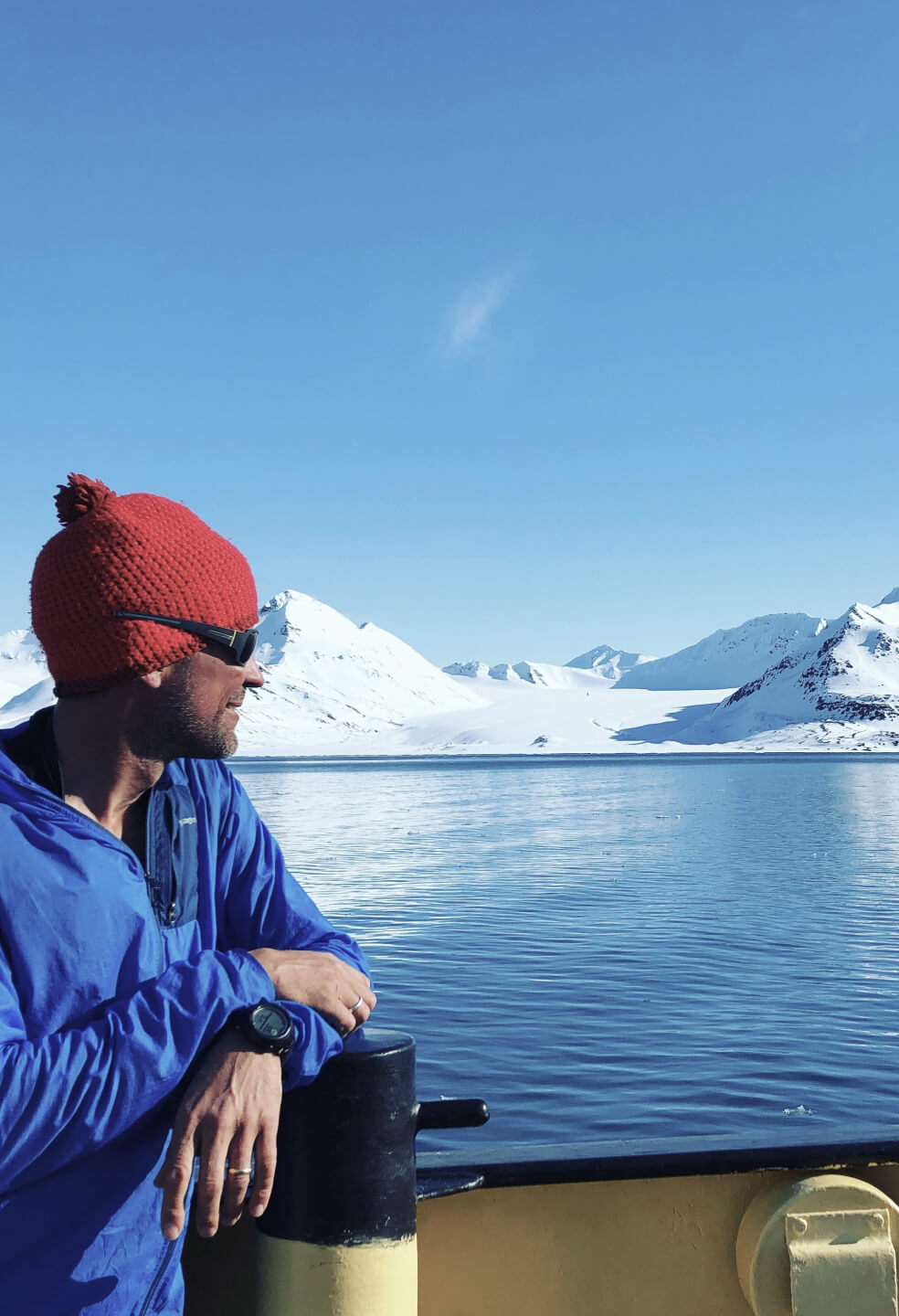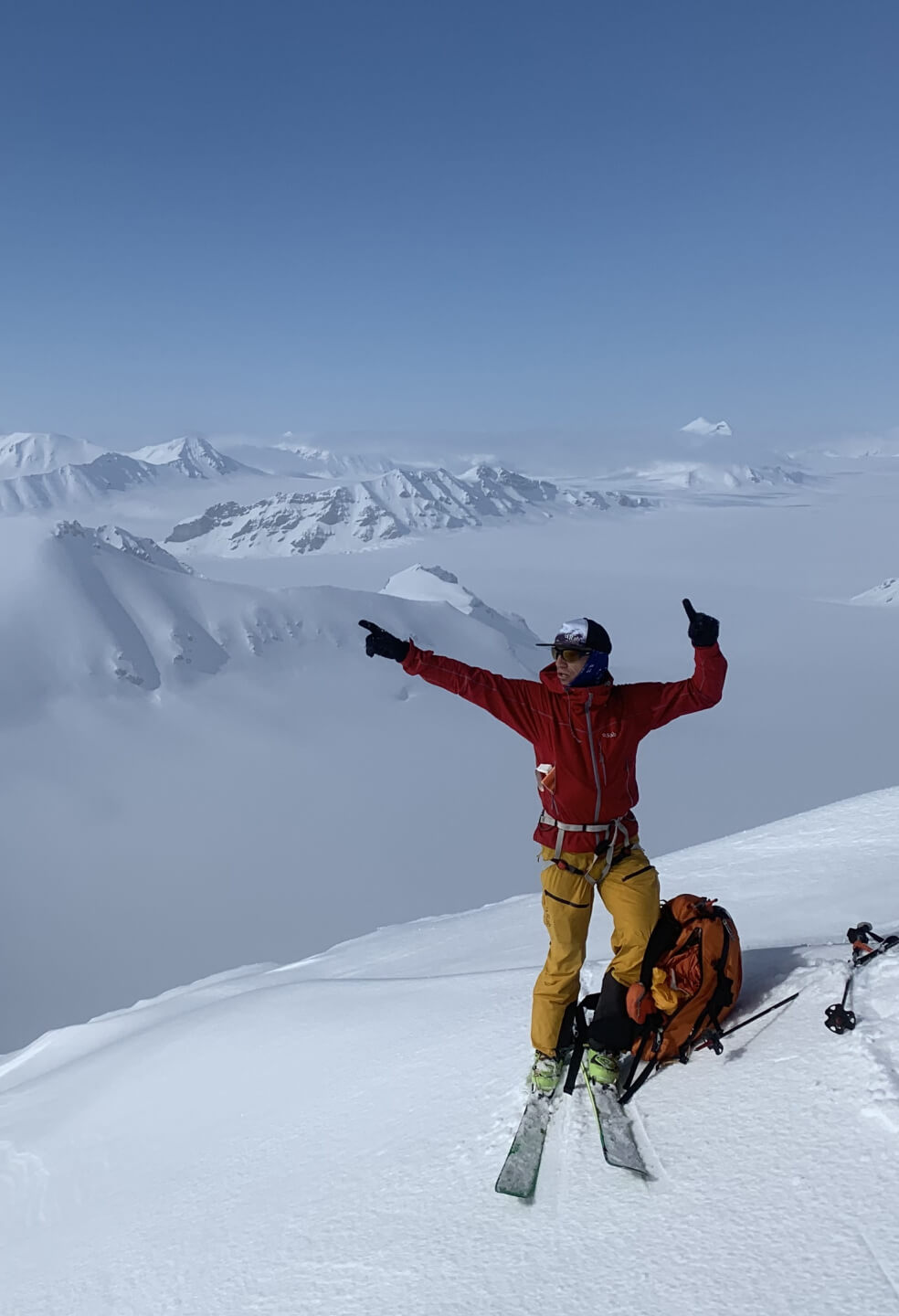 Svalbard, the edge of the world
Svalbard is a Norweigian archipelago 6 degrees south from the North Pole, 1,050 km (650 mi) away. Almost 60 percent of the archipelago is covered with glaciers, and the islands feature many mountains and fjords.
This chunk of land in the middle of the Arctic Ocean is where you'll be skiing & sailing for 8 to 10 days. When you're that north, we're no longer talking about a ski & sail trip, we're talking about a ski & sail expedition. It is one of those places where your imagination wanders to when you're looking at the world map.
79° TO 84° NORTH
ENDLESS SUMMITS
COBALT SKY
DEEP-BLUE SEA
24 HOURS OF DAYLIGHT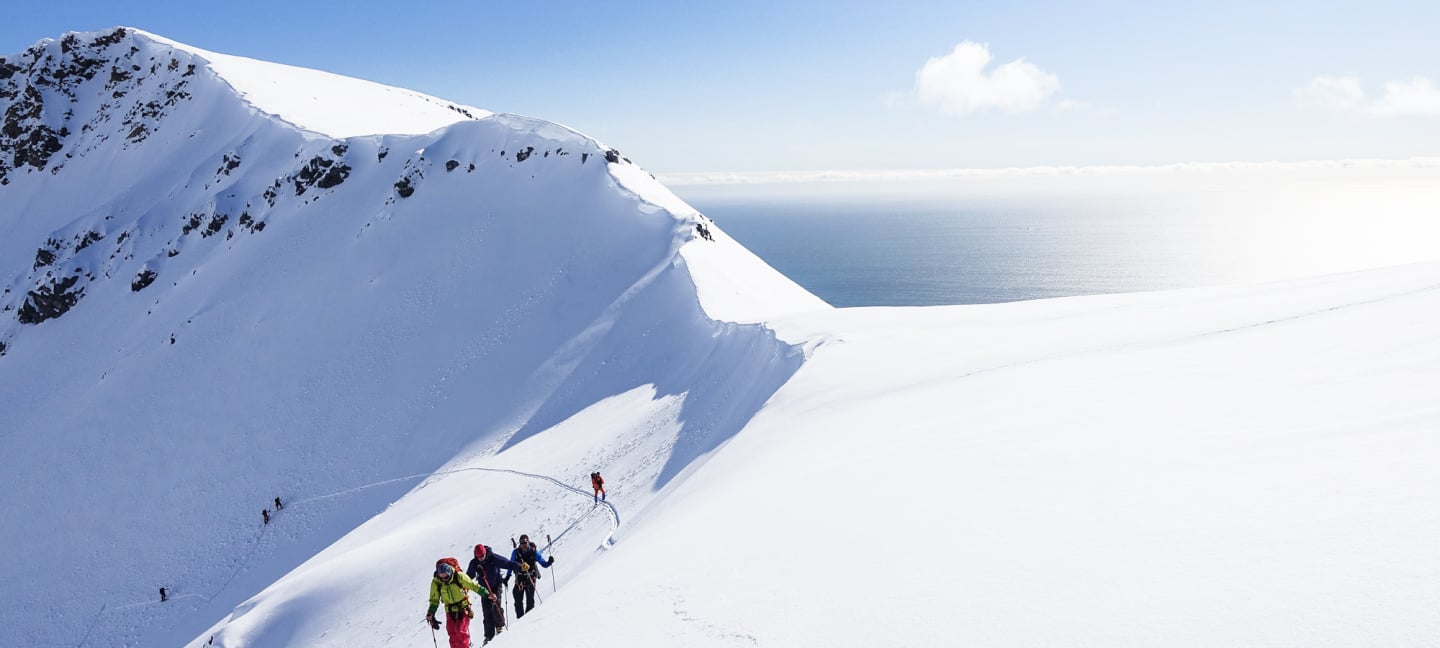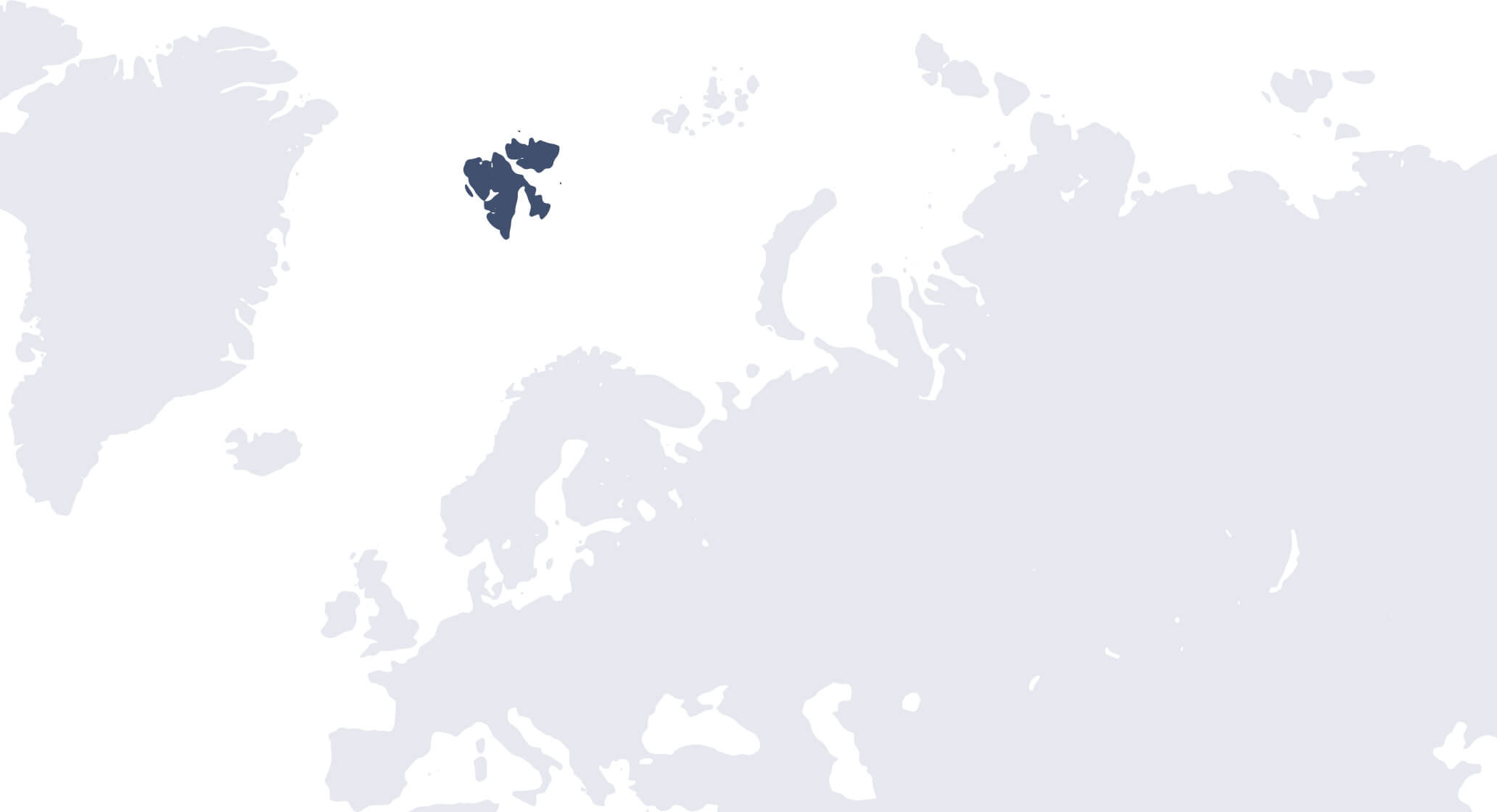 Unlimited terrain under
the Midnight Sun
UNLIMITED PEAKS FOR UNLIMITED SKIING
Be the first — or one of the first— to ascend and descend epic peaks jutting into the cobalt sky. The endless terrain is remarkably accessible.
Most of the skiing is consistent with low 30-degree angles, but steeper skiing can be found for anyone looking to challenge themselves.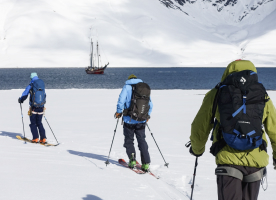 SNOW AND SKI CONDITIONS FOR EVERY TASTE
During the week, snow covering the untracked lines can vary from dry Arctic powder to perfect spring corn. Committed ski-tourers will find beautiful runs within sight of the town, under 24 hours of daylight.
Ski slopes vary from low-angle open bowls to technical chutes — unique terrain offers something for every ski level.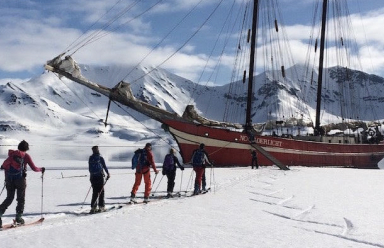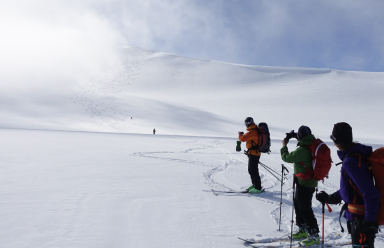 A surreal experience awaits
A modern expedition on a traditional ship
SAIL ON A FLOATING POLAR BASECAMP
While ski touring out of Longyearbyen is easy, getting deeper into the Svalbard wilderness takes some planning. Boats — sail or otherwise — are key for an adventure like this, providing flexibility and safety.
The boat sleeps up to 25, including a four-member crew, a chef, a couple of guides, and a bunch of hearty guests who love ski touring, good food, and epic scenery!
Scenic climbs give way to long, beautiful runs back to the water, where a comfortable boat and a warm meal await you at the end of each day.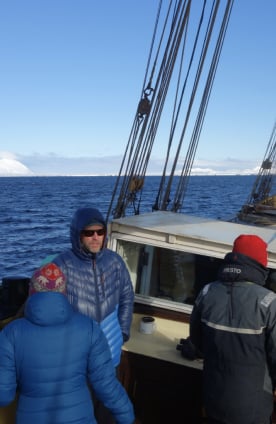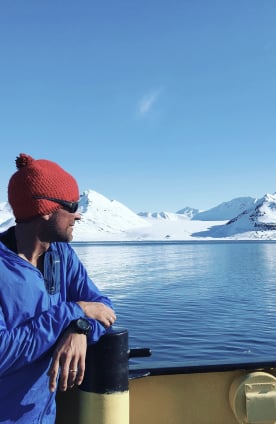 THE NOORDERLICHT
You will stay on a 150-foot, three-masted schooner called The Noorderlicht. This magnificent boat boasts over 100 years of history – originally built in 1910, she served in WW2 and is now an expedition boat. With her, you'll sail countless coves and experience the archipelago the way it's meant to be experienced!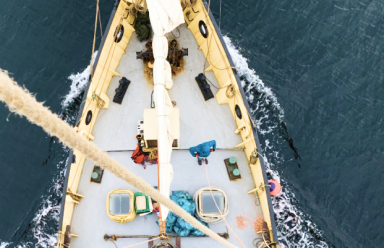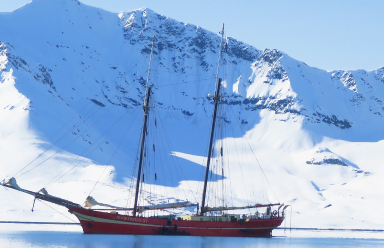 Your guides
Rob Coppolillo is an AMGA and IFMGA Mountain Guide. In fact, Rob's one of the first 100 Americans to have earned international certification through the International Federation of Mountain Guides Association (IFMGA).
Tom Wolfe is an ACMG and IFMGA Mountain Guide. He guides year-round, with winters being a mix of ski guiding at lodges, heli-ski operations, and remote backcountry destinations.
Your expert guiding team (up to 4 guides) is experienced in avalanche terrain and trained to handle any medical emergencies. Let your hospitable hosts ensure you have the best experience possible on this once-in-a-lifetime adventure.
Tom Wolfe coordinated a fabulous ski and sail trip to Svalbard. It was an amazing trip that took into consideration the goals and capabilities of each of the guests, while keeping safety top of mind. Tom is not only a professional guide, he's a really nice guy too. I look forward to skiing with him (and the other guides) again in the future.
Rob organized and led a great trip. Skiing, sailing on a tall ship, polar bears, 24hrs of daylight and great people–doesn't get any better.
When Tom asked me if I wanted to go to the Arctic and ski from a steel hulled yacht I said yes without thinking… Good call. Svalbard was mind-boggling. We always enjoy skiing with Tom, classic Canadian mountain guide, and Phil Wickens ,who was the expedition leader, was also fantastic and a wealth of knowledge! Save your pennies and sign up for 2020 – you won't regret it…..
I went on two trips with Tom last winter: to Carlyle Lodge in the interior of BC and to Svalbard. The skiing and snow conditions at Carlyle were great and Svalbard was definitely the experience of a lifetime in terms of the terrain, scenery and wildlife. It totally exceeded my expectations. Tom has a knack for picking great destinations and putting together fun, well organized trips.
My family and I had the adventure of a lifetime. It was an incredible experience and Sawback did an excellent job. We would highly recommend the trip and Tom to everyone.
Rob was awesome. He did a great job making the most of our trip despite challenging wheather and a diverse group. The trip was great. The crew made an unforgettable trip even more unforgettable. Great food and amazing crew.