Sedona | Arizona
Mountain Biking in Sedona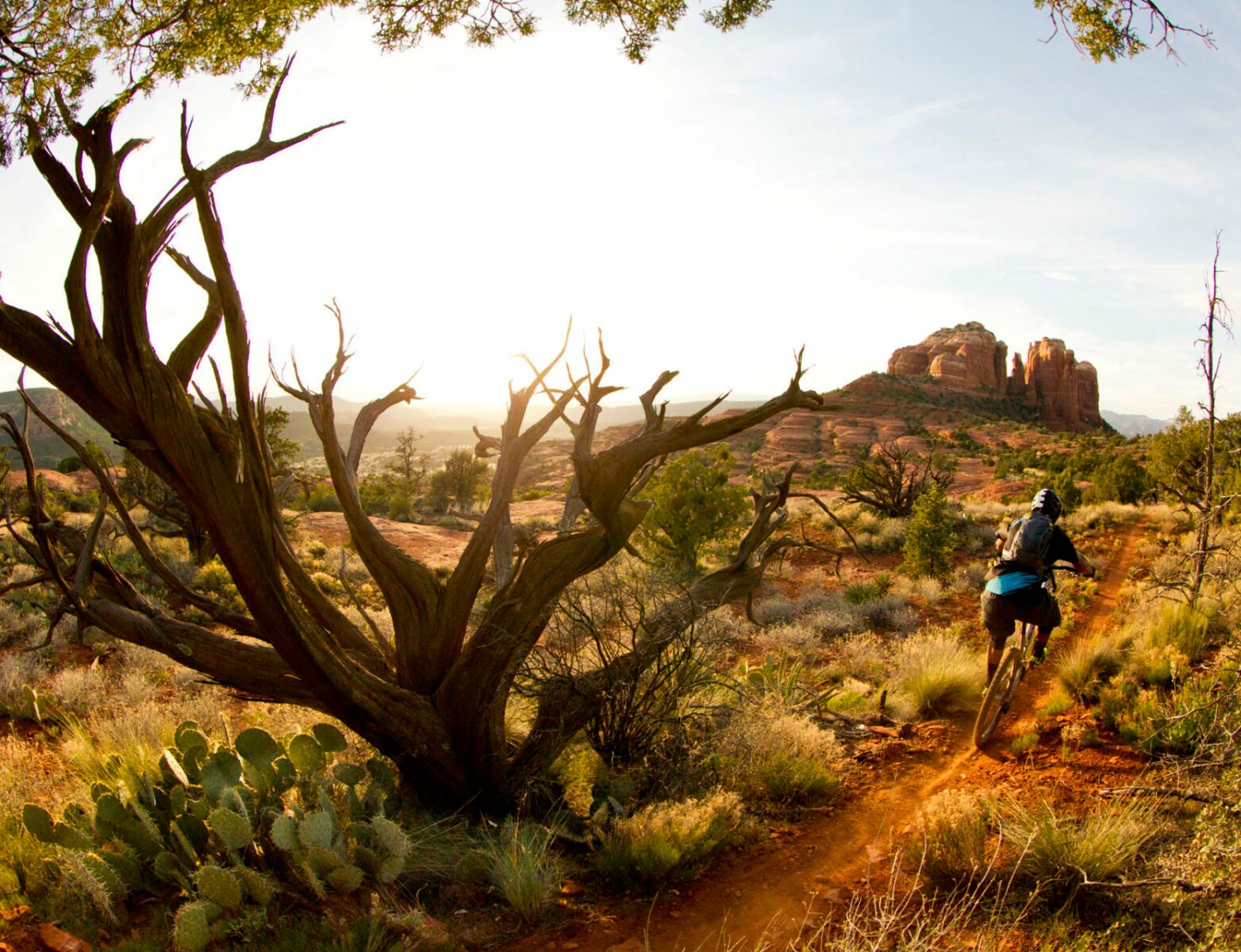 Group size
Bring as many friends as you like — there is no limit!
Skill level
All skill levels are welcome
A labyrinth of bike trails across Sedona awaits!
Sedona has it all thanks to year-round riding, sweeping views and staggering variety. This area offers plenty of steep canyon walls and red-rock buttes in an otherworldly desert setting — the type of landscape where you might expect to see coyotes planting dynamite. Every biker in the know has their eye set on this desert playground. New riding addicts will find warm-up trails for beginners to gain confidence and foundational skills. Intermediate tracks offer exhilarating technical terrain and exciting features. For advanced mountain bikers, there's a treasure trove of challenges. Book your guided tour to see why MTB diehards keep coming back!
Most Popular Itineraries
Full-Day Sedona Bike Tour
Can't get enough of Sedona's stunning terrain? Go on a private, extended 5-hour tour. You can tackle some of the area's more difficult, exhilarating trails or adjust for a beginner's pace. You'll soak up views of the Mogollon Rim no matter the difficulty of the trail you choose.
Half-Day Sedona Mountain Biking Tour
From $75 per person
·
Half day
Sample some of Sedona's iconic bike tours by riding the classics. This 2.5-hour tour is tailored to your skill and desired pace. Work with a guide to determine which easy-going tracks will make family memories or which daredevil trails will spark an adrenaline high for your crew. You call the shots!
Things you need to know
COVID-19 measures in Sedona, Arizona
As of June 1, if you are traveling through Phoenix Sky Harbor International Airport (PHX) or the Tucson International Airport, you will be required to wear a mask. If you are driving to Arizona or through the state, Navajo Nation has asked that you respect the sovereignty of the nation and not travel through the territory as they work to stop the spread of COVID-19.
Official COVID-19 updates by the American Government for Arizona are available here.
Why should I book with 57hours?
With us, it's all play and no work for you! 57hours is an open platform that will connect you with trained and certified outdoor adventure professionals all over the world. Using our knowledge of technology, we make it super easy to find and book adventures worth tackling, led by pro guides, and complemented by free outdoor travel resources gathered from locals and first-hand experiences.
Why should I go mountain biking?
Mountain biking is fun! Feeling in control over bumpy and unpredictable terrain is an adrenaline rush all in itself. Once you ease into riding, you'll learn to read obstacles, manage momentum with your body and brakes, and maneuver over the trail with confidence. All your guides expect from you is a basic grasp of riding a bike, an open mind, and a lot of trust. A small price to pay to feel like you're practically flying, right?
What's included?
What you get in this adventure:
An experienced MTB guide with extensive local knowledge of the area
Helmet and Hydration Pack
Transportation
What's not included:
Mountain bike (rentals come with flat pedals)
What to expect from hiring a MTB guide?
One of the reasons why mountain biking is so popular is the rush of adrenaline it sends through your veins. Sure, danger is part of the appeal, but you'll want to avoid any unnecessary risks by hiring a guide. They'll make sure you enjoy the ride and feel safe while doing it. There is no road map or GPS technology out there that's as good as having an experienced local guide to lead the way while mastering unfamiliar trails. There's always more to see, and your guides know just where to go to find it!
What do I need to bring?
Wear comfortable riding or athletic clothing, preferably moisture wicking or synthetic material
Sneakers or sport shoes
Breathable outside layer or jacket
Sunglasses
Plenty of water in water bottle or hydration bladder
Daypack with snacks
Biking gloves and safety gear are optional but recommended
What if I never mountain biked before?
As long as you pedal on two wheels, you can book this adventure. A guide will explain the different mountain bike techniques and body positions to get you feeling comfortable on the trial. You will progress at a level that is consistent with your comfort. Once you finally get the hang of trail riding, you will only want more!
How fit do I need to be?
You will need to be able to bike between two and six hours, depending on the itinerary you choose. After booking, your guide will determine the group's skill level and capabilities and cater the day to your specific abilities.
Keep in mind, opting for the full day option means more biking, which is strenuous even if you stay on beginner level trails.
What is the minimum age requirement
Families with children are welcome, but the pace of the tour will be based on the skill level of the least experienced rider. If you're adventuring with younger kids, contact us prior to booking to ensure that all the minimum requirements are met.
What about group sizes and pricing?
All tours are private to ensure the best possible experience. Pricing is based on the size of your party and decreases with group size, making this the perfect opportunity to adventure with friends and family. Prices are as follows:
Full-day trip:
1 person: $180
2 people: $100 per person
3-5 people: $90 per person
6+ people: $75 per person
Half-day trip:
1 person: $275
2 people: $165 per person
3-5 people: $125 per person
6+ people: $90 per person
What about bad weather?
Tours are scheduled to fit with the seasons and ideal cycling conditions. When the weather does not cooperate, your guide will know the correct course of action to take. Whether that's shifting to a more favorable location or postponing until conditions approve, your guide will know just what to do. In the event of predictably bad weather, you will be contacted prior to the trip to discuss suitable alternatives.
Cancellation policy
All policies regarding cancellation, rescheduling and trip insurance will be clearly laid out by your guide prior to booking your adventure. Contact us if you'd like more information on a specific adventure.
Getting there and meeting location
You will meet with a guide at Thunder Mountain Bikes in Sedona. They have transportation to and from your adventure covered!
Hermosa Tours
Hermosa Tours offers premium, guided mountain bike tours throughout the western Uni...
360 Adventures
Adventure Guides
Ride, climb, hike and explore! From intimate half-day adventures to extravagant mul...