Viking Women, Heed the Call for Iceland's Laugavegur Trail!
Hiking Iceland's Laugavegur Trail is like experiencing six different worlds and all four seasons in the span of one trip. There's a reason National Geographic named this one of the most beautiful hikes in the world!
In the land of fire and ice where brimstone rains and water steams from deep veins, Iceland's Laugavegur Trail conspires with the elements to unveil all the country has to offer. Glaciers, luscious green canopies, glacial streams, obsidian rock fields black as a solar eclipse—the atomic particles of this former Viking outpost forge a hike of a lifetime. Whenever I'm away, I'm dreaming about when I can return to the roots of the country where I'm from.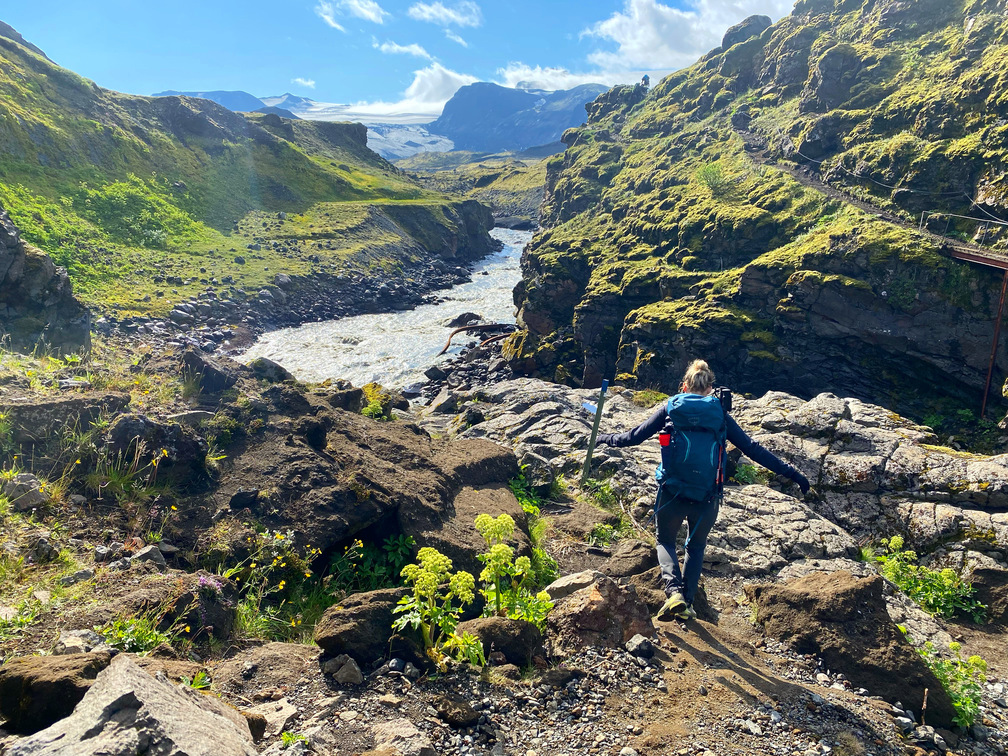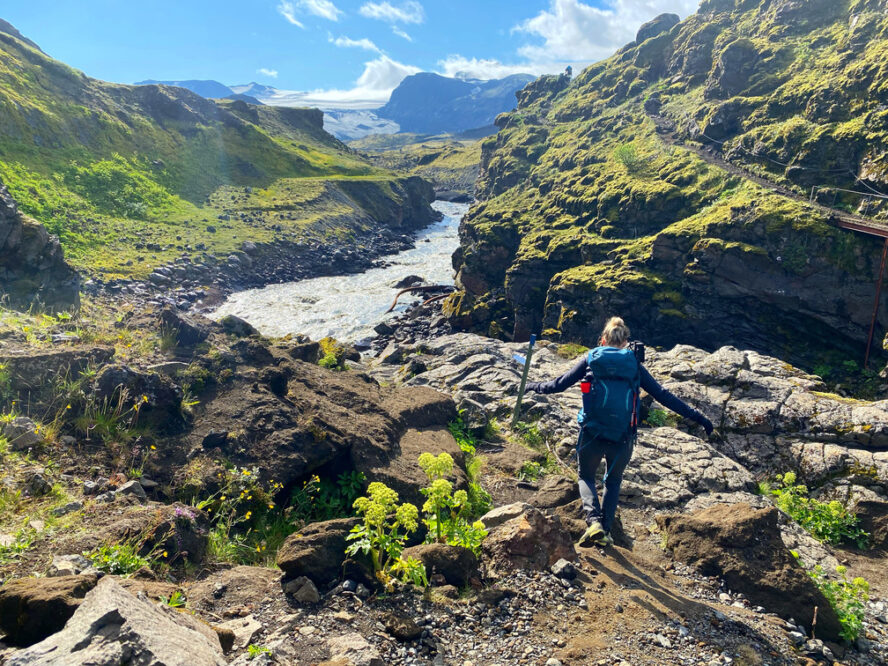 Pros and Cons of Hiking the Laugavegur Trail
See everything that Iceland has to offer in the span of one hike
Perfect for all skill levels, in a welcoming womens-only environment
Delicious home cooked, traditional meals
The weather can be unpredictable
Wet feet: you're going to cross several glacial streams!
Situated just south of the Arctic Circle, Iceland doesn't need amusement parks or roller coasters to entertain. Formed by volcanic eruptions that continue to this day, the constantly reforming landscape—each emerging mountain, reshaping crater, and deepening crevice—contains a story waiting to be discovered. This is where my tale is based, and it begins with the Laugavegur.
Enter the Realm of the Gods on the Laugavegur Trail in Iceland
The Laugavegur trek thrusts you into the heart of Iceland, surrounded by contrasting scenery, colors, and landform. At 55 kms and ranging in altitude from 1 m above sea level to 1,100 m, hiking the Laugavegur Trail is surprisingly accommodating to different skill levels. To start, you can vary the day length to suit you and on most sections there isn't more than 400 m in elevation gain or loss. Besides, as you walk from Landmannalaugar to Porsmork, every inch of the Nordic terrain will pull your attention away from any semblance of tired legs.
To name it is to know it
In Iceland, each place name has a meaning. Often literal and belying the splendor. For example, Laugavegur means The Landmannalaugar Trail—Lauga a truncated version of Landmannalaugar.
You start in the Highlands at the end of a lava field enchanted with hot springs. Along the way to Porsmork, (pronounced "Thórsmörk" (Thor's wood), you'll pass Eyjafjallajökull (glacier of the mountains of the islands), the black sands of Mælifellssandur (something like "measuring sand") and onto the valley of Markafljót (boundary river) that cuts 200 m down into the rocks south of Hattfell. Tackling each day your eyes will be mesmerized and your soul will be begging for more.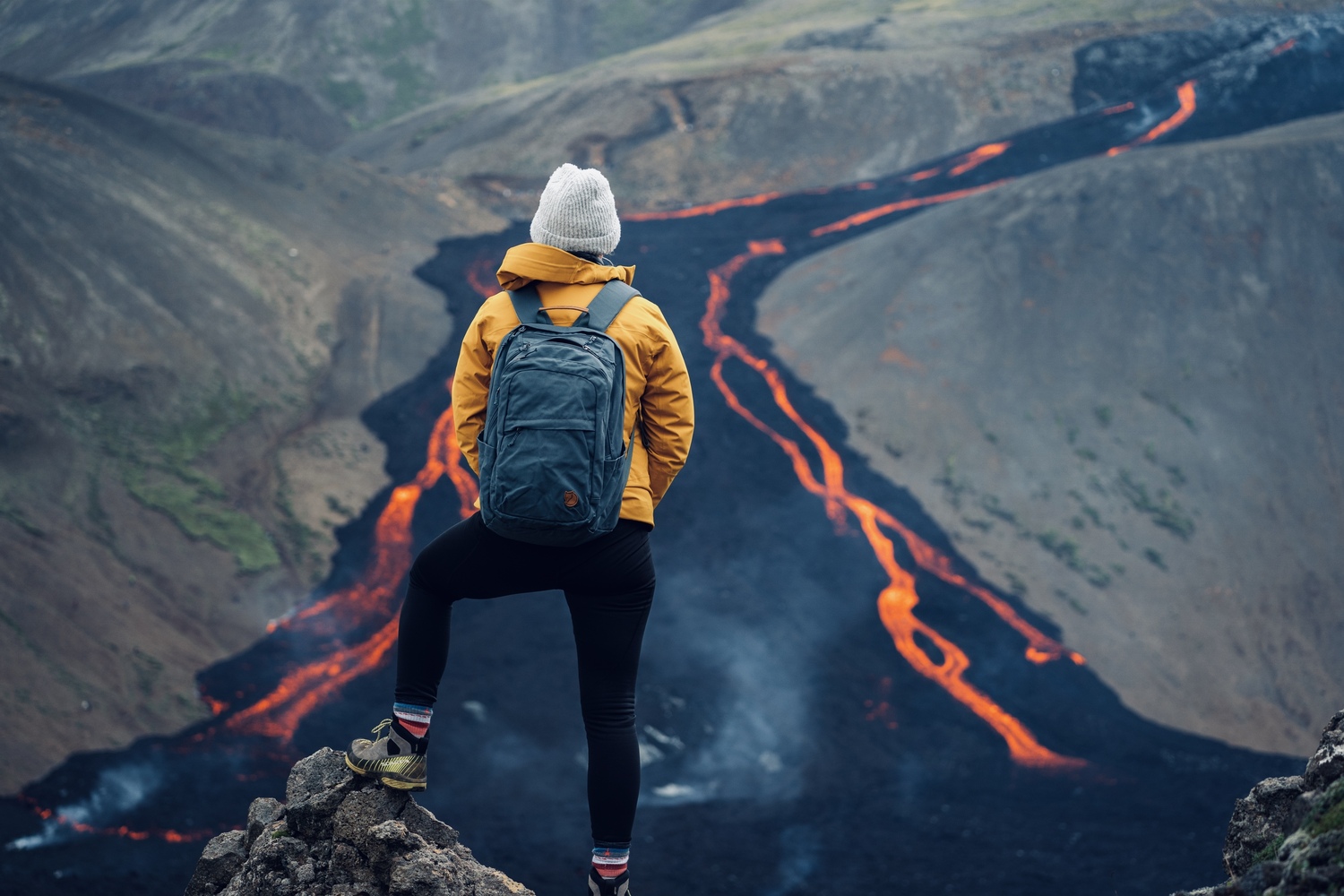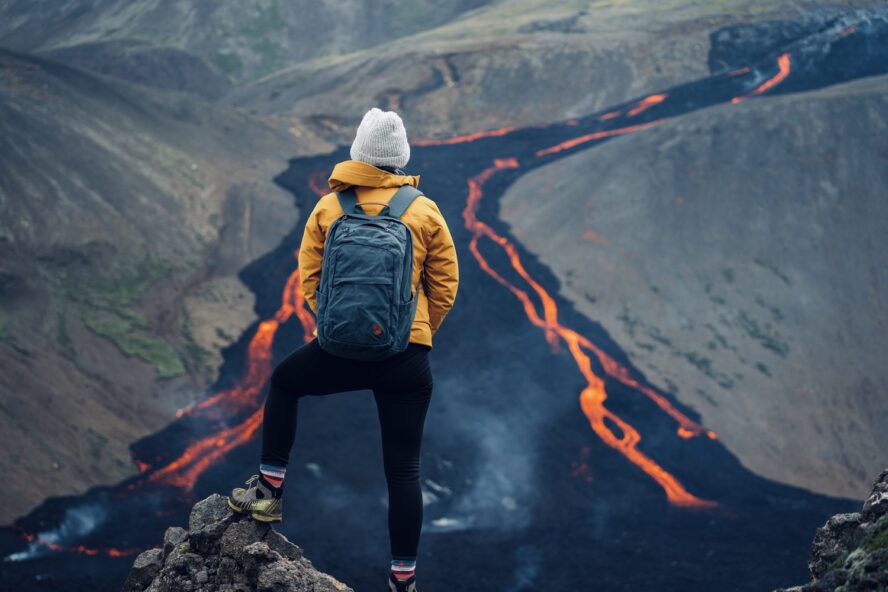 My Viking roots have constantly pulled me to this landscape. The feeling that I get while dipping my toes in the bone chilling glacial streams, my ears filling with the sounds of plunging waterfalls, or the golden hour sun revealing hidden colors within the glorious mountains is what keeps me coming back. And I want to invite other women to this experience as well.
Unleashing My Inner Valkyrie
Years ago, as I digested the final inches of the Laugavegur Trail and the beauty of Porsmork confronted me, I came upon—could it be?—Vigdís Finnbogadóttir. She was standing beneath one of the emanant green trees at the end of the path. The world's first democratically-elected female head of state, Vigdís had been an idol of mine growing up.
She greeted me as a fellow hiker with a charismatic charm that juddered through my body. At the time I was toying with the idea of creating a space for women to experience the outdoors, and we spoke of the idea. She gave me a big smile and said, "Saga, this is your calling, you must do it!"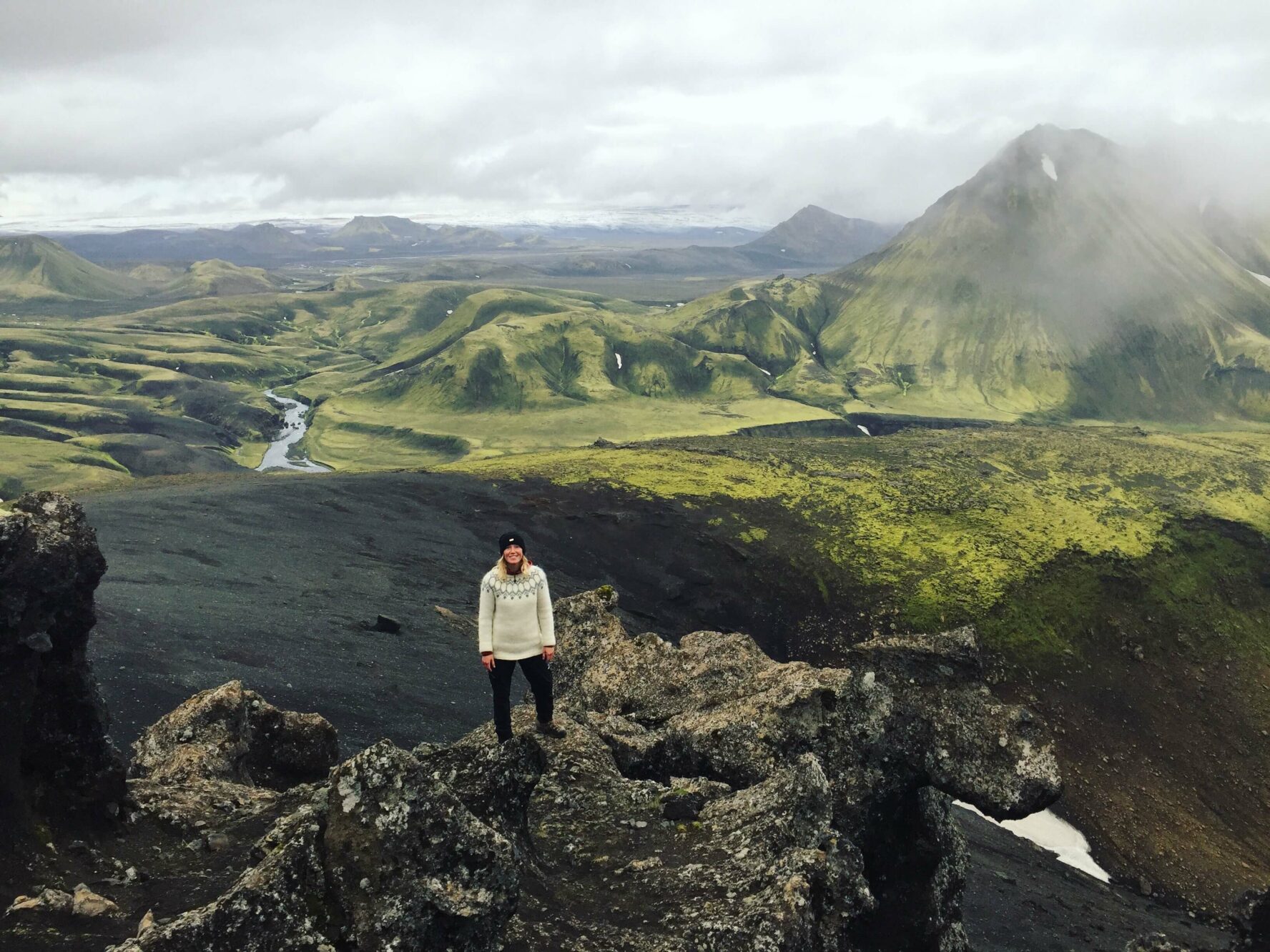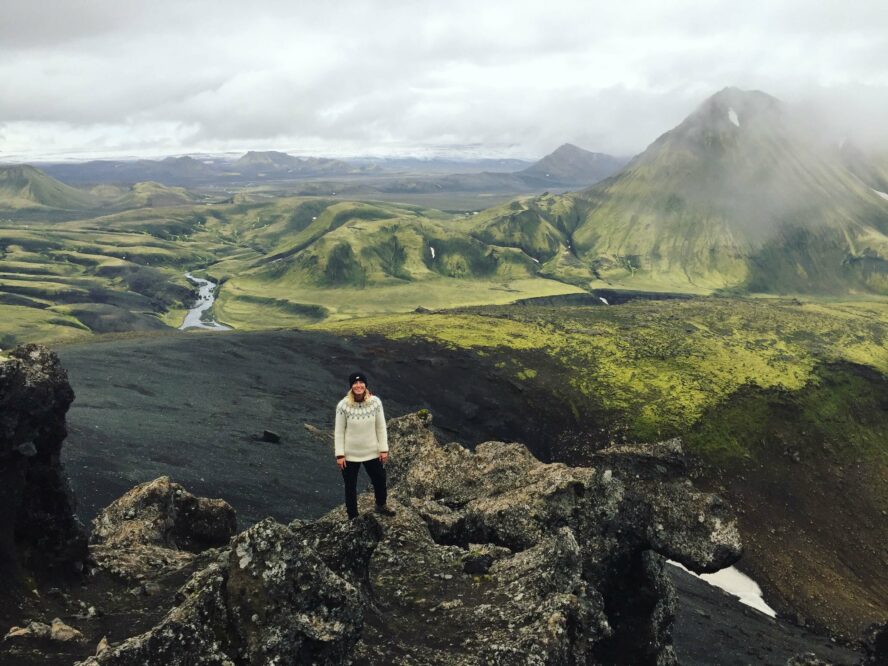 After this chance encounter, the idea that had filled me for years had to become a reality. I launched Viking Women, a female only travel group operated by local women. As a certified guide for the past 6 years (trekking, glacier, and Wilderness First Responder), I want to welcome women to the outdoors and to embark on an exploratory mission of overcoming natural obstacles (internal, external, and otherwise). Often, we leave our trips with a renewed sense of adventure, confidence, and beauty—and the staple is the Laugavegur Trail.
Hiking the Laugavegur Trail
There's a reason National Geographic named this one of the most beautiful hikes in the world. Brimming with rolling mountains, lava fields, and glacial valleys and fjords, make sure your phone or camera are charged as every inch of the trail offers a picturesque view!
When to go and what to expect
For aesthetics and weather, the best season to hike is from late June through mid-September. In midsummer, there are 24 hour of light, and during the day you can expect temperatures around 10-13°C (50-55° F), though it will drop dramatically in the "evening" (often close to freezing. Conditions can vary wildly, with wind, rain, and snow common, so you need to come prepared with weatherproof gear and layers. Vedur and Belgingur are useful websites for checking the weather.
I'm often asked, how long does the Laugavegur Trail take? I usually recommend 3 to 5 days if you do it on your own, though on my trip we make the most of six days to explore side trips and immerse ourselves in the environment.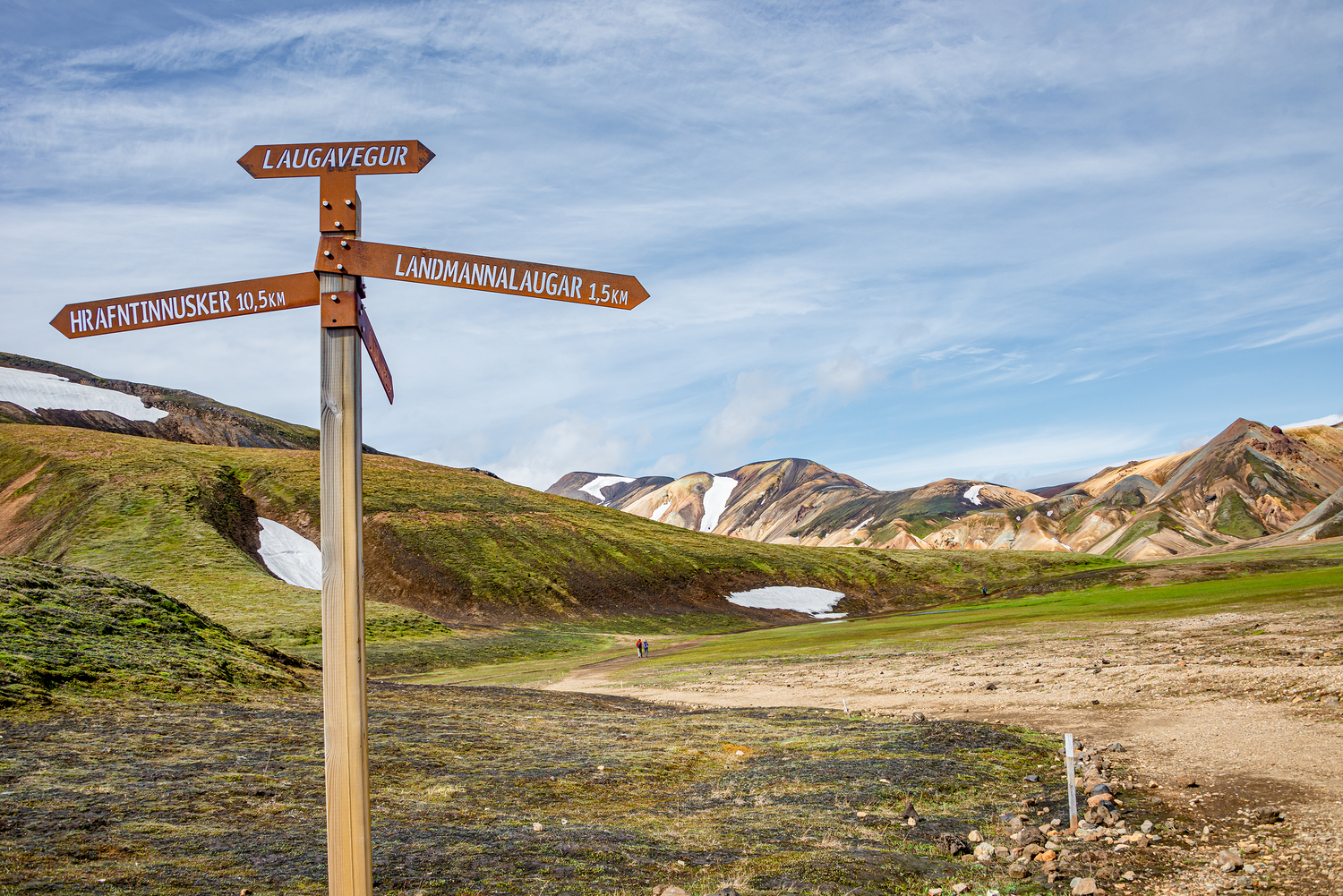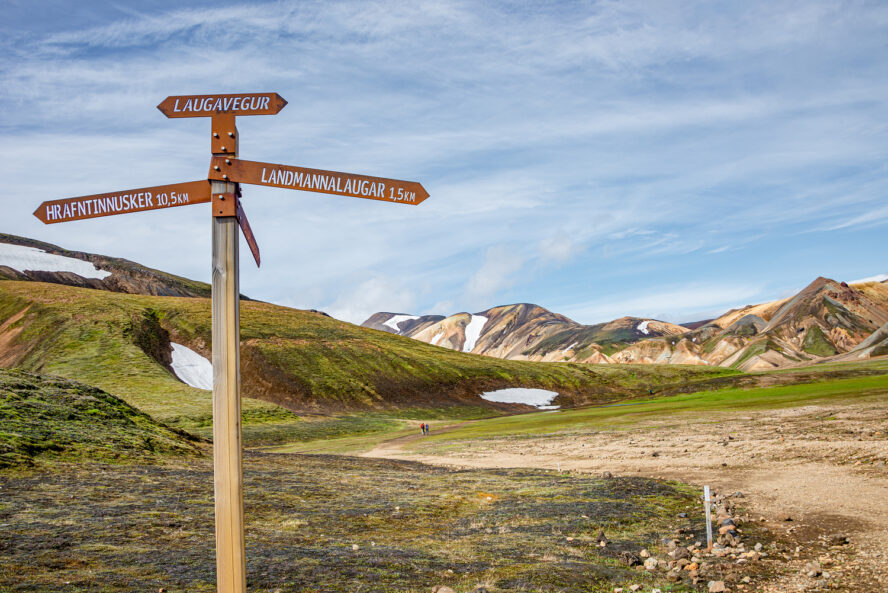 Day 1: Bathing in hot springs and Brennisteinsalda
Today we wake up around 7am in Reykjavík and take the 2-hour bus ride to the trailhead at Landmannalaugar. Although you may want to rest, it is hard not to stare out the window during the drive. Upon arrival we load all our gear into a super Jeep which will carry our belongings to our hut. We will have time to take a quick dip in the Landmannalaugar hot springs to loosen our muscles for the day ahead.
During our 12 km trek we will walk through lava build, hot and cold rivers, and past one of the most colorful mountains in Iceland—Brennisteinsalda glitters like it's encrusted with mineral decoupage. We continue on and gain the most elevation on the trip. We end the day at 1,100 meters with a breathtaking 360-degree view of the surrounding obsidian rock field. For the night we stay in the Hrafntinnusker mountain hut.
Day 2: A bar in the middle of nowhere
After a restful sleep soaking in the medicinal benefits of the surrounding obsidian we embark on our next 12 kms from Hrafntinnusker to Álftavatn. Along the trail, we typically encounter snow patches that make for a perfect photo op in the middle of summer. Then we arrive at our big descent and one of the best views of the trip.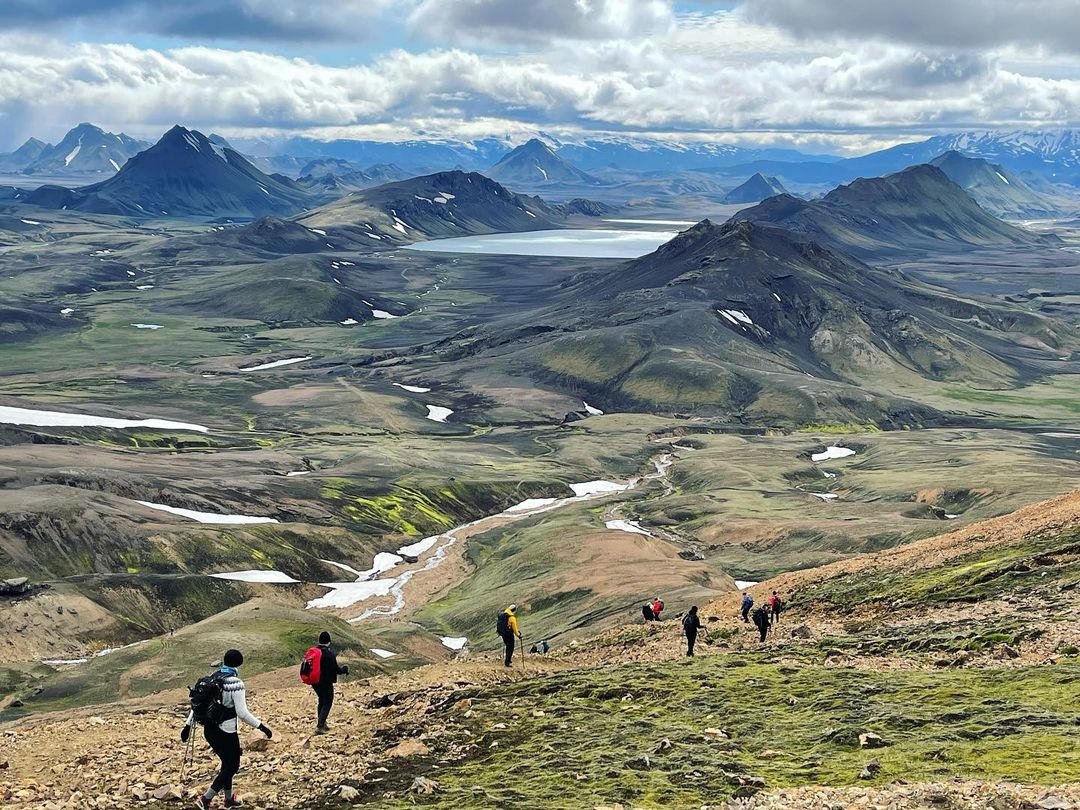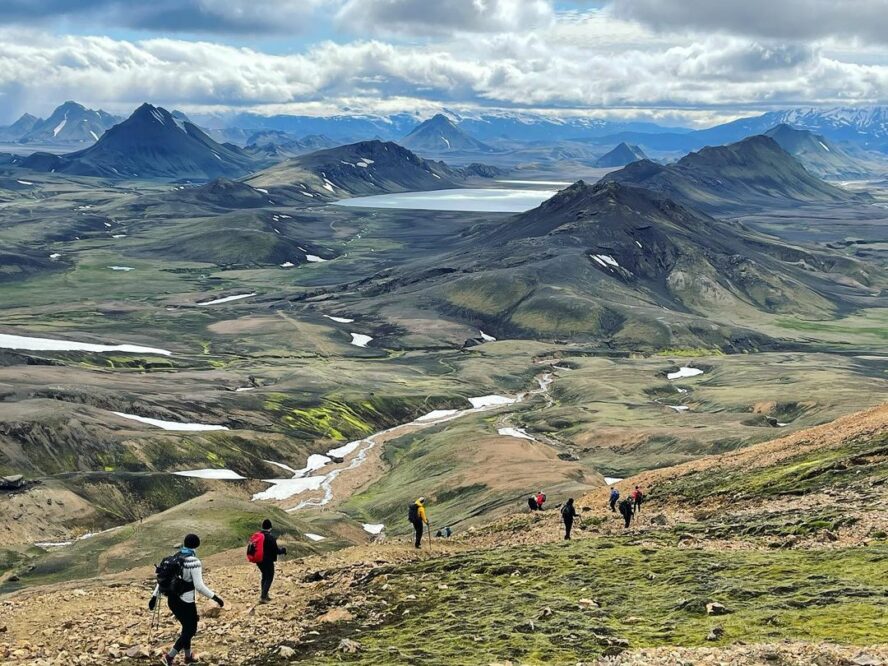 Peering to the horizon we see the Swan lake, the Mýrdalsjökull and Eyjafjallajökull glaciers, vast mountainous terrain—and a steep slope to get down. Once at the bottom, surrounded by grass and moss, I always find myself collapsing into the cushioned greenery.
To most people's surprise there is a little bar, in the middle of nature, that people can relax in after a long day before turning in at the Álftavatn hut. For those who aren't ready to call it a day, I have an optional night hike.
Day 3: Black ash under green mountains
Prepare to make peace with the river gods today. We start with a glacial crossing, which your tired feet might love, or not, as we cover a 15 km stretch from Álftavatn to Emstrur on mostly flat terrain. Ice and fire meet at the Mýrdalsjökull glacier which sits precariously atop the Katla volcano. The volcanic ash is a thick layer of black sand for your feet to dance in.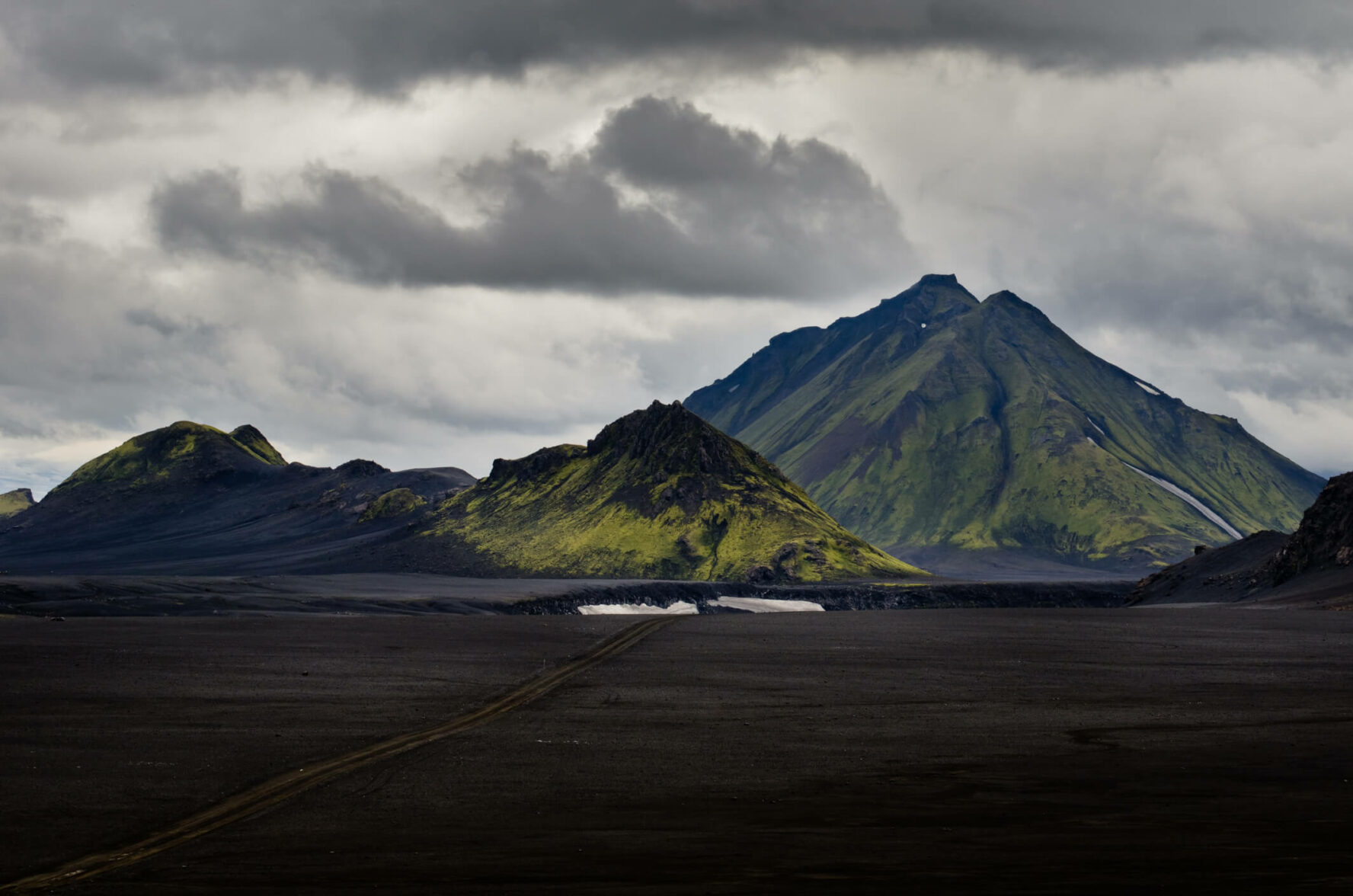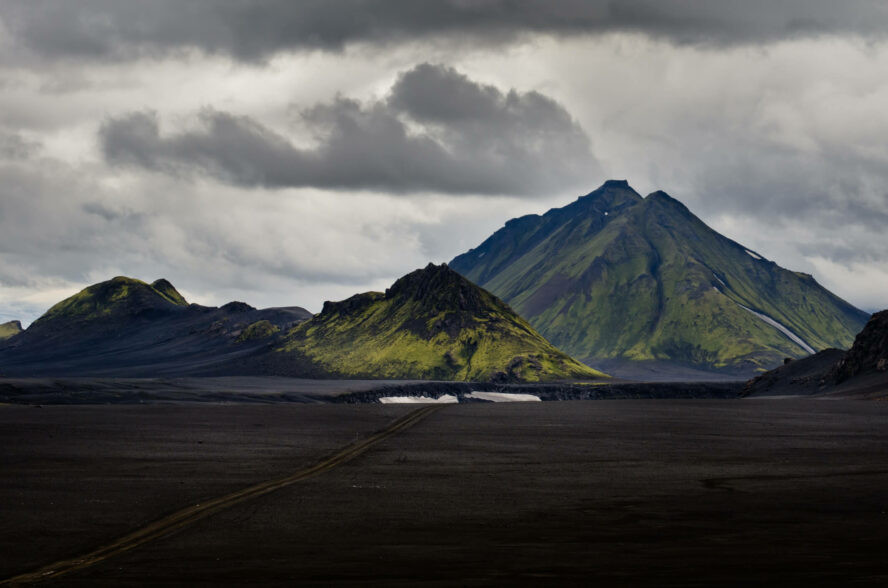 Amid the highlands, the black sand of Mælifellssandur is juxtaposed by the encircled green mountain—a stark contrast of color and darkness, carbon in its various forms. This once verdurous area is where farmers used to graze their sheep in summer, and is still visited by the famous Icelandic horses. For lunch we will go to the most beautiful picnic spot, an overhang just above a picturesque stream.
At the end of the day, there is an optional hike to the Markarfljót canyon that is about one hour long. The evening is the perfect time to visit as the fading summer light radiates in a golden glow. People often ask for photos but I like to keep it a surprise.
Day 4: The hidden vegetation of Iceland
Today we hike through the small valleys and gullies of Emstrur. The south of Iceland can have sparse vegetation, but we will encounter some lush greenery and budding landscape here. We will cross bridges and trek through our final glacial rivers (which at this point you will be a pro at) as we walk 16 km to our final destination of Pórsmörk.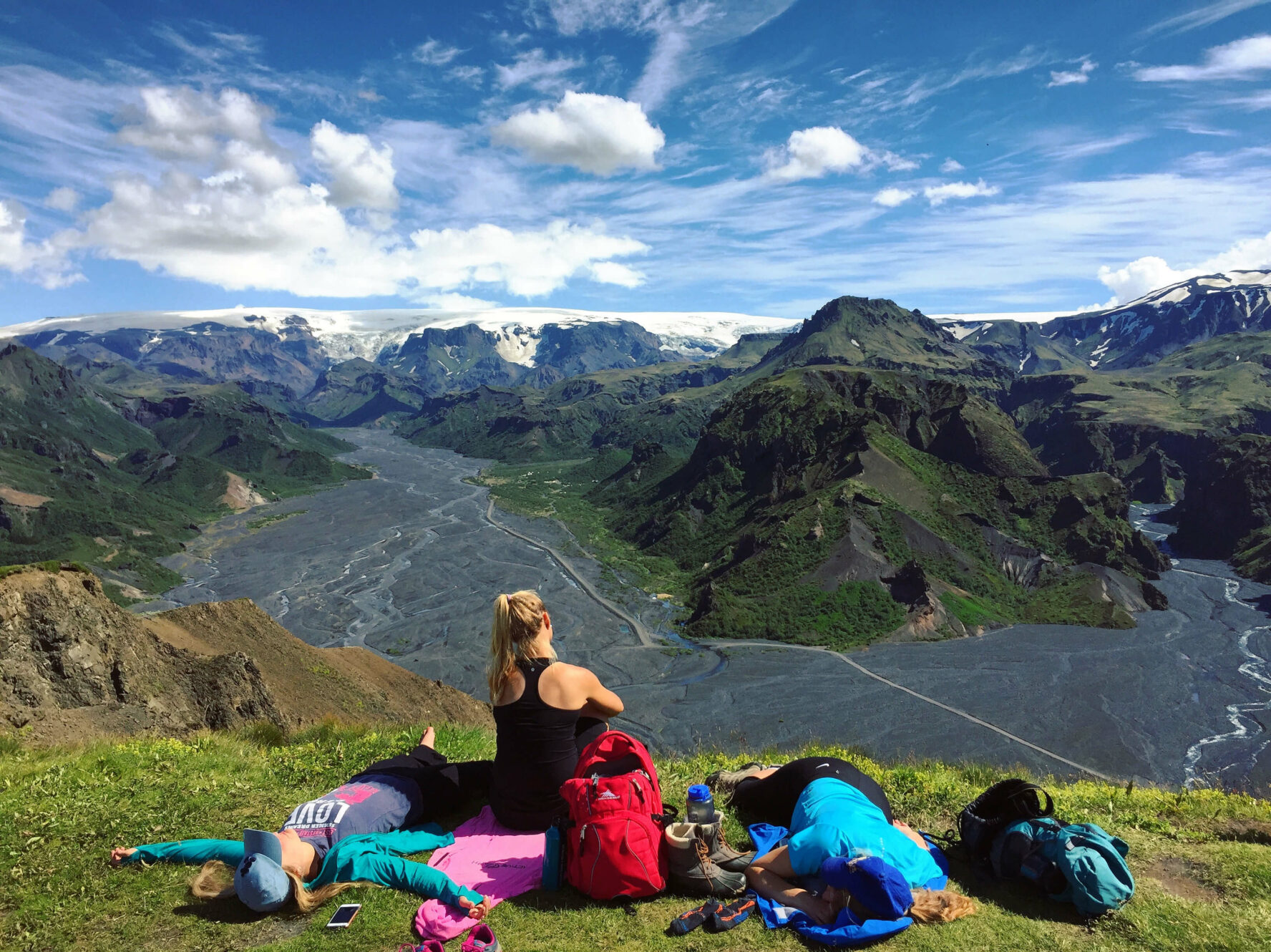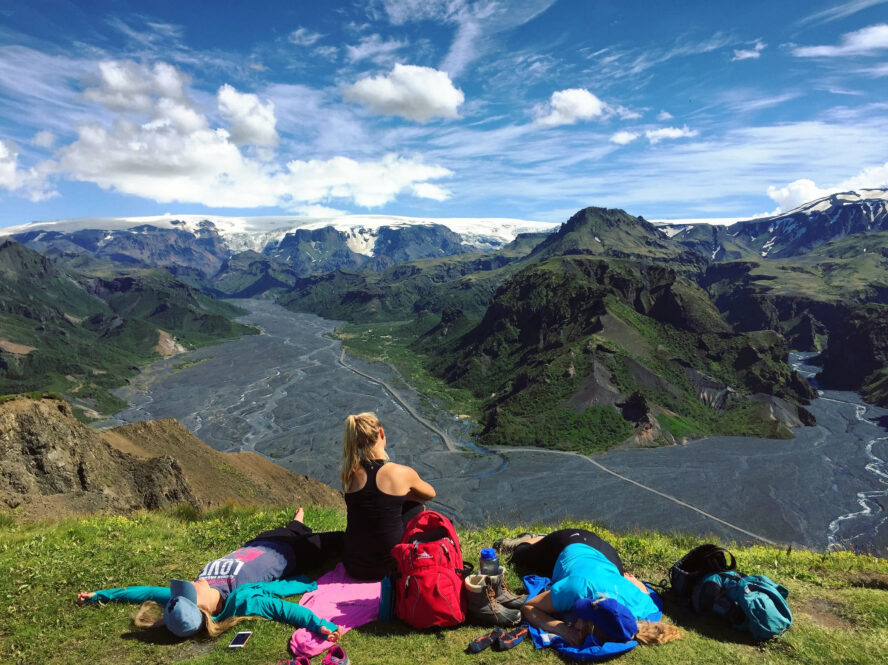 Along the trail we are confronted by the Eyjafjallajökull volcano. If people know of Iceland, it's probably from 2010 when it erupted, halting European air travel for over a week. The last kilometer is when Pórsmörk embraces you with a green hug and a valley filled with arctic birch forests and colorful flowers. We spend the night beneath the Eyjafjallajökull and Mýrdalsjökull glaciers. Congratulations, you can now celebrate your completion of the world famous Laugavegur Trail!
Day 5: Journey into the volcanic crater
You could explore the nature of Pórsmörk for a lifetime, but we have to fit it into just two days. After a night of celebrating our completion of the Laugavegur Trail, we embark on the first of two hikes.
Today we do part of the 25 km Fimmvörduháls circle (attempting about ⅓ of it). We hike up to the deep black craters, Magni and Móði, which were created in the 2010 eruption, and named after the sons of Þór (Thor). As we stand atop the volcanic imprints our eyes take in all the surrounding canyons with overgrown greenery. You feel like you need to sit down at every spot along the way and marvel, which is exactly what we do.
Day 6: A perfect ending
We prepare for our final day as our hearts begin to ache at the thought of leaving this beautiful world behind. Today, we venture up the Valahnúkur mountain which provides a somber ode to our farewell.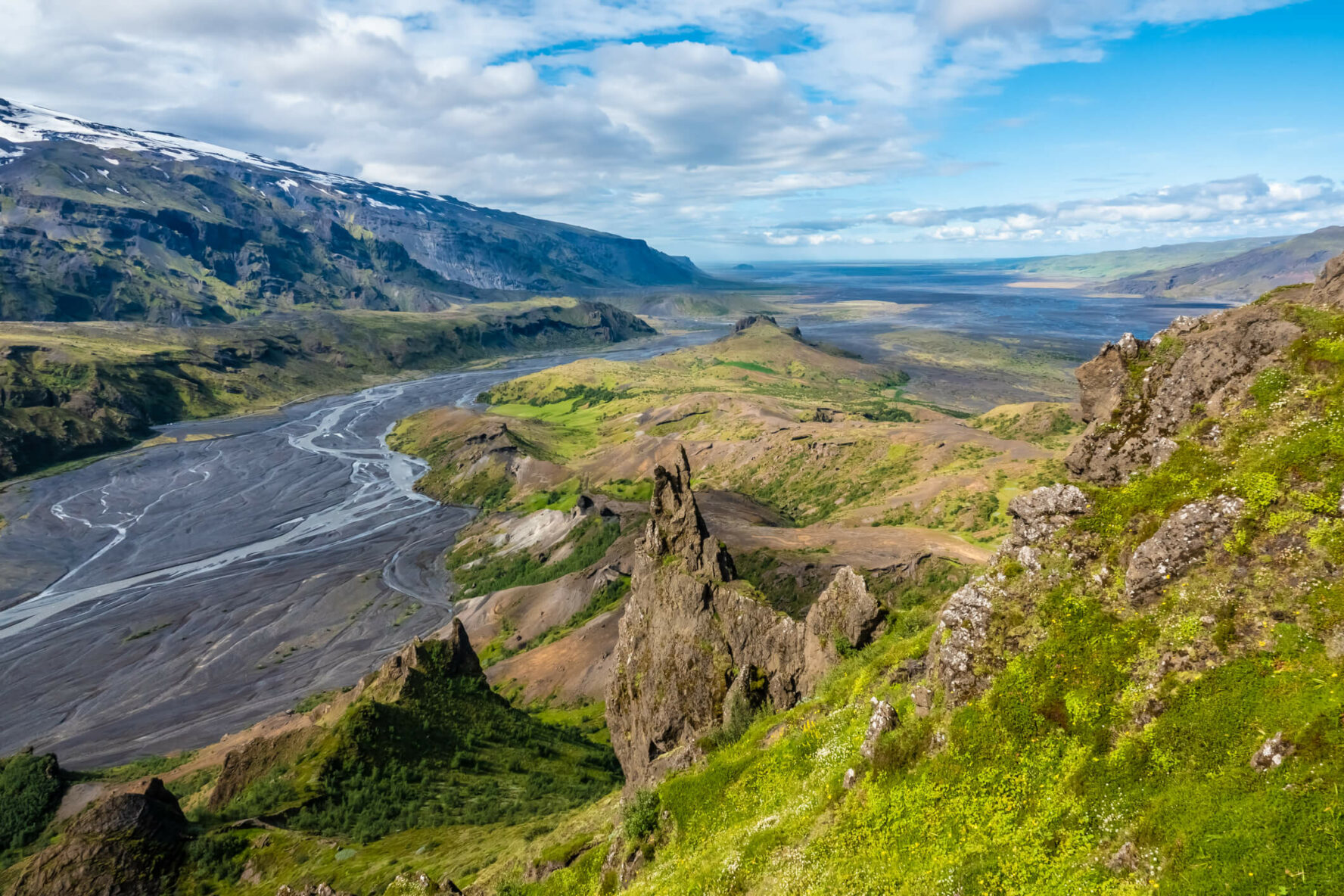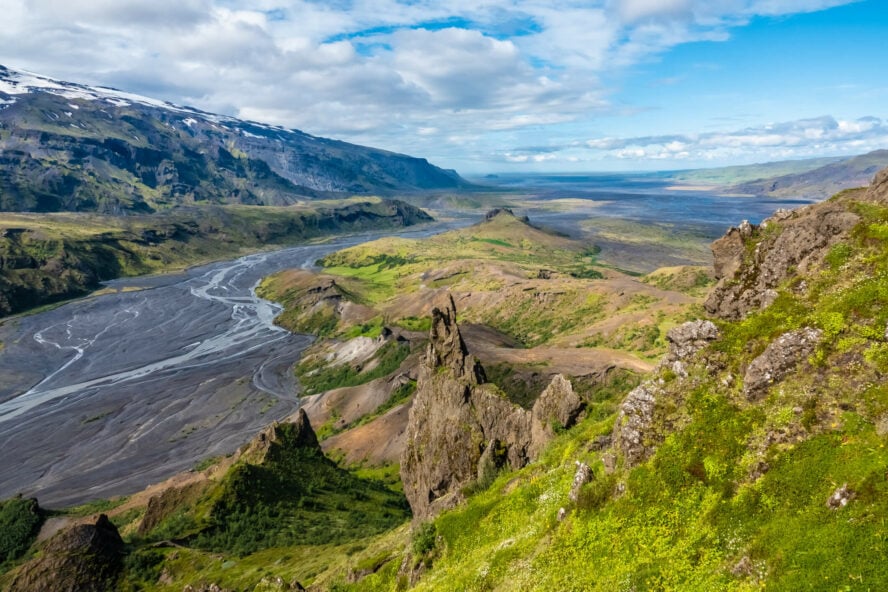 We stand atop a moss-carpeted cliff which hangs over a deep glacial stream. In the distance our eyes are met with snow-capped mountains and volcanic imprints. It will be hard to say goodbye but this is the perfect end to a 6 day tour of one of the world's greatest beauties. After this short hike, we return to Reykjavík. But don't worry, I'm sure you'll be back again!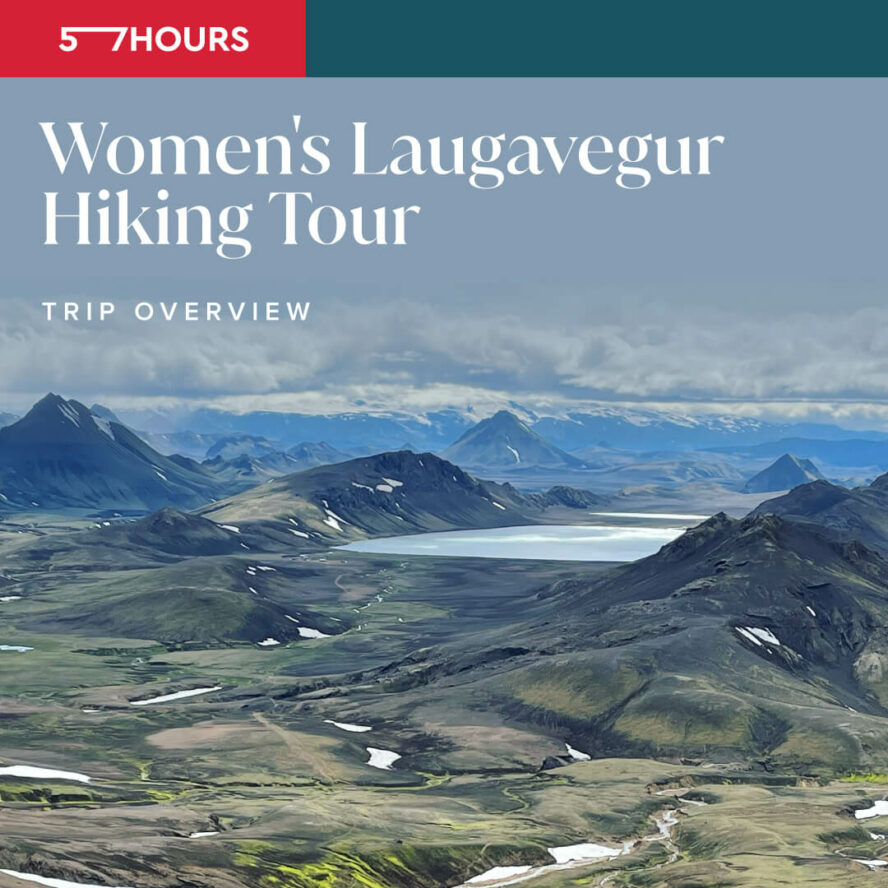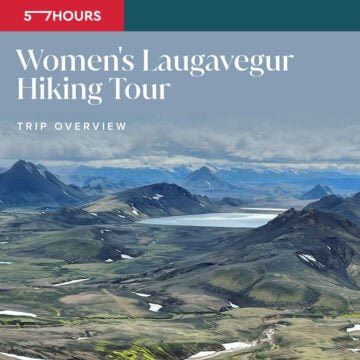 Get Free Trip Brochure
Check your inbox
Additional Information to Help You Prepare for the Laugavegur Trail
What is the weather like?
Despite being just south of the Arctic Circle, Iceland is in the path of the warm North Atlantic Current which keeps temperatures higher than you might expect. However, this also creates unpredictable weather at times, especially on the Laugavegur Trail. Sometimes we can experience all four seasons in just one day: you can be sweating from the hot summer sun and then a few km later it is snowing. You must be prepared for extremes.
There are two sayings in Iceland, "if you don't like the weather, wait 5 minutes" and "there is never bad weather, only bad clothes." My personal quote is that it is hard to notice the weather when the beauty has your other senses on overdrive.
Do you need a trail map?
You can purchase a trail map in Reykjavík if you want to tackle this on your own. Note that the trails are well maintained and easy to follow. Maps.me and Gaia GPS are useful apps that serve as a backup (or your primary tool if you don't want to go physical) and don't require signal to function.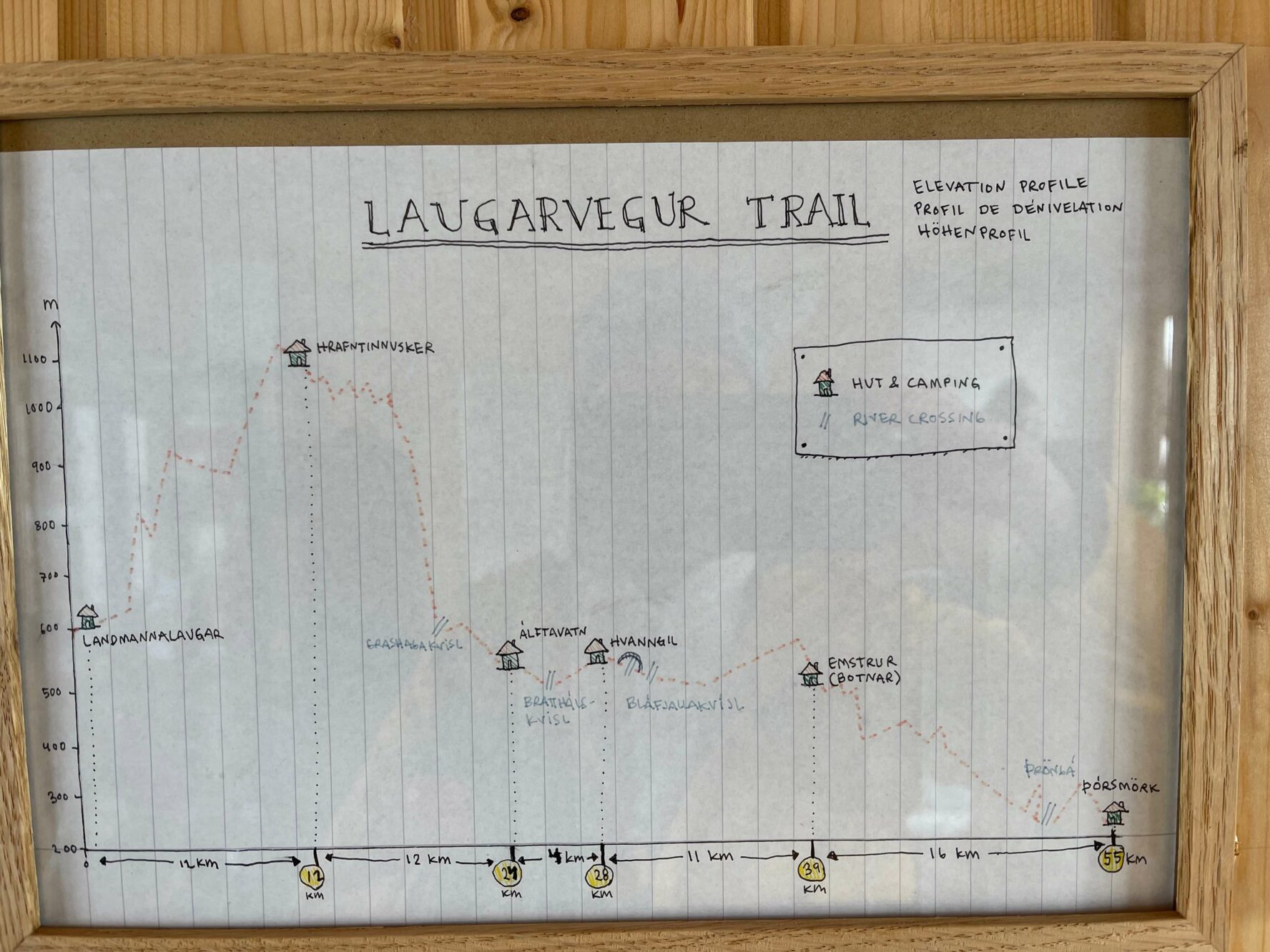 Getting there
Fly to Keflavík International Airport in Reykjavík, which is easily accessible from major hubs. From there, you can rent a car or take a taxi or shuttle to Reykjavík. To get to Laugavegur, it's about a three hour drive.
What to pack?
Here's a list of the equipment you need to bring:
Day pack large enough to carry all the items listed (around a 25-40L bag)
Hiking poles (optional, but recommended)
Water bottle or hydration bladder (2L capacity)
Waterproof jacket and pants
Lightweight hiking boots or shoes and separate river crossing shoes
Weather appropriate clothing (think layers)
Spare clothes
Sunhat
Toiletries (sunscreen, hand sanitizer, bug spray, toilet paper, etc.)
Headlamp
Sunglasses
Camera (optional, but recommended!)
Food
All of the food and drink is provided by Viking Women. I make my famous Icelandic dishes, which I grew up eating, and all the ingredients are locally sourced, including some that come from my own garden.
For breakfast, I usually make a hearty porridge with nuts and fresh berries, and coffee or tea. During this time we will also make ourselves sandwiches to eat along our hike. For dinner, I cook the group some of my favorite traditional Icelandic meals. Water will be provided at the huts but on the trail we will also fill up our bottles from the glacial streams which are perfectly safe and extremely delicious. Surprisingly, you will also find several bars and small dining options along the way, so be sure to bring cash as well.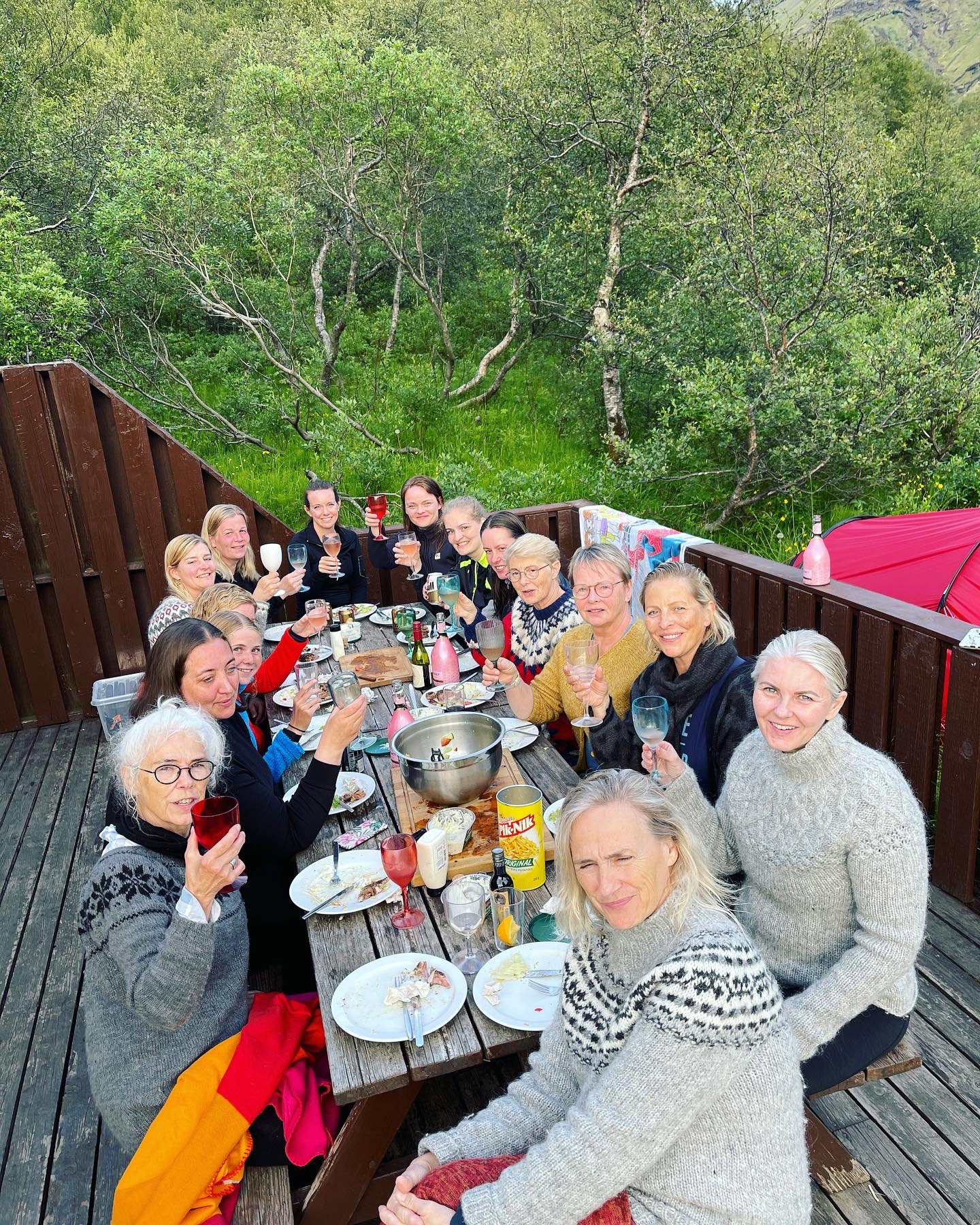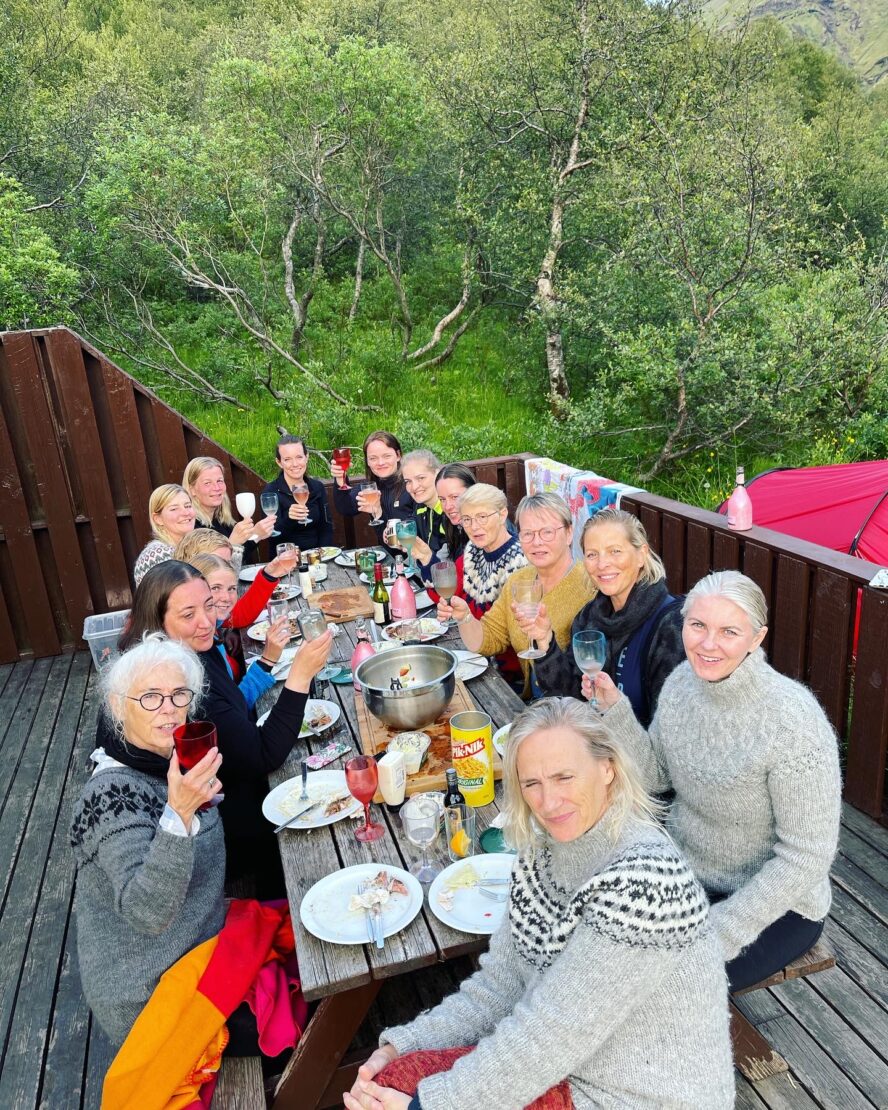 Where to stay?
We will bunk in several huts along the way, and they are a perfect environment to wind down after a long day. The good thing is that they are heated, have electricity, and include fully-equipped kitchens—all powered by solar and geothermal power. Note: they don't have enough power to charge phones or personal electronics so it is important to bring your own power bank.
Other than the first hut we stay in, all of them have flushable toilets and showers that cost 5 Króna for a 5-minute shower. I highly recommend bringing earplugs, as we may be sharing with other campers, and sleeping masks since summer in Iceland is bright throughout the night.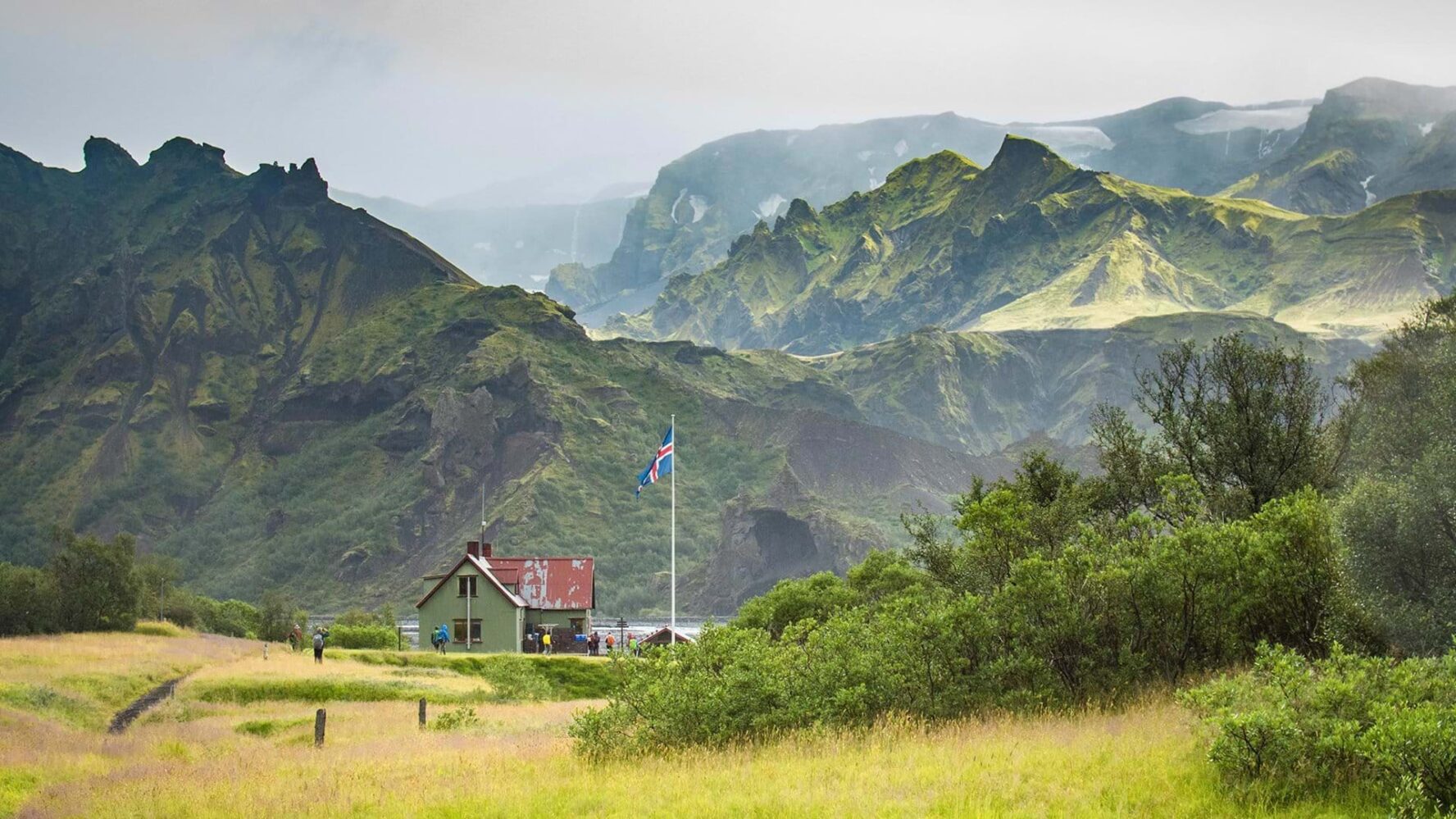 The Laugavegur Awaits!
Formed by millennia of glacial and volcanic activity, the Laugavegur Trail takes the beauty of nature to a whole new level. With colors that make you think you are walking through a children's coloring book and sights that are more vivid than any photograph can possibly capture—you simply have to see it for yourself. If you're looking for a can't miss trip to Iceland, consider the epic two-week hidden trails adventure, a tour to hike Iceland's volcanoes, or, of course, nothing compares to the Laugavegur Trail. See you there!
Ready to heed the Viking call? Or maybe you need a bit more info first? Learn more about this wondrous landscape in my hour-long webinar.