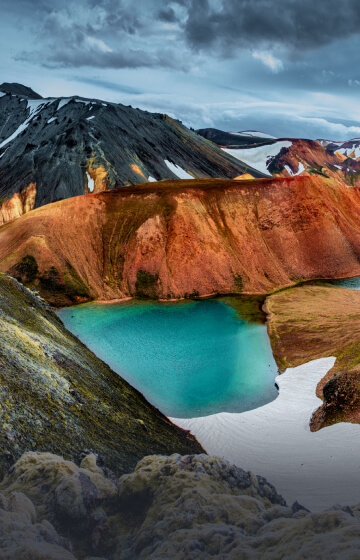 Hike Iceland's Famous Laugavegur Trail and South Coast
Set out on a hiking journey through the Southern Highlands of Iceland and witness the enchanting landscapes and vibrant colors along the iconic Laugavegur Trail. Black volcanic rock, spouting thermal vents, lakes and rolling hills make it one of the most incredible thru-hikes in the world.
The magical and diverse landscape, combined with the long and bright Icelandic summer days, will capture any outdoor enthusiast's attention. As you hike through this 56 km (35 miles) long trail, past dramatic and colorful panoramas formed by millennia of glaciers and volcanoes, you'll feel like you've stepped into a completely different world.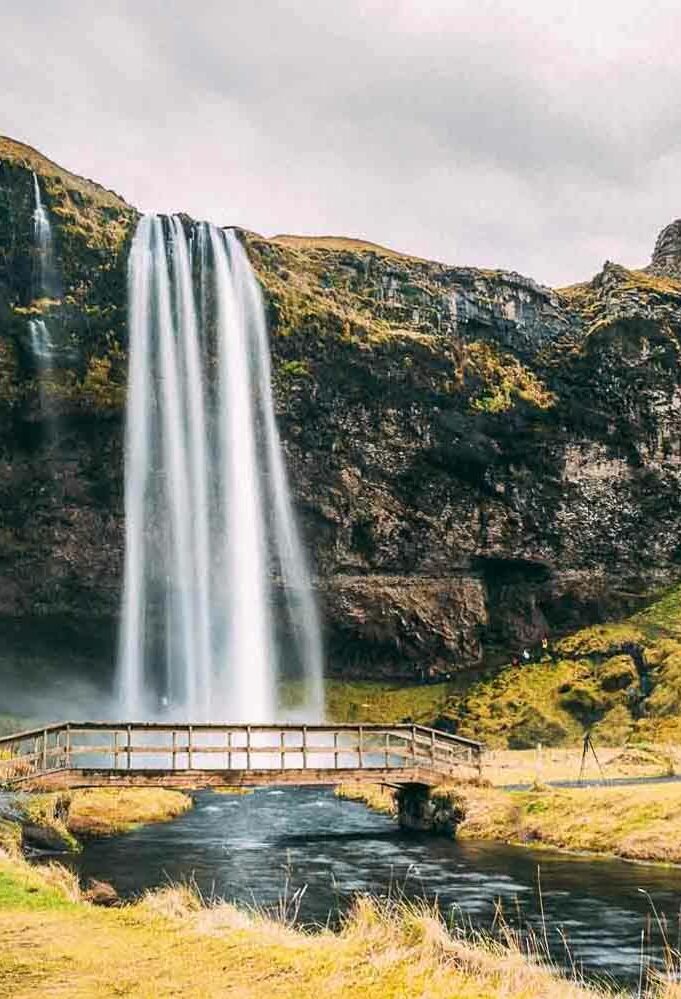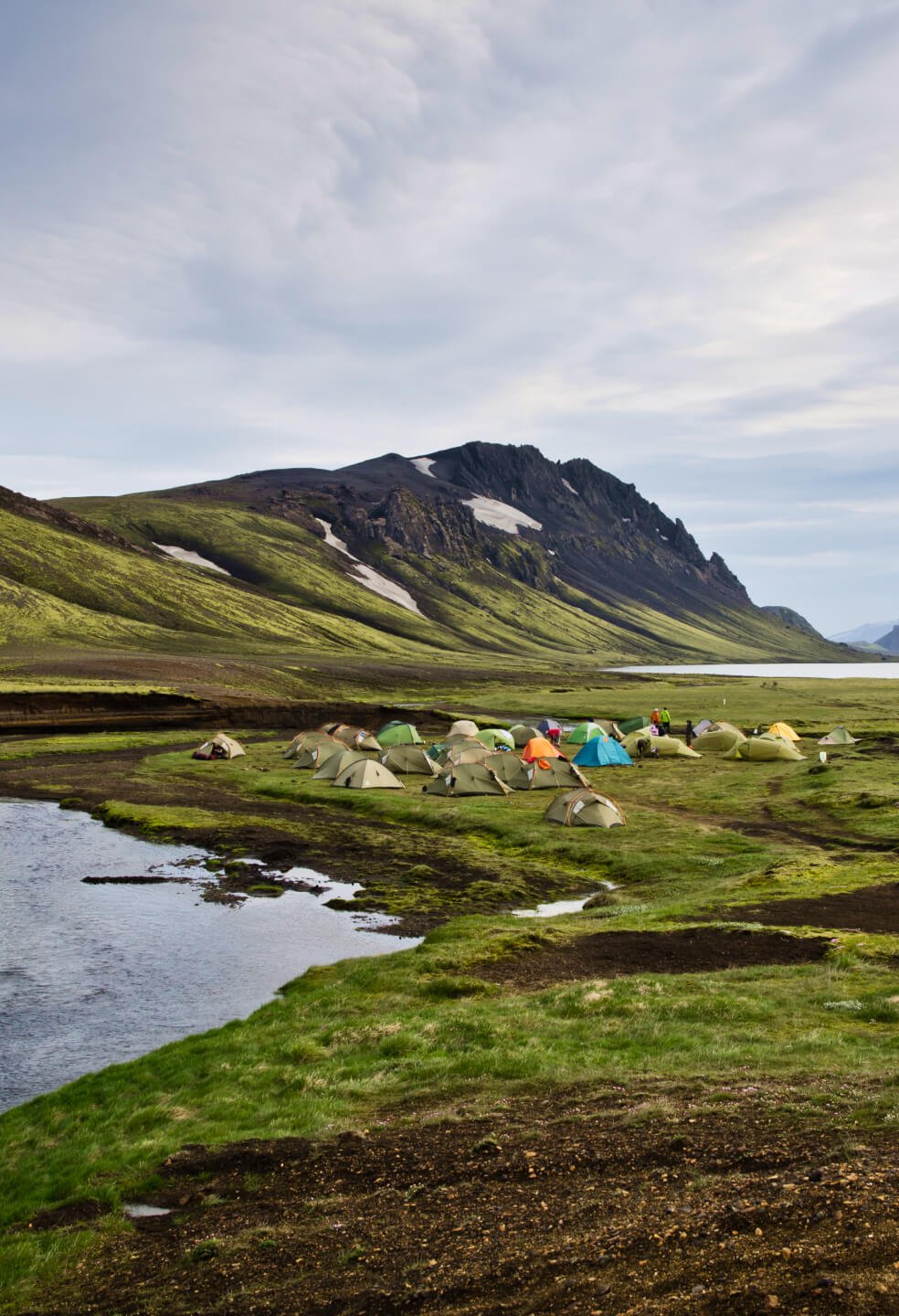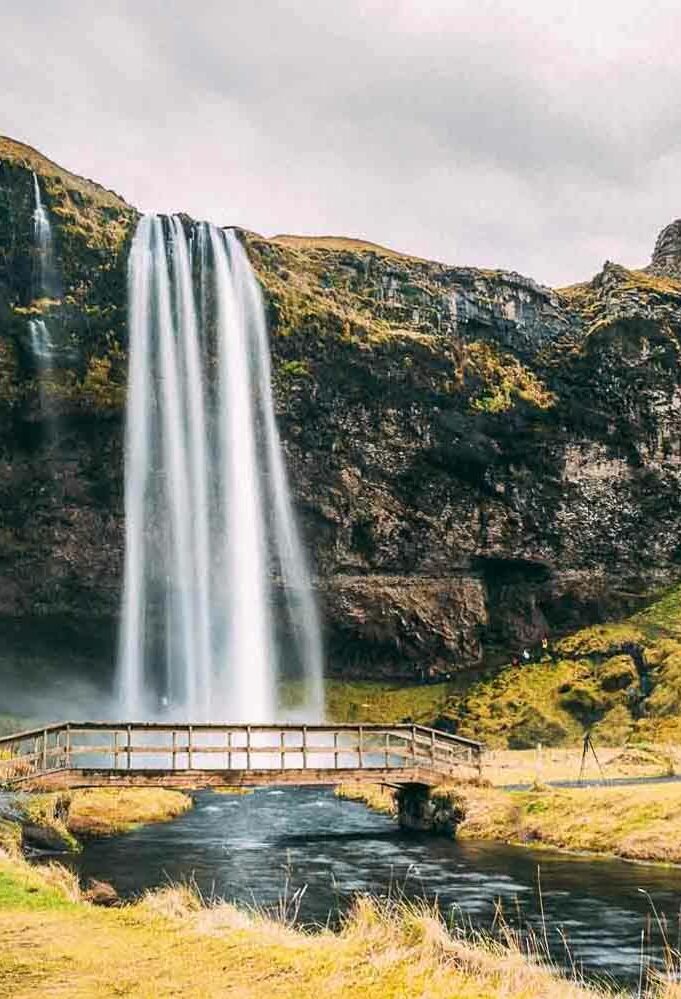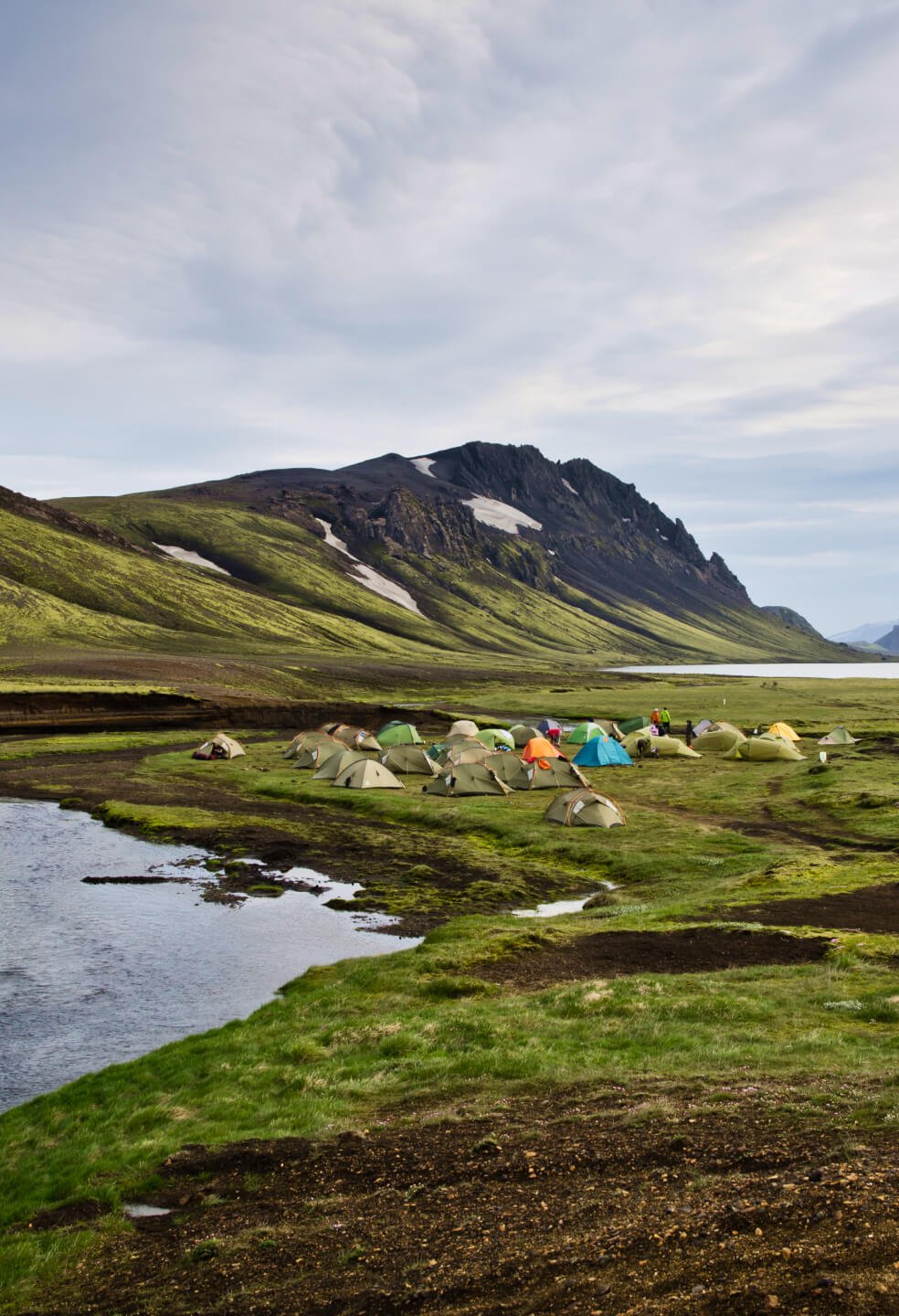 Why Laugavegur Trail?
Far from the hustle and bustle of the city, on the Southern part of the remote island located between Greenland and Norway, the Laugavegur Trail takes you on a multi-day hut-based hike from Landmannalaugar to Thórsmörk—a valley of mythic proportions fit for the gods.
Lying on the constantly active geologic border between North America and Europe, Iceland is a land of unusual variety and contrasts. Laugavegur Trail captures the best of its geology—from vibrant green moss and jet black sand deserts, snow and steamy springs, pink flowers emerging from the seemingly barren land, to turquoise lakes and lava fields.
EPIC FOOTPATHS
UNIQUE GEOLOGY
MOUNTAIN HUTS
63°52′ N AND 19°14′ E
A TRUE ADVENTURE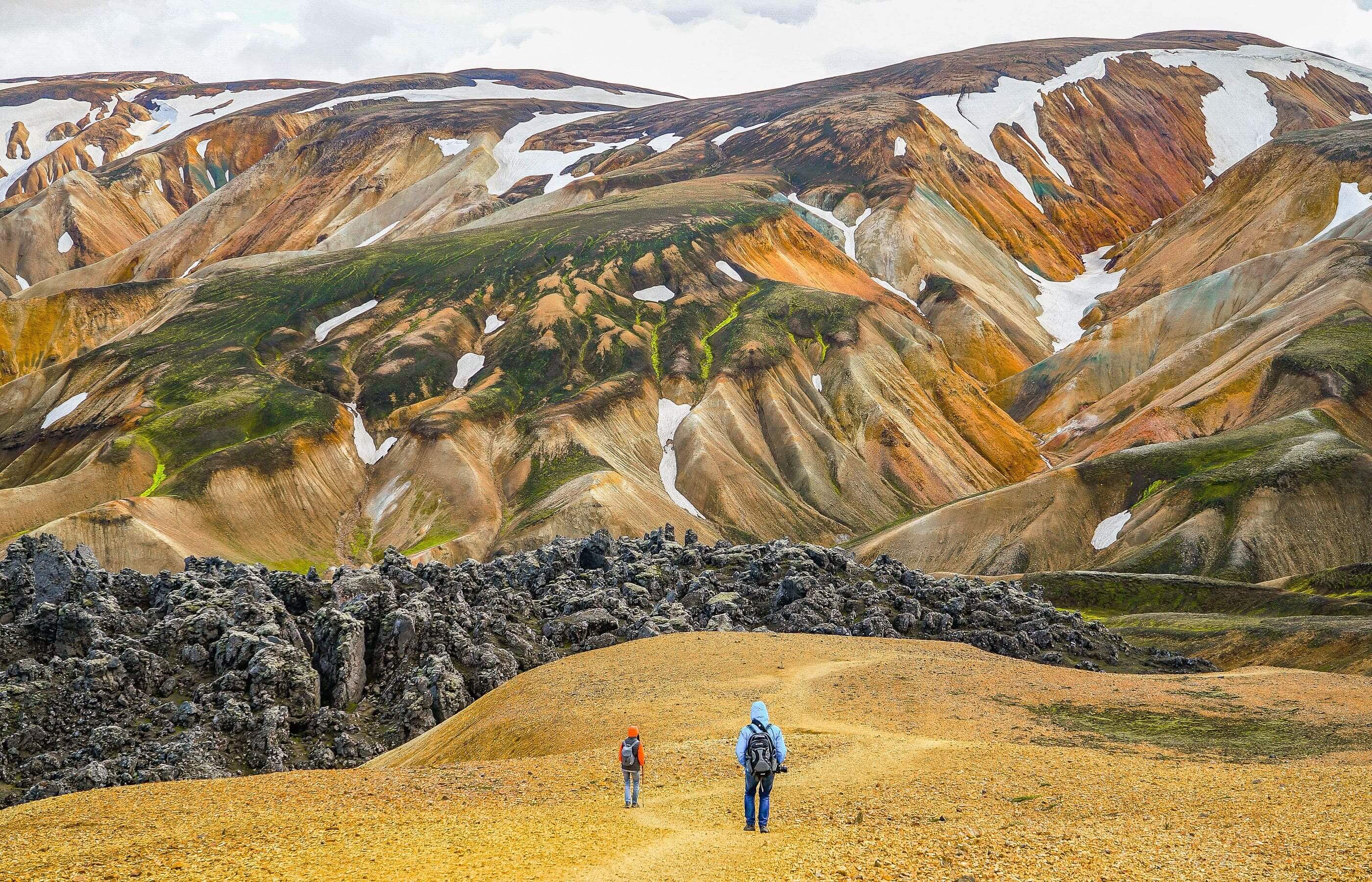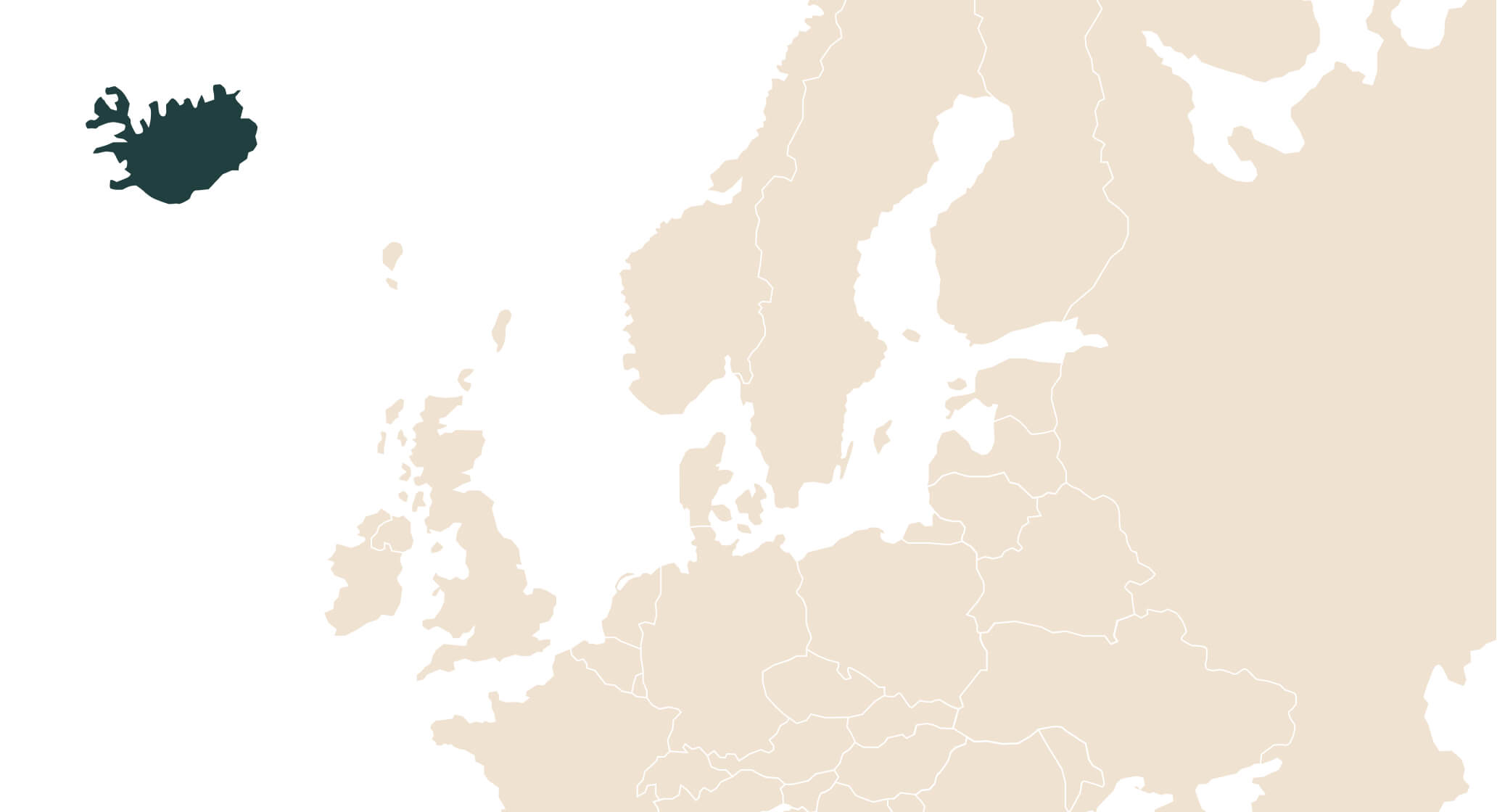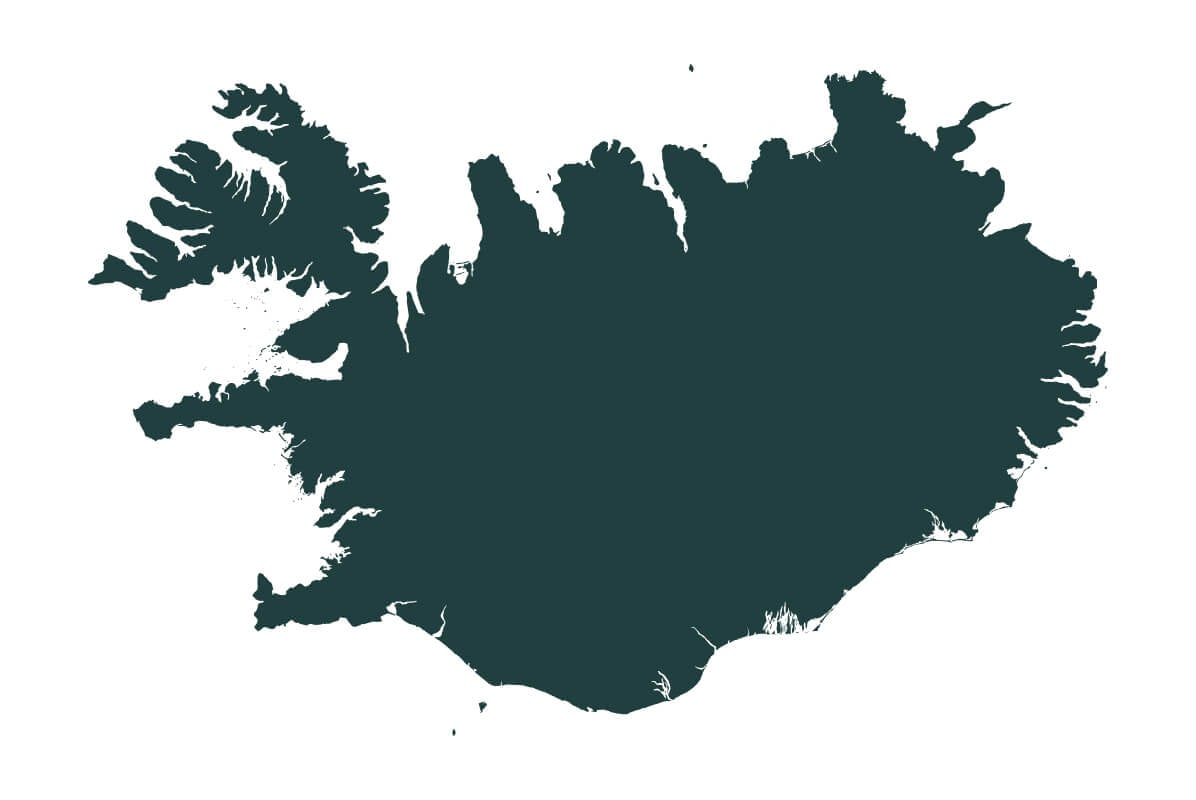 Iconic trail in the land of fire and ice
35 MILES OF UNIQUE NATURAL BEAUTY
In Iceland, the cliche is true: If you don't like the weather, just wait 15 minutes—you can expect to experience four seasons in a single day. Same can be said for Iceland's otherworldly and diverse landscapes on the Laugavegur Trail.
As you move through the valleys and across glaciers and deserts, you'll understand why it was dubbed "the Land of Ice and Fire"— the vistas of brightly-colored misty mountains and the contrasting everchanging surroundings won't leave anyone indifferent.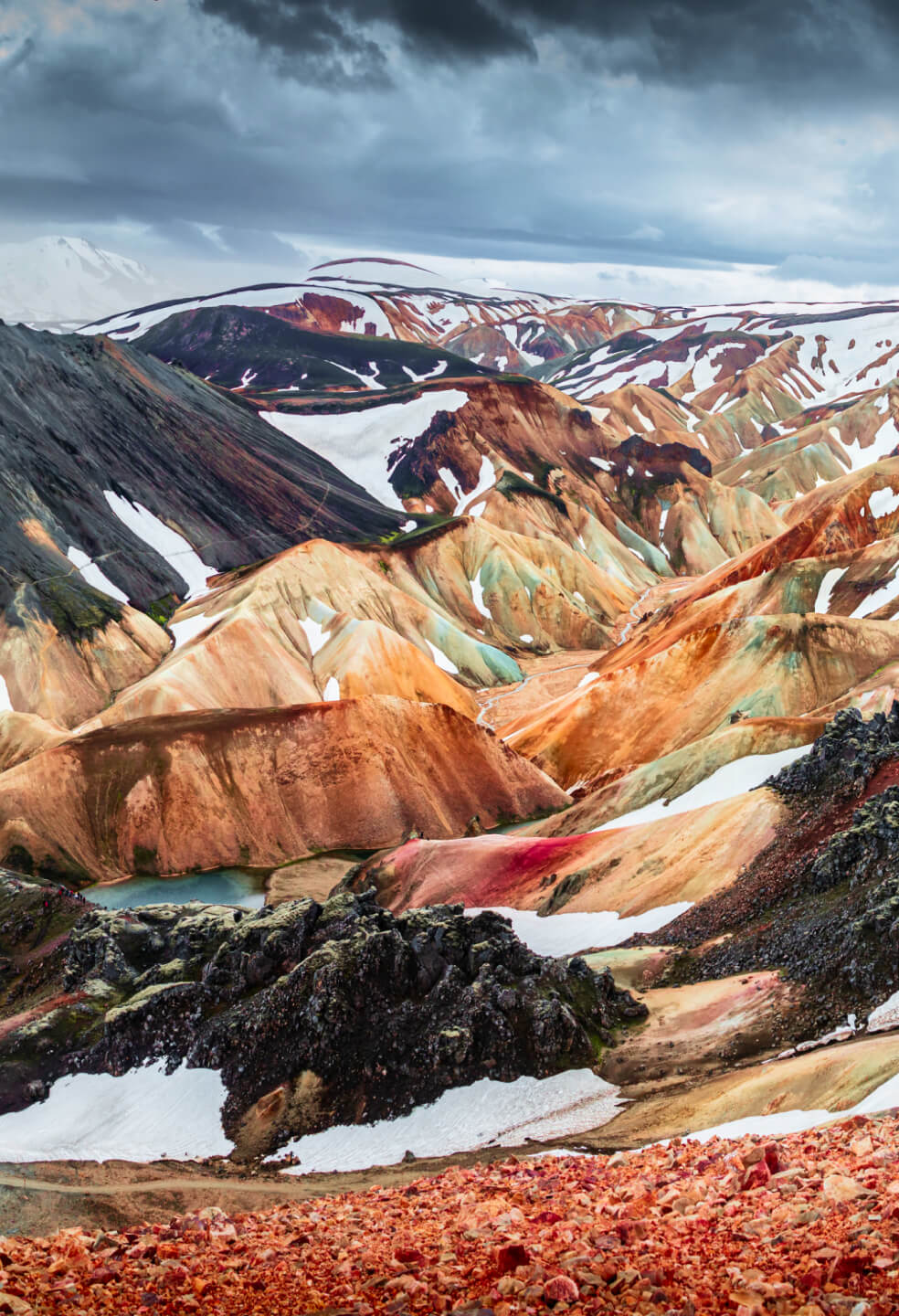 LANDSCAPES FOR EVERY TASTE
Following an ancient pathway across petrified lava, azure lagoons and ashen fields, you'll explore all the crowd favorites, like Álftavatn lake and mythical valleys of mythic proportions.
The Laugavegur Trail takes you on a colorful journey as you encounter red, gold, and green hues dappled with the whitest snow, black sand glistening with shards of obsidian, sparkly waterfalls, and turquoise lakes.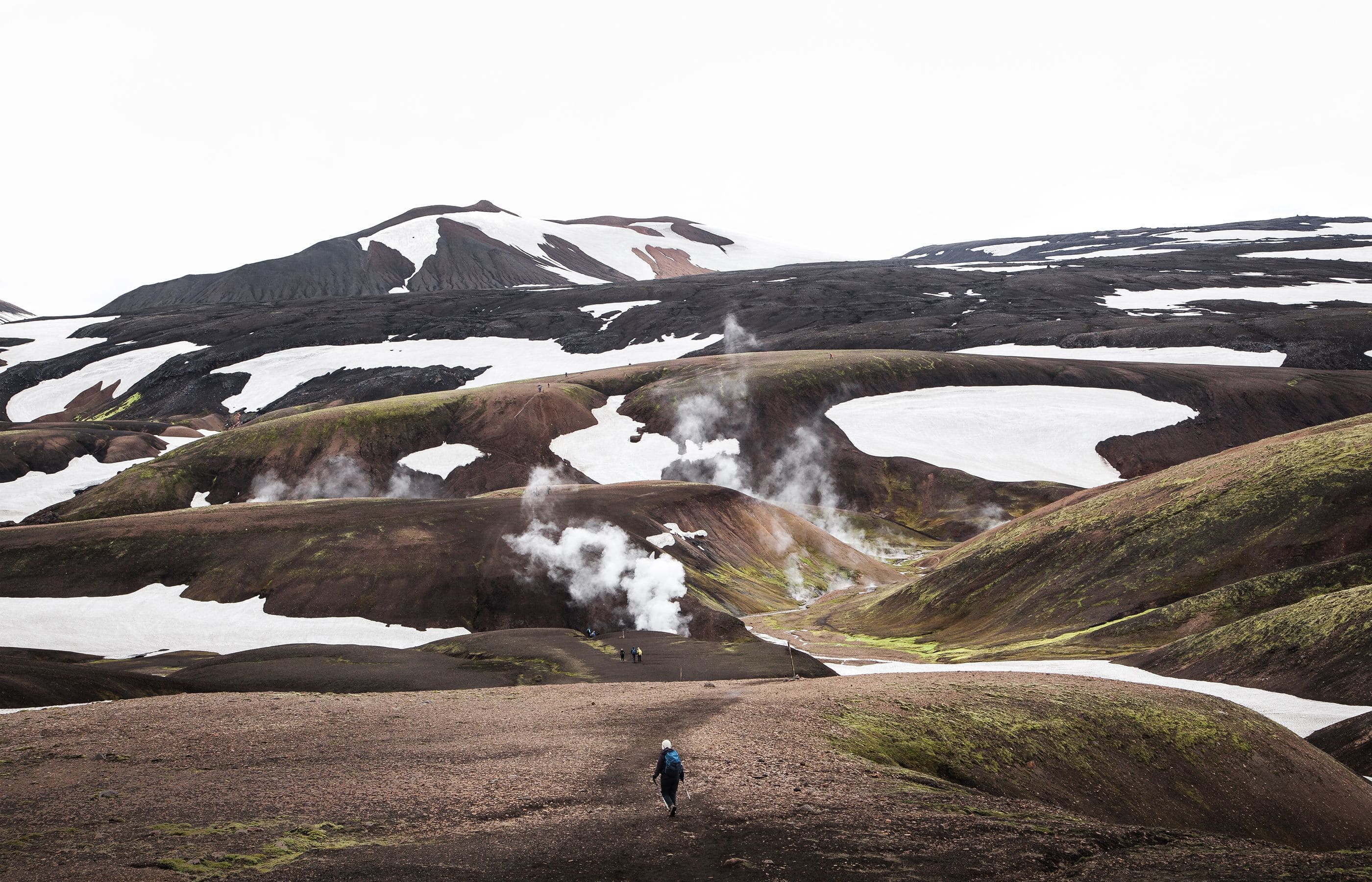 Dómadalur
Enjoy a scenic drive along the mountain tracks that lead to Landmannalaugar, passing by the Hekla volcano and the Domadalur valley boasting a shallow lake and a sandy obsidian lava field.
ÁLFTAVATN
Descend down to the gullies of Jökultungur and witness the beauty of hundreds of steaming hot springs and mud pools. Soak up the fresh air and fascinating views of the Álftavatn area, the Swan Lake, and the Mýrdalsjökull and Eyjafjallajökull glaciers.
EMSTRUR
Prepare for unbelievable sights of the verdant volcano Hattfell, and stop at the magnificent Markarfljót canyon, one of the most impressive and stunning canyons in Iceland not visited by many.
MÆLIFELLSSANDUR
As you pass the foot of the green conic volcano of Stórasúla, prepare for unbelievable sights of the black deserts of Mælifellssandur, located close to the southern Fjallabak road. Dominating the horizon to the south is Mýrdalsjökull glacier, the home of the staggering and much feared volcano Katla.
ÞÓRSMÖRK
After several hours of hiking through lush green valleys, descend into Þórsmörk's, one of the country's most popular hiking destinations and a favourite location for photographers and nature lovers alike. Parts of the area are rich with moss, fern, and birchwood, while jagged ridges and ice-capped peaks crown the horizon.
SOLHEIMAJOKULL GLACIER
Solheimajokull Glacier is a vast body of ice that unfurls from the larger Mýrdalsjökull Glacier. Step onto the mighty glacier, where your guide will teach you all about glaciers and how they helped to create the Iceland that you see today.
SOUTH COAST WATERFALLS
There is hardly any other place with such geological and visual variety. As you make your way along the South Coast, you will witness the mighty cascades and relaxing hot pools. Visit the two most famous waterfalls in Iceland, Skógafoss, and Seljalandsfoss, both approximately 60 m (196 ft) high.
A surreal experience awaits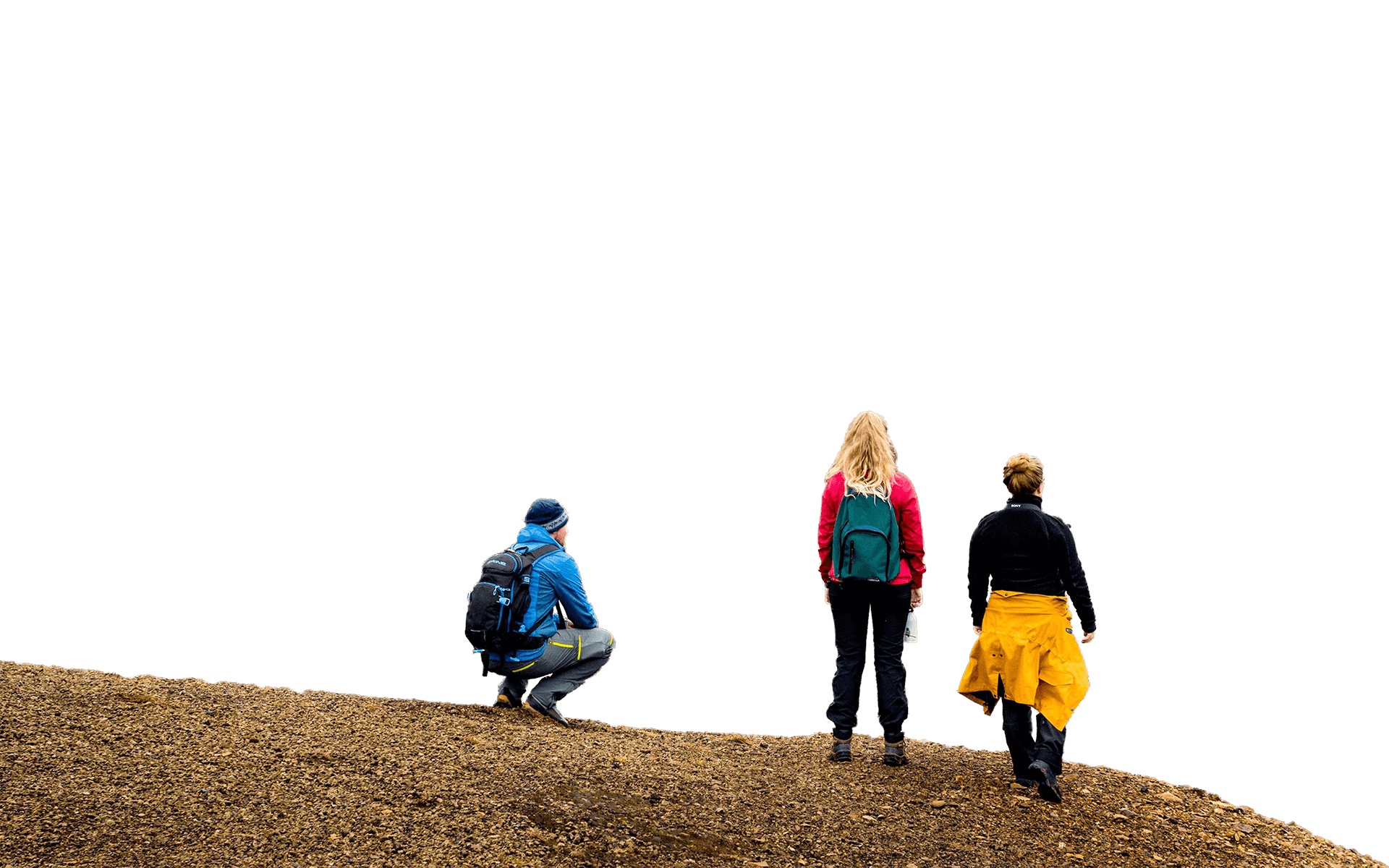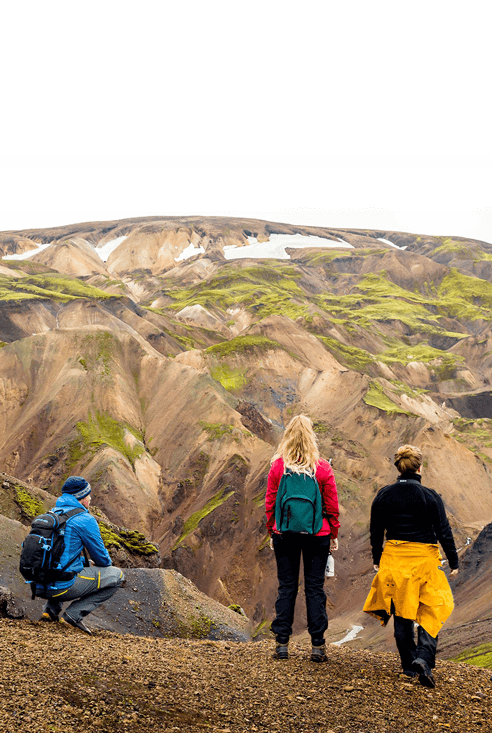 Otherworldly adventure under the Midnight Sun
EXPERIENCE THE TRUE LIFE IN THE NORTH
There are many reasons to tackle the Laugavegur trail, and the magnificent views are only one of them.
You will spend your nights in one of traditional mountain huts with heating while you enjoy delicious Icelandic meals and relax and rejuvenate in steaming natural hot springs and mud pools.
Experience the raw and primal traditions of the island, connect with nature, and energize your body, mind, and soul in the peaceful and breathtaking environment that can only be found in Iceland.
Enjoy the company
Sleeping with your travel buddies in huts in the middle of Icelandic vastness creates unbreakable bonds. Combine cultural immersion and awe-inspiring scenery into one unforgettable experience. As you share the long and bright Icelandic summer days with people from other sides of the world, you'll feel like you're on a big family trip!
This journey hosts anywhere from 6 to 16 travelers looking for an adventure.
EPIC FOOTPATHS
UNIQUE GEOLOGY
MOUNTAIN HUTS
63°52′ N AND 19°14′ E
A TRUE ADVENTURE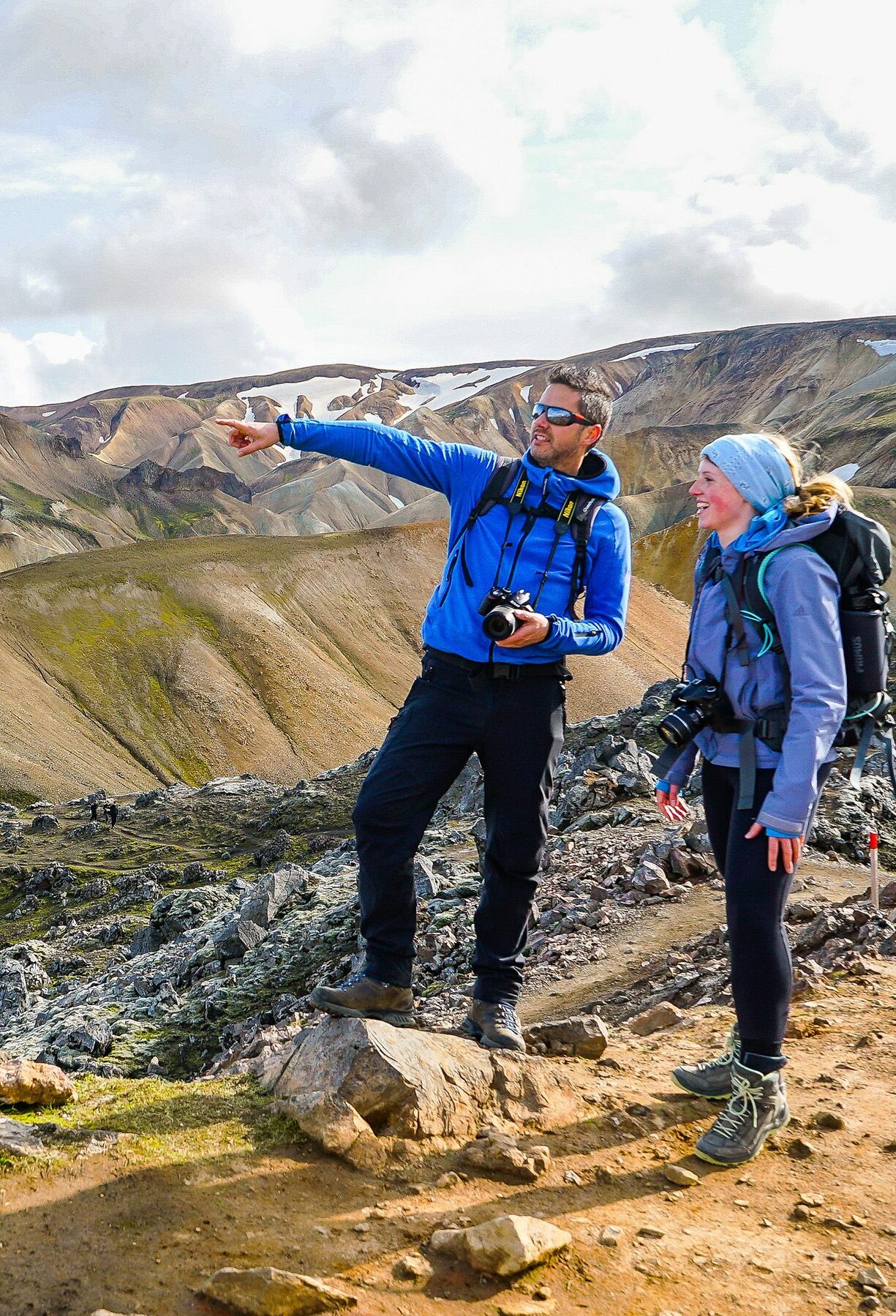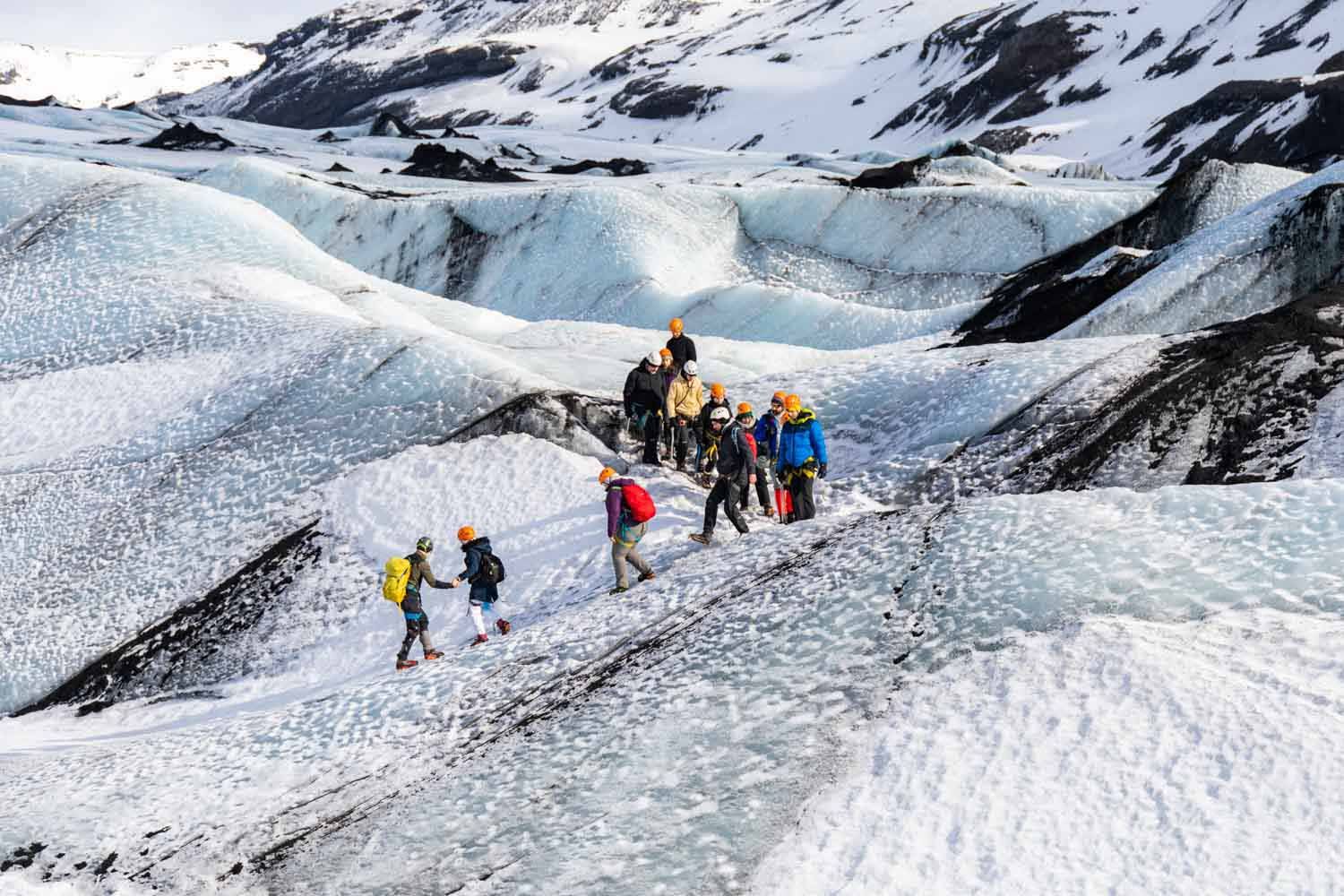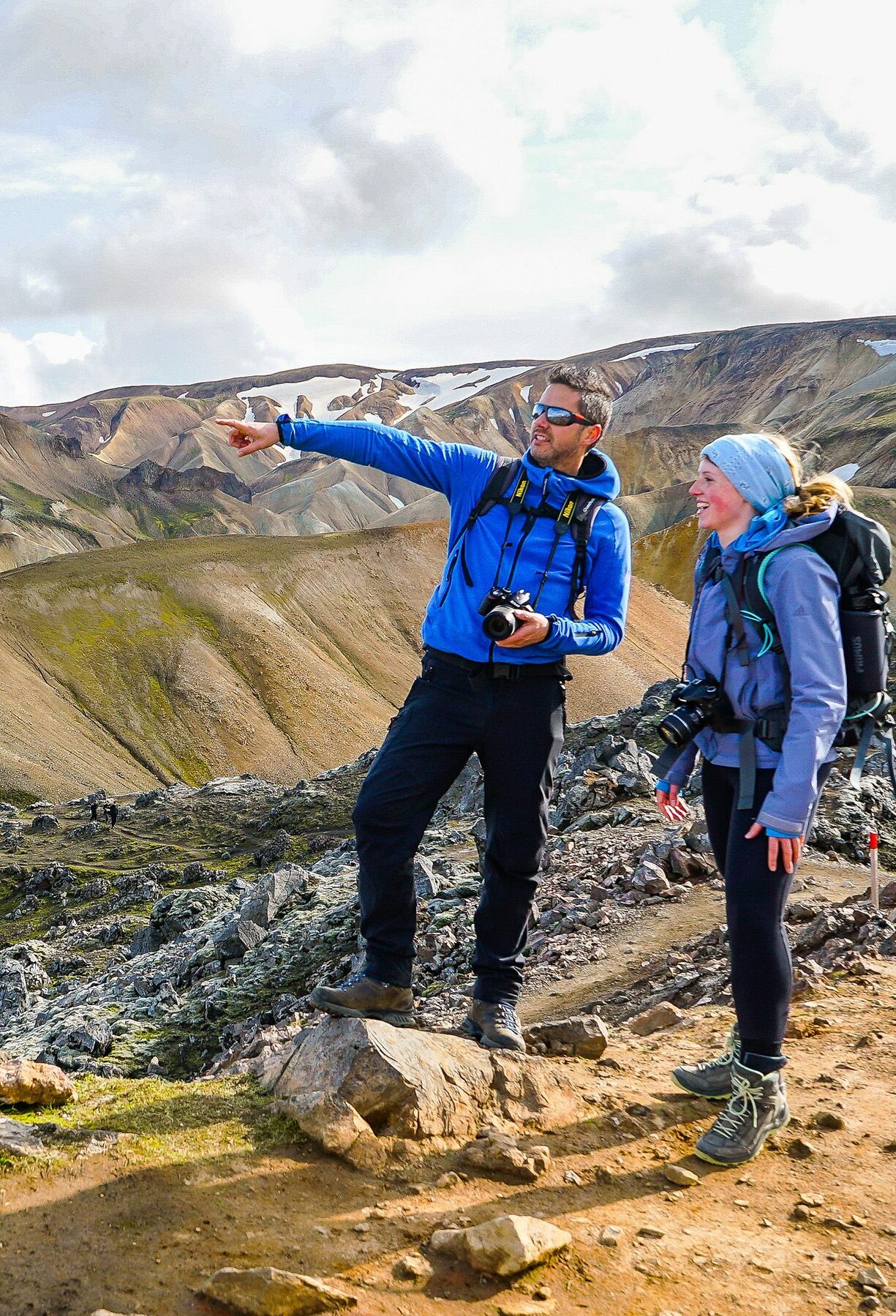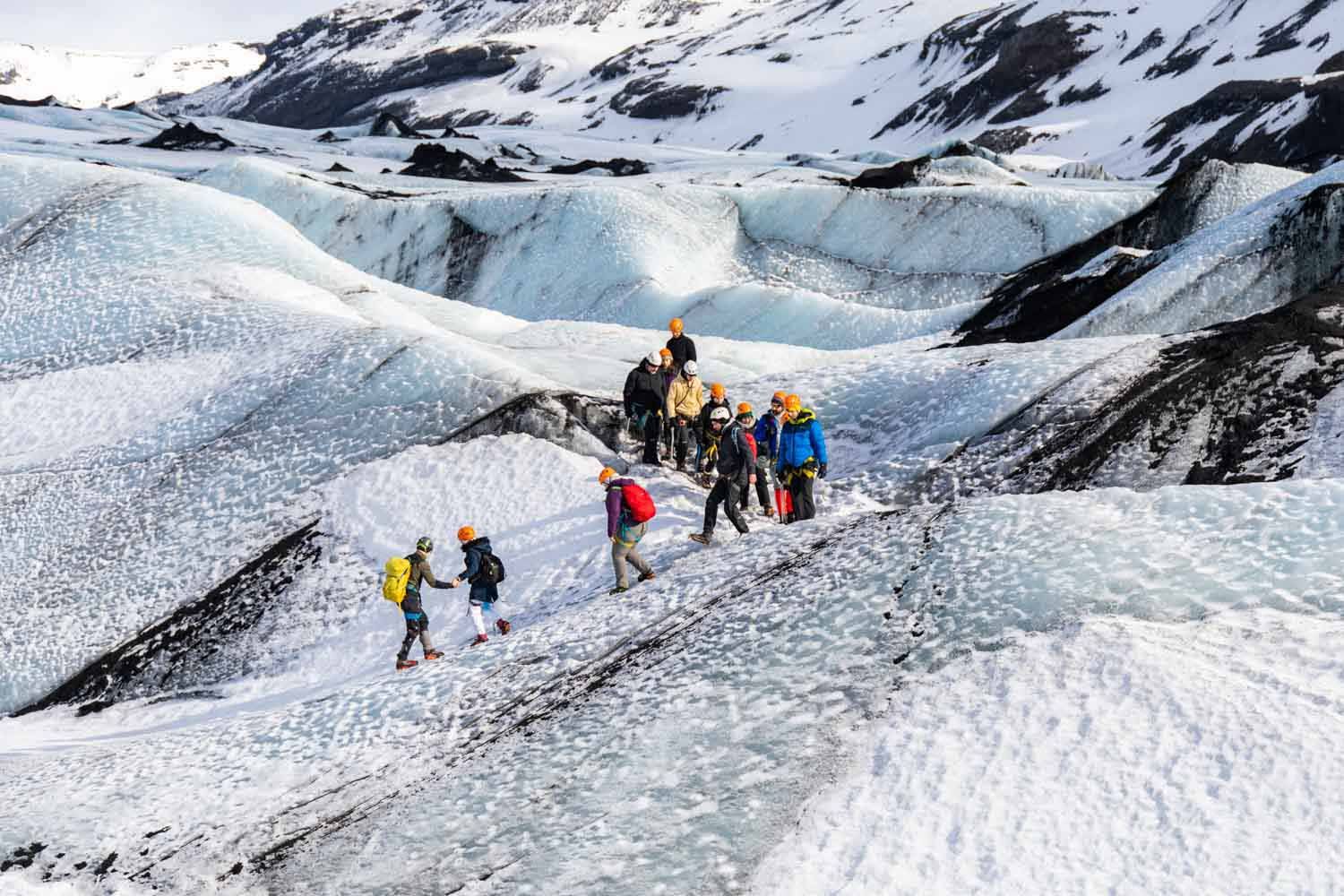 Meet your guides
The Arctic Adventures family consists of adventurous and highly qualified people from all over the world.
Some people are passionate river rafters or mountain climbers, while others really thrive on numbers and calculations. There is one thing, though, which they all have in common: a tremendous love and passion for outdoor adventures and total respect for nature.
Arctic Adventures has achieved official recognition as a sustainable tour company but they still strive to find new ways to work in harmony with nature, local communities and the people living in them. Their mission statement is "Nature is the adventure," showing their clients how nature can be treated with respect and explored without leaving a mark, taking away only photographs and memories.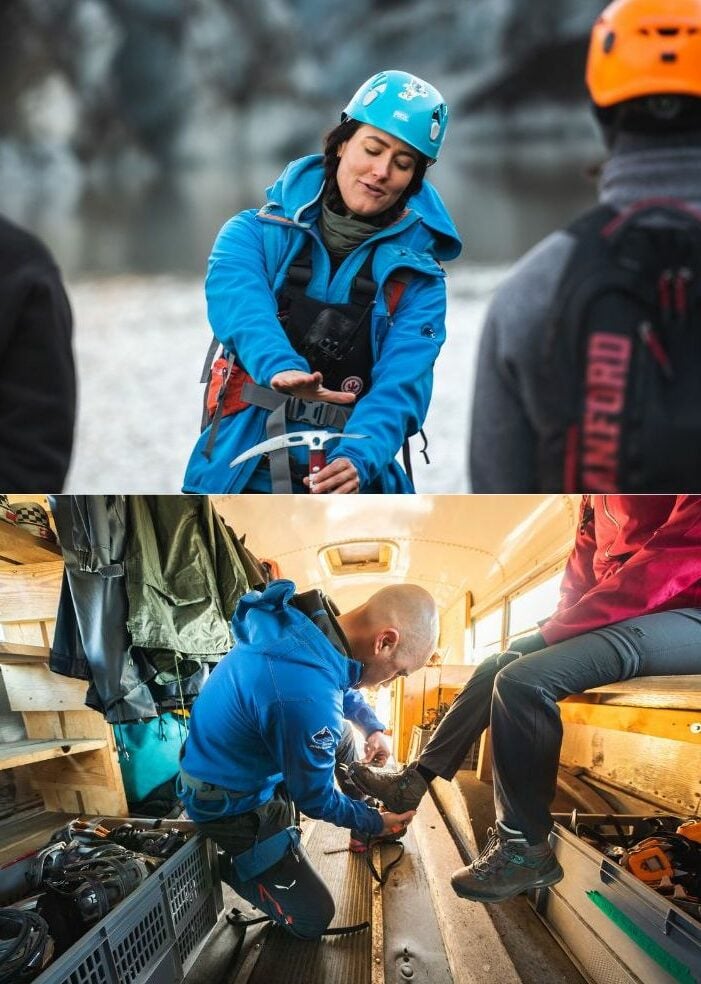 We were in Iceland for celebrating our marriage anniversary and Extreme Iceland/Arctic Adventures didn't disappoint us. It was a very well planned 5 days tips covering almost everything we wanted to see in Iceland. Our tour guide (Vik) was very friendly, helpful and awesome person. He showed us the right locations for northern lights and we got amazing pictures too. The glacier hiking was an amazing experience with Chris.
Highly recommend and thank you Arctic Adventures for a memorable trip.
We did the

Laugavegur

tour with Caroline as our guide. I was supposed to be doing this tour with a friend and last minute they couldn't not attend so I was a bit anxious about going alone with a group. Caroline was great, I immediately felt at ease and the group itself were super nice. The scenery was absolutely stunning. Highly recommend.
Wonderful experience with a small group (16 people) and an experienced guide, Hjalti (and others). We could not go to the Fimmvörðuháls pass because of unfavourable weather; nevertheless, I will never forget this tour.
I would have liked to know in advance that this tour is actually made up of the 6 day Laugavegur Trek tour plus two day tours (Glacier Experience, and Golden Circle & Secret Lagoon); I was instead expecting to be with the same group for the whole time.
The

glacier

hike

was amazing! Marco was the best—he was extremely knowledgeable and attentive. He made us all feel extremely safe. The arctic team made sure all of the equipment fit appropriately and their attention to each person was excellent. I would use them again. A great company.