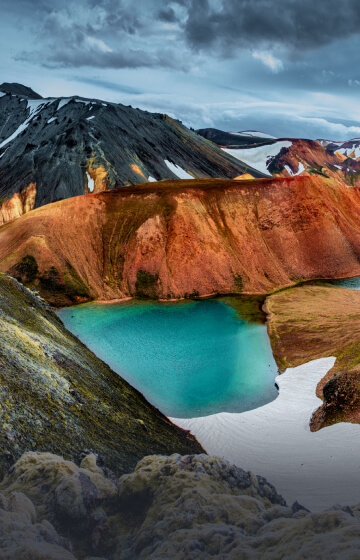 Hike the Famous Laugavegur Trail
Set out on a hiking journey through the Southern Highlands of Iceland and witness the enchanting landscapes and vibrant colors along the iconic Laugavegur Trail. Black volcanic rock, spouting thermal vents, lakes and rolling hills make it one of the most incredible thru-hikes in the world.
The magical and diverse landscape, combined with the long and bright Icelandic summer days, will capture any outdoor enthusiast's attention. As you hike through this 56 km (35 miles) long trail, past dramatic and colorful panoramas formed by millennia of glacial and volcanic activity, you'll feel like you've stepped into a completely different world.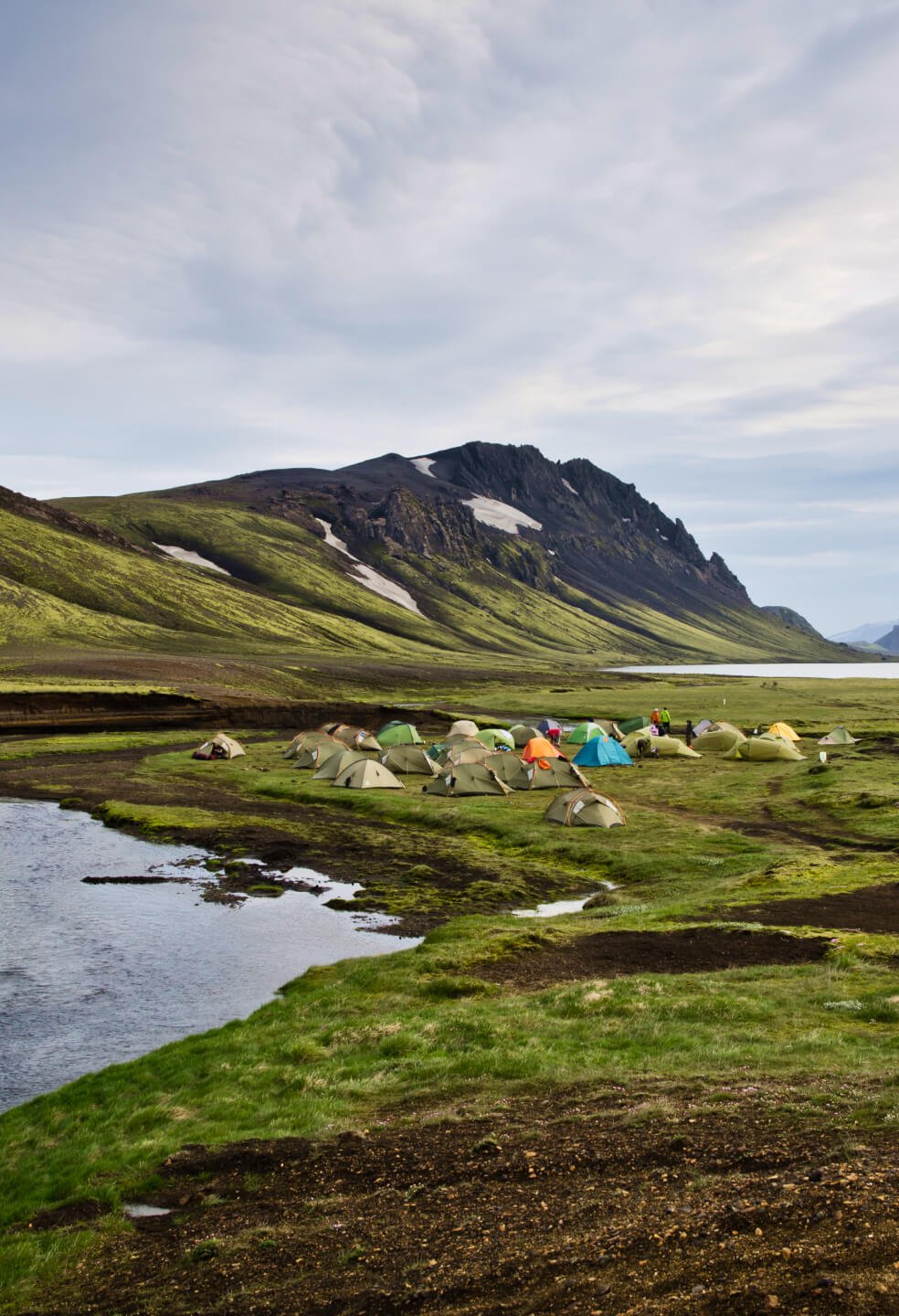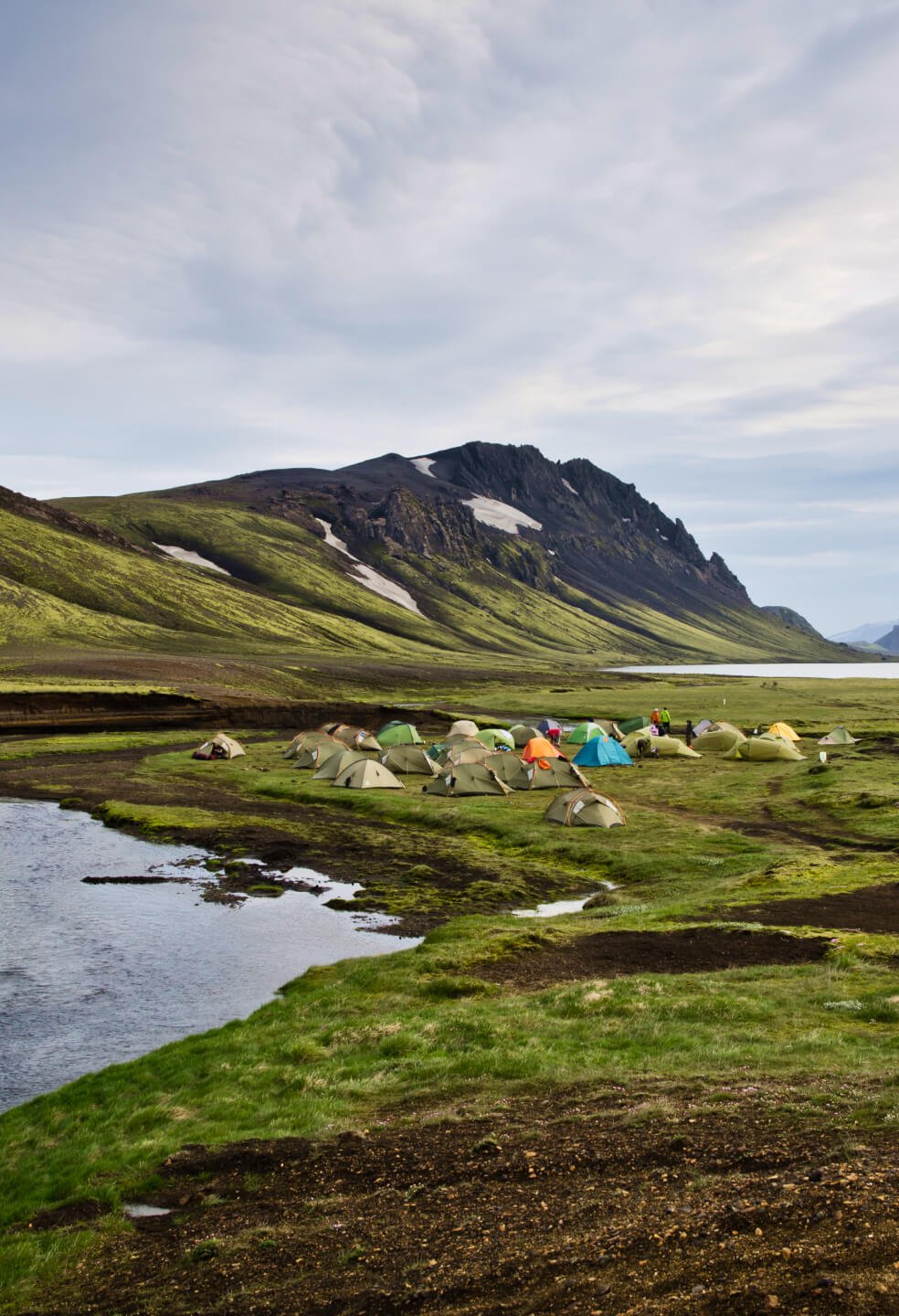 Why Laugavegur Trail?
Far from the hustle and bustle of the city, on the Southern part of the remote island located between Greenland and Norway, the Laugavegur Trail takes you on a multi-day hut-based hike from Landmannalaugar to Thórsmörk—a valley of mythic proportions fit for the gods.
Lying on the constantly active geologic border between North America and Europe, Iceland is a land of unusual variety and contrasts. Laugavegur Trail captures the best of its geology—from vibrant green moss and jet black sand deserts, snow and steamy springs, pink flowers emerging from the seemingly barren land, to turquoise lakes and lava fields.
EPIC FOOTPATHS
UNIQUE GEOLOGY
MOUNTAIN HUTS
63°52′ N AND 19°14′ E
A TRUE ADVENTURE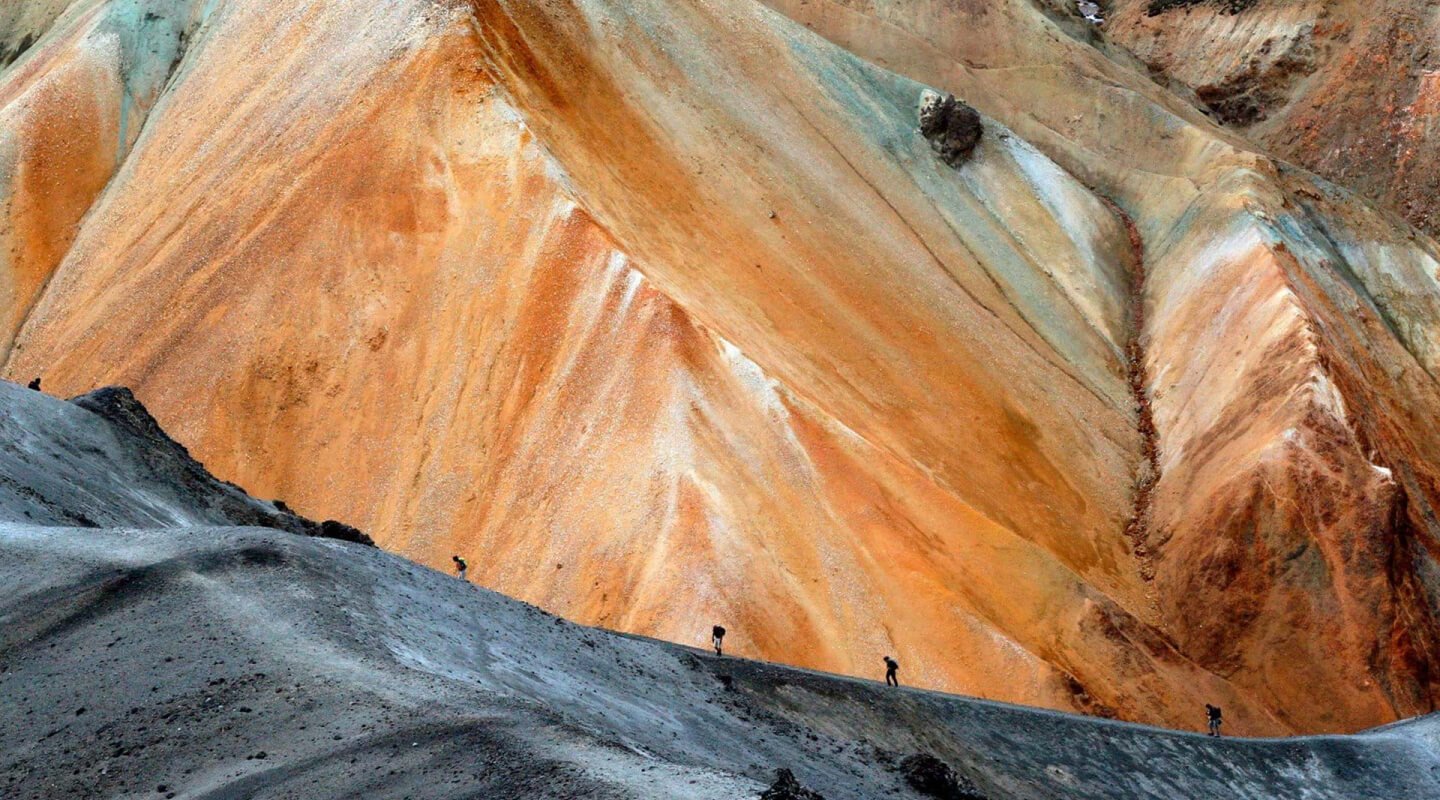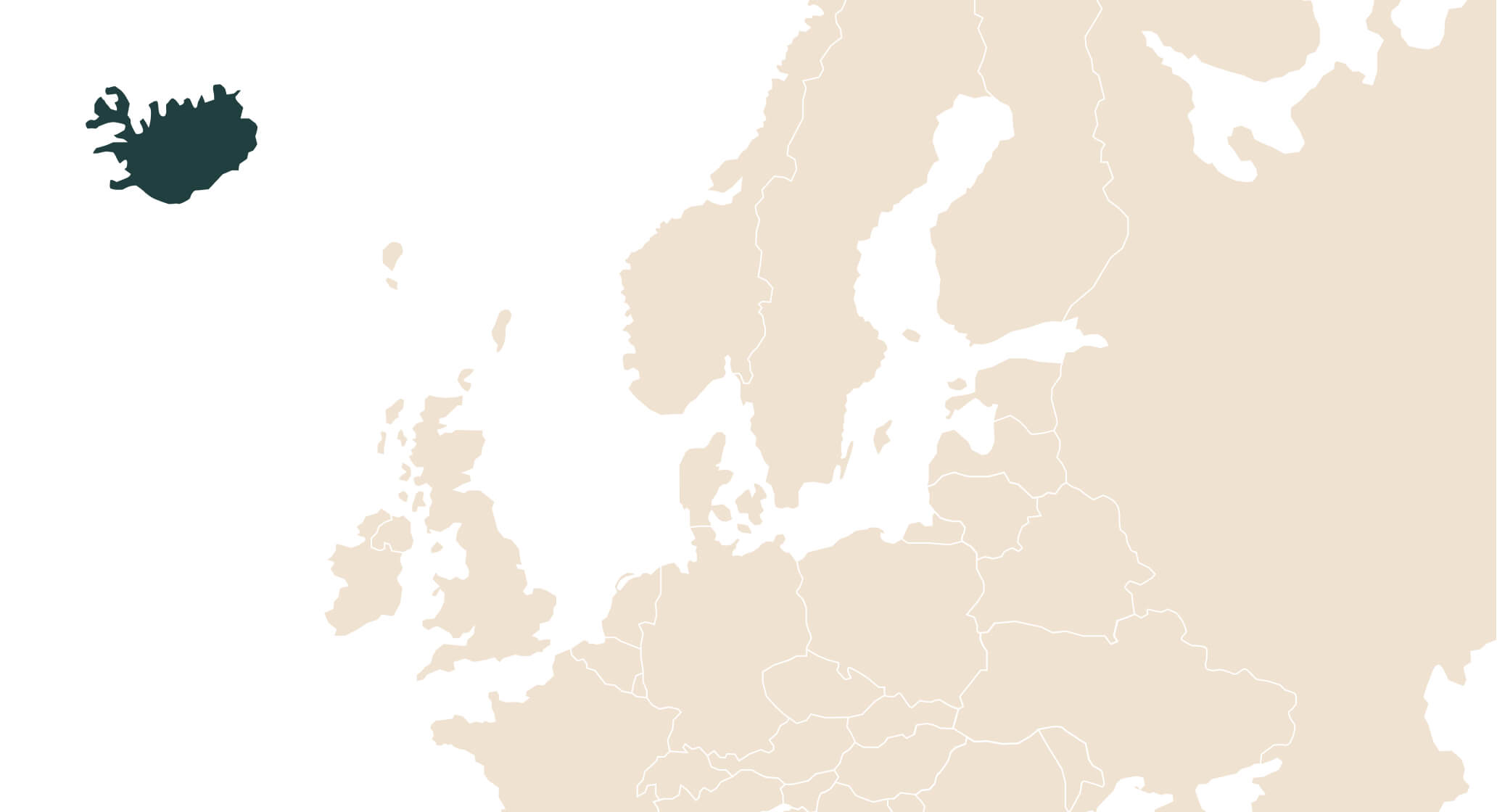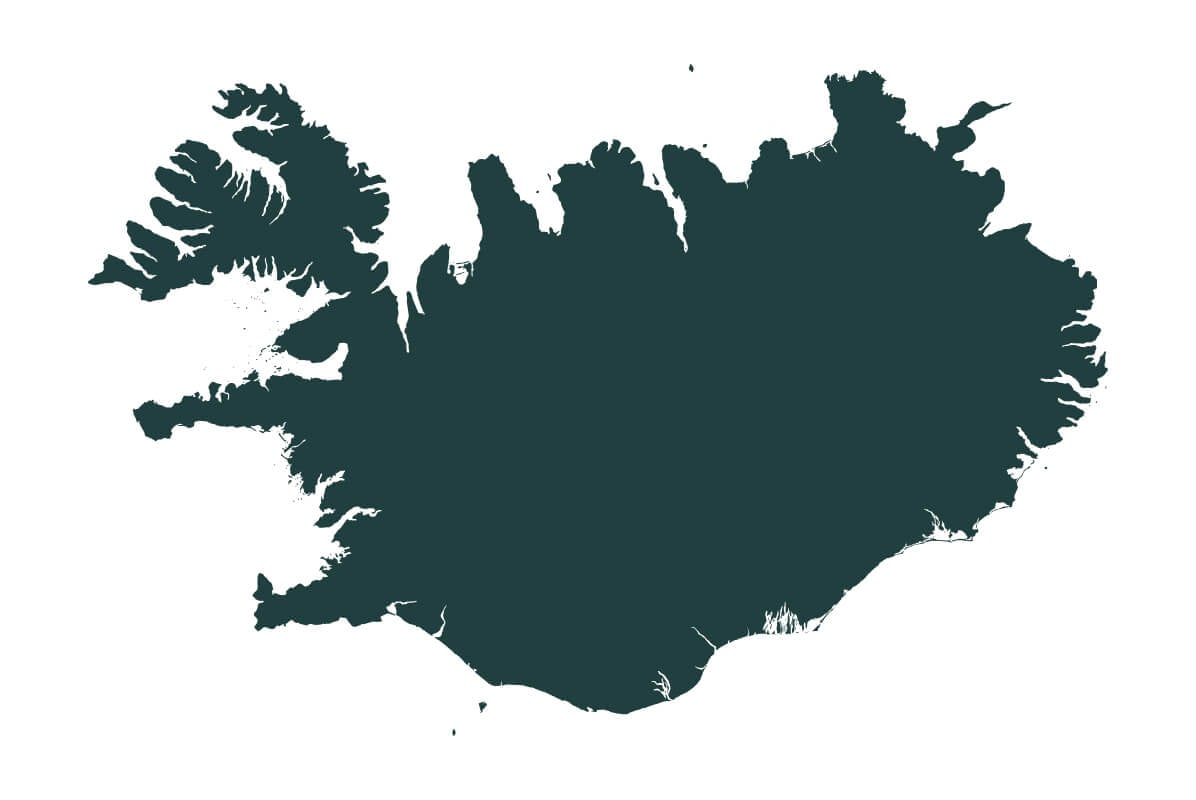 Iconic trail in the land of fire and ice
35 MILES OF UNIQUE NATURAL BEAUTY
In Iceland, the cliche is true: If you don't like the weather, just wait 15 minutes—you can expect to experience four seasons in a single day. Same can be said for Iceland's otherworldly and diverse landscapes on the Laugavegur Trail.
As you move through the valleys and across glaciers and deserts, you'll understand why it was dubbed "the Land of Ice and Fire"— the vistas of brightly-colored misty mountains and the contrasting everchanging surroundings won't leave anyone indifferent.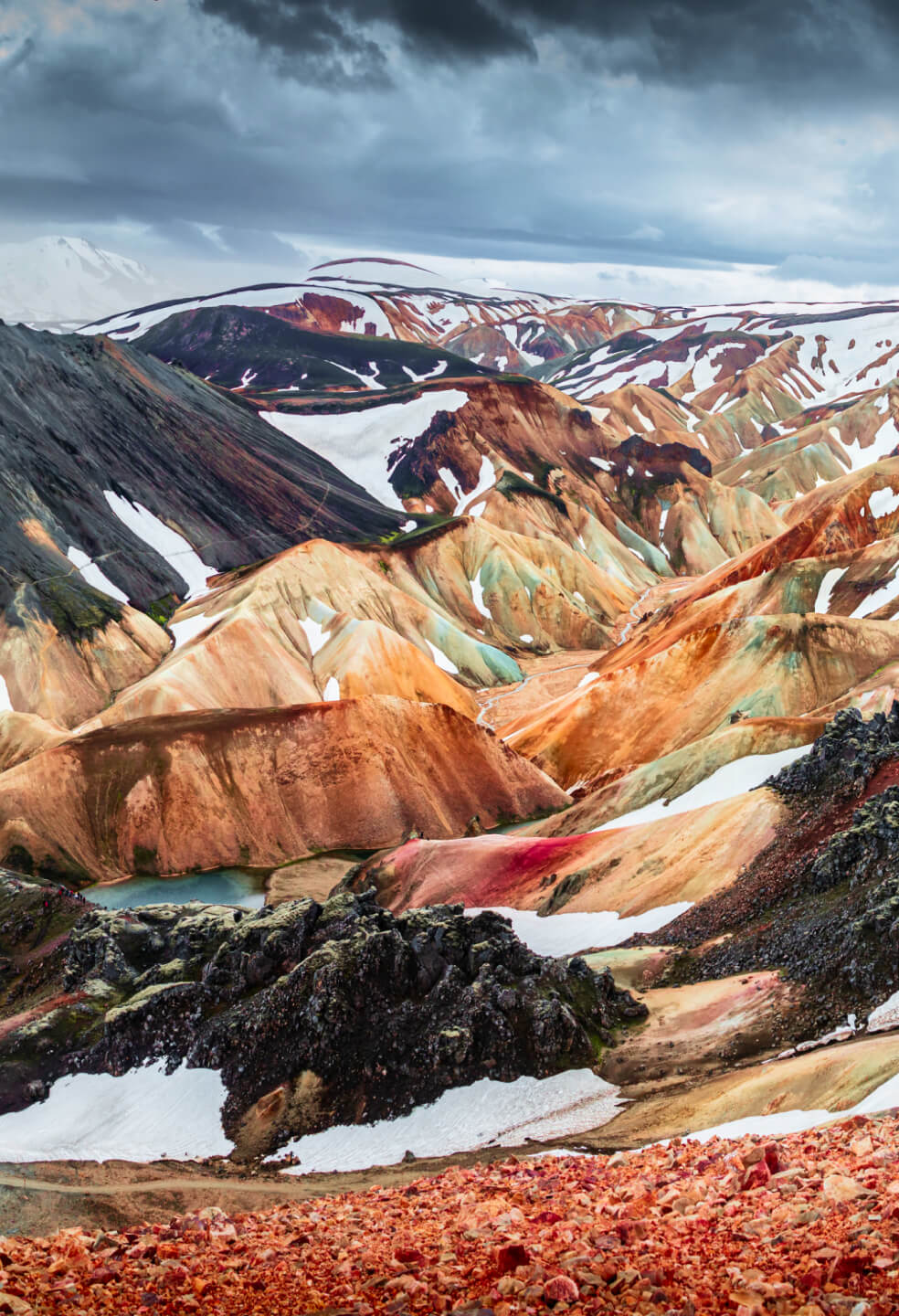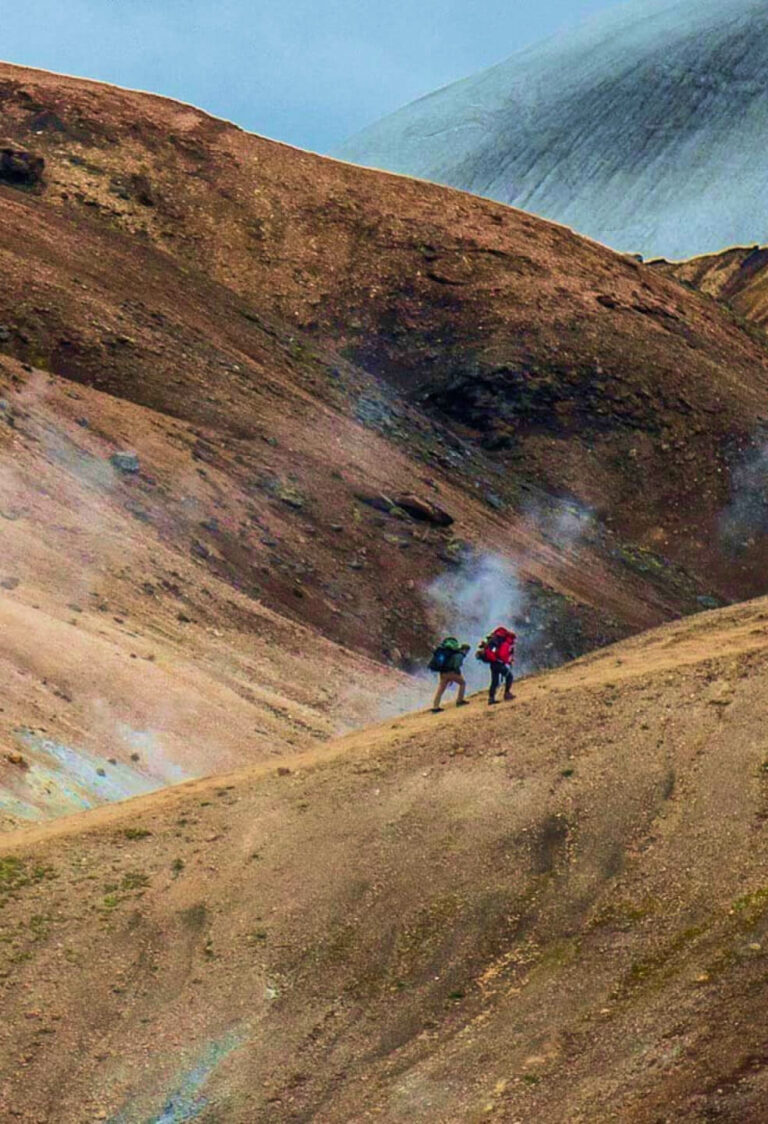 LANDSCAPES FOR EVERY TASTE
Following an ancient pathway across petrified lava, azure lagoons and ashen fields, you'll explore all the crowd favorites, like Álftavatn lake and valleys of mythic proportions.
The Laugavegur Trail takes you on a colorful journey as you encounter red, gold, and green hues dappled with the whitest snow, black sand glistening with shards of obsidian, sparkly waterfalls, and turquoise lakes.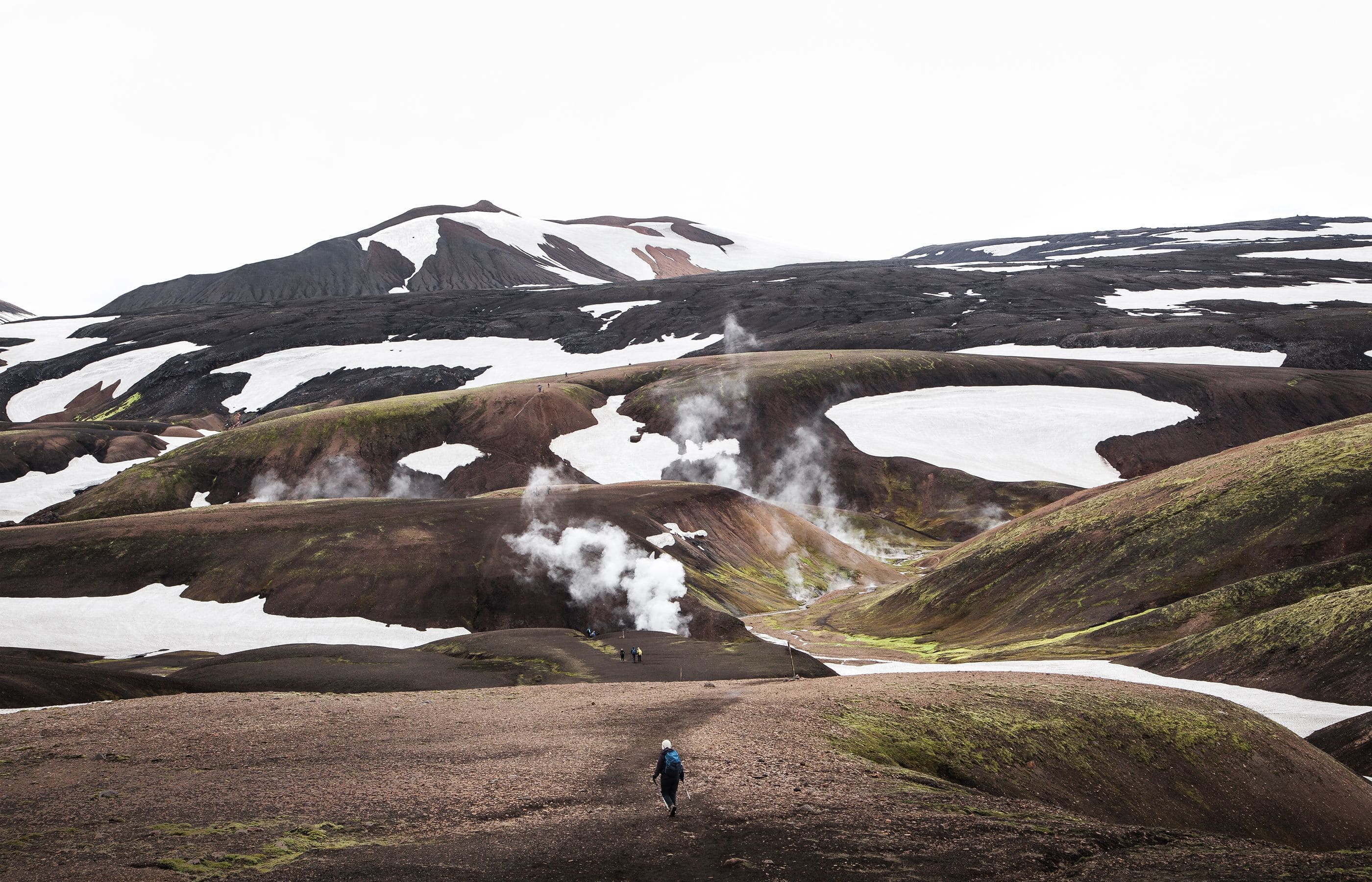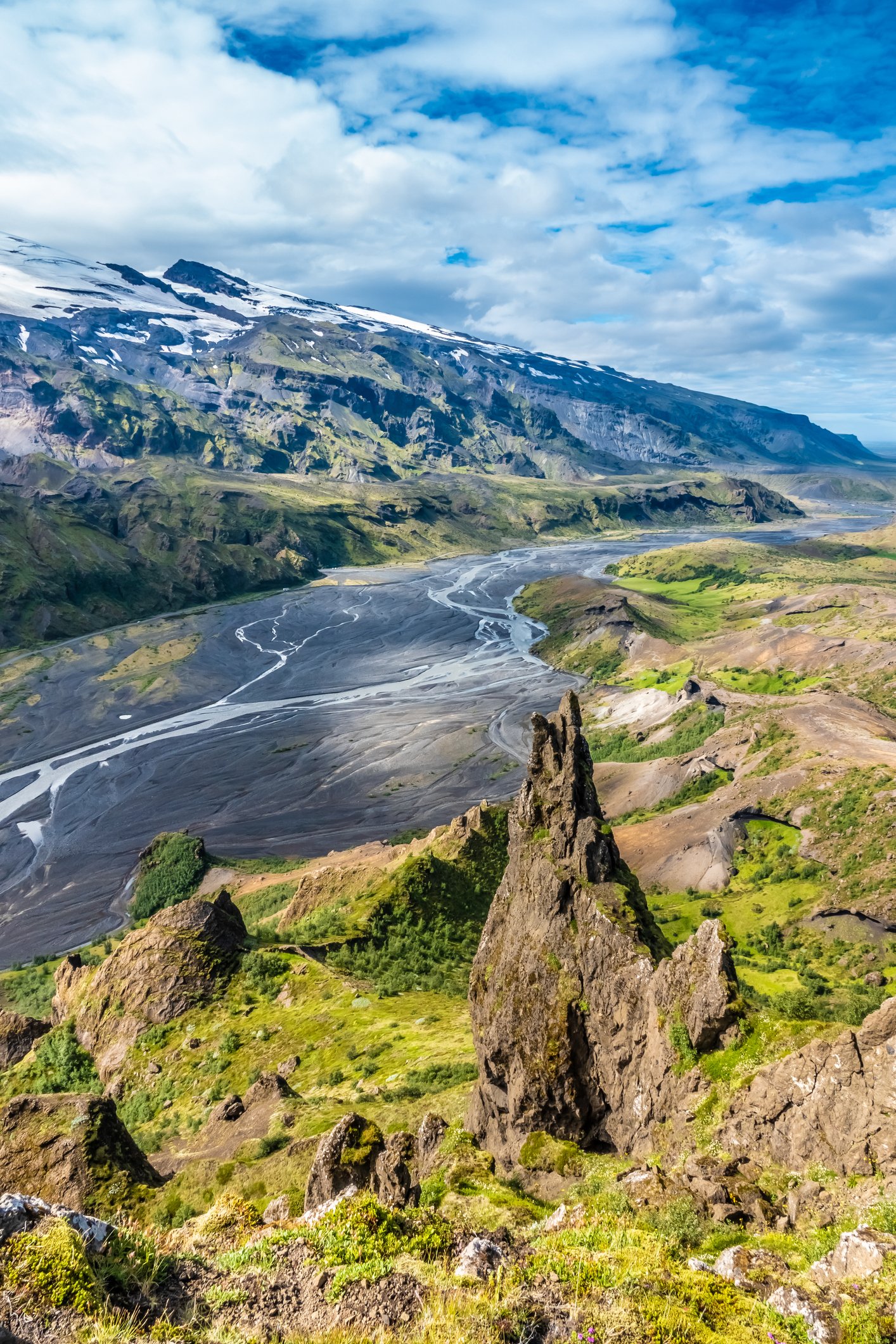 Dómadalur
Enjoy a scenic drive along the mountain tracks that lead to Landmannalaugar, passing by the Hekla volcano and the Domadalur valley boasting a shallow lake and a sandy obsidian lava field.
Hrafntinnusker
Walk past steaming hot springs, small gorges, and stunning yellow mountain ridges contrasting the blue skies. You'll hike for about 4 hours before reaching the Hrafntinnusker mountain hut.
ÁLFTAVATN
Descend down to the gullies of Jökultungur and witness the beauty of hundreds of steaming hot springs and mud pools. Soak up the fresh air and fascinating views of the Álftavatn area, the Swan Lake, and the Mýrdalsjökull and Eyjafjallajökull glaciers.
EMSTRUR
Prepare for unbelievable sights of the verdant volcano Hattfell, and stop at the magnificent Markarfljót canyon, one of the most impressive and stunning canyons in Iceland not visited by many.
ÞÓRSMÖRK
After several hours of hiking through lush green valleys, descend into Þórsmörk's, one of the country's most popular hiking destinations and a favourite location for photographers and nature lovers alike. Parts of the area are rich with moss, fern, and birchwood, while jagged ridges and ice-capped peaks crown the horizon.
SÖNGHELLIR
Visit the Sönghellir cave (Song Cave) near the old fishing village Arnarstapi and famed for its acoustics, or climb up the small mountain of Valahnúkur, from where you can enjoy magnificent views.
A surreal experience awaits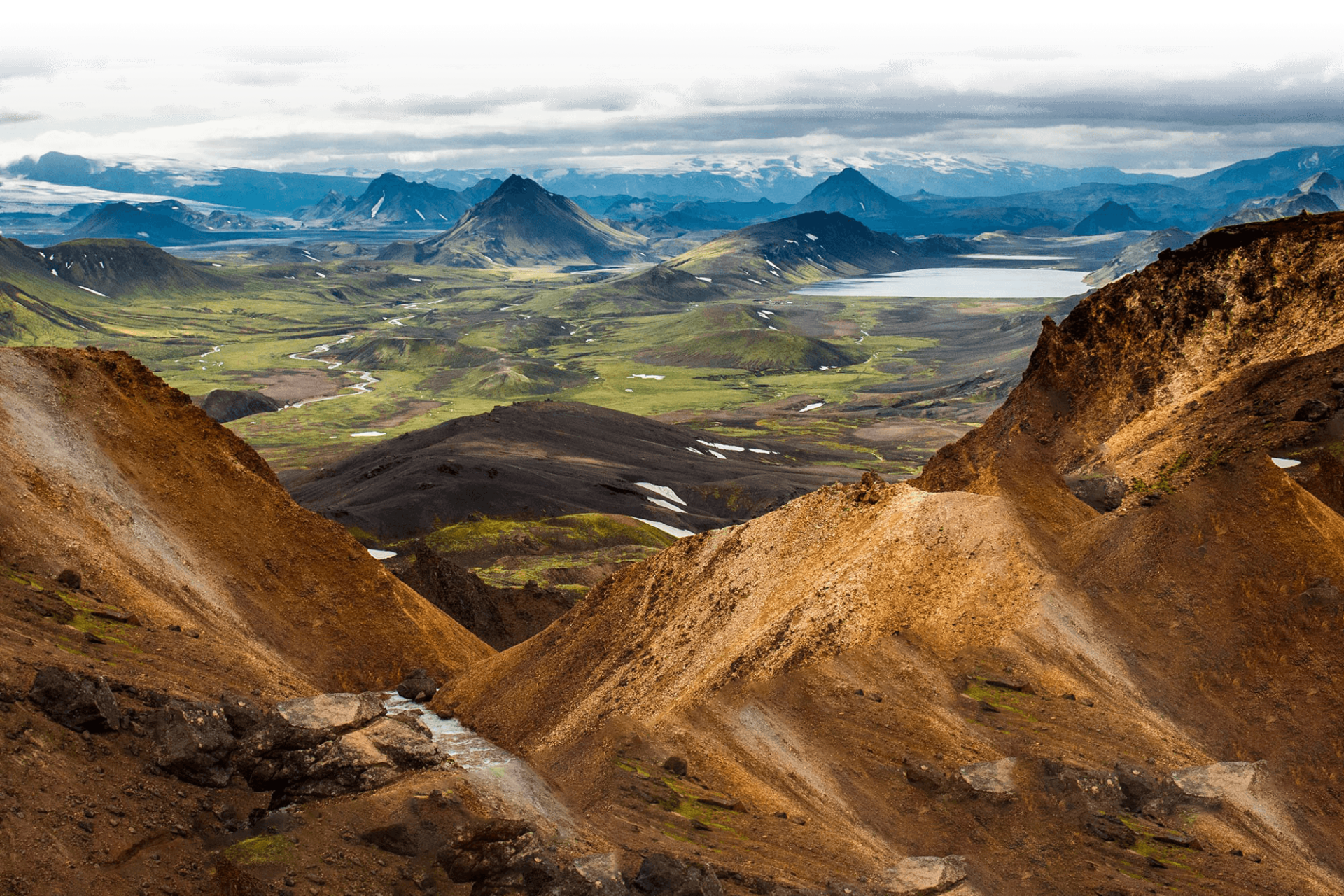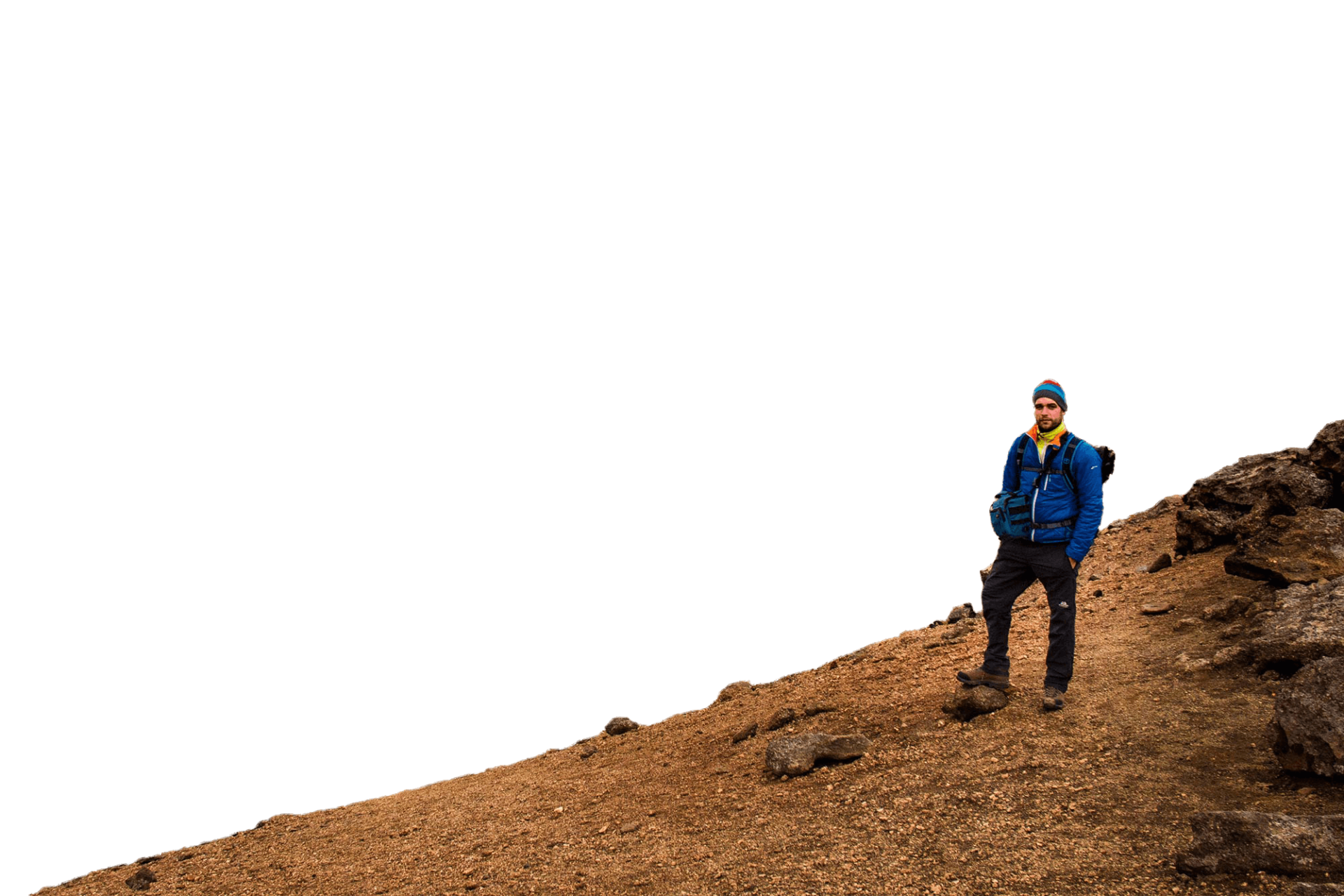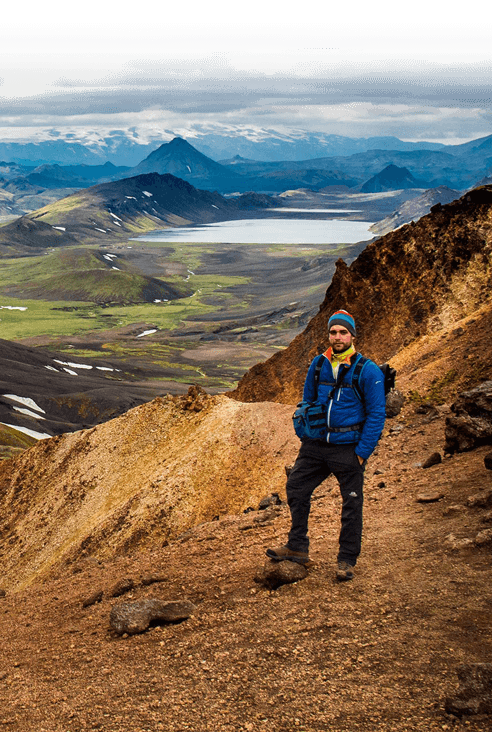 Otherworldly adventure under the Midnight Sun
EXPERIENCE THE TRUE LIFE IN THE NORTH
There are many reasons to tackle the Laugavegur trail, and the magnificent views are only one of them.
You will spend your nights in one of traditional mountain huts with heating while you enjoy delicious Icelandic meals and relax and rejuvenate in steaming natural hot springs and mud pools.
Experience the raw and primal traditions of the island, connect with nature, and energize your body, mind, and soul in the peaceful and breathtaking environment that can only be found in Iceland.
Enjoy the company
Sleeping with your travel buddies in huts in the middle of Icelandic vastness creates unbreakable bonds. Combine cultural immersion and awe-inspiring scenery into one unforgettable experience. As you share the long and bright Icelandic summer days with people from other sides of the world, you'll feel like you're on a big family trip!
This journey hosts anywhere from 6 to 16 travelers looking for an adventure.
EPIC FOOTPATHS
UNIQUE GEOLOGY
MOUNTAIN HUTS
63°52′ N AND 19°14′ E
A TRUE ADVENTURE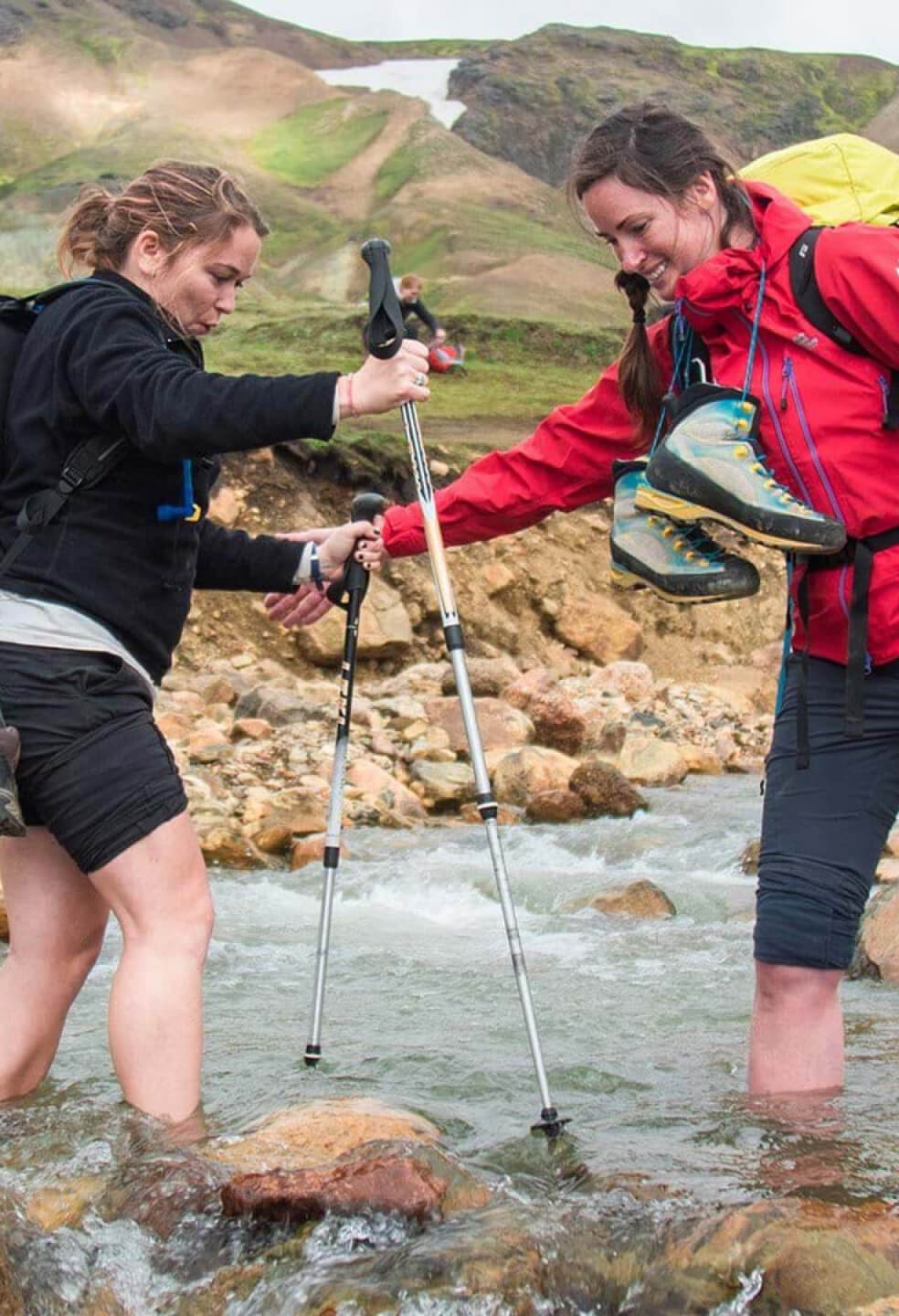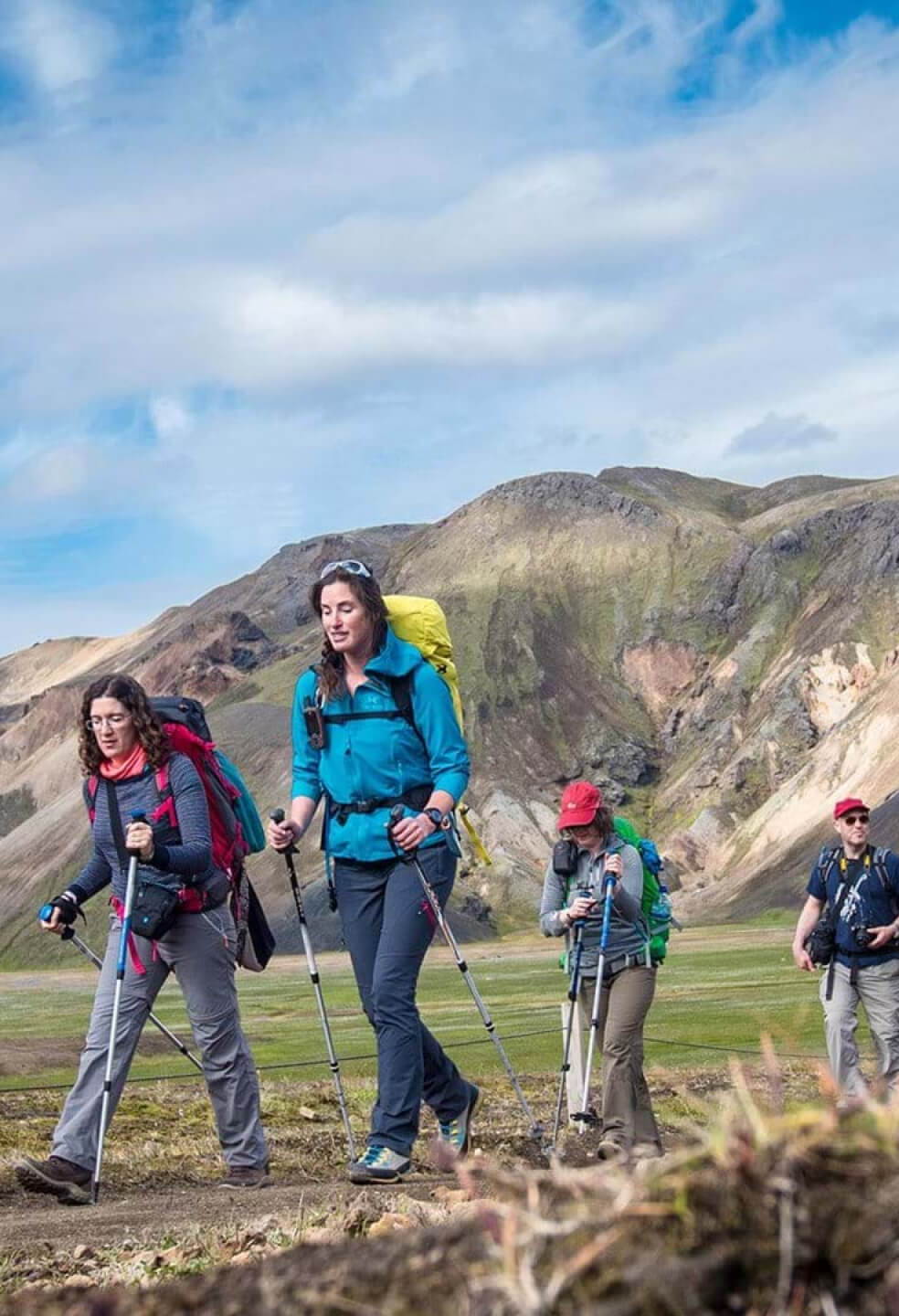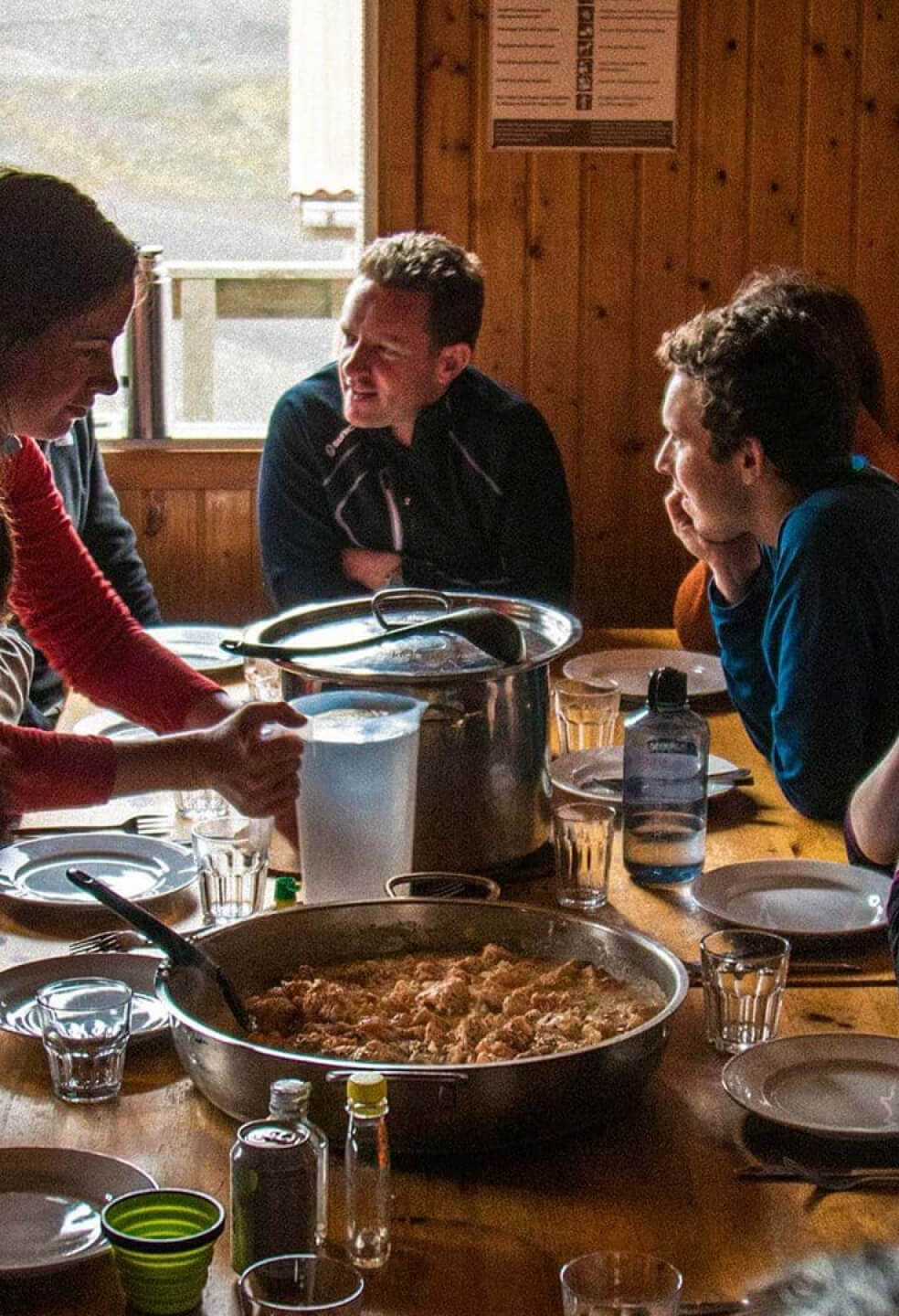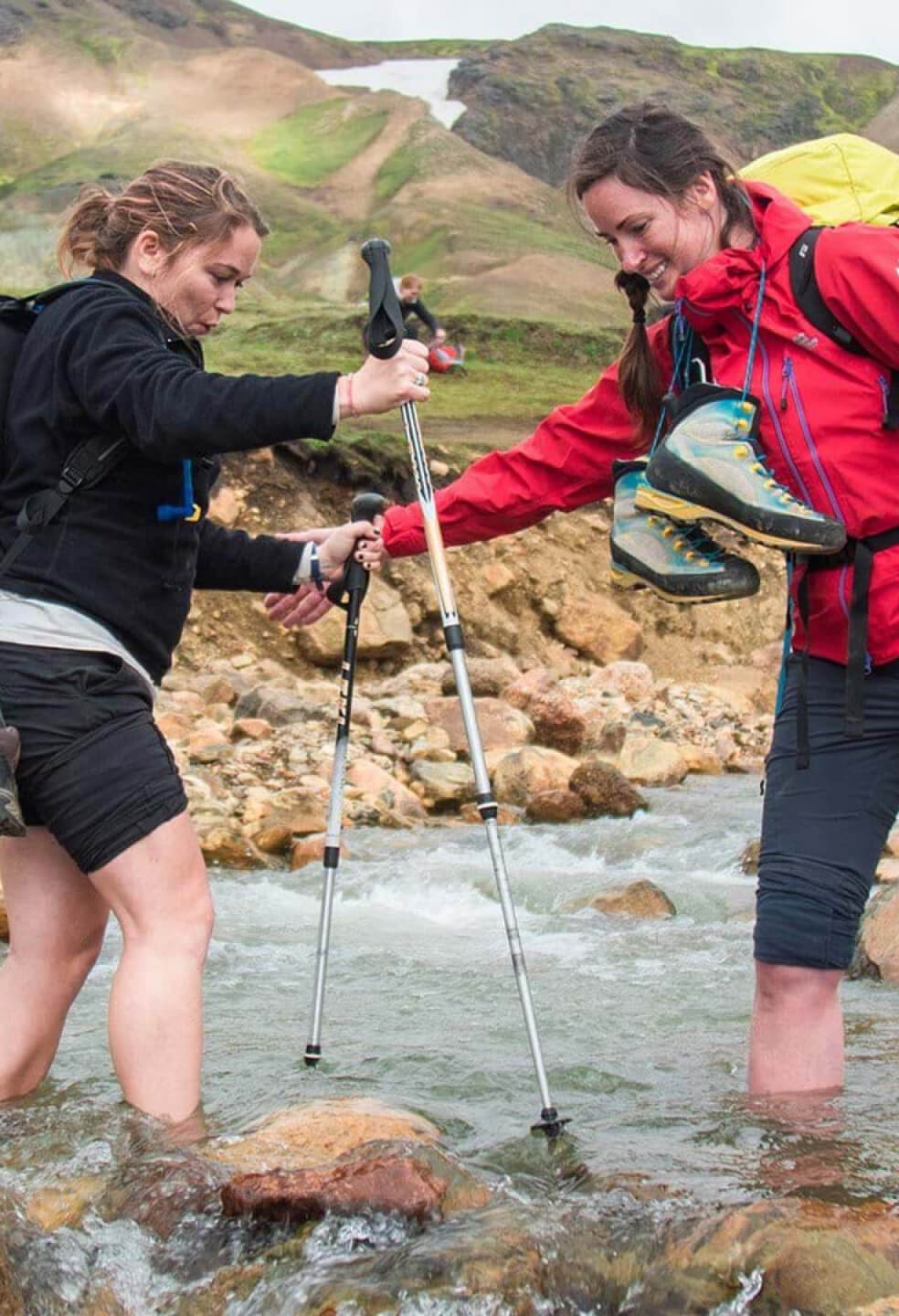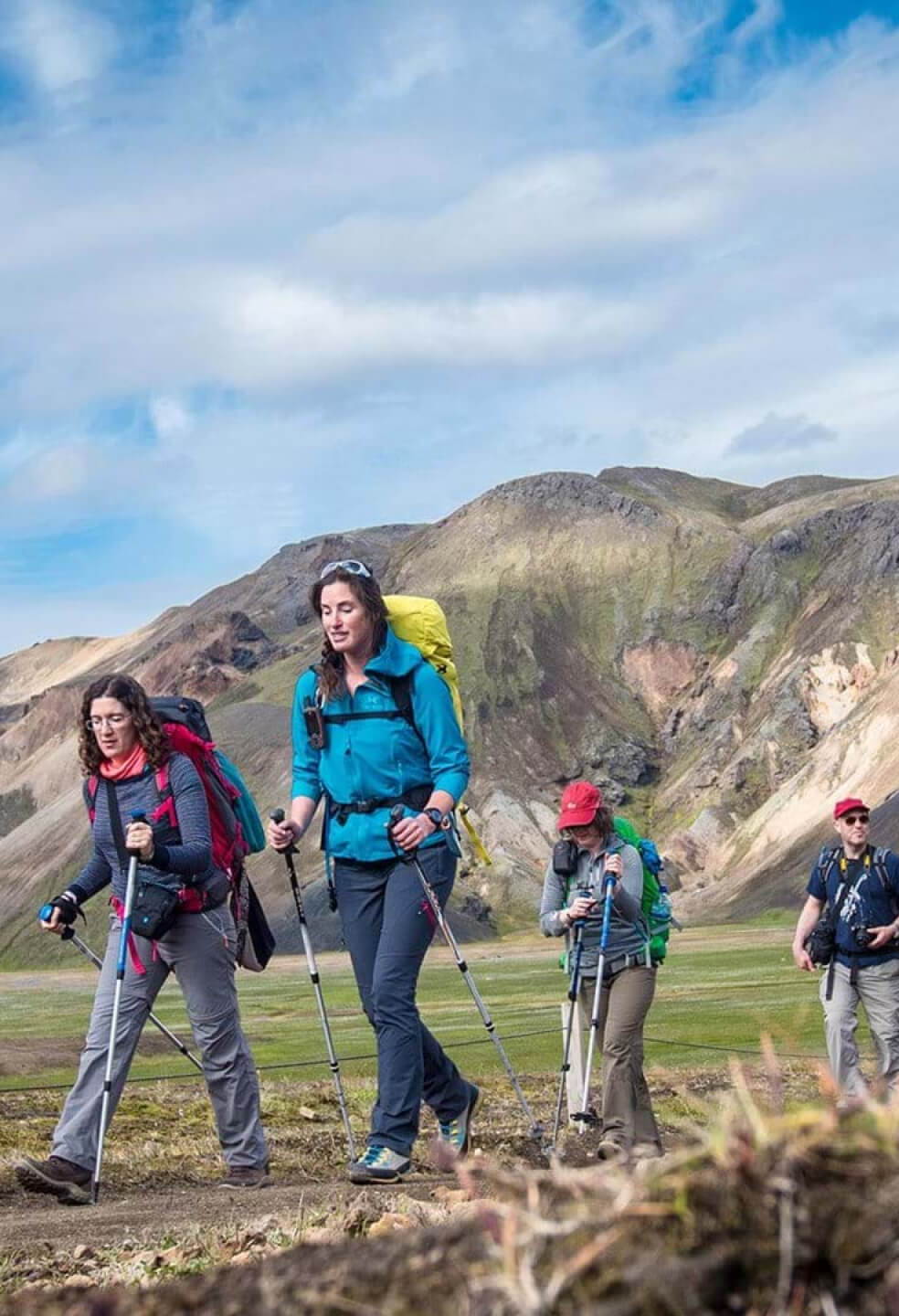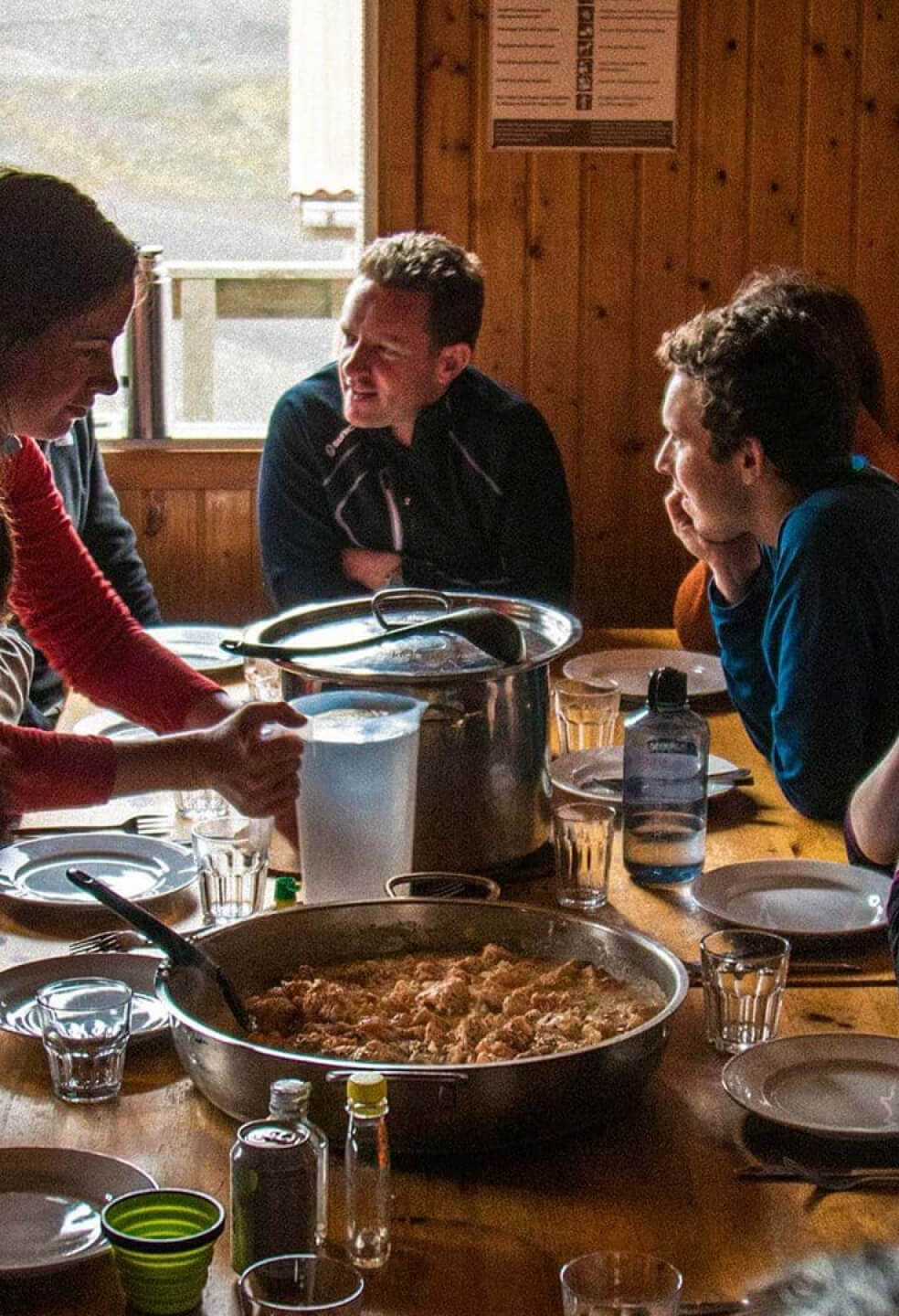 Meet your guides
Icelandic Mountain Guides offer the perfect variety of experiences to satisfy anyone's desire for adventure. Whether you want to relax in the unparalleled beauty of Iceland's nature or take a more challenging adventure, they've got you covered. The possibilities are endless and the memories will last a lifetime.
Jón is a very experienced summit and glacier guide. He has been leading expeditions in Iceland and Greenland, crossing the Icelandic highlands and the Greenland ice cap crossing. He's a certified and experienced WMA Wilderness First Responder with a basic mountaineering education from the ICE-SAR.
Sigþór was born in Reykjavík and he has been exploring the outdoors since an early age. Sigþór has been with IMG since 2004. Apart from being a passionate hiker, Sigþór loves yoga, skiing, and running. He's an experienced guide and a Wilderness First Responder.
Sölvi is an experienced guide who enjoys looking for new fjords, valleys, and mountains. He spends his summers in the outdoors, feeling the folklore imprinted in the Icelandic and Greenlandic landscapes. Sölvi has a Ranger license, he's a certified hiking guide, and a Wilderness First Responder.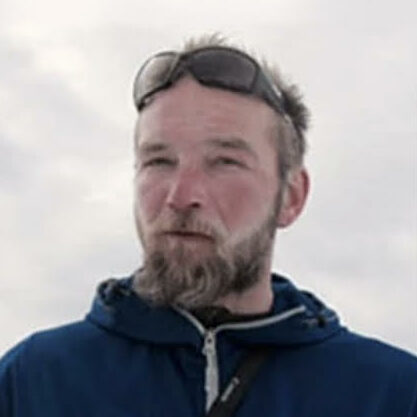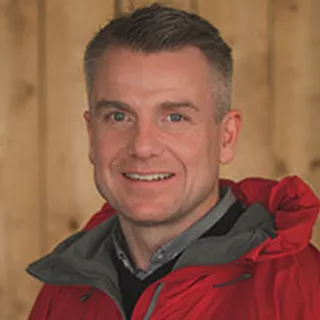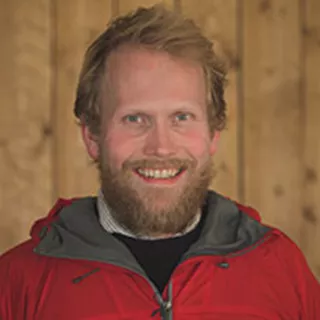 Our guide was excellent, very personable.
How do I start this…I celebrated my birthday with a trip to Iceland. We did the 5-days Laugavegur trek first and then another 5 days sightseeing in Reykjavík. For me the trekking experience was amazing. The weather was so nice during the trekking, mostly sunny with a few cloudy moment here and there. Our tour guide Greta was caring, fun, knowledgable, very helpful and a good story teller. I love listening to her stories, especially the ghost one! The scenery on the 5-days trek was breathtaking, so raw, pure, and untouched in some places. The only suggestion I would have is the hut accommodation, I hope they would put less people in a tiny room (I still couldn't believe that 20 adults were actually sharing a tiny hut). Other than that, hands down the best Laugavegur trek in Iceland!!!
What an awesome experience. If you are unsure just do it. This company were great even before we set off on our adventure. They stepped in and helped out with kit when our luggage was delayed. The professionalism of the whole team and the planning was superb. Our driver transported our bags from hut to hut and helped out with the cooking. His lamb stew will live long in the memory after trekking in a storm that day. Sölvi our guide was brilliant and our group of fellow trekkers (we were 7) and lovely Silja from the company quickly became friends. The scenery was epic and ever changing and Sölvi our native Icelandic guide was a source of geological knowledge and wonderful Icelandic folk tales to scare us with. The food was incredible given the circumstances. The river crossings were even fun! Make sure you have the right kit. The weather was stormy on one of our days but we were in safe hands and had a cosy lunch inside our guide's storm shelter to warm us up.
The trails were breathtaking. It was challenging and fun. A truly incredible adventure. Solvi was absolutely amazing. He took care of our every need. Cooked incredible food. He answered every question we threw at him. I couldn't have asked for a better experience.
My guide was an absolute professional who knew her route, her group and brought them together in creating a wonderful experience. This land is varied, beautiful and inspiring on so many levels. I would do this all over again, for sure.
Michal and Hunka were our guides and they were absolutely fabulous!!! They both made sure we had the experience of a lifetime while making safety first and foremost. Because of them, we were able to get a couple of bonus hikes off the main trail that proved spectacular!! Can't say enough about how special Michal and Hunka were for this adventure (Hunka was a last minute add on who volunteered her time, and without her, the trip would not have been as fantastic). This trip requires 2 guides as differences in participants' physical abilities impacts everyone on the trip. Because we had 2 guides, we were able to break off into 2 groups and accommodate those that wanted to hike longer vs. those that didn't want to. Absolutely amazing experience!! This trek is absolutely beautiful!! God was on our side w/ respect to weather—we never missed a view because the skies cleared every time we came upon a viewpoint. Can't recommend this trek enough!!! Absolutely stunning scenery!!
Wow, what an amazing trip. The landscape was stunning and we saw so many different sights, just wonderful. It was fantastic joining a group of like minded fellow hikers. The whole trip was one I will never forget. Our guide, Emma, was absolutely fantastic. She managed our group very well over the six days. She was very knowledgeable and experienced and did a fantastic job feeding us all too!
Gréta was an outstanding guide! We felt safe in her capable hands. The trek was filled with such beauty, it was impossible not to enjoy every minute.
The rustic huts created a bonding atmosphere with my fellow travellers. We started out as strangers and ended up as a team.
Edith was amazing! She was very professional. And very experienced! She worked hard to make sure we all had a wonderful week! Highly recommend her to anyone! What a great week! Very wet and sometimes cold and windy, but still wonderful! The huts were overcrowded in my opinion, especially the first hut on our trip. But we dealt with that!
Best guide. Emma was knowledgeable, funny, patient, kind and helped our group experience Iceland in a way we will never forget. Those who have her for a guide will undoubtedly have an unprecedented experience. Unforgettable.
Emma, from Icelandic Mountain Guides was sensational. We really could not have been in better hands. Lovely person with an extensive knowledge of the area and terrain made the group feel safe and united. I had the best 5 day hike ever and this was thanks to Emma. It is not an easy task to get a group of 14 ladies that do not know each other and that are totally different to have such an awesome experience. Thank you Emma, you are truly one of a kind. Iceland is truely a fantastic place to visit and the Women Only group was a great experience. I highly recommend it.
Emma is amazing and the reason our hiking experience was exceptional. She is a first rate guide, continuously doing things to enhance our experience (snacks, coffee on the top of the mountain) while putting our safety first by anticipating every obstacle and crafting a safe path forward. She continuously told us stories of the land snd culture that will remain with us forever. But even more meaningful, Emma created a community from a group of strangers that now feel like family and life long friends. I would take every hiking tour Emma leads.
Greta was the best guide
So
Much experience
We felt safe with her
She was attentive to our needs
Will go back with her anytime
Well organised
Good food
Despite the bad weather I really enjoy it and our guide made us feel like a close group
Thanks Greta again
Emma was amazing! I would go on any trip where she is the guide. She is personable, knowledgeable, a great cook, and sooo much fun! She made sure no one was left behind and that we all were safe in the varied weather conditions. She was inclusive, smart, and I highly recommend her as a guide! So many different weather conditions and landscapes. The huts were quite the experience, in such small and cramped quarters. But the women on the hike were just so amazing, it didn't matter that the sleeping area was so small.
Emma\'s knowledge of the area, sense of humor and ability to connect to each guest was outstanding! Thank you Emma!!
Emma was absolutely wonderful. she was encouraging and thoughtful, making each of us feel up to the challenge! Iceland was amazing! While I am NOT any kind of \"camper\" this trip was made so easy with luggage transport, excellent meals, and wonderful women from all over the world. This was a transformative experience.
Steph was amazing and knowledgeable. Our weather was completely awful for 3 continuous days and moral was dropping in our group but she was always smiling and energetic. She knew how to take our minds off the weather and that made all the difference between a miserable experience and an awesome experience.
Emma, our guide, was outstanding! I applaud her for her leadership skills, communication skills, and professional interaction with the group. She made this hike fun, even with the cold & foggy weather we had in the beginning. I very much appreciate what all she did for us. If I could, I would always request her! It was truly awesome! Beautiful…Interesting…challenging…. and fun
Emma was everything a person could wish for in a guide! She was knowledgeable, funny, empathetic and within an hour of beginning our hike, Emma created a sense of team and partnership. While I definitely found this to be a very challenging hike and I was clearly the least experienced, not ONCE did I feel that I was holding the team back. I was fortunate to be amongst an amazing group of women and it was Emma's natural leadership that set the tone for such an amazing experience
Thora is an kind, funny, energetic and very knowledgeable guide.
It was very enriching to spend 5 days with her on the Laugavegur track getting listening to her stories and explanations. The whole group felt comfortable with her and the dynamic was excelent. We were blessed with perfect weather and we're lucky to have such a wonderful group of people. This in combination with the most spectacular landscapes and a fabulous guide made the whole trip an unforgettable 5 star experience.
We could not have felt more safe being in the hands of Gönguferðir Grétu! She's amazing. Amazing experience of all time!
Fantastic, well organised husband and wife team
Nothing was too much trouble
Great cooking and stories en route
Fabulous
Our guide (and his spouse) could not have been more perfect! From preparation, to pacing, they were awesome. If one is looking for an "other worldly " experience, look no further than Iceland, and the Laugavegur trail.
Our guide was Thora from Icelandic Mountain Guides. She\'s the BEST, so you\'re very lucky if you get her as your guide. Can\'t fault the service I had from Icelandic Mountain Guides or 57 Hours. Top notch! The Laugavegur trail is simply breathtaking and not to be missed if you\'re a keen hiker. It\'s tough, rewarding and really beautiful. It helped that we were so lucky with good weather 😉
Soyli, our guide,was excellent. He was well informed on the history and the geology of the area we hiked. He pushed us hard, but I think he had evaluated our abilities and knew we could do what he asked of us. The second day detour far off the trail was hard work, but knowing we were seeing areas of the Laugevugar trail that few, if any, others saw, made it worthwhile. Trekking where no trail existed was a true adventure. We began to joke that Icelandic times and distances were \'different\' than the rest of the world. It seemed our GPS trackers ended up with far more kilometres that the \'official\' brochures; and the \'we will take a break in 20 minutes\' was always more like 40 minutes.
This trek is physically demanding. It is CRITICAL that you read the instructions on what to bring. We had two people who did not, and had to fall out after 2 days due to inadequate clothing, conditioning, and equipment. This is not an easy jaunt, but it is a demanding, both physical and mental, hike and trek.
The cabins were comfortable and the food Soyli cooked for us was very good.
We were lucky that the weather was excellent other than the first day\'s rain.
I am 78, so it will take a few days for the aches and pains to subside. However, I would repeat this trip in a heartbeat.
Dagný is truly exceptional. A warm and caring person, a master chef, a mountaineer with a keen understanding of both geology and human psychology, and a proud Icelander who knows her sagas, her history and the stories of the land. We cannot recommend this trip and this guide more highly!!! Outstanding. From the fabulous food to the incomparable sights. From our knowledgeable and welcoming guide to the exciting challenges of the trek, this is truly the ad entire of a lifetime!!!
Þóra was a truly amazing guide. Her wealth of knowledge and humor was the best. She was so caring and helpful for my wife, who has multiple sclerosis, with getting through difficult terrain that challenged her balance. She represented all that is amazing about Iceland and its people. The Laugavegur Trail was breathtaking in its beauty. We may have underestimated the difficulty of the hike some, but it was a great challenge.
I've been on many guided adventure tours and our guide ranks with the very best. Friendly, supportive, informative, relaxed.
Step was fantastic. She was adventurous, knowledgeable and supportive. Her spin on the meals was delicious. We ate great meals and made great friends. Beautiful hike. Other groups found it very difficult. Perhaps be more clear on how fit you need to be . The laugevegur trail is not for people afraid of heights or who do not have previous hiking experience on a multi- day hike. I WAS PREPARED AND LOVED EVERY MOMENT.
Edith was an all around excellent guide. She looked after all of us and added to the experience by being a local. Her knowledge of the area was extensive. The food was good and adequate and my vegan meal needs were totally met.
Dagny is a delight. She knows what's important on a trek – good coffee and delicious food. She knows who to handle the dynamics of 16 strangers forced together. She's a veritable font of knowledge about the landscape, the stories, the myths, and the geology of the trek. I can't imagine doing Laugavegur with anyone else! This was the trek and adventure of a lifetime. My wife and I have trekked Nepal, Thailand, the trail to Machu Pichu, and other sites. But this one stands up to all of those. The change in landscapes and terrain, combined with the sheer thrill of the trek made this five days we will always consider some of the best five days of our lives.
Brynne (not sure about the spelling) was absolutely 100% outstanding. Amazing person and guide. He was the first up and last to bed every day. He worked very very very hard to ensure the group was comfortable and well taken care of. The laugage transport person, Sm??? (again I\'m unsure of the spelling), but he worked extremely hard too.
Villa was amazing! Experienced, competent and unruffled by the many needs of the group, I felt I was in excellent hands. Additionally, Villa\'s knowledge of the geology, lore and terrain made for a much richer experience than we might have had otherwise. I loved every minute of the hike and the experience!
Maria Antonieta de Mucha de Vila
Our guide Vila was brilliant and took great care of the group. She always kept us well inform about the details of the trip. She also was always available when help was needed, she is kind and attentive. Vila explained with detail, whenever it was needed, about the characteristics of the landscape and geography of the place. This trek is very beautiful and unique. The adventure was a true adventure.
Emma was fantastic! By far, the best guide we've had on any trip ever. She was incredibly knowledgeable, helpful, kept the group together, explained everything very well, funny, entertaining, supportive, and encouraging. Her picture should be next to "guide" in the dictionary. We hoped for an adventure of a lifetime … Iceland and our guide, Emma, made it happen. It will be difficult to top this trip!
Villa is fabulous! Every second was outstanding!
Sig- Thor was terrific!! Loved also his storytelling. Great guide and epic experience! Epic views. Water crossings was a new experience for me. Steep climbs and great downs. Loved the people who were part of our group from all over.
Siggy was fantastic! He told us stories, he made wonderful food and was very easy to connect with. He has a lovely personality and character.
Bryngeir (Bynny) was a wonderful guide! He kept us safe, let us hike at a good pace for each individual, pointed-out unique features of the Laugavegur Trail, and chatted with each of us. He was wonderful. The trail is amazing…and we had wonderful weather that allowed us to see all the spectacular features of the Icelandic highlands. The huts were cramped at times, but I knew that going into this trek. My group was wonderful. I loved it.
Best guide in all of ICELand ! How lucky were we to score such an amazing guide !
Binni was a fantastic guide. He was very conscientious about our safety and yet allowed us some autonomy on the trail. Very easy to talk to.
Emma is excellent, professional and knowledgeable guide. I'm really thankful for taking us to the extra beautiful site seeing. Also I have enjoyed our delicious meals.
Thank you Emma
Beata and Serg
I can\'t imagine a more knowledgeable, competent, thoughtful guide than Gunnur. I consider myself an experienced hiker but paid attention (and learned) when she was sharing tips ranging from gear adjustments to stretches to best ways to tackle challenging slopes to avoid injury.
Siggy was superb, other than being an amazing guide and chef, his story telling is legendary
Don\'t miss the opportunity to do this hike, I was lucky that the weather was superb so we could take advantage of the amazing views, and best of all I was part of an amazing group of people, we were individuals at the start and good friends and a team at the end
G was an exceptional guide. She is knowledgeable, fun loving and dedicated to making hiking a wonderful experience for all. She united our group of 16 strangers through stories, great food and laughter. She is a very skilled guide who made sure to explain technical parts of the hike and to provide opportunities to practice before we needed to complete the trail. I highly recommend G as a guide. Iceland is beyond beautiful. The tour was well organized. I was so impressed by the amount and quality of Vegan food.
It was truly an epic adventure had by all! Truly, the full Monty! The hike, the scenery, the different colors and terrains were amazing as was all the different people from different countries. The different accents, the laughter had by all and the great stories and legends by our guide Ziggy. Priceless!!!
Also, Jacob from Canada who helped us facility and line up our great adventure was amazing and knowledgable, extremely professional and polite.
Thank you Jacob and Ziggy!
OK I was patient with the slow walkers and very knowledgeable,
It was a great adventure, and well organized.
Villa was a very hard worker and knowledgeable. She went above and beyond to ensure everyone was safe and happy.
Inga was amazing!! Funny, knowledgeable and kind! Amazing weather, crazy views, it was wonderful!!
Vila was amazing! She was so competent in her knowledge of the area and terrain and environmental history, but was also a lot of fun to hang out with at the end of our long days!
Pleasant, knowledgeable, humorous, proffesional and took good care of everyone.
Solvi was extremely professional and cared about all of us. We learned a lot about the trail and Iceland, in general, from him. He made sure we were always safe. It was a hike of a lifetime. The huts made each night so restful and comfortable. The food provided was great. So nice to just eat breakfast, pack our lunch and snacks in a day pack, and head out to the next hut. When we arrived at the hut, our luggage was waiting for us.
Alec was fantastic. He walked slowly at the back with me and was constantly chatting and sharing information. When there were others in the group that needed help with steep descents or slippery sections of the track he was there to help them.
Tinna was very good, experienced and We had a fantastics adventure! Breathtaking nature, wonderfull hikes.
We had 2 guides Vila and Ales. Both were knowledgeable, aware of our abilities and kind.
We felt safe with them and they helped me on many of the downhill slopes where I lacked confidence . I never felt as if I was being rushed and safety was paramount. It's a beautiful trek and on red Id recommend to anyone who has a certain level of fitness
She was the best guide ever experience was phenomenonal would definitely recommend
Our guide Dagny was amazing. We had a very diverse group with varied skill levels and she made sure everyone was safe and having a great time! The views were breathtaking and overall I would recommend this to anyone! Stunning views. Just the right level of physical challenge with out being too much that you didn't enjoy the journey.