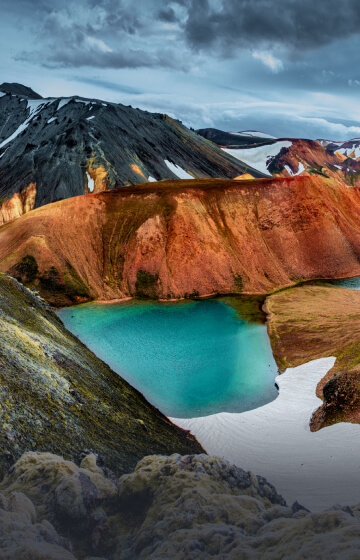 Hike Iceland's Famous Laugavegur Trail
Set out on a journey through the Southern Highlands of Iceland and witness the enchanting landscapes and vibrant colors along the iconic Laugavegur Trail. Black volcanic rock, spouting thermal vents, lakes and rolling hills make it one of the most incredible thru-hikes in the world.
The magical and diverse landscape, combined with the long and bright Icelandic summer days, will capture any outdoor enthusiast's attention. As you hike through this 56 km (35 miles) long trail, past dramatic and colorful panoramas formed by millennia of glaciers and volcanoes, you'll feel like you've stepped into a completely different world.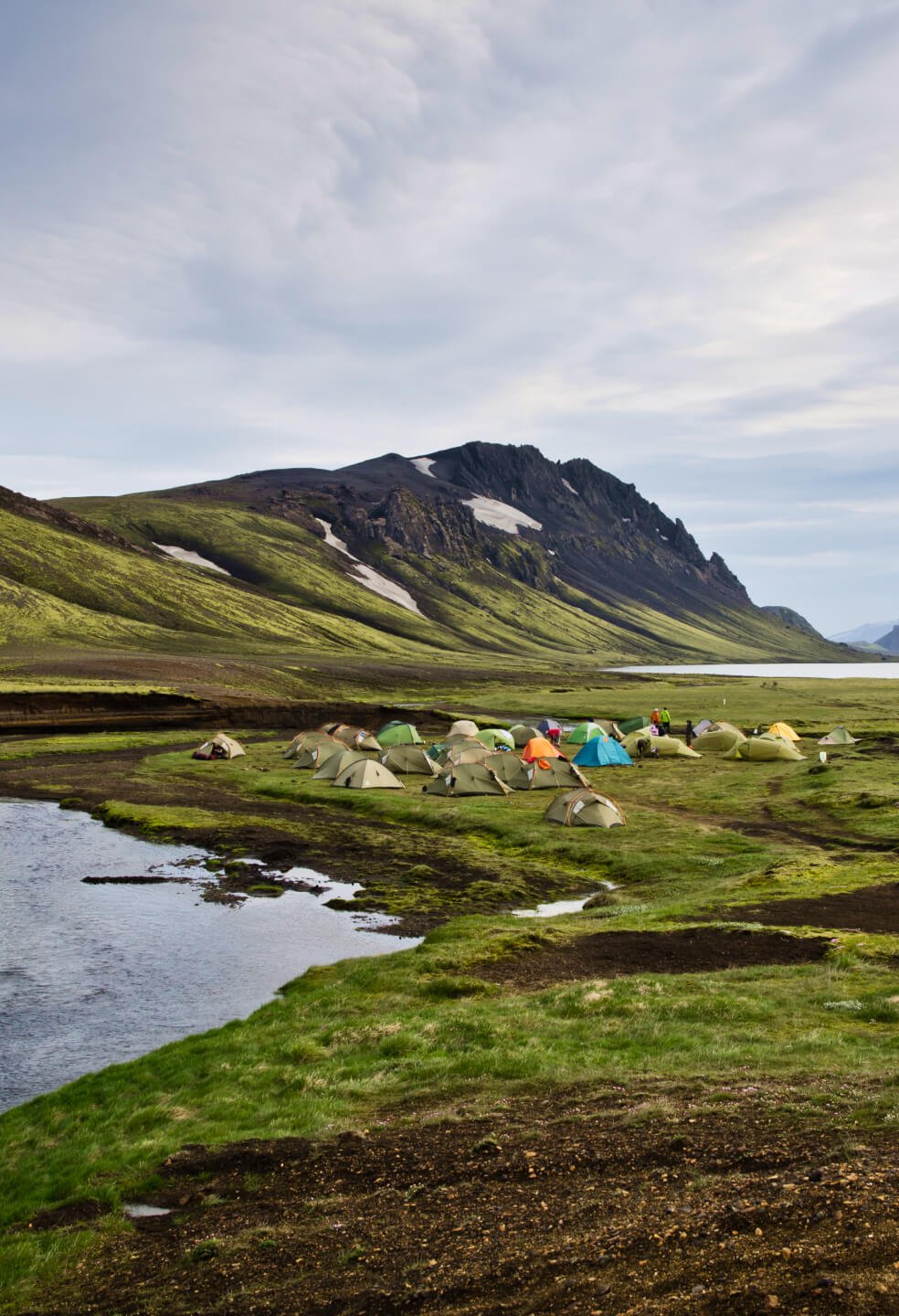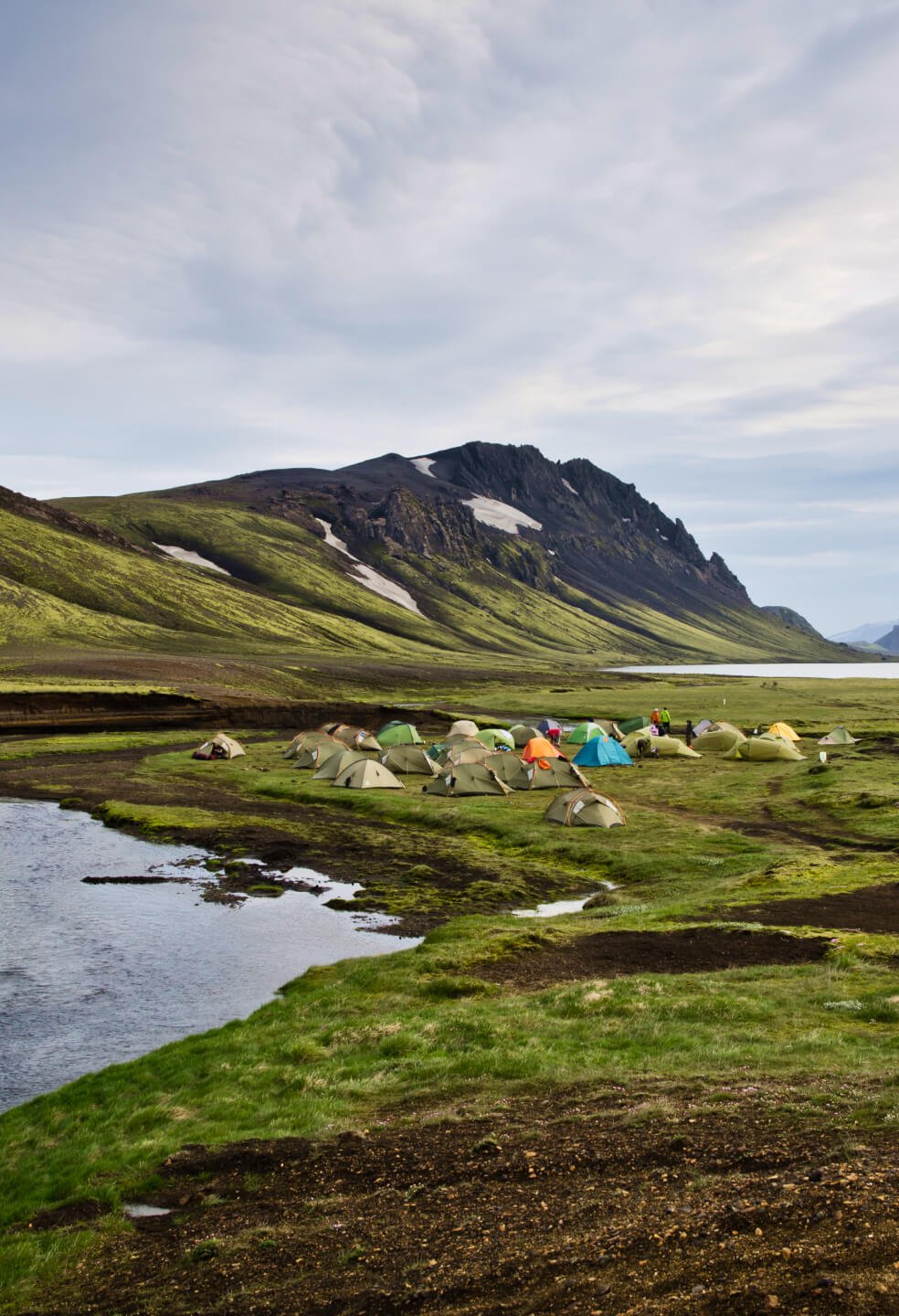 Why Laugavegur Trail?
Far from the hustle and bustle of the city, on the Southern part of the remote island located between Greenland and Norway, the Laugavegur Trail takes you on a multi-day hut-based journey from Landmannalaugar to Thórsmörk—a valley of mythic proportions fit for the gods.
Lying on the constantly active geologic border between North America and Europe, Iceland is a land of unusual variety and contrasts. Laugavegur captures the best of its geology—from vibrant green moss and jet black sand deserts, snow and steamy springs, pink flowers emerging from the seemingly barren land, to turquoise lakes and lava fields.
EPIC FOOTPATHS
UNIQUE GEOLOGY
MOUNTAIN HUTS
63°52′ N AND 19°14′ E
A TRUE ADVENTURE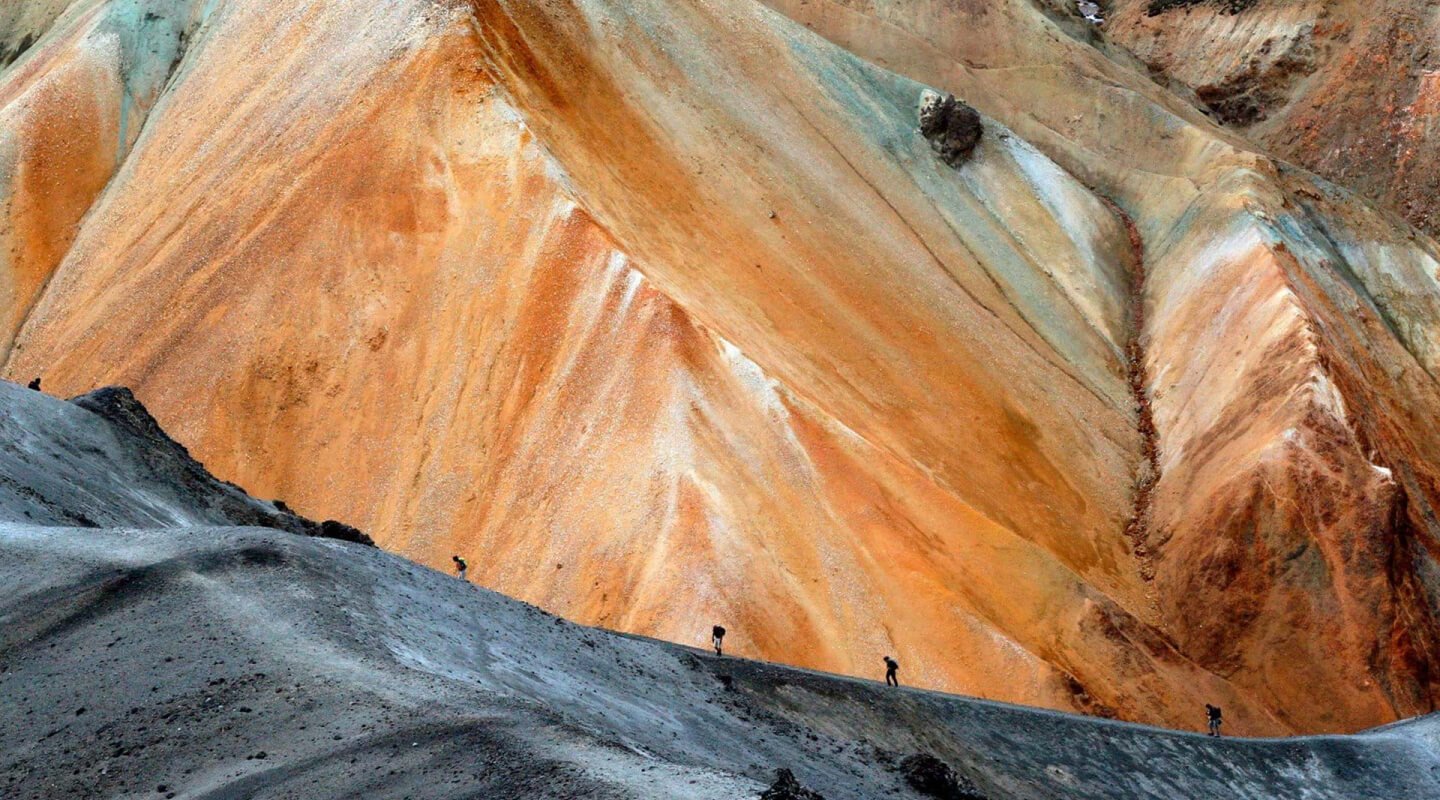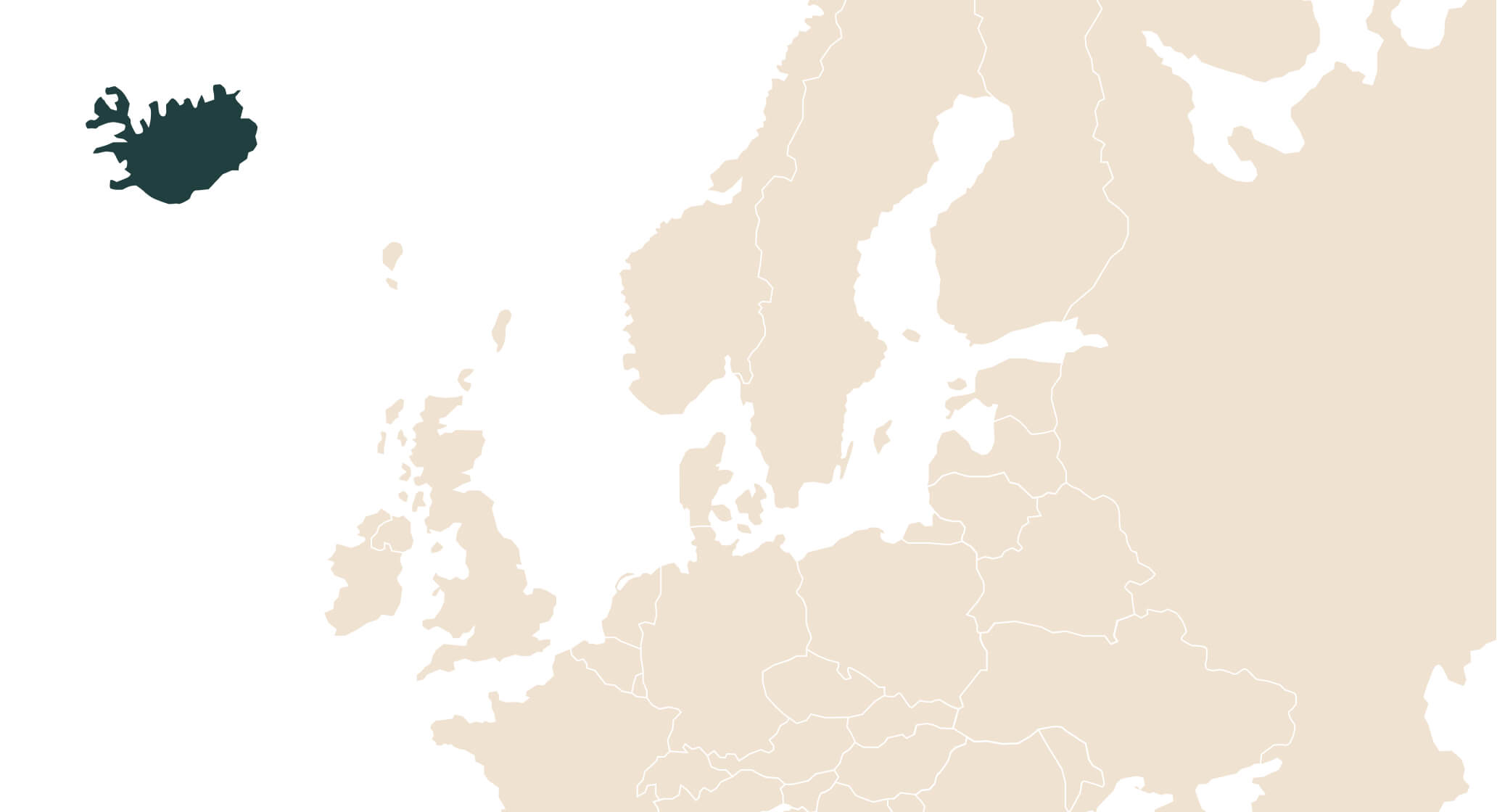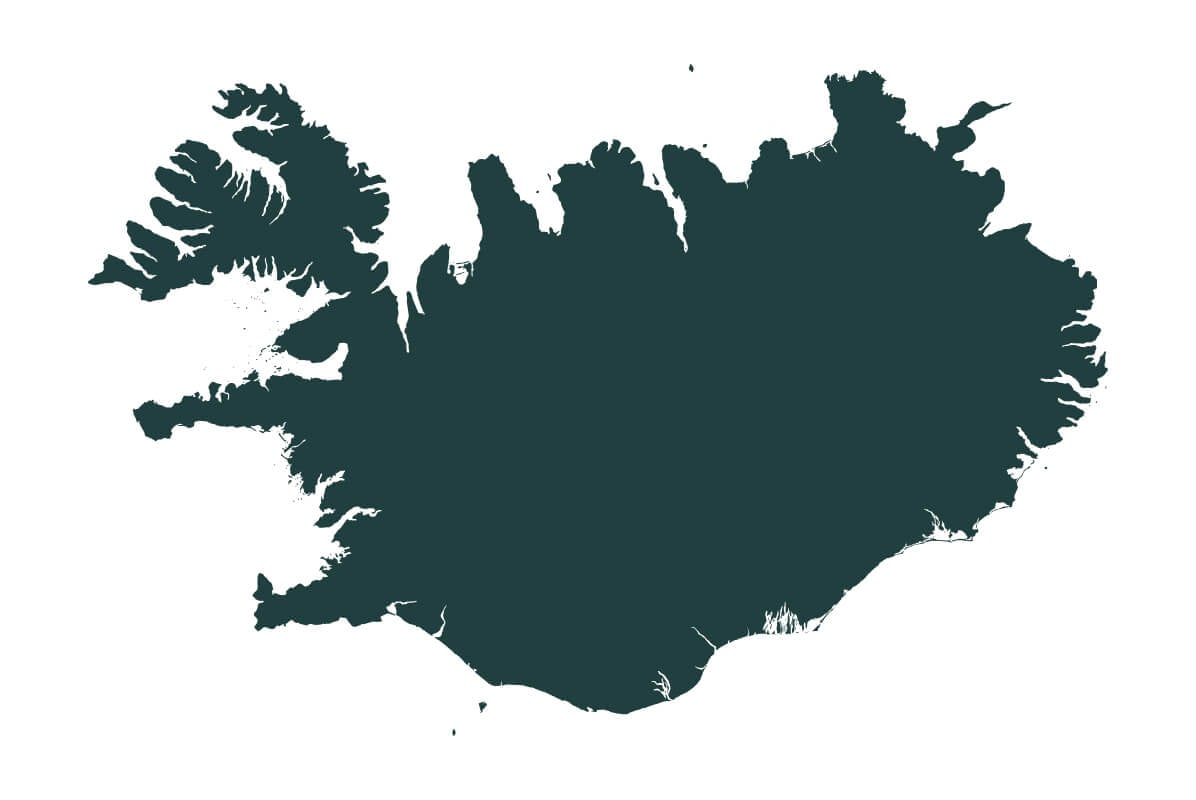 Iconic trail in the land of fire and ice
35 MILES OF UNIQUE NATURAL BEAUTY
In Iceland, the cliche is true: If you don't like the weather, just wait 15 minutes—you can expect to experience four seasons in a single day. Same can be said for Iceland's otherworldly and diverse landscapes.
As you move through the valleys and across glaciers and deserts, you'll understand why it was dubbed "the Land of Ice and Fire"— the vistas of brightly-colored misty mountains and the contrasting everchanging surroundings won't leave anyone indifferent.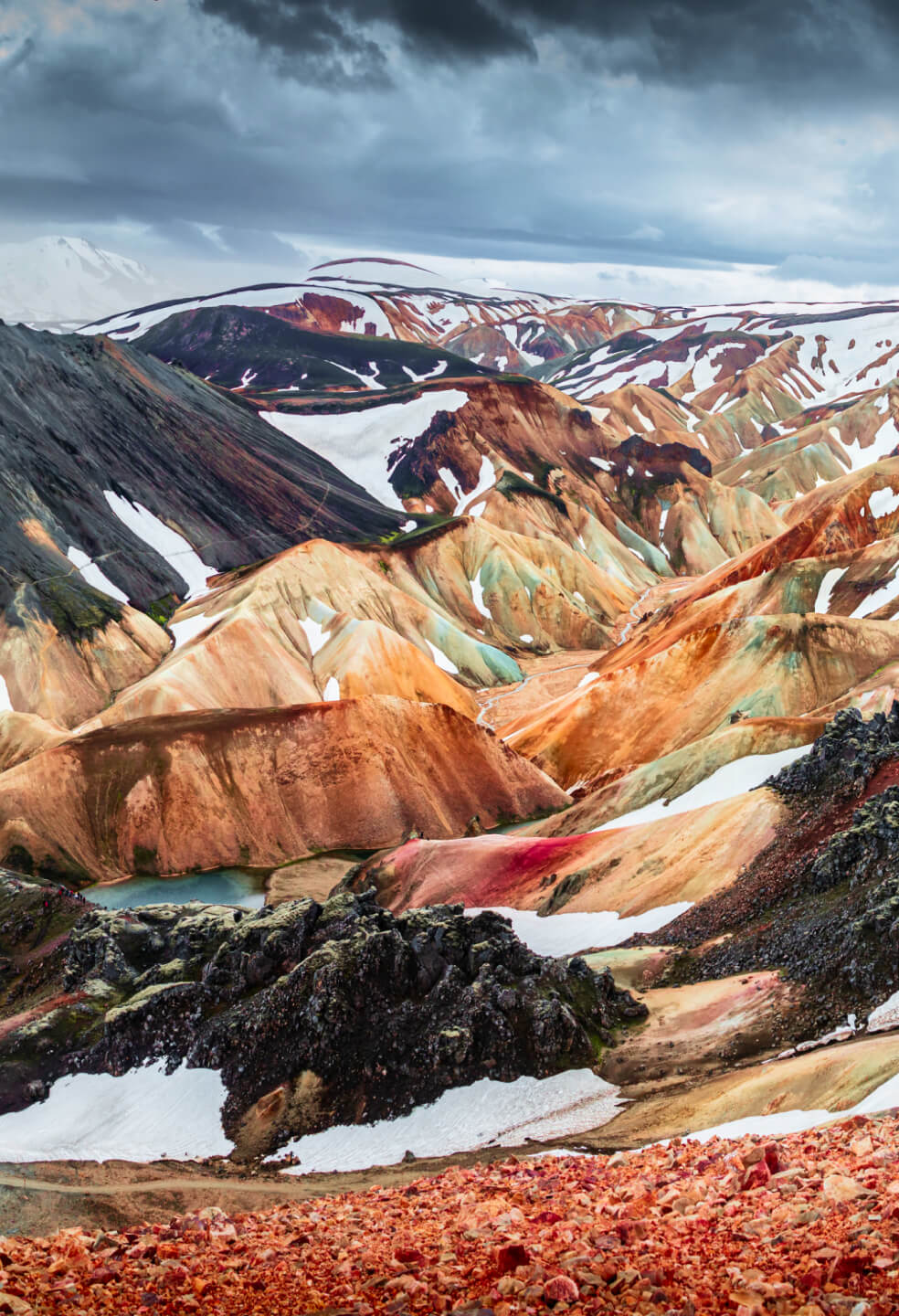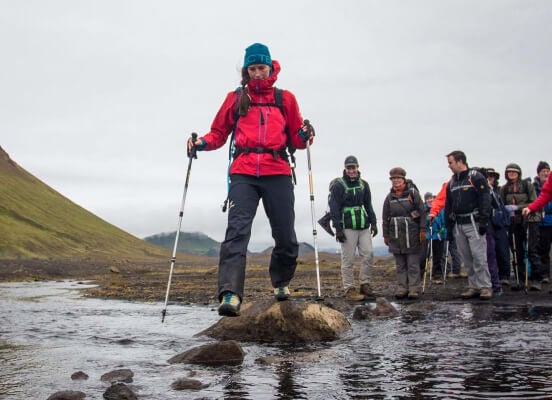 LANDSCAPES FOR EVERY TASTE
Following an ancient pathway across petrified lava, azure lagoons and ashen fields, you'll explore all the crowd favorites, like Álftavatn lake and mythical valleys of mythic proportions.
This trail takes you on a colorful journey as you encounter red, gold, and green hues dappled with the whitest snow, black sand glistening with shards of obsidian, sparkly waterfalls, and turquoise lakes.
Dómadalur
Enjoy a scenic drive along the mountain tracks that lead to Landmannalaugar, passing by the Hekla volcano and the Domadalur valley boasting a shallow lake and a sandy obsidian lava field.
MÆLIFELLSSANDUR
As you pass the foot of the green conic volcano of Stórasúla, prepare for unbelievable sights of the black deserts of Mælifellssandur, located close to the southern Fjallabak road. Dominating the horizon to the south is Mýrdalsjökull glacier, the home of the staggering and much feared volcano Katla.
HRAFNTINNUSKER
Walk past steaming hot springs, small gorges, and stunning yellow mountain ridges contrasting the blue skies. You'll hike for about 4 hours before reaching the Hrafntinnusker mountain hut.
ÁLFTAVATN
Descend down to the gullies of Jökultungur and witness the beauty of hundreds of steaming hot springs and mud pools. Soak up the fresh air and fascinating views of the Álftavatn area, the Swan Lake, and the Mýrdalsjökull and Eyjafjallajökull glaciers.
EMSTRUR
Prepare for unbelievable sights of the verdant volcano Hattfell, and stop at the magnificent Markarfljót canyon, one of the most impressive and stunning canyons in Iceland not visited by many.
ÞÓRSMÖRK
After several hours of hiking through lush green valleys, descend into Þórsmörk's, one of the country's most popular hiking destinations and a favourite location for photographers and nature lovers alike. Parts of the area are rich with moss, fern, and birchwood, while jagged ridges and ice-capped peaks crown the horizon.
SÖNGHELLIR
Visit the Sönghellir cave (Song Cave) near the old fishing village Arnarstapi and famed for its acoustics, or climb up the small mountain of Valahnúkur, from where you can enjoy magnificent views.
A surreal experience awaits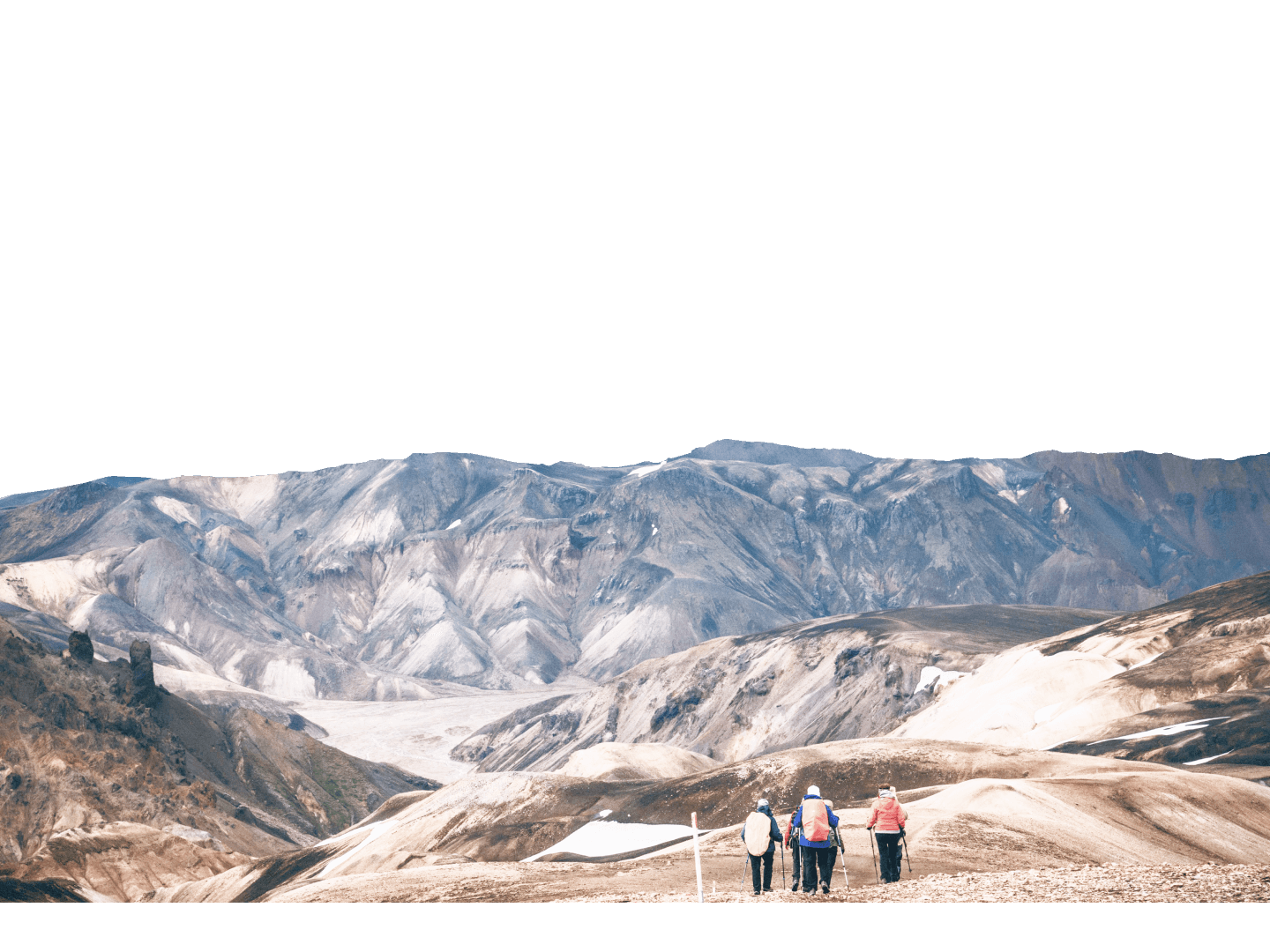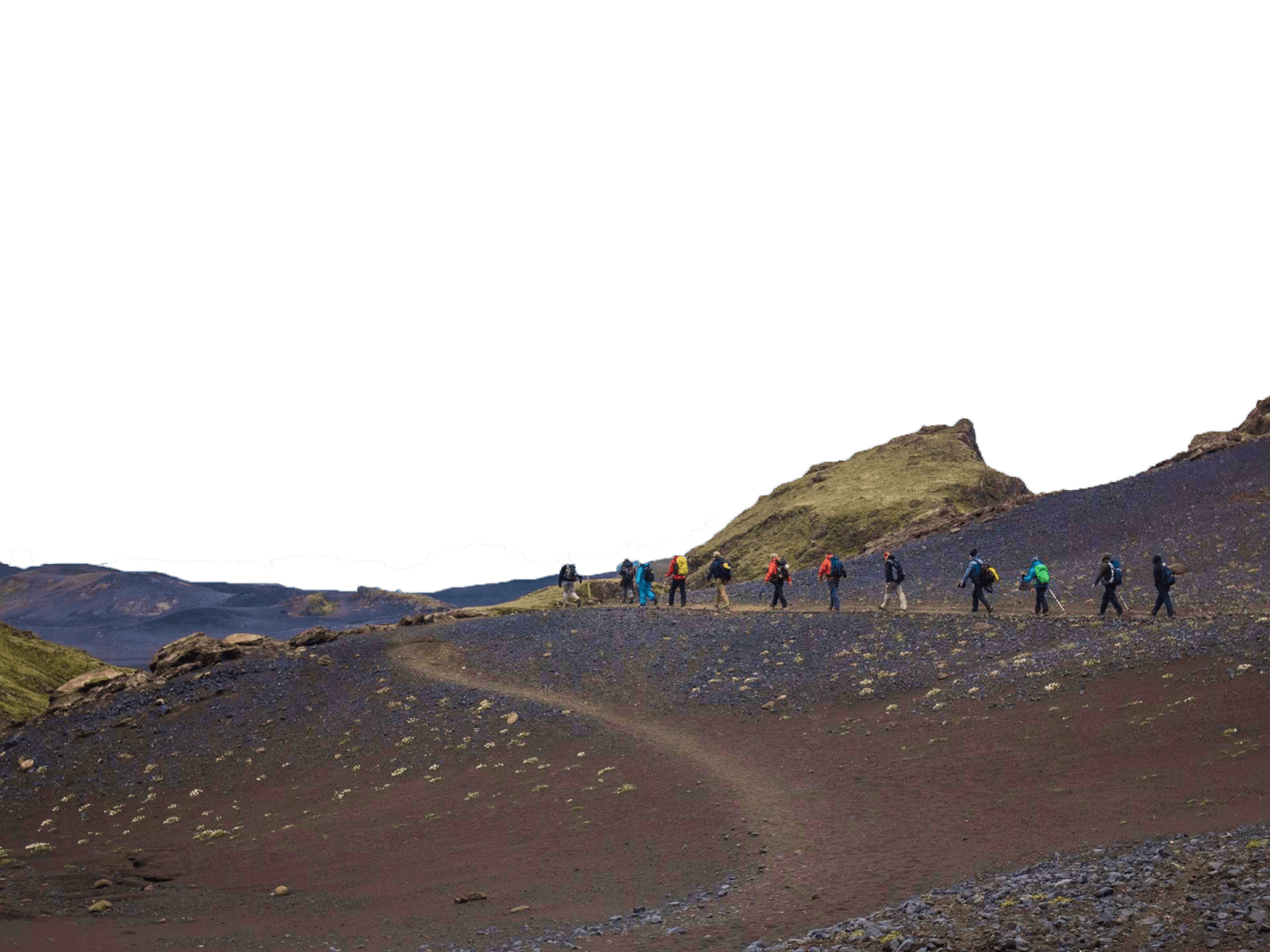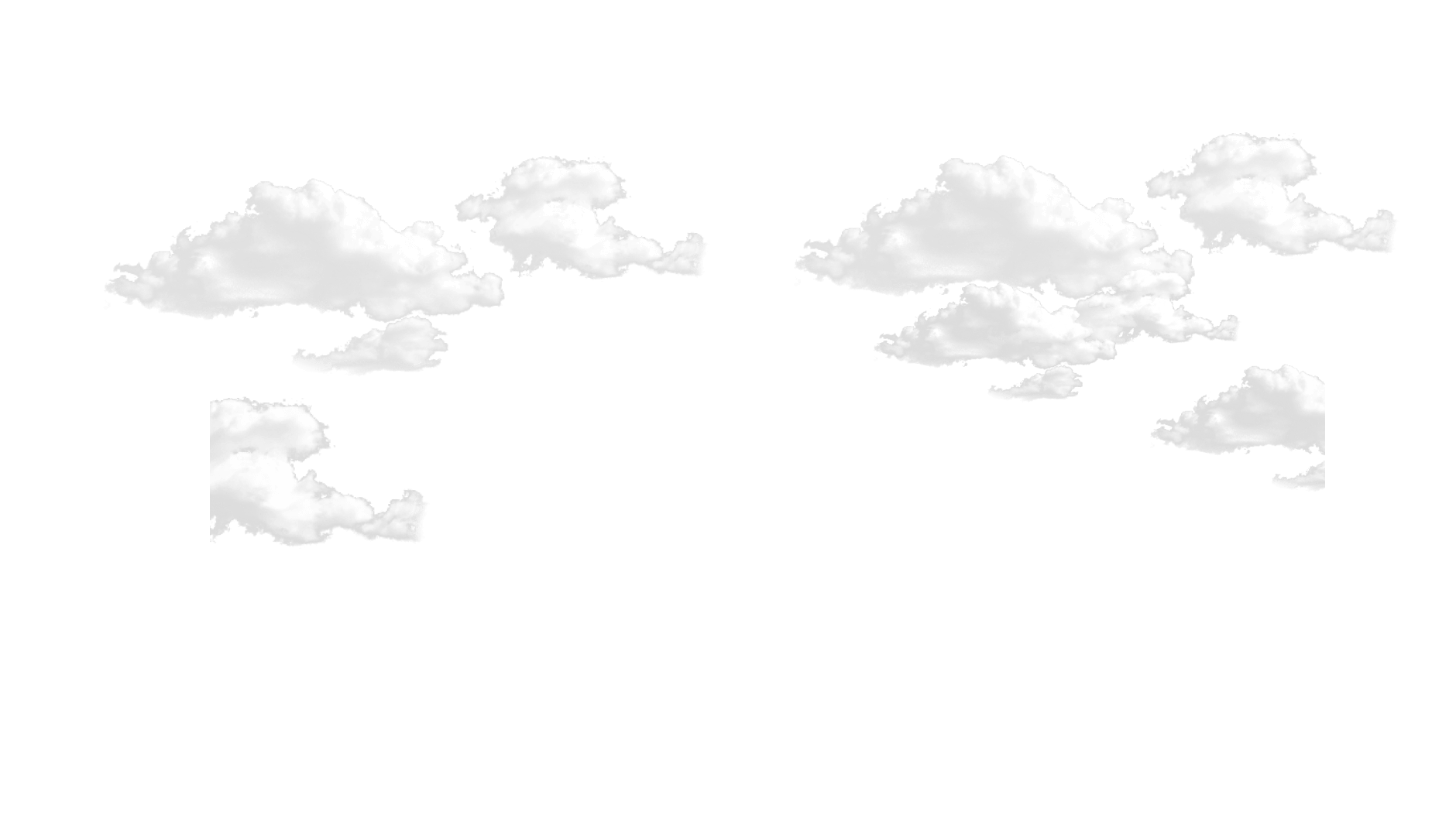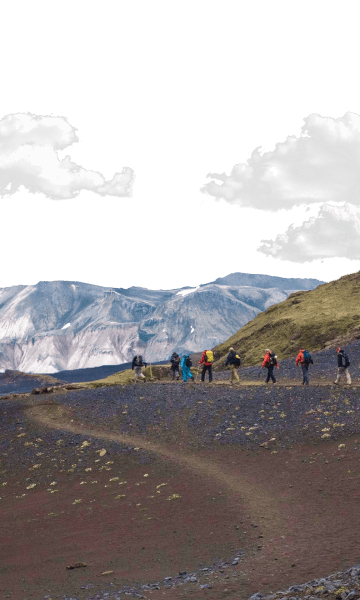 Otherworldly adventure under the Midnight Sun
EXPERIENCE THE TRUE LIFE IN THE NORTH
There are many reasons to tackle the Laugavegur trail, and the magnificent views are only one of them.
You will spend your nights in one of six traditional mountain huts with heating while you enjoy delicious Icelandic meals and relax and rejuvenate in steaming hot springs and mud pools.
Experience the raw and primal traditions of the island, connect with nature, and energize your body, mind, and soul in the peaceful and breathtaking environment that can only be found in Iceland.
Enjoy the company
Sleeping with your travel buddies in huts in the middle of Icelandic vastness creates unbreakable bonds. Combine cultural immersion and awe-inspiring scenery into one unforgettable experience. As you share the long and bright Icelandic summer days with people from other sides of the world, you'll feel like you're on a big family trip!
This journey hosts anywhere from 6 to 16 travelers looking for an adventure.
EPIC FOOTPATHS
UNIQUE GEOLOGY
MOUNTAIN HUTS
63°52′ N AND 19°14′ E
A TRUE ADVENTURE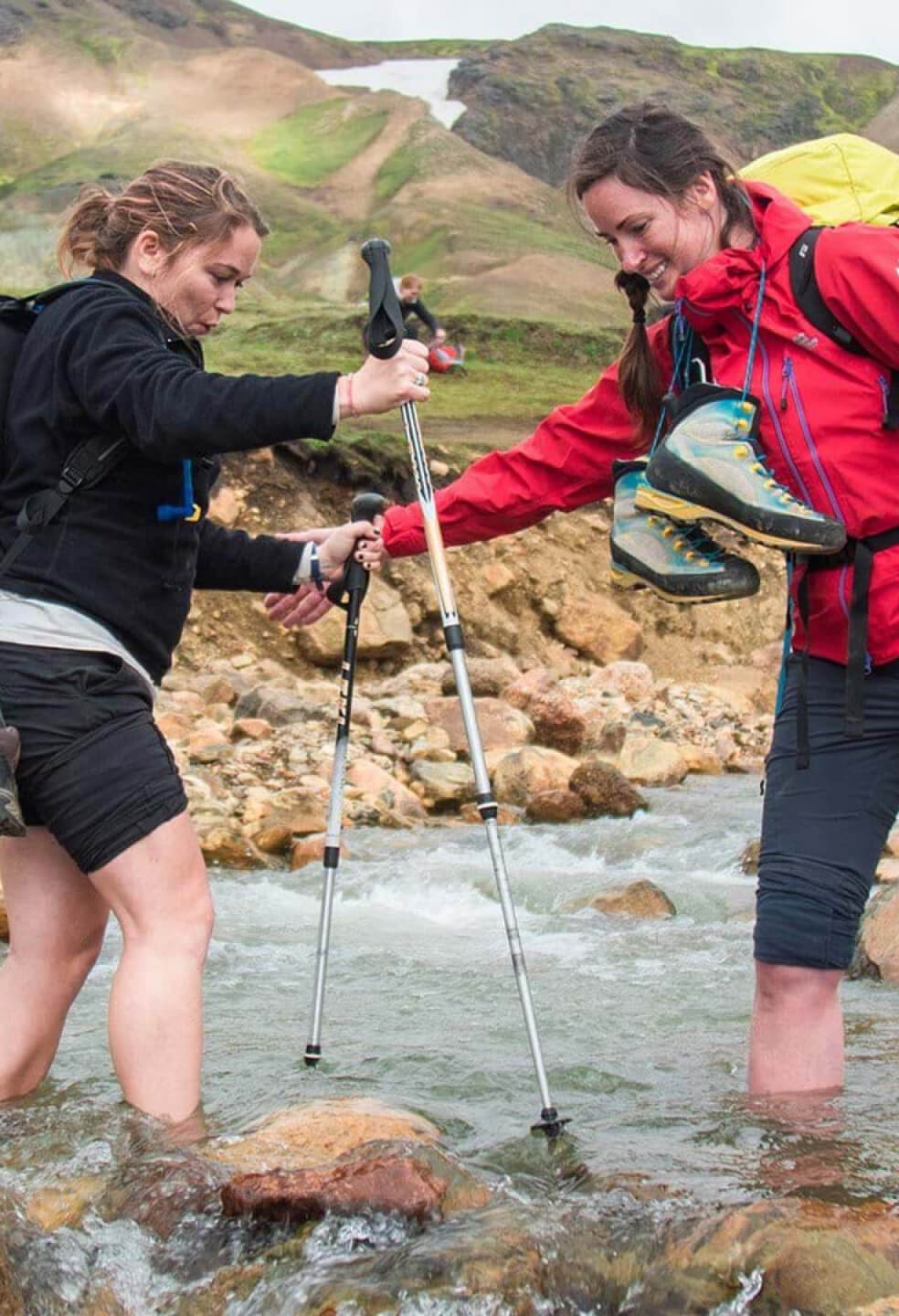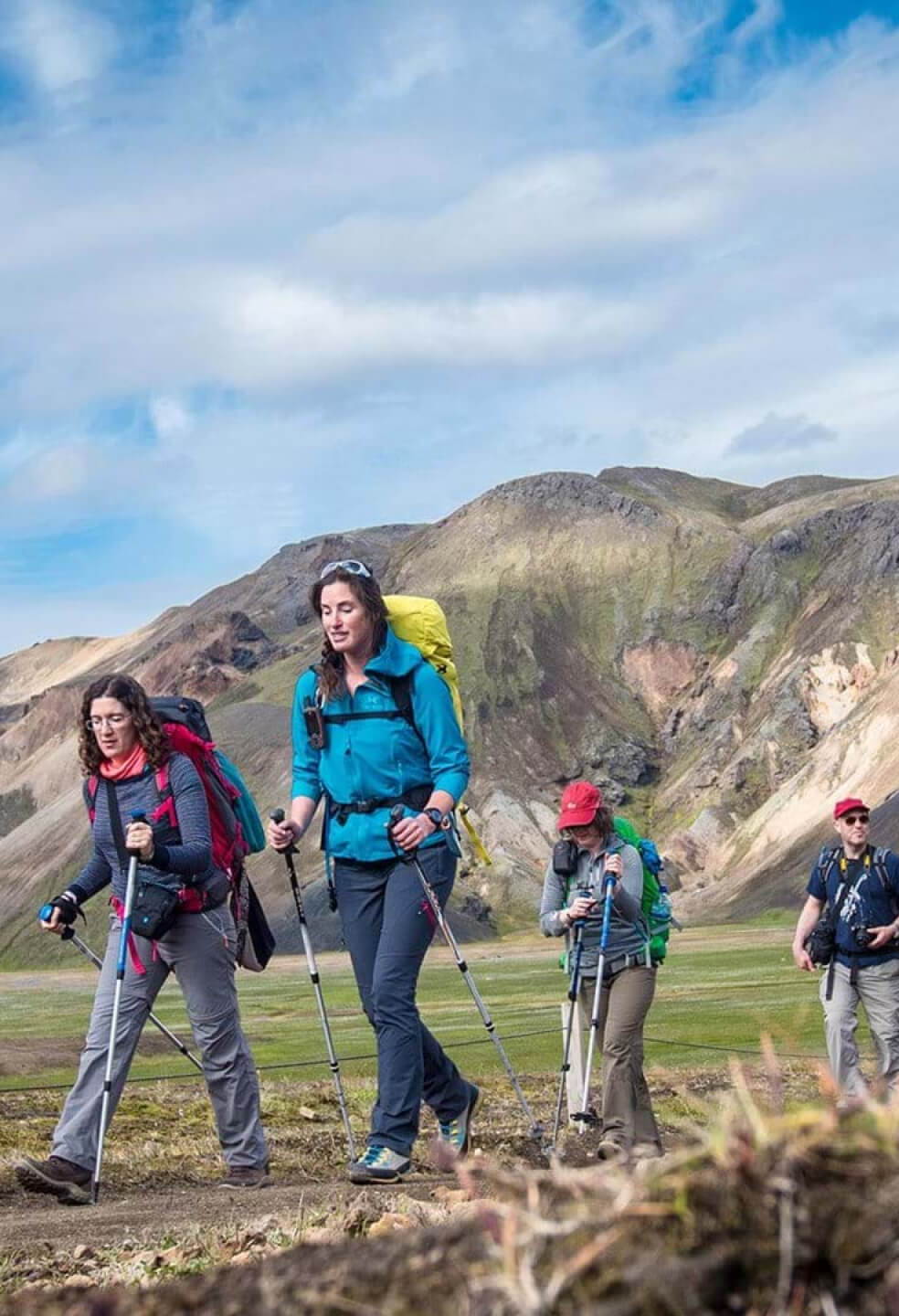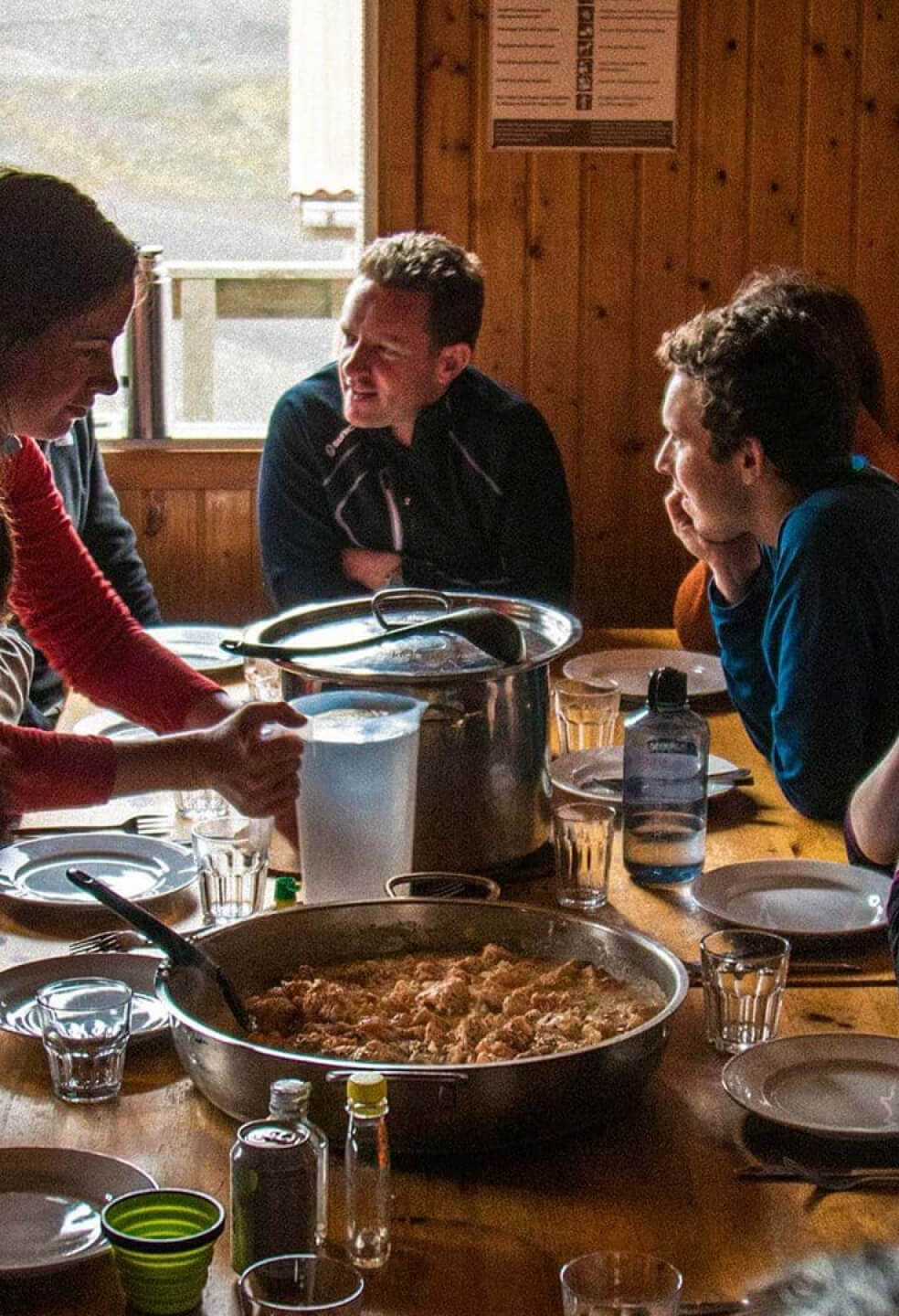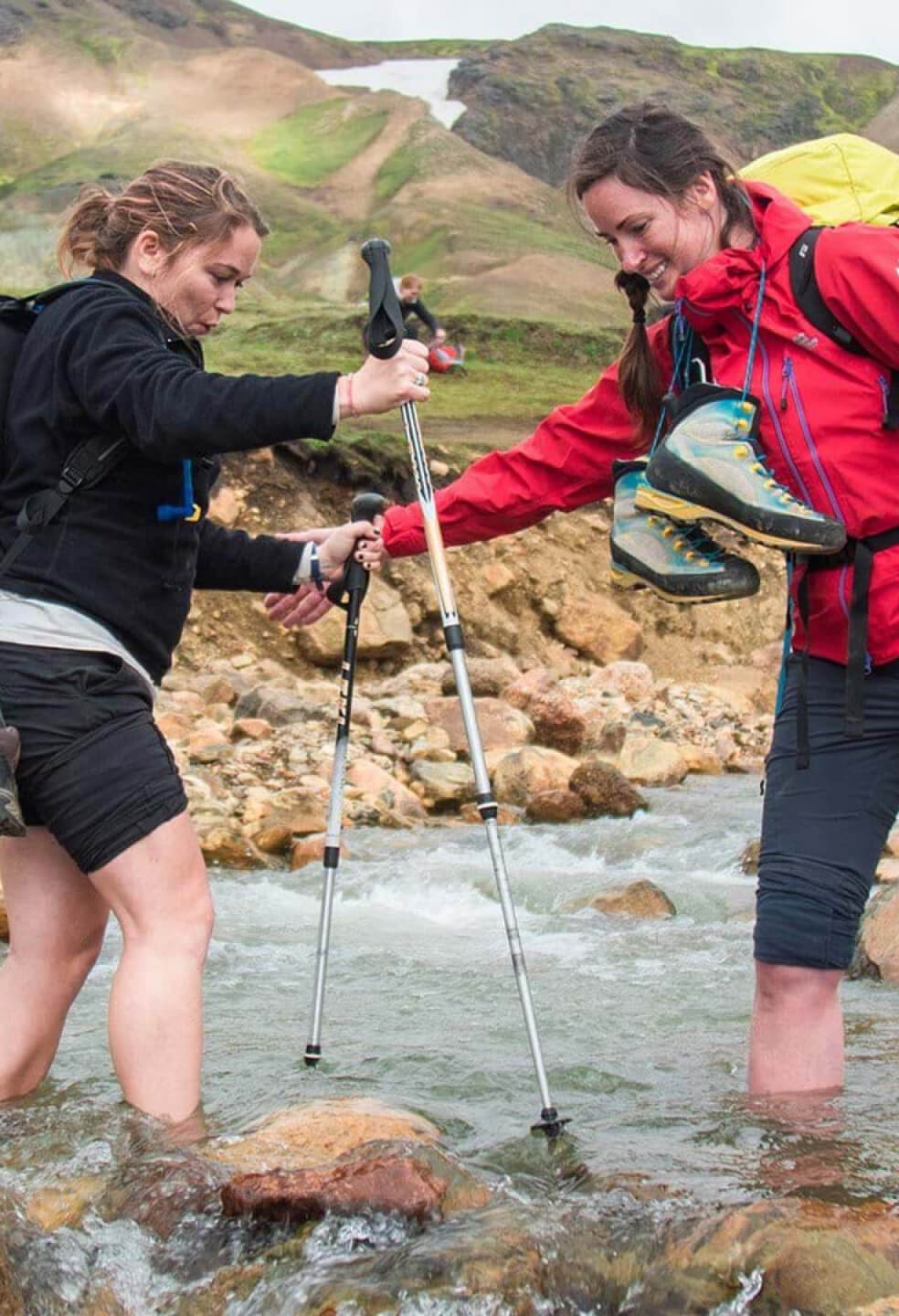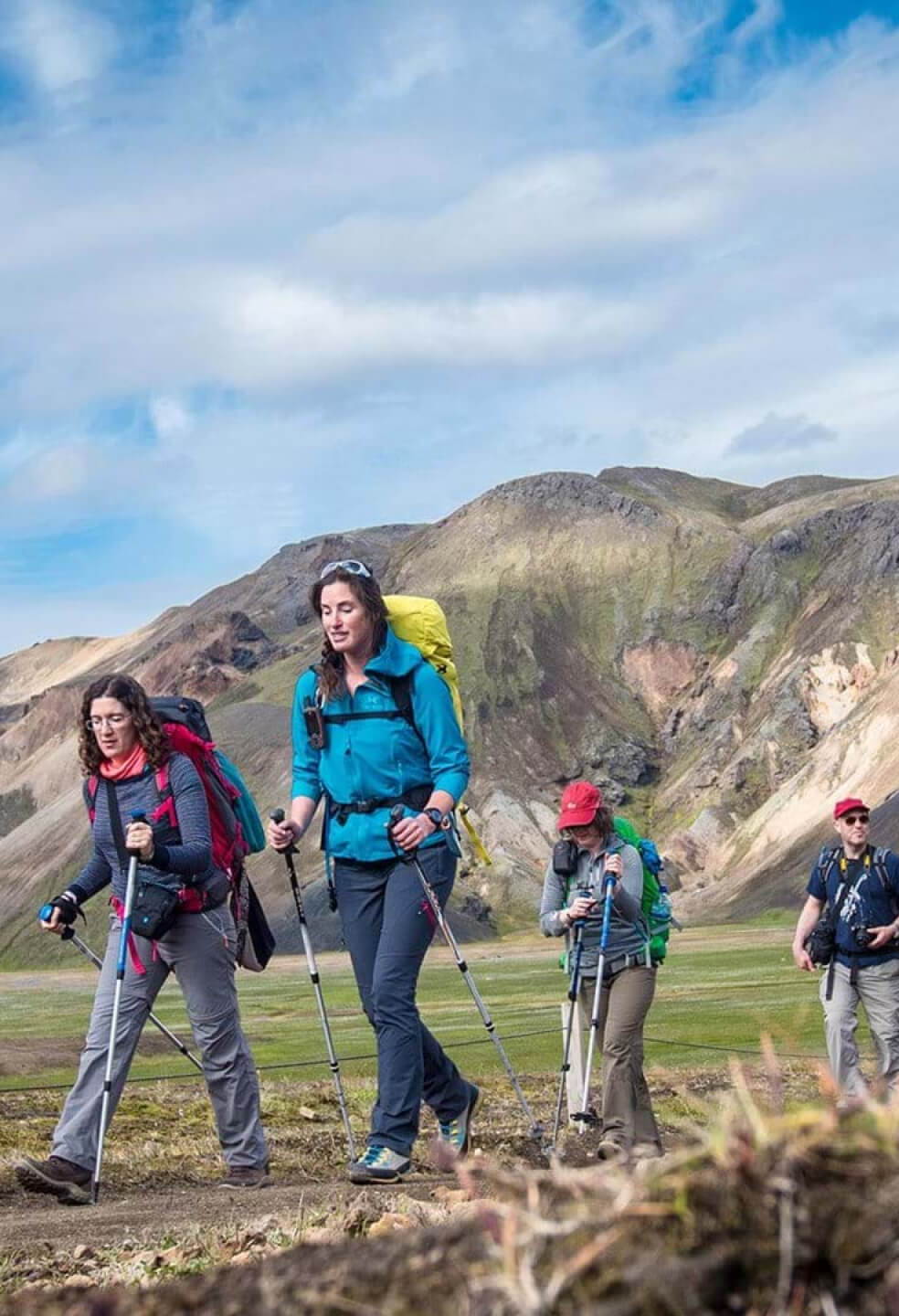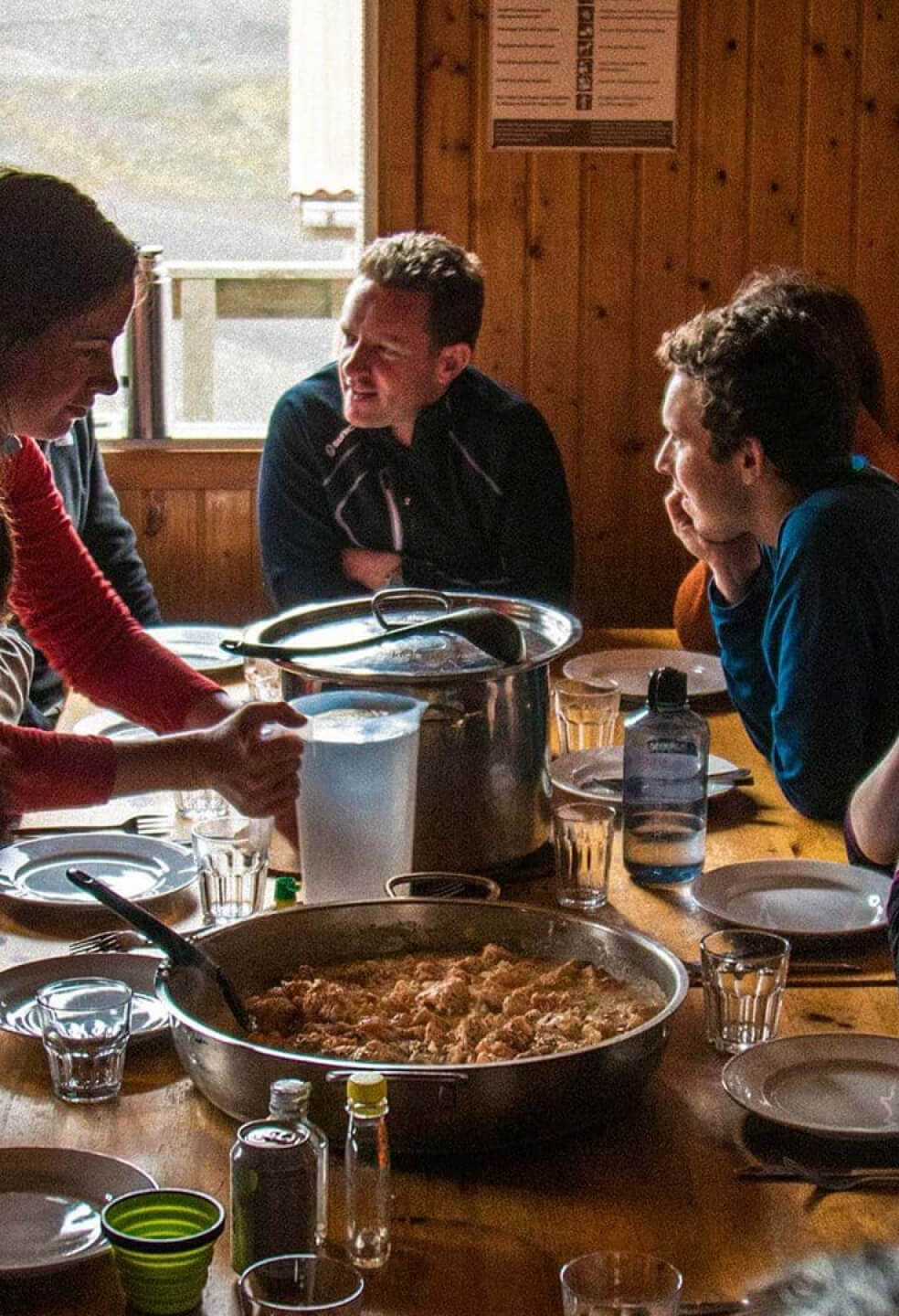 Your guides
Jón Yngvi Gylfason is a very experienced summit and glacier guide. He has been leading and co-leading expeditions in Iceland and Greenland, crossing the Icelandic highlands and the Greenland ice cap crossing. He's a certified and experienced WMA Wilderness First Responder with a basic mountaineering education from the ICE-SAR.
Elín Lóa Baldursdóttir is a true local that spent most of her life in Mosfellsbær. She enjoys being a guide as it combines many things that she loves to do—it allows her to explore Iceland, work in the mountains, and meet interesting people!
Malgorzata Nowak (Mao) is a Polish traveler. In her early adult years, she visited Iceland, where she fell in love with the language and landscape. Every summer, she comes back to her source of energy which is Fjallabak Syðri. Nowadays, she studies creative writing at the University of Iceland alongside working within the theatre field and design. In 2013 she was certified as an Icelandic park ranger.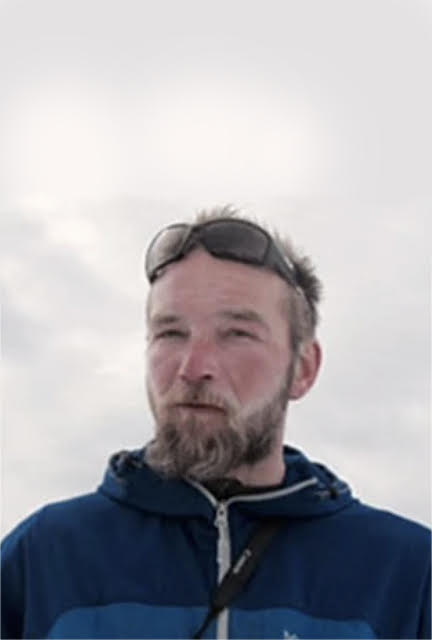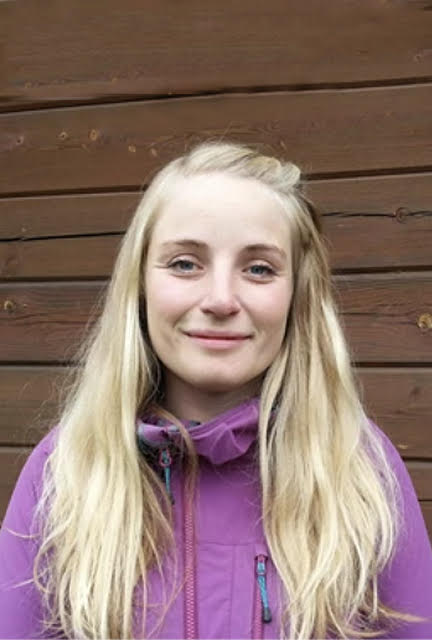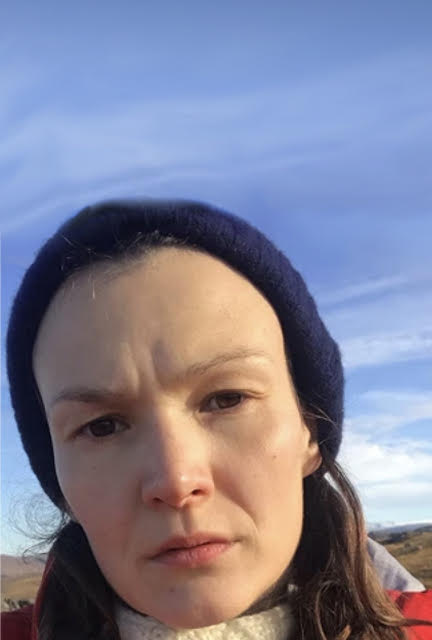 Selma is a wonderful professional!
Made our hike so much interesting with all her stories and facts about her country. She is also a great cook who prepared delicious meals everyday. Always with a smile, she also made us feel safe and relaxed at all times. Beautiful country, kind and helpful people and excellent hike.
Thank you Selma!!
What an awesome experience. If you are unsure just do it. This company were great even before we set off on our adventure. They stepped in and helped out with kit when our luggage was delayed. The professionalism of the whole team and the planning was superb. Our driver transported our bags from hut to hut and helped out with the cooking. His lamb stew will live long in the memory after trekking in a storm that day. Sölvi our guide was brilliant and our group of fellow trekkers (we were 7) and lovely Silja from the company quickly became friends. The scenery was epic and ever changing and Sölvi our native Icelandic guide was a source of geological knowledge and wonderful Icelandic folk tales to scare us with. The food was incredible given the circumstances. The river crossings were even fun! Make sure you have the right kit. The weather was stormy on one of our days but we were in safe hands and had a cosy lunch inside our guide's storm shelter to warm us up.
This was the highlight of our Iceland trip and a truly brilliant adventure. Would definitely recommend and will be back for more.
Having own a travel agency for years I can speak with some credibility when I say that Icelandic Mountain Guides is an excellent ground operator. I've just returned from accompanying a group of 14 to Iceland and Margret Blöndal handled all aspects of our three week trip. Our reservations covered a wide range of services that included advice in booking our private tour, a hut trek on the Laugavegur trail, and ground transfers to various spots like the glacier lagoon in Vik and an ice cave tour. She was knowledgeable, accommodating, and efficient. Agust, our guide on the hut portion, lead us through one of the most remote areas of Iceland with seven hour days. The luggage was always waiting for us and the food prepared under such austere conditions was delicious – baked Salmon and leg of Lamb to name a few. There wasn't one unpleasant surprise. Regardless of the type of trip you plan to Iceland, I encourage you to call Icelandic Mountain Guides first. They are Top-Notch.
One of most amazing treks you will do in your lifetime. Its not super strenuous but daily distances are large: 8mi-10mi per day. The huts are extremely basic as you would expect: facilities outside, one with no shower, bunk rooms of 20ppl. But the trail and scenery are more than worth it. We had a difficult group with some adults, teenagers and even a 7yo (yes an active kid who can walk long distances can definitely do this trail). Our guide Martha was wonderful and handled everything amazingly well. Informative, supportive, efficient and cooks great food!!!
How do I start this…I celebrated my birthday with a trip to Iceland. We did the 5-days Laugavegur trek first and then another 5 days sightseeing in Reykjavík. For me the trekking experience was amazing. The weather was so nice during the trekking, mostly sunny with a few cloudy moment here and there. Our tour guide Greta was caring, fun, knowledgable, very helpful and a good story teller. I love listening to her stories, especially the ghost one! The scenery on the 5-days trek was breathtaking, so raw, pure, and untouched in some places. The only suggestion I would have is the hut accommodation, I hope they would put less people in a tiny room (I still couldn't believe that 20 adults were actually sharing a tiny hut). Other than that, hands down the best Laugavegur trek in Iceland!!!