Santa Cruz may have a reputation as a hippie town tucked away on California's central coast, but it's so much more than a bastion for children of the '60s.
Santa Cruz is home to world-famous surf, the University of California Santa Cruz (UCSC), and miles of stunning redwood forests, with plenty pursuits for adventurers from all walks of life. Santa Cruz has rightfully earned its place in the annals of the sport's history, and a number of living legends still live there today. In the 1950s, Jack O'Neil moved to town and introduced the wetsuit, forever changing the sport — transforming surfing into a year-round, worldwide phenomenon, with some of the best surfing in the world. The town also houses the Santa Cruz Surfing Museum which is worth checking out on a day off.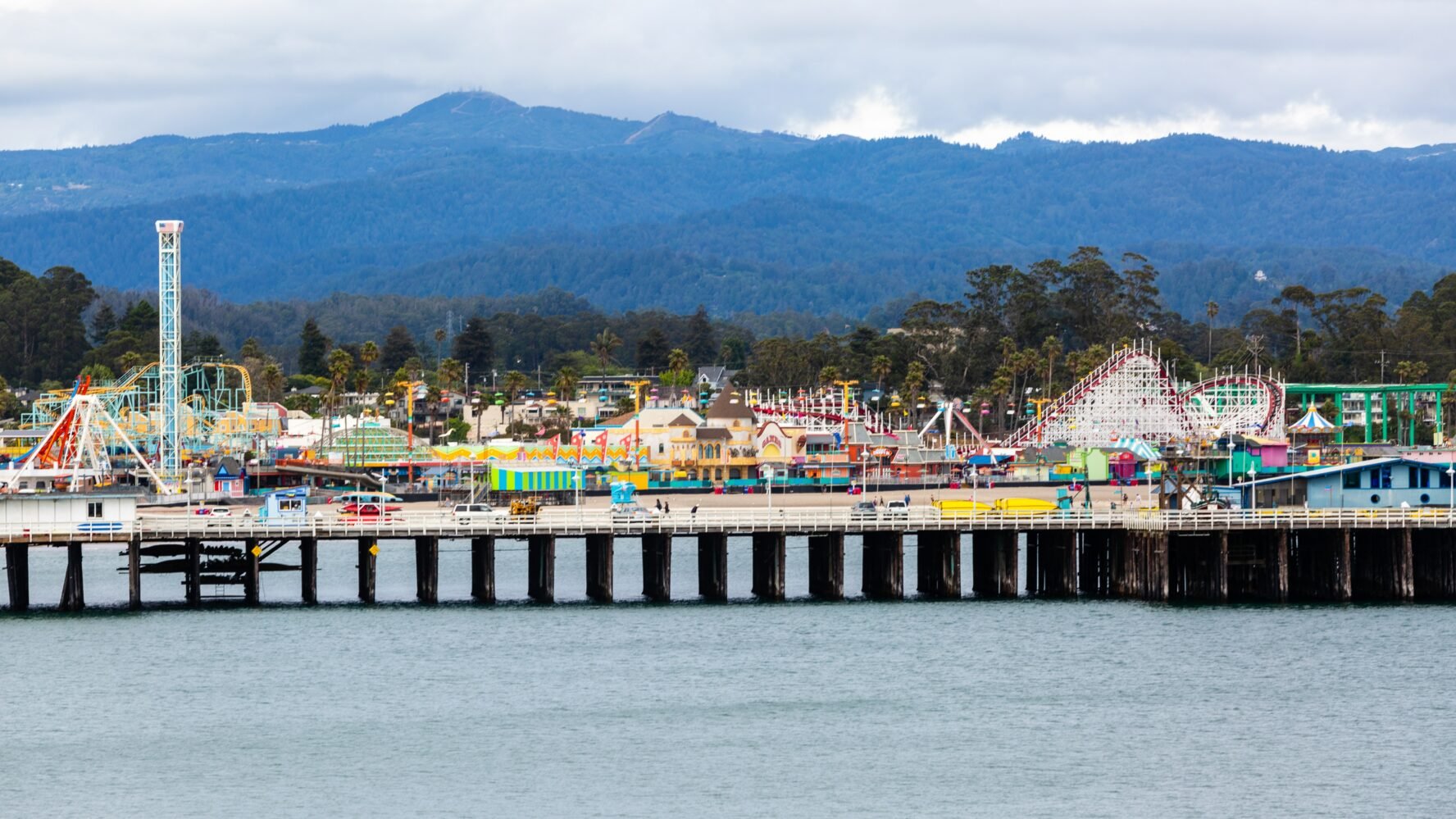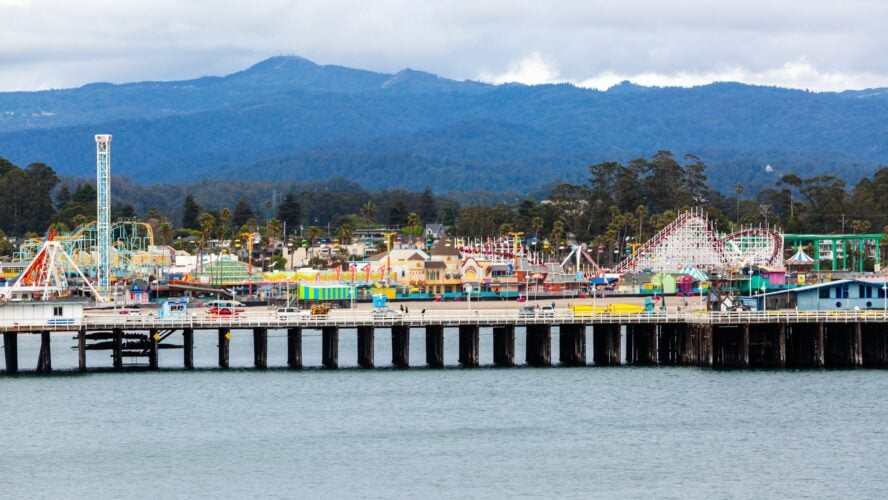 Pros and Cons of Surfing in Santa Cruz
Surf for all skill levels
Plenty of non-surfing activities to choose from
Mostly flat during the summer
During my four years attending college at UCSC, I spent countless hours exploring the redwood forests and riding my bike to and from the beach, surfing until my fingers were numb and my nose full of saltwater. Since I graduated in 2012, I make it a point to return annually. There's something about the town's beauty and perfect waves that draw me to return year after year.
What to expect from surf scene in Santa Cruz
The people of Santa Cruz are proud of their city, their culture, and their waves. Santa Cruz locals can be territorial about their waves, as well, so out-of-towners can expect the cold shoulder for not practicing proper surf etiquette. Stick to the beginner breaks at first, or wait your turn and earn your spot in the lineup — then you'll get to experience the vibrant surfing community that comprises a huge part of Santa Cruz's charm.
One other thing every surfer should know: don't come in the summer. Surfing "Lake Santa Cruz," as it's affectionately known, leaves a lot to be desired. Sure, the water is warmer, but the waves are lacking. Come in winter, though, and you'll be in for a treat…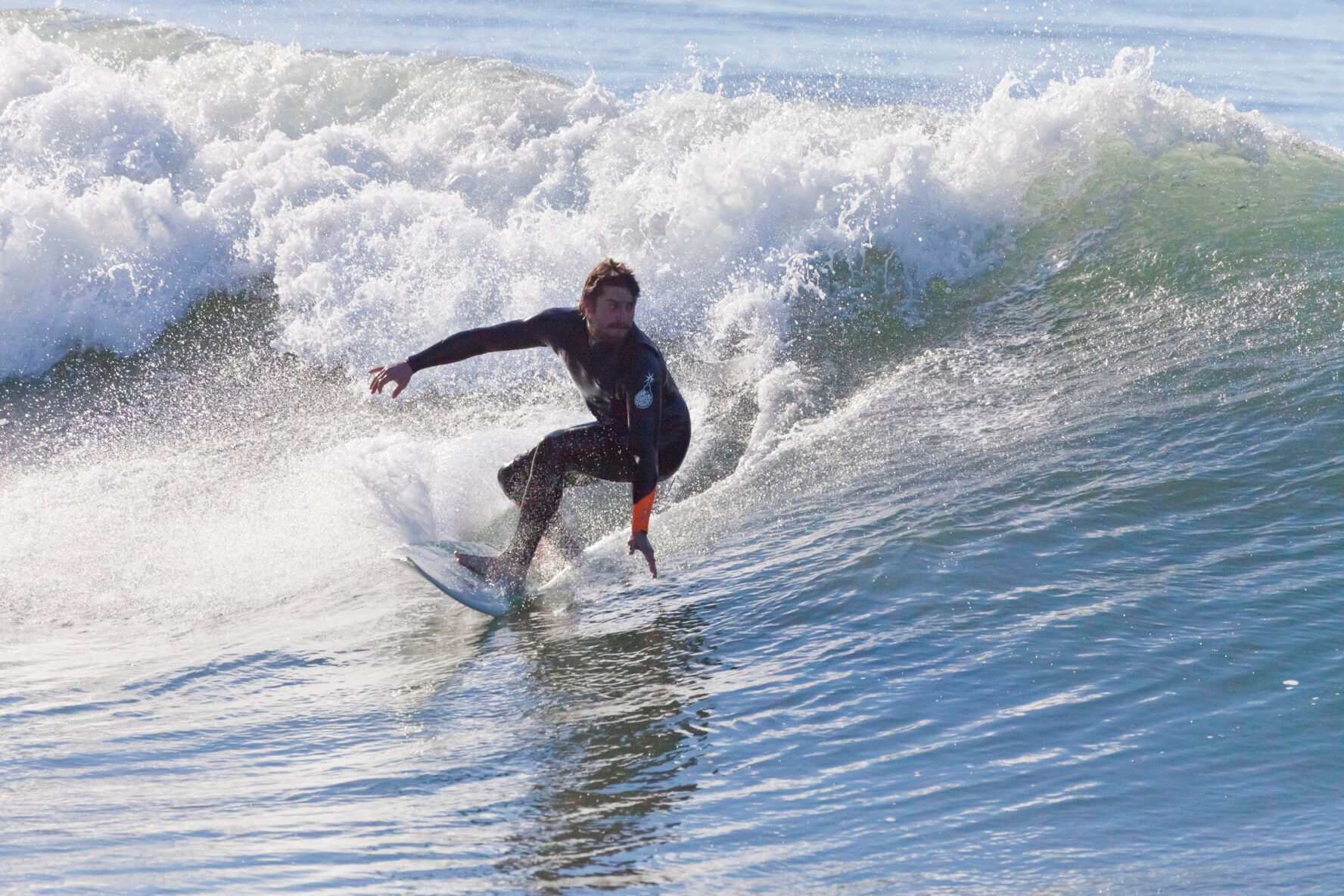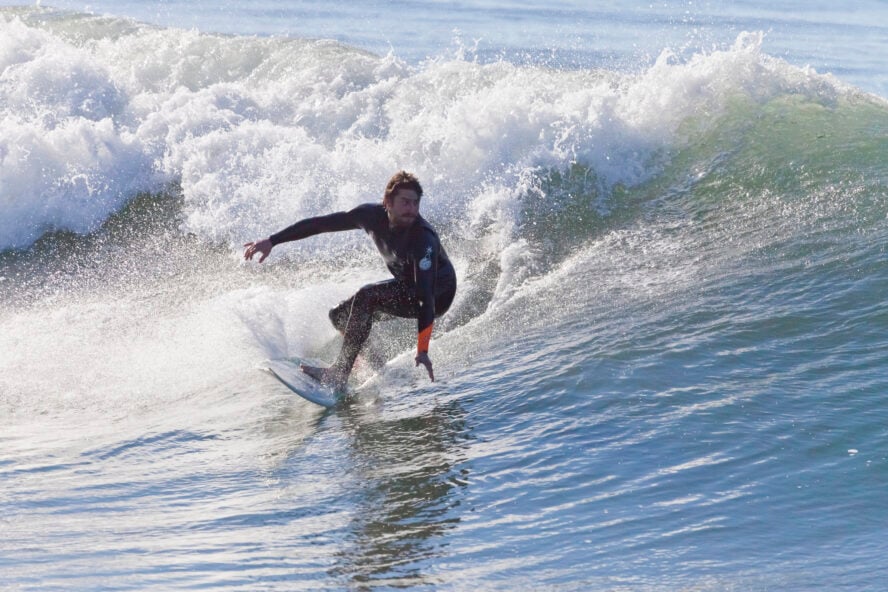 Where to surf in Santa Cruz
With no shortage of breaks to choose from, there's a reason Santa Cruz is known as one of the best surf cities in the country. Whether you're looking for a big swell or are new to the sport, there are surfing spots for all skill levels. Here are four of my personal favorites:
1. Natural Bridges
Located on the west side, Natural Bridges is the first surf spot in Santa Cruz, proper, and is a reef/point break that breaks along a rock shelf. The spot works best during the winter on bigger swells and at low tide. It can be intimidating and timing the surf right can sometimes be tricky, but when it's on, it's on. It's also fun to explore the tide pools that line the cliffs — the beach is by far the most beautiful in town.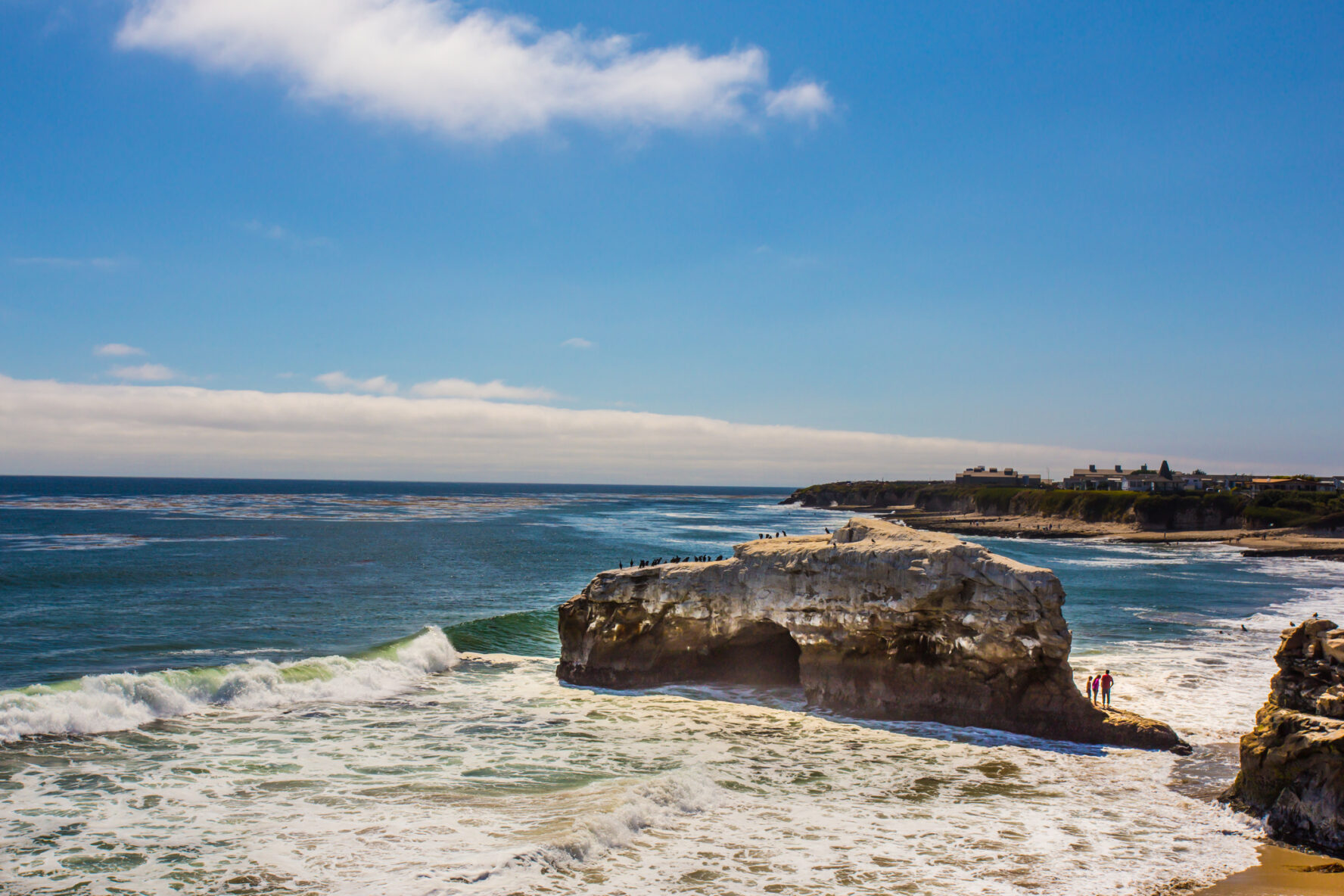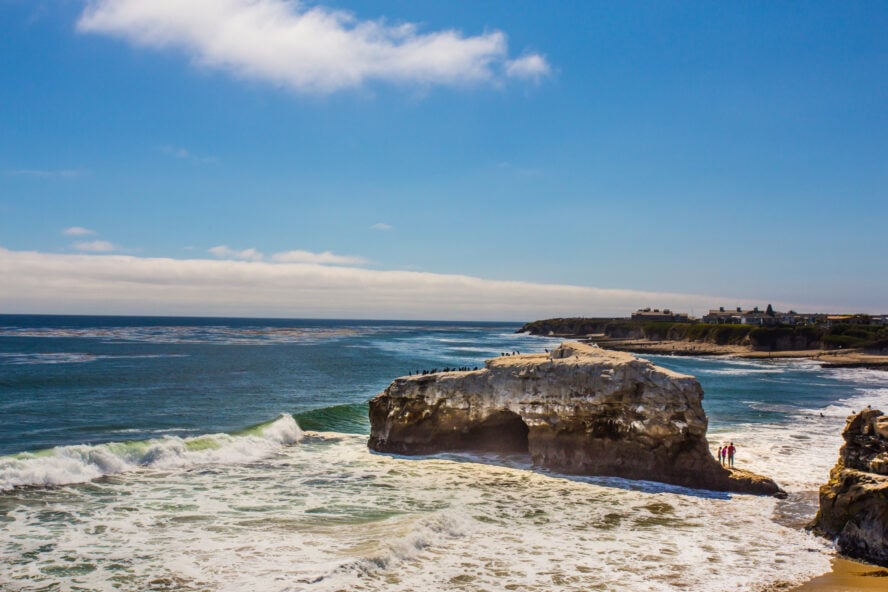 2. Steamer Lane
Steamer Lane is probably the most iconic spot in the region. Located off the point on West Cliff Drive, The Lane is home to four reef breaks: Indicators, Middle Peak, The Slot, and The Point. The well-loved spot is best suited for intermediate to advanced surfers. If the waves are beyond your ability, the cliffs above offer a great viewpoint to watch skilled surfers in action. After surfing The Lane, it's also fun to take a few jumps into the "Toilet Bowl," a local cliff-jumping spot directly in front of the lighthouse (which houses the Santa Cruz Surfing Museum).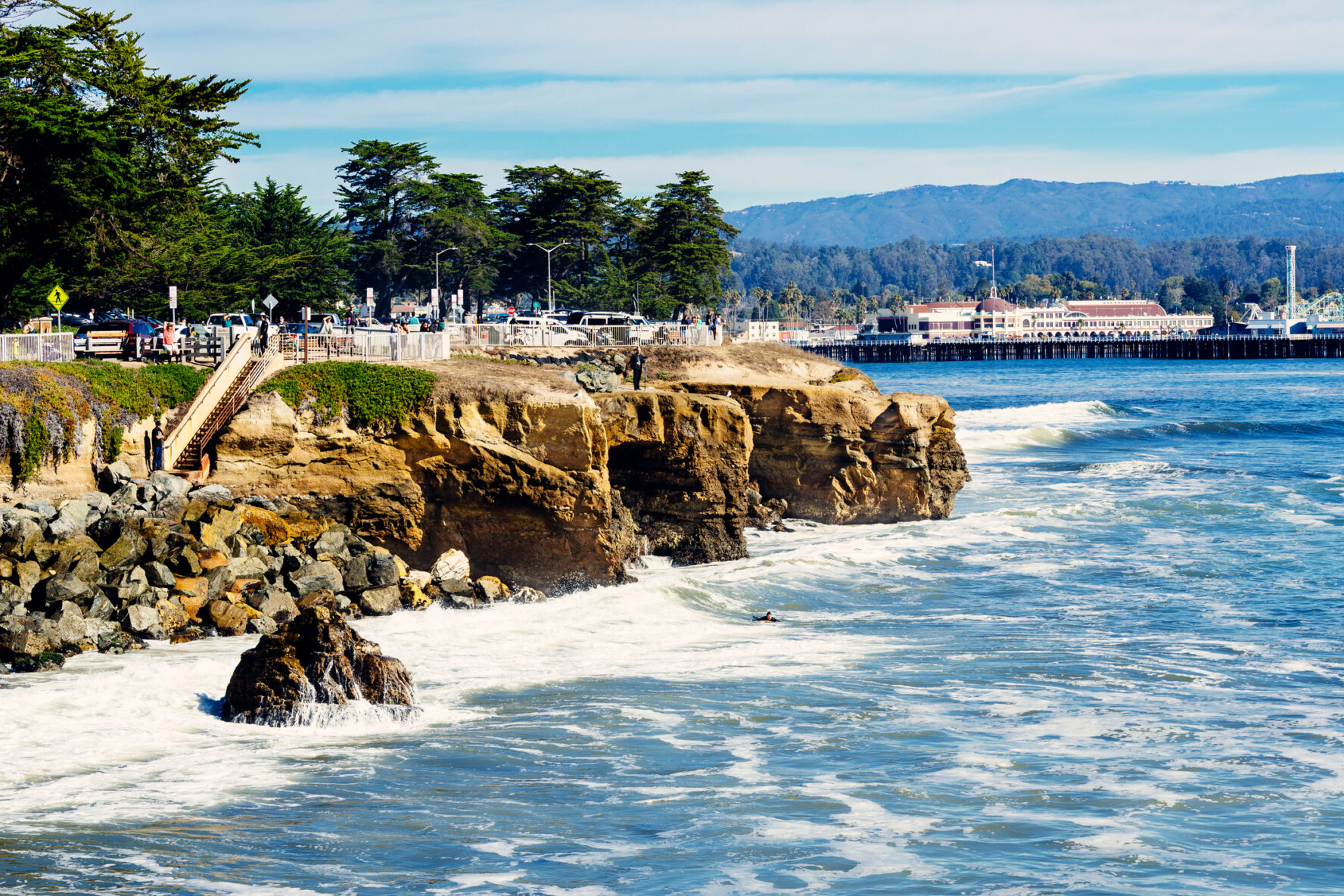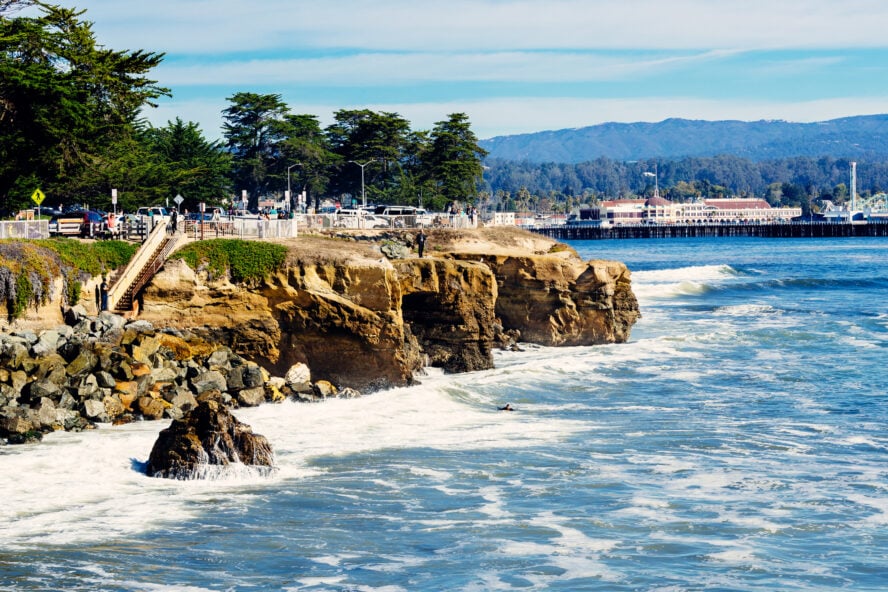 3. Cowell's
If you're new to surfing or favor longboarding, Cowell Beach is the place to be. Located just west of the pier, Cowell's offers long, slow waves, perfect for beginners. Like many of the breaks in town, Cowell's works best during a low tide. Despite ever-present crowds, the wave is super fun and offers some of the longest rides I've ever experienced.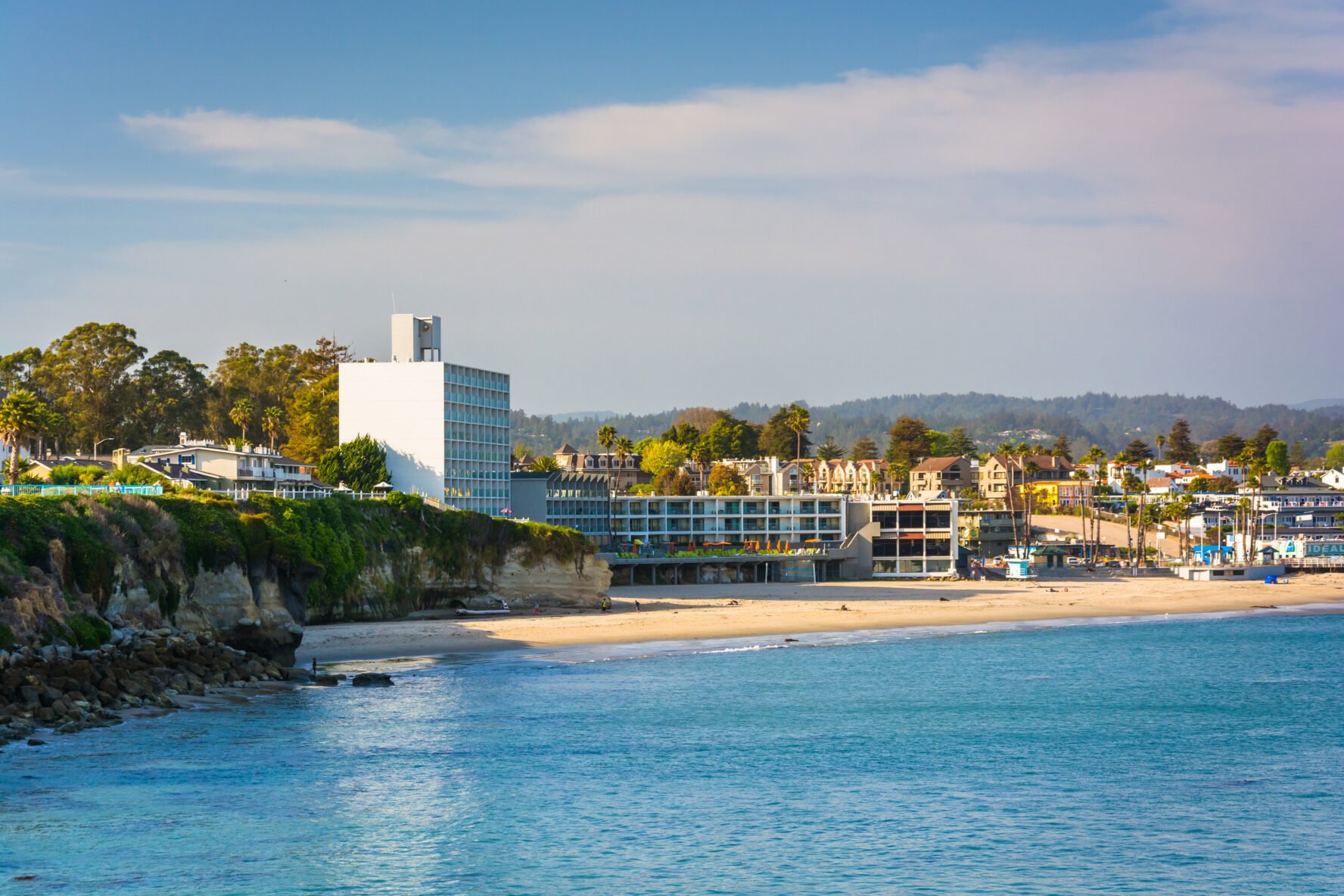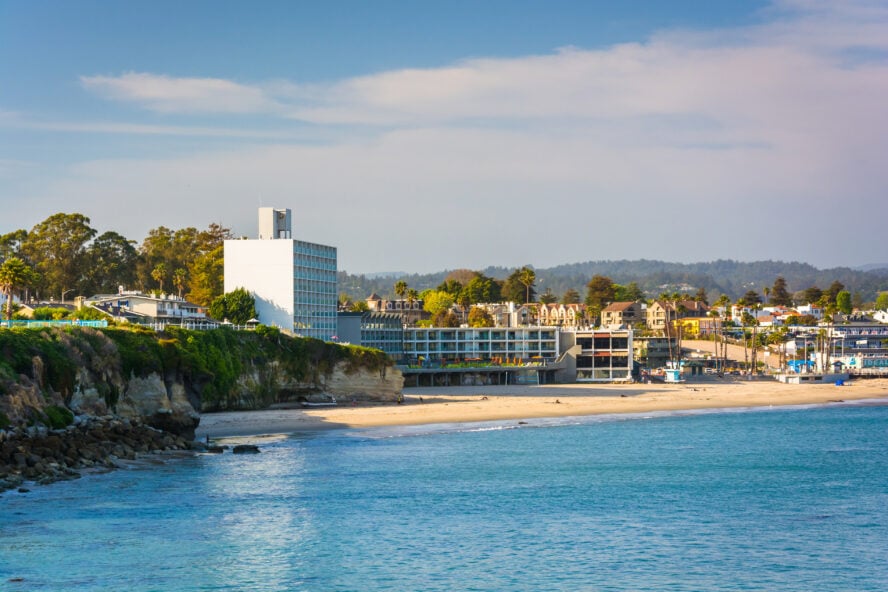 4. Pleasure Point
Located on the east side of town, The Point is a melting pot of skills and ability levels — from first-time surfers to expert shortboarders. The main access point is the stairs at 36th Avenue, but waves break all the way from 30th Avenue to The Hook at 41st Ave. This spot is a personal favorite — the vibes are good and it's fun paddling between the different breaks to test your skills on different waves. Fun fact: late wetsuit pioneer Jack O'Neill's green house is perched on the cliffs at 37th Ave, and a number of scenes from Chasing Mavericks were filmed at The Point.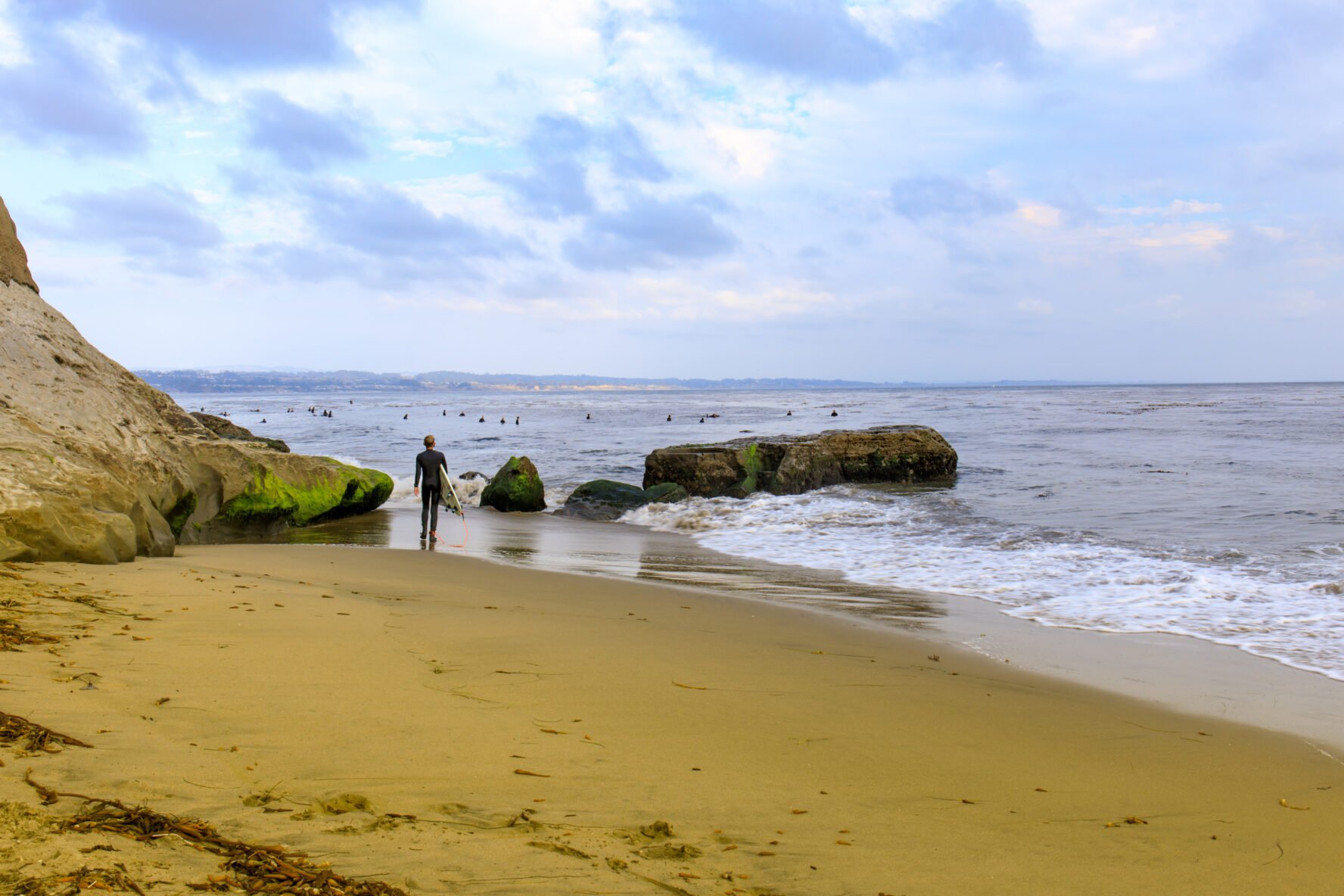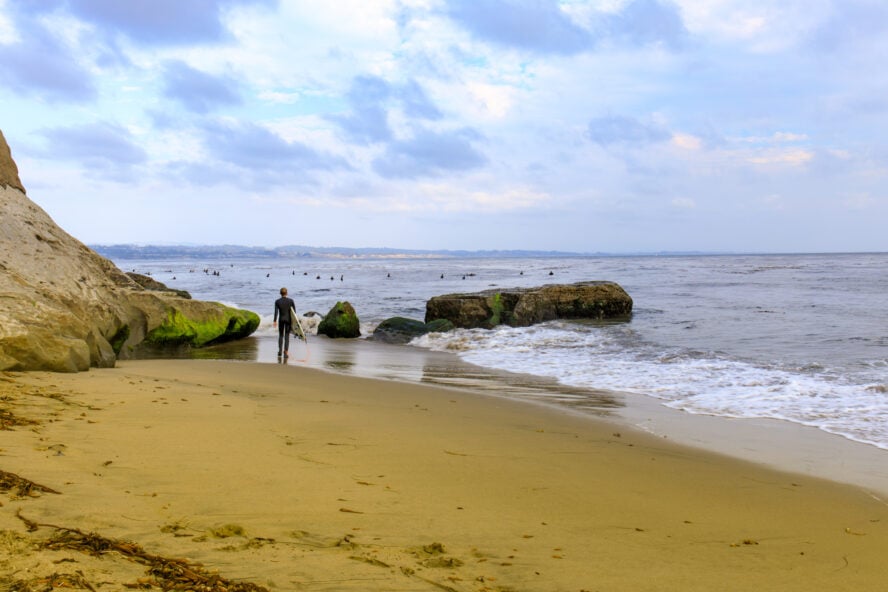 Tips and advice for traveling to Santa Cruz
Hire a surf instructor. If you're new to surfing, hiring a surf instructor is a good way to get your feet wet. Some spots in town can be intimidating, especially if you're just starting to learn. A guide will help you get set up with the proper equipment and take you to mellow breaks where the waves are friendly. Surf School Santa Cruz is one of the top rated surf schools on the west coast, offering group and private lessons from an experienced instructor. A couple other options are Club Ed Surf Schools and Camps and Richard Schmidt Surf School.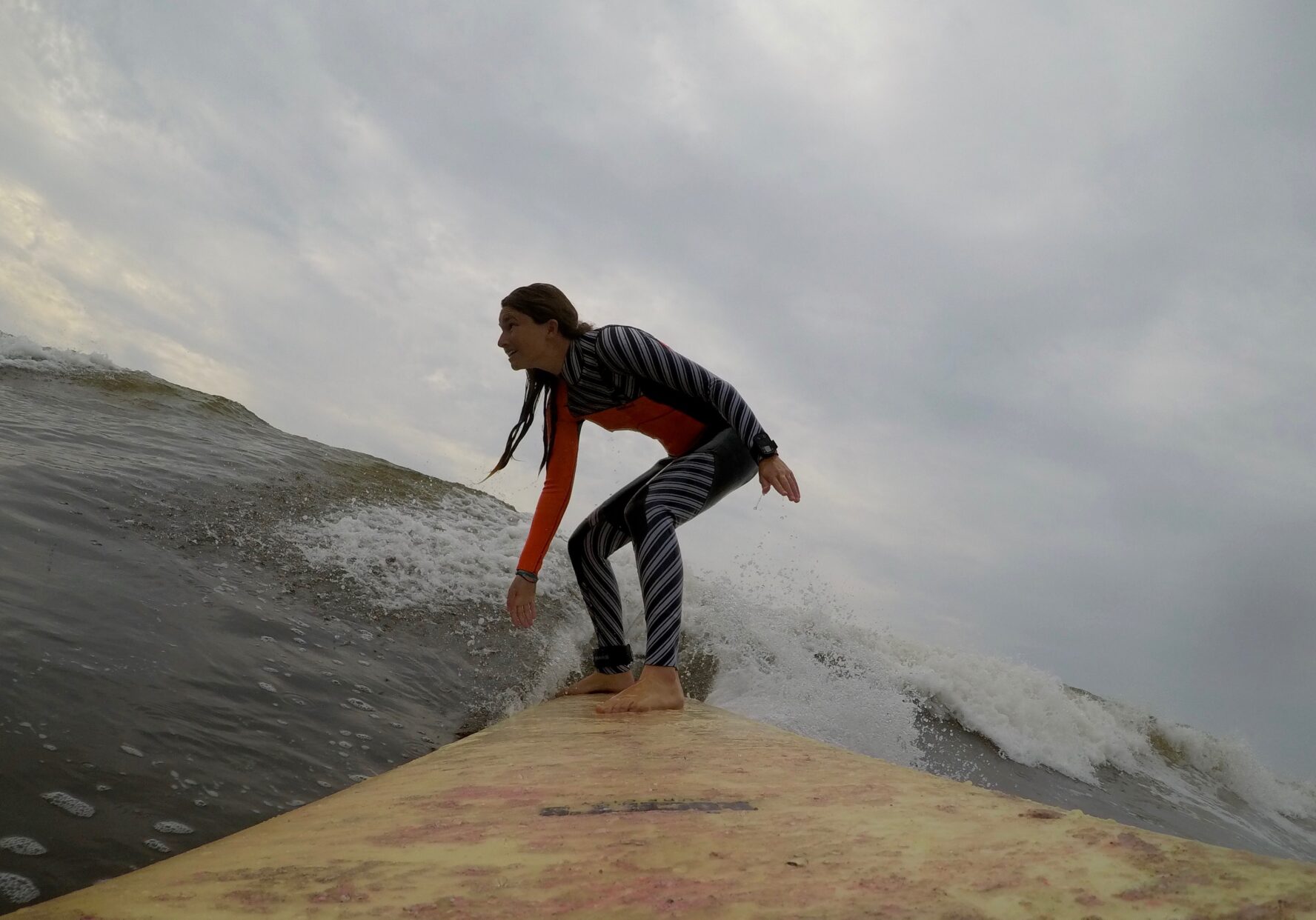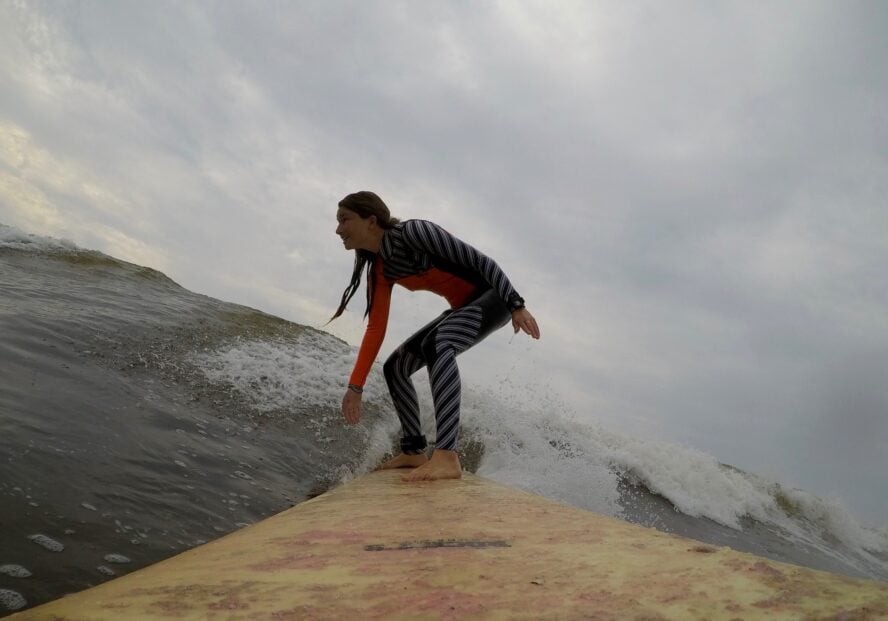 Getting to Santa Cruz can be tricky but it's well worth the effort. It's located between San Francisco and Monterey, and if you're flying, you'll touch down in San Jose where you can rent a car or take a shuttle, train, or bus downtown in under an hour. Alternatively, if you fly into San Francisco, it's a little over an hour driving south. There's a decent bus system in place in Santa Cruz, but having your own set of wheels makes for a smoother trip and will expand your surf options. If you're coming in by car, the Pacific Coast Highway deposits you in the heart of town.
Santa Cruz has lots of options when it comes to accommodations. This eclectic town has it all, from hostels to luxury hotels to Airbnbs, beach bungalows to campsites to forest yurts— there's options for all budgets. If you're feeling fancy, spring for a room at the Dream Inn, located on scenic West Cliff Drive with stunning views of the bay. If that's not your speed, browse the offerings on Airbnb or VRBO. If you want a more natural experience, book a campsite at Henry Cowell State Park and sleep beneath the redwoods.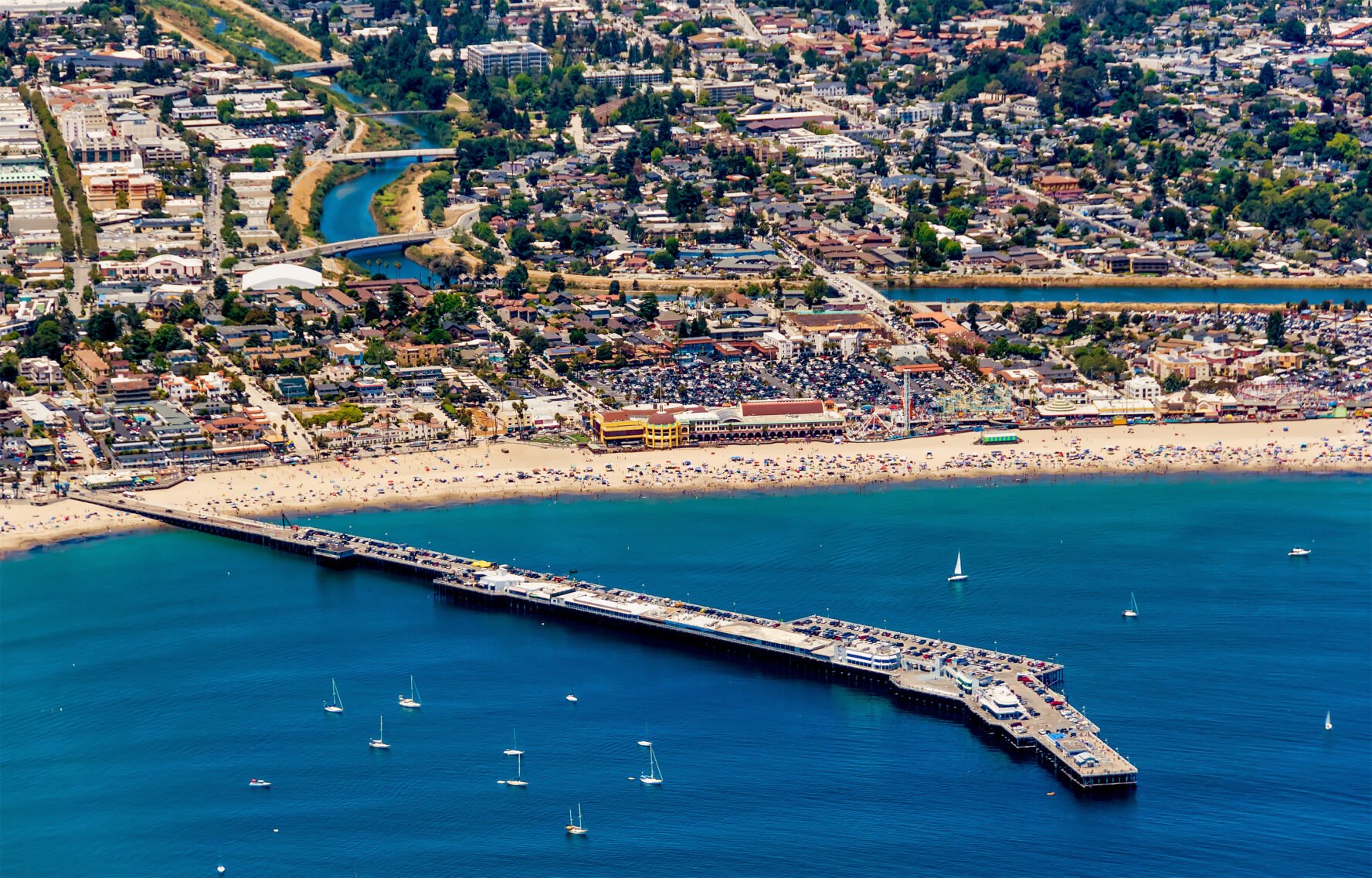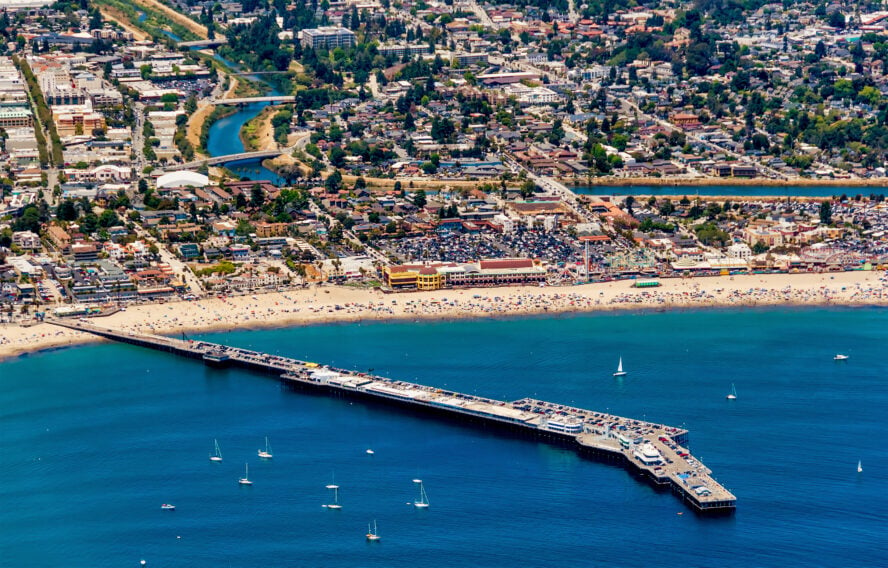 There's no shortage of good eats. Unless you're part fish, cold, hunger, or fatigue will lure you out of the water at some point. As epic as the waves are in Santa Cruz, the dining options are equally as good. As far as food goes, Café Brasil, Zoccoli's, Pono Hawaiian Grill, Mission St. BBQ, Burger, and I Love Sushi are a few personal favorites on the west side of town. On the east side, the best post-surf eats can all be found on 41st Avenue: The Point Market, Chill Out Café, Pleasure Pizza, and The Penny Ice Creamery.
If you need a break from surfing, take a hike. When it comes to hiking, Santa Cruz has lots of trails and a visit wouldn't be complete without a walk among the redwoods. Henry Cowell Redwoods State Park is one of the most beautiful parks in the area and offers a number or hiking options. My personal favorite is the hike to Big Rock Hole, a natural swimming hole along the San Lorenzo River, complete with a rope swing and, you guessed it, a big rock. The spot can be a little tricky to find, but if you do a little research online and ask the locals as you go, you shouldn't have too much trouble. If you're looking for a hike alongside the water, Wilder Ranch State Park offers both inland and coastal hiking options that are equally as amazing.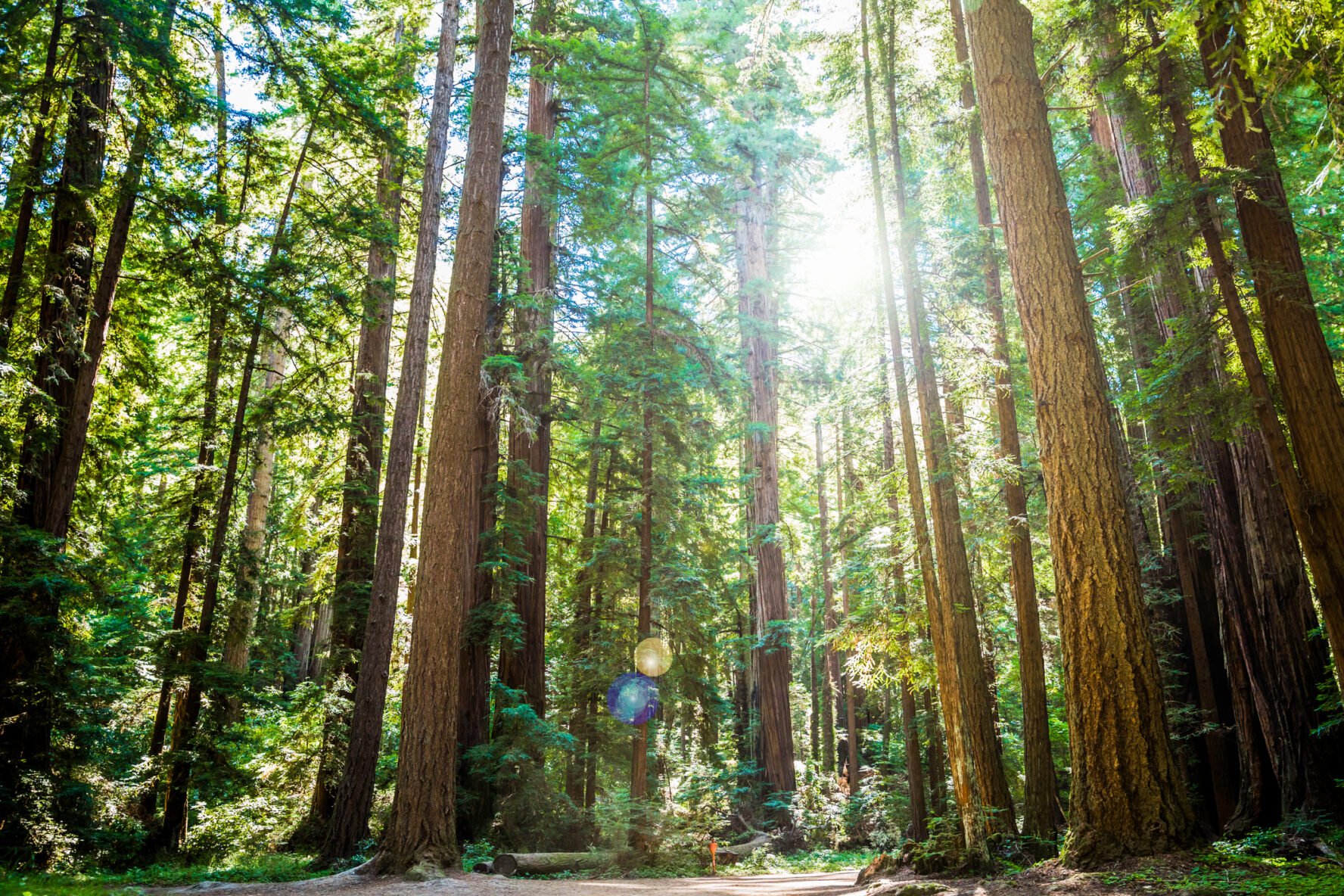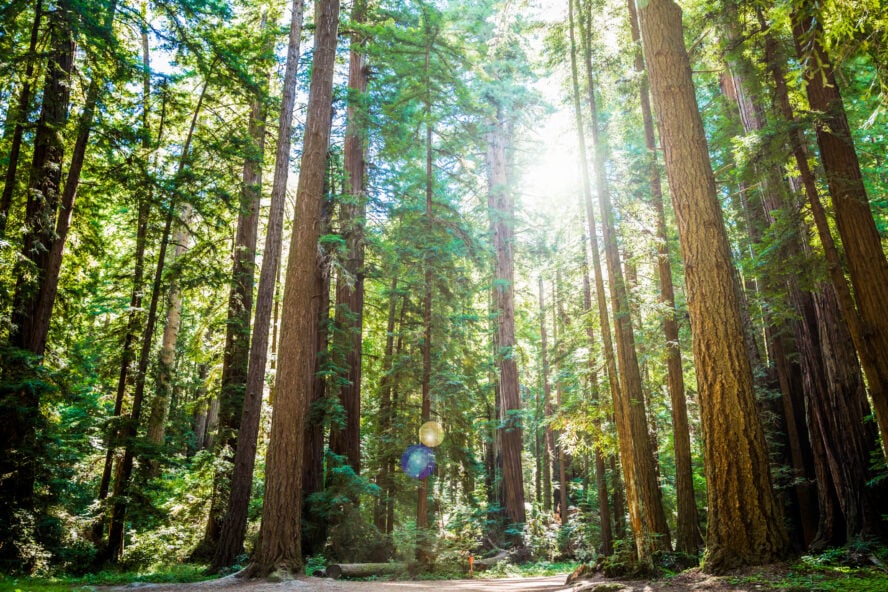 Santa Cruz has something for everyone. It's one of those locations that tops many bucket lists and for good reason: the beauty of the town is unmatched. Nowhere else will you see redwood forests meeting the sea. The surf is world-class and there are solid options for surfers of all levels. Aside from the surf, there are an infinite number of hiking options, good food, and tourist attractions to boot. Santa Cruz is an amazing travel destination for anyone adventurer — just try visiting once….