Big Sur | California
Hiking in Big Sur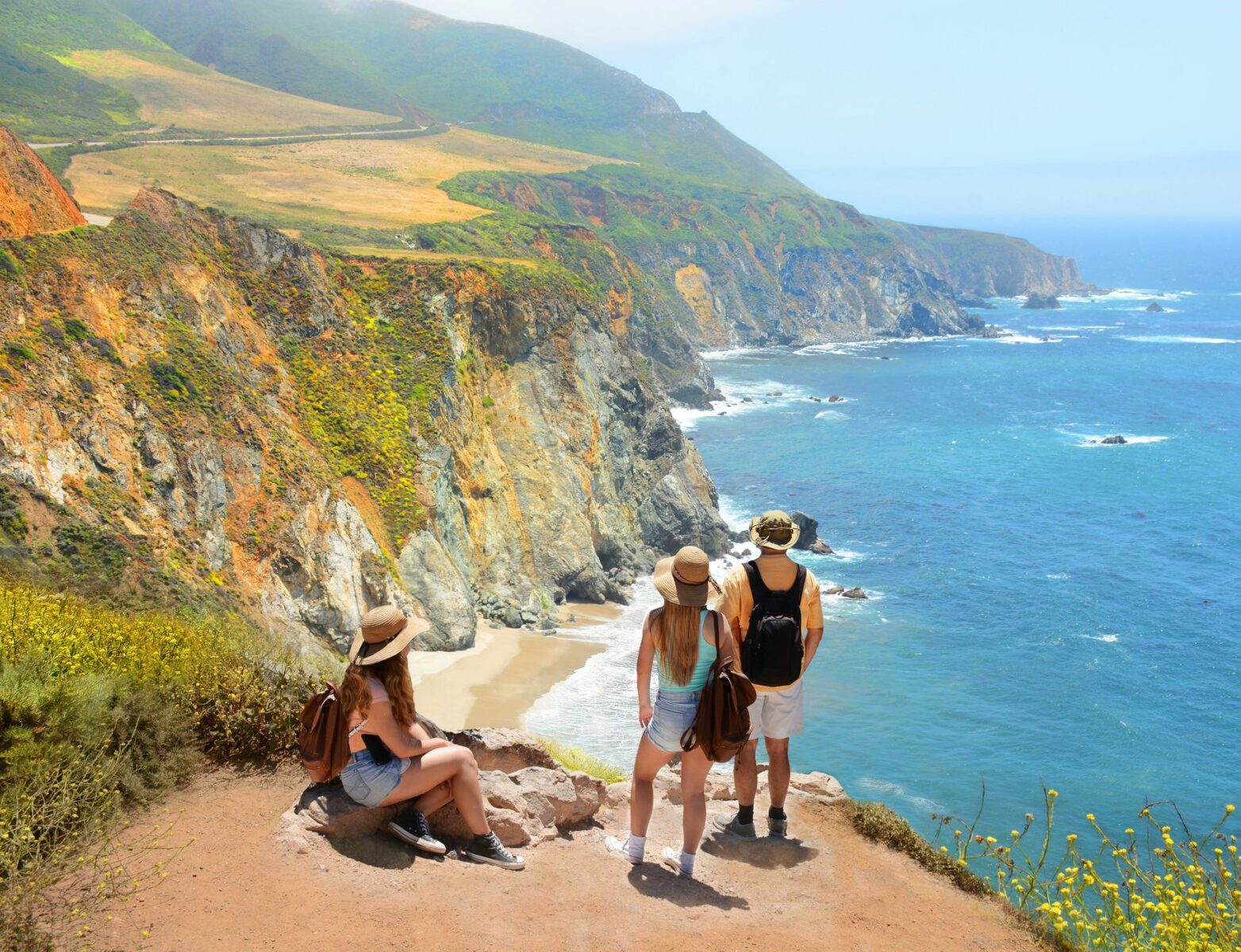 Season
Big Sur hiking is best from Fall to Spring
Nearest city
San Jose International Airport (SJC) is 74 miles from Big Sur. Monterey, CA is 29 miles.
Driving to Big Sur, winding along sweeping views of the Pacific, is a timeless coastal trip everyone should experience at least once in their life. Hikes in Big Sur reveal lush forests, towering bluffs and rare wilderness. The area is fiercely protected by a local community that has managed to retain its original charm through quaint campgrounds, roadside coffee shops, restaurants and boutique hotels. Guided tours are one of the best ways to venture onto hidden roads and trails offering vistas of the Ventana Wilderness typically reserved for Red Tailed Hawks and Golden Eagles.
Most Popular Adventures
A Private Half-day Tour With a Guide
From $175 per person
·
Half-day
Your Big Sur tour is a private and scenic affair with a knowledgeable, local guide. Coastal Big Sur hikes are tailored to your fitness level and goals. Your senses will awaken among the old-growth redwoods, cascading waterfalls, and abundant wildlife. Prepare for the peaceful connections only nature can provide.
Spiritual Hiking Excursion
From $200 per person
·
1 Day
Join the generations of people who flock to Big Sur to unplug and reconnect in nature. Your senses will awaken among the cathedral-like old growth redwoods, cascading waterfalls, and abundant wildlife. You can experience one-day hikes paired with forest bathing and the peaceful connections only nature can provide.
Wild Mushroom Foraging Hike
From $175 per person
·
1 Day
Did you know that you can find wild foods and medicinal plants on the Central Coast? On this forest hike, you'll unlock the secret bounty of autumn and winter in search of mushrooms. You'll learn from a specialist guide how to determine between edible and nonedible varieties in beautiful Big Sur.
Things you need to know
When is the best time to go?
Big Sur is a popular year-round destination, so planning ahead is a must. Hiking in Big Sur can be difficult during the summer due to a dry climate and high temperatures, so shoulder seasons are usually your best bet.
What if I've never hiked?
Big Sur offers hiking options for all skill levels, including short hikes through its two state parks and along the beach looking for tidepools.
Is there a minimum age requirement?
All ages are welcome on guided hikes in Big Sur. There are plenty of family friendly options for those hiking with small children. If you're unsure about what to expect on a guided day hike with little ones, contact us and we will provide you with all the information you need to book your next family adventure.
Group sizes and pricing
Most guided hikes require a minimum of 2 people, but there are options for solo travellers. Pricing is per person, but costs can decrease as the group size grows, making it a perfect opportunity to adventure with friends and family.
Cancellation policy
Each guiding service sets its own cancellation policy. All policies regarding cancellation, rescheduling and trip insurance will be clearly laid out by your guide prior to booking your adventure. Contact us if you'd like more information on a specific adventure.
What about bad weather?
Inclement weather can always get in the way of outdoor adventuring. In most cases, if you're prepared with the right gear, a little bad weather won't stop the fun. But, if Mother Nature hits you with an unexpected curveball, your guide will know the best course of action to take, determining whether it's safe to move forward with the trip, switch to a different local spot, or reschedule your adventure for a more favorable day. Prior to booking, your guiding service will provide you with all the details you need to know.
Brief background of area
Big Sur is an artist community built on California's iconic Highway 1, stretching 71-miles from Andrew Molera State Park to Bixby Bridge. Big Sur has famously attracted writers like Jack Kerouac, celebrities like Elizabeth Taylor and spiritual travelers to its steep bluffs and coastal vistas. It's popular with tourists and foreign visitors, attracting 7 million people per year, so year-round camping reservations should be booked well in advance. Protected from development, this coastal community is home to seven state parks and two state preserves.
Do I need a permit?
Most hikes don't need a permit. Campfires are prohibited due to a high risk of forest fires. Your guide will obtain a permit for use of items such as jetboils or camp stoves, but if needed, they will notify you of permits needed ahead of your trip.
Getting there
Getting to Big Sur does require driving along the scenic Highway 1 from either the north or south. From the north, San Jose International Airport (SJC) is 74 miles from Big Sur and Monterey, CA is 29 miles away. From the South, San Louis Opisbo is another charming town 107 miles down Highway 1. If you're travelling without a car, pick up can be arranged in most cases.
Gear list
Layers for warmth and wind are recommended for Big Sur's coastal micro-climate. We recommend packing the following to be comfortable and warm.
Supportive hiking boots or shoes
Wind jacket
Light jacket for warmth
Layers for warmth since it can be chilly near the water and at night
Hat and sunscreen year-round to avoid sunburns and overexposure
Day Pack
Sunglasses
Refillable Water Bottle
Central Coast Outdoors
Central Coast Outdoors
Hiking Guides
Central Coast Outdoors was started in 2003 as a boutique adventure-travel company h...
Big Sur Guides
Hiking Guides
For over 42 years, Big Sur Guides and hiking has led private, group and corporate t...