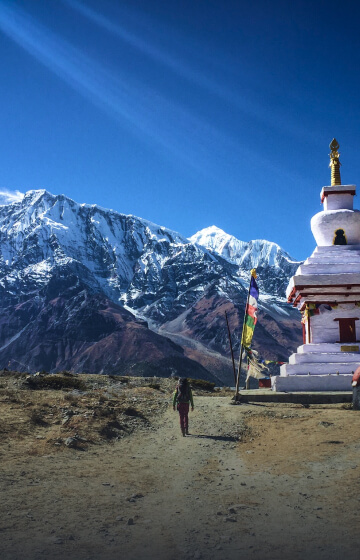 Hike the Annapurna Circuit in Nepal
Since opening its trails to foreigners in 1977, the Annapurna Circuit has been enticing hikers with promise of larger-than-life adventure. With over 100 miles of dense forests, terraced rice fields and dramatic high-altitude walks through the Himalayas, this is one of the most awe-inspiring long-distance treks in the world.
Undertake an epic 15-day journey full of dazzling biodiversity and epic views of the Nepal Himalayas. As you reach the end of the trail, you'll learn to appreciate the small things in life and understand why so many consider this trek a life-changing experience.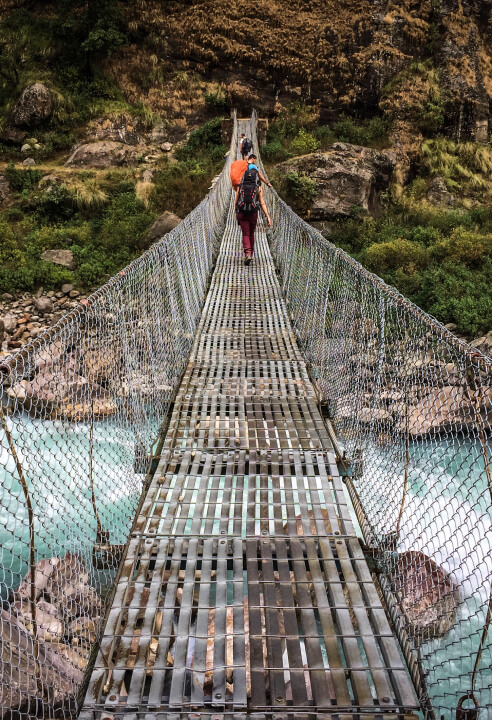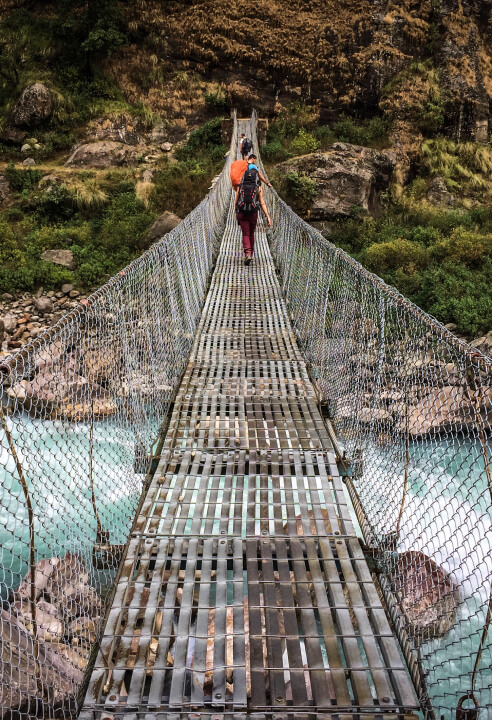 A journey through jungle and clouds
Coursing through the very heart of Nepal, between the towering peaks of the Annapurna Range, the Circuit takes you through four distinct regions and their richly diverse ecosystems.
As you begin your journey from Kathmandu, you'll visit ancient Buddhist temples and sacred Hindu sites before reaching the starting point in Besisahar.
En route to Pisang, witness the landscape changing from wild banana trees and wet rice terraces to dense alpine forests. Enjoy the views of Annapurna II, IV, and Tilicho until you cross Gunsang, where sub-tropical meadows turn into a chilly alpine environment.
ANCIENT KINGDOMS
SACRED SITES
COLORFUL VILLAGES
DIVERSE LANDSCAPES
EXOTIC WILDLIFE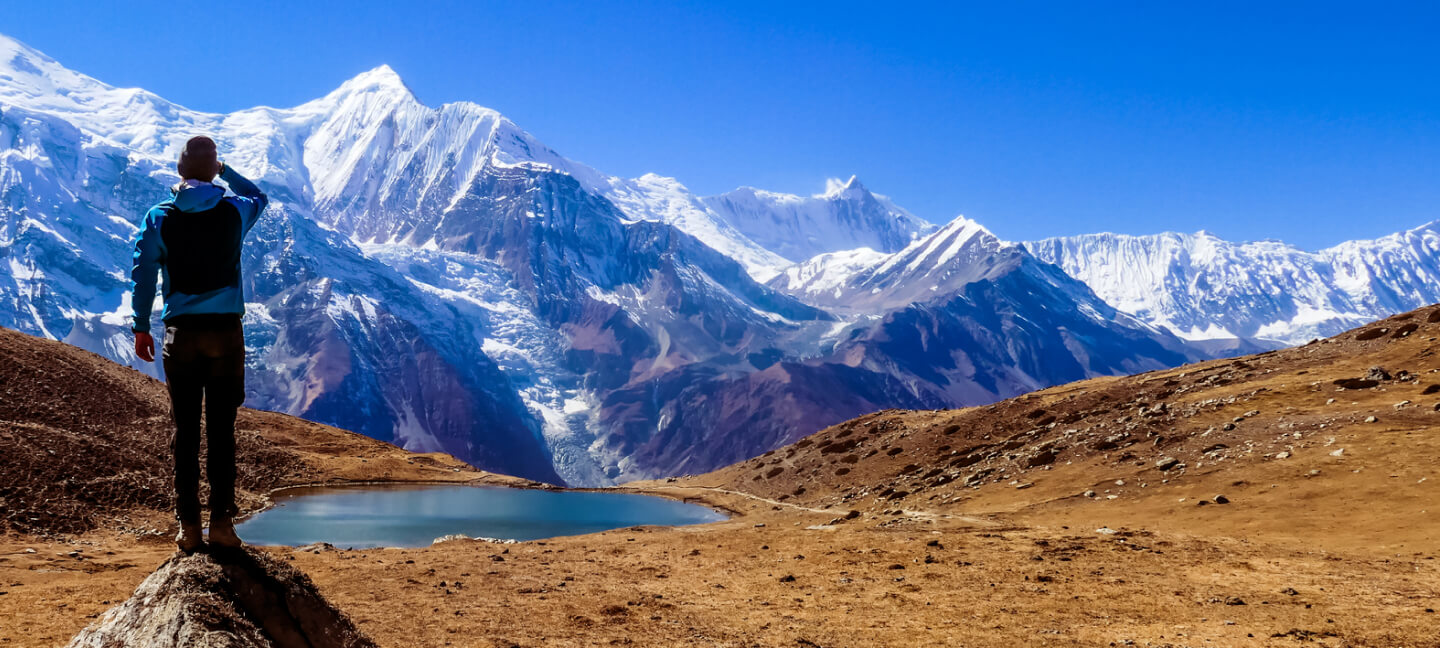 On the edge of the Tibetan Plateau
IMMERSE YOURSELF IN LOCAL CULTURE
The Annapurna Circuit is a pilgrimage along the sacred trails of the Nepali people. Overflowing with history, its remote villages and monasteries display the religious and cultural intertwining of Hinduism and Buddhism. Life has remained almost unchanged here for centuries.
At around 18,000 feet, you'll reach the pinnacle of the trek—the mythical Thorong La Pass. Enjoy the sweeping views of Mt. Dhaulagiri and the restricted lands of Upper Mustang below.
As you descend, the trail will take you to Muktinath—a sacred pilgrimage site and one of the world's highest temples.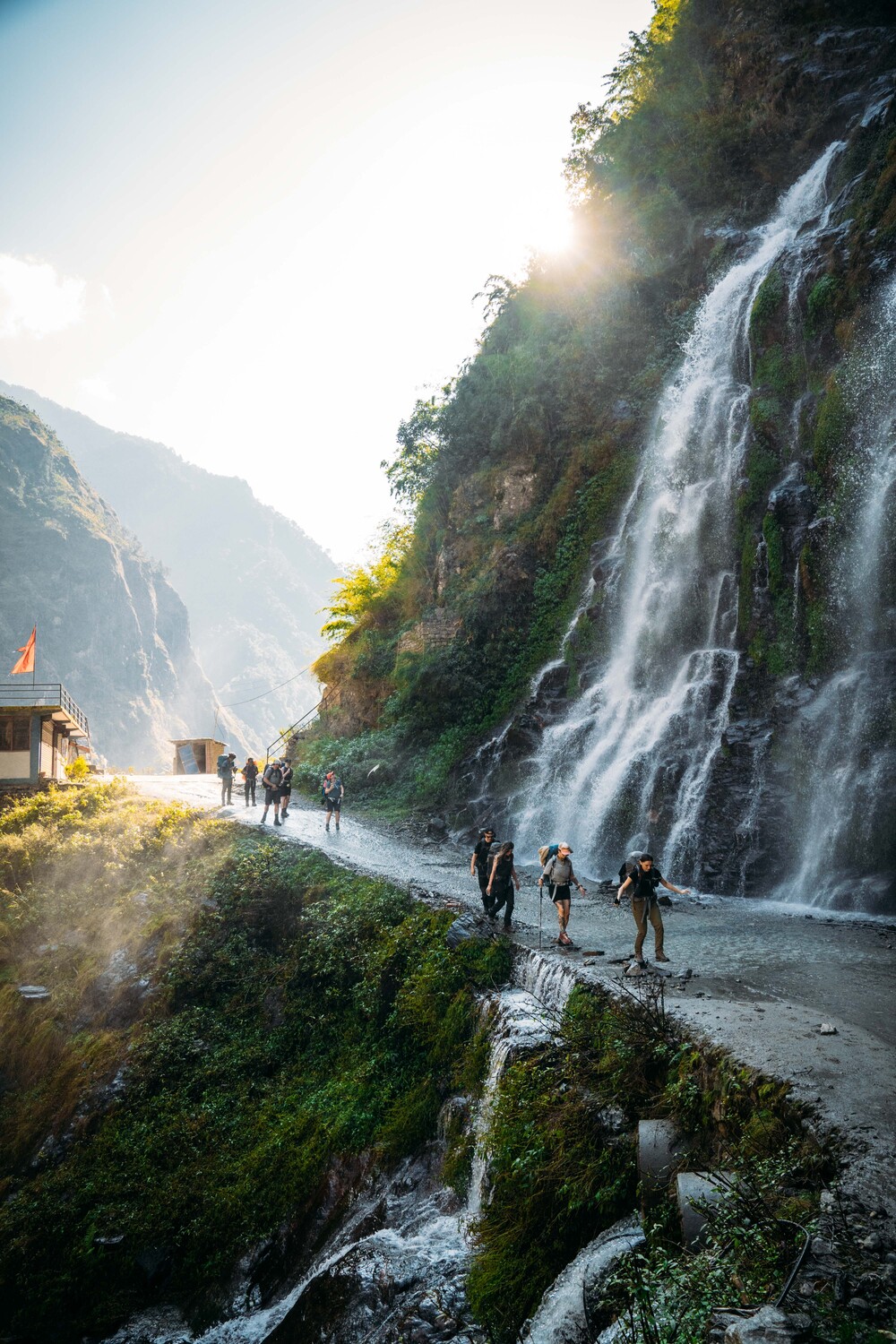 A life-changing experience awaits
Find bliss in the heart of the Himalayas
FRIENDSHIPS ARE FORGED ON THE TRAIL
Join a group of adventurous people on a trek through breathtaking nature and quaint locales brimming with life.
From one fascinating landmark and finger-licking delicacy to another, you'll bond over your mutual admiration for the wonders of Nepal—and the challenge of reaching them.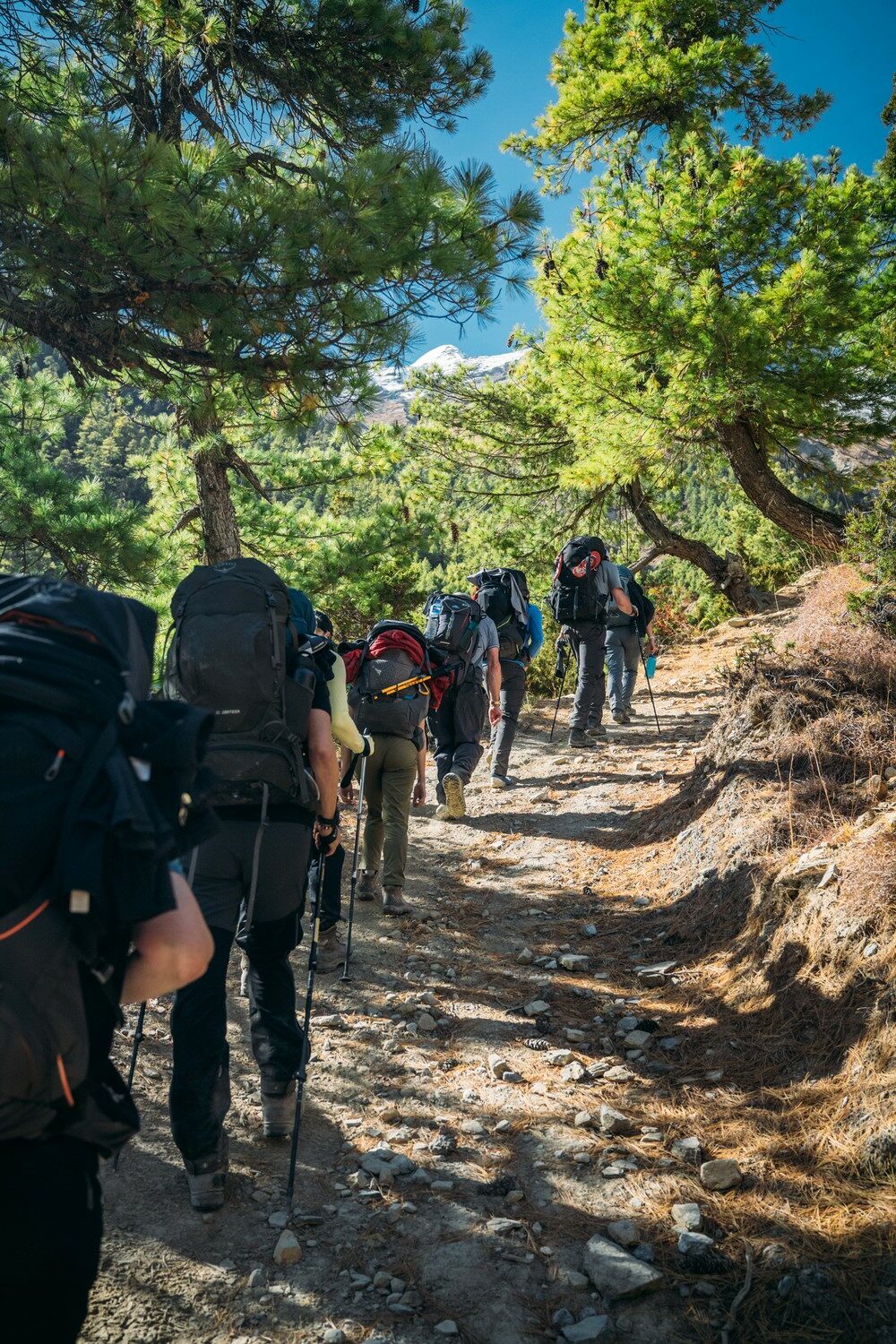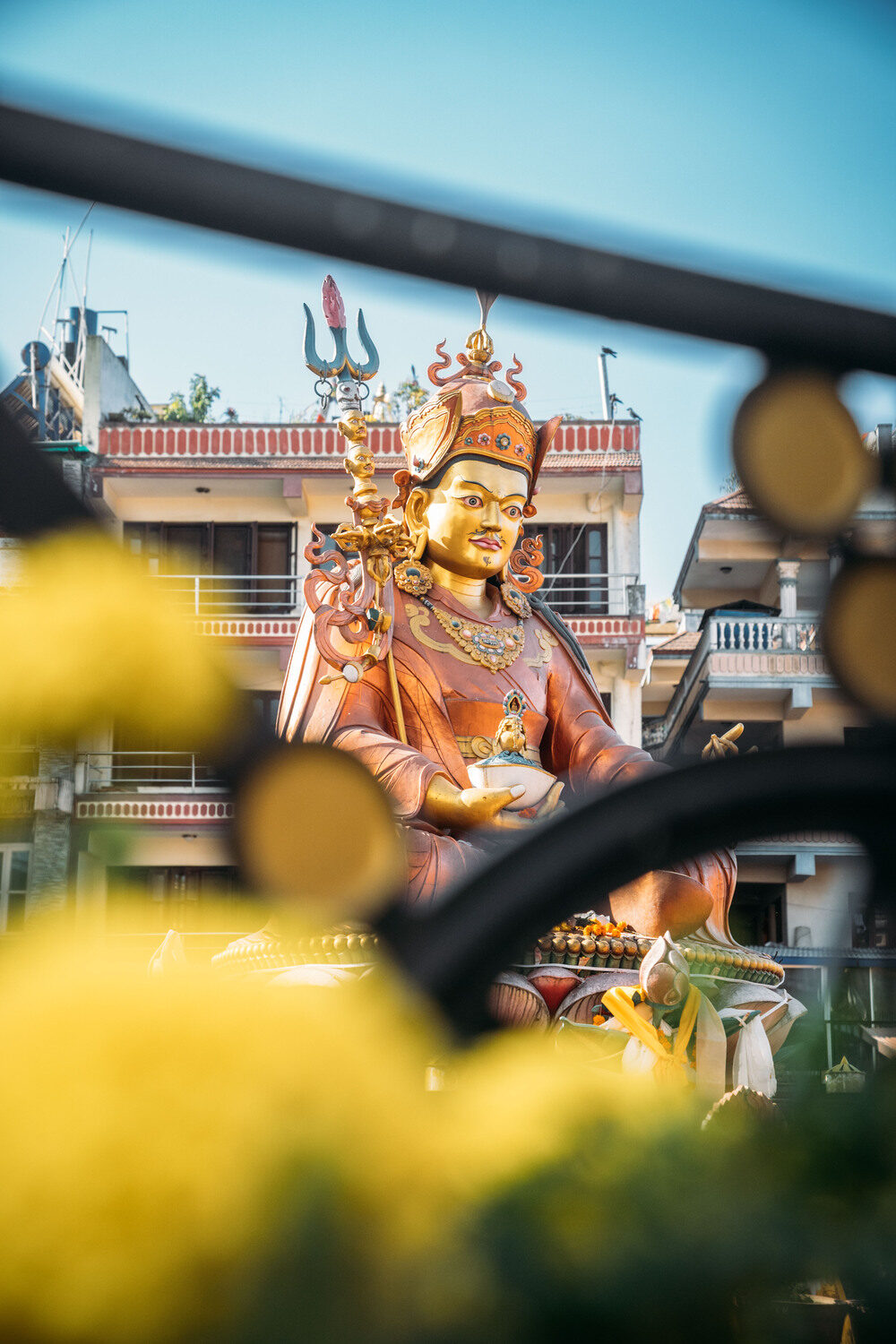 LEARN TO APPRECIATE THE LITTLE LUXURIES
One of the key reasons for hiking the Circuit counterclockwise are the numerous teahouses scattered along the trail. These traditional symbols of Nepal are both oases of respite and indispensable resting spots that help you acclimatize to the local elevation.
They may not be the Hilton—the higher the altitude, the more basic the lodging—but after a long day of hiking, they'll seem like it. Factor in the world-class hospitality and they're like a gift from the heavens!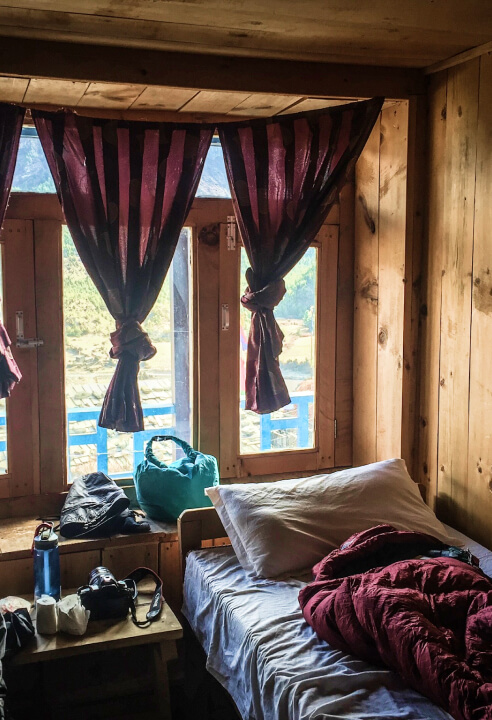 The Kathmandus and don'ts of hiking in Nepal
One thing Nepal really knows is how to keep its hikers full. The Annapurna region is renowned for its varied, healthy diet ranging from the invigorating Dal Bhat, to baked goods, and even Yak burgers! Just remember: if you're respectful and open-minded, you'll receive tenfold in return.
Moreover, try to make a positive impact on the trail. Hundreds of hikers traverse the Annapurna Circuit at the same time, which makes proper waste management even more critical. When done right, traveling can an enriching experiences both for you and the local community.
TEAHOUSE NETWORK
WELCOMING LOCALS
TRADITIONAL CUISINE
TIBETAN TEMPLES
ASTONISHING VIEWS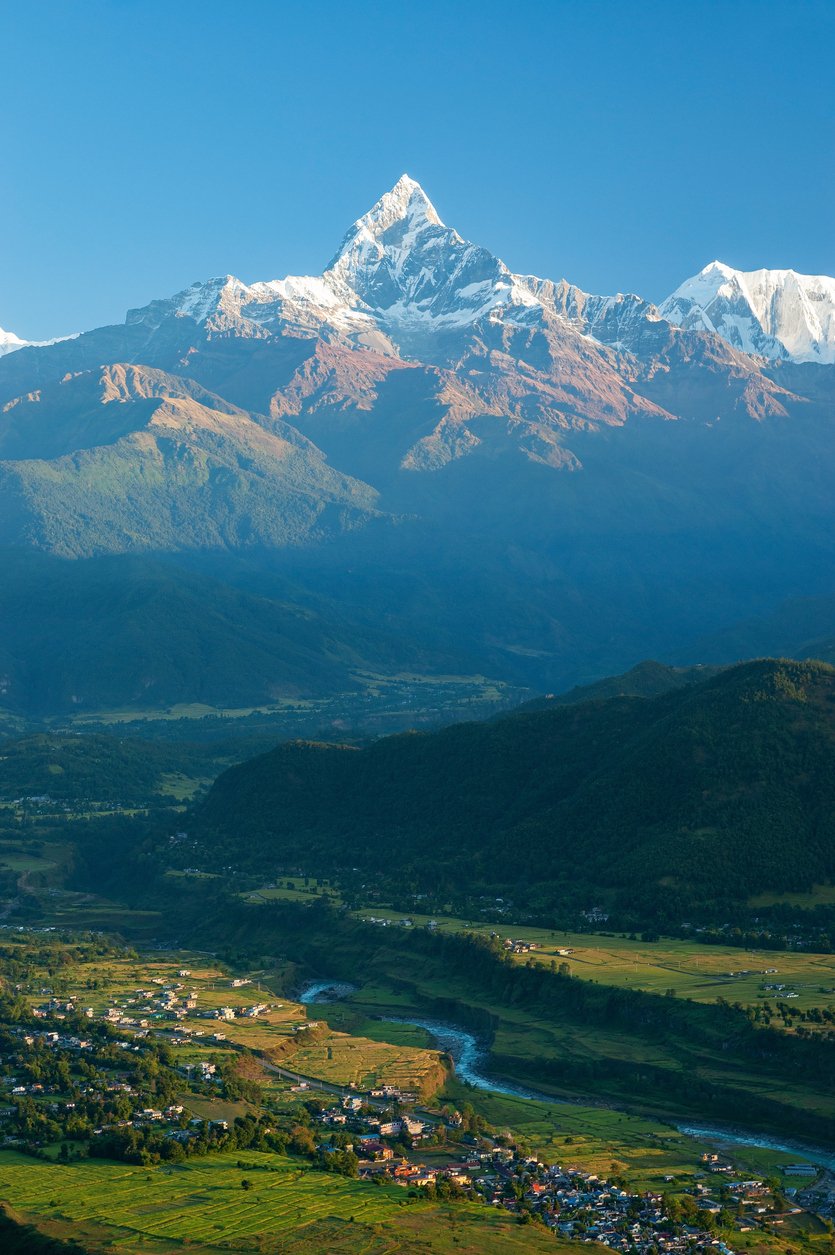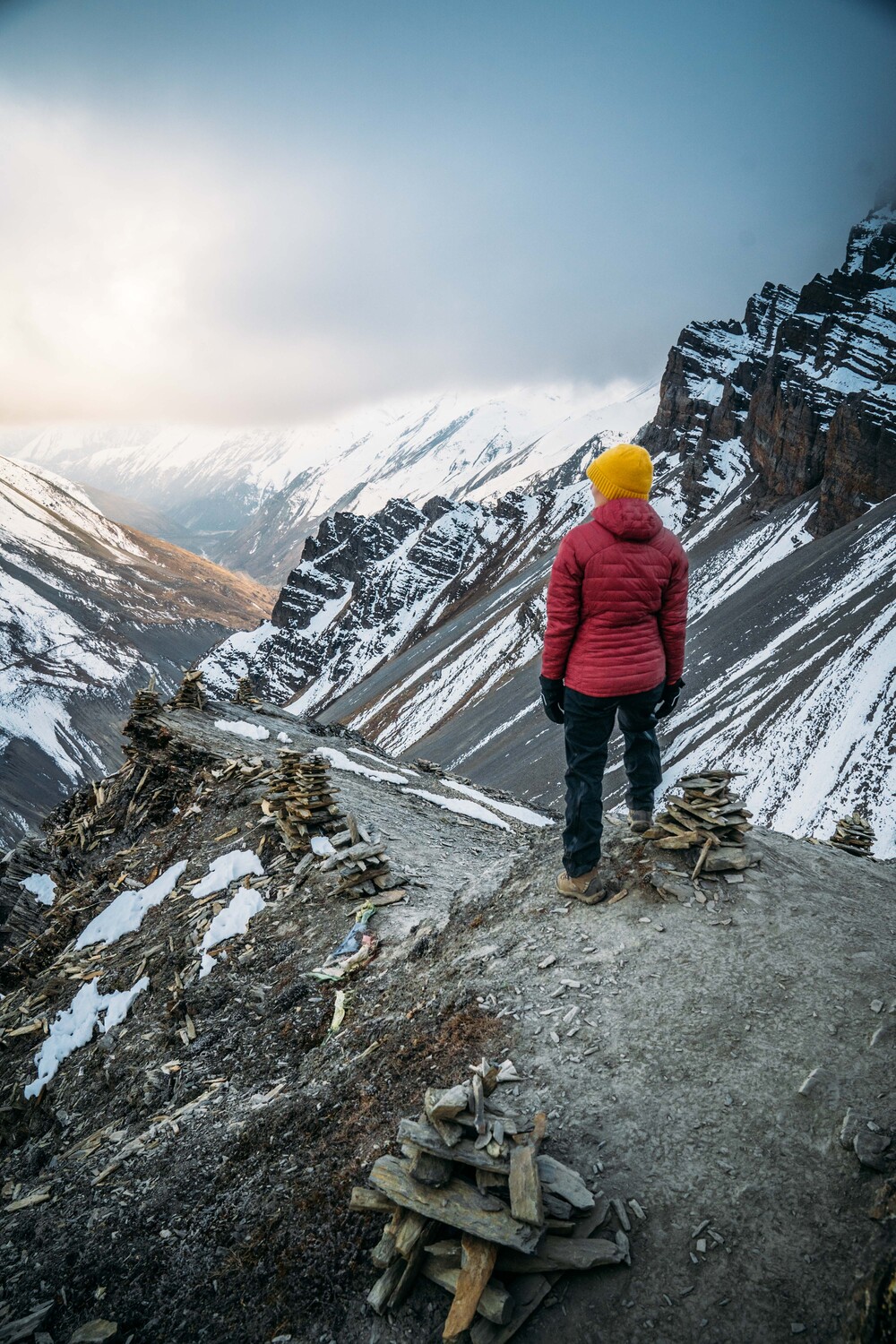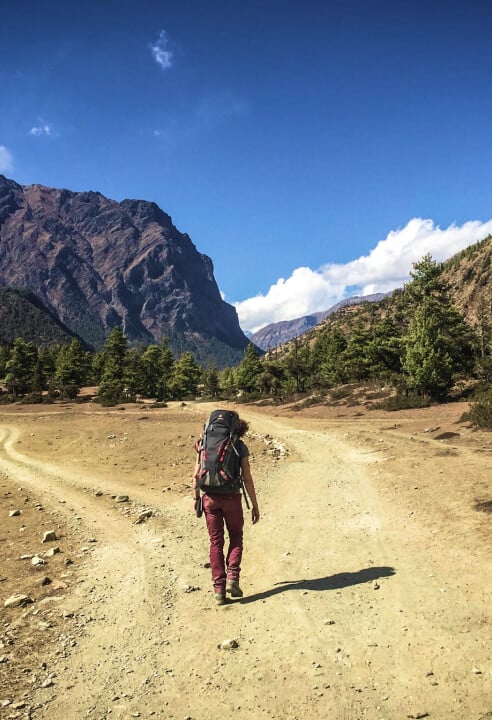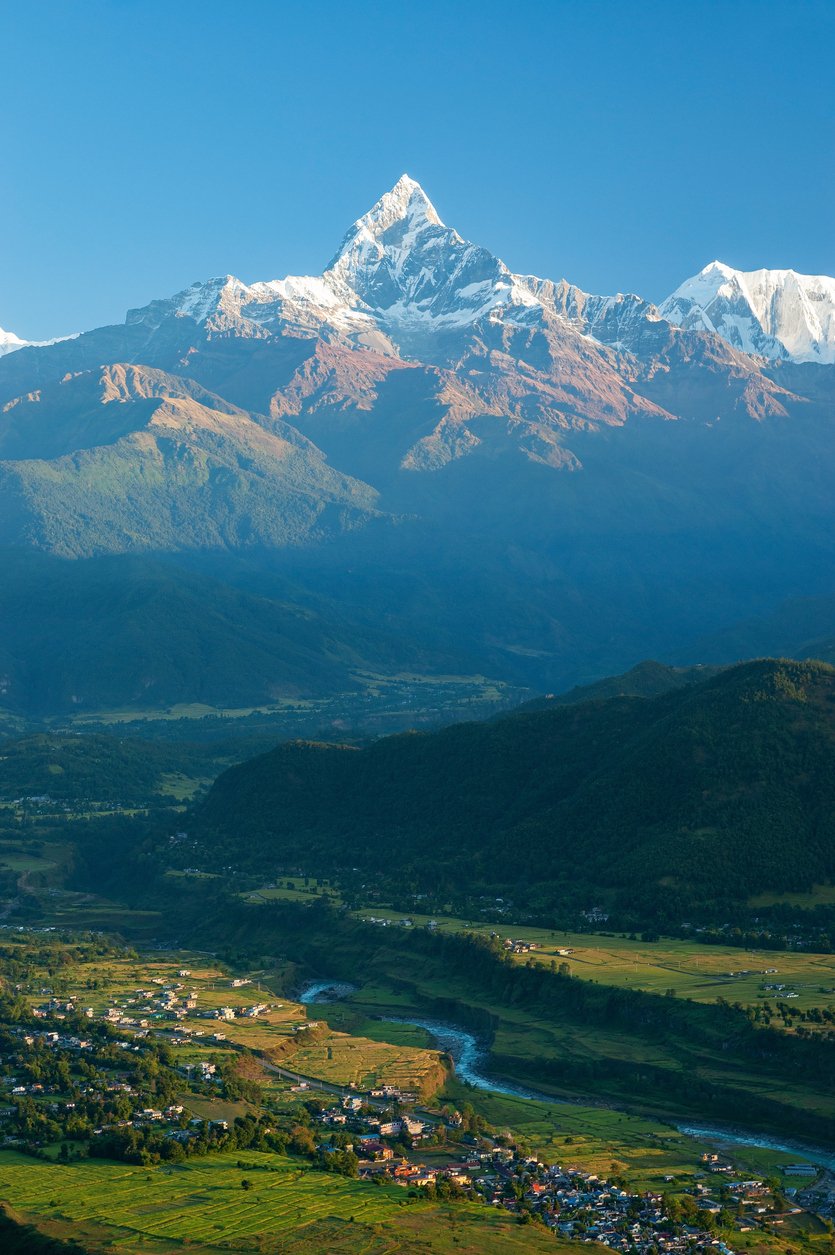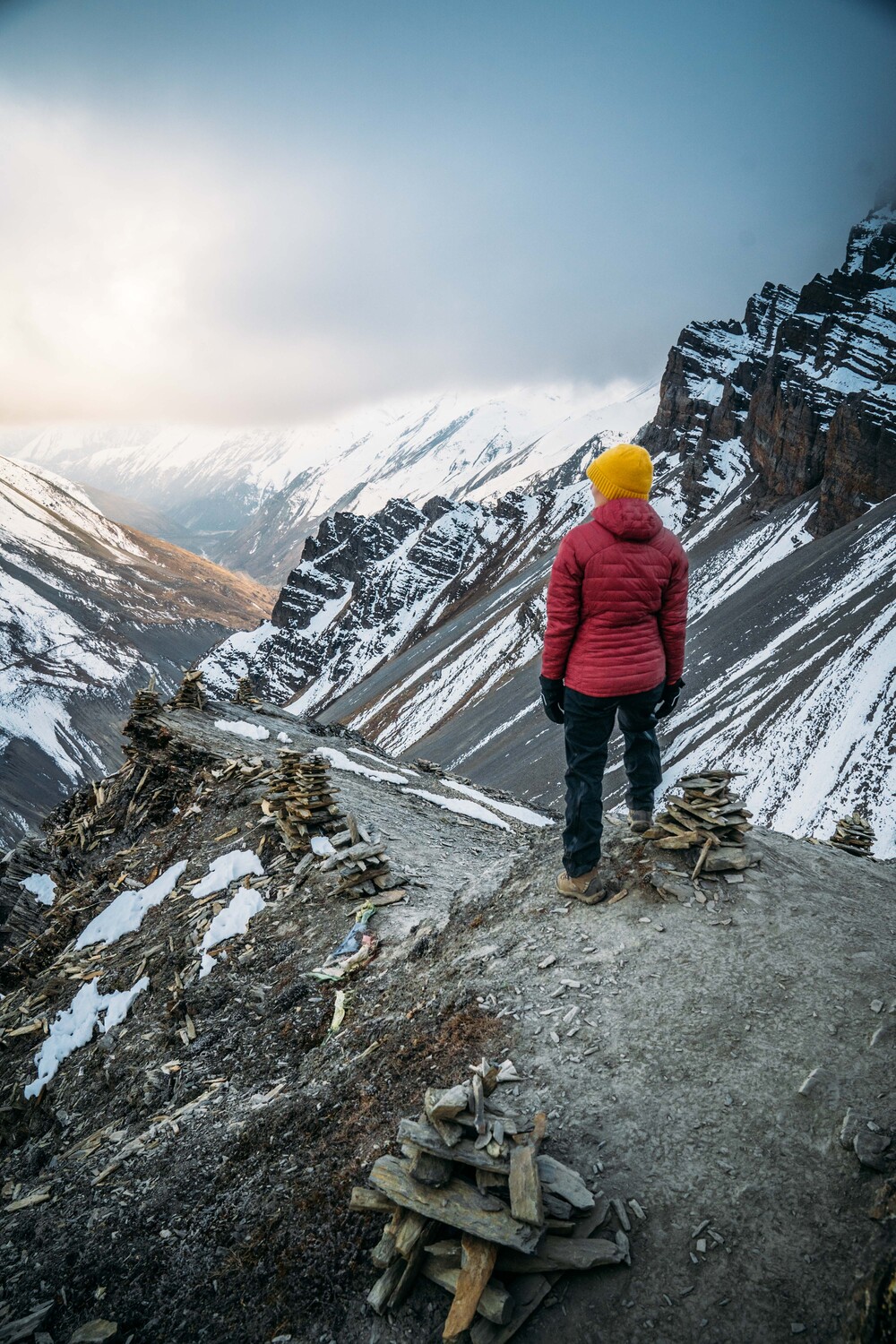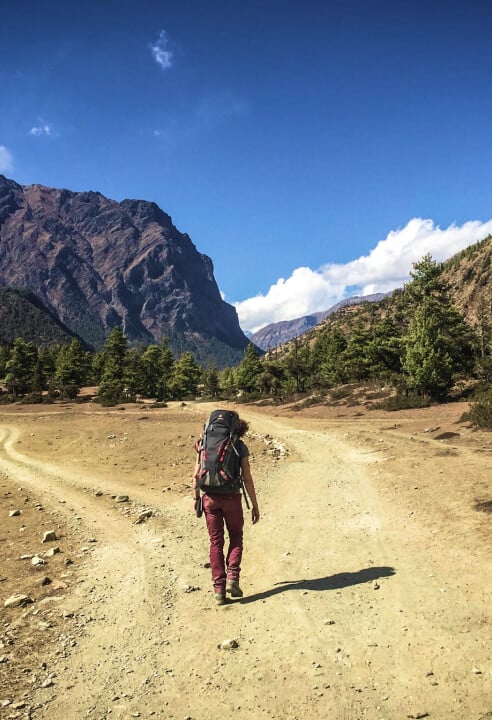 Your guides
Alberto Ojembarrena is an AIMG Mountain and Glacier Guide, and the owner of Amarok Adventures. He has guided adventure treks in Iceland, Greenland, South America, and Nepal. His documentary and travel photography has been featured in several international magazines. Since 2015, Alberto has been living in Iceland, where he keeps himself busy by discovering hidden hiking trails and epic sights off the beaten path—with his camera in tow, of course.
Mónica Fuentes is a Mountain guide certified by UIMLA. She is experienced in mountaineering, sport climbing, and skiing. Originally from Spain, Mónica shares her love for nature and the outdoors with clients all over the world. She knows her way around Iceland's glaciers and volcanoes, along with the best spots in Black Forest, Morocco, United States, Scotland, and Nepal.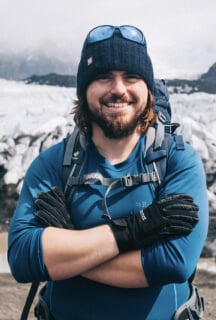 Enjoyed every part of the trek. Difficult in parts and challenging but doable. Really enjoyed my adventure. Had a fantastic experience. Great guides who looked after us well.
Guides that are close, friendly, and waiting to make you enjoy a unique experience. More than a trip, it becomes a family adventure. Always waiting to make you enjoy yourself and to adapt to the conditions and needs of each moment, concerned about making the trip an unforgettable experience, without a doubt some guides to travel to the end of the world with them.
I had one of the most amazing experiences of my life with AMAROK! Mónica and Alberto are very nice and wise, during the whole hiking trip, there was a warm and welcoming atmosphere. Everything, from the incredible views and places where they guided us, to the delicious food, the trip was unforgettable!
It was an incredible experience because he's got amazing knowledge. I can't wait to do another.
Had a great time with them along a week, doing several hiking, visits to different areas and enjoy taking pictures the whole day.
We had also nice places where to stay and meals that were part of our nightmares where in places really amazing.
Organization was always clear and fair, giving us always all kind of information and options when weather didn't work as expected initially.
Some guides that are close, friendly and waiting to make you enjoy a unique experience. More than a trip, it becomes a family adventure.
Always waiting to make you enjoy yourself and to adapt to the conditions and needs of each moment, concerned about making the trip an unforgettable experience, without a doubt some guides to travel to the end of the world with them.
It was hard choosing a company out of so many, but AMAROK rocked it! Monica and Alberto are just these kind of people you want to hang out with, plus they have those super cool Defenders (which are amazing for photography)
Every place they will show you is gonna blow your mind, no matter the weather.
It's definately money well spent!
Thank you so much guys, loved every minute of the trip 🙂
If you're looking for a truly personal and friendly service then these are your guides! Great attitudes, great knowledge, great safety…. Grrrrrrrreat experience. I would aaaaabsolutely recommend this awesome team for a guaranteed great adventure.