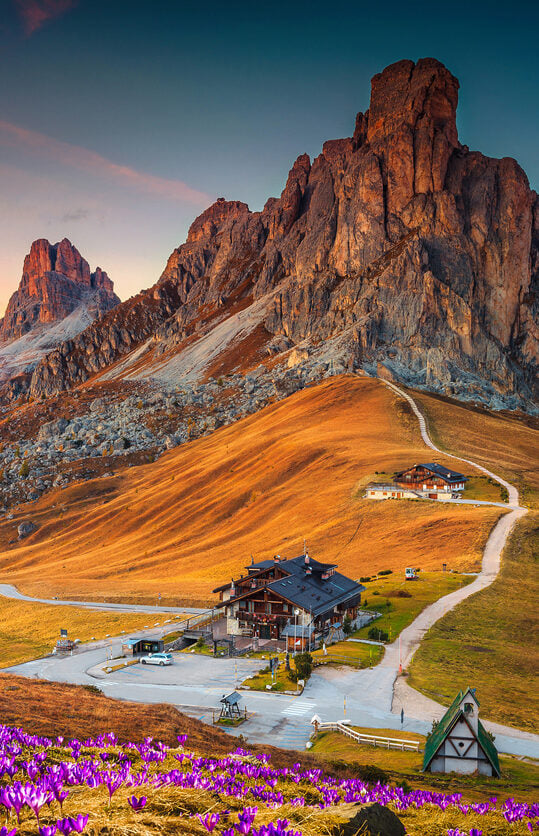 Hike Italy's Most Famous High Routes
With over 300 kilometers (190 miles) of dramatic scenery, Alta Via I and II long-distance treks give you a peek into the nature, cultures, and customs of the Dolomites, a unique region on the border of Italy and Austria.
When the snow melts away from the jagged limestone peaks, the longest and most famous hikes in Italy unfurl into a pastoral landscape dotted with shimmering alpine lakes, rustic mountain huts, and deep, narrow valleys. No matter which trail you choose, expect to see the best of the best of Italy's most renowned range over the course of a week.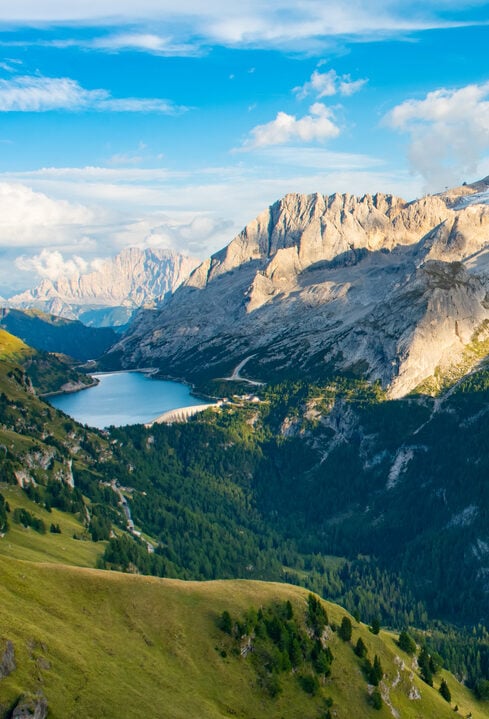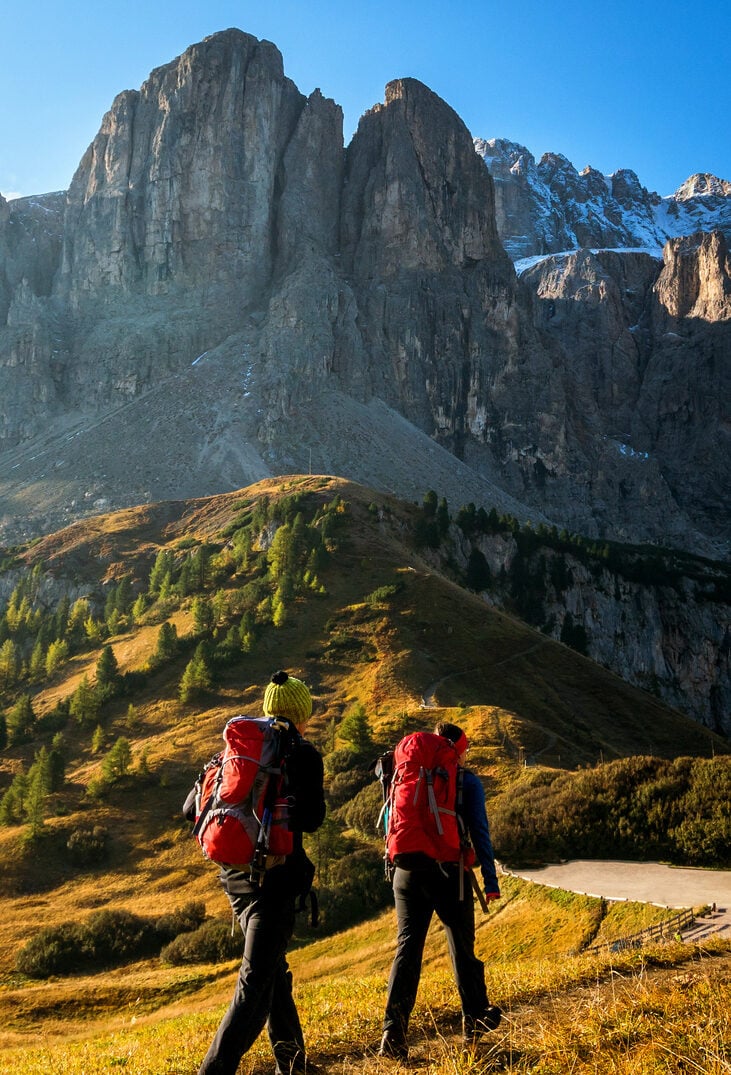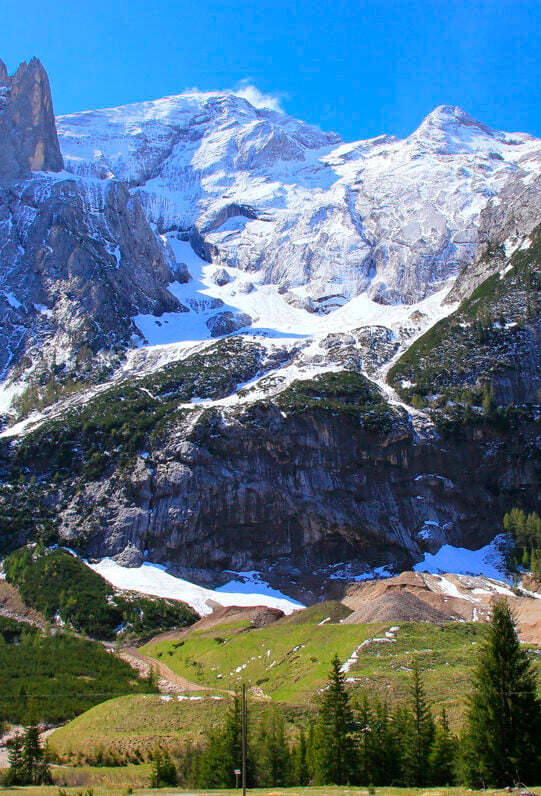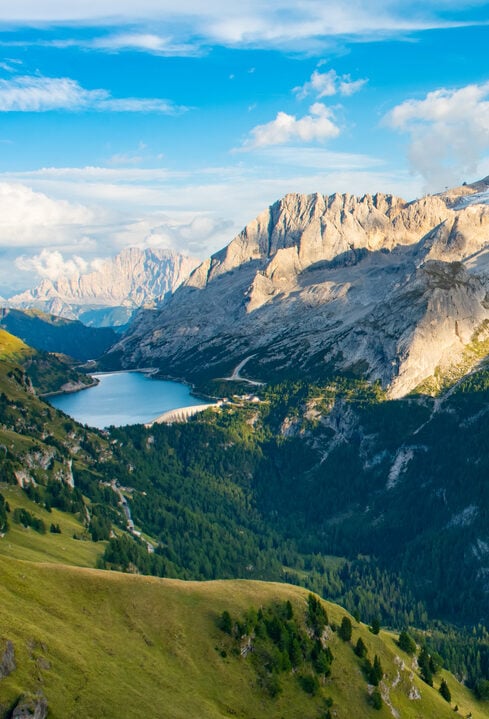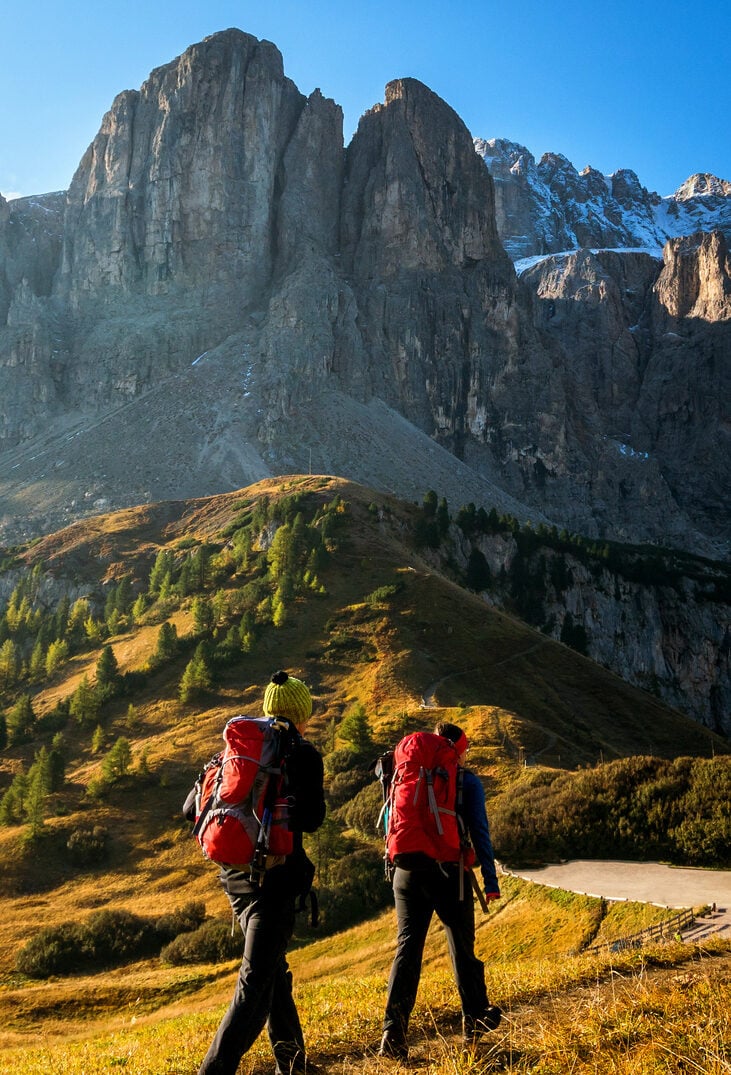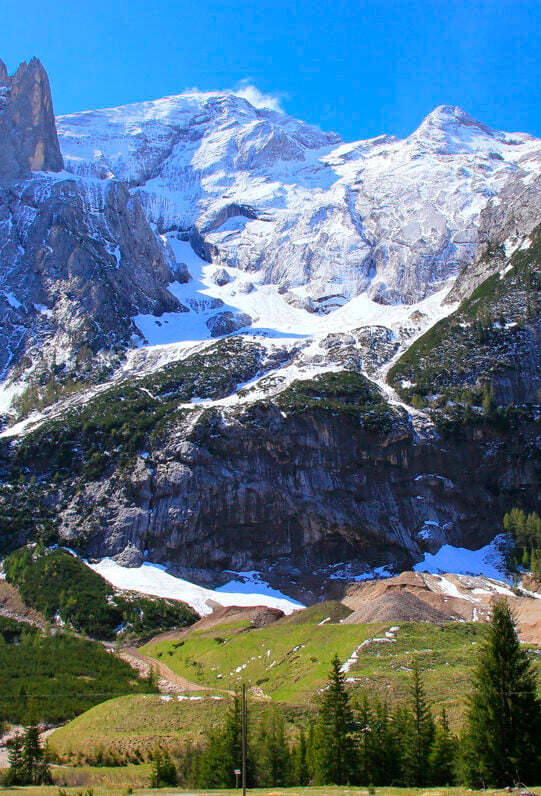 Get a feel for big mountain climbing
The eastern part of the Italian Alps encompasses thousands of footpaths zigzagging through pale sharp-toothed spires, gentle green gorges, evergreen forests, and gleaming lakes.
Alta Via I (AVI) is the most famous of the bunch. It is one of the most scenic multi-day routes, there are plenty of refugios along the way, and it is accessible for fit hikers looking to dip their toe into big mountain climbing. It runs 80 kilometers (49 miles) and reaches a high point of 2,752 meters (9,029′).
The more complex Alta Via II is the longest route in the Dolomites. Dubbed the High Route of Legends, it rewards the more experienced hikers with out-of-this-world lunar landscapes, exciting via ferratas, and views of the only surviving major glacier on the northern slope. The trail stays at higher elevations throughout (as high as 2,900m / 9,514′) compared to the AVI.
ALPINE MEADOWS
TOWERING PEAKS
COZY MOUNTAIN HUTS
UNESCO HERITAGE SITE
HIGH-ALTITUDE TERRAIN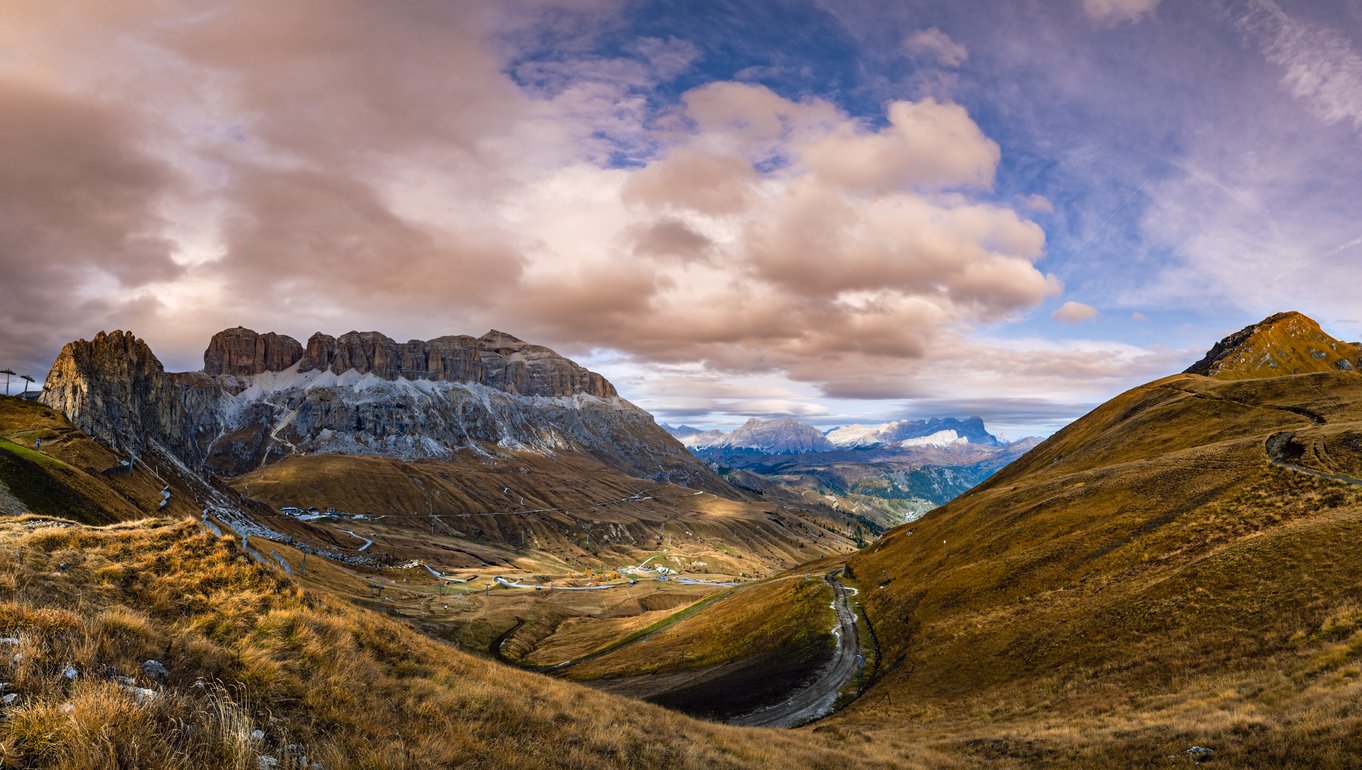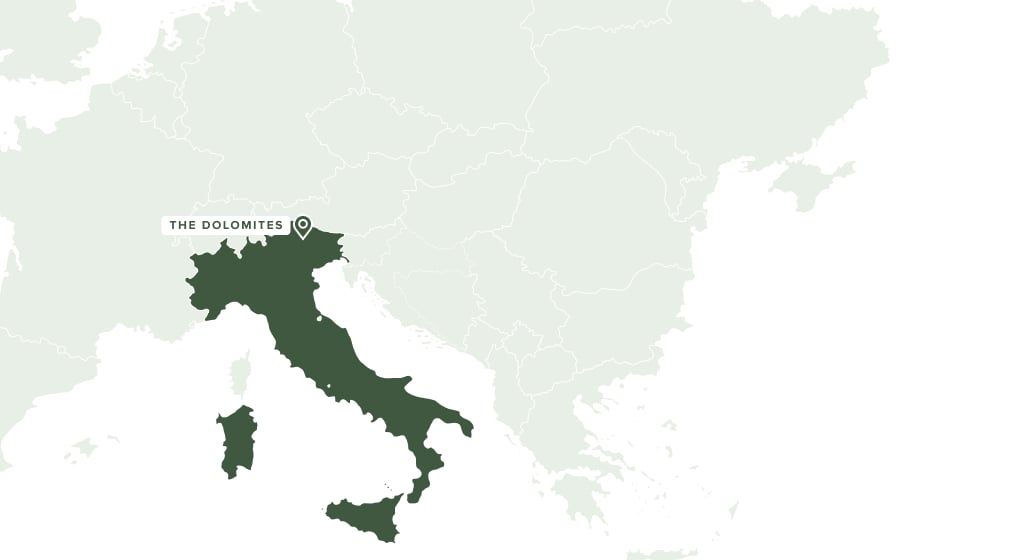 Remote places only accessible by foot
YOUR GATEWAY TO A LAND OF LEGENDS
The region's beauty derives from the interplay of colors, from the dark pine forests to bright meadows of moss, blooming Alproses and Edelweiss, and enriched by crystal-clear lakes mirroring the bare pale walls and spires. These contrasting landscapes have inspired countless legends and fairytales over the centuries.
At sunrise and sunset, witness the sweeping Enrosadira—or alpenglow. As the sun illuminates the peaks from below the horizon, the pale mountains bathe in warm red, pink, and orange hues.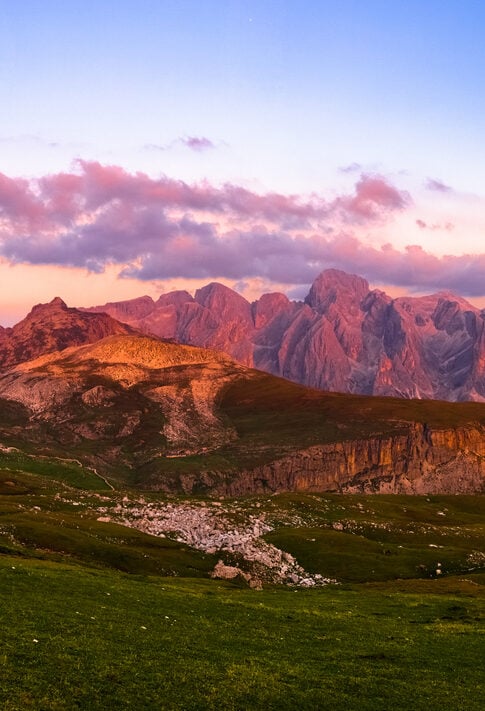 AIRY SUMMITS WITH EXCEPTIONAL VIEWS
With a dizzying array of peaks—18 of them above 3,000m (10,000 ft)—the Dolomites are one of the world's most storied mountain ranges. The area is a designated UNESCO World Heritage Site due to its geomorphic significance and diversity of pinnacles, rock walls, steeples, karst systems and glacial landforms.
The most prominent peak is the Marmolada at 3,343 m (11,967 ft), affectionately called La Regina delle Dolomiti, the Queen of the Dolomites. Crowned by steep cliffs and ridges, its jewel is lake Fedaia, fed by the only major glacier in the Dolomites.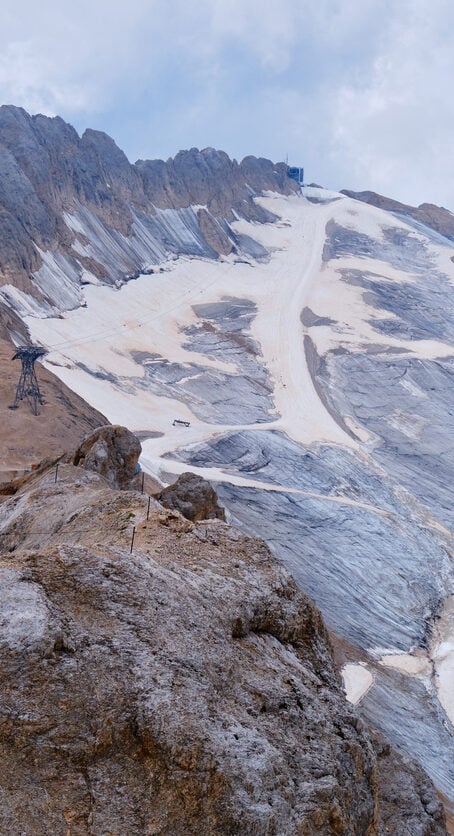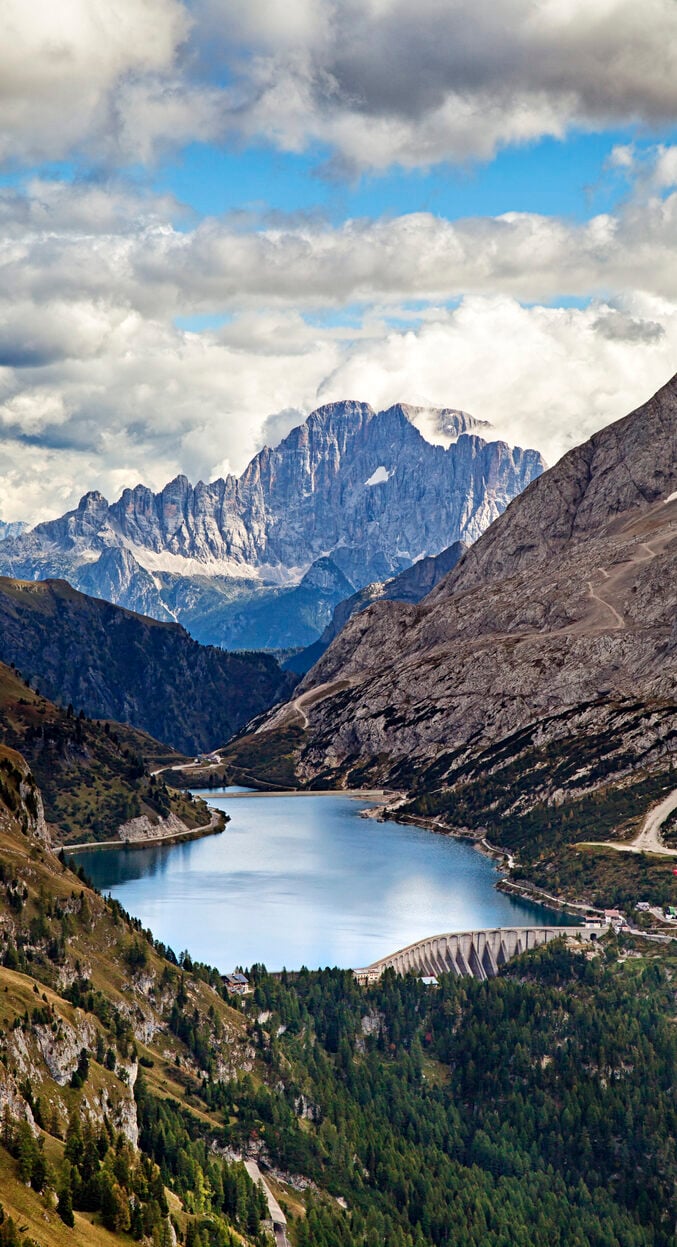 IRON PATHS FOR
THRILL-SEEKERS
The Dolomites are the birthplace of via ferratas—iron cables and ladders helping you to cross some of the steepest and most impressive crags in the region.
Bolted into place during WWI to help soldiers navigate the exposed terrain, these suspended walkways of Alta Via II trek have been upgraded and re-equipped, providing safe passage for mountaineers.
Besides maneuvering the precipitous slopes quickly and safely, via ferratas provide an exhilarating way to experience the magnificent landscapes spreading for miles on end.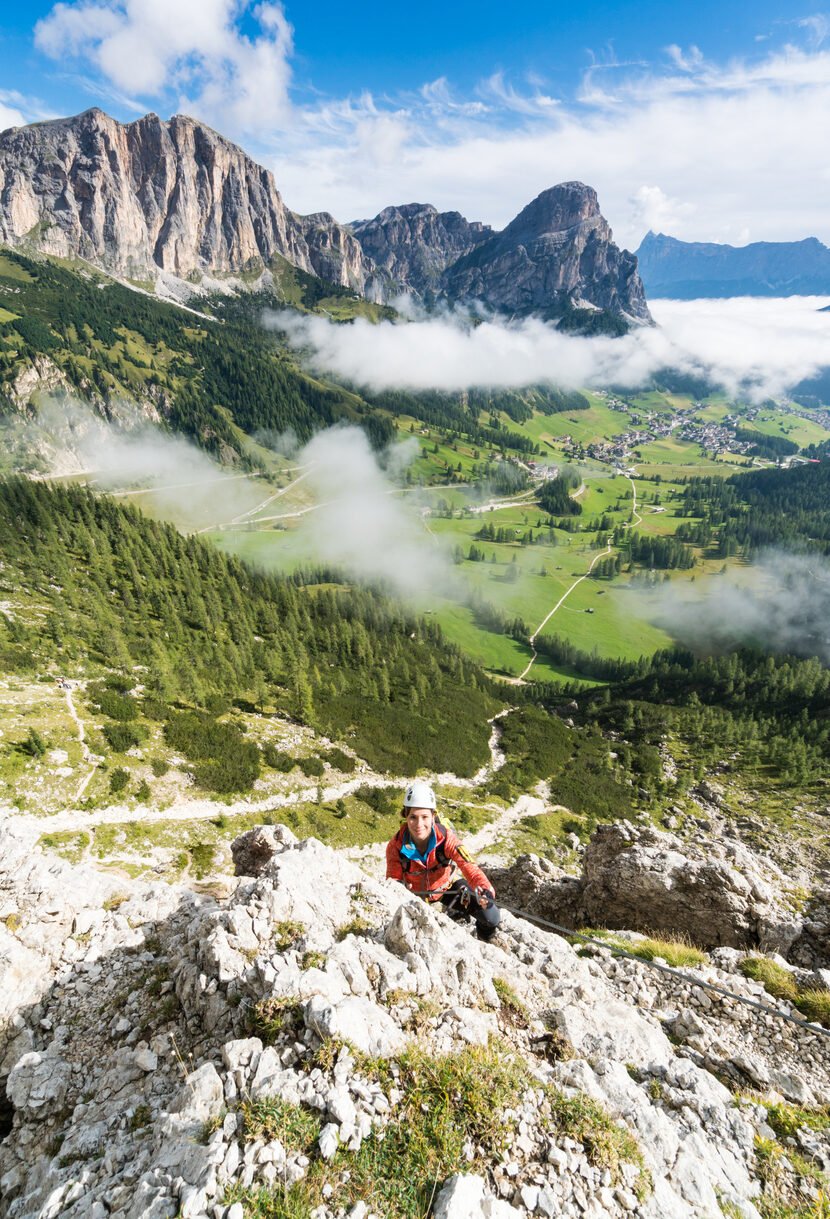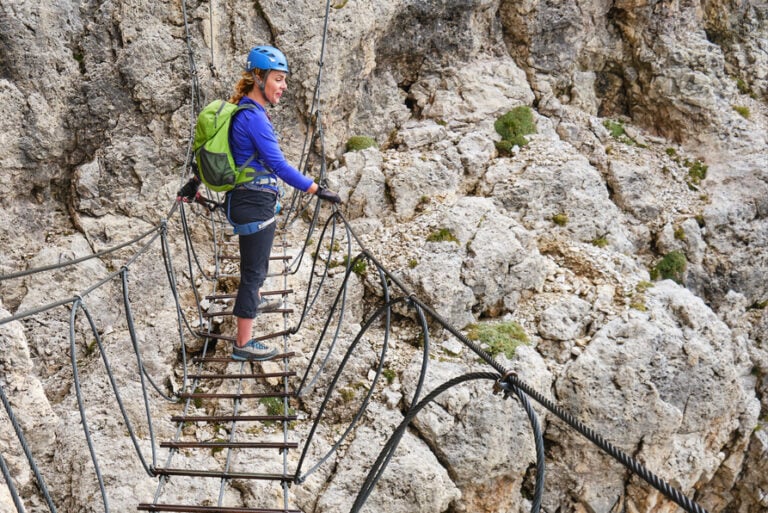 Step inside the enchanting world of the Italian Alps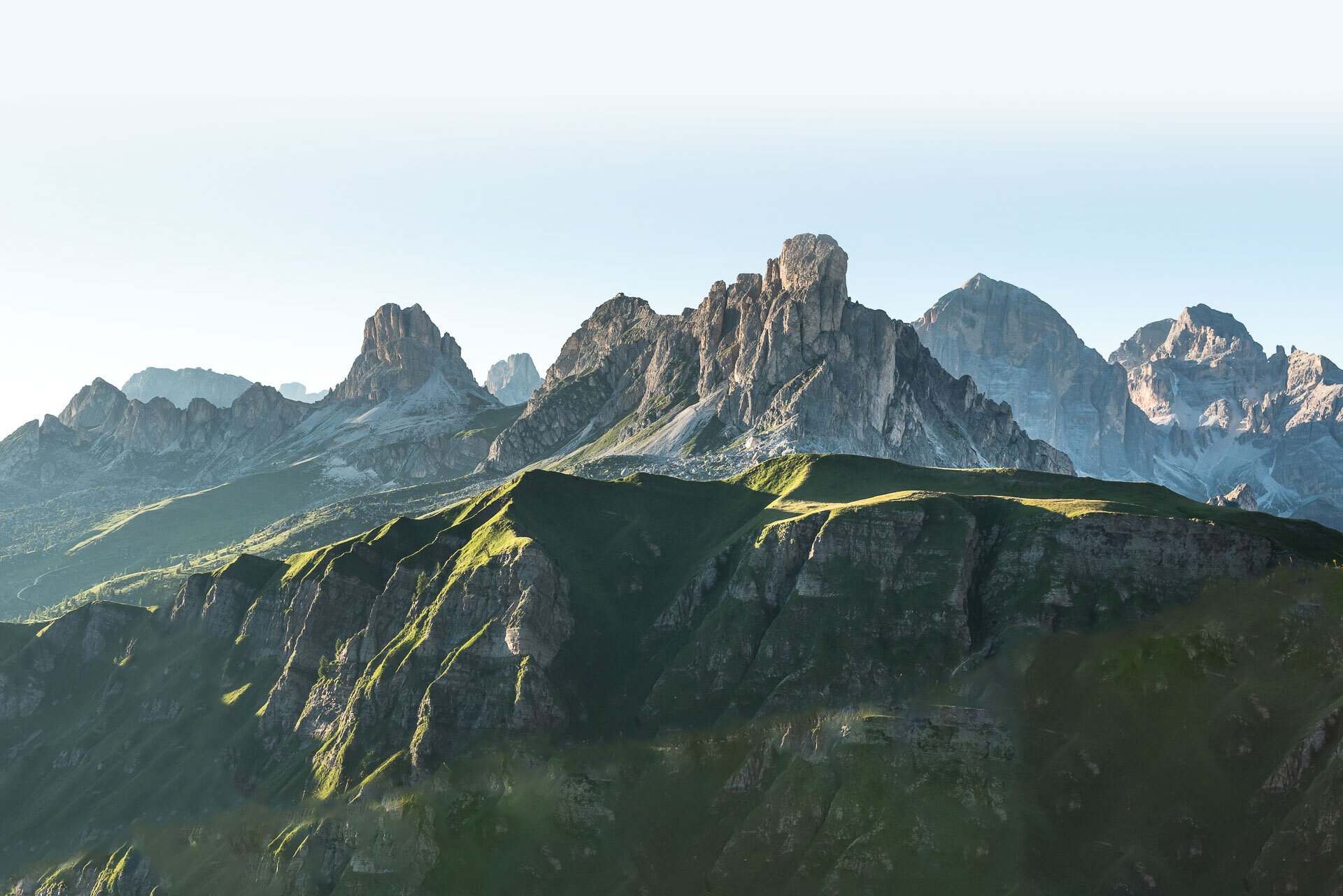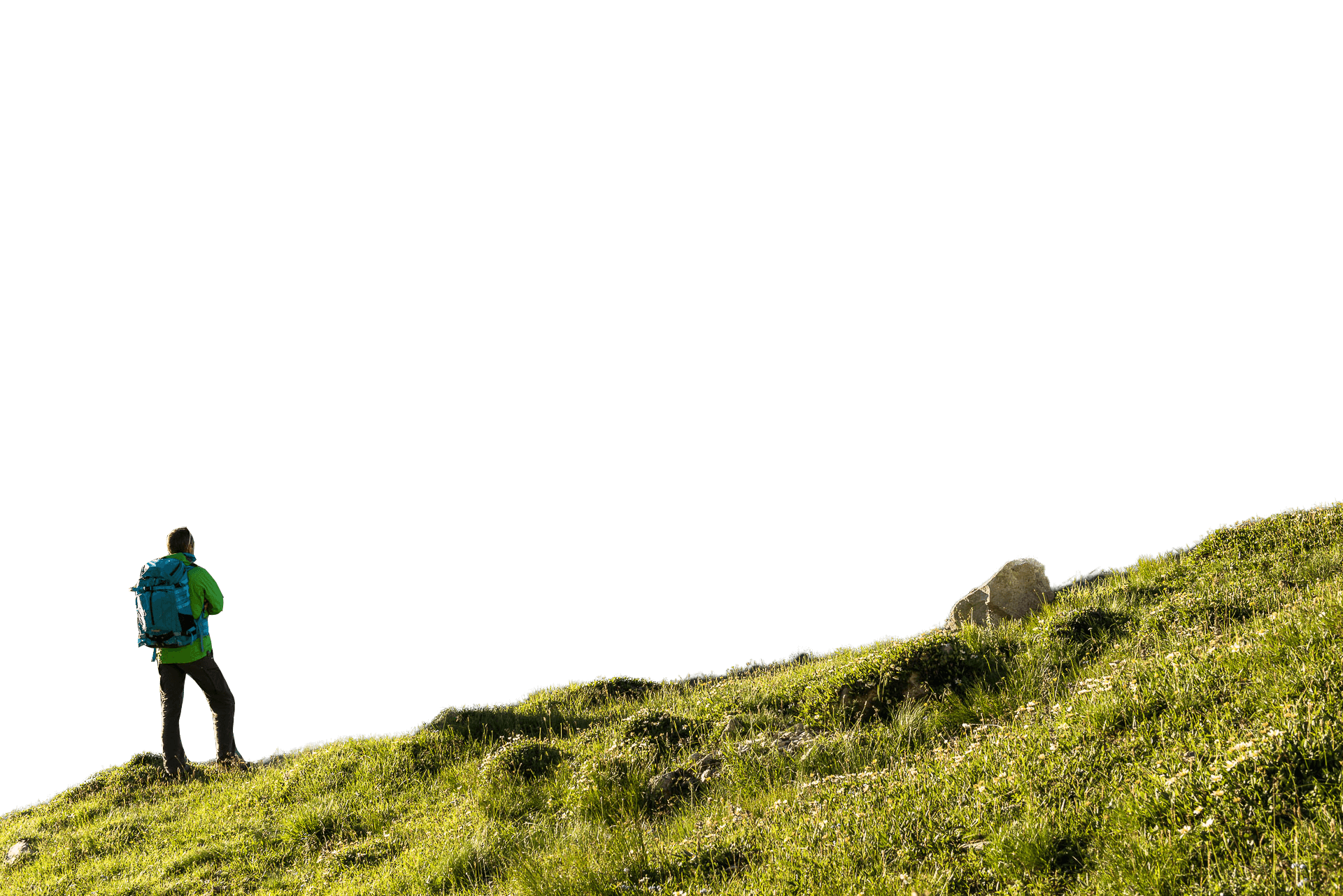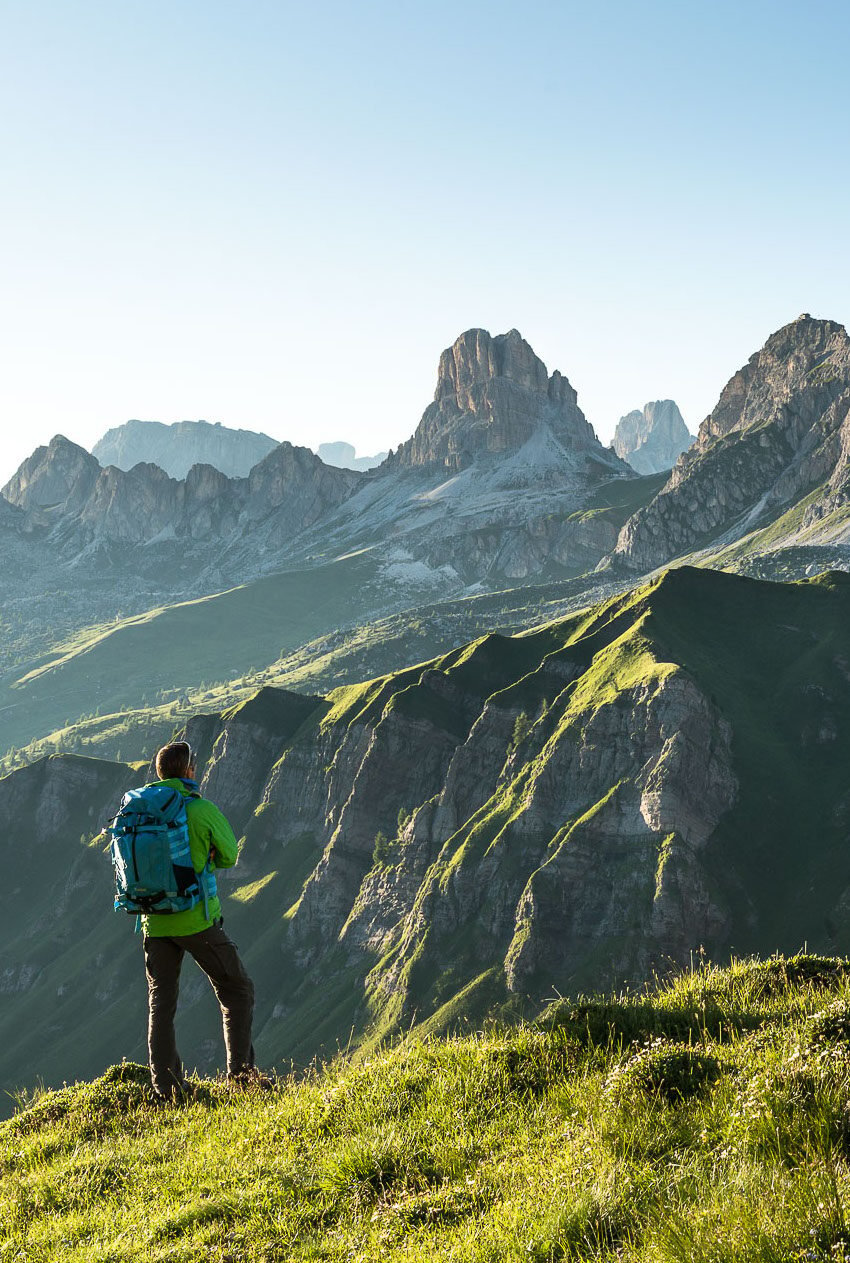 Experience the charm and hospitality of mountain huts
Considering that wild camping is forbidden, you shouldn't be surprised by the number of huts available en route. These comfortable refugios provide shelter, views of iconic peaks and Alpine meadow belts, and offer traditional regional meals at reasonable prices.
While some huts are dormitory-style with bunk beds, many are very well equipped and comfortable, with private rooms and en-suite bathrooms.
The locals you meet along the way will welcome you with open hands and, if you're lucky, entertain you with the olden tales of kings, knights, damsels and sprites that once inhabited these parts.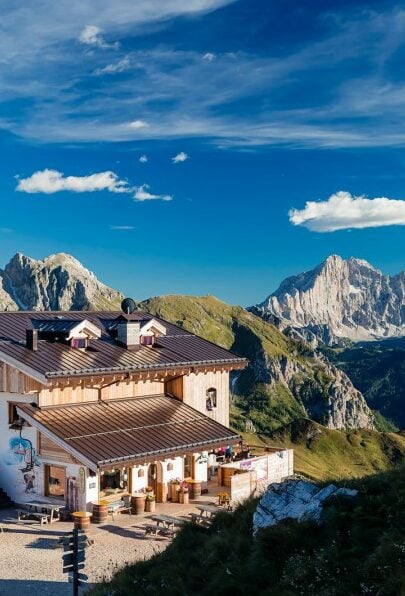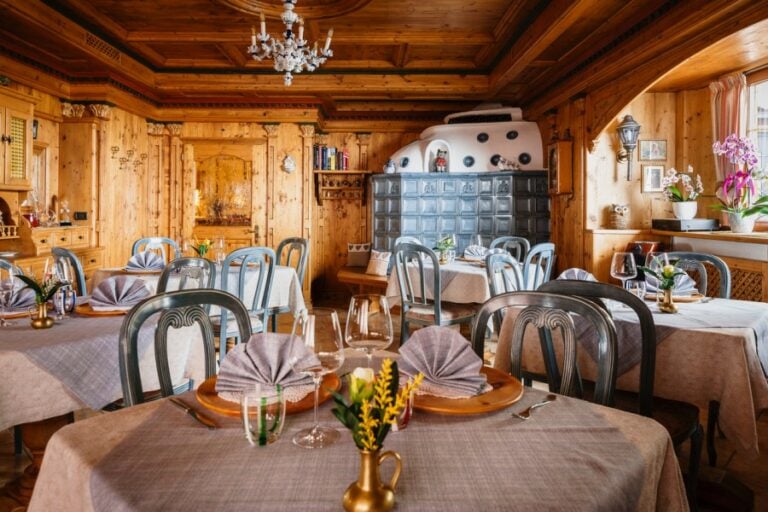 Vestiges of history
The Dolomites were a battleground between the Italian and Austro-Hungarian forces during WWI. One of the reasons why Alta Via I and II are hikers' favorites is that they blend impressive landscapes with historical remnants. Many of the via ferratas and mountain huts you visit were once used to access front lines and mountain-top military positions.
Today, the Dolomites are a border region of three distinct cultures peacefully cohabiting: Tyrolean German, Italian, and Ladins—a minority group whose language is native to this remote area.
Hiking from village to village, you'll hear local legends and eat distinct cuisine reflecting their cultural roots—from sauerkraut, strudel, and speck dumplings to pasta and fried pastries.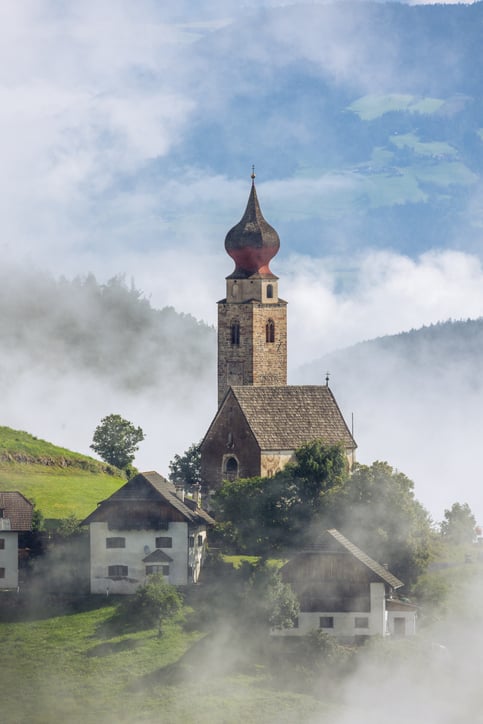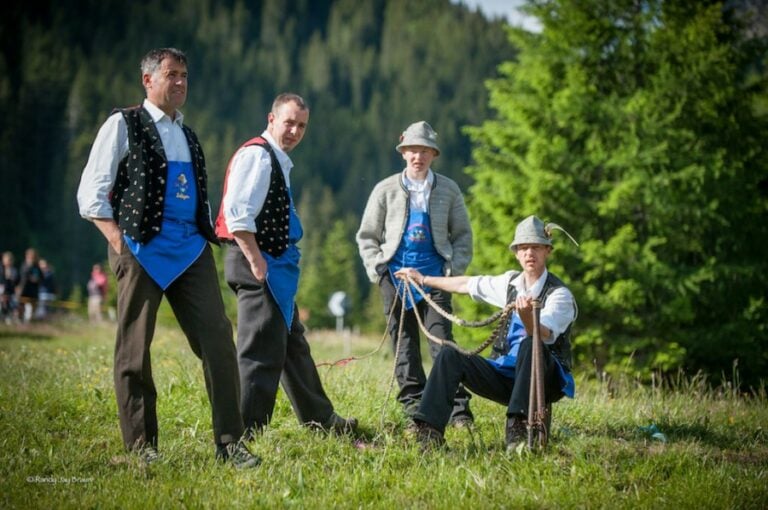 Meet your guides
Dolomite Mountains Guides create unique and active outdoor experiences in Northern Italy's Dolomites and beyond! They craft the ultimate custom adventures for people who demand stylish, low-impact programs with outstanding quality and value.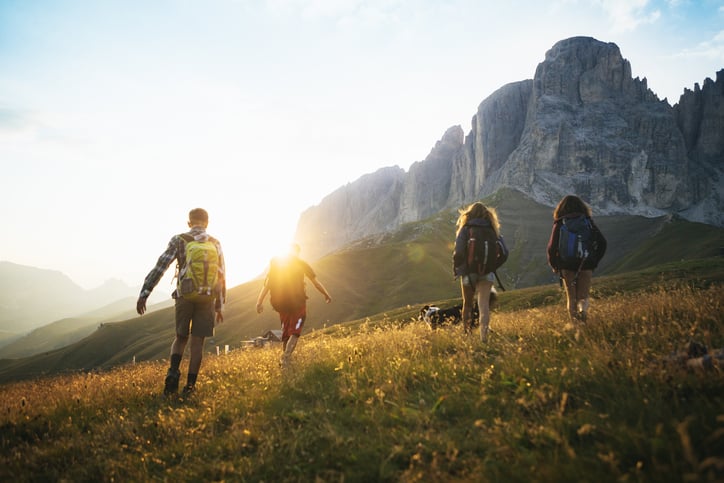 Our guide, Ivan was excellent. He managed a group of differing ages and fitness levels very well and was always interested and interesting.
They planned the perfect hike for us. We had no idea what to expect, but the team provided everything we'd ever need as well as answered our dozens of questions. The trip was perfect and seamless. The service of the team, the rifugios, the transportation, everything exceeded our expectations. Thank you so much for a wonderful adventure through the Dolomites!!
Expert professional guides who truly care about their clients.
I had an incredible time! Our guide Andy, was very knoweldgable and was terrific at making our trek suitable and comfortable for everyone in the group.
Christina was the perfect hike and I can't thank her enough.
Our guide Andy was great . He was very informative, outgoing and chatty. He set a good pace for our hikes. I enjoyed the Dolomites very much .