Hiking Iceland's Volcanic Trails
Volcanic Trails | Iceland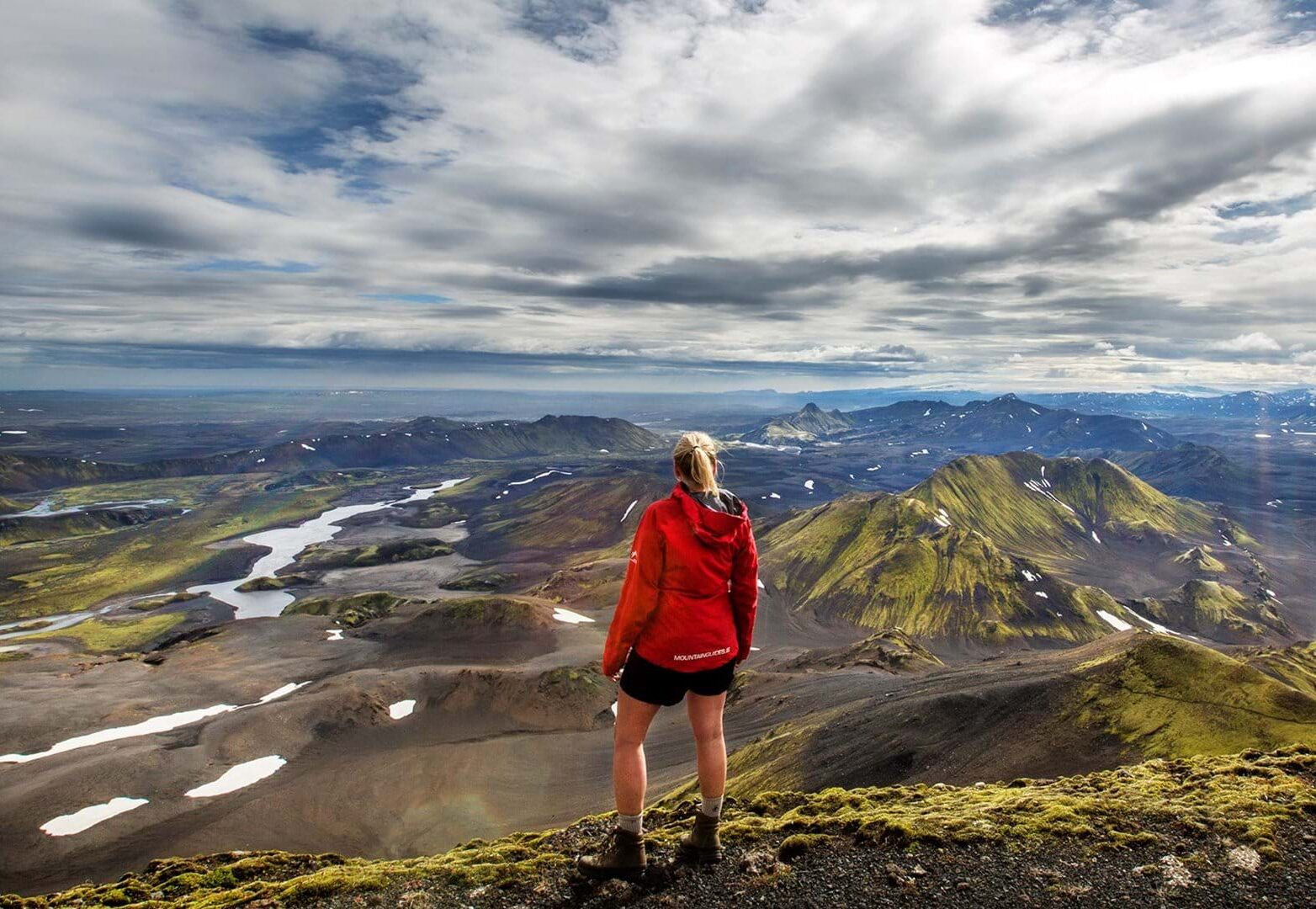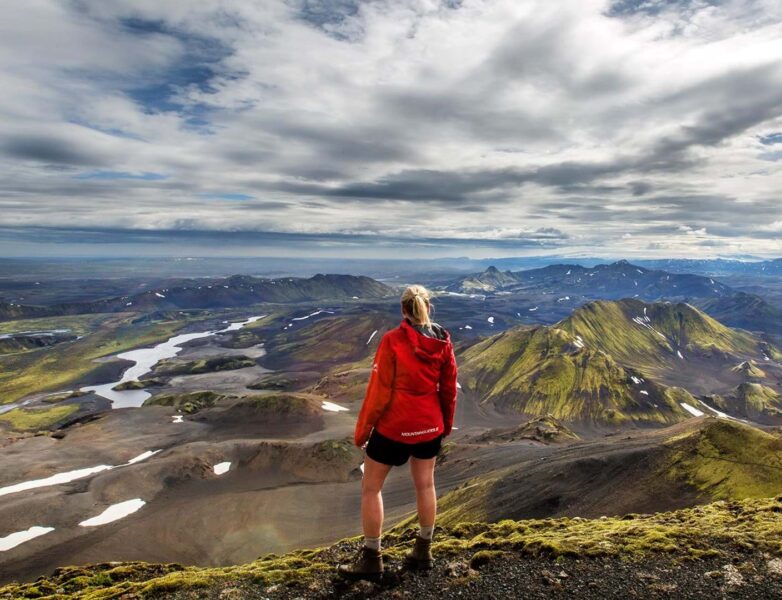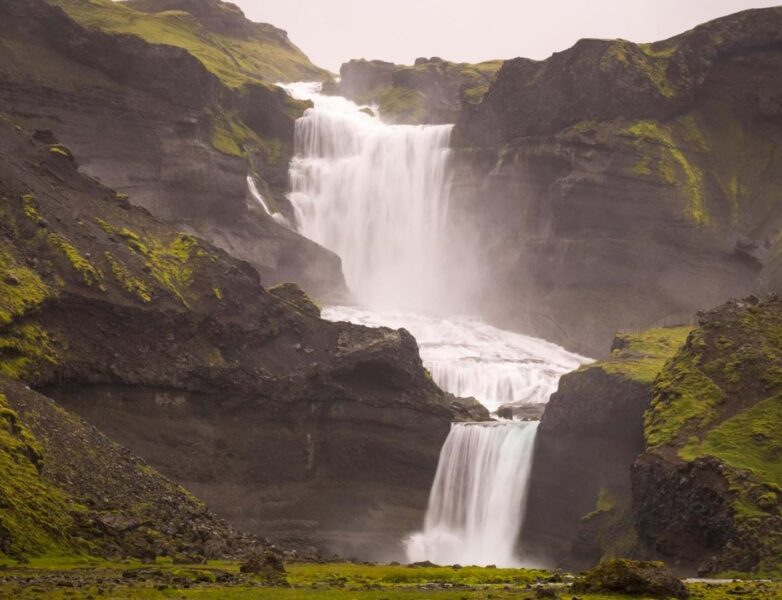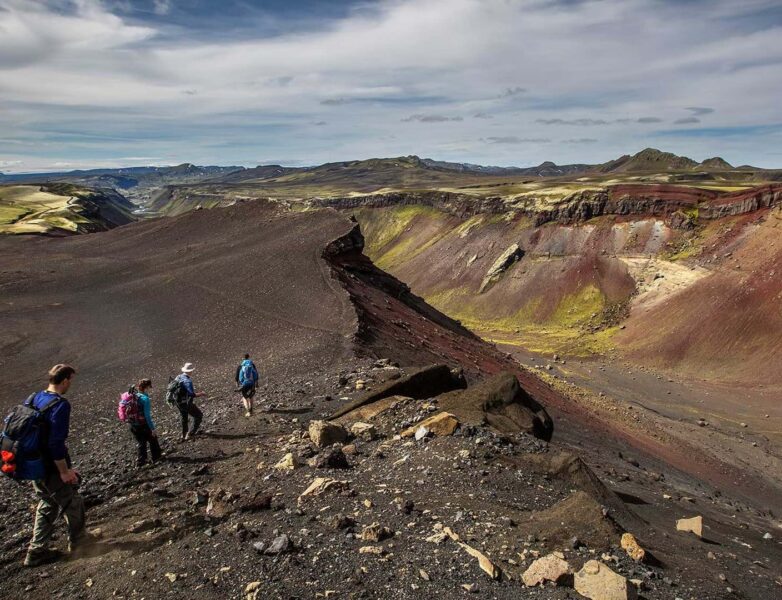 Top three reasons to go hiking in Iceland
See the best of Iceland's volcanic landscapes

Venture off the beaten path—and away from the crowds

Experience a lifetime of geological and biodiversity in a single week
Anyone who's ever visited Iceland is aware of just how dramatic and alien the landscapes there can be. Wherever you turn, you'll find a strangely-colored meadow, a jagged glacier, a rumbling volcano, or a monumental waterfall. The extreme and varied environments make hiking with a guide in Iceland a striking and memorable experience, and some of Iceland's wildest and most diverse nature can be found on the Volcanic Trails. In the wilderness of Vatnajökull National Park, variety is the name of the game. You will hike to the peak of Sveinstindur mountain, walk along the great Skaftá river to the Eldgjá volcanic fissure, and cross the mystical black sands of the Mælifellssandur desert. See and traverse bright green mossy lava formations, massive waterfalls, deep valleys, and much more. Venture off the beaten track and feel the greatness and solitude of Iceland's nature!
Nearest city

The trip starts in Reykjavík, Iceland
Book this adventure
Hiking Iceland's Volcanic Trails
Head to Reykjavík for a tour of Iceland's most spectacular volcanic areas with this week-long hiking trip. Hike to the Majestic Sveinstindur mountain, bathe in Iceland's famous natural pools, and explore lava forests and valleys along the trails. An experienced local guide will accompany you, making sure you're safe, well-fed, and prepared for the hikes to come. Spend your nights in Iceland's scenic huts, and your days hiking Iceland's volcanic wonderland!
Itinerary
Day 1: The trip to Mt. Sveinstindur
After you meet your guides at the BSI central bus terminal in Reykjavík, they'll transport you across highland tracks to Mt. Sveinstindur, passing lake Langisjór, one of Iceland's most beautiful lakes. After ascending the peak and taking in the views of the mountains and the nearby Vatnajökull glacier, descend to a traditional hut on the other side. You'll spend the night at this rustic hut.
Distance: 4 miles (6 km)
Altitude change: 1,574 ft (480 m)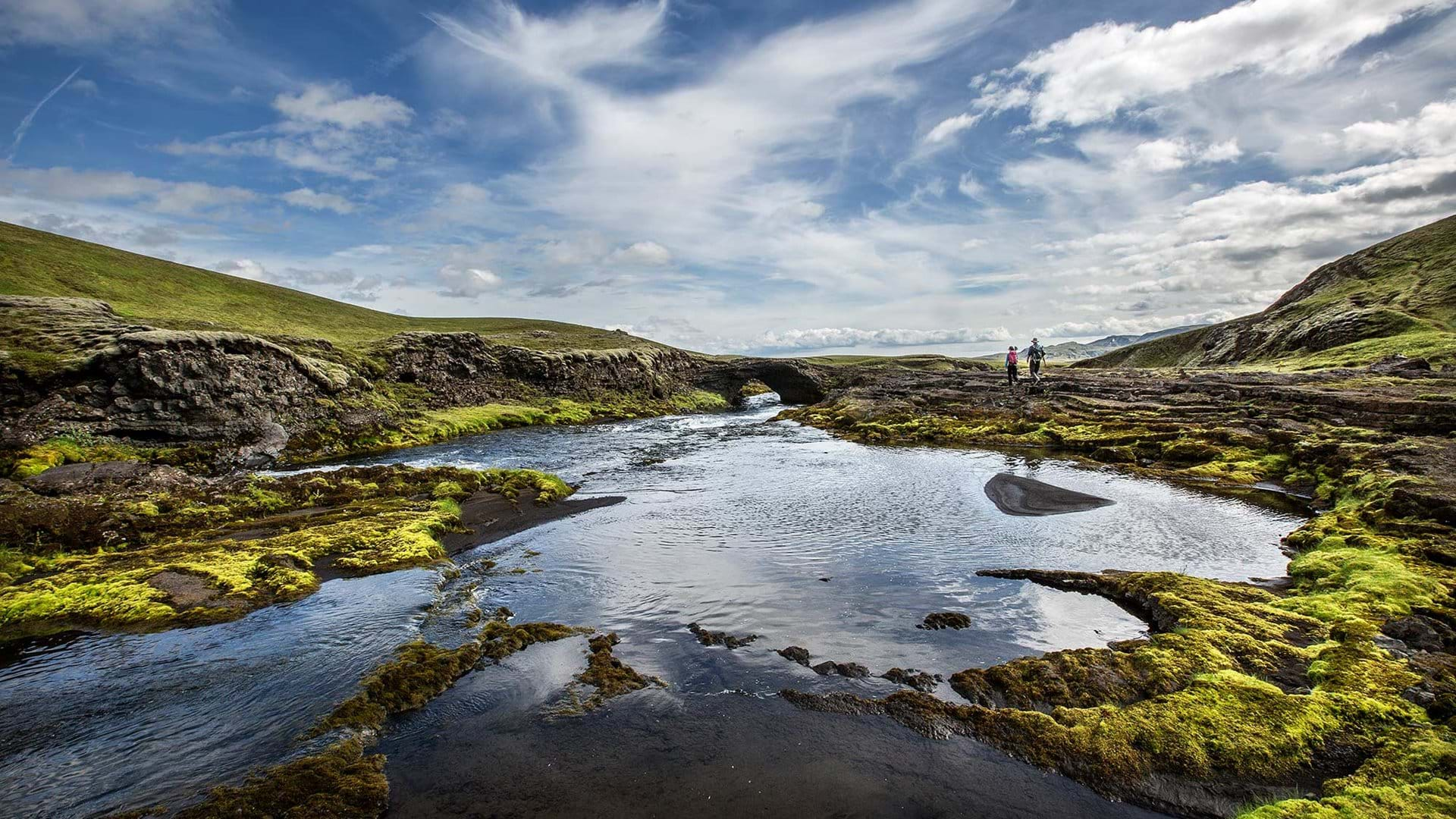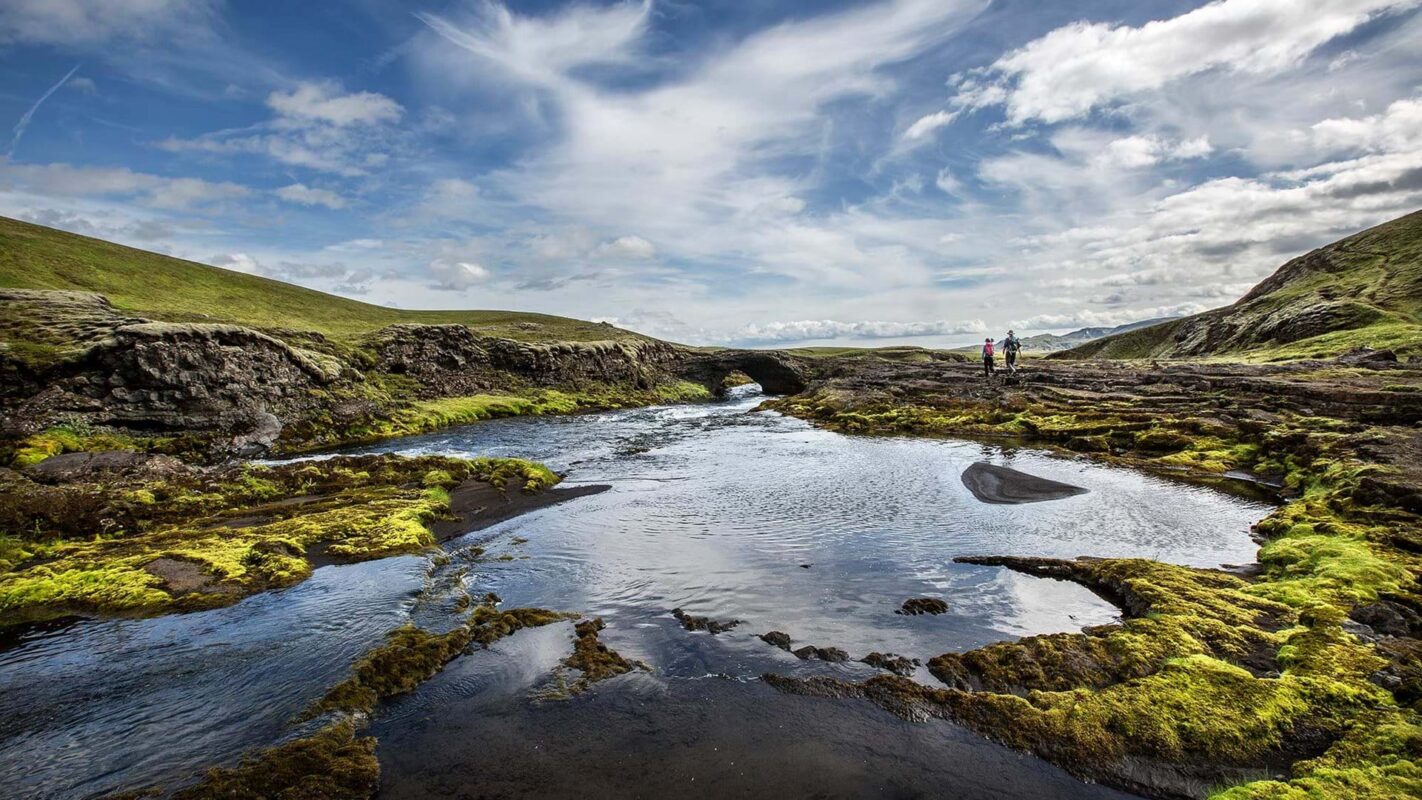 Day 2: Following the Skaftá river
Follow the rapids and waterfalls of the Skaftá river to the small, but imposing Hvanngil canyon. Admire the volcanic landscape, with black lava, green moss, and a variety of strange rock formations. Arrive at the magical Skælingar area, an ancient lava forest near Skaftá's riverbed. Sleep in a rustic hut, without showers, but with an outhouse.
Distance: 10-11 miles (16-18 km)
Walking time: 6 – 8 hours
Altitude change: 820 ft (250 m)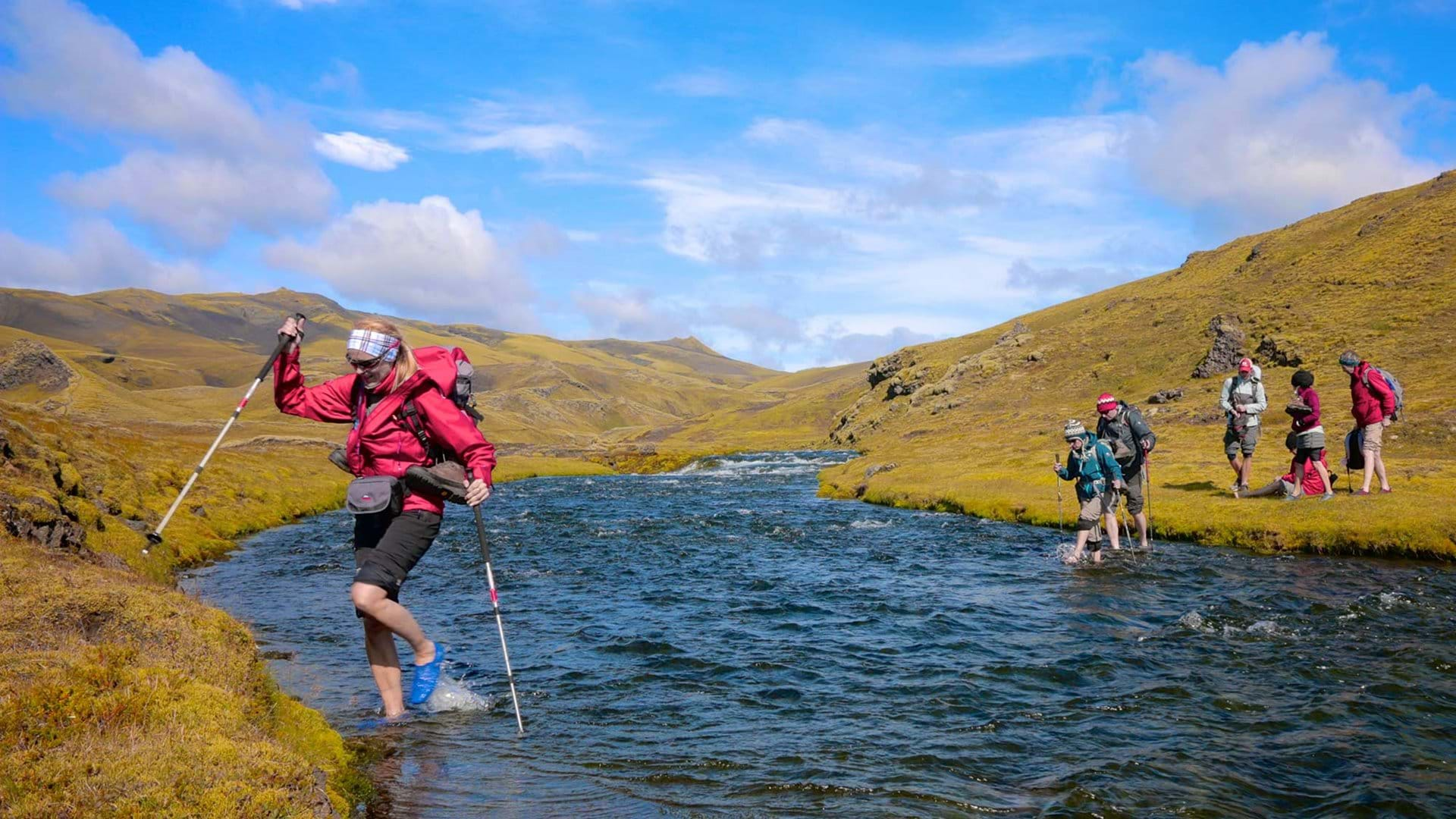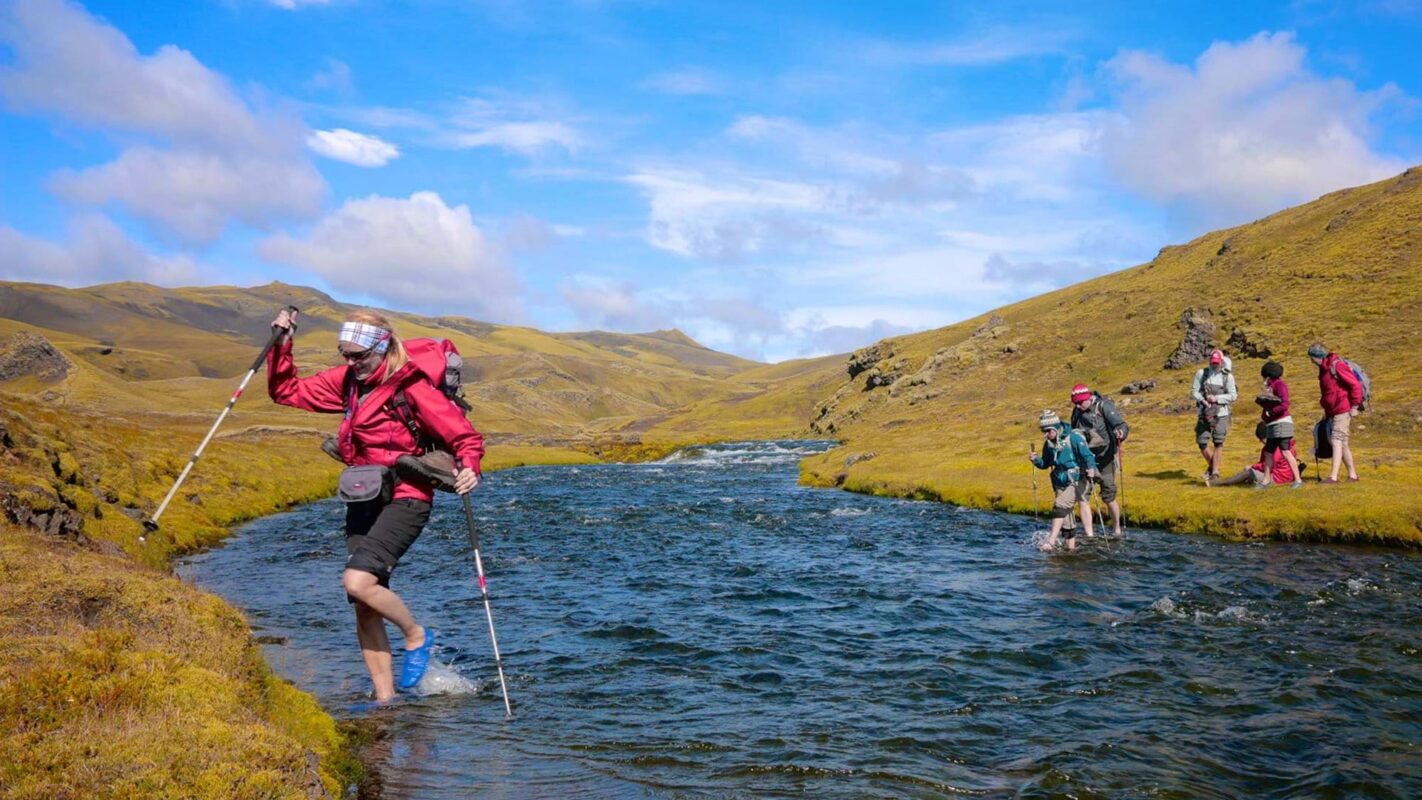 Day 3: Hólaskjól and the Canyon of Fire
The day's hike leads you to Eldgjá, the Canyon of Fire. Descend the canyon slowly, enjoying the remarkable volcanic environments, before concluding the day with a hike to the nearby Hólaskjól, where you will spend the night. The huts in Hólaskjól are comfortable, with toilets and showers. At this point, you will have completed the first section of the Volcanic Trails.
Distance: 11 miles (18km)
Walking time: 6-8 hours
Altitude change: 1,150 ft (350 m)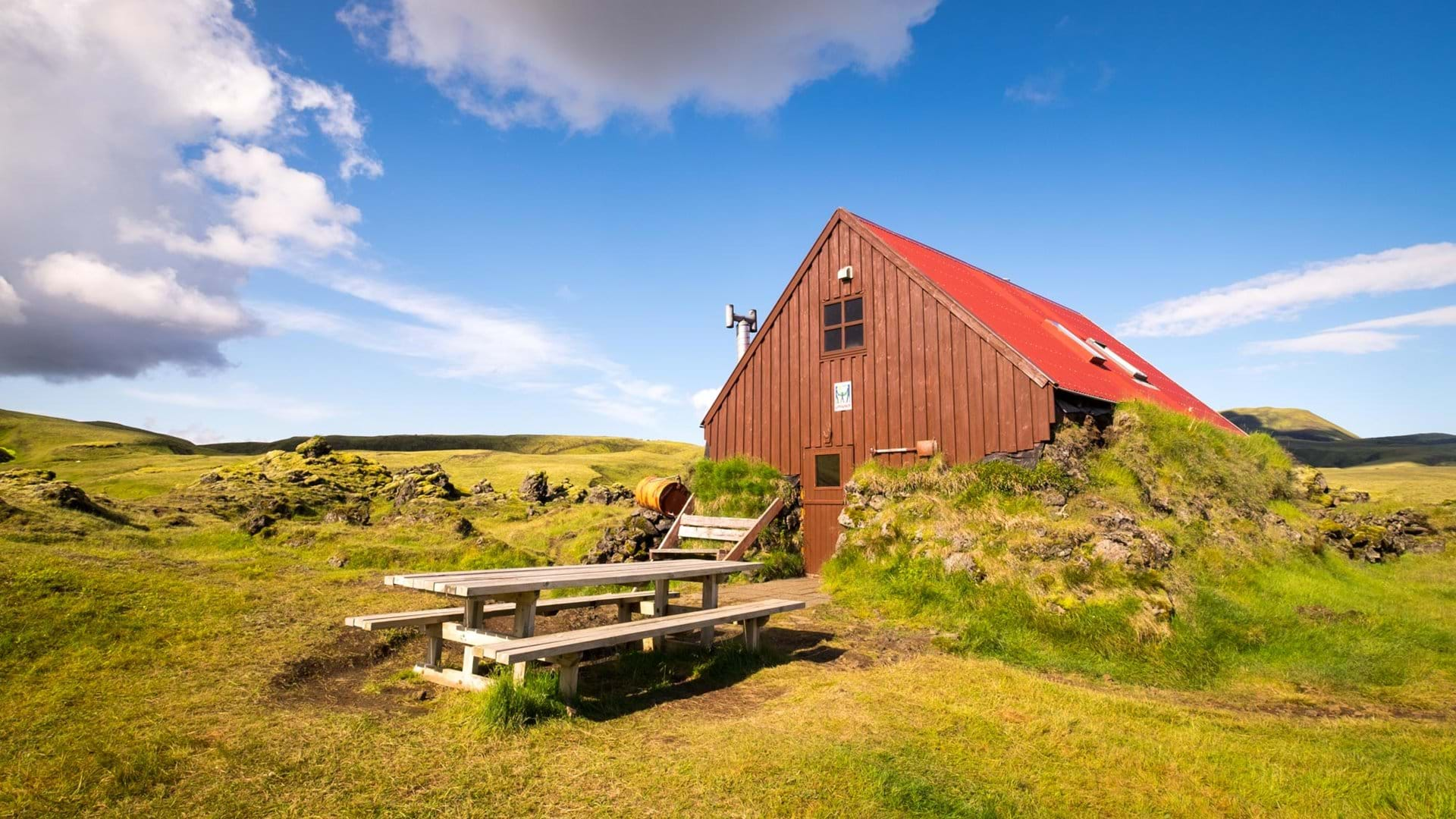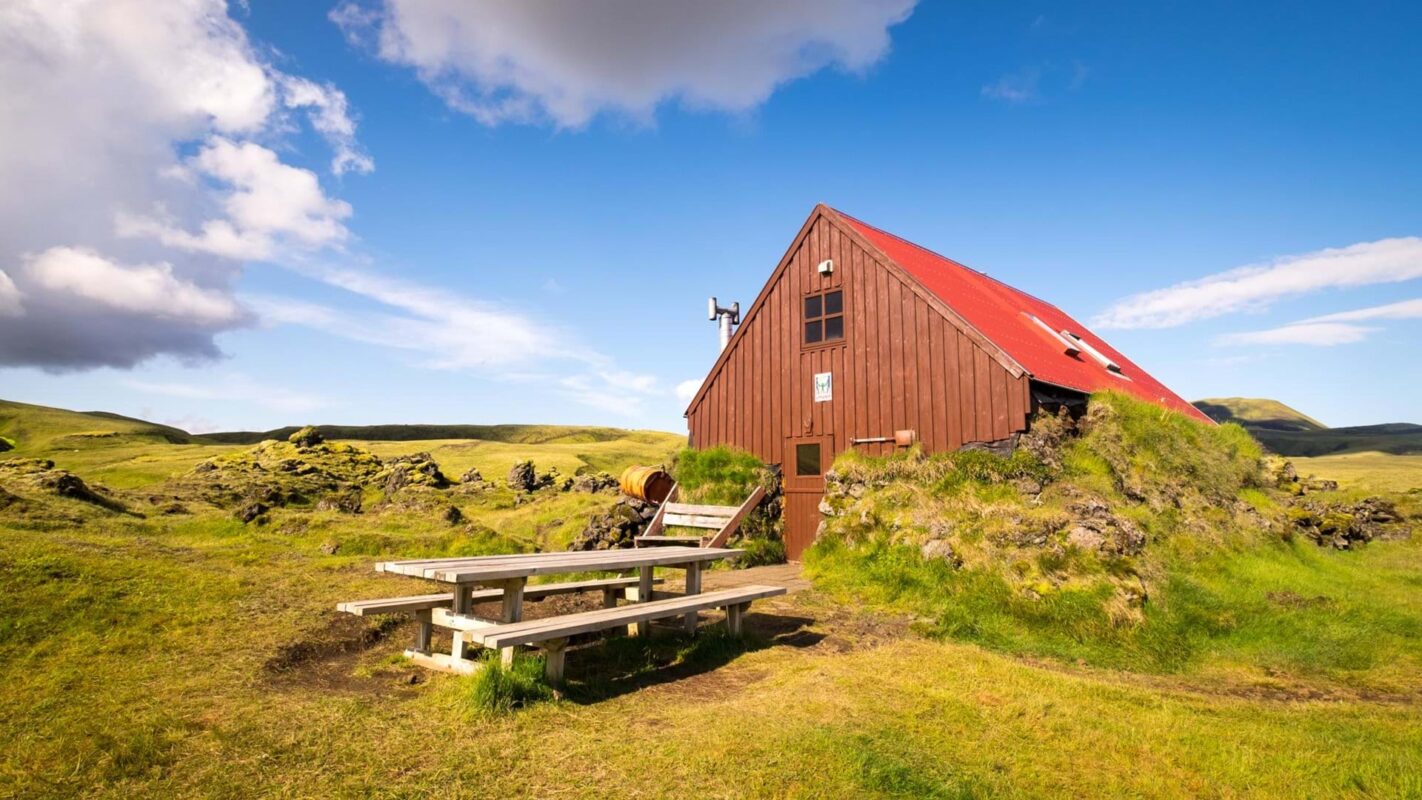 Day 4: Álftavötn
Start the second part of the trail with a hike to the lakes of Álftavötn. Hike the green hills following the Syðri Ófæra river. At Álftavötn, spend the night in a traditional hut. The nights here are serene, and it's an excellent place to recharge for the hikes to come. The hut is rustic, with an outhouse and no showers.
Distance: 4-6 miles ( 7-10 km)
Walking time: 5-6 hours
Altitude change: 492 ft (150 m)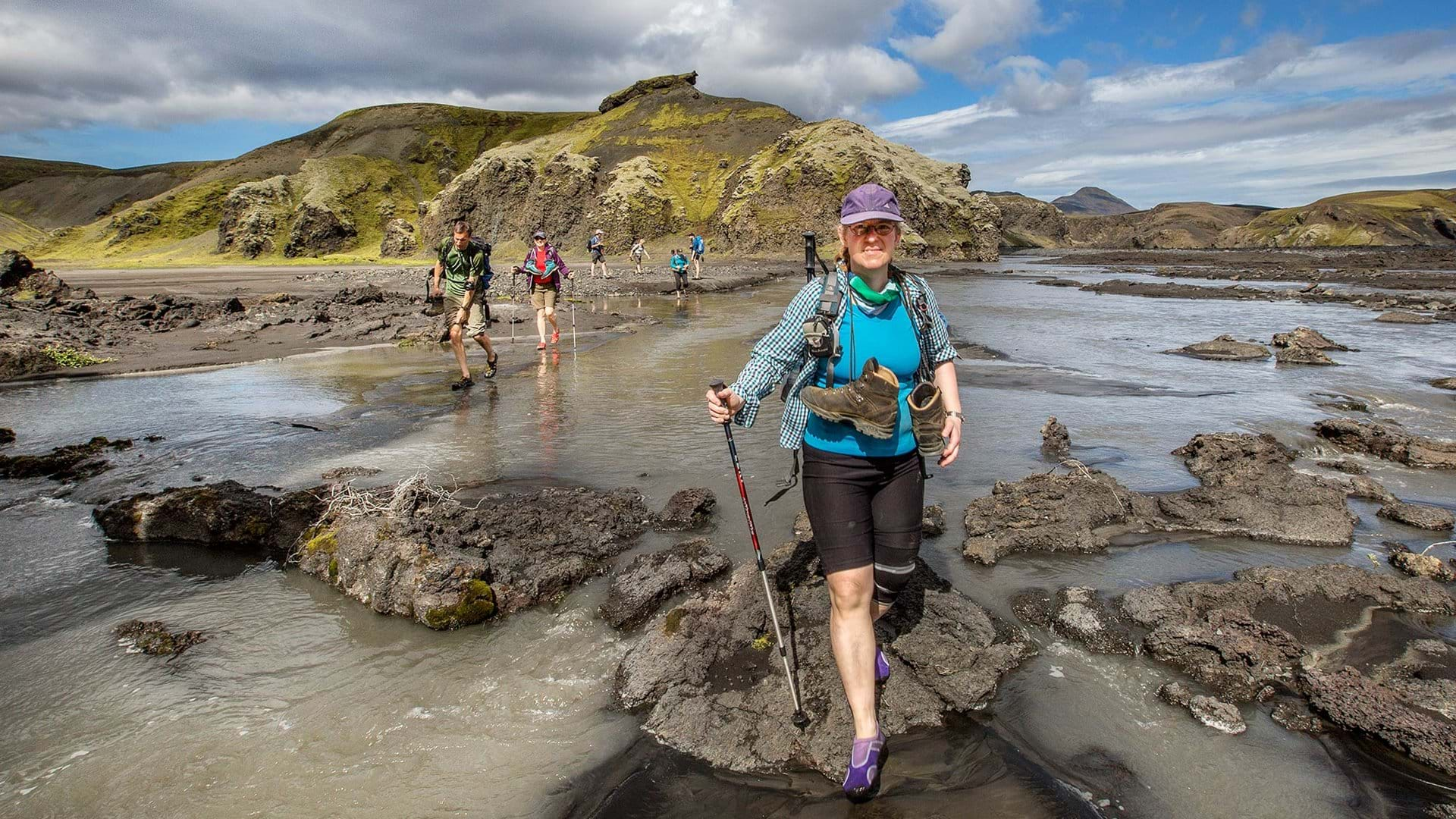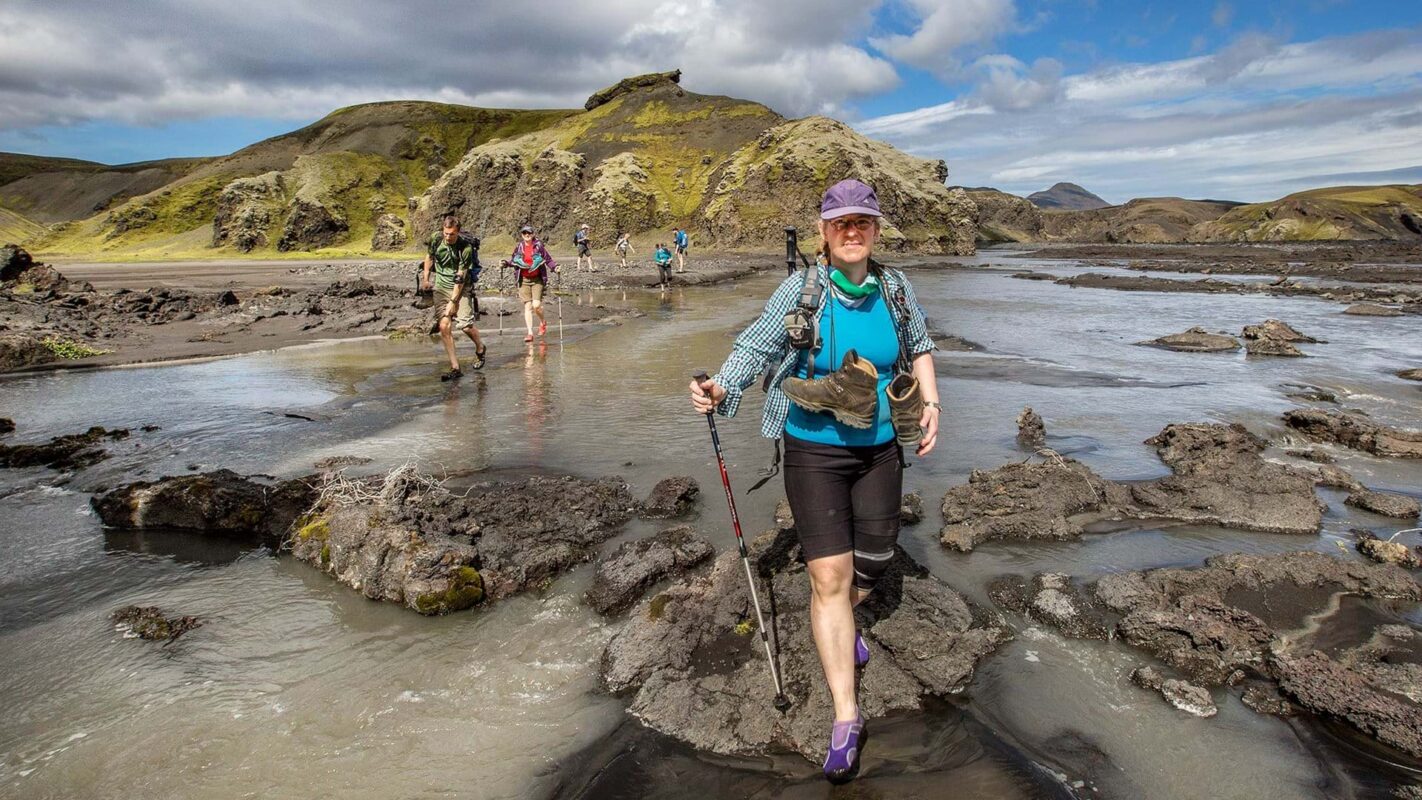 Day 5: Strútur
Continue along the Syðri Ófæra river, crossing the Canyon of Fire Eldgjá once more. The landscape varies between green meadows and black sands, with bright green streaks of moss. Reach the Strútslaug natural pool right after fording the Hólmsá river. After a warm, relaxing bath, conclude the day's march with a walk to the comfy hut at Strútur, where you'll spend the night.
Distance: 15 miles (24 km)
Walking time: 7-8 hours
Altitude change: 984 ft (300 m)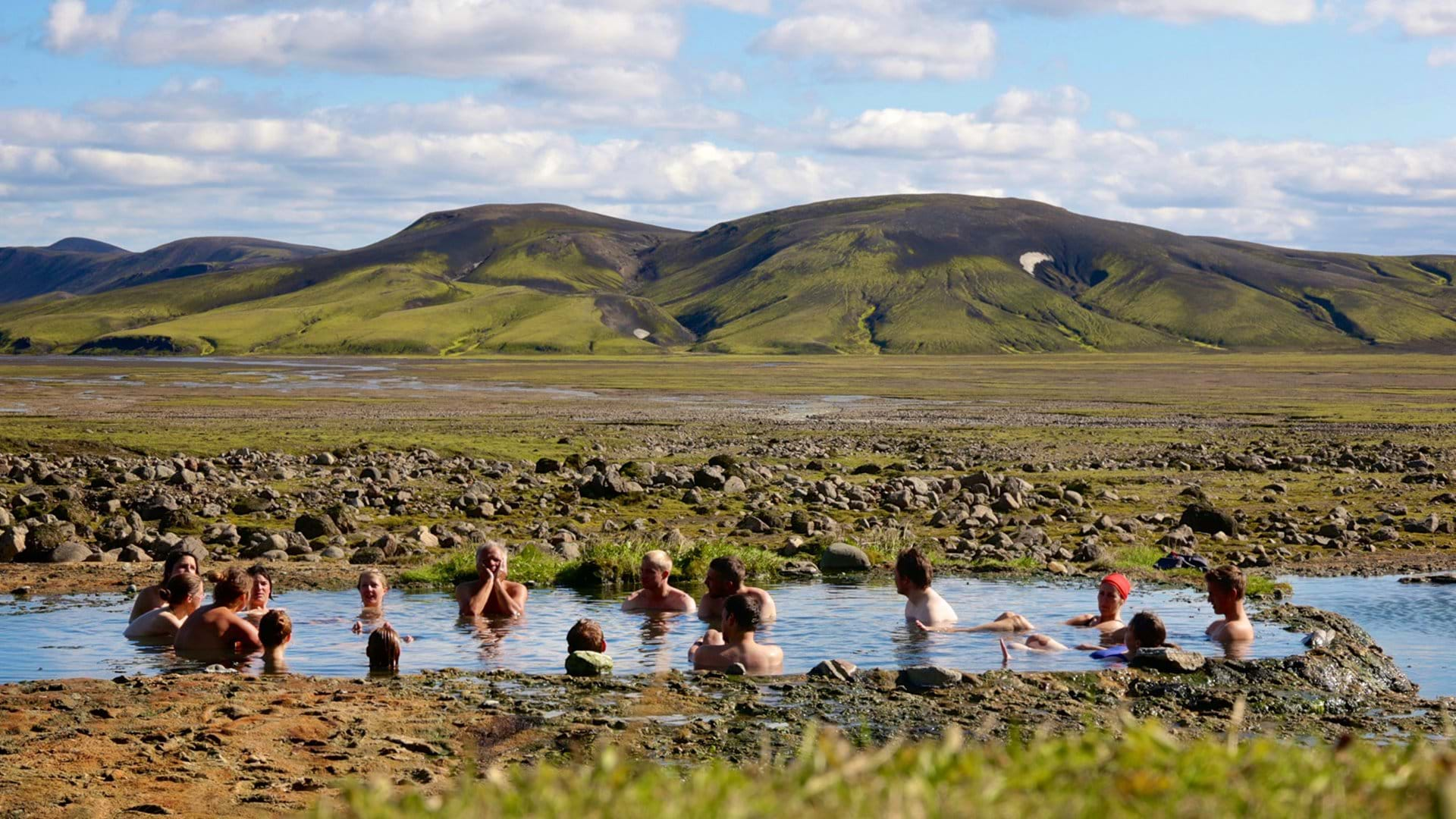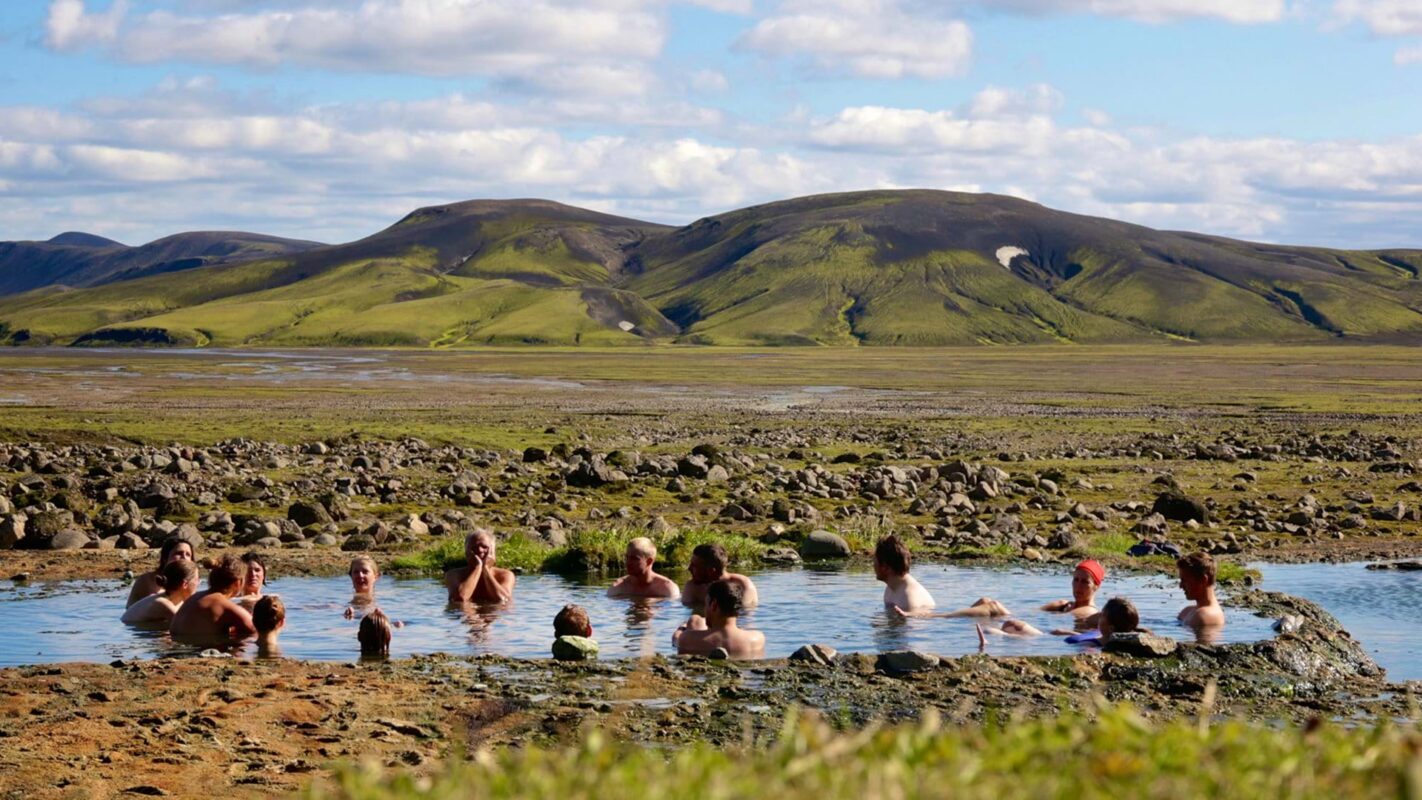 Day 6: Hvanngil
Leave the comfortable hut for a day trek along the Mýrdalssandur, the black volcanic sand plain. Get your waterproof shoes ready, as you'll be wading through some of the rivers. Admire the mystical landscape of Hvanngil valley, where you'll be staying for the night.
Distance: 9-11 miles (1 -18 km)
Walking time: 5-6 hours
Altitude change: 492 ft (150 m)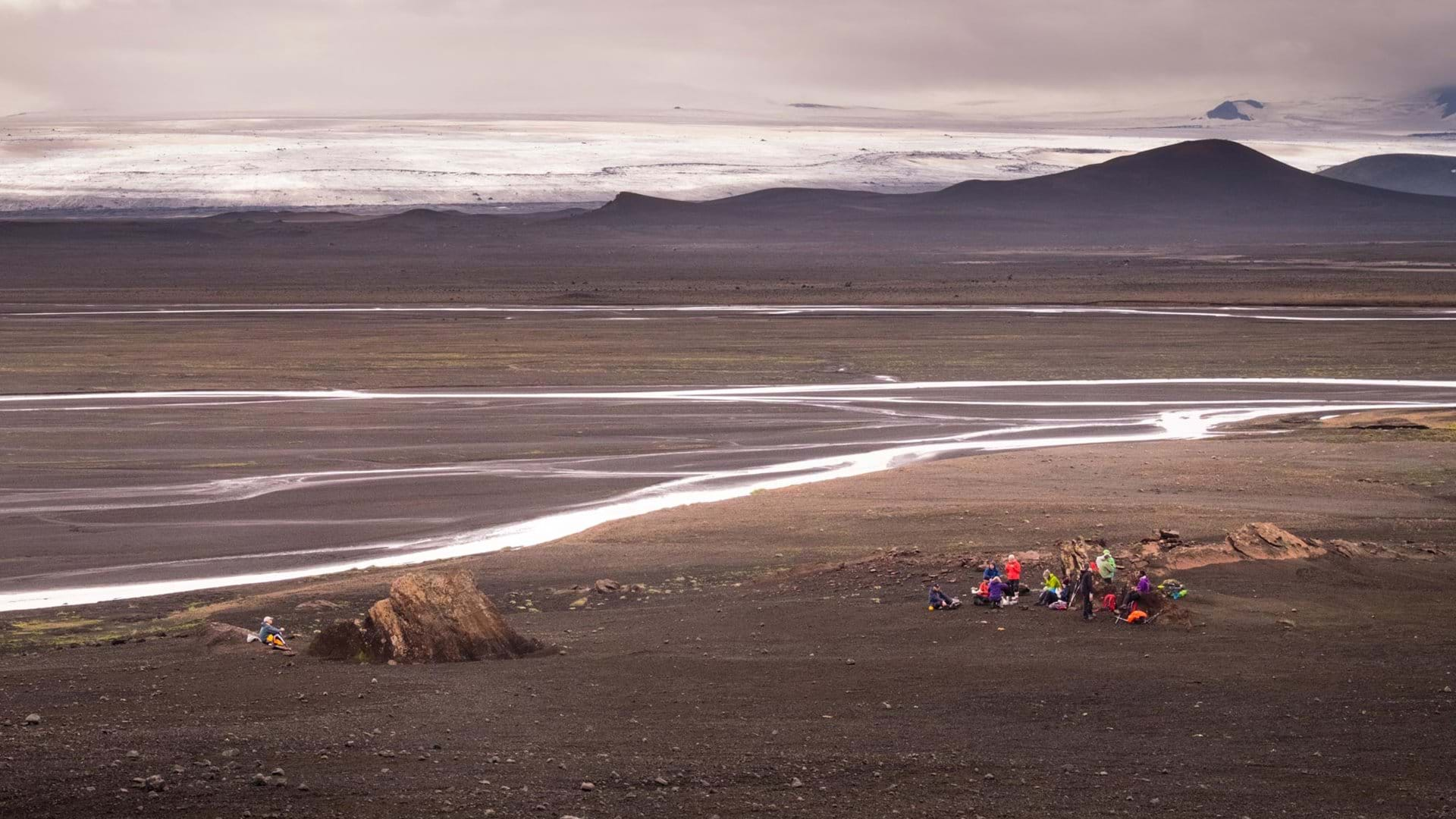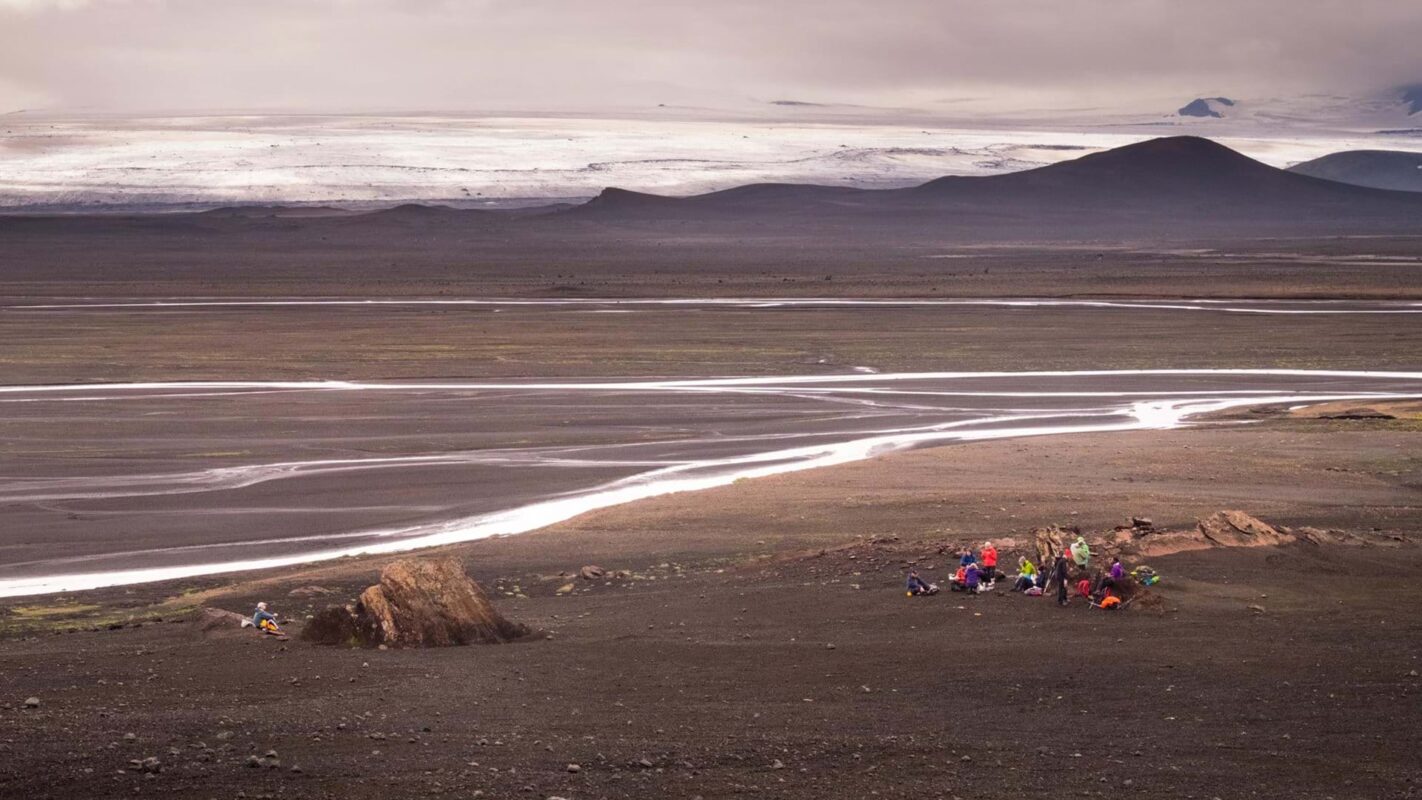 Day 7: Tasiilaq Fjord
After breakfast, pack your things and get ready to explore the side trails of the famous Laugavegur hiking trail! Proceed along the river Kaldaklofskvísl, admiring the eerie green Stórasúla mountain on the other side. Climb up the small Brattháls pass and see the famous lake Álftavatn—the "Swan Lake". From here, your driver will pick you up and take you back to your accommodation in Reykjavík, where you'll arrive in the early evening.
Distance: 3-4 miles (5-7 km)
Walking time: 3-4 hours
Altitude change: 984 ft (300 m)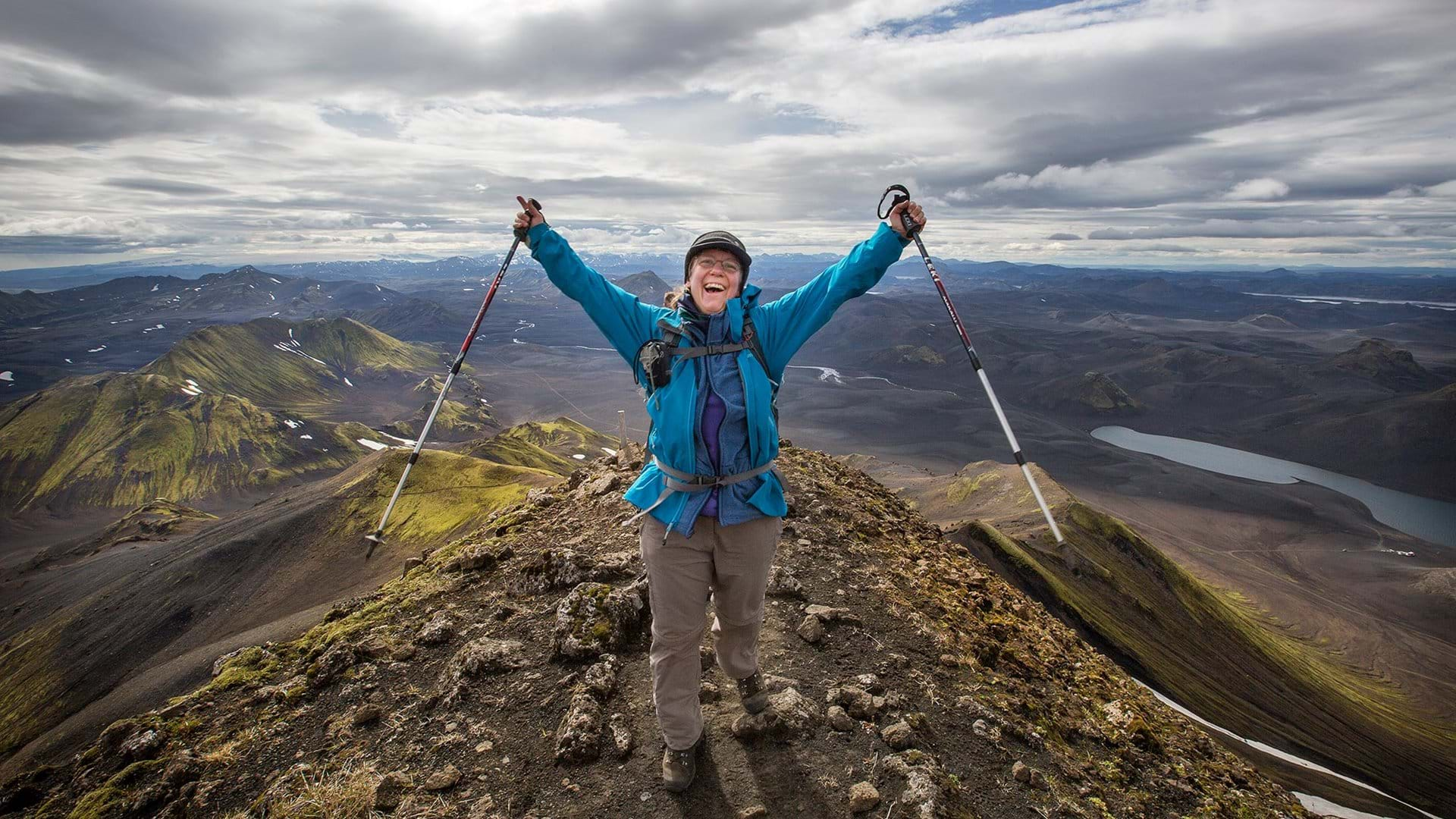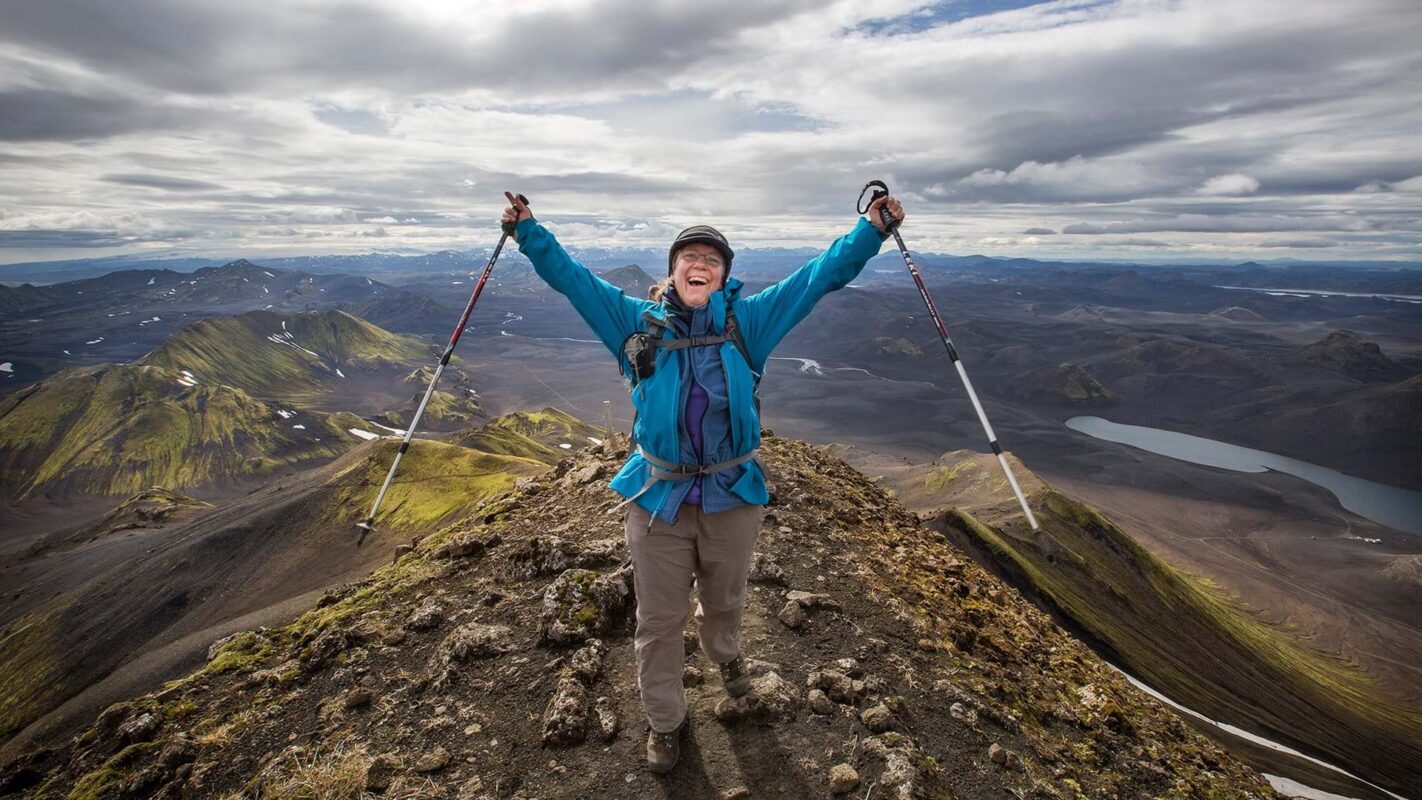 Meet your guide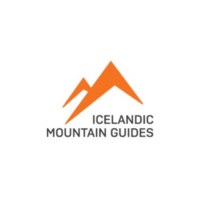 Icelandic Mountain Guides
Hiking Guides
Icelandic Mountain Guides offer the perfect variety of experiences to satisfy anyone's desire for adventure. Whether you want to relax in the unparalleled beauty of Iceland's nature or take a more challenging adventure, they've got you covered. The possibilities are endless and the memories will last a lifetime.
Packednreadytogoagain
about
Icelandic Mountain Guides
We selected the Wilderness of Strúter Trail rather than the more popular Landmannalaugar trek since we wanted to be far from the maddening crowd. It exceeded our expectations! Milla was an incredible guide and really helped us make the most of our 5 days…She also was an incredible resource on Iceland in general.
MEBesq
about
Icelandic Mountain Guides
We saw beautiful scenery in mostly good weather. Our guide, Inga was the best. Knowledgeable patient and a great cook. It was myself, my husband, and my adult son and we have a fantastic time. it is a great way to see the geography of Iceland.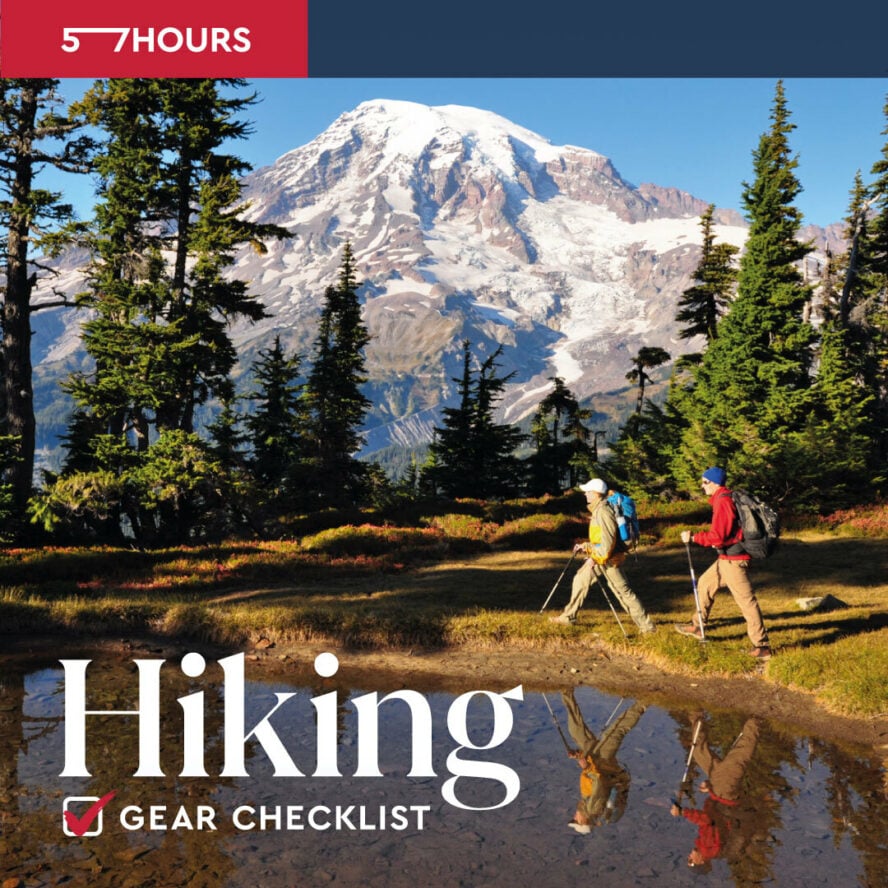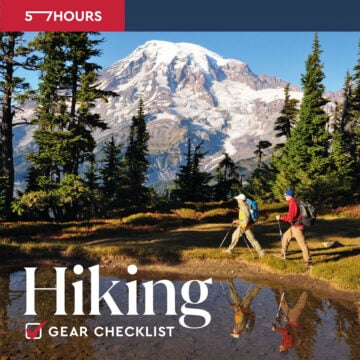 Download hiking gear checklist
Prepare for the trip.
Get complete checklist for hiking and camping equipment.
Check your inbox
Things to know
Covid measures in Iceland
57hours is committed to providing safe outdoor adventure experiences. We require all guides using our platform to have a COVID-19 safety plan and to make the details of that plan accessible to travelers. In most cases, group sizes will be reduced, guides will avoid overcrowded locations, and other safety measures will be met depending on the location and activity.
We also expect clients to respect local regulations and take measures to protect themselves, guides and the communities they're travelling to. For more information on COVID-19 measures in Iceland, please refer to Iceland's official COVID-19 travel advice website.
Please contact us if you have any questions or require further information. We are happy to provide you with the most up-to-date information!
What's included?
What you get on this adventure:
An experienced, local hiking guide with extensive knowledge of the area
7 days of hiking Iceland's volcanic trails
Accommodation in huts during the trip
Transportation from Reykjavík to the trailhead and back
Breakfast, lunch, and dinner for the duration of the trip (vegan options available for an additional fee)
Transfer of luggage between huts
What's not included:
Transportation to Reykjavík
Sleeping bag (can be rented from your guide)
Hiking poles (can be rented from your guide)
Hotel or guesthouse accommodation in Reykjavík one night before and one night after the tour (can be arranged by your guide)
Usage of the showers in the huts (can be arranged for an additional fee)
How fit do I need to be?
This tour is ideal for hikers that are physically active and have some background in basic traveling in mountainous terrain. You will be walking for 6-8 hours per day. Intermediate hikes will see a little more change in elevation and hikes will start to increase in length, hiking anywhere between four to eight miles, while the more advanced hikes are full-day treks with steep descents and challenging switchbacks. Keep in mind that you'll be packing a daypack filled with water and other things you'll need throughout the day.
What do I need to bring?
Here's a list of the equipment you need to bring:
Day pack large enough to carry all the items listed (around a 25-40L bag)
Sleeping bag (can be rented from your guide)
Hiking poles — optional
Water bottle or hydration bladder (2L capacity)
Sturdy hiking boots
Spare clothes for layering
Thermal underwear
Fleece or wool sweater
Waterproof trousers
Woolen essentials
Hiking socks
Waterproof rain jacket
Sunhat
Toiletries (sunscreen, hand sanitizer, bug spray, toilet paper, etc.)
Towels (lightweight microfibre)
Swimsuit — optional (but recommended)
First aid kit
Headlamp or flashlight
Sunglasses
Camera — optional (but recommended)
Dress comfortably and for the weather in clothes you can move in. We suggest bringing clothing appropriate for the season. Layers are best and don't wear jeans.
Group sizes and age requirements
Group sizes and prices:
For this adventure, the max number of participants is 16 people.
It takes a minimum of 5 people for a tour to operate.
If you are an individual traveler, you can join the group. The guide will be adding travelers until the minimum group size to confirm the trip can be guaranteed. There are no supplements to individual travelers, as they will share a room.
The cost does not decrease as the group grows.
Hiking in Iceland's Volcanic Trails can be arranged for larger groups. Contact us to make arrangements.
Min. age requirements:
If you are older than 18, you're good to go.
Minors as young as 16 may be permitted to join the hike on a case-by-case basis, but must be in the presence of a parent or legal guardian.
If your group has hikers under the age of 18, contact us prior to booking to make arrangements.
Deposits and cancellation policy
Registration for an adventure with your guide requires a 50% deposit. The balance of program fees will generally be due 90 days prior to the starting date of the program. It is your responsibility to adhere to the fee payment schedule. Late payment will result in cancellation of program reservations and forfeiture of all fees paid.
All cancellations must be made by letter or e-mail. In conformity with business practices within the Icelandic travel industry, the travel agent is obliged to charge cancellation fees to passenger(s). If clients formally cancel their participation:
15% of the tour price is non-refundable
50% of tour price is refunded if cancelled 30-59 days prior to departure
25% of tour price is refunded if cancelled 16-29 days prior to departure
0% of tour price is refunded if cancelled 15 days prior to departure.
Icelandic Mountain Guides reserve the right to alter tours and itineraries due to weather or road conditions. All programs can be changed or cancelled at any moment during the trip to assure the safety of the clients and staff.  No responsibility is accepted for losses, expenses due to delays, changes of flights, or other services or because of strikes, accidents, sickness, damage, negligence, weather, war, changes in schedules, or other similar causes. Icelandic Mountain Guides does not assume responsibility for accidents or death that can be traced to the participant's negligence, acts of third parties or exterior circumstances such as weather, natural occurrences, war or other similar causes.
Any eventual changes in rates (due to purchasing prices, currency fluctuation and such) will not be made with less than 8 weeks' notice prior to arrival.
After the invoice has been issued, the price is guaranteed against any surcharge, unless an increase is due to government laws or currency changes. Your guide will absorb an amount equivalent to 5% of the package price. Amounts that exceed the 5% will be charged and clients will be entitled to cancel their booking with a full refund if the surcharge exceeds 10%.
Getting there and meeting location
To get to the starting point of this tour in Reykjavík, most people fly into Keflavík International Airport. From there, you can take a bus, shuttle, or taxi to Reykjavík.
Once you and your guide agree on the details of your itinerary, your guide will suggest the best place to meet, whether that's at the BSI central bus terminal in Reykjavík or a predetermined location. The guide will choose the appropriate terrain dependent on conditions and the ability of the group.