Hiking the Historical Appalachian Trail
The Appalachian Trail is the original long-distance challenge for American wanderlust. Part of the Triple Crown of Hiking, it is the shortest, oldest and most famous of the three, boasting unforgettable scenery and an amazing hiking culture.
Over 5,000 backpackers attempt to thru-hike the A.T. each year, traversing the nearly 2,200 miles that link Georgia to Maine. Only about a quarter succeed, but no matter the distance traveled it makes for one hell of an adventure! Many more nature lovers unwrap the wonders of the Appalachia by tackling smaller sections—climbing mountains, exploring colorful valleys and waterfalls, and enjoying awe-inspiring views along the way.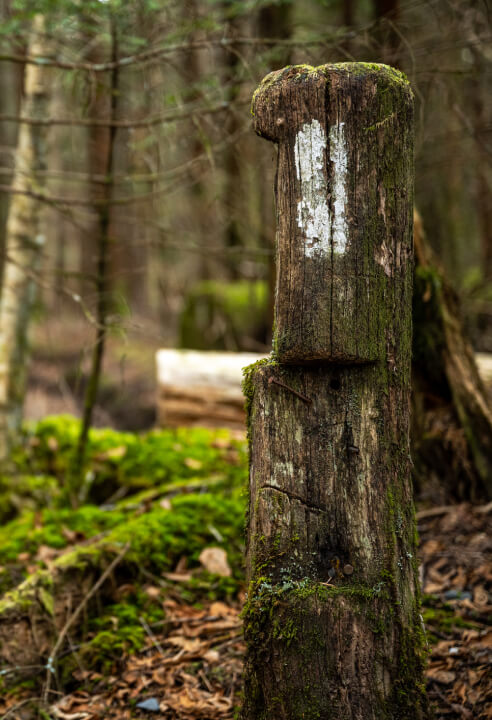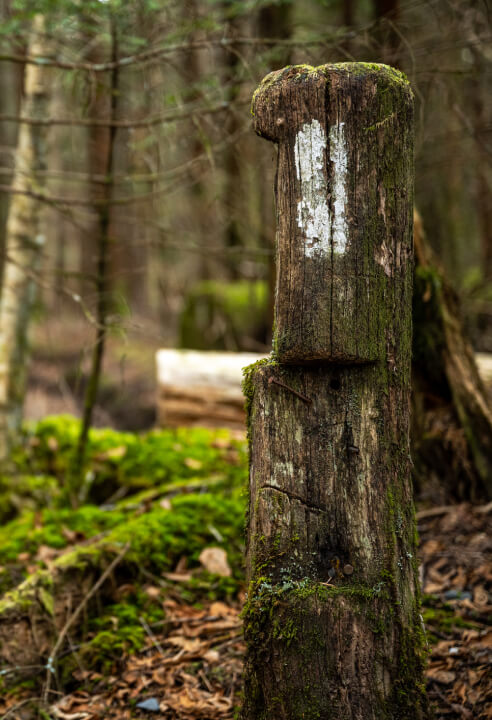 A hundred years of history & adventure
The idea for the Appalachian Trail was conceived by forester and conservationist, Benton MacKaye, in 1921. By 1937, the original footpath was completed and hailed as "A Great Trail from Maine to Georgia!" In the 100 years since, the accolades and hikers have been streaming in.
This spectacular journey presents some of the most beautiful landscapes of the Appalachia, tours Civil War monuments, and explores remnants of Appalachian mountain culture, with much more enchantment to be found along the way. The trail magic is real on the A.T. — the camaraderie between hikers and local communities is one of a kind. Its iconic status has inspired the creation of long-distance trails around the world.
IMMERSIVE SCENERY
2,193 MILES LONG
CULTURAL IMPORTANCE
CROSSES 14 STATES
100 YEARS OF HISTORY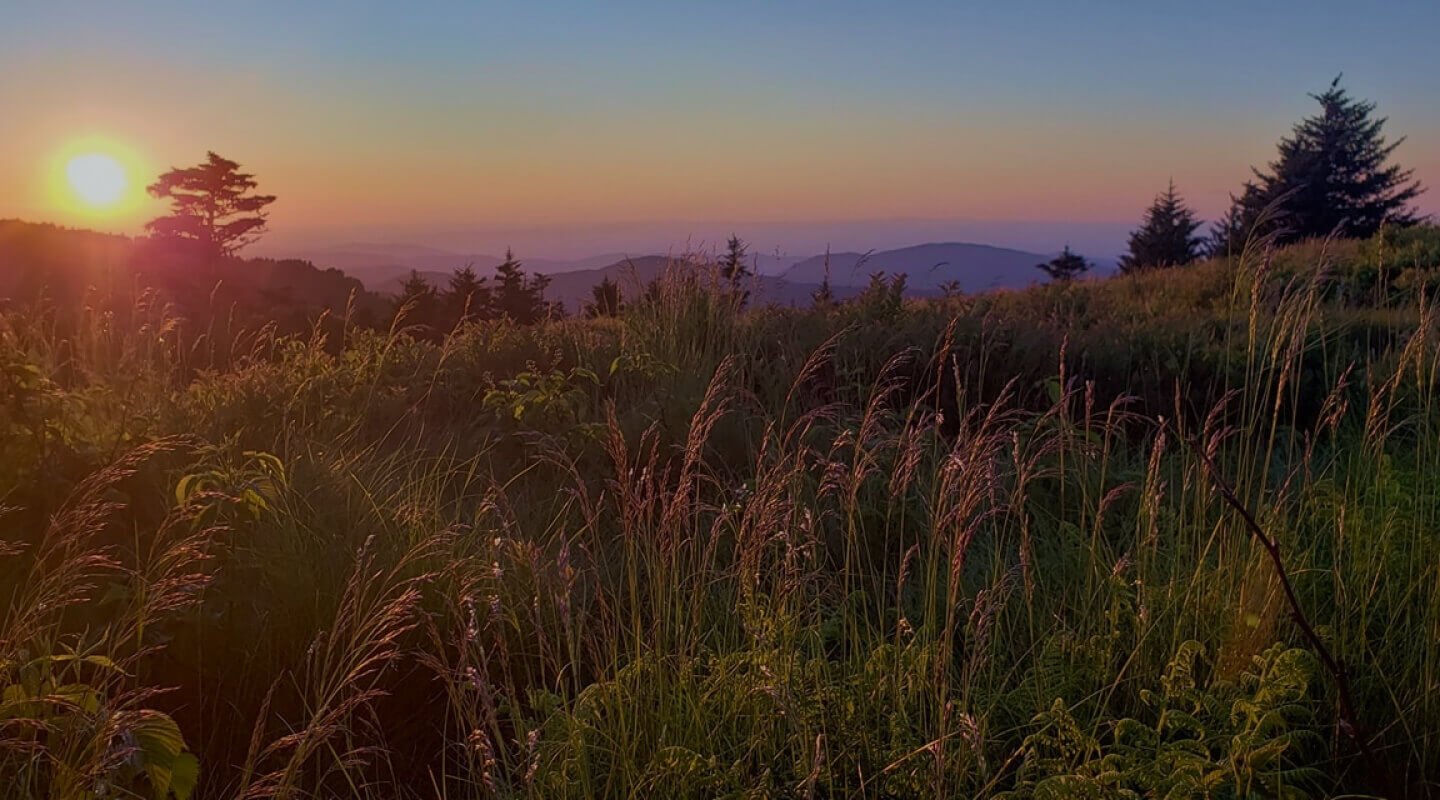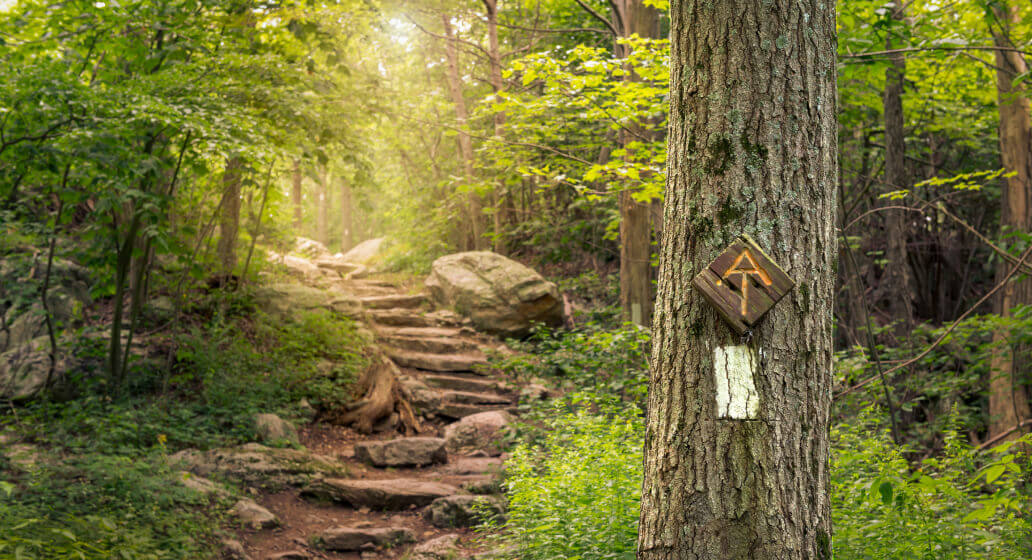 Over 5 million steps from the beginning to the end
THE PINNACLE OF AMERICAN HIKING
If you are still not sure why the trail gains so much attention, consider the numbers: the 2,193 miles long trail traverses an impressive 14 states, 8 national forests, 6 national parks, and takes an average of 6 months to hike.
Because of its elevation, the trail is sometimes called the "long green tunnel." It rarely tops the tree line and as a result the fantastic views are fewer and farther between, which you could say enhances your appreciation of them. Still, due to its constant elevation change, once you reach the end, you will have climbed the equivalent of 16 Mt. Everests.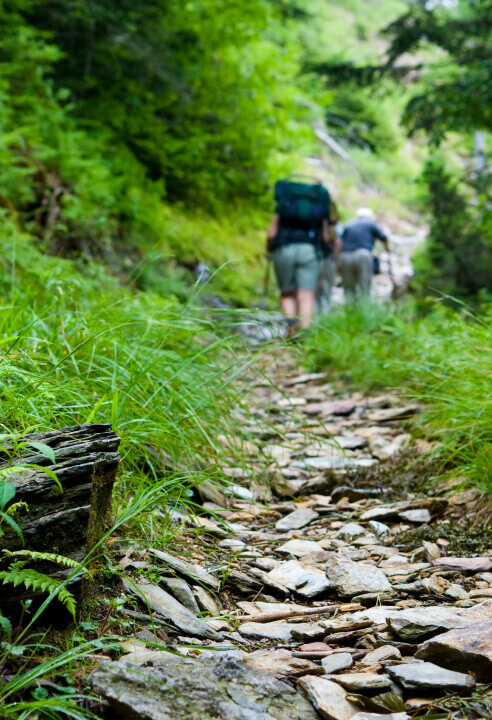 EXPLORE THE WILDERNESS AND YOURSELF
The trail that links the peaks of the Appalachians is home to thousands of species of plants and animals, including 2,000 rare and endangered species.
As you pass through diverse topography and ecosystems you'll encounter moose, deer, foxes, coyotes, bears, and a host of other animals. Remember, you are a guest in their home so tread lightly!
Whether thru-hiked or done in sections, the A.T. provides both a challenge and sense of freedom. Hikers break from the routine, connect with nature and meet other adventurers often leaving them eternally fascinated by the trail and a different pace of life. Although it is mentally and physically demanding, the rewards for reaching the end are infinite.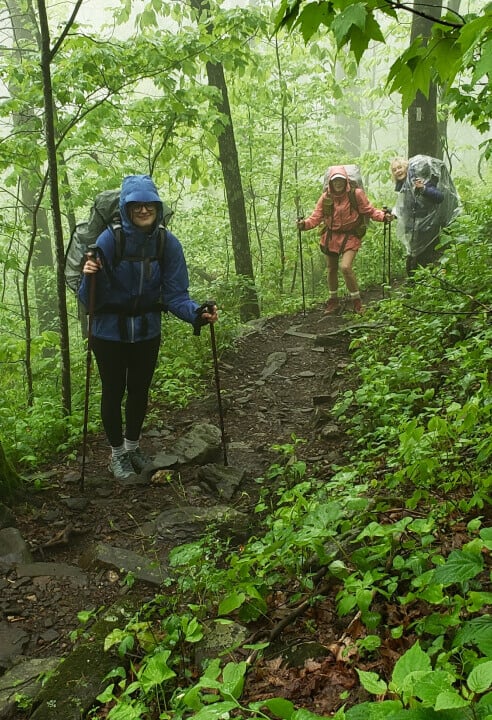 A spectacular adventure awaits
Discover the beauty of the Appalachian Trail with a guide
Become a part of the community
Many set their mind and body to achieve this challenge, so don't be surprised if you see numerous other adventurers passing the same routes as you. Your fellow hikers might be one of the best aspects of hiking the Appalachian Trail. From the moment you set foot on the trail, you become a part of a "community in the wilderness," sharing the experience with everyone you meet along the way.
This hiking experience accommodates from three to six travelers looking for an adventure.
ENDLESS POSSIBILITIES
STRONG COMMUNITY
EPIC FOOTPATHS
UNIQUE GEOLOGY
SPIRITUAL AWAKENING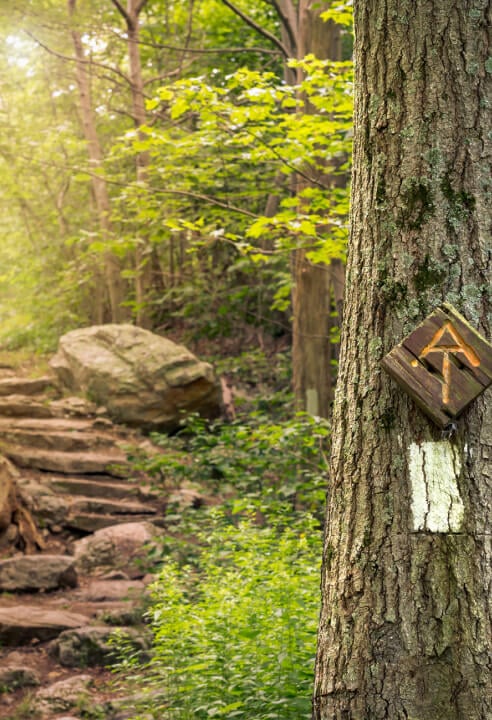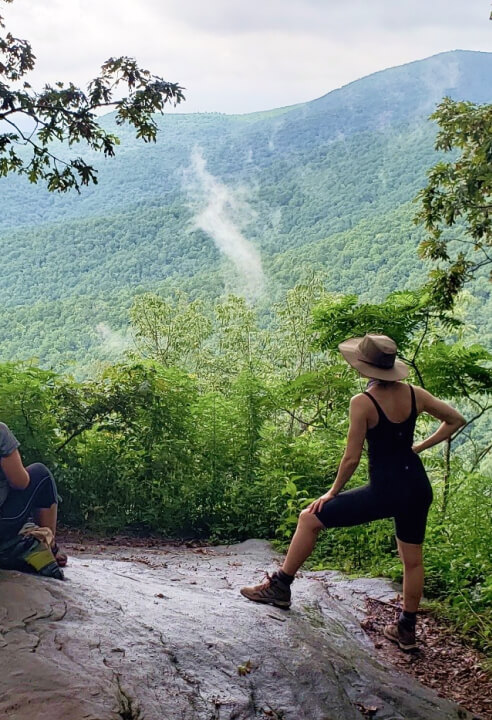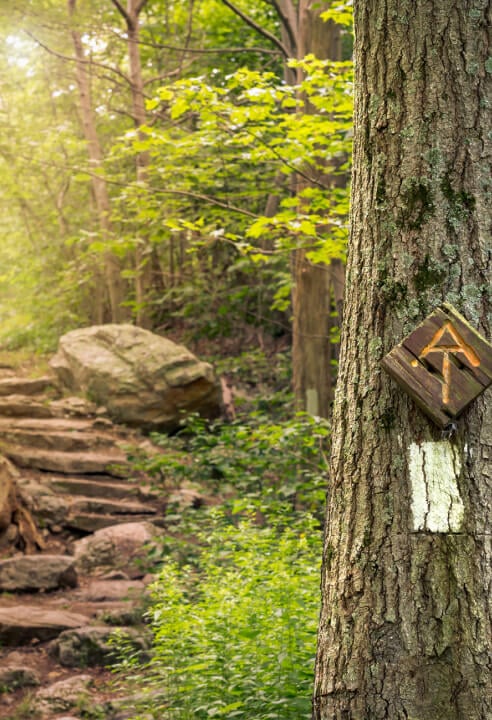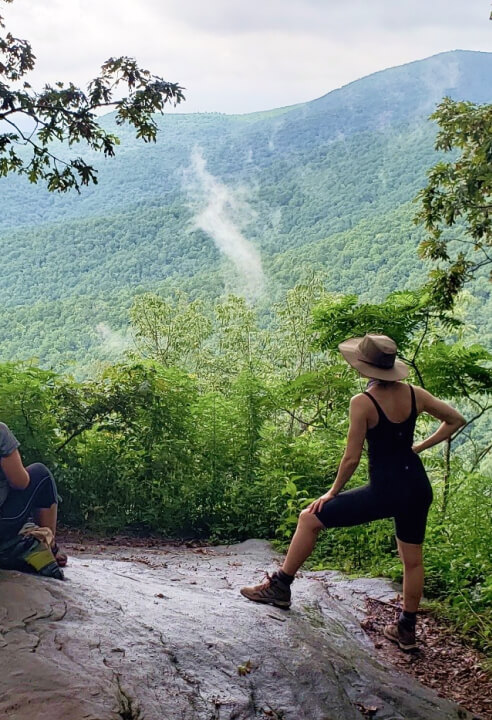 Your guide
Michelle Michaud is the founder and primary guide at Wandering Boots who has been hiking the Appalachian Trail since 1998. She completed the trail in sections from '98 to '08 and then did 2 thru-hikes in 2014 and again in 2017.
She has hiked various parts several times and has traveled across the country hiking and backpacking in many of the country's state and national parks. Hikers are in excellent hands.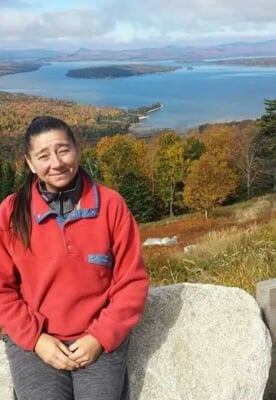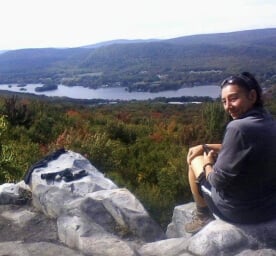 Michelle helped make it a great experience on the trail. She was flexible and adapted the trip to meet the needs and differing abilities of all hikers within our group. Highly recommend Michelle for those looking to learn more about backpacking and to experience the AT.
She was amazing! Literally will do everything she can to make your trip exciting and fun and safe! She is a joy to be around and I recommend her if you want to do any sort of AT backpacking or hiking. It was the most amazing trip I've ever been on. Lots of views and was able to just breathe from life a little. Definitely a must if you need a break!
Amazing guide and teacher! 10/10 recommend Michelle and would love to adventure with her again
Super knowledgeable, well prepared and encouraging! Michelle is A+++!
Michelle was an excellent guide, knowledgeable, fun and able to work with our group to meet the hiking speed at which we wanted to go. She made the adventure great.
Michelle is an awesome guide. She has been hiking the AT for 25 years and points out creatures and natural sites along the way. She also was flexible and change up the itinerary to better meet our capabilities.
A great hike on the the approach trail and the GA beginning of the AT – beautiful landscape, incredible plants and wildflowers, all along the trail. Michelle was energetic, knowledgeable and FUN. Very willing and able to adjust plans, and hiking speeds, when needed. So kind and helpful when we met other hikers on the trail. We always felt safe, knowing Michelle was in charge.
Fyrfly is knowledgeable, professional, and super hard working from arrival to departure. It's obvious she's doing what she loves. Michelle went above and beyond for me & my kids each day. Recommending this experience to everyone who will listen. And I'm also very thankful for the relationship formed with Michelle that is likely to last a long time – she's a huge asset to 57hours.
The first 40 miles of the AT are picturesque, serene, and exactly the adventure I was looking for. Cant wait to hike more of it. After this week, I feel experienced enough to safely set out for section hikes on my own. Thanks so much!!
FANTASTIC!!! The AT is much more challenging than I expected which gave me extra satisfaction in completing mt first hike on it. It is stunningly beautiful. Michelle is extremely experienced and knowledgeable. She is fun to be with and easy-going. She is helpful and makes the experience achievable – even for a beginner like me. She is a logistics genius as well – everything went according to plan. She makes excellent suggestions to avoid any potential discomfort or setback. She is great physical hiker. Michelle can tell stories and facts about the trail which was wonderful. I would have not been successful on the AT without Michelle.
As an outdoor enthusiast, attempting backpacking has been high on my bucket list. Michelle was a wonderful teacher/guide explaining backpacking necessities and how to navagate the trail. My husband and I had a wonderful experience/trip. We are confident that we could attempt a backpacking trip on our own (if we choose- the guide and group were quite fun to be with). Thank you Michelle and fellow backpackers. The Appalachian trail will not disappoint. Especially to break away from society for a little bit.
Extremely knowledgeable guide and knows the AT like the back of her hand!
Extremely aware of the capabilities of the group and balance this to ensure everyone had a great experience
Hard, but have a great sense of pride to complete this section
Michelle was very knowledgeable about the trail, wildlife and the environment, she would pass this information to us as we hiked along the trail. The view was brilliant, mountains were enormous!
MichelleMichaud is an extremely knowledgeable, honest and compassionate Appalachian Trail Guide. She openly shares her extensive hiking knowledge, in a way that everybody can understand. She gently encourages you how to be a successful and happy sectional or thru AT hiker. She keeps you updated on all of the trip details and while you are out on the trail. Her extensive experience and knowledge helped this 69 Y/O first time backpacker accomplished her dream. I highly recommend Michelle Michaud as you guide for all of your AT adventures. I definitely will be booking another AT adventure with her.
Michelle AKA Fyrfly is the genuine magical steward of the AT trail
One of the best backpacking adventures I have experienced. Outstanding guide.
Our guide, Michelle Michaud, was terrific! Her experience as an AT thru-hiker was the main reason we booked this trip with 57Hours. She was a wealth of knowledge and was great at calibrating how to interact with the range of abilities and experiences represented in our group. She was lots of fun, always encouraging and inspiring. She was able to make the trip fun for those who had no experience hiking as well as those who were very experienced hiking – truly a talent! I would definitely take another trip with Michelle! She also knew the AT so well, she could be very flexible about how far to go each day, what shelters and campsites we should target as our endpoint each day, etc. Also, the info she provided before the trip, like the gear list, suggested food, etc. was extremely helpful! The first 40 miles of the AT were fabulous. We had great weather for hiking under the canopy each day, and the rain we had a couple of nights didn\'t slow us down.
Michelle is an awesome guide. She is friendly, witty and super knowledgeable about the AT. I\'m a longtime backpacker and still learned many things from her. She took care of the group and was very flexible about aspects of our trip. Looking forward to my next walk in the woods with her! Everything I thought the Green tunnel AT was going to be it was indeed. Not easy but not show-stopper either rather a must do. Michelle is the right person to get your feet wet in AT style. This is the real deal as far as backpacking goes. Lots of up and down in a fun and beautiful way.
Great time great people knowledgeable guide
Michelle was amazing. I wanted someone who I could learn from and who would teach me how to backpack the trail, without doing it for me. Michelle is passionate about the AT, and thoroughly loves what she does. She was was positive and relaxed on the trail. She cheered us on, congratulated us at the end of the day, and made fun conversation on rest and meal breaks. I am so grateful for my experience with Michelle. I am recommending Michelle to all of my friends and colleagues. Backpacking the AT with my guide was everything I had hoped it would be a more. It was beautiful, challenging, and quiet. I can\'t wait to go back!
Michelle was awesome and fantastic !! A great trail guide !! It was the best !!
Michelle is AWESOME!!!!! I can\'t possibly formulate the absolute correct words/ phrases to express my sincere appreciation for her knowledge, guidance and expertise. Michelle gave me the opportunity and the gift to fall in love with the AT. I now feel confident that I can hike the trail solo. Michelle is a treasure. I 100% recommend Michelle as a guide along the AT! -SABRA KIRKPATRICK
Literally LiFE CHANGING! Hiking the AT was the most exhilarating and challenging thing I have ever done. I would recommend this trip to anyone looking for a reset. It is difficult at times but 100% worth upper back pain (directly related to the 40 pound back pack weight). I am already planning my next trip and I just got off the trail. DON\'T THINK TWICE! BOOK THIS ADVENTURE!
Michelle was an awesome and knowledgeable guide! Sooooooo much fun!
Where to start? Michele was the perfect guide for my (& Lu's) backpacking adventure. She was incredibly knowledgeable, calm, encouraging, caring, tough, former firefighter, with OODLES OF PATIENCE – everything we needed for that week on the trail. She guided us through a week I will never forget. Thank you for being such a beautiful soul, Michele. See you on the trail sometime! Unforgettable.
Michelle M. made this whole experience possible. Her knowledge of the trail, backpacking, and the human experience took a challenging (for me) activity and made it a do-able reality. Her sense of humor, empathy, and intuitiveness is equaled by her generous work ethic. I highly recommend Michele as a guide no matter your age or experience level. Backpacking on the AT has been a longtime dream of mine, and I came to the realization that as I approach 67, it is now or never! Thanks to our guide Michelle, this dream became a reality, and I was not disappointed. Solitude, forest sounds, challenging trails, camp life, teamwork, the beauty of creation, and the ability to push my limits and see what I am truly capable of was priceless.
Michelle was an amazing and very knowledgeable guide. I was a newbie and was able to learn so much from her patience, encouragement and support along the way. Michelle knows the trail, she is an exceptional hiker, she's very in tune with nature and genuinely concerned about her surroundings and her hikers. I was able to do a very challenging trail with a very good guide along the way. Wow, what can I say!?! It was a very beautiful, very challenging, awe inspiring experience. We went through some treacherous weather and fog but Michelle outdid herself by taking us back to the views and hikes we missed because of the weather. I would love to do it again when the forests of rhododendrons are in bloom!