Why You Need to Go Mountain Biking in Croatia (With a Boat)
When it comes to coastal Croatia, you likely think of sailing. But what if I tell you that the best use of a sailboat is actually for mountain biking?
Sometimes an unlucky break becomes a lucky one.
For me, that break happened in Dalmatia. Located on the eastern shore of Croatia, a narrow belt of islands and islets bundle together to make up the Dalmatian shoreline. The scenery and sensory overload have been drawing sailors since the ancient Greeks, and it captured my imagination on childhood vacations.
Maybe it was the salty seascapes so different from urban life in Zagreb: ancient macadam roads and old shepherd paths crossing through centuries-old vineyards; seaside fortresses constructed from local limestone; and mountain air laden with wild lavender, sage, and thyme.
I dreamed about it for years and when I was finally able to move there after college, I promptly broke my collarbone.
In a roundabout way, that was the catalyst for my career as an MTB guide. Even if it took me a few months of recuperation before I could start exploring, I've been riding the hundreds of miles of dreamy coastline year-round ever since. The best part is that a short sailboat trip will take you to entirely new terrain—there is nothing like mountain biking on the coast of Croatia.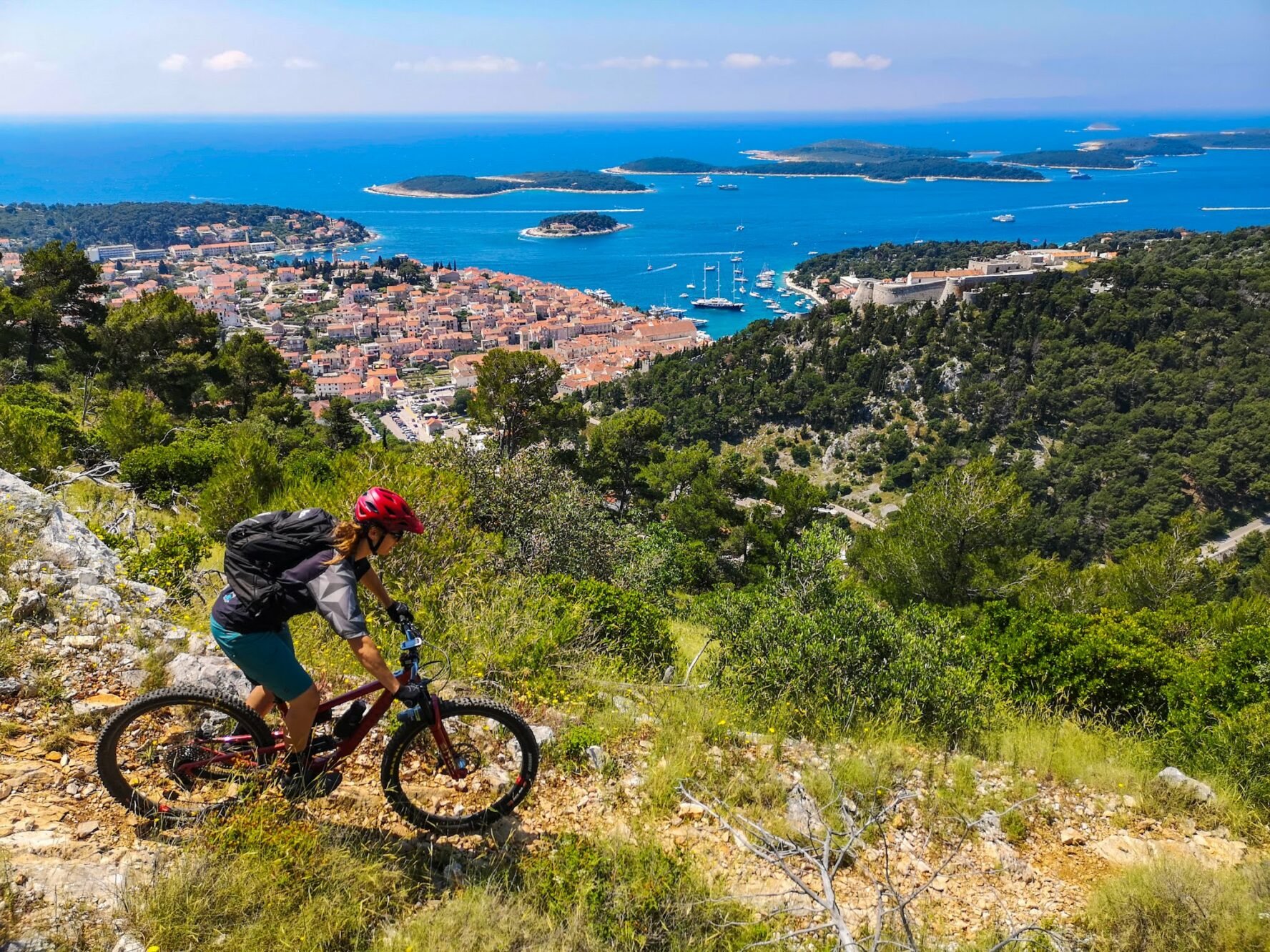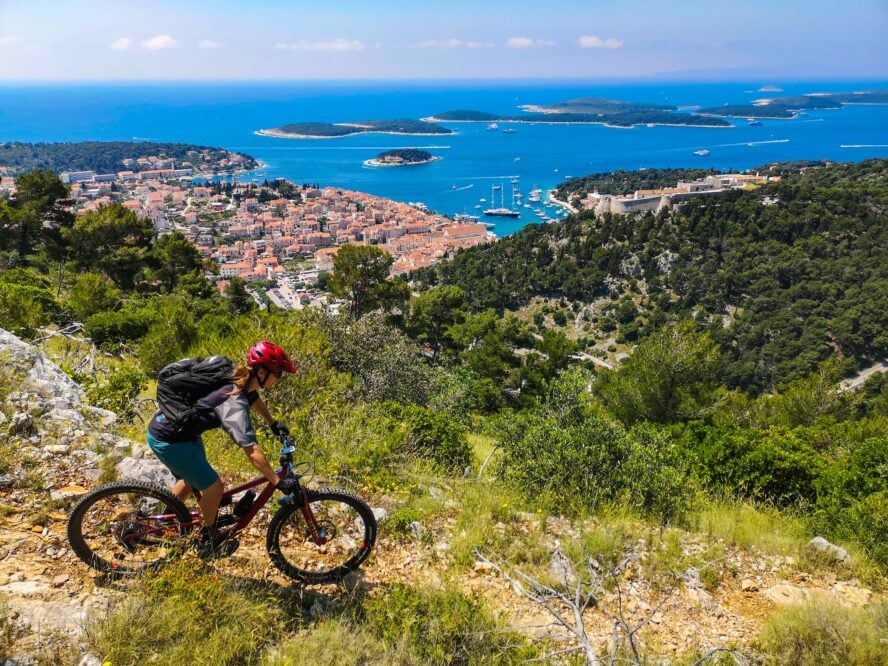 Pros and Cons of Mountain Biking in Croatia
Plenty of options for beginners to advanced riders
A mild climate offers great riding weather year-round
Escape the crowds by island-hopping on a sailboat
Croatia is subject to bora (strong wind events on the Adriatic sea)
It can get really hot in the summer months
Never a Dull Ride in Dalmatia
There are over 500 islet slivers, island slips, and seaside monoliths that make up the Dalmatian coast. And in total, they serve up over 1,800 miles of MTB trails, with everything from fast and flowy downhills that evoke the mountain biking in Colorado to wheel-wrecking technicals. While there's plenty of great riding to be done ashore, the islands are where the elevation, scenery, and terrain variety truly hit home for me.
For example, on the island of Brač, a speedy singletrack passes an abandoned monastery and opens into a pristine sandy beach, with turquoise waters as far as the eye can see. On the island of Hvar, a switchback trail dating to ancient Greece is engulfed by a striking combination of thyme, salt, and the soft song of crickets. From leg-burners between post-WWII bunkers to loops around Roman bath houses, there's more to these small islands than first meets the eye.
I won't lie though, biking on these islands can be tough. The trails get rocky, tight, and surprisingly steep. On the rougher tracks, keeping your bike in one piece is a challenge in itself. But, with adversity comes some of the most rewarding rides in the region and backdrops straight out of a Monet.
The best part? Each island is accessible by sailboat, which allows you to curate your sail-to-bike vacation. Riders be warned: you may never want to leave. At least, that's been the case for me.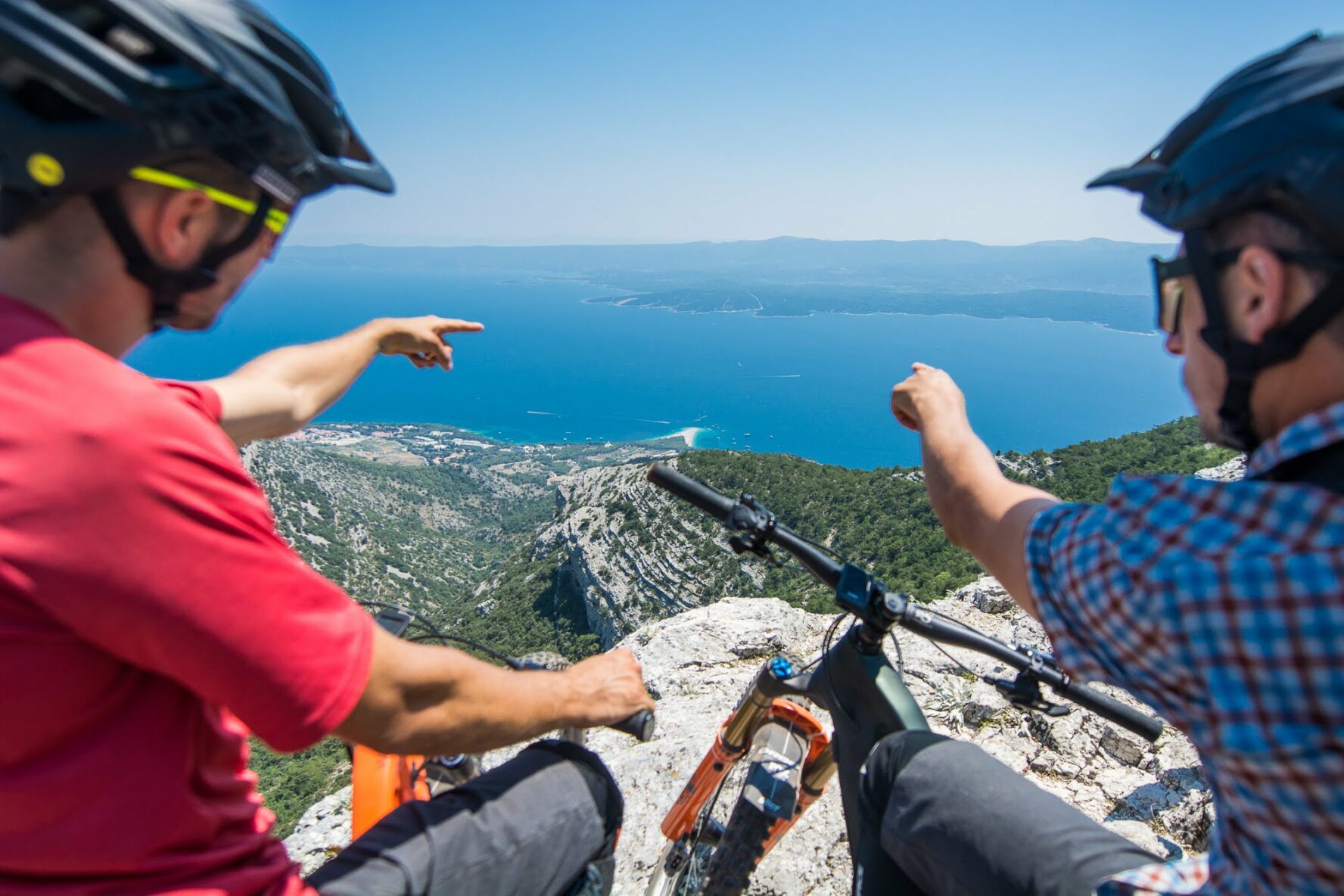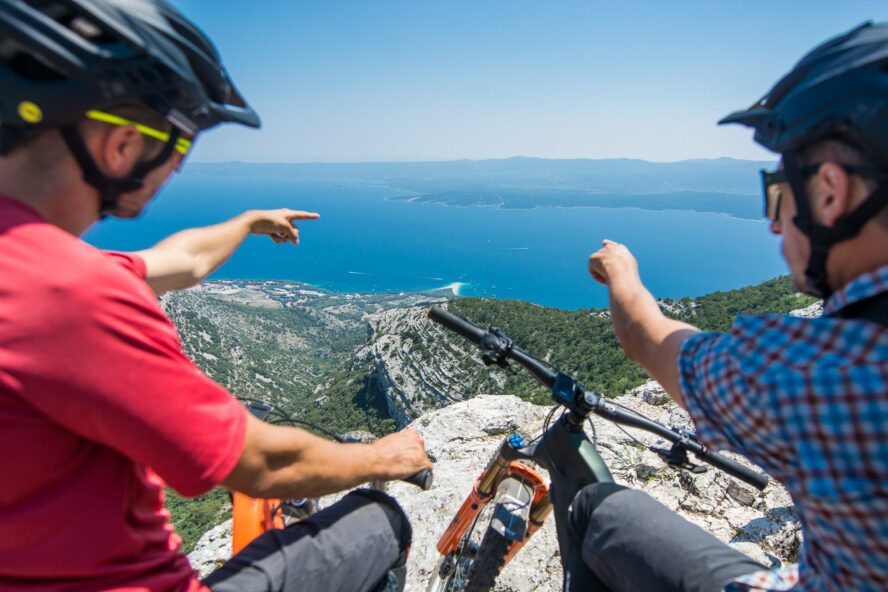 A Calling I Couldn't Ignore
Ever since I saw my neighbor ride past my childhood home popped up on the back wheel of his bike, like a stallion rearing for battle, I've been hooked on two-wheel exploration. Once I could afford my own mountain bike, there was no looking back.
Croatia's crowded capital was no place for my 29-inch wheels. To my father's dismay, I declined a job offer after graduating uni and moved to Dalmatia with a friend to help build a house. I would have done anything if it meant I could live in mountain bike paradise.
Soon after, I crashed and broke my collarbone. Go figure. I could no longer help build but my friend was generous enough to let me stay while I healed. When I did get back on the trails, I was introduced to the director of a bike tour company, who just so happened to be looking for mountain bike guides. Call it fate if you'd like.
Since 2016, I've been guiding sail-to-bike adventures on the coast of Croatia, and while I've ridden all over the world, I can honestly say nothing compares to Dalmatia.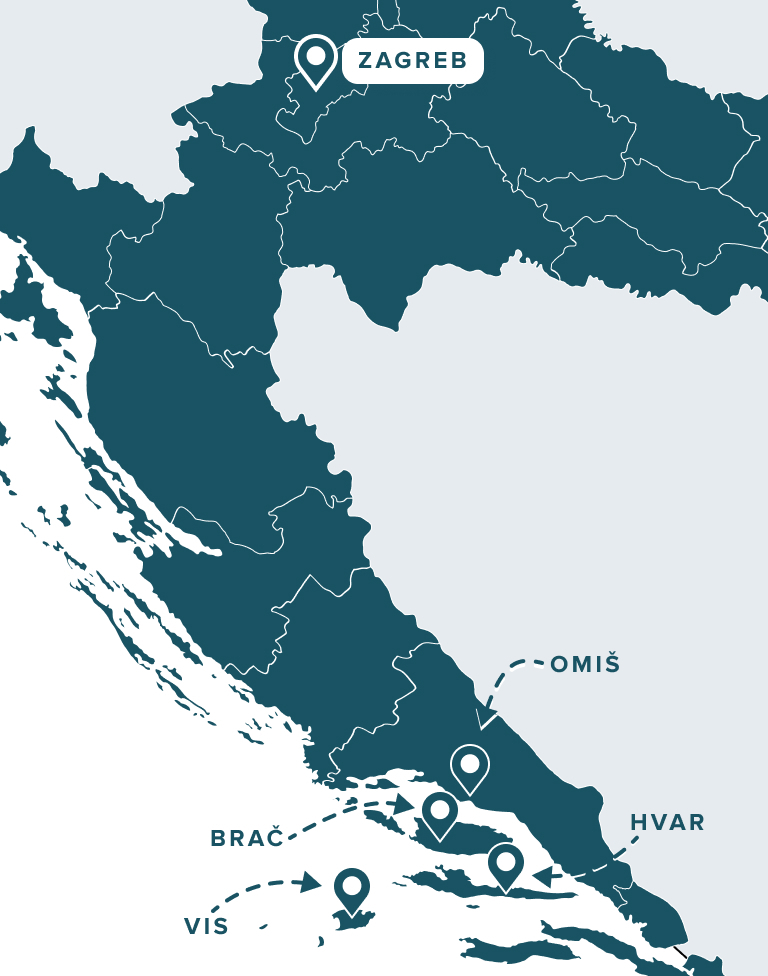 Where to Mountain Bike in Croatia?
Dalmatia is a curious concoction: old-timey Venetian towns are laced with Roman monuments while Italian-named restaurants serve Turkish delights and Austrian desserts. Among the islands and villages, each will have its own mix of language and culture, food and flora.
I've spent the last six years exploring the region on my bike. If you're looking to ride the highlights, I've found that eight days aboard a catamaran is just enough time to see the best of the coast, one island at a time.
A quick note: the advantage to using a catamaran versus a larger monohull is access. Many of the islands' ports are narrow and shallow so only modestly-sized vessels can approach shore.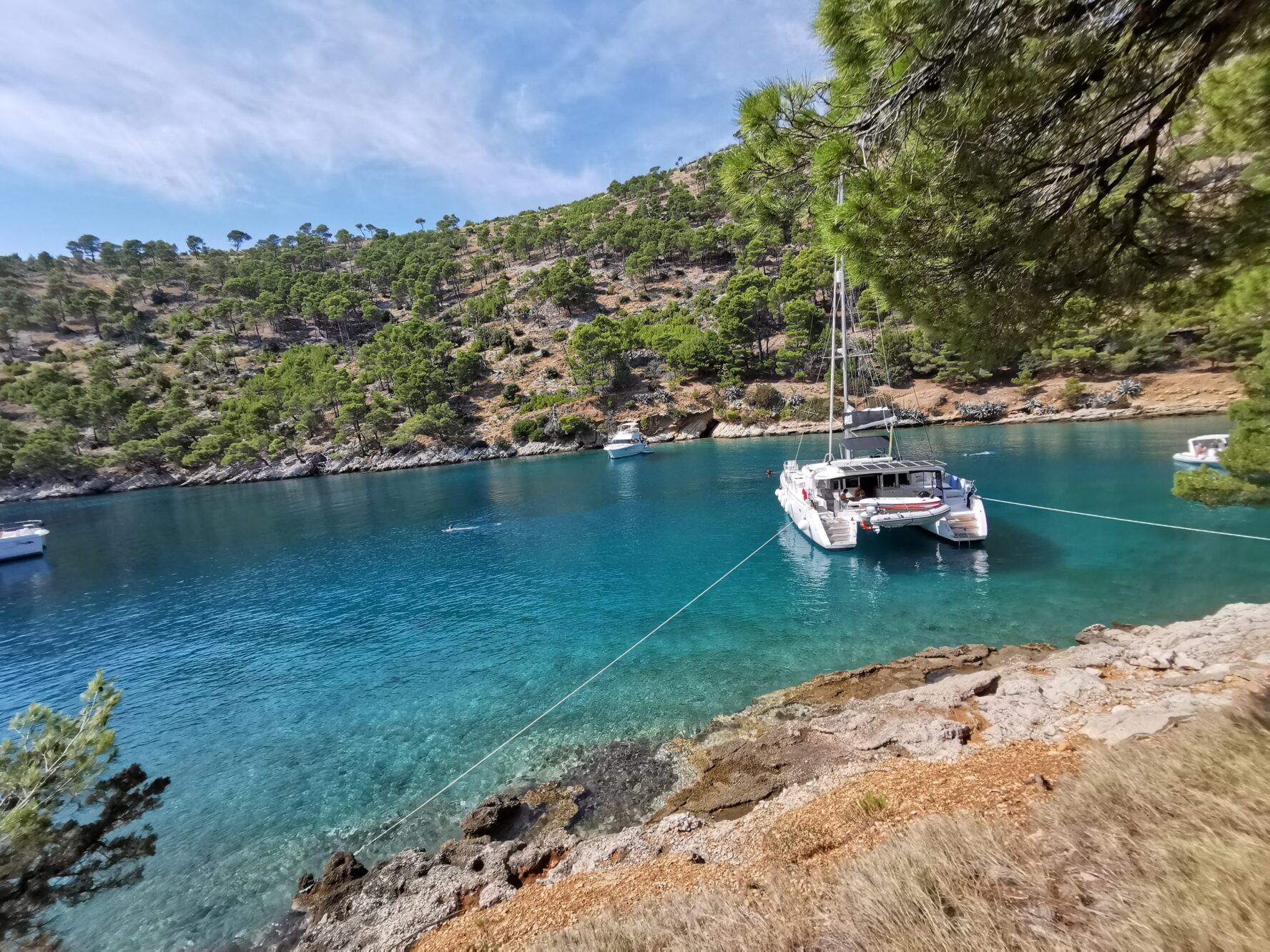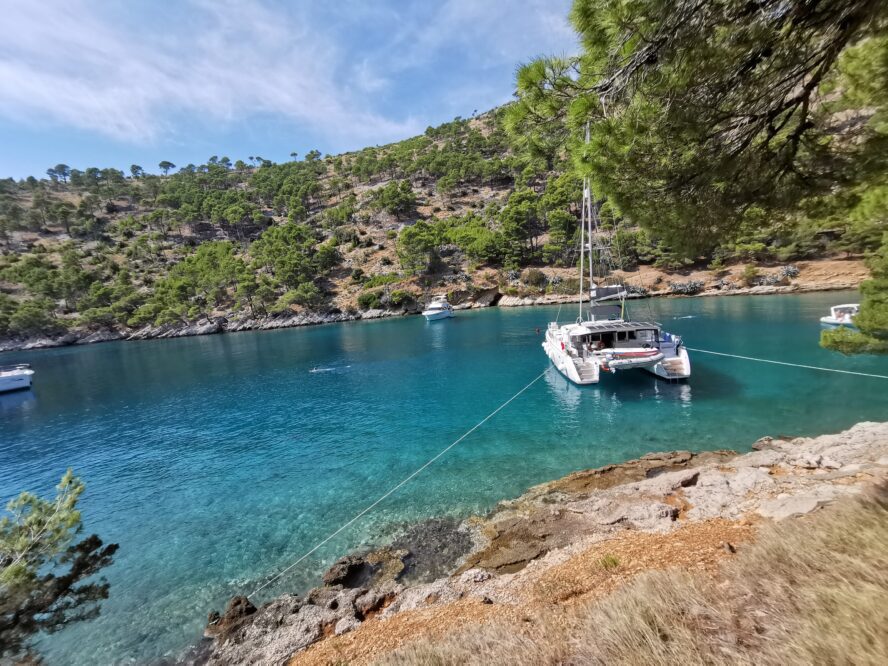 Island of Brač: Starting Big
Brač is a great intro to Mediterranean mountain biking. Spanning 150 square miles, it is the largest island in Dalmatia, and the third-biggest in the Adriatic. It is well-known for a few things: unique geography, wildlife, and the 500-year-old Blaca Monastery on the south side of the island.
Most of the trails here are up-and-down singletracks, some coastal, others tearing through pine forests or spiraling up Vidova Gora, the tallest peak around. The challenge comes from the extreme rockiness and forlorn nature of some trails, steep uphills, and the occasional technical downhill. The ascent up Vidova Gora can also be quite leg-burny, depending on the route you choose.
Mountain biking Vidova Gora: From the sea to the summit
Arguably the island's most notable feature is the Zlatni Rat beach, which juts out to sea like an arrowhead and changes shape based on the wind and current. You will gain a bird's-eye view of the beach with a steep ascent to the top of Vidova Gora.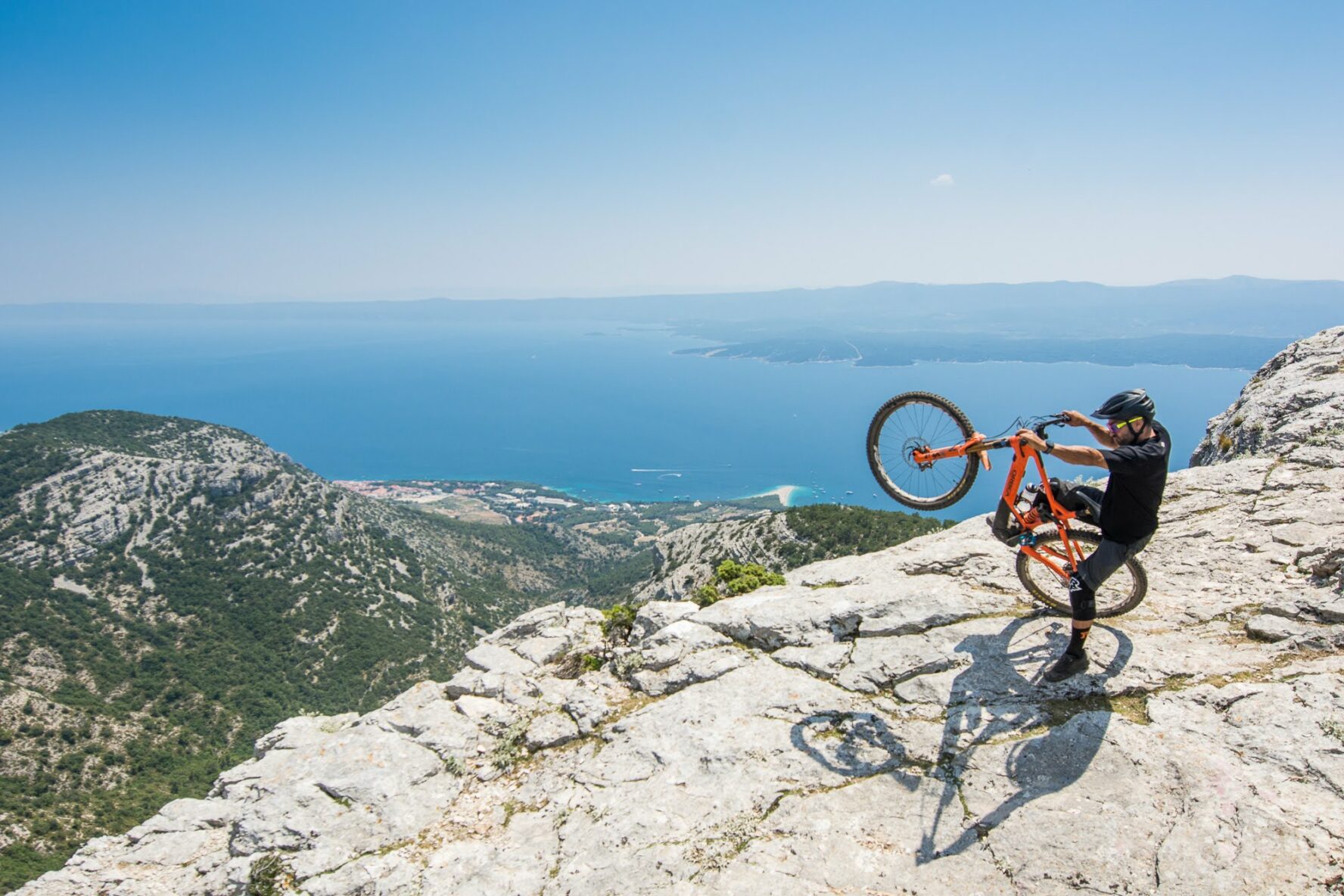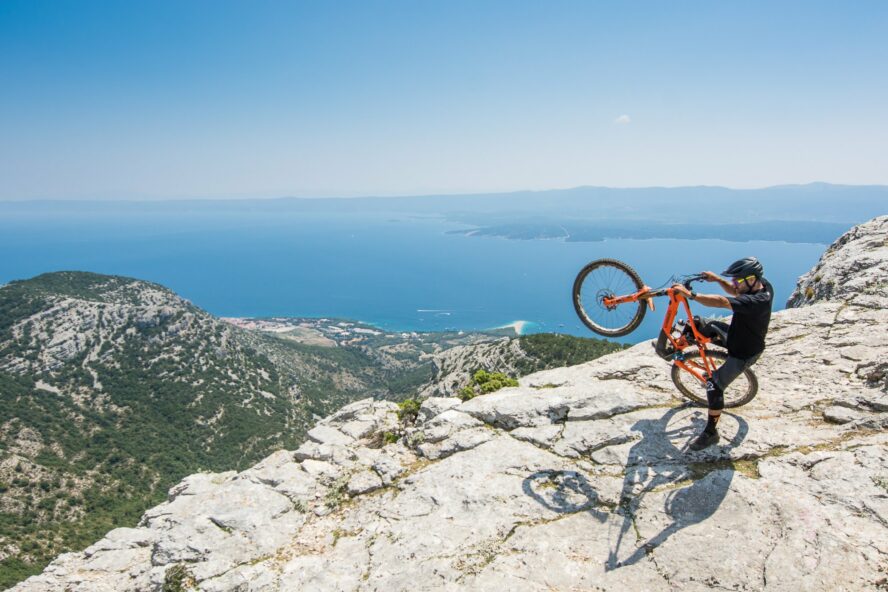 There are a few options to get to the top. The 32-mile Supetar-Vidova Gora trail, may be the most popular on the island; it is fast, flowy, and the most forgiving. The 10-mile Sumartin trail is another People's Choice. It's an easy carriageway loop that starts in an old-timey fishing village, runs through three beautiful beaches, and comes to climax near an 11th century Croatian church at the foot of a quarry.
Throughout the ride, you'll see a lot of sheep. That's because Brač is popular for sheep farming. Fun fact: there are actually more sheep on the island than there are residents. You'll also see a lot of olive trees. Another fun fact: there are more olives than sheep on the island.
On the way back down the loose-rock singletrack, you can stop to explore Blaca, a 16th century monastery carved into the side of a limestone cliff. It was used as a refuge point and place of worship by old Croat monks and nowadays operates as a museum to protect all of the historical artifacts still inside.
Bear in mind that you'll share a lot of the trails with hikers (a common occurrence here in Croatia), so you need to keep an eye out. Also, some of the more exposed routes up Vidova Gora get freakishly hot in the summertime—pack sunglasses and more water than you think you need.
Hvar: Roam Ancient Pathways and Party Like It's '99 (BC)
Just a short cruise from Brač is Hvar. Dubbed the sunniest island in Dalmatia, it is known for its sprawling coastlines, lush vineyards, and some of the most potent lavender in the world. You will certainly get an aromatic whiff while cruising through the fields.
Routes here are fast and fluid. You'll alternate between singletracks and wide dirt roads, with plenty of drops and technical sections. The best part is that they are all dry and rideable year-round thanks to the sunny (remember the superlative) and mild winters.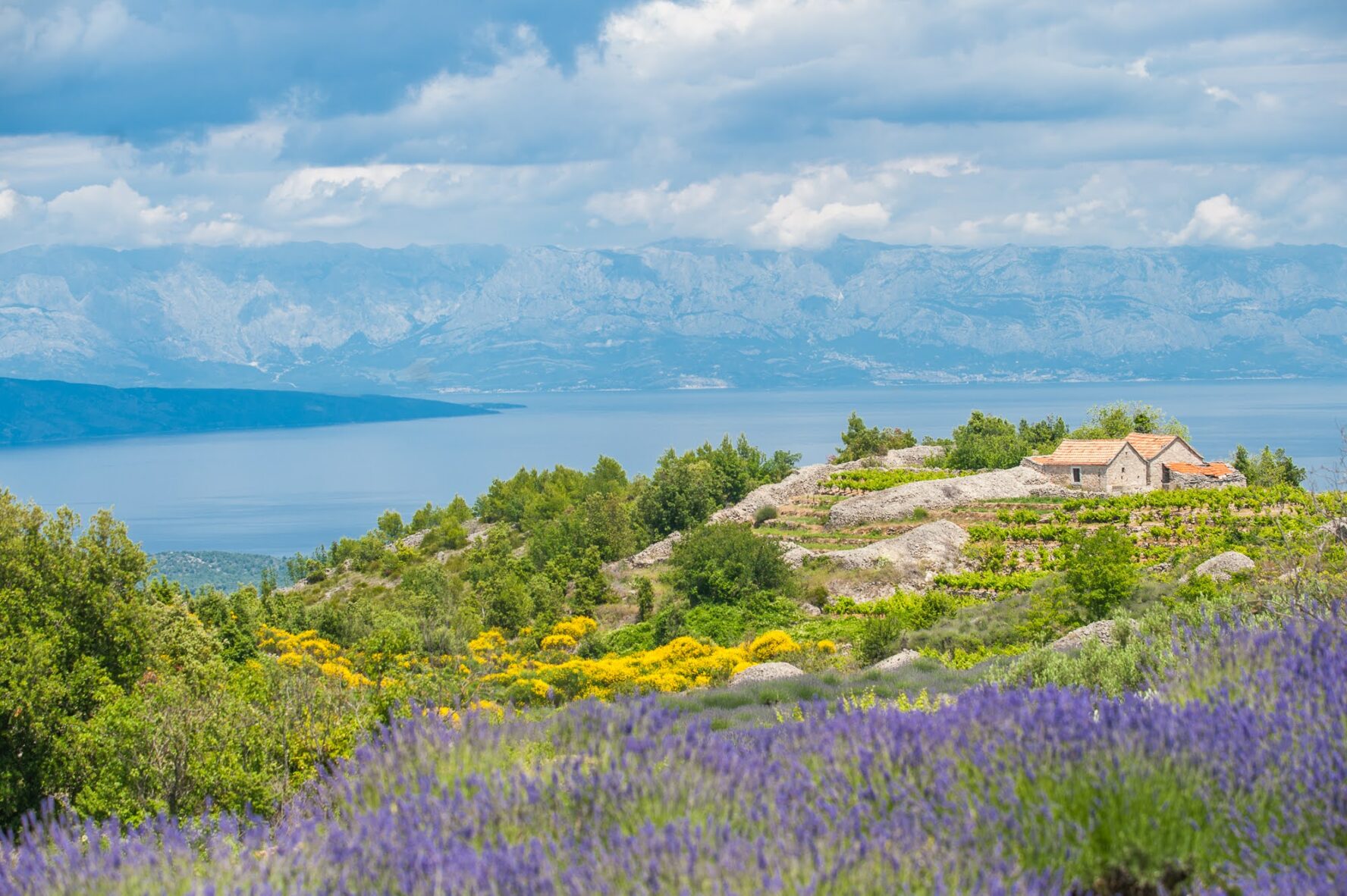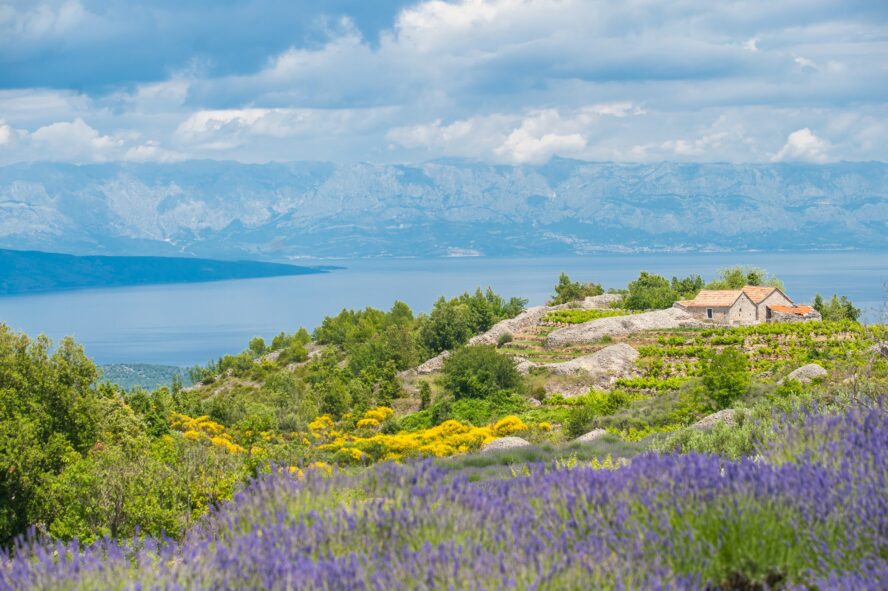 I recommend that you start your bike tour of Hvar in the aptly-named ancient city of Stari Grad ("Old Town"). Once known as Faros by ancient Greek colonists (dating to the 4th century BC), this is one of the oldest cities in Europe and a modern day UNESCO World Heritage site.
Heading out of the city, a technical, rocky trail leads us to the top of St. Nicholas, the tallest mountain on the island at 2,053 feet above sea level. From there, follow the steep vineyards, with an incline up to 45 degrees, down to an underwater winery—where bottles are kept in the sea for years to mature—and meet the people keeping this ancient tradition alive.
Other routes I recommend include the self-explanatory RideToTheSea, a fast half-hour downhill singletrack that will have you zipping through alternating rows of forest and vineyard, and the 54-mile Jelsa-Hvar trail, a non-technical route covering about half the island. This is ideal for sightseeing and can be split into shorter sections as you please.
Common across all the trails in Dalmatia, many are rocky and some can be overgrown, so make sure to keep your eyes looking ahead. Maps and GPS are key as you'll encounter a lot of crossroads, and the sheer amount of pathways can make it difficult to stick to a trail. And of course, you'll want to end your tour of the island by enjoying Hvar's notorious nightlife.
The Island of Vis: The Forbidden Island
Vis is a favorite for its remote location, plethora of beaches, friendly locals, and deep-rooted secrets. Known as "the forbidden island", it was closed to the public until 1990 because it served as a military base for the Yugoslavian National Army—and was developed to be a last-resort safe house for President Josip Broz Tito.
Beneath the surface, over 50 miles of tunnels connect the island, with the deepest ones reaching 2,700 feet down. You can explore the nuclear bunker and underground hospital, among other subterranean sites, alongside the trail. Since the public wasn't allowed access until 30 years ago, Vis still feels like a deserted island you'd come across in a thriller movie.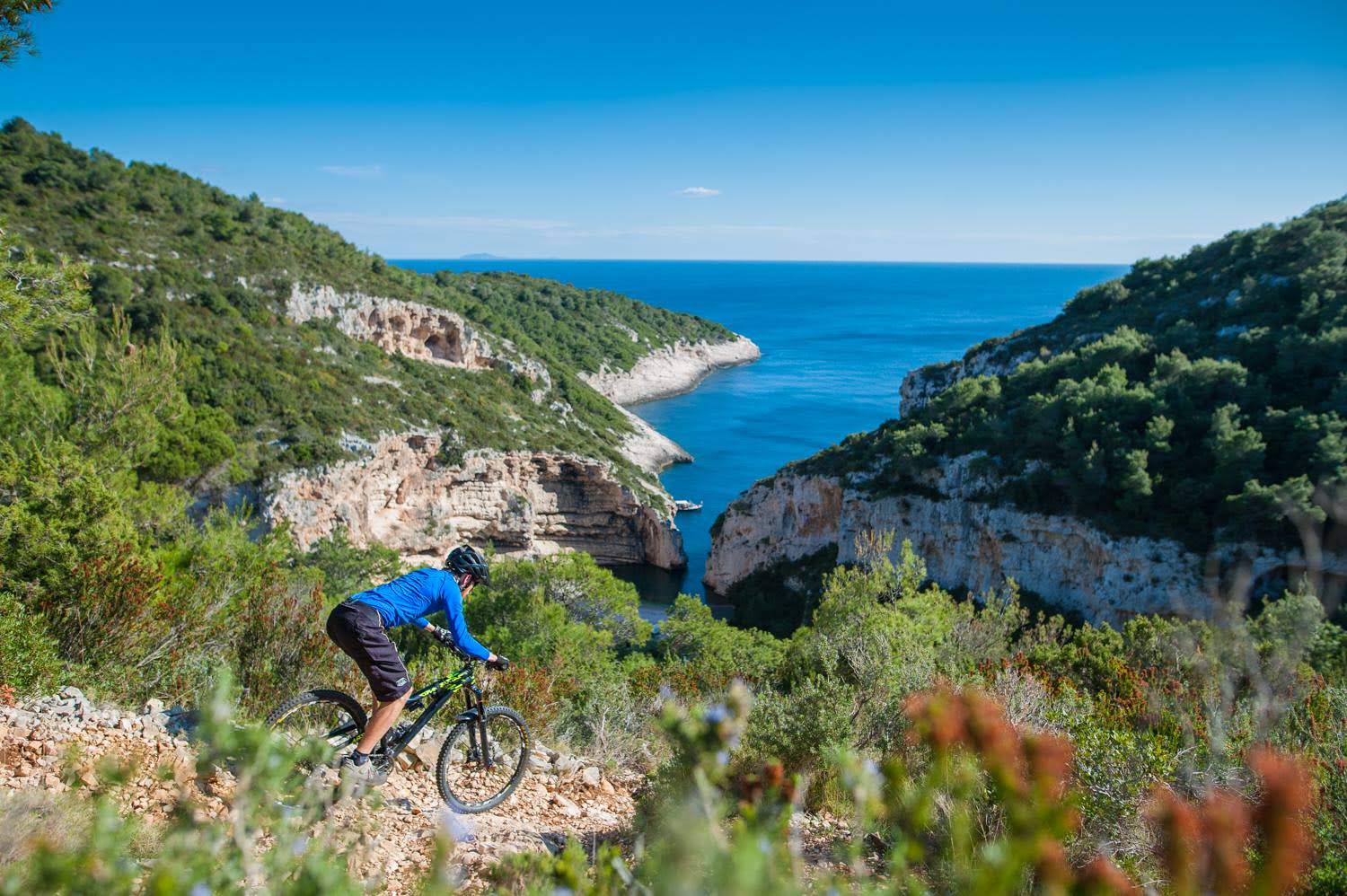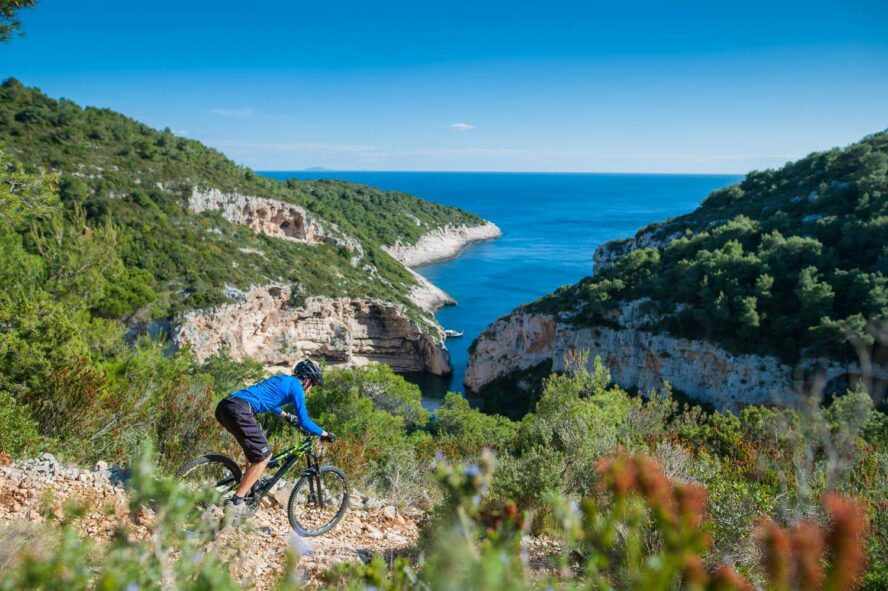 South of Hvar, and with a similar climate, the island does not experience extreme heat in the summer, nor does it get very cold in the winter. This makes it well-suited for growing lemons and oranges, as well as year-round riding.
From what I've seen, Vis is an island that lives and breathes biking. Kids bike to school, priests pedal to church, and couples spend their weekends on romantic rides along the coast. Paddling may win the overall popularity contest, but the best way to explore the heart of the island is on two wheels.
A short yet productive Vis-it
The seaside trails are relatively flat and easy-going, but the path to the heartland is a series of ups-and-downs. There's a tough, but infinitely fun downhill from the top of Mount Hum, the highest point of the island, to the sea, full of technical descents through dense vineyards.
The 15-mile Po brdima iznad Visa moderate trail will have you riding shepherd's pathways, mostly macadam, from hill to hill—a ride not unlike those you find in continental Croatia. However, the rockier and cascading sections might require some hike-a-biking. A lot of the trails on Vis are old military paths and are always a guaranteed good time.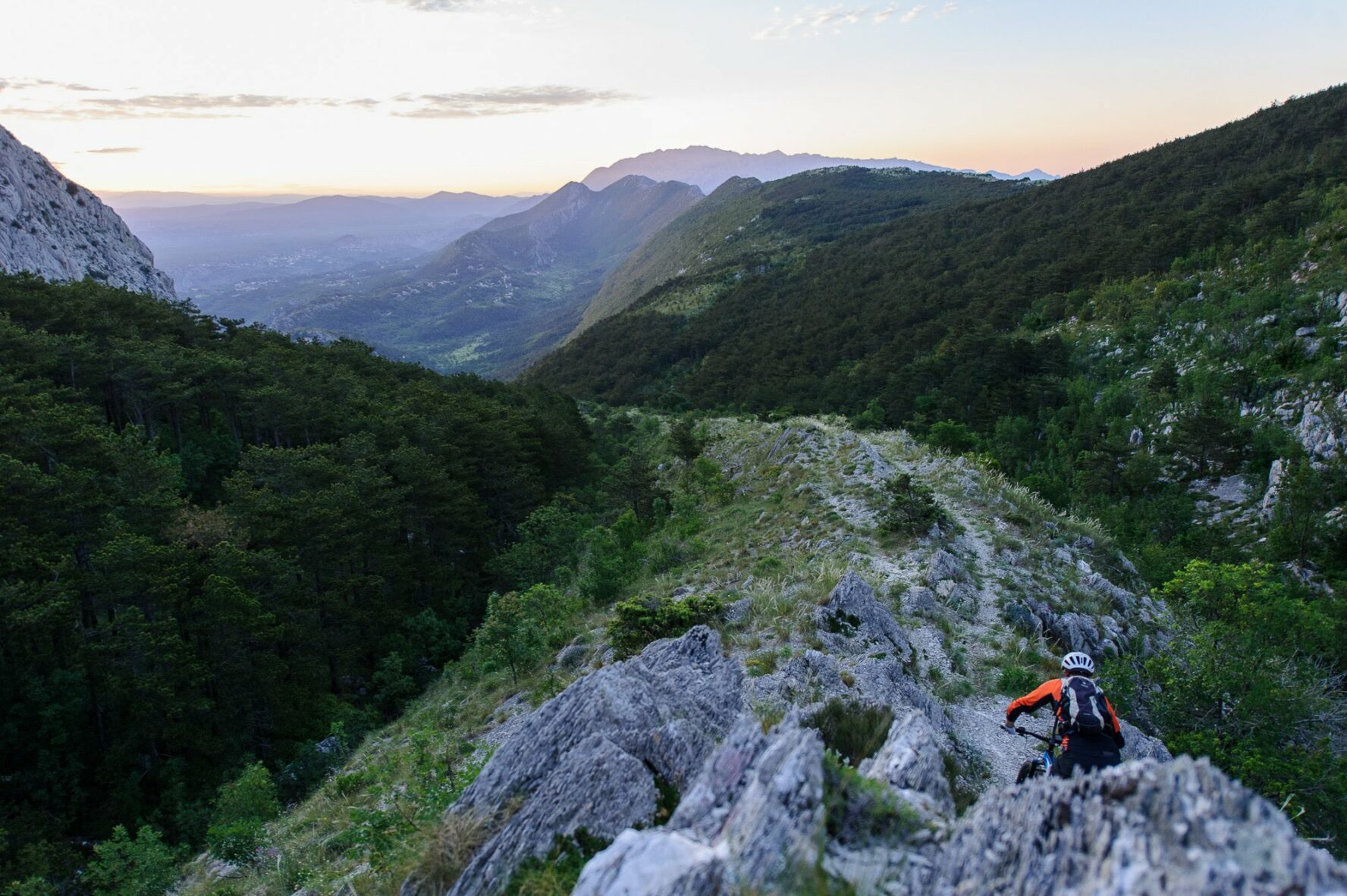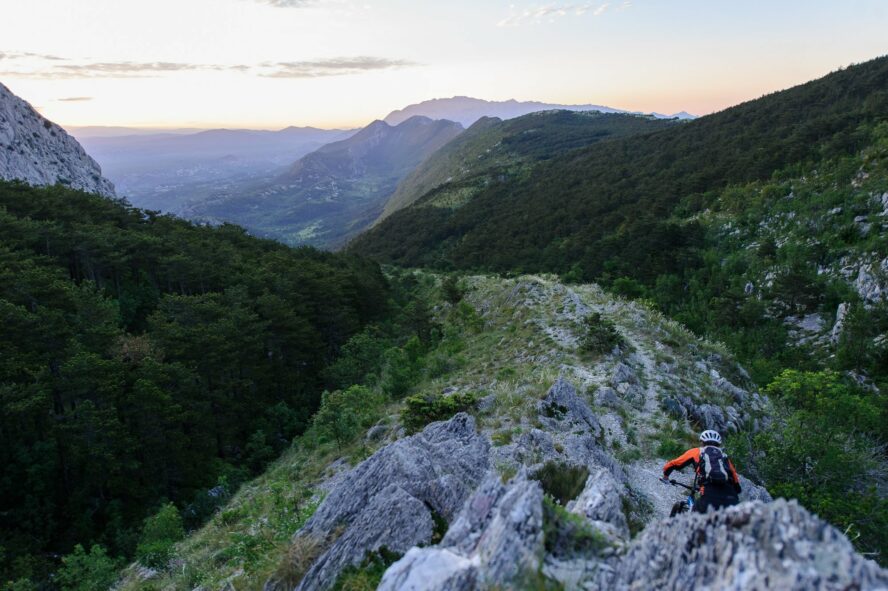 The Town of Omiš: Croatia's Adventure Capital
No tour of coastal Croatia is complete without mountain biking at Omiš.
A former-pirate-city-turned-extreme-sport-mecca, Omiš is where the high mountains and the Cetina River meet the Adriatic Sea. This geologic intermingling makes it the country's hot spot for rafting, kayaking, canyoneering, hiking, climbing and, of course, MTB. The terrain is full of steep, technical trails. Mountain biking Perun's south side offers spectacular views, while numerous thigh-busters take you over Dinara mountain.
In 2022, the local mountain bike club hosted the national downhill race, and October is highlighted by the Croatian National Championship, a qualifying race for the Enduro World Series. For the most advanced riders, this is where you'll find your adrenaline fix.
The Gear You Need for Mountain Biking in Croatia
I always recommend packing lightly, but these are part of the must-have essentials.
Bike: You can either bring your own regular or e-mountain bike or rent one, but please make sure you have quality, tubeless tires if you decide to bring your own. As you've probably picked up by now, big and sharp rocks are commonplace, especially on the more neglected trails.
Tubeless greatly reduce the risk of pinch flats, and improve ride grip and comfort on rough terrain, making them essential for mountain biking in Croatia.
Helmet: In Croatia, you are not allowed to ride without a helmet. And given the rocky terrain, why would you want to?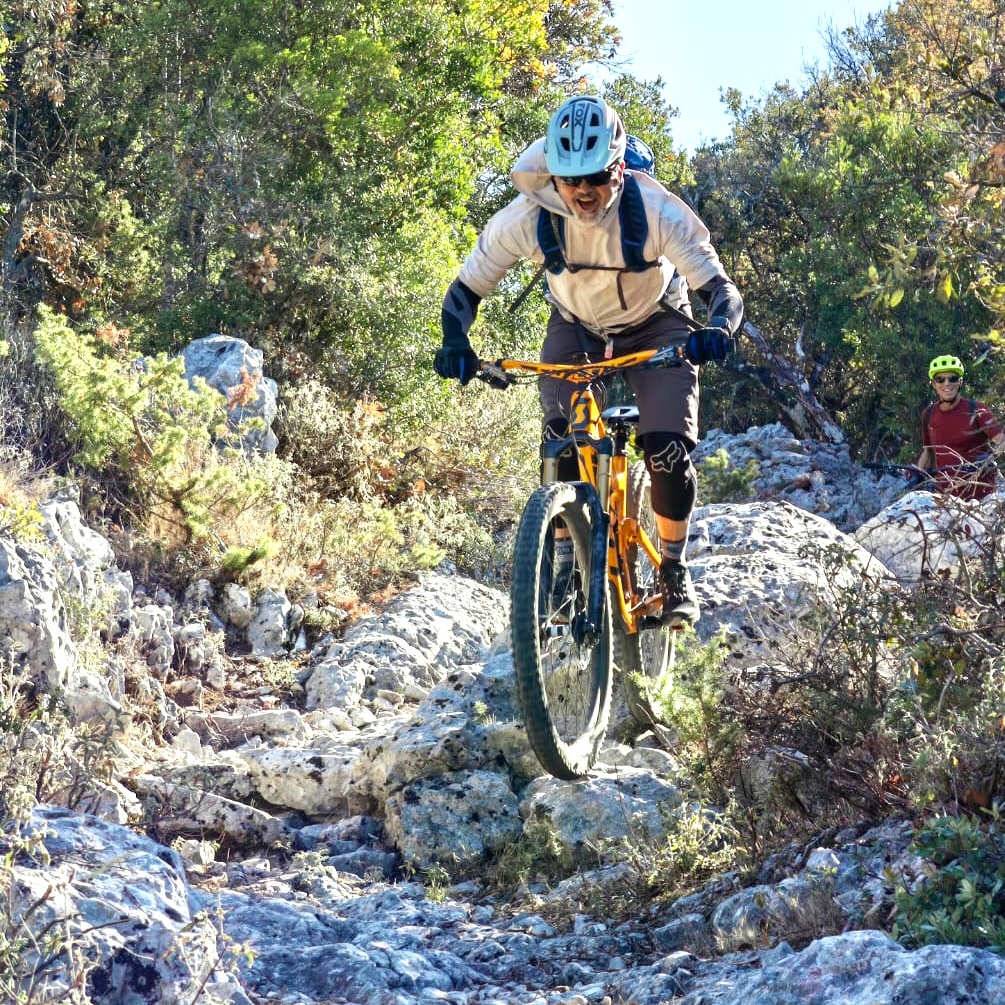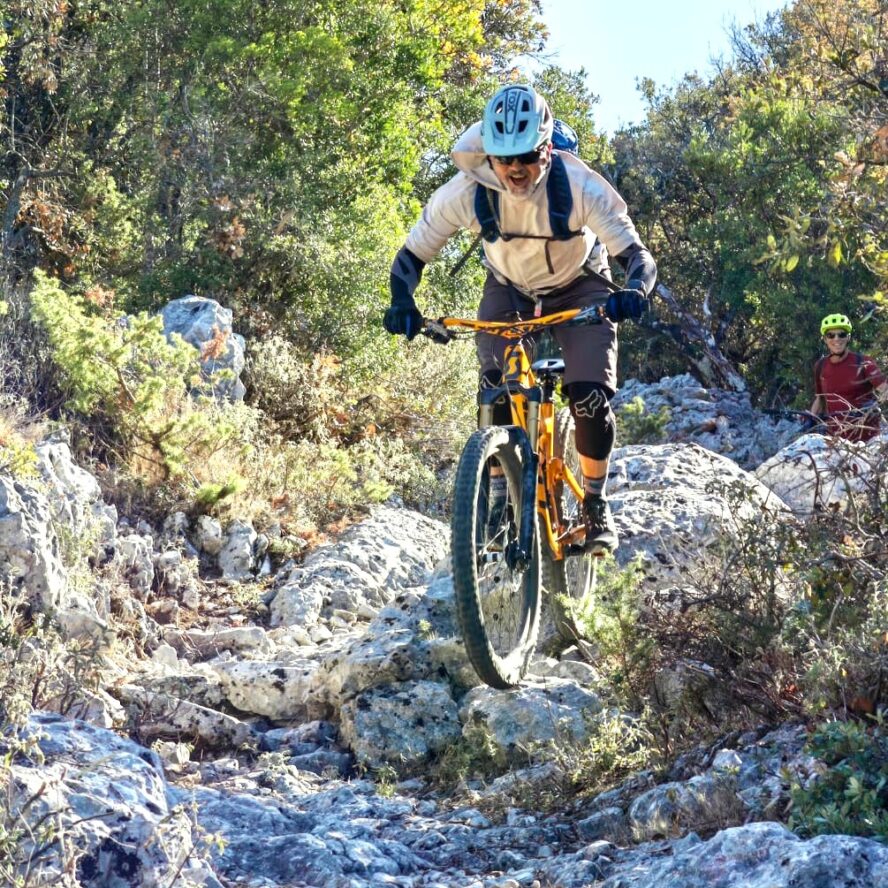 Sunglasses: Similar to snow, the sun reflects off of the sea, making visibility an issue on coastal rides. You'll want to see where you're going, so we recommend bringing a pair or two of quality sunglasses.
Gloves: Riding everyday is tough on your hands, and blisters could easily put you out of action. This is why gloves are highly recommended.
Water bottle or hydration pack: Beating a dead horse a bit here, but Croatia is a very sunny place. Even though September sees much milder temperatures than peak summer, highly exposed areas can get dangerously hot. Bringing adequate water is crucial.
MTB shoes: The terrain can be very harsh and rocky, so bike-specific shoes with good grip will help protect your feet.
Backpack or hip pack: You'll need a day-to-day pack to carry snacks, extra water and additional layers for your rides. Choose something light, practical, and weather-resistant.
Elbow/knee pads: Can't hurt. If you usually wear them on your rides, feel free to bring them.
Sunscreen: Again, it's very sunny!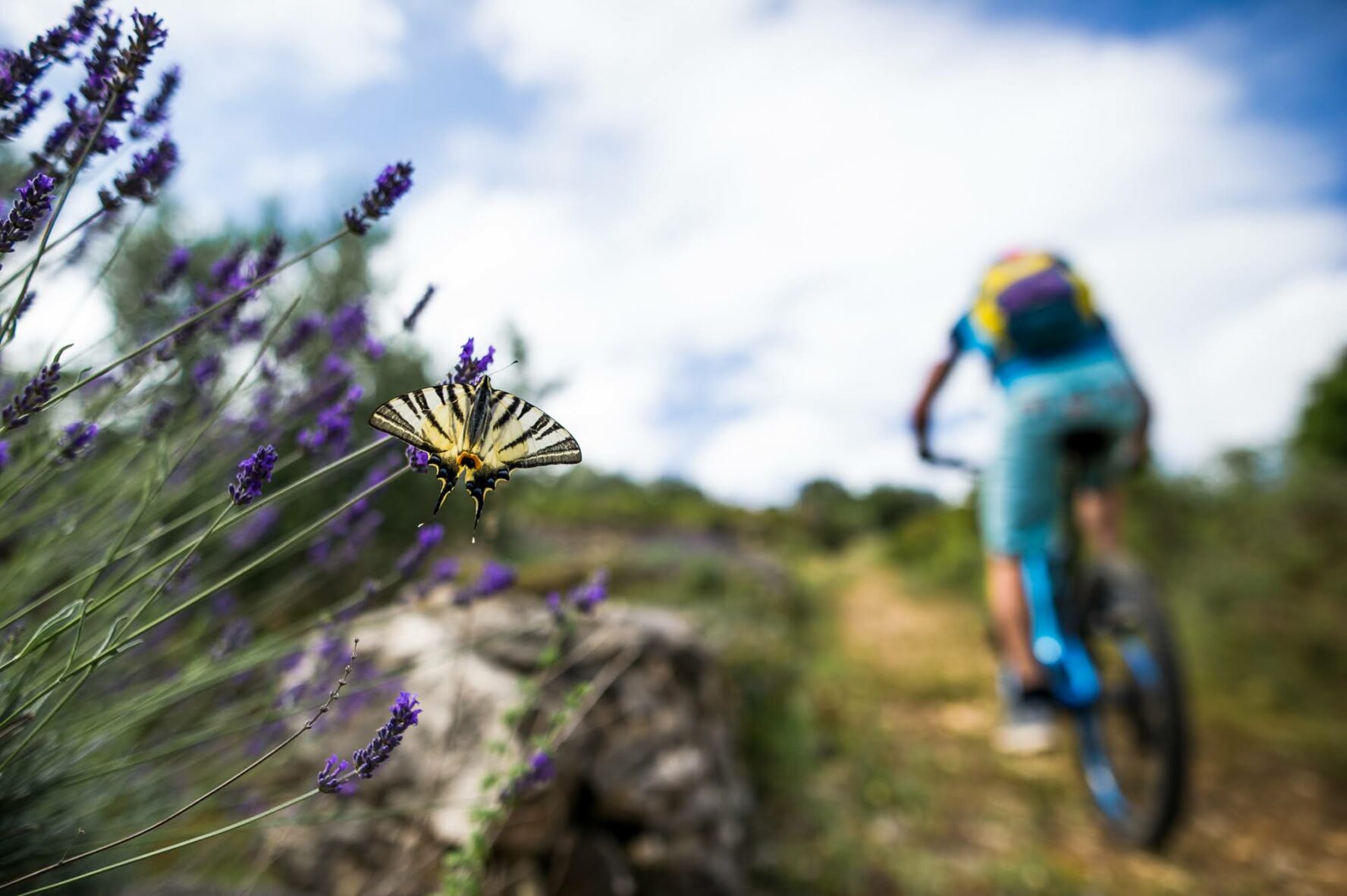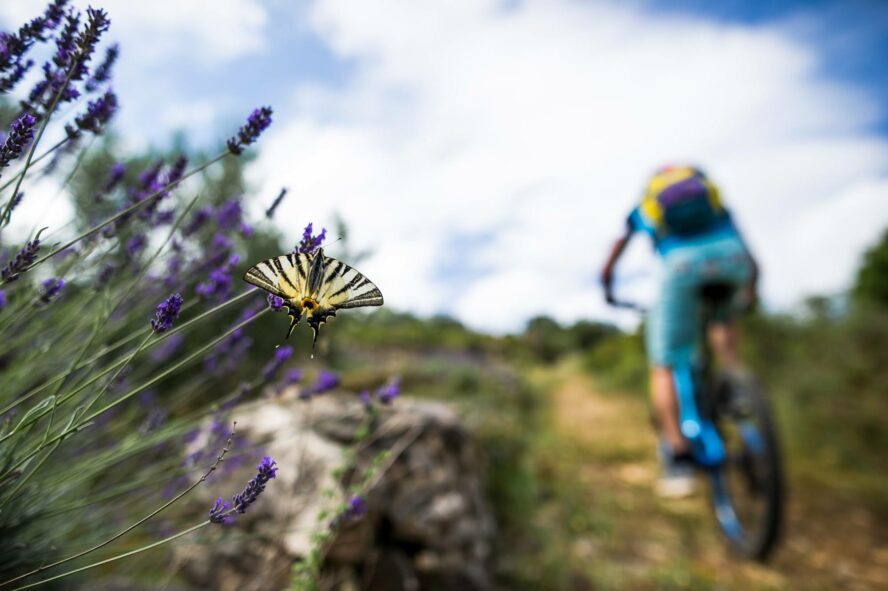 Questions I'm Often Asked
How should I prepare for this trip?
You can make the biking as mild as you'd like. However, you should generally be able to climb at least 1,500 vertical feet a day, for several days in a row, to maximize your time on the trail. If you're concerned, you can bring or rent an e-bike to make the climbing portions easier—the biggest climbs usually lead to the best vistas.
Is it going to be too hot?
Mid-summer temperatures in Dalmatia can get hellish, but in September, the mean is usually a pleasant 72°F (22°C). However, some years get unusually hot, while others see plenty of rain. Pack well and be ready for anything.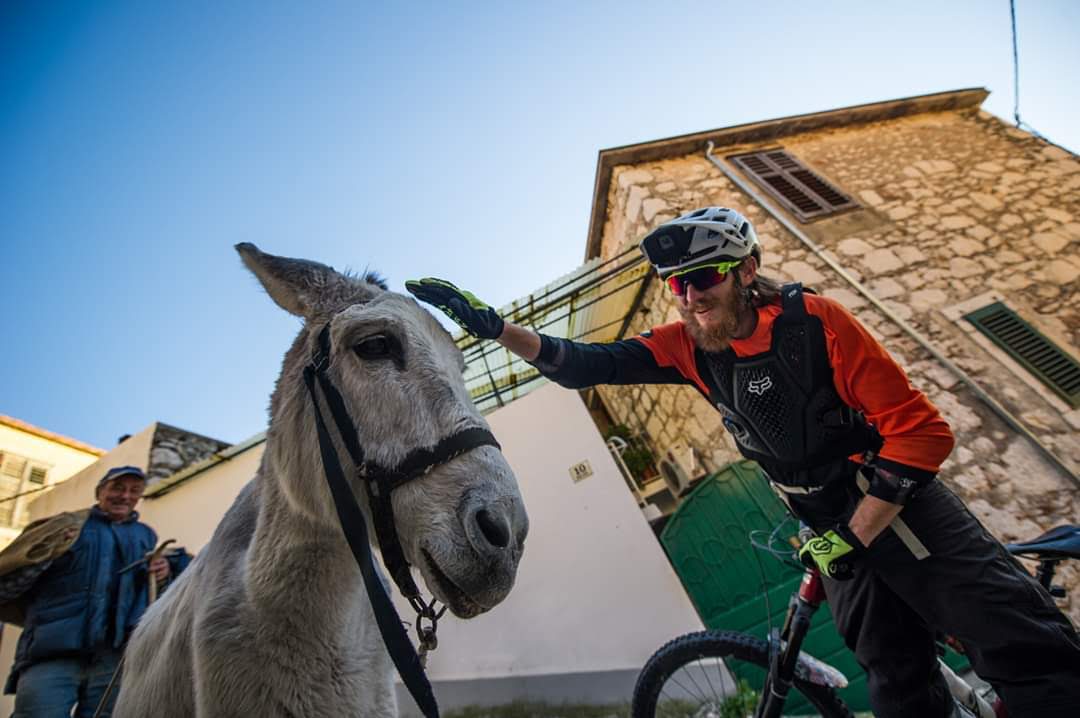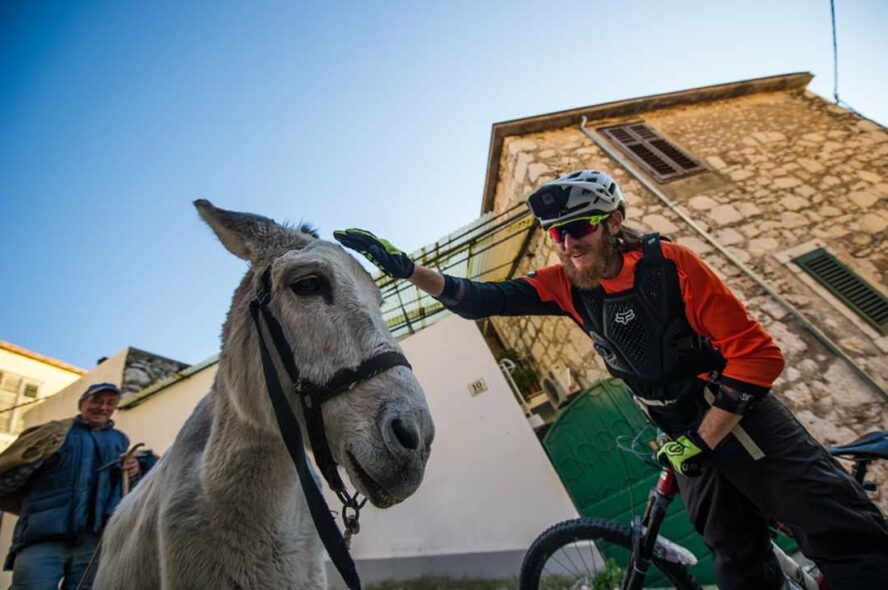 A Millennia of History and a Thousand Islands to Discover
Croatia's rich history spans every inch of the country's coastline. While hiking the Dinaric landscape is undoubtedly beautiful and an intimate way to connect to the land, a bike makes it all that much more exciting. Now if you'll excuse my hometown pride, I think it's time we start thinking about this as one of Europe's best mountain bike destinations!
Want to learn more about mountain biking in coastal Croatia? Check out Ivo's webinar and learn all about the one-of-a-kind, sail-to-bike adventure.