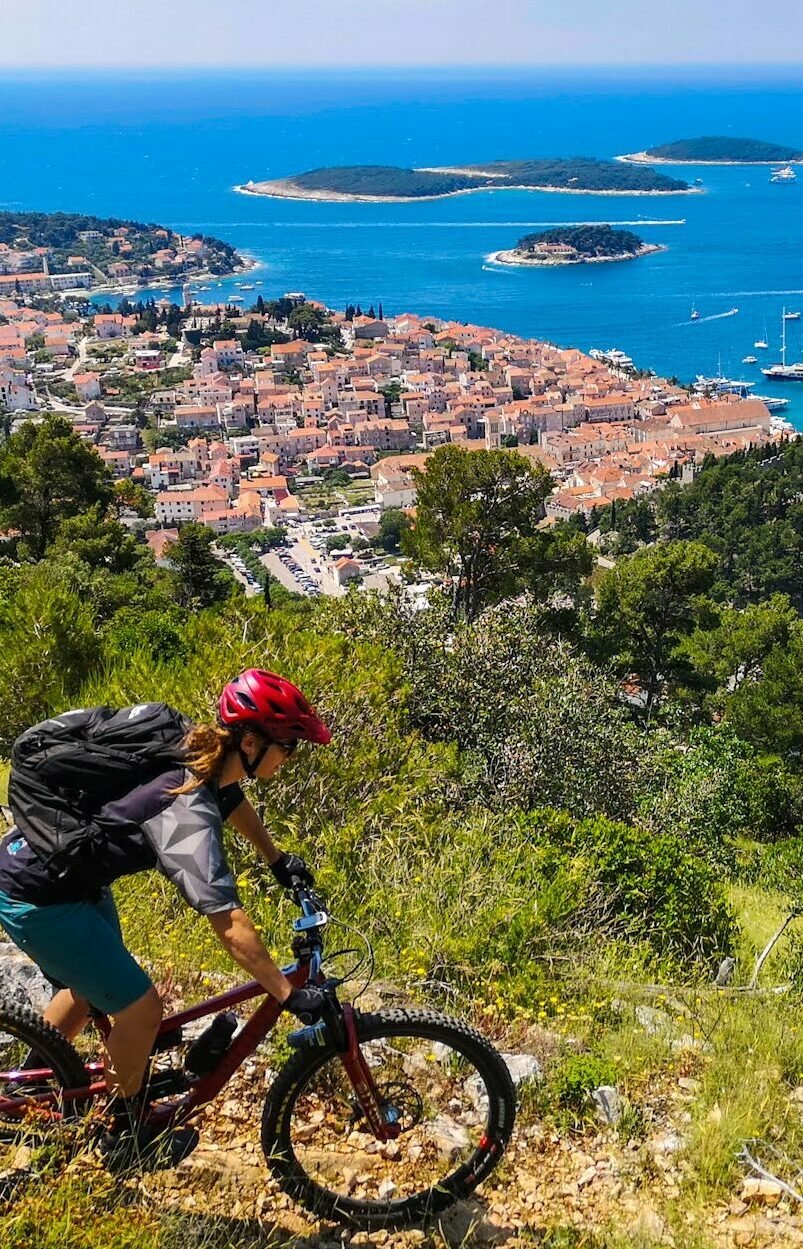 Mountain Bike & Sail along the Croatian Coast
With crystal clear waters and centuries-old tradition, this Mediterranean landscape is best experienced by land and sea. Explore the lesser-known corners of the Adriatic as you combine mountain biking and island-hopping on an eight-day adventure.
Pedal off the beaten track following rocky macadam singletrack to historical hilltop villages, over panoramic mountain peaks, and back to sunny beaches and coves. When you're tired of the terrain, anchor up and set sail for your next destination on your private catamaran.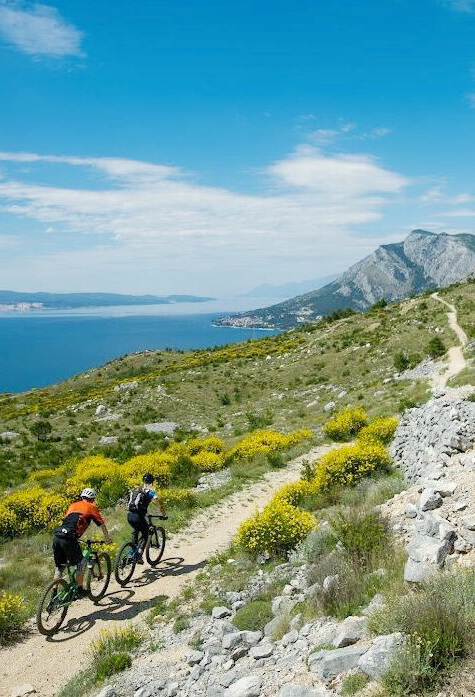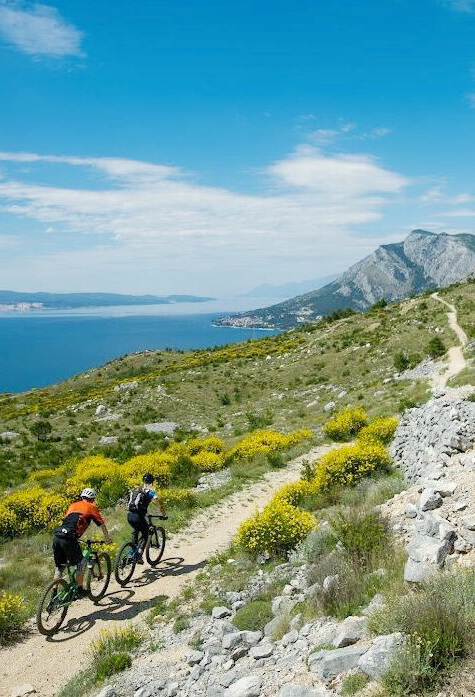 Small country, big MTB adventures
Discover Dalmatia, the southernmost coastal region of Croatia, as you sail from Trogir to the islands of Vis, Brač and Hvar and back to Omiš—a coastal town set at the foot of rugged cliffs.
Make your way along miles of gravel paths, asphalt roads, and loose rocky terrain and cruise down ancient paths, taking in the panoramas of the towns and sea below.
In your downtime, learn about history, stroll through the centuries-old olive groves, vineyards, and lavender fields, and enjoy the atmosphere of buzzing town squares.
43.4° N AND 16.7° E
ISLAND-HOPPING
EXQUISITE NATURE
MILES OF TRAILS
MEDITERRANEAN CULTURE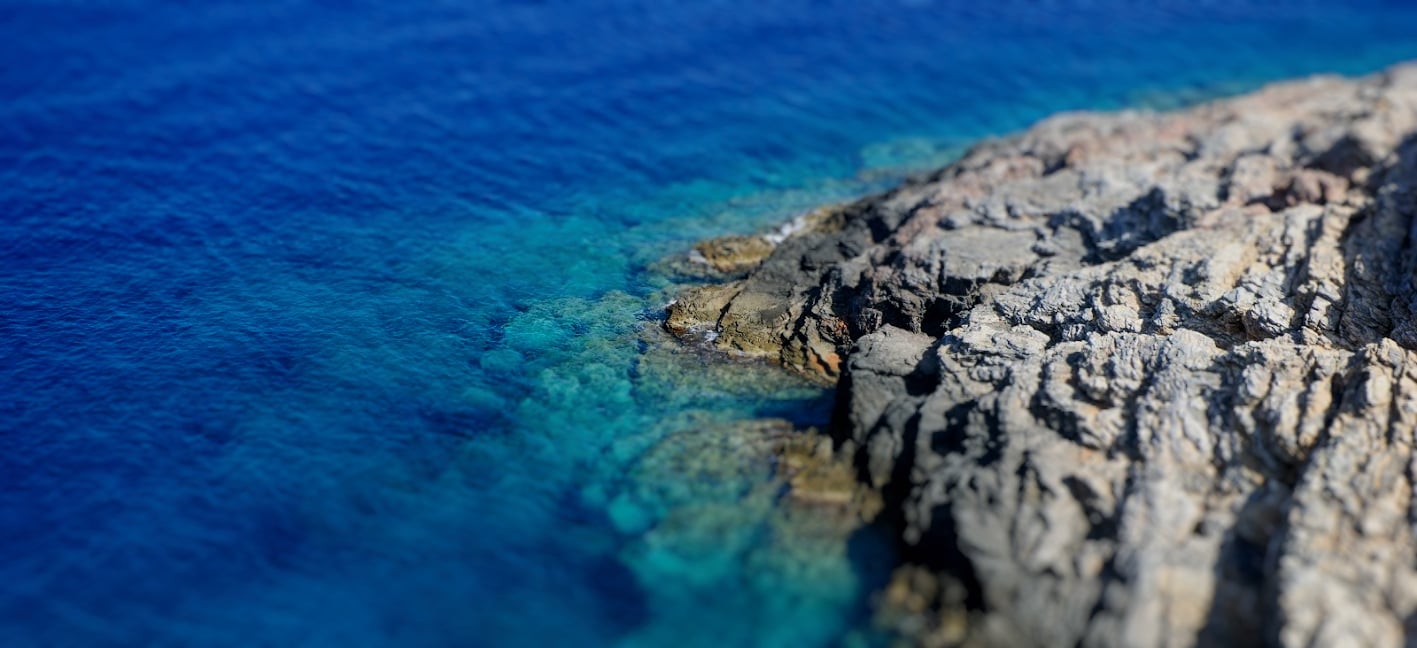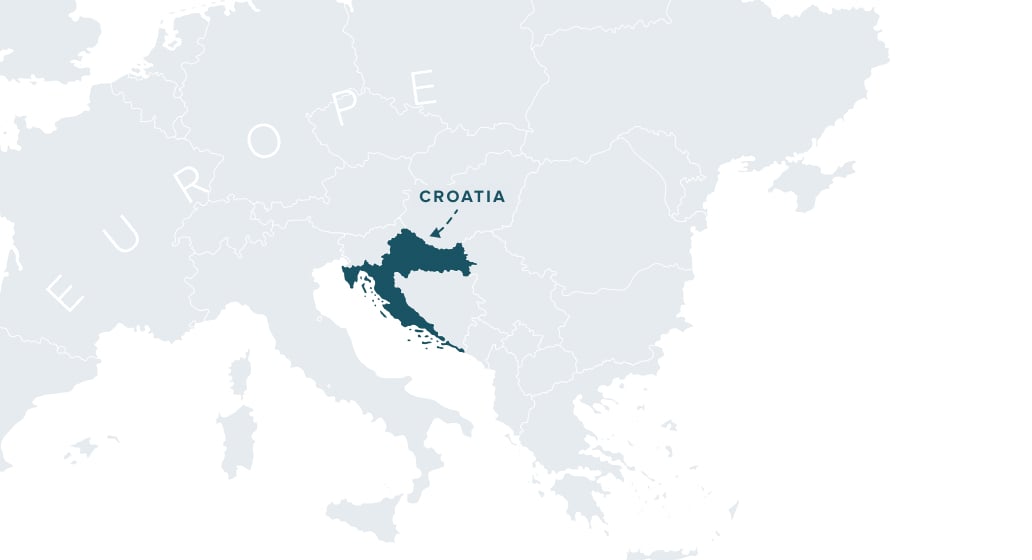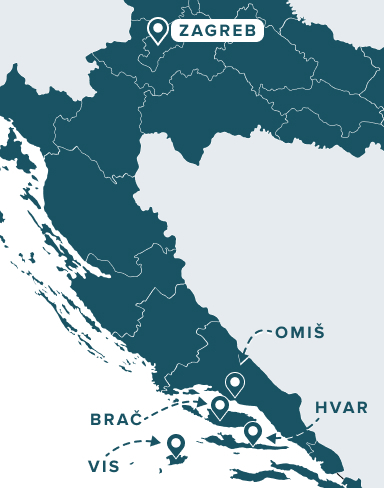 Is this tour for you?
This trip is fully customizable and lets you experience the Croatian coast the way you want to experience it. With two professional guides, you can split into groups and mix & match the routes according to your skill and preference.
If you need a day to rest and relax, skip the ride and stay on the boat, go hiking or rent a kayak!
To ensure the ultimate riding experience, you can rent full-suspension 27.5" bikes and e-bikes optimized for the rocky terrain and technical challenges that come with it. Premium carbon-frame bikes are also available on request.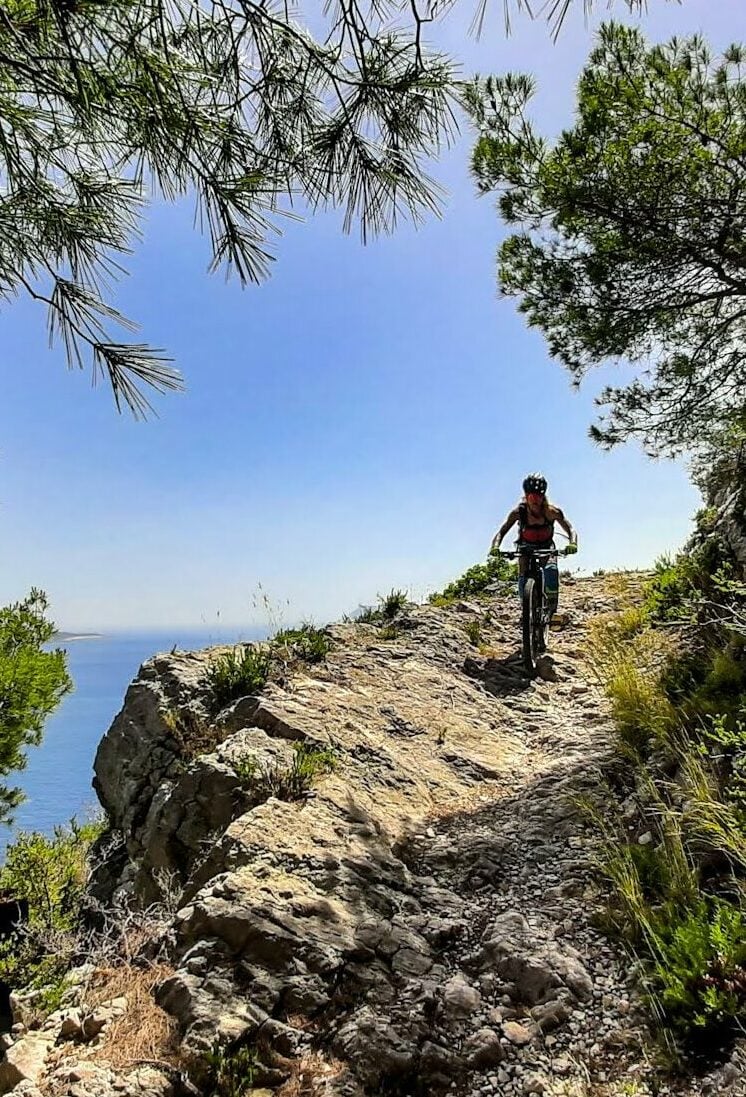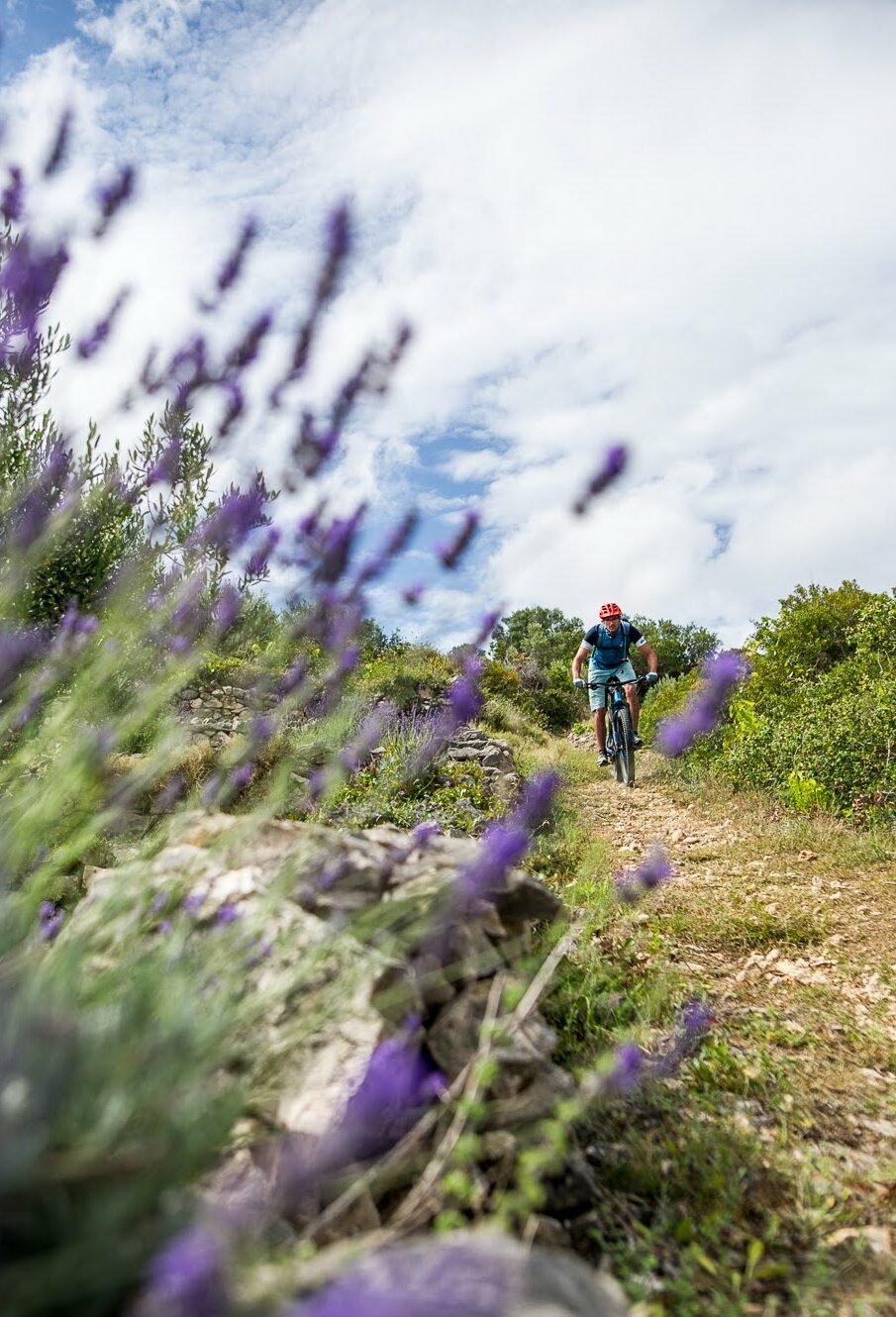 Beginner mountain bikers looking for a scenic ride should be able to climb 500m (1,640 ft) of elevation and ride for 10 to 30 km (6.5 to 19 miles) per day on average. The varied terrain can feature small obstacles and loose rock. You should be skilled in breaking and weight shifting and be able to ride while standing.
Advanced MTB enthusiasts in search of steep technically-challenging rides can expect to ride up to 70 km (43 miles) and upwards of 1,500m (4,920 ft) of elevation per day. Off-road terrain will most likely contain larger stones and obstacles, loose surfaces and technical sections. The gradient can be up to 60% in places.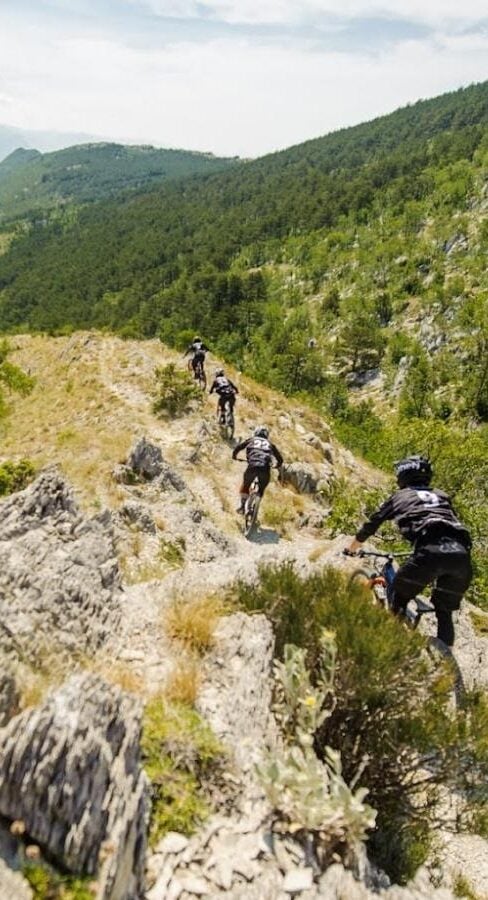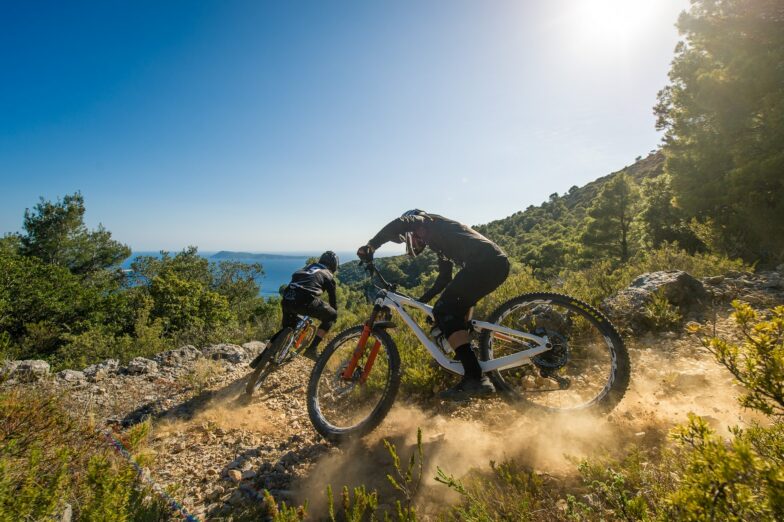 An exciting adventure lies ahead
Every town and island tells a different story
TROGIR
This small town in central Dalmatia will dazzle you with its old-time charm. The historical center of Trogir and its Romanesque, Renaissance, and Baroque buildings have been included in the UNESCO list of World Heritage Sites.
Start the week off with beginner to moderate flowy trails or get a taste of classic Mediterranean singletrack known for its rocky and loose terrain. Descend fun steep singletrack and enjoy the views of beautiful Romanesque churches, the St. Lawrence Cathedral, and the Kamerlengo Fortress in the distance.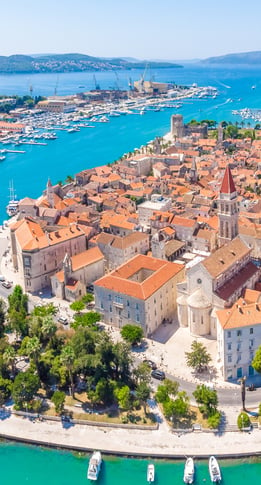 BRAČ
Over 24 miles long and just 7.5 miles wide, Brač is famous for the town of Bol and its constantly-shifting Zlatni Rat beach.
Various steady and flowing descents allow beginner mountain bikers to explore every hidden gem of the island and encounter wildlife along the way.
Advanced riders will enjoy the technical trails from the highest peak on the island, Vidova Gora (778 m/2,550 ft), featuring drops and big rocks with switchbacks as they descend back to the coast. Halfway down, visit the 500-years-old Monastery Blaca.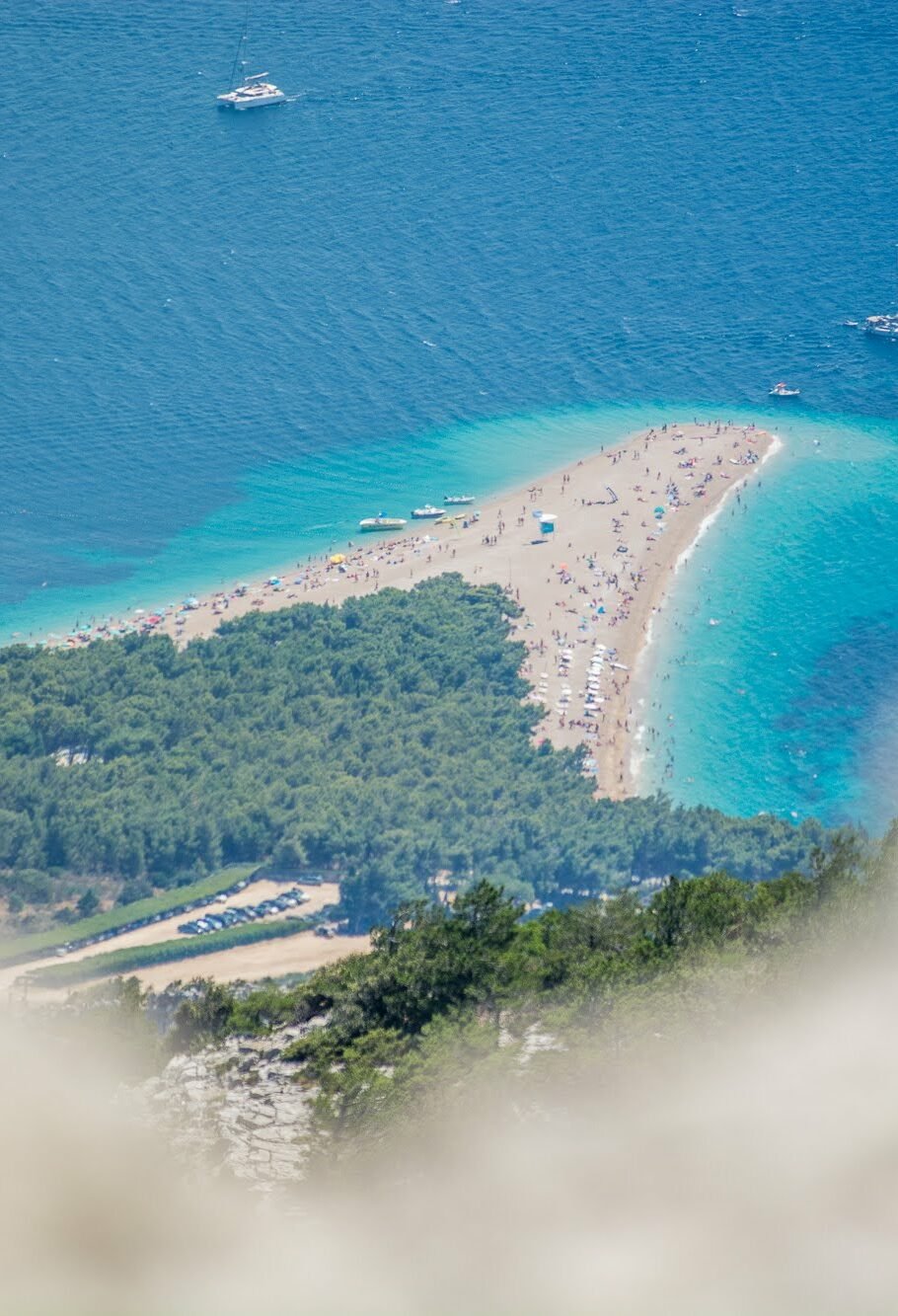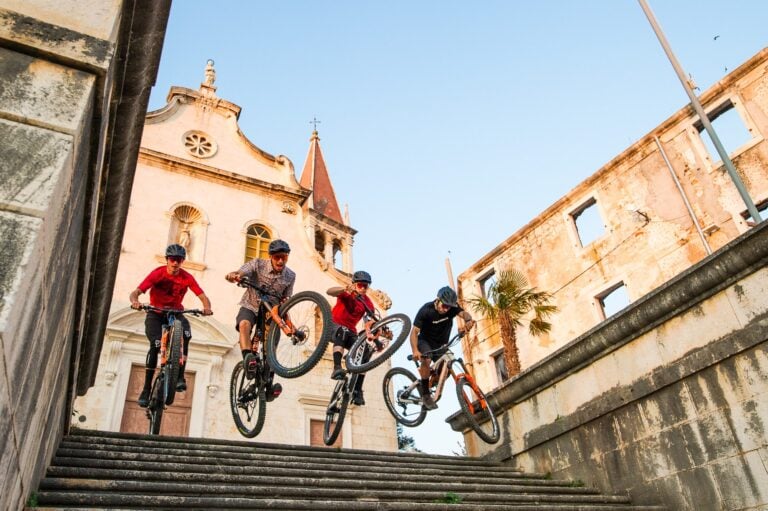 HVAR
Hvar has been a well-known and important island since ancient Greece thanks to its nautical position and biodiversity. Today, it's considered one of the most beautiful in the world with jaw-dropping landscapes, lavender fields, and rich history.
Visit Sveta Nedjelja, a town known for its wine tradition that lies on a sheer cliff at the foot of St. Nicholas (626 m/2,053 ft)—the highest peak on the island.
Beginners can spend their time on slow and steady wide dirt roads. Moderate trails are not very technical but can be rocky with a few drops and switchbacks. Bikers looking for fast and steep will enjoy the rocky trails with a lot of switchbacks and technical parts.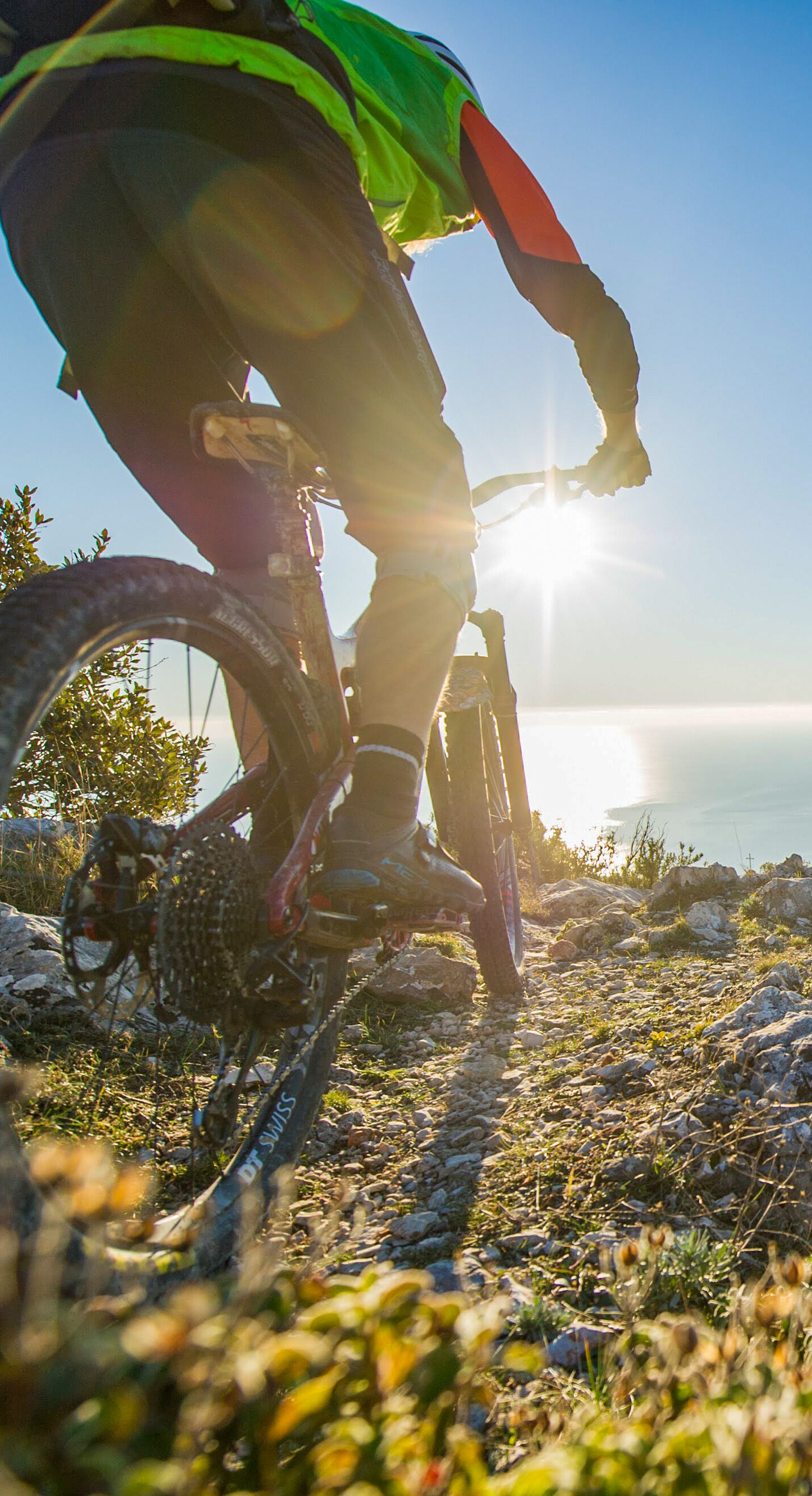 VIS
This Adriatic pearl attracts people from all over the world with its natural beauty and historic monuments. The island has numerous underground tunnels leftover from the time of Yugoslavia. If you're up for a real adventure, visit one of the post-WWII bunkers!
The variety of rideable terrain allows you to explore the ins and outs of the island. Start off the day on flat, cobbled waterfront streets and continue your way up into the hills.
For a real challenge, descend from Mount Hum (587 m/1,925 ft), through vineyards, and along old Dalmatian stone walls on off-road tracks.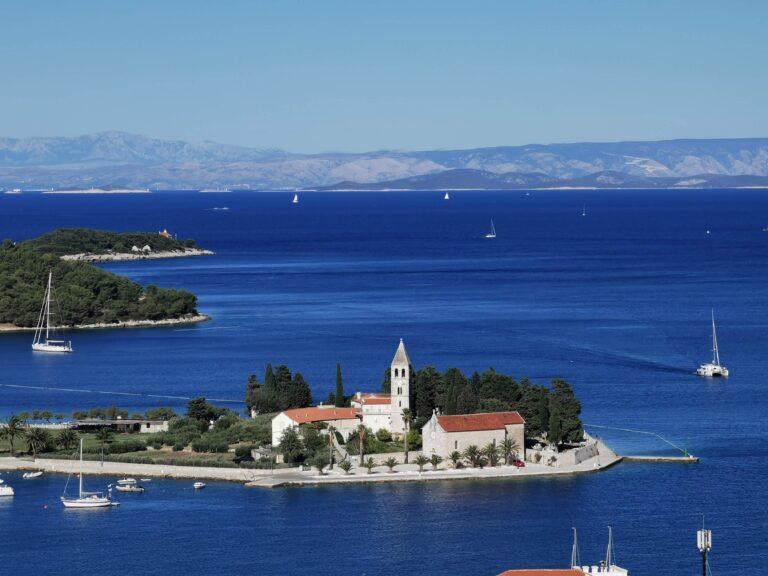 OMIŠ
Omiš was built where the azure Cetina River meets the Adriatic Sea, forming a 300m deep limestone canyon. This city in the heart of Dalmatia is known as the mountain biking mecca of the region.
With 53 km of trails, you can find something for every skill level, from beginner wide open trails with hardpack dirt to loose and dusty singletracks on exposed ridges with rocky switchback descents. The south side of Perun Hill boasts spectacular views of the bright blue sea while other trails take you over the Dinara mountain and deep into the Dalmatian hinterland.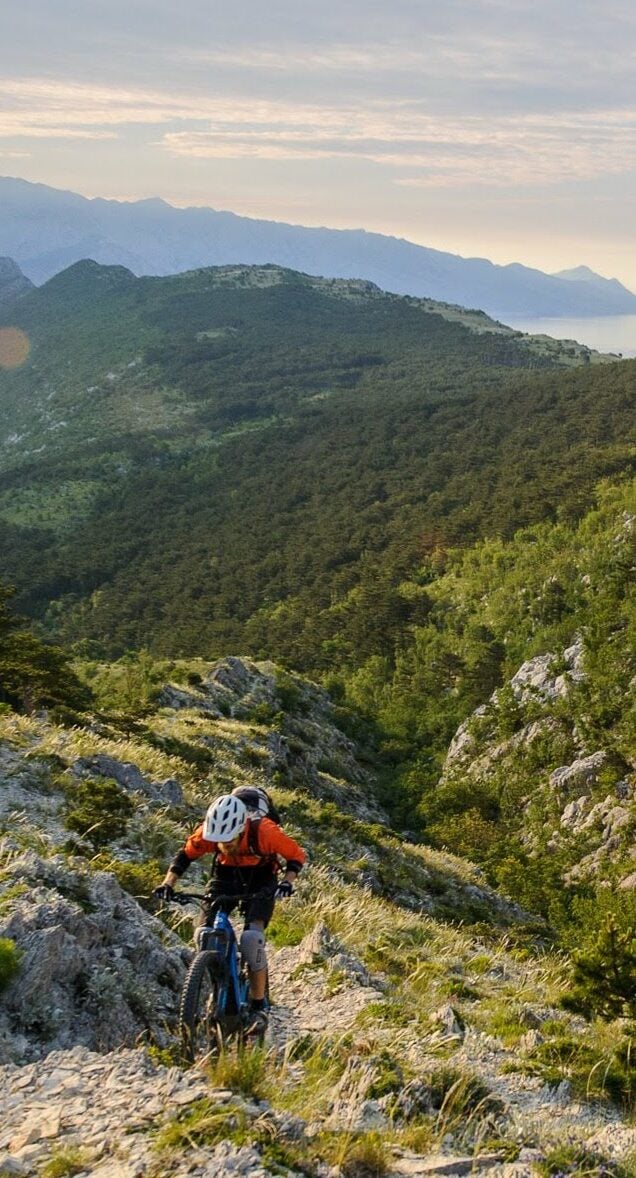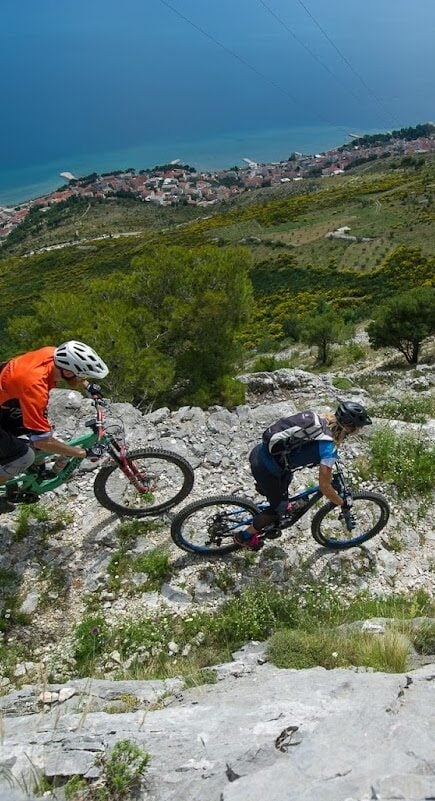 Island hopping with style
As you move from the mainland to the islands and back, you'll spend your time on a spacious and luxurious catamaran that can accommodate 6 mountain bikers, 2 guides, and all the bikes and equipment needed for the tour!
Enjoy your breakfasts with a view and relax and unwind in the comfortable sitting areas on the ship's deck. The wood-clad galley and lounge area are great for entertainment while the sleeping cabins with en-suite bathrooms, air conditioning, and a modern interior provide a cozy retreat at the end of the day.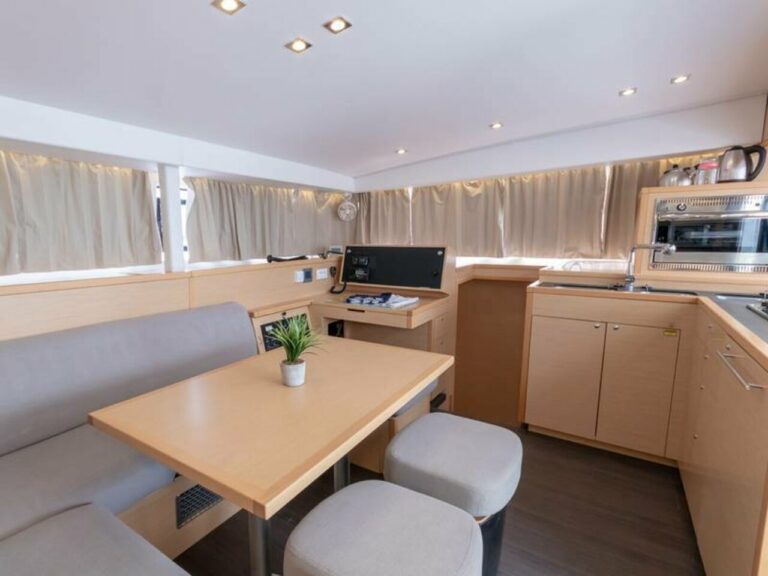 Your guides
MTB guide, bike mechanic, and tour logistician Ivo Jaric has been guiding mountain biking tours for all skill levels since 2016. Although he was born in the continental city of Zagreb, Ivo shares a special bond with the Adriatic coast. When he's not shredding singletrack, he's traveling with his mountain-biking wife and trying out artisanal beers in local taverns.
Jelena Rončević is an outdoor enthusiast and physiotherapist that likes to spend most of her free time in nature. She is a hiking and mountain biking guide, with an adventurous spirit and passion for shredding!