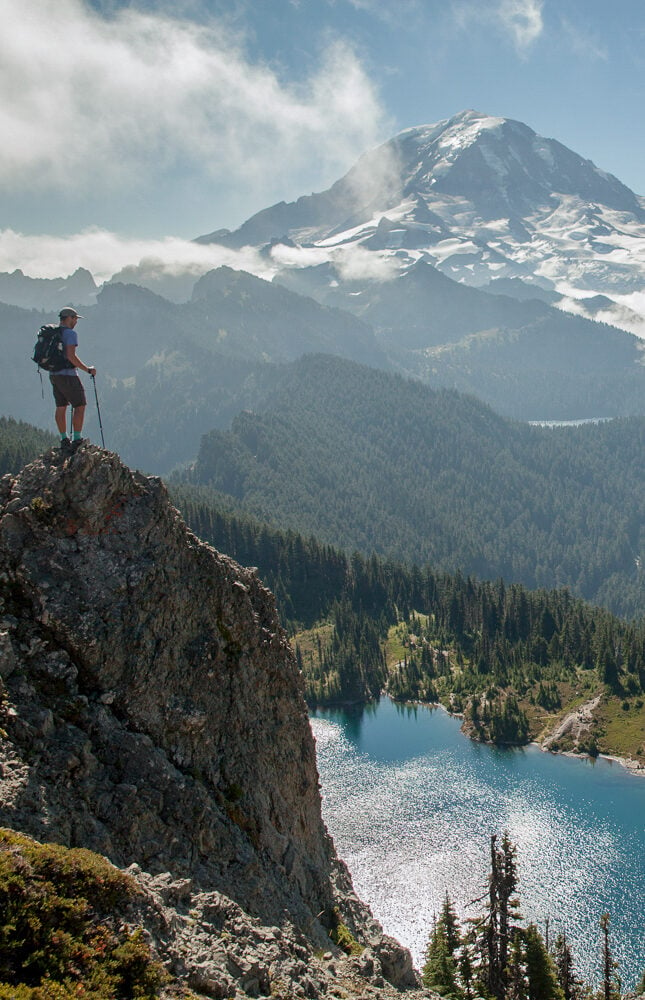 Hike the Best of Washington's National Parks
Washington's national parks embody the wild spirit of the Pacific Northwest. With great swathes of emerald forest, a coastline bejeweled with islands, and ever-looming active volcanoes, the Evergreen State is a place to restore your connection with nature.
Set out on a soul-stirring journey that traces the terrain from the Pacific coastline of Olympic National Park to the vast glaciers of Mount Rainier. While the landscape tells a story over a million years in the making, you'll see it all in a weeklong voyage of hiking and kayaking.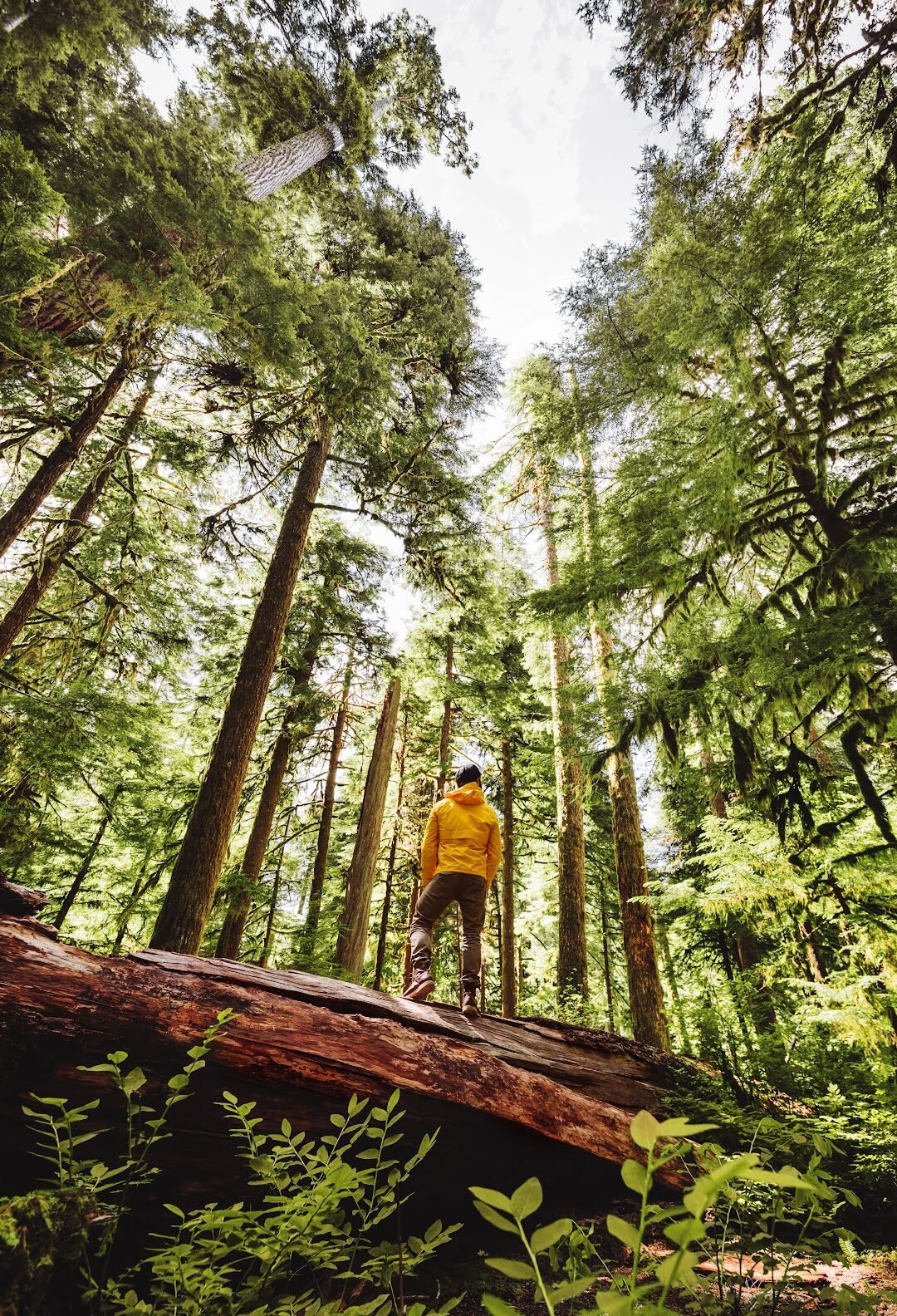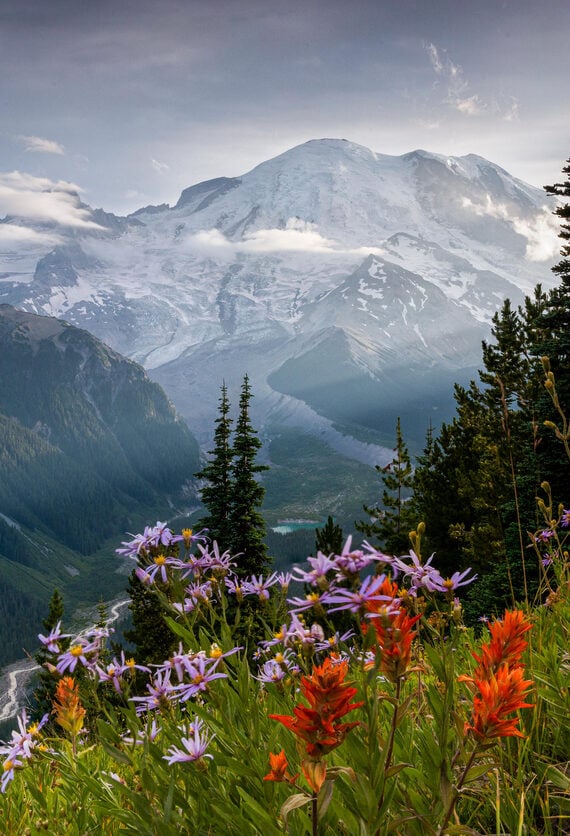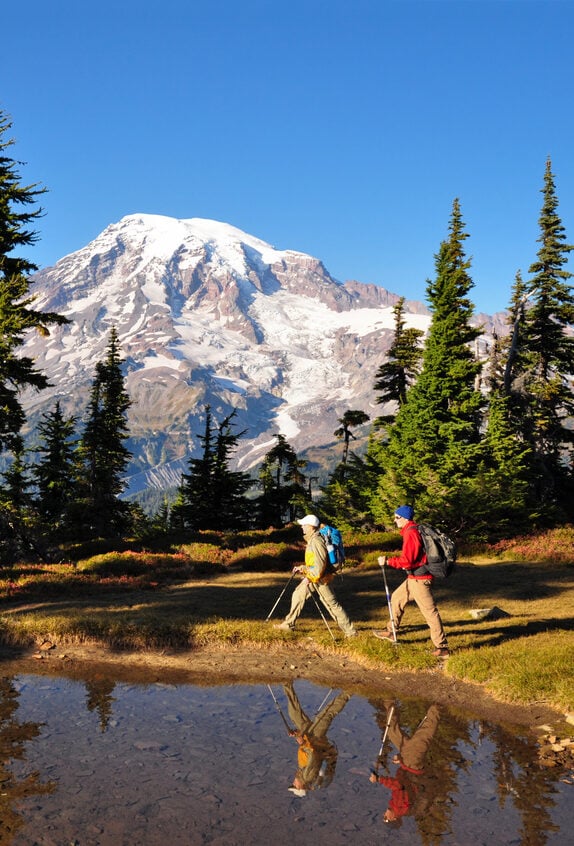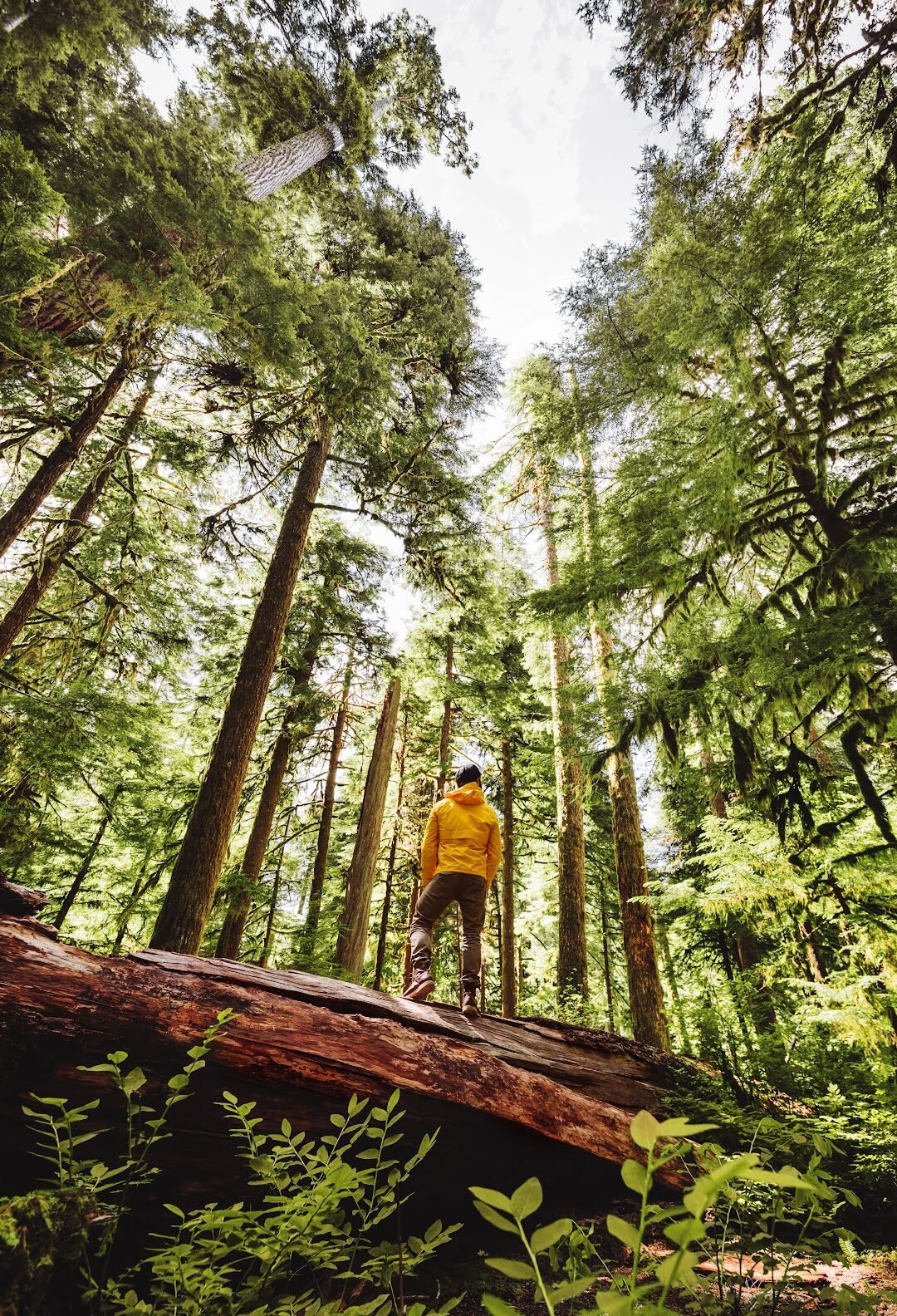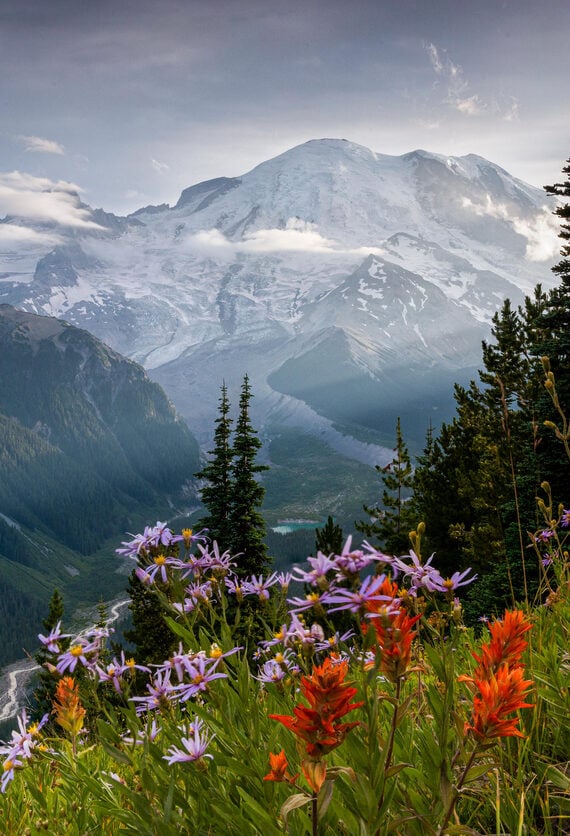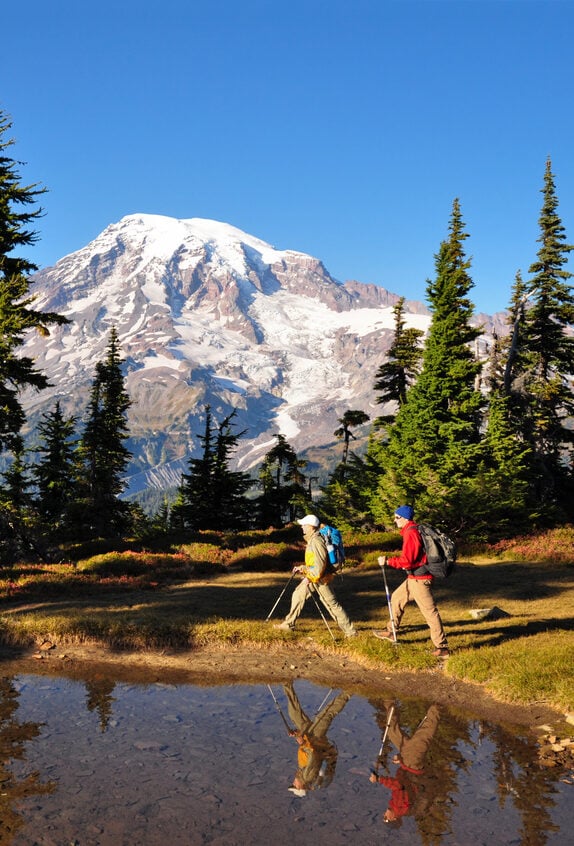 From coastal waters to volcanic heights
Nowhere else in North America can you go from sea-level rainforests to high alpine peaks in just a few hour's drive.
Spread across a million acres of untouched land, Olympic National Park is renowned for the remarkable diversity of its ecosystems. On this isolated peninsula, you'll immerse yourself in wildflower meadows, moss-carpeted rainforests, and the rugged splendor of the Pacific coast.
Continue your adventure in Mount Rainier National Park, home to rolling green valleys, deep primeval forests and over 150 rushing waterfalls. But towering over them all is the star of the show—the 14,417' stratovolcano of Mount Rainier, unsurpassed in the entire Pacific Northwest.
HIKE, KAYAK & CAMP
ANCIENT RAINFORESTS
GLACIAL VOLCANOES
UNIQUE BIODIVERSITY
WORLD HERITAGE SITE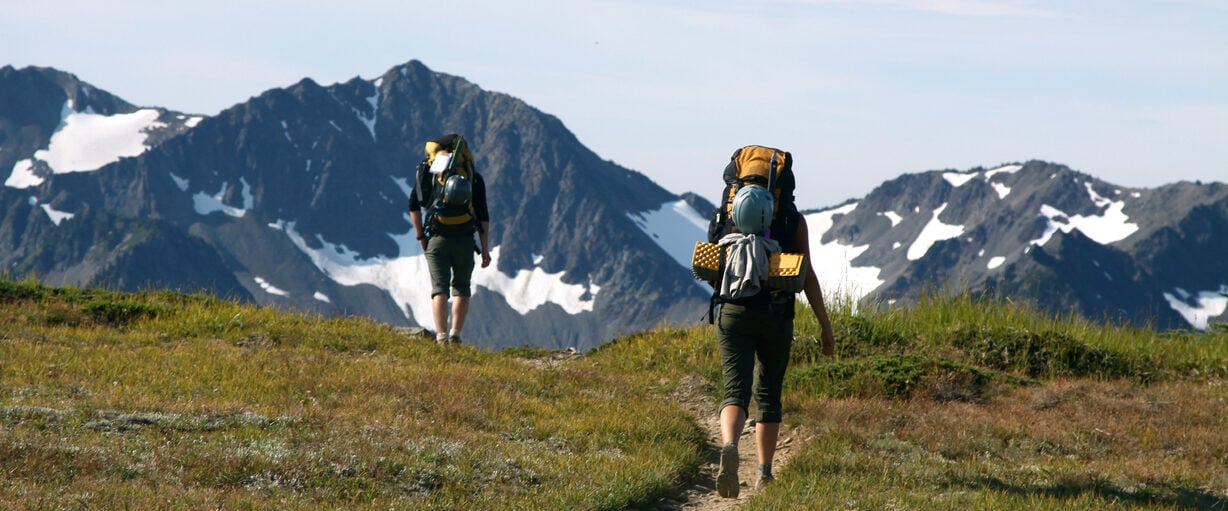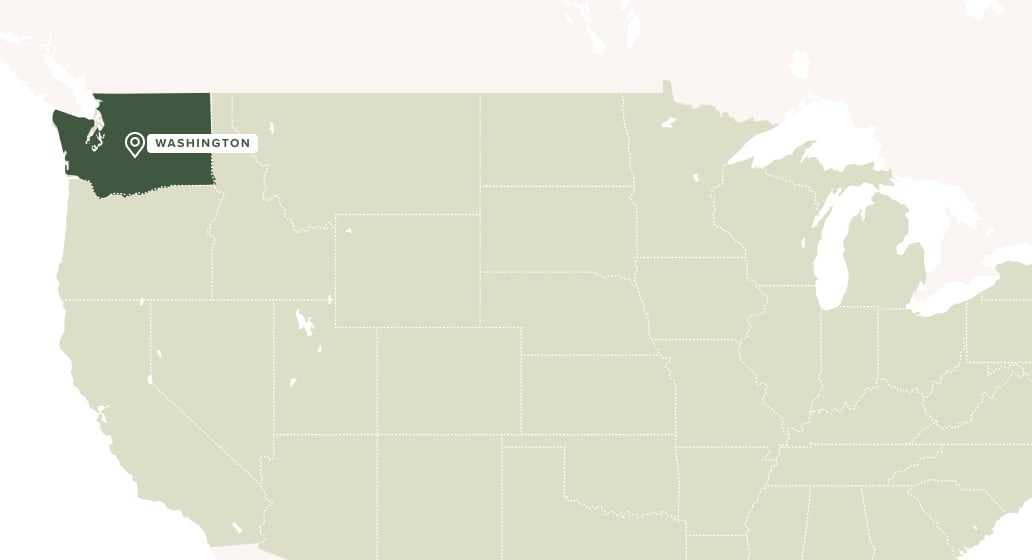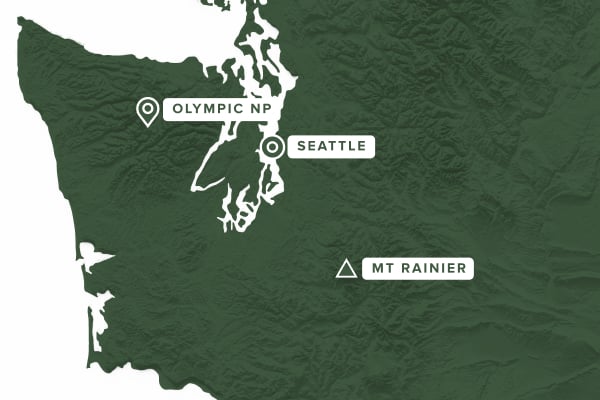 The extreme and serene at the edge of the Pacific
Set out on an Olympic odyssey
Your trip starts on a mid-morning in Olympic National Park, Washington's largest wilderness area and a UNESCO World Heritage Site. Forge ahead to Hurricane Ridge, where intense gales have opened up sweeping views of the Olympic Mountains—a sight straight out of the epics.
The following day you'll kayak through a deep glacier-carved valley. As you paddle out onto the placid waters of Lake Crescent, hear the songs of wildlife and the winds swooping in from Mount Storm King above.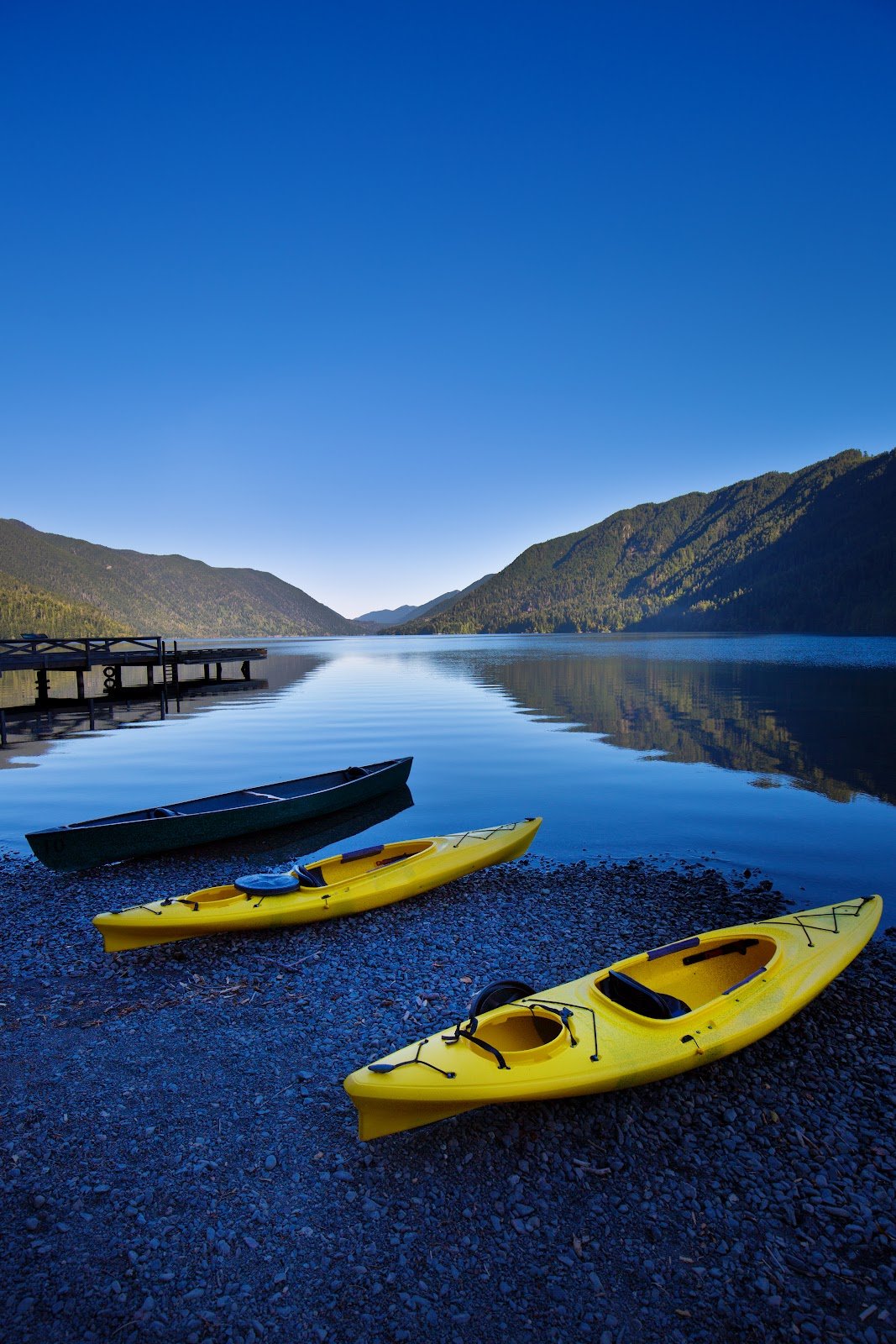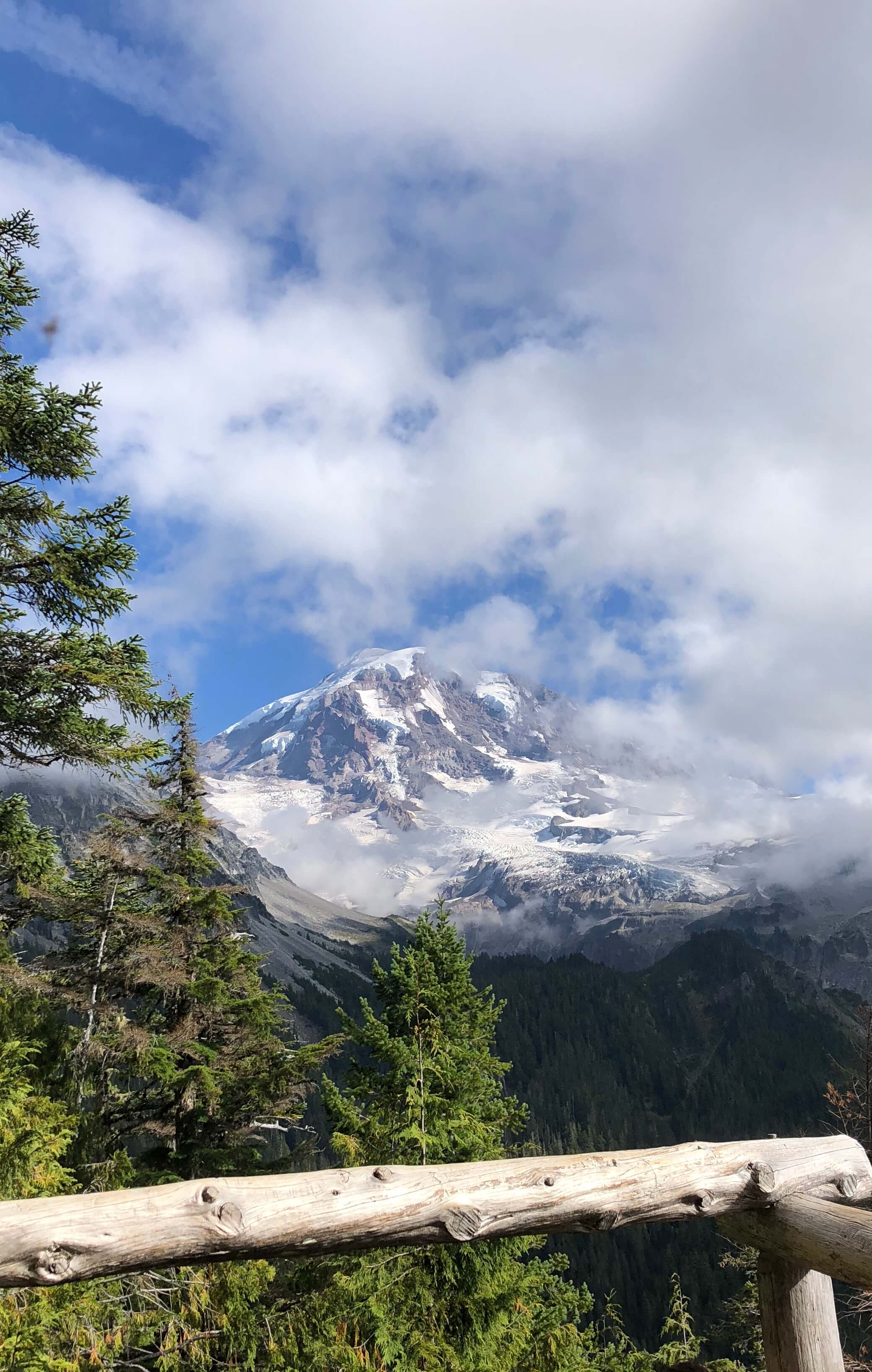 TAKE A JOURNEY BACK IN TIME
The air hangs heavy with humidity in the Hoh Rainforest. Take a hushed walk down its Hall of Mosses so as not to stir the 300-foot Sitka spruce trees and roaming herds of elk. Part of the largest temperate rainforest region on the planet, these walls of epiphytic moss, lichen and fern house the quietest square inch in the United States.
End your stay in Olympic National Park with a tour of its dramatic coastline. Decorated with massive sea stacks, soaring cliffs and teeming tidepools, this 73-mile stretch of seaside wilderness will take your breath away. Chart a course for Kalaloch Beach and pay a visit to the Tree of Life, a towering spruce tree suspended in mid-air.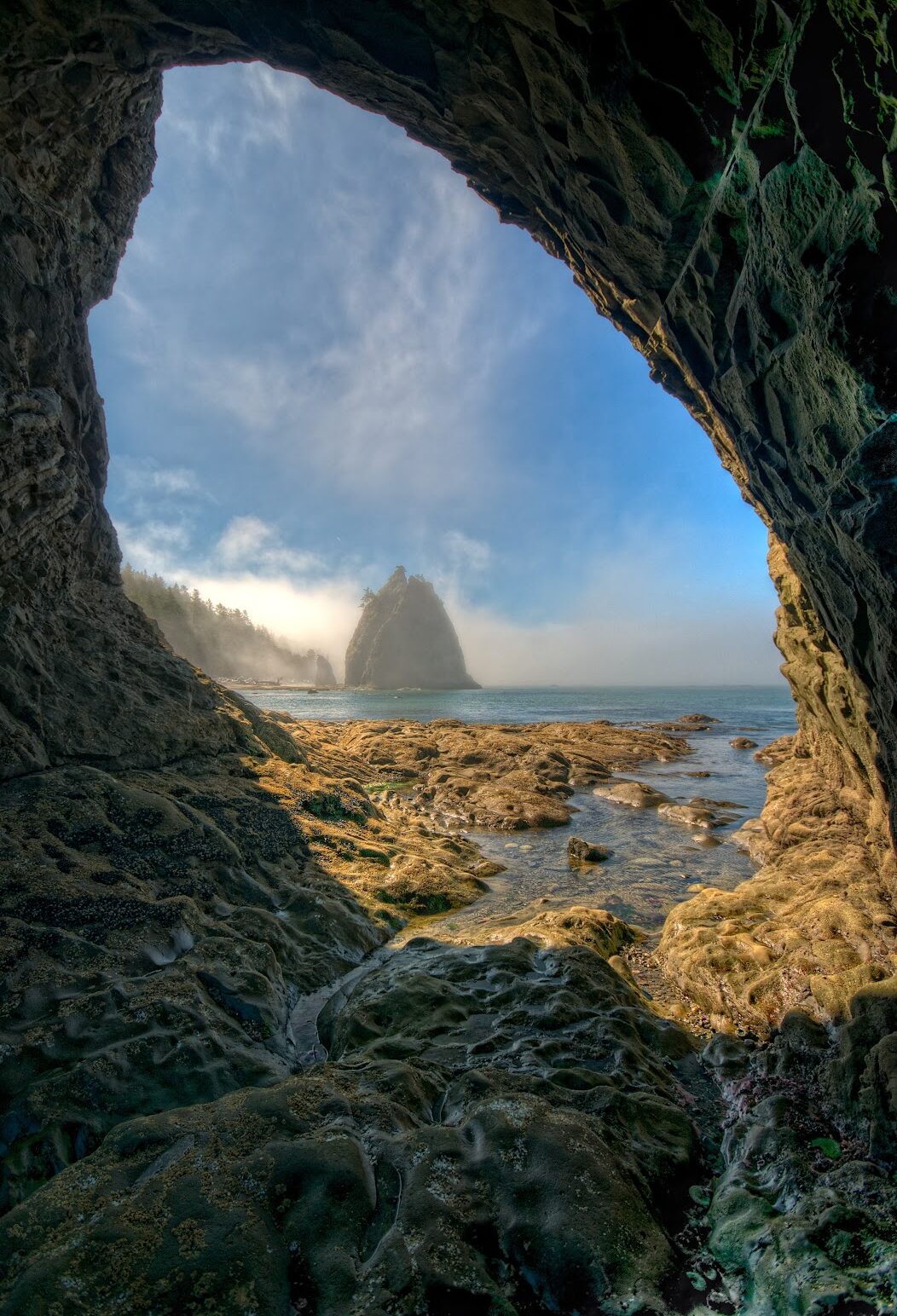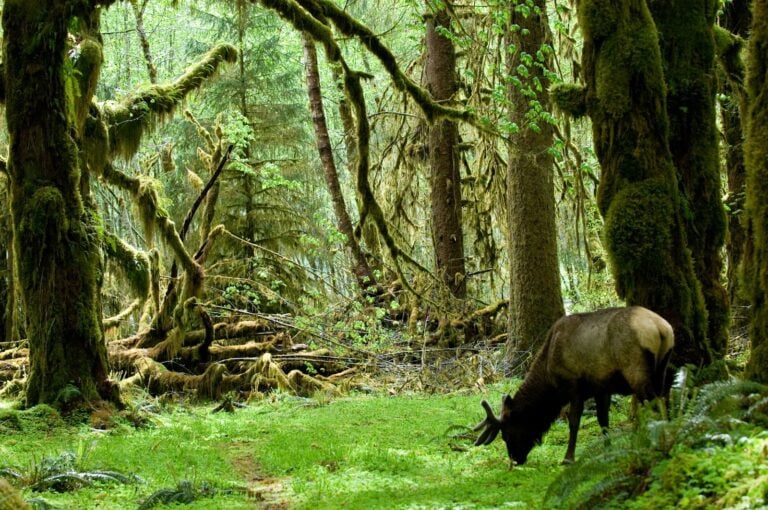 Mount Rainier—the fiery "Mother of Waters"
WELCOME TO THE VALLEYS OF PLENTY
From the ocean-touching rainforest, set off for the highest point in the Cascades. Mount Rainier's colossal white dome is covered with more glacial ice than any other peak in the Lower 48, and spawns five major rivers that inundate the park's valleys. That's why Native Americans named it Tacoma, the Mother of Waters.
Wildflowers ring the icy volcano and old-growth forests cloak its lower slopes, where black bears can be spotted feasting on blueberries. Make your way through the colorful landscape spurred on by the chirp of marmots and promise of hiking ahead.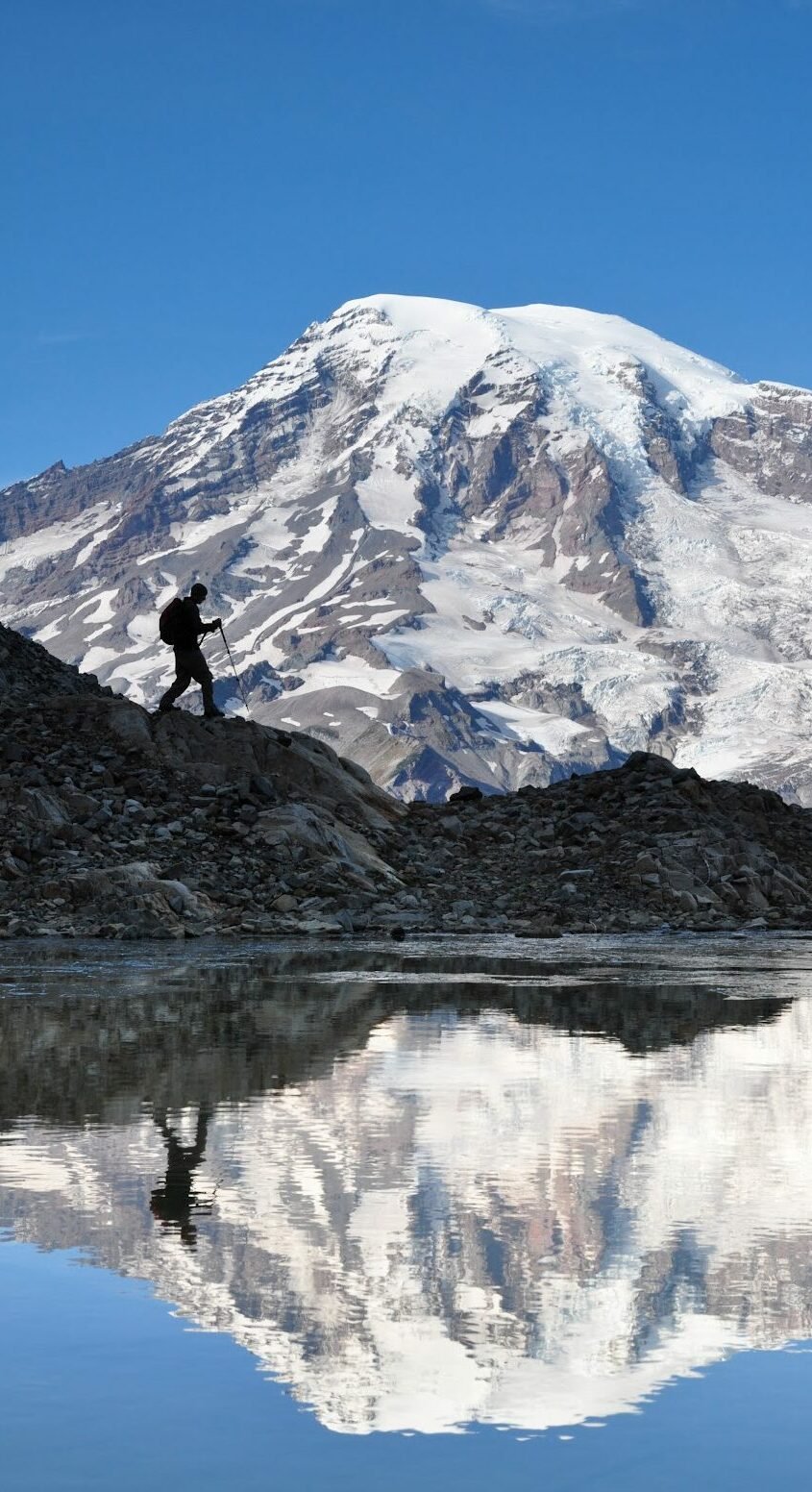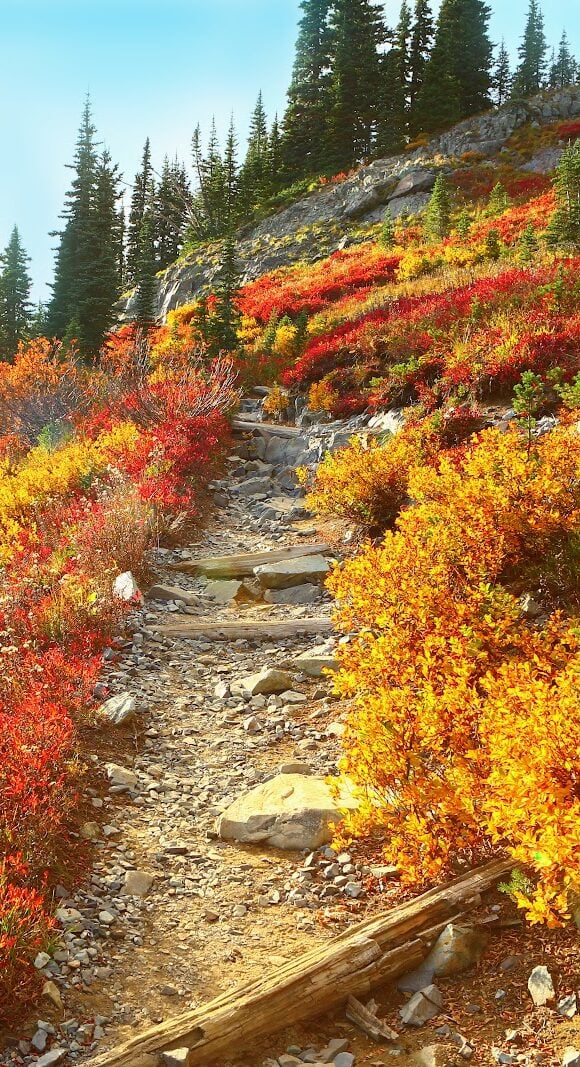 HIKING IN PARADISE
From the picnic benches of the idyllic Paradise area, the Skyline Trail climbs the south slope of Mount Rainier. This challenging hike will take you past the rushing Myrtle Falls, through old-growth pine forests, and into the sublime embrace of the mountain.
Witness the dramatic landscape unfolding before your eyes as you make your way to Camp Muir, a base camp located at an elevation of 10,118'. The breathtaking vistas of the park will etch into your memory forever. As you say goodbye to Mount Rainier and the Pacific Northwest, you will leave a changed person.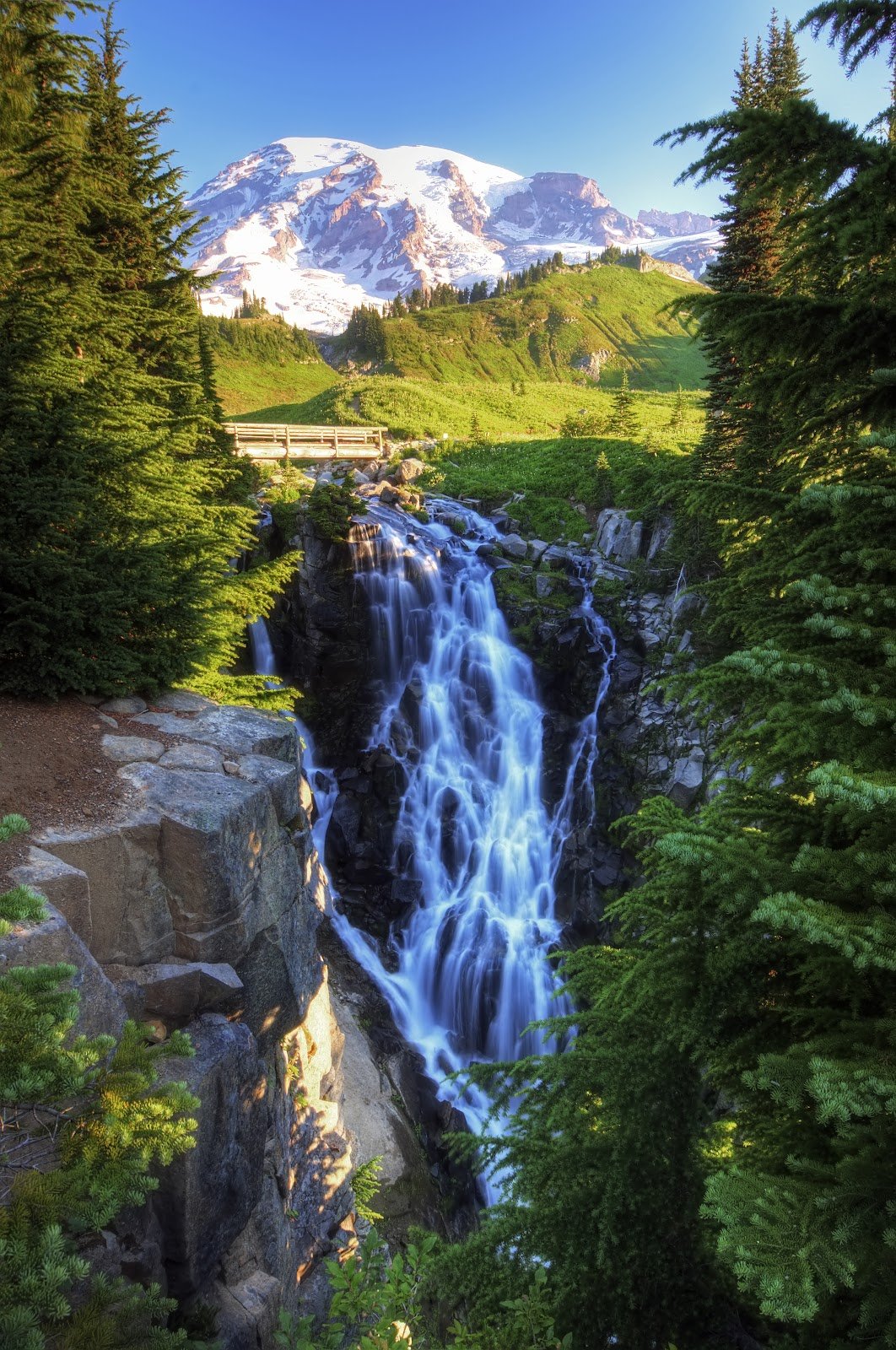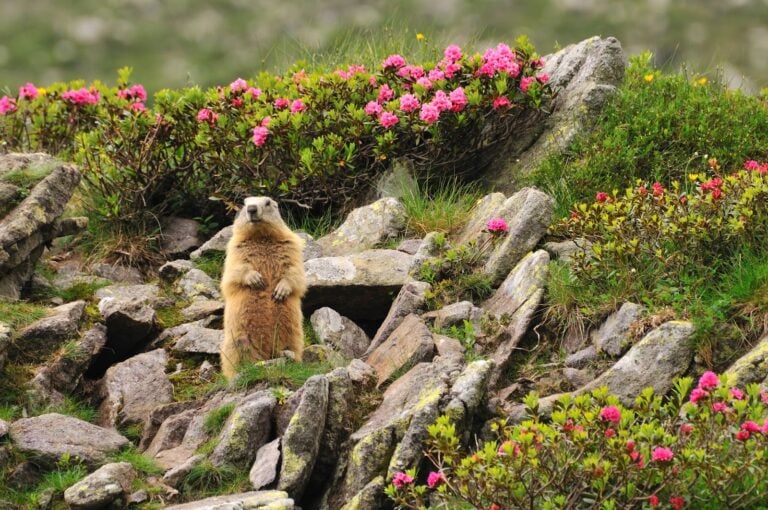 An enchanting experience awaits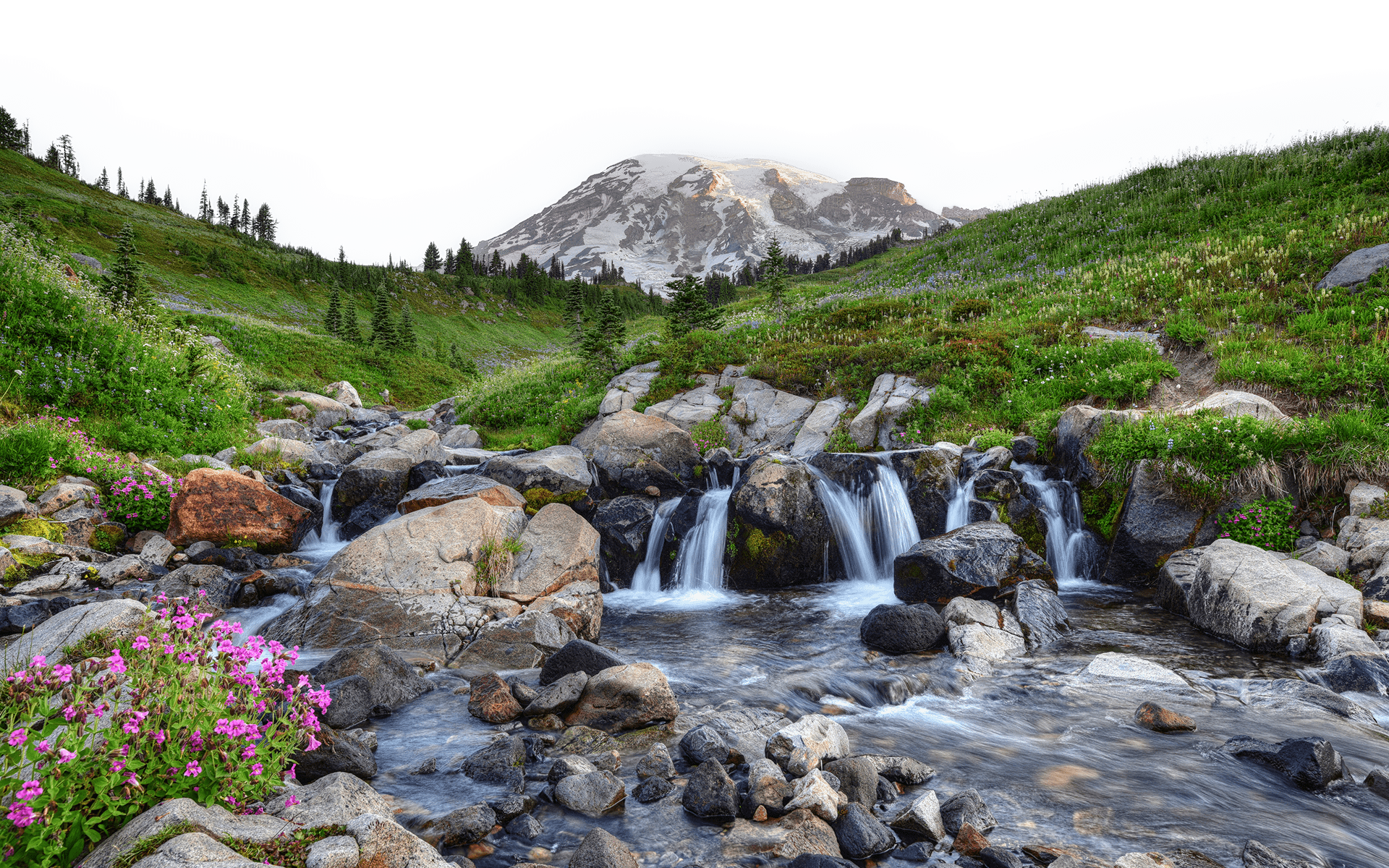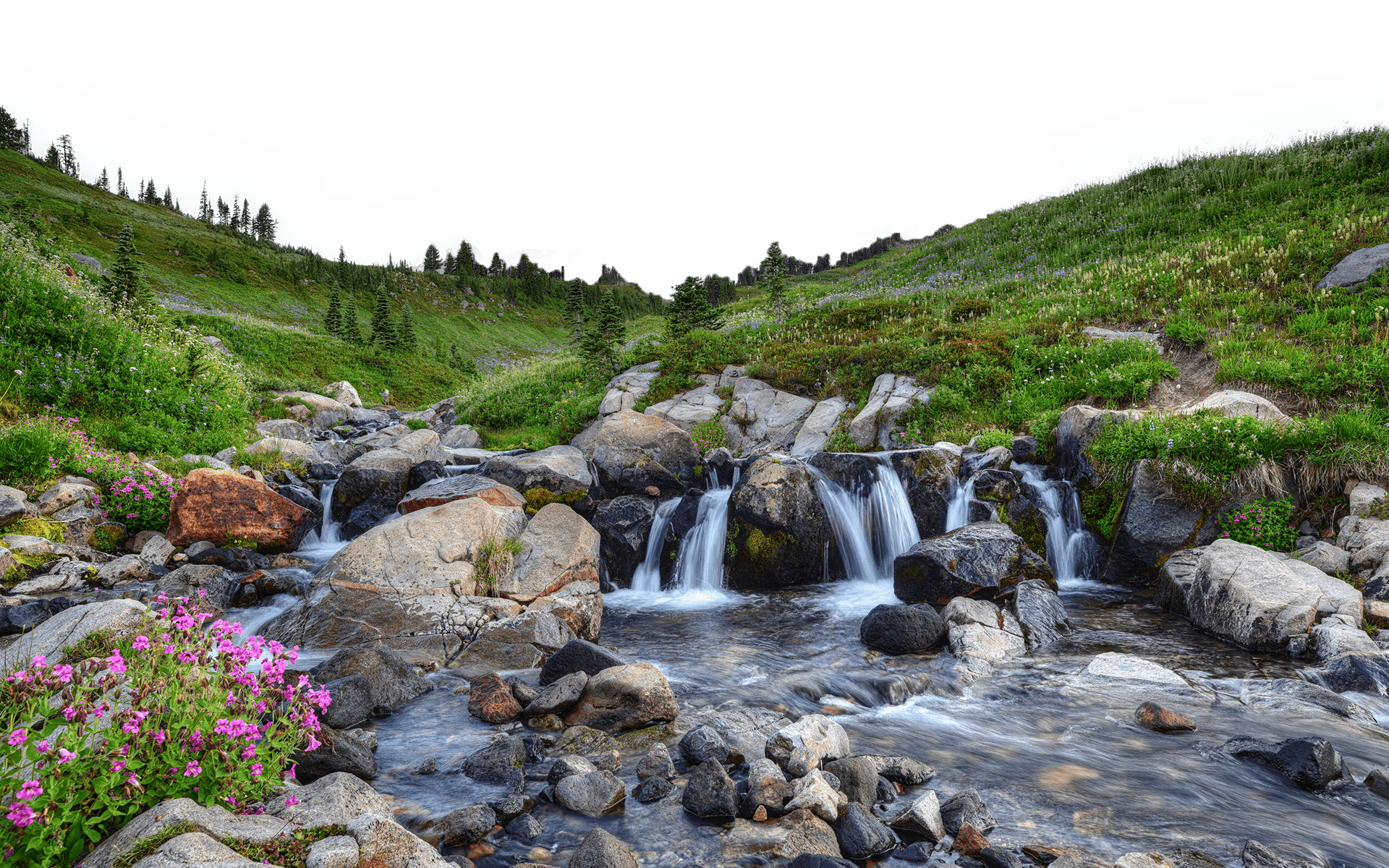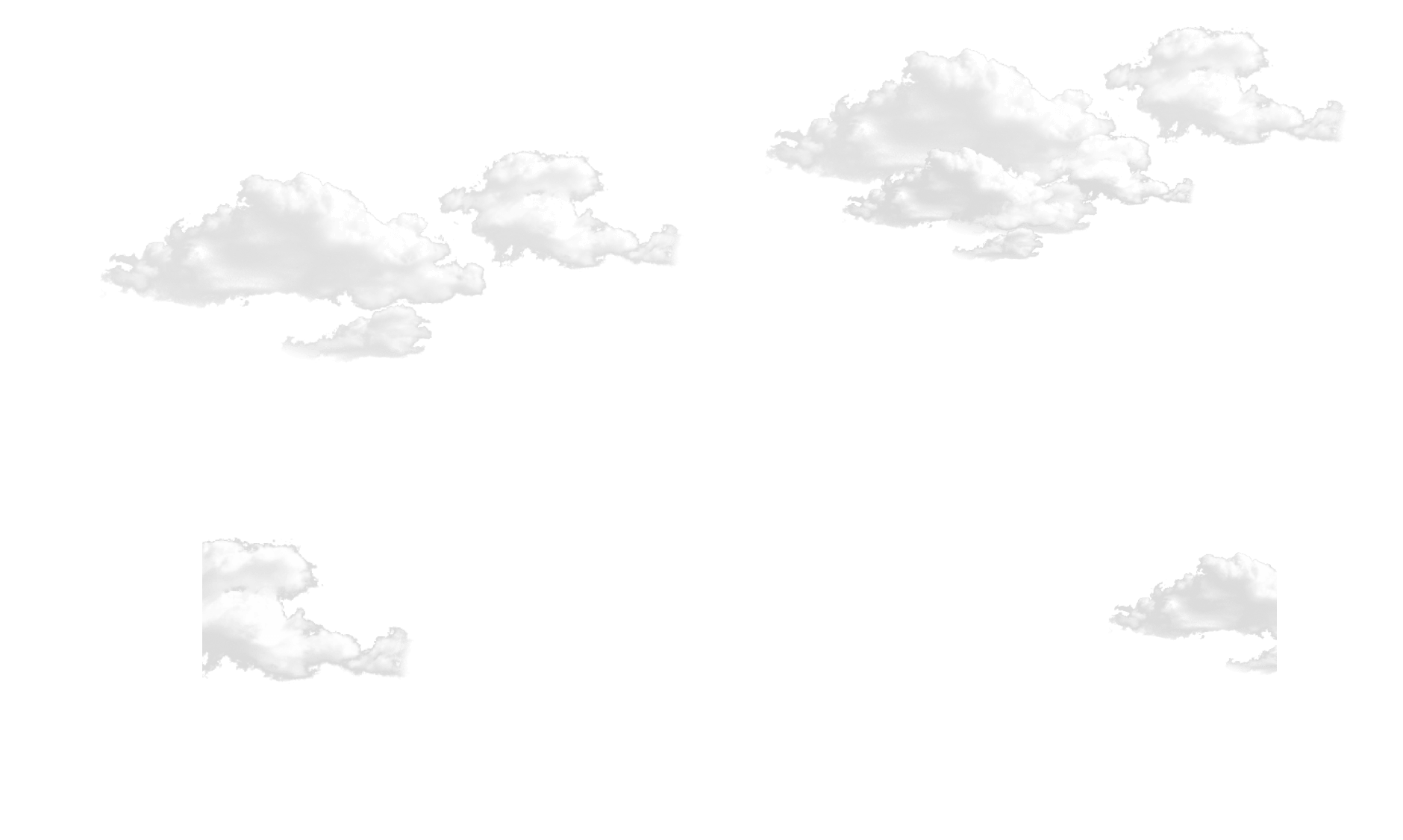 The wild and wildly diverse landscapes of Washington
When it comes to geography and climate, Washington is a study in contrasts. With seven different physiographic regions and a climate influenced by the Pacific Ocean on one side and the Olympic and Cascade Mountains on the other, the result is a bonafide hotbed of biodiversity. As you transition from one spectacular zone to the next, you'll feel like you're crossing a boundary between worlds.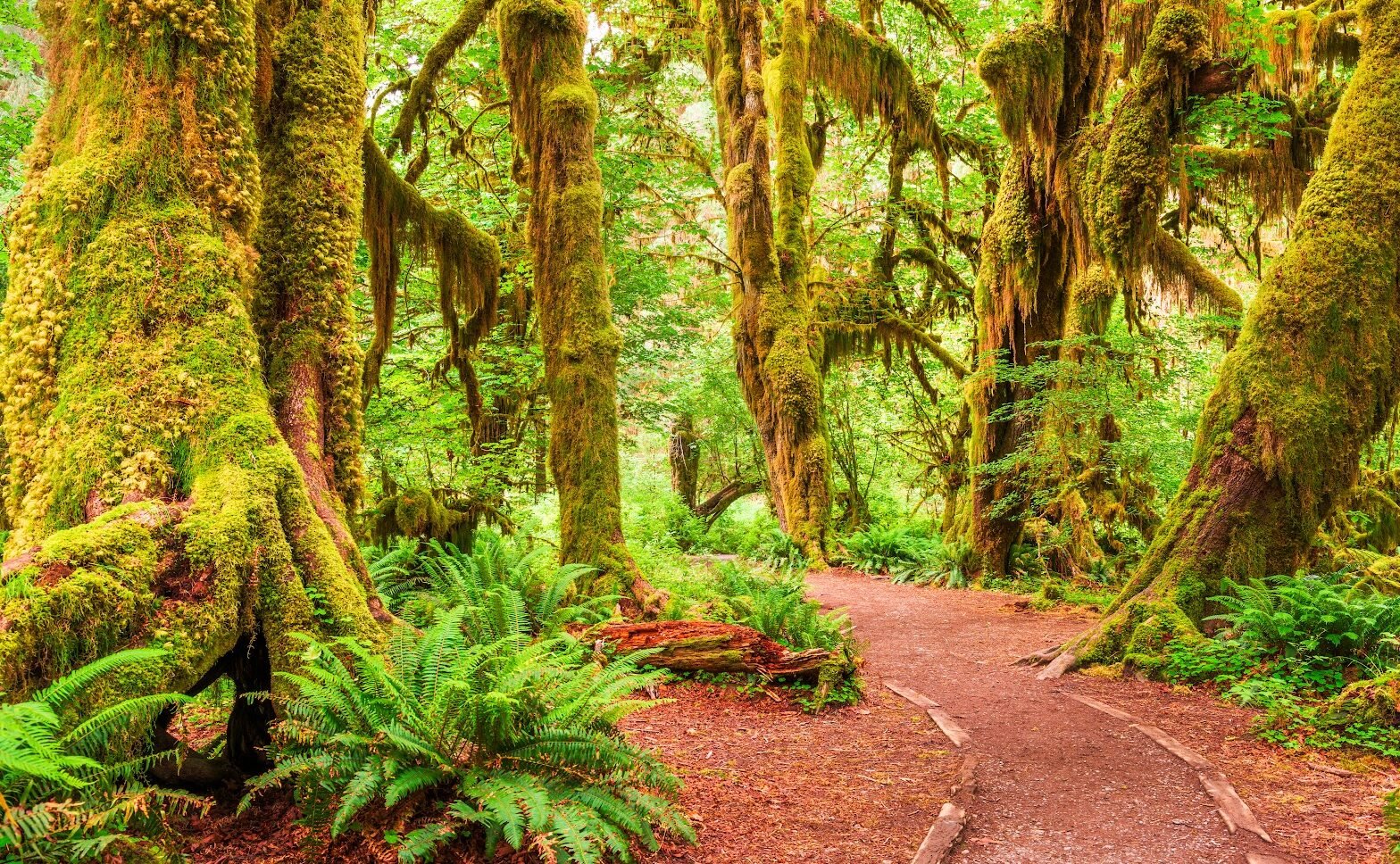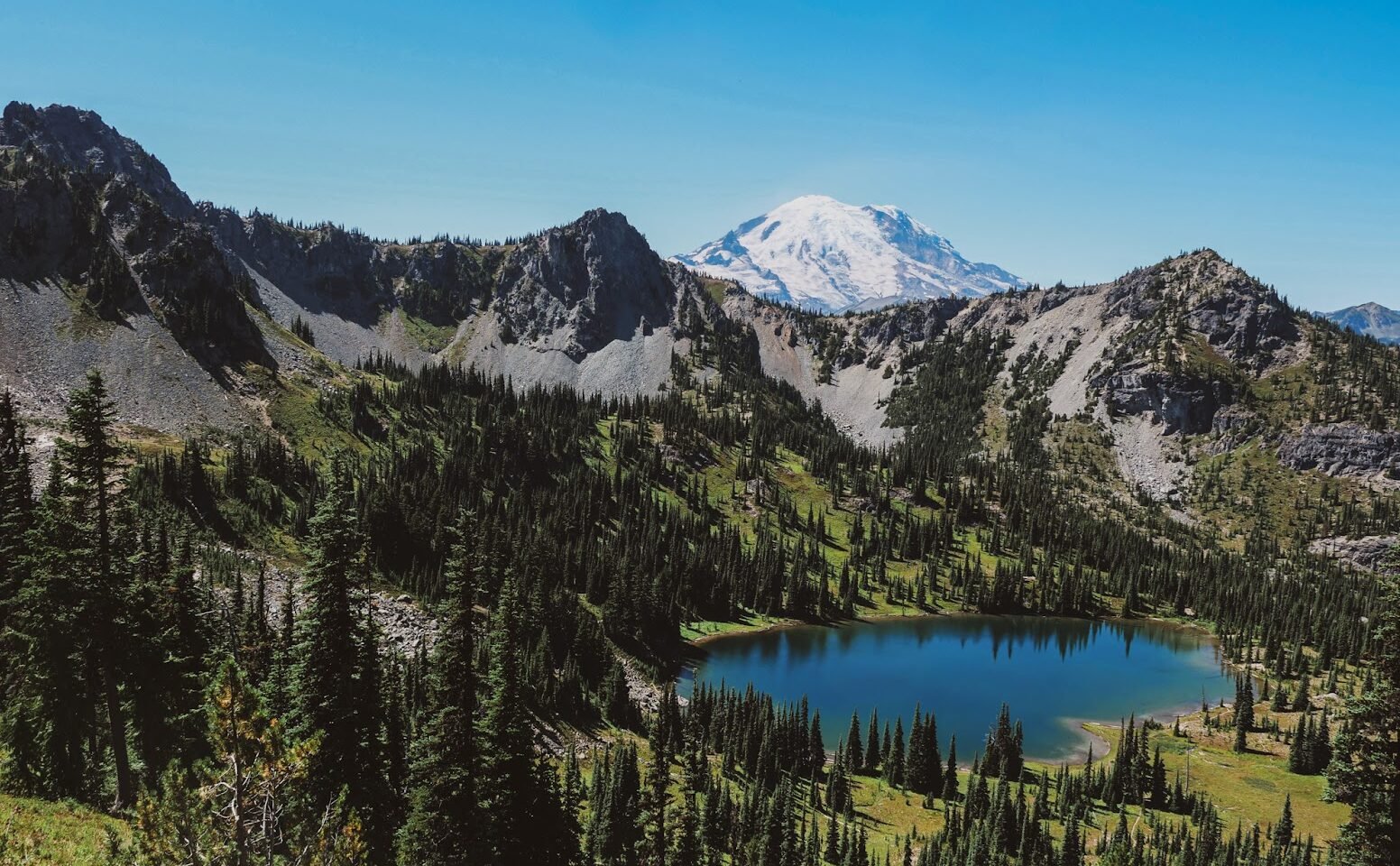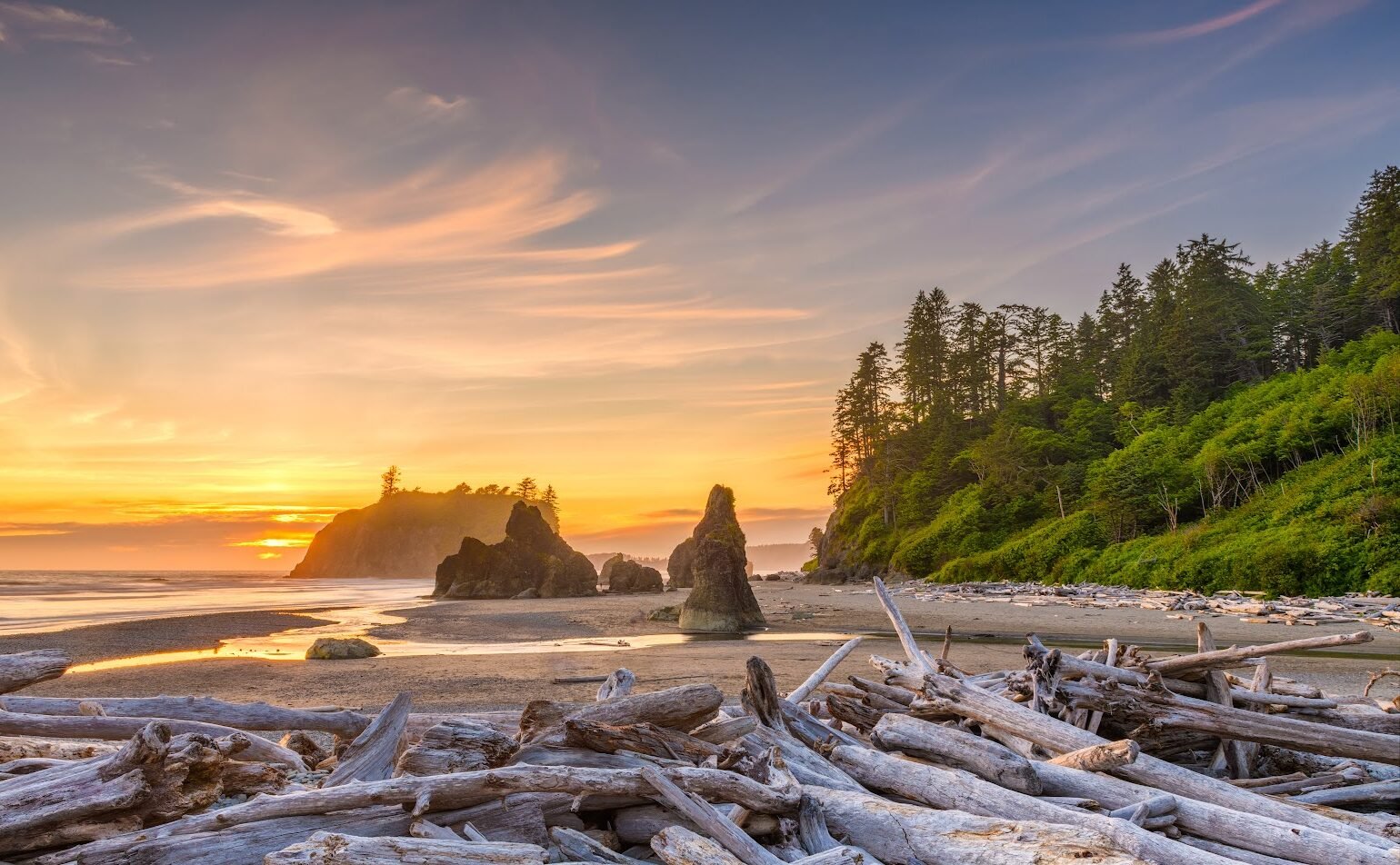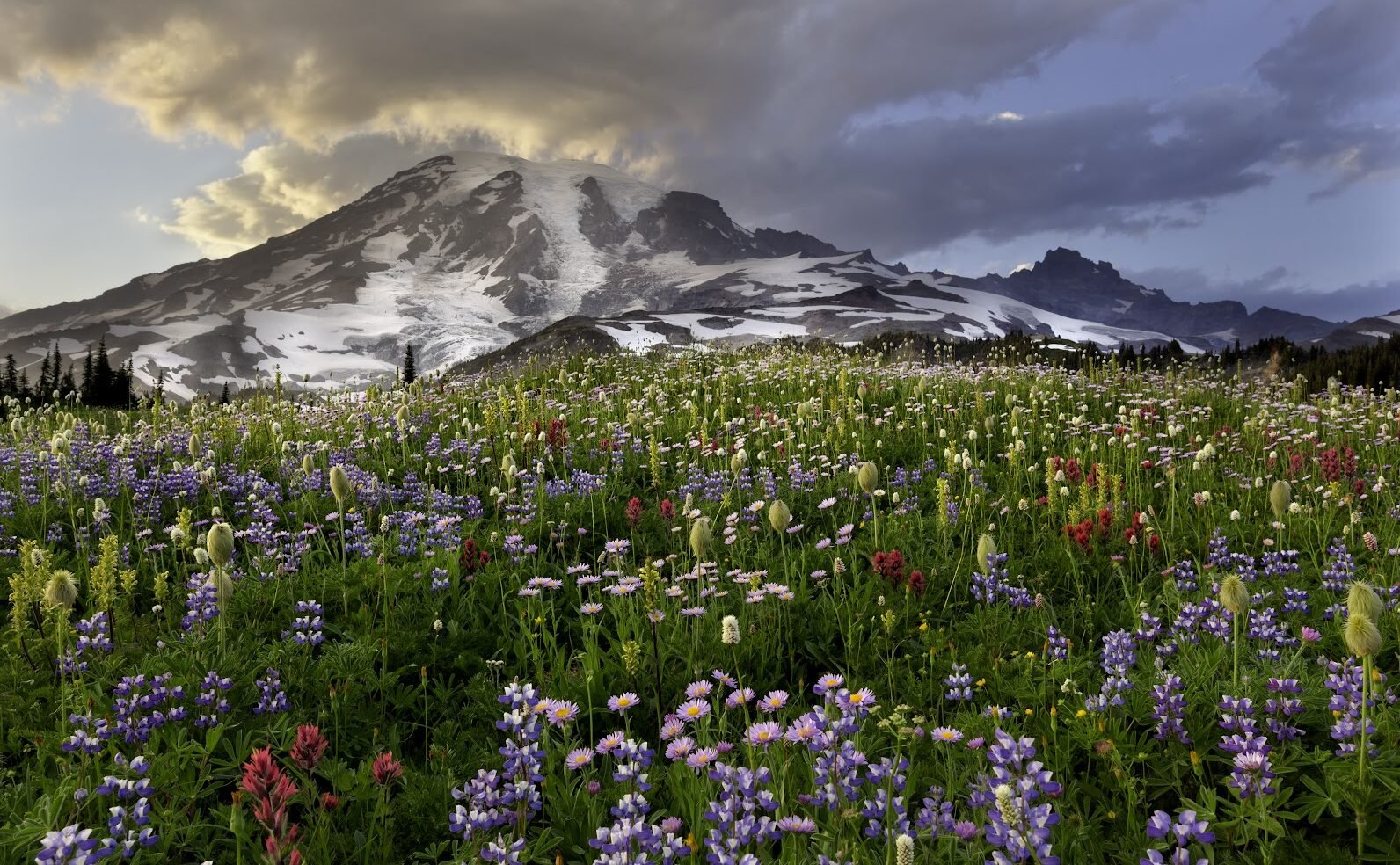 TEMPERATE RAINFORESTS
Drenched in around 15 feet of rain a year, Washington's temperate rainforests are one of Mother Nature's most vibrant miracles. The majestic Hoh Rainforest, lusciously draped in lichen and moss, is one of the highlights of the trip.
GLACIAL VALLEYS
Carved by the tremendous forces of nature over a thousand years ago, the glacial valleys surrounding Mount Rainier and the Olympic Mountains are a sight to behold. Here you'll find endless rows of spruce and hemlock trees, grassy meadows and even glacial lakes.
SPRAWLING BEACHES
The Pacific Ocean has shaped Washington's shoreline into a dramatic wilderness ruled by rocks, boulders, islands and sea stacks. Its beaches, both sandy and rocky, are decorated with cliffs, caves and massive piles of driftwood.
WILDFLOWER MEADOWS
Mount Rainier is renowned for its open meadows bursting with bright wildflowers. Avalanche lilies, paintbrush, purple shooting stars, and fireweed are just some of the blossoms blanketing the volcano in vivid colors.
Your guides
Good Trip Adventures provide world-class experiences for all trippers – from first-timers to experienced travelers. They're not just a local operator but a national company that ensures consistent experiences of the highest quality. Good Trip guides are professionally licensed. They are vetted thoroughly, trained often, and prepared for the unexpected. Most importantly, they love what they do!
Since becoming a guide in 2013, Lauren Skonieczny has led countless groups in Mount Rainier National Park, the North Cascades, Yosemite, New England, and Mount Kilimanjaro. Outside of work, Lauren is the vice president of the United States Australian Football League, volunteers as an EMT with Pacific Northwest Search and Rescue, and teaches earth living skills to young students.
Beau Reed grew up in rural Tennessee, where they spent their summers camping, fishing, and horse riding in the wilds. They've trekked across Scotland, the West Coast, many U.S. national parks, and sections of the Appalachian Trail. Currently based in Seattle, Beau enjoys spending their time rock climbing, backpacking and mushroom hunting.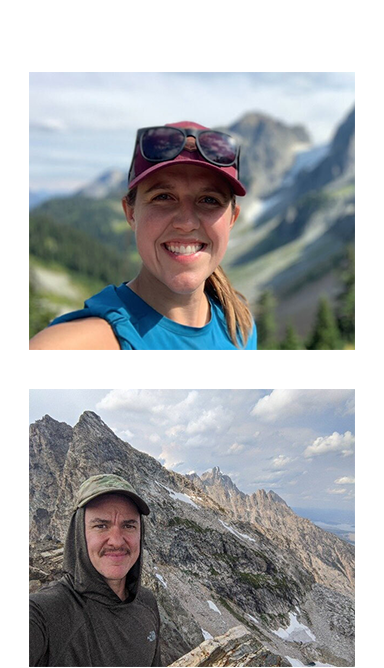 Can't say how much I loved this private tour. My guide Amy was so accommodating before and during the tour to make sure it matched what I was looking to do and at my level of hiking. I didn't want to be around any people and I got a full experience of Olympic National Park. Amy was extremely knowledgeable of all the mountains, fauna and geography of the are and gave great tips on how to stay safe and alert. Amazing experience!
We had an amazing trip! The guides were cool, personable, well-informed, and attentive. My family loved them and I will definitely book them again. Thanks, guys!
Such thorough, safe planning! Real pros and really fun! Can't recommend them highly enough!
Well thought out and fun trips with Good Trip! I can't recommend them enough. Good Trip Adventures will take your vacation to the next level!