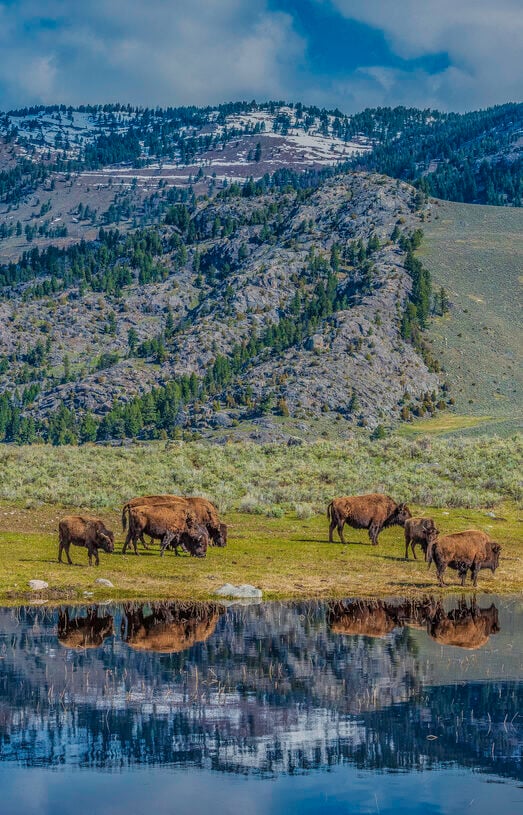 Private Hiking and Wildlife Watching in Yellowstone
Yellowstone National Park occupies a special place in the American imagination. Spread across over two million acres of mountains, grasslands, forests, rivers, and valleys, this pristine pocket of living, breathing Earth is a symbol of our connection to the natural world.
For hikers and nature lovers looking to enjoy the park at a deeper level, a private multi-day adventure led by professional biologists in the Yellowstone wilderness has all the makings of a perfect science field trip. Join to learn about the park's unique geology and observe wild animals in their natural habitat.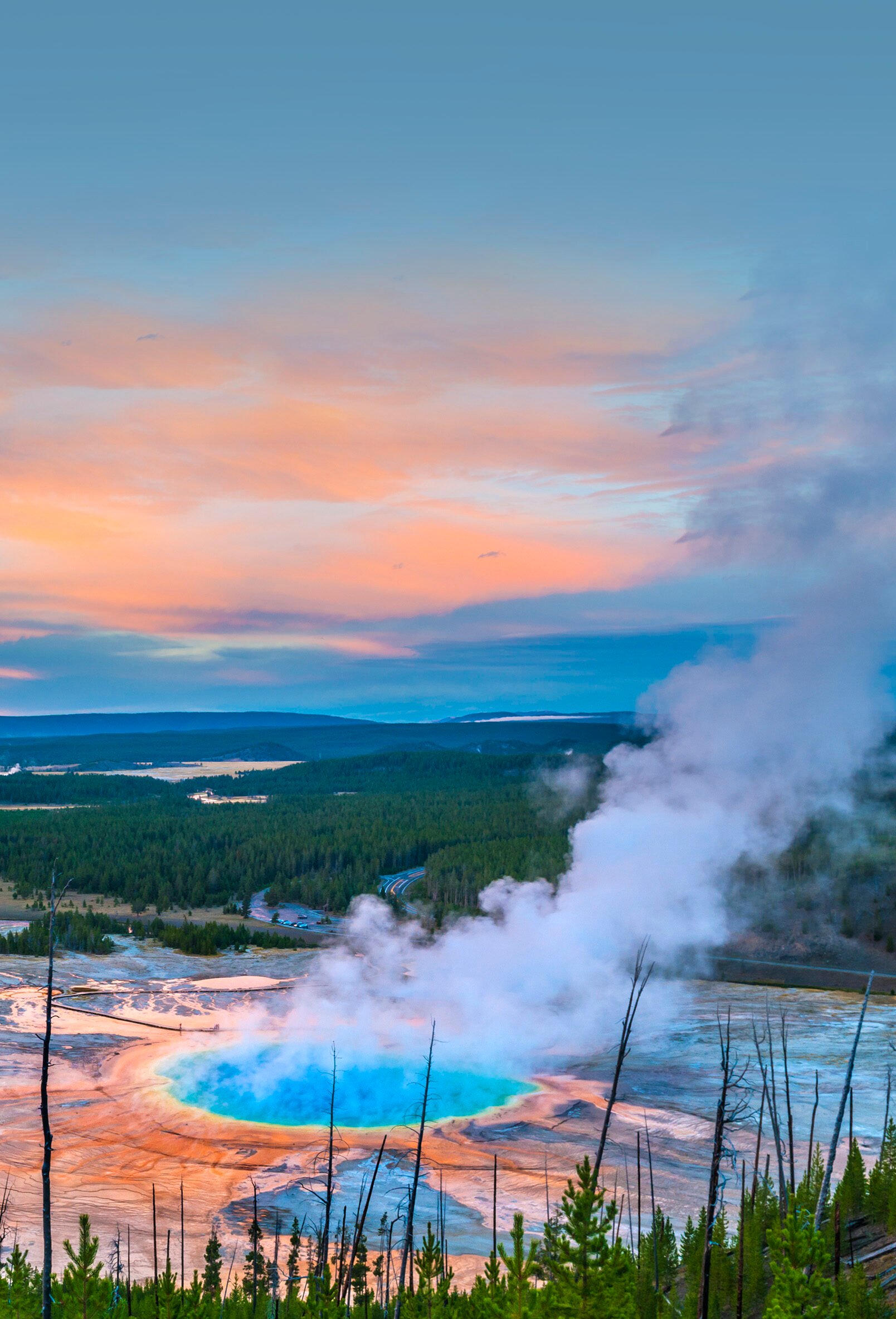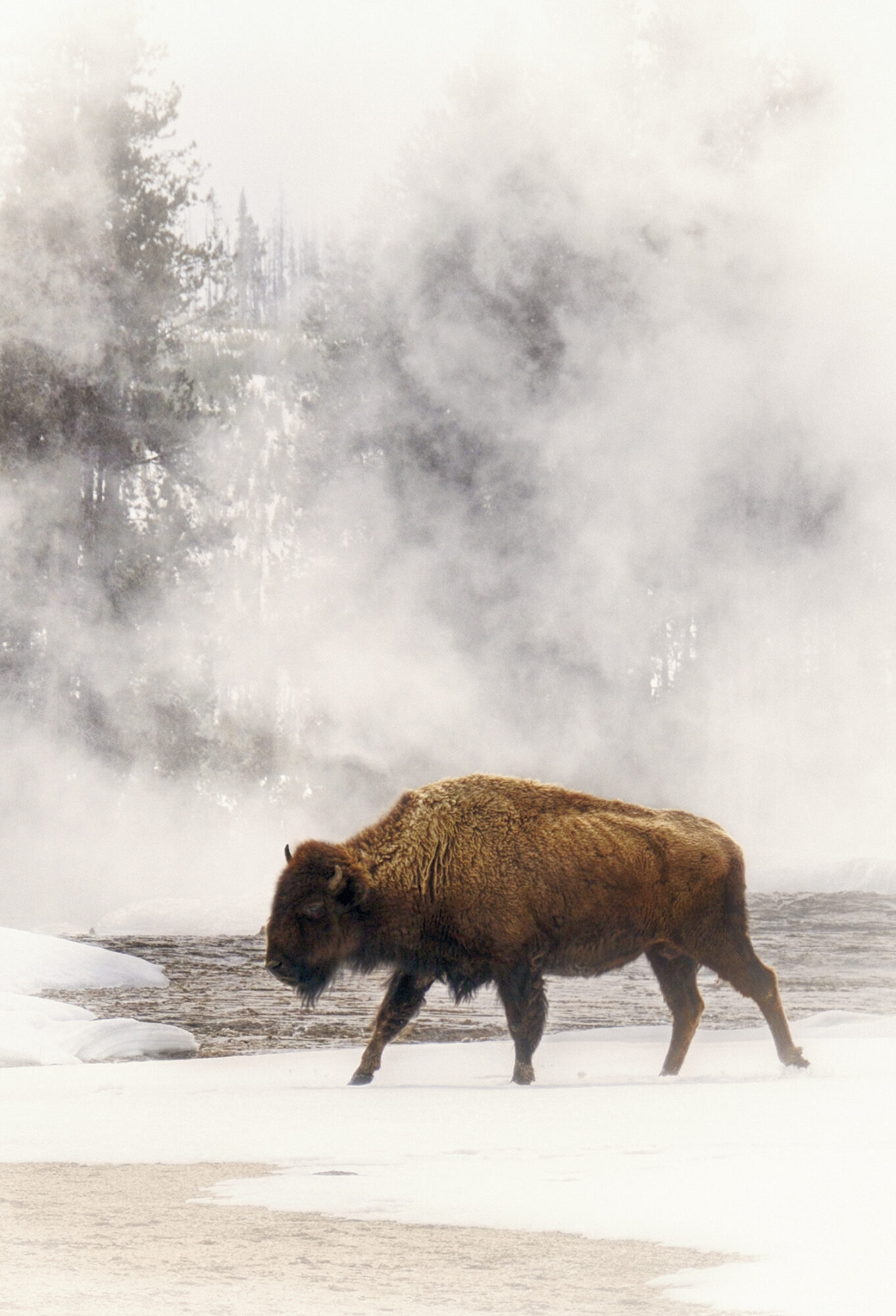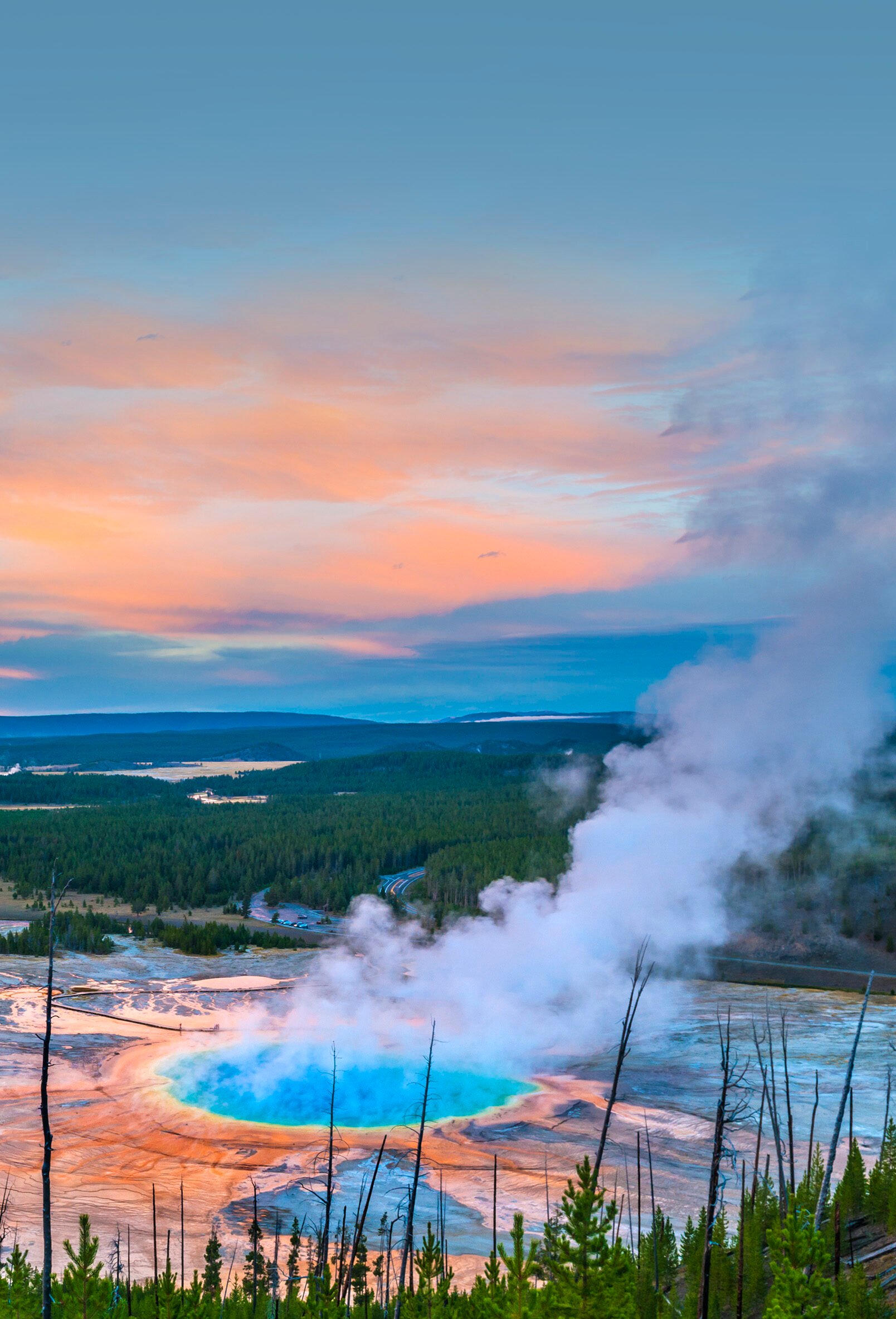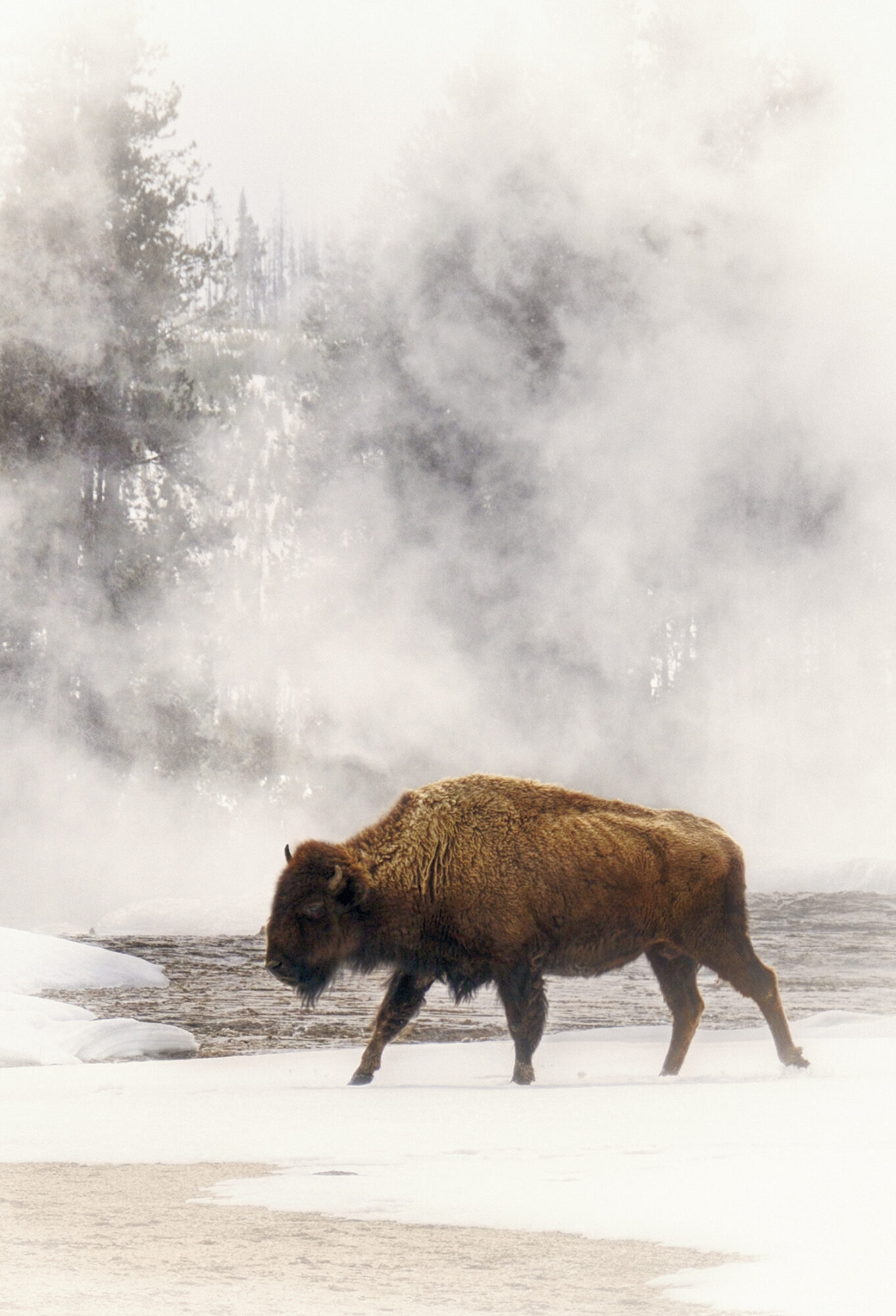 Welcome to the land of geysers and grizzlies
The Greater Yellowstone Area is home to 400 animal species, 10,000 hydrothermal features and over 900 miles of hiking trails. To see all the sights and species, you'd need a lifetime.
But with the help of local naturalist guides and biologists who know the park inside out (and how to beat the crowds), you'll gain unprecedented access to one of Earth's richest ecosystems—discover secret spots where hard-to-find animals congregate and marvel at the miracles of the Yellowstone Supervolcano.
CONNECT WITH NATURE
VISIT CLASSIC SITES
SEE ANIMALS UP CLOSE
LEARN FROM BIOLOGISTS
STAY IN A DELUXE LODGE
CUSTOMIZE YOUR ADVENTURE
From gushing waters to glorious wildlife
SET YOUR SIGHTS ON THE WONDERS OF THE WILDERNESS
You've seen photos of majestic herds of bison grazing by the river and wish to witness it with your own eyes. But how do you approach wild animals without disturbing them? The answer: you don't have to!
Thanks to your guides' high-quality Swarovski and Vortex spotting scopes, you can observe even the hungriest wolves and the stealthiest foxes from a safe distance. With long-range optics and expert knowledge of animal behavior, no critter is off limits. You'll be seeing the Yellowstone others don't.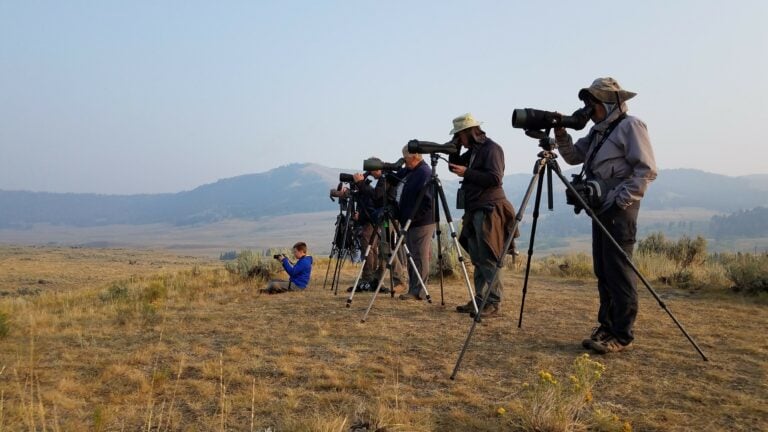 NERD OUT WITH YOUR HERD OUT
Did you know that this is one of the last preserved temperate ecosystems on Earth? Or that Native Americans have been inhabiting the region for over 11,000 years? And have you heard of the two gigantic magma chambers lying beneath the park's surface?
Put simply, there's the Yellowstone you think you know—and the one your guides will show you.
The scientist in you will be giddy with glee to uncover the mysteries of gray owls, see the oldest bison herd in the US, or learn how the Yellowstone Caldera formed the area's unique topography.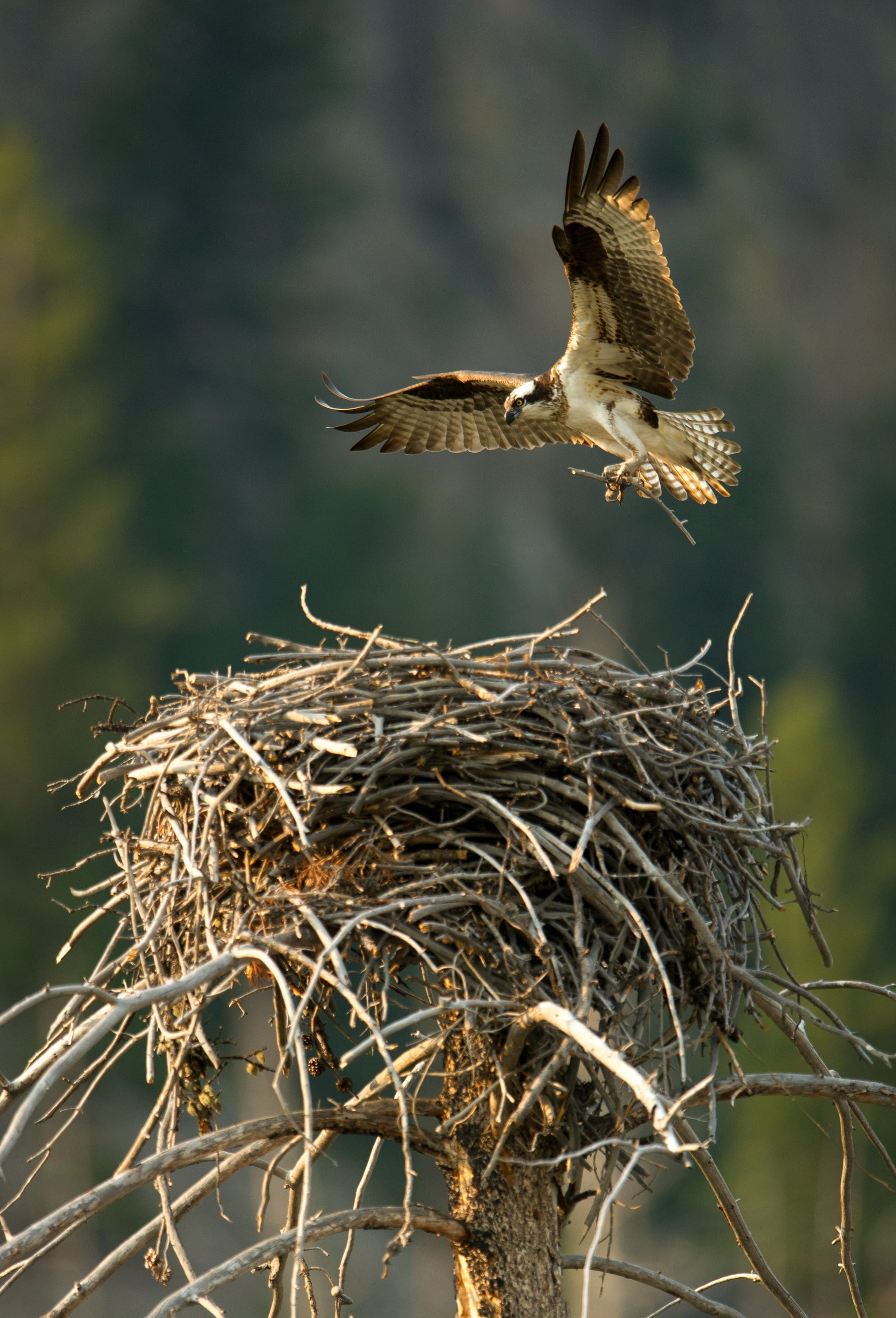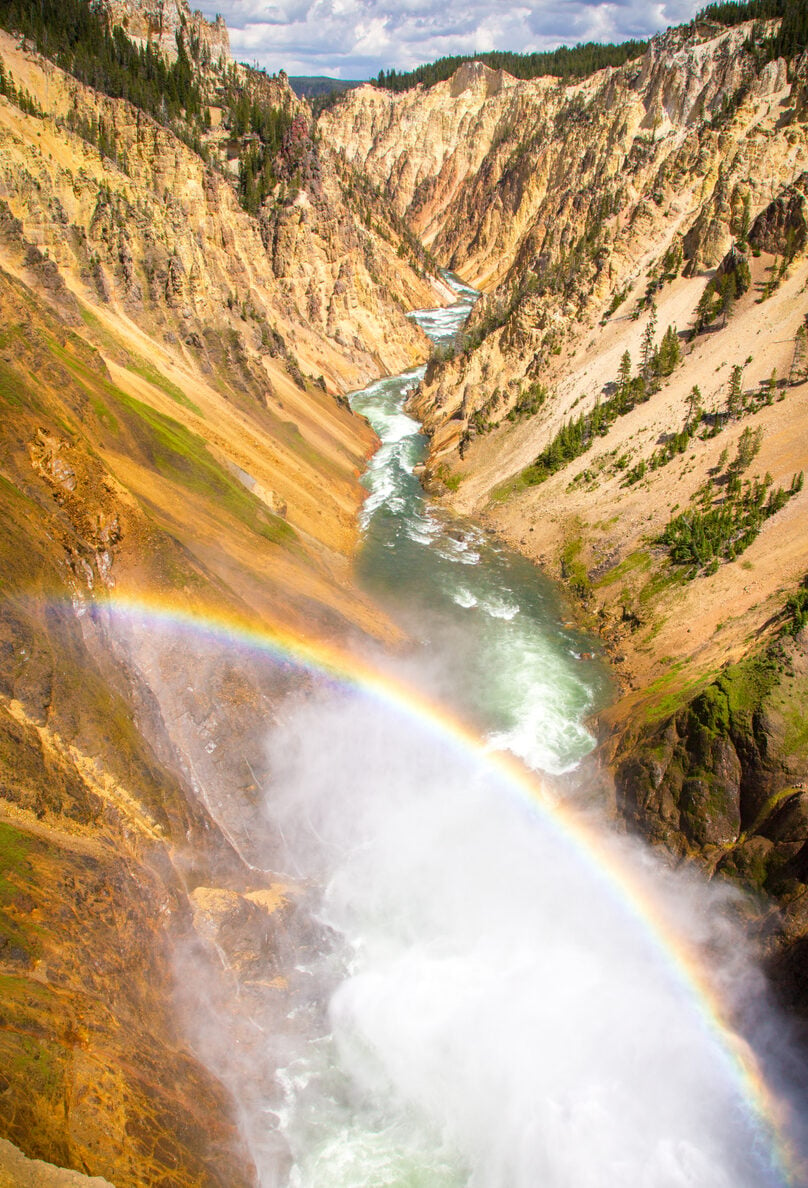 HIKE THE HIGHLIGHTS AND THE HIDDEN GEMS
And let's not forget the classics. No trip to Yellowstone is complete without a visit to the Grand Prismatic Spring, Old Faithful or the Grand Canyon. You'll get to see them all—and much more.
Choose your activities during your stay and immerse yourself in the fascinating shapes, colors, sights and sounds of America's first national park. Follow well-worn bison trails through flower-strewn meadows, see the cultural sites of the land's indigenous tribes, or take a flatwater float trip on the Yellowstone River. Every trip is a completely new experience.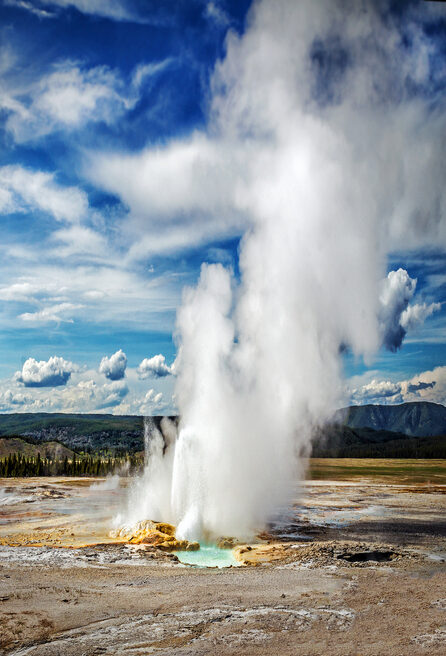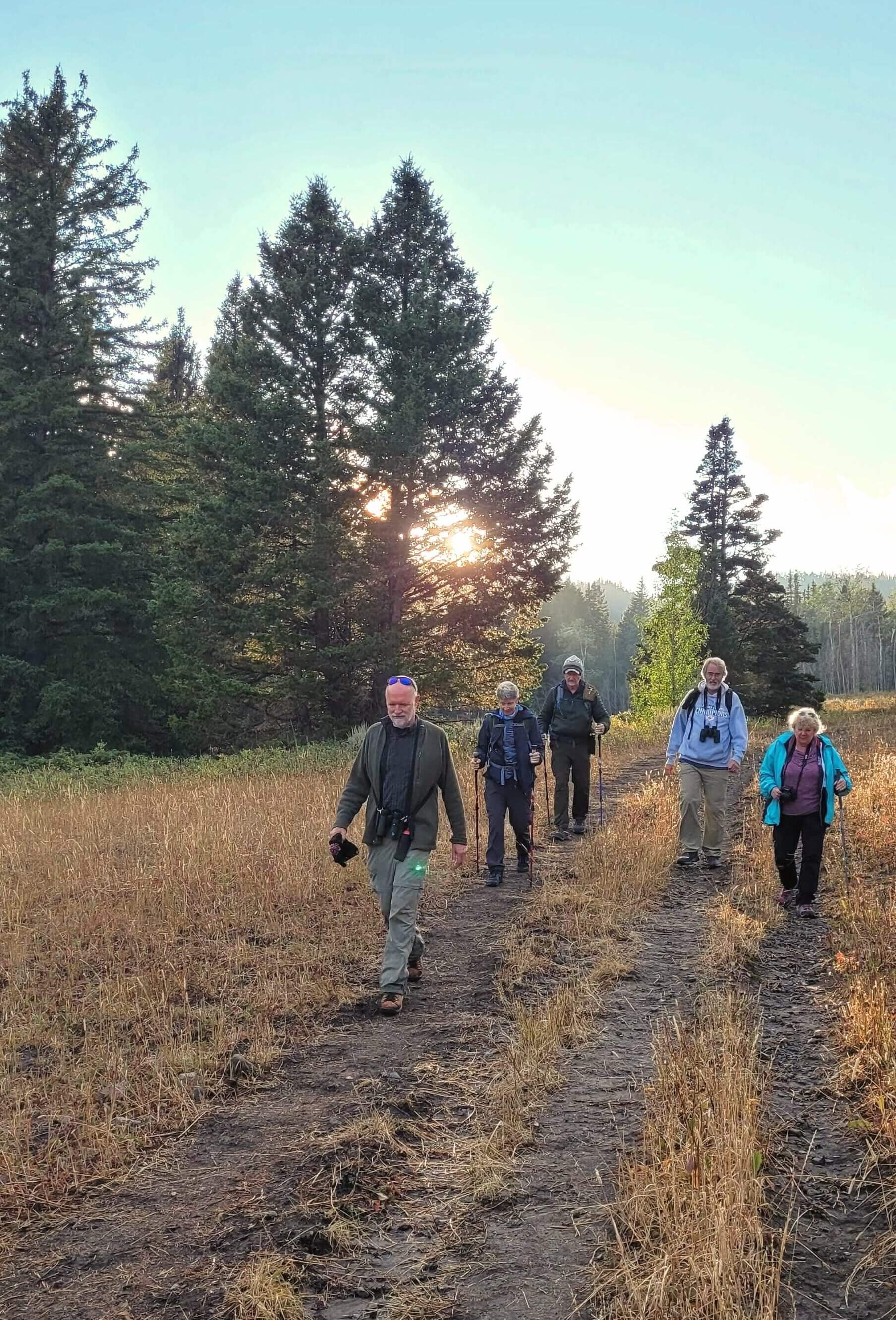 LAYER UP! WINTER IS A MAGICAL TIME TO VISIT
Experience the stunning sights and unparalleled serenity of Yellowstone's winter wonderland.
With options for cross-country skiing or snowshoeing free from crowds, you might spot a bull moose just before it sheds its antlers for the year.
When it comes to wolves, foxes, bison and many other splendid creatures of Yellowstone, you have an even better chance of seeing them than in the summer.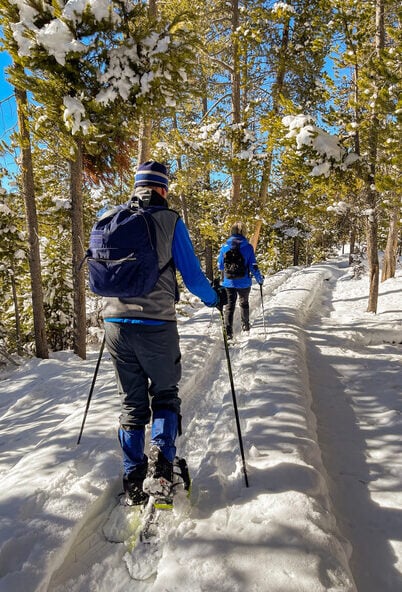 Experience the essence of the American West
Meet the animals of Yellowstone National Park
Yellowstone's diverse wildlife is as famous as its hot springs and geysers. Your guides will take you to the most interesting corners of the park and show you species you otherwise wouldn't have access to. Here are some species you can expect to find:
BISON
Bison have continuously inhabited the Yellowstone area since prehistoric times. A century ago, this ancient herd faced certain extinction due to extensive poaching, but thanks to the efforts of park employees, their numbers have grown from a meager two dozen to over 5,000 free-ranging bison.
Season: Year-round
BEARS
Yellowstone is home to two famous species of bears: black bears and grizzly bears. The black bear is commonly found all over North America and is usually smaller and less aggressive. The grizzly bear inhabits a few isolated locations in the lower 48 and can be recognized by the pronounced hump between its shoulders.
Season: May-June, September-October
ELK
Elk are the most commonly found large mammals in Yellowstone. Currently, there are between 10,000-20,000 living in the Greater Yellowstone Ecosystem. Only males have antlers, which they shed in spring. They immediately start growing again, reaching up to 30 pounds per pair.
Season: Year-round
WOLVES
After going extinct in 1926, wolves were reintroduced into Yellowstone in the mid-1990s. Their most common prey are elk and bison. Currently, around 100 wolves live in the park. Their return to Yellowstone has brought about an increase in beaver population and the recovery of vegetation such as willow and aspen.
Season: Best in winter, but seen year-round
BEAVERS
Although small in stature, beavers are one of the most influential species inhabiting the Yellowstone wilderness. They are responsible for diverting streams and cutting down trees, which leads to changes in habitat structures. There are over 100 colonies living in the park.
Season: Year-round, most active during fall
BALD EAGLES
Celebrated as the national symbol of the United States, the bald eagle can be found perched above the lakes and rivers of Yellowstone, hunting for fish below. Their population decreased dramatically in the 1900s, but since 2007 bald eagles have been removed from the list of endangered species.
Season: Year-round
BIGHORN SHEEP
Named after the large, curved horns belonging to males, bighorn sheep are mainly found in the northern part of Yellowstone National Park. They frequently display their athleticism on steep, rocky terrain and provide entertainment for onlookers with loud clangs of clashing horns during fights.
Season: Year-round
MOOSE
Moose are the largest members of the deer family. They're usually found in the forested areas and willow flats in the southwestern corner of Yellowstone and near certain creeks and rivers. In recent years, fires and competition in the form of elk and bison have led to a decrease in their population.
Season: Spring, fall and winter
A carefree week in the wild
This Yellowstone adventure changes every season—but the high level of comfort you get always stays the same!
You'll be staying at deluxe lodging at Wanderlust Lodge in Gardiner, MT located near the northern entrance to the park.
A DECK FOR STARGAZING
A FULL KITCHEN AND BBQ
TWO QUEEN-SIZED BEDS
TWO BATHS WITH HEATING
PROXIMITY TO TOWN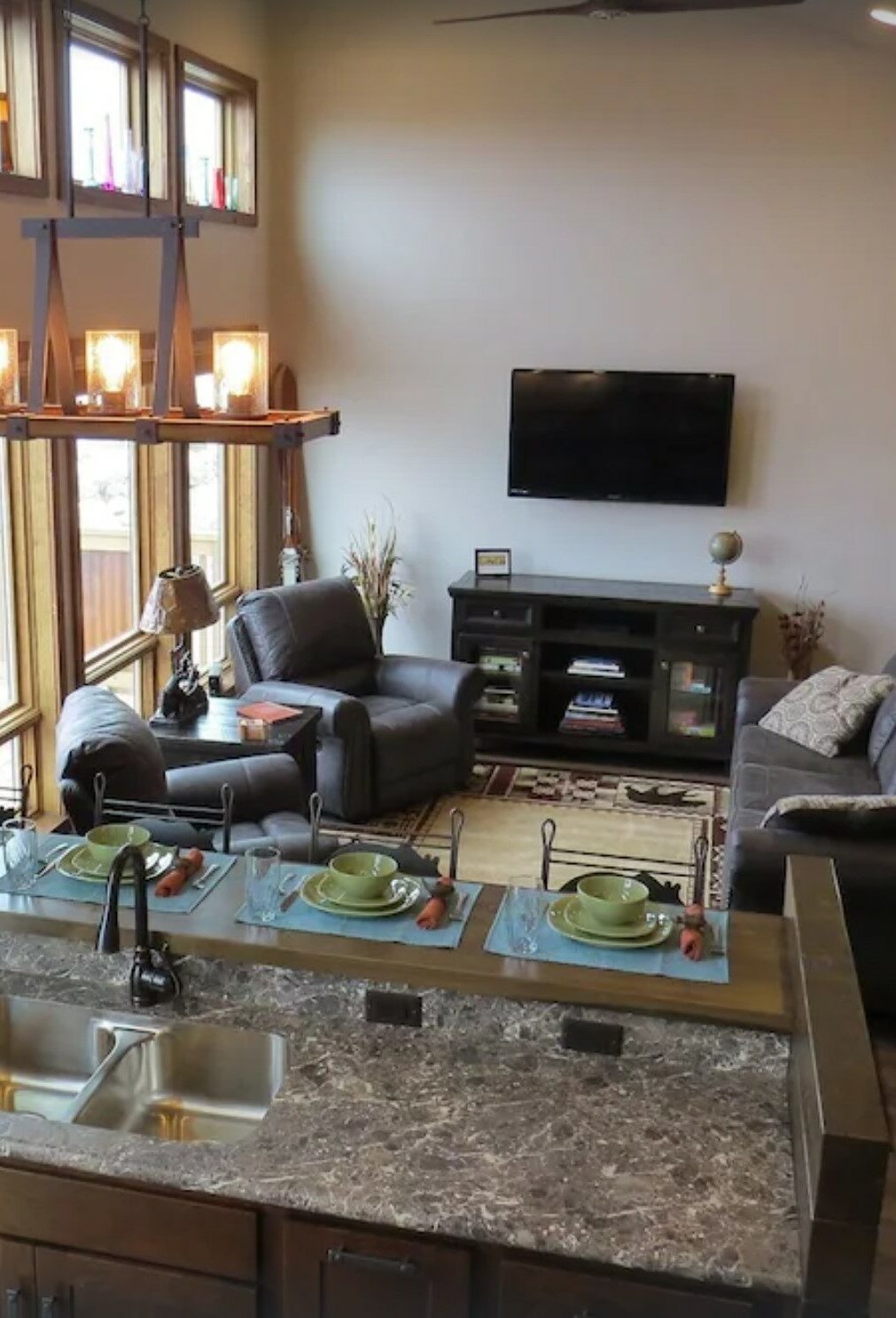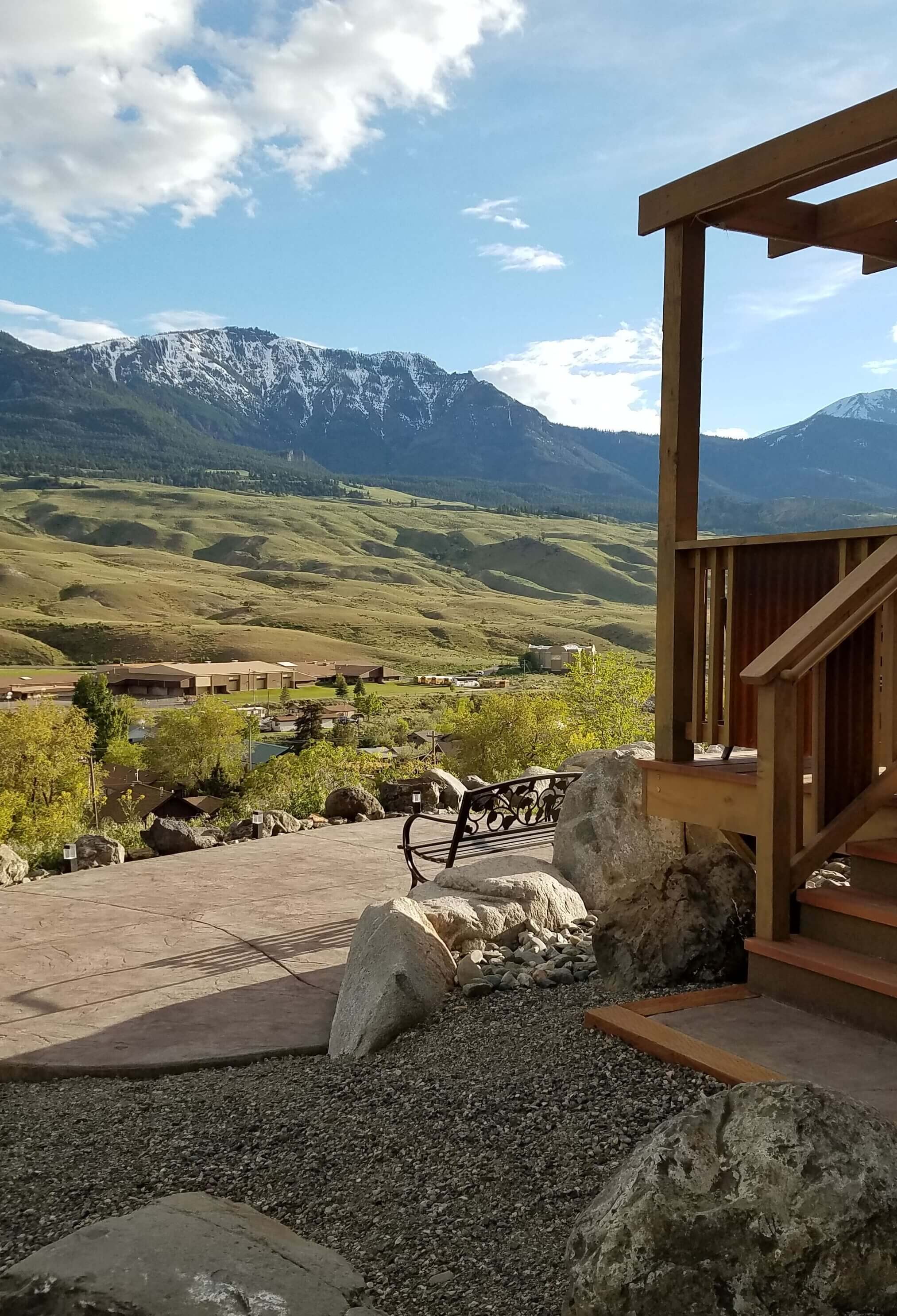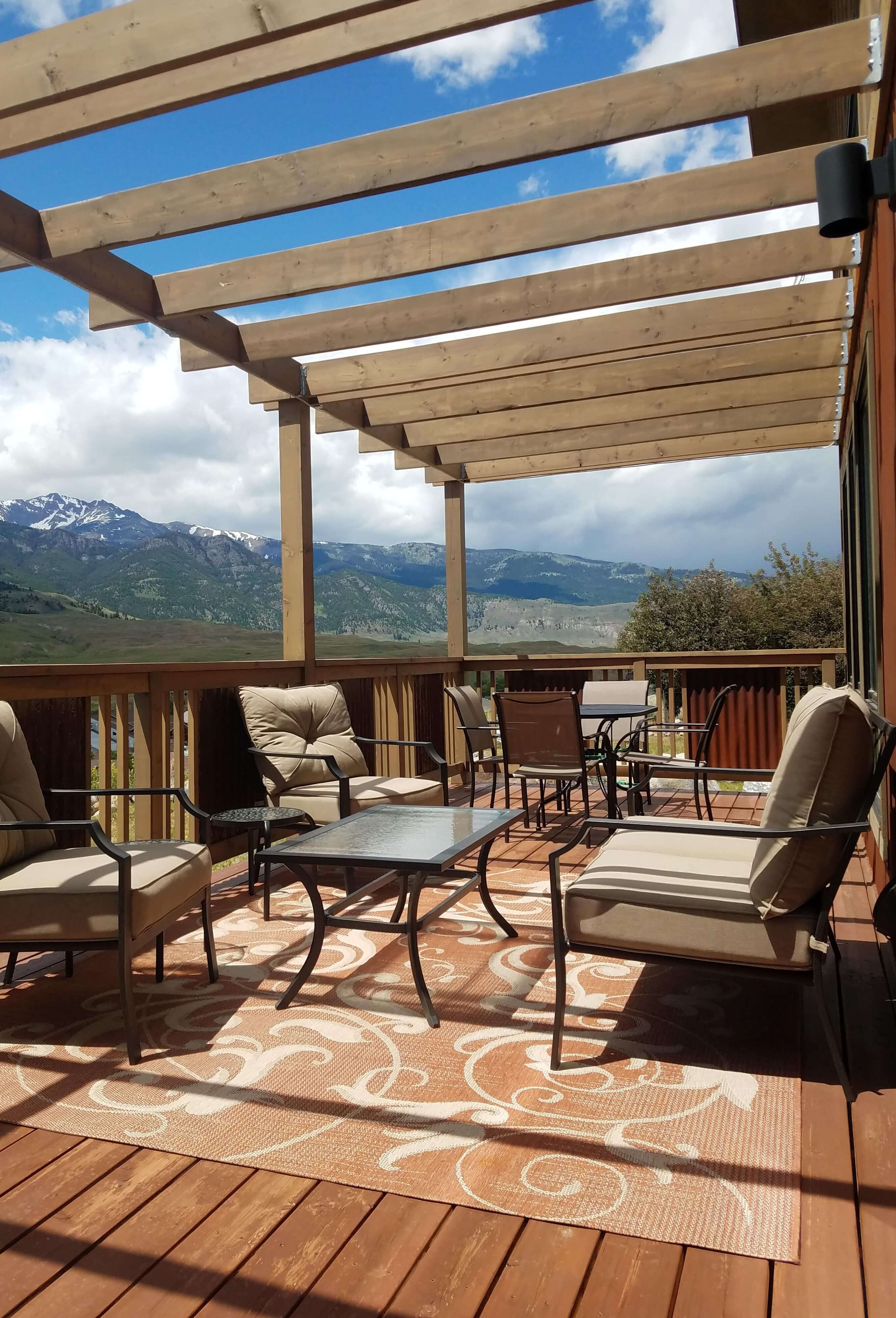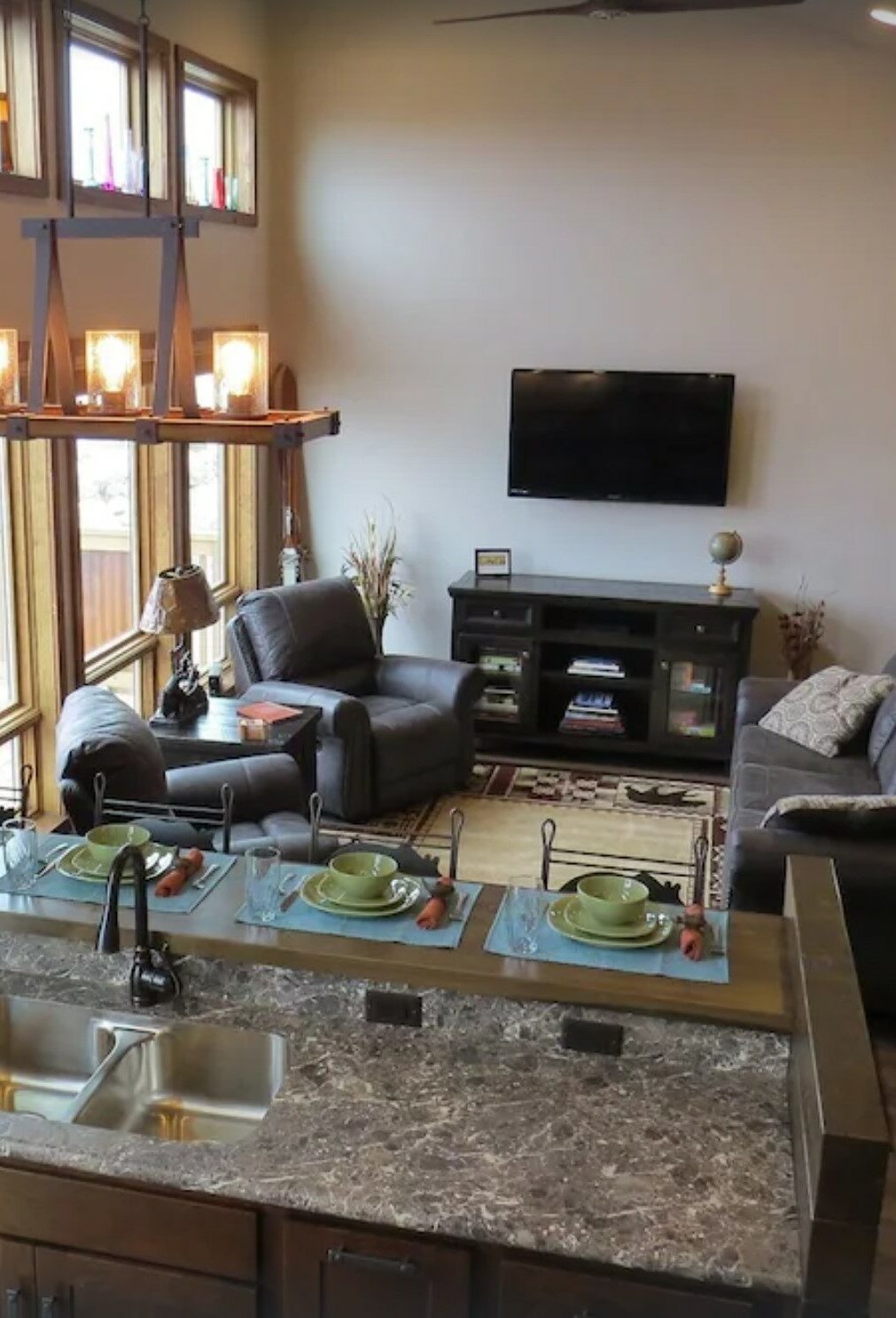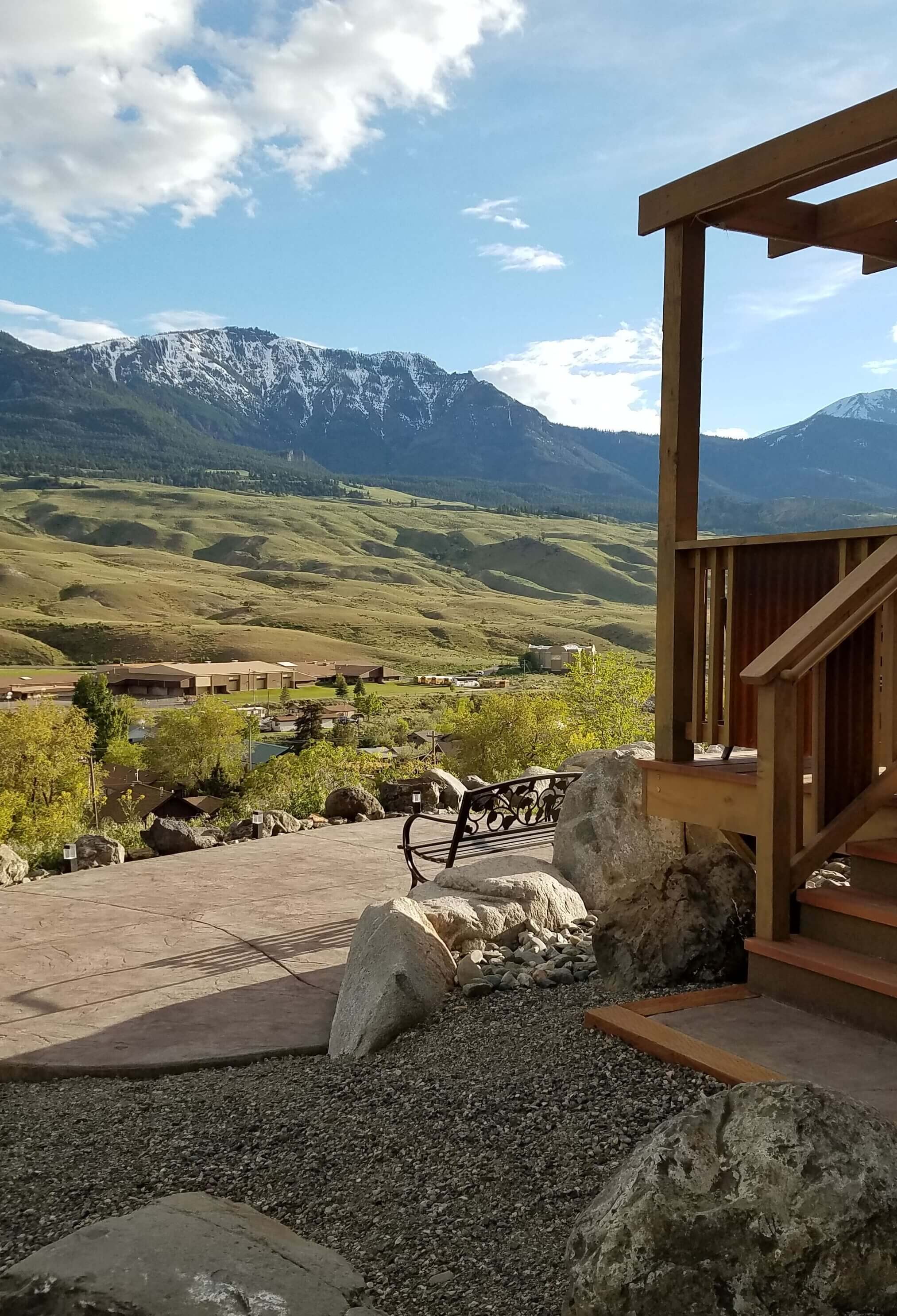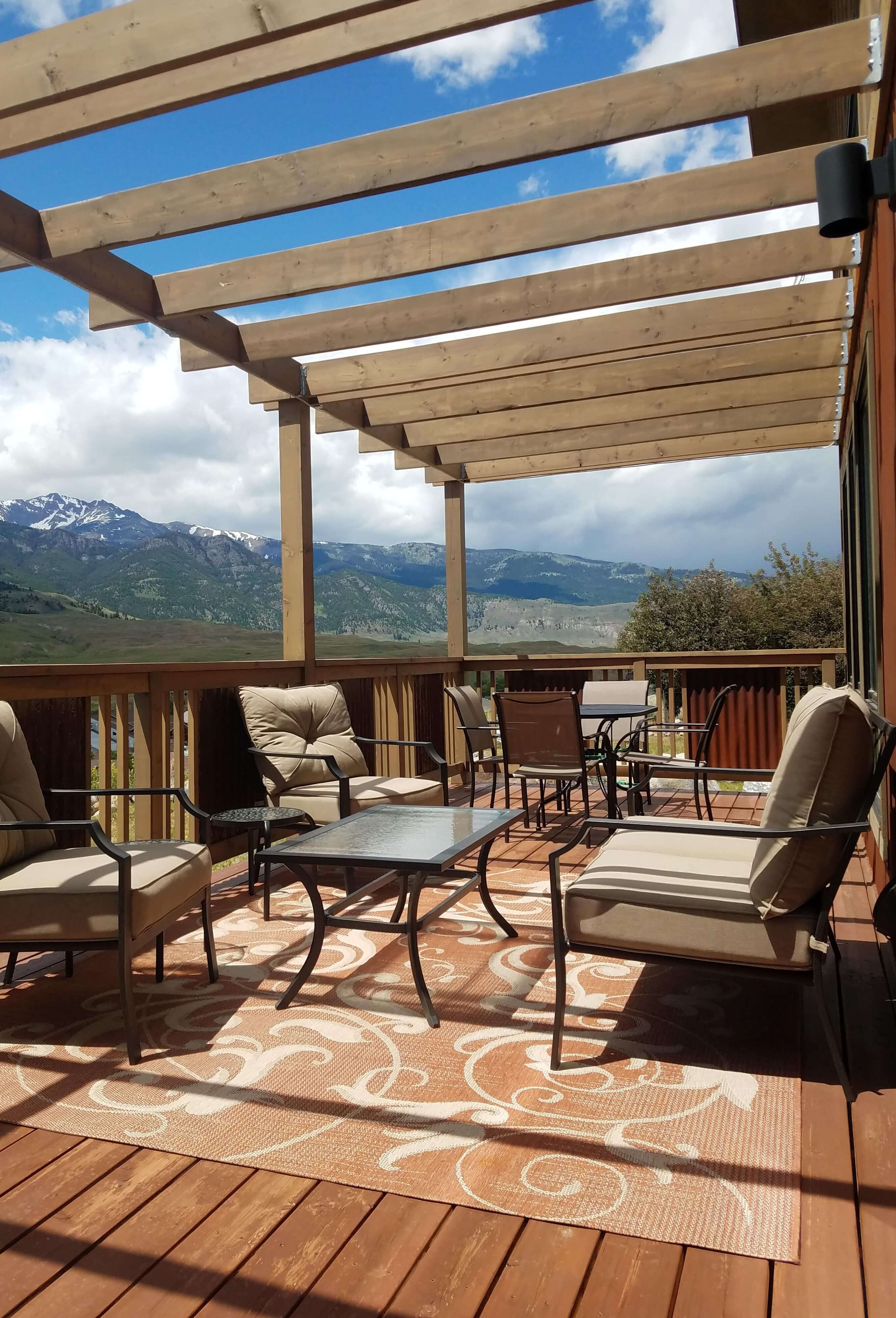 Your guides
Cara McGary is a qualified biologist (B.S. Aquatic Biology and M.S. Biology) who has worked extensively in the forests of Redwood National Park, the outback of Western Australia, and the jungles of Papua New Guinea. When not in Yellowstone, she likes to go hunting for tidepools and good snorkeling spots.
After earning her bachelor's degree in wildlife sciences, Hannah Beroske quickly ventured west to Yellowstone National Park where the wildlife is abundant. With 5 years' experience as a wildlife research technician, she has worked with many animals such as wolves, cougars, birds, and more. She finds joy in sharing her passions with guests and hopes to facilitate a memorable experience and inspire action.
Ben Buescher developed his passion for wildlife while working as an educator for the zoo in his hometown of Saint Louis, Missouri. As a naturalist guide, he uses his background in conservation biology and environmental education to share the stories of Yellowstone National Park with his guests.
In Our Nature is an eco-friendly guiding service specializing in wildlife watching, hiking, backpacking, birding and night sky tours in Yellowstone National Park. Whether you're looking to see world-class wildlife, enjoy a scenic hike, or spend a night in the backcountry, they'll make sure you get the most out of your adventure.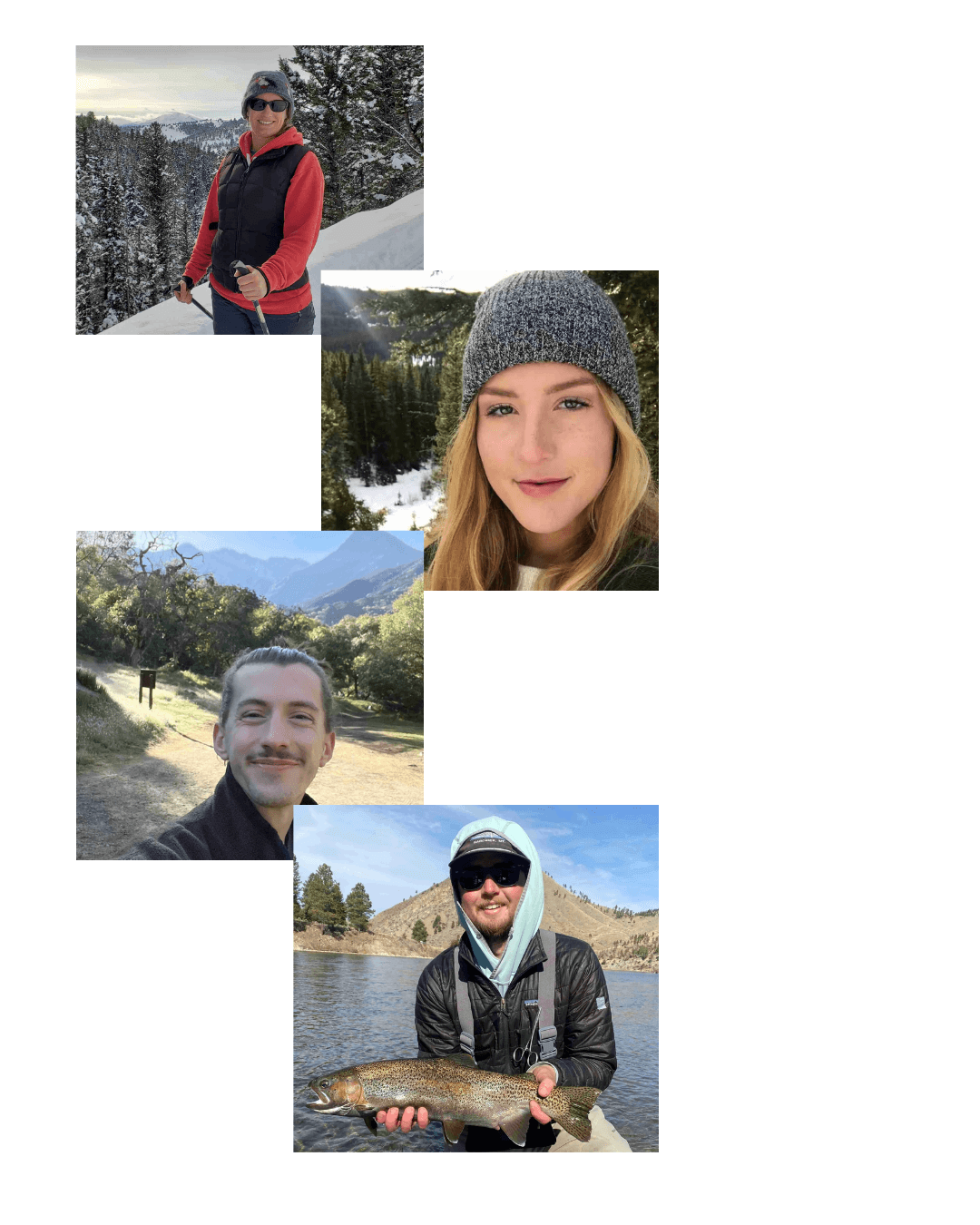 Cara was absolutely amazing! With all the circumstances related to the flooding, she was able to adjust and we could not have gotten a better experience! She thought of every last detail and we saw the best parts of Yellowstone. I would recommend her and this tour to anyone wanting a truly unique Yellowstone experience! We were able to see all the best parts of Yellowstone due to our guides knowledge and expertise. It was a fantastic trip!
Cara and her team gave us an absolutely delightful week in Yellowstone. We were a small group, 3 couples by chance, and the itinerary was packed and satisfying. We got up early to see wolves, stayed out late to see grizzlies, took in all the iconic geysers etc and along the way learned so much about the history and nature and geology of the area. some evenings we had a talk included, and then Cara was wise enough to build in rest time as well.
In Our Nature fulfilled its promise to show us the heart of Yellowstone and took us beyond Yellowstone to enhance our experience. Our days were full and we left with an appreciation for the delicate balances in nature as well as the unique characteristics and behaviors of different wildlife. Both of our guides were very knowledgable and were always willing to answer questions and share their expertise. They pointed out so many things we never would have seen and explained what we were seeing as well as sharing animal behavior. They were both great drivers so we were able to relax and watch the scenery. They were also very aware of our needs and anticipated well.
My wife and I spent five days with Cara In Yellowstone National Park. One day was better than the next. Wolves going in dens, black bears chasing siblings up a tree, coyotes and foxes searching for food, a bison traffic jam, and grizzlies 20 yards away are just a few of the many highlights of the natural wonders that we were in complete awe of. Cara's knowledge, enthusiasm, and extensive knowledge were simply contagious.The equipment she used was top notch. Her passion for the animals we witnessed made the trip so worthwhile. Her easy going demeanor made conversation easy and informative. Every person we came in contact with in the park spoke highly regarding Cara's stellar reputation as a wildlife guide, and she truly surpassed our highest of expectations going into the trip. Her ability to spot wildlife is no less than remarkable (and I thought I had good eyesight!) The only way to truly experience the Serengeti we witnessed in Yellowstone National Park is to take Cara from In Our Nature Guiding Services and be prepared to be surprised, excited, and truly inspired. I am in the process of booking my trip with Cara for next year. Her indelible impact on our excursions is one we are both thankful and appreciative of.
I HIGHLY recommend taking a tour. We saw so many animals, and our tour guide Nancy was just fantastic. She was so knowledgeable about not only the animals, but the park itself and the surrounding areas. She was really great and we had the best day.