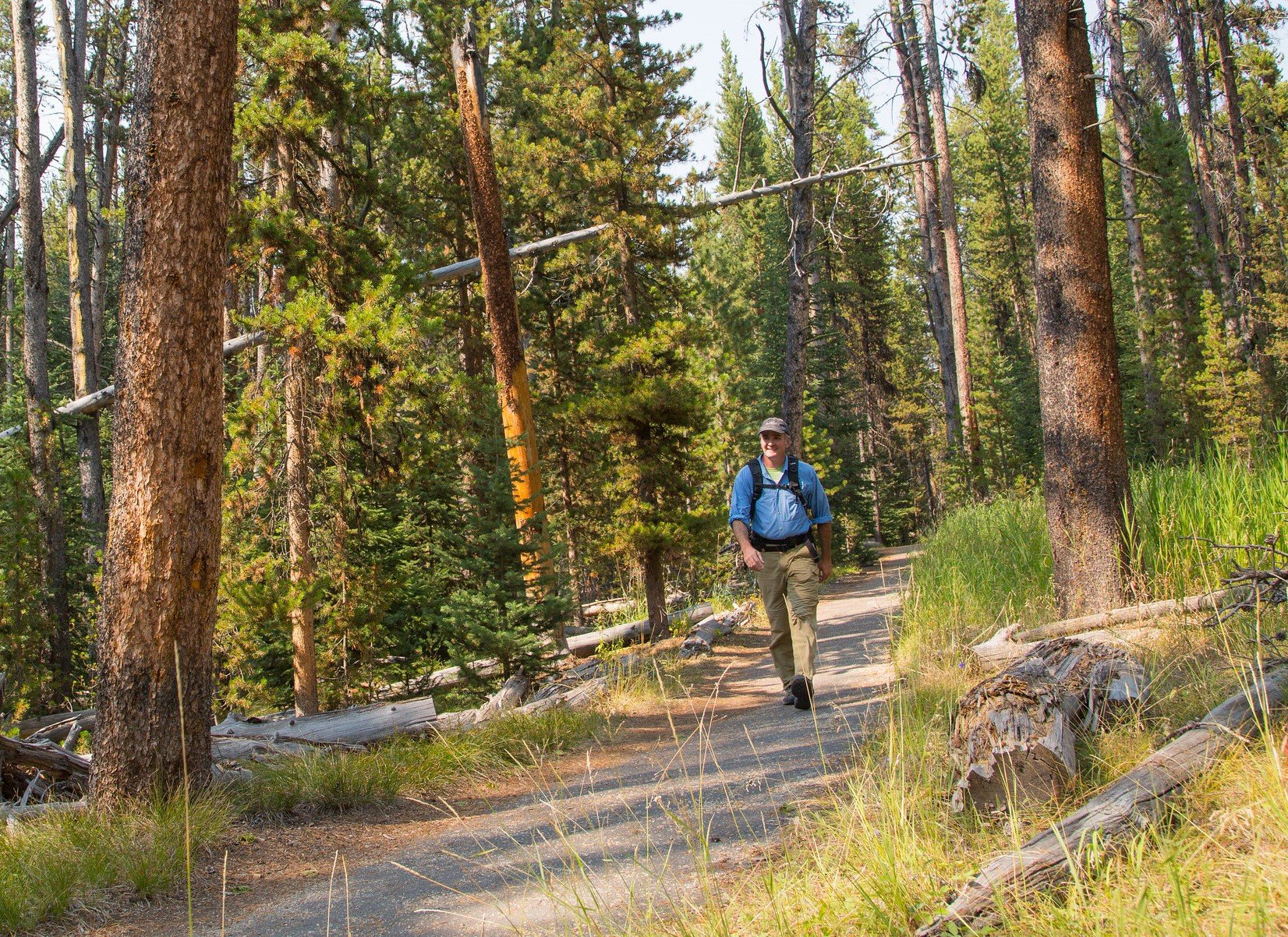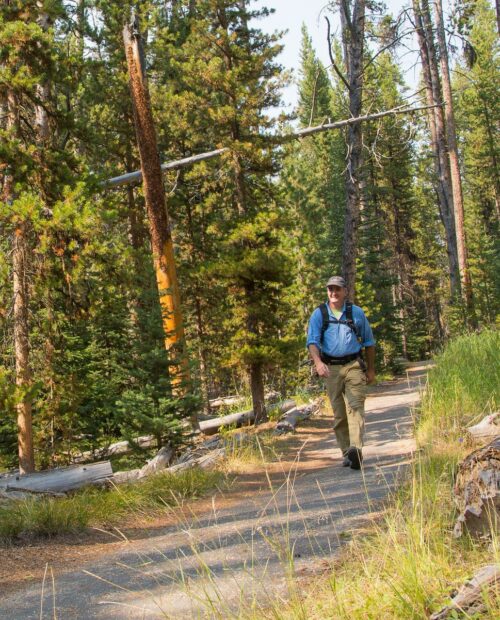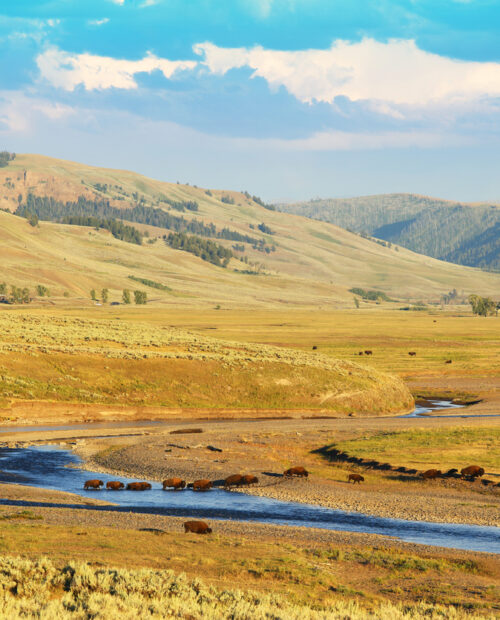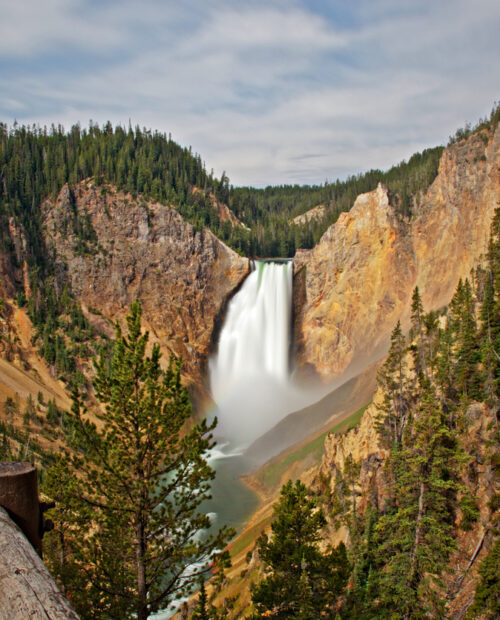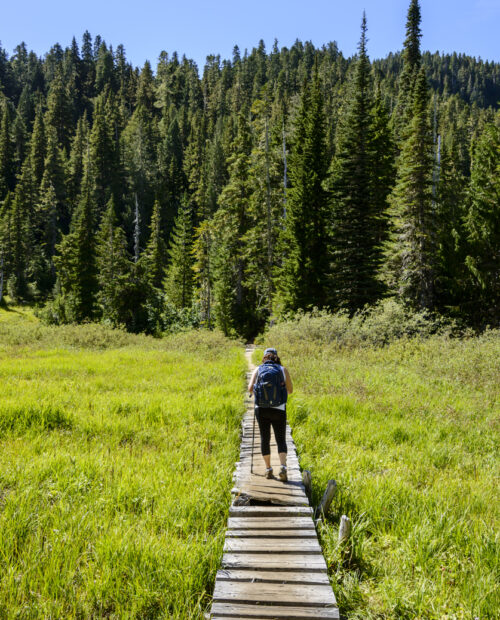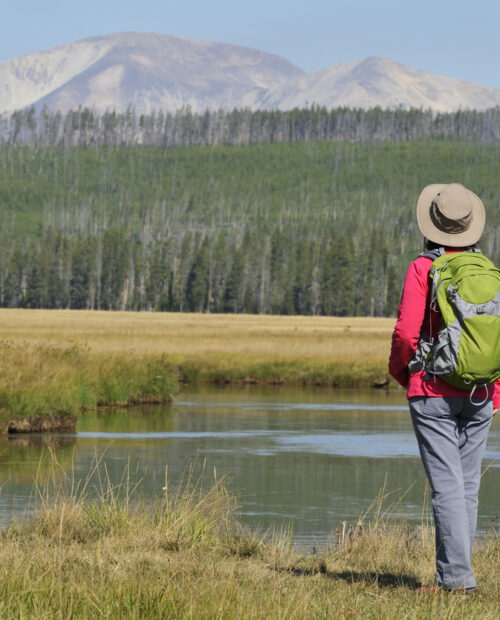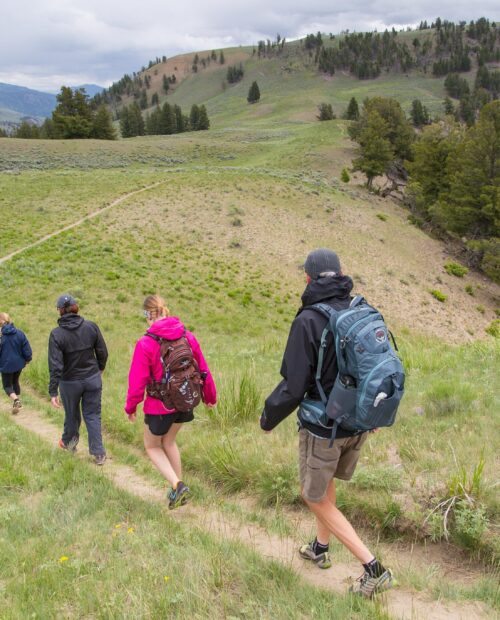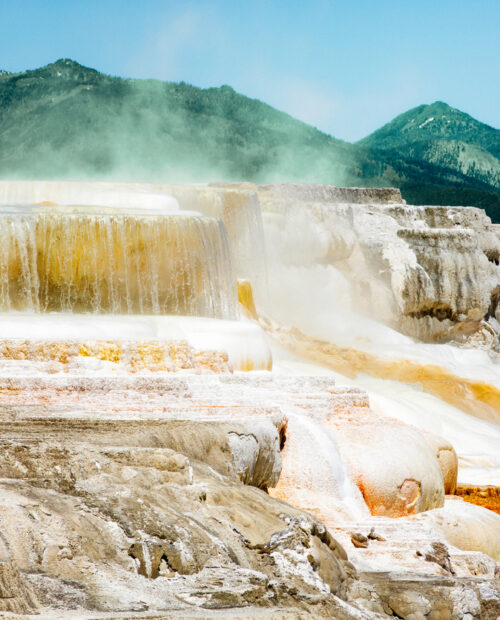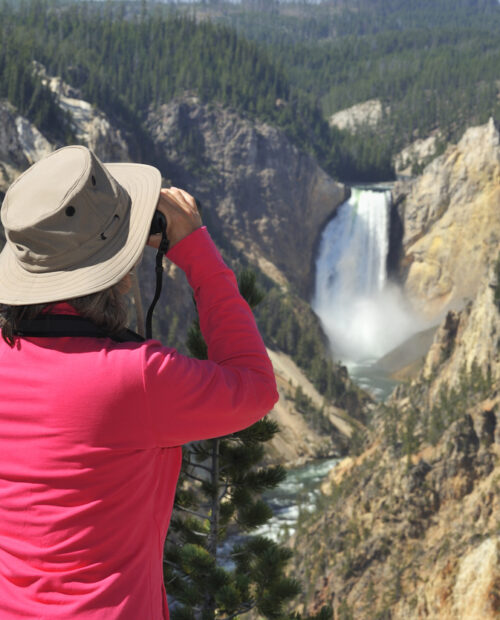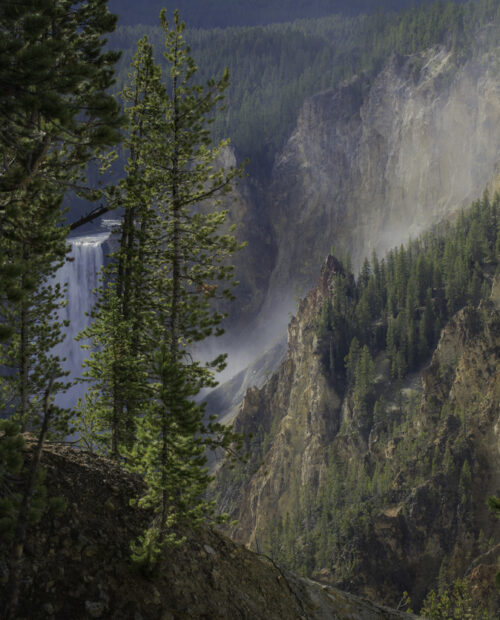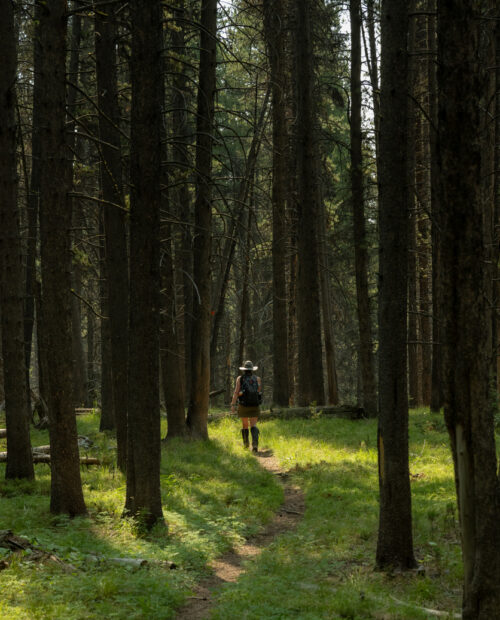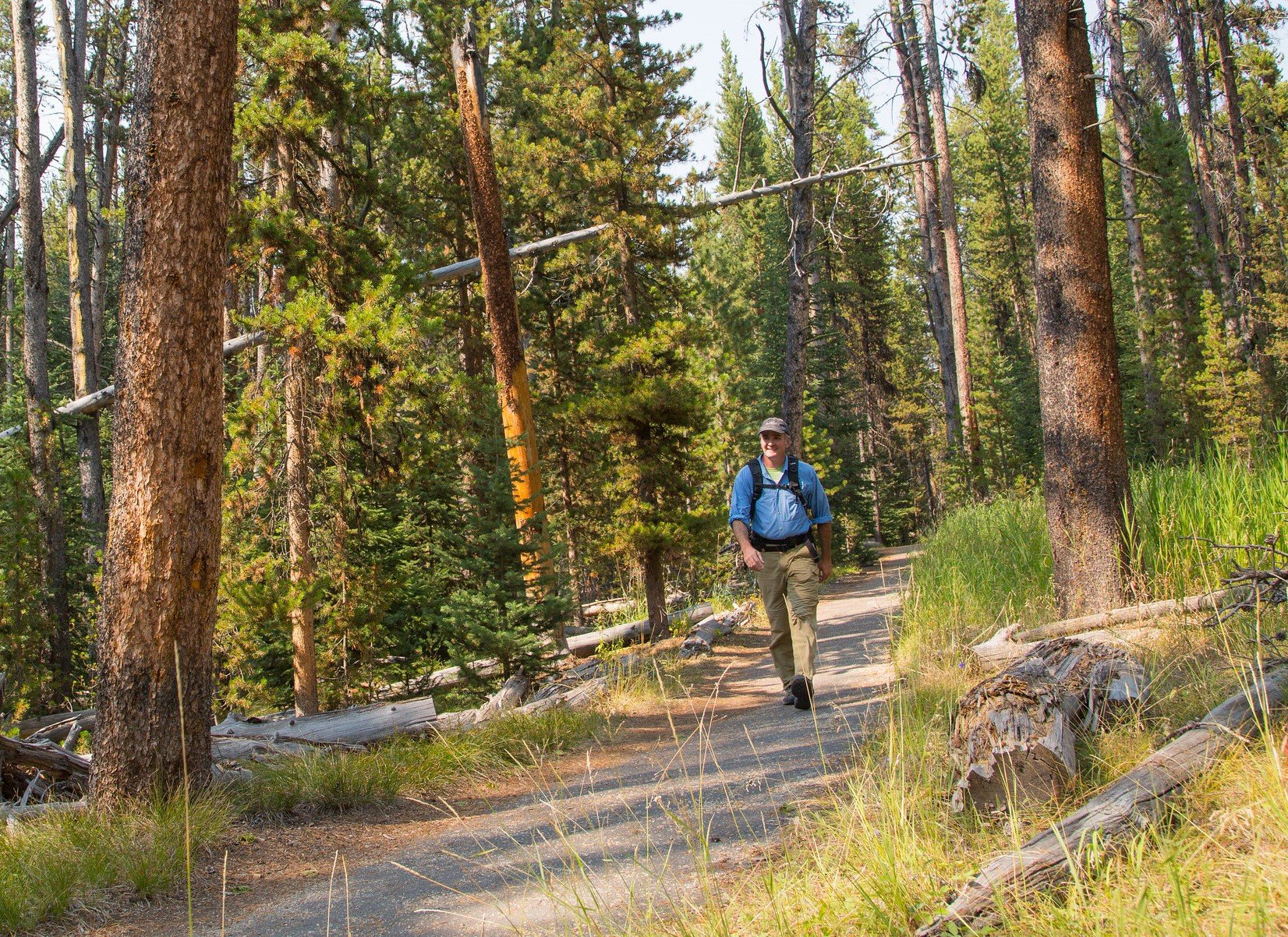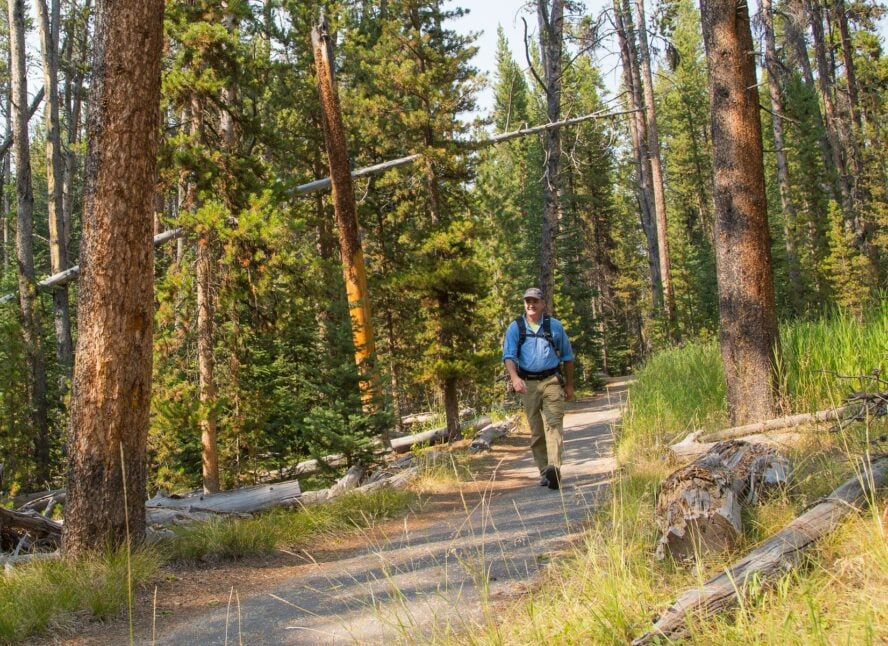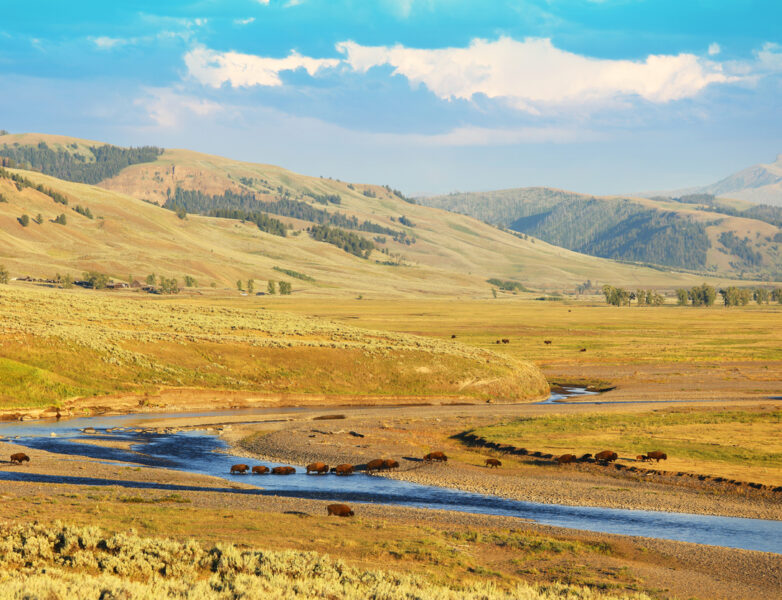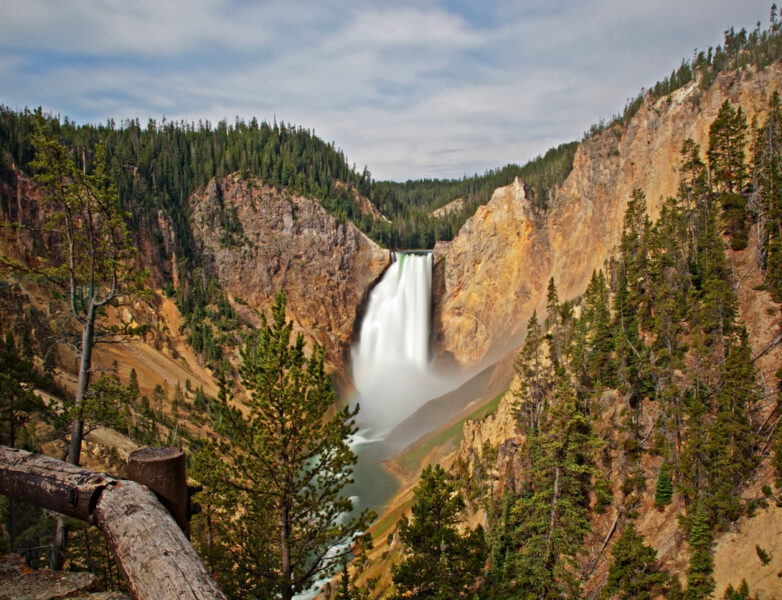 Half-Day Hiking Adventures in Yellowstone
5.00

()
Yellowstone is any hiker's dream destination. With almost 1,000 miles of trails spread over 2.2 million acres of highly varied landscapes, the only question is: where to start? If you want your Yellowstone hike to be short and sweet, yet highly rewarding—we've got you covered. Explore the dramatic Grand Canyon of Yellowstone or bison-speckled plains of the Lamar Valley; otherworldly Mammoth Hot Springs or the crowdless paths near the Tower Junction. Join your biologist guide on a half-day hike and explore some of the most fascinating areas in one of the most diverse and biodiverse areas in the US!
Get close and personal with some of the wildest areas in the US

Learn about Yellowstone on customized hikes with a private biologist guide and choice of location

Make the most of your time spent in this wilderness recreation area located atop a volcanic hot spot
Private Half-Day of Hiking in the Mammoth Area
Treat yourself to a hike to the best gems the Mammoth area offers. Walk through lush forests, meadows, and rolling hills as you make your way towards Beaver Ponds, Blacktail Deer Creek or to the summit of Bunsen Peak. Here you'll find phenomenal views of the Mammoth Hot Springs, an area filled with travertine terraces and incredible hot springs which you'll also get to explore with the help of a professional guide.
Mammoth Hot Springs are 2 miles from the north entrance to the national park, near the town of Gardiner, Montana. You can meet your guide at the Roosevelt Arch in Gardiner or at a trailhead in the Mammoth area some time before noon. 
Private Half-Day of Hiking in the Tower-Roosevelt Area
Explore Tower-Roosevelt's many unnamed routes, the majestic Yellowstone River, and head to Lost Lake in the northeastern part of Yellowstone on this half-day hiking tour of the Tower-Roosevelt region. Join a seasoned local guide as they show you the area's coolest sights, such as the record-breaking petrified trees of Specimen Ridge, via awe-inspiring hiking trails!
The road distance between the north entrance to the national park and the Tower-Roosevelt Service Station is 20 miles. You will meet your guide at a predetermined place in the Tower-Roosevelt area some time before noon. 
Private Half-Day of Hiking in the Norris Geyser Area
Enjoy up to 5 hours of hiking in Yellowstone's magnificent Norris Geyser Basin. Go on a scenic hike to Grizzly Lake, or from the Norris Meadows to Ice Lake, and explore the area surrounding the most volatile and exciting thermal basin in Yellowstone with a seasoned, naturalist guide.  From pleasant strolls to steep leg-burners, all levels of hikers are accommodated here!
To get to the Norris Geyser Area, most people access Yellowstone through the west entrance.This is the best location if you are coming from Madison or Old Faithful. You will meet your guide at a predetermined trailhead in the Norris Geyser Area some time before noon.
Private Half-Day of Hiking in Lamar Valley
Head to Northern Yellowstone and spend up to 5 hours hiking and exploring the Lamar Valley and its open meadows and hills filled with wildflowers. Take in the panoramic views of this expanse and observe a plethora of animals in their natural habitat. Get your camera ready and revel in the stunning views of the Lamar River that feeds this massive valley as your guide shows you the best gems the area has to offer.
To get to the Lamar Valley, most people go through the northeast or north entrances to the national park, which are 10 and 25 miles away by road, respectively. You will meet your guide at a predetermined trailhead in the Lamar Valley some time before noon.
Private Half-Day of Hiking in the Grand Canyon of the Yellowstone
From cascading waterfalls to breathtaking overlooks, experience the legendary Grand Canyon of the Yellowstone and its surrounding landscapes on a thrilling half-day hiking trip! Explore the 20-mile (32 km) valley of Yellowstone River and discover fascinating flora and fauna under the watchful eye of an experienced local guide.
To get to the Grand Canyon of Yellowstone, most people enter the park at the north entrance. From there it's around 40 miles of driving to reach the Canyon Village—where you will meet your guide some time before noon. 
Get free trip brochure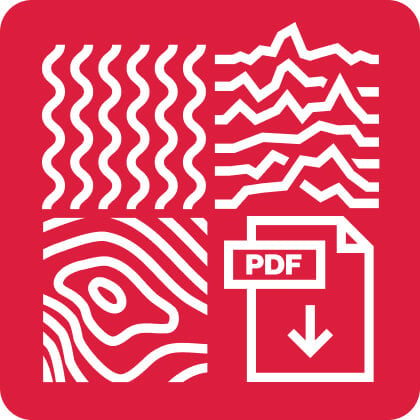 The brochure contains:
Adventure and location overview, itinerary, available dates, what's included, how to prepare, and much more.
Brochure sent, check your inbox
Talk with us
and let one of our adventure experts help you plan your perfect adventure.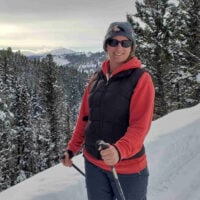 Cara is a qualified biologist (BS in Aquatic Biology and MS in Biology) who wants to help others develop and feed their fascinations with the natural world in Yellowstone. When not in Yellowstone, she likes to explore places where there are good tidepools or snorkeling.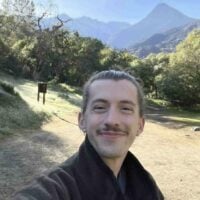 Ben developed his passion for wildlife while working as a zoo educator in his hometown of Saint Louis, Missouri. He later moved to Fort Collins, earning his bachelor's degree in Wildlife Biology at Colorado State University, before taking his studies all over the world. After graduation, he worked as a park ranger and wildlife educator in Kauai before settling in Yellowstone.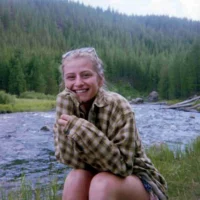 Hannah Beroske
Biologist Guide and Wildlife Research Technician
Biologist Guide and Wildlife Research Technician
After earning her bachelor's degree in wildlife sciences, Hannah quickly ventured west to Yellowstone National Park where the wildlife is abundant. She fell in love with the Park's natural wonders and surrounding forests. With 5 years' experience as a wildlife research technician, she has worked with many animals such as wolves, cougars, birds, and more. She spends most of her time exploring and appreciating everything that nature has to offer. Hannah finds joy in sharing her passions with guests and hopes to facilitate a memorable experience and inspire action. She is especially eager to work with young minds that are ready to learn and have fun!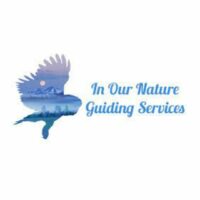 In Our Nature is an eco-friendly guiding service specializing in private wildlife watching, day hikes, backpacking trips, birding, and night sky tours in Yellowstone National Park. Whether you're looking to see some world-class wildlife, enjoy a scenic hike, or spend a night in the backcountry, they'll make sure you get the most out of your adventure.
Deborah G.
(source: Tripadvisor)
We had the best afternoon with Mike! He took us on a gorgeous trail where we only encountered 5 other people in 4 hours. We learned about the geology, topography, flora, and fauna — and got to listen to some amazing elk bugling! After four hours and about 7-8 miles, we were exhausted and yet still invigorated. Don't miss this experience!
Macy
(source: Tripadvisor)
Me, my husband, and our 14 yr old daughter had an amazing experience on our hike with Cara. We saw several animals including a close encounter with a bear. It was definitely an experience we will never forget. We would recommend Cara to anyone who wants a guided hike in Yellowstone.
Jeff L.
(source: Tripadvisor)
My wife, 9-year-old son, and 11-year old daughter were with Cara for two days last week, one day for wildlife watching and one day for a hike. It was a pleasure spending two days with Cara. She has an enthusiasm for the wildlife of the park and clearly enjoys sharing that enthusiasm and her wealth of knowledge. She has good relationships with other guides and wildlife watchers, and they cooperate to improve all of their chances of finding wildlife. She spotted many animals for us and worked hard to do so. And she took us on a beautiful hike. For the rest of our trip, my son kept saying that he wished we could have spent every day with Cara. Thank you, Cara, for the fantastic two days! They were the highlight of our two-week vacation!
Half Day Tour in Canyon Area and Hayden Valley
sandiegotravelers
(source: Tripadvisor)
We had a great half day tour with Nancy! Originally, we had planned to go on a hike around the Grand Canyon of Yellowstone, but steady rain was forecasted. Nancy came prepared with alternatives, and instead we drove to a variety of overlooks and went on several shorter walks (with an opportunity to dry off and warm up in between). The highlight was seeing three Grizzly bears eating and playing in the distance. Nancy set up two scopes, and we had an incredible viewing opportunity. We all had a great time and we would highly recommend Nancy and In Our Nature Guiding Services!
Things to know
What you get on this adventure:

An experienced, local naturalist or biologist hiking guide with extensive knowledge of the area

Half-day of hiking in a chosen area of Yellowstone

Snacks 

What's not included:

Transportation to the trailhead

Accommodations

Park entrance fees ($20 per person, $35 per family)

Gratuities

The best thing about hiking in Yellowstone is that there are incredible options for everyone. Since the tours are private, the route will be customized having in mind your group's activity level. For beginner hikes, if you can walk up to 5 hours (with plenty of breaks) with little elevation gain and sections on boardwalks and stairs, you are good to go! Intermediate hikes will see a little more change in elevation (up to 700 ft / 220 m) and include sections of rocky terrain—with a possibility of scrambling. Advanced hikes will include more sections with rocky terrain, bigger elevation gains (+1,000 ft / 305 m) and more obstacles. 

Keep in mind that the minimum starting elevation is at 6,000 ft above sea level, that weather in summer can be very hot, and that you'll also be packing a daypack filled with water and other things you'll need throughout the day. Your guide will always be by your side, making sure hiking is suitable to your level and adjusting the route if necessary. 

Here's a list of the equipment you need to bring:

Day pack large enough to carry all the items listed (around a 25-40L bag)

Hiking poles — optional

Water bottle or hydration bladder (2L capacity)

Lightweight hiking boots or shoes with good grip

Spare clothes for layering

Waterproof rain jacket

Sunhat

Toiletries (sunscreen, hand sanitizer, toilet paper, etc.)

Bear spray — provided by the guide

Bug spray — optional (must be DEET free!)

Headlamp or flashlight

Sunglasses

Camera — optional (but recommended)

If you're sensitive to bug bites, bring loose clothing that covers the lengths of your arms and legs. Also, bring lots of sunscreen no matter the season. You'll be at a high base elevation (about 5,000 feet) and may go over 9,000 ft in the course of the day.

Don't wear any fragrance as it might attract bears and keep in mind that smoking is strictly forbidden within Yellowstone. Another thing that is stipulated by your guide is that it is not allowed to bring guns on their tours.

Dress comfortably and for the weather in clothes you can move in. We suggest bringing clothing appropriate for the season. Layers are best and don't wear jeans.

These hikes can be adapted to accommodate most ages and abilities. If you are a wheelchair user or have some other specific needs, this shouldn't stop you from experiencing Yellowstone! Make sure to contact us if you're considering a tour and we will make an arrangement with your guide. They have experience guiding people with more specific needs and they'll be happy to help you navigate the obstacles in this wild and remote area. You can visit the Yellowstone National Park website to find out more about the accessibility in Yellowstone.

Group sizes and prices:

For these private hiking adventures, the maximum client to guide ratio is 10:1. 

The cost per person decreases as the group grows, so it's the perfect opportunity to hike with friends and family! 

Hiking in Yellowstone can be arranged for larger groups. Contact us to make arrangements.

Min. age requirements:

If you are older than 18, you're good to go.

Those under the age of 18 are welcome if accompanied by a responsible adult—t

hese tours are family friendly!

Once the trip is confirmed by the guide, the cancellation policy stated below applies. 

Cancellations up to 30 days before your trip date will receive a 90 % refund of the trip value.

Cancellations between 29 and 5 days before your trip date will receive a 50% refund.

For cancellations within 5 days of booking refunds will not be provided.

To get to the Yellowstone National Park, most people fly into Bozeman Yellowstone International Airport, which is between 1.5 and 3 hours away. From here, you can rent a car to get to the park. 

Your guide can meet people at the following locations: Gardiner MT or Mammoth Hot Springs WY, Tower Junction, Norris Geyser Basin and Canyon Visitor Center.

Once you and your guide agree on the details of the itinerary, they will suggest the exact meeting time and place, whether at the trailhead or a predetermined location.

Wilderness can get dangerous if you don't have the proper skills and experience, but don't worry — your guides carry bear spray and are trained in trail safety in Yellowstone's bear country. They take grizzly bears seriously!

57hours is committed to providing safe outdoor adventure experiences. We require all guides using our platform to have a COVID-19 safety plan and to make the details of that plan accessible to travelers. In most cases, group sizes will be reduced, guides will avoid overcrowded locations, and other safety measures will be met depending on the location and activity.

We also expect clients to respect local regulations and take measures to protect themselves, their guides, and the communities they're traveling to. For more information on COVID-19 measures in Yellowstone, WY, please refer to the official guidelines for air travel into the US and Yellowstone National Park's COVID-19 guidelines.

Please contact us if you have any questions or require further information. We are happy to provide you with the most up-to-date information!
Get free trip brochure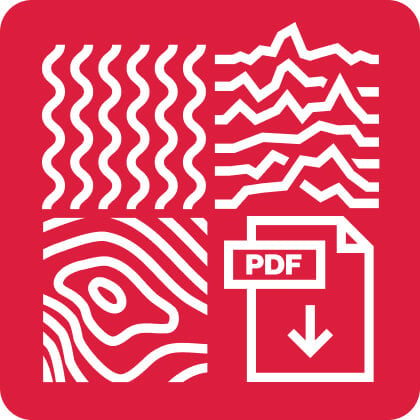 Adventure and location overview, itinerary, available dates, what's included and much more.
Brochure sent, check your inbox
Talk with us
and let one of our adventure experts help you plan your perfect adventure.
Other things to do in Yellowstone National Park