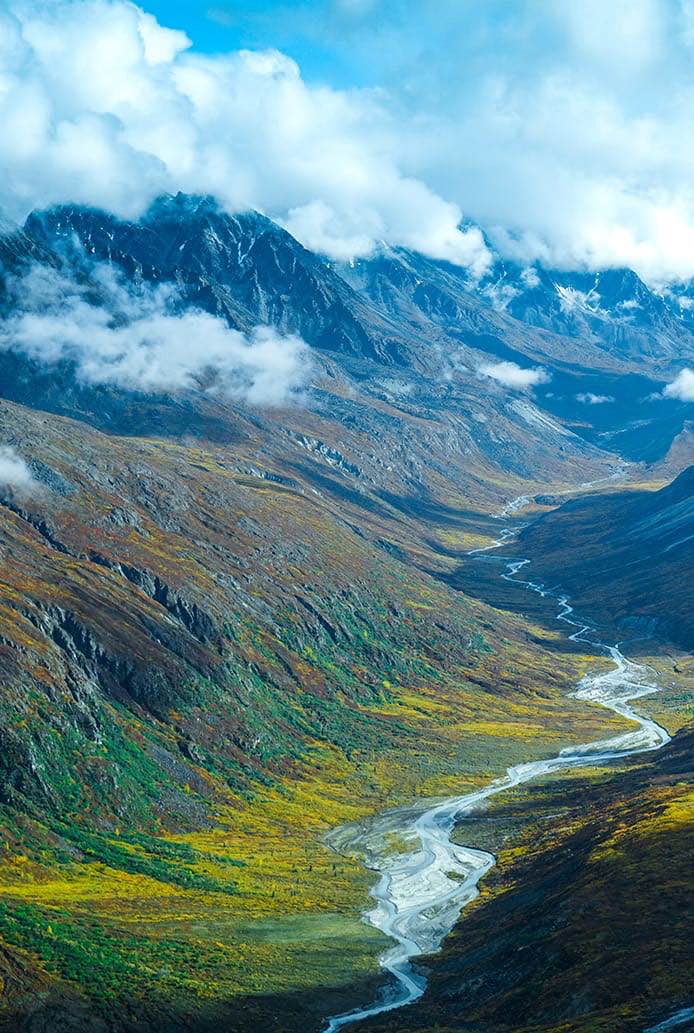 Backpacking in Denali's Remote Wilderness
With no trails, designated routes, or campsites, backpacking through Denali is as rugged as it gets. And while the tallest peak in the Anchorage skyline might be the most obvious attraction of the eponymous national park, it's just the beginning of the story.
Embark on a week-long backpacking tour of Whale's Tail and experience the sublime wilderness of Alaska. Between the gigantic glaciers, towering mountains, and grizzly-populated tundra, Denali's authentic wilderness will leave you breathless in every way possible.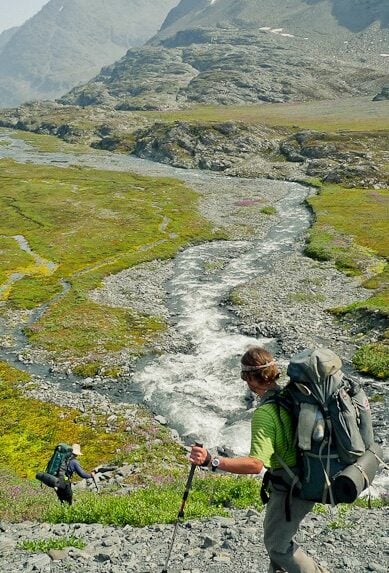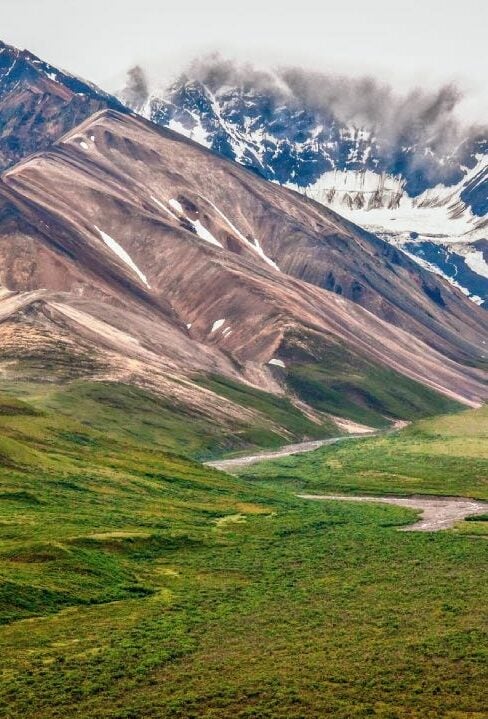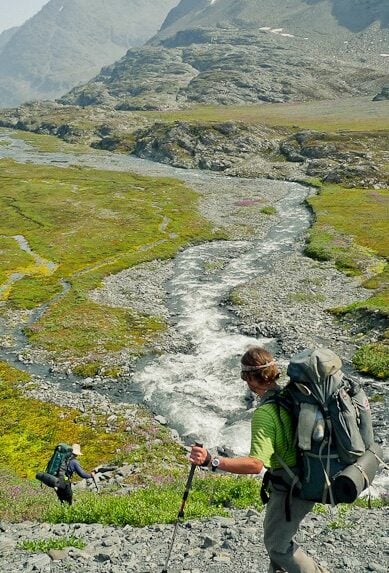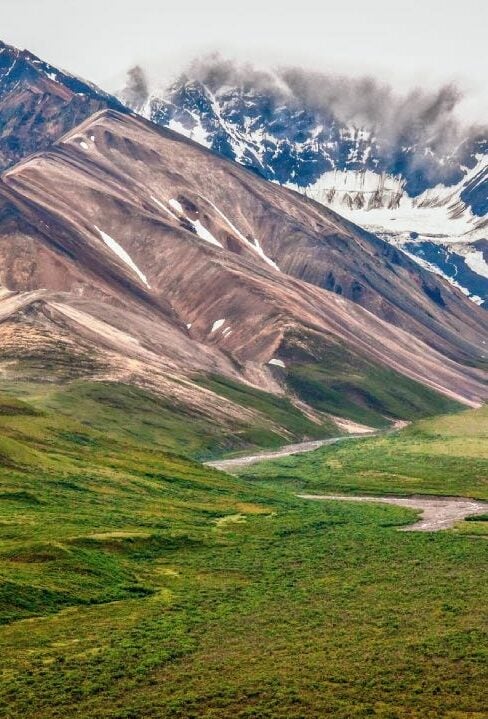 The crowning jewel of the North
At 20,310 feet, the solitary mountain dominates the great Alaskan wilderness with an unmistakable presence. As its colossal crown engulfs the horizon, one cannot help but gasp in awe and admiration.
The National Park and Preserve surrounding Denali encompasses more than 6 million acres of forests, glaciers, pristine lakes, taiga, and tundra—all rich in wildlife and biodiversity. To put it into perspective: the park is larger than the state of New Hampshire. So no matter how you decide to explore the unspoiled wilderness, you can count on all of it being big. Epically big.
63° 8′ N and 149° 7′ W
UNESCO BIOSPHERE
6 MILLION ACRES
MASSIVE GLACIERS
UNIQUE WILDLIFE
Adventure in
the heart of Alaska
PARADISE IN THE MIDDLE OF NOWHERE
Your journey begins in Anchorage where you'll board floatplanes for an hour-long flight through magical glacial gorges of Alaska. After the plane leaves you in the wilderness and heads back to Anchorage, prepare for an exciting sound you don't often get to hear: complete silence only disturbed by an occasional gust of wind and animals roaming in the distance.
Far from roads and beaten paths, where a steep, narrow ridge curves between the Ruth and Tokositna glaciers, you'll discover a landform appropriately named the Whale's Tail.
Heaven-piercing peaks, serene alpine meadows, and crystal-clear glacial lakes are just a snippet of the miracles adorning this hidden hiking gem.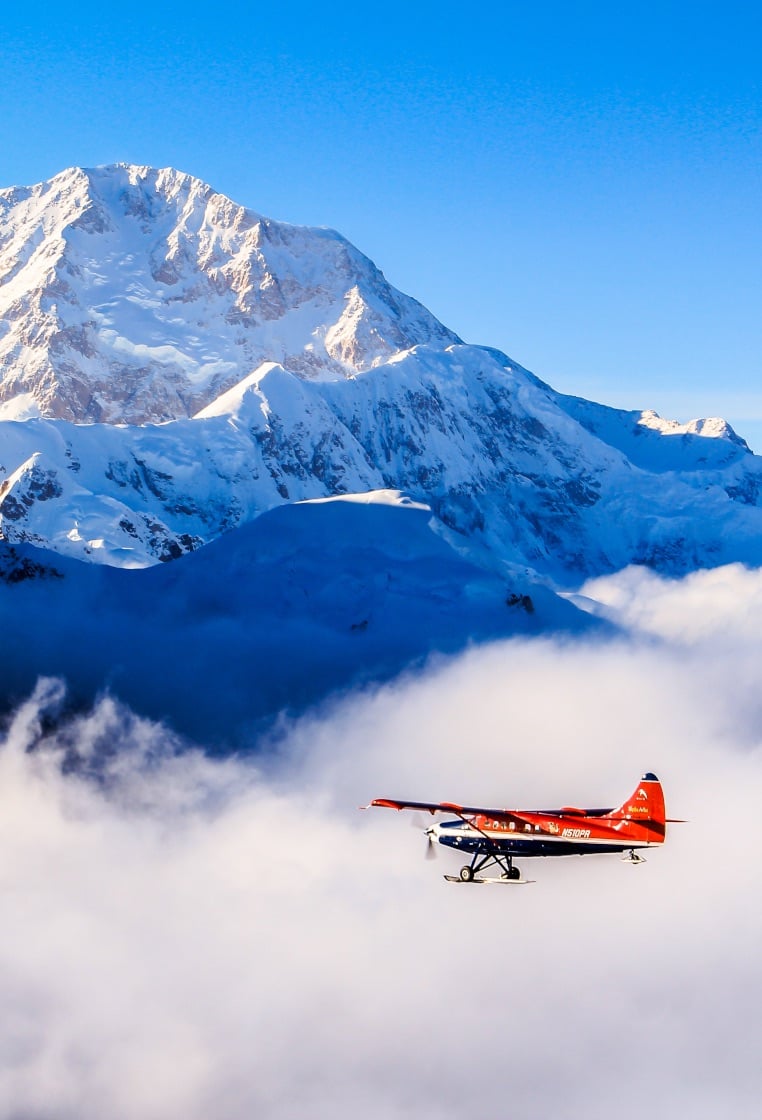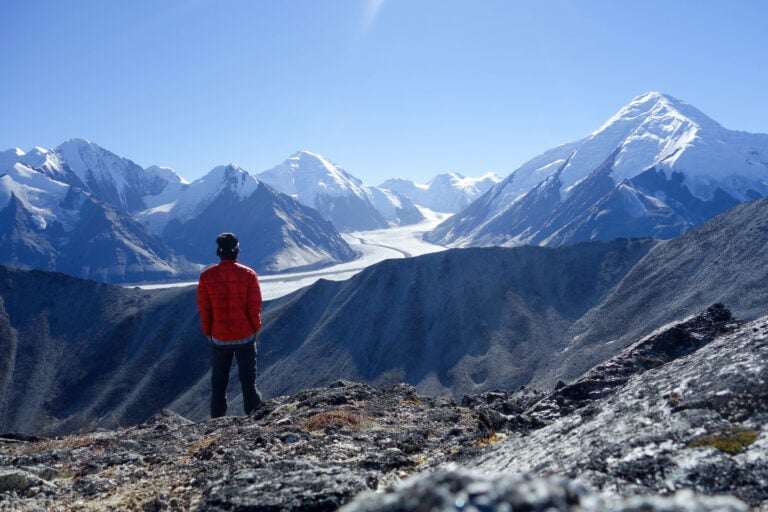 Captivating glaciers and epic peaks
As you travel over Alaska's boundless terrain, enjoy the view of the Teton-esque Tokosha mountain peaks, Mount Bradley, and thousands of years old glaciers outlining the Whale's Tail.
The Ruth Glacier is a fearsome thing to behold as you fly over it, especially during the summer months, when the glacier's crevassed "Great Gorge" starts resembling an icy river.
Above the surface, the glacier is surrounded by towering granite cliffs almost 5000 ft tall. Combined with the depth of the glacier, they create an abyss deeper even than the Grand Canyon.
Experience unlimited freedom to explore neverending landscapes and sights that will stay with you for the rest of your life. If you're looking to find peace and solitude in a truly awe-inspiring setting, it doesn't get better than this.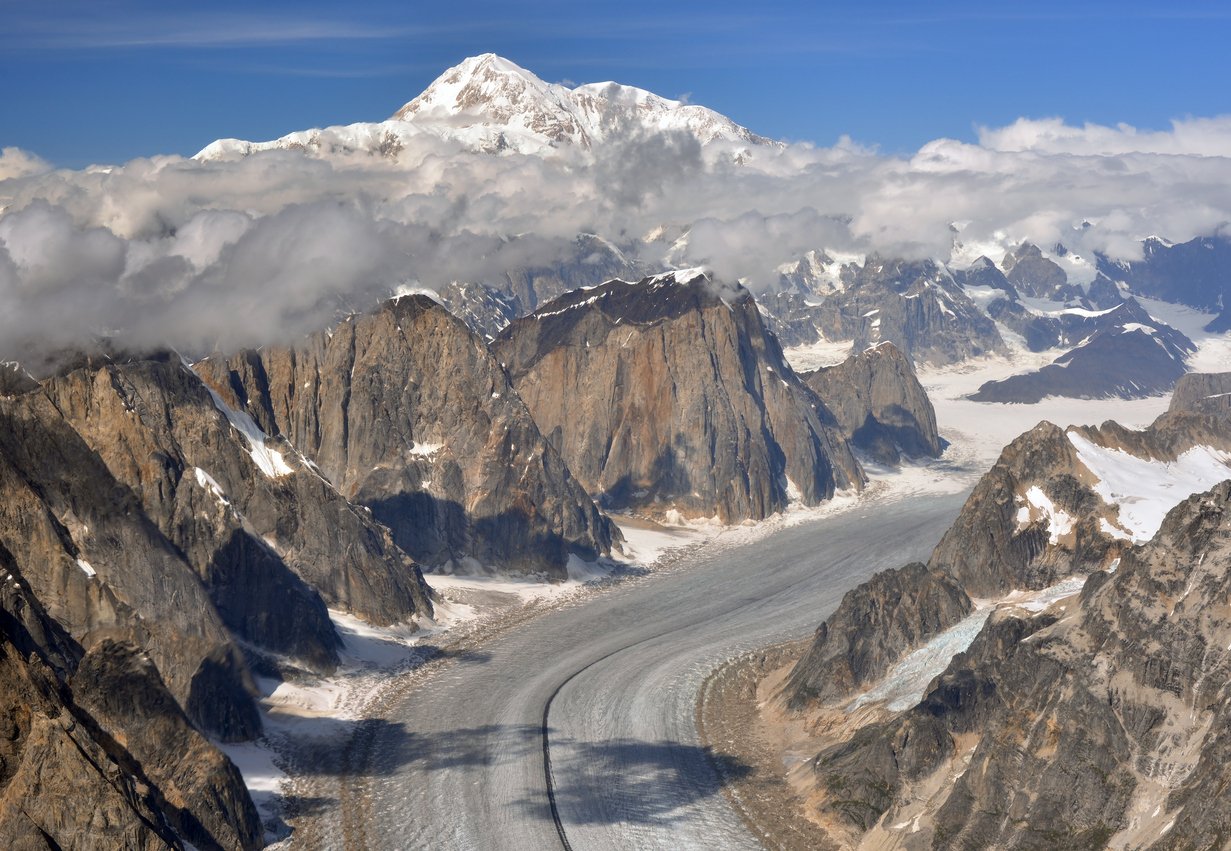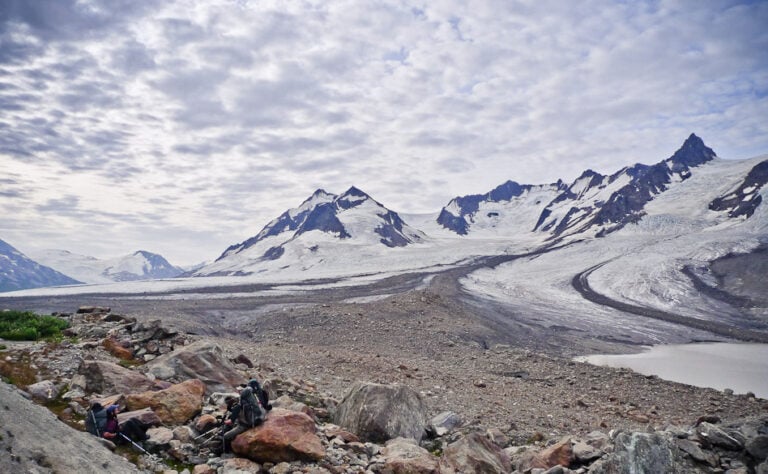 A surreal experience awaits
Legendary wildlife and big adventures
The park was established as Mt. McKinley National Park in 1917 and changed the name into Denali National Park and Preserve in 1980, preserving the true old Native American name meaning "the Great One." Three years earlier, in 1976, it was designated by UNESCO as a biosphere reserve. With its cerulean lakes, snowy white mountain tops, beige and copper hues of tundra, and green valleys soaked in the warm light of day's end, the area is like a kaleidoscope of colors and shapes.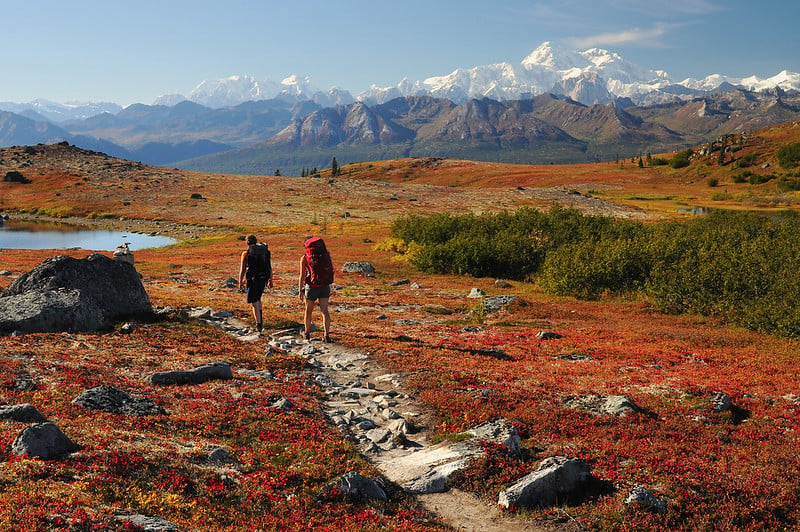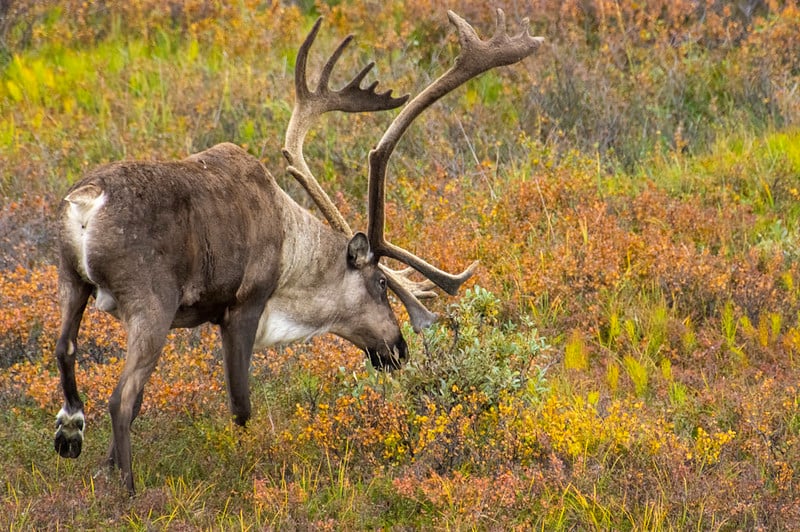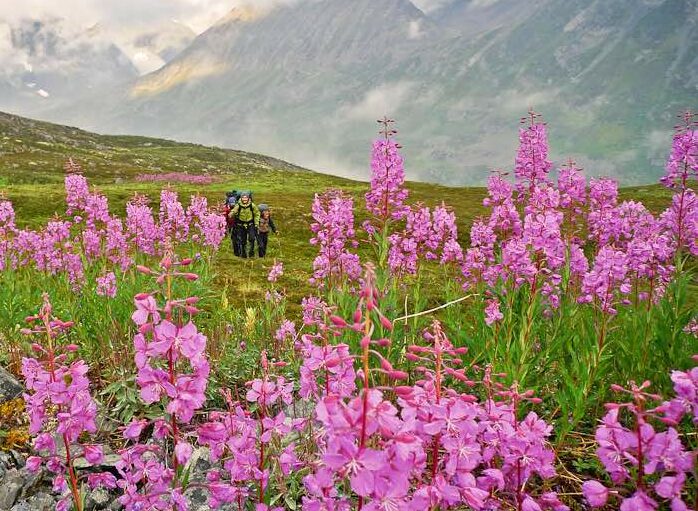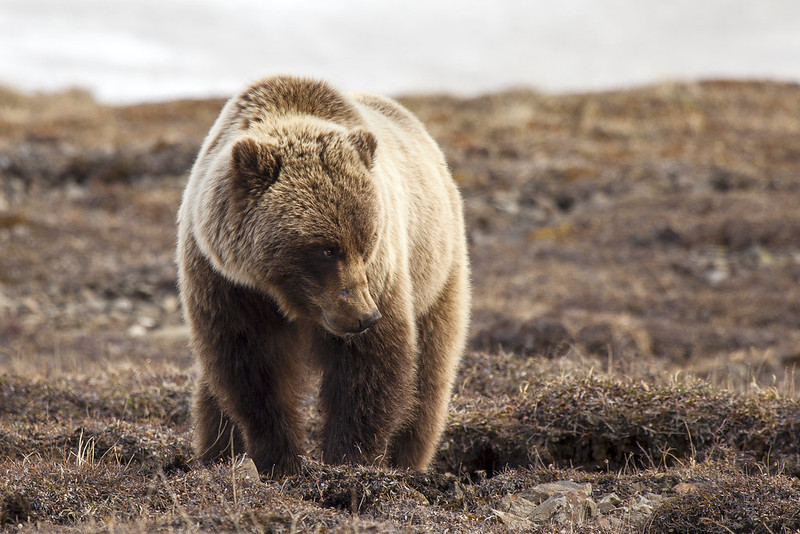 TUNDRA AND MORRAINES
As there are no roads where you're going, prepare for some rocky terrain and occasional scrambling. The coppery tundra zone is filled with plants adapted to the short growing season: blueberries, tiny wildflowers, and cottongrass.
WILDLIFE VIEWING
Wildlife is abundant in the park and preserve, including moose, brown grizzlies and black bears, wolves, caribou, and Dall sheep.
MAGNIFICENT SIGHTINGS
The most iconic, large mammals can be seen by few lucky visitors. The caribou reindeers spend the summer feeding on grasses, mushrooms, and plants in the tundra.
HIDDEN MEADOWS
Permafrost underlies much of the park's area, but come June and July, the ground's surface layer releases an amazing 1,500 species of plants, including over 430 species of flowers.
STAY BEAR AWARE
There's a big chance you'll encounter one or two bears on the way. The grizzly bear is characterized by a distinctive hump on the shoulders and a slightly dished profile to the face. Although they look fluffy and friendly, they are anything but. Still, no need to worry as your guide knows how to keep them away!
NATURE UNTOUCHED BY HUMAN HAND
Denali's authentic wilderness can be intimidating—especially when there's only one road that services the park's six million acres.
Due to this, few visitors ever step off the beaten path to see what Denali is like up close and personal. But if you embark into Denali's backcountry equipped with the right know-how, you're in for one of the most inspiring backpacking adventures out there!
During this week-long journey, you'll have a chance to experience a truly wild backpacking adventure free of campsites and designated routes.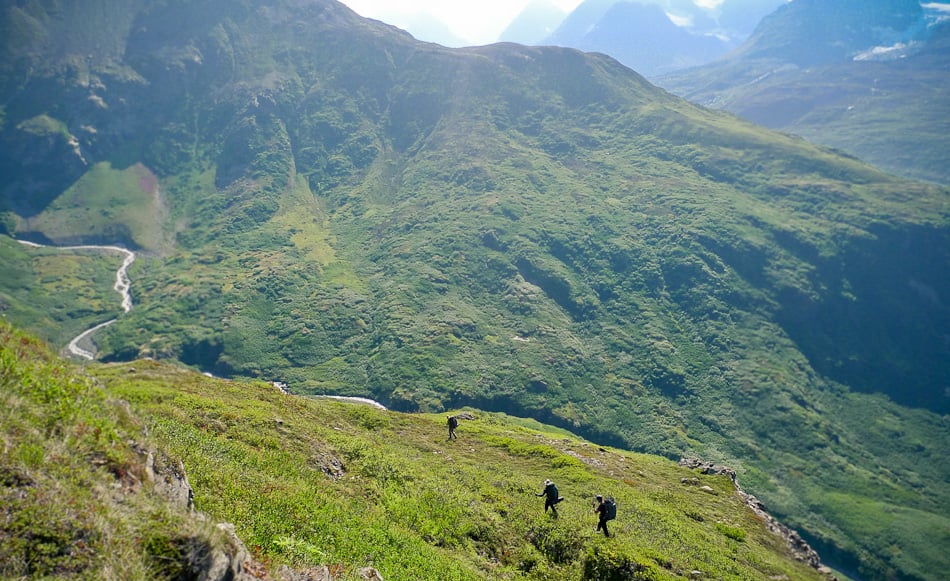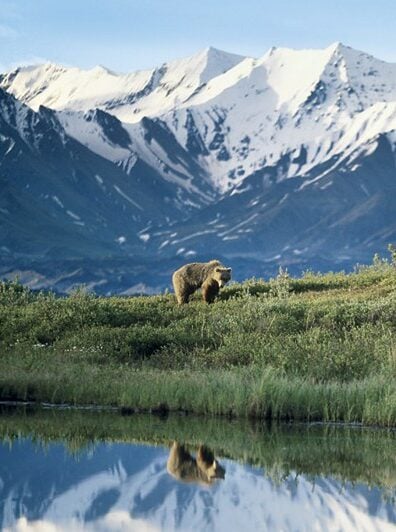 EVERLASTING SUNSETS FROM YOUR TENT
While Denali is any hiker's dream in terms of biodiversity and landscapes, the easily-accessible terrain near the road is often soft, mossy, and difficult to walk across. This is why a floatplane takes you to the less accessible part of the park where the ground is firm and views even more spectacular.
Each morning, you'll set the plans and goals for the day, and every evening, you will re-energize with delicious camp food, enjoy the eternal alpenglow, and make memories with your new friends!
This adventure hosts 3 to 8 hiking enthusiasts ready to experience the uninhibited freedom of Denali's vast landscapes.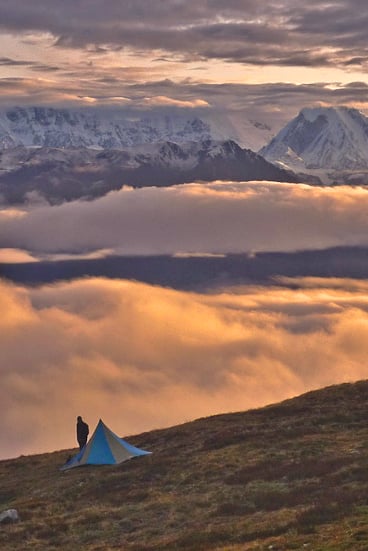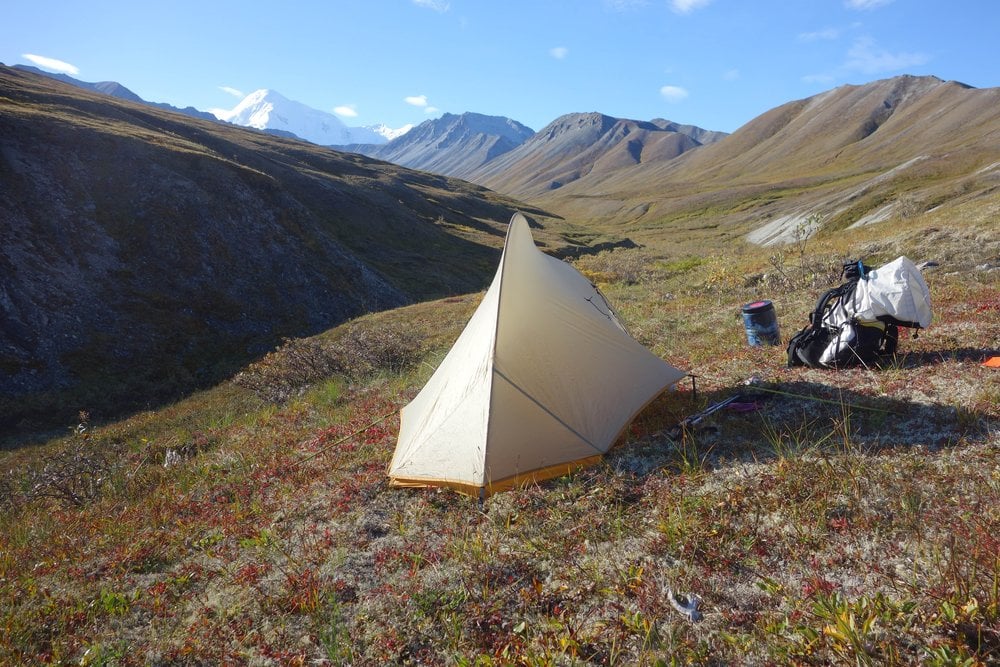 Meet your guide
Your AMGA certified Whale's Tail tour guide Jack Bynum can rarely be found sitting still. Most of the time he's out looking for adventure with his trusty backpack in tow. After nearly a decade of guiding around the world, Jack wanted to provide his customers with something new—custom expeditions to the remotest parts of the globe. That is why, in 2017, he founded Indigo Alpine Guides. His company's mission is to celebrate the great outdoors and preserve the natural world we partake in—while having tons of fun in the process.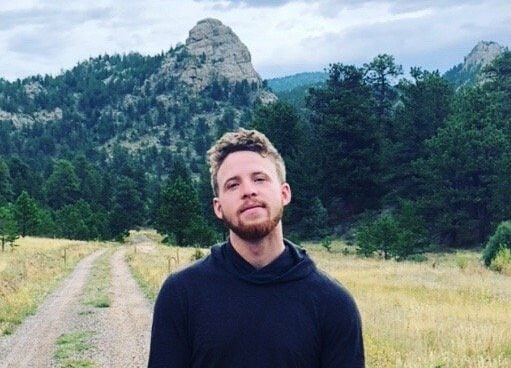 Adventure was great. Classis Alaska experience. Exciting flights on small planes to get in and out of backcountry. And a wide variety of massive terrain features every day; tundra, river beds, and glacier travel. Jack is fantastic! We booked a 7 day backpacking trip in Alaska with Jack, and it was a great experience. All the logistics were seamless, and Jack\'s professionalism was outstanding guiding us through the Alaska backcountry. He greatly assisted us with pre-trip planning: gear selection, etc. And he customized the route and food to our preferences. Extremely well done from start to finish.
Backpacking with Jack taught me so much! You can tell he's made the mountains his home — thanks for an awesome trip!
Wow! This trip showed me what a waste a heavy backpack is. Thanks for changing the way I experience the mountains. Less is more.