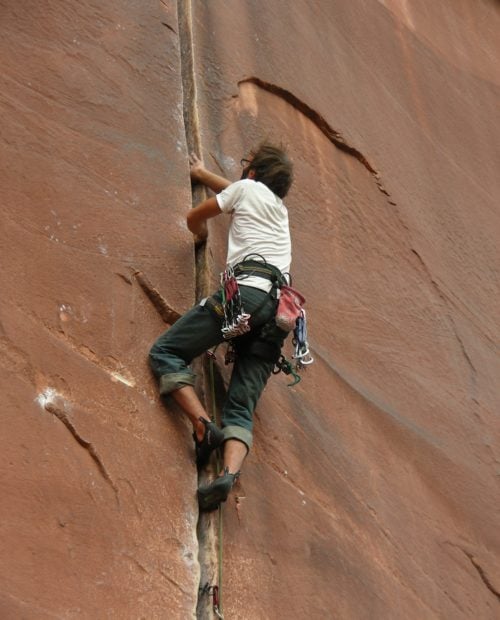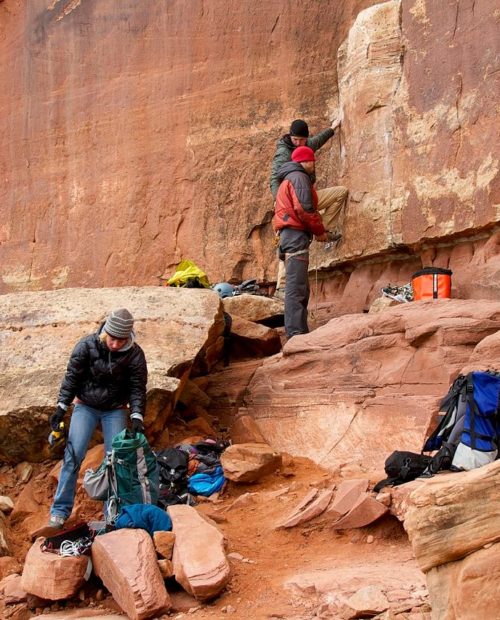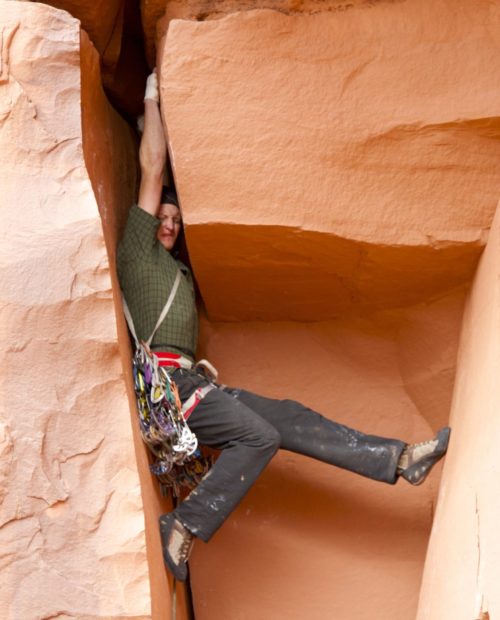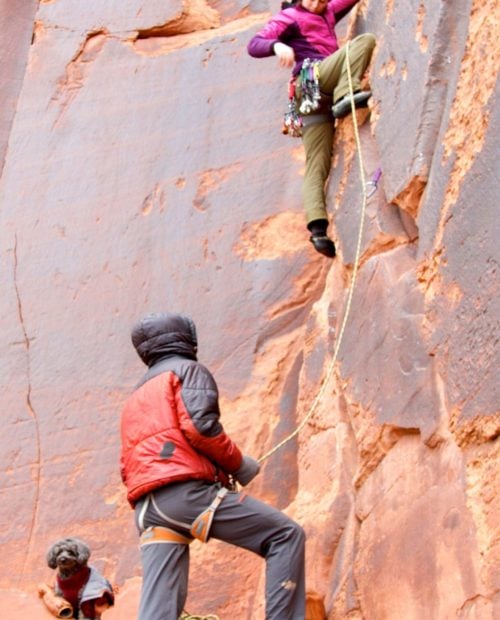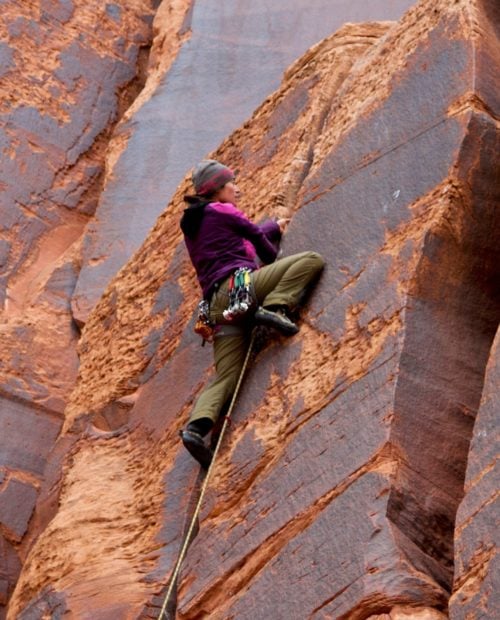 Indian Creek | Utah
Rock Climbing in Indian Creek
Season
Spring and fall are ideal for climbing here
There's world-class crack climbing just an hour from Moab
Indian Creek is a crack climber's dream that draws more climbers year after year. Tucked away in the Utah desert, 55 miles south of Moab and 16 miles east of Canyonland National Park, is a 26-mile corridor of Triassic-era Wingate Sandstone. All of that rock comprises the Indian Creek Climbing Area. While beta and gear can vary as one person's hand size to another's, this has never deterred any of the area's dedicated climbers. The Creek isn't home to many beginner routes, and those who do venture up the crags need to be prepared: tape gloves, cams, and patience. The routes here take some practice to dial in.
Most popular packages and classes in Indian Creek
Indian Creek Crack Climbs
from $200 per person
·
1 day
Get a taste of crack climbing at its finest — whether you're new to the style or not. Indian Creek is the mecca of southwestern crack climbing. All you need is one look at the entrance of the legendary Needles District and you'll see why climbers return year after year to this slice of Old West country. While you don't need previous crack climbing experience, previous climbing experience is a must.
Moab Desert Adventures Splitter Camps
from $775 per person
·
3 days
Spend three days with a small guide to guest ratio (1:3) learning the ins and outs of classic crack climbing – all with certified and legendary crack climbing guides. You'll learn the best way possible, by climbing! Expect plenty of time on the rope while you climb vertical foot after vertical foot of red Wingate Sandstone. This camp is a must for any climber who aspires to climb higher!
Indian Creek Crack Clinic
$1795 per person
·
3 days
Conquer Indian Creek's storied crags on this crack clinic. The clinic covers everything from knots, Leave No Trace, and route finding to racking properly, tape gloves and safely bailing. Some prior climbing experience is definitely required because crack climbing can take on a different kind of wear and tear. This is the perfect opportunity to climb in the southwest's crack climbing mecca.
Things you need to know
When is the best time to go?
When is the best time to go?
What's a typical itinerary?
Usually you'll meet up with your guide, go over gear and beta, and then plan on what routes you want to ascend, or what techniques you want to focus on most.
Group sizes and pricing?
Group sizes are usually between 1 – 4 people with one instructor. Also, remember that the costs decrease as the group grows, so it's the perfect opportunity to surf with friends and family.
What about bad weather?
Inclement weather can very rarely get in the way of climbing in the desert, but, if in doubt, ask your guiding service for more information.
Getting there
Moab is the closest regional airport for getting to Indian Creek.
The Mountain Guides
IFMGA/AMGA Certified Guides
The Mountain Guides are ready to see any objective of yours fulfilled. They guide h...
Red River Adventures
Red River Adventures
In business since 2006, Red River Adventures is owner-operated, and proud to have A...
Moab Desert Adventures
Moab Desert Adventures
AMGA Certified Guides
Moab Desert Adventures is Moab's friendliest, most passionate, and most professiona...
When the weather's good, the climbing is out of this world
While you can generally rely on fantastic weather while climbing, if it rains, go explore someplace else and stay off the delicate sandstone! Don't forget: "Mud on your feet? Retreat! Shoes dry? Go try!" And when it's time to go try, the single-pitch options awaiting you are epic, daunting, and worth every ripped tape glove. With most routes starting at trad 5.10, there are classics like Supercrack of the Desert (5.10), Way Rambo (5.12) and Incredible Hand Crack (10c). When these get inevitably crowded on weekends, there are over forty more crags to take on, like Low Cholesterol (5.10) and Bad Rad Duality (5.10+). Have a blast while you climb here and make sure to Leave No Trace and keep this pristine land in perfect shape for generations to come.
Who should climb at Indian Creek?
Some previous climbing experience here is paramount. The area has few beginner routes and crack climbing can be punishing for first timers.