Indian Creek | Utah
Rock Climbing in Indian Creek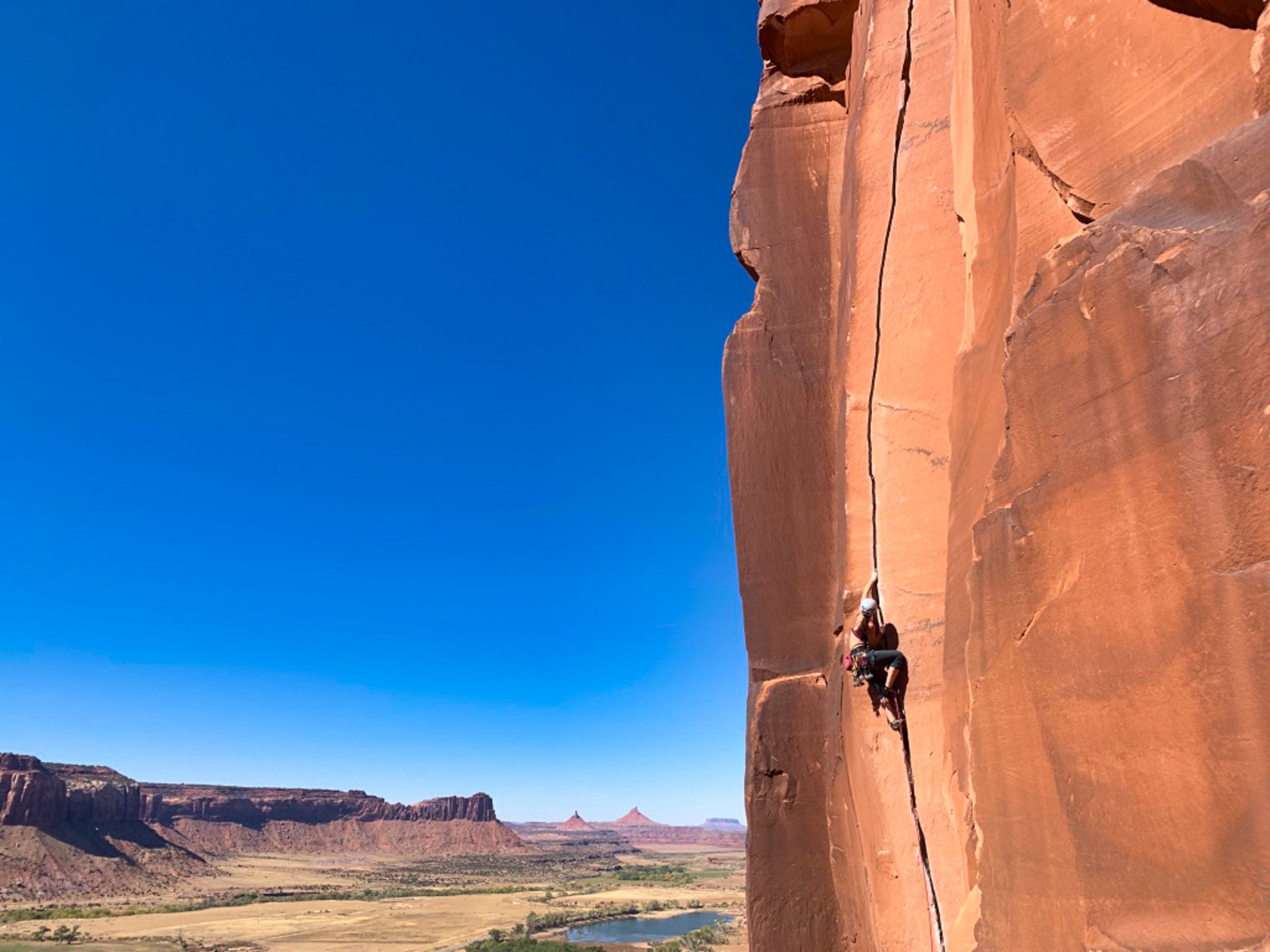 Season
Spring and fall are ideal for climbing here
Skill level
All levels, ideal for intermediate to advanced
Experience the best crack climbing in all of Utah
Indian Creek rock climbing is a crack lover's dream. Tucked away in the Utah desert, this 26-mile corridor of sandstone is just 55 miles south of outdoor-centric Moab and 16 miles east of the stunning Canyonlands. It's an ideal destination as a proving ground for every skill level. Get ready for challenging routes and camaraderie on the wall. Indian Creek climbing guides are invaluable seeing guidebooks on "crack size" are notorious for leading even the pros astray. Fortunately, once you master the cracks with the experts, you'll discover why Indian Creek is one of the best climbing destinations in Utah.
Book This Adventure
A Customized Day of Private Climbing With a Guide
Hone your crack climbing in Indian Creek, Utah. You'll practice technique, learn handcrack skills and be equipped with a bevy of gear required for these famous routes. With your own private guide, the day will be based on your experience and customized to your goals. Go alone or in your own climbing group of up to three people.
Trip Highlights
Get a taste of crack climbing at its finest — whether you're new to the style or a dedicated climber. Indian Creek climbing area is the destination in the southwest for crack climbing. Period. All you need is one look at the legendary Needles District and you'll see why climbers return year after year. While beta and gear can vary as much as one person's hand size to another's, this is exactly why you have an expert guide to prepare you for the route. Those who venture up The Creek crags need to be prepared: tape gloves, plenty of cams, and patience.
Things you need to know
Why should I book with 57hours?
With us, it's all play and no work for you! 57hours is an open platform that connects you with trained and certified outdoor adventure professionals all over the world. Using our tech-savvy, we make it super easy to find and book adventures worth tackling, with guides worth booking, all gathered from the first-hand experiences of the locals who adventure in these amazing locations.
Why should I go rock climbing?
Rock climbing is more than just a sport; it's problem solving on-the-go. It's a balance of intuition and fluidity of movement. The fun comes from the possibilities — each route with a variety of options and only a fraction of them leading to success. When you finally master a climb, after hours of practice, it transcends mere sport and is akin to art.
What's included?
What you get in this adventure:
An experienced, certified rock-climbing guide with extensive knowledge of the area
A full 8-hour day of rock climbing
All technical climbing gear
Technical gear list
All technical climbing equipment will be provided by your guiding service. However, if you have your own gear, feel free to bring it. You'll need:
Helmet
Harness with a locking carabiner, belay device, and chalk bag
Rock shoes* (included in the price, but we recommend bringing your own if you have them)
Ropes
Climbing hardware (quickdraws, cam devices, stoppers, etc.)
What do I need to bring?
Here's a list of the equipment you need to bring:
Day pack large enough to carry all the items listed (around a 40L bag)
Water bottle
Food you can eat on-the-go
Toiletries (sunscreen, bug spray, toilet paper, etc.)
Sunglasses
Camera — optional
Dress comfortably and for the weather in clothes you can move in. We suggest bringing clothing appropriate for the season. Layers are best and don't wear jeans.
What if I've never climbed before?
No prior experience is necessary. Whether you've never donned a harness or you're a seasoned climber, a guide will help you meet your individual objectives. Above all, your instructor's number one priority is your safety.
What does a typical day look like?
Between 7:30 and 8:30am: Meet your guide at the guide's recommended location
9:30am: Gear up and carpool to the cliffs
10:00am: Start climbing your objective for the day
12:30pm – 1:00pm: Lunch (bring snacks and plenty of water)
1:00pm to 5:00pm: Build upon handcrack techniques developed in the morning session and explore additional terrain as time allows
5:00pm: Call it a day and head home
How fit do I need to be?
If you can climb a ladder, you're good to go. Being in good shape is always a plus but far from necessary. Rock climbing is all about using good movement technique rather than muscling up a cliff using brute strength. So don't let your perceived lack of strength keep you away from rock climbing — you've got what it takes.
What is the minimum age requirement?
The minimum age limit is 8 years old. Parents or guardians need to consider the level of previous experience the child has had. Use a high level of judgement concerning the child's preparedness.
If you plan to climb with minors, please contact us prior to booking to discuss waivers and other requirements.
What about group sizes and pricing?
Group sizes are between 1–3 people with one guide, but you can also go with a larger group of up to 6 people per guide. Climbing days can be arranged for bigger groups. Contact us prior to booking.
Costs per person decrease as your group grows for private tours, so it's the perfect opportunity to climb with friends and family.
What about bad weather?
As the saying goes, "there's no such thing as bad weather, only bad preparation." You can expect your guides to be fully prepared for anything. Inclement weather can always get in the way of climbing, but your guide will know the best spots to move to if the weather takes a turn.
On the rare occasion of truly bad weather, your instructor will present you with suitable alternatives. The most common practice is to reschedule your climbing to a more favorable day or suitable location nearby, if it exists.
If no options presented were viable to you, you will be issued a full refund.
Cancelation policy
All policies regarding cancellation, rescheduling and trip insurance will be clearly laid out by your guide prior to booking your adventure. Contact us if you'd like more information on a specific adventure.
Getting there and meeting location
Follow your guide to Indian Creek, approximately 100 miles round trip from downtown Moab. Car rentals are available at all nearby airports including Grand Junction, Salt Lake City and Denver.
The Mountain Guides
The Mountain Guides have been leading desert and mountain adventures in the Western...
View details
Red River Adventures
Red River Adventures
In business since 2006, Red River Adventures is owner-operated, and proud to have A...
View details