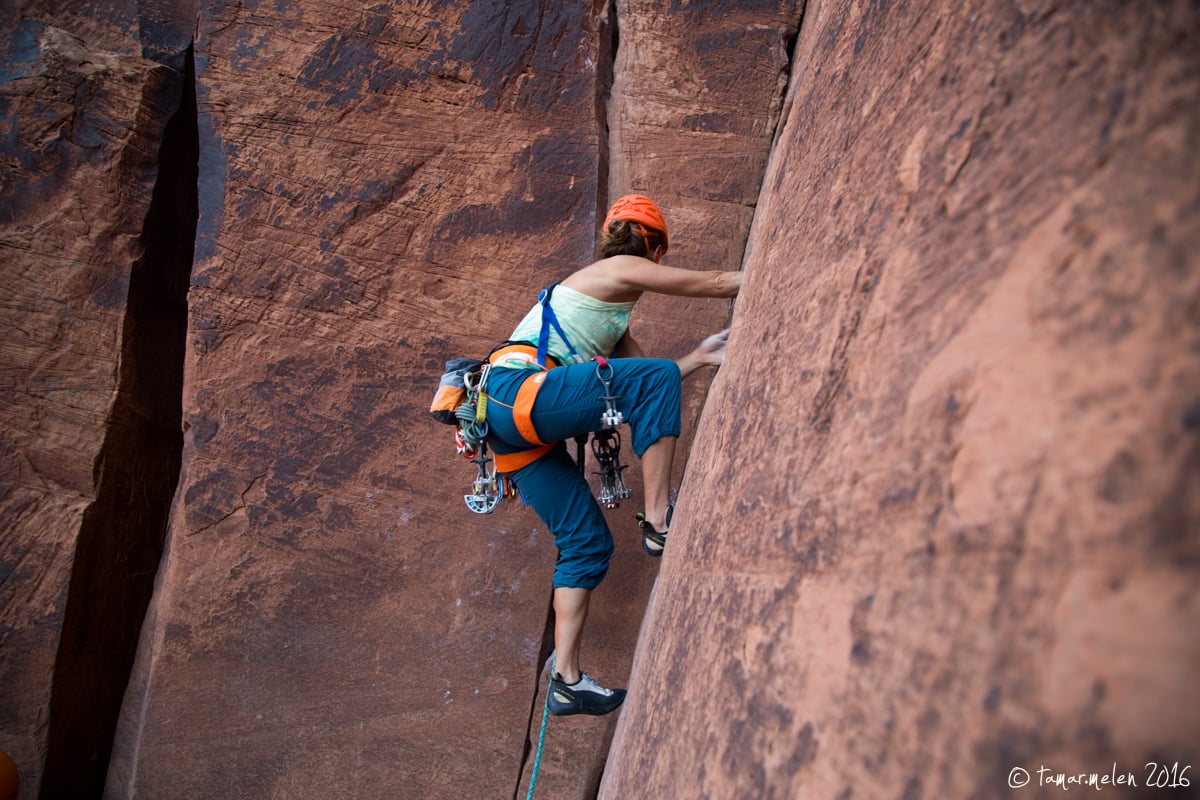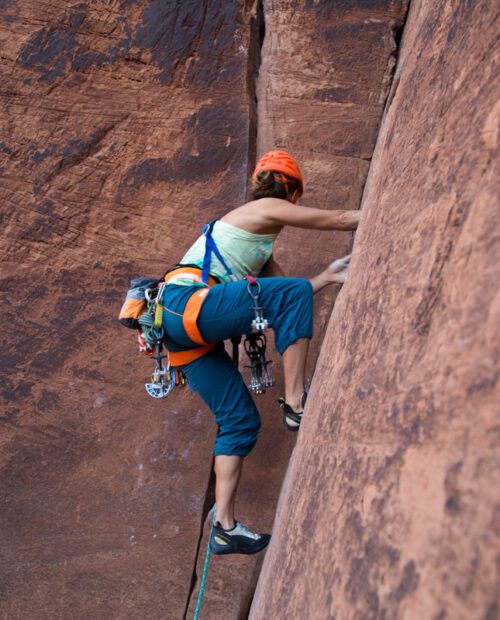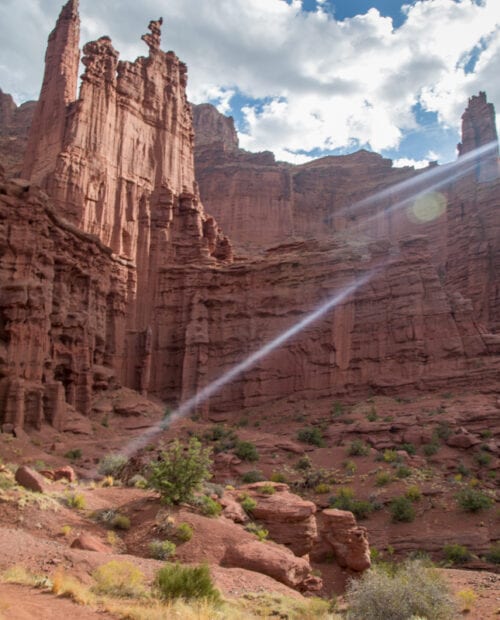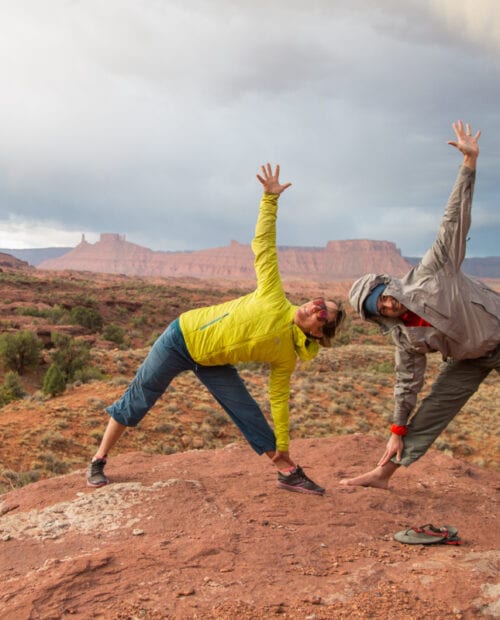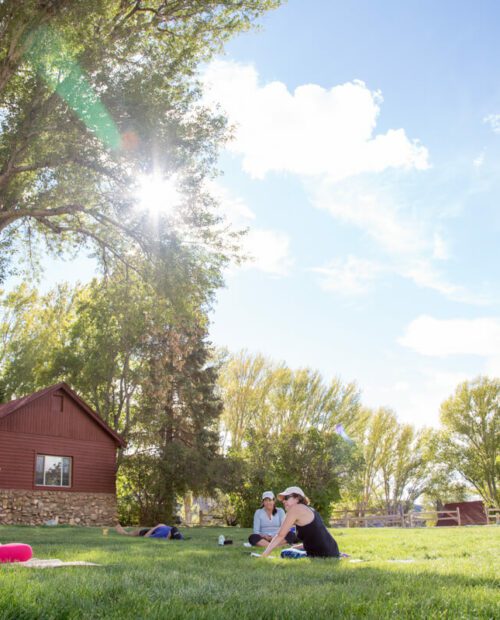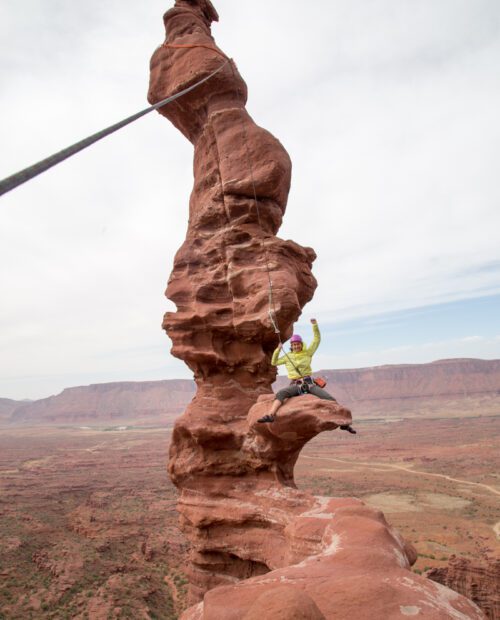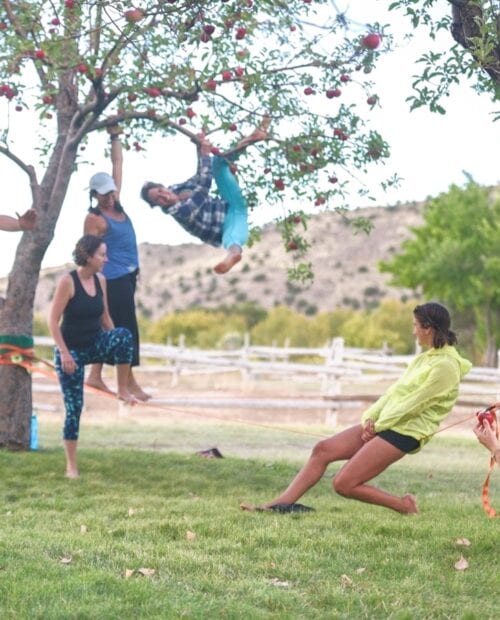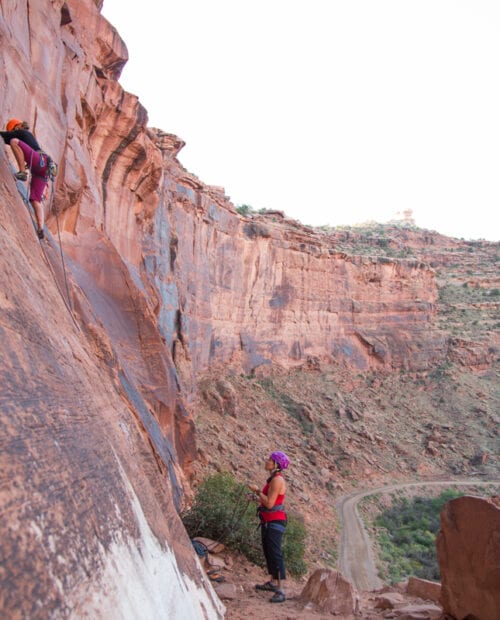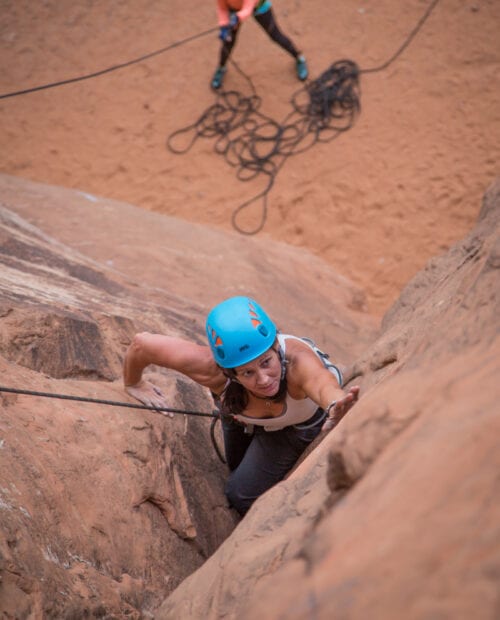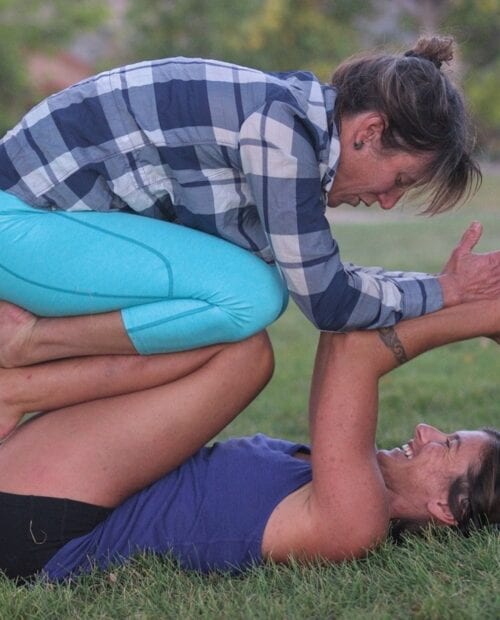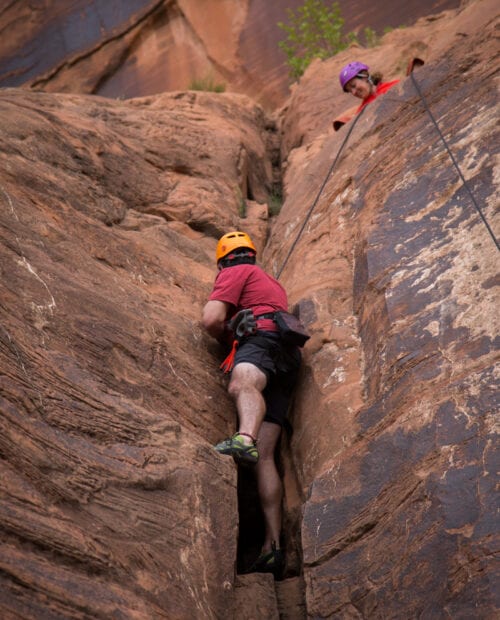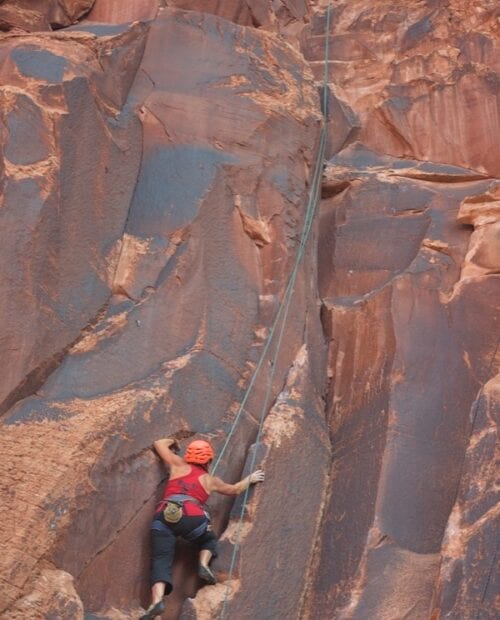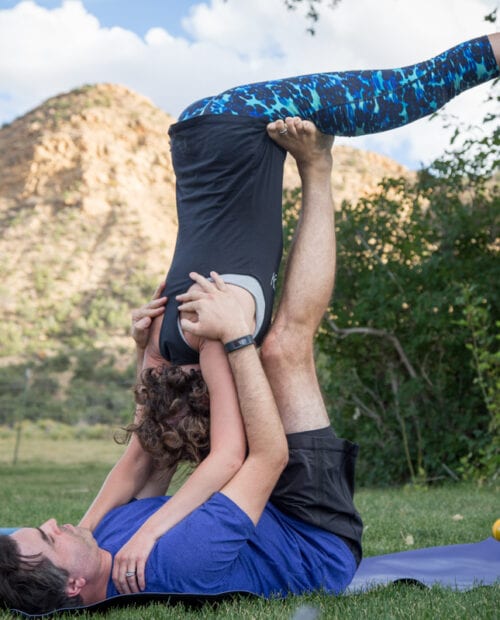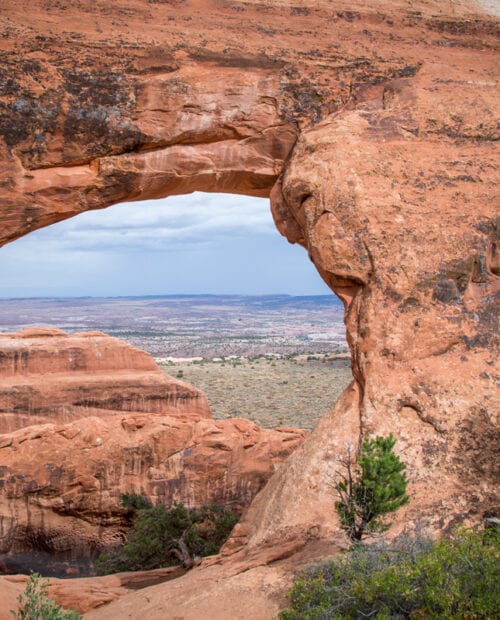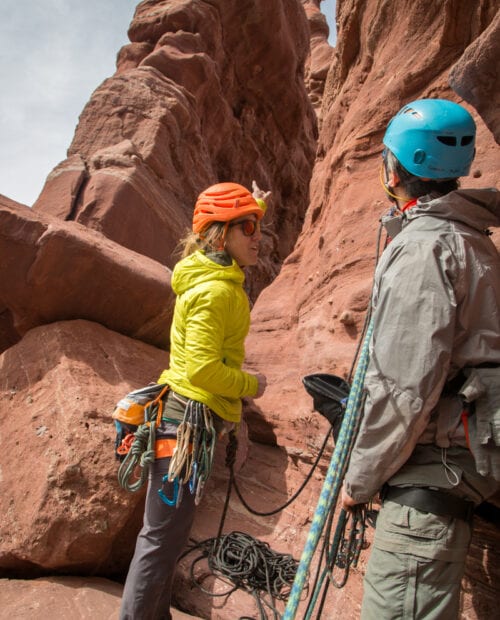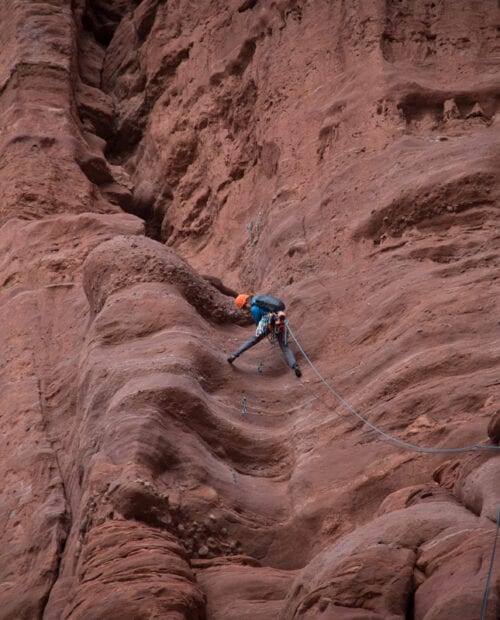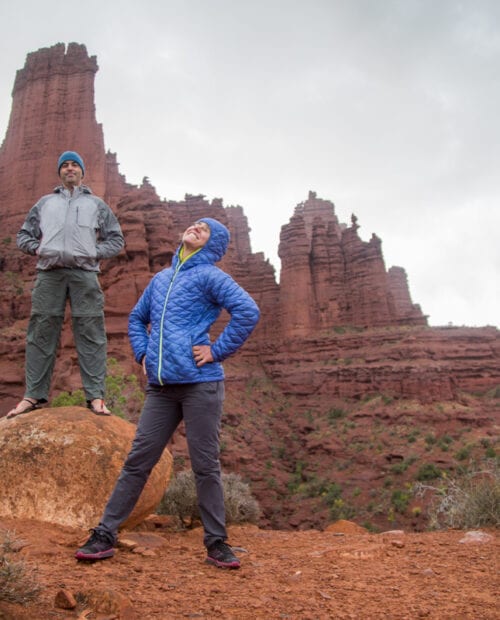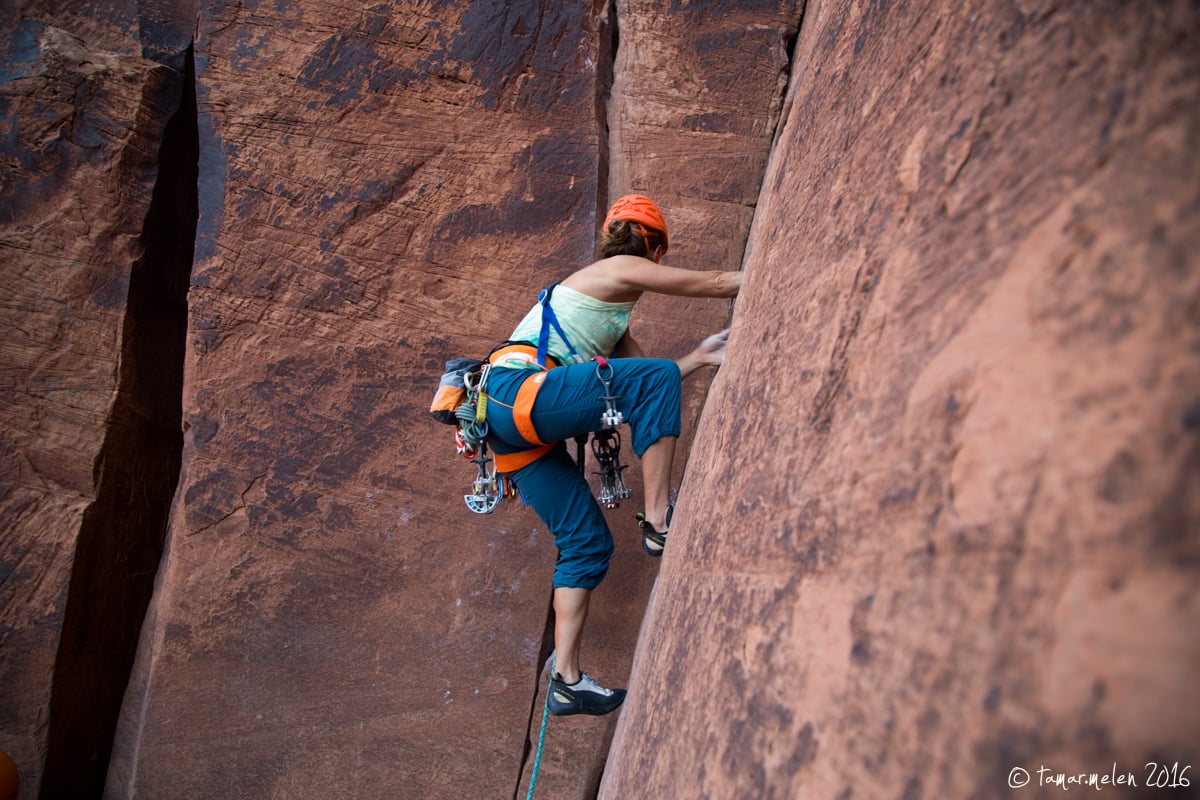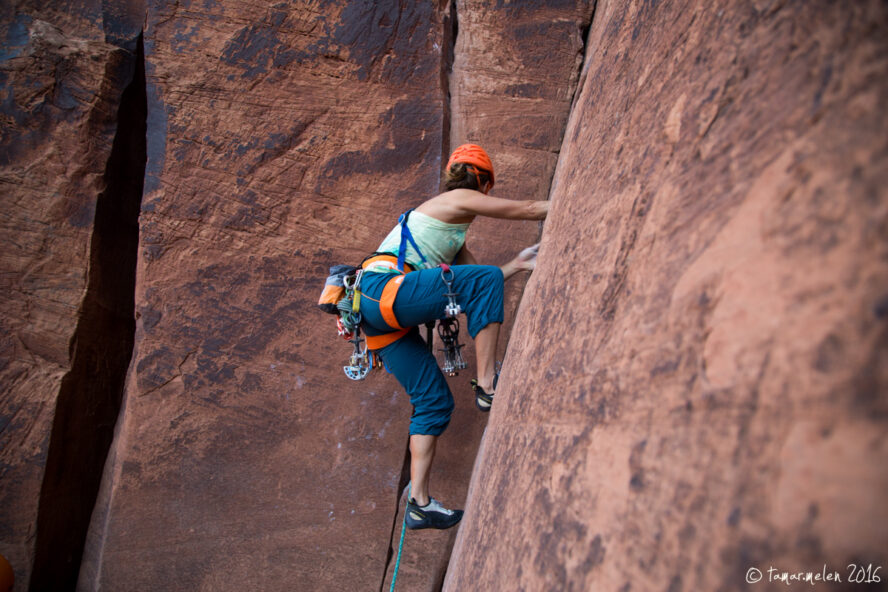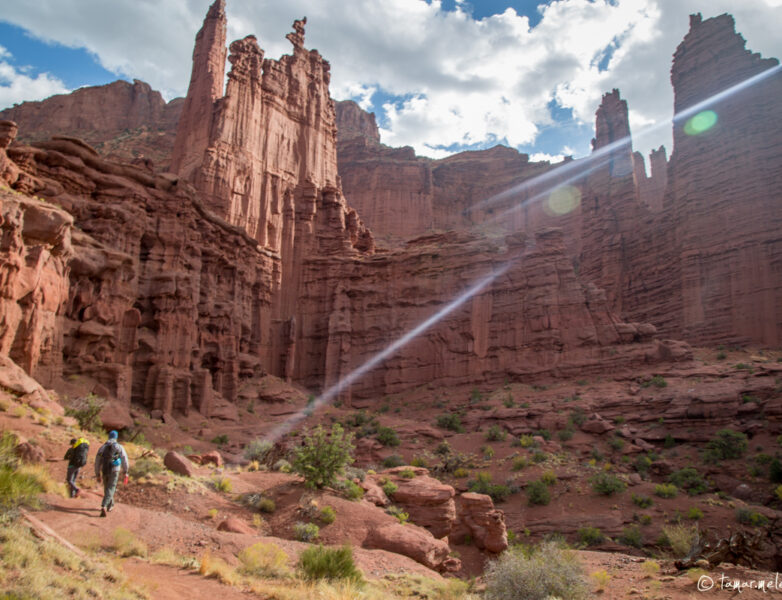 With its sunset-hued scenery and outdoor activities for all ages and abilities, Moab is the ultimate adventure capital in the States. The spectacular red sandstone walls, monoliths, and stunning canyons provide one of the best opportunities for rock climbing in the USA! The Colorado River carving through the land and La Sal Mountains soaring above town make for a jaw-dropping backdrop for this 3-day retreat of easing into the art of rock climbing, meditation, and yoga. Moab is ideal for seasoned climbers and total beginners alike, since your expert guides will show you the ropes of technical climbing and movement skills—and also how to keep your body happy with daily yoga practices for stiff muscles. Find out everything you need to know about rock climbing in Moab!
This otherworldly destination tops most climbers' best-of lists

Amber-tinted rocks, sandstone arches, and soaring spires make for a superb backdrop

2 in 1: after a day of rock climbing, unwind and relax your muscles in yoga sessions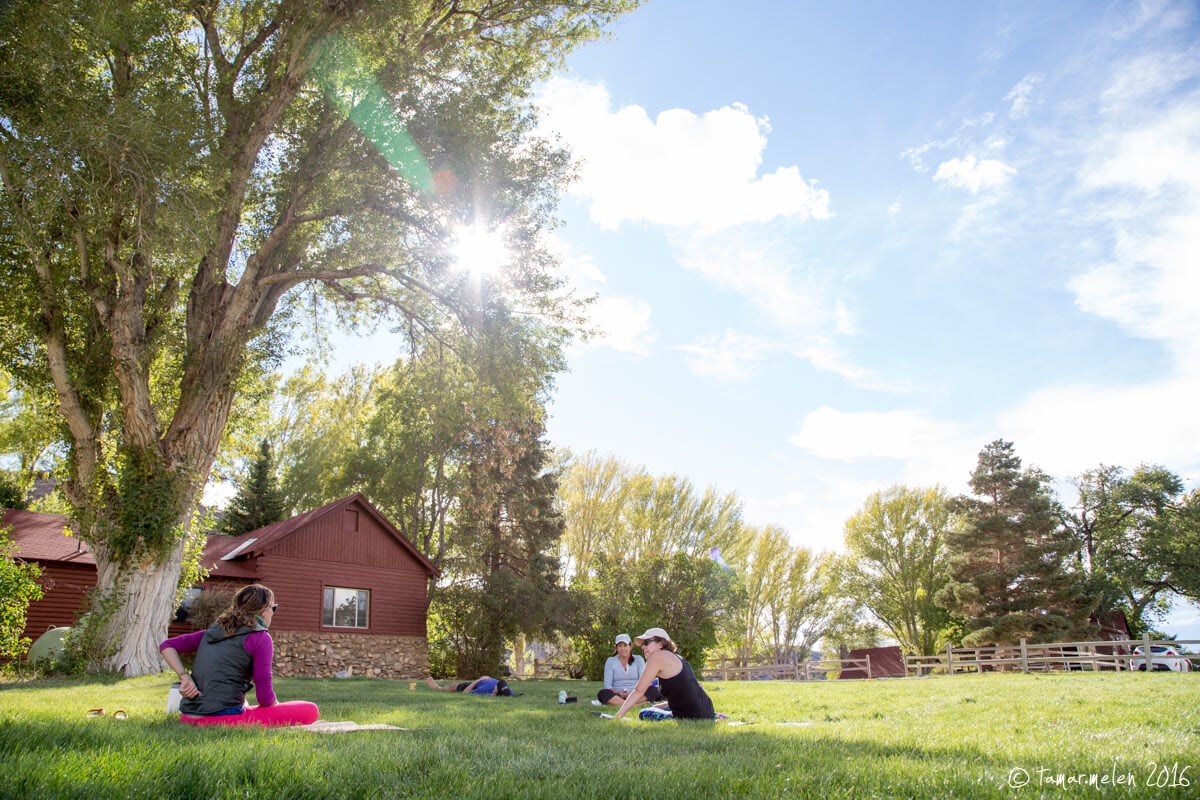 Itinerary
Stay with like-minded people in a beautiful Pack Creek Ranch cabin nestled at the base of the La Sal Mountains. Use your time to get to know your group and have a perfect, relaxing, and exciting weekend retreat in Moab! You will learn basic technical climbing skills along with movement skills in a fun, safe, and encouraging environment to help you flow up the rock with ease. Spend your mornings meditating under the guidance of expert yogis and collect energy for your outdoor adventures. Later on, relax and energize with a yoga session or a Thai massage! Explore the city and enjoy the marvelous scenery of Moab and make some lifelong memories with your group!
Arrive at Moab by 4pm. Reach your accommodation located in Pack Creek, about 20 minutes from downtown Moab — from the first moment, you'll feel refreshed from the mountain air at the base of the La Sal mountains. After checking in and getting settled in one of the most beautifully redone cabins that Moab has to offer, you will get to know your group and guides. Shake off the travel with a Thai massage and a light yoga session with your guide. Later on, explore the restaurant scene with your group and enjoy the cozy feel of Moab.

Spend your second day meditating and rock climbing on the Moab's famous red sandstone. Learn the fundamentals of climbing and practice under the watchful eye of your guide. Utah is amazingly rich with opportunities for beginner and intermediate rock climbers who will enjoy the stark beauty of soft sandstone in a desert environment. After climbing, join your group for a closing circle and processing followed by a yoga session that will re-energize you for tomorrow. Spend your evening relaxing and exploring Moab or go for a short hike!

After a relaxing morning meditation session, once again go for a rock climbing outing and advance your skills and abilities. After an activities' closing circle and processing, relax with one last yoga session and a final closing. Prepare for departure as you take a few last photos in this wonderful place and say goodbye to Moab. There's no doubt you will come back as soon as possible!

Don't miss this once in a lifetime opportunity to summit a mega classic multi-pitch climb like the iconic Ancient Art tower or Looking Glass Rock. Even those new to climbing will be more than ready to tackle the optional tower day after climbing just two half days with our amazing staff. Join your guides for this additional day and put your knowledge to the test on these amazing gravity-defying summits!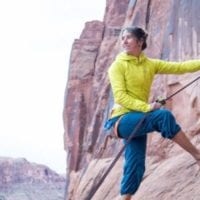 Heidi Wirtz
AMGA Certified Rock Guide, Wilderness First Responder
AMGA Certified Rock Guide, Wilderness First Responder
Heidi is a climber, yogi and philanthropist at heart. She is one of the country's few prominent female adventure climbers, climbing for over twenty years, and letting her passion for adventure and exploration lead her to exotic and remote places around...
View details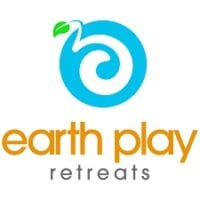 Earth Play's trips provide a refreshing step away from one's everyday life. Through adventure and mindful movement, Earth Play helps restore balance and harmony in people's lives. Their trips are designed to help you find proficiency in the given sport...
View details
Marta is a Positive Intelligence Mental Fitness Coach and Creative Mind Coach. She also has more than 5 years of climbing guiding experience including Navy Special Warfare Teams. She is a mental climbing coach and teaches in three languages.
View details
Tamar Melen
about
Earth Play Retreats
EPR is a great combination of the magic nature has to offer us and the right guides to see the show! The beauty of Moab is almost indescribable- definitely better experienced 🙂
Kristy Mitchell
about
Earth Play Retreats
My experience with Earth Play Retreats was everything I expected, and much more! Heidi's professional, yet relaxed, demeanor helped me accomplish far more than I thought possible in just a few short days. She encouraged me to keep going when I thought I couldn't climb any higher, and helped me gain the confidence to climb my first multi-pitch route. Thanks to this retreat, I've found a love of climbing. I can't wait to attend another one of these events!
Cory Foard
about
Earth Play Retreats
I was looking for an experience like no other. One that would challenge me, inspire me, and leave me smiling wanting more. I found it!!! I spent a week with these ladies becoming one with nature and pushing limits of all kinds! I was inspired each day! I learned something new each day! Challenges and laughter were shared each day! AND each night as I drifted off to sleep, I smiled while wondering what the next day would bring! I was never disappointed!!! Exciting, inspiring, and fantastically fun!!! Loved it so much, I'm joining this tribe again for Cuba in 2018!
Things to know
57hours is committed to providing safe outdoor adventure experiences. We require all guides using our platform to have a COVID-19 safety plan and to make the details of that plan accessible to travelers. In most cases, group sizes will be reduced, guides will avoid overcrowded locations, and other safety measures will be met depending on the location and activity.

We also expect clients to respect local regulations and take measures to protect themselves, guides and the communities they're travelling to. For more information on COVID-19 measures in Moab, Utah, please refer to Visit Utah's COVID-19 guidelines.

Please contact us if you have any questions or require further information. We are happy to provide you with the most up-to-date information!

What you get in this adventure:

Experienced rock-climbing guide with extensive knowledge of the area
2 half days of guided rock climbing
Accommodation (2 nights in shared double rooms in Pack Creek Ranch, single occupancy available at an added fee)
Daily yoga classes
Instruction on giving and receiving Thai massage
2 group life coaching activities
1 private pre-trip life coaching session
Climbing gear

If you want to reserve a single occupancy room, contact us prior to booking to make arrangements.

What's not included:

Transportation to Moab or to the retreat location
Meals (many great restaurants nearby and there is a kitchen in the cabin)
Beverages
Additional climbing day (as well as the accommodation for that day)
Guide gratuities — optional

If you can climb a ladder, you're good to go. Being in good shape is always a plus but far from necessary. Rock climbing is all about using good movement technique rather than muscling up a cliff using brute strength. To ensure you have a fun retreat, your guide will choose routes that best suit your skill and fitness level.

Moab has plenty of options for beginner climbers. Whether you've never climbed before or are transitioning from the gym to outdoor climbing, your guide will customize the day to suit your skill level and objectives. With a guide by your side, you'll learn something new, stay safe on the rocks, and most importantly, have fun!

For intermediate to advanced climbers, Moab has loads of routes to spend the day on. Your guide will discuss your objectives and customize the day to your goals. Let your guide plan the day so you can focus on developing your skills while climbing the classic routes or best hidden gems the area has to offer.

All technical climbing equipment will be provided by your guiding service. However, if you have your own gear, feel free to bring it. You'll need:

Helmet
Ropes
Climbing hardware (quickdraws, cam devices, stoppers, etc.)
Belay device
Chalk bag

You can rent from your guide:

Harness with a locking carabiner — $12
Rock shoes — $10

Here's a list of the equipment we suggest you bring:

Day pack large enough to carry all the items listed (around a 40L bag)
Water bottle
Toiletries (sunscreen, bug spray, toilet paper, etc.)
Food you can eat on-the-go
Sunglasses
Camera — optional

Dress comfortably and for the weather in clothes you can move in. We suggest bringing clothing appropriate for the season. Layers are best and don't wear jeans.

Group sizes and prices:

For this group adventure, the max client to guide ratio is 5:1, up to 10 people and 2 guides.
Costs per person doesn't decrease as the group grows.

Min. age requirements:

If you are older than 18, you're good to go.
Minors younger than 18 may be permitted to climb on a case-by-case basis, but must be in the presence of a parent or legal guardian.

If your group has climbers under the age of 18, contact us prior to booking to make arrangements.

A $450 deposit to secure your place is due upon booking. The remaining amount is paid 3 months (90 days) prior to departure. Once the trip is confirmed by the guide, the cancellation policy stated below applies.

If Client cancels the Booking anytime prior to ninety (90) calendar days in advance of the trip contemplated by the booking, Client is entitled to a full refund minus the deposit.
For cancellations eighty-nine (89) to sixty (60) days in advance, Client is entitled to a refund in the amount of fifty percent (75%) of the total amount paid when Booking.
For cancellations fifty-nine (59) to thirty (30) calendar days in advance, Client is entitled to a refund in the amount of fifty (50%) of the total amount paid when Booking.
After that deadline, Client is not entitled to any refund. Any reimbursable expenses arising out of the Booking incurred by Guide prior to the date of cancellation (including but not limited to plane tickets, car rental payments, and lodging or transportation fees) are non-refundable as soon as they are incurred by the Guide.

To get to Moab, most people fly to Canyonlands Regional Airport (CNY) in Moab, UT. Other options include flying into Grand Junction, CO, about a two-hour drive away, and Salt Lake City, UT, which is four hours away. You can rent a car or use one of the local Moab shuttle companies to get to the Pack Creek Ranch where you will be staying for the duration of your retreat.

Once you get to your accommodation, your group and your guide will agree on the details of your itinerary. Your rock climbing days will start and finish at your cabin.
Where will we stay?
Cradled in the foothills of La Sal Mountains, Pack Creek Ranch is a historic, 300-acre ranch beloved by visitors, locals, and guests alike. Apart from its secluded location, part of the charm is its position of moderate summertime temperatures, charming cabins, and scenic views wherever you turn.

Boasting a large front porch, a long back deck, swimming pool, sauna, and a hot tub, the Pack Creek Road House will be the cozy home of your Moab stay. Large windows are here to give you fantastic views of verdant pastures and soaring peaks to make your morning coffee even better. There are two bedrooms in the cabin, while the Abbey Cabin right next to it provides space for 2 more people. Feel free to use the beautiful kitchen!

The combined living room and dining room area gathers happy climbers at the end of a fulfilling day. Apart from all the wellness amenities the cabin has to offer, you can also stream your favorite movie, listen to some tunes, or surf online in the living area.
Get free trip brochure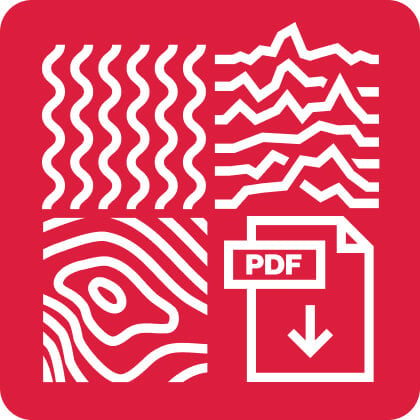 The brochure contains:
Adventure and location overview, itinerary, available dates, what's included, how to prepare, and much more.
Brochure sent, check your inbox
Book a call
with our adventure expert and start planning your perfect adventure.