Hurricane and St. George | Utah
Mountain Biking in Hurricane and St. George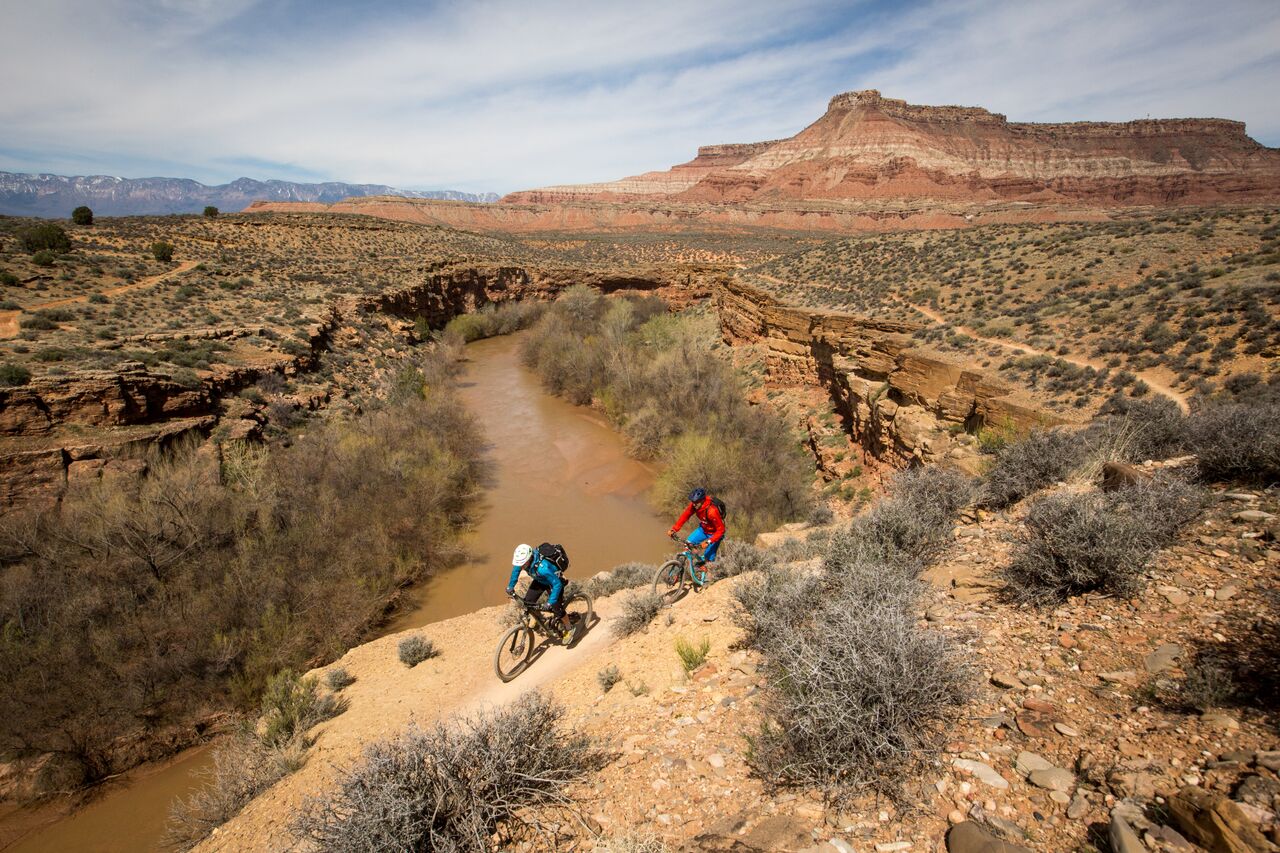 Season
Year-round, but spring and fall are ideal
Nearest city
Las Vegas, CA, is two hours away
Utah's challenging terrain and diverse trails continue to impress
Tucked away in southwestern Utah, Hurricane and St. George are two small, neighboring towns with epic mountain bike offerings! You can count on plenty of slickrock, stunning views into Zion National Park and a MTB scene that is fully vested in bringing out the best this area has to offer. The area is also home to the Gooseberry Mesa and Little Creek Mesa — world-famous slickrock trails in their own right. Also on offer are classic trails like JEM, the renowned IMBA Epic Hurricane Rim Loop and other favorites like the Kentucky Lucky Chicken. If you want to go further afield, Thunder Mountain and the Red Canyon Loop are well worth the journey just two hours to the northeast. Don't wait any longer and explore these magnificent trails that will quench your thirst for adventure!
Most Popular Itineraries
Gooseberry Mesa Mountain Biking Tour
Saddle up and get ready to ride Utah's premiere slickrock trail. Gooseberry Mesa promises mile after mile of descents, ledges, bowls, and climbs, all on fantastic sandstone that pairs perfectly with mountain bike tires. We recommend this one for intermediate and advanced riders – come ride the trail that gives Moab a run for its money!
Thunder Trail Mountain Biking Tour
Though technically not in either Hurricane or St. George, Thunder Mountain is rapidly becoming a mountain biking objective for intermediate and advanced mountain bikers visiting southwestern Utah. Located past Zion National Park and just shy of Bryce National Park, Thunder Mountain demands fitness, but the rewards are many. You will bomb through fast downhill sections but not before earning your turns with thrilling switchbacks and climbs!
Hurricane Loop Mountain Biking Tour
Test your skills on this 23-mile loop, one of 2010 IMBA's epic rides! Explore several trails that make this route so amazing, like Gould's Rim and Hurricane Cliffs, and finish the day off with a fun downhill on the JEM trail. These three trails combine easy climbs, fast descents, and breathtaking views down into Virgin River Canyon. Join your guide on this technical and unforgettable adventure and let them take you through one of the best rides of your life!
JEM Trail Mountain Biking Tour
$125 per person
·
Half-day
JEM trail is one of the most fun non-technical downhills in the USA! Suitable for beginners or those who want to have some serious — yet safe — fun, JEM trail is great for family adventures as well. With the recent additions of Dead Ringer, More Cowbell and Cryptobionic, this trail system is a great place to ride and acquire new skills, and leave the dusty trail with a big smile on your face!
Hurricane and St. George Mountain Biking Tour
$75 per person
·
Half-day
If you are still new to mountain biking or don't want to spend your whole day on tracks, join your guide for an exhilarating half-day tour of the area! There are plenty of options for all levels, but also the best trails for vigilant beginners! More experienced riders will still find their share of fun by exploring the slick red rock of Prospector and Church Rocks Loop which make for a perfect 15-mile adventure!
Things you need to know
Covid measures in Hurricane and St. George
57hours is committed to providing safe outdoor adventure experiences. We require all guides using our platform to have a COVID-19 safety plan and to make the details of that plan accessible to travelers. In most cases, group sizes will be reduced, guides will avoid overcrowded locations, and other safety measures will be met depending on the location and activity.
We also expect clients to respect local regulations and take measures to protect themselves, guides and the communities they're travelling to. For more information on COVID-19 measures in Hurricane and St. George, please refer to the official Government of Utah website.
Please contact us if you have any questions or require further information. We are happy to provide you with the most up-to-date information!
What's included?
This is what you get on a one-day adventure:
An experienced MTB guide with extensive local knowledge of the area
Helmet and hydration pack
Transportation from your accommodation to and from the trail
What is not included:
Transportation to St. George or Hurricane
Accommodation
Meals and snacks
Mountain bike rentals
Mountain bike rentals are available for an added fee from $50 at Over the Edge bike shop in Hurricane.
How fit do I need to be?
You will need to be able to bike between three and seven hours, depending on the itinerary you choose. The terrain around Hurricane and St. George is various and accommodates all technical skill levels. For those more advanced, the loose, steep singletracks are one of its strongest selling points. There are plenty of trails suitable for beginners and family getaways, while there are also trails that even the most experienced among the group will find challenging. Keep in mind — opting for the full day option means more biking, which is strenuous even if you stay on beginner level trails.
What if I've never mountain biked before?
As long as you pedal on two wheels, you can book this adventure. A guide will explain the different mountain bike techniques and body positions to get you feeling comfortable on the trial. You will progress at a level that is consistent with your comfort. Once you finally get the hang of trail riding, you will only want more!
What do I need to bring?
Wear comfortable riding or athletic clothing, preferably moisture-wicking or synthetic material
Sneakers or sport shoes
Breathable outside layer or jacket
Sunglasses
Plenty of water, water bottle or hydration bladder
Daypack with snacks
Biking gloves are optional but recommended
Toiletries (sunscreen, hand sanitizer, bug spray, toilet paper, etc.)
What can I expect from mountain biking with a guide?
One of the reasons why mountain biking is so popular is the rush of adrenaline it sends through your veins. Sure, danger is part of the appeal, but you'll want to avoid any unnecessary risks by hiring a guide. They'll make sure you enjoy the ride and feel safe while doing it. There is no road map or GPS technology out there that's as good as having an experienced local guide to lead the way while mastering unfamiliar trails. There's always more to see, and your guides know just where to go to find it!
Why should I book with 57hours?
With us, it's all play and no work for you! 57hours is an open platform that connects you with trained and certified outdoor adventure professionals all over the world. Using our tech-savvy, we make it super easy to find and book adventures worth tackling, with guides worth booking, all gathered from the first-hand experiences of the locals who adventure in these amazing locations.
What about group sizes and pricing?
For full-day adventures, the usual client to guide ratio is 3:1. You will be joining a party from up to 6 guests and 2 guides, although many trips are smaller than the maximum allowed. The cost per person decreases as the group grows, so it's the perfect opportunity to go mountain biking with friends and family. For half-day adventures, all pricing is per person.
Mountain biking in Hurricane and St. George can be arranged for larger groups. Contact us to make arrangements.
What is the minimum age requirement?
Anyone over the age of 18 is welcome to book this course.
Children as young as 10 are able to go on trips with a legal guardian. That said, if you have a young rider strong enough to handle sustained climbs (either riding or walking their bike) of hundreds of feet, and rough terrain, then they may be able to participate on a case-by-case basis.
If your party has minors younger than 18 years old, contact us prior to booking to make arrangements.
What about bad weather?
Tours are scheduled to fit with the seasons and ideal cycling conditions. When the weather does not cooperate, your guide will know the correct course of action to take. Whether that's shifting to a more favorable location or postponing until conditions approve, your guide will know just what to do. In the event of predictably bad weather, you will be contacted prior to the trip to discuss suitable alternatives.
Do I need an insurance policy?
We highly recommended that you cover all your bases with both emergency medical and travel insurance. With medical insurance, if you have an accident or medical emergency on or off the mountain, you'll avoid paying out of pocket for costly expenses. This covers everything from hospital treatments to emergency air transportation and more.
If you need assistance selecting the right insurance for your group, let us know and we will be happy to help!
Cancellation policy
With 57hours, you benefit from both our own cancellation policy as well as that of the individual guiding service that delivers your adventure. All policies regarding cancellation will be clearly laid out by your guide after booking your adventure, but rest assured that our own cancellation policy will work on top of what is provided by your guide.
For this adventure, 57hours offers a Strict Cancellation Policy, which states:
Strict: If Client cancels the Booking anytime prior to thirty (30) calendar days in advance of the trip contemplated by the booking, Client is entitled to a refund in the amount of fifty percent (50%) of the total amount paid when Booking. After that deadline, Client is not entitled to any refund.
For more information on terms and conditions, please visit our Terms of Service page.
Getting there and meeting location
There are several airport options for getting to Hurricane and St. George. Salt Lake City (SLC) is about a five-hour drive. Las Vegas (LAS) is much closer, being just over a two-hour drive, and St. George (SGU) has a regional airport. Regardless of which airport you choose, SLC or LAS, you can utilize the St. George Express shuttle service.
Once you and your guide agree on the details of your itinerary, your guide will pick you up from your accommodation in Hurricane/St. George or Over the Edge bike shop in Hurricane Utah. From there, you'll head to your tour. The guide will choose the appropriate terrain dependent on conditions and ability of the group.
Guides we recommend
Utah Mountain Bike Tours
Utah Mountain Bike Tours
Mountain Bike Guides
Utah Mountain Bike Tours offer tours in the greater St. George area across Southern...
View details