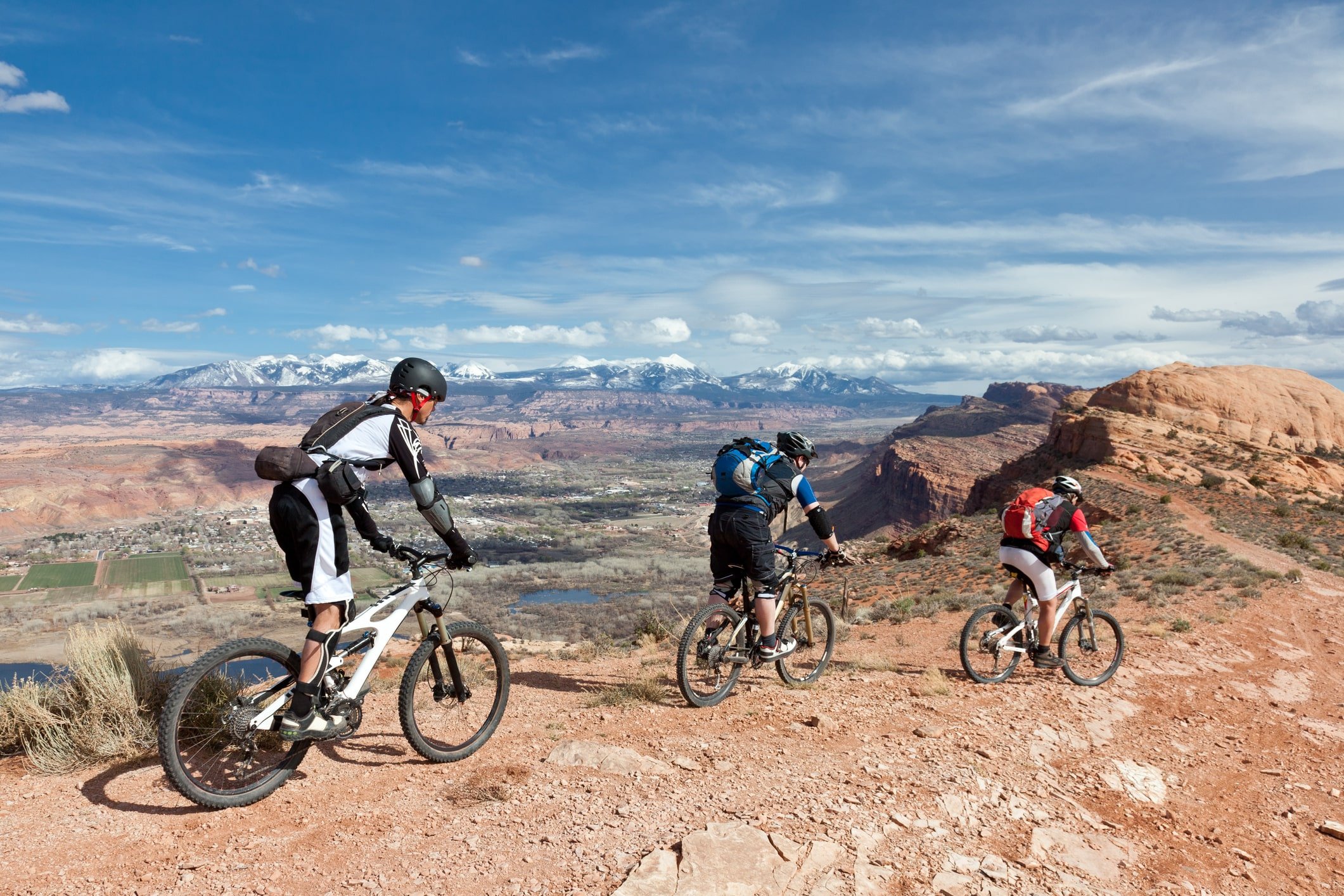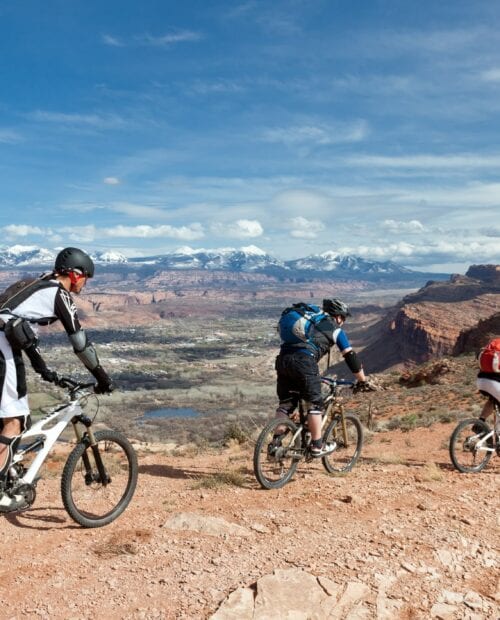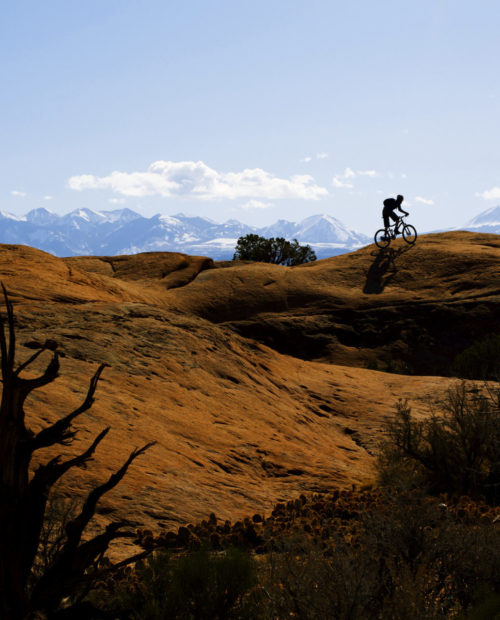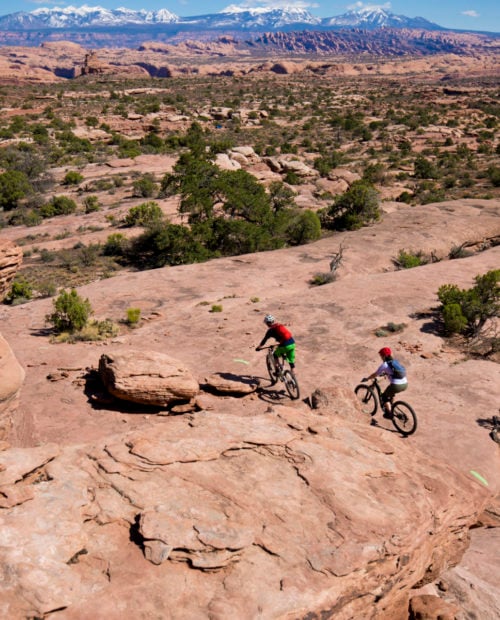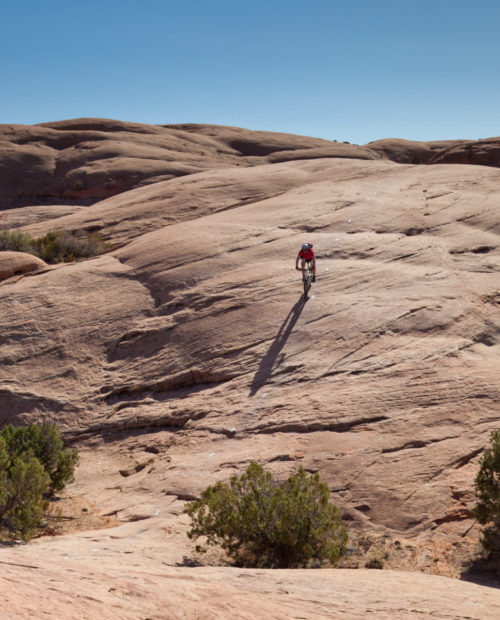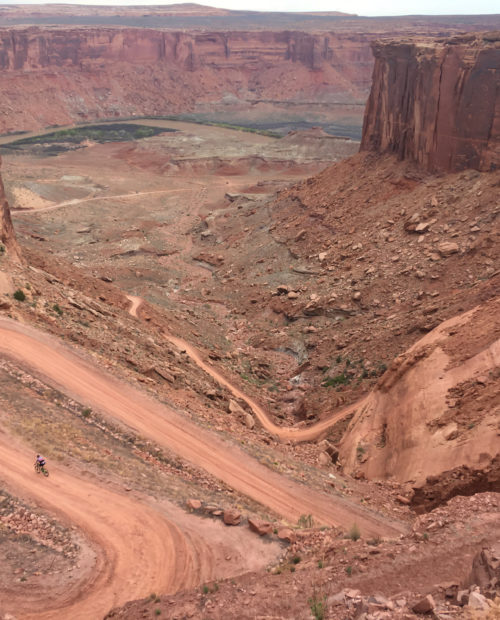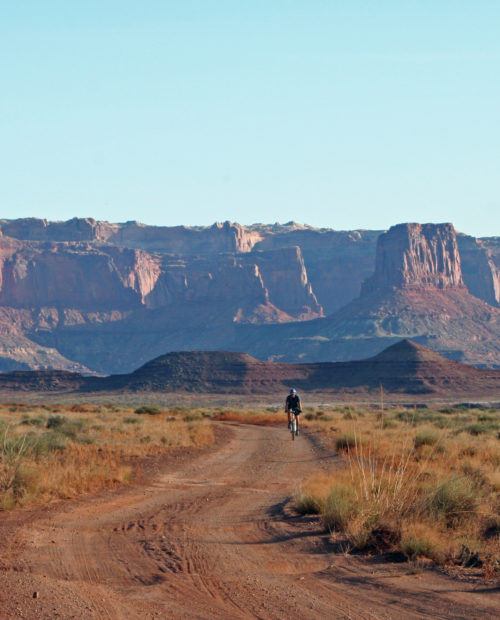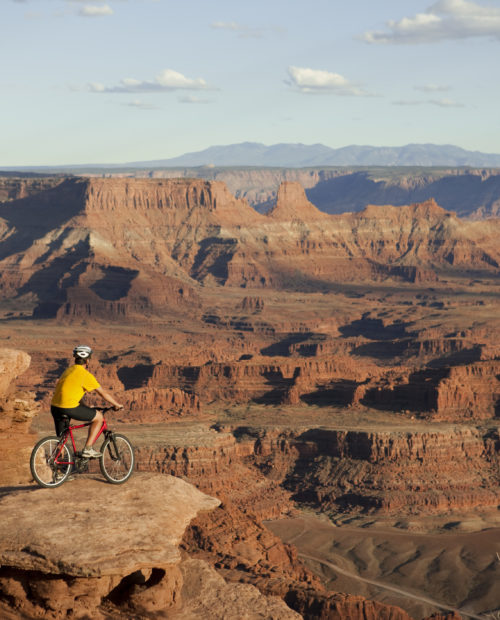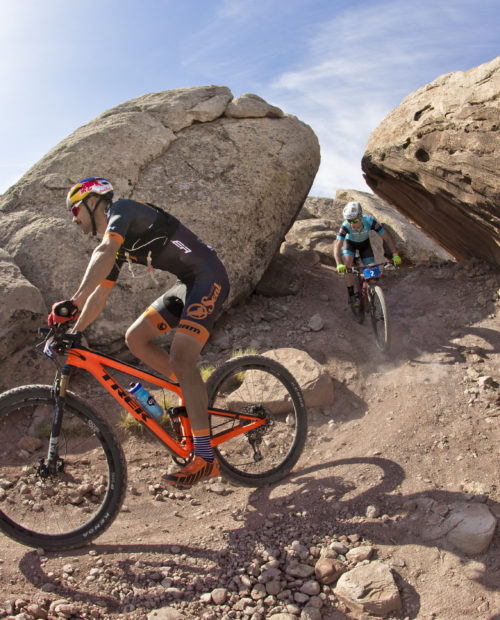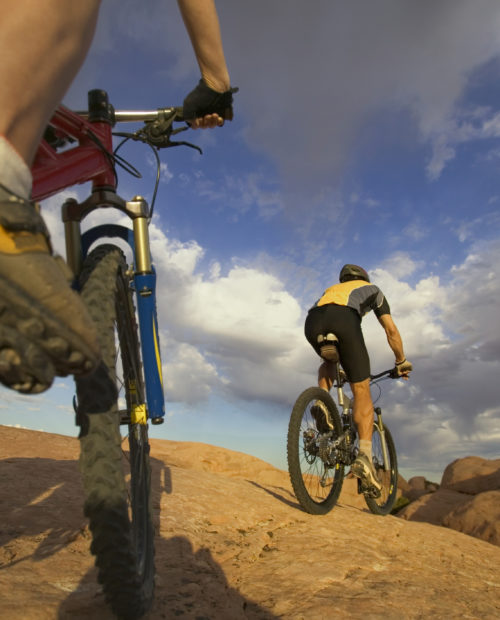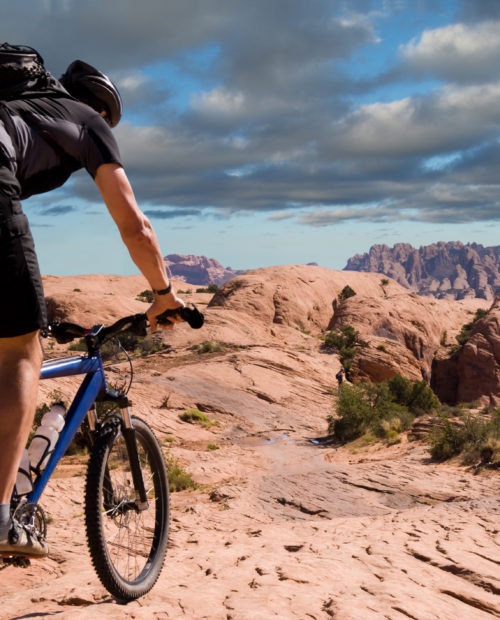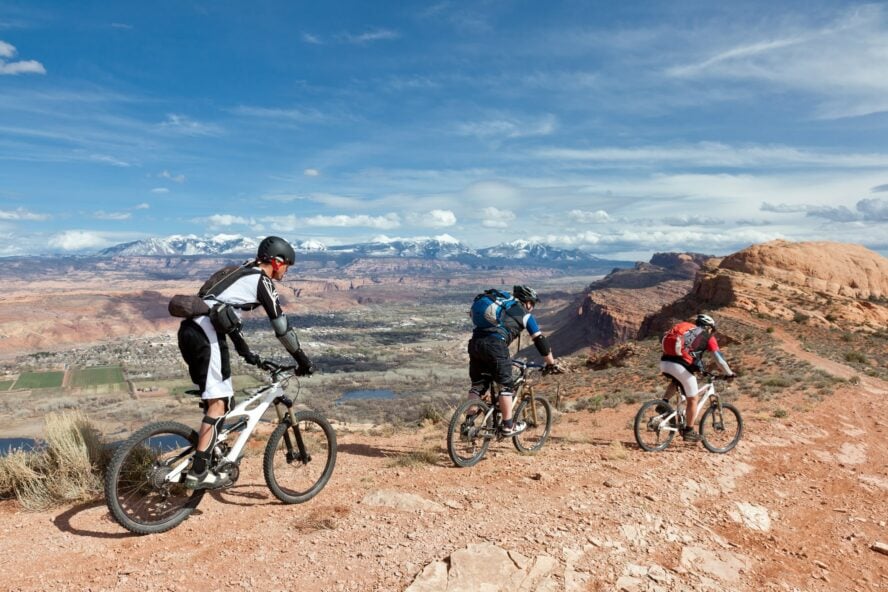 Group Mountain Biking Tours in Moab
5.00

()
Nearest city
Moab, UT is 4-hour drive from Salt Lake City
Moab incorporates dry mild temperatures, beautiful canyons and mesa tops, and some of the best MTB trails in the US, making it an incredibly popular destination for mountain biking tours! Discover unbelievably flowy descents, traverse dirt and slickrock, and feel the tires clinging to walls of vertical red sandstone. Mountain biking days in Moab are perfect for a range of skill levels — they are challenging enough to keep avid and experienced riders impressed while allowing beginner riders to master some skills and techniques. Join expert guides for a day of fun in this mecca of mountain biking! Find out more about the best trails in Moab from Lily Krass, a backcountry skier, mountain biker, and hiker.
Moab delivers thrilling trails featuring rock rolls and scenic cliffs

Advanced riders can try out the monstrous 64-mile loop!

Spend a week in Moab and progress with your mountain biking skills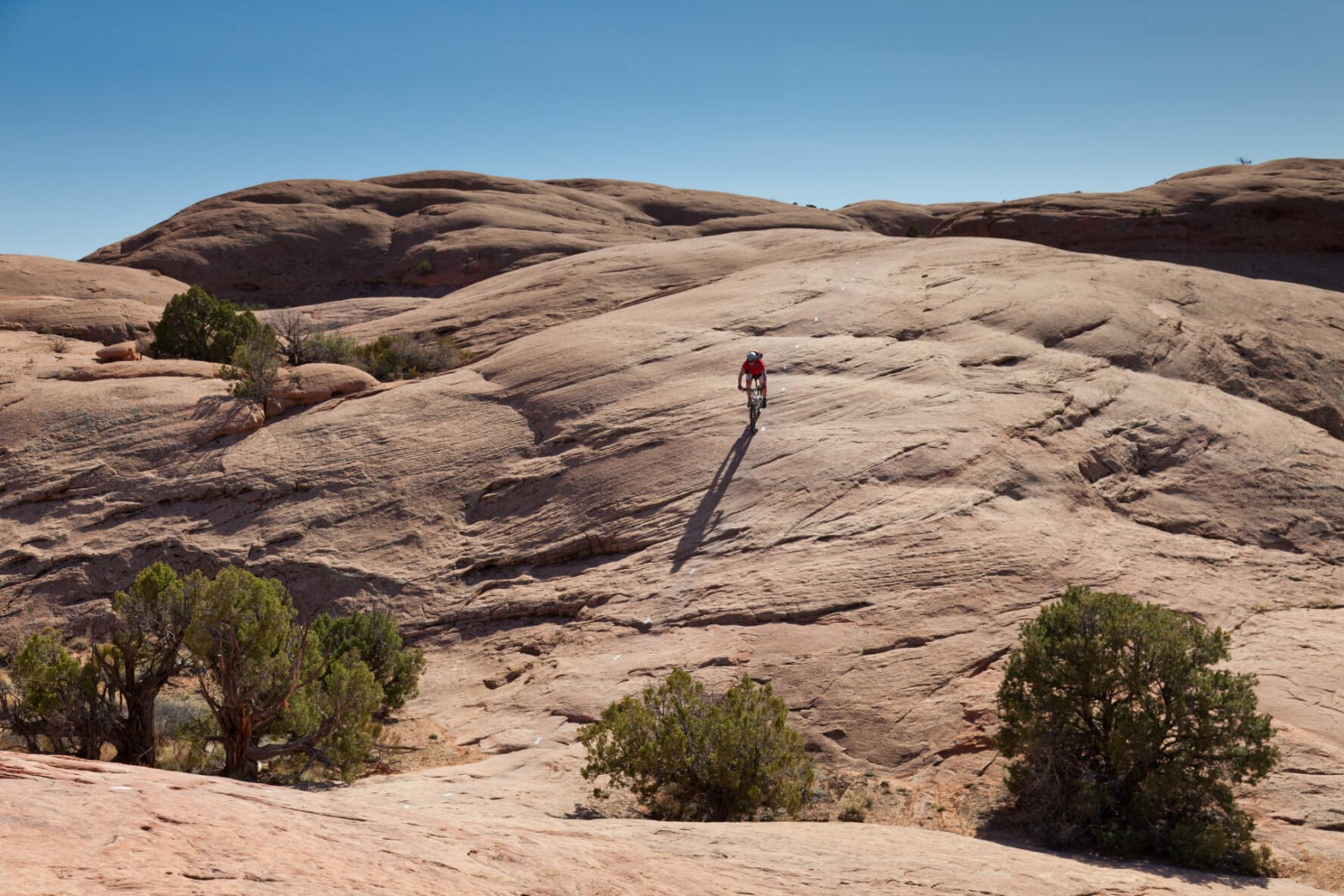 Choose itinerary
Beginner Half-Day Tour: Courthouse Loop
Jun 12 onwards
Intermediate Half-Day Tour: Mag 7
Jun 12 onwards
Advanced Half-Day Tour: Slickrock
May 01 onwards
Intermediate Full-Day Tour: Navajo Rocks
May 01 onwards
Advanced Full-Day Tour: Whole Enchilada
May 25 onwards
Get free trip brochure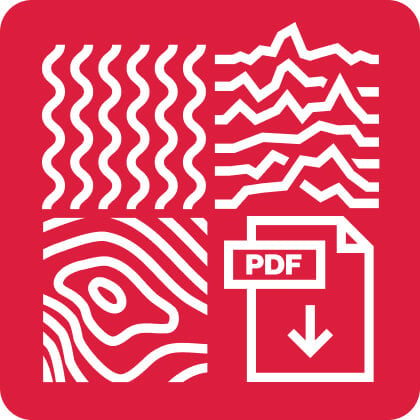 The brochure contains:
Adventure and location overview, itinerary, available dates, what's included, how to prepare, and much more.
Brochure sent, check your inbox
Talk with us
with our adventure expert and start planning your perfect adventure.
Meet your guide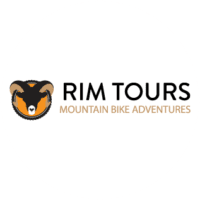 Rim Tours
Mountain Bike Guides
Rim Tours feels that one of the key factors for a successful bicycle vacation are the guides who accompany their guests on each tour. The destinations often speak for themselves in terms of beauty, but the scenery alone is not all that is necessary to have an incredible experience. Their guides are the best in the business with the most experience and working knowledge of the area.
Great Experience Mountain Biking
gd0214
about
Rim Tours
on TripAdvisor
This was our first time mountain biking and we did the Courthouse Loop. Brooks was our guide and he was fabulous. He introduced us to the bike and let us practice riding before we started out on our adventure. Being a newbie at mountain biking, it was definitely a bit strenuous at times, but we had such a fun time and shared lots of laughs and would do it again in a heartbeat. Brooks was so knowledgeable and helpful and made both of us feel extremely comfortable with the bike. We had a blast!
Family Moab Bike
Brian L
about
Rim Tours
on TripAdvisor
Great intro to mountain biking for never-Evers. Kids, 11 and 13, did fine. Scenery was beautiful. Ride was really fun. Jeff was excellent and quite funny.
Best of the best.
dianettewells
about
Rim Tours
on TripAdvisor
There are so many tour companies, how do you choose? Luckily, my friends chose this particular company and I'll try to return every year to ride more trails with them. Everything was top notch- easy check-in, great communications before the trip started, and off we went. 30 seconds in I thought this trip might be out of my league. Our guides, Beth and Kiersten, were amazing (zen-like) teachers/guides. (Just following behind them I learned so much.) After a few minutes riding the most fun trails (slick-rock, hard-pack, sand) I've ever been on, I was in heaven. (Should've rented their top of the line Santa Cruz' bikes as I'm pretty sure I broke my, not-as-strong bike.) Now for camp; this was a 3 night tour- had the biggest tent I've ever slept in, the campsite was literally on the rim of a spectacular canyon. (They even took us on a hike to see the pictographs.) They go the extra mile in ALL things. Don't get me started on the coffee and food. Plentiful and gourmet. Appetizers the minute we were off the bike, the best sandwiches while out on the trail, dinners were off the charts. I secretly saw Kiersten putting air in our tires and lubing our chains early in the morning to make sure everything was in perfect order for the day's ride. These two guides and this company don't miss a thing. All levels of riders- everyone was an amazing rider after only a few days. I had always wanted to ride Moab and was never sure how- Rim Tours is the way to go. Bucket list.
Courthouse Loop Beginners
Serusthecat
about
Rim Tours
on TripAdvisor
Sam and Carl were great! Traveling alone and haven't Mountain biked in 3+ years, this was the tour for me. They both catered to each individual's level while keeping things moving. The scenery is incredible. A great introduction session. Varying uphills with fun downhills, all the while keeping an eye on where we all were. They both have excellent tips and were engaging. I highly recommend this tour.
Things to know
57hours is committed to providing safe outdoor adventure experiences. We require all guides using our platform to have a COVID-19 safety plan and to make the details of that plan accessible to travelers. In most cases, group sizes will be reduced, guides will avoid overcrowded locations, and other safety measures will be met depending on the location and activity.

We also expect clients to respect local regulations and take measures to protect themselves, guides and the communities they're travelling to. For more information on COVID-19 measures in Moab, Utah, please refer to the Official COVID-19 updates by the U.S. Government for Utah.

Please contact us if you have any questions or require further information. We are happy to provide you with the most up-to-date information!

This is what you get on this adventure:

An experienced MTB guide with extensive local knowledge of the area
A half-day or a full-day of riding a mountain bike
Transportation to and from the trailhead
$30 shuttle fee for the Whole Enchilada tour
Lunch for full-day tours
Helmet
Snacks
6.85% tax

What's not included:

Lunch for half-day tours
Bike rentals — you can rent a bike for an extra fee of $27
Transportation to and from Moab
Accommodations

You will need to be able to pedal between two and six hours, depending on the itinerary you choose. Even the easy tours require that riders be fit enough to pedal up some rising terrain. After booking, your guide will determine the group's skill level and capabilities and cater the day to your specific abilities.

Keep in mind, opting for the full day option means more biking, which is strenuous even if you stay on beginner level trails.

During the summer months, your guides cannot guarantee that you will be able to ride the entire route of the Whole Enchilada. While you start at a much cooler alpine elevation, the route ends at the much hotter desert environment. Riders need to carry a minimum of 3 liters of water, so be sure to bring a hydration pack with this capacity (there is no place to re-fill) as well as space to carry a lunch that will be provided.

The Burro Pass section (the first 6 miles) involves a substantial climb at high elevation which can really work folks before the extremely technical descent right after. The rest of the route is considered a "pedally" downhill, with the final 12 miles on the Porcupine Rim being physically demanding because of constant chunky and rocky riding, as well as the summertime heat.

This ride is the most remote and technically challenging of any ride in Moab and is more suited for expert riders with very strong fitness. If you and the guide get to a point where it is no longer feasible to continue (due to time, temperatures, rider skill or safety concerns, amount of water left in your packs, etc.), you will need to exit the route, for your health and safety.

If the best decision is to exit the route – either before or after the LPS section, where there is still 12 miles of rough and physically demanding trail. There are options to ride the Raptor Route before riding a few more miles down the Sand Flats Road to get back to town. The mileage is very similar to finishing on the Porcupine section, however, you are much closer to civilization in case something goes wrong. A rescue by ground on Porcupine Rim can take 7 – 8 hours.

To book these mountain bike trips in Moab, all riders, regardless of age or height, must be capable of operating hand brakes and shifting gears. A guide will explain the different mountain bike techniques and body positions to get you feeling comfortable on the trail. You will progress at a level that is consistent with your comfort. Once you finally get the hang of trail riding, you will only want more!

You'll need:

Sneakers or sport shoes
Breathable outside layer or jacket
Bike tights
Biking shorts
A riding jersey or t-shirt
Windbreaker or light jacket
Two pairs of breathable socks.
Sneakers or sport shoes
Sunglasses
Water bottle or hydration bladder
Daypack with snacks
Biking gloves are optional but recommended
Bike repair kit
Toiletries (sunscreen, hand sanitizer, bug spray, toilet paper, etc.)

Wear comfortable riding or athletic clothing, preferably moisture wicking or synthetic material.
Dress comfortably and for the weather in clothes you can move in. We suggest bringing clothing appropriate for the season.

Group sizes and prices:

For this adventure, anywhere from two people to large groups can be accommodated. The tours are not private and cost is per person.
The costs do not decrease as your group grows.
Group tours require a minimum of 2 people to go. If you are a party of one, and if you are willing to pay the solo rate, we will guarantee that your tour runs — even if you end up being the only person on it
Mountain biking in Moab can be arranged for larger groups. Contact us to make arrangements.

Min. age requirements:

If you are older than 18, you're good to go.
Children as young as 10 are able to go on trips with a legal guardian. That said, if you have a young rider strong enough to handle sustained climbs (either riding or walking their bike) of hundreds of feet, and rough terrain, then they may be able to participate on a case-by-case basis.

If your group has climbers under the age of 18, contact us prior to booking to make arrangements.

To get to Moab, most people fly to Canyonlands Regional Airport (CNY) in Moab, UT. Other options include flying into Grand Junction, CO, about a two-hour drive away, and Salt Lake City, UT, which is four hours away.

Once you and your guide agree on the details of your itinerary, your guide will suggest the best place to meet, whether that's at the guide shop or a predetermined location. From there, you will head to the trailhead.
Get free trip brochure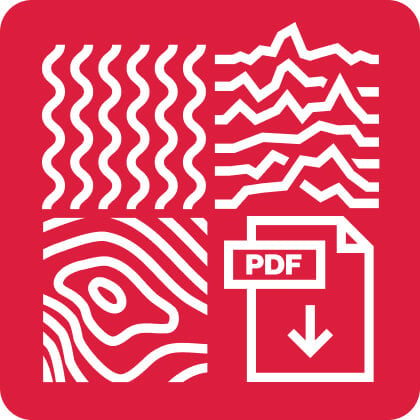 Adventure and location overview, itinerary, available dates, what's included and much more.
Brochure sent, check your inbox
Talk with us
with our adventure expert and start planning your perfect adventure.
Other things to do in Moab Region