Hurricane and St. George | Utah
Mountain Biking Tours in Hurricane and St. George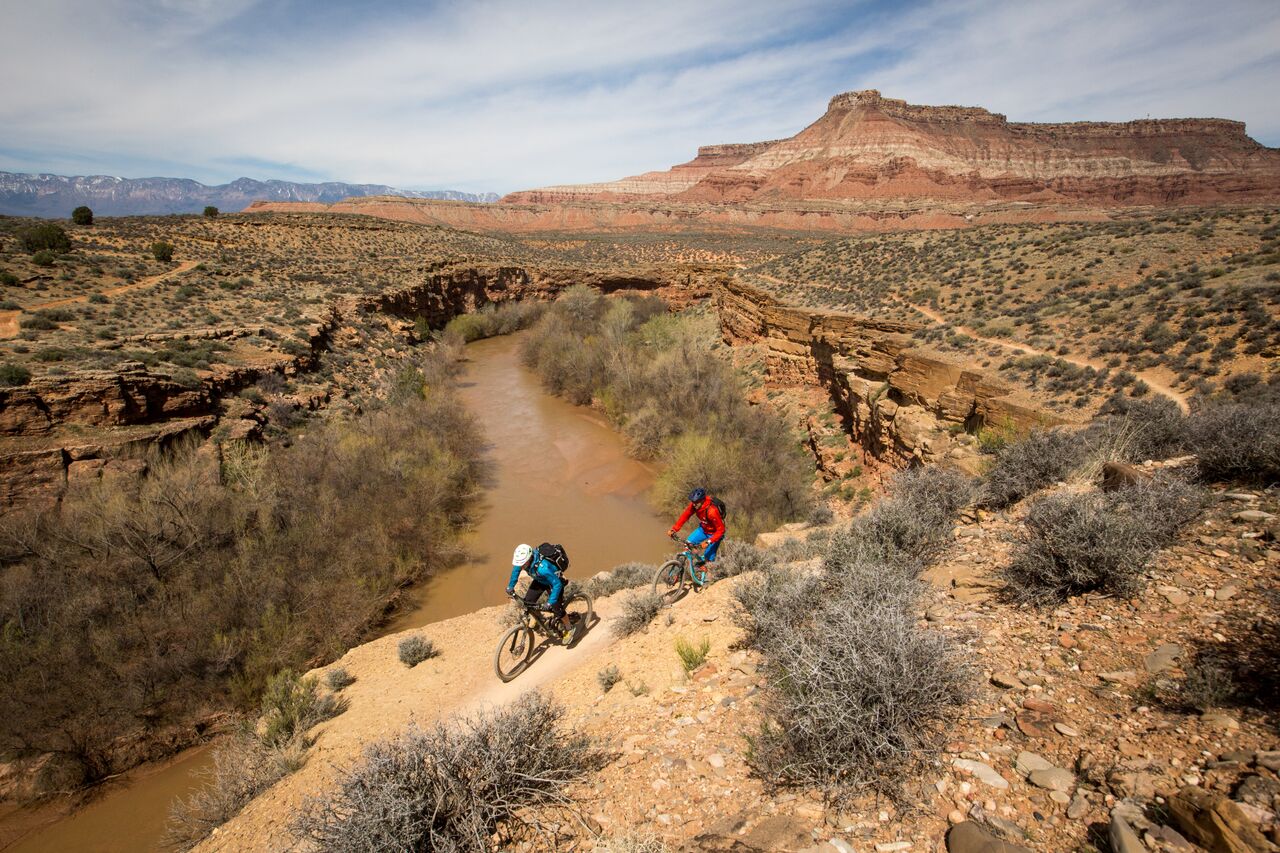 Skill level
All levels of rider are welcome
Group size
1 – 14 guests / private groups available
Southwestern Utah's terrain and trails continue to impress
Tucked away in southwestern Utah, with Las Vegas being the closest big city, are Hurricane and St. George — two small, neighboring towns with epic mountain bike offerings! You can count on plenty of slickrock, stunning views into Zion National Park and a MTB scene that is fully vested in bringing out the best the area has to offer.
Most popular packages and classes in Hurricane and St. George
Saddle up and get ready to ride Utah's OTHER premiere slickrock trail. Gooseberry Mesa promises mile after mile of descents, ledges, bowls, and climbs, all on fantastic sandstone that pairs perfectly with mountain bike tires. We recommend this one for intermediate and advanced riders – come ride the trail that gives Moab a run for its money.
Thunder Mountain
from $165 per person
·
1 day
Though technically not in either Hurricane or St. George, Thunder Mountain is rapidly becoming a mountain biking objective for intermediate and advanced mountain bikers visiting southwestern Utah. Located past Zion National Park and just shy of BryceNational Park, Thunder Mountain demands fitness, but the rewards are many as you bomb through fast downhill sections but not before earning your turns with switchbacks and climbs.
Magnificent Mesas
$2,695 per person
·
6 days
For those of you who want to ride ALL the finest mesas St. George and Hurricane have to offer, this is the trip for you. You'll spend 5 days riding all the trails that have made the area famous – all in the company of stellar, professional guides. Spend almost a week riding Wire Mesa, JEM, Gooseberry Mesa, Little Creek Mesa and more. This is a special trip worth planning for.
Things you need to know
When is the best time to go?
The area is rideable year round, but the sweet spot is spring and fall. If you find yourself there during the summer, make sure you ride early morning or late at night. It gets hot and the terrain retains a lot of the heat.
What about bad weather?
Inclement weather can very rarely get in the way of your mountain bike tour, so ask your guide or touring service for more information.
What's a typical tour itinerary?
• Meet up with your group at the designated location
• Check your bike! Make sure everything's calibrated
• Anywhere from 10 to 40 miles of world-class mountain biking!
• On multi-day tours you can count meals, camping and a support truck being covered by your guiding service
• Depending on the group size there may be one or more guides
What about group sizes?
All group sizes have a low guide to guest ratio, so you can rely on having the best time possible. Of course, as the group size increase, the cost decreases, which is a great reason to ride with friends and family!
Getting there
There are several airport options for getting to Hurricane and St. George. Salt Lake City (SLC) is about a five-hour drive. Las Vegas (LAS) is much closer, being just over a two-hour drive, and St. George (SGU) has a regional airport, which is farther from town, but will be closed from the end of May, 2019, to late September. Regardless of which airport you choose, SLC or LAS, you can utilize the St. George Express shuttle service.
Utah Mountain Bike Tours
Utah Mountain Bike Tours
Mountain Bike Guides
Utah Mountain Bike Guides offer mountain bike tours in the greater St. George area ...
Utah Mountain Biking Adventures
Utah Mountain Biking Adventures
Mountain Bike Guides
Utah Mountain Biking Adventures are a locally owned tour company and their passion ...
Zion Rock & Mountain Guides
Zion Rock & Mountain Guides
Certified Guides
Zion is filled with awe and inspiring landscapes. Zion Rock and Mountain Guides are...
Sacred Rides
Mountain Bike Guides
Since 1996, Sacred Rides has been helping mountain bikers and adventure-lovers from...
Mesas, slickrock and an IMBA Epic ride are all on offer
The area is home to the and Gooseberry Mesa and Little Creek Mesa – world-famous slickrock trails in their own right. Also on offer are classic trails like JEM, the renowned IMBA Epic Hurricane Rim Loop and other favorites like the Kentucky Lucky Chicken. If you want to go further afield, Thunder Mountain and the Red Canyon Loop are well worth the journey just two hours to the northeast.
Who should go mountain biking in Hurricane and St. George?
Hurricane and St. George have plenty on offer for all levels of riders, but some of the technical, desert terrain can be harder on kids. Make sure you bring water!