Park City | Utah
Mountain Biking Tours in Park City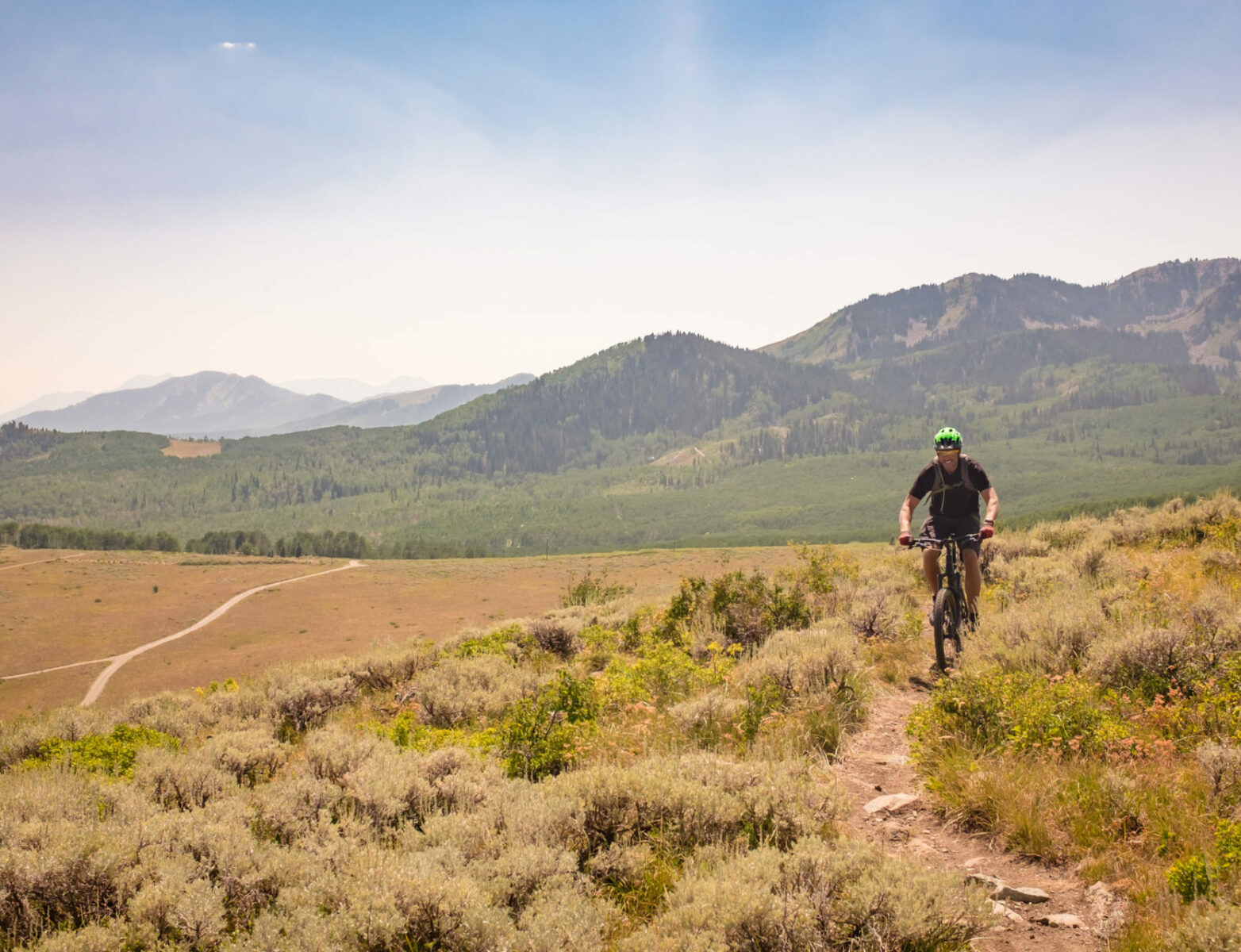 Skill level
All levels of rider are welcome
Park City is America's premier mountain biking city
When a world-class resort town says "goodbye" to the last of its skiers and "hello" to its first mountain bikers, a little bit of good old' mountain biking magic is cast upon Park City, Utah. While Deer Valley and Sundance open up their lifts for quick access to flowy trails and screaming downhills, the city's expansive network of connected trails come alive for all levels of rider. Bring your bike and a friend and ride some pure mountain biking gold.
Most popular packages and classes in Park City
Armstrong is a Park City classic! Don't let its uphill only four-mile ride fool you. It's a fantastic introduction to Park City singletrack for new and beginner riders. Once you've made your ascent you can connect to more local favorites like the Mid-Mountain Trail. This is a small taste of bigger rides to come!
Park City Epic - IMBA EPIC
Here's your big chance to ride epic singletrack on Park City's famed network of trails! Whether you want to ride the area's namesake IMBA ride, or discover something equally challenging off the beaten path, this day promises to deliver for those advanced and experienced riders. You can count on your local guides to fine-tune your day of riding and deliver you the goods while staying away from the crowds.
Things you need to know
When is the best time to go?
When the snow melts! Usually, May through December is primetime, and you can get in some fat tire mountain biking in December.
What about bad weather?
Inclement weather can very rarely get in the way of your mountain bike tour, so ask your guide or touring service for more information.
What's a typical tour itinerary?
• Meet up with your group at the designated location
• Check your bike! Make sure everything's calibrated
• Anywhere from 10 to 40 miles of world-class mountain biking!
• On multi-day tours you can count meals, camping and a support truck being covered by your guiding service
• Depending on the group size there may be one or more guides
What about group sizes?
All group sizes have a low guide to guest ratio, so you can rely on having the best time possible. Of course, as the group size increase, the cost decreases, which is a great reason to ride with friends and family!
Getting there
Salt Lake City (SLC) is far and away the best and easiest airport. Park City is just a hop, skip, and a leap away — only about 40 minutes by car.
Inspired Summit
Mountain Bike and Ski Guides
Inspired Summit Adventures was born out of a belief that through the mindful explor...
White Pine Touring
Mountain Bike and Ski Guides
White Pine Touring has been leading Park City's mountain bike scene since they open...
The trails, signage and access are unparalleled
Armstrong, Pinecone, and the Park City Epic are three standouts of a dozen other stand out trails. The question you're going to have to ask yourself when you get on your bike is which direction you should point yourself in because everywhere you look, there'll be trails and terrain that'll pull you in every direction.
Who should go mountain biking in Park City?
Everyone! Bring the family too. The trail network is so embedded in city culture here that there are trails for every level of rider — no one will feel left out.