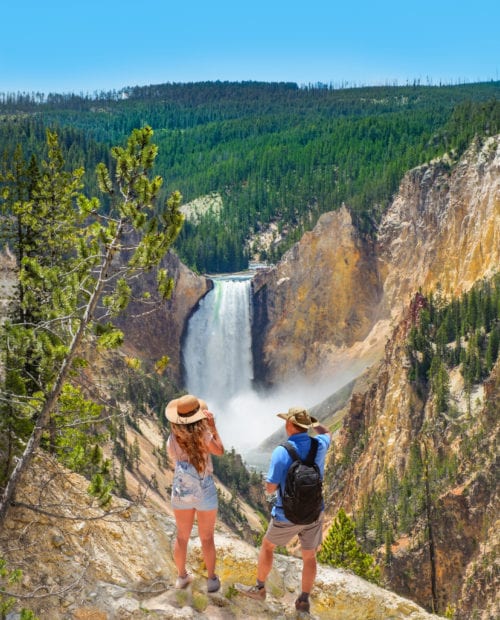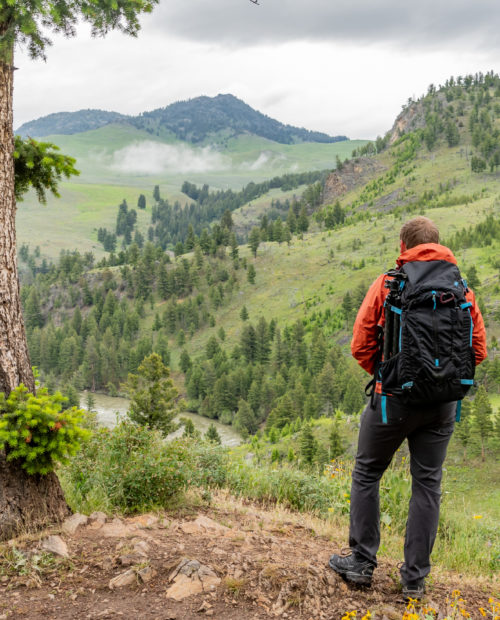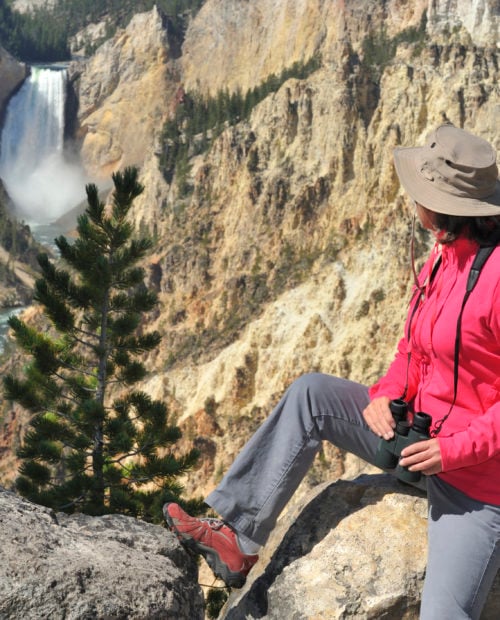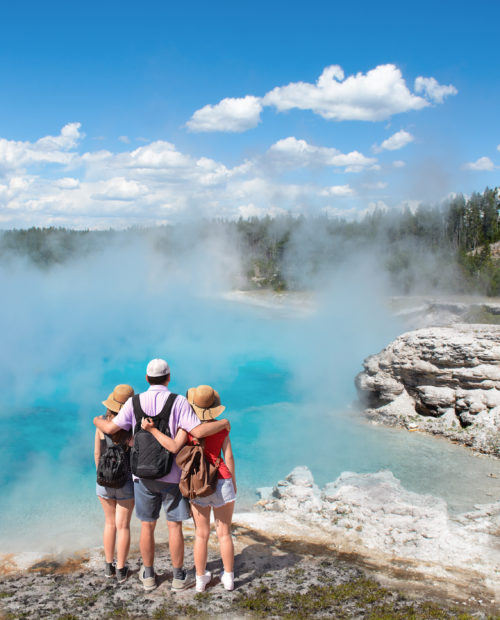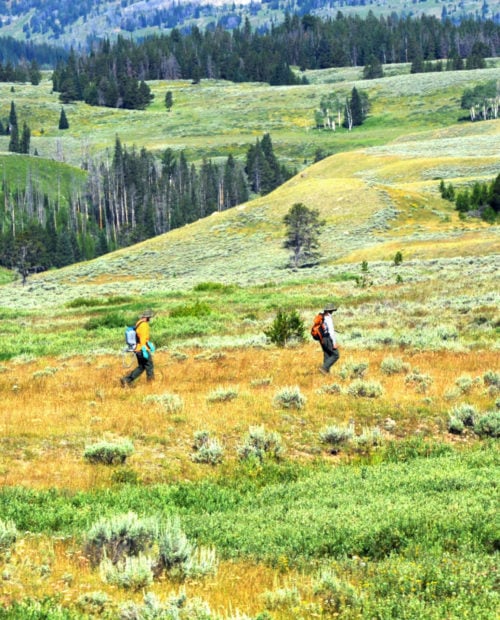 Yellowstone National Park | Wyoming
Hiking in Yellowstone National Park
Season
Summer is the most popular; spring and fall are great too
Nearest city
Jackson, WY (2h drive by car)
Your epic Yellowstone hiking adventure awaits
No trip to Wyoming is complete without a visit to America's first National Park. With nearly 1000 miles of hiking trails to explore, there's something for beginners and experienced hikers alike. From wildflower meadows in full bloom, to vibrant thermal pools and erupting geysers, to the deep-cut canyons where waterfalls rage, it's no wonder Yellowstone's dramatic scenery is world renowned. 
Yellowstone's most popular guided hikes
A Family-Friendly Hike to Fairy Falls
From $140 per person
·
1 day
Get a little bit of everything on this family-friendly day hike: geysers, waterfalls, beautiful scenery, and wildlife spotting. This day-hike begins with a short walk up the Grand Prismatic Spring — the most vibrant, rainbow-hued thermal feature in the whole park. Decide with your guide whether you'd like to make this hike an 8-mile loop or a 5.5-mile out-and-back.
Hike The Grand Canyon of Yellowstone
from $150 per person
·
1 day
A Yellowstone classic. View the Upper and Lower Falls as you hike along the Grand Canyon's South Rim on this 6-mile loop trail. You'll hike to notable spots like Artist's Point, Sublime Point, and Ribbon Lake, and then make your way back through wildflower meadows where you're sure to spot some wildlife. Bring your camera for all the great photo ops on this day hike.
Women's Multi-Day Backpacking Trip
from $945 per person
·
3 days
Tent along the banks of the Yellowstone River on this 3-night women's backpacking adventure. Hiking, camping, and camaraderie come together as you trek past waterfalls, wildflowers, and wildlife through the Black Canyon and then end your days gazing up at the star-covered black sky. This epic all-female adventure is the kind of trip you'll remember for your lifetime.
Things you need to know
When is the best time to go?
Yellowstone is a seasonal park. Many places within the park are only open between Memorial Day and Labor Day (May – September), and trails can be snow covered until mid-late July. Summer is when most people visit, but shoulder seasons are a great option for those looking for a little extra adventure (provided you're with someone who will keep you safe).
Is there a minimum age requirement?
There are plenty of options within the park to suit all age and skill levels. So, if you're travelling with small children or grandparents, don't worry, your guide will help you choose the package that's safe and fun for the whole family.
Group sizes and pricing
Group sizes range from one person to larger parties, and most packages are priced per person.
What about bad weather?
In most cases, unfavorable weather won't stop you from experiencing a guided hiking tour within the park. In the event that it does, a certified guide will help you to amend your itinerary to find a trail more suitable to the day's weather.
Do you need a car?
A car is your best bet for getting around as there are no shuttle services running to the park. However, many guided hiking outfits will provide transportation for your visit.
Do I need a permit?
You don't need a permit for day hiking in Yellowstone, but you will need one for backcountry camping. If you're doing a multi-day guided hike, your guide will generally work out your permits for you. 
Getting there
The park has five entrances, depending on the direction you're traveling from. If you plan to enter through the south entrance, Jackson Hole, Wyoming is the closest airport. If you plan to enter on the north, Bozeman, Montana is the closest airport. To the west, it's Idaho Falls, Idaho and to the east, it's Yellowstone Regional Airport near Cody, Wyoming.
Gear list
Temperatures vary by season and even within the park itself. On the same day, the top of Bunsen Peak may be significantly colder and windier than a hike through Lamar Valley (and thunderstorms can roll in from out of nowhere). The best option is to dress in layers and make sure to bring a rain shell. Comfortable hiking shoes or boots are a must (as are hiking socks). A hat, a daypack filled with water and snacks, sun protection and bear spray are all essential. Hiking poles can come in handy, too.
Wildland Trekking
Hiking Guides
Wildland Trekking's goals are to continue to reach more and more people through hik...
Yellowstone Hiking Guides
Yellowstone Hiking Guides
Hiking Guides
Owned and operated by Yellowstone locals Joshua and Emily Jo Mohan, Yellowstone Hik...
Trail Guides Yellowstone
Trail Guides Yellowstone
Hiking Guides
Trail Guides Yellowstone provide custom guided day hikes to just about anywhere in ...
Yellowstone is a wildlife lover's dream
Yellowstone Park is one of America's premier wilderness areas. It's quite literally the home where the buffalo roam and the deer and the antelope play (not to mention the bears, wolves, and the myriad of other creatures that reside within the park's 2.2 million acres). If photographing wildlife is your thing, a hiking guide will lead you to the spots where you'll have the most action in front of your lens.