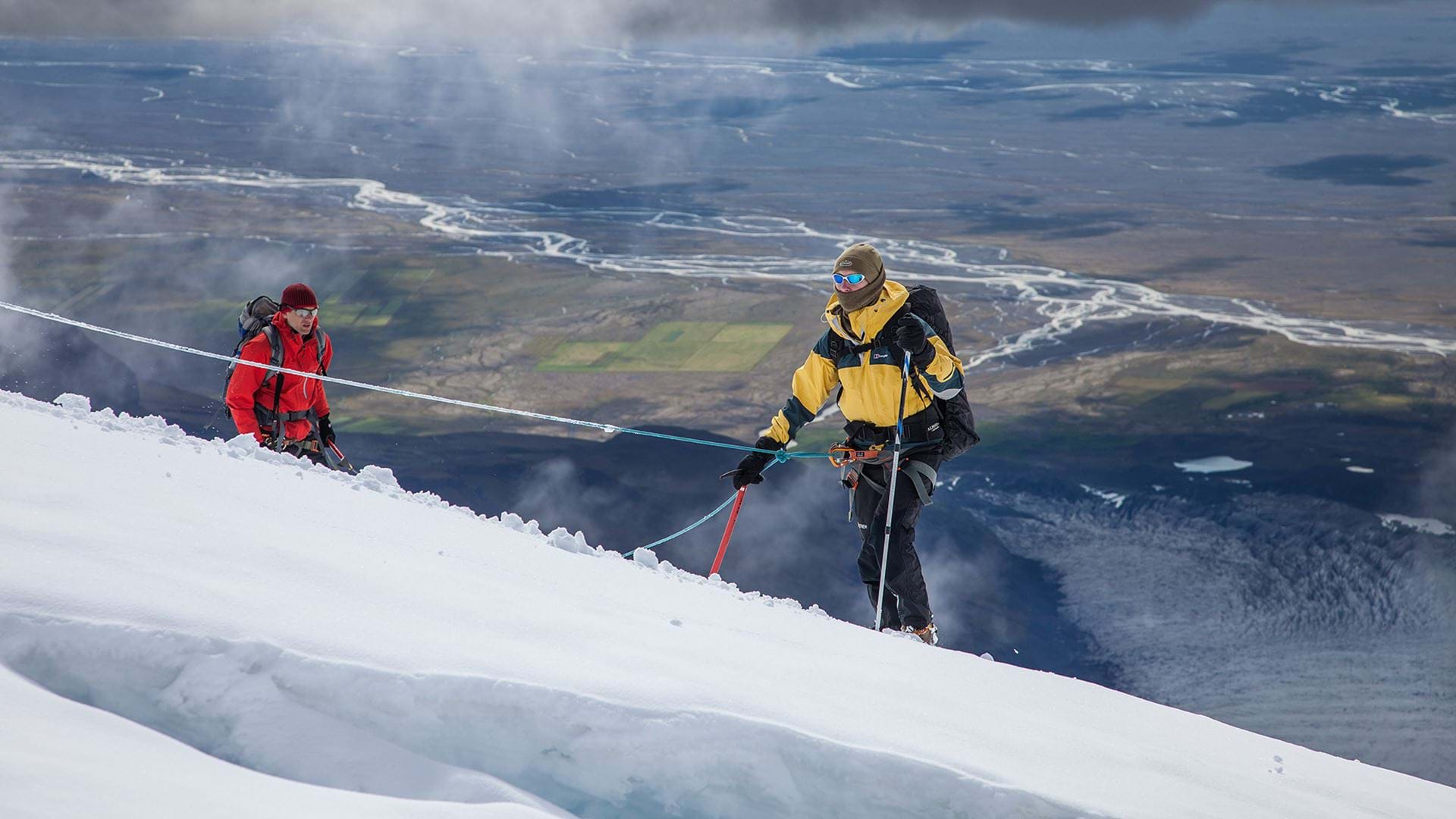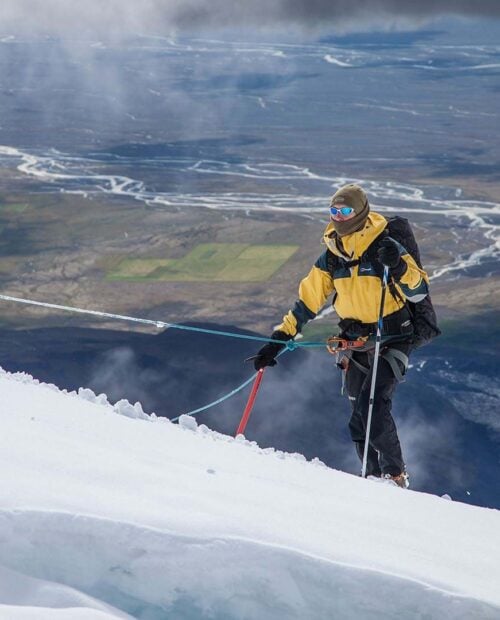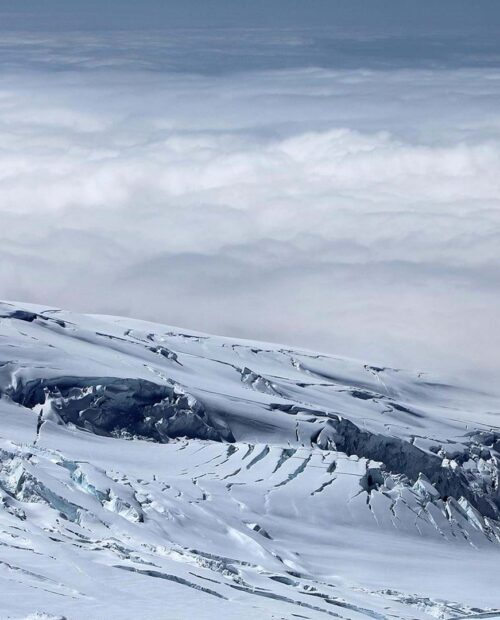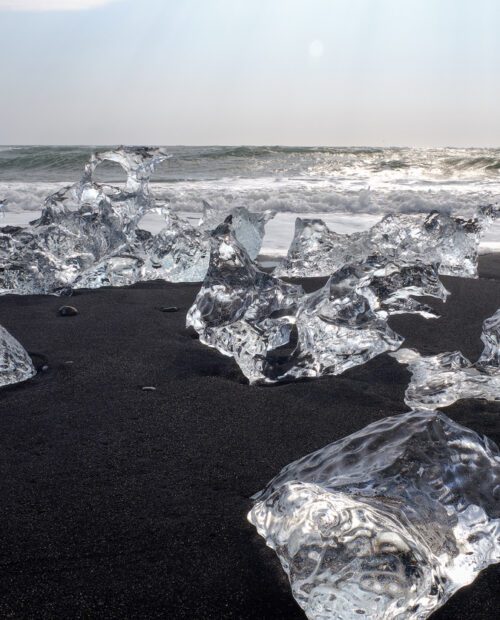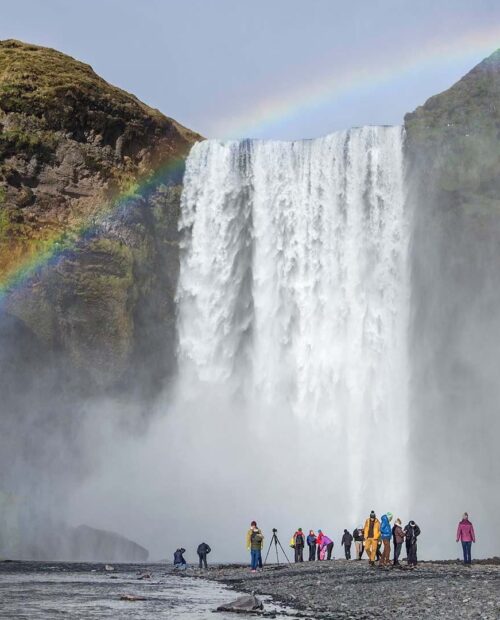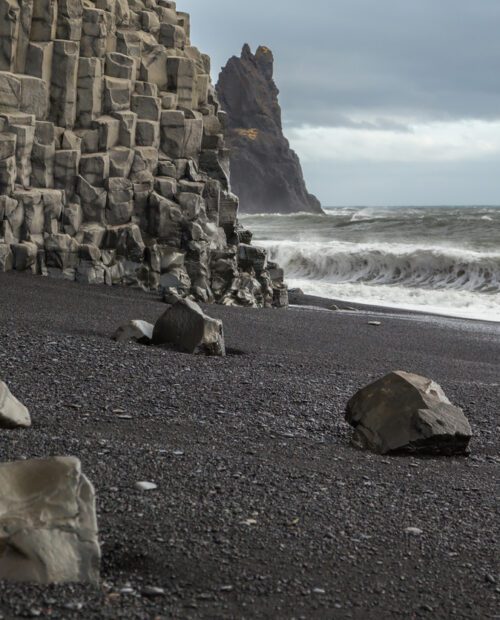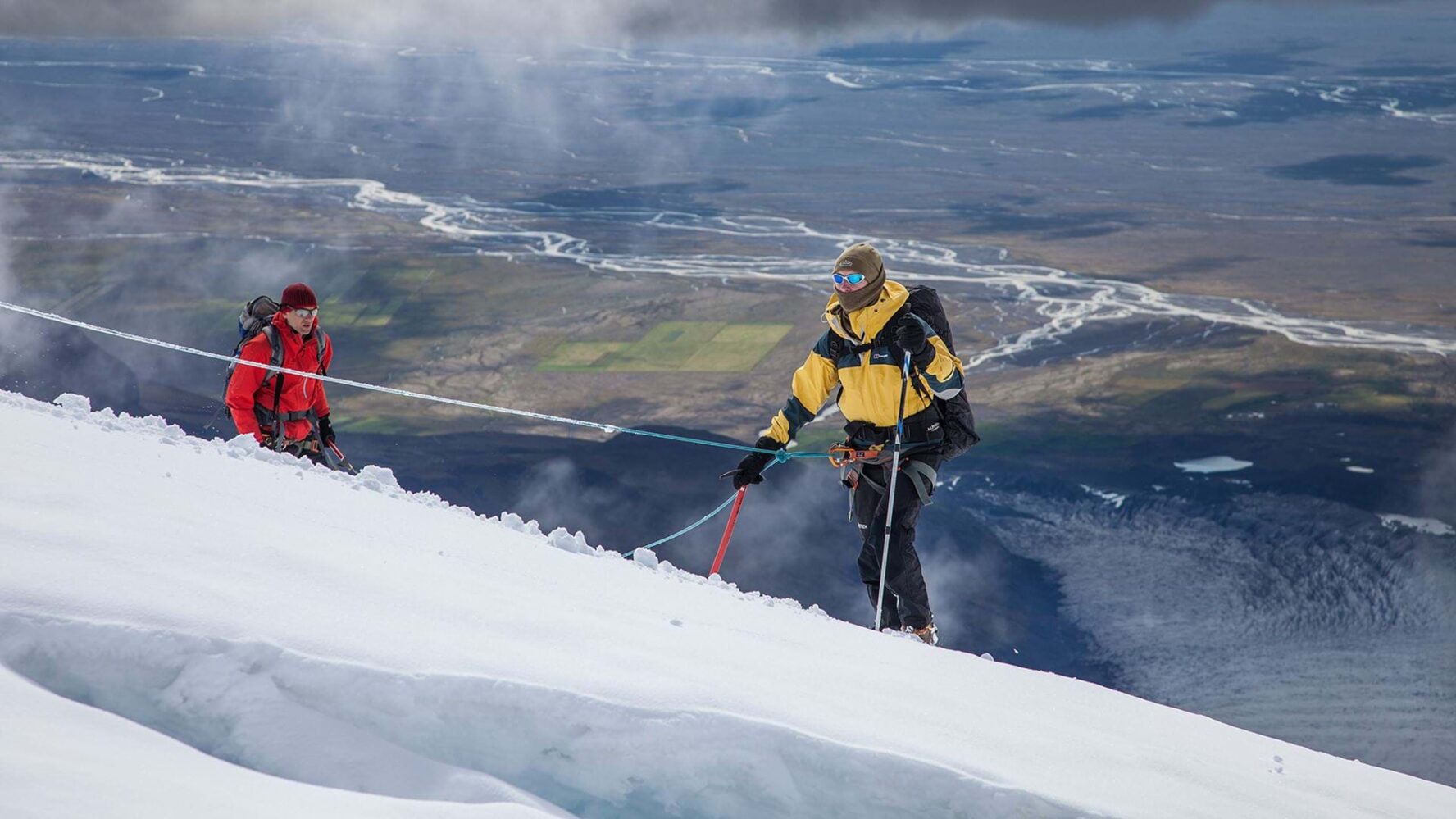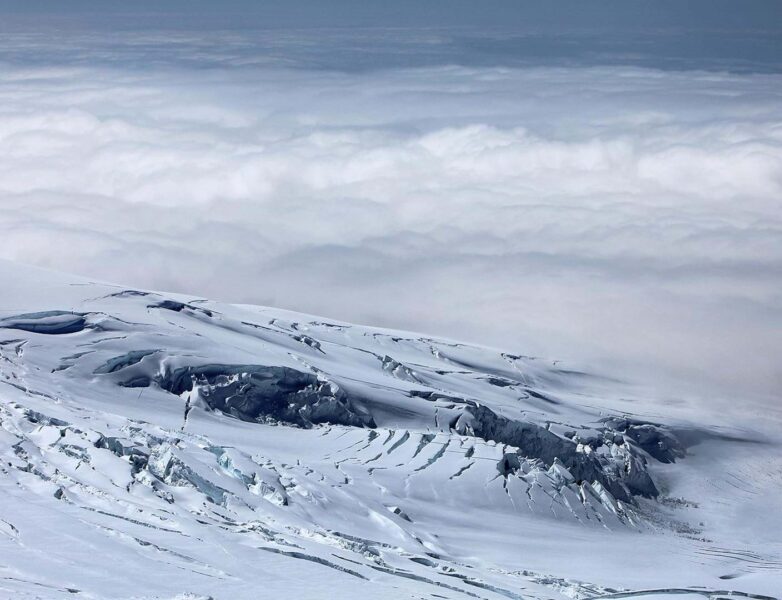 Hike and Climb Three Peaks in Iceland
5.00

()
Tackle some of the most challenging peaks of Iceland, all under 24-hour daylight. Begin your trip with an ascent of Mt. Hengill for views of Lake Þingvellir and the distant Vestmann Islands. Next, take on the tempestuous 1,651m (5,417 ft) Eyjafjallajökull volcano, that last erupted in 2010. Finish off with Hvannadalshnúkur, the tallest in Iceland at 2,110m (6,922 ft)—an ascent which often takes 12-15 hours to complete. Mixing some of the best hiking with rest day sightseeing over five days, are you ready to take on The Three Peaks Challenge?
Climb three stunning peaks including an active volcano and a world-famous glacier

Non-stop sightseeing under the 24-hour Midnight Sun

Visit the Golden Circle, the diamond beach and the black sand desert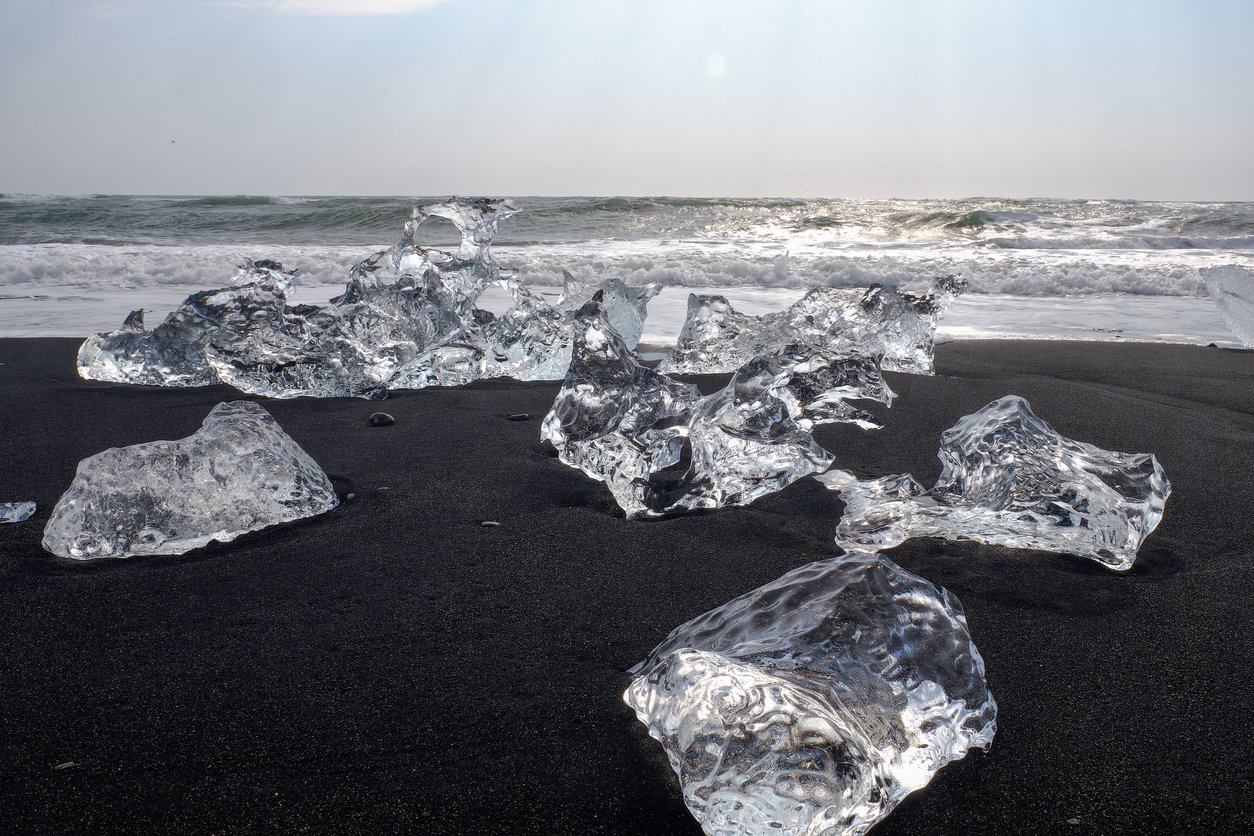 Itinerary
Combine hiking, climbing, and sightseeing over five days and witness the most beautiful locations Iceland has to offer. Each day brings something new – spectacular volcanoes and glaciers,  lagoons, beaches, and magical waterfalls. Your guide will take care of your safety and guide you every step of the way as you conquer three iconic Icelandic peaks. 
Start your journey with an early morning pick-up at your accommodation in Reykjavik and drive east to the north side of the Hengill Volcano massive. After a short drive, you'll reach Mt Hengill and hike up the highest peak, Vörðuskeggi Peak (805 m). Spend the rest of the day climbing and after 5-6 hours reach the top — the panoramic views of Lake Þingvellir and Langjökull to the north and Eyjafjallajökull and the distant Westman Islands will leave you breathless! The walking route is quite steep but the trail is still relatively easy for an experienced hiker. In the afternoon, visit the Geysir geothermal area and the waterfall of Gullfoss before driving to your accommodation in the Flúðir area.

This day can be replaced by a hike to the Fagradalsfjall eruption in case of an active eruption taking place.

Today you'll conquer your second peak, the famous Eyjafjallajökull which erupted in 2010 and caused enormous disruption to air travel across western and northern Europe for several days. At 1,651m, this high stratovolcano offers a magnificent view from the top. The vertical ascent is around 1,600 m and the tour takes from 9-12 hours.  After descent, head to your overnight accommodation at hotel Skógafoss.  

Explore the beautiful South Coast and some of the most photogenic places on this hemisphere. Visit the world-famous black sand beach of Reynisfjara with unique basalt rock formations and dramatic scenery, the picturesque village Vík, and the Skaftafell National Park. Don't miss the glacier lagoon Jökulsárlón and the diamond beach where icebergs from the lagoon drift ashore like scattered diamonds. After a day of sightseeing, relax at your hotel and prepare for the biggest challenge of this tour! 

Expect a long and strenuous day, as you try to ascend Hvannadalshnúkur (2110 m/6922 ft) — Iceland's highest peak. This will be the most challenging day of the trip with a 2040m (6562 ft) ascent! The pyramidal peak of the Öræfajökull volcano promises an unforgettable climb with rewarding breathtaking panoramas. No special technical skills are required to climb, but prepare for up to 15 hours of walking! Once you reach the summit, return to your hotel at the foot of Hvannadalshnúkur, where a warm meal and bed will await you. 

In case snow/weather conditions are not good on Hvannadalshnúkur, you will have to change the itinerary to another similar summit in the area.

After three amazing and challenging climbs, you will say goodbye to the snowy wilderness and make your way back westward along the scenic south coast of Iceland. Pass beneath Eyjafjallajökull once again and visit the impressive Skógarfoss waterfall, one of the largest and most elegant waterfalls in Iceland. You can expect to be in Reykjavík in the late afternoon.

Want to explore Iceland more? Make sure to browse through the selection of the best hiking trips in Iceland!
Get free trip brochure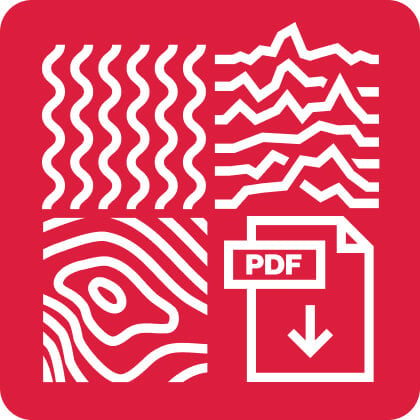 The brochure contains:
Adventure and location overview, itinerary, available dates, what's included, how to prepare, and much more.
Brochure sent, check your inbox
Talk with us
and let one of our adventure experts help you plan your perfect adventure.
Meet your guide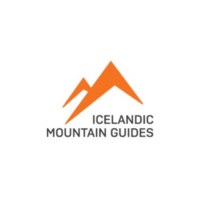 Icelandic Mountain Guides
Hiking Guides
Icelandic Mountain Guides offer the perfect variety of experiences to satisfy anyone's desire for adventure. Whether you want to relax in the unparalleled beauty of Iceland's nature or take a more challenging adventure, they've got you covered. The possibilities are endless and the memories will last a lifetime.
The next two days were set aside for an expedition to Hvannadalshnjúkur. We got up at 4 am and left from Sandfell. At 1,050 m we built a campsite and practiced self-arrest, snow anchors, avalanche risk assessment and avalanche beacon search both solo and as a group. After spending the night we had glorious weather on summit day. Around noon we were all standing on the highest peak in Iceland, enjoying the blue skies and the sun.
We did the Three Peak Challenge over 6 days. Since I love to hike and climb mountains and I love the landscapes of volcanoes, so the choice was obvious to pick a tour that combined all of these…The tour was ideal for me since I was able to get alpine experience: mountains that have ice and snow especially without having to go up to very altitudes. Iceland has more extreme conditions at lower altitudes, which means that it is not necessary to go through several days, even up to a week of altitude training acclimatisation, before commencing a journey.
Things to know
What you get on this adventure:

An experienced, local hiking guide with extensive knowledge of the area

5 full days of hiking, climbing, and sightseeing

Breakfasts and dinners during the tour

Accommodation in twin/double rooms in 3* hotels (4 nights)

Transport in 4×4 minibus

Safety equipment

Special dietary supplements, such as vegetarian, pescatarian, vegan, or possibly other, can be ordered at some extra cost. The supplement will include meals that meet the requirements of your diet.

What's not included:

Transportation to Reykjavík 

Accommodation in Reykjavík before and after the tour

Single supplement

This adventure in Iceland is an advanced tour of three peaks ranging from 1446m (4745ft) above sea level to 2000m (6562 ft). Advanced hikes include full days of hiking and climbing with steep descents and challenging switchbacks. This adventure doesn't require any technical climbing knowledge or equipment, but you should be prepared to hike between 6 and 15 hours. This tour requires great fitness and endurance, as well as previous hiking experience. Keep in mind, you'll also be packing a daypack filled with water and other things you'll need throughout the day.

Clients takes full responsibility for meeting the physical fitness level requirement of the trip. Clients that are physically unfit or not equipped for their tour can be dismissed from the tour at their own expense.  

Here's a list of the equipment you need to bring:

A duffel bag for the transport of your overnight gear between hotels
Day backpack for extra clothes and lunch pack during the day (around a 25-40L bag)
Hiking poles — optional (can be rented with your guide)
Gaiters — optional but recommended
Gloves – wool or synthetic 2 pairs of different thickness
Long sleeve shirt (thermal underwear) – wool or synthetic
T-shirt (thermal underwear) – wool or synthetic
Light wool or fleece sweater (2nd layer)
Warm, down jacket
Puffy jacket e.g. Primaloft — optional
Jacket with a good hood – windproof, waterproof and breathable, e.g. Gore-Tex or comparable
Soft-shell trousers – strong and light material that dries quickly
Rain trousers – windproof, waterproof and breathable — full raingear is mandatory in Iceland, poncho is not useful because of wind
Socks – wool or synthetic
Change of clothes for wearing in the hut
Sunhat
Wool hat
Sturdy hiking boots – waterproof with good ankle support
Toiletries (sunscreen, hand sanitizer, bug spray, toilet paper, etc.)
Water bottle or hydration bladder (2L capacity)
Pocket knife
Aperitif or other heart-warming spirits – liquor laws in
Sunglasses
Portable power bank
Dry-bags for electronics and extra clothing — optional
Camera — optional (but recommended)

Dress comfortably and for the weather in clothes you can move in. We suggest bringing clothing appropriate for the season. Layers are best and don't wear jeans. Iceland is home to infamously unpredictable weather, so you need to be prepared with the right gear.

Group sizes and prices:

For this group adventure, the usual client to guide ratio is 6:1. Groups can have up to 12 guests.
The cost is per person and does not decrease as the group grows.

Min. age requirements:

If you are older than 16, you're good to go.
Minors younger than 16 may be permitted to join the hike on a case-by-case basis, but must be in the presence of a parent or legal guardian.

If your group has hikers under the age of 16, contact us prior to booking to make arrangements.

Secure your spot for next year with a 10% deposit! This tour gets sold out very quickly, but with early-bird booking, you will be the first one to know about any new upcoming dates. Pick your preferred dates without the risk of your bucket list adventure selling out!

Only 10% of the total amount should be paid as a deposit upon booking. This deposit is non-refundable, but can be transferred to another 57hours adventure any time in case the dates don't suit you.
Once the dates for 2024 are set, you can confirm your booking by the end of this year by paying another 20% of the total amount.
The final balance is due 3 months (90 days) prior to departure.
Once the trip has been confirmed, the regular cancellation policy applies.

Existing set dates require a 30% deposit upon booking. The balance of program fees will generally be due 90 days prior to the starting date of the program. It is your responsibility to adhere to the fee payment schedule. Late payment will result in cancellation of program reservations and forfeiture of all fees paid.

All cancellations must be made by e-mail. In conformity with business practices within the Icelandic travel industry, your guide is obliged to charge cancellation fees to passenger(s) as follows:

70% of the price of the trip is refundable more than 59 days prior to departure
50% of tour price is refunded if cancelled 30-59 days prior to departure
25% of tour price is refunded if cancelled 16-29 days prior to departure
0% of tour price is refunded if cancelled less than 16 days prior to departure

All rates are based on current purchasing prices in Iceland. Your guides reserve the right to change prices without notice due to inflation, changes in oil prices, government taxes, or any other cost increases that are outside the guide's control. Your guides will absorb an amount equivalent to 5% of the price. Amounts that exceed the 5% will be charged and clients will be entitled to cancel their booking with a full refund if the surcharge exceeds 10%. Eventual changes in rates will not be made with less than 4 weeks' notice before departures or on bookings already made and confirmed.

Your guides reserve the right to alter tours and itineraries due to weather or road conditions. All programs can be changed or cancelled at any moment during the trip to assure the safety of the clients and staff. No responsibility is accepted for losses, expenses due to delays, changes of flights, or other services or because of strikes, accidents, sickness, damage, negligence, weather, war, changes in schedules, or other similar causes.

To get to Reykjavik, most people fly into Keflavik International Airport just under an hour away. From there, you can rent a car or take a shuttle service to Reykjavik. Your guide will suggest the best place to meet, usually at your accommodation in Reykjavik.

57hours is committed to providing safe outdoor adventure experiences. We require all guides using our platform to have a COVID-19 safety plan and to make the details of that plan accessible to travelers. In most cases, group sizes will be reduced, guides will avoid overcrowded locations, and other safety measures will be met depending on the location and activity.

We also expect clients to respect local regulations and take measures to protect themselves, guides and the communities they're travelling to. For more information on COVID-19 measures in Iceland please refer to Iceland's official Covid website.

Please contact us if you have any questions or require further information. We are happy to provide you with the most up-to-date information!
Get free trip brochure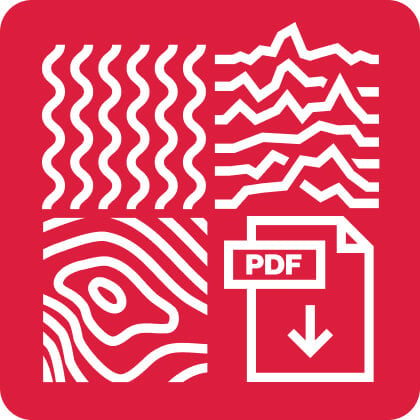 Adventure and location overview, itinerary, available dates, what's included and much more.
Brochure sent, check your inbox
Talk with us
and let one of our adventure experts help you plan your perfect adventure.
Other things to do in Iceland