Squamish | British Columbia
Mountain Biking Tours in Squamish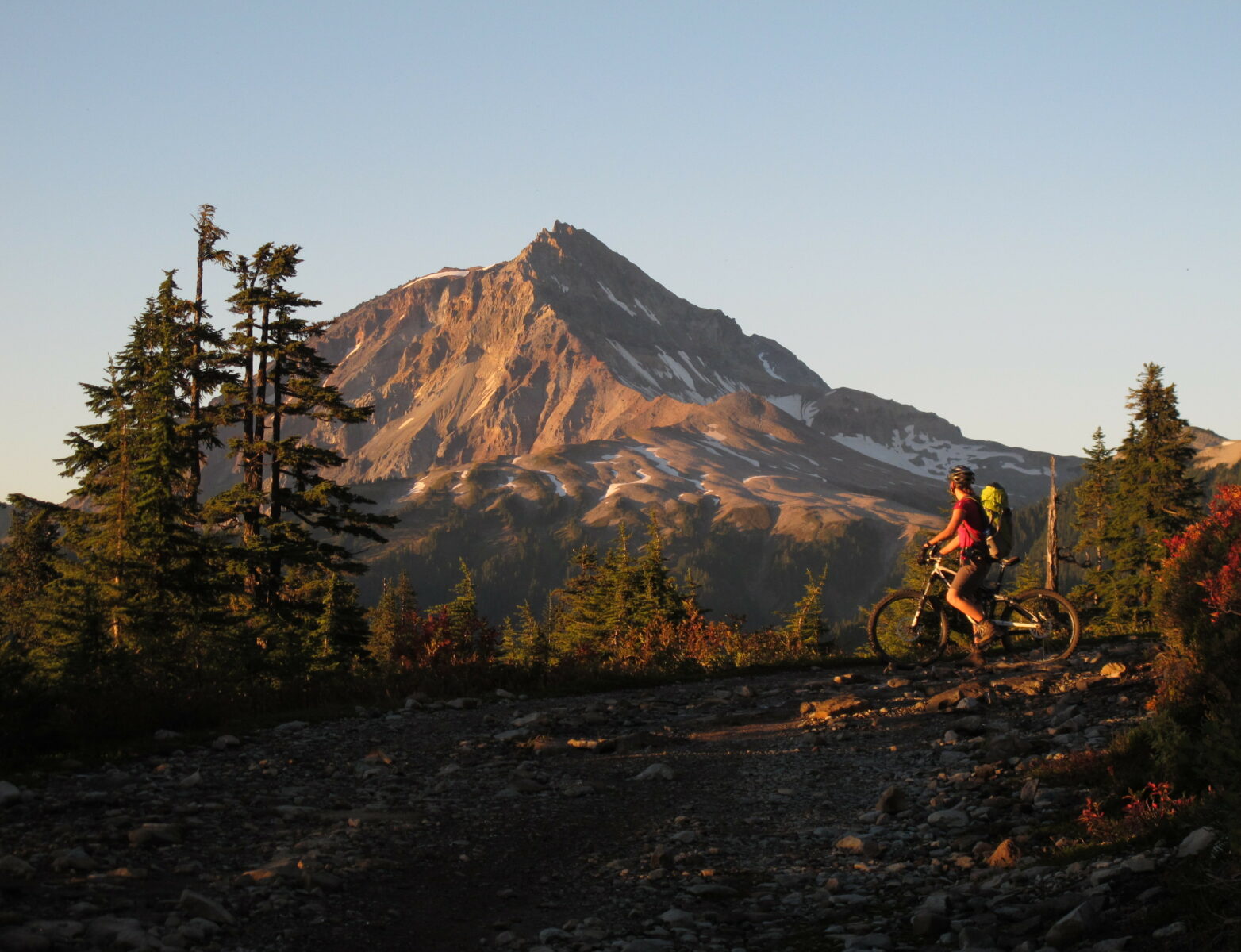 Nearest city
Squamish is a one-hour drive from Vancouver, B.C.
Discover world-class riding on epic wild terrain
Situated halfway between Vancouver and Whistler, Squamish is an outdoor-loving community of adventure-seekers. It's considered by many to have the best wild terrain around, and with hundreds of fun, creative and challenging trails to explore, there's something for everyone.
Legendary local trails like Half Nelson and Rupert are mainstays for any visiting rider, but there are other treats begging to be discovered like Entrails and Crouching Squirrel Hidden Monkey, and the instant classic, Pamplemousse. Chances are there'll be something bigger and better by the time you get there — that's how quickly the community rallies, builds and maintains their beloved terrain. After a day or two here, you'll be hooked and think about extending your visit!
Most Popular Itineraries
Private Guided Half-Day Mountain Bike Tour
A half day of mountain biking in Squamish is the perfect intro to the area's incredible trail network. Explore four to six trails depending on the skill level of your group, taking in stunning views while experiencing some of the best singletrack in Canada.
Private Guided Full-Day Mountain Bike Tour
From $105 per person
·
Full-day
Gear up for a day of exploring eight to twelve trails over two distinct networks and experience the unbelievable wild terrain Squamish is known for. For technical riders, there's enough roots, rocks, slab, chutes and loam to keep you on your toes, and the flow is fun and fast. End the day with a dip in a glacial lake!
Things you need to know
COVID-19 measures in Squamish, B.C.
We are monitoring the COVID-19 situation closely and adhering to federal and provincial regulations. Information will be updated as it becomes available.
British Columbia is currently in Phase 3, which is a gradual return to safe and smart traveling within the province. International travellers returning to B.C. are required by law to self-isolate for 14 days and complete a self-isolation plan. The guidelines and extra safety precautions for sectors in Phase 2 are still in place.
If you're wondering whether you are able to travel to Squamish or you have any questions regarding COVID-19 regulations, do not hesitate to contact us. We'll find you the information you need — no strings attached!
Why should I book with 57hours?
With us, it's all play and no work for you! 57hours is an open platform that connects you with trained and certified outdoor adventure professionals all over the world. Using our tech-savvy, we make it super easy to find and book adventures worth tackling, with guides worth booking, all gathered from the first-hand experiences of the locals who adventure in these amazing locations.
Why should I go mountain biking?
Mountain biking is fun! Feeling in control over bumpy and unpredictable terrain is an adrenaline rush all in itself. Once you ease into riding, you'll learn to read obstacles, manage momentum with your body and brakes, and maneuver over the trail with confidence. All your guides expect from you is a basic grasp of riding a bike, an open mind, and a lot of trust. A small price to pay to feel like you're practically flying, right?
What's included?
What you get in this adventure:
An experienced, local MTB guide with extensive knowledge of the area
Transportation to the trailhead (shuttle lap add-on available)
Vegetarian lunch for full-day adventures
What's not included:
Mountain bikes and helmets available for half and full-day rentals (e-bikes also available)
What can I expect from mountain biking with a guide?
One of the reasons why mountain biking is so popular is the rush of adrenaline it sends through your veins. Sure, danger is part of the appeal, but you'll want to avoid any unnecessary risks by hiring a guide. They'll make sure you enjoy the ride and feel safe while doing it. There is no road map or GPS technology out there that's as good as having an experienced local guide to lead the way while mastering unfamiliar trails. There's always more to see, and your guides know just where to go to find it!
What do I need to bring?
Wear comfortable riding or athletic clothing, preferably moisture wicking or synthetic material
Sneakers or sport shoes
Breathable outside layer or jacket
Sunglasses
Plenty of water, water bottle or hydration bladder
Daypack with snacks
Biking gloves are optional but recommended
What if I never mountain biked before?
As long as you pedal on two wheels, you can book this adventure. There are trails for every level of mountain biker in Squamish — from family friendly to advanced technical trails. A guide will explain the different mountain bike techniques and body positions to get you feeling comfortable on the trial. You will progress at a level that is consistent with your comfort. Once you finally get the hang of trail riding, you will only want more!
What is a typical tour itinerary?
Depending on the itinerary you choose, you meet up with your group at the designated location. For full-day tours, you will meet in the morning, for half-day tours, you have the option of morning or afternoon riding.
Check your bike! Make sure everything's calibrated
Head to your first trailhead for anywhere from 10 to 40 miles of world-class mountain biking
On full-day tours, you'll break for lunch and end the day with a cold glacial swim!
How fit do I need to be?
You will need to be able to bike between three and six hours, depending on the itinerary you choose. After booking, your guide will determine the group's skill level and capabilities and cater the day to your specific abilities. Whether you're looking for something mellow or the ultimate physical challenge, it can all be found in Squamish.
What is the minimum age requirement?
There are no minimum age requirements to mountain bike in Squamish, you just need to be able to pedal on two wheels! However, if your party has minors younger than 18 years old, contact us prior to booking to make arrangements.
What about group sizes and pricing?
Only small group adventures are run to ensure that everyone has the best experience possible and doesn't get lost in the crowd. Depending on your group size, you may have more than one guide.
Prices do decrease as your group grows, making it the perfect opportunity to mountain bike with family and friends!
What about bad weather?
Tours are scheduled to fit with the seasons and ideal cycling conditions. When the weather does not cooperate, your guide will know the correct course of action to take. Whether that's shifting to a more favorable location or postponing until conditions approve, your guide will know just what to do. In the event of predictably bad weather, you will be contacted prior to the trip to discuss suitable alternatives.
Cancellation policy
All policies regarding cancellation, rescheduling and trip insurance will be clearly laid out by your guide prior to booking your adventure. Contact us if you'd like more information on a specific adventure.
Getting there and meeting location
Squamish is a straight shot one hour north from Vancouver on the Sea to Sky Highway. Shuttle buses frequently run from Vancouver, but many people choose to rent a car in order to explore all the area has to offer.
You will meet your guide in Squamish. From there, your guide will provide transportation to and from the trail head.
Guides we recommend
RideBC
Mountain Bike Guides
RideBC's guides and instructors are dedicated builders of the Squamish trail networ...