Slovenia | Croatia | Italy | Austria
Mountain Biking Through Europe's Hidden Gems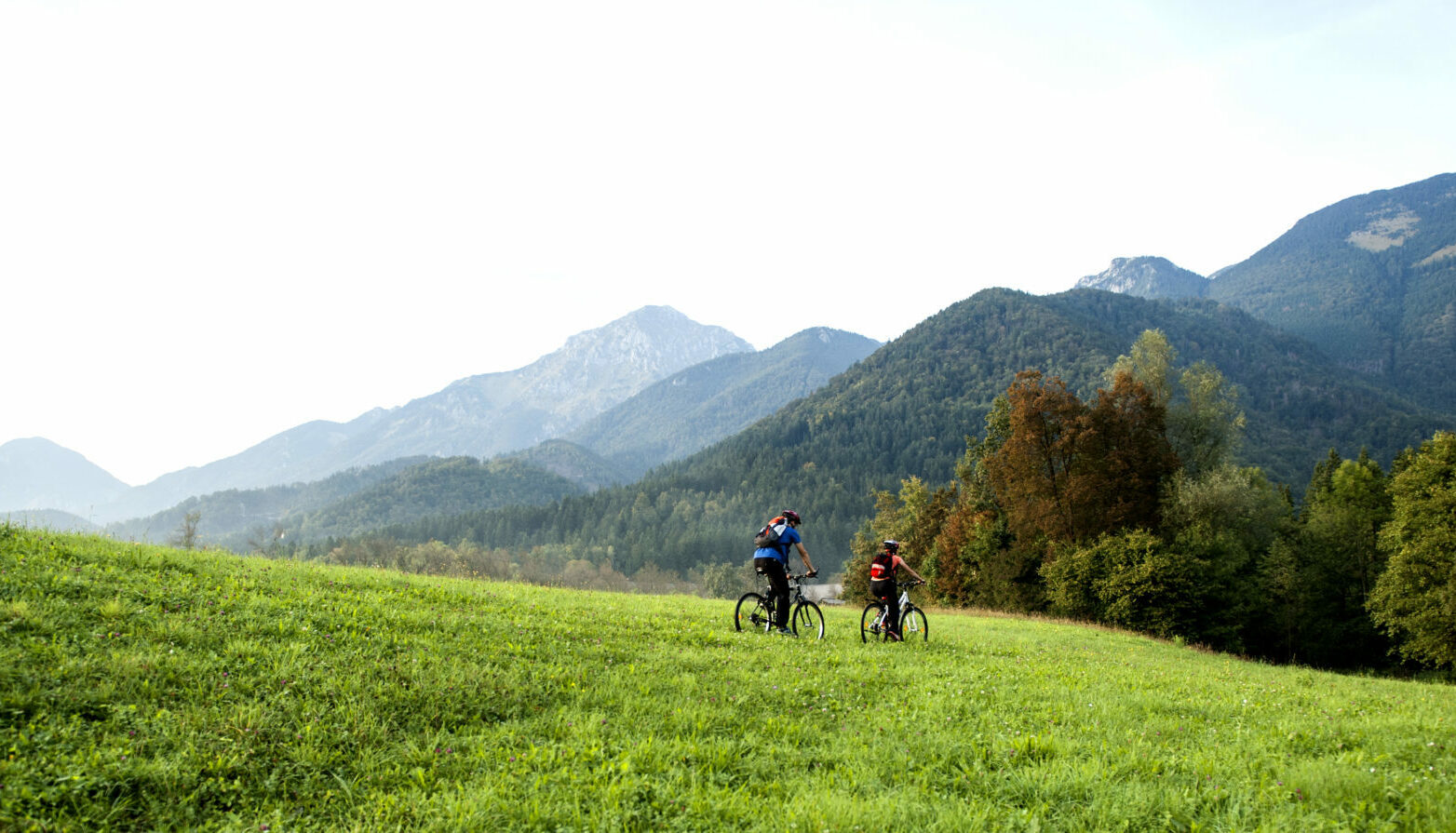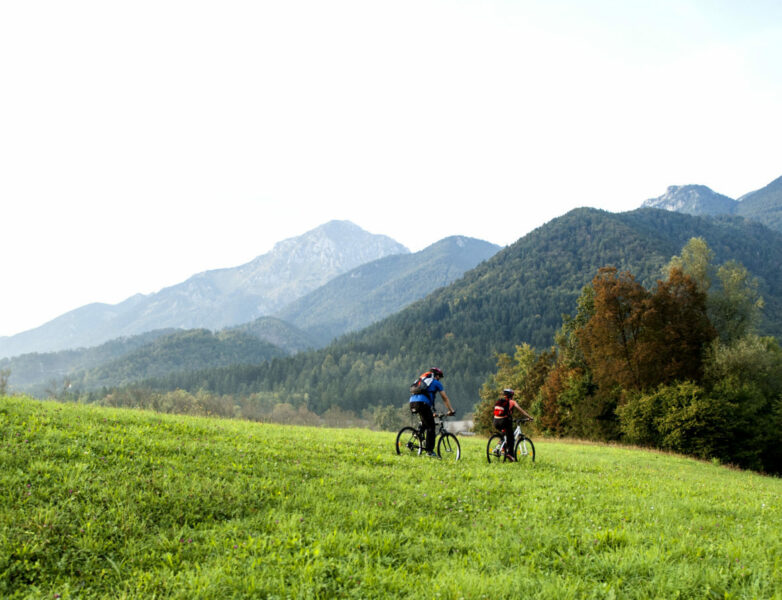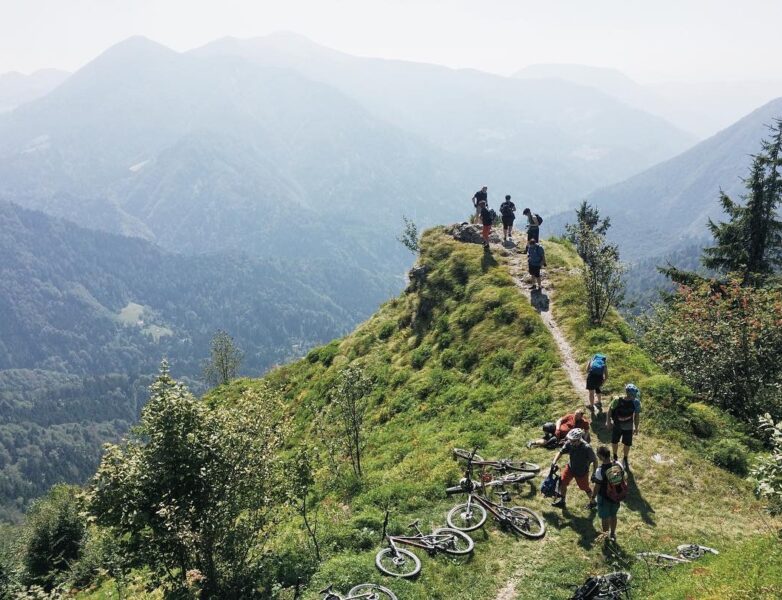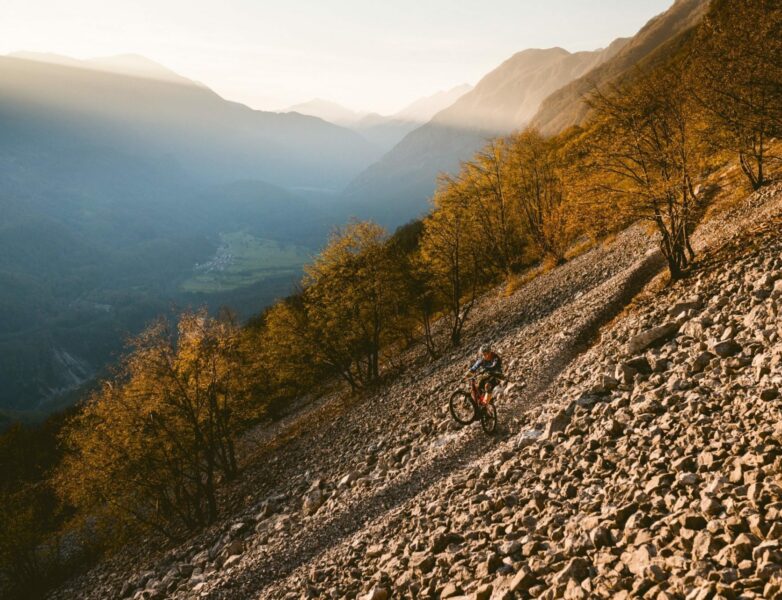 Nearest city

Trieste, IT, where the tour starts, is less than 2 hours away from Venice, IT
Get ready for amazing views and some great singletrack
This epic, eight-day mountain biking trip will take you through Italy, Austria, Croatia, and Slovenia. Starting in Trieste, Italy, you'll enjoy a fantastic dinner and the flowy trails before moving to some technical terrain in the nearby Julian Alps, as the tour makes its way around the region. Enjoy biking alongside some gorgeous vineyards, emerald rivers, and beautiful mountain lakes — especially the emerald Lake Bled. Slovenia's trails are perfect for enduro and all-mountain biking, but if you're looking for XC, there's plenty of that on offer too!
Book This Adventure
Mountain Biking Through Europe's Hidden Gems
$4280 per person
·
8 days
Start your once-in-a-lifetime journey in the beautiful city of Trieste, Italy! From there, discover the unknown mountain passes of the Julian Alps and cool down after a ride in the incredible Soča River. Cycle through vineyards and olive trees reminiscent of the Italian Tuscany during one day and visit the beautiful mountain lakes on the other. Recharge every evening with a tasty meal and a cozy bed. Enjoy the care of your professional guides and make some amazing memories. There is no other part of the world where you can see and do as much in such a short period of time as in this part of Europe!
Itinerary
Day 1: Arrival at Venice airport
Upon arrival at the Venice Airport, you'll meet your guide and drive to Trieste, an Italian coastal town on the border with Slovenia. Your accommodation there will be a comfortable boutique hotel. After checking in, your guides will run a short briefing, so you'll know exactly what to expect in the days to follow. Then, you'll go for a short stroll around the city center and have dinner in a local Italian restaurant with traditional Mediterranean dishes. The first day is meant to be a relaxing one to help you adjust to the time zone.
Transfer time: 1.5 hours
Biking: None! Enjoy the acclimation
Highlights: Trieste (Italy)
Day 2: Riding in Italy
After breakfast, a short transfer will take us just outside of Trieste. Your guides will help you set up the bikes. Next, you'll pedal to the starting point of the Enduro 3 Camini trail. This first day of riding is a mellow one, as traveling can take a lot out of you. You'll ride on the flowy, natural trails that are perfect to get you ready for the days to come. Later in the evening, you'll travel to Goriška Brda. This is one of the most famous wine regions in Slovenia, known for its wine and food. You'll stay the night in one of the many small hotels in the region, overlooking the beautiful countryside.
Vertical gain: 3.200′
Length: 16.5 miles
Tour type: AM (all-mountain-enduro)
Transfer time: 1.5 hours
Biking: approximately 3 hours
Highlights: Enduro 3 Camini, Goriška Brda (the little Tuscany of Slovenia)
Day 3: An overnighter in Croatia
On the third day, you'll orient your compass to the south. After an-hour-and-a-half long transfer, you'll arrive at the picturesque town in the center of Croatian Istria. Grožnjan is famous for its network of awesome trails and it also hosts one of the best enduro races in the area. The trails are surrounded by olive and pine trees and will keep you smiling throughout the whole day. After you settle down, you'll go for an easy hike near the old city and enjoy the views that Istria has to offer.
Vertical gain: 3.000′
Length: 18 miles
Tour type: AM (all-mountain-enduro)
Transfer time: 1.5 hours
Biking: approximately 4 hours
Highlights: Karst region, Slovene and Croatian Istria, Grožnjan (Croatia)
Day 4: Time to get out of the city
After a delicious breakfast, it's time to head back to Slovenia and visit the world-famous Postojna Cave and Predjama Castle. A short transfer and an easy start of the day is perfect after two straight days in the saddle. You'll arrive in Ljubljana by early afternoon and have plenty of time to explore the local trails. The trails are extremely well maintained by volunteers and you'll see mountain bikers of all ages riding them. After riding, you'll have some time to explore the city center and visit the best cafes in town. You can look forward to a tasty dinner in a small restaurant with a great selection of local wines.
Vertical gain: 2.500′
Length: 20 miles
Tour type: AM (all-mountain-enduro)
Transfer time: 2h
Biking: approximately 4 hours
Highlights: Postojna Cave, Predjama Castle, Ljubljana
Day 5: A bike in the park
It is time to head for the mountains! After breakfast, you'll depart Ljubljana and shuttle to Krvavec Ski Resort, where the longest flow trail in the country is waiting for you. Don't worry, there's no climbing today! There's a cable car that will take care of the ascent for you. After a couple of hours in the bike park, you'll have just enough energy to make the short trip to Lake Bled, an absolute must when visiting Slovenia. There, you can taste the famous Bled cake or take a refreshing swim before heading to Kranjska Gora, where you'll remain for the next two days.
Vertical gain: 6.000′ (NOTE: Get Lifted! gondola shuttle: Flow trail is amazing and it takes you from the top gondola station to the bottom of the valley. And then you go back up again and again.)
Length: 25 miles
Tour type: AM (all-mountain-enduro)
Transfer time: 1.5 hours
Biking: approximately 4 hours
Highlights: Krvavec Bike Park, Lake Bled, Kranjska Gora
Day 6: Across the border, and another and another
This is the only time on this trip that you will be staying in the same accommodation for two nights in a row. You will be able to get better rest and only think about biking. Our hotel is perfectly stationed at the base of Tromeja (Tri-border), a 1508m high mountain with its top based in three countries: Slovenia, Italy, and Austria. You'll ride in all three countries and enjoy the typical natural trails as you make your descent. Get ready for some spectacular views!
Vertical gain: 2.788′
Length: 14.5 miles
Tour type: AM (all-mountain-enduro)
Transfer time: —
Biking: approximately 5 hours
Highlights: Tromeja (Tri-border), Austria, Italy
Day 7: The longest single trail and an evening you won't forget
Of course, the best is saved for last. Vršič Pass is the highest mountain pass in Slovenia and it peaks at 1611m. Don't worry, you'll shuttle this, not ride it. After a short stop at the top of the pass, you'll continue towards Bovec. The road follows the trail of Soča River, a white-water enthusiasts' paradise. Paddles anyone? Next, your guides will unload the bikes at the base of Kobariški Stol. On this ride, you'll be rewarded with one of the most beautiful mountain top views when you finish your ascent. On the way back, you'll ride the most beautiful singletrack in the area back down to the valley.
A quick note on this region's history. The area was greatly affected during WWI and your guides will gladly tell you more about it. For instance, the singletrack that you finish your ascent on was built by soldiers during the war. After you arrive back to the valley, you can spend a couple of hours exploring the area or even do some white-water activities like rafting or canyoning. If you feel energetic enough, ask your guides and they will help accommodate you with any of your wishes. Of course, on this last day, you'll finish with a spectacular dinner to end this amazing trip in style.
Vertical gain: 3.050′
Length: 16.5 miles
Tour type: AM (all-mountain-enduro)
Transfer time: 2 hours
Biking: approximately 4 hours
Highlights: Vršič pass, Bovec, Soča River, Kobariški Stol
Day 8: Return home or additional three days in Austria or Venice-Italy
If you wish to also visit the famous city of Venice in Italy known for its labyrinth of canals, bridges and spectacular architecture or Vienna in Austria, you are able to arrange this with your guide.
Things you need to know
Covid measures in Europe
57hours is committed to providing safe outdoor adventure experiences. We require all guides using our platform to have a COVID-19 safety plan and to make the details of that plan accessible to travelers. In most cases, group sizes will be reduced, guides will avoid overcrowded locations, and other safety measures will be met depending on the location and activity.
We also expect clients to respect local regulations and take measures to protect themselves, guides and the communities they're travelling to. For more information on COVID-19 measures in Italy, please refer to the Italian Ministry of Health website. For more information on COVID-19 measures in Slovenia, please refer to the Republic of Slovenia website. For more information on COVID-19 measures in Croatia, please refer to the Croatian Ministry of the Interior website. For more information on COVID-19 measures in Austria, please refer to the Austria Info website.
Please contact us if you have any questions or require further information. We are happy to provide you with the most up-to-date information!
What's included?
This is what you get on this adventure:
Experienced English-speaking MTB guide with extensive local knowledge of the area
Two guides on tour (one fully qualified mechanic)
Transportation from Venice to Trieste and back
Regions finest boutique accommodation
Daily breakfast
Van support during all 8 days
Pick up and drop off before and after tour, from convenient locations
Snacks and food supplements including electrolytes during tour
Farewell dinner on final night (drinks excluded)
Entrance fees to historic sites and natural parks
What's not included:
Airfare to and from Italy
Food and drinks
Travel and activity insurance
Bike rentals
How fit do I need to be?
For this multi-day guided tour, you'll need to be able to bike up to 25 miles per day. Europe's diverse terrain is one of its strongest selling points, and this tour will take you through several states with different tracks and terrain types. Although it will be very fun and exciting, even the most experienced among the group can count on it to push their limits. It is recommended following a general training in the weeks leading up to your trip.
Your guide will be very happy to give you some bike skills training during your trip to help improve your confidence and your enjoyment of your bike adventure.
What if I've never mountain biked before?
This tour is perfect for intermediate to advanced riders with previous experience with multi-day tours. There are plenty of other trails suitable for beginners, but this option is designed for bikers with moderate ability level.
What do I need to bring?
Comfortable riding or athletic clothing, preferably moisture wicking or synthetic material
Additional breathable clothing for layering — temperatures can vary in the mountains
Padded undershorts
Breathable waterproof outside layer or jacket
Clothes for city touring and restaurant visits
Sneakers or sport shoes
Normal jacket for colder evenings in the city
Bathing suit
Flip-flops
Sunglasses
Sun hat
Plenty of water, water bottle or hydration bladder
Daypack for mountain biking
Suitcase or duffle bag for your luggage
Snacks
Biking gloves – optional (but recommended)
Toiletries (sunscreen, hand sanitizer, bug spray, toilet paper, etc.)
Clothes for city touring and restaurant visits
What can I expect from mountain biking with a guide?
One of the reasons why mountain biking is so popular is the rush of adrenaline it sends through your veins. Sure, danger is part of the appeal, but you'll want to avoid any unnecessary risks by hiring a guide. They'll make sure you enjoy the ride and feel safe while doing it. There is no road map or GPS technology out there that's as good as having an experienced local guide to lead the way while mastering unfamiliar trails. There's always more to see, and your guides know just where to go to find it!
Why should I book with 57hours?
With us, it's all play and no work for you! 57hours is an open platform that connects you with trained and certified outdoor adventure professionals all over the world. Using our tech-savvy, we make it super easy to find and book adventures worth tackling, with guides worth booking, all gathered from the first-hand experiences of the locals who adventure in these amazing locations.
What about group sizes and pricing?
For this adventure, the max client to guide ratio is 7:1 with maximum 14 guests. There will always be 2 guides with you, one of which is a fully qualified mechanic. The minimum number of people for this tour to run is four.
All pricing is per person. A 30% deposit to secure your place is due upon booking. The balance of payment is due one month prior to the departure date.
Individuals can join the group and either share a room with another traveler of the same gender or pay an additional fee for single room use. If you want a single room, contact us prior to booking to make arrangements.
What is the minimum age requirement?
Anyone over the age of 18 is welcome to book this course.
If your party has minors younger than 18 years old, contact us prior to booking to make arrangements.
What about bad weather?
Tours are scheduled to fit with the seasons and ideal cycling conditions. When the weather does not cooperate, your guide will know the correct course of action to take. Whether that's shifting to a more favorable location or postponing until conditions approve, your guide will know just what to do. In the event of predictably bad weather, you will be contacted prior to the trip to discuss suitable alternatives.
Do I need an insurance policy?
We highly recommended that you cover all your bases with both emergency medical and travel insurance. With medical insurance, if you have an accident or medical emergency on or off the mountain, you'll avoid paying out of pocket for costly expenses. This covers everything from hospital treatments to emergency air transportation and more.
As we've recently seen, travel plans can be abruptly halted, so it's a good idea to purchase travel insurance that covers cancelled flights, natural disasters and other scenarios that may interrupt your travel plans. For peace of mind, we suggest you consider both options of insurance.
If you need assistance selecting the right insurance for your group, let us know and we will be happy to help!
Cancellation policy
With 57hours, you benefit from both our own cancellation policy as well as that of the individual guiding service that delivers your adventure. All policies regarding cancellation will be clearly laid out by your guide after booking your adventure, but rest assured that our own cancellation policy will work on top of what is provided by your guide.
For this adventure, 57hours offers a Expedition Cancellation Policy, which states:
If Client cancels the Booking anytime prior to one hundred twenty (120) calendar days in advance of the trip contemplated by the booking, Client is entitled to a full refund. For cancellations ninety (90) to one hundred nineteen(119) calendar days in advance, Client is entitled to a refund in the amount of fifty percent (50%) of the total amount paid when Booking. For cancellations seventy five (75) to eighty nine (89) calendar days in advance, Client is entitled to a refund in the amount of twenty-five percent (25%) of the total amount paid when Booking. After that deadline, Client is not entitled to any refund. Any reimbursable expenses arising out of the Booking incurred by Guide prior to the date of cancellation (including but not limited to plane tickets, car rental payments, and lodging or transportation fees) are non refundable as soon as they are incurred by the Guide.
For more information on terms and conditions, please visit our Terms of Service page.
Getting there and meeting location
To get to Venice, most people fly into Venice Airport Marco Polo (VCE) which is less than 2 hours away from Trieste, where the tour starts.
You can meet your guide already at the airport. From there, your guides will provide you with a shuttle ride to Trieste. They have transportation to and from your adventure covered!