Mountain Biking Europe's Hidden Gems
Italy! Croatia! Austria! Slovenia! Mountain bike through four countries, 120 miles all in eight days - the terrain is diverse, the food delicious and the lodgings are absolutely charming.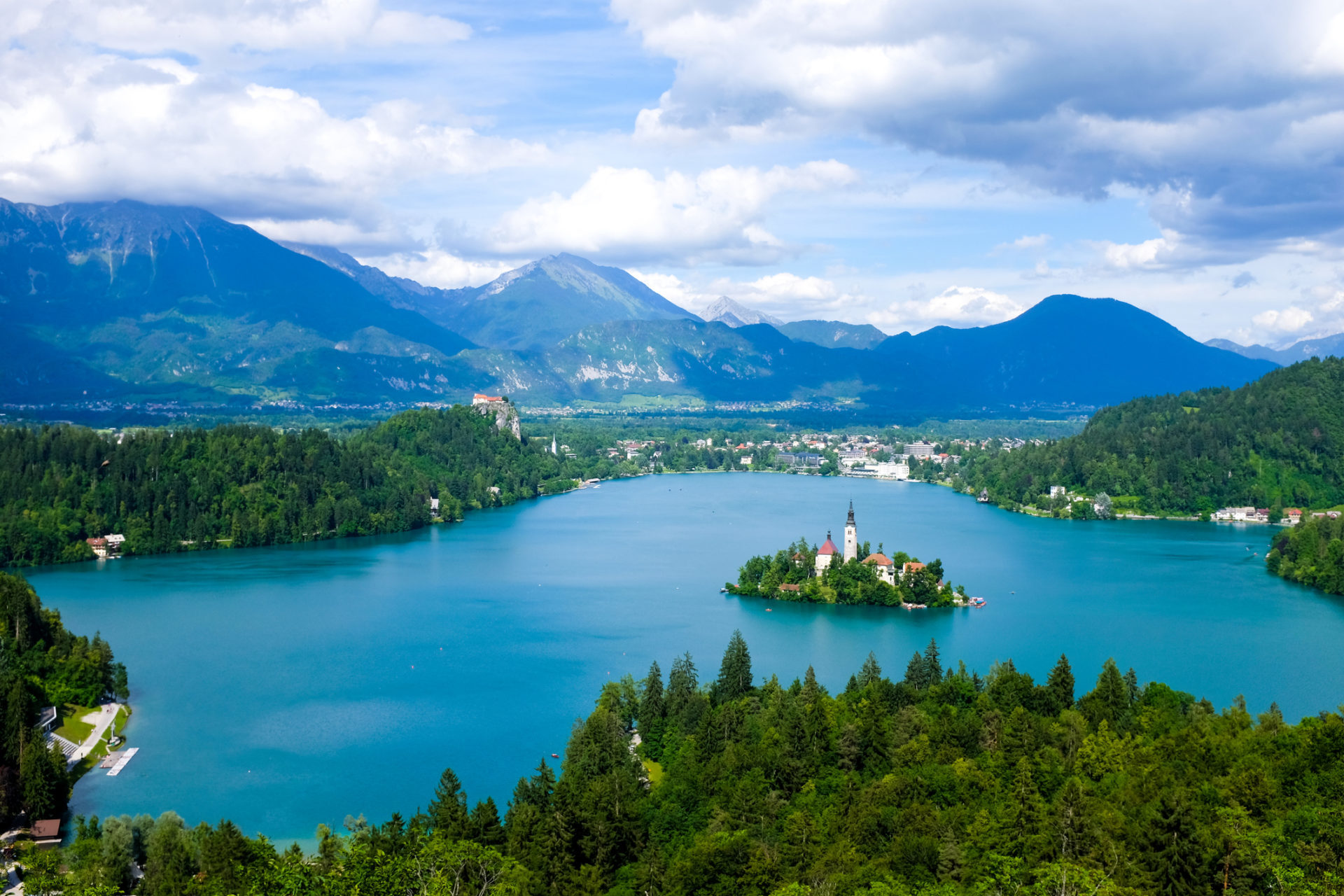 Lake Bled and the church of the Assumption of Mary sitting in the middle!
Slovenia, off the radar in the best possible way
On the very northeastern corner of the Adriatic Sea, sharing a border with Croatia, Austria and Italy and Hungary is Slovenia. While the country is well-known as a skier's and rock climber's destination, in recent years the mountain biking community has grown and flourished there. Slovenia's trails are perfect for enduro and all mountain biking, but if you're looking for XC, there's plenty of that on offer too.
Oh, and the sites that you'll see!
Starting in Trieste, Italy, you'll enjoy a fantastic dinner and the flowy trails in the coastal region in addition to some more technical ones in the nearby Julian Alps as the tour makes its way around the region. When you arrive in Slovenia, you'll mountain bike alongside some gorgeous vineyards and beautiful mountain lakes - especially Lake Bled. You'll see...
Itinerary
Day 1: Arrival to Venice airport
Upon arrival to the Venice airport, you'll meet your Bike Hike Tours representative and drive to Trieste, an Italian coastal town on the border with Slovenia. Your accommodation here will be a comfortable boutique hotel. After checking in, your guides will run a short briefing, so you'll know exactly what to expect in the days to follow. Then, you'll go for a short stroll around the city center and have a dinner in a local Italian restaurant with traditional Mediterranean dishes. The first day is meant to be a relaxing one to help you adjust to the time zone.
Transfer time: 1.5 hours
Biking: None! Enjoy the acclimation
Highlights: Trieste (Italy)
Day 2: Riding in Italy
After breakfast, a short transfer will take us just outside of Trieste. Your guides will help set up the bikes. Next, you'll pedal to the starting point of the 3 Camini enduro trail. This first day is of riding is a mellow one, as traveling can take a lot out of you. You'll ride on the flowy, natural trails that are perfect to get you ready for the days to come. Later in the evening, you'll travel to Goriška Brda. This is one of the most famous wine regions in Slovenia, known for its wine and food. You'll stay the night in one of the many small hotels in the region, overlooking the beautiful countryside.
Vertical gain: 3.200'
Length: 16.5 miles
Tour type: AM (all -mountain-enduro)
Transfer time: 1.5 hours
Biking: approx. 3 hours
Highlights: 3 Camini, Goriška Brda (the little Tuscany of Slovenia)
Day 3: An overnighter in Croatia
On the third day, you'll orient your compass to the south. After an hour and a half long transfer you'll arrive at the picturesque town in the center of Croatian Istria. Grožnjan is famous for its network of awesome trails and it also hosts one of the best enduro races in the area. The trails are surrounded by olive and pine trees and will keep you smiling throughout the whole day.
Vertical gain: 3.000'
Length: 18 miles
Tour type: AM (all -mountain-enduro)
Transfer time: 1.5 hours
Biking: approx. 4 hours
Highlights: Karst region, Slovene and Croatian Istria, Grožnjan (Croatia)
Day 4: Time to get out of the city
After a delicious breakfast, it's time to head back to Slovenia and visit the world-famous Postojna Cave and Predjama Castle. A short transfer and an easy start of the day is perfect after two straight days in the saddle. You'll arrive in Ljubljana by early afternoon and have plenty of time to explore the local trails. The trails are extremely well maintained by volunteers and you'll see mountain bikers of all ages riding them. After riding, you'll have some time to explore the city center and visit the best cafe in the town. You can look forward to a tasty dinner in a small restaurant with a great selection of local wines.
Vertical gain: 2.500'
Length: 20 miles
Tour type: AM (all -mountain-enduro)
Transfer time: 2h
Biking: approx. 4 hours
Highlights: Postojna Cave, Predjama Castle, Ljubljana
Day 5: A bike in the park...
It is time to head for the mountains! After breakfast, you'll depart Ljubljana and shuttle to Krvavec Ski Resort, where the longest flow trail in the country is waiting for you. Don't worry, there's no climbing today!  There's a cable car that will take care of the ascent for you. After a couple of hours in the bike park, you'll have just enough energy to make the short trip to Lake Bled, an absolute must when visiting Slovenia. There, you can taste the famous Bled cake or take a refreshing swim before heading to Kranjska Gora, where you'll remain for the next two days.
Vertical gain: 6.000 (ft) (NOTE: Get Lifted! gondola shuttle: Flow trail is amazing and it takes you from the top gondola station to the bottom of the valley. And then you go back up again and again.)
Length: 20 miles
Tour type: AM (all-mountain-enduro)
Transfer time: 1.5 hours
Biking: approx. 4 hours
Highlights: Krvavec Bike Park, Lake Bled, Kranjska Gora
Day 6: Across the border, and another and another
This is the only time on this trip that we will be staying in the same accommodation for two nights in a row. You will be able to get a better rest and only think about biking. Our hotel is perfectly stationed at the base of Tromeja (Tri-border), a 1508m high mountain with its top based in three countries: Slovenia, Italy, and Austria. You'll ride in all three countries and enjoy the typical natural trails as you make your descent. Get ready for spectacular views!
Vertical gain: 2.788'
Length: 14.5 miles
Tour type: AM (all -mountain-enduro)
Transfer time: —
Biking: approx. 5 hours
Highlights: Tromeja (Tri-border), Austria, Italy
Day 7: The longest single trail and an evening you won't forget
Of course, the best is saved for last. Vršič Pass is the highest mountain pass in Slovenia and it peaks at 1611m. Don't worry, you'll shuttle this, not ride it. After a short stop at the top of the pass, you'll continue towards Bovec. The road follows the trail of Soča River, a white-water enthusiasts' paradise. Paddles anyone? Next, your guides will unload the bikes at the base of Kobariški Stol. On this ride, you'll be rewarded with one of the most beautiful mountain top view when you finish your ascent. On the way back, you'll ride the most beautiful singletrack in the area back down to the valley.
A quick note on this region's history. The area was greatly affected during WWI and your guides will gladly tell you more about it. For instance, the singletrack that you finish your ascent on was built by soldiers during the war. After you arrive  back to the valley, you can spend a couple of hours exploring the area or even do some white-water activities like rafting or canyoning. If you feel energetic enough, ask your guides and they will help accommodate you with any of your wishes. Of course, on this last day, you'll finish with a spectacular dinner to end the amazing trip in style.
Vertical gain: 3.050'
Length: 16.5 miles
Tour type: AM (all -mountain-enduro)
Transfer time: 2 hours
Biking: approx. 4 hours
Highlights: Vršič pass, Bovec, Soča River, Kobariški Stol
Day 8: Return home or additional three days in Austria or Venice-Italy
If you wish to visit the famous Italian city Venice, which is known for its labyrinth of canals, bridges and spectacular architecture or take a look of Vienna (Austria) let your guides know at the time of the booking.
Need to know
Gear list
Comfortable bike and athletic clothing, sports shoes (biking shoes), jacket and sunscreen
Consult with your booking agent for more comprehensive details
What's included
Venice airport shuttle and return
You'll be staying in double or twin rooms in each region's top boutique accommodations
Breakfast everyday, 'cause you're gonna need it!
Fluent English speaking guides with extensive local knowledge, and who always go above and beyond to ensure every need is catered to and met
Van support! Count on complete support for every mile you ride - enjoy your vacation at your own pace
Pick up and drop off before and after tour, all from convenient locations
Sport activities and equipment hire as per itinerary
Farewell dinner on the last night (drinks excluded)
Your group size won't exceed 14 guests on a scheduled departure
One last bit, all entrance fees to historic sites and nature parks
What's not included
Airfare (Need help? Let us know and we'll help you purchase the best ticket possible)
Food and drinks
Travel and activity insurance
Tips are optional and not included in price (but always most welcome and a good idea)
Bike rental