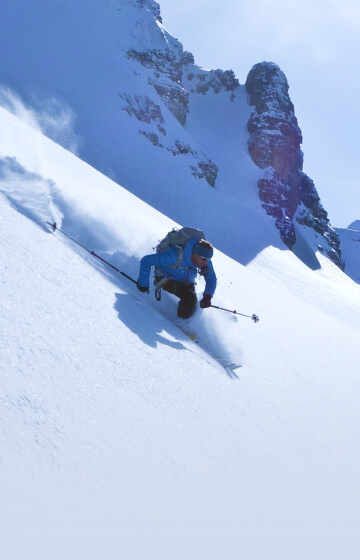 Backcountry Ski from the Best Huts in British Columbia
Welcome to Canada's ski capital, where the rumors are true: British Columbia has some of the best skiing in the world. The ideal climate, long winters full of perfect powder, and unparalleled vertical terrain make it a true skiers paradise.
Now's your chance to enjoy the pristine powder turns beyond the resorts and far from busy crowds. Backcountry ski lodges offer the ultimate unplugged getaway; just you and your small group enjoying the thrills of wilderness ski touring accompanied by a high level of guiding and catering that make these trips a world-class ski holiday.
What could be better than skiing through vast B.C.'s wilderness and retiring in a traditional lodge with a warm beverage at the end of the day? For eight magnificent days, you can forget about civilization and shred fresh powder from the best huts in the area!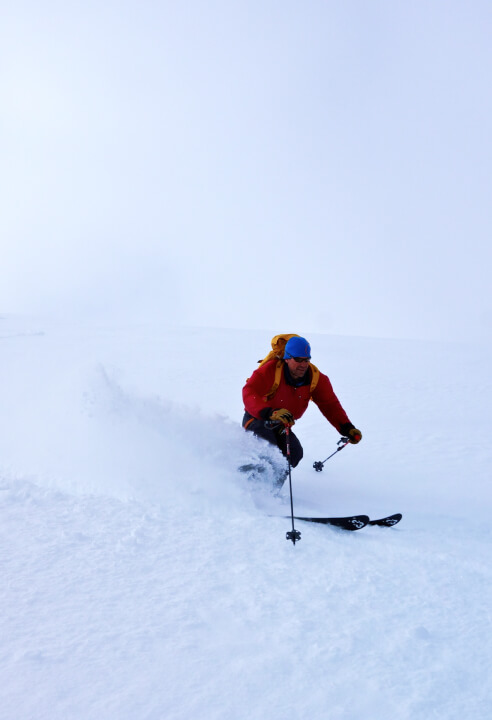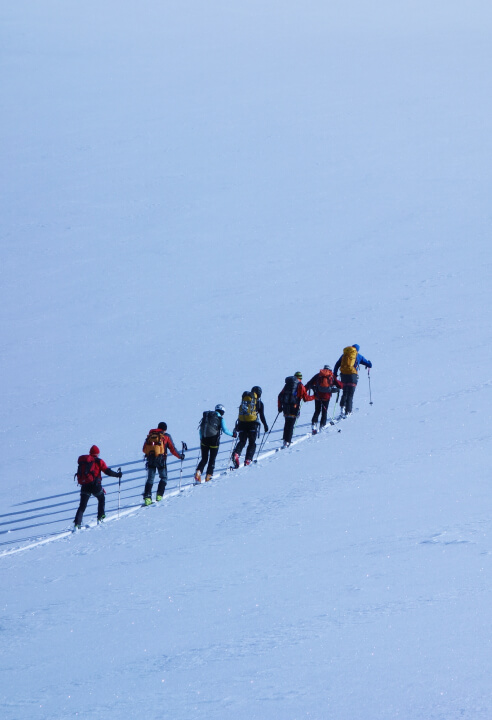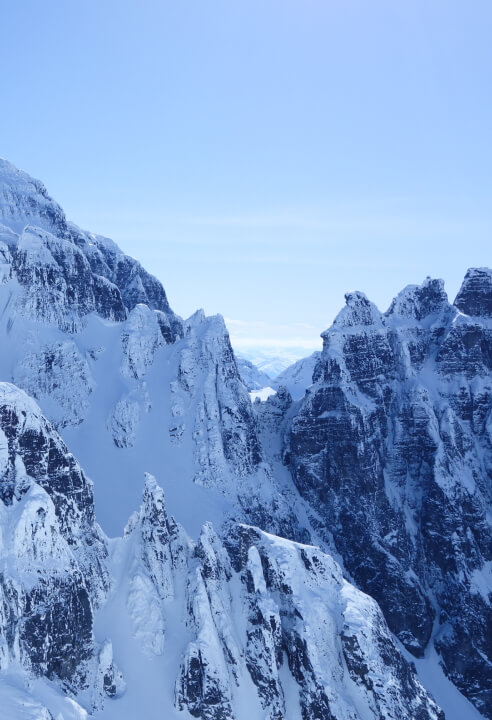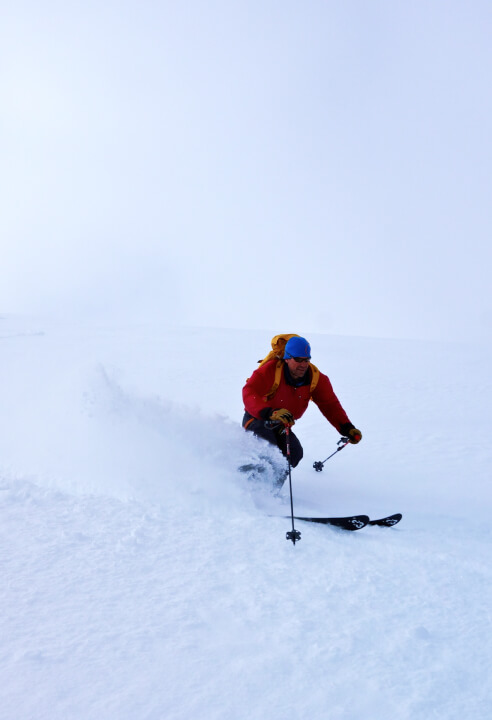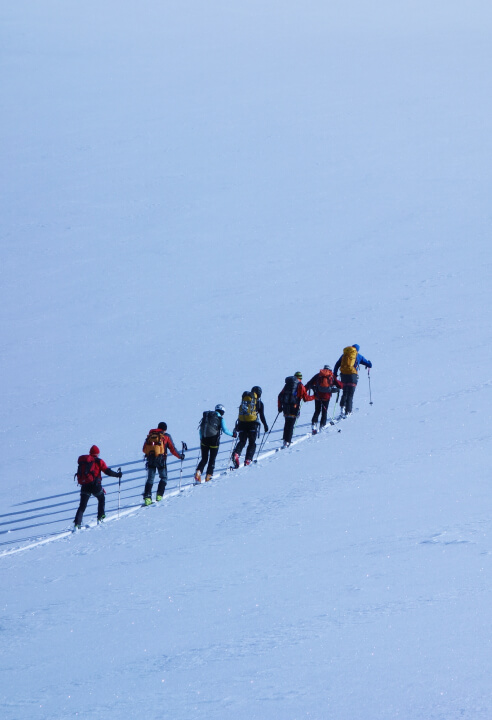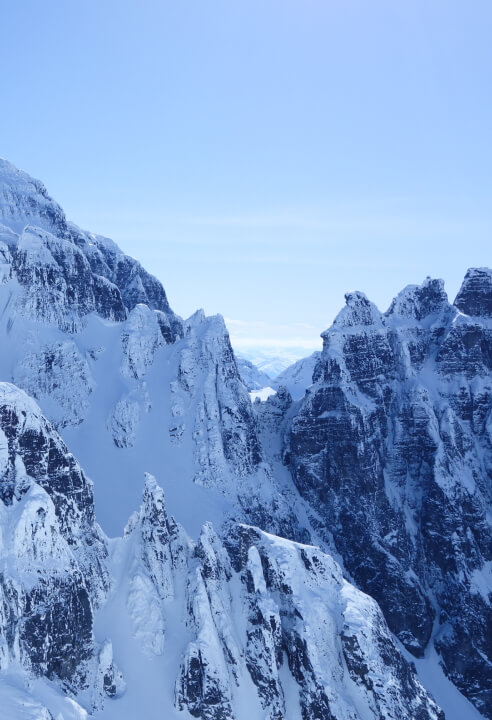 Canada's ski and snowboard paradise
Set on the west coast of Canada, between the Pacific Ocean and the Rocky Mountains, British Columbia offers a fantastic network of hut-based skiing in ideal terrain. Its lakes, rivers, forests and jaw-dropping alpine landscapes make this a paradise for outdoor enthusiasts.
About 75% of the area is mountainous, with countless peaks over 3,300 ft (1,000 metres) above sea level. The high mountain regions boast a subalpine climate ideal for winter sports while frequent storms serve up legendary oh-so-deep powder. Stormy periods are interrupted by plenty of bluebird days ideal for high alpine ski mountaineering and ventures into the boundless backcountry.
REMOTE LOCATIONS
BOUNDLESS TERRAIN
COZY HUTS FOR A BASE
FRESH DRY POWDER
DEEP RELIABLE SNOWPACK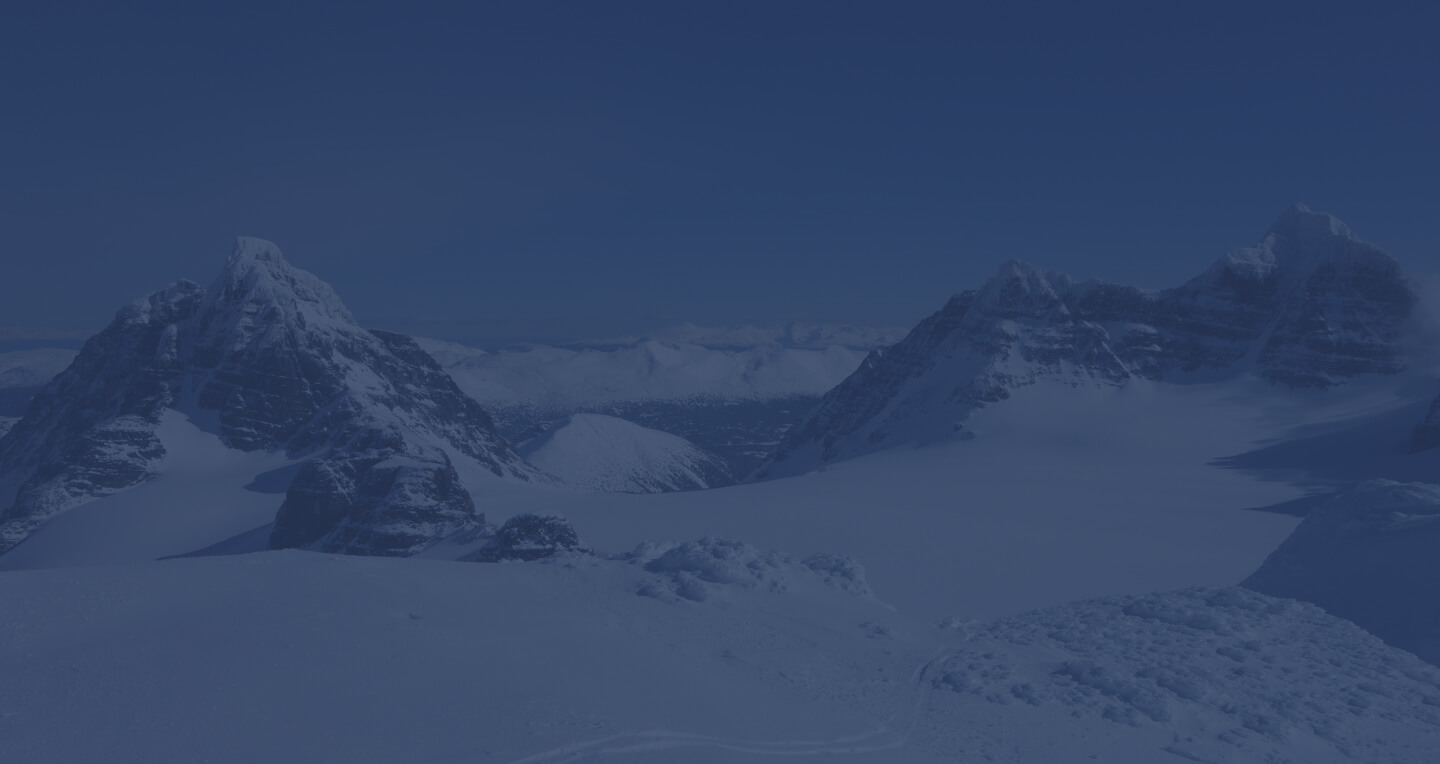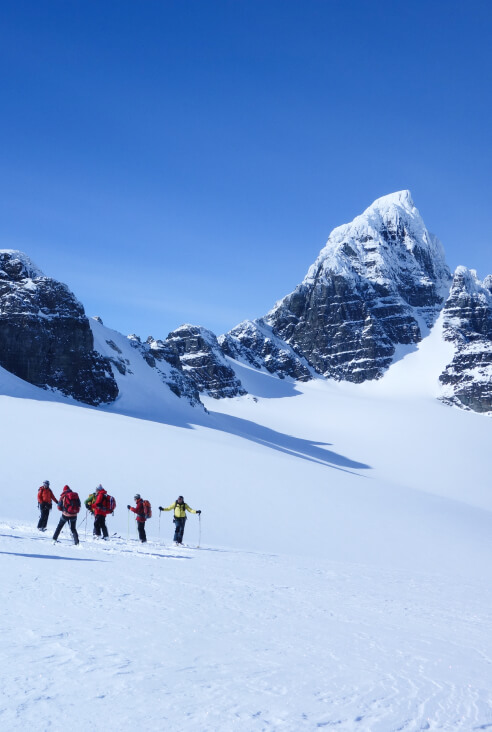 Shred, recharge, repeat!
Starting in the '90s, British Columbia embraced the idea of combining the comforts of home with world-class skiing just out the front door. Sprinkled throughout the Colorado Rocky Mountains, you'll find 34 backcountry lodges—your perfect getaways hidden deep in Western Canada's fabled snow.
Spend eight days in the pristine backcountry with a local guide, and after earning your turns, enjoy the unspoiled alpine views from a cozy, warm hut. Each hut is totally unique—a testament to the hard labors of those who built these hospitable refuges. They are situated in an ideal skiing terrain and they will be your safe haven after days spent on the slopes.
Legendary powder and perfect skiing conditions
B.C. is most known as the birthplace of pillow and heli-skiing, but this huge tract of land provides something for every skier—alpine bowls, steep couloirs, basins, long verticals, Nordic trails and gentle slopes, glades, and ice climbing towers (for those that want to spice things up).
Below are some of the best-known locations that provide comfy huts, diverse terrain, and the premium dry pow you are seeking.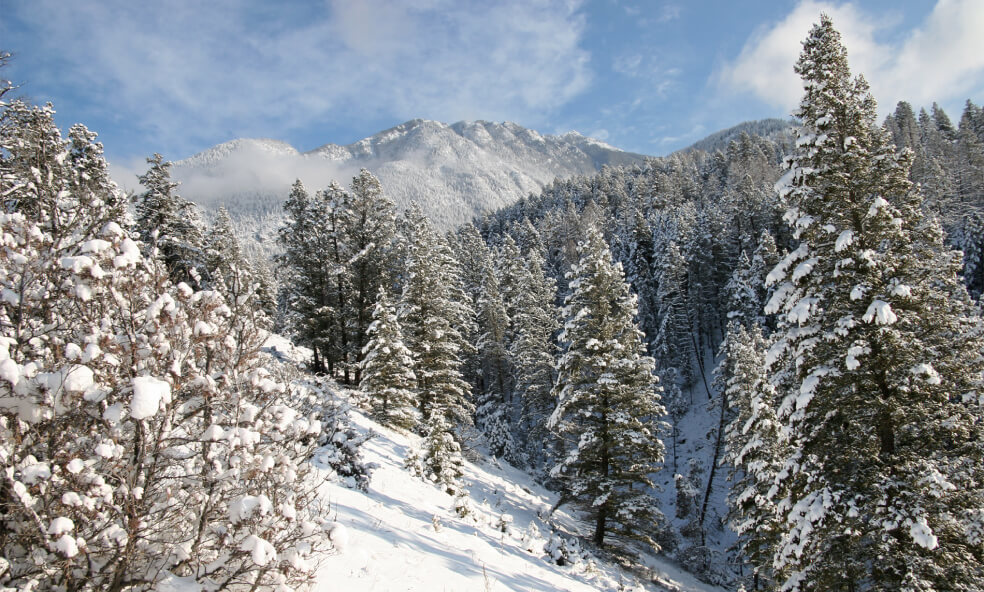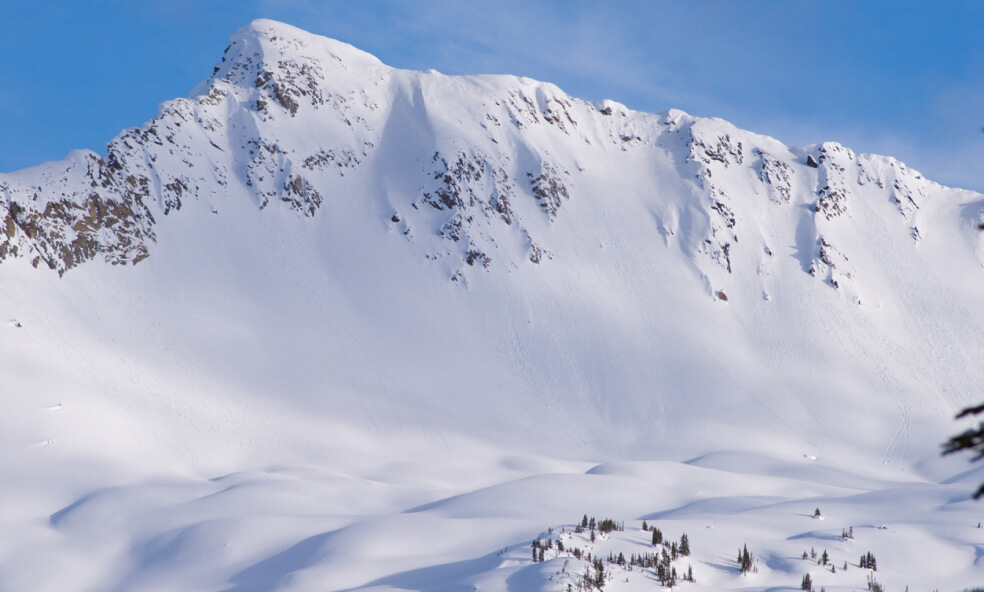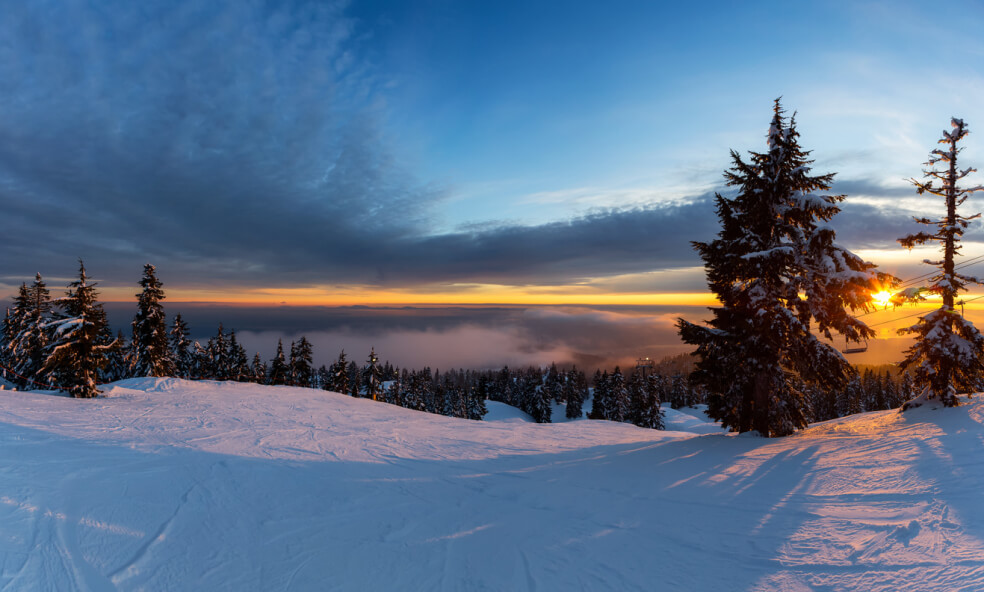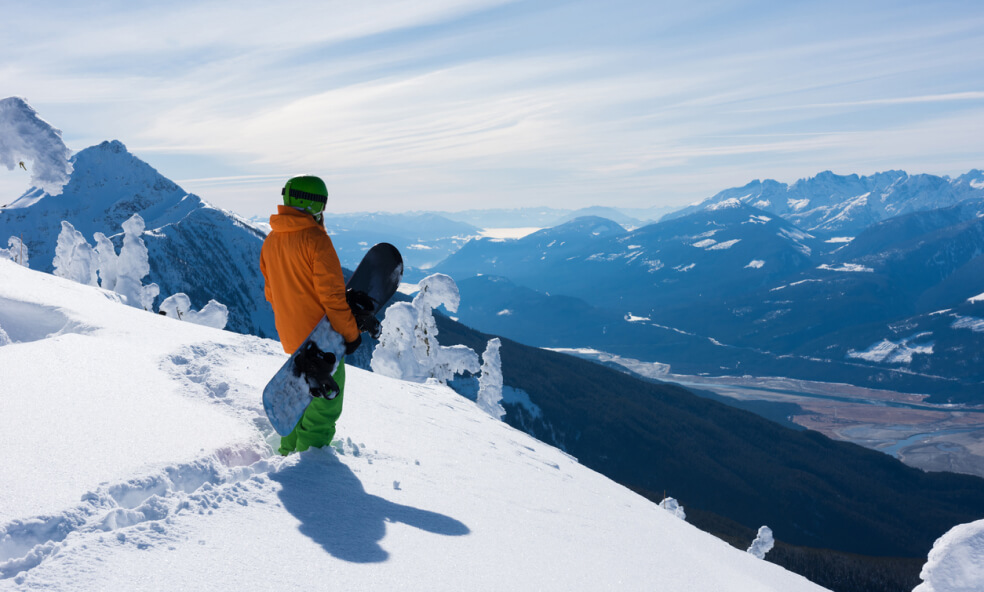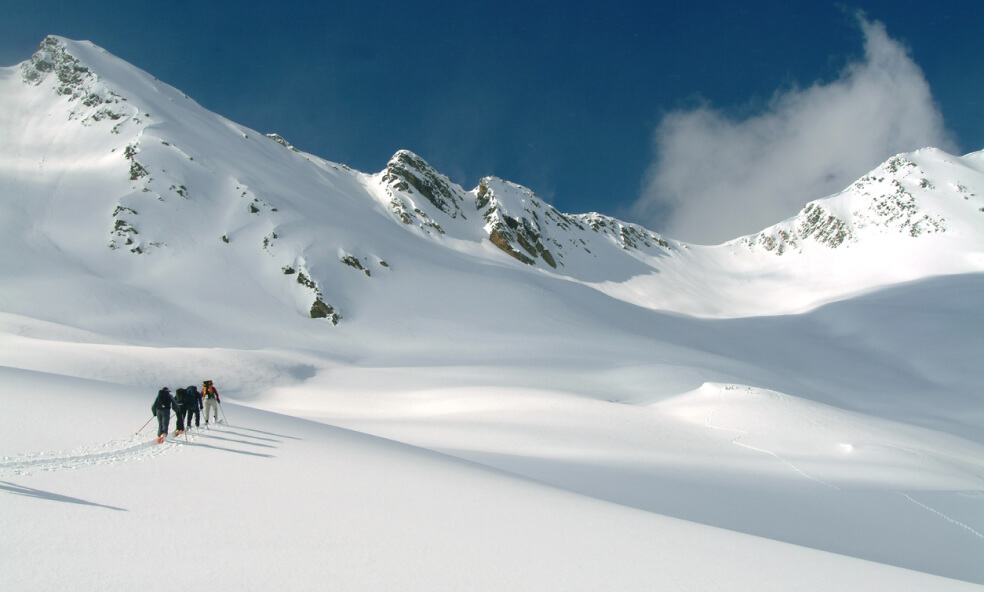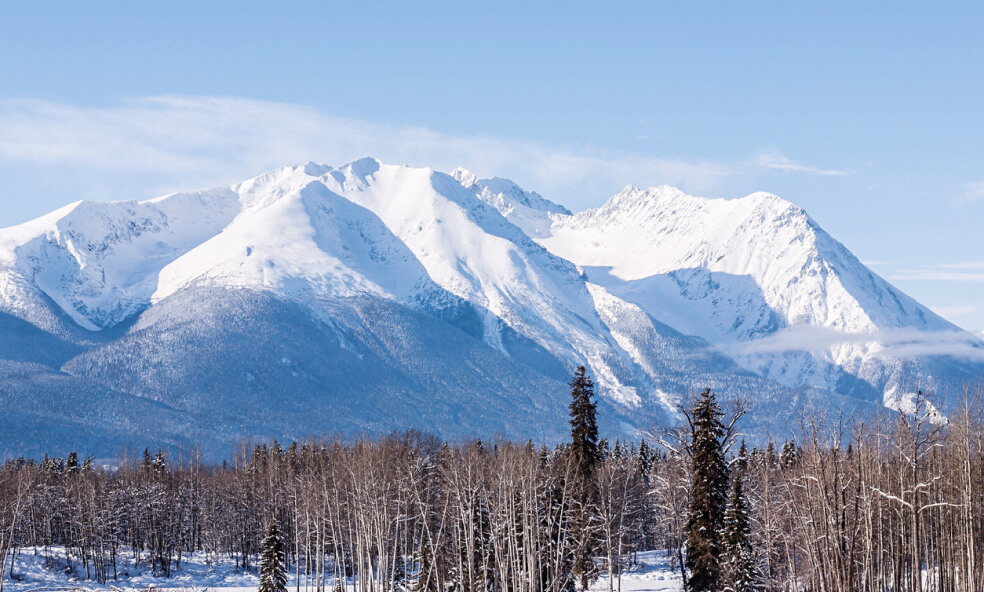 Kootenays
Encompassing four mountain ranges—the Rockies, Purcells, Selkirks, and Monashees—the Kootenays are grounded in mountain culture and artistic lifestyles.
Famed for clear lakes, stunning waterfalls, and enormous snowy peaks, this winter wonderland of southeastern B.C. offers a myriad of backcountry adventures. The endless terrain around Nakusp, Nelson, and Revelstoke are just some of the main attractions that make adrenaline seekers visit the Kootenays year after year.
Selkirks
The Selkirks are a subdivision of the Columbia Mountains and part of the Kootenays Mountain range. Extending for 200 miles (320 km), its northern peaks exceed 10,000 ft (3,000 m).
With miles upon miles of thrilling skiable terrain, the Selkirks boast a variety of routes, from subalpine bowls to gladed runs, ridges, and everything in between.
Golden
Located in the Selkirk Mountains, Golden is home to the Kicking Horse Mountain Resort. It boasts expansive and uncrowded terrain with easy access for expert and advanced skiers.
There's anything and everything in Golden to suit a variety of tastes—you'll discover deep chutes, glade skiing, pillow lines and just about anything else you can think of.
Revelstoke
Situated on the banks of the Columbia River in the Kootenays, west of the Selkirk Mountains, Revelstoke is one of the world-known ski hubs. Norwegian immigrants brought skiing to Revelstoke in the late 19th century, and ever since, the area has been gaining more popularity among outdoor enthusiasts.
And it's no wonder—the quality of the powder over 3,121 acres to shred, and the biggest vertical drop in North America at 5,620 feet (1,713 m) make Revelstoke a bucket-list destination!
Rogers Pass
Considering it's one of the most famous backcountry skiing locations in Canada, Rogers Pass offers a lot of uncrowded terrain and virgin snow.
With perfect diamond dust powder, 40 feet of snow annually, and terrain for all skill levels, it truly has it all. Bowls, traverses, moraines, chutes, long runs, glades, and more await in the iconic Pass!
Smithers
Located at the foot of Hudson Bay Mountain, Smithers combines world-class skiing with small town charm. With plenty of bluebird days and friendly community, Smithers provides a consistent high quality experience for every ski enthusiast.
Surrounded by hundreds of miles of untracked snow (there is literally more wildlife there than there are people), the remote and beautiful backcountry terrain allows you to ski from November through May!
Experience the best backcountry ski touring lodges in BC
Eight days of adrenaline and fun
Exciting days and relaxing evenings
Although your day-to-day plans might change depending on the conditions, the general itinerary consists of eight days full of epic fun in the backcountry.
Each morning you'll have a briefing before heading out for the day. No matter where you end up, your local guide will choose the appropriate terrain dependent on conditions and the ski ability of the group. In the evening, you will discuss goals and options for tomorrow while enjoying gourmet food prepared by a professional chef. Enjoy your favorite cocktail or a beer and relax in the wood-heated sauna before hitting the sack for a night's rest.
British Columbia offers hundreds of square kilometers of alpine and treeline terrain and powder skiing in tree glades, giving you a number of options. Over eight fun-filled days in the backcountry, you'll never have to ski the same line twice!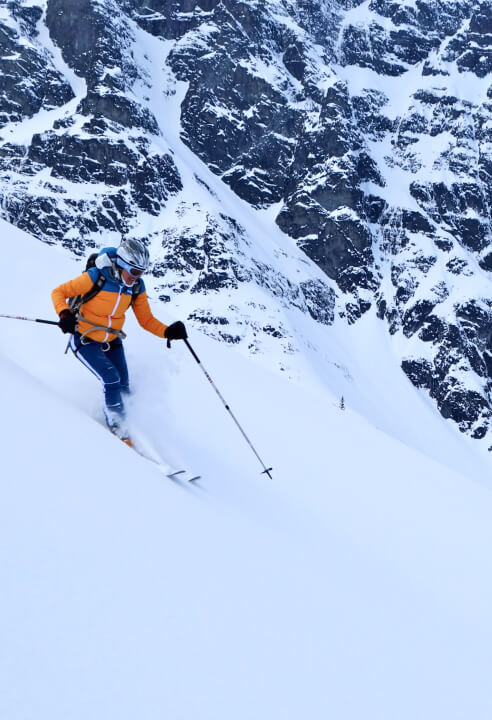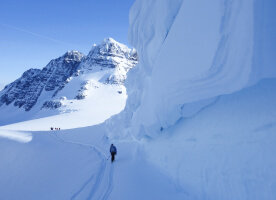 Become a part of the community
One of the best things about the huts is that they're surrounded by ski routes, so the opportunities for exploring are endless. However, the community and friendships formed along the way might be even better!
The hut system is intended for sharing, and if you embrace that philosophy, you are bound to meet wonderful and like-minded people along the way. If you have any concerns about sharing the hut with strangers, just remember that they're looking for the same thing as you—a break from everyday life and a chance to get a sense of adventure in the wilderness.
The days on the slopes may be physically demanding, but they are equally mentally rewarding as well. Meet people from other sides of the world while sharing the same unforgettable experiences! This exciting adventure hosts 11 to 16 ski enthusiasts.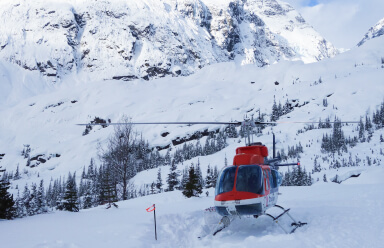 Home away from home in the backcountry
Vista Lodge
Sunrise Lodge
Selkirk Lodge
Valhalla Mountain Lodge
Burnie Glacier Chalet
Vista Lodge
Head for eight days of epic spring shredding near Golden and ski 3600 to 4300 feet per day on average!
Located in the middle of an alpine meadow at the edge of Vista Lake, the Vista Lodge sleeps up to 12 guests plus guides and a professional chef.
Vista Lodge is famous for its perfect position within the range and superb spring skiing. Head out for eight days of ski touring. No matter where you end up, your guide will choose the appropriate terrain depending on conditions and the ski ability of the group.
The area offers more than 37,400 acres (150 square km) of non-glaciated alpine and treeline terrain, meaning you can choose from a number of options and locations, such as the Cupola Peak (8662 ft / 2,640 m), an easy knife-edge climb from the ridge.
The Esplanade offers a myriad of opportunities, from the sunny south face and a portal to the big alpine zones off Cherub Glacier, to big 3,000 ft (915 m) vertical north facing runs—you'll never have to ski the same line twice!
Board a helicopter that will take you to the lodge which sleeps up to 12 guests plus guides and a professional chef. Each evening, discuss goals for the next day while enjoying your favorite cocktail and gourmet food prepared by a professional chef, and relax in the wood-heated sauna before hitting your room for a night's rest!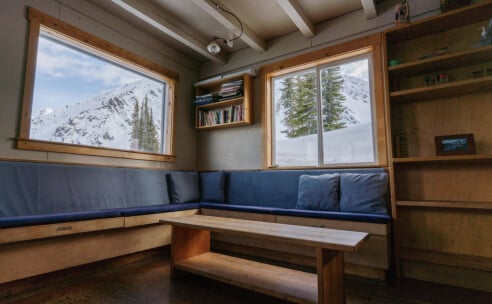 Sunrise Lodge
Enjoy stunning views of Rockies and Purcells from one of the "original three" chalets built back in the 1990s. The Sunrise Lodge offers the best terrain for storm skiing and the best snowpack of the bunch!
This cozy and spacious lodge hosts up to 12 guests and 4 expert guides in eight bedrooms. It has no Wi-Fi, but you'll spend your days exploring the backcountry and relaxing in a sauna anyways!
Located at the headwaters of Wisted Creek, Sunrise is the southern gateway to the amazing Esplanade Range. Adding to its uniqueness, Sunrise Lodge offers unlimited terrain, storm skiing and snowpack that is unmatched in the Selkirks!
There's no better spot for ski touring in Canada—the best pow, amazing location and a cozy hut for relaxing evenings make for a perfect combination. Your guides will take you to the hidden locations where you can ski fresh tracks all the time.
One of the closest tenures to the world-famous Rogers Pass, Sunrise is home to great Selkirk skiing—minus the crowds! You can expect lots of alpine and treed lines here, with everything from gentle open slopes to steep pillow lines.
After a helicopter ride to the lodge that can host up to 12 people and 4 guides. It has no Wi-Fi, but you'll spend your days exploring the backcountry and relaxing in a sauna anyways! Your week at Sunrise also includes superb meals prepared by a chef who consistently amazes guests with beautiful, tasty, and abundant food.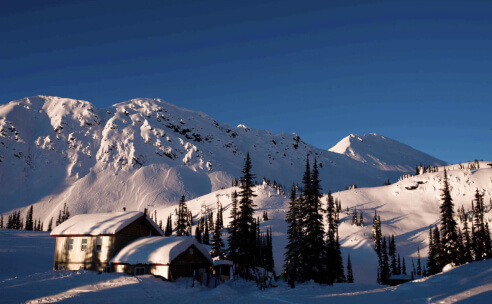 Selkirk Lodge
The Selkirk Lodge offers plenty of bluebird days, lack of crowds, and amazing steep runs. Its perfect position in the Albert Icefield area lets you enjoy your days to the fullest!
With indoor plumbing, shower, solar electricity, and internet access, you will instantly feel at home. The lodge hosts 14 people in one-, two-, and three-person bedrooms.
Selkirk Lodge is a perfectly rustic yet stylish lodge tucked away on the west side of the Columbia Mountains. Perched at 7,200 ft (2,200 m) in the Albert Icefield area east of Revelstoke, it's just steps away from a backcountry skiing paradise.
The snowpack can get up to 10 feet deep and the temperatures are ideal for low density cold smoke powder, while the big and steep lines are the perfect match for the intermediate and advanced skiers. Get your adrenaline pumping skiing down the beautiful but challenging tree glades that BC is famous for!
After a helicopter ride to the lodge that can host 14 people, spend 8 days exploring this hidden gem of a location, familiar only to locals. Some of the best areas for alpine runs are Ruby Peak and Big Sister Mountain. The second your skis carve through the first layer of untouched powder, you won't want to leave.
Enjoy amenities like indoor plumbing, shower, solar electricity, and internet access. After a fun-filled day, relax over a scrumptious après ski snack, while the chef concocts a delicious dinner. When the day is over, relax in a sauna to unknot sore muscles in time for another day of skiing. Join your guide on this unforgettable adventure and ski for miles on end!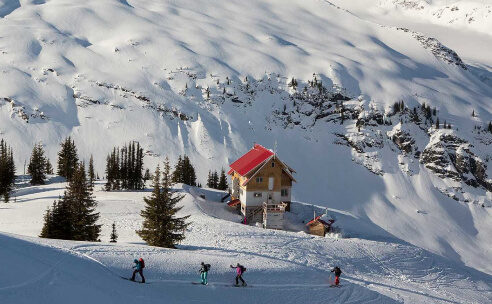 Valhalla Mountain Lodge
Offering top skiing since 1987, Valhalla Mountain Lodge boasts the best terrain, epic snowfall, and perfect temperatures. With terrain for every ability, from novice to extreme, everybody will find something for themselves.
The lodge hosts 11 guests in 5 separate bedrooms. It offers a homely feel, and warm rooms after a long day in deep powder.
With some weeks seeing over 55 inches (140 cm) of snowfall, British Columbia's snowbelt is ideal for backcountry skiing! Experience a helicopter ride on the way to the cozy Valhalla Mountain Lodge, and have fun in the ten skiable basins just a short ski from the front door, with terrain for all skiers—those looking for cruisy mellow runs to those going for extreme descents.
Explore the best terrain and the best ski slopes in the Kootenays, try out tree skiing or simply enjoy the fresh powder and solitude of Valhalla Provincial Park. Incredible terrain combined with epic snowfall and perfect temperatures results in nothing short of heavenly conditions!
After a full day of enjoying deep powder, return to your luxurious and warm lodge that hosts 11 guests. Make the most of your trip by skiing for hours on end through deep powder lines, and recover from the day in an enticing sauna. Top it all off with a delicious meal prepared by your very own cook!
The lodge has been the top destination for all ski enthusiasts since 1987, before most other backcountry lodges in the "Koots" were even imagined. It offers a homely feel, and warm rooms after a long day in deep powder. Experience the perfect combo of adventure and relaxation, and make the most of your week on Kootenay pow!
Burnie Glacier Chalet
The conditions in the Burnie Glacier Chalet area might allow you to experience alpine mountaineering. WIth 2,300 ft (700 m) tree runs and 4,600 ft (1400 m) glacier runs, it offers superb glacier travel mixed with alpine passes and treed gulleys.
Head to the chalet near Smithers and enjoy your days in four bedrooms, each sleeping from 2 to 4 guests.
Welcome to big mountain skiing where big, stable snowpack is the norm. You'll depart Smithers via helicopter for eight days of backcountry skiing and mountaineering in Northern Canada, pushing peaks and carving big turns through massive slopes of untouched powder.
Perfectly situated for ski touring below the Burnie and Solitaire Glaciers, the Chalet is close to some exciting 2,300 ft (700 m) tree runs and 4,600 ft (1400 m) glacier runs. Burnie Glacier offers spectacular, rugged alpine terrain. Choose between the gentle glacier runs, steep tree runs for adrenaline seekers, or incredible ski mountaineering trips high into the alpine.
There'll be lots of cold, deep snow, and don't be surprised if the conditions allow you to experience some big alpine mountaineering trips, too. The terrain appeals to strong skiers as it has many demanding glaciated lines, rugged peaks, and excellent tree skiing for stormy days.
Relax in the lodge with spectacular views of the towering Hut Peak, Burnie Glacier, Solitaire Ski Peaks and Lakehead Peak. There are four bedrooms in the lodge, each sleeping from 2 to 4 guests. In the evenings, find yourself lounging around the dining table while wood crackles in the cookstove and a dinner prepared by a chef simmers on top. Kick back with a cold beer in the cedar sauna and get ready for a new day on the slopes!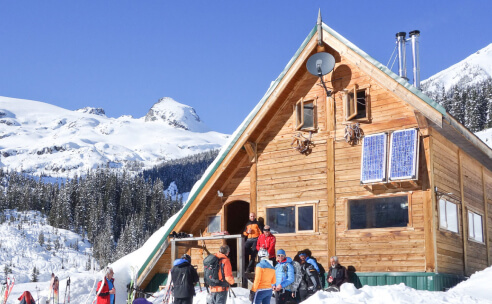 Your guides
Tom Wolfe is an ACMG/IFMGA-certified mountain guide who's been guiding since moving to Canmore in 1995, the place he calls home. He guides year-around, with winters being a mix of ski guiding at lodges, heli-ski operations, and remote backcountry destinations throughout western Canada.
Rob Coppolillo is a AMGA/IFMGA guide who runs ski and climbing trips all over the world — from the Rockies to the Dolomites. We tour at least once a year with him because he always brings out the best in us wherever we go and whatever the objective. Rob is the owner of Vetta Mountain Guides, based out of Boulder, Colorado.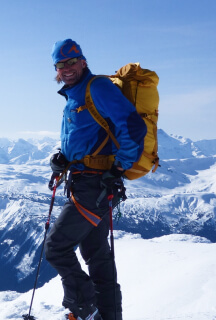 Tom was professional, well equipped and well prepared! The snow conditions we experienced at Sunrise Lodge made it imperative to have a guide with experience to keep us safe yet challenged. Hope to ski with Tom and his crew again soon.
I've now spent 9 days in the mountains with Tom of Sawback Alpine Adventures. Tom is methodical in his snowpack analysis and does a great job of breaking down all the steps he takes to be safe. If you are keen on learning how to safely push your limits on snow, Tom does a great job on balancing safety and fun. My trips with him have always seemed to fully embrace the new slogan "send and return" where there is an equal amount of fun turns and exciting climbs as there are snowpack and weather observations.
Tom Wolf was our back country ski guide for a week at the Selkirk Lodge 1/2020. He and the other guides over delivered everyday. Tom not only knows where to ski for amazing runs but makes sure it is safe. He handles group dynamics and made sure everyone's needs where taken care of. He is just a super fun guy to hang with besides – out skiing or around the dinner table he is super fun to talk and joke with – just like an old friend and ski buddy. As soon as Covid restrictions are lifted for us Americans I plan to book a BC ski trip with him again- He's the real deal and one of the best.
Tom Wolfe was our guide on a Jan 2018 trip to Burnie Glacier in northern BC. We had the whole range of conditions of conditions from *cold* deep snow to near melting point conditions. He did a great job along with his assistant guide (name escapes me now – from Quebec) of finding places to ski with the existing/variable conditions, (despite having a terrible cold for part of the time, where he broke trail nearly all day in *deep* snow with no complaints). I'd recommend his guide services any time!
I feel very fortunate to have met Tom several years ago on a trip he was guiding to Burnie Glacier Chalet. I've now had the opportunity to ski with Tom extensively, including a week of skiing at Sunrise Lodge in the Esplanade Range this winter, and I will be skiing with him in Svalbard, Norway on his sail & ski trip in a couple of weeks, and I've already booked a week long trip to Selkirk Lodge with him in 2020. Having spent countless hours, days, weeks, and months skiing, climbing, and learning from IFMGA guides, I feel confident saying you can't go wrong with Sawback Alpine Adventures and Tom Wolfe!
My family and I had the adventure of a lifetime. It was an incredible experience and Sawback did an excellent job. We would highly recommend the trip and Tom to everyone.