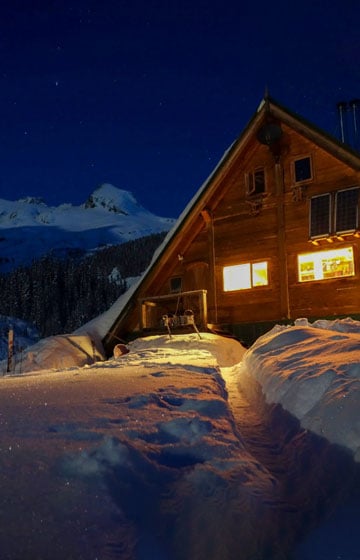 Backcountry Skiing from the Remote Huts of British Columbia
"Unlike places such as Utah or Colorado, BC snow stays good up to two weeks after a storm! Here, skiing legendary powder is not a matter of luck, but of certainty." — Viktor Marohnić, 57hours founder
There's no two ways about it—British Columbia lives and breathes skiing. Known for its legendary snowfall, big alpine zones, and world-class hospitality, Canada's backcountry capital is all pristine powder and peace of mind.
Hidden deep in the chilly heart of the Columbia ranges, ski touring lodges are your ticket to big mountain skiing. Right from the hut's doorstep you'll enjoy boundless areas of untracked snow and a myriad of gladed and alpine runs, all in the company of fellow snow-seekers.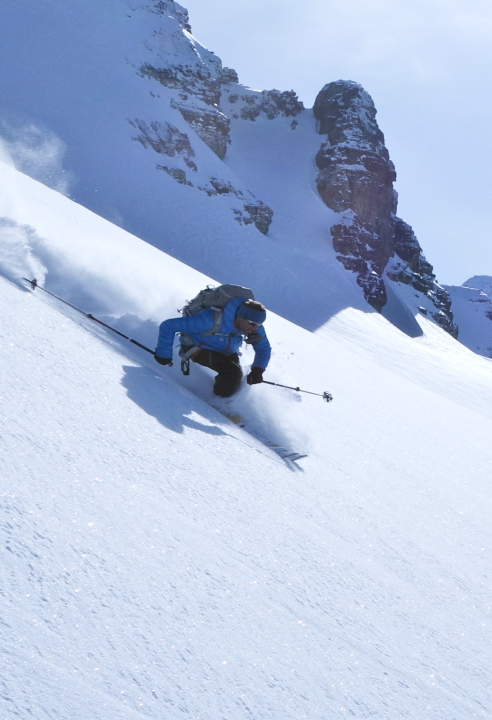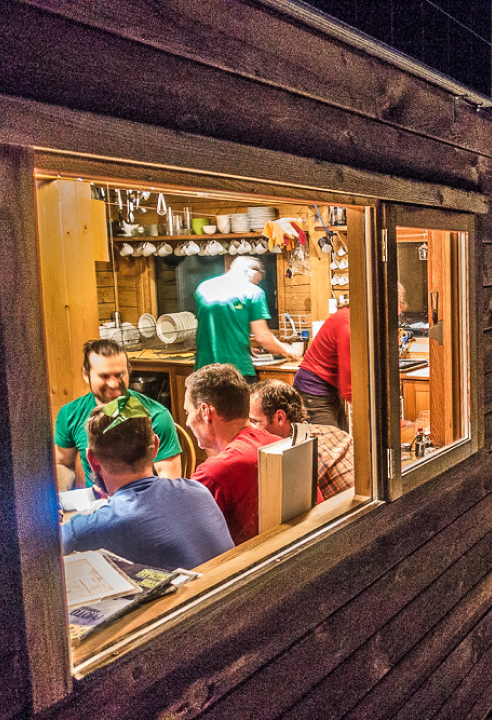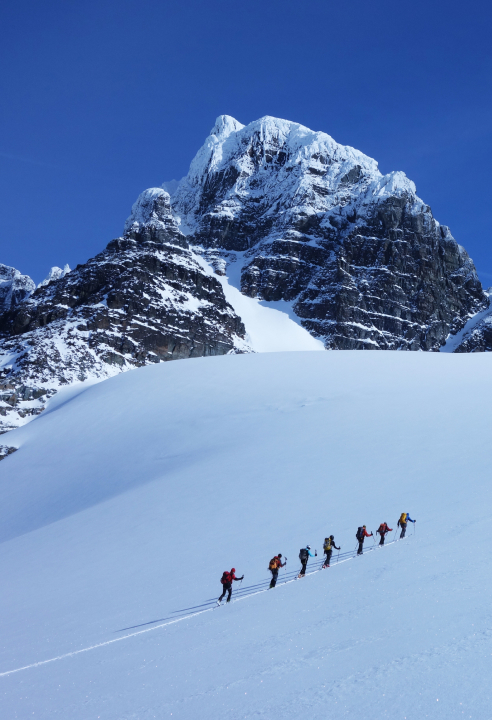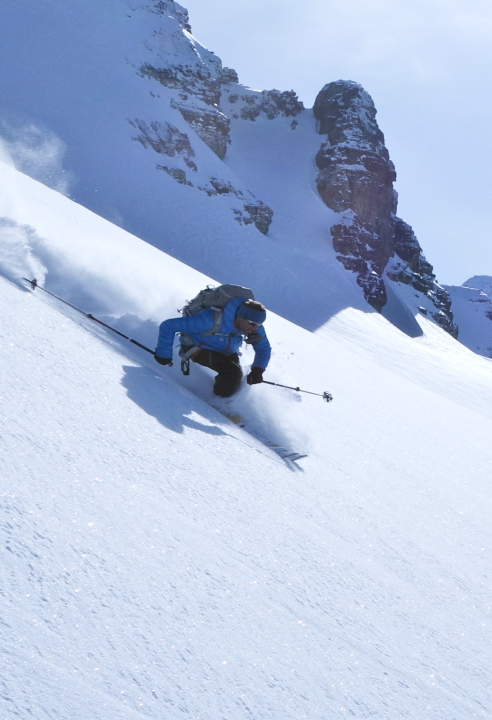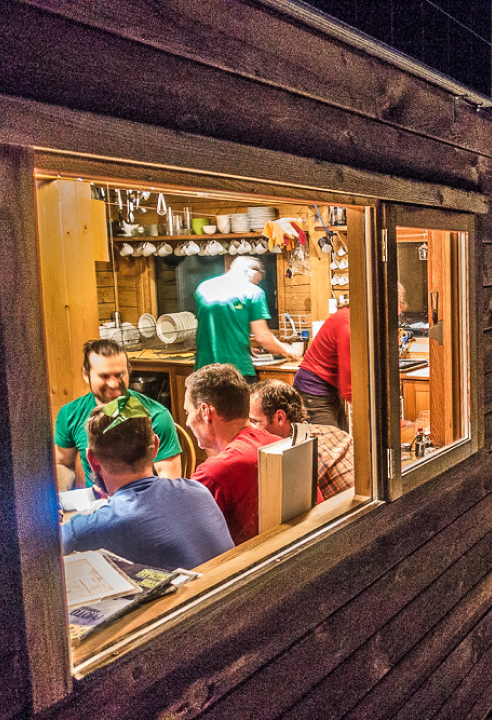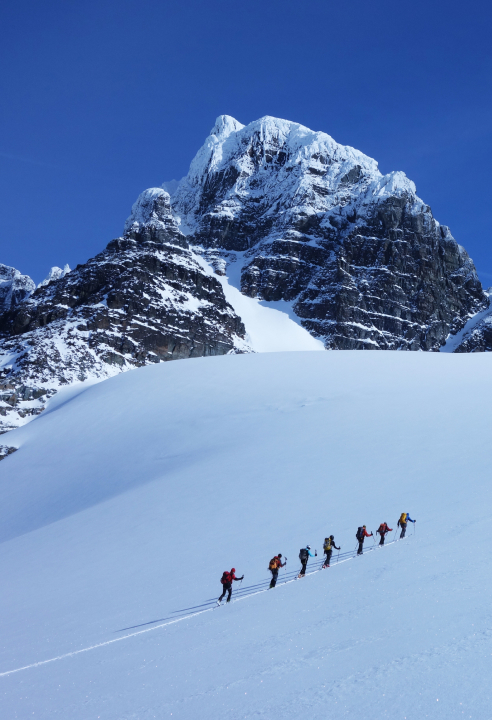 Snow like nowhere else on Earth
So what makes British Columbia a backcountry skier's dream?
Come September, when cool, moisture-laden snow clouds stack up along the west edges of the mountain ranges and the powder stashes start piling up to the peaks, there's no better place in the world to be. Endless meadows, wide-open bowls, and dreamy pillow lines—you've got to ski it to believe it.
BC boasts beautiful slopes ranging from gentle glacier runs suitable in most conditions to steep tree runs for high-hazard skiing. Stormy periods are interrupted by plenty of bluebird days ideal for high-alpine ski mountaineering, and the utter remoteness means you won't cross a single ski track.
REMOTE LOCATIONS
RELIABLE SNOWPACK
BOUNDLESS TERRAIN
COLD SMOKE POWDER
COZY HUTS FOR A BASE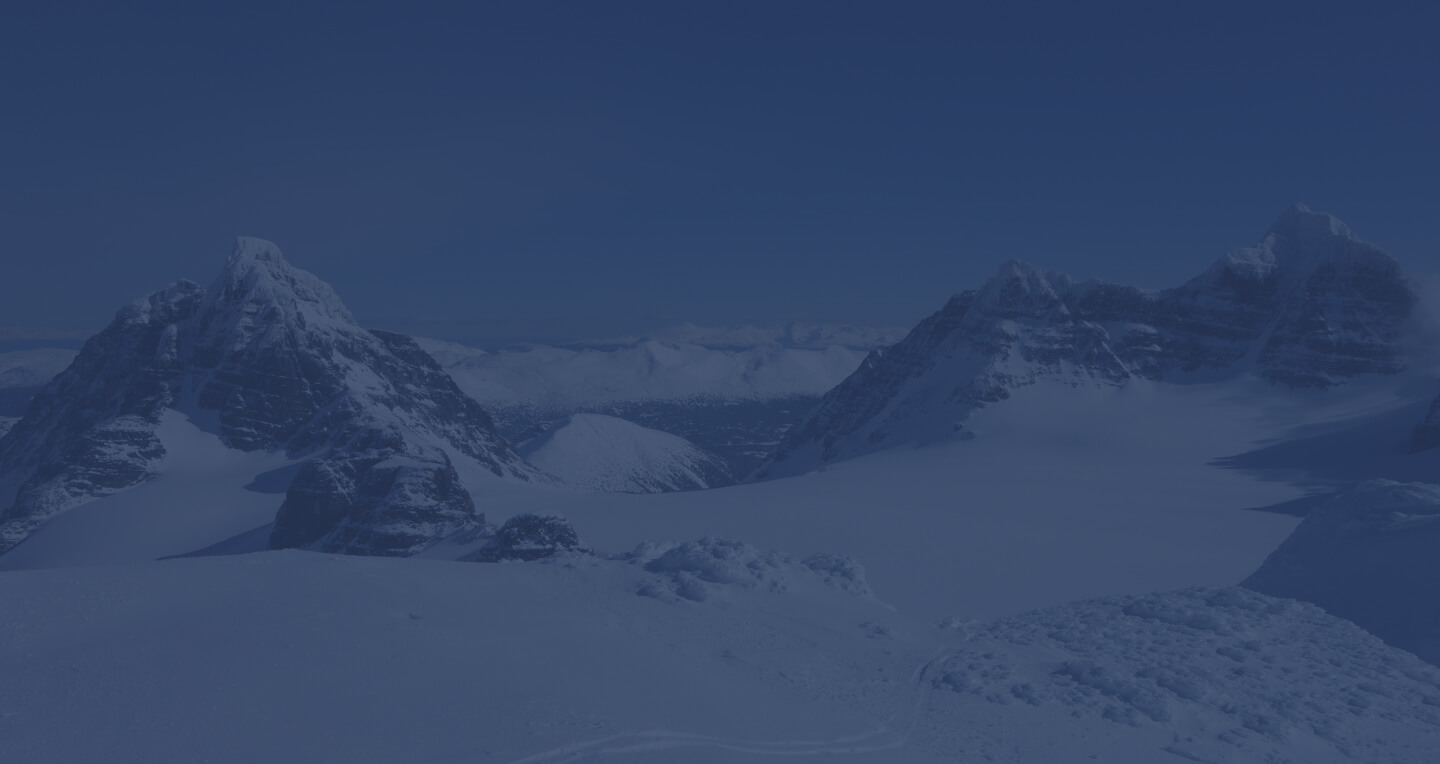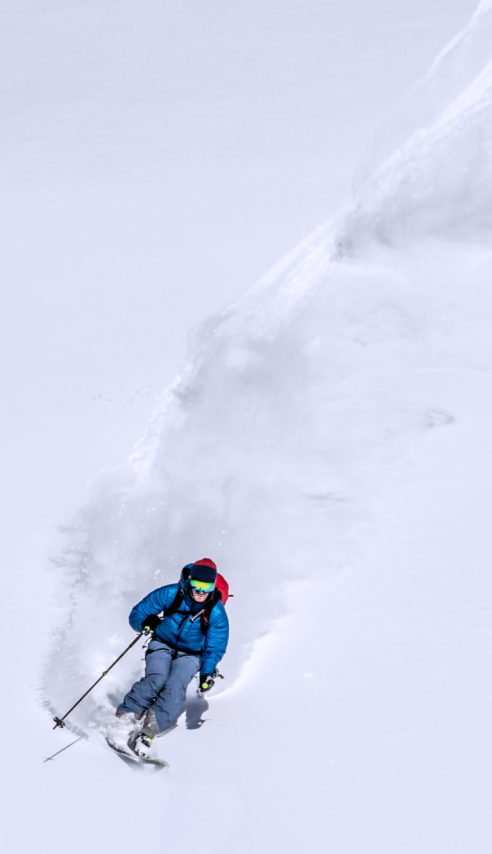 Eight days of deep powder and great food
Pick your tempo and
never miss a beat
Every morning you'll get to choose your skiing group for the day. If you're happy with intermediate-to-advanced runs up to 1,500m, then the Classic pace is for you. But if you're still feeling sore from the previous day or don't feel like doing more than 1,100m, then Relaxed is the way to go.
This way every member gets the chance to make the most of their time on the snow without feeling slowed down or left out. In the brilliant BC backcountry, nothing stands between you and the perfect run, and your guides will make sure of that.
Come for the skiing,
stay for the spreads
Between hitting the slopes and hitting the sack, you'll spend the evenings relaxing in your hut. Warm up by the wood stove and pound down some appies or, if you've had a hard day of carving turns, melt away your tiredness in the cedar sauna. There's nothing like working up a good sweat to hit the body's reset button.
Then gather around the dining table and enjoy course after course of gourmet dishes prepared by your own personal chef. It's like dining at a high-class restaurant on top of the world. Lastly, cap off the night with a toast to a great new day in the mountains.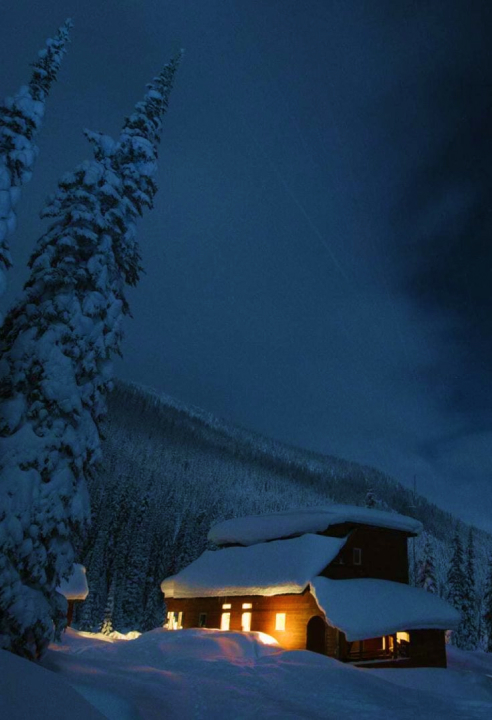 Experience the best backcountry skiing in the world!
Your mountain home
away from home
Backcountry ski huts are uniquely positioned to give you access to varied mountain terrain and cold smoke powder far removed from the resort crowds. Their features and amenities vary, but what they all have in common is great access to untouched slopes right out the door.
The hut system is based on teamwork and sharing, not extravagant luxury—like any good ski touring adventure.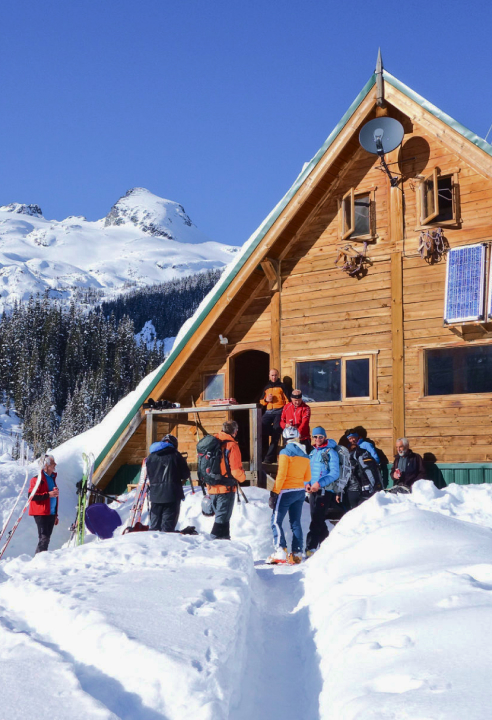 Choose your backcountry ski adventure
Vista Lodge
Sunrise Lodge
Selkirk Lodge
Valhalla Mountain Lodge
Burnie Glacier Chalet
Vista Lodge
Golden, BC
Superb skiing in the Selkirk Mountains
Vista lodge is located inside a gorgeous alpine meadow at the edge of Vista Lake. It has access to five drainages offering a myriad of terrain choices. Vista is also the portal to the big alpine zones off Cherub Glacier to the west.
The lodge is equipped with AC power and a sauna, but has no internet access. It sleeps up to 12 guests plus guides and a professional chef.
One of the best features of Vista Lodge is how easy it is to get to—just 20 minutes from Golden, BC, and with no crowds in sight. Head to its stellar slopes and ski between 1,100 and 1,300m every day!
The area offers more than 150 square km of non-glaciated alpine and treeline terrain, meaning you can choose from a number of options and locations, such as the Cupola Peak (2,640m), an easy knife-edge climb from the ridge.
The Esplanade offers many opportunities, from the sunny south face to big 915m north-facing runs. You'll never have to ski the same line twice!
Each evening, discuss goals for the next day while enjoying your favorite cocktail and gourmet dishes prepared by a professional chef, then relax in the wood-heated sauna before getting some good night's rest.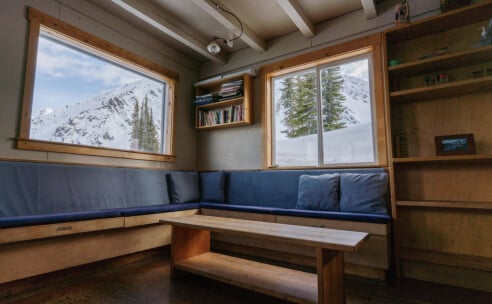 Sunrise Lodge
Golden, BC
Legendary runs, deep snowpack and cold smoke powder
Sunrise Lodge offers the best terrain for storm skiing and the deepest snowpack of the bunch. Enjoy stunning views of the Rockies and Purcells from one of the "original three" chalets built back in the 1990s.
This cozy and spacious lodge hosts up to 12 guests and four expert guides in eight bedrooms. It has no Wi-Fi, but you'll spend your days exploring the backcountry and relaxing in the sauna instead.
Not far from the world-famous Rogers Pass, at the headwaters of Wisted Creek, Sunrise is the southern gateway to the astonishing Esplanade Range.
It's got everything—exquisite pow, a great location, and a cozy interior. You'd be hard-pressed to find a better spot for ski touring in Canada.
Expect lots of alpine and gladed runs, with everything from gentle open slopes to steep pillow lines. Your guides will take you to hidden spots where fresh tracks are in endless supply.
The lodge is reached by helicopter and has no Wi-Fi, but you'll spend your days exploring the backcountry and relaxing in the sauna anyways! Your week at Sunrise also includes delicious meals prepared by a professional chef.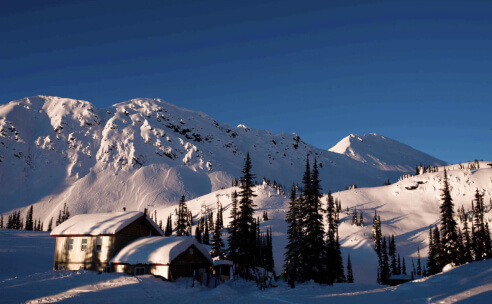 Selkirk Lodge
Revelstoke, BC
Unplug and explore the wilderness at your doorstep
Perched at 2,200 meters in the Albert Icefield area, Selkirk Lodge is a towering achievement in architecture, design and comfort.
With indoor plumbing, a shower, solar electricity, and internet access, you will instantly feel at home. The lodge hosts 14 people in bedrooms for up to three people.
Selkirk Lodge sees plenty of bluebird days, wonderfully steep runs, and has no crowds to speak of. It's a great entry-level hut for those who are new to ski touring but still yearn for exhilarating runs.
The snowpack frequently reaches up to 10 feet, and the temperatures are perfectly suited for low-density cold smoke powder. The steep lines, on the other hand, are favorites among intermediate and advanced skiers.
After a helicopter ride to the location, spend eight days exploring this hidden gem known only to locals. The most popular areas for alpine runs are Ruby Peak and Big Sister Mountain. As soon as your skis carve through the first layer of untouched powder, you'll want to stay forever.
After a big day on the slopes, enjoy a scrumptious après-ski snack while the chef whips up a hearty dinner. Finally, a good sweat in the sauna will unknot those sore muscles in time for a new day of skiing.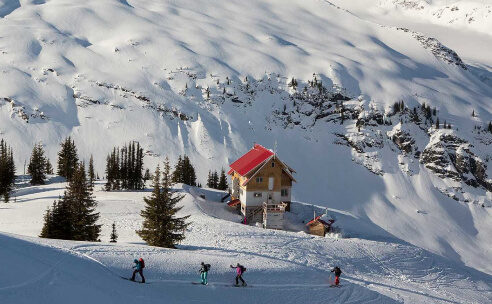 Valhalla Mountain Lodge
Nakusp, BC
Heavenly ski conditions in the heart of the Kootenays
Offering world-class skiing since 1987, Valhalla Mountain Lodge boasts terrific terrain, epic snowfall, and temperatures to die for. Both novices and experts will find enough runs here to fill a lifetime.
The lodge hosts 11 guests in 5 separate bedrooms. It offers a homely feel and warm rooms after a long day in deep powder.
With some weeks seeing over 140 cm of snowfall, the snowbelt of British Columbia is a backcountry skiing paradise. A helicopter ride will take you to the cozy Valhalla Mountain Lodge, where ten skiable basins await near the front door. From cruisy mellow runs to extreme descents, you'll find it all.
The thrilling tree skiing, irresistible fresh powder, and nourishing solitude of Valhalla Provincial Park represent the very best of the Kootenays.
Make the most of your time by skiing through deep powder lines during the day, then kik back and relax in the soothing sauna. Finally, top it all off with a delightful meal prepared by your personal chef!
Valhalla has been the top destination for ski lovers since 1987, when most of the other backcountry lodges in the area didn't exist. It has a homely feel, and warm rooms to nurse you back to life. Experience the perfect combo of adventure and relaxation with a week of crystal Kootenay pow!
Burnie Glacier Chalet
Smithers, BC
Backcountry skiing in Canada's northernmost ski lodge
With 700m tree runs and 1400m glacier runs, Burnie Glacier Chalet offers exciting glacier travel mixed with alpine passes and treed gulleys. The conditions around the lodge might even allow for some alpine mountaineering.
Head to this charming chalet near Smithers and enjoy your days to the fullest. It has four bedrooms, each one sleeping two to four guests.
Welcome to big mountain skiing, where a deep, stable snowpack is the norm. You'll depart from Smithers via helicopter for eight days of pushing peaks and carving big turns through endless fields of untracked powder.
Perfectly situated for ski touring under the Burnie and Solitaire glaciers, the Chalet offers spectacularly rugged alpine terrain. Choose between gentle glacier runs, steep gladed runs, or ski mountaineering objectives in the alpine zone.
Enjoy the spectacular views of Hut Peak, Burnie Glacier, Solitaire Ski Peaks and Lakehead Peak. In the evenings, gather around the dining table for a mouth-watering meal prepared by a professional chef. Afterwards, kick back with a cold beer in the cedar sauna and rest up before a new day in the mountains.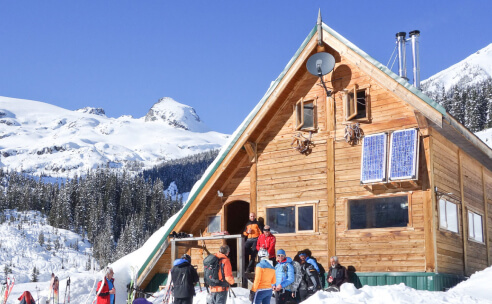 Your guides
Tom Wolfe is an ACMG/IFMGA-certified mountain guide who's been guiding since moving to Canmore in 1995, the place he calls home. He guides year-around, with winters being a mix of ski guiding at lodges, heli-ski operations, and remote backcountry destinations throughout western Canada.
Rob Coppolillo is a AMGA/IFMGA guide who runs ski and climbing trips all over the world — from the Rockies to the Dolomites. We tour at least once a year with him because he always brings out the best in us wherever we go and whatever the objective. Rob is the owner of Vetta Mountain Guides, based out of Boulder, Colorado.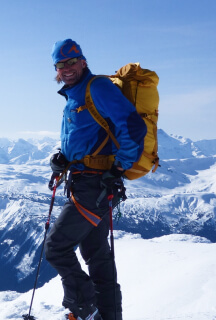 Tom was professional, well equipped and well prepared! The snow conditions we experienced at Sunrise Lodge made it imperative to have a guide with experience to keep us safe yet challenged. Hope to ski with Tom and his crew again soon.
I've now spent 9 days in the mountains with Tom of Sawback Alpine Adventures. Tom is methodical in his snowpack analysis and does a great job of breaking down all the steps he takes to be safe. If you are keen on learning how to safely push your limits on snow, Tom does a great job on balancing safety and fun. My trips with him have always seemed to fully embrace the new slogan "send and return" where there is an equal amount of fun turns and exciting climbs as there are snowpack and weather observations.
Tom Wolf was our back country ski guide for a week at the Selkirk Lodge 1/2020. He and the other guides over delivered everyday. Tom not only knows where to ski for amazing runs but makes sure it is safe. He handles group dynamics and made sure everyone's needs where taken care of. He is just a super fun guy to hang with besides – out skiing or around the dinner table he is super fun to talk and joke with – just like an old friend and ski buddy. As soon as Covid restrictions are lifted for us Americans I plan to book a BC ski trip with him again- He's the real deal and one of the best.
Tom Wolfe was our guide on a Jan 2018 trip to Burnie Glacier in northern BC. We had the whole range of conditions of conditions from *cold* deep snow to near melting point conditions. He did a great job along with his assistant guide (name escapes me now – from Quebec) of finding places to ski with the existing/variable conditions, (despite having a terrible cold for part of the time, where he broke trail nearly all day in *deep* snow with no complaints). I'd recommend his guide services any time!
I feel very fortunate to have met Tom several years ago on a trip he was guiding to Burnie Glacier Chalet. I've now had the opportunity to ski with Tom extensively, including a week of skiing at Sunrise Lodge in the Esplanade Range this winter, and I will be skiing with him in Svalbard, Norway on his sail & ski trip in a couple of weeks, and I've already booked a week long trip to Selkirk Lodge with him in 2020. Having spent countless hours, days, weeks, and months skiing, climbing, and learning from IFMGA guides, I feel confident saying you can't go wrong with Sawback Alpine Adventures and Tom Wolfe!
My family and I had the adventure of a lifetime. It was an incredible experience and Sawback did an excellent job. We would highly recommend the trip and Tom to everyone.