Stone Mountain | North Carolina
Rock Climbing in Stone Mountain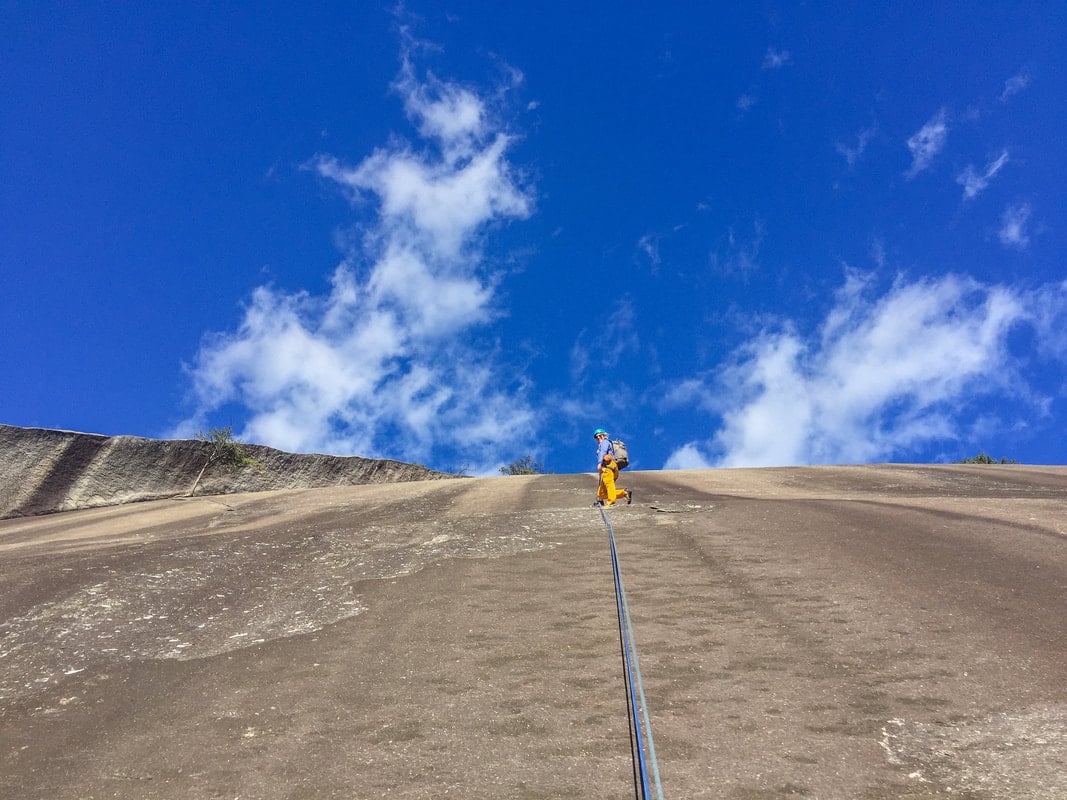 Nearest city
Winston-Salem, North Carolina
Skill level
All skill levels are welcome!
Experience slab climbing at its finest!
Stone Mountain, NC, stands out as a centerpiece of its namesake state park and also some of the best climbing in the East. You'll find a jaw-dropping 600-foot granite dome featuring 100-foot pitches up slabs and cracks, all at a welcoming low angle. While the majority of climbs are on the easier side, Stone Mountain is the perfect venue for developing footwork, balance and refining techniques. Your guide can show you the (literal) ropes allowing you to move through nearly featureless but challenging 40-feet run-outs. Once you get familiar with Stone Mountain, you'll keep coming back for more!
Most Popular Itineraries
A Customized Day of Private Climbing With a Guide
Take your first steps towards a life-long passion for climbing. Regardless of your level, refresh skills and learn how to move more efficiently. Your day of private guided climbing on Stone Mountain is whatever you want to make it! Work with your guide to determine your objectives, then take them on one by one.
Gym to Crag Transition Class
If the gym doesn't cut it for you anymore, it's time to bag your first summit. Look no further than Stone Mountain's welcoming low angles. You'll go over the fundamentals and try out your first discipline of outdoor climbing. Select between top-rope, sport, trad or multi-pitch climbing!
Build upon your existing climbing experiences and up your game with this two or three-day course. If you're looking to lead a trad route, you'll learn how to find the perfect route, proper gear placement and efficient rope management. Plus, gain confidence with clipping, anchor rigging, belaying and falling.
Safety Skills and Self Rescue Clinic
This course proves prevention outweighs the cure. You'll learn AMGA rescue skills to prepare you for safety on the rock. You'll be tested in mock scenarios to make it safely to the ground. You need at least one year of outdoor climbing experience in multi-pitch terrain or as a lead.
Things you need to know
COVID-19 measures
The entire state of North Carolina will remain paused in the Safer at Home Phase 2 through Friday, July 17. This date is subject to change. Face coverings must be worn in public places at all times. Three days prior to your outing, you'll receive an online COVID-19 Screening.
Official COVID-19 updates by the American Government for North Carolina are available here
Why should I book with 57hours?
With us, it's all play and no work for you! 57hours is an open platform that connects you with trained and certified outdoor adventure professionals all over the world. Using our tech-savvy, we make it super easy to find and book adventures worth tackling, with guides worth booking, all gathered from the first-hand experiences of the locals who adventure in these amazing locations.
Why should I go rock climbing?
Rock climbing is more than just a sport; it's problem solving on-the-go. It's a balance of intuition and fluidity of movement. The fun comes from the possibilities — each route with a variety of options and only a fraction of them leading to success. When you finally master a climb, after hours of practice, it transcends mere sport and is akin to art.
What's included?
What you get in this adventure:
An experienced, local rock-climbing guide with extensive knowledge of the area
8 hours of rock climbing each day (depending on your chosen itinerary)
All technical climbing gear
What's not included:
$17.50 per day park fee. NC State Parks charge $35.00 per day for commercial climbing access. Your guide splits this expense with you.
Technical gear list
All technical climbing equipment will be provided by your guiding service. However, if you have your own gear, feel free to bring it. You'll need:
Helmet
Harness with a locking carabiner, belay device, and chalk bag
Rock shoes* (included in the price, but we recommend bringing your own if you have them)
Ropes
Climbing hardware (quickdraws, cam devices, stoppers, etc.)
What do I need to bring?
Here's a list of the equipment we suggest you bring:
Day pack large enough to carry all the items listed (around a 40L bag)
Water bottle
Food you can eat on-the-go
Toiletries (sunscreen, bug spray, toilet paper, etc.)
Sunglasses
Camera — optional
Dress comfortably and for the weather in clothes you can move in. We suggest bringing clothing appropriate for the season. Layers are best and don't wear jeans.
What if I've never climbed before?
No prior experience is necessary. Whether you've never donned a harness or you're a seasoned climber, a guide will help you meet your individual objectives. Above all, your instructor's number one priority is your safety.
What does a typical day look like?
8:30am: Meet your guide at the guide's recommended location
9:30am: Gear up and carpool to the cliffs
10:00am: Start climbing your objective for the day
12:30pm – 1:00pm: Lunch (bring snacks and plenty of water)
1:00pm to 5:00pm: Build upon techniques developed in the morning session and explore additional terrain as time allows
5:00pm: Call it a day and head home
How fit do I need to be?
If you can climb a ladder, you're good to go. Being in good shape is always a plus but far from necessary. Rock climbing is all about using good movement technique rather than muscling up a cliff using brute strength. So don't let your perceived lack of strength keep you away from rock climbing — you've got what it takes.
What is the minimum age requirement?
If you are older than 18 year, you're good to go.
Teens aged 14-17 can go on their own, but a guardian will need to provide a signed waiver before an outing with the guide.
Kids younger than 14 can easily go out and try climbing, but only in the presence of a parent or legal guardian.
What about group sizes and pricing?
Group sizes are usually between 1–3 people with one guide, but you can also go with a larger group of up to 6 people per guide. Climbing days can be arranged for bigger groups. Contact us prior to booking.
Costs per person could decrease as the group grows for private tours, so it's the perfect opportunity to climb with friends and family.
What about bad weather?
As the saying goes, "there's no such thing as bad weather, only bad preparation." You can expect your guides to be fully prepared for anything. Inclement weather can always get in the way of climbing, but your guide will know the best spots to move to if the weather takes a turn.
On the rare occasion of truly bad weather, your instructor will present you with suitable alternatives. The most common practice is to reschedule your climbing to a more favorable day or suitable location nearby, if it exists.
If no options presented were viable to you, you will be issued a full refund.
Cancelation policy
All policies regarding cancellation, rescheduling and trip insurance will be clearly laid out by your guide prior to booking your adventure. Contact us if you'd like more information on a specific adventure.
Getting there and meeting location
Grant Price
AMGA Certified Guide
AMGA certified guide Grant Price offers a decade of outdoor education experience an...
View details
Blue Ridge Mountain Guides
Blue Ridge Mountain Guides
Blue Ridge Mountain Guides give customized, guided rock and ice climbing trips for ...
View details