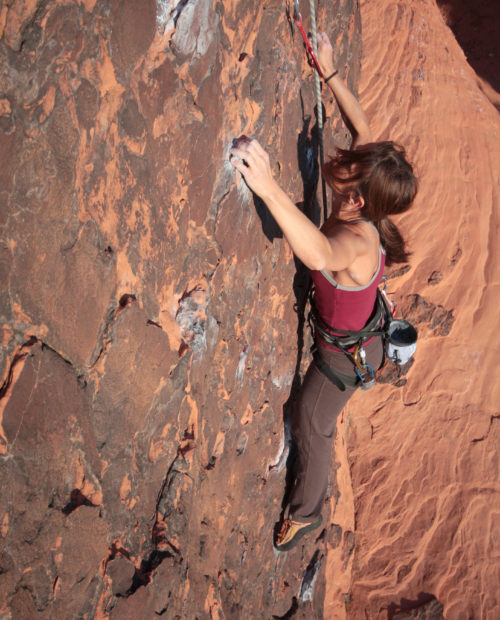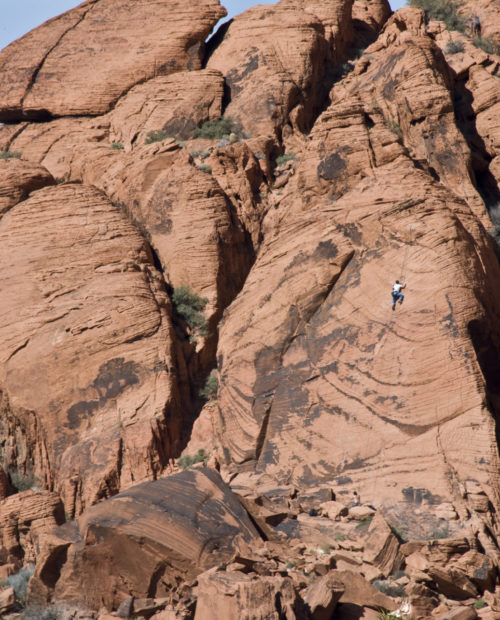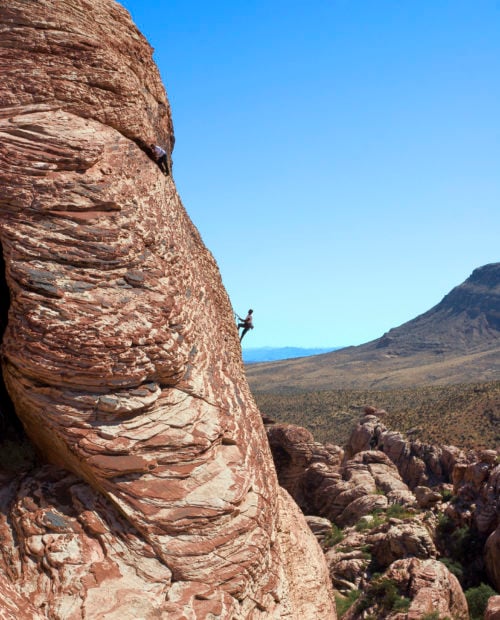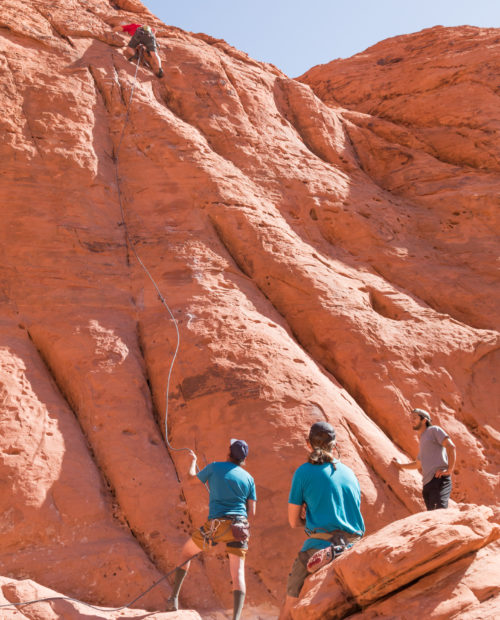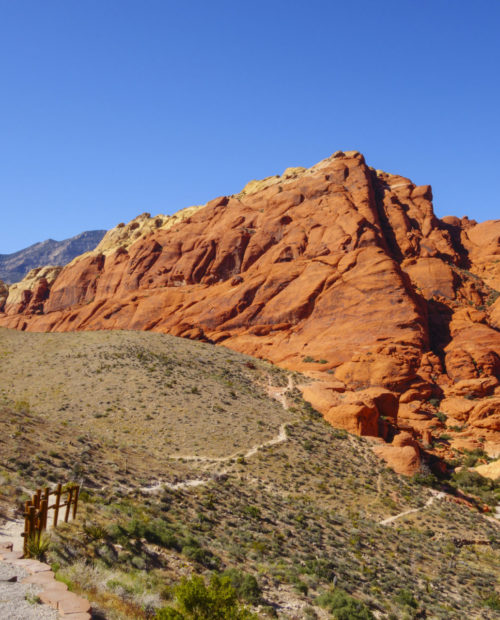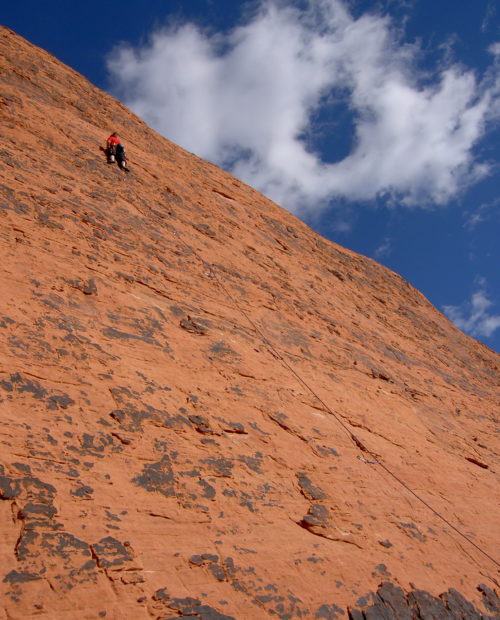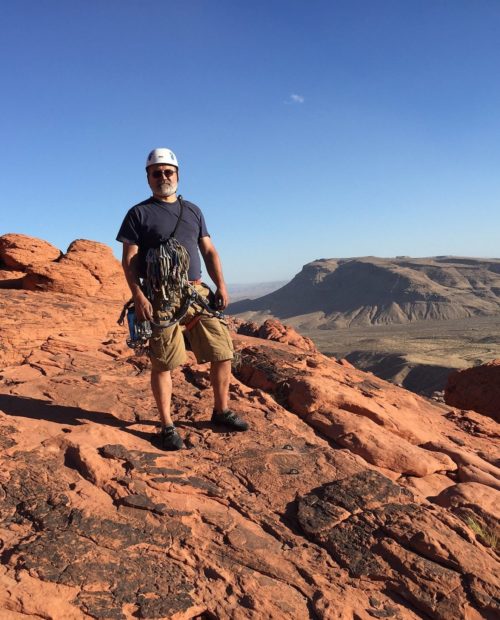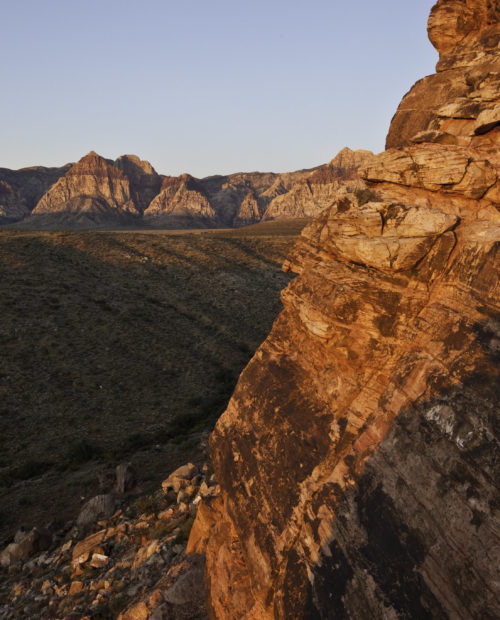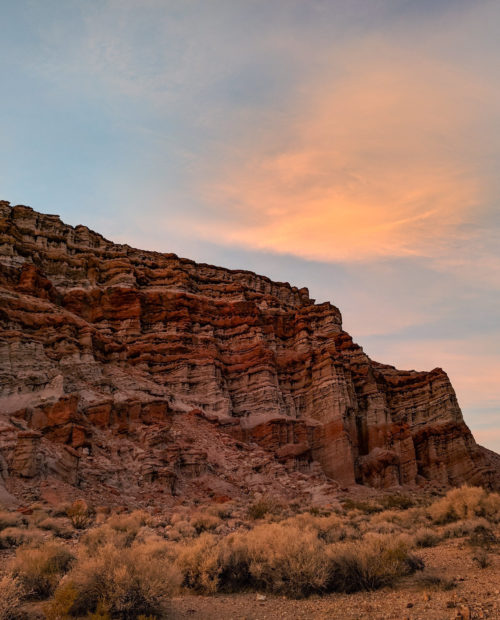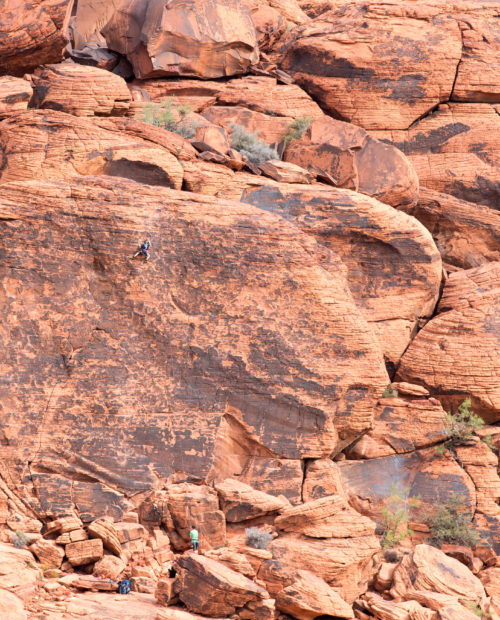 Red Rock Canyon | Nevada
Rock Climbing in Red Rock Canyon
Season
September through May is ideal, but you can climb year-round
Nearest city
Las Vegas, NV, is 20 minutes away by car
Skill level
All skill levels are welcome!
Discover a lifetime's worth of remote climbing near Las Vegas
With Las Vegas' glittering neon lights and casinos as your backdrop, discover crag upon crag of white-banded Aztec Sandstone that forms the Red Rock Canyon. Beginners and pros alike will find endless climbing opportunities in the sprawling desert area. Popular since the 1970s, the Red Rock is so vast there are plenty of undiscovered and unnamed crags. One reason this climbing destination draws admirers is the number of 5.7 sweet-spot routes with incredibly easy access. If you're itching to be challenged, this is the place for you.
Most Popular Itineraries
Full Day of Private Guided Climbing in Red Rock
From $160 per person
·
Full day
With this full day of private climbing, your Red Rock adventure is what you make of it. Don your first harness, brush up on techniques or take on a gravity-defying multi-pitch. AMGA certified rock guide Cody Bradford knows the area by heart and will have the ideal route in mind — be it a classic where you can up your game or a nail biting splitter crack high above.
Half Day of Private Guided Climbing in Red Rock
From $100 per person
·
Half day
Looking to transition from gym to crag? With four hours on the rocks, you'll be introduced to the fundamentals like anchors, belaying and more. Experienced rock heads who want to get a taste of what the Red Rock climbing is all about can expect to improve upon their existing skills while taking on new challenges — all in a half day's work.
Multi-Pitch Rock Climbing Day
From $300 per person
·
Full day
Are you a pro in the making? Red Rock will deliver with a perfect route for your skill level. Maybe you've just learned multi-pitch climbs aren't a bunch of stacked single pitches, or you've mastered more cruxes than you can count. Start off with accessible 5.7 technical classics and all time favorites, then move on to infamous sky-splitting high grades that will humble you.
Things you need to know
Why should I book with 57hours?
With us, it's all play and no work for you! 57hours is an open platform that connects you with trained and certified outdoor adventure professionals all over the world. Using our tech-savvy, we make it super easy to find and book adventures worth tackling, with guides worth booking, all gathered from the first-hand experiences of the locals who adventure in these amazing locations.
Why should I go rock climbing?
Rock climbing is more than just a sport; it's problem solving on-the-go. It's a balance of intuition and fluidity of movement. The fun comes from the possibilities — each route with a variety of options and only a fraction of them leading to success. When you finally master a climb, after hours of practice, it transcends mere sport and is akin to art.
What's included?
This is what you get on this adventure:
A local, certified rock climbing guide with extensive knowledge of the area
A four or eight-hour day on the rocks depending on your chosen itinerary
All the required technical climbing gear
What's not included:
Technical gear list
All technical climbing equipment will be provided by your guiding service. If you have your own gear, feel free to bring it. You'll need:
Helmet
Harness with a locking carabiner, belay device, and chalk bag
Rock shoes* (included in the price, but we recommend bringing your own if you have them)
Ropes
Climbing hardware (quickdraws, cam devices, stoppers, etc.)
Do I need a permit?
There is an entrance fee for Red Rock Canyon. The cost is $15 per car or commercial vehicle — plus $5 per person. A motorcycle pass is $10. For cyclists and hikers who park at the entrance, the cost is $5 per person to enter and enjoy the park. An annual pass is available for $30.
What do I need to bring?
Here's a list of the equipment we suggest you bring:
Day pack large enough to carry all the items listed (around a 40L bag)
Water bottle
Food you can eat on-the-go
Toiletries (sunscreen, bug spray, toilet paper, etc.)
Sunglasses
Camera — optional
Dress comfortably and for the weather in clothes you can move in. We suggest bringing clothing appropriate for the season. Layers are best and don't wear jeans.
What if I've never climbed before?
No prior experience is necessary. Whether you've never donned a harness or you're a seasoned climber, a guide will help you meet your individual objectives. Above all, your instructor's number one priority is your safety. As long as you listen to the given instructions, you'll succeed in completing your climb.
What does a typical day look like?
9:00 am: Meet with the guide and check over gear
9:30 am: Gear up and carpool to the cliffs
10:00 am: Spend the day climbing or learning techniques (based on your chosen itinerary)
12:30 pm – 1:00 pm: Lunch (bring snacks and plenty of water)
1:00 pm – 5:00 pm: Keep climbing and build on skills from the morning
5:00 pm: Return to Las Vegas
How fit do I need to be?
If you can climb a ladder, you're good to go. Being in good shape is always a plus but far from necessary. Rock climbing is all about using good movement technique rather than muscling up a cliff using brute strength. So don't let your perceived lack of strength keep you away from rock climbing — you've got what it takes.
What is the minimum age requirement?
If you are older than 18, you're good to go.
Minors under the age of 18 are welcome to climb, but a parent or guardian will need to provide a signed waiver before an outing with the guide and in some cases the parent or guardian must be present
The minimum age requirement is 10 years old
Please contact us if you're travelling with minors interested in climbing and we will pair you with the appropriate guide
What about group sizes and pricing?
Group sizes are usually between 1–4 people with one guide, if you opt for the full or half day climbing adventures. Bigger group sizes are available upon request.
Multi-pitch climbs consist of 2 people per guide.
What about bad weather?
As the saying goes, "there's no such thing as bad weather, only bad preparation." You can expect your guides to be fully prepared for anything. Inclement weather can always get in the way of climbing, but your guide will know the best spots to move to if the weather takes a turn.
On the rare occasion of truly bad weather, your instructor will present you with suitable alternatives. The most common practice is to reschedule your climbing to a more favorable day or suitable location nearby, if it exists.
If no options presented were viable to you, you will be issued a full refund.
Cancelation policy
All policies regarding cancellation, rescheduling and trip insurance will be clearly laid out by your guide prior to booking your adventure. Contact us if you'd like more information on a specific adventure.
Getting there and meeting location
McCarran International Airport (LAS) and the Las Vegas Strip are a 20-minute car ride away from the Red Rock Canyon National Conservation Area.
The exact climbing spot will be discussed after the booking as guides make that decision after considering the skill level of the group and factors such as crag traffic and weather.
Cody Bradford
AMGA Rock Guide
Cody is an AMGA Certified Rock Guide who's been taking climbers out on the rocks si...
The Mountain Guides
IFMGA/AMGA Certified Guides
The Mountain Guides are ready to see any objective of yours fulfilled. They guide h...
Mountain Skills Rock Guides
Mountain Skills Rock Guides
AMGA Certified Guides
The Mountain Skills Rock Guides have provided permitted, certified, and insured gui...