Bryce Canyon Hikes: Easy Access to Otherworldly Views
There is no other experience quite like hiking in Bryce Canyon. Its vibrant, forested canyons are accompanied by dramatic hoodoo features—making it feel like another universe entirely.
It almost feels like you've landed on another planet as soon as you drive into the park. A 360-degree backdrop of orange and pink sandstone. Towering spire rock formations. Trees growing out from every which way. These features take up every inch of Bryce Canyon and provide an endless array of otherworldly landscapes to hike.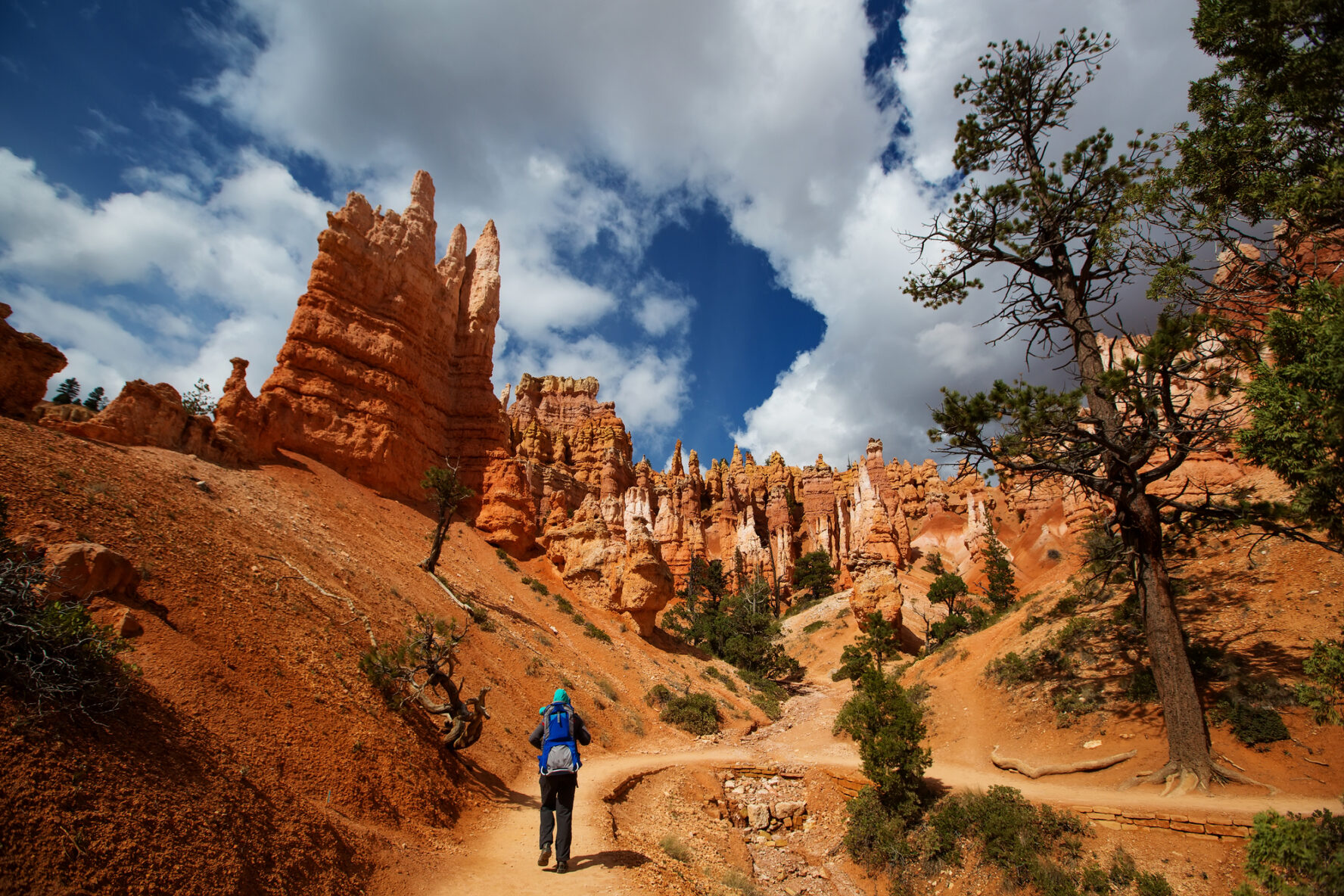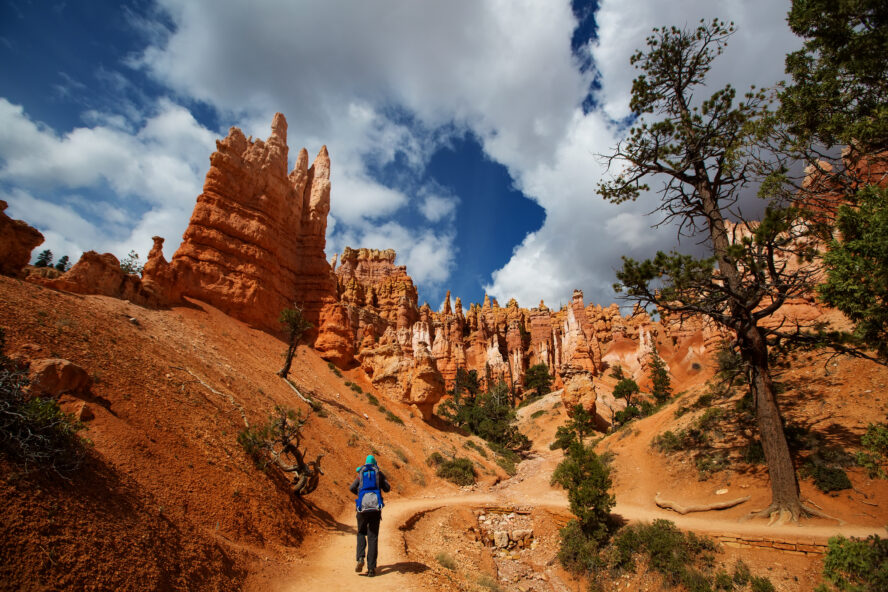 Pros and Cons of Hiking in Bryce Canyon
Easily accessible and friendly to all hiking skill levels
Because of its relatively small size, Bryce Canyon can be hiked in a day
It gets cold and snows in the winter
There is not a lot of variety among the hiking trails
There are not many tourist amenities nearby
Like Senators in an ancient Greek amphitheater, the hoodoos huddle as if conferring important matters of the third kind. These whimsically arranged spires are the star of the show, but they aren't the only thing that make the hikes in Bryce Canyon so unique.
When I first came to the park I was shocked, not by the hoodoos, but by the descent! From the entrance of the park, hikers pass from the rim, hovering around 9,000 feet above sea level, into a maze of thin slots, cavities, portals, fins and bizarre towers. Given all the wild formations, looks can be a bit deceiving. For one, it's not actually a canyon at all—millenia of erosion have weathered the mudstone into a series of horseshoe-shaped open-air venues that you can spend weeks exploring.
While neighboring Zion National Park might get all the limelight, and the crowds, Bryce Canyon stays just enough under the radar. That's why I consider the area a hiker's paradise, whether it's a day trip or multi-day backpacking adventure.
I Learned a Long Time Ago: Hiking Is the Best Way to Explore an Area
Growing up in St. George in Utah, being in the outdoors literally came with the territory. This landscape begs to be explored after all—from Zion National Park just an hour from home, to the towering crack climbs of Indian Creek to the remote backpacking of Paria Canyon—and I have made every effort to see it all!
From an early age, I've appreciated the opportunity for adventure that the state provides and I've been hooked on sharing my passion for our national parks with others. I personally think there's no better way to enjoy your environment than by hiking through it so I joined Zion Guide Hub as a way to not only improve my guiding skills, but welcome more people to the beauty of the area.
Since then I've ventured all through Southern Utah, but without a doubt, my favorite place to hike is Bryce Canyon National Park.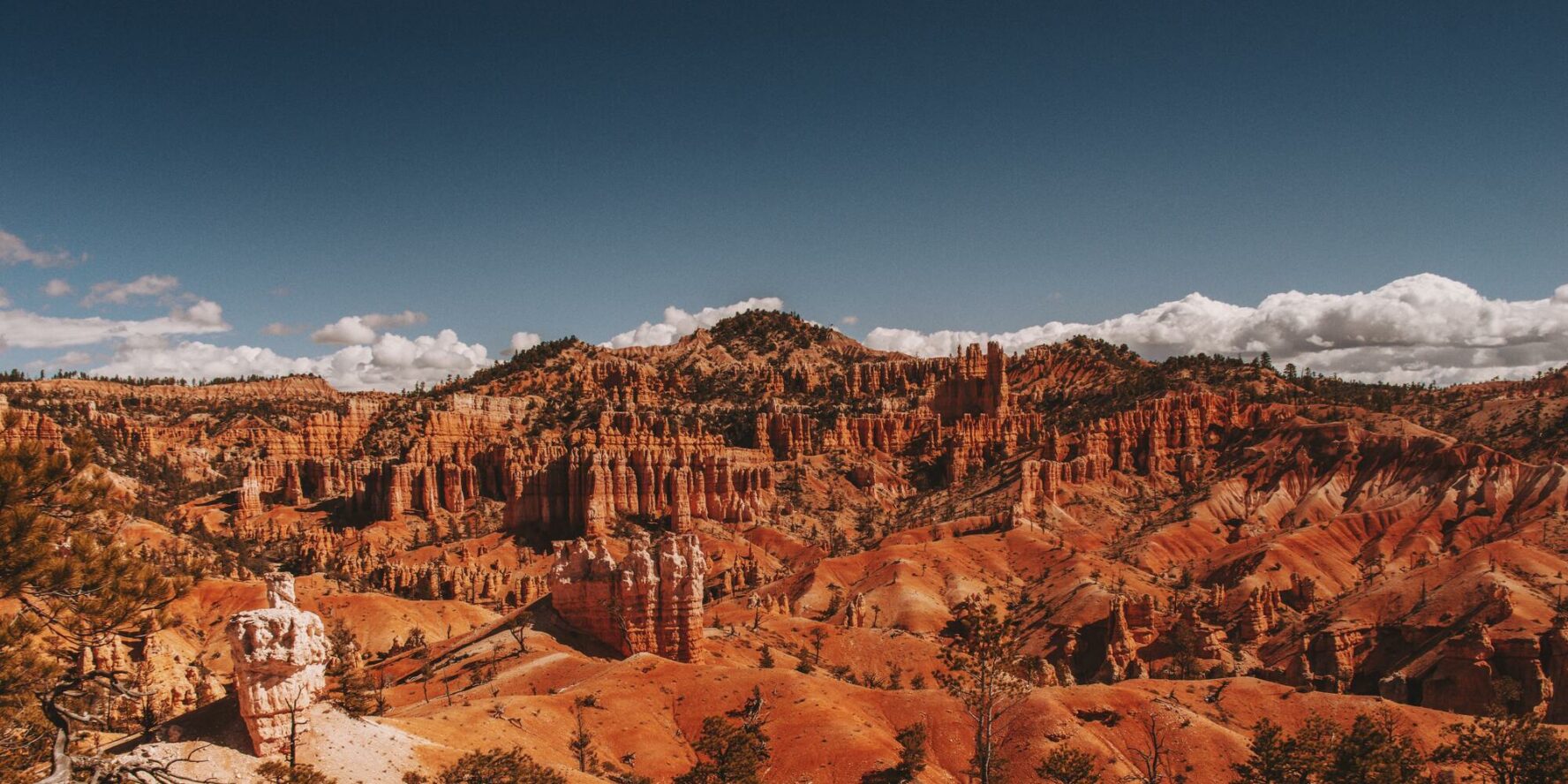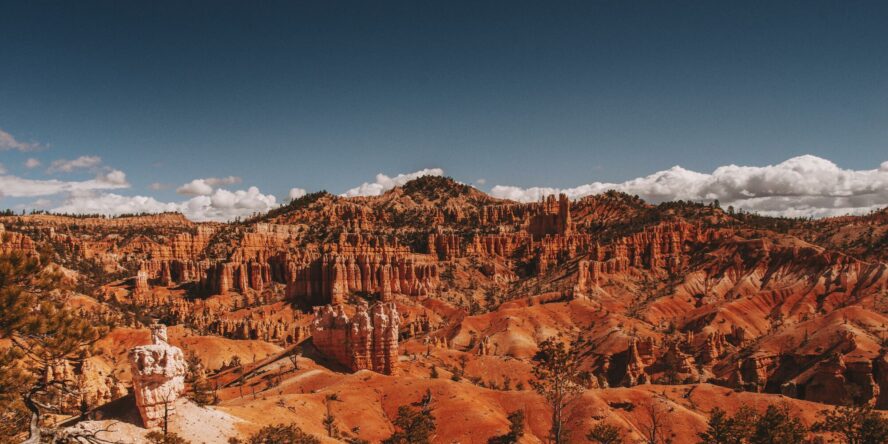 Bryce Canyon Hikes are Unlike Any Other
I love the accessibility of Bryce Canyon's hikes. The park's relatively small size—just 56 square miles and only 11 different trails—gives the area an approachable, choose-your-own-adventure feel. Four of the trails are rated as easy, four are moderate and three are considered strenuous, and they can be effortlessly connected to create your own path through the park.
It's important to note that Bryce Canyon does not have a large tourist town nearby, or the amenities that come with it. Bryce Canyon City, shown on some maps as just Bryce, has a modest population of 228 people, or about the capacity of a typical AMC movie theater. That means lodging and food are scarce, but it also keeps the area relatively quiet.
Compared to Zion National Park, which was the third most visited national park in 2020 with over 4.2 million visitors, Bryce Canyon had just 1.4 million guests—people just don't know what they're missing!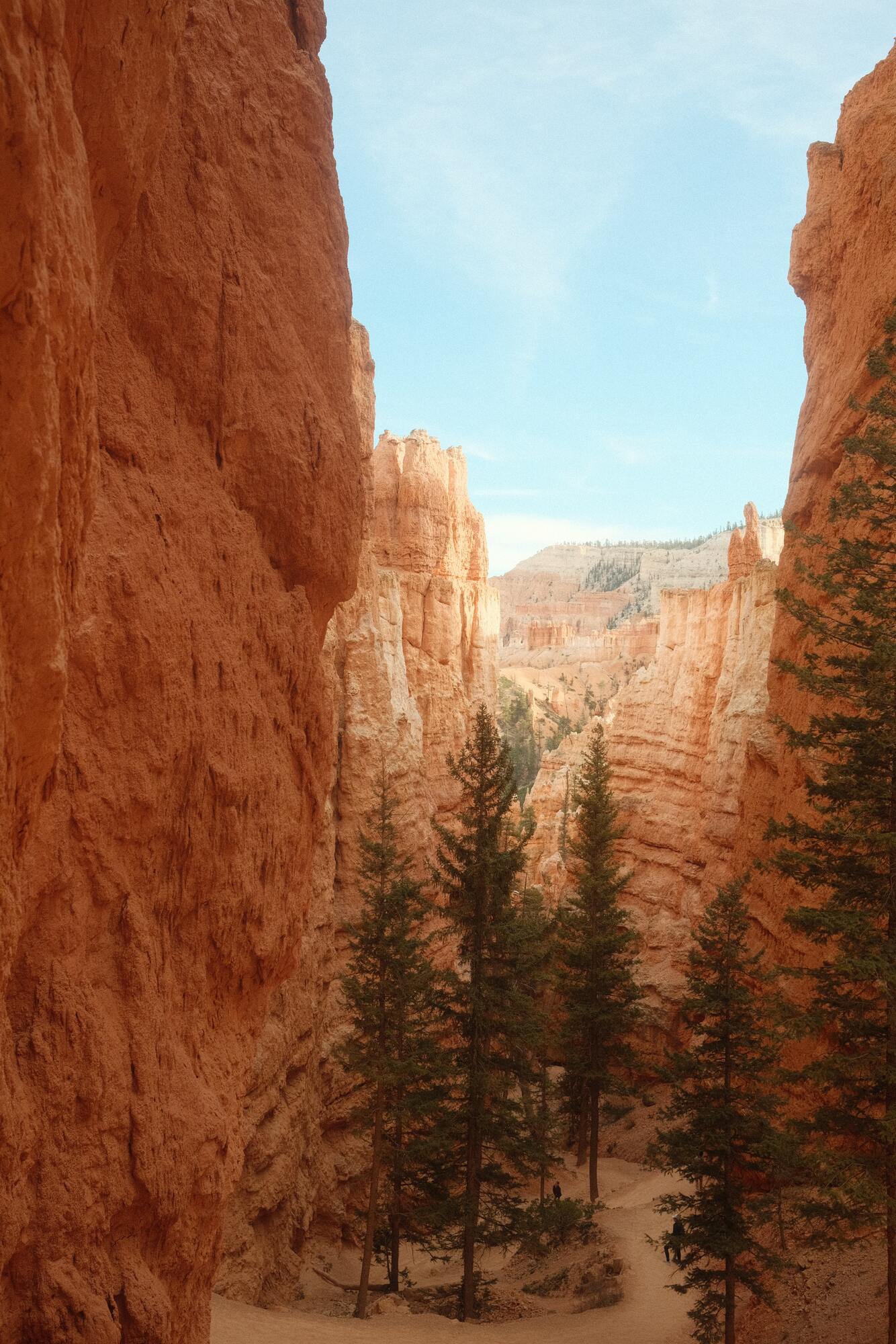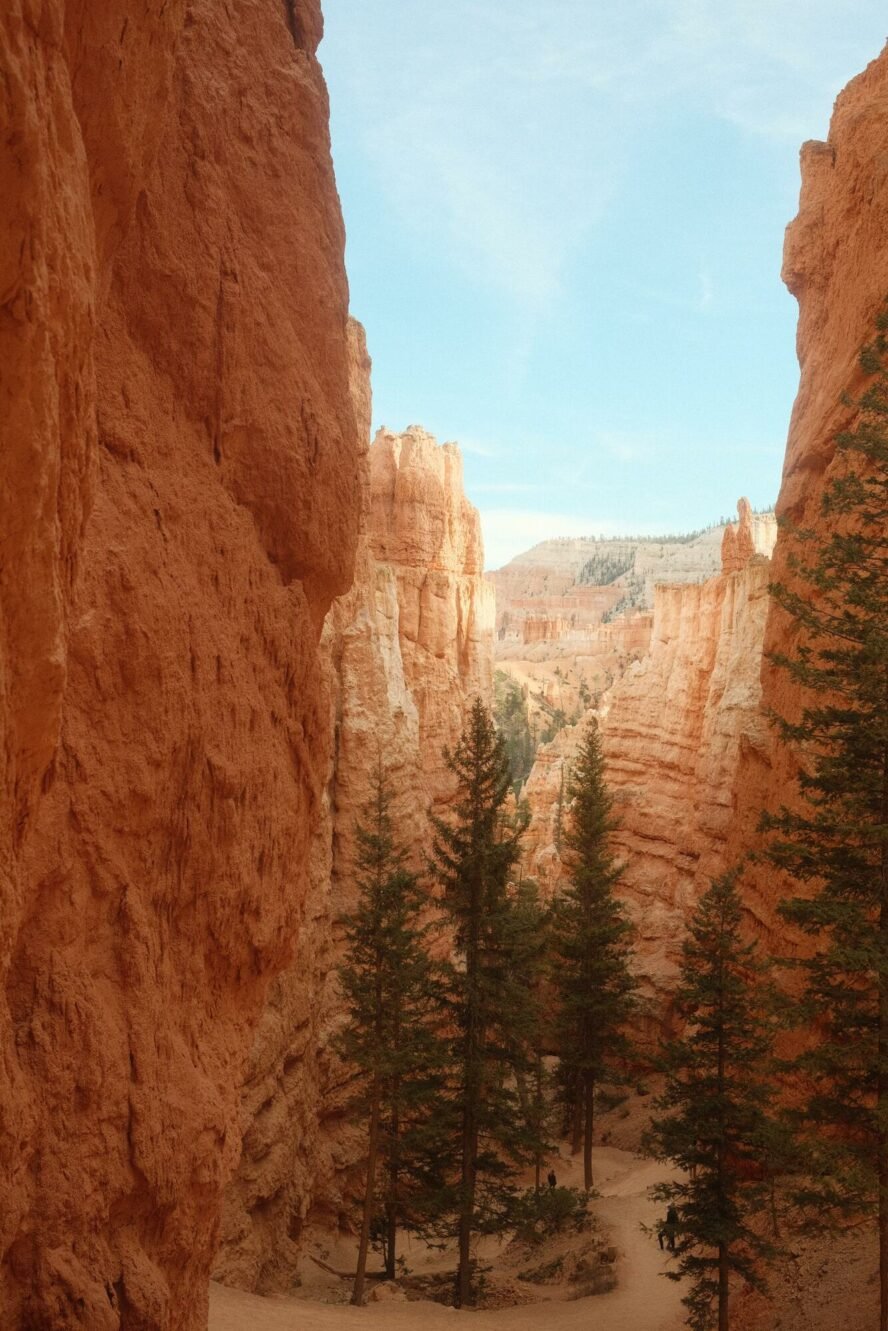 Anyway, what I'm getting at here is that Bryce Canyon offers all of the spectacular views and trails that Zion has, but with a fraction of the crowd. You'll see what I mean on some of my favorite hikes.
My Recommended Hikes in Bryce Canyon
1. Hiking Sunset Point to Sunrise Point provides the best views
This has got to be one of the best hikes in Bryce Canyon because it gives you an aerial view of the sprawling hoodoos below, with an easy approach. The trademark of the trail is the park's heroic hoodoo, Thor's Hammer, a fiery heavy-headed mace that brushes the sky above.
An easy hike in Bryce Canyon, it's a one-mile, out-and-back that is suitable for all skill levels. In particular, it's gentle on the knees because it is one of the only flat paths in the park (most other trails descend into the canyon, which then require some climbing to get back out). As part of the paved portion of the Rim Trail, this area is wheelchair accessible and allows leashed dogs.
Fair warning: because of the accessibility, this is one of Bryce Canyon's busiest trails.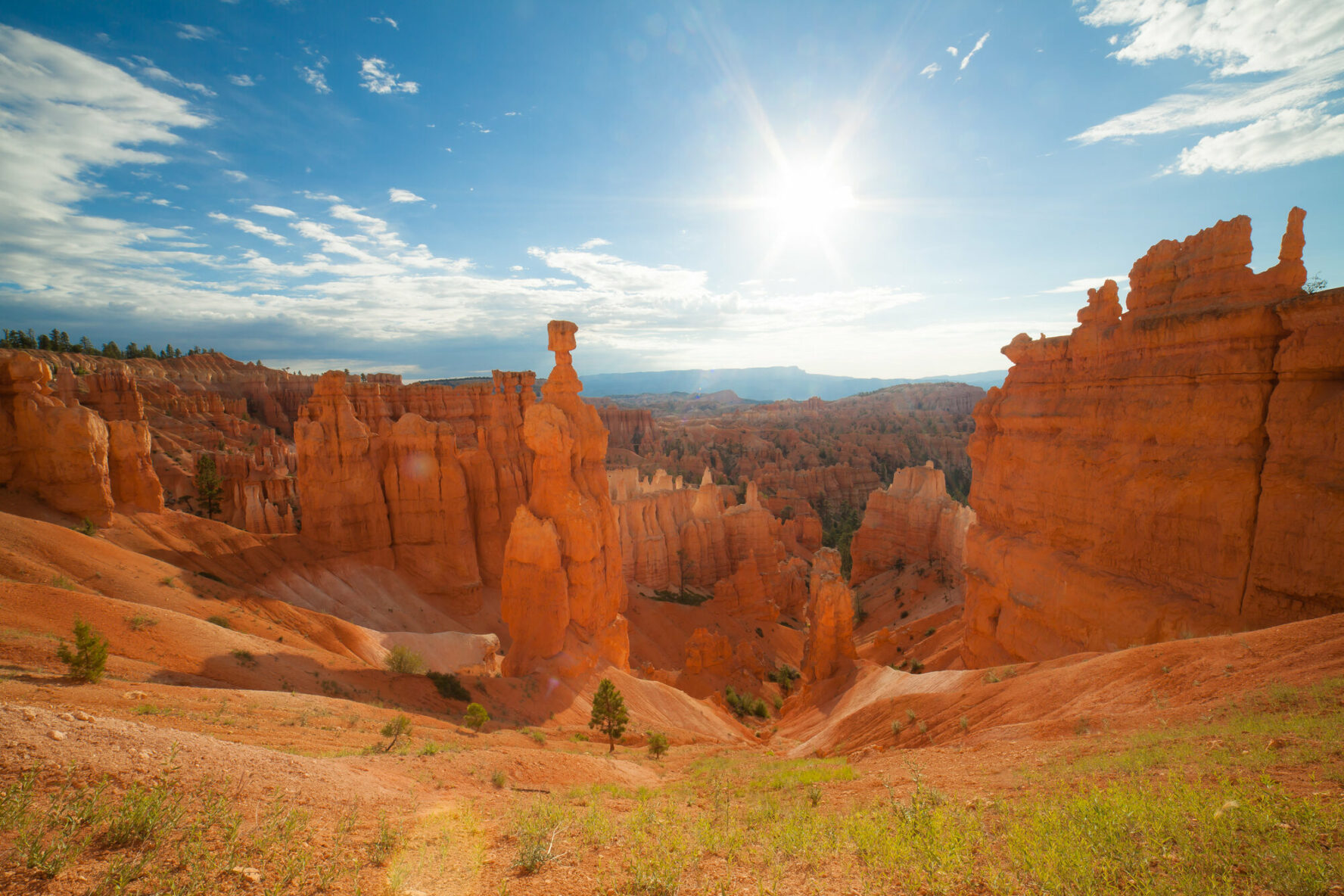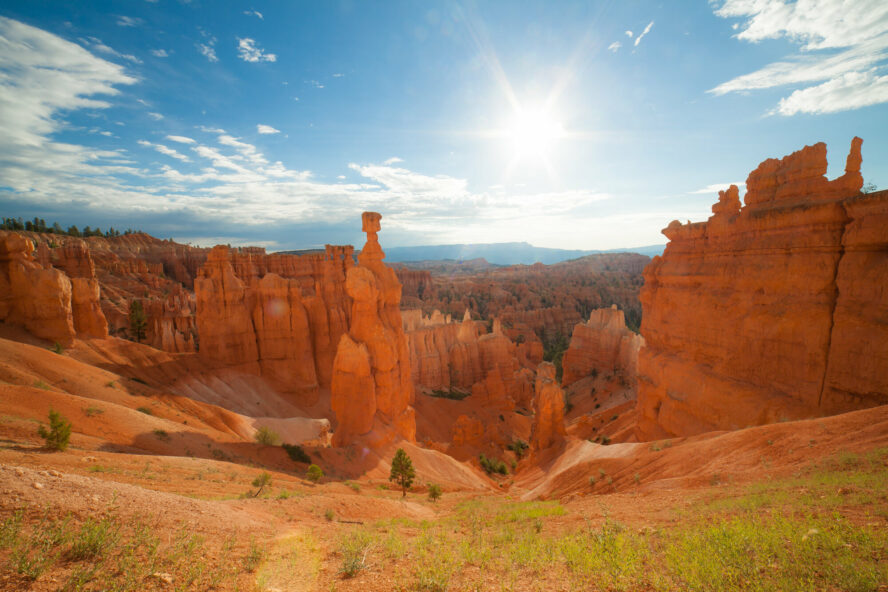 2. See Queen's Garden in the time it takes to sip a cup of tea
If you only have one day to hike in Bryce Canyon, the Queen's Garden-Navajo Loop is my suggestion. It's the biggest bang for your buck in terms of seeing much of the park in a short amount of time.
Passing through you see layers of the limestone, like rings on a tree trunk, that mark geological time. Iron oxide expresses in the warm reds, oranges, and yellows on the lower portions with the occasional dash of pink or purple from manganese oxide. The upper regions fade from orange to white where the limestone doesn't contain minerals.
The beauty of this moderately strenuous, 2.9 mile hike is you start above the hoodoos and descend through them as if you are walking through a forest of trees—except it's rock. At the end of the Queen's Garden portion you'll find a feature that resembles Queen Victoria, before ascending back out of the canyon via the Navajo Loop Trail.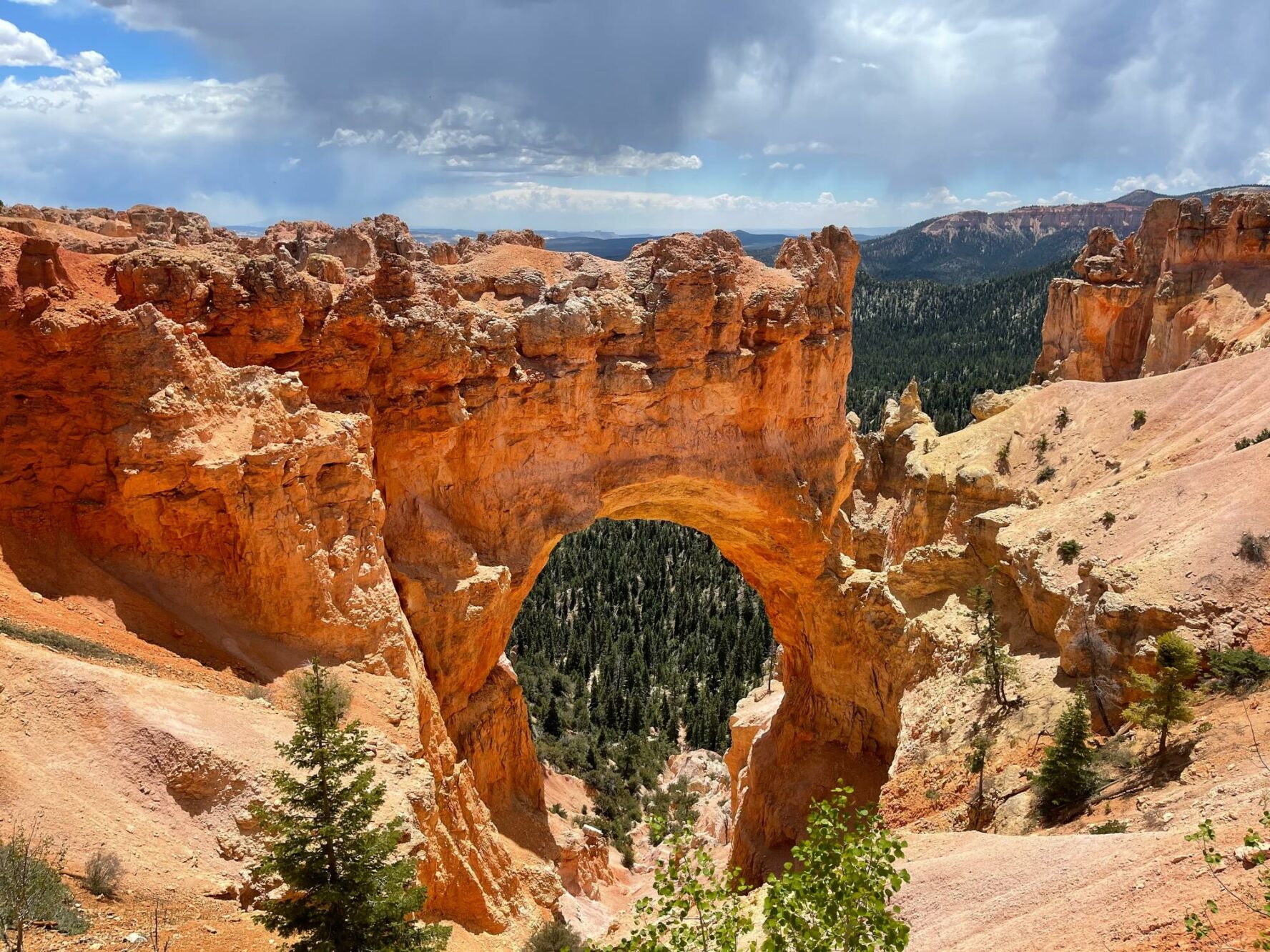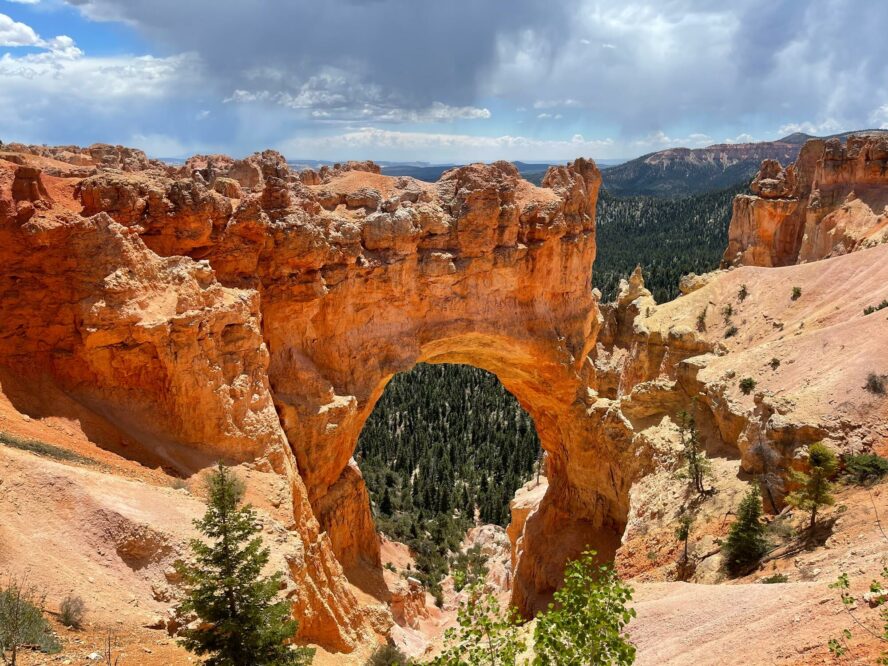 3. Fairyland will whisk you away from the crowds
Fairyland is your ticket to solitude the likes of which you won't find outside of backpacking in Big Sur. This eight-mile loop is one of Bryce's more strenuous hikes outside of the main artery of the park. It descends nearly 1,800 vertical feet, so be prepared to make up the difference on the way back!
Relative to more difficult hikes like Zion's infamous Angel's Landing—which are not only steep, but incredibly narrow and uneven—all of the grades in Bryce Canyon are easy to moderate. Rather than proffering a physical challenge, Fairyland teases up a magical world of geological nuances to rival the best hikes in Yellowstone—from the Bristlecone pines at the rim down to the harrowing hoodoos and past the ever so slowly eroding thin rock walls known as fins.
Speaking of, from this trail you can see the Chinese Wall, a fortress-like line of turreted hoodoos that resemble the Great Wall of China. From the bottom of Fairyland follow a short spur trail to gaze at the Tower Bridge—a double-arched feature with a tall spire on the right side.
Insider tip: be sure to do this hike early in the morning or pack plenty of sunscreen, as there is very little shade cover!
4. Orbit over the entire park via the Bristlecone Loop
If you drive on the rim all the way to the south end of Bryce, you'll come up to the highest elevation point in the entire park. A short, one-mile loop trail leads to 1,800-year-old Bristlecone pines and vistas that expand as far as the eye can see.
Swing your head around and look out clear over the Grand Staircase-Escalante in the east, peer towards Zion in the southwest, and gaze at the mountains north of Bryce, including Boulder Mountain and Mount Ellen, for a 360-degree view of the state. You won't find views like these this side of hiking in the Grand Canyon!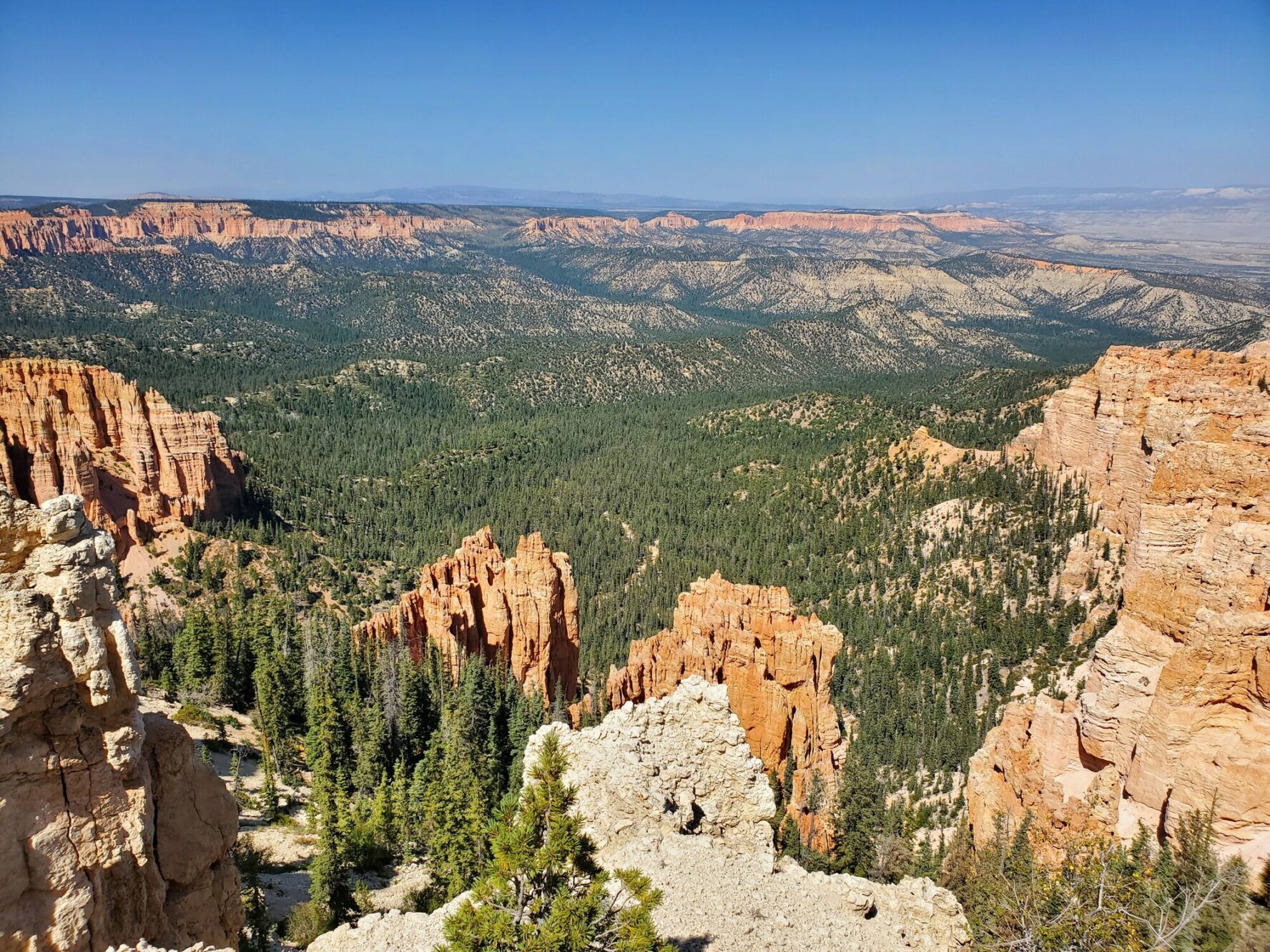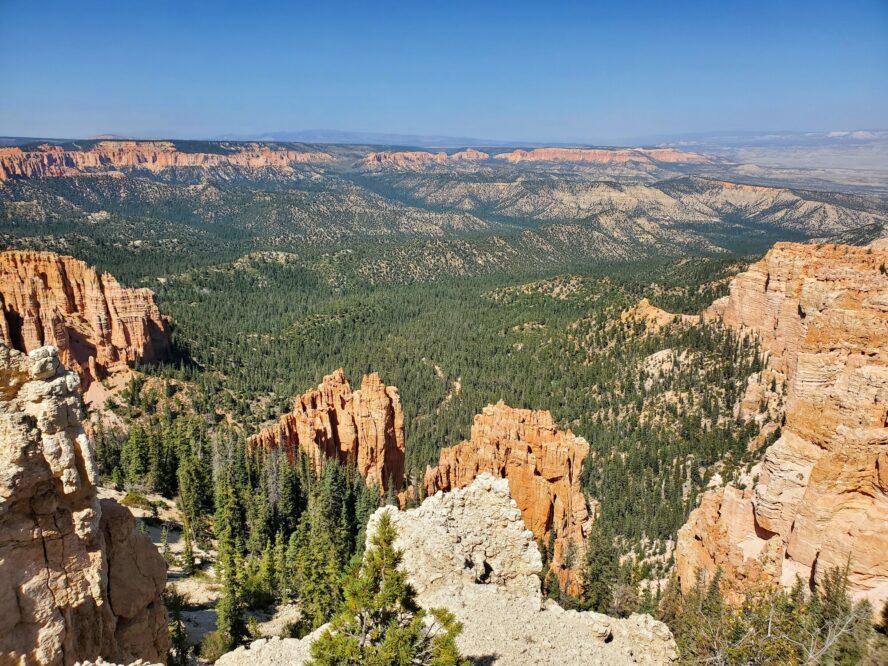 Lush with Blue Spruce, Douglas Fir and White Fir, this area of the park is a preferred habitat for a variety of wildlife including grouse, woodpeckers, owls, and a variety of small mammals. Remember, never feed any wildlife and do not approach them!
A note about access: this trail is suitable for most anyone, including young kids and the elderly. However, it's not paved like the Sunset-Sunrise portion of the Rim Trail, so it is not wheelchair accessible nor does it allow dogs.
Want to explore a bit more? Be sure to check out Bryce Canyon's trail map from the National Park Service.
A Few Tips to Enjoy Your Bryce Canyon Hiking Trip
Bryce Canyon is open year-round
Depending on your preferred weather, you can hike Bryce Canyon National Park any time of the year. Summer, May through September, is the busiest and hottest, with highs in the 80s. Winter comes to Bryce early, usually snowing in October. Snowshoeing and cross-country skiing are allowed in the park, and the stark contrast of brilliant red sandstone adorned with a crisp white coat fills me with a bit of holiday joy. Spring often feels like winter, with snow storms hitting as late as April.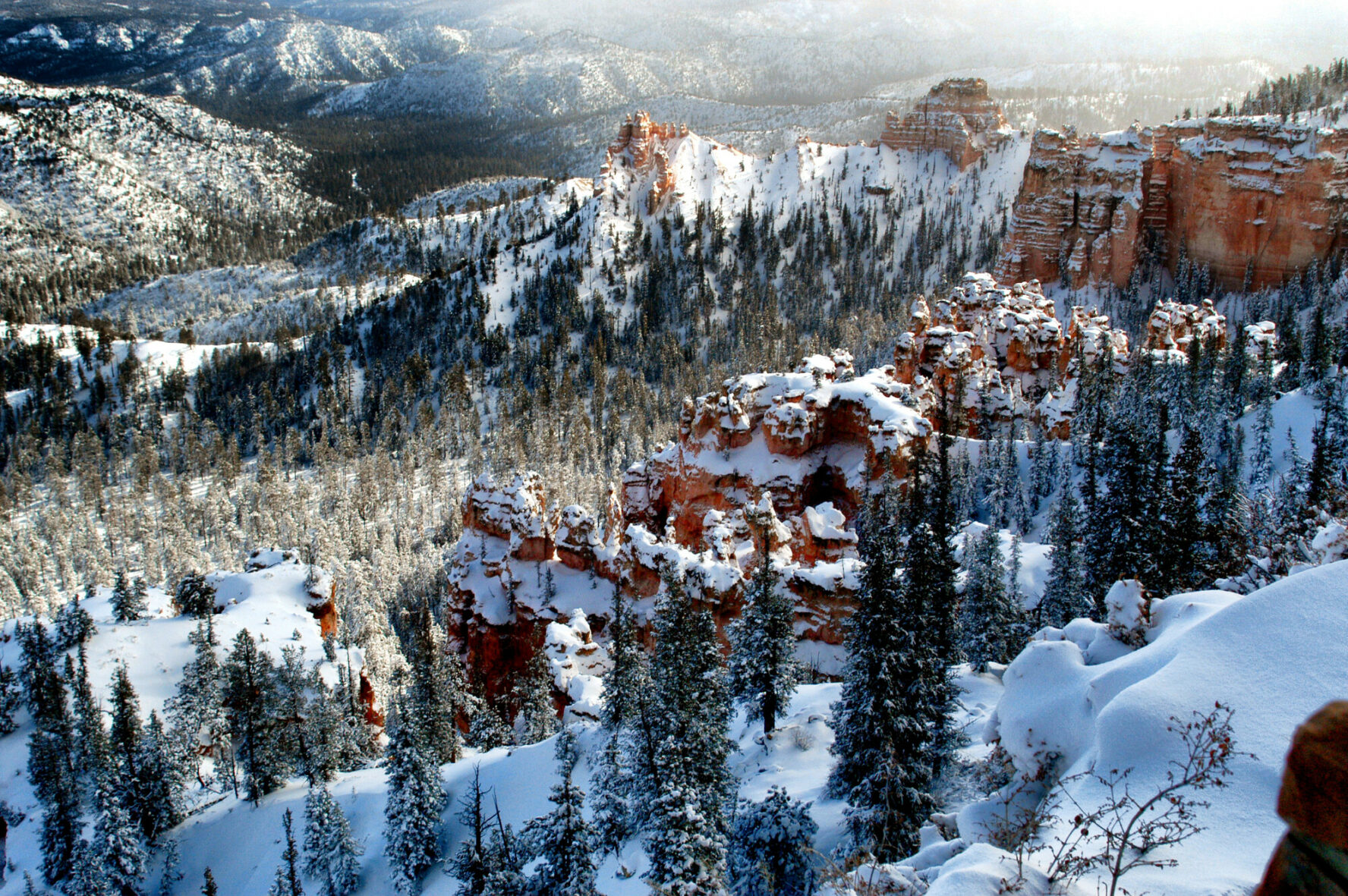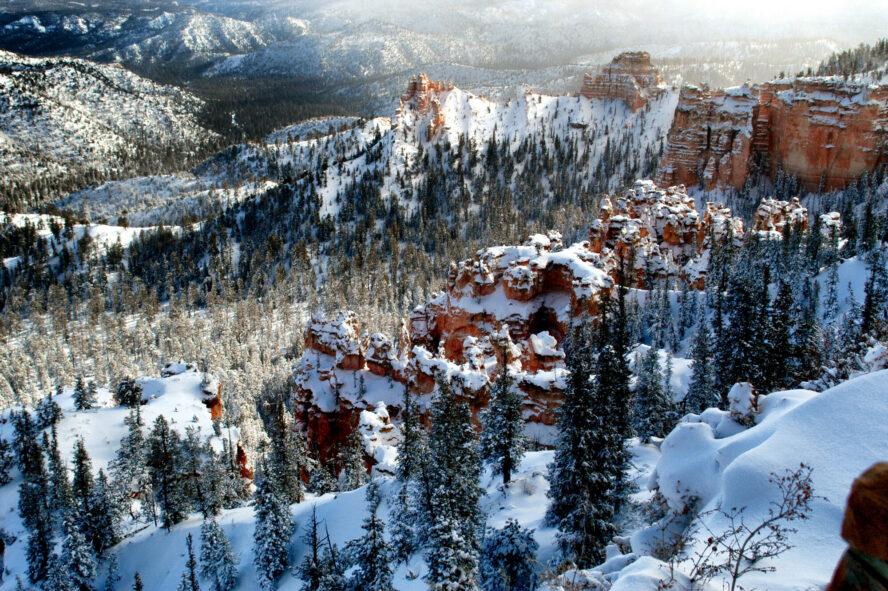 Where to sleep near the park
There is Bryce Canyon Lodge within the park and then there's only one hotel in Bryce Canyon City, Ruby's Inn. The Inn has 368 guest rooms and free buffet breakfast for guests, and for those who want to "rough it" there are RV hookups and camp sites too. The best full-on camping near Bryce Canyon National Park is close to the Visitor Center: the North campground is first-come-first-served while the Sunset campground takes reservations.
Best places to fuel up on some grub
There isn't a large tourist town outside of the park, which means there aren't a lot of amenities. However, for restaurants close to Bryce Canyon, Ruby's Inn features three dining establishments: Cowboy's Buffet & Steak Room, Canyon Diner and Ebenezer's Barn and Grill. There is also Bryce Canyon Coffee Company for a hot cup of joe and a pastry, and Stone Hearth Grill for a bit of a swankier meal. The Bryce Canyon General Store has all the camping food basics if you're just looking for one last ingredient to complete your stove top meal.
Shops to grab hiking essentials
This is not the place to forget your hiking boots. Since you're about two hours from a major gear shop, Ruby's Inn is really your only option. Their General Store carries everything from produce and snacks, to hats, toiletries and hiking supplies.
Parking and Passes
There are designated parking lots inside Bryce Canyon park. If you do not park in a designated spot you will be subject to a ticket and potential tow. Bryce Canyon is a national park, which means there's an entrance fee to enter, no matter the time of year, or you can purchase an annual park pass.
Bryce Canyon Is a Welcome Escape From the Ordinary
Immersing yourself in the peculiar pigmented landscape and walking among the ancient giants etched from water and wind is an experience unlike any other. No matter how many times I visit, I never get tired of hiking the trails of Bryce Canyon. It's a great way to get away.
Are you up for a huddling with hoodoos and slipping down slot canyons? Sign up for a guided Bryce Canyon Hiking trip today!