Why Backcountry Skiing is Better in Lake Tahoe
Even before Lake Tahoe had a ski resort, this region gained admirers for its stunning backcountry access. Grab your shades, come for the snowpack, and stay for the wide-open terrain.
Backcountry skiing in Lake Tahoe is even older than the ski resort, and throughout the years it has only gotten stronger all due to untracked powder, lake views, and incredibly convenient locations. Home to multiple resorts, Tahoe's proximity to the Bay Area opens up a wealth of terrain in the Sierras. Tahoe is also known for its reliable snowpack. Upper elevations can get between 300 and 500 inches per year. In 2011, Tahoe received 852″ of snowfall in one season. Not bad for so-called Sierra Cement.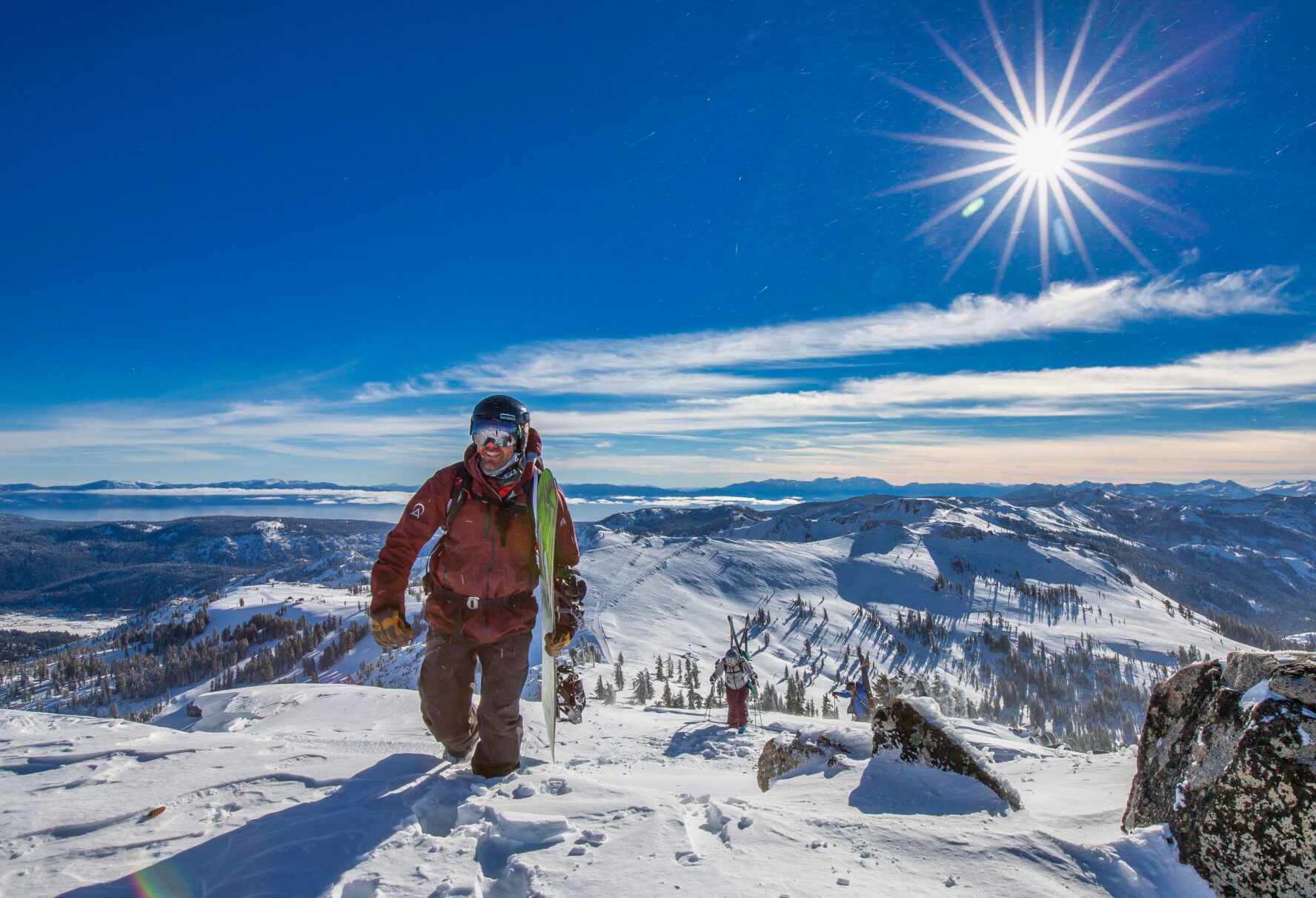 Pros and Cons of backcountry skiing in Lake Tahoe
Easy access to airports, amenities, and backcountry terrain
Maritime snowpack equals lots of snow and stable avalanche conditions
Easy to spread out over the backcountry terrain
Can get very crowded, especially on the resort
Not a lot of high-altitude terrain
I settled in Tahoe after traveling the world as a backcountry skiing guide
I circled around the world chasing runs and rock climbing, and ended up right where I grew up — California. Skiing in the mountains of California led to my professional track as an outdoor educator taking high school kids on backpacking trips. From there, it was like a linear graph upwards. I started leading backpacking in the Sierra Nevada, rock climbing, backcountry skiing, you name it. And eventually, I moved up to the town of Truckee near Lake Tahoe. From then on, I enjoyed a sport for every season. When we started Alpenglow Expeditions near Palisades Tahoe, we switched off with guests from rock climbing, alpine climbing and backcountry skiing depending on the season.
Today, I guide mostly in Lake Tahoe and the Sierra Nevada. Our team also goes into California's High Sierra and all the way down south of Bishop. The Cascade Range and its skiable volcanoes are always fun, as well. But there's a reason I've done most of my guiding in the Tahoe area. I have explored a lot of other places — climbing in South America, guided Kilimanjaro, went into the Himalayas, Nepal and Tibet, but I always find myself back on my home turf, guiding backcountry ski tours in Lake Tahoe.
Lake Tahoe backcountry skiing gained popularity before the resort
Home to some of the best locations for backcountry skiing in California, the backcountry terrain around Lake Tahoe holds all the goods. The Poulsen family started skiing around Lake Tahoe before there was a resort, as in no avalanche control and no lifts, in the early 1930s and '40s. Lake Tahoe backcountry skiing developed alongside resort skiing, so the culture is immensely rich. California's High Sierra south of Tahoe features larger terrain. Some descents we do are as long as 8,000 vertical feet, depending on the snowpack. Truly world class ski descents. While we don't have quite all of that right in Tahoe, that's also not all we're looking for when backcountry skiing. We do venture out into bigger terrain when it's safe to do in the spring. Throughout winter, Lake Tahoe proper offers exceptional skiing.
Easy access to skiable terrain applies to much of the Tahoe backcountry
When everywhere else in the California backcountry (and the West in general) is not quite suitable for skiers, Tahoe is your best bet to find access to powder. The access to skiing in Tahoe's backcountry is phenomenal, with quite a few easy-access trailheads thanks to roads that are plowed all winter long. Donner Summit and Donner Pass virtually never close in the winter, except during storm cycles for avalanche mitigation. You'll have great access to a tremendous amount of terrain. You won't find much above treeline for alpine skiing. Instead, Tahoe offers exceptional tree skiing. Tahoe is one of the few places where even during a storm you will find descents that are feasible.
Because Lake Tahoe backcountry is such a large skiable area, it takes a pretty large crowd for you to have to share the slope with someone. That said, Castle Peak and Donner Summit are by far the busiest. If you're with a local Tahoe backcountry skiing guide, you'll know how to get outside of certain popular areas and never feel crowded. The Sierra Avalanche Center reports everything an hour north and an hour south of us. That's quite a chunk of the Sierra Nevada.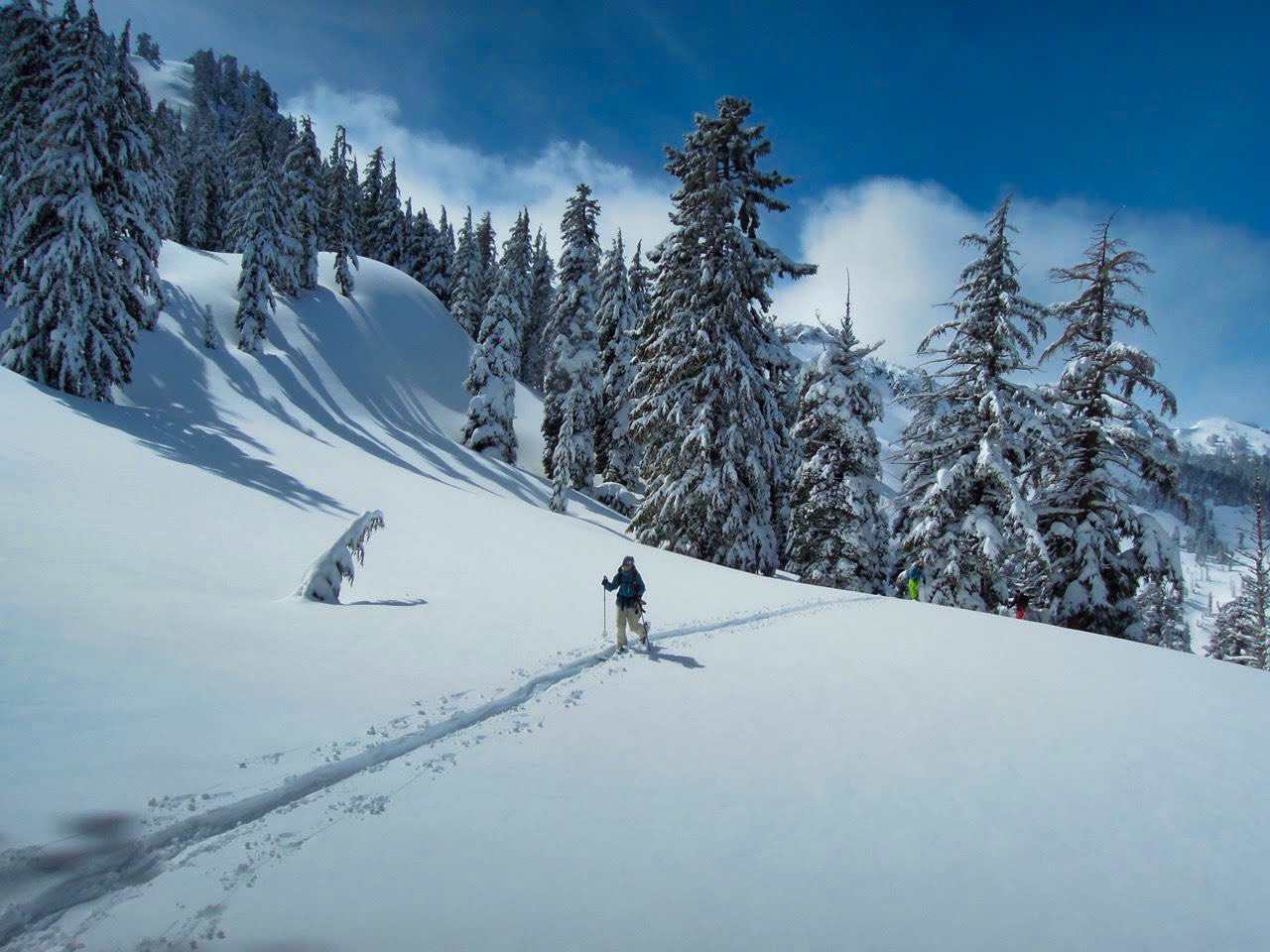 Lake Tahoe backcountry skiing conditions
Now, on to the most compelling reason to head to Tahoe for backcountry skiing — the snow. Our ski season runs from late November to mid-April with a usual season giving us well over 500 inches of snow. If we get lucky with an appropriate snow pack (hoping that will happen this year!), we ski Tahoe backcountry all the way to June. Tahoe is blessed with a maritime snowpack, meaning the ocean is the predominant force delivering snow to the area. The Sierra Crest, where I settled down, is the first big land mass snow storms run into. Basically, if the ocean is cooking up any snow, it's heading to us first.
Don't be scared by "Sierra cement," but do prepare with avalanche training
Some people like to call the snow around Tahoe the "Sierra cement." I don't mind them calling it that because less naysayers coming to Tahoe just means more snow for us! Compared to skiing around the Tetons or backcountry skiing in Colorado, the Sierras tend to get warmer snow and more of it. In the Tetons and Colorado, the predominant force for snow is the polar air mass coming in from the north. Translation, it's a bit colder. Another benefit of the maritime snowpack, snow is the Sierras is less avalanche prone. There still can be less consistent, weak layers and other avalanche problems in the snowpack. If you study avalanche statistics, however, the avalanches near Lake Tahoe are less fatal than those in Colorado.
But, statistics are only good for drinking coffee and sitting inside of an office. Lake Tahoe snowpack can behave drastically differently depending on the conditions. Right now in early spring, the avalanche danger is extreme. Multiple persistent weak layers are present, which is unusual for us, including one of them being a surface hoar. That is more typical in a continental snowpack out in Utah. I haven't seen a snowpack like this in years. We can read all we want about past trends, but the most important thing is education and knowing how to make life altering decisions for yourself.
My Favorite Places in Tahoe for Backcountry Skiing
Now that I have shared why I think Lake Tahoe is a gem, I'll share some of my personal favorites areas and must-ski backcountry treks.
1. Silver Peak: Perfect for beginners or anyone looking for something classic
Silver Peak is coined Tahoe's local gem because it's close to Alpine Meadows and Palisades Tahoe but nowhere near as busy. Silver Peak does attract it's fair share of crowds but for good reason. The views of Lake Tahoe from the summit can't go unnoticed. A great spot for beginner backcountry skiers, the tour starts with a low-angled hour long ascent along a snow covered road. It picks up to a 1,500-foot climb to the summit sitting at 8,930 feet. From there, the terrain varies from bowls to long tree runs. With so many options, it's the perfect place for someone dipping their toes into Tahoe backcountry skiing or splitboarding. The top of the summit is a small pinnacle that really feels like you're sitting on top of the world. In Tahoe, you rule the mountains.
2. Castle Peak: Perfect for avalanche rescue practice or ski mountaineering
Castle Peak sits at a little over 9,000 feet. It's plethora of terrain options for skiing are great for both spring and storm skiing. It's no wonder why the parking lots are packed early in the morning. An early start is absolutely necessary. Don't get discouraged. Most people at the parking lot are here for sledding, not backcountry skiing. You will encounter almost no one in the backcountry. When you first start to hike, you'll pass the beautiful Castle Meadow. This is a perfect place for a day of avalanche rescue practice or to refresh your skills before heading all the way up. Even if you already took an avalanche course in Lake Tahoe, which you must do if you plan on venturing into the backcountry on your own, practice makes perfect. Practice ensures that we never get rusty. Avalanche safety and rescue should become second hand nature, because if a disaster were to occur, you have to act quickly.
Head to the Castle Peak summit for ski mountaineering
The top of Castle Peak is the way to go to level up your skiing abilities, or if you want to try ski mountaineering. The peak has a nice craggy summit perfect for ski mountaineering training. From the top, you can drop into a 2,000-foot south face for corn skiing. This is a popular and accessible descent. The runs below the buttress are great for doing laps, conditions permitting. The other option is heading to an expansive north bowl with drops into northerly chutes.
3. Andesite Peak: Beginners will enjoy the saddle despite the vertical
For a quick and easy run, head over to Andesite Peak. The Andesite Peak saddle is the main drop off point for skiing in the Castle Peak area. Because of it's access to different types of terrain, the saddle makes a great option when avalanche danger is high on other aspects. The approach is mellow and makes for an easy day. On the last stretch of the hike, the vertical grade increases a bit, but it's still suitable for beginners.
For Advanced Riders Who Want Untouchable Terrain in Tahoe
Backcountry access through the resort is only available at Alpine Meadows within the Tahoe region. Palisades Tahoe resort has closed borders. You cannot duck a rope, and they have no backcountry access. Some history here: Palisades Tahoe is mostly private property. A lot of other ski areas in the west are on forest service permits translating into public land. The mostly private designation for skiing Tahoe is really a shame because Palisades Tahoe is surrounded by some epic backcountry terrain. Alpenglow Expeditions is fortunate to have an agreement with Palisades Tahoe/Alpine Meadows to use their lift system to access remote backcountry areas. We get to use the lifts to Granite Chief Peak, sitting at 9,000 feet elevation. We leave the resort and explore from there.
National Geographic Bowl is advanced lift-access terrain in Tahoe
One of the best bows to ski in this area is the National Geographic Bowl. This thing has everything from wide open bowls to tight chutes to rocky, steep descents. The ridgeline continues to reveal great ski areas. It's like lifting a blanket off a treasure. The National Geographic Bowl is advanced and remote. We use the lifts but after arrival, it's just like a normal day of backcountry skiing. We drop down into the bowls, and then hike back up. We usually do a few laps before heading back to the resort and ski all the way down. Think of it like a reverse day of backcountry skiing. You ski first, then you skin. That said, the lift doesn't make it any easier than a normal day of backcountry skiing. We still earn our turns. But it is all about the access to the backcountry. The lift gets us to untouched terrain and gives you some help with the amount of vertical you have to get up.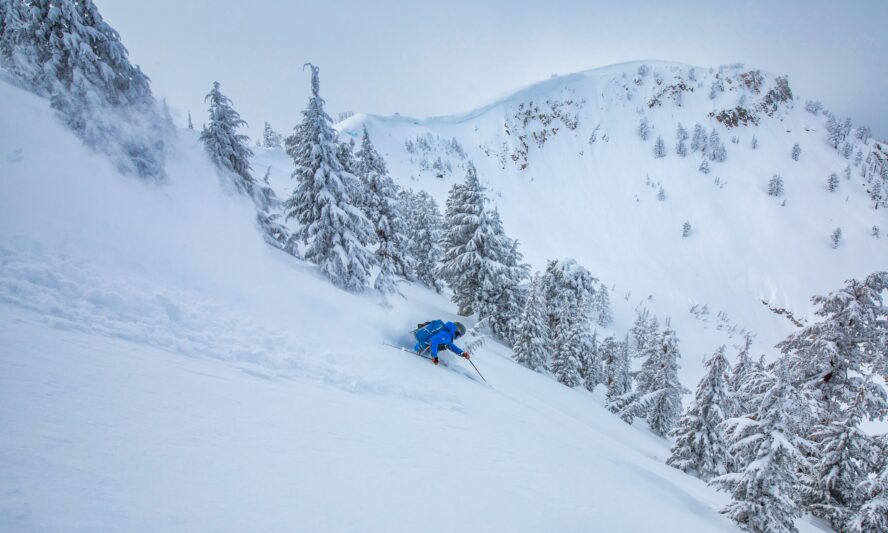 High Sierra delivers 14,000-foot advanced ski mountaineering in the spring
If you spend your winter skiing in Tahoe, or once you have your legs underneath you, so to speak, you can head south into the High Sierra. The High Sierra goes from Yosemite all the way down to Mount Whitney. It's a paradise. Most of this terrain is ski mountaineering on 14,000-foot peaks way above treeline. You can even ski some small glaciers. One of my personal favorites is a world-class descent in the Palisades out of Big Pine California. This craggy ridge is the home to U Notch Couloir. It is physically strenuous requiring seven to eight hours of ascent, over 4,000 feet of elevation gain, and ski mountaineering skills.
Spring corn skiing in California's High Sierra is noteworthy. While I jumped to one of the harder world class runs, there is something more accessible. Mount Tom right outside of Bishop is a perfect summit for someone's first time in the High Sierra. You usually have to start skinning before dawn, depending on your group. You'll endure about 4,600 feet of skinning before the last and most technical part to the top of the summit. The summit is at 13,652 feet. You can take fresh breaths of air looking over Bear Creek Spire to Minarets Peak to the north. The views are absolutely spectacular and the way down seems never ending. Not many places in the world have so much skiable terrain for so many thousands of feet.
What to Know Before Going Backcountry Skiing in Lake Tahoe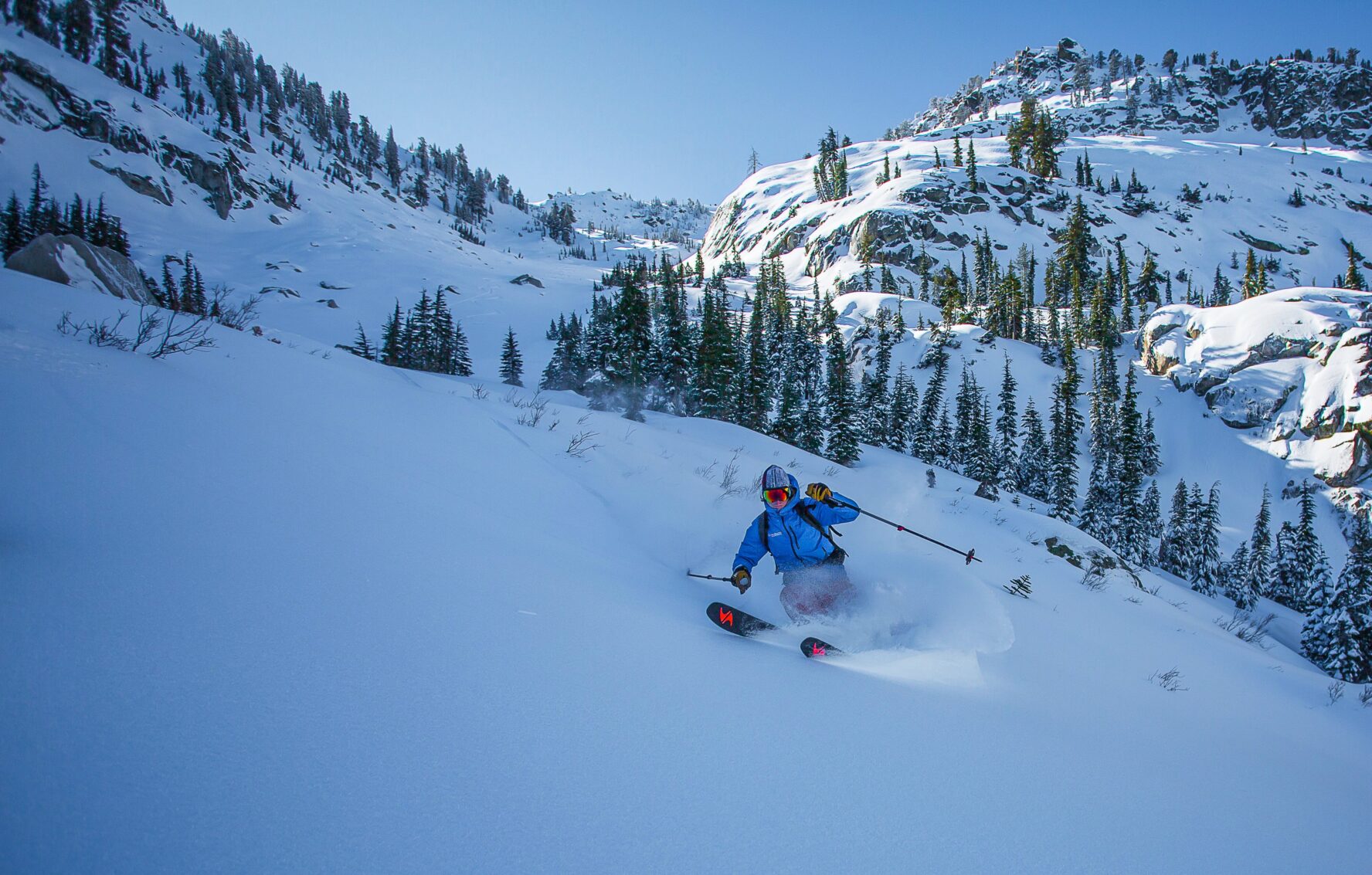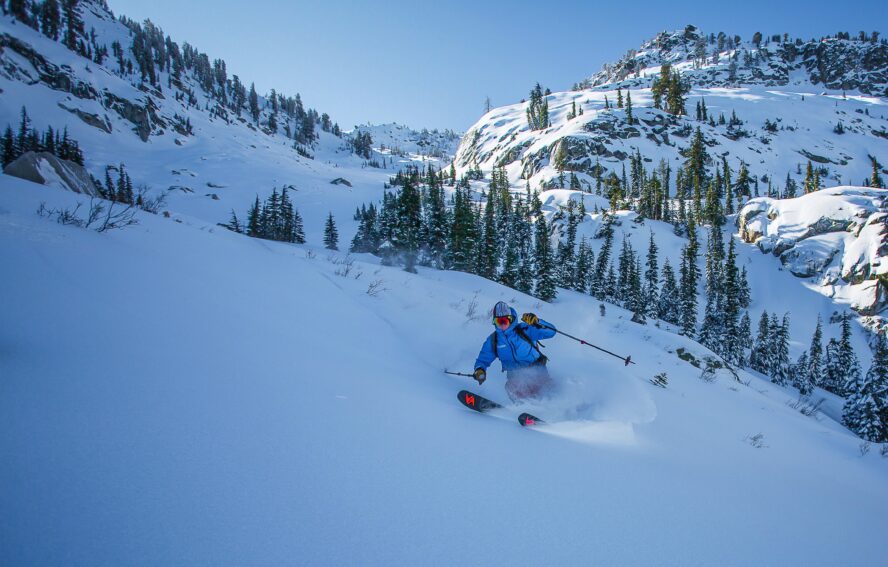 Backcountry ski maps and guidebooks for Lake Tahoe
Backcountry Ski & Snowboard Routes: California by Jeremy Benson and 50 Classic Backcountry Ski and Snowboard Summits in California: Mount Shasta to Mount Whitney by Paul Richins Jr. are good guidebooks to start with for the Lake Tahoe area. Backcountry Ski Maps provides some great topographic route maps for Lake Tahoe, splitting maps into areas like Lake Tahoe: Southwest, Lake Tahoe: North, Lake Tahoe: Carson Pass and Lake Tahoe: The Best of the Rest. These backcountry ski maps are available in both print and digital formats.
Permits aren't needed for backcountry skiing unless you're camping
The backcountry of Lake Tahoe is mostly unregulated. You don't need any permits except for camping overnight in wilderness areas. There are some parking restrictions: Castle Peak requires a parking pass at $5 for a day or $25 for the season. And for almost all of Tahoe backcountry areas, it is important to get an early start to get a parking spot. The rule of thumb is arrive (at least) before 8 a.m.
Where to stay in Lake Tahoe
Lake Tahoe isn't lacking for accommodations to stay. There are many Airbnbs with a wide variety of price tags, so do your research before you arrive. If you're looking for a hotel, my best recommendation is Cedar House in Truckee. It's a sport hotel with a great vibe. It's not too expensive but feels luxurious with great food and accommodations.
Renting or buying gear for your trip to Tahoe
Backcountry gear is more expensive, so for most first timers it's just not worth investing right away. Before you decide to commit to backcountry tours, renting is the way to go. Alpenglow Expeditions has a partnership with Blizzard Techinca and Jones Snowboards in the Tahoe area. Both brands provide a great fleet of split boards and skis. You can rent all of your avalanche gear, poles, everything you need for a day out. If you want to make a purchase, I recommend Alpenglow Sports in Tahoe City. It's one of the best mountain shops in the United States. Operating for over 40 years, they know what they're talking about with backcountry gear. Alpenglow sports and Alpenglow Expeditions are not related, but are great long-time friends. In Truckee, head to Tahoe Sports Hub for another respected ski shop in the area.
Tahoe restaurants for a post-ski beer and bite
Tremigo is a newly opened Mexican restaurant for locals in the Palisades Tahoe village. It's great for a bite right off the slopes. The best place for a cheap bite when driving back into Truckee is the Golden Rotisserie. It's great for dinner if you want to avoid the crowds of the resort. You can also treat yourself to Moody's Bistro in the historic district of Truckee. It's a steak and wine kind of vibe, so change out of your skinning layers and put on a nice shirt.
How to get to Lake Tahoe for backcountry skiing
Reno, Nevada is home to the closest large international airport. Reno services all of the major hubs, including New York, Chicago, Seattle, Salt Lake, Los Angeles, Denver and Dallas. The airport is about 30 to 45 minutes from Lake Tahoe. You can easily get a rental car and drive straight to Tahoe. Since Reno is lower in elevation, the airport isn't as impacted by the snow as Tahoe, which makes arrival and driving much easier.
My recommendations for staying safe when in the backcountry
A large influx of people have been heading into the Lake Tahoe backcountry this year. A lot more people are buying equipment than getting educated. This concerns me because even with such a dangerous snowpack (which we are witnessing in 2021) people are still going out. I will keep stressing for everyone to get educated in avalanche training and backcountry best practices. Do not go into the backcountry without a guide or without education — it's better to have both. Yes, you can go into the backcountry without getting avalanche training, but to know what is and isn't avalanche terrain you need proper education. A beacon is not useful if you don't know how to use it. So if you don't know how to use your avalanche gear, don't go. Everyone's lives depend on it.
If we are talking about skiing in the backcountry and not just touring, you should be a strong intermediate skier. If anyone in your group is at the beginner level, you don't want to take those people into the backcountry. Send them to ski school first. The main reason is any incident that happens in the backcountry is 10-times harder to deal with than on resort. Be smart about your decisions and have fun.
To learn more about avalanche safety and risk awareness, listen to AMGA/IFMGA Mountain Guide, Rob Coppolillo's 57hours Adventure Talk. Find out the courses you need to take and how make smarter decisions in the backcountry to lower your risk and stay safe in avalanche terrain: