Why the Best Backcountry Skiers Ski in Jackson Hole, Wyoming
Climbers have Yosemite, backcountry skiers have Jackson Hole. It's that simple.
Ask anyone who's visited Jackson Hole and chances are they probably remember the moment they turned the corner on Highway 191 to catch their first glimpse of the striking silhouette of the Tetons. I still remember my first glimpse of the iconic mountain range on a ski trip with some friends during college. Awestruck by the jagged scenery, I was one of many who decided on the spot to call this place home.
With a reputation for having some of the steepest and most challenging backcountry skiing in North America, Jackson Hole may seem intimidating. But one of the most remarkable aspects of this western Wyoming ski hub is the variety of terrain suitable to skiers of all levels. Massive couloirs, playful tree skiing, scenic ridgeline traverses, and easy backcountry access from resort boundaries make Jackson Hole a Disneyland for adults. Good luck trying to leave.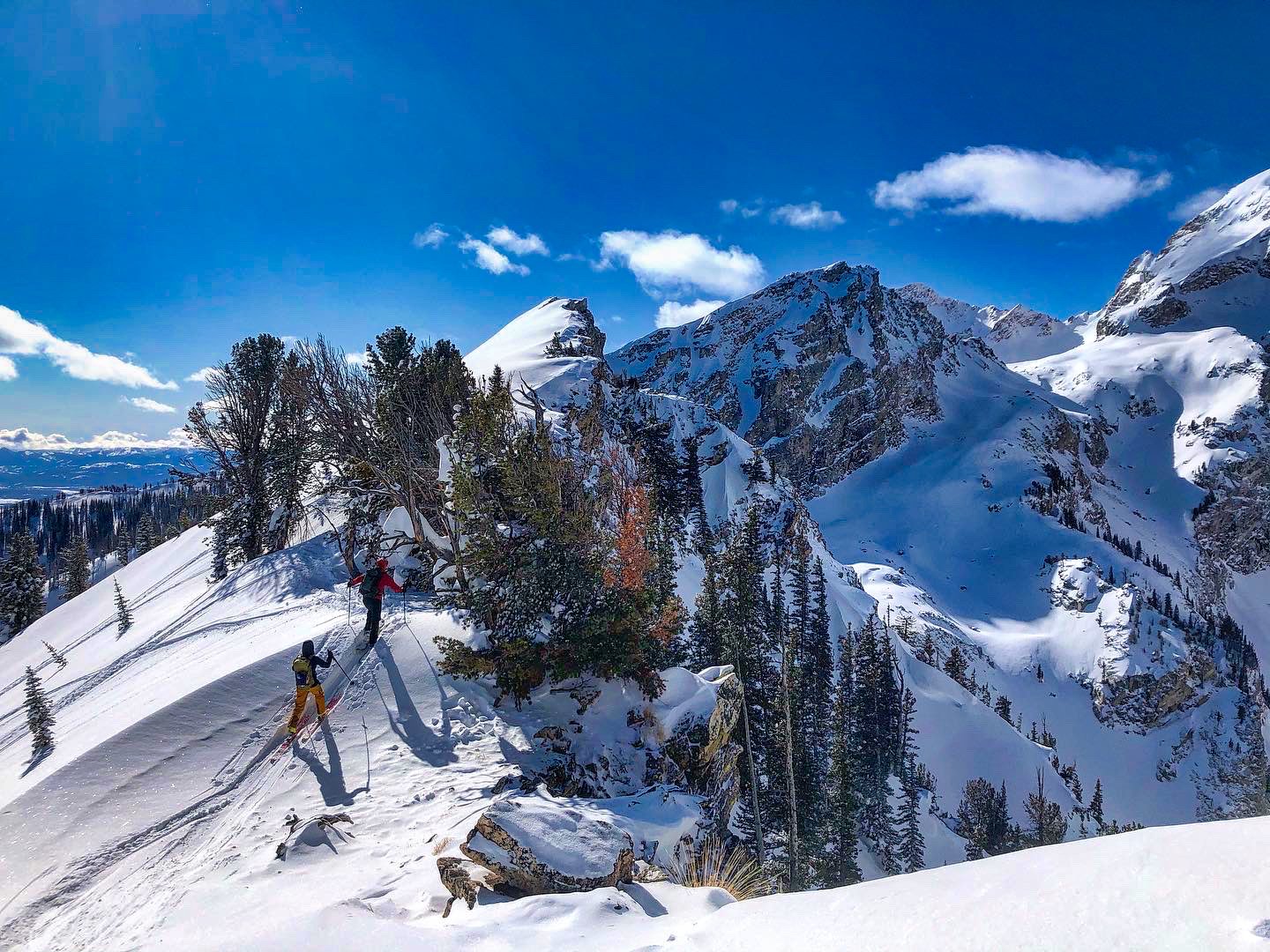 Pros and Cons of Skiing in Jackson Hole
World class terrain for skiers of all levels
Backcountry terrain is easy to access
Charming western town with great restaurants
Remote location is hard to get to
High crowds during holidays
A quick Teton history lesson
Fur trading in the early 1800s is what originally brought European trappers to the Jackson Hole valley. In the 1820s, French trappers famously passed through Jackson and dubbed the three most prominent peaks Les Trois Tetons, or "The Three Breasts."
The roots of backcountry skiing run deep through the veins of Jackson Hole. In 1930, Fred Brown, just 16 years old, and Allen Hanks, the chief park ranger at the time, became the first ever to ski in Grand Teton National Park.
Like many ski destinations across North America, the surge in popularity of skiing in Jackson Hole soared post World War II because of the 10th Mountain Division. The Jackson Hole Winter Sports Association was formed in 1945 in response to the growing interest of recreational skiing, and by 1946, Neil Rafferty had installed Wyoming's first chairlift at Snow King Mountain, the local town hill. By 1964, construction had begun on Jackson Hole Mountain Resort, and in 1965, the legendary resort opened its doors (and lifts) to the public.
Bill Brigg's nail-biting first descent of the Grand Teton (13,776 ft) in 1971 marked a huge turning point for big mountain and backcountry skiing in North America. Now 88 years old, you can still find him playing his banjo every Sunday night at the Stagecoach Bar in Wilson for "Church," attended religiously by locals for the last 50 years.
What was once a lawless cowboy operation has become a world-famous destination for skiers and riders from across the globe.
My experience skiing in Jackson Hole
After growing up in the Pacific Northwest, I migrated out to the Rockies for college and have been here ever since. Four years in Colorado preceded a brief stint in Utah's Wasatch Mountains where my weekend trips to Jackson gradually got longer and longer. It didn't take long to fall in love with the community, the mountains, and the wide open spaces that felt increasingly hard to find in Colorado and Utah. Three years ago, I decided to stop visiting and call the Tetons home for good. I'm fortunate to have a work schedule that permits me to ski almost every day in the winter, even if it's just a quick lap on Teton Pass. Although I've done just that since I've arrived, I have no doubt the expansiveness of the backcountry around Jackson will keep me entertained, challenged, and awestruck for many lifetimes.
Here are some of my recommended top spots to earn your turns near Jackson Hole: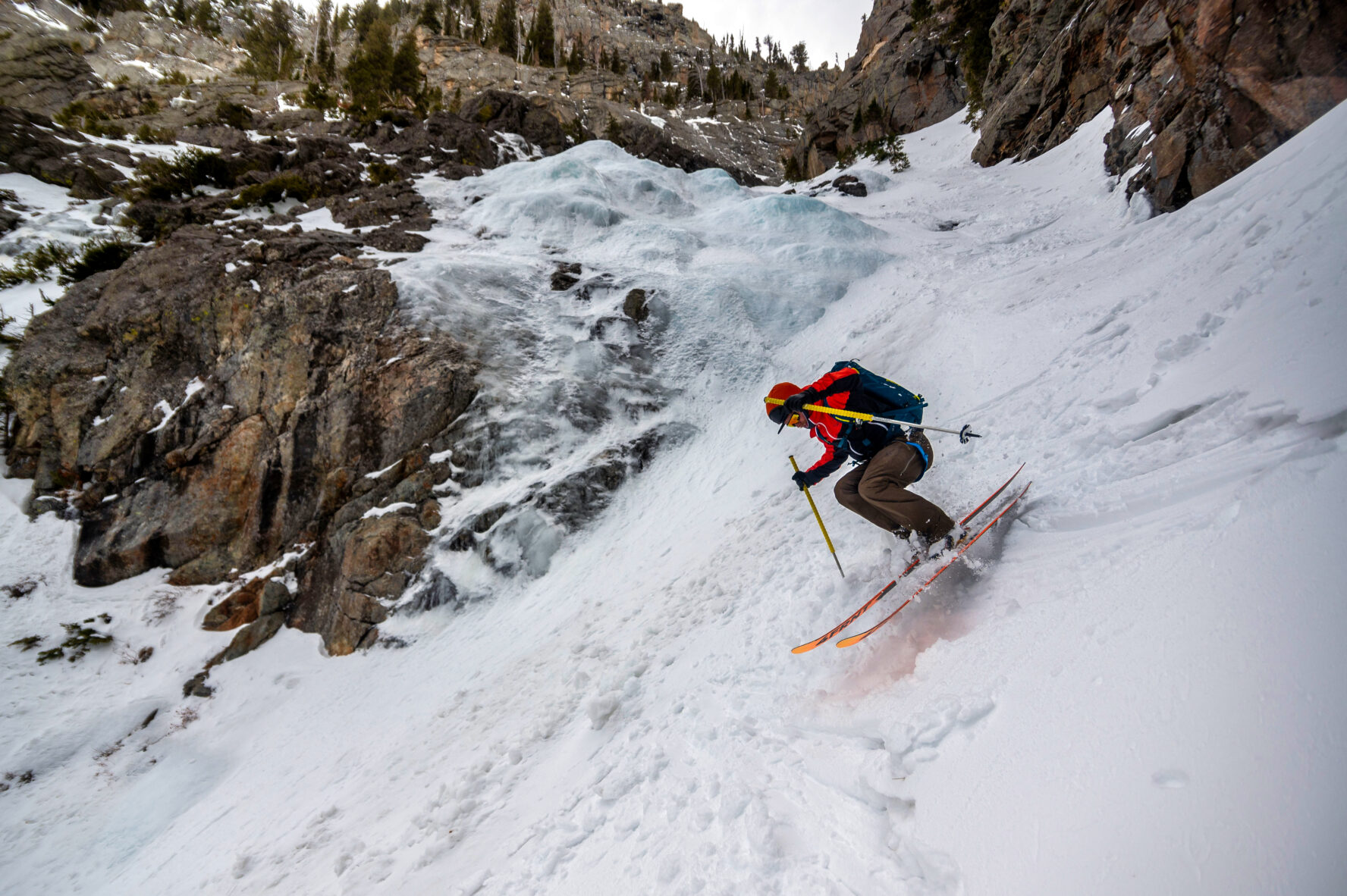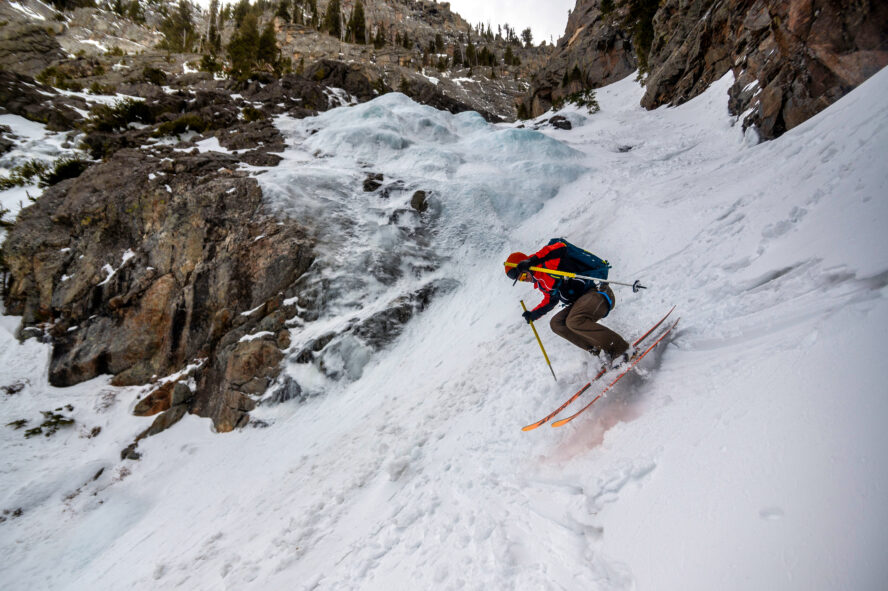 Teton Pass
In my opinion, the backcountry skiing access on Teton Pass is as good as it gets. Drive over Teton Pass on any given day in the winter and the lot at the top will be packed with backcountry skiers gearing up for a ski tour — 6:30 a.m. during a weekday snowstorm can often be one of the busiest times, a testament to Jackson residents' commitment to earning turns.
From the top of the pass, you have two options. Strap your skis or board to your pack and head up the 1,600-foot Mount Glory bootpack (the north side of the road) or skin along the powerline road on the south side. Booting up Glory is a quick way to get your heart rate up, the best bang for your buck if you're looking for some fast, rewarding turns before work. The south side offers a slower, more gentle pace to get started, which I sometimes prefer if I'm not in a hurry.
A mellow walk along the powerline ridge allows you to drop east or west into various tree runs and open bowls. Even a 15-minute walk can lead to a fun, playful tree run. Once you're out there, you can link together short laps, climb back out, or ski out the closest drainage and end up a few miles down the highway. Hitchhiking is tolerated if not fully encouraged, and since every 3rd vehicle is a massive truck, it doesn't take long to get picked up.
If you head up Mount Glory, especially after a storm, be well aware of the large slide paths that you have the potential to trigger. Glory Bowl and Twin Slides are two massive slide paths that frequently bury the road, and it's not uncommon to have morning traffic halted on storm days because of skier-triggered avalanches.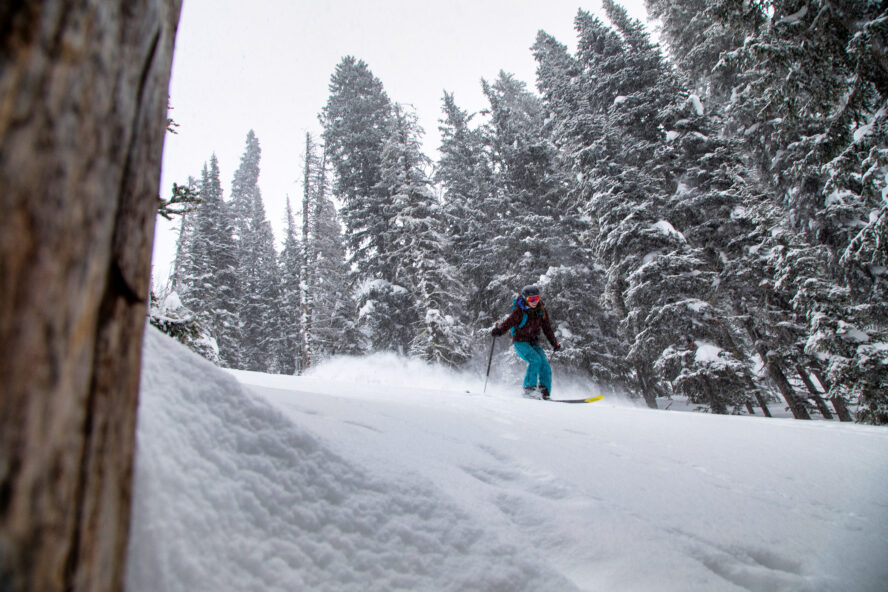 There are two parking areas on the west side of the pass, Coal Creek and the Stateline pull out. If you start from the Idaho side, a little more climbing is in order, but it's often less of a zoo than the top of the pass can be on a powder day. Taylor Mountain and Mount Oliver are two great intermediate ski tours that start from the west side, with 2 to 3,000 feet of climbing to either summit.
If you want to let the locals show you around, Teton Backcountry Guides and Yostmark Guiding are both great choices for a guided day on Teton Pass.
Aprés Select: The Stagecoach Bar
Down in the town of Wilson, the 'Coach is the local watering hole for cowboys and sun-crusted ski bums alike. Take a seat at the bar, munch on some street tacos from the Streetfood menu and soak up some serious country vibes. It's a quintessential Wyoming experience.
Grand Teton National Park
Those willing to endure a long approach and some extra uphill output will be rewarded with incredible scenery, long, sustained fall lines, and a fraction of the crowds that Teton Pass and the backcountry gates from JHMR sees. Taggart Lake and Death Canyon are the two most popular winter trailheads to get into the heart of the park. Granite Canyon, closer to Teton Village, is less popular for backcountry skiers and provides opportunities to access some of the skiing on the south side of the park with a slightly longer approach.
From Taggart Lake: 25 Short, Shadow Peak, and Maverick's are the three most prominent faces when you park at Taggart. A 3 to 3,500-foot ascent will deliver some of the best tree skiing around, with opportunities to sneak into some steep couloirs, or continue higher up to access the alpine. It's usually where I'll take first-time visitors because of the stunning views and possibilities for shorter or longer laps, depending on what the group is up for.
From Death Canyon: When entering the park from Moose, take a left before the park entrance along the Moose-Wilson road and follow it three miles until the road is closed. From here, Wimpy's Nob on Albright Peak is a great intermediate day tour. It's one of my favorite fall lines in the Park since the terrain is slightly steeper and the trees are more widely spaced than the skiing from 25 Short and Maverick's.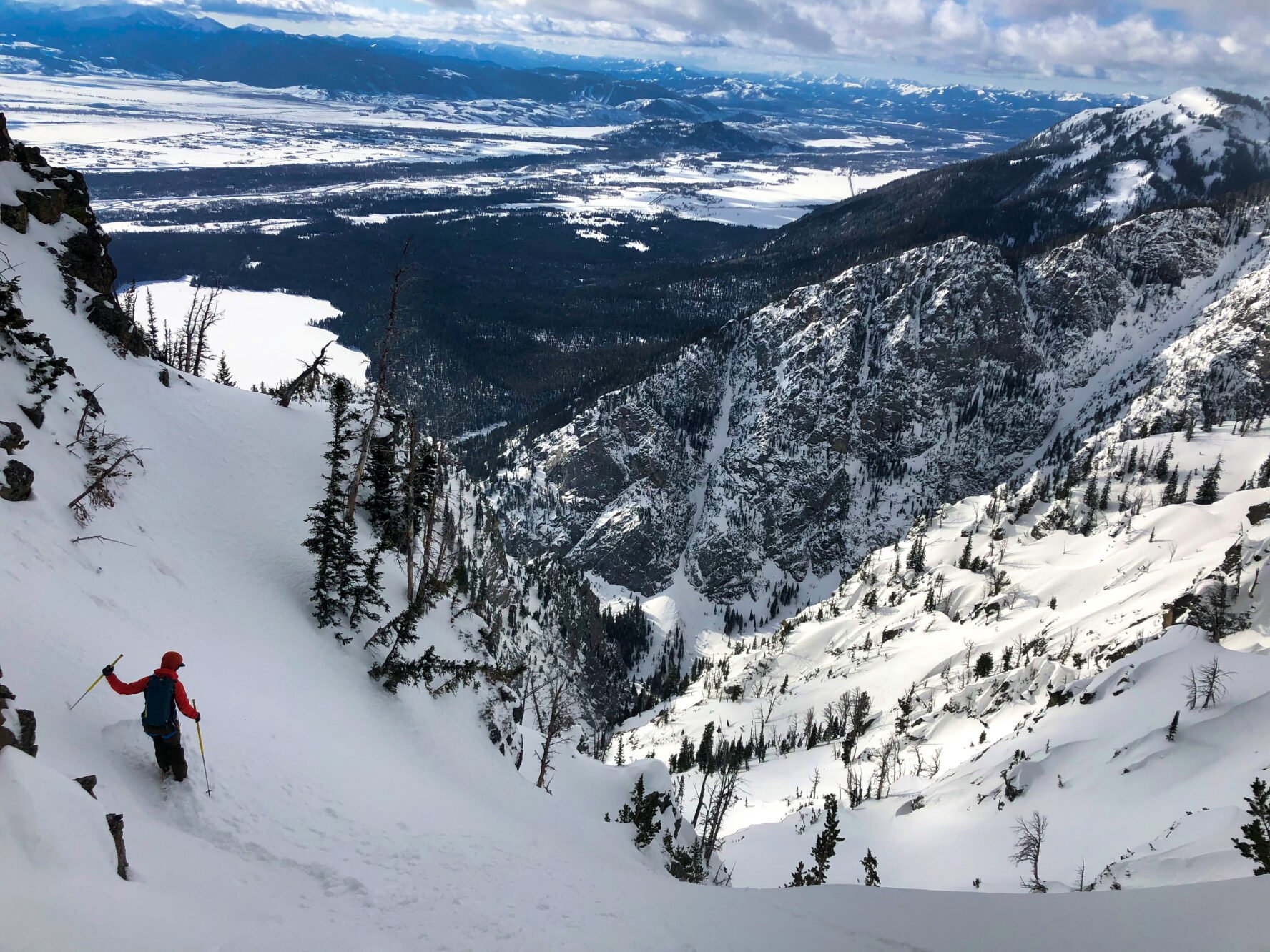 If you're looking to challenge yourself and step out of your comfort zone, the Park is the perfect proving ground for big ski mountaineering or peak bagging missions. Consider hiring a guide from Jackson Hole Mountain Guides or Exum Mountain Guides to get out for a bigger day and push your limits.
Aprés Select: Dornan's
On my way out of the park, I always try and stop by Dornan's for a beer and a pizza. If the weather's clear, you'll enjoy an unobstructed view of your line through the floor-length windows behind the bar.
Jackson Hole Resort Backcountry
In the early days, freeride pioneers like Doug Coombs used to duck out of bounds from Jackson Hole Mountain Resort illegally to point their skis down some of the steepest terrain around. The easy access to the towering peaks just beyond resort boundaries was too tempting to resist. In 1999, the resort finally opened up access to the backcountry through seven designated gates (marked on the Jackson Hole Trail Map), allowing skiers and riders to exit the resort at their own risk.
A ride up the 4,139-foot Aerial Tram lets you access some of the classics on Cody and No Name Peaks, with opportunities to ski wide open bowls and trees, or to scare yourself silly on near vertical faces, steep chutes and mandatory airs. I was intimidated to hike out here for a long time when I first moved here, but although there are plenty of opportunities to push the limits, some of the lines, like Four Shadows and Powder 8s are far more mellow than they look from the resort.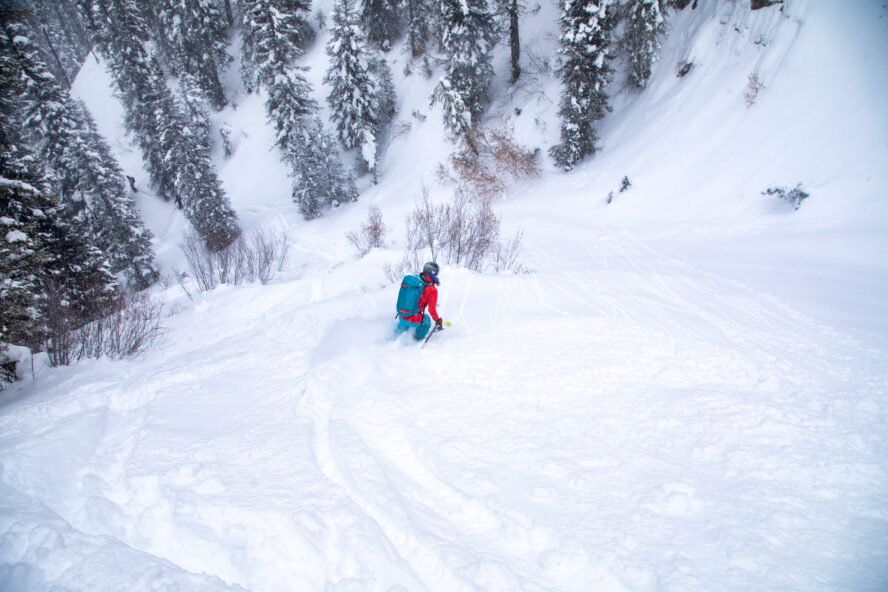 Granite Canyon, on the north side of the resort, can be accessed from the top of Apres Vous or the top of the Headwall hike, a bootpack from the top of Cirque. Steep, sustained chutes let you ski perfect fall lines to the valley floor, with a traverse and long side step to get back into the resort.
Many of the backcountry ski lines from the resort don't require the use of AT gear since they involve a bootpack and usually drop you back into the resort without skinning. This can be a recipe for accidents so be sure to get familiar with the terrain and conditions before heading out.
Jackson Hole Mountain Resort offers guided day tours from the resort beginning with an early tram ride before the public gets on the mountain.
Aprés Select: TGR Continuum Hotel
I recommend finishing your day with a drink at the bar (or in the 30-foot hot tub) at the new TGR Continuum Hotel. It's a social atmosphere, packed with ski bums of all ages, with reasonably priced bar fare and TGR movies blasting on the screens at all times to get your stoke on for tomorrow.
Grand Targhee
With all the hubbub around Jackson Hole, Grand Targhee often gets overlooked by visitors and locals alike—great for the folks who actually ski there since you'll rarely wait in a line longer than a minute or two. Still in Wyoming, but accessed from the Idaho side of Teton Pass, Grand Targhee Resort boasts a laidback mom-and-pop vibe, a stark contrast from the glitz and glamour of Teton Village. On a clear day, the view of the Tetons from the top of Fred's Mountain is one of the best in the area.
From Targhee, you can access some great intermediate backcountry terrain from the top of the Dreamcatcher or Sacajawea Lifts. Mary's Nipple, accessed from the top of Dreamcatcher, starts with a short 650-foot bootpack with opportunities to ski back into the resort or down into Teton Canyon. Noodle Ridge is a fun, mellow tour, with options to ski multiple short laps before re-entering back into the resort.
Check out Yostmark Guides, based in Driggs, and Teton Backcountry Guides if you're looking to set up a guided ski day out of Targhee.
Aprés Select: Trap Bar
It's my firm belief that you can't visit Targhee without a plate of the Trap Bar's famous Wydaho Nachos. Waffle fries replace tortilla chips, piled high with a generous helping of cheese, beans, guac, salsa — you name it.
Advice for Visiting the Tetons
Depending on where you're traveling from, the Tetons make for a great long weekend or week-long trip in the winter. If you're close enough, road tripping to Jackson is your best bet. Unless you're traveling from town to Jackson Hole Mountain Resort, public transportation is limited so you'll want to have a vehicle to get around.
Flights are limited and expensive to the Jackson Hole airport, but if you can score one that falls within your budget, it's well worth it. The Jackson Hole airport is the only airport inside a national park — snag a window seat and scope your line from the plane before touchdown.
The best time to backcountry ski in the Tetons
Jackson Hole Mountain Resort is open from Thanksgiving through the second week of April and is typically crowded until closing day thanks to the resort's 459 inches of average snowfall. I find that February and March are both great months for backcountry skiing in the Tetons, as coverage can still be a little spotty in January. March often has the most snowfall and less crowds than January and February, as long as you can dodge spring breakers.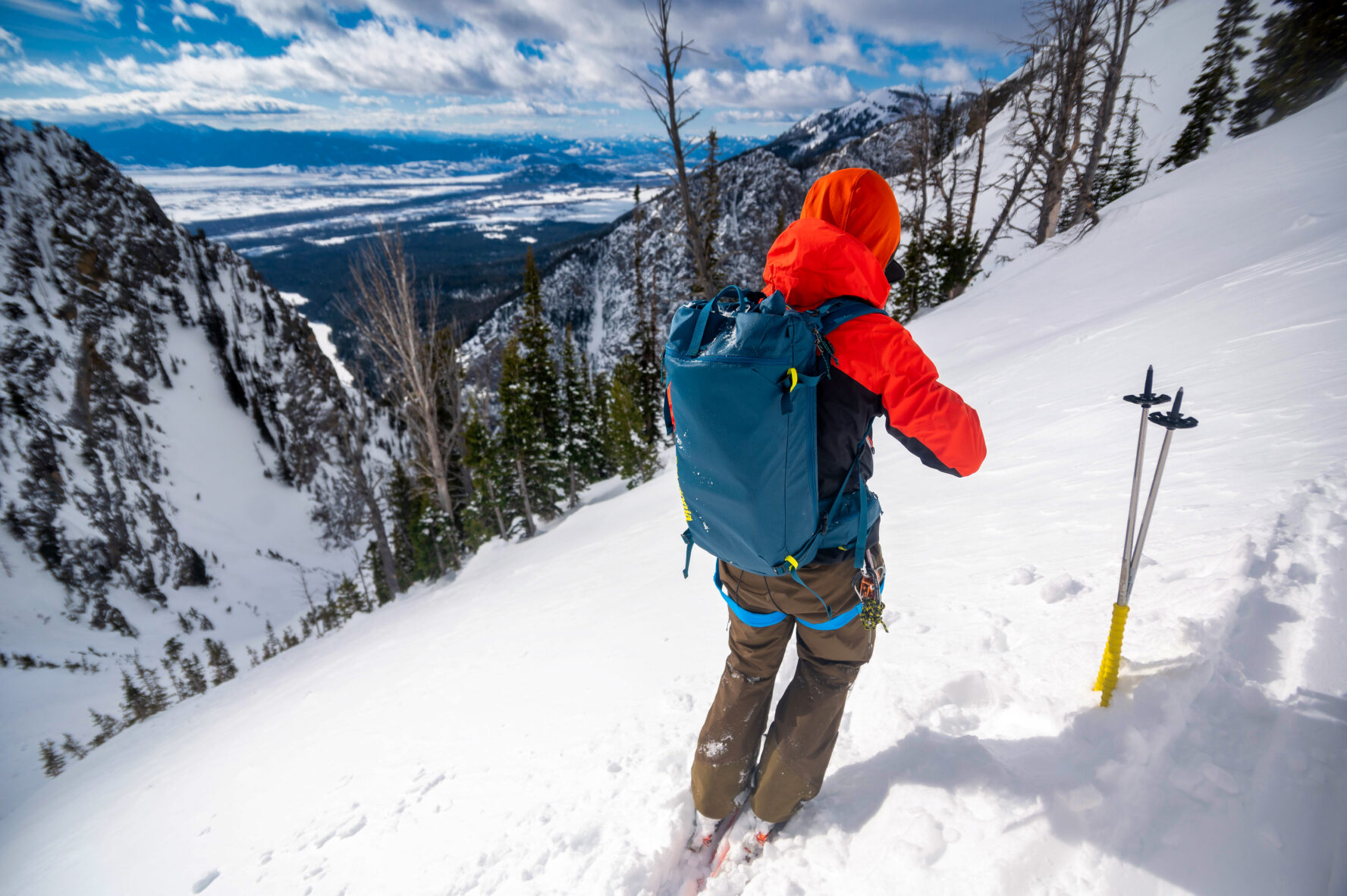 Early season, Teton Pass is usually the first backcountry spot to be skiable thanks to the fact that you can park on top of the pass at 8,341 feet. Skiing in the national park usually gets going mid to late January. If you're looking to do some spring mountaineering, Grand Teton National Park is just about the best place in the world to be from early to mid-April. A permit is not required to ski in the Tetons.
Weather and Avalanche Forecasts
For up to date information on conditions, check out the Bridger-Teton Avalanche Center and Jackson Hole Mountain Resort Weather/Snow Report.
Optional (but encouraged) reading: Teton guide books
Teton Pass Backcountry Guide (2016), a detailed guide for skiing on the Pass with images and detailed information on trailhead, mileage, and elevation.
Jackson Hole Ski Atlas (2010), is a photo collection of the popular ski areas in the Jackson Hole area. It's a useful tool to get oriented for the first time and a helpful reference to keep on hand while planning tours.
The Black Book (2009), by Conor Miller, features aerial shots of ski lines from Grand Teton National Park. No beta or labels are provided, just drool-worthy shots of ski lines that aren't always easy to spot from the road.
Want to learn more about backcountry skiing in the Tetons? AMGA ski guides Rebecca Yaguda and Betsey Monero take a deep dive into everything you want to know in their 57hours Adventure Talk. Plus, learn what makes the Tetons the perfect venue for a deep powder ski camp: